This site uses affiliate links, meaning that if you make a purchase through our links, we may earn an affiliate commission.
Welcome to the bustling metropolis of Tokyo, Japan! Ready for action-packed 3 days in Tokyo?
Known for its cutting-edge technology, unique culture, and vibrant cityscape, Tokyo is a city that never sleeps.
With its mix of ancient traditions and modern innovation, Tokyo offers a captivating experience for travelers seeking to immerse themselves in the heart of Japan's urban life.
In this 3-day itinerary, I will take you on a journey through some of Tokyo's most iconic neighborhoods, historic sites, and culinary delights.
From the dazzling lights of Shinjuku to the serene gardens of Tokyo, get ready for an unforgettable adventure in this dynamic city!
Let's dive into an action-packed 3 days in Tokyo, where you can explore the best of what this world-renowned city has to offer.
Tokyo At-A-Glance
Before diving in, here are a few helpful tips for planning your trip to Tokyo:
Tokyo experiences four distinct seasons: spring, summer, autumn, and winter, each with its unique charm.
Spring (March to May): Spring is one of the most popular times to visit Tokyo due to the famous cherry blossom season. Spring weather is mild and pleasant, with temperatures ranging from 10 to 20 C (50 to 68 F).
Summer (June to August): Summer in Tokyo can be hot and humid, with temperatures ranging from 25 to 35 degrees Celsius (77 to 95 degrees Fahrenheit). However, it is also a vibrant season with various summer festivals, outdoor events, and fireworks displays.
Autumn (September to November): Autumn is another popular time to visit Tokyo, with mild weather and beautiful fall foliage in parks and temples. The temperatures range from 15 to 25 C (59 to 77 F).
Winter (December to February): Tokyo's winter is generally cold, with temperatures ranging from 0 to 10 C( 32 to 50 F). However, Tokyo's winter illuminations and holiday decorations are spectacular, creating a festive atmosphere throughout the city.
My first choice is to always stay in Ginza. Ginza is Tokyo's luxury shopping district, known for its upscale boutiques, department stores, and high-end restaurants.
There are several hotels that I stayed at and really enjoyed. Check them out and see which one you like the best:
Muji Hotel Ginza – this is my first choice. The rooms are elegantly designed like all Muji products. The location is perfect near the JR Yamanote line. The in-room extras, all Muji branded, are great, with everything from the slippers to bags of Japanese sweets yours to take with you. The breakfast is lovely with healthy and high-quality food options.
AC Hotel by Marriott Tokyo Ginza – it is a beautiful, modern, and well-maintained hotel right in the heart of Ginza. The rooms are a good size, which is unusual for Tokyo, nicely designed, and super clean.
Agora Tokyo Ginza – stylish and elegant hotel. The location is great close to train stations. Rooms are on the smaller side, however, they are very comfortable and clean. You will love the bathroom which is beautifully designed and huge in size.
How to Get Around in Tokyo
Tokyo has an extensive and efficient public transportation system that makes it easy to get around the city. Here are some common methods of transportation for navigating Tokyo:
The Tokyo Metro and subway are a convenient and efficient way to travel within the city, with multiple lines covering different areas. Make sure to get rechargeable IC cards such as Suica or Pasmo, which offer discounted fares and can be used on multiple transportation systems.
Japan Railways (JR) operates several lines in Tokyo, including the Yamanote Line, which is a loop line that circles central Tokyo and connects major neighborhoods.
Buses are another option for getting around Tokyo, although they are not as easy to use as Tokyo Metro and subway, as well as JR.
Taxis are widely available in Tokyo, but they can be more expensive compared to other forms of public transportation.
Walking is a great way to explore Tokyo's neighborhoods like Shibuya, Shinjuku, and Asakusa.
Make sure to buy JR Pass before going to Japan. It is a huge cost-saving tool. It allows unlimited use of most JR trains, including the Shinkansen (bullet trains), limited express trains, and local trains, for a set period of time (7, 14, or 21 days).
The JR Pass also includes some additional benefits, such as free seat reservations on most trains, which can be especially useful during peak travel times, and access to some JR buses and ferries. It also covers the Tokyo Monorail to/from Haneda Airport and the Narita Express to/from Narita Airport, which can be convenient for travelers arriving or departing from these airports.
Map of Action-Packed 3 Days in Tokyo Itinerary
Map of 3 Days in Tokyo Itinerary
Amazing 3 Days in Tokyo Itinerary
DAY 1
Shibuya Scramble Crossing
Hachiko Memorial Statue
Shibuya Center-Gai
Yoyogi Park and Meiji Shrine
Takeshita Street
Omotesando Avenue
Tokyo Metropolitan Government Building
Shinjuku Golden Gai
Omoide Yokocho Alley
Kabukicho District
Shibuya Scramble Crossing
Let's start this 3 days in Tokyo itinerary at the Shibuya Scramble Crossing!
Located in the very center of Tokyo, the Shibuya Scramble Crossing is the most iconic symbol of Tokyo and the most famous pedestrian crossing in the world.
It is estimated that over 500,000 people cross the intersection every day, making it one of the busiest pedestrian crossings in the world.
Shibuya Scramble Crossing is unique for its "scramble" design, where traffic from all directions comes to a stop simultaneously, allowing pedestrians to cross in all directions, including diagonally, creating a mesmerizing spectacle of people moving in various directions.
Shibuya Scramble Crossing is a popular spot for photography and capturing the dynamic atmosphere of Tokyo. Here are some of the best spots for photographing Shibuya Crossing:
Starbucks Shibuya Tsutaya – Located on the second floor of Tsutaya Shibuya, the Starbucks cafe offers a great vantage point overlooking Shibuya Crossing. However, it is a busy place and you might have to patiently wait for an opportunity to get to one of the windows.
Shibuya Sky – The observation deck is located on the rooftop of the Shibuya Scramble Square building, which is one of the tallest buildings in Shibuya, is definitely one of the best spots to photograph the crossing. The glass windows extend all the way to the floor, giving you uninterrupted views. However, there is an entrance fee to the deck which are s typically around 2,000 to 2,500 yen for adults.
Shibuya Stream – Shibuya Stream has a rooftop terrace with an open-air deck with glass railings, providing an excellent spot for photography. But, it is not free. There is an entrance fee to the rooftop terrace which is typically around 2,000 yen.
Pedestrian Bridges – There are two pedestrian bridges that you might want to check out: the Shibuya Mark City Bridge and the Tokyu Plaza Shibuya Bridge. Both are popular spots.
Street Level – Don't forget that capturing the energy and atmosphere of Shibuya Crossing from the street level can result in some unique and dynamic photos.
Right next to the Hachiko Exit of Shibuya Train Station, you will find the famous bronze Hachiko Memorial Statue. It commemorates the unwavering loyalty and devotion of a dog named Hachiko.
The story of Hachiko dates back to the 1920s when Professor Ueno, who worked at the University of Tokyo, adopted the Akita puppy and named him Hachiko.
Hachiko would accompany his owner to the Shibuya Train Station every day and would be there to greet him upon his return in the evening. However, in 1925, Professor Ueno unexpectedly passed away while at work, leaving Hachiko devastated.
Despite Ueno's death, Hachiko continued to go to the Shibuya Train Station every day for the next nine years, waiting for his beloved owner to return.
Hachiko's loyalty and devotion touched the hearts of the Japanese people and in 1934, a bronze statue of Hachiko was erected near the Shibuya Train Station as a tribute to his loyalty, devotion, and love.
The statue depicts Hachiko sitting with his body facing the train station, eagerly looking out for his owner's return.
Nowadays, the statue has become a popular meeting spot for locals.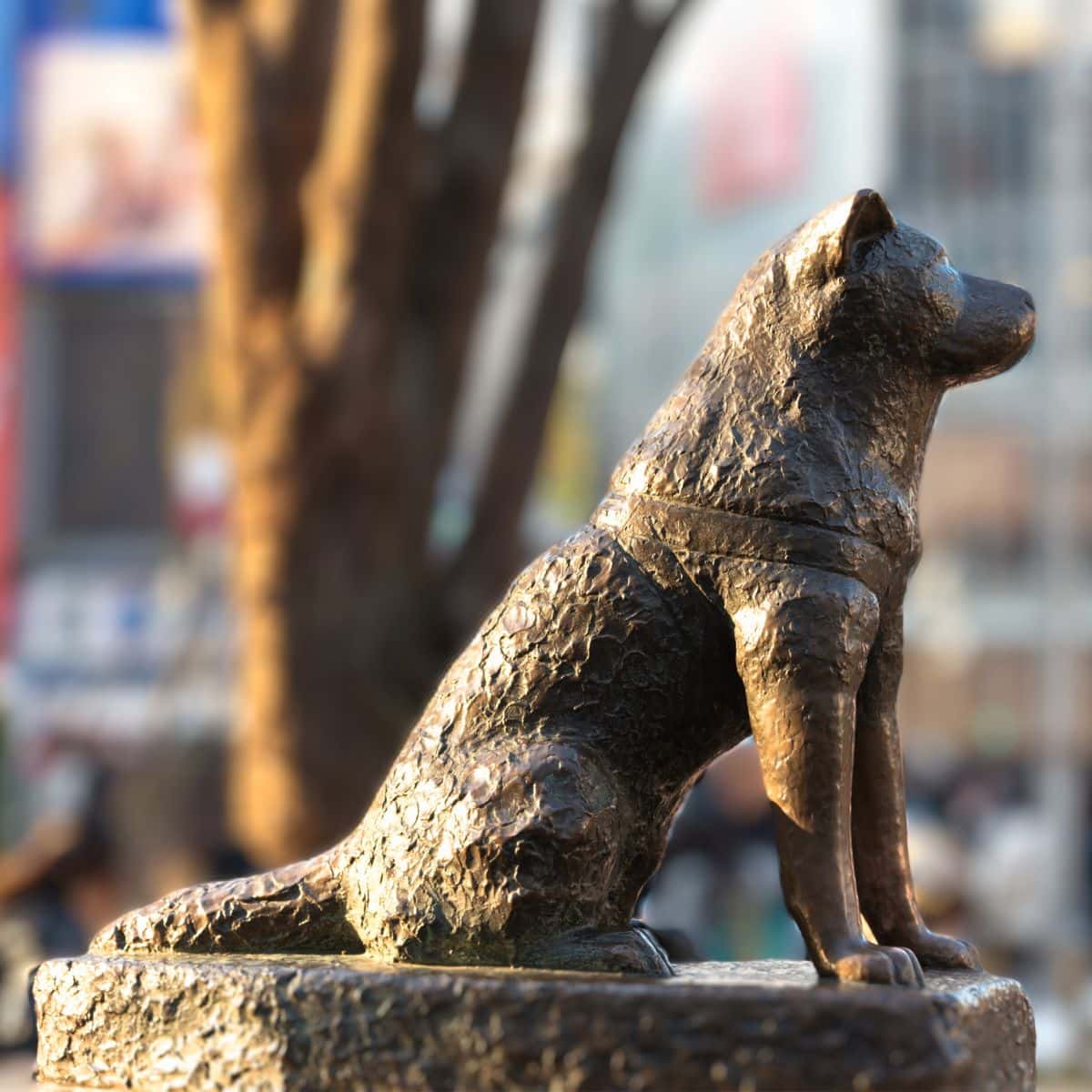 Hachiko Memorial Statue / 3 Days in Tokyo Itinerary
Shibuya Center-Gai, often simply referred to as "Center-Gai," is a pedestrian street located in Shibuya known for its bustling and vibrant atmosphere. It stretches for about 350 meters and is lined with numerous trendy shops, cafes, restaurants, and bars. It comes alive in the evening and it is a great spot to come back at the end of the day and hang out.
Here are a few places worth checking out:
WEGO – WEGO is a popular Japanese fast fashion brand known for its trendy and affordable clothing, accessories, and cosmetics.
Supreme – Supreme is a brand that originated in New York City and has gained a cult following around the world. It offers limited-edition apparel, accessories, and collaborations with various artists and designers.
Disney Store – The Disney Store in Shibuya Center-Gai is a must-visit for Disney fans.
Village Vanguard – Village Vanguard is a unique and eclectic store that offers a wide range of quirky and unconventional items, including books, stationery, novelty goods, and unusual gifts.
Tower Records – Tower Records in the Shibuya Center-Gai location is known for its extensive collection of music, including CDs, vinyl records, and DVDs.
Don Quijote – Don Quijote is a famous discount store chain. The Shibuya Center-Gai location is a multi-floor store where you can find everything from cosmetics, snacks, electronics, household goods, and souvenirs.
Nonbei Yokocho – Nonbei Yokocho, also known as "Drunkard's Alley," is a narrow alleyway near Center-Gai that offers a nostalgic and retro atmosphere. It's lined with small izakayas (Japanese-style pubs) and bars, known for their cozy and intimate settings. It's a great place to come back to in the evening and experience the traditional Japanese drinking culture, and enjoy local food and drinks.
Tokyu Hands – Tokyu Hands is a well-known department store and the Shibuya Center-Gai location is a multi-floor store where you can find a diverse range of products, including home goods, stationery, and beauty products.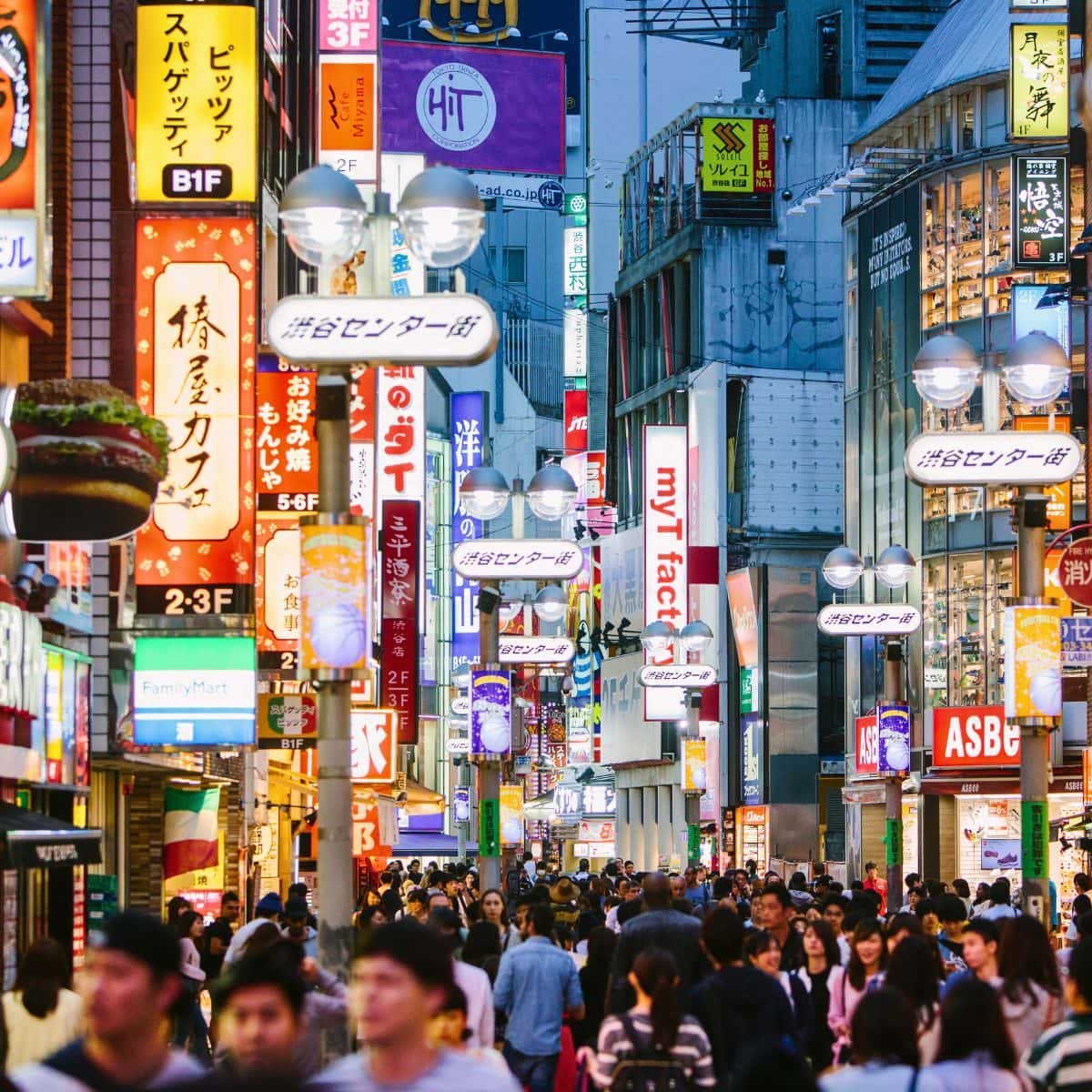 Shibuya Center-Gai in the evening / 3 Days in Tokyo
Yoyogi Park and Meiji Shrine
Next, we are going to a famous neighborhood in Shibuya called Harajaku. The main attractions here are Yoyogi Park, Meiji Shrine, the famous Takeshita Street, and Omotesando.
Yoyogi Park is a spacious public park that offers a peaceful retreat from Tokyo's hustle and bustle. If you are visiting from late March through early April, then Yoygi Park is the best spot for hanami, which is the traditional Japanese custom of enjoying the beauty of cherry blossoms.
Sunday is a great day to stop by Yoyogi Park. It becomes a gathering spot for street performers, musicians, and artists who showcase their talents to the public.
Adjacent to Yoyogi Park is the serene Meiji Shrine. It was established in 1920 and was dedicated to Emperor Meiji, who passed away in 1912, and Empress Shoken, who passed away in 1914. The shrine was built as a place of worship and to honor the Emperor and Empress for their contributions to Japan's modernization and development during the Meiji era (1868-1912).
The shrine complex has a simple and elegant design. The main entrance to the shrine features a towering torii gate made of cypress wood, which is one of the largest wooden torii gates in Japan.
The pathway leading to the main shrine building is lined with tall trees, creating a sense of tranquility and serenity.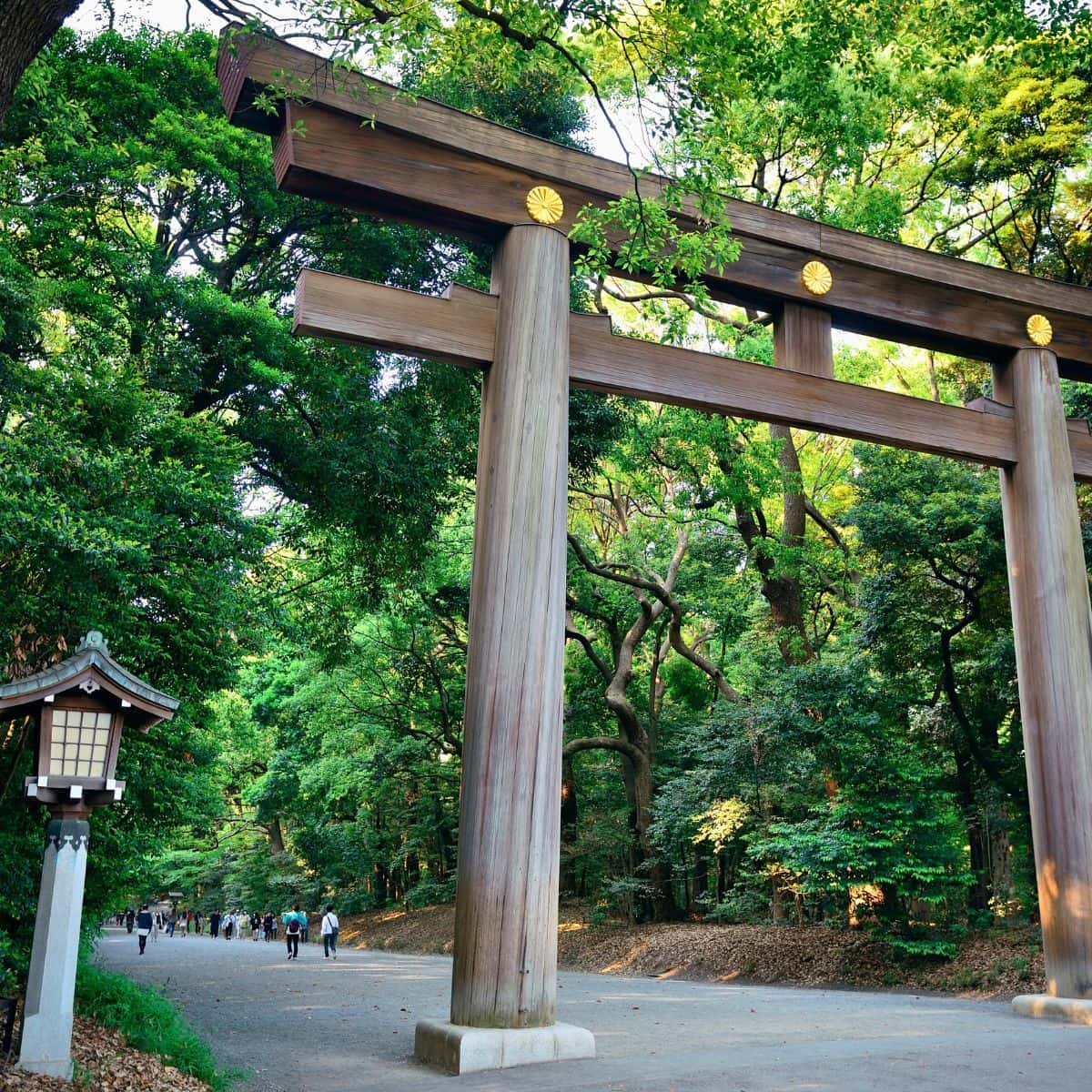 Torii Gate leading to Meiji Shrine / 3 Days in Tokyo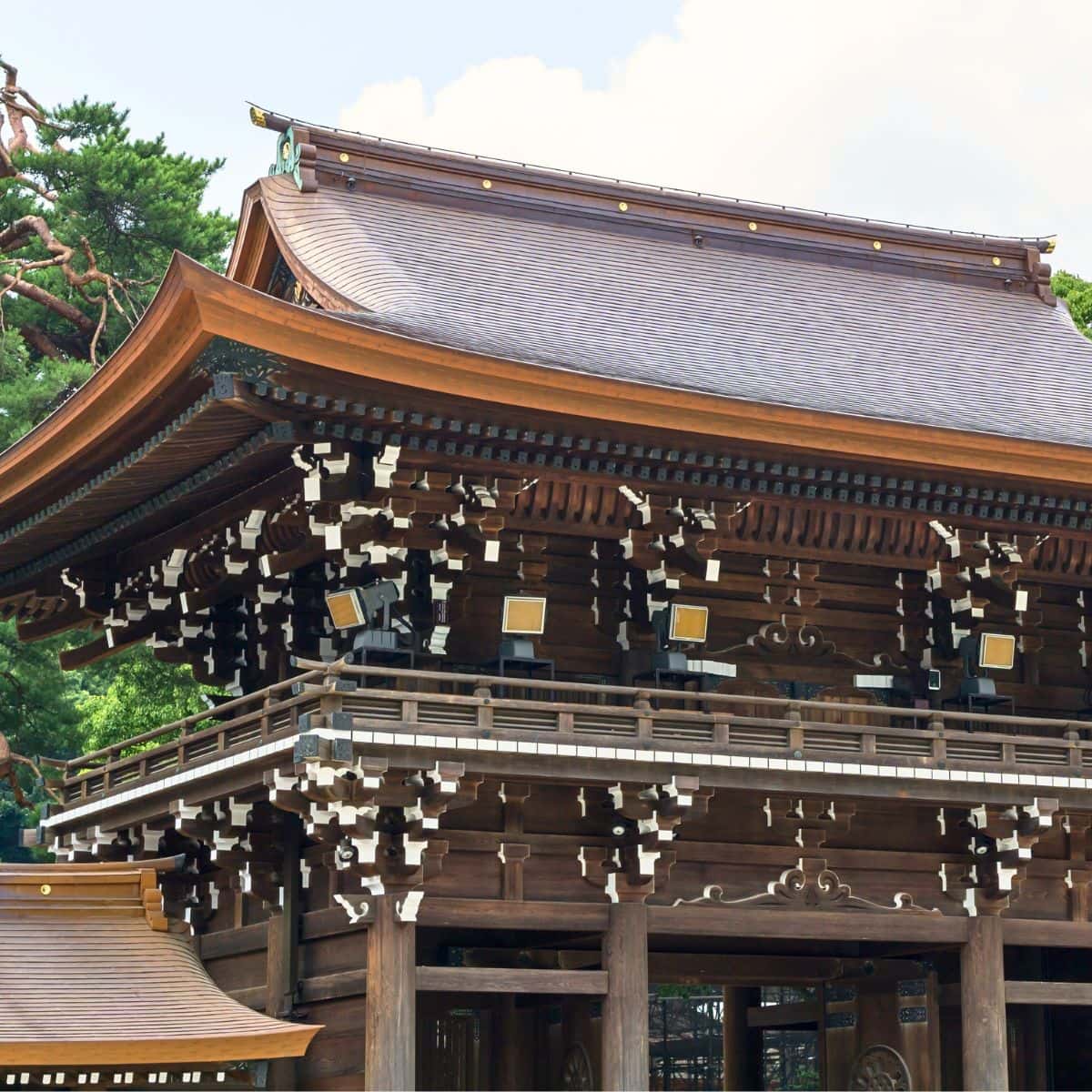 Meiji Shrine / 3 Days in Tokyo
One of the main attractions of Harajuku is Takeshita Street. It is a narrow pedestrian-only street lined with fashion boutiques, trendy cafes, and vibrant street food stalls.
Takeshita Street is famous for its unique fashion styles, ranging from Lolita fashion, which features elaborate Victorian-inspired dresses, to cosplay, which involves dressing up as characters from anime, manga, or video games.
Here are a few places on Takeshita Street that you should check out:
Kawaii Monster Cafe – It is a colorful and quirky cafe that offers a unique dining experience. The interior features vibrant colors, whimsical decorations, and performances by costumed staff. The menu includes colorful and Instagram-worthy dishes, such as rainbow pasta and monster-themed desserts.
Totti Candy Factory – One of the highlights of Totti Candy Factory is its giant rainbow cotton candy. They offer other sweets as well, such as candy apples coated in colorful candy and decorated with various toppings like sprinkles, cookies, and chocolates. They also have a selection of colorful lollipops and gummy candies.
Crepe Stalls – Takeshita Street is famous for its crepe stalls. My two favorite ones are Marion Crepes and Angel Crepes. They offer a variety of sweet and savory crepes filled with delicious ingredients such as fresh fruits, whipped cream, chocolate, and more.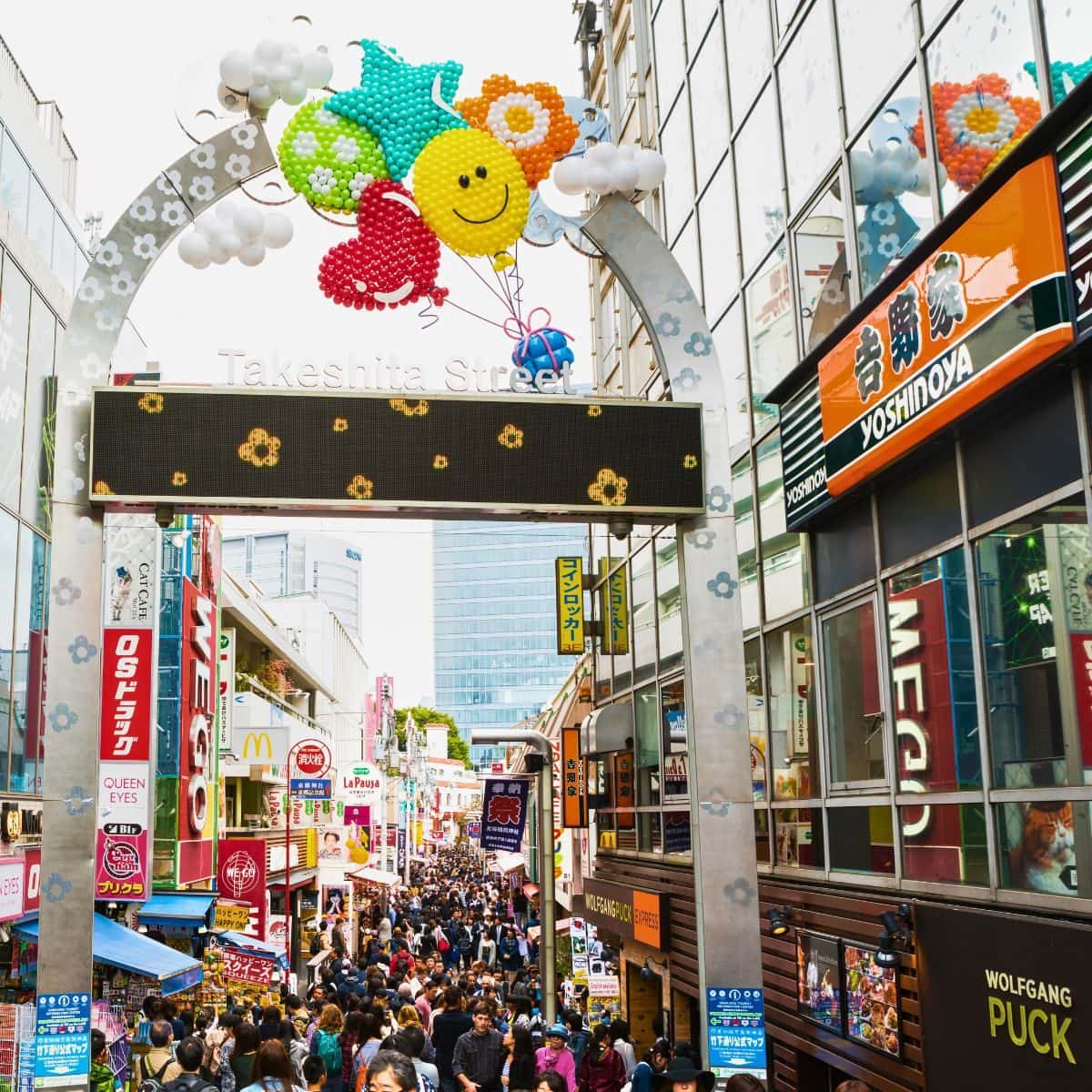 Takeshita Street / 3 Days in Tokyo
Omotesando Avenue, a tree-lined boulevard, also known as Tokyo's Champs-Élysées, is another prominent street in Harajuku. It is famous for its upscale fashion boutiques, luxury brand stores, and architectural marvels.
Some of the places that you should check out on Omotesando Avenue are Tokyu Plaza Omotesando Harajuku. It is a shopping complex with a distinctive mirrored entrance. While you are there head out to their rooftop terrace for great views of Tokyo!
Another great place is Kiddy Land. It is a paradise for toy lovers! Kiddy Land is a multi-story toy store that offers a wide selection of toys, character goods, and collectibles. It's a fun place to explore and reminisce about your childhood memories.
And, finally, do not miss the Prada Building, an iconic architectural landmark designed by Swiss firm Herzog & de Meuron. The Prada Building is the flagship store of the luxury brand Prada. It's unique glass facade and futuristic design make it a must-visit.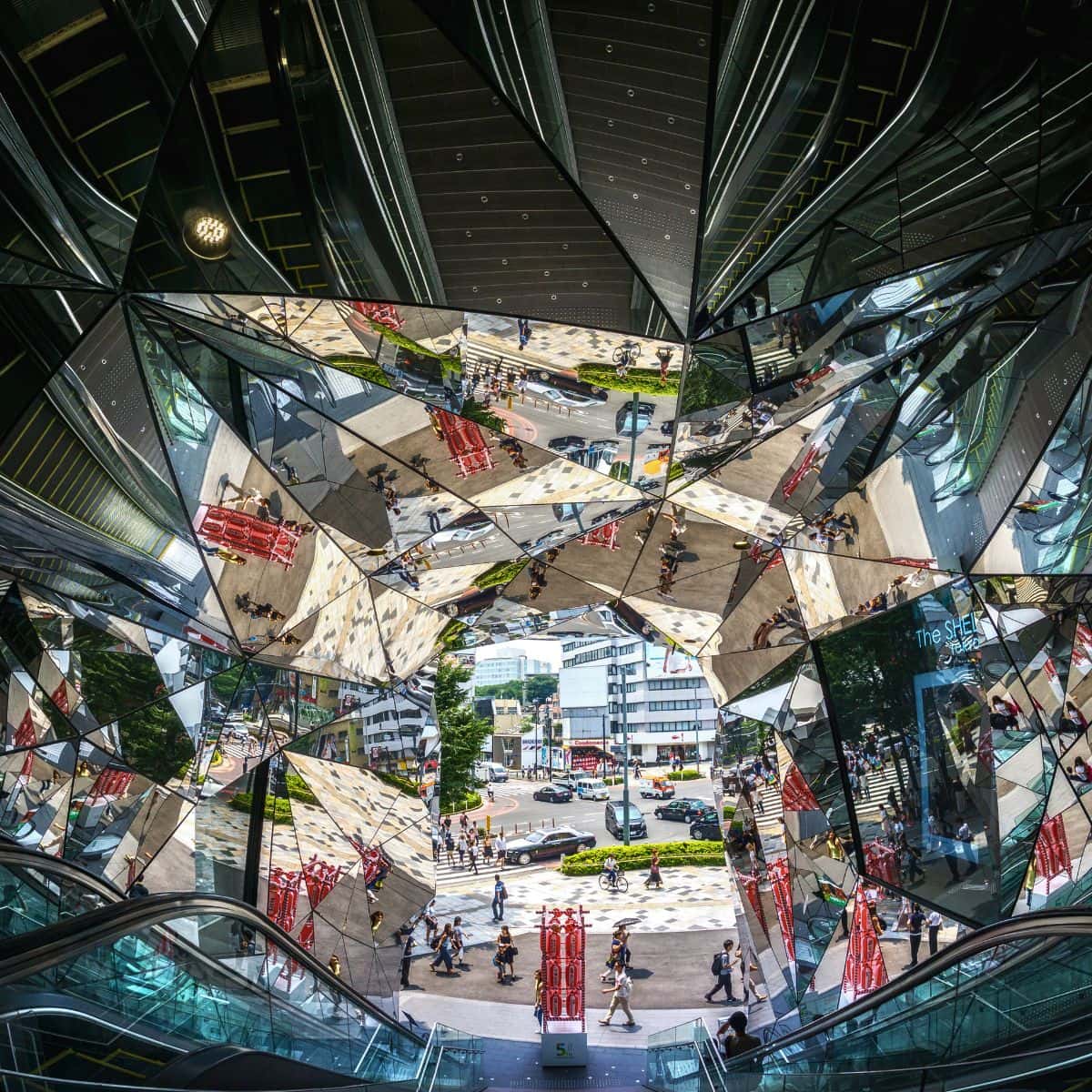 Tokyu Plaza Omotesando / 3 Days in Tokyo
Tokyo Metropolitan Government Building
Next, we are heading out to Shinjuku and the first stop is Tokyo Metropolitan Government Building.
Tokyo Metropolitan Government Building, also known as Tokyo City Hall or Tochō for short, is a prominent landmark in Tokyo, Japan.
It was designed by architect Kenzo Tange and completed in 1991. It consists of two twin towers, each rising 48 stories high and reaching a height of 243 meters (797 feet). The towers are connected by a large atrium and house various offices and facilities of the Tokyo Metropolitan Government.
One of the main attractions of the Tokyo Metropolitan Government Building is its observation decks, which are located on the 45th floor of each tower and offer stunning panoramic vistas of Tokyo's skyline and beyond. And, the best part is that admission is free!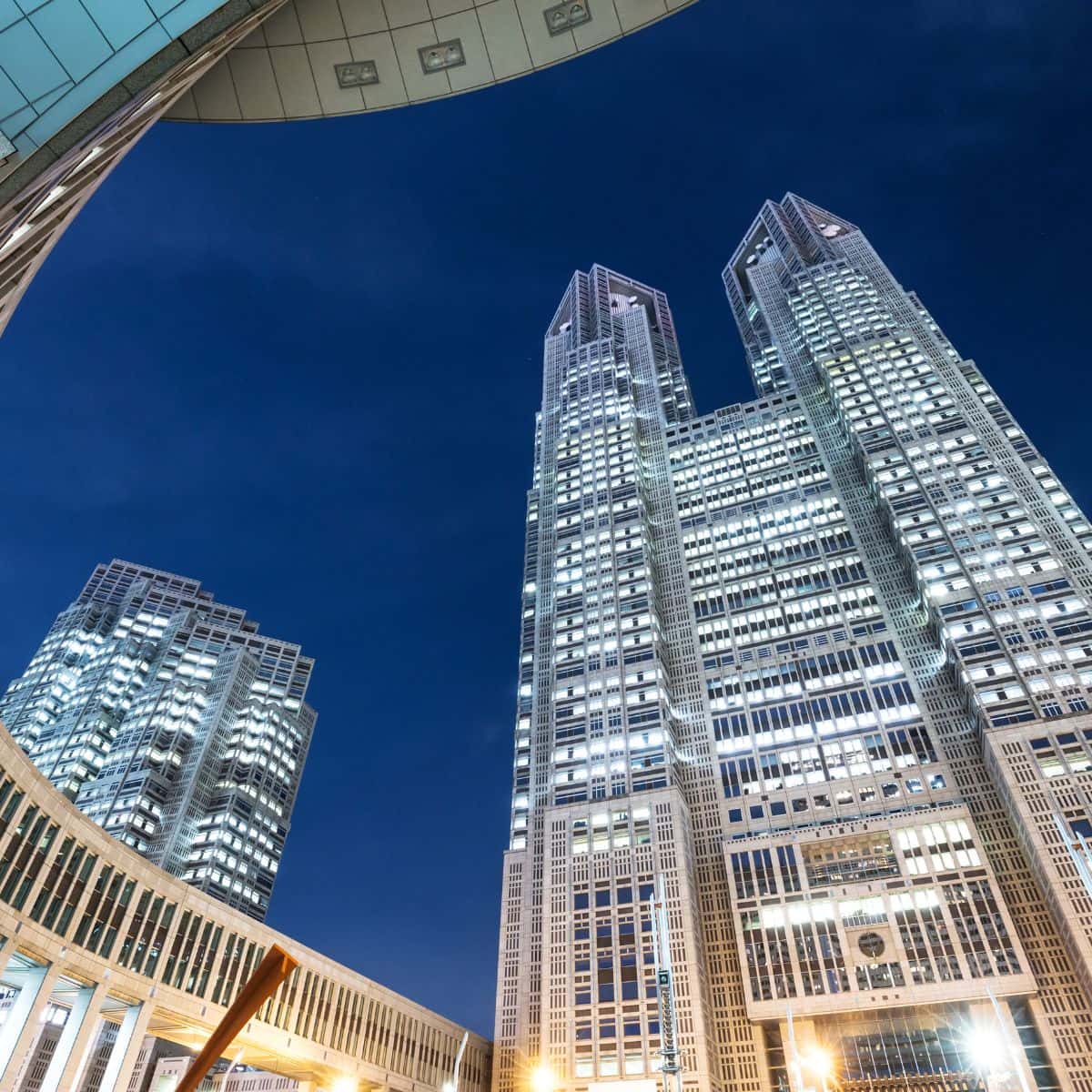 Tokyo Metropolitan Government Building / 3 Days in Tokyo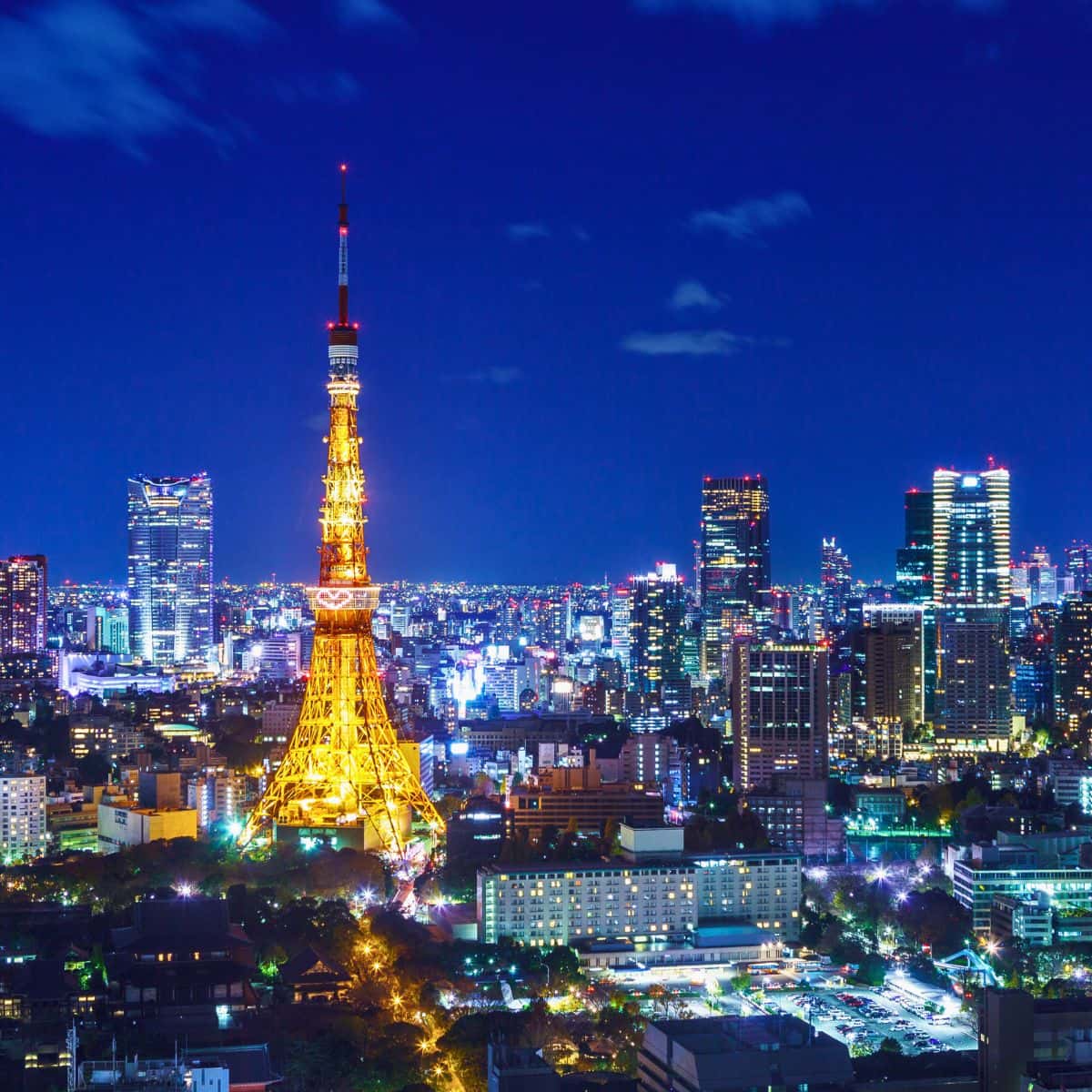 Tokyo skyline / 3 Days in Tokyo
Shinjuku Golden Gai is a network of narrow alleys famous for its atmospheric nightlife.
Each alley is lined with tiny, unique bars that can usually only accommodate a handful of customers at a time. Each bar has its own distinct character and theme, making it a fascinating place to explore and enjoy a drink or two in an intimate setting.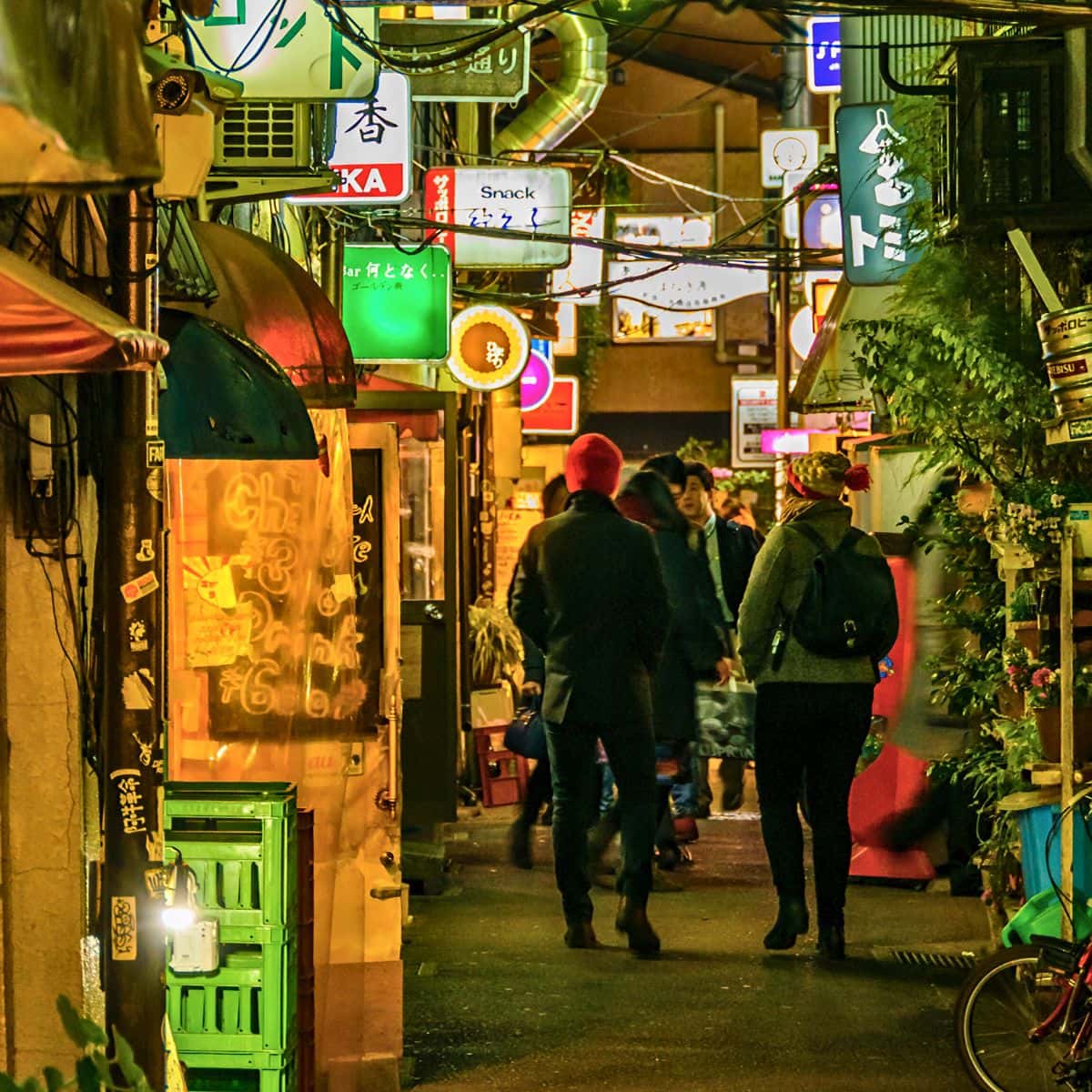 Shinjuku Golden Gai / 3 Days in Tokyo Itinerary
Another spot that you cannot miss in Shinjuku is Omoide Yokocho, also known as "Memory Lane" or "Piss Alley".
It is a narrow alley lined with small, old-fashioned izakayas (Japanese-style pubs) and yakitori (grilled chicken skewer) stalls, which have preserved their original look and feel from the 1940s and 1950s.
The dimly lit lanterns, narrow passageways, and the smoke rising from the grills create a unique ambiance that is reminiscent of old Tokyo.
Another spot that you cannot miss in Shinjuku is Kabukicho. It is a famous entertainment district filled with numerous bars, nightclubs, karaoke venues, and live music venues.
Kabuki-Cho Godzilla Head is an iconic landmark of Kabukicho. It is located on the rooftop of the Toho Cinema building. The Godzilla Head roars and spews smoke at regular intervals.
Kabukicho is also known for its adult-oriented entertainment, such as hostess clubs, love hotels, and adult-themed establishments.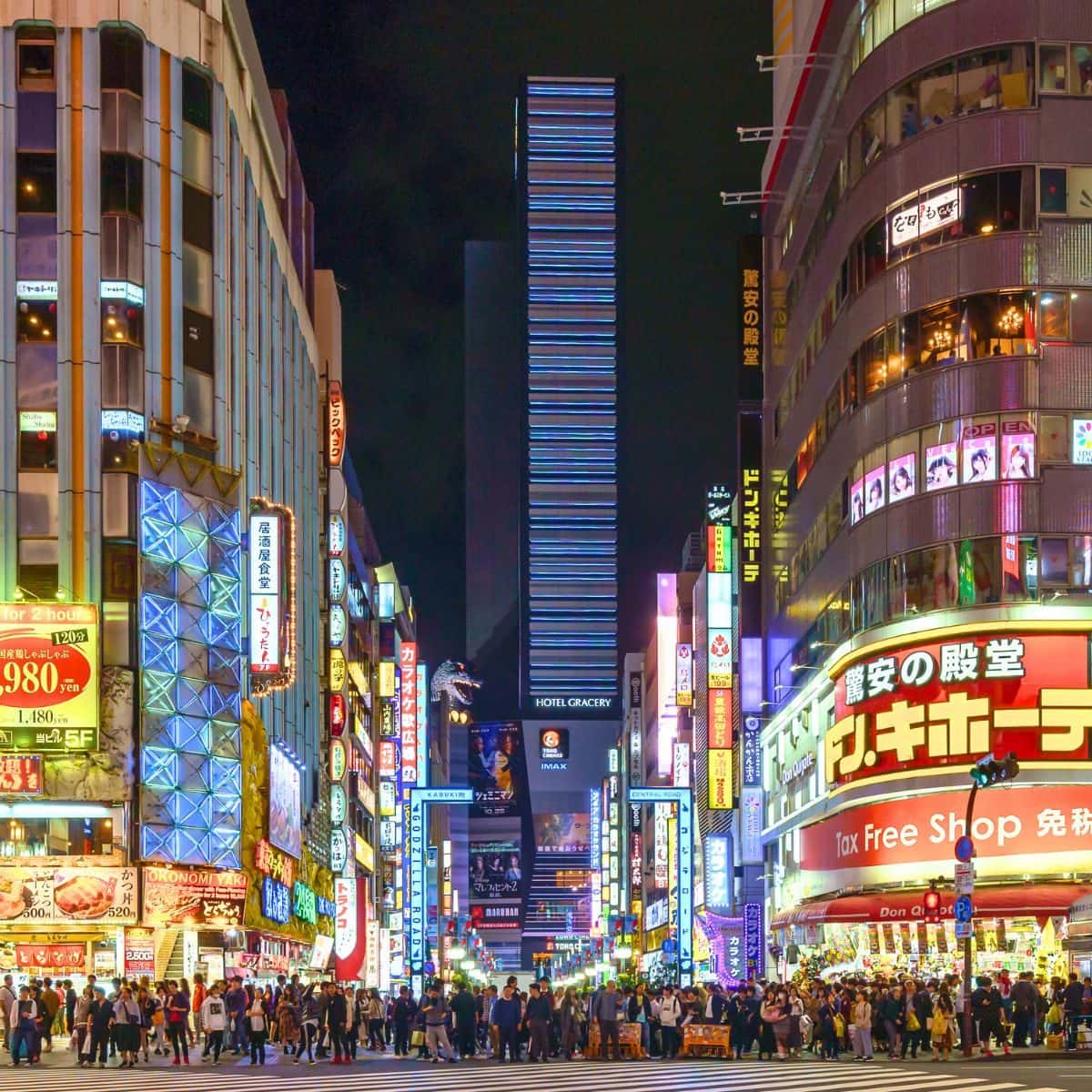 Kabukicho District / 3 Days in Tokyo Itinerary
This concludes the first day of 3 days in Tokyo itinerary.
If you have any energy left, then my recommendation is to head out to the Robot Restaurant. It is a popular tourist attraction located in Shinjuku.
It is not actually a restaurant in the traditional sense, but rather a live entertainment venue featuring robot performances, bright neon lights, and colorful decorations.
Another idea is to schedule a Harajuku and Shibuya Evening Walking Tour. This a fun evening tour in two of Tokyo's trendiest and most vibrant districts. You will discover hidden hotspots and under-the-radar neighborhood gems in Harajuku and Shibuya, and duck into cutting-edge boutiques. The tour includes a savory, Japanese-style dinner with local treats.
DAY 2
Sensoji Temple
Tokyo National Museum
Akihabara District
Maid and Gundam Cafes
Anime and Manga Shops
Arcade. and Game Centers
Rent a Go-Cart in Akihabara
We start day 2 of 3 days in Tokyo itinerary in Asakusa District. It is located in the northeastern part of Tokyo's Taito City, near the Sumida River.
Asakusa is known for its historical and cultural significance, with many traditional Japanese landmarks and attractions.
The first stop is Sansoji Temple.
Sensoji Temple, also known as Asakusa Kannon Temple, is a historic Buddhist temple dating back to the 7th century.
According to legend, Sensoji Temple was founded in 628 AD, when two fishermen discovered a small golden statue of Kannon, the Buddhist goddess of mercy, in the nearby Sumida River. The fishermen enshrined the statue, and a small temple was built to honor it, making Sensoji Temple one of the oldest temples in Tokyo.
Sensoji Temple is a large complex that includes several main buildings, gates, and other structures. One of the most iconic features of the temple is the Kaminarimon Gate, which serves as the entrance gate to the temple grounds. The gate is adorned with a large red lantern and a massive wooden statue of Fūjin, the Shinto god of wind, on one side, and Raijin, the Shinto god of thunder, on the other side.
Beyond the Kaminarimon Gate is Nakamise-dori, a bustling shopping street lined with small shops selling various traditional Japanese goods such as snacks, sweets, souvenirs, and crafts.
Nakamise-dori leads to the Hozomon Gate, which provides access to the main hall of Sensoji Temple.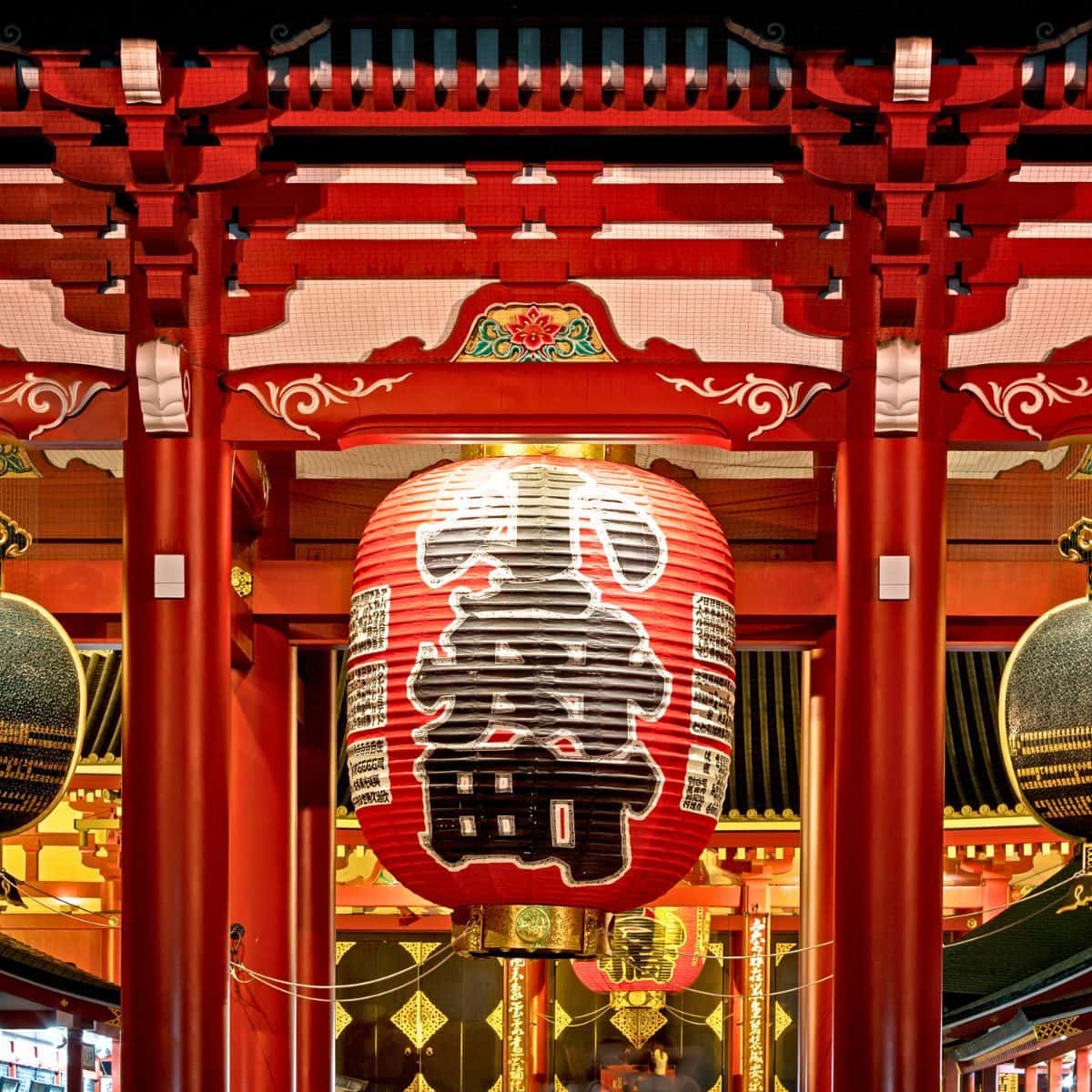 Sensoji Temple / 3 Days in Tokyo Itinerary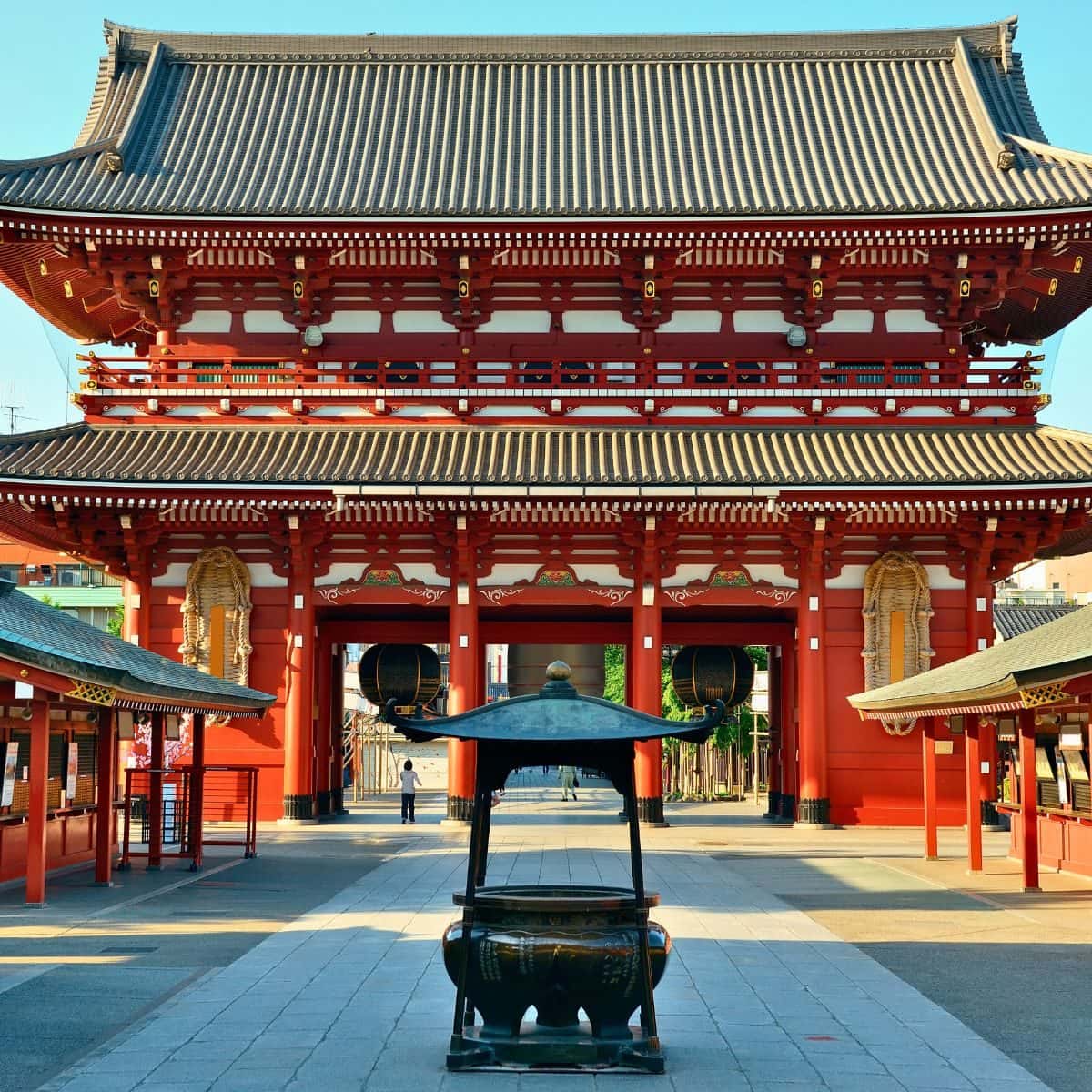 Sensoji Temple / 3 Days in Tokyo Itinerary
The next stop is an amazing Tokyo National Museum.
The museum is divided into several exhibition buildings, each with its own focus.
The Honkan (Japanese Gallery) is the main building and displays a comprehensive collection of Japanese art and artifacts, including Buddhist sculptures, samurai armor, ukiyo-e woodblock prints, and traditional crafts.
The Toyokan (Asian Gallery) houses a diverse collection of Asian art, including Chinese bronzes, Korean ceramics, and Indian sculptures.
The Heiseikan (Special Exhibition Gallery) features special exhibitions on various themes and periods, showcasing rare and important works of art from Japan and other Asian countries.
Akihabara District - Electric Town
Next, let's explore Akihabara District.
Akihabara, also known as "Electric Town", is famous for its electronics stores, anime, manga, and gaming culture.
You will find numerous electronics stores that sell a wide range of gadgets, devices, and components. From the latest smartphones and computers to retro video game consoles and DIY electronics, you can find it all in Akihabara. Some popular stores to check out include Yodobashi Camera, Bic Camera, and Sofmap.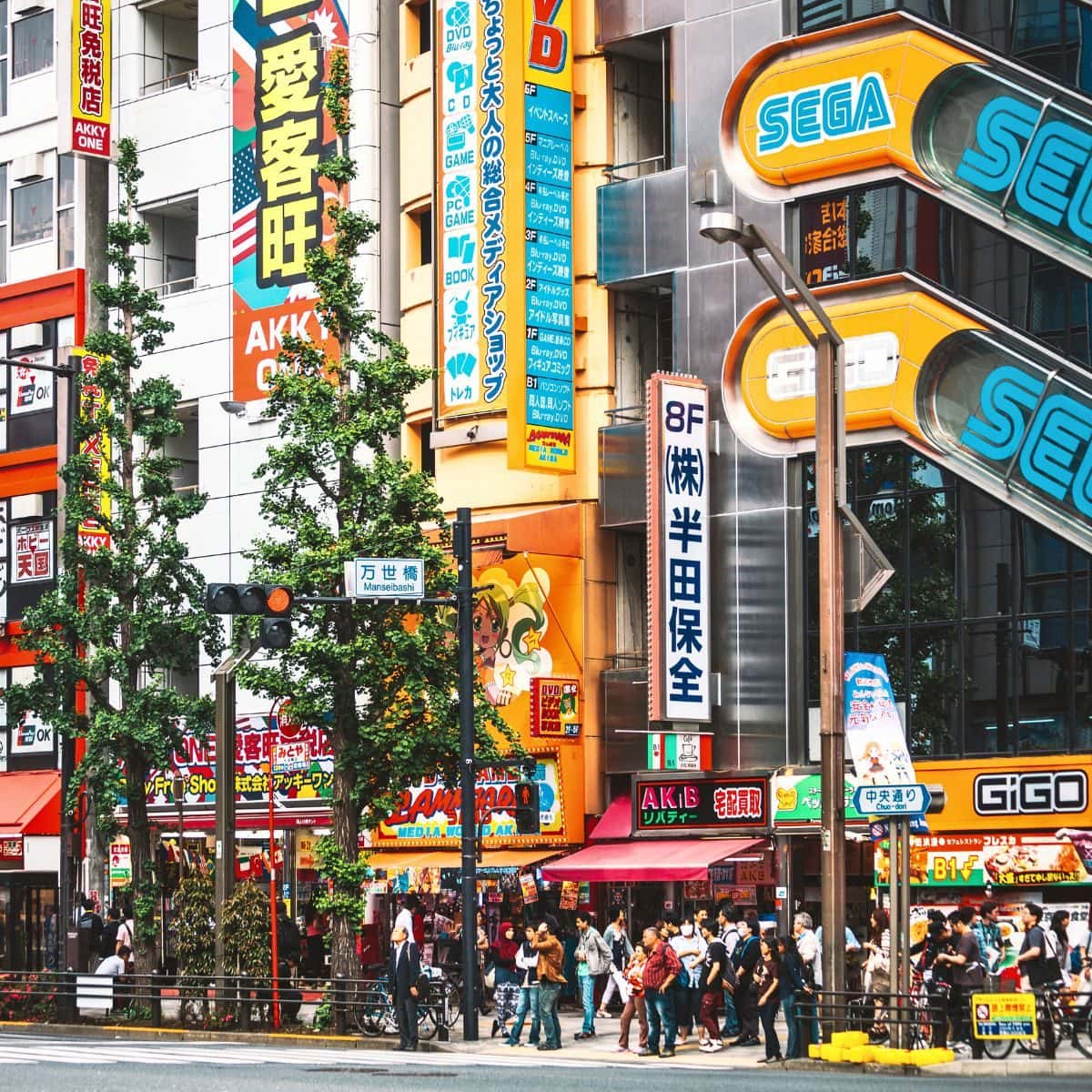 Akihabara District – Electric Town / 3 Days in Tokyo Itinerary
Akihabara remains the most well-known and popular location for maid and Gundam cafes.
The maid cafes are themed around waitresses dressed in cute maid costumes which are often elaborate and reminiscent of French maids. The waitresses adopt a friendly and cute demeanor, and address customers with terms like "master" or "mistress".
The overall atmosphere is playful, welcoming, and definitely a one-of-a-kind experience where you can immerse yourself in the kawaii (cute) culture of Japan.
Here are a couple of maid cafes worth checking out:
@Home Cafe – It is one of the oldest and most well-known maid cafes in Akihabara. It features a classic maid cafe theme with cute and friendly maids, playful performances, and a wide range of cutely decorated food and drinks on the menu.
Maidreamin – It is a popular maid cafe chain with multiple locations in Akihabara and other parts of Japan. They offer a variety of cute and creative dishes, as well as entertaining performances and interactive games.
Cure Maid Cafe is known for its Gothic Lolita theme, which features maids dressed in Victorian-style outfits with a darker and more elegant atmosphere compared to traditional maid cafes. They offer a unique twist on the maid cafe concept, with a focus on the Gothic and Lolita fashion subculture.
Gundam cafes are themed cafes that are based on the popular Japanese anime and manga franchise called Gundam.
Gundam is a long-running media franchise that originated in 1979 and features giant humanoid robots known as "mobile suits" or "Gundam".
The cafes often have a futuristic and high-tech ambiance, with displays of Gundam models, posters, and artwork adorning the walls. The menu usually includes Gundam-themed food and drinks, such as burgers shaped like mobile suits, and Gundam-inspired desserts.
Some of the popular Gundam cafes are:
Gundam Cafe Akihabara is an official Gundam-themed cafe located in the heart of Akihabara. It features a futuristic atmosphere with Gundam-themed decor, displays of Gundam models, and a variety of Gundam-inspired food and drinks on its menu.
Gundam Cafe & Bar Akihabara is another official Gundam-themed. It offers a wide range of Gundam-themed food and drinks, including cocktails and other alcoholic beverages.
CharaRIDE Akihabara is a Gundam-themed cafe that also offers a virtual reality (VR) experience that allows visitors to pilot a virtual Gundam and engage in virtual battles.
One of the best ways to see Akihabara and understand its unique culture is to join a guided tour. I attended this tour Akihabara Culture Tour and I liked it a lot. The guide was from Akihabara and a cosplayer. She had an incredible knowledge of anime, manga, arcades, and game centers.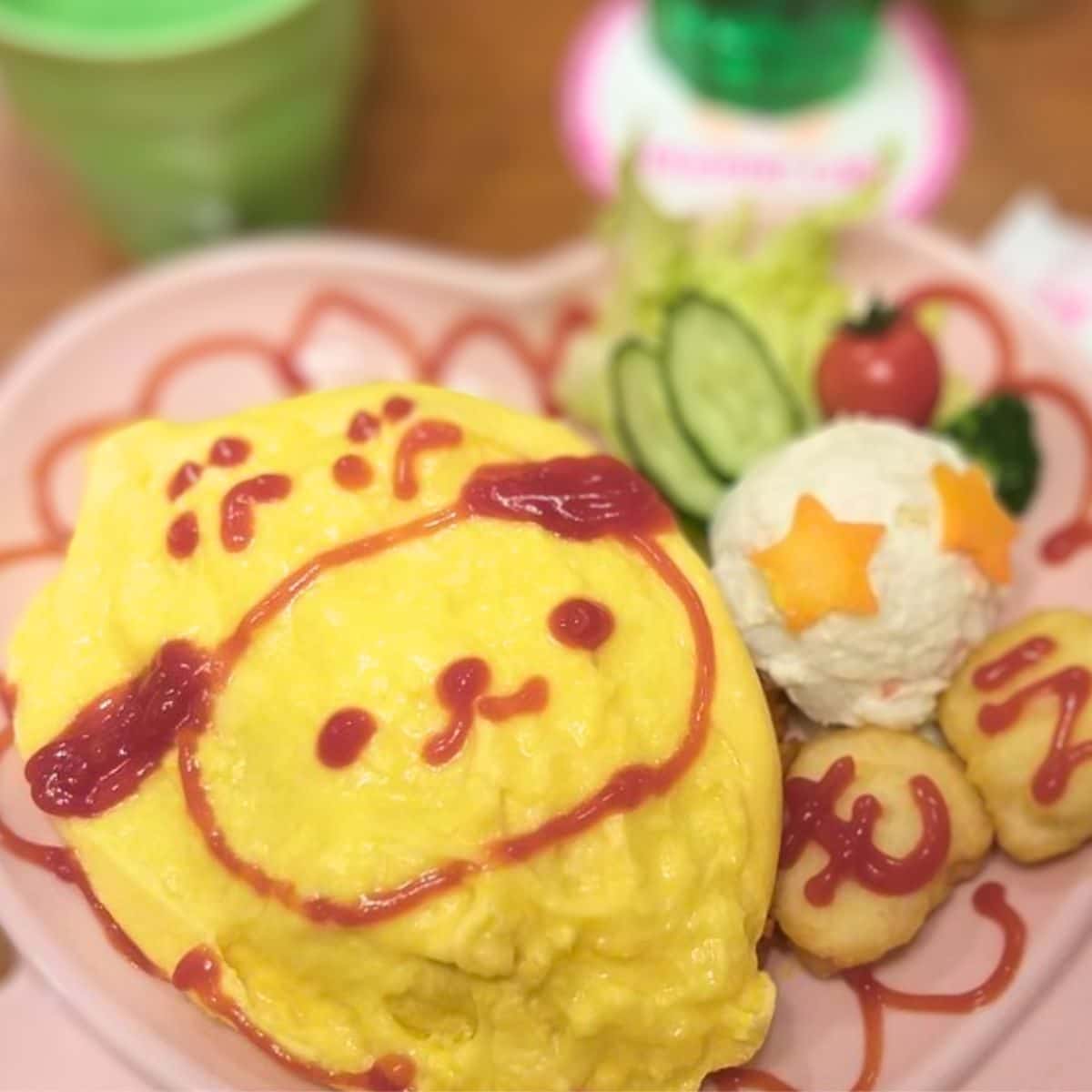 Cutely decorated food at @Home Cafe / 3 Days in Tokyo Itinerary
Akihabara is a paradise for anime and manga lovers. There are numerous shops selling manga, anime merchandise, collectibles, and cosplay costumes. Places like Animate, Mandarake, and Toranoana are popular spots to explore for the latest anime and manga releases, limited-edition items, and rare finds.
My recommendation is to check out Mandarake Complex. It is one of the largest stores in the Akihabara area an extensive selection of new and used manga, anime DVDs and Blu-rays, action figures, trading cards, video games, cosplay costumes, and other related merchandise.
One of the highlights of Mandarake Complex is its vast collection of used and rare items, making it a treasure trove for collectors and fans looking for hard-to-find merchandise or out-of-print items.
Akihabara is also known for its arcades and game centers that offer a wide range of video games and entertainment.
Here are a couple of places you might like:
SEGA Akihabara Building 1 – This iconic SEGA arcade is a multi-floor game center with a wide selection of games, including classic arcade games, crane games (UFO catchers), rhythm games, and more. It's a must-visit for SEGA fans and offers a diverse range of gaming experiences.
TAITO HEY! Akihabara 1 – TAITO HEY! is a popular arcade chain in Japan, and the Akihabara location is one of the largest and most well-known. It offers a variety of games, including retro arcade games, modern video games, virtual reality (VR) games, and more.
If you want a better understanding of anime and gaming in Japan, then my recommendation is to join Akihabara Anime and Gaming tour. You will gain a better understanding of Japanese culture, plus you will visit a retro video game store, and a maid cafe, plus you will have a knowledgeable guide by your side who can answer all your questions.
Rent a Go-Kart in Akihabara
My recommendation is to finish the second day of 3 days in Japan itinerary by renting a go-kart in Akihabara.
There are several go-kart rental companies in Akihabara, such as Akiba Kart, Street Kart, and MariCAR.
If this is something you might like to do, then make a reservation in advance, as go-kart rentals in Akihabara are very popular and may have limited availability.
DAY 3
Toyosu Fish Market
Ginza
Imperial Palace
teamLab Borderless Art Museum
Roppongi Hills
Toyosu Fish Market is one of the largest wholesale seafood markets in the world. It is renowned for its fresh seafood auctions and serves as a hub for the distribution of seafood to restaurants, sushi shops, and retailers in Tokyo and beyond.
The market opened in October 2018 and replaced the iconic Tsukiji Fish Market, which had been in operation for over 80 years.
The Toyosu Fish Market is located on a man-made island in Tokyo Bay and covers an area of 40.7 hectares.
The market is divided into three main sections: the fish auction area, the intermediate wholesale area, and the fruit and vegetable market.
One of the main attractions of the Toyosu Fish Market is the live tuna auction, where buyers bid on fresh tuna that is carefully inspected and graded by market officials.
The auction takes place early in the morning at about 5:30 am and visitors are allowed to observe from a designated viewing area.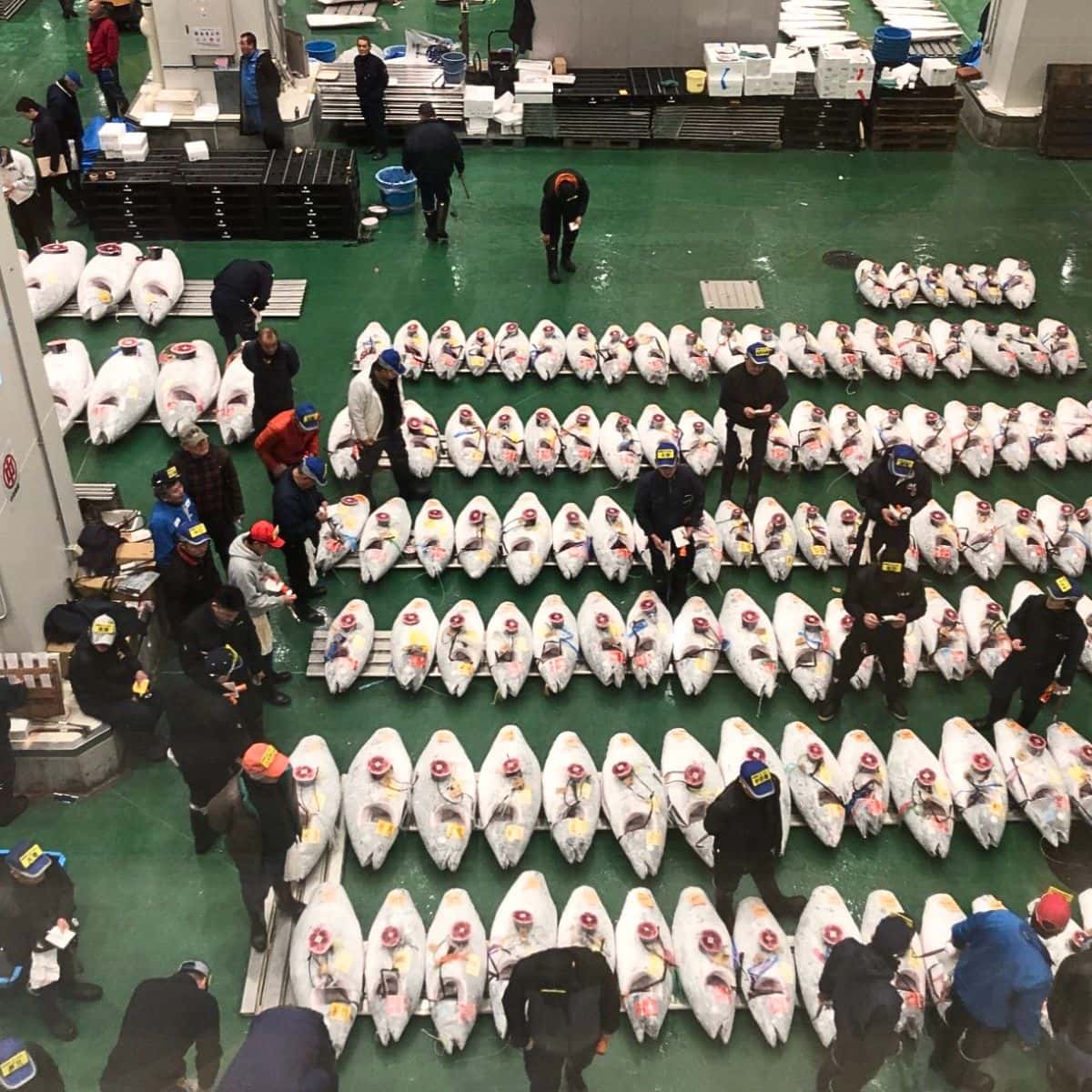 Toyosu Market / 3 Days in Tokyo Itinerary
In addition to the auctions, the intermediate wholesale area is a great place to visit and see how the seafood is processed, packaged, and distributed to buyers, including local restaurants and retailers.
A nice change from the seafood market is to visit the fruit and vegetable market where a wide range of fresh produce is traded.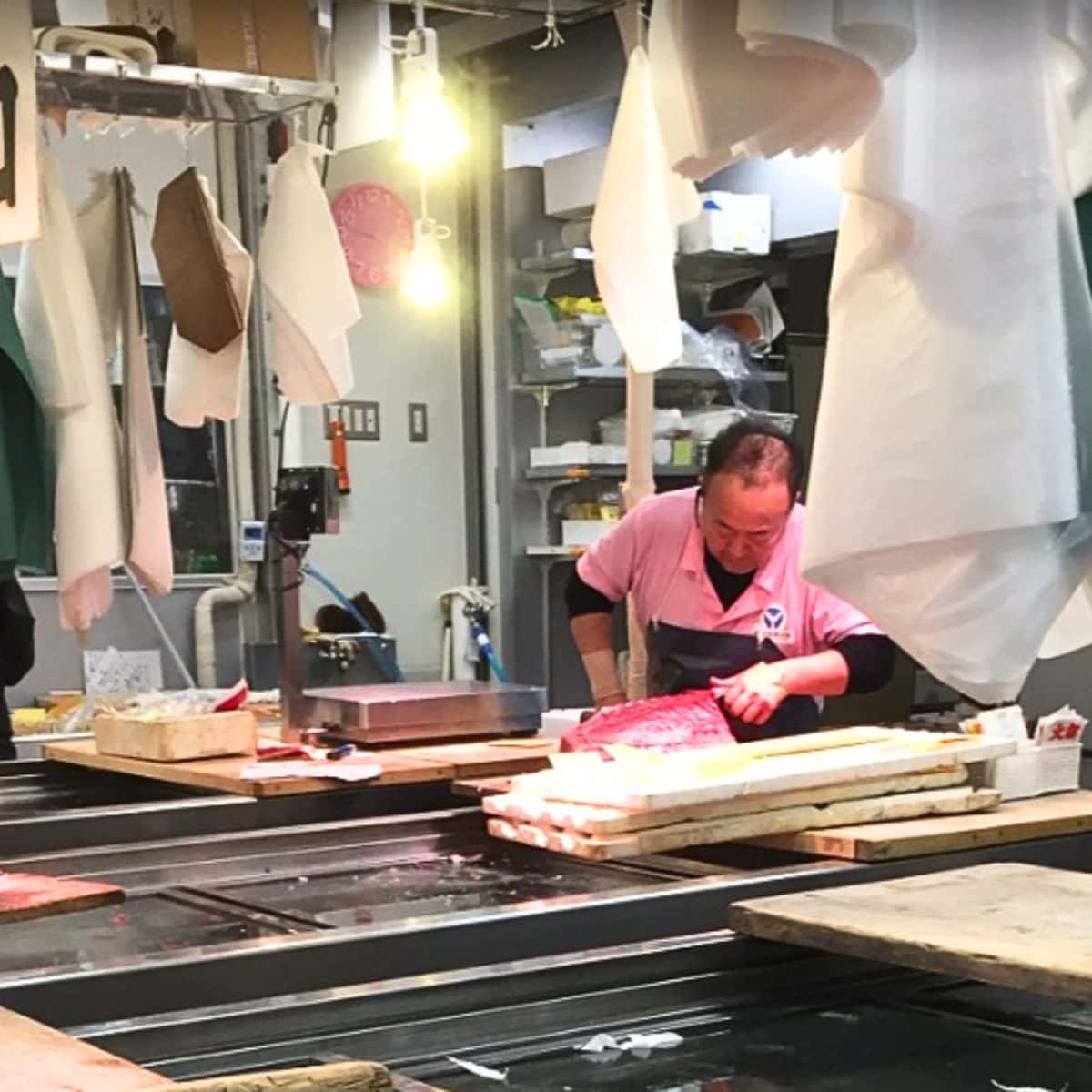 Toyosu Market / 3 Days in Tokyo Itinerary
I attended Tuna Auction and Tokyo Toyosu Fish Market Tour. It was amazing! You should definitely look into it.
You will watch the entire auction from start to finish, including tuna inspection from 5:00 to 5:30. Then from 6:30–9:00 your expert guide will give you a market tour and you will learn about tuna, auctions, markets, and Japanese food in detail.
You will also enjoy the panoramic view of Tokyo's skyline, and learn about the history and geography of Tokyo.
Finally, you will savor authentic sushi for breakfast at the best sushi restaurant in the market.
Important: Auction viewing from the viewing deck requires an advanced online lottery. They will apply for you if you book the tour by the application deadline date!
Ginza is where I always stay when I am visiting Tokyo. It is my favorite place in Tokyo.
Ginza is known as an upscale shopping district. It has some high-end department stores and luxury boutiques. Probably the most popular is Ginza Six, a luxury shopping complex that opened in 2017. It has a mix of high-end fashion brands, art galleries, gourmet restaurants, and a rooftop garden.
Another place I need to mention is Ginza Mitsukoshi. It is one of the oldest and most prestigious department stores in Japan. Their flagship store is located in Ginza. They are known for their high-quality products, elegant interiors, and top-notch customer service.
I am sure that as you are strolling through Ginza, you will notice Ginza Wako. It is an iconic building in Ginza known for its distinctive clock tower and historic heritage.
What I like about Ginza the most is its diverse and high-quality dining scene. There are numerous restaurants in Ginza offering a wide range of cuisines, from traditional Japanese to international fare.
Here are three dining places in Ginza that are highly regarded for their culinary excellence. If any of them sound good, then make your reservations as soon as possible. They all are booked well in advance.
Sukiyabashi Jiro is a world-famous sushi restaurant known for its top-quality sushi and the masterful skills of its chef, Jiro Ono. The restaurant has been awarded three Michelin stars!
Ginza Kyubey is another renowned sushi restaurant in Ginza that has been serving top-quality sushi for over 80 years.
Ginza Bairin is famous for its crispy and juicy tonkatsu made with carefully selected pork.
Next, let's head out to the Imperial Palace.
The Imperial Palace is the primary residence of the Emperor of Japan and the Imperial Family. It is known for its beautiful gardens, historic buildings, and cultural significance.
Here is what not to miss:
Imperial Palace East Gardens
The Imperial Palace East Gardens have beautifully maintained Jpanese-style gardens, with various plants, flowers, and trees, including cherry blossoms in spring and vibrant foliage in autumn. It is such a pleasure to walk along the moats, enjoy the scenic views, and escape the hustle and bustle of Tokyo.
Nijubashi Bridge is one of the most iconic spots in the Imperial Palace, known for its picturesque beauty. It is a double-arched stone bridge that spans the moat and leads to the main entrance of the palace.
The Imperial Palace Plaza is a large open space located in front of the main entrance of the palace. It offers a panoramic view of the palace.
Fujimi-yagura is one of the few remaining turrets of the original Edo Castle, which was once located on the same site as the current Imperial Palace. It is a historic structure that offers a glimpse into the castle's military defenses during the Edo period. You can explore the interior of the turret and learn about its historical significance.
Sannomaru Shozokan Museum
Sannomaru Shozokan is a museum located within the Imperial Palace grounds that displays a collection of historical artifacts and treasures of the Imperial Family.
The last stop of the day and the last activity on this 3 days in Tokyo itinerary is Roppongi.
Roppongi is known for its vibrant nightlife, shopping, dining, and entertainment. However, one spot that you cannot miss is Roppongi Hills. It is a modern complex that houses offices, shops, restaurants, art galleries, and observation decks offering panoramic views of Tokyo.
The Tokyo City View observation deck, located on the 52nd floor, offers breathtaking views of the city skyline, including Tokyo Tower and Tokyo Skytree.
The Tokyo Skydeck, located on the rooftop, is an open-air observation deck that provides a 360-degree view of Tokyo.
Both observation decks are great and most popular during the sunset!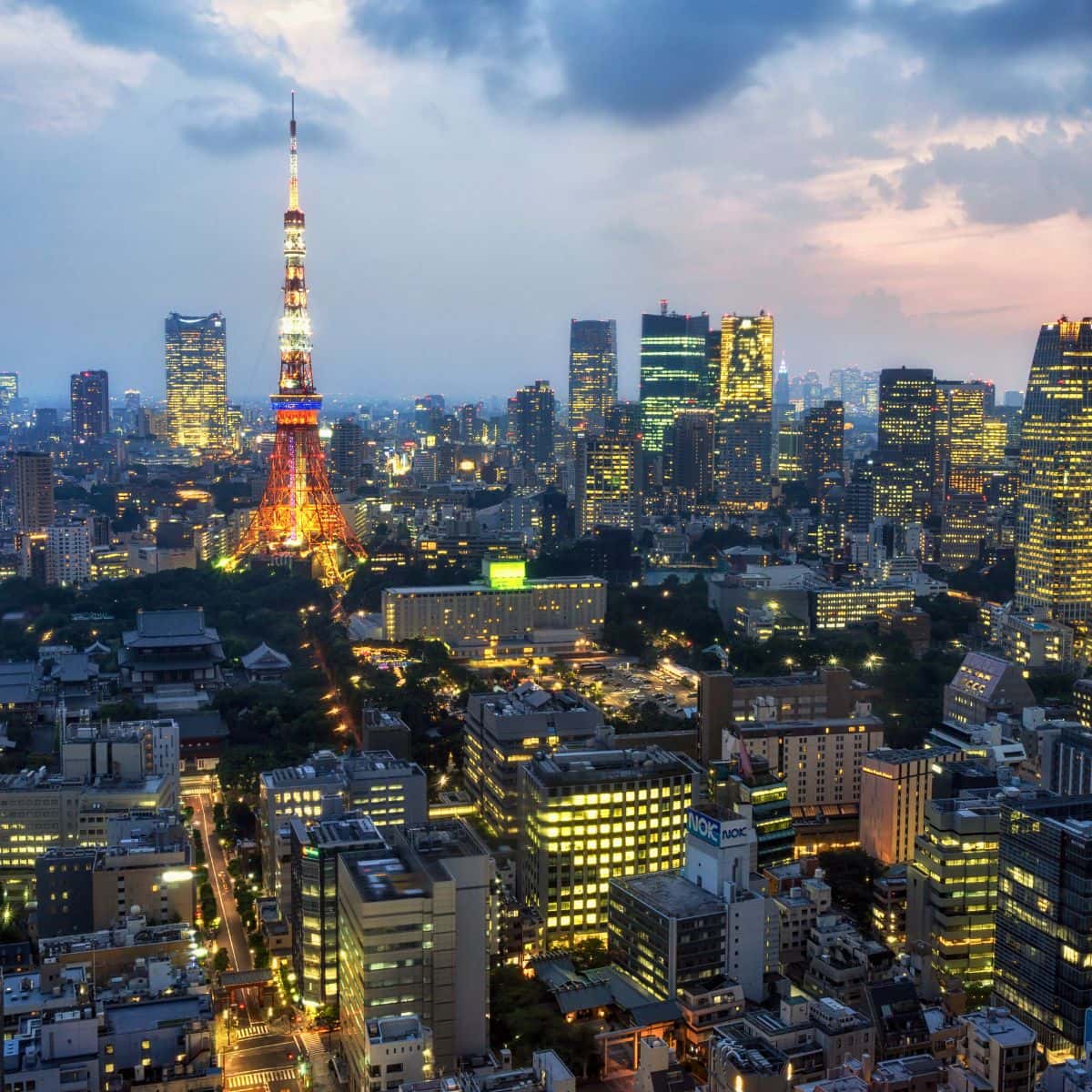 Tokyo at sunset / 3 Days in Tokyo Itinerary
Intrepid Scout's Tips for 3 Days in Tokyo Itinerary
I hope you got some ideas for how to spend 3 days in Tokyo. You can easily condense this itinerary and plan for 2 days in Tokyo.
If you like to take things at a leisurely pace then extend it to 4 days in Tokyo and add Roppongi Art Triangle. It is a collection of three art museums located in close proximity to each other in Roppongi, known as "Art Triangle Roppongi." It consists of the Mori Art Museum, the National Art Center, Tokyo, and the Suntory Museum of Art.
Mori Art Museum is a contemporary art museum located in Roppongi Hills that showcases a diverse range of contemporary art from Japan and around the world. The museum features rotating exhibitions of various art forms, including paintings, sculptures, photography, installations, and multimedia works. It is known for its innovative and thought-provoking exhibitions.
The National Art Center, Tokyo is a unique museum that does not have a permanent collection but hosts special exhibitions of various art genres,
The Suntory Museum of Art focuses on Japanese and Asian art, including ceramics, lacquerware, and textiles.
Also, it is a good idea to escape the hustle and bustle of Tokyo and explore the surrounding areas. Here are my favorite day trips from Tokyo:
Amazing TOKYO to HAKONE Day Trip (7 Fun Things You Can't Miss)
14 Practical Tips How to See SNOW MONKEYS in JAPAN (Best Trip from TOKYO)
Perfect ONE DAY in KANAZAWA – 7 Things to Do (BEST TRIP from Tokyo, Kyoto, or Osaka)
Did You Find This Useful?
Why Not Save 3 Days in Tokyo to Your Pinterest Board!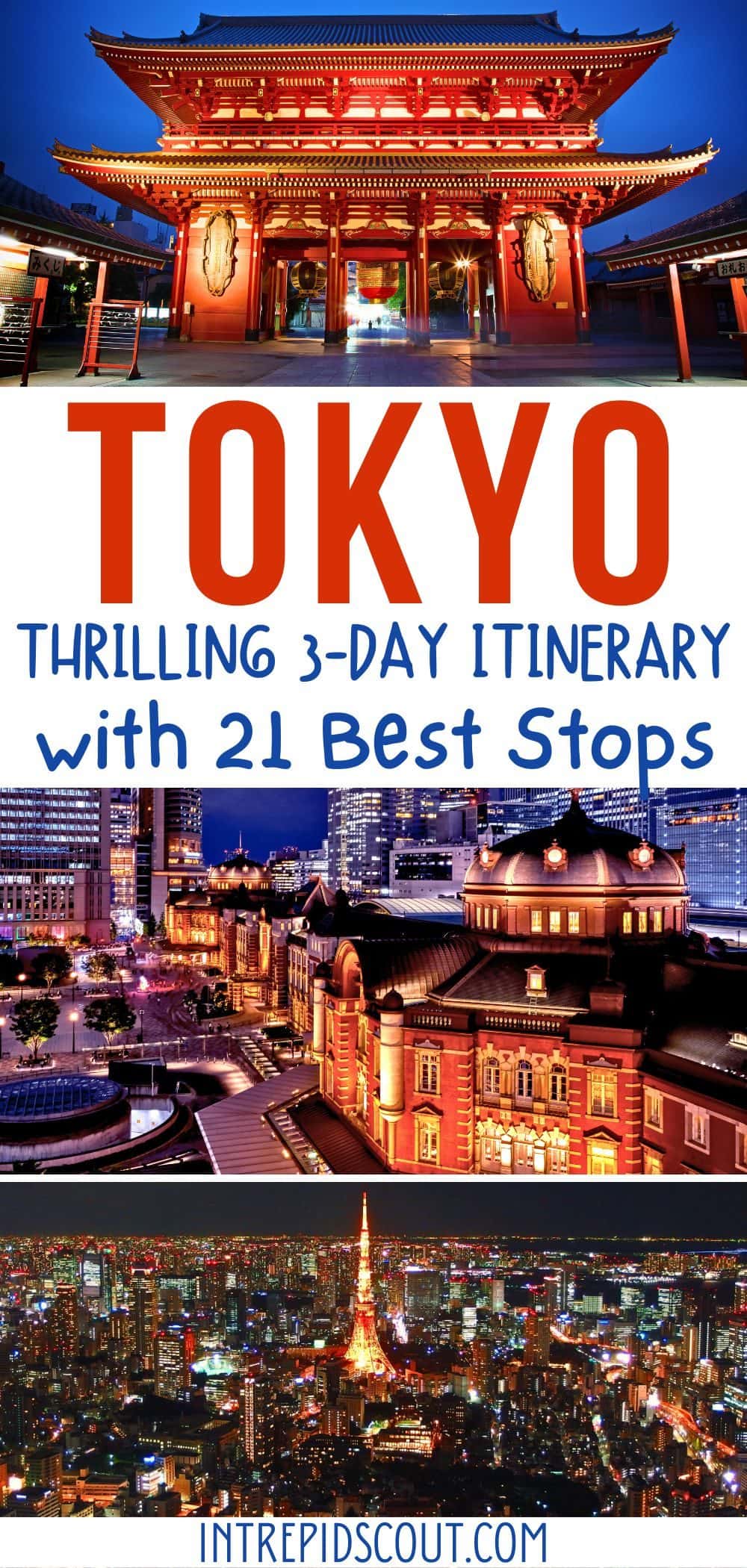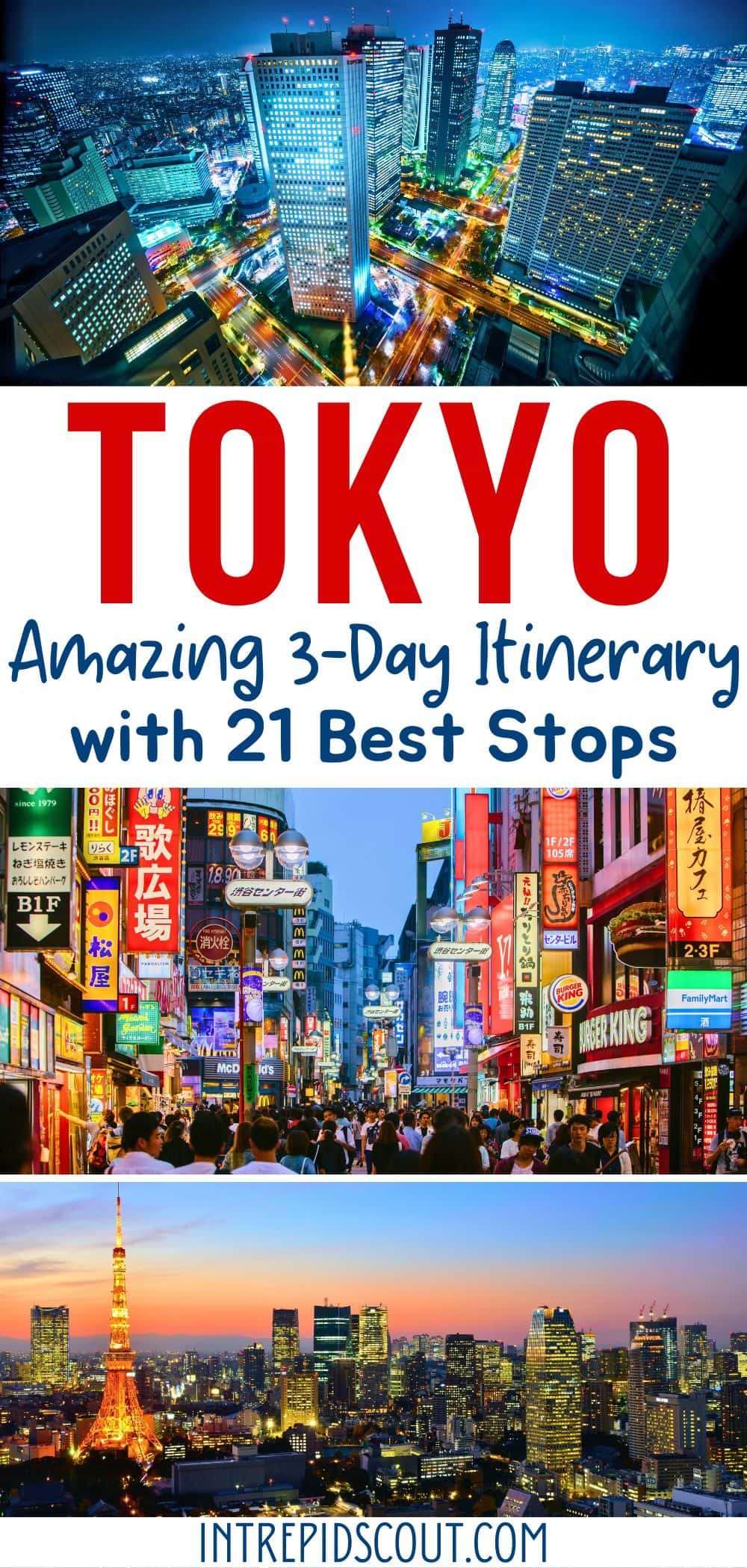 Now, It Is Your Turn, I Would Like to Hear Back from You!
Are you planning on visiting Tokyo? What is on your list of places to see in Tokyo?
Please let me know! Drop me a quick comment right below!
Click on any of the images below to get inspired and to help you with the planning process for your trip to Japan!