This site uses affiliate links, meaning that if you make a purchase through our links, we may earn an affiliate commission.

Discover 7 Unique Things to Do in Kanazawa, Japan

Kanazawa is one of the most beautiful and historical cities in Japan.
Get inspired with my recommended 7 unique things to do in Kanazawa that aren't on your list…yet!
Higashi Chaya District
I honestly think that Higashi Chaya District is one of the most picturesque parts of Kanazawa. It is a part of Japan that is still untouched by time. Specifically, you will feel like you stepped back in time when you are there.
Hands down, visiting Higashi Chaya District is one of my best things to do in Kanazawa!
First of all, 'Chaya' means tea house in English. It is a traditional place of feasts and entertainment. In the tea houses geisha perform dances and play traditional Japanese musical instruments, such as the shamisen (a three-stringed musical instrument), bamboo flute, and drum.
Notably, Geisha are traditional, female Japanese entertainers, whose skills include performing various Japanese arts, such as classical music and dance.
Secondly, 'Higashi' means east in English. Chaya Higashi is one of the three geisha districts of Kanazawa.
For one thing, Higashi Chaya District is a great place to just wander around for awhile and soak up the "Old Japan" atmosphere.
Most of the streets in Higashi Chaya District are lined with wooden two-story tea houses. The upper floors of the tea houses are faced with sliding wooden shutters which would be open in the day or when there was a party going on.
In addition, the ground-floor levels are adorned with superbly fine latticework that is known as 'Kaga lattice'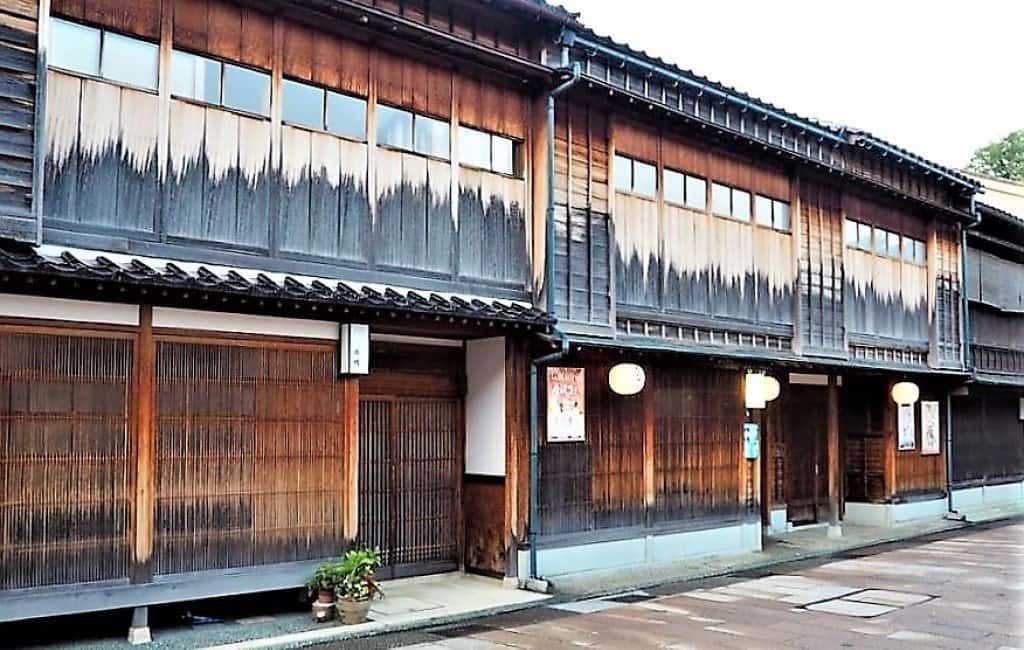 Interestingly enough, the construction of the tea house is very similar to the layout of the merchant house. However, unlike the merchant houses, where the second floor at the front was for storage, and thus very low, the second story of tea houses are much higher, because the upper floor was used as the main entertaining area.
For one thing, the geisha areas were out of bounds to samurai. Conversely, they were patronized by rich merchants and artisans.
While it is no longer possible to see a samurai, Kanazawa is one of the few places in Japan where geisha still work.
The Meiji Restoration of the 1860s was the beginning of a period of major modernization and westernization. In 1871, extensive reforms were passed and executed, abolishing the han system, and thus ending feudalism and the class system.
In 1876, samurai were banned from carrying swords, practically ending the legacy of the samurai.
Nowadays, many of the tea houses have been converted into cafes, restaurants and boutiques and several are still used by geisha.
Notably, there are two places worth checking out in Higashi Chaya District: Kaikaro Tea House and Shima Tea House. Both are located on the main street in Higashi Chaya District.
Kaikaro Tea House
Kaikaro Tea House is the largest tea house in the Higashi Chaya District. It was built in 1820.
First of all, before you step inside, notice large, barred panels on the windows called kimusuko, that let in the sun but prevented outsiders from peeking in inside the building.
Kaikaro will offer you a rare chance to see the traditional tea house exquisite interior. You enter through the wooden slide door and the first thing you will see is the vermilion-colored staircase.
Continue upstairs to view Ozashiki banquet rooms with lustrous red walls decorated with bold fusuma-e paintings.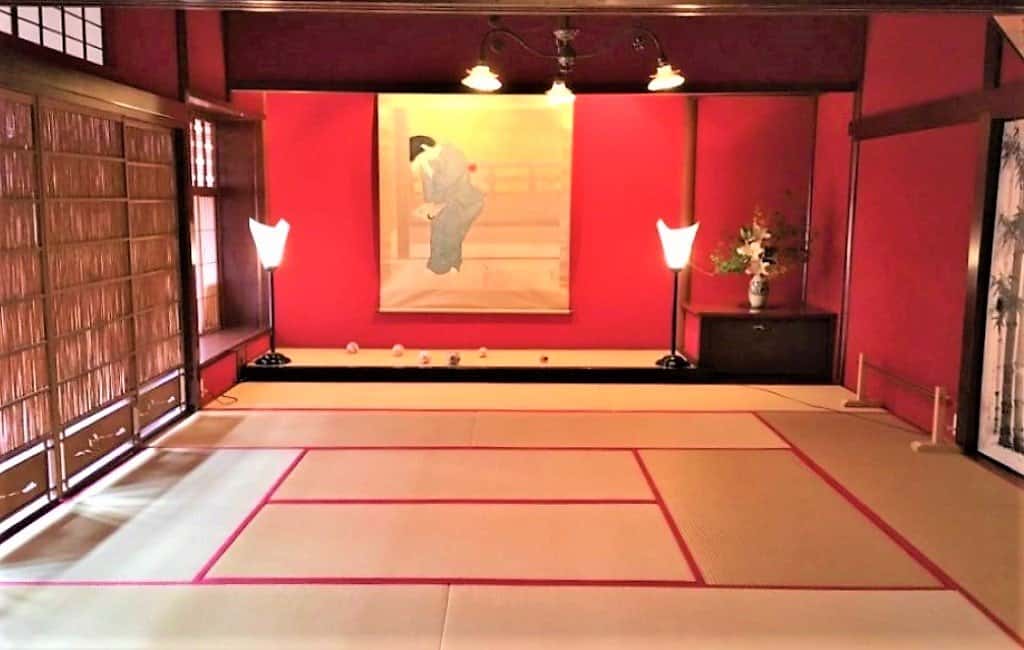 Alternatively, notice the "nightingale floors" or chirping floorboards.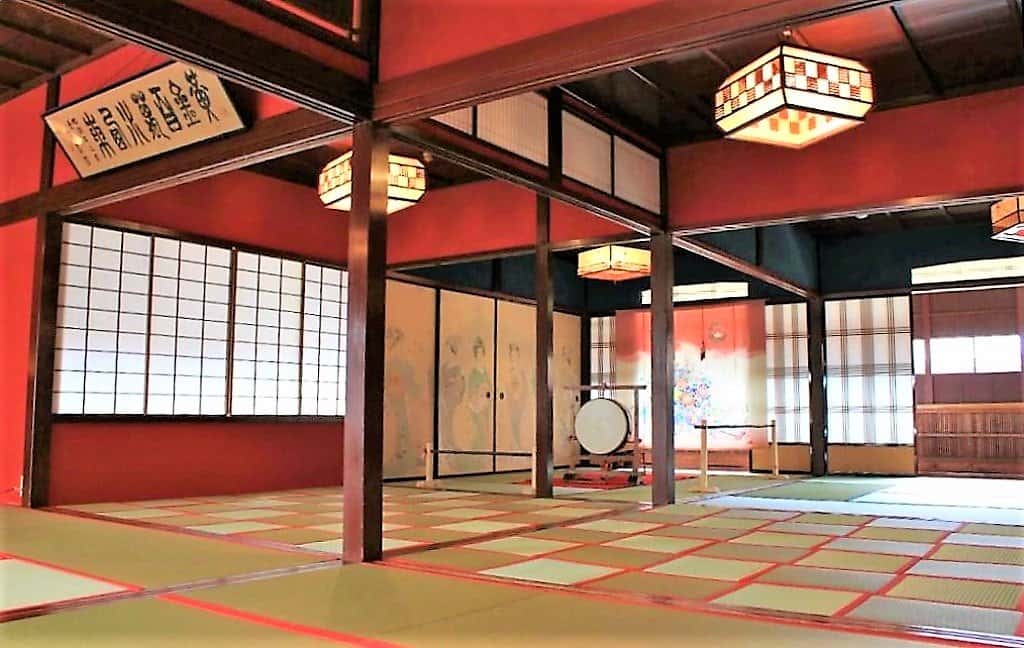 And, finally immerse yourself into an impressive golden tea ceremony room. This is the world of chaya culture.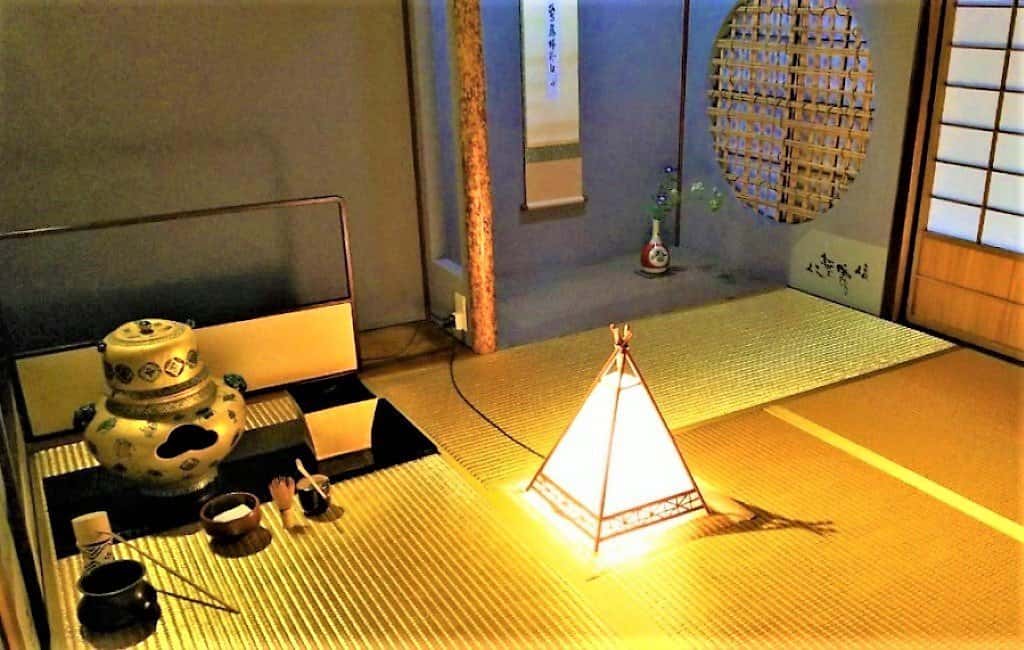 Kaikaro is open daily from 9 am till 5 pm.
The entrance ticket costs 750 yen.
Shima Tea House



Shima Tea House catered to the upper class merchants of the Edo Period.
It is fascinating to tour geisha's private quarters in Shima Tea House. They are all located in the front of the house. You will get to see where geishas used to put their makeup on and prepare to meet their guests. In addition, you will see a great collection of accessories used at that time.
Right next to the geisha quarters you can view the reception room and the office, where the okami-san, the mistress of the house, kept her records.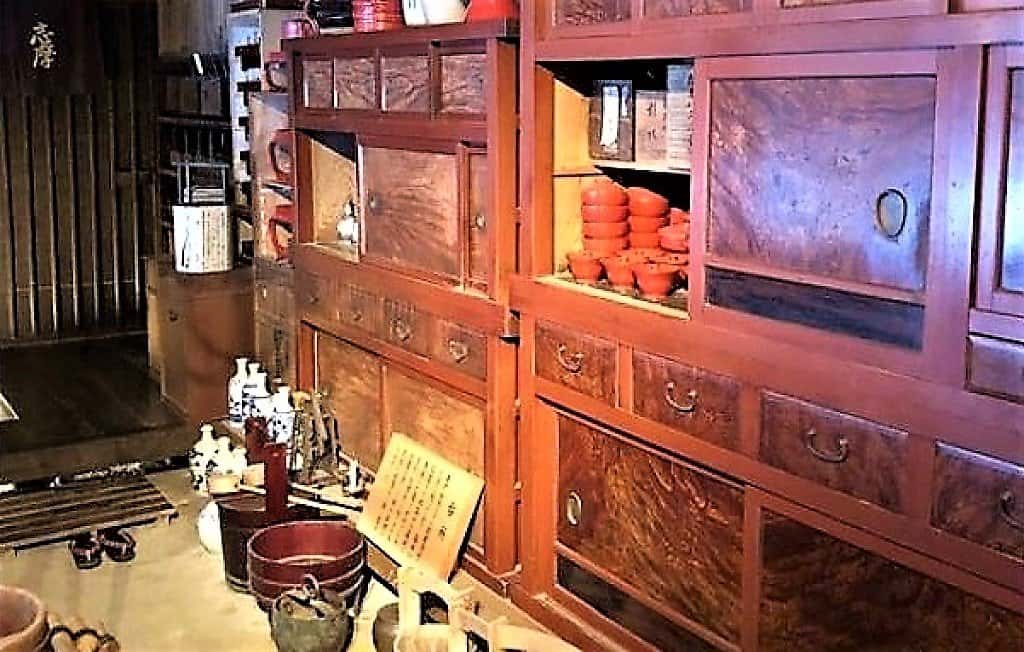 The rooms for entertaining guests are all located on the second floor.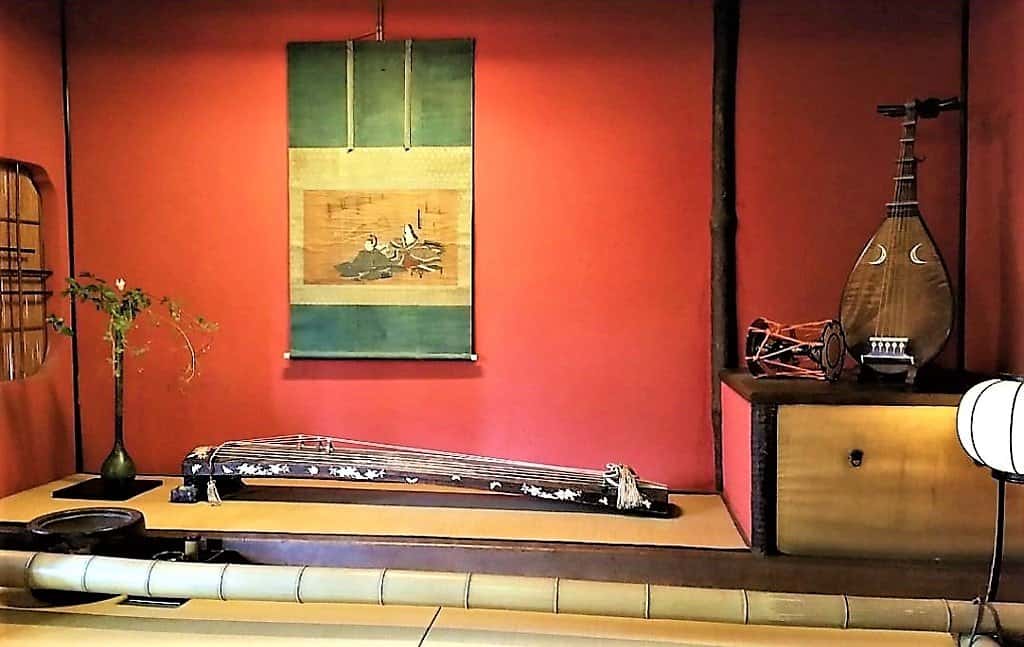 Shima is open daily from 9 am till 6 pm.
The entrance ticket is 500 yen.
Don't have time to read it now?
Save it for later!
Pin it on your Pinterest board!
Gold Leaf Museum
Visiting Gold Leaf Museum is one of the most fascinating things to do in Kanazawa. You will learn all about the gold leaf manufacturing process, the history of gold leaf and its uses.
Gold leaf is made by mixing a small amount of silver and copper with pure gold to make it into an alloy. Next, the mixture, is put in between two pieces of paper and, finally, it is hammered to make it into an extremely thin sheet. As a result, finished gold leaf is only1/10,000th mm thick.
Considering this, it is hard to imagine how labor-intensive this process was before mechanization.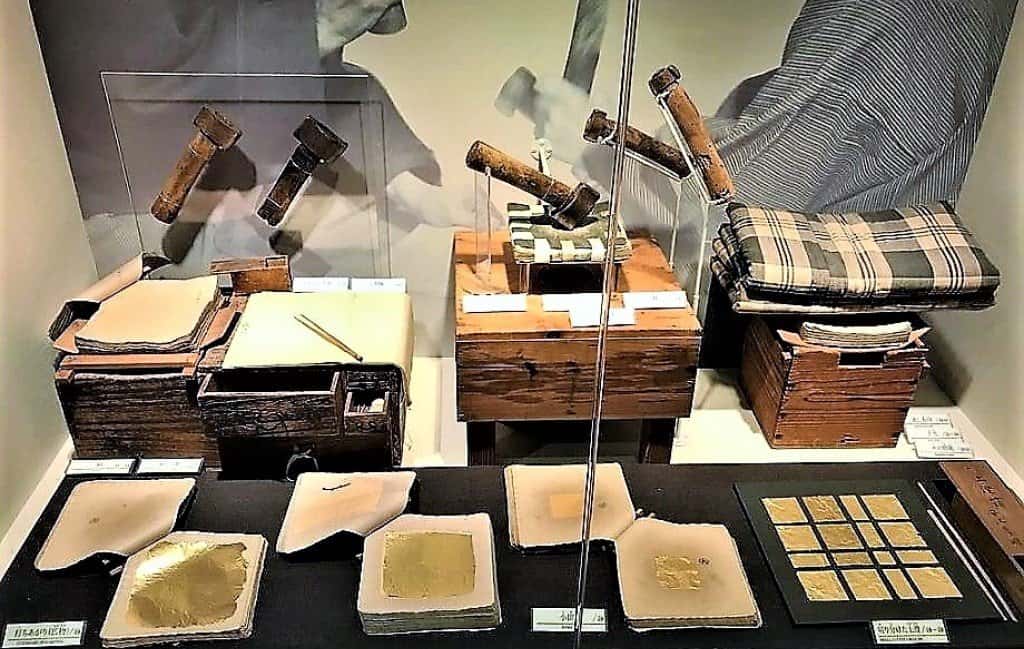 The gold leaf sheets have many uses, primarily they are used for decoration.
The technique of producing gold leaf was imported from China during the late Nara Period or the early Heian Period (ca 800), and it is estimated that it was brought to feudal lord Toshiie Maeda in 1593. Maeda proceeded to order craftsmen of the Kaga region to produce gold leaf.
The museum is filled with gold beating tools and artistic handicraft articles collected by Komei Yasue, a famous gold leaf artisan. It exhibits a large number of works including folding screens, Noh costumes, Kutani porcelain, a Kanazawa Buddhist altar, Kaga lacquer work, and Kaga incrustation work.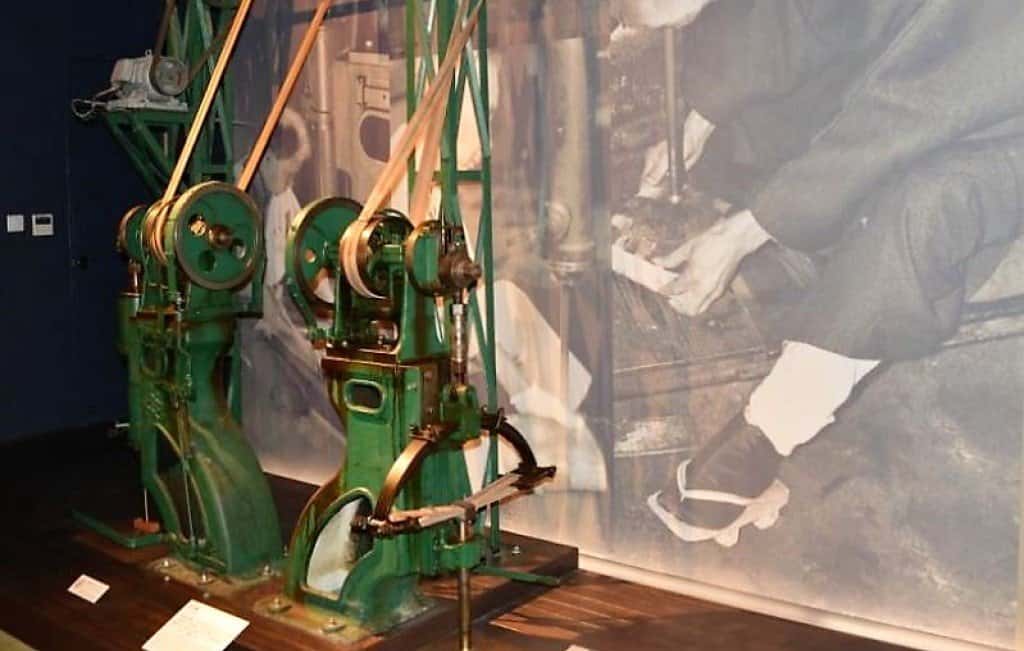 Notably, 99% of the gold leaf produced in Japan is made in Kanazawa.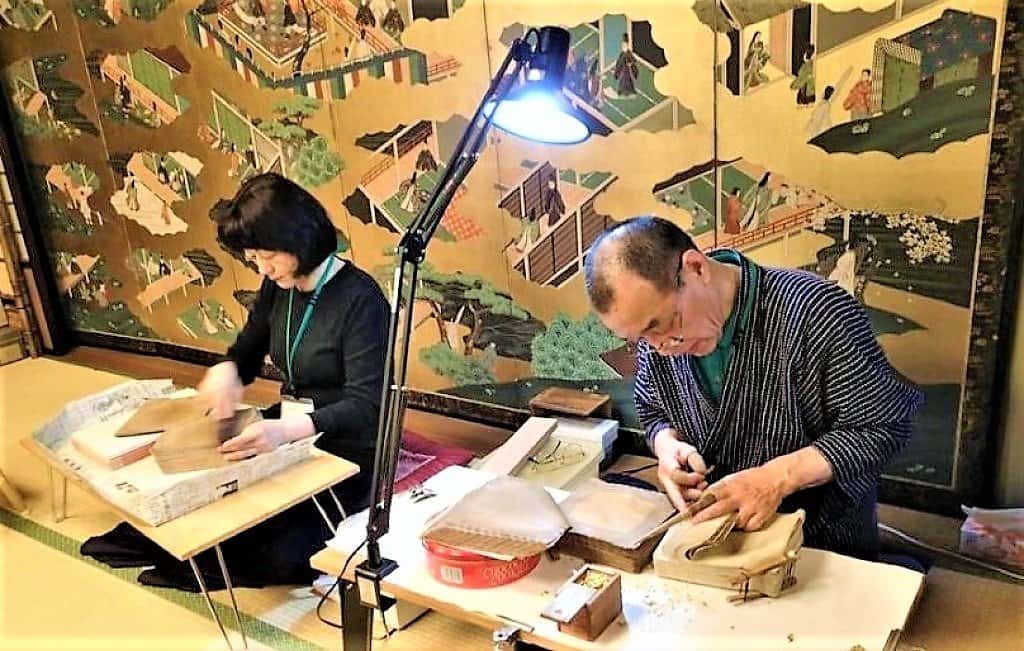 The museum is open from 9:30 am till 5 pm. The last admittance is at 4:30 pm. Please note that the museum is closed year-end and New Year's holidays.
The entrance ticket is 300 yen.
Kazue-machi Chaya District
Across the Asanogawa Ohashi Bridge from Higashi Chaya District is another tea house district that you should not miss. It is Kazue-machi Chaya District, a very picturesque and atmospheric neighborhood. Actually, this area is my one of my favorite places to visit while in Kanazwa. You will immediately notice that it is much quieter here and not as many tourists wandering around.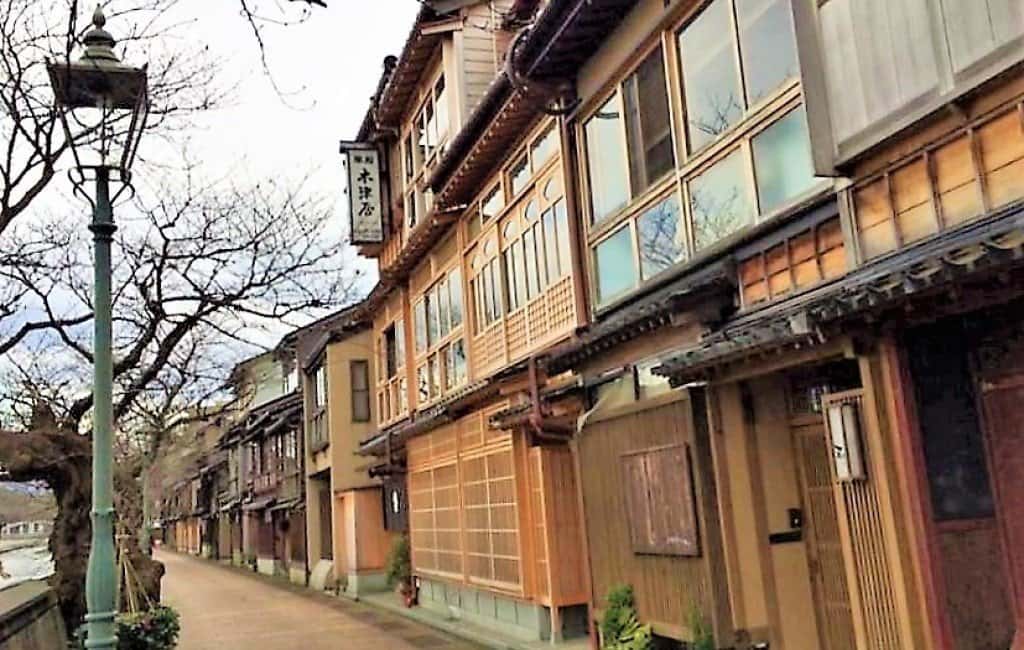 In the heart of Kazue-machi you will come across Kuragarizaka (a dark slope), which connects to the Owari-cho hill area. It is a passage which served as an access route from the business district to the entertainment district. This avenue was used by business men and merchants to conceal their movements during the Edo period, allowing a slick transition from the business world to the entertainment world.
Chaya Districts are equally stunning at night when the tea houses are illuminated.
Just wander around and as the sun sets down keep an eye out for geisha.
Also, observe how Chaya Districts will slowly start coming alive in the dusk and the sounds of shamisen begin to be faintly heard.
Kanazawa Castle
Stunning white Kanazawa Castle sits on a hill that offers 360-degree views of the city. You will see from a distance it's striking white tile roof made of weathered lead.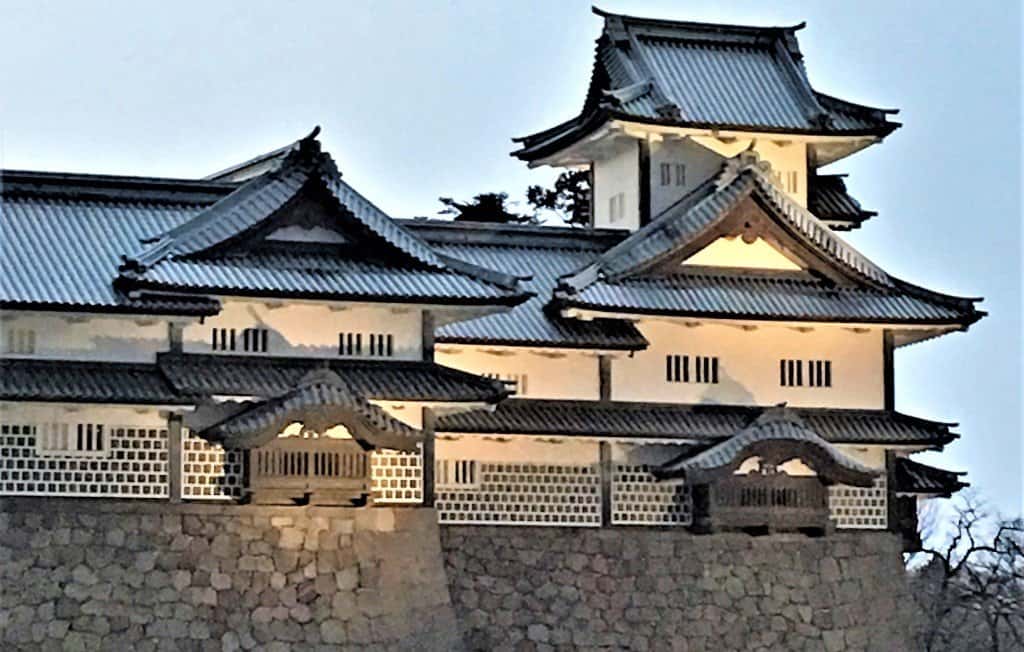 Kanazawa Castle dates back to 1580 when Oda Nobunaga ordered his retainer, Sakuma Morimasa to build the castle. Yet, Oda Nobunaga did not get to reside in the castle. In 1583 Maeda Toshiie claimed the castle and its grounds. And, since 1583 until the coming of the Meiji Restoration in 1871, Kanazawa Castle was the seat of power of the Maeda clan.
Many of Kanazawa Castle's buildings were burnt down in repeated fires through the years, but several structures such as Ishikawamon Gate and Sanjikken Nagaya, are still standing.
In recent times there has been a project to rebuild the historic buildings of the former castle. Hishi Yagura Turret , which overlooks the northern approach to the castle, Hashizume-mon Tsuzuki Yagura Turret, which guards the entrance to the central area of the castle grounds, and Gojikken Nagaya Storehouse, which runs between the turrets, were the first buildings to be reconstructed. They were completely rebuilt to their original appearance using traditional techniques and materials and opened to the public in 2001.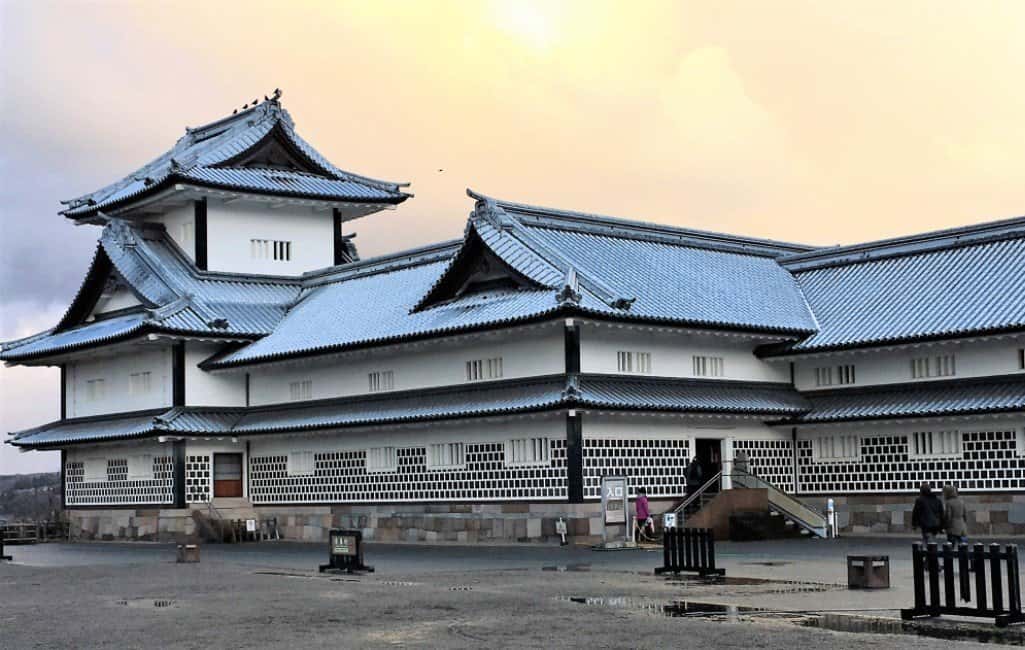 The admission to the castle grounds is free and it is open year-round. Opening hours are 7 am to 6 pm from March 1st to October 15th and 8 am to 5 pm from October 15th to the end of February.
The admission to the turrets and storehouse area is 310 yen. Opening hours are 9 am to 4:30 pm. It is open year-round.
I visited the Kanazawa Castle Park one year on a cold winter afternoon. The sky was amazing and when I was leaving it started to snow.
Kenrokuen Garden
Kenrokuen Garden is ranked by the Japanese as one of the top three most beautiful gardens in Japan. In my opinion, it is a must-see place for any visitor to Kanazawa and one of the best things to do in Kanazawa no matter when you are visiting. You will be amazed by the beauty of this place.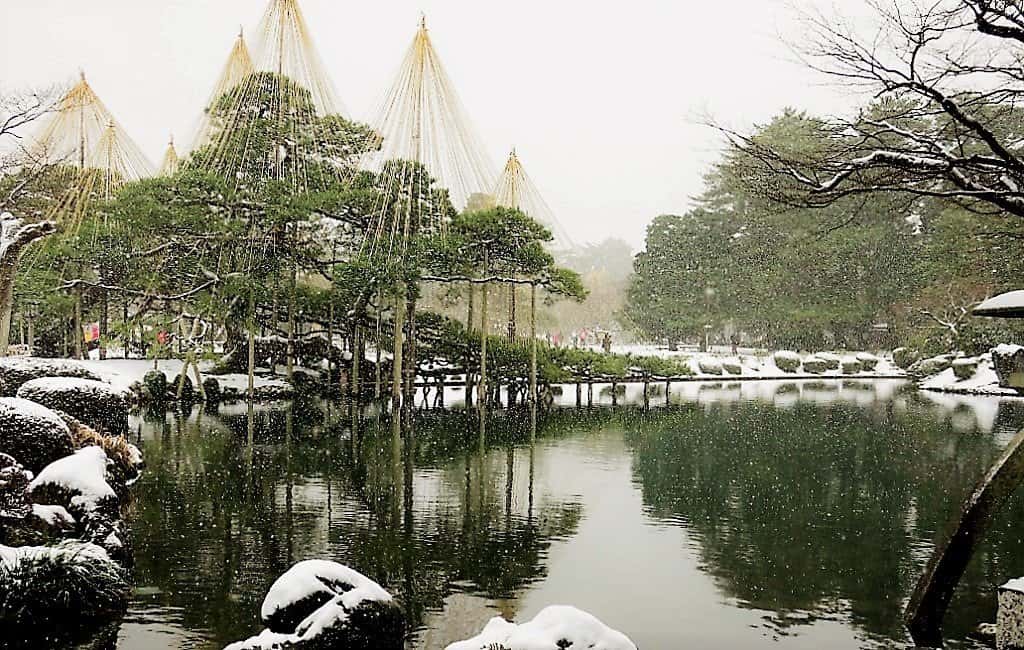 Kenrokuen Garden gives an impression of naturalness. Yet, do not be misled. There is nothing natural about it. Kenrokuen Garden is a result of two centuries of dexterously remodeling of nature by the master gardeners of the feudal era. And the final result is an expression of idealized nature where various elements of vegetation and topography are incorporated to enchant and surprise the senses.
The name "Kenrokuen", means "Garden of Six Qualities" and it references back to the 11th century Chinese literature, which dictated the six features of an ideal landscape: spaciousness, seclusion, human artifice, antiquity, waterways, and panoramic views.
It stated that a perfect garden was difficult to achieve since these six features were required to be grouped in mutually exclusive pairs like spaciousness and seclusion, human artifice and antiquity, waterways and panoramic views. Yet, I think that the master gardeners of the feudal era incorporated all six qualities.
Springtime is amazing at Kenrokuen Garden and when the cherry blossoms fully open up, they are the sight to behold.
Kenrokuen boasts some 420 cherry trees, or sakura, ranging from the classic Somei Yoshino to other, lesser-known, but equally beautiful species such as Higan, Shiogama, Fugenzo and Ukon.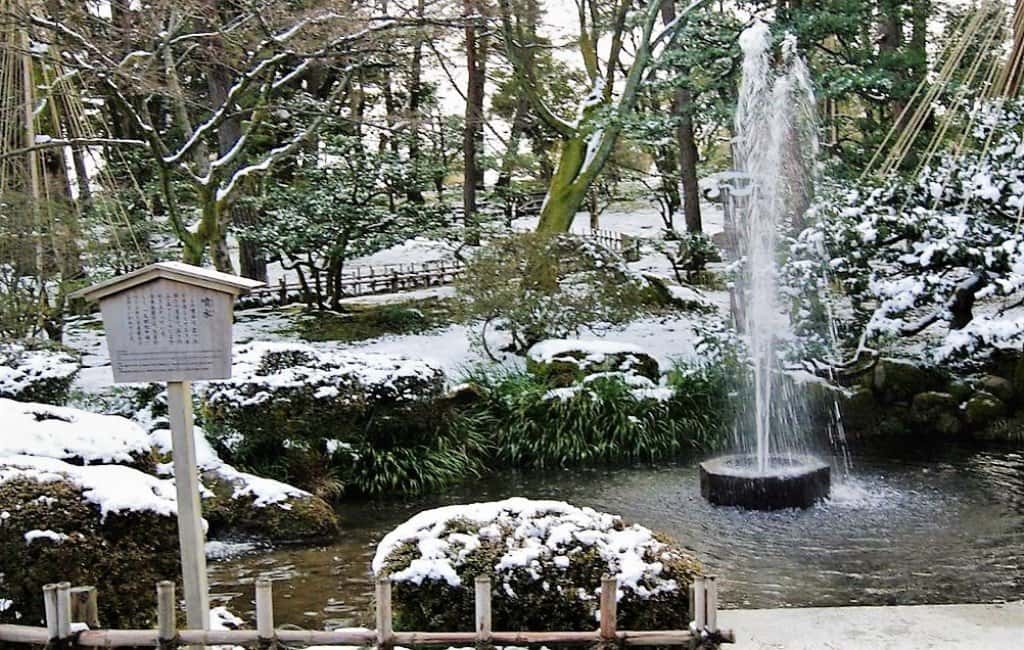 The oldest original building in Kenrokuen is the Yugao-tei tea house, built in 1774 and named for an ornamental yugao (moonflower) carving that adorns one wall. The other tea house is Shigure-tei, which was built before the 1759 fire. It was completely reconstructed in 2000.
Both offer an opportunity to enjoy a timeless Japanese tradition of Tea Ceremony while surrounded by the beauty of the garden.
Kotoji-toro stone lantern is the most famous structure in the garden. It is built with two legs to represent the bridge of a koto—a traditional Japanese stringed instrument similar to a harp. The lantern has come to symbolize the city of Kanazawa.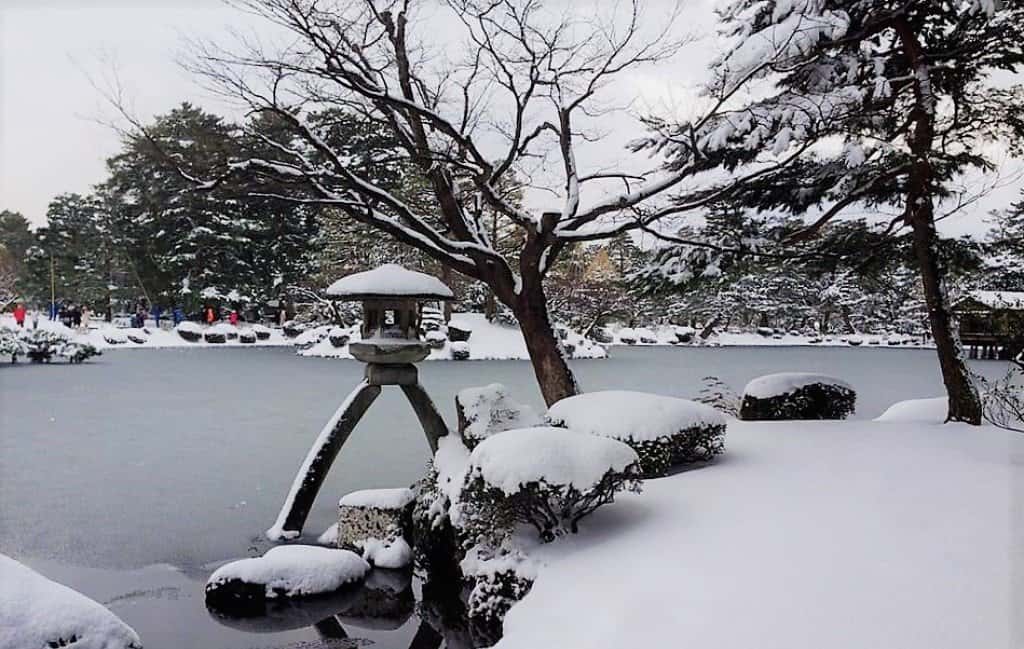 If you are visiting in the fall, you will notice a team of gardeners beginning to work on yukizuri —"snow hanging". The poles are erected among the branches of the pine trees and rice-straw ropes are suspended.
The ropes that cover Kenrokuen's pines serve a purely practical purpose: when snow falls in Kanazawa, it tends to be dense with moisture, and the ropes prevent the weight of the snow from damaging tree branches. Yet, they became a beautiful symbol of the changing of the seasons especially when the snow begins to fall and the garden is lit up at night.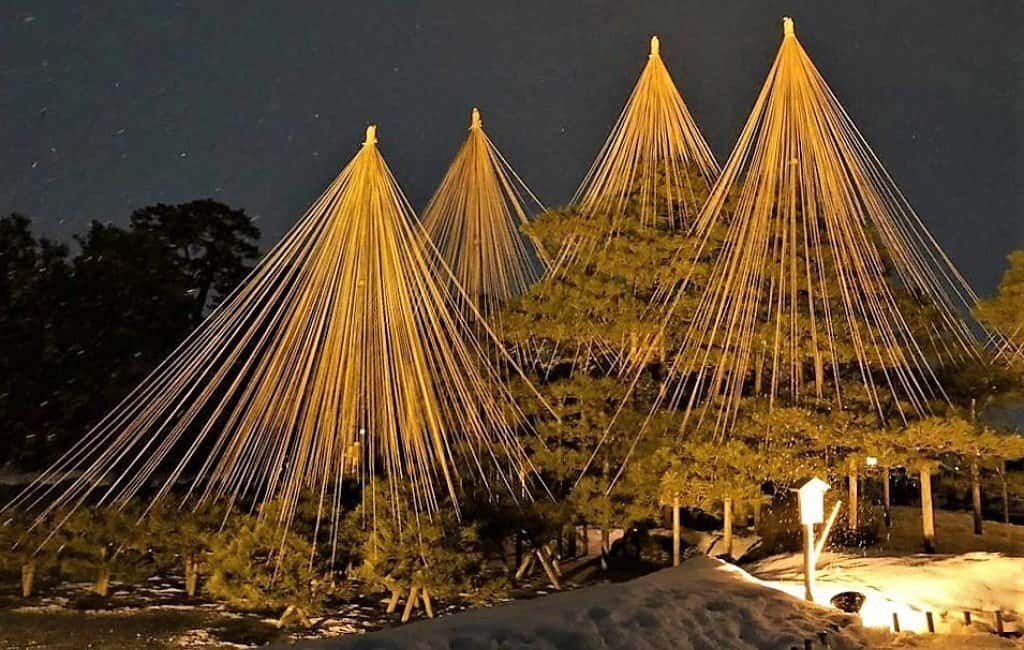 The opening hours are 7 am to 6 pm (March 1 – October 15) and 8 am to 5 pm (October 16 – end of February). Admission fee is: Adult – 300 yen, Child (6-17 years old) – 100 yen.
By the way if you are fascinated by Japanese gardens as I am, then make sure to check out Shukkeien Garden in Hiroshima. It is one of the best examples of 'shrunken scenery gardens'.
Naga-machi Buke Yashiki District
Naga-machi Buke Yashiki District located in Kanazawa is one of the only samurai districts still in existence in Japan.
So take a stroll on the cobblestone streets and follow the peaceful Onosho Canal surrounded by towering mud walls. The mud walls were made of mud mixed with gravel and then hardened.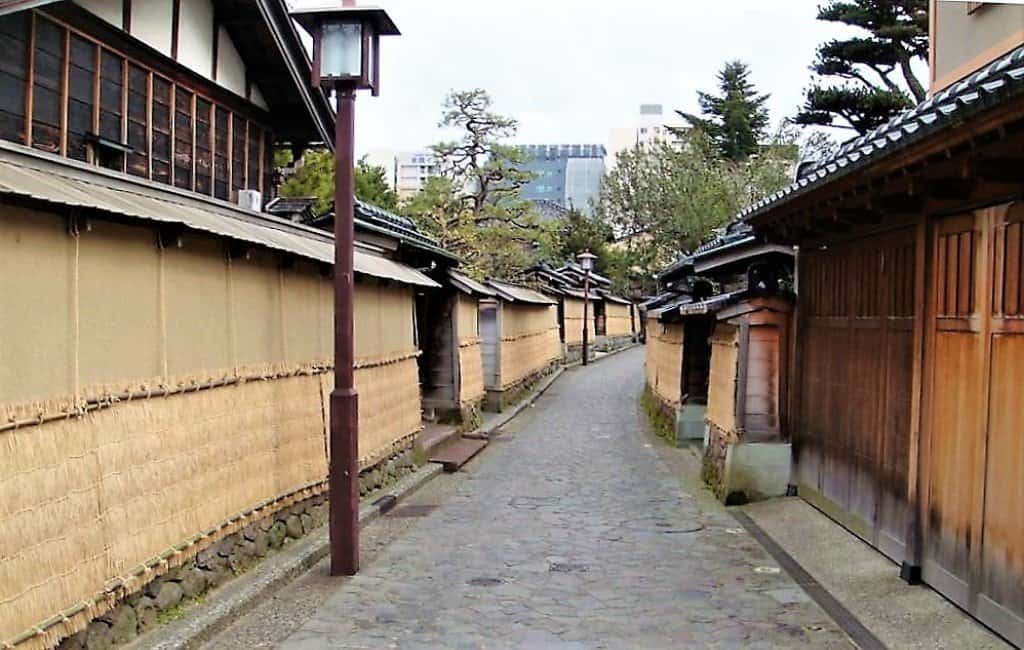 Today the mud walls are covered with shingled-roof in order to protect them from the elements. In the winter they are protected with straw covers.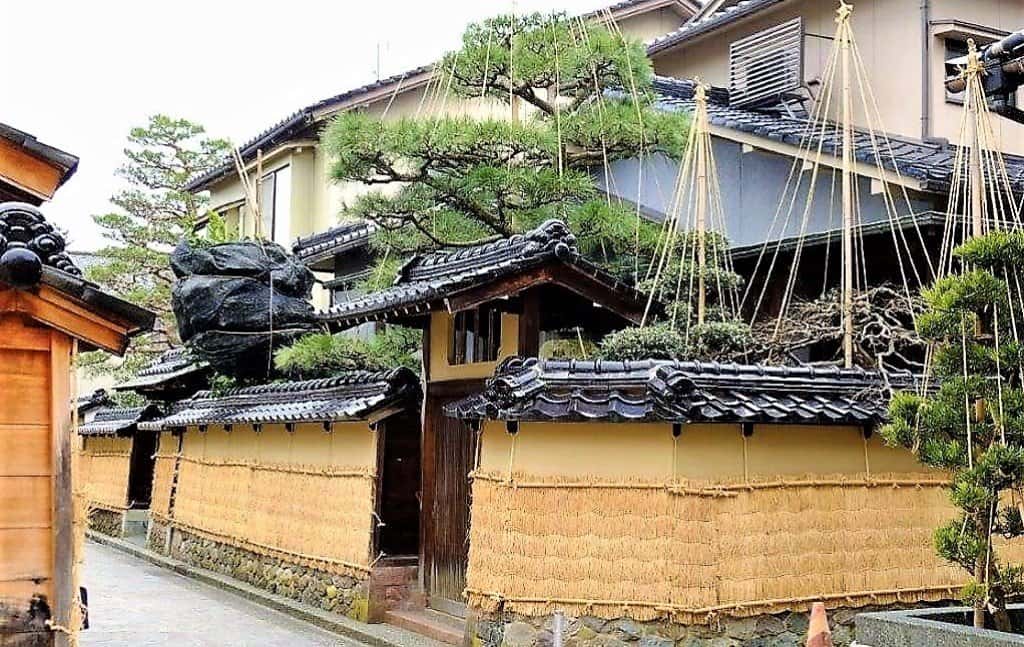 The samurai who flourished in Kanazawa during the Edo Period (1603-1868) were almost nothing like samurai in the other parts of Japan. Under the Maeda rule, the Edo Period was a peaceful, golden age. The samurai focused their attention and energy on scholarly pursuits and craftsmanship instead of military quests. They built and lived in beautiful residences with opulent gardens surrounded by thick earthen walls.
Samurai were abolished in the late 19th century as Japan modernized.
One of the places worth visiting in Naga-machi Buke Yashiki District is Nomura Samurai House.
Nomura Samurai House
The Nomura Samurai House offers insight into the lives of the highest ranking samurai during the Edo Period. It was occupied for 11 generations by the Nomura family.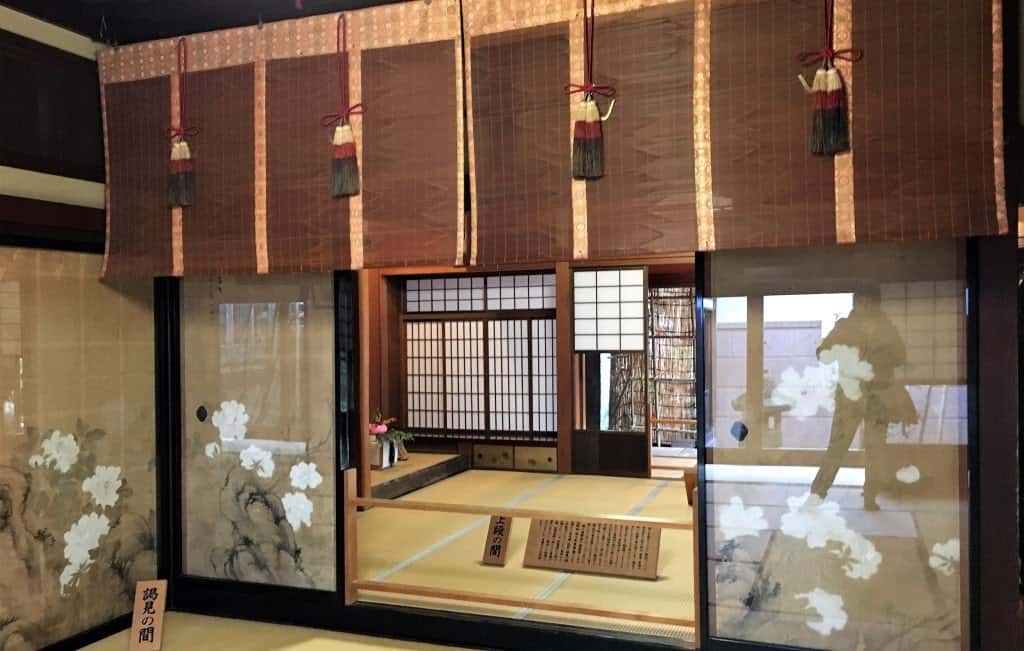 The drawing room is made of Japanese cypress wood with elaborate designs in rosewood and ebony. The alcove panel is made of paulownia tree and every nail is kept out of sight with black persimmon wood. Every sliding thick-paper door has a grand landscape drawn by Sasaki Senkei, who is highly ranked in the Kano School.
Personal effects of the Nomura family are displayed including a samurai outfit, swords, lacquer pieces, and the family altar.
If you step into the garden you will get to experience so-called Kobori Enshu style garden. It is beautiful and skillfully laid out. There is a waterfall and a winding stream running through several stones, a bridge made of cherry granite, charming garden lanterns. And, in addition, there is a unique, more than 400 year old myrica tree.
The opening hours are 8:30 am till 5:30 pm April – September and 8:30 am till 4:30 pm October – March. Last entry is 30 minutes before closing time. Nomura Samurai House is closed on December 26th and 27th. The admission is 550 yen for an adult, 400 yen for 15-17 year olds and 250 yen for 7-14 year olds.
Omi-cho Market
As Kanazawa is situated on the Japan Sea coast it is famous for its seafood.
A stroll through Omi-cho Market will give you an idea of the incredible and colorful variety of marine products available in this town.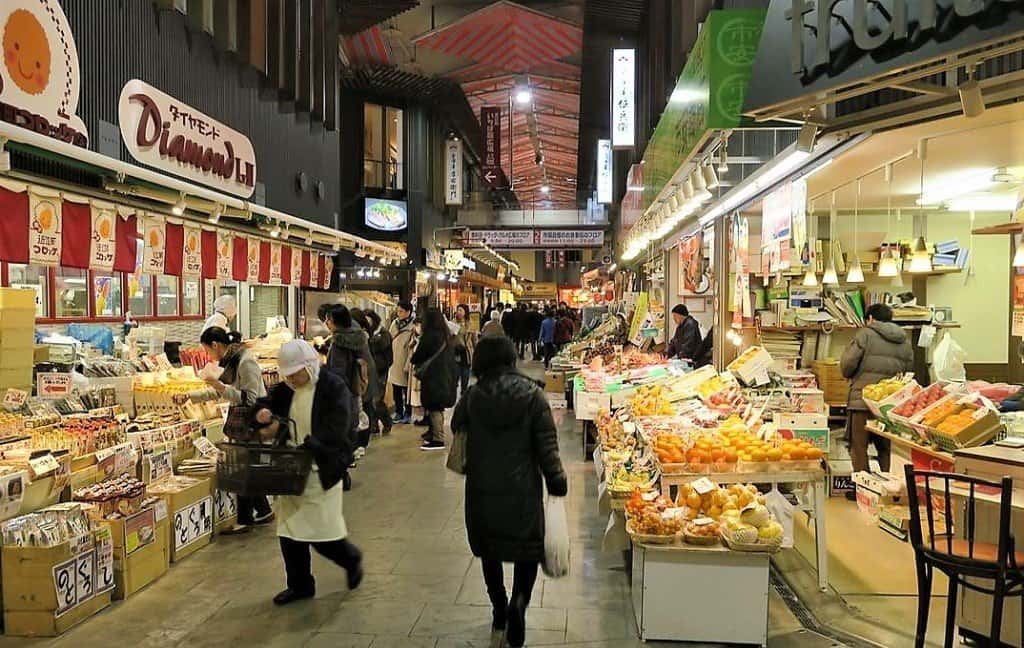 Omi-cho Market has been in operation since 1721 and it is nicknamed "Kanazawa's Kitchen".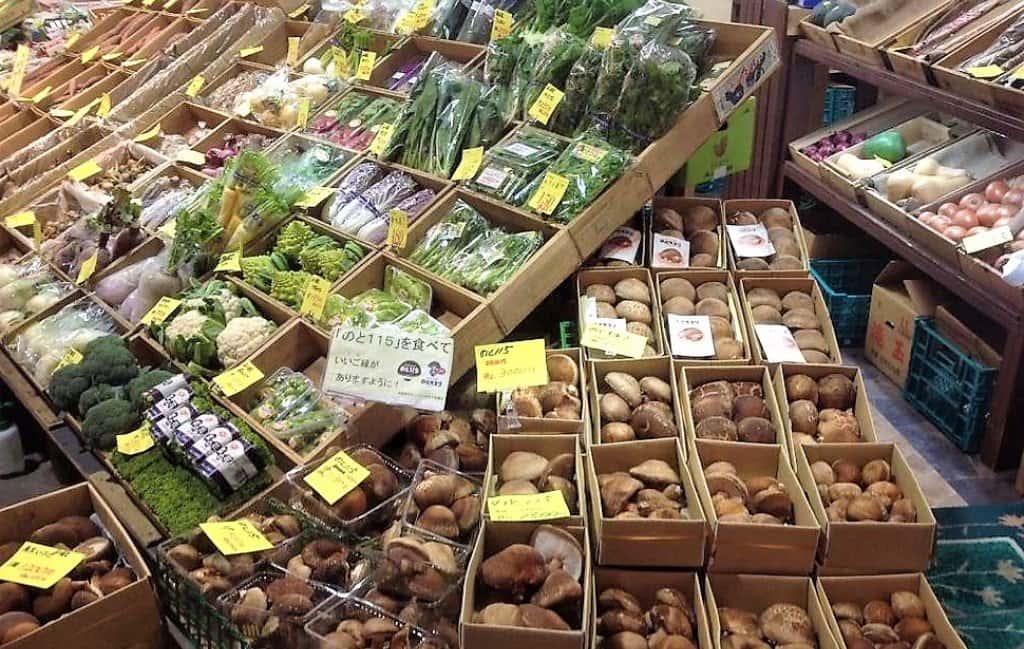 Omi-cho Market is a lively place with 186 different stores, selling seafood, fresh fruit and vegetables, and confectionery. There are also a number of grocery stores, clothing stores, flowers stalls, and restaurants.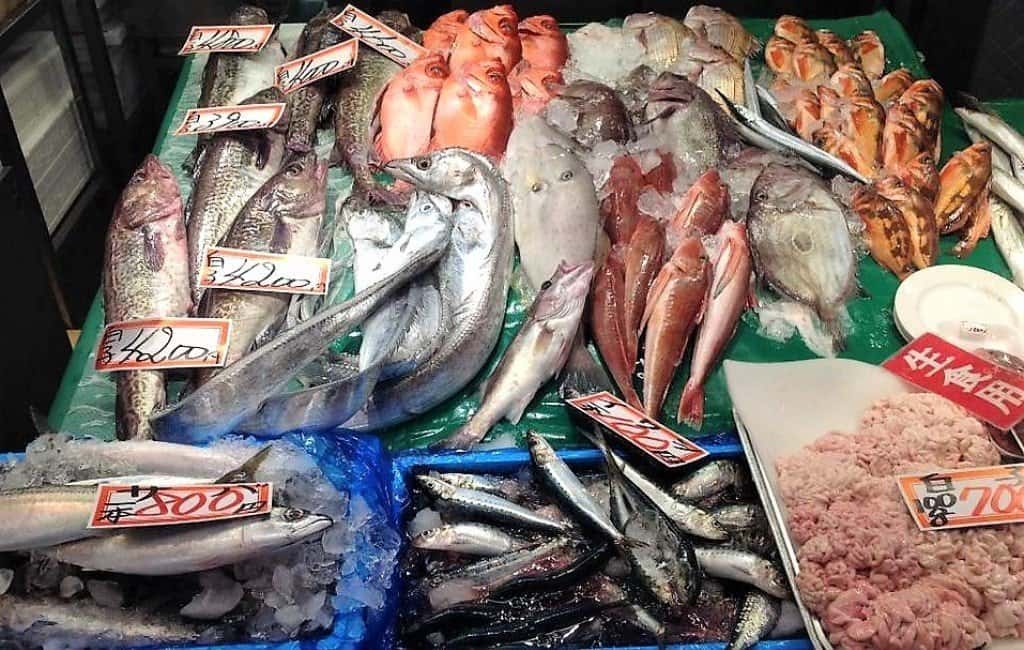 Omicho Market is open 8 am till 6 pm but opening hours and closing days vary with each store or shop. It is closed January 1st through January 4th.
Where Is Kanazawa Located
Kanazawa is the capital city of Ishikawa Prefecture, Japan. It lies just below the base of the Noto Penninsula, bordered by the Sea of Japan to the west and the Japanese Alps to the east.
Two main rivers flow through Kanazawa, the Sai-gawa and the Asano-gawa. The Sai-gawa is considered to be the masculine river and the Asano-gawa is its feminine counterpart.
Kanazawa is about 300km/180mi northwest of Tokyo and about 190km/118mi northeast of Kyoto.
How to Get to Kanazawa
The best way to get to Kanazawa from Tokyo, Kyoto, Nagoya, Osaka and most other cities on Honshu (Japan's main island) is by train.
If you have a JR Pass, all the options of travel listed below are covered by the pass.
How to Get from Tokyo to Kanazawa
From Tokyo Station take JR East Hokuriku Shinkansen to Kanazawa Station. The travel time is 2 hours and 28 minutes. If you do not have a JR Pass, then the cost is 14,120 yen. You can reserve the seats on line at JR East Train Reservations and then pick up the tickets at any JR Ticket Office.
How to Get from Kyoto to Kanazawa
From Kyoto Station take JR West Thunderbird Express Train to Kanazawa Station. The travel time is 2 hours and 13 minutes. If you do not have a JR Pass, then the cost is 6,380 yen. You can reserve your seats and get the tickets at any JR Ticket Office.
How to Get from Osaka to Kanazawa
From Osaka Station take JR West Thunderbird Express Train to Kanazawa Station. The travel time is 2 hours and 30 minutes. If you do not have a JR Pass, then the cost in $7,130 yen. You can reserve your seats and pick up your tickets at any JR Ticket Office.
Where to Stay in Kanazawa
In order to really explore all of Kanazawa, you might need a couple of days. Or, if Kanazawa is a stopping point on your Japan itinerary, then it is also a good place to spend a night before you continue on.
There are some good options worth checking out for staying overnight In Kanazawa.
How to Get Around in Kanazawa
The best way to get around in Kanazawa is to use the buses. Following are two options that I used in Kanazawa:
JR Buses in Kanazawa
If you have a JR Pass then you should use JR Buses and the cost of your travel will be covered by the pass. When you arrive in Kanazawa, locate JR Office at the Kanazawa Station and pick up the JR Bus Routes and Timetables Booklet.
JR Buses depart from Kanazawa Station, terminal 4, located near the Kenrokuen Gate (East Gate). Look for white buses with the blue trim and JR symbol in the front.
JR Buses in Kanazawa have two routes: Korinbo (starts running from 6:45 am till 8:10 pm) and Owaricho (6:20 am till 9 pm). The buses leave from the station every 20 minutes and stop at all the major attractions.
Kanazawa Loop Bus
The Loop Bus is another option to travel in Kanazawa. It is more frequent than JR Bus and it is reasonably priced: Adult ticket is 200 yen and a child ticket is 100 yen. I recommend that you purchase the One Day Pass, which is very convenient as you can use it for the Kanazawa Loop Bus, the Kenrokuen Shuttle (takes you to Kenrokuen Garden), and also all other bus routes within Kanazawa. The cost is 500 yen for an adult ticket and 250 yen for a child ticket.
You can purchase the pass at Hokutestsu Ekimae Center – Kanazawa Kenrokuen Gate (East Entrance at Kanazawa Station) or you can purchase the pass form the Loop Bus driver once you board the bus.
The buses leave from terminal 7 located at the Kanazawa Station.
There are two routes: Left Loop (marked in Green on the map) and Right Loop (marked in Orange on the map). They are clearly marked on the map below.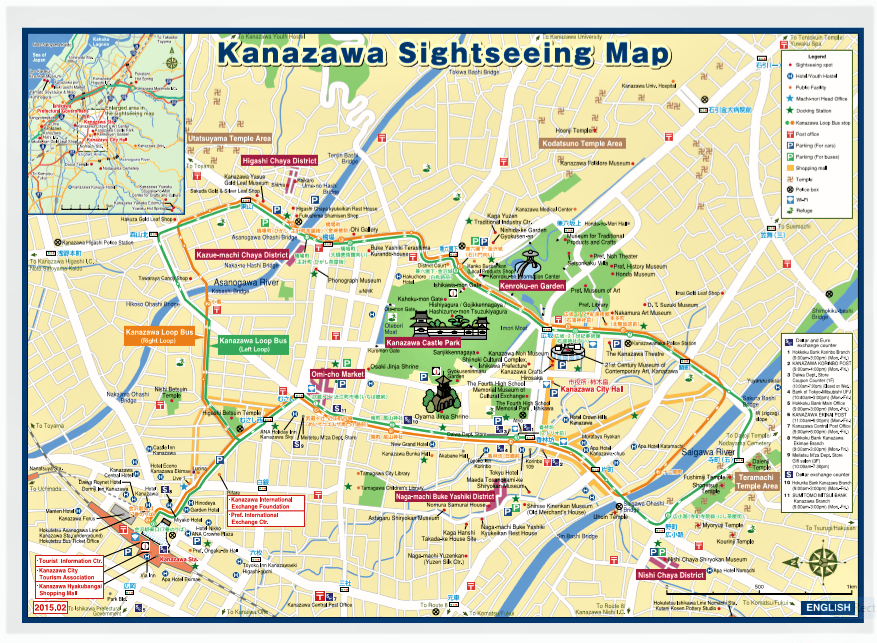 Photo Credit: Visit Kanazawa.jp
Did you find this useful?
Pin it on your Pinterest board!
Now, I would like to hear back from you!
Have you been to Kanazawa? Would you add anything else to this list?
Or, maybe you are planning a trip to Kanazawa. When are you going?
More ideas for places to visit in Japan.
Click on the image to read.