This site uses affiliate links, meaning that if you make a purchase through our links, we may earn an affiliate commission.
Shinsekai is a razzle-dazzle glitz overload you can't miss!
The delicious smells of cooked food, the flashing and buzzing lights, the huge signboards, and the crowds make you feel like you just stepped into a Blade Runner movie.
However, you are really in an old retro part of Osaka that is unlike any other area in Japan. It feels almost overwhelming to be here, yet strangely alluring. Shinsekai is a must-visit when in Osaka!
What to do in Shinsekai Osaka? Following is an ultimate guide to Shinsekai to make sure that you have the best experience and you don't miss a thing!
What to See in Shinsekai Osaka (6 Amazing Things You Can't Miss)
Where is Shinsekai District in Osaka and How to Get There
Shinsekai is located in the southern part of Osaka. Specifically, it is situated in-between Tennoji Zoo to the east and Spa World to the south.
The fastest way to get to Shinsekai is by subway.
You can take Midosuji Line (Red 22) and get off at Dobutsuen-mae Station. Once you get off the subway, follow the signs for Shinsekai and Tsutenkaku Tower. You will be heading north from the station.
Or, take Sakaisuji Line and get off at Ebisucho Station, and head south.
However, if you are a holder of a JR Pass, then consider taking JR Osaka Loop Line and getting off at Shin-Imamiya Station. The cost of your trip will be covered by the pass.
What You Need to Know About Shinsekai Before You Go
Shinsekai means "New World" in English.
The neighborhood was created in 1912 with New York as a model for its southern half and Paris for its northern section.
Luna Amusement Park, which operated in Shinsekai from 1912 until its closing in 1923, drew huge crowds to the area. However, after World War II, Shinsekai became one of Japan's poorest and most neglected neighborhoods.
Not until the beginning of the 20th century, the neighborhood started to flourish as a local tourist attraction with Tsutenkaku Tower as its centerpiece.
I often get asked if it is safe to visit Shinsekai.
Shinsekai has a reputation as one of Japan's more seedy neighborhoods. This status is owed much to the criminal activity that flourished in the decades before the 1990s. I visited Shinsekai many times and never felt that I was in any kind of danger. There will be a ton of tourists and locals enjoying the place late into the evening.
When Is the Best Time to Go to Shinsekai
The best time to head to Shinsekai is in the late afternoon and into the early evening. It is at that time that Shinsekai starts to come alive!
The lights will gradually come on and you will be able to experience the razzle-dazzle of the place.
What to Do in Shinsekai Osaka - 6 Exciting Things You Can't Miss
Take Pictures of the Neon Lights
Being in Shinseki can be overwhelming! You might want to take a few minutes to soak it all in the flashing, buzzing, bright neon lights, the huge signboards, and the non-stop flow of the crowds.
The best photo spot used to be in front of the former Zuboraya Restaurant on the corner. However, the restaurant closed down in 2023 and its famous fugu fish lantern is no longer there. But, it is still a great spot to take some pictures with the Tsutenkakau Tower in the distance.
Try Local Delicacy - Kushikatsu (You Will Love It!)
Shinsekai's culinary forte is kushikatsu.
Kushikatsu is a deep-fried breaded skewered meat, seafood, or vegetables.
The neighborhood abounds with kushikatsu stands that are on almost every corner of Shinsekai offering various kinds of meat, fish, and vegetables all breaded and deep-fried on small sticks for around 150 yen each. They are all delicious and you will love how juicy and tender they are on the inside and crispy and crunchy on the outside. Yum!
However, I have to say that the best kushikatsu that you will ever taste, you will only find it at Daruma restaurant. This is where kushikatsu was first prepared in 1929.
You will not miss Daruma restaurant. There is always a crowd hanging outside and waiting for a table and taking pictures of the legendary statue of the chef with an angry face and holding a kashikatsu skewers as swords.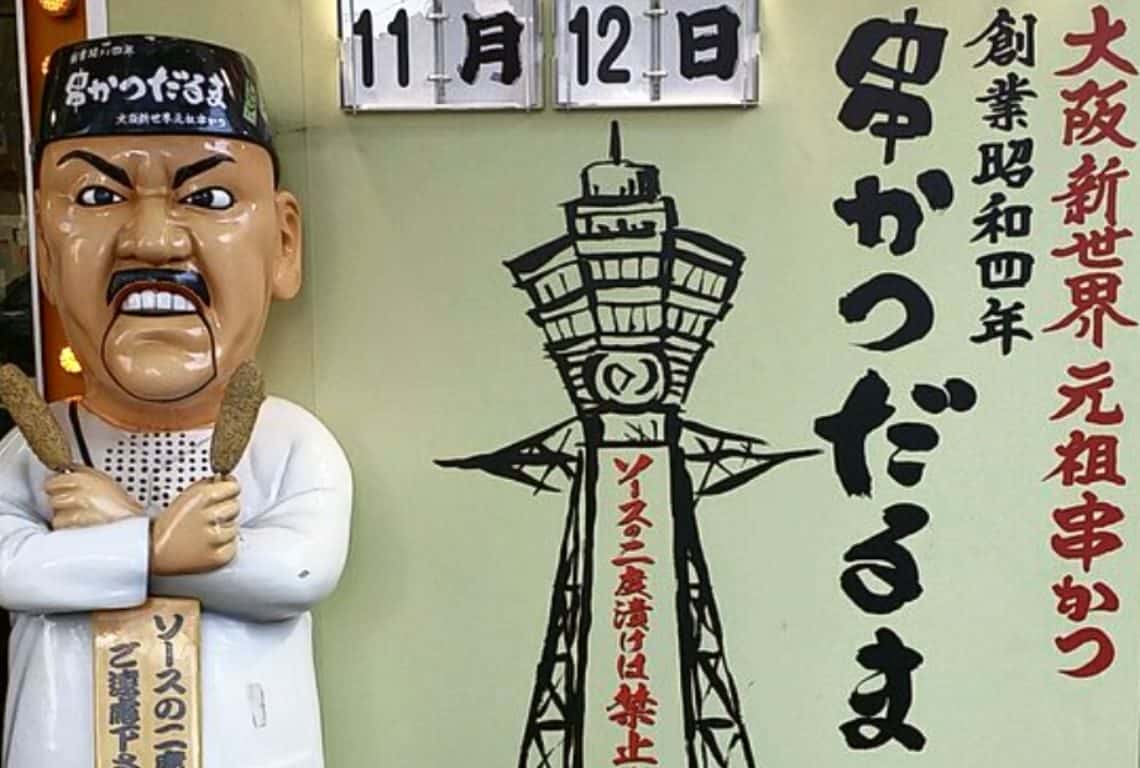 Entrance to Daruma Restaurant in Shinsekai  / What to Do in Shinsekai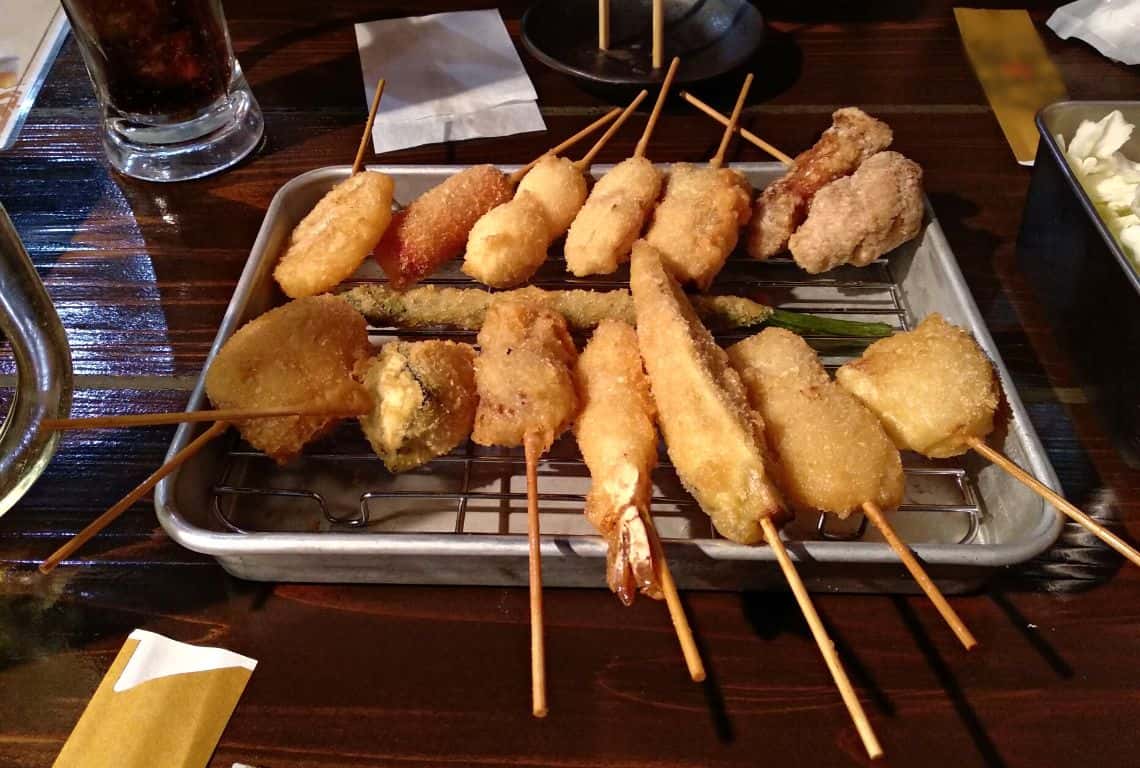 Kushikatsu  / What to Do in Shinsekai 
Rub Billiken Feet for Good Luck
When you walk around the Shinsekai district, you will easily spot the popular good luck Billiken statue.
You can find him literally on every corner, at all souvenir shops, or in front of restaurants, or there is even a shrine dedicated to him.
Billiken is elephant-like with pointed ears, a mischievous smile, and a tuft of hair on his pointed head. His arms are short and he is generally sitting with his legs stretched out in front of him.
Billiken is known as "The God of Things As They Ought to Be."
Billiken is not originally Japanese. It was created by an American art teacher and illustrator, Florence Pretz of Kansas City, Missouri. It came to Japan around 1910 and was enshrined in Luna Park when it first opened.
Many believe that rubbing Billiken's feet will bring you good luck.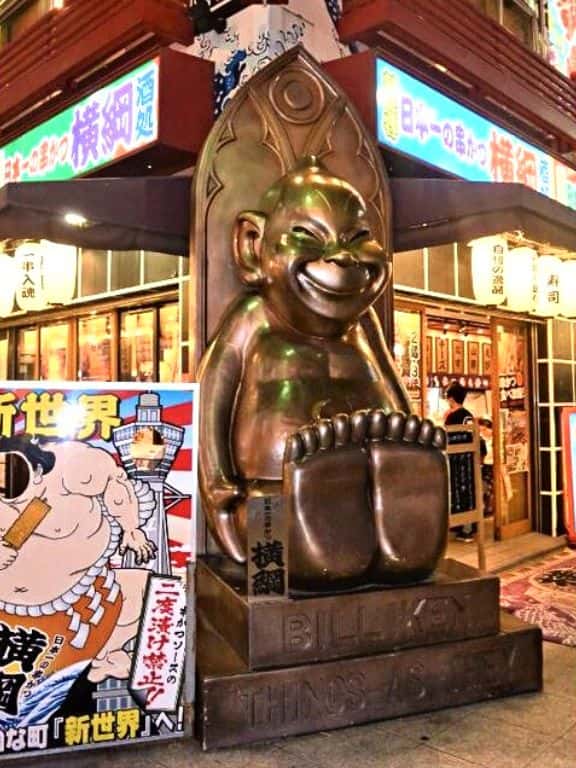 Statue of Billiken / What to Do in Shinsekai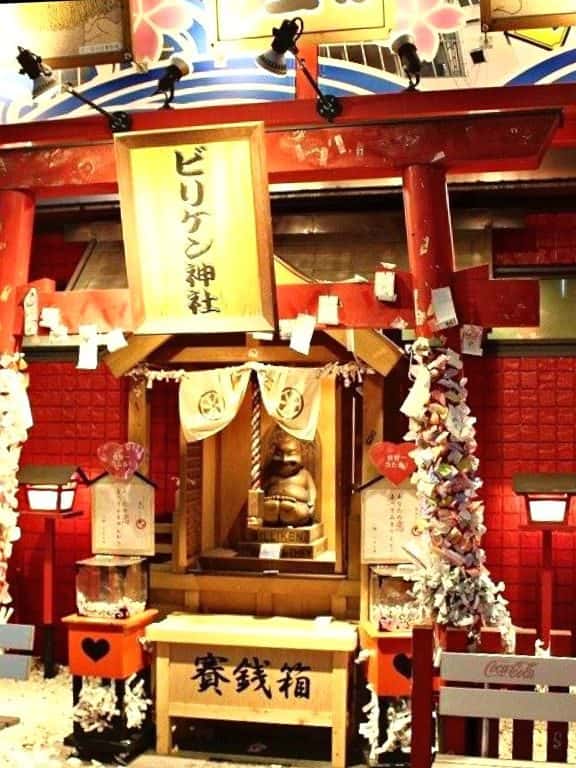 Billiken Shrine in Shinsekai / What to Do in Shinsekai 
Got to the Top of Tsutenkaku Tower
Tsutenkaku Tower is the symbol of Osaka. Translated into English means " building leading to heaven", or "tower reaching to heaven".
Tsutenkaku was constructed in 1912 and its inspiration was the Arc de Triomphe and the Eiffel Tower.
The tower stands at 103 meters and it has two observation levels. The indoor observation level and the outdoor observation deck.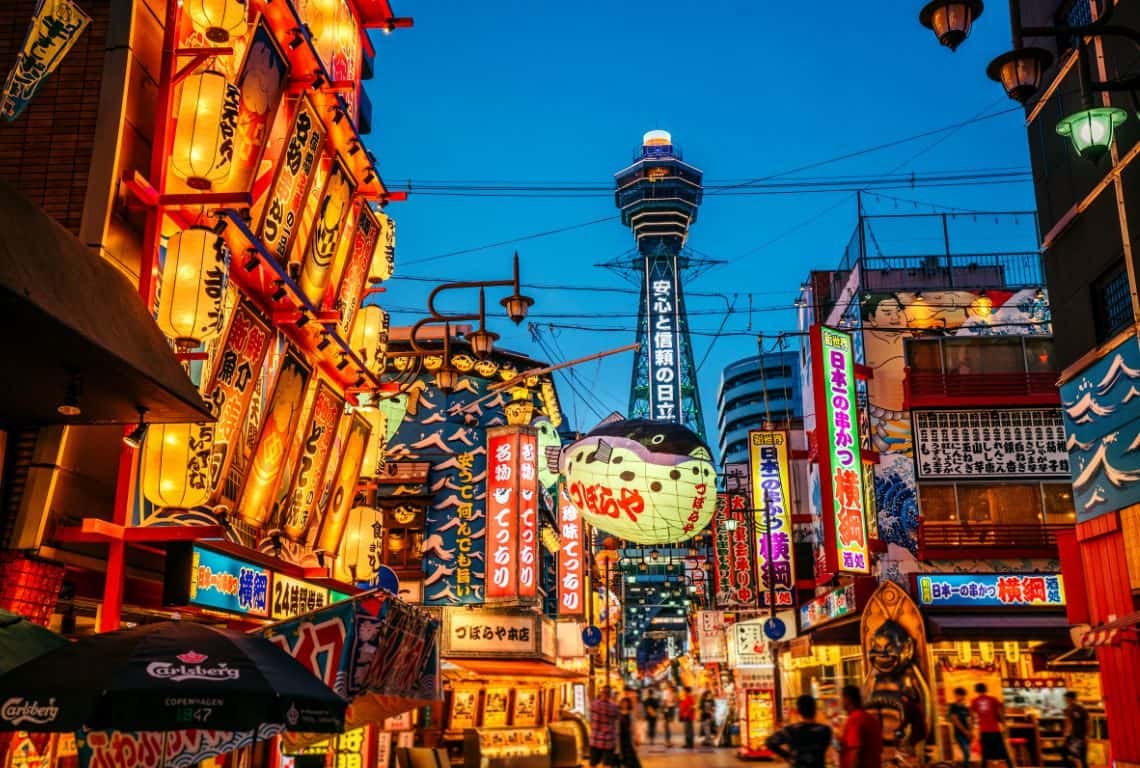 Tsutenkaku Tower / What to Do in Shinsekai 
As you enter Tsutenkaku Tower, you will step into Wakuwaku Land. Here you can purchase souvenirs from a variety of food manufacturers. It is fun to check out all the items.
The views of Osaka from the observation deck are pretty cool!
If you love history, then visit the 3rd floor of Tsutenkaku Tower.
They have awesome dioramas with films and old photos of Shinsekai, Tsutenkaku, and Luna Park from 100 years ago.
Also, if you feel like something to drink or eat then try Cafe de Luna Park. They serve all kinds of specialty drinks and food. In addition, check out Glico`s specialty shop selling limited-edition items.
If you are up to it, then head to the 5th-floor Golden Observation Platform which holds 8 deities of good fortune and some activities for kids.
The admission fee to Tsutenkakau Tower is 700 yen for adults and 300 yen for children.  The opening hours are 9 am to 9 pm, last admission is at 8:30 pm. However, the 2nd observation deck opening hours are 10 am to 6 pm, last admission is at 5:30 pm.
Have Dinner at Yokozuna - Sumo-Themed Restaurant
Yokozuna in Shinsekai is not a sumo stadium, but if you want to eat like a sumo wrestler, you won't be disappointed.
Yokozuna serves chanko nabe (sumo-style hot pot) and kushikatsu. However, Yokozuna's kushikatsu skewers are three times the size of an average skewer!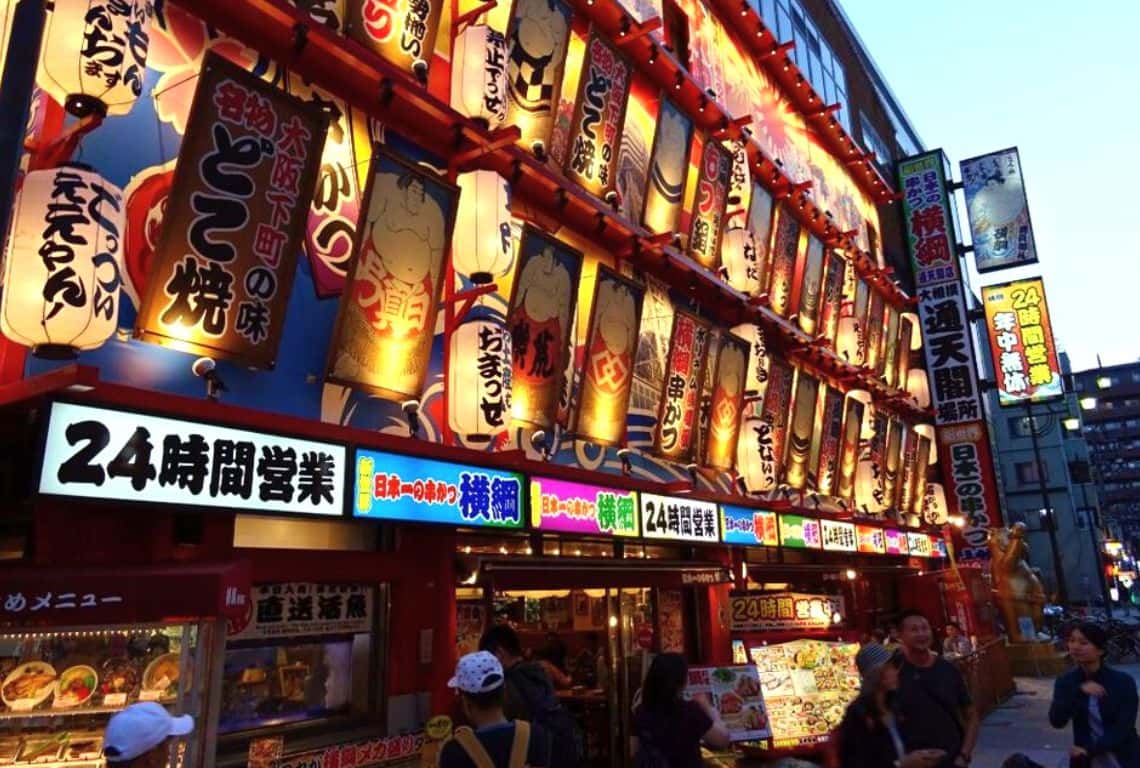 Yokozuna in Shinsekai / What to Do in Shinsekai 
Take a Walk Along Jan Jan Yokocho Arcade
A stroll along Jan Jan Yokocho is one of the things you need to do in Shinsekai.
Jan Jan Yokocho is a 180 meters long arcade through the district. The narrow arcade is lined up with all kinds of shops, restaurants, shooting games, video game arcades, and cafes. This place is like the beating heart of Shinsekai.
While you are strolling through Jan Jan Yokocho be on the lookout for a stand that makes takoyaki. You need to try them! They are delicious!
What is takoyaki? Takoyaki is a ball-shaped snack made from flour batter with pieces of octopus and cooked in a specially molded pan.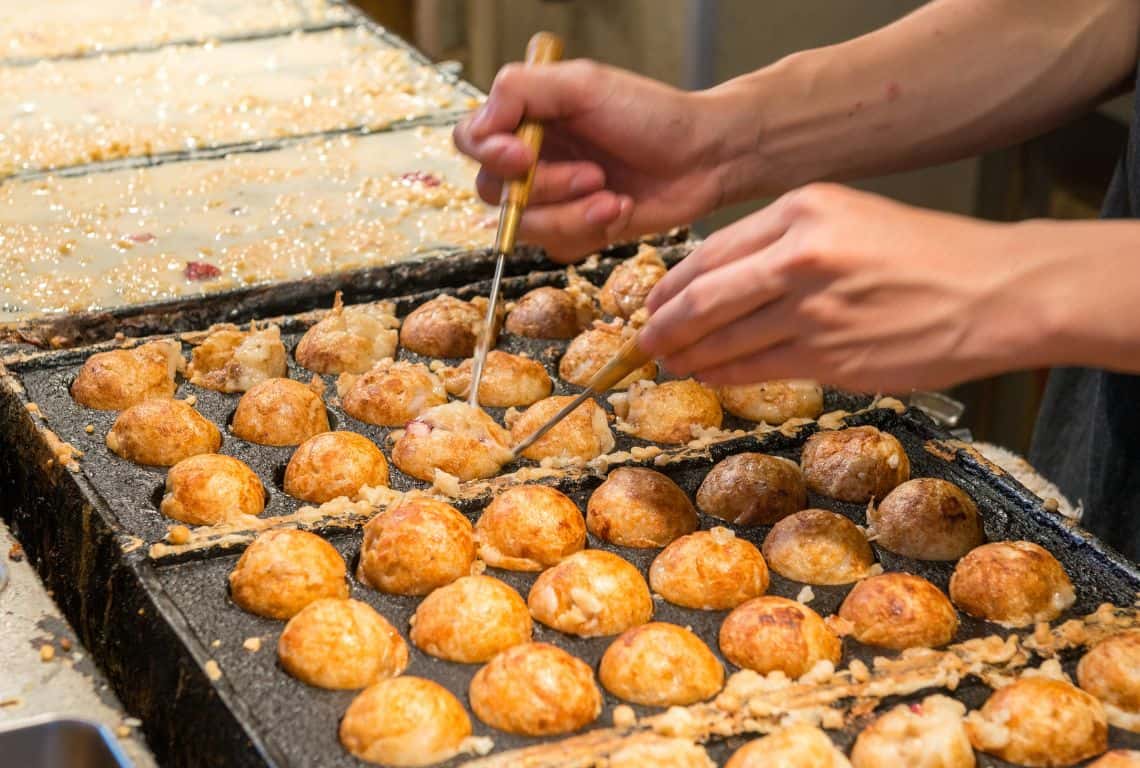 Takoyaki / What to Do in Shinsekai 
Did You Find What to Do in Shinsekai Osaka Useful?
Why Not Save It to Your Pinterest Board!
Now, It Is Your Turn, I Would Like to Hear Back from You!
Are you planning your trip to Osaka?
Please let me know! Drop me a quick comment right below!
Click on any of the images below to get inspired and to help you with the planning process for your trip to Japan!