This site uses affiliate links, meaning that if you make a purchase through our links, we may earn an affiliate commission.
Shinsekai is a razzle dazzle glitz overload you can't miss. The delicious smells of cooked food, the flashing and buzzing lights, the huge signboards, the crowds make you feel like you just stepped into Blade Runner movie. However, you are really in an old retro part of Osaka that is unlike any other area in Japan. It feels almost overwhelming to be here, yet strangely alluring. Shinsekai is a must visit when in Osaka!
Following is an ultimate guide to Shinsekai to make sure that you have the best experience.
Where Is Shinsekai
Shinsekai is located in the southern part of Osaka. Specifically, it sits in-between Tennoji Zoo to the east, and Spa World to the south.
Shinsekai Map
How to Get to Shinsekai
The best way to get to Shinsekai is by subway. Take Subway Midosuji Line (Red 22) and get off at Dobutsuen-mae Station. Once you get off the subway, follow the signs for Shinsekai and Tsutenkaku Tower. You will be heading north from the station.
Or, take Sakaisuji Line and get off at Ebisucho Station and head south.
However, if you are a holder of JR Pass, then consider taking JR Osaka Loop Line and get off at Shin-Imamiya Station. The cost of your trip will be covered by the pass.
If you need more directions on how to get to Shinsekai read my post about downloading free offline map apps that will help you navigate throughout Japan.
Read more about offline apps: Japan – Free Offline Map Apps with GPS Navigator for Iphone
What Does Shinsekai Mean
Shinsekai means "New World" in English. The neighborhood was created in 1912 with New York as a model for its southern half and Paris for its northern half. Luna Amusement Park, which operated from 1912 until its closing in 1923, drew huge crowds to the area. However, after World War II, Shinsekai became one of Japan's poorest neighborhoods.
At the beginning of the 20th century the neighborhood started to flourish as a local tourist attraction with Tsutenkaku Tower as its centerpiece.
When Is the Best Time to Go to Shinsekai
Shinsekai starts to come alive in the late afternoon. So, for the best experience, head to Shinsekai at about that tme. First of all, once you arrive, sample some local specialty Kushikatsu and get a good look at the retro displays of shops and restaurants.
Moreover, as the evening draws near, meander through the area and observe the place as the lights start coming on one after another.
What To Do in Shinsekai
Needless to say, right when you exit the subway you will feel like you traveled back in time. Essentially, this was the place to be seen in Osaka about 100 years ago when the Tsutenkaku was the highest tower in Asia and an amusement park called Luna Park drew large crowds.
What is left now is the faded glamour of this area's heyday which I find fascinating imagining what it used to be like.
So, following is a list of a few must-do and try things while you are visiting Shinsekai:
1. Soak up the scenery and take some pictures
2. Try the local specialty Kushikatsu
3. Be brave and try Fugu
4. Rub Biliken's feet for good luck

5. Go to the top of Tsutenkaku Tower
6. Stop by at Yokozuna – Sumo-themed restaurant for dinner
Soak up the Scenery and Take Some Pictures

I arrived in the late afternoon and found the place to be still relatively quiet. It was a perfect timing to just wander around, soak up the scenery and snap some pictures.
Try the Local Specialty Kushikatsu
Shinsekai's culinary forte is kushikatsu. Kushikatsu is a deep-fried breaded skewered meat, seafood and vegetables.
The neighborhood abounds with kushikatsu restaurants offering various kinds of meat, fish, and vegetables all breaded and deep fried on small sticks for around 150 yen each. They are delicious and I love the crispy texture.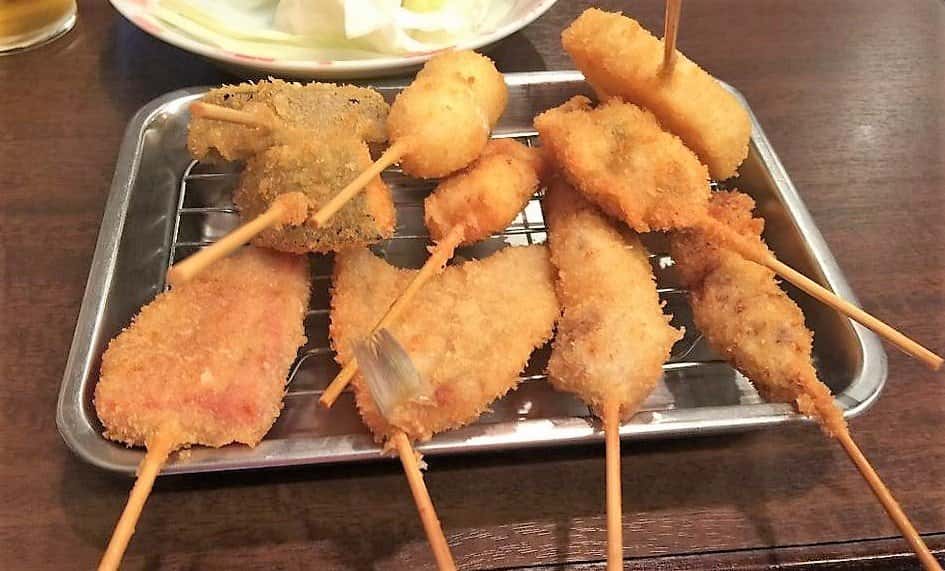 Be Brave and Try Fugu at Zuboraya

Be brave and try fugu fish! Fugu meaning "river" and "pig" is also known as the pufferfish, blowfish or globefish. The first known fact about fugu is that it can puff up, to make itself look bigger and more dangerous. The second fact, probably even more known, is that it contains a deadly poison. Specifically, tetrododoxin.
Tetrododoxin is found in the skin, skeleton, ovaries, intestines and particularly in the liver of fugu fish.
Preparation of fugu fish is strictly controlled by law. Fugu chefs must go through rigorous training for years to gain the certification that allows them to prepare the fish for human consumption. At the end of the training, there is a test in which the chef must prepare a fugu dish – and eat it!
If you are up to it, then look no further and head to Zuboraya. You will not miss it. The sign of this restaurant: a papier-mâché "fugu" blowfish is a landmark.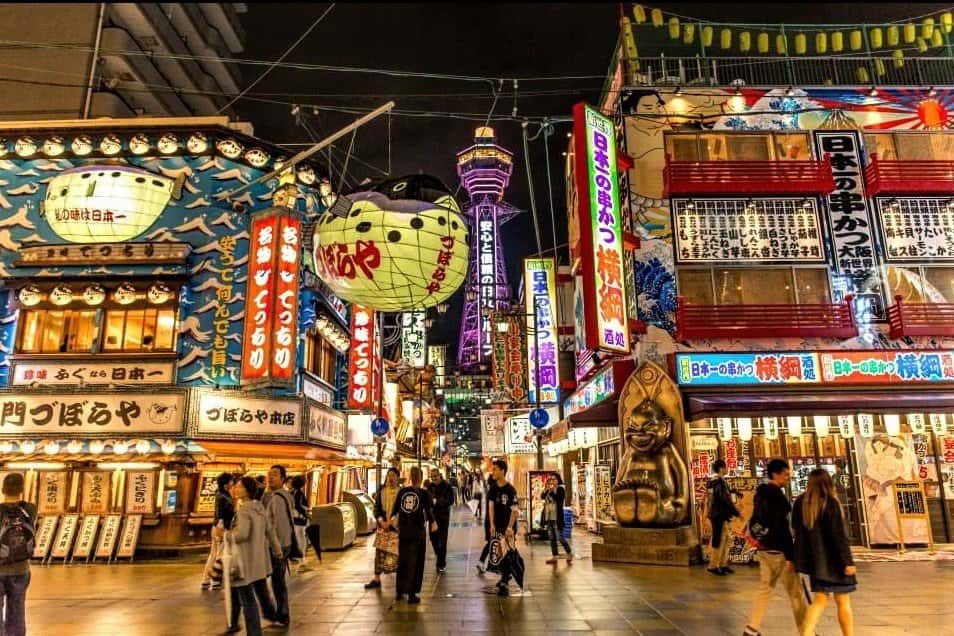 Zuboraya was founded in 1920 and on its menu are "tessa" thinly-sliced raw blowfish arranged beautifully like flower petals, "tecchiri" hotpot which makes you warm in winter, deep-fried blowfish which offers springy and juicy texture, and "shirako" soft roe which is rich in taste.
Rub Biliken Feet for Good Luck
When you walk around Shinsekai district, you will easily spot popular good luck Biliken statue. The Billiken is a charm doll created by an American art teacher and illustrator, Florence Pretz of Kansas City, Missouri.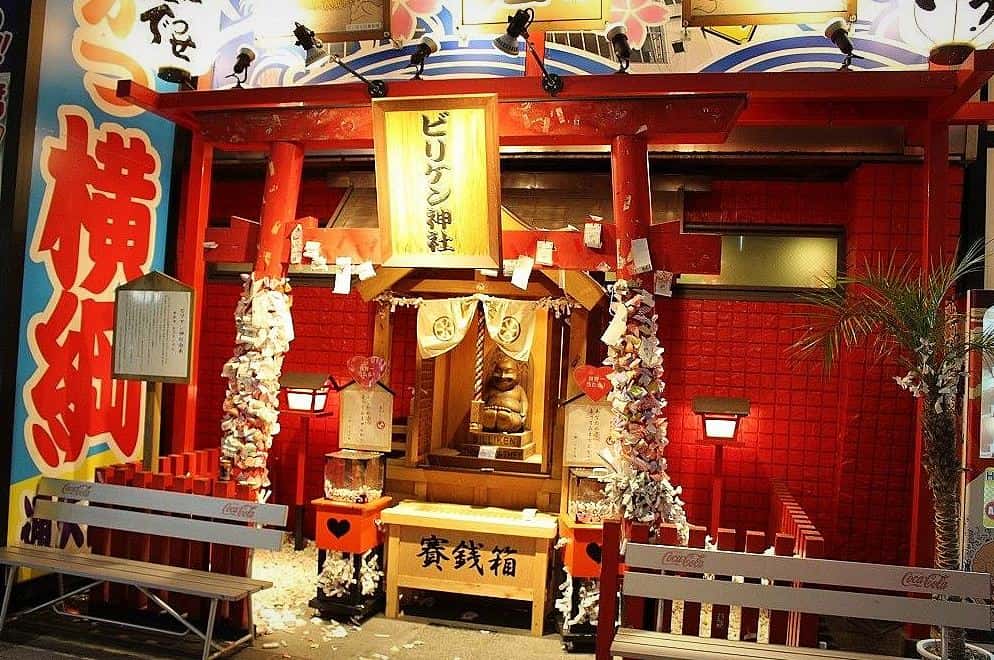 The Billiken is elephant-like with pointed ears, a mischievous smile and a tuft of hair on his pointed head. His arms are short and he is generally sitting with his legs stretched out in front of him. Billiken is known as "The God of Things As They Ought to Be."
A Biliken statue came to Japan around 1910 and was enshrined within Luna Park when it first opened. Many believe that rubbing the Biliken`s feet will bring you good luck.
Go to the Top of Tsutenkaku Tower
Tsutenkaku Tower is the symbol of Osaka. Incidentally, Tsutenkaku translated into English means " building leading to heaven", or "tower reaching to heaven".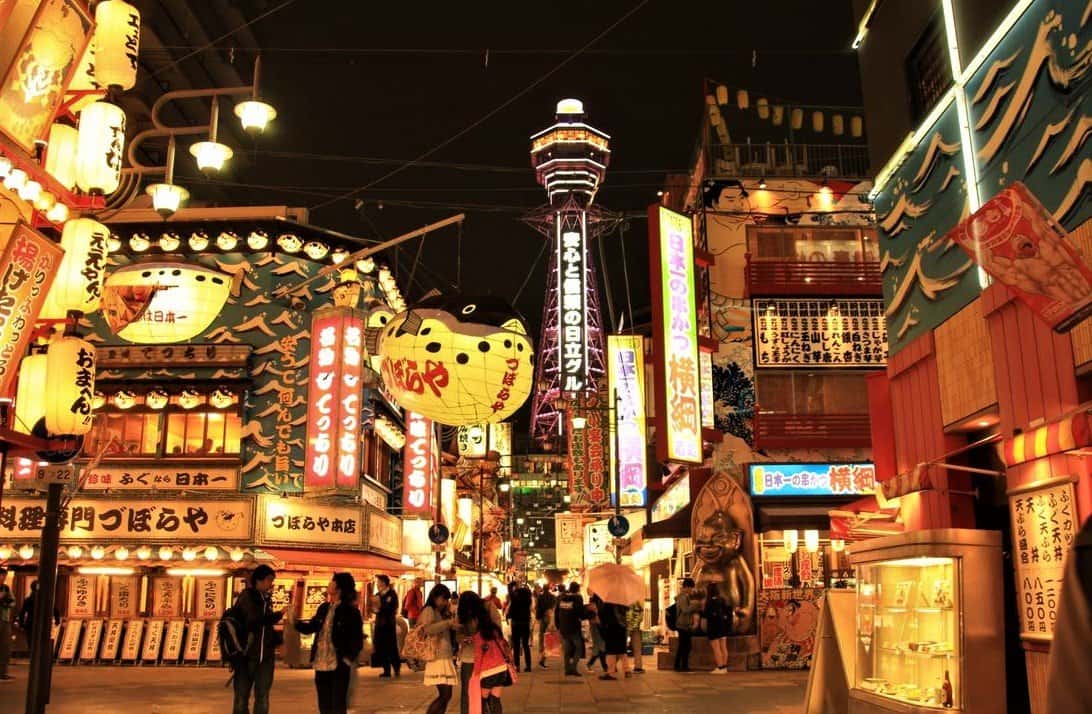 Tsutenkaku was constructed in 1912.  Furthermore, its inspiration was the Arc de Triomphe and the Eiffel Tower.
Tsutenkaku Tower stands at 103 m  and it has two observation levels. Specifically, the indoor observation level is located at 84m (276ft), and the outdoor observation deck is at 94.5m (310ft). You can buy a ticket to the 1st observation deck or a ticket to visit both. I highly recommend buying the ticket to visit both.
The entrance to Tsutenkaku Tower is on the ground floor near the center of the tower. Likewise, look for arrows pointing to the entrance.
Wakuwaku Land
By the same token, as you enter you are going to step into Wakuwaku Land. Incidentally, here you can purchase souvenirs from a variety of food manufacturers. It is fun to check out all the items.
Next, proceed to the end of the hall and purchase your entrance tickets. Finally, get into an elevator and ride to the first observation deck and then, with no further delay, take the elevator to the outdoor observation deck for the panoramic and unobstructed view of Osaka.
However, if you love history, then visit the 3rd floor to see dioramas with films and old photos of Shinsekai, Tsutenkaku and Luna Park from 100 years ago. If you feel like a something to drink or eat then try Cafe de Luna Park. They serve all kinds of specialty drinks and food. In addition, check out Glico`s specialty shop selling limited-edition items.
If you are up to it, then head to the 5th floor Golden Observation Platform which holds 8 deities of good fortune and some activities for kids.
Admission fee: Adults 700 yen; University students 500 yen; HS and JHS 400 yen; children 300 yen; children under 5 years of age are admitted free
Hours: 9 am till 9 pm, last admission at 8:30 pm. However, 2nd observation deck hours are 10 am till 6 pm, last admission at 5:30 pm.
Stop at Yokozuna – Sumo-Themed Restaurant for Dinner



Yokozuna in the Shinsekai district is not a sumo stadium, but if you want to eat like a sumo wrestler, you won't be disappointed. Yokozuna serves chanko nabe (sumo style hot pot) and kushikatsu, However, Yokozuna's kushikatsu skewers are three times the size of an average skewer!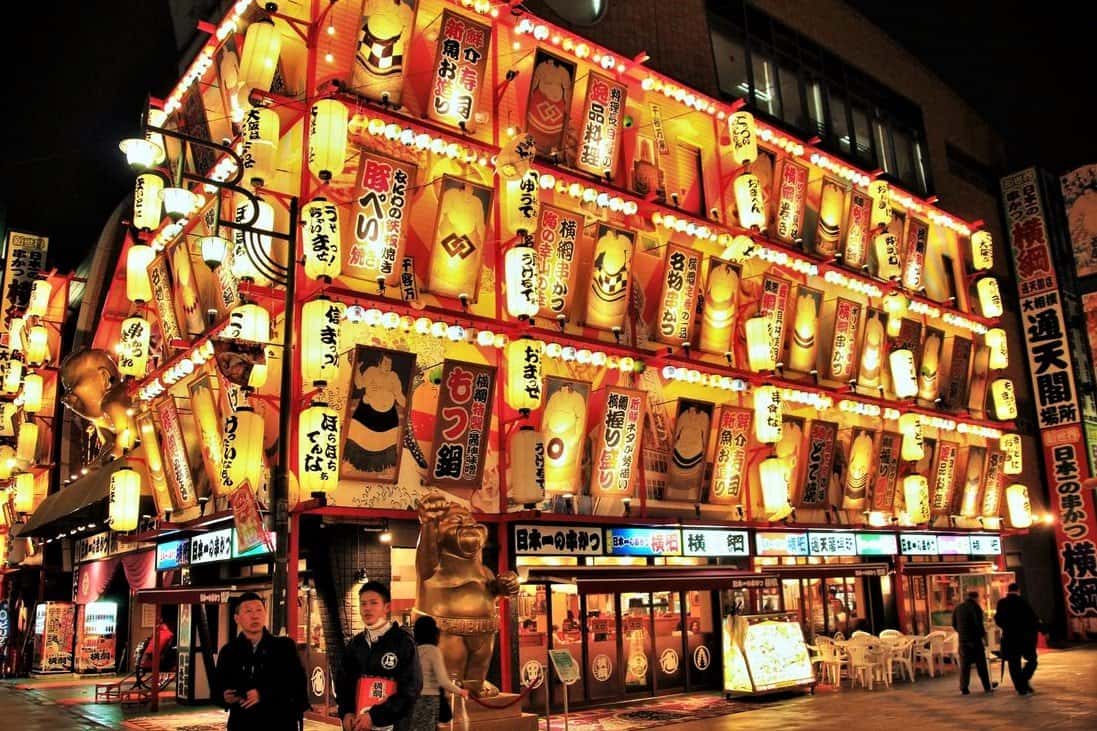 Is Shinsekai a Dangerous Place to Visit?
Shinsekai has a reputation as one of Japan's more seedy neighborhoods. This status is owed much to the criminal activity that flourished in the decades before the 1990s. However, today, a large permanent settlement of homeless has taken root in the areas around Shinsekai.
As I stated above, arrive in the late afternoon and stay into an early evening. I would not recommend that you extend your stay into the night. As long as you meander around in the main areas and leave in the evening, you should be perfectly fine. There will be lots of locals and tourists checking out the place as well.
MORE IDEAS FOR PLACES TO VISIT IN JAPAN
Hakone
Hiroshima
Kanazawa
Kyoto
Miyajima
Nara
Osaka
Tokyo
Yamanouchi
Traveler Resources