This site uses affiliate links, meaning that if you make a purchase through our links, we may earn an affiliate commission.
If you only have one day to see Osaka's top best attractions, then look no further and follow this step-by-step Osaka one day itinerary.
You will navigate through Osaka like a pro and explore all of its must-see sights.
Osaka One Day Itinerary List of Top Attractions
Following is Osaka's one day itinerary list of top attractions that you will explore:
Umeda Sky Building (Kuchu Teien Observatory)

Osaka Castle

Kuromon Market


Shinsekai


Dotonbori and Shinsaibashi

Hep Five
Osaka Subway Map
Since, you are going to be using Osaka Subway System to navigate from one attraction to the next, following is Osaka Subway map. I used this map and found it very helpful. To keep it simple, Osaka one day itinerary starts and concludes at Osaka Station. I chose Osaka station, because it is the key station in Osaka.
If you are traveling though Japan and using JR Pass, then Osaka Station will be a perfect starting point for exploring Osaka.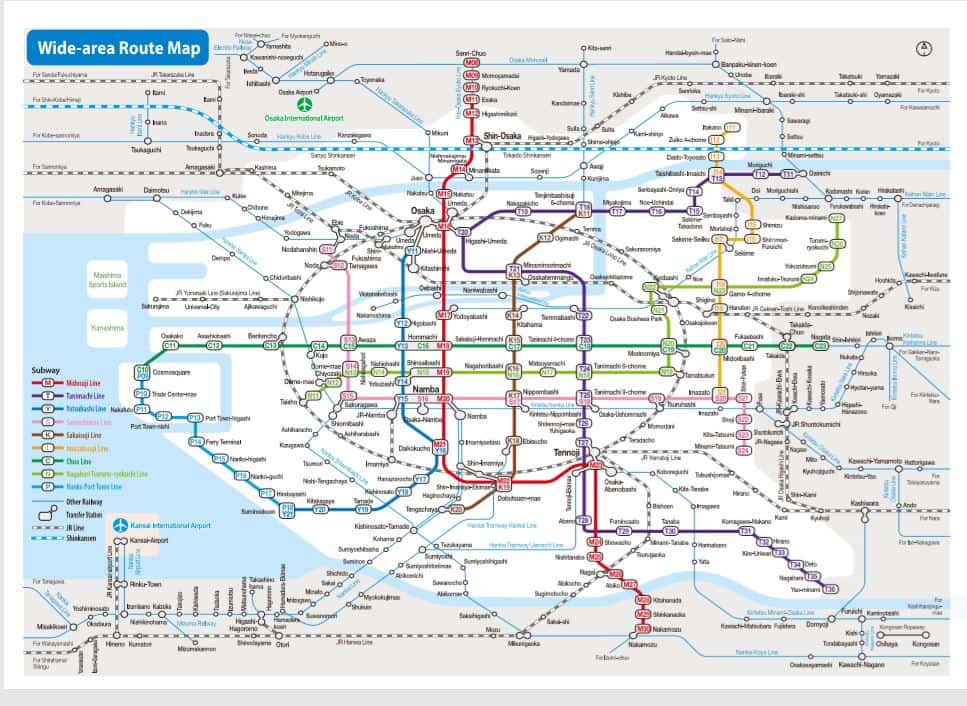 Photo Credit: Osaka-Info Railroad Network in Kansai Area 
How to Get to Umeda Sky Building from Osaka Station
Umeda Sky Building is not more than a 15-minute walk from Osaka Station. However, Osaka Station is massive and you might feel quite overwhelmed by it.
So, once you get out of turnstile, you will find yourself in the Central Concourse of JR Osaka Station. Next, take a look at all the signs and locate a sign for North Central Exit. Consequently, follow the signs for North Central Exit.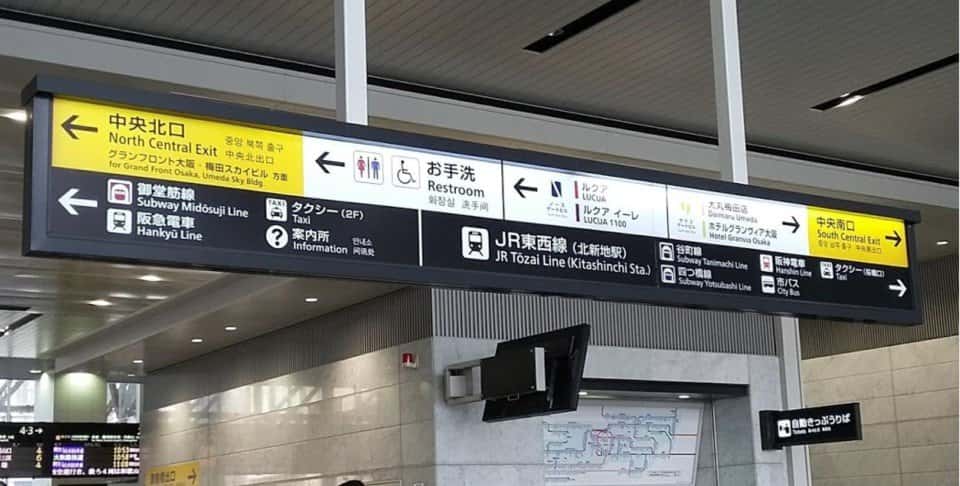 2. Once you exit the station, take a moment to find your bearings and locate Yodobashi Camera Store. It will be on your right. You will not miss it. The sign and the building are huge.
3. Next, turn left and go straight until you get to an intersection. Once you reach the intersection, turn left again (do not cross the street, just turn left). We are almost there! Go straight until you reach another intersection. At this point, you will catch a view of Umeda Sky Building. Now, cross the intersection and you will see the entrance to the underground pedestrian passage.
4. Finally, go through the underground passageway. Once you reach the end, go up the stairs and voila, Umeda Sky Building is right in front of you.
Umeda Sky Building (Kuchu Teien Observatory)
There is nothing that I love more than a bird's eye view of a new place. It gives me a perspective of where everything is positioned. That is the reason why, Osaka one day itinerary starts with a visit to Umeda Sky Building.
The interesting feature of Umeda Sky Building is that it consists of two separate towers which are joined at the top by a ring-like roof-top observation deck.
The entrance to the building is at the East Tower. Once you enter, you are on the way to the very top. I have to honestly say, that getting there is half the fun! And, it is not recommended for the faint of heart nor for the vertigo sufferers. To start with, you take the all-glass elevator all the way to the 35th floor.
You can start enjoying the views as it rushes to the top and your ears start popping.
Next, an escalator in a see-through tube will take you across to the 39th floor of the West Tower.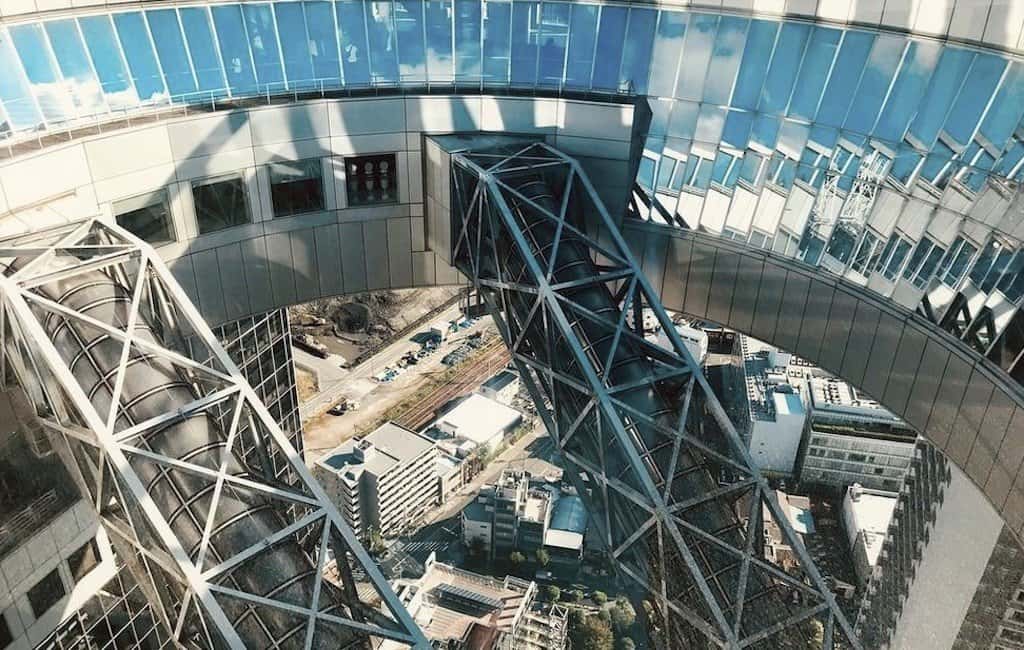 Once you arrive at the 39th floor, you need to purchase an entrance ticket. The entrance fee is 1000 yen.
Floating Garden Observatory
The entrance ticket gives you an access to the 40th floor called the Floating Garden Observatory as well as an open roof top called the Sky Walk. Remember before you step outside take off any hats and do not carry an umbrella. It can get really windy up there!
The views from the Sky Walk are simply breathtaking. The experience of walking in the open deck, with no noise except for the sound of the wind, is quite surreal.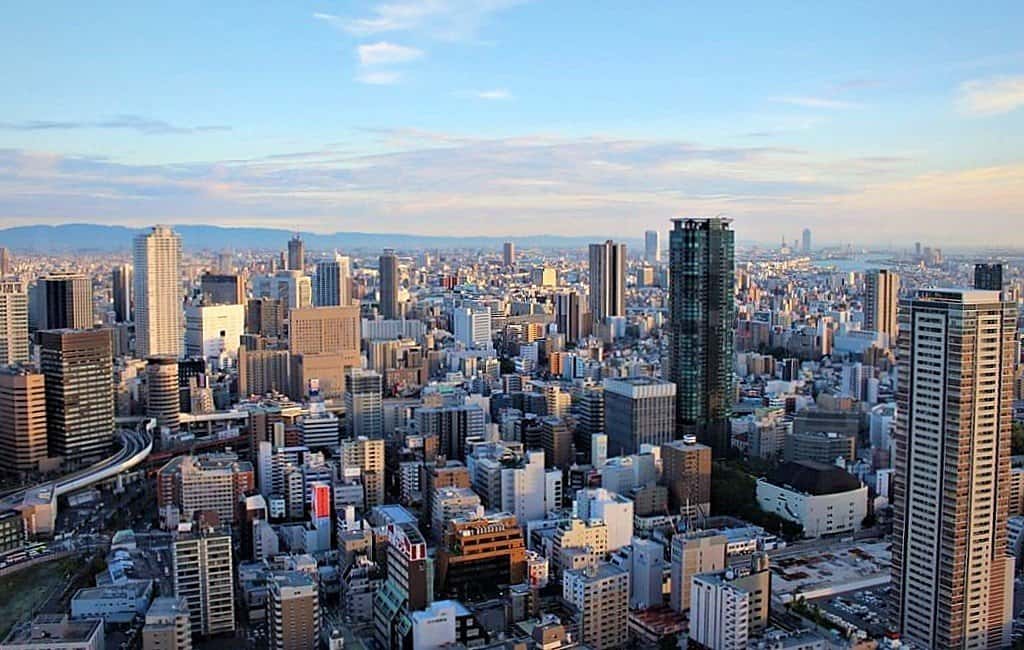 Honestly, I truly enjoyed Umeda Sky Building. I came back again and again at dusk and after sunset, when the lights of the city start to twinkle all around you. I enjoyed sitting at a cafe called Sky 40 and sipping a latte. In addition, the basement of Umeda Sky Building contains the Takimi-Koji Gourmet Street, which features alleyways that replicate the retro streets of the early Showa Period in Osaka.
After, you are done admiring Osaka's spectacular views, basically retrace your steps and go back to Osaka Station. Next, according to Osaka One Day Itinerary, you will heading to Osaka Castle.
How to Get to Osaka Castle from Umeda Sky Building

The good news is that getting from Osaka Station to Osaka Castle is quite easy. Simply, take JR Osaka Loop line and get off at Morinomiya Station. It will take you about 40 minutes to get to Morinomiya Station. Furthermore, it is about a 15-minute walk from the station to the castle.
Map data: Google Maxar Technologies
Osaka Castle
Osaka Castle has a commanding presence on the city's skyline. It is the symbol of Osaka and one of its main attractions. Osaka Castle is situated in the middle of Osaka Castle Park. Notably, it is situated on a plot of land roughly one square kilometer. As a matter of fact, it was built on two raised platforms of landfill supported by sheer walls of cut rock, using an impressive technique called Burdock piling.
Osaka Castle is five stories on the outside and eight stories on the inside.
Osaka Castle was built in the late 1500s by preeminent daimyō Toyotomi Hideyoshi. When it was finally finished in 1615, it was the largest and most impressive castle Japan had ever seen. Unfortunately, Osaka Castle was destroyed several times through the years. However, it was rebuilt each time.
Today, Osaka Castle is a concrete reconstruction of the original and the interior of the castle is a modern, functioning museum. By the way, the entrance to the castle grounds is free. However, in order to tour the museum, there is a charge of 600 yen.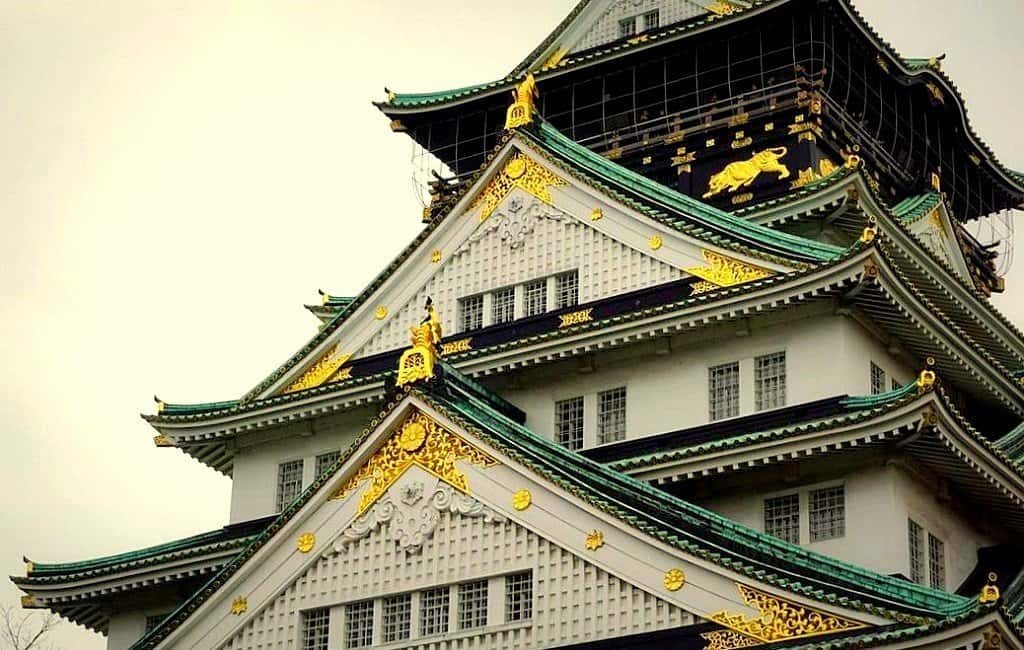 If you would like more information about Osaka Castle, then read my post: Jaw Dropping Osaka Castle – The Ultimate Guide. It has everything you need to have the best experience including: a detailed map of the castle grounds, an overview of the castle's history, and the highlights of the museum.
Right about now, you are probably ready for some lunch. Well, perfect timing, because according to Osaka One Day Itinerary, your next destination is Kuromon Market.
How to Get to Kuromon Market from Osaka Castle
The good news is that it is pretty simple to get to Kuromon Market from Osaka Castle. First and foremost, you need to get to Tanimachi 4-chome Station (refer back to Osaka Subway System Map). It is no more than a 15-20 minute walk from the castle to Tanimachi 4-chome Station from Osaka Castle. By the way, you will be heading south.
Once you get to the station, take Tanimachi Subway Line and get off at Tanimachi 9-chome. It is no more than a 15-minute walk from the station to the market. You will be walking west.
Kuromon Market
Kuromon is an undercover market about 600 m in length. It comprises of around 200 shops which offer an absolute food galore ranging from sushi and sashimi, grilled scallops and crabs, to seared Kobe beef, not to mention freshest white strawberries. Consequently, I am not surprised that Kuromon Market is called Osaka's Kitchen.
Kuromon Market will tease your taste buds and fill your tummy. In addition, hold on to your wallet if you are on a budget, because you will simply overspend.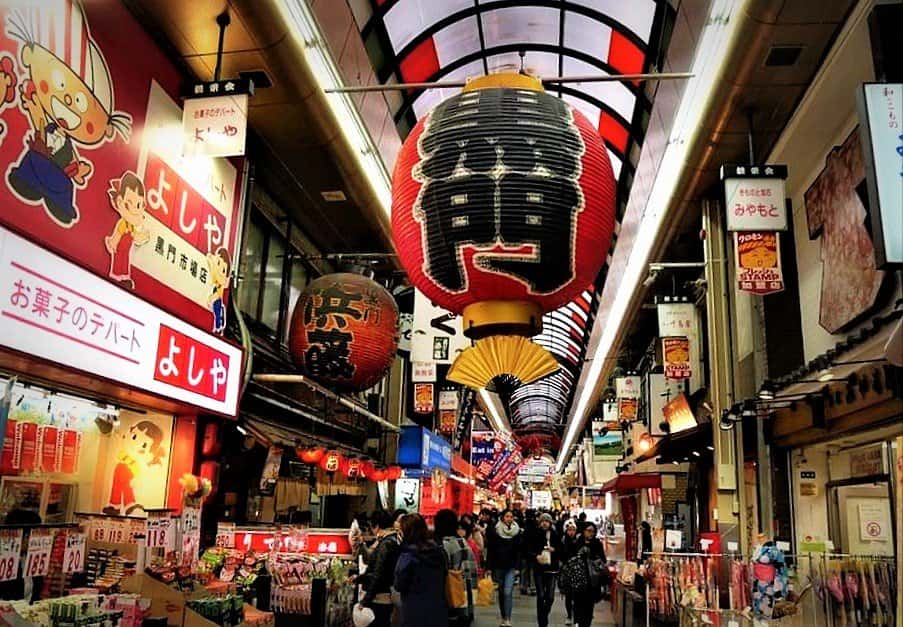 What to Eat When You Visit Kuromon Market
Uni or Sea Urchin
Have you ever tried uni?
If it is still on your list of things to try, then you should not wait any longer and give it a taste. Kuromon Market is a perfect place to try it.
To begin with, I would describe the texture as creamy or buttery, silky and delicate with just a slight firmness. Secondly, the aroma is like a clean ocean smell. Thirdly, the taste: it has an almost ineffable flavor; ever so slightly sweet, clean and crisp and it lingers on. Finally, its color is beautiful – shades of gold, yellow and orange.
Grilled Scallops
Next, try grilled scallops.
To tell you the truth, I love grilled scallops! And, you will fall in love with them as well, if you head to Uofuku. In fact, Uofuku is hard to miss because there will be a crowd surrounding the tiny stall and the smell of grilled seafood will hit you almost immediately.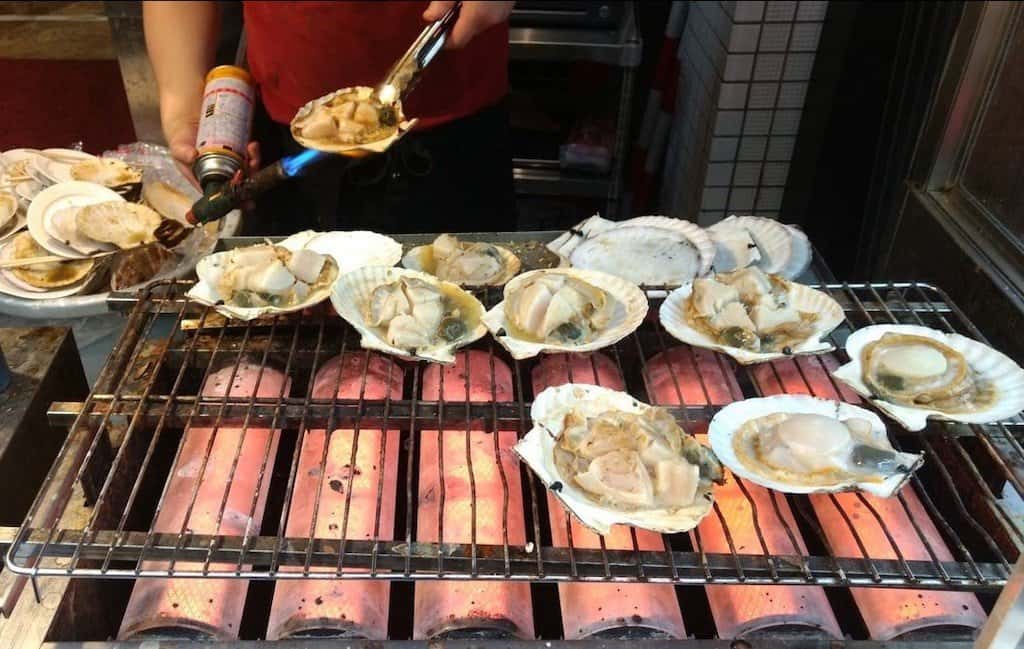 By the way, Uofuku only sells grilled scallops. Needless to say, they are absolutely delicious!
O-toro
Finally, you absolutely must try o-toro, which is the fattiest and most desired section found on the underside of the tuna belly.
You will find a lot of shops selling Nigiri, which is a specific type of sushi consisting of a slice of raw fish over pressed vinegared rice and sashimi, which refers to just slices of very fresh fish served raw, often over a bed of shredded daikon radish.
I suggest you make your rounds and select the place that draws the biggest crowd and prepares the food right in front of you.
All in all, O-toro is delicious. It is rich and creamy. It kind of evaporates while you indulge in it.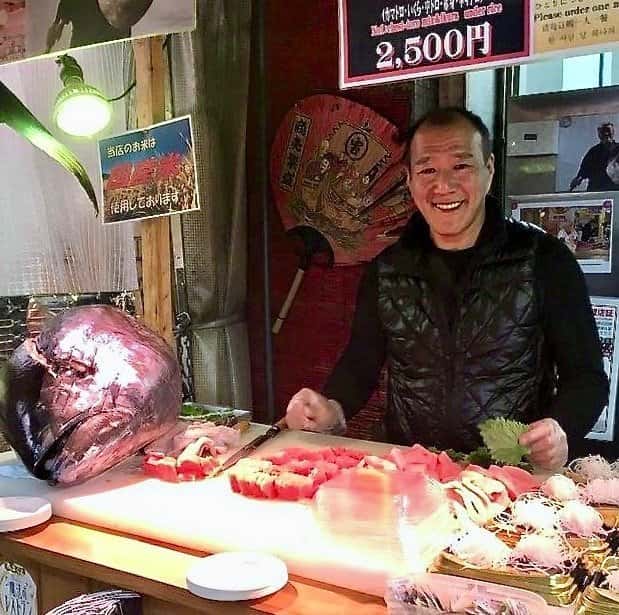 Osaka one day itinerary continues and if you are ready, then lets head to the next attraction, which is Shinsekai.
How to Get to Shinsekai from Kuromon Market
I think the easiest way to get to Shinsekai from Kuromon Market is to catch Sakasuji Subway Line and get off at Dobutsuen-Mae Station and follow the signs for Shinsekai-Tsutenkaku Tower. Once you exit the station, you will be heading north.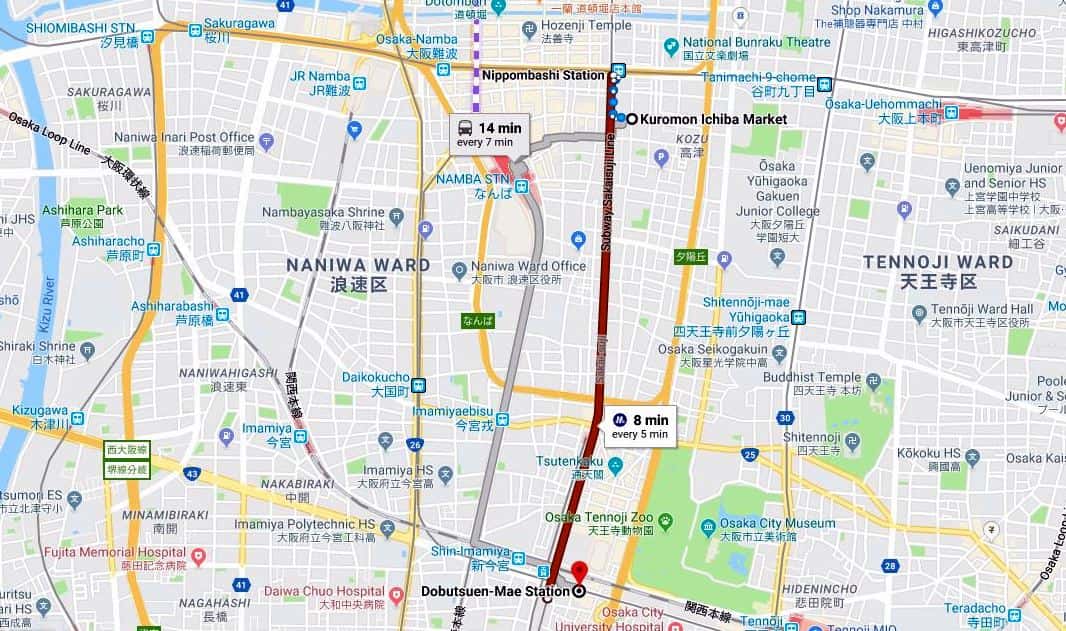 Map data: Google Maxar Technologies
Shinsekai
Shinsekai is a razzle dazzle glitz overload you can't miss!
The delicious smells of cooked food, the flashing and buzzing lights, the huge signboards, the crowds make you feel like you just stepped into Blade Runner movie. However, you are really in an old retro part of Osaka that is unlike any other area in Japan.
It feels almost overwhelming to be here, yet strangely alluring. Shinsekai is a must-visit when in Osaka!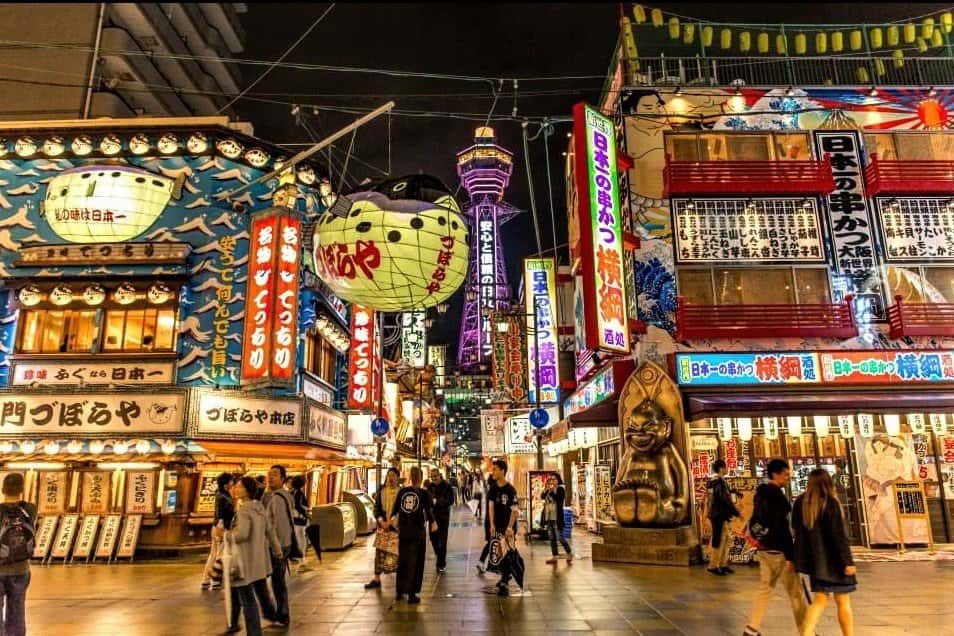 Shinsekai means "New World" in English. The neighborhood was created in 1912 with New York as a model for its southern half and Paris for its northern half. Luna Amusement Park, which operated from 1912 until its closing in 1923, drew huge crowds to the area. However, after World War II, Shinsekai became one of Japan's poorest neighborhoods.
At the beginning of the 20th century the neighborhood started to flourish as a local tourist attraction with Tsutenkaku Tower as its centerpiece.
Things to Do in Shinsekai
Try Local Specialties
Shinsekai's culinary forte is kushikatsu. Kushikatsu is a deep-fried breaded skewered meat, seafood and vegetables. The neighborhood abounds with kushikatsu restaurants offering various kinds of meat, fish, and vegetables all breaded and deep fried on small sticks for around 150 yen each. They are delicious and I love the crispy texture.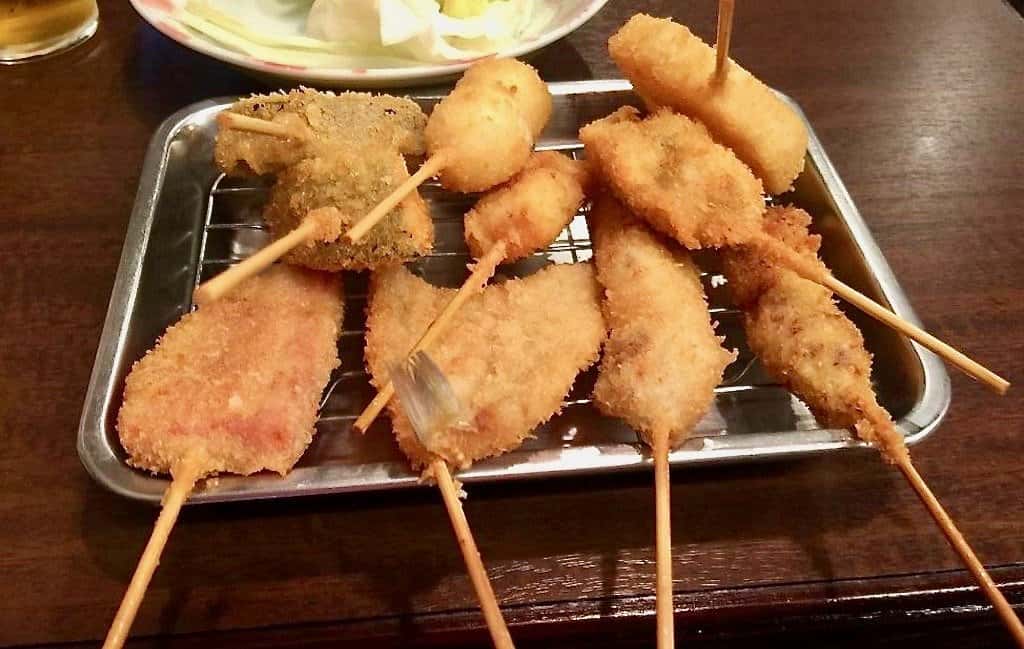 If you are up to trying some fugu, then look no further and head to Zuboraya. You will not miss it. The sign of this restaurant: a papier-mâché "fugu" blowfish is a landmark.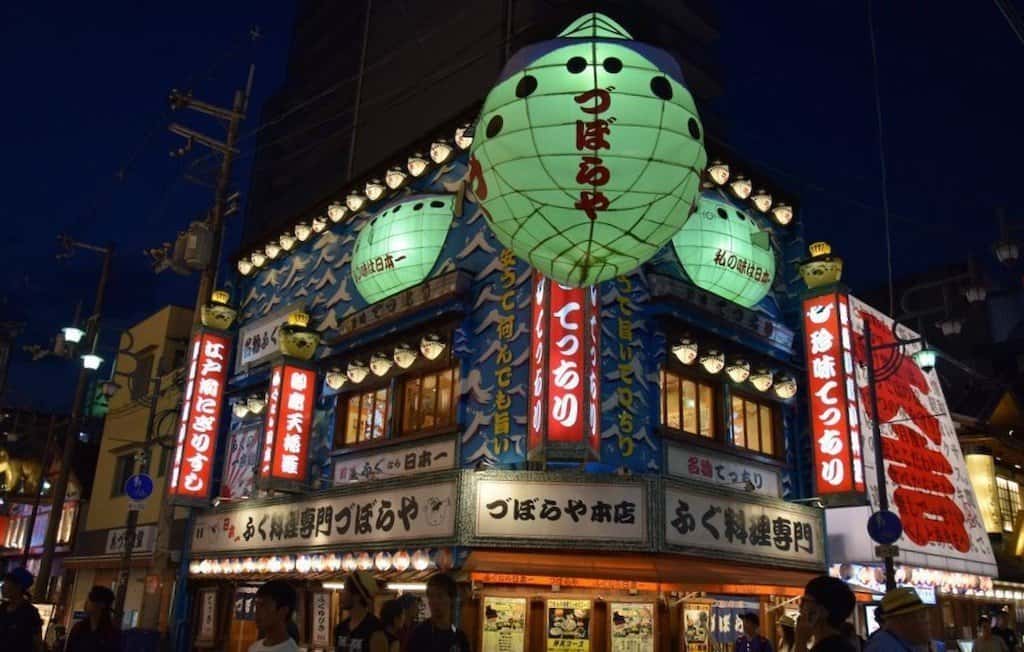 Go to the Top of Tsutenkaku Tower
Tsutenkaku Tower is the symbol of Osaka. Incidentally, Tsutenkaku translated into English means " building leading to heaven", or "tower reaching to heaven". Tsutenkaku Tower stands at 103 m and it has two observation levels.
Specifically, the indoor observation level is located at 84m (276ft), and the outdoor observation deck is at 94.5m (310ft). You can buy a ticket to the 1st observation deck or a ticket to visit both. I highly recommend buying the ticket to visit both.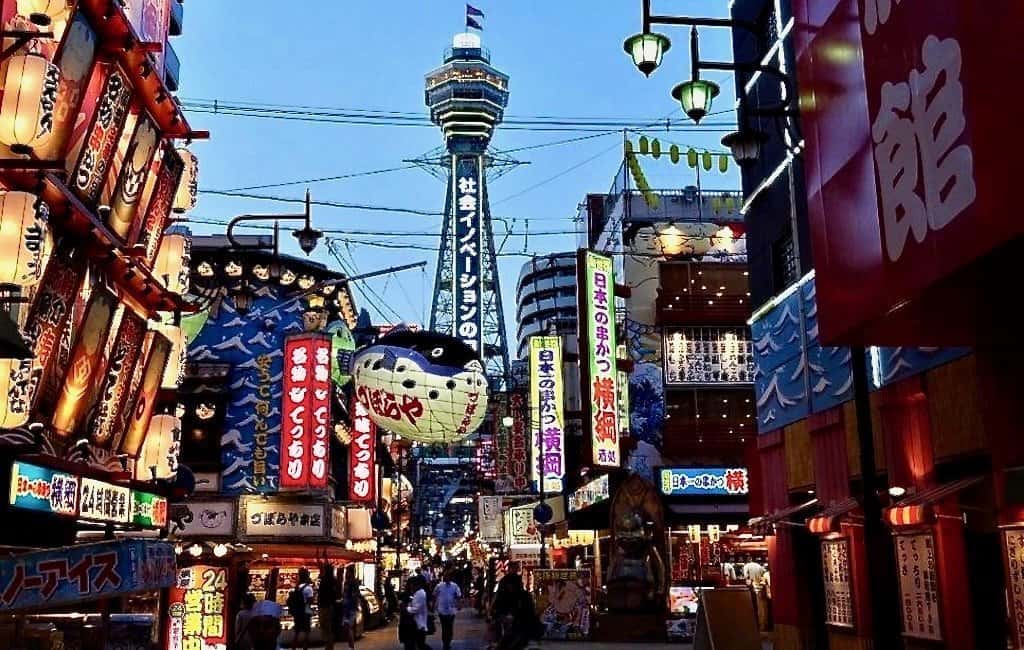 In all honesty, Shinsekai is one of my favorite neighborhoods in Osaka. Please check out my post about Shinsekai. It lists several restaurants worth trying, it has a ton information about the area and some cool pictures.
In addition, you cannot miss Billiken, and rub his feet for good luck: Shinsekai – The Ultimate Guide to Osaka's Top Attraction
Next, following Osaka One Day Itinerary, you are going to Dotonbori and Shinsaibashi.
How to Get to Dotonbori and Shinsaibashi from Shinsekai
I think that easiest way to get to your next destination is to go back to Dobutsuen-Mae Station and take Midosuji Line and get off at Namba Station. Once you arrive at the station take exit 14. Next, walk to the left on the main street and turn right before the first bridge. You will be heading north from the station. It is no more than a 5-minute walk from the station to Dotonbori.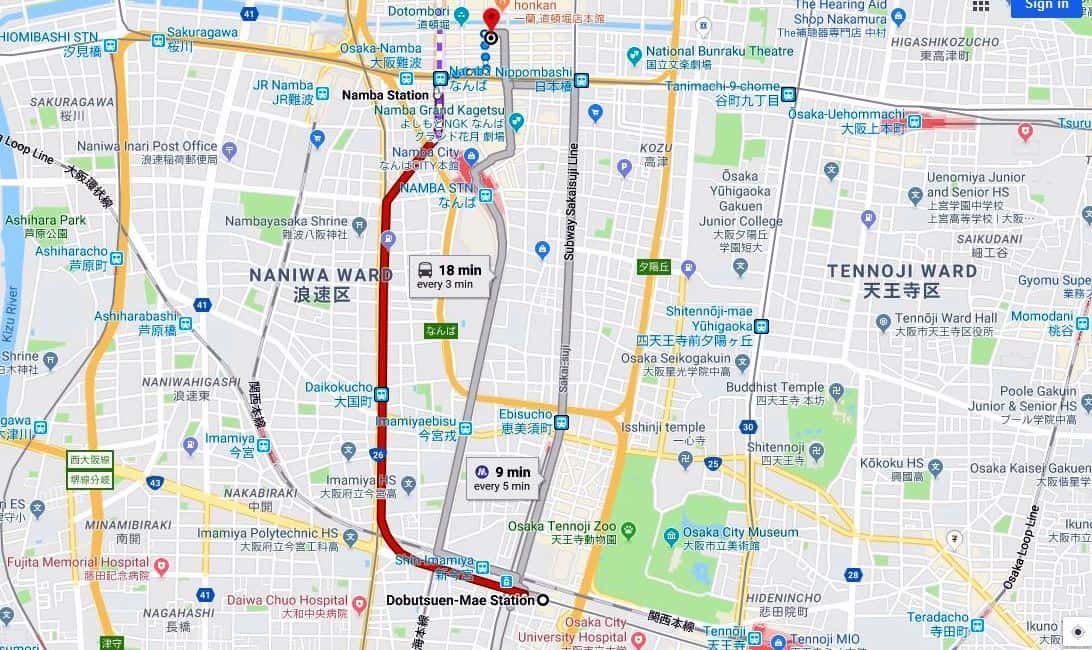 Map data: Google Maxar Technologies
Dotonbori and Shinsaibashi
Dotonbori
Needless to say, Dotonbori is a bustling streetscape.The narrow streets are packed with crowds to the brim. All the shop fronts have bright, flashing and colorful displays trying to get your undivided attention. In addition, there are hundreds of food stalls preparing and selling sizzling delicacies.
Take your time and meander along Dotonbori River. As you stroll, "graze" your way around and taste lots of different and unusual delights.
Above all, make sure to try takoyaki and okonomiyaki. Or, stop by Ichiran Ramen and Ippudo, which are two of my favorite restaurants. If you venture into any of the side alleys around the main street, you will find some lovely eateries that are a lot calmer and cater more to the locals.
However, you should not miss Kani Doraku Crab and the famous Glico Man.

Shinsaibashi
Shinsaibashi is an undercover shopping arcade approximately 600 meters long. It has hundreds of chain retail stores, many unique trendy boutiques, as well as expensive brand name stores.
At any rate, if you have any shopping to do, then head straight to Shinsaibashi. There is something for every shopper and every wallet on this street.
There are also dozens of delicious restaurants and cafes hidden in the streets and the alleys leading just off it.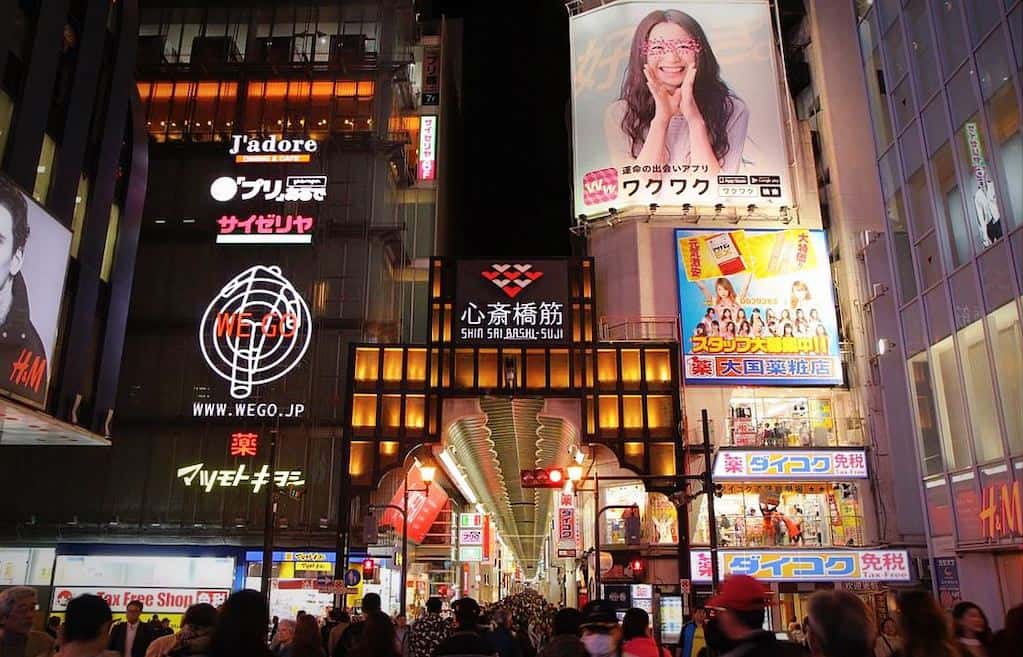 The western area of the Shinsaibashi has famous imported fashion spot named America-Mura. You can find many young people always heading to that place. If you have time, I recommend stopping by America-Mura.
And, according to Osaka One Day Itinerary, you reached your final destination: Hep Five.
How to Get to Hep Five from Dotonbori and Shinsaibashi
The best way to get to Hep Five from Dotonbori and Shinsaibashi is to retrace your steps a bit and go back to Umeda Station. Once you get to Umeda Station take Midosuji Line and get off at Osaka Station. Hep Five  is located about 5 minutes walking distance from Osaka Station. Once you exit the station, just look up into the sky and locate the giant red Ferris Wheel.
Hep Five
Osaka Hep Five is teenagers paradise with fashion, restaurants, and amusement. If you are interested in seeing the local fashions and browsing through trendy shops then, you should definitely head to Hep Five.
However, if fashions are not your thing, then ride the giant red Ferris Wheel and soak up Osaka's sweeping views.
Furthermore, check out some cool restaurants and sample different foods. Finally, try your skills at the game machines of every possible description.
The visit to Hep Five concludes your Osaka one day itinerary.
You can retrace your steps to Osaka Station and catch the subway to your next destination.
Bike Tour through Osaka's Neighborhoods
Now, here is another idea that you should consider! How about a bike tour? If the weather is good, then I am definitely recommending a 3-hour bike tour through the neighborhoods around Osaka Castle. You will have a local guide who will lead the way and share all the insider tips about Osaka, plus you get to sample some of Osaka's local delicacies.