This site uses affiliate links, meaning that if you make a purchase through our links, we may earn an affiliate commission.
If you are planning on visiting Osaka and only have one day to see Osaka's top best attractions, then look no further and follow this step-by-step Osaka one-day itinerary.
So, with no further delay, let's get started with one day in Osaka that will take you through the neighborhoods that truly define the city. You will navigate like a pro through Osaka's neighborhoods and explore all of its must-see sights!
Where is Osaka and How to Get There from Tokyo or Kyoto
Osaka is located on the main island of Honshu, roughly, it is situated right in the center of Japan.
How to Get to Osaka from Tokyo
The best way to get to Osaka from Tokyo is by shinkansen (bullet train). The journey is about 320 miles (515 km) and it takes 2.5-3 hours to reach Osaka from Tokyo.
The fastest way to get to Osaka from Tokyo is to take Nozomi. It will get you from Tokyo Station to Shin-Osaka Station in just 2 hours and 30 minutes, however, it is not covered by JR Pass.
If you're using a Japan Rail Pass (which I am recommending that you purchase before traveling to Japan), then you will need to take either Hikari or Kodama. Hikari will get you to Osaka in about 3 hours and Kodama in 4 hours.
Keep in mind, that the Shinkansen trains arrive at Shin-Osaka Station and not at Osaka Station. The JR Tokaido Main Line connects the two stations and it takes just a few minutes to get from one station to the next.
How to Get to Osaka from Kyoto
The JR Tokaido Shinkansen will get you to Shin-Osaka Station from Kyoto Station in about 15 minutes. JR Pass covers Hikari and Kodama trains between Shin-Osaka and Kyoto, but it does not cover Nozomi trains.
How to Get Around in Osaka
Osaka's public transportation system is great and it is easy to use! Trains and the subway are the way to get around Osaka.
If you have JR Pass, then make sure to use JR lines in Osaka. JR Osaka Loop Line will get you to all the attractions in Osaka plus the cost of your travel will be included in the pass.
The subway system is well-designed and it will get you to the top places to visit in no time! A prepaid Icoca card is the best way to pay for transport (but a Suica or Pasmo card from Tokyo will also work just fine).
Taxis are available as well, but they are expensive.
There are a lot of tours that you might be interested in as well. Some are private and some are group tours, however, they are all a great way to see Osaka.
Osaka Walking Tour – it is a small group walking tour that takes you to Dotonbori and Shinsekai, you get to sample some local delicacies as well, plus you will learn how to use the subway and have a knowledgeable guide by your side.
If you prefer a private tour, then you should check out the Private 4-Hour Tour of Osaka. You will be accompanied by a licensed guide! This tour includes Osaka Castle as well as many of the vibrant neighborhoods.
Osaka has a great central location, and it is an awesome spot for not only spending one day exploring the city but also as a base for exploring Japan. Above all, Osaka's accommodations are generally considered to be fairly affordable compared to, for instance, Kyoto.
Following are a few districts that you should look into staying in while visiting Osaka and the surrounding areas:
Kita and Umeda Area – Kita means north in Japanese. It is Osaka's number one urban hub. It is the perfect place to stay while visiting Osaka or transferring to another place. In the heart of the district is the newly rebuilt JR Osaka Station. It's surrounded by department stores and filled with restaurants, bars, shops, and hotels.
Hotel Wing International Select Osaka Umeda – the location of this hotel is perfect! Continental breakfast is awesome. The rooms are rather small but clean and comfortable.
Hotel Granvia Osaka-JR Hotel Group – this is another one of my favorites. The location is great. You will have a refrigerator in the room which is convenient. Plus, you will love a full-size bathroom.
Minami Area – Minami means south in Japanese. It is Osaka's second urban hub after Kita and Umeda Area. It is roughly located near Namba Station and covers Dotonbori and Shinsaibashi Districts.
Hiyori Hotel Osaka Namba Station – there is no doubt, that this would be my top choice while staying in Osaka. The location is perfect. Rooms are decent size with all the amenities. You will love the buffet breakfast with pretty much limitless choices. The famous Kuromon Market is only 10 minutes away!
Karaksa Hotel Osaka Namba – this is another hotel that you can't go wrong with. First of all, great location and the rooms are a good size, very clean with lots of amenities!
Perfect One Day in Osaka Itinerary (6 Best Things to Do)
Map of One Day in Osaka Itinerary
1. Let's start one day in Osaka with a visit to the Umeda Sky building.
2. Next, we will explore Osaka Castle.
3. After you are done checking out the castle, let's head out to the famous Kuromon Market for lunch.
4. Next, we will stroll through the dazzling Shinsekai District.
5. Finally, it is time to see Dotonbori and Shinsaibashi District.
6. And, if you still have any energy left, then finish your day at the famous Hep Five.
Umeda Sky Building is no more than a 10-minute walk from Osaka Station. Once you arrive at Osaka Station make sure to take North Central Exit and proceed to an underground pedestrian passage. Once you exit the passage, Umeda Sky Building will be right in front of you.
The interesting feature of the Umeda Sky Building is that it consists of two separate towers which are joined at the top by a ring-like roof-top observation deck.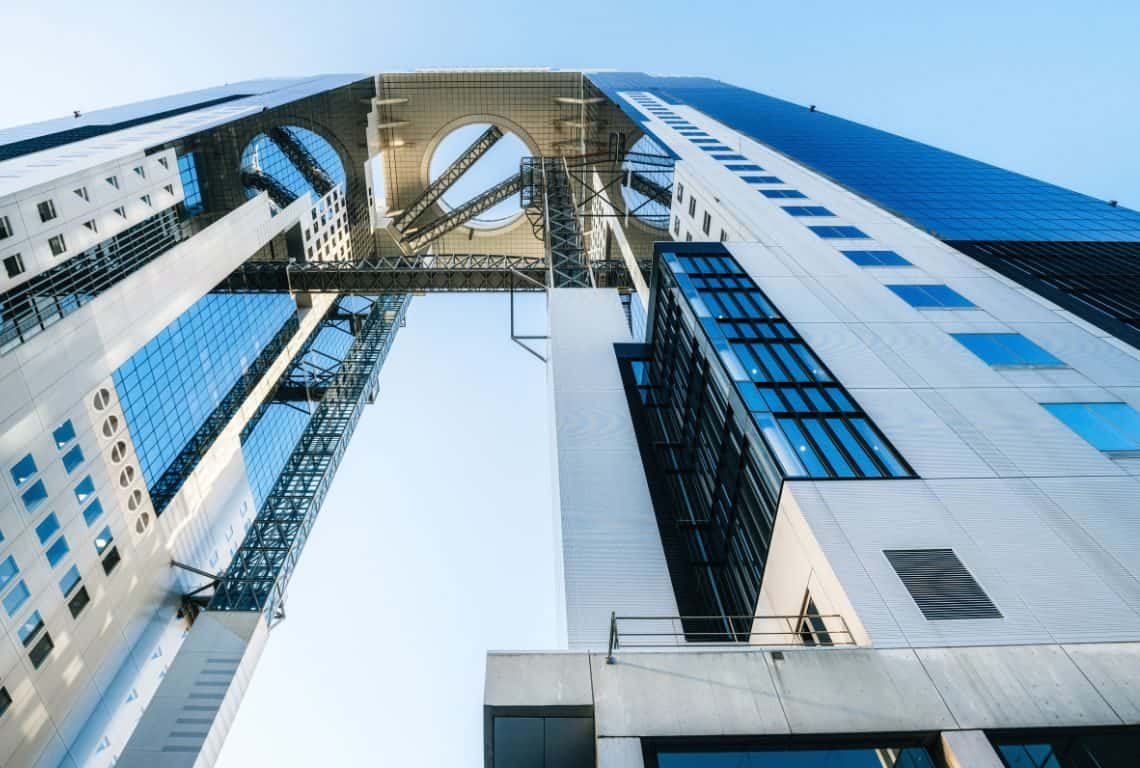 Umeda Sky Building / One Day in Osaka
The entrance to the building is at the East Tower. Once you enter, you are on the way to the very top. I have to honestly say, that getting there is half the fun!
And, it is not recommended for the faint of heart or vertigo sufferers.
To start with, you take the all-glass elevator to the 35th floor. You can start enjoying the views as it rushes to the top and your ears start popping.
Next, you take an escalator in a see-through tube which will take you across to the 39th floor of the West Tower.
Umeda Sky Building / One Day in Osaka
Once you arrive at the 39th floor, you will need to purchase the entrance ticket which will give you access to the 40th floor called the Floating Garden Observatory as well as an open rooftop called the Sky Walk.
Remember before you step outside take off any hats and do not carry an umbrella. It can get windy up there!
The views in the Sky Walk are simply breathtaking. The experience of walking on the open deck, with no noise except for the sound of the wind, is quite surreal.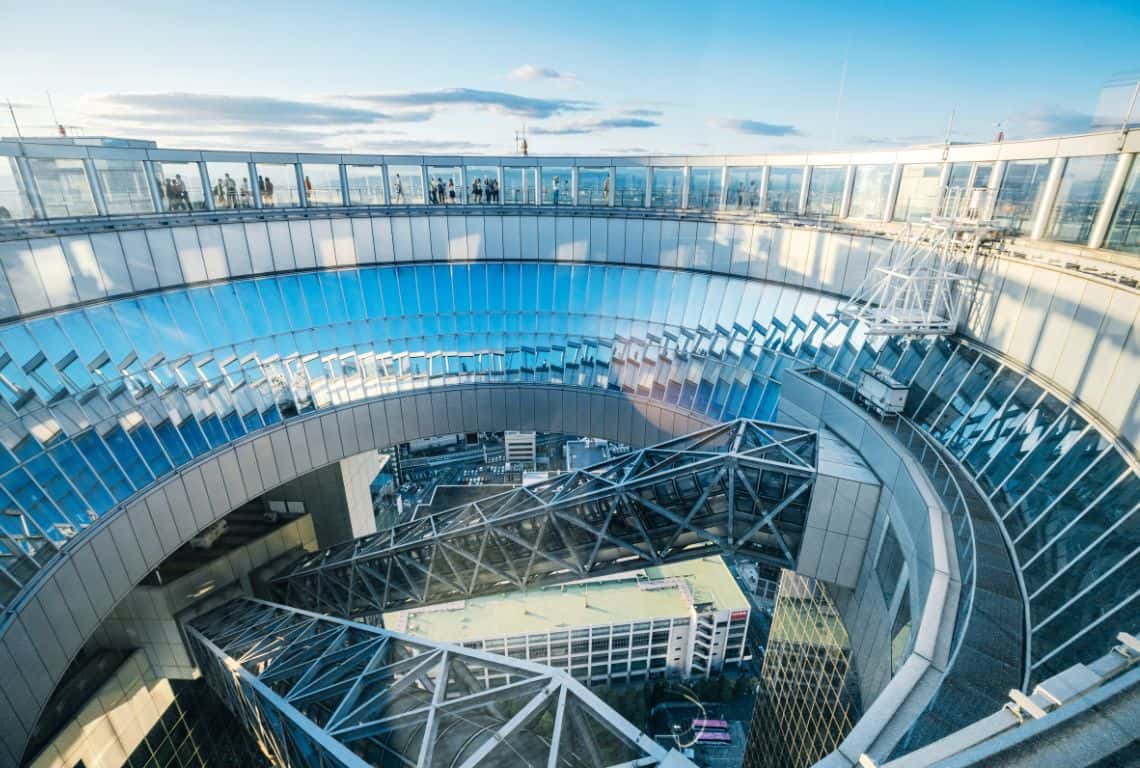 Umeda Sky Building / One Day in Osaka
Immediately below the Sky Walk on the 40th floor is a cafe called Sky 40. It serves a variety of creamy lattes, fruit sodas, and ice cream, just to name a few. It is open from 10 am to 10:30 pm. This is a perfect spot to take a break while continuing to enjoy the view.
On the 39th floor, there is a bar called Sky Lounge Stardust as well as a Cantonese-style restaurant called Sangu. Both have window views and are particularly romantic spots in the evening.
The basement of the Umeda Sky Building contains the Takimi-Koji Gourmet Street, which features alleyways that replicate the retro streets of the early Showa Period in Osaka.
There are 20 different restaurants at Takimi-Koji Gourmet Street serving everything from local dishes like okonomiyaki – savory pancakes and takoyaki – octopus dumplings, to international fares like Indian curry and French cheese and wine.
Even if you aren't hungry, this area is worth a visit just to enjoy the sense of taking a trip back in time.
The Showa Period refers to the period of Japanese history corresponding to the reign of the Showa Emperor, Hirohito, from December 25, 1926, until his death on January 7, 1989.
During the pre-1945 period, Japan moved into political totalitarianism, ultranationalism, and fascism culminating in Japan's invasion of China in 1937.
Defeat in the Second World War brought about a radical change in Japan. For the first and only time in its history, Japan was occupied by foreign powers; this occupation lasted seven years. The allied occupation brought forth sweeping democratic reforms. It led to the end of the emperor's status as a living god and the transformation of Japan into a democracy with a constitutional monarch. In 1952, with the Treaty of San Francisco, Japan became a sovereign nation once more. The post-war Showa period also led to the Japanese economic miracle.
The next stop is Osaka Castle.
Getting to Osaka Castle from Umeda Sky Building is super easy! Simply, retrace your steps to Osaka Station and take the JR Osaka Loop line and get off at Morinomiya Station. It will take you about 40 minutes to get to Morinomiya Station. And, then, you will have a short 15-minute walk from the station to the castle.
Osaka Castle has a commanding presence on the city's skyline. It is the symbol of Osaka and one of its main attractions.
Osaka Castle is situated in the middle of Osaka Castle Park.
Osaka Castle was built in the late 1500s by daimyo Toyotomi Hideyoshi. When it was finally finished in 1615, it was the largest and most impressive castle Japan had ever seen.
Unfortunately, Osaka Castle was destroyed several times through the years. However, it was rebuilt each time. Today, Osaka Castle is a concrete reconstruction of the original and the interior of the castle houses a great museum.
The entrance to the castle grounds is free. However, in order to tour the museum, there is a charge of 600 yen. Needless to say, do not skip the museum. It will be the highlight of your visit to the castle!
Also, next to the castle, you will find the most stunning Nishinomaru Garden which is famous for its 600 cherry trees that bloom gloriously during springtime.
All in all, there are about 4,000 cherry trees all around Osaka Castle Park and it is quite a sight to see them all in full bloom.
Right about now, you are probably ready for some lunch so let's head to your next destination which is the famous Kuromon Market.
The best way to get to Kuromon Market from Osaka Castle is to take Tanimachi Subway from Tanimachi 4-chome Station and get off at Tanimachi 9-chome.
Kuromon is an undercover market about 600 m in length. It comprises around 200 shops that offer absolute food galore ranging from sushi and sashimi, grilled scallops and crabs, to seared Kobe beef, not to mention the freshest white strawberries.
Kuromon Market will tease your taste buds and fill your tummy. In addition, hold on to your wallet if you are on a budget because you will simply overspend.
Kuromon Market / One Day in Osaka
What to eat at Kuromon Market? Here are my 3 top things to try:
Have you ever tried uni? If it is still on your list of things to try, then you should not wait any longer and give it a taste. Kuromon Market is a perfect place to try it.
To begin with, I would describe the texture as creamy or buttery, silky, and delicate with just a slight firmness. Secondly, the aroma is like a clean ocean smell. Thirdly, the taste: it has an almost ineffable flavor; ever so slightly sweet, clean, and crisp and it lingers on. Finally, its color is beautiful – shades of gold, yellow and orange.
Next, try grilled scallops.
To tell you the truth, I love grilled scallops! And, you will fall in love with them as well, if you head to Uofuku. In fact, Uofuku is hard to miss because there will be a crowd surrounding the tiny stall and the smell of grilled seafood will hit you almost immediately.
Finally, you absolutely must try o-toro, which is the fattiest and most desired section found on the underside of the tuna belly.
You will find a lot of shops selling Nigiri, which is a specific type of sushi consisting of a slice of raw fish over pressed vinegared rice, and sashimi, which refers to just slices of very fresh fish served raw, often over a bed of shredded daikon radish.
I suggest you make your rounds and select the place that draws the biggest crowd and prepares the food right in front of you.
All in all, O-toro is delicious. It is rich and creamy. It kind of evaporates while you indulge in it.
Kuromon Market / One Day in Osaka
Osaka one day itinerary continues and if you are ready, then let's head to the next attraction, which is Shinsekai.
I think the easiest way to get to Shinsekai from Kuromon Market is to catch Sakasuji Subway Line and get off at Dobutsuen-Mae Station and follow the signs for Shinsekai-Tsutenkaku Tower.
Shinsekai is Osaka's razzle-dazzle glitz overload you can't miss!
The delicious smells of cooked food, the flashing and buzzing lights, the huge signboards, the crowds make you feel like you just stepped into Blade Runner movie. However, you are really in an old retro part of Osaka that is unlike any other area in Japan.
It feels almost overwhelming to be here, yet strangely alluring. Shinsekai is a must-visit when in Osaka!
Shinsekai District / One Day in Osaka
Shinsekai means "New World" in English. The neighborhood was created in 1912 with New York as a model for its southern half and Paris for its northern half. Luna Amusement Park, which operated from 1912 until its closing in 1923, drew huge crowds to the area. However, after World War II, Shinsekai became one of Japan's poorest neighborhoods.
At the beginning of the 20th century, the neighborhood started to flourish as a local tourist attraction with Tsutenkaku Tower as its centerpiece.
There is much to do in Shinsekai, however, my 3 top recommendations are to soak up all the razzle-dazzle, try some local delicacies, and head to the top of Tsutenkakau Tower for some stunning views of Osaka!
Shinsekai's culinary forte is kushikatsu.
Kushikatsu is a deep-fried breaded skewered meat, seafood, and vegetables. The neighborhood abounds with kushikatsu restaurants offering various kinds of meat, fish, and vegetables all breaded and deep-fried on small sticks for around 150 yen each.
They are delicious and I love the crispy texture!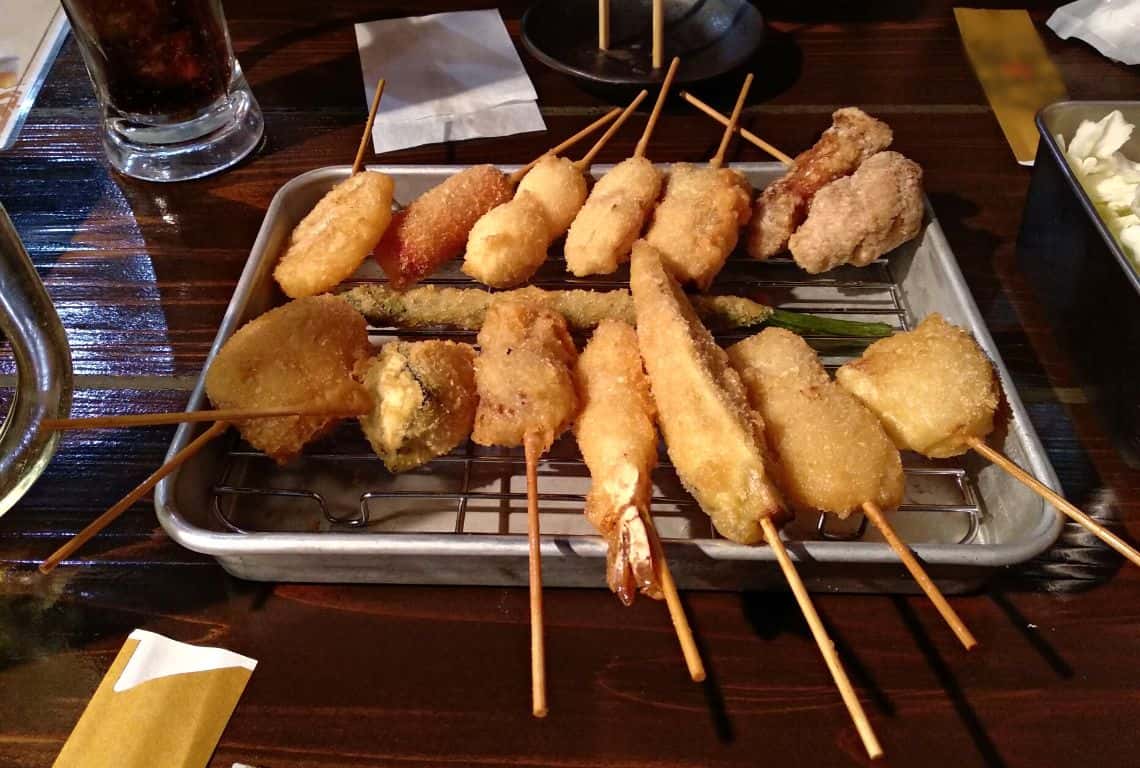 Kushikatsu in Shinsekai / One Day in Osaka
Tsutenkaku Tower is the symbol of Osaka. Tsutenkaku translated into English means building leading to heaven or tower reaching to heaven. Tsutenkaku Tower stands at 103 m and it has two observation decks (indoor and outdoor).
Dotonbori and Shinsaibashi Districts
Next, on the list are Dotonbori and Shinsaibashi.
The easiest way to get to Dotonbori and Shinsaibashi is to go back to Dobutsuen-Mae Station and take Midosuji Line and get off at Namba Station.
Once you arrive at the station take exit 14.
Next, walk to the left on the main street and turn right before the first bridge. You will be heading north from the station. It is no more than a 5-minute walk from the station to Dotonbori.
Needless to say, Dotonbori is a bustling streetscape. The narrow streets are packed with crowds to the brim. All the shop fronts have bright, flashing, and colorful displays trying to get your undivided attention. In addition, there are hundreds of food stalls preparing and selling sizzling delicacies.
Take your time and meander along the Dotonbori River. As you stroll, taste lots of different and unusual delights. Above all, make sure to try takoyaki and okonomiyaki.
However, you should not miss Kani Doraku Crab and the famous Glico Man.
Shinsaibashi is an undercover shopping arcade approximately 600 meters long. It has hundreds of chain retail stores, many unique trendy boutiques, as well as expensive brand-name stores.
There are also dozens of delicious restaurants and cafes hidden in the streets and the alleys leading just off it.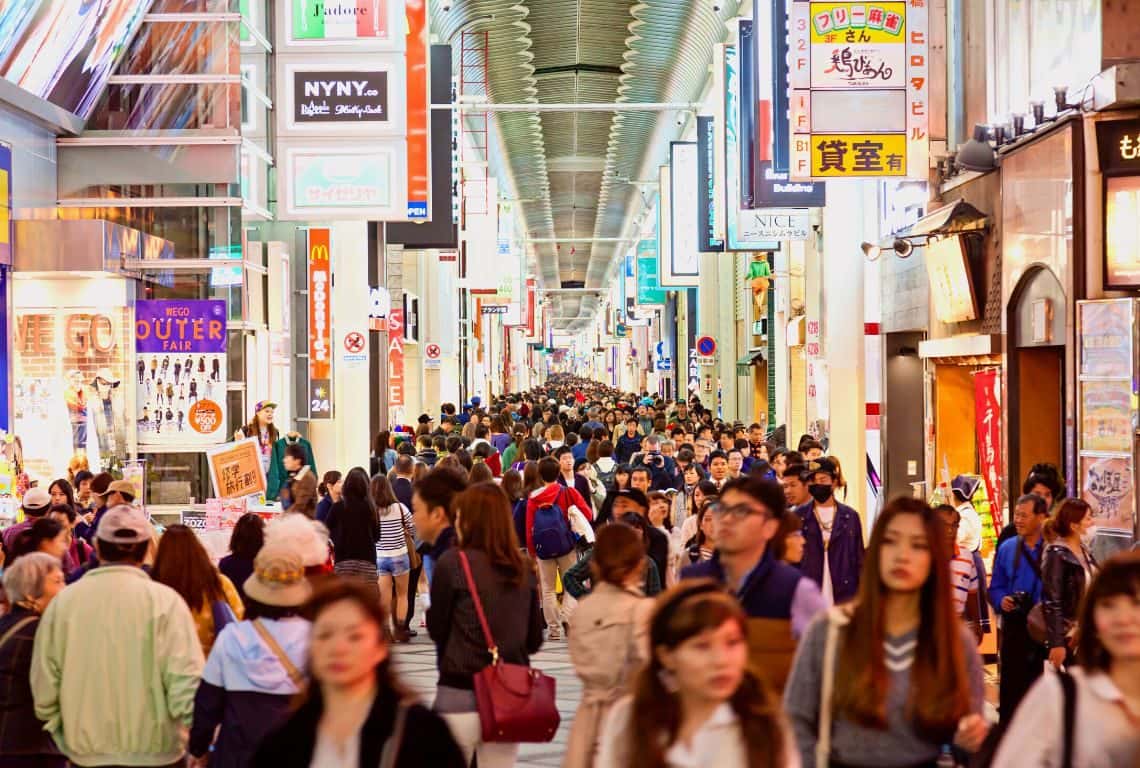 Shinsaibashi / One Day in Osaka
The western area of the Shinsaibashi has a famous imported fashion spot named America-Mura. You can find many young people always heading to that place.
If you have time, I recommend stopping by America-Mura. It is a cool place to check out.
Now, let's head out to your final destination on this one day in Osaka itinerary, which is Hep Five.
The best way to get to Hep Five from Dotonbori and Shinsaibashi is to retrace your steps a bit and go back to Umeda Station. Once you get to Umeda Station take Midosuji Line and get off at Osaka Station.
Hep Five is located about 5 minutes' walking distance from Osaka Station. Once you exit the station, just look up into the sky and locate the giant red Ferris Wheel, and head in that direction. This is where Hep Five is located.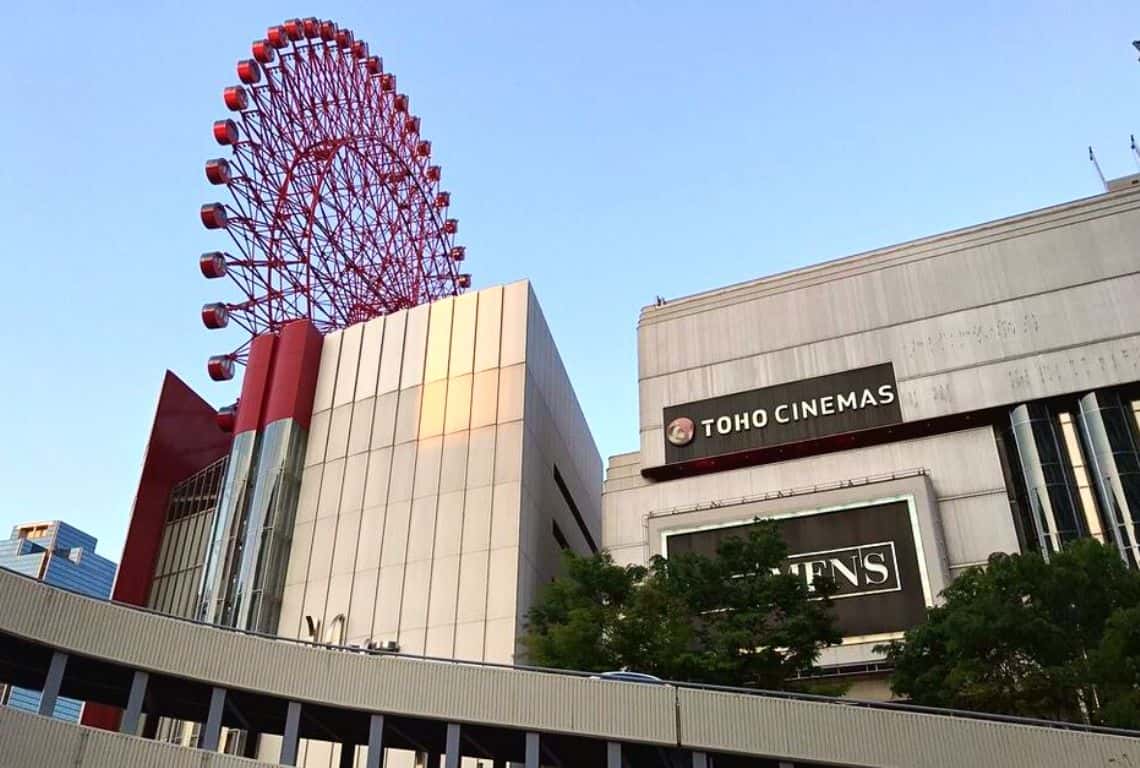 Hep Five / One Day in Osaka
Osaka Hep Five is a paradise with fashion, restaurants, and amusement.
If you are interested in seeing the local fashions and browsing through trendy shops then, you should definitely head to Hep Five. However, if fashions are not your thing, then ride the giant red Ferris Wheel and soak up Osaka's sweeping views.
Furthermore, check out some cool restaurants and sample different foods.
Finally, try your skills at the games machines of every possible description.
As a matter of fact, as soon as you enter Hep Five, you are greeted by the huge red whales suspended form the ceiling.To be honest, they are pretty amazing. By the way, they were designed by the artist Tatsuya Ishii.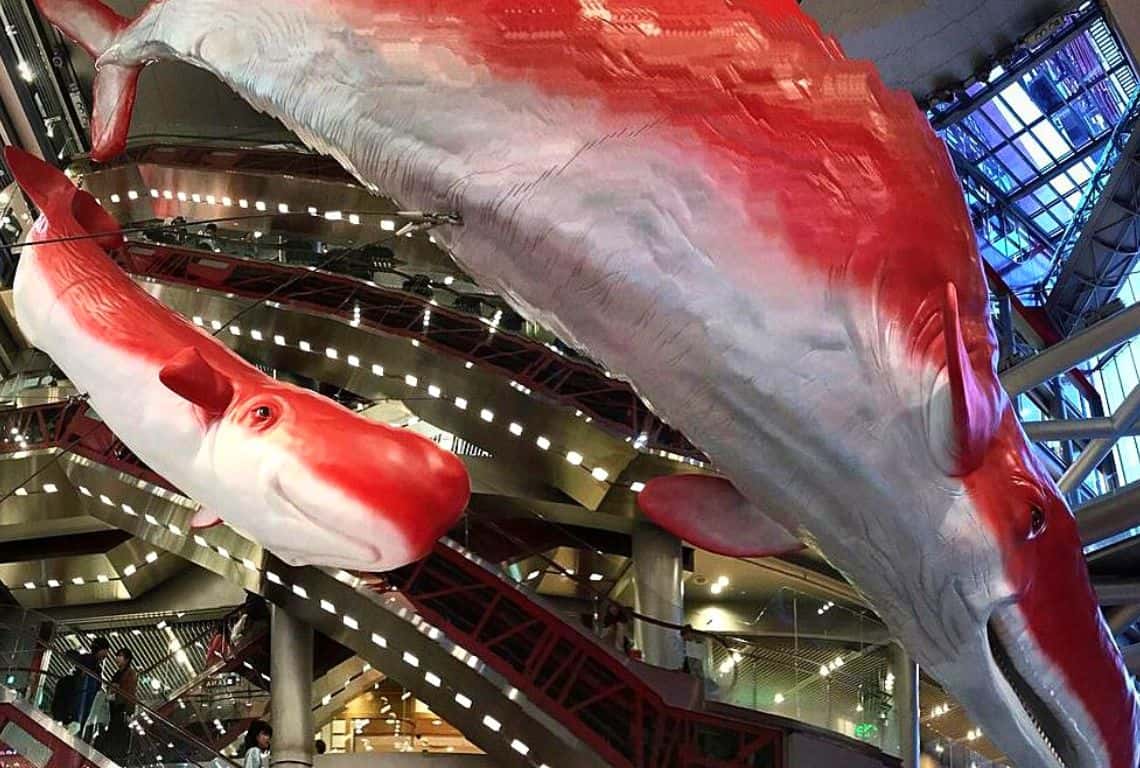 Hep Five / One Day in Osaka
More importantly, Hep Five is filled with over 170 clothing stores and fashion boutiques which are mostly aimed at the younger generation. They stretch from the 1st floor all the way to the 6th floor. In all honesty, if you are looking for a bag, shoes, jewelry, or accessories, you will have an abundance of choices.
By the same token, there are a couple of places that caught my attention. First of all, Boston Club store. It has quite a few fashionable shoes and wristwatches. Secondly, the Craftholic store has the most adorable hug pillows. As always, Disney Store is fun to browse through. Finally, if you love cute clothes, make sure to visit Eliza.
Hep Five / One Day in Osaka
There is a good selection of restaurants on the 7th floor with both Japanese and Western cuisine, as well as cafes, and casual fast food eateries.
However, check out Gudetama. Are you familiar with Gudetama? It won my heart and it will win your heart as well. Gudetama is a cartoon egg yolk that feels existence is almost unbearable. Don't we all feel like that sometimes?
Unsurprisingly, everything on the menu is Gudetama related. Even the main components of each dish are egg based.
I love the crazy concept of putting a Ferris Wheel on top of a building! Needless to say, this is the main attraction at Hep Five. You can board the Ferris wheel from the 7th floor. Operating time is from 11:00 am to 10:45 pm (last boarding time). The entrance ticket is 500 yen.
By the way, the 75-meter diameter wheel has 52 four-seater gondolas. It takes 15 minutes to make one complete circuit. Moreover, the gondolas are enclosed and heated in the wintertime and air conditioned during the summer months.
Furthermore, they come with an audio jack so you can plug in your iPhone and play your favorite tunes as you go.
The Ferris Wheel, at its highest point, is 106 meters above ground and offers spectacular scenic views over the city all the way to Osaka Harbor.
Intrepid Scout's Tips for One Day in Osaka
One of my favorite places in Osaka is Dotonbori. I think you will enjoy exploring this part of Osaka the best. Here a some facts, I want to share with you about Dotonbori:
Dotonbori can trace its history back to 1612, when a local entrepreneur, Yasui Doton, started expanding the tiny river and building a canal in hope of increasing commerce in the area. The canal project was completed in 1615 and named Dotonbori in praise of Doton. Doton was taken from his name, and "bori" (from "hori") which means "moat" or "canal".
In the late 17th century, many great theaters were opened in Dotonbori including Nakaza, Kadoza and Naniwaza, as well as Takemotoza and Toyotakeza (za means theater). The opening of so many theaters led to the Kabuki boom.
Chikamatsu Monzaemon was the most famous playwriter during that time. He wrote 130 plays and most of them were performed at Takemotoza theater in Dotonbori. Chikamatsu Monzaemon was called the Eastern Shakespeare. If you have time, then you should try attending the Kabuki performance at Kadoza, which is operating until this day.
In the 20th century, Dotonbori became the jazz capital of Japan. It was lined up with many jazz dance halls and jazz cafes. In addition, professional foreign jazz musicians played in many of the clubs.
You can still listen to jazz in Dotonbori today. There are many jazz clubs along the Dotonbori Riverwalk.
In addition, you can take a 40-minute boat ride and listen to jazz as you are soaking up the sights of Dotonbori.
Did You Find One Day in Osaka Useful?
Why Not Save It to Your Pinterest Board!
Now, It Is Your Turn, I Would Like to Hear Back from You!
Are you planning your trip to Osaka?
Please let me know! Drop me a quick comment right below!
Click on any of the images below to get inspired and to help you with the planning process for your trip to Japan!