This site uses affiliate links, meaning that if you make a purchase through our links, we may earn an affiliate commission.
Welcome to an exhilarating one day in Zion National Park, where rugged landscapes and breathtaking vistas await. In just 24 hours, we will guide you through a whirlwind of adventures that showcase the park's awe-inspiring wonders.
Immerse yourself in the enchanting Narrows, wading through the Virgin River as towering canyon walls surround you. Take on the iconic Angel's Landing hike, conquering dizzying heights for panoramic views that defy description.
Discover the serenity of the Emerald Pools, where sparkling waterfalls and lush greenery create an oasis within the desert. End your day with the stunning vistas of the Canyon Overlook Trail, capturing the essence of Zion's majesty.
Get ready to discover the hidden gems, conquer heart-pumping challenges, and create memories that will last a lifetime. Are you ready for a day of unparalleled adventure in Zion? Let's dive in!
Zion National Park At-A-Glance
Before diving in, here are a few Zion National Park highlights to help you plan your trip:
Best Time to Visit Zion National Park
Zion National Park is a great destination to visit at any time of the year. And, it is open 24 hours a day, every day of the year. I have visited Zion so many times at different times of the year and I have to honestly say that it is an awesome place to see no matter what month you visit!
Needless to say, April and May, and then September and October, are my favorite months to visit Zion National Park. The temperatures are mild with daytime temps in the 60s and 70s F. You will see fewer crowds as well and have some serene experiences on trails and at viewpoints.
Summer is the high season. Expect a lot of companionships on the trails and everywhere throughout the park. The temperatures skyrocket as well ranging from the high 80s to 100s F.
Winter is a good time to visit Zion National Park. Above all, you will be able to find some solitude. Snow seldom reaches the canyon floor and that being the case, the scenic drive and some hiking can be enjoyed during that time. Temperatures can range from the low 50s to sometimes low 70s F. However, make sure to check the weather and local snow conditions. Make sure that the trails you are planning to hike are clear and safe.
Where to Stay When Visiting Zion National Park
Hands down, nothing beats staying inside the park! However, accommodations inside the park are very limited and you will need to make reservations at least a year in advance. Zion Lodge is the only hotel inside the park. It is open year-round and has several different types of accommodations like cabins, hotel rooms, and suites.
Zion National Park has three campgrounds. South and Watchman Campgrounds are inside Zion Canyon, Lava Point Campground is about 1-hour drive from Zion Canyon on Kolob Terrace Road. Reservations are required at South and Watchman Campgrounds.
Springdale, UT is conveniently right at the entrance to Zion and it is the perfect getaway to Zion National Park. I stayed in Springdale several times and my two top choices are Hampton Inn & Suites Springdale/Zion National Park, and SpringHill Suites by Marriott Springdale Zion National Park. Both places are clean and comfortable, and the location is perfect.
How to Get to Zion National Park
The closest International Airports to Zion National Park that you can fly into are located in Las Vegas (LAS), Nevada, and Salt Lake City (SLC), Utah. There are smaller Regional Airports in St. George (SGU), Utah, and Cedar City (CDC), Utah. I use Skyscanner to browse flights and find the best price.
How to Get Around in Zion National Park
If you are visiting Zion National Park between the months of March through November, then you will have to use the shuttle. No private vehicles are allowed inside the park. The cost of the shuttle is included in your recreational use pass. You can hop on and hop off at any of the shuttles stops.
There are two shuttle routes: Zion Canyon Shuttle, which runs along the Zion Scenic Drive and makes 9 stops at viewpoints and trailheads, and Springdale Shuttle which stops at 9 locations in the town of Springdale and picks up and drops off visitors at the park's pedestrian/bike entrance.
How Much Does It Cost to Vist Zion National Park
In order to visit Zion National Park, you need to purchase a recreational day-use pass, which costs $35 per vehicle and is good for 7 consecutive days. You can purchase the pass right at the entrance to the park. If you are visiting several national parks then make sure to get America the Beautiful National Park Pass. This $80 pass is valid for 12 months and gets you into all 400+ national park sites!
Check Zion National Park Website for Trail Closures and Changes to Shuttle Operations
It is important that you check Zion National Park Website for any trail or road closures (usually due to rock slides) prior to going to the park. You can check for updates HERE.
Also, get the latest updates on shuttle route changes before heading out. You can check for the most recent information HERE.
Unforgettable One Day in Zion National Park: 4 Epic Adventures
Morning: The Riverside Walk and The Narrows
As the sun peeks over the horizon, kickstart your day in Zion National Park with a leisurely stroll along the Riverside Walk.
This easy, about 1-mile long, paved trail winds alongside the Virgin River, offering a peaceful and picturesque introduction to the park's natural splendor.
Views Along Riverside Walk / One Day in Zion
Views Along Riverside Walk / One Day in Zion
Enjoy the gentle rustling of leaves and the melodic song of birds as you meander through lush vegetation, with occasional glimpses of towering cliffs in the distance.
GOOD TO KNOW: Riverside Walk Trailhead is located at the Temple of Sinawava, which is Zion shuttle stop number 9.
Historically, Riverside Walk was called Gateway to the Narrows. And, this is right here where the legendary hike called Zion Narrows starts!
Are you ready for an adventure of a lifetime as you venture into The Narrows? This world-renowned slot canyon hike is a bucket-list experience that will leave you awestruck.
To access The Narrows, you will actually wade through the Virgin River itself, with towering sandstone walls rising dramatically on either side.
Zion Narrows / One Day in Zion
As you step into the river, you will quickly realize why The Narrows is a must-do in Zion. The beauty lies in the ever-changing scenery, as each twist and turn reveals new wonders. Admire the intricate patterns etched into the canyon walls by the relentless force of water, and watch as sunlight filters through narrow openings, casting mesmerizing reflections on the rippling surface.
Be prepared to be amazed by the sheer scale and beauty of this natural masterpiece. At times, the canyon walls can tower over a thousand feet above you, creating an awe-inspiring sense of insignificance in the face of nature's grandeur.
The Narrows / One Day in Zion
While you may not have the luxury of traversing the entire 16-mile route, fear not! Even a brief immersion in this awe-inspiring wonderland will make your day in Zion National Park unforgettable.
PRO TIPS:
It's important to note that hiking The Narrows requires proper preparation and equipment. Renting or bringing appropriate gear, such as sturdy footwear, neoprene socks, and a hiking pole, is highly recommended to ensure your safety and enhance your experience.
Check the weather and river conditions before setting out, as flash floods can occur and make the hike dangerous or even impossible.
This is just the beginning of a day filled with breathtaking beauty and exhilarating experiences in Zion National Park!
The Narrows / One Day in Zion
Mid-Morning: Angel's Landing
After immersing yourself in the beauty of The Narrows, get ready to conquer one of Zion National Park's most iconic and thrilling hikes: Angel's Landing. This exhilarating adventure will take you to new heights and reward you with awe-inspiring panoramic views.
GOOD TO KNOW: Angel's Landing Trail is 2.5 miles one way and takes about 3 hours to complete. The total elevation change is 1,490 feet. The journey to Angel's Landing begins at the Grotto Trailhead (shuttle stop number 6).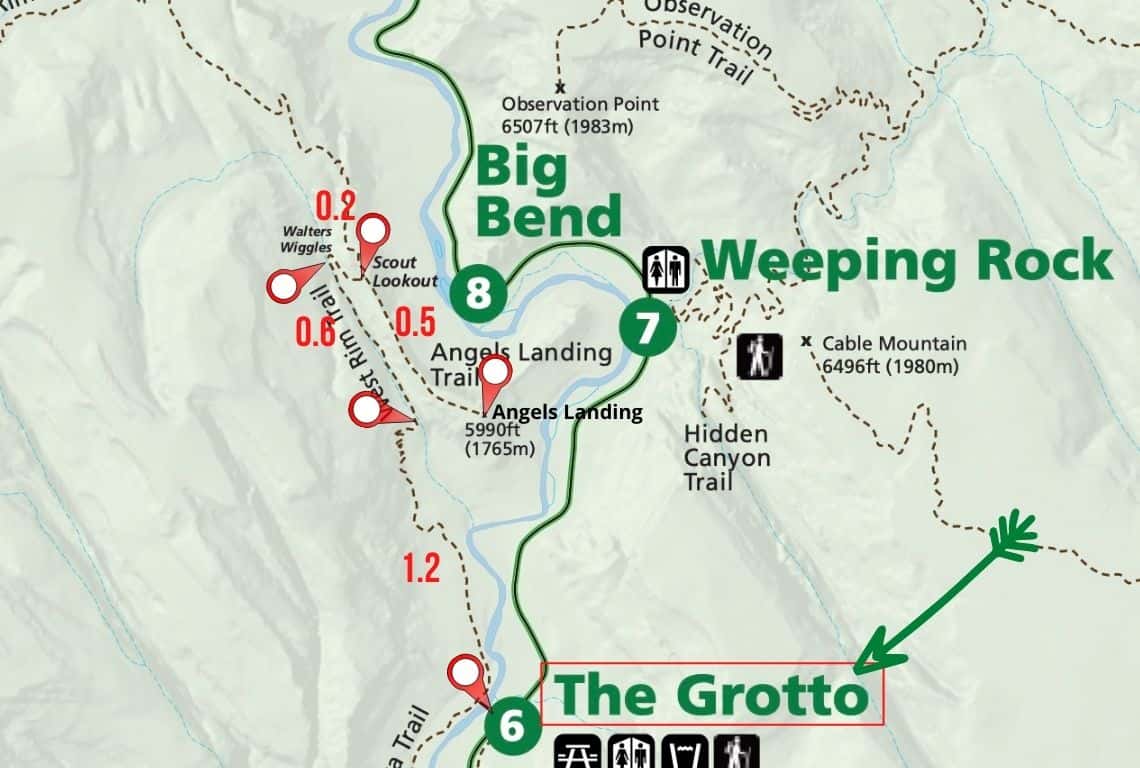 Map of Angels Landing Trail / One Day in Zion
At first, the trail remains at an easy grade, however, pretty you will begin a series of switchbacks. Although the switchbacks are wiggly, these are not the famous Walter's Wiggles yet. You will reach them later on. The switchbacks will take you to the top of the ridge above Refrigerator Canyon.
Angel's Landing Trail / One Day in Zion
Next, the trail gradually climbs up the canyon and pretty soon you will get to the famous 1930s CCC engineering section called Water's Wiggles. Each wiggle is a short switchback. There are a total of 21 wiggles!
Walter's Wiggles Along Angel's Landing Trail / One Day in Zion
The trail gradually will reveal breathtaking vistas of the surrounding canyon, offering a taste of the adventure to come. As you climb higher, you will notice the landscape transforming beneath your feet, with rugged cliffs and sweeping valleys stretching as far as the eye can see.
But the real challenge and reward await you at the final section of the hike. A narrow and exposed ridgeline, equipped with chains for assistance, will lead you to the summit of Angel's Landing. This thrilling section is not for the faint of heart but is well worth the effort for those seeking an adrenaline rush and unparalleled views.
Angel's Landing Trail / One Day in Zion
As you navigate the exposed sections and take careful steps along the narrow path, you will be rewarded with jaw-dropping vistas of Zion Canyon. The expansive panorama showcases the park's natural splendor, with sweeping vistas that encompass the Virgin River, winding through the canyon floor, and the towering red and white cliffs that define Zion's unique landscape.
Once you reach the summit of Angel's Landing, take a moment to soak in the triumphant sense of accomplishment and the unparalleled beauty that surrounds you.
The View from Angels Landing / One Day in Zion
GOOD TO KNOW: Before setting out, it's important to note that Angel's Landing is a highly popular hike, and due to its narrow and exposed sections, visitor safety is a top priority. As of the latest update, the National Park Service has implemented a reservation system for accessing the trail, aimed at managing the number of hikers and ensuring a safe and enjoyable experience for all.
To secure your spot, you are required to participate in a lottery system. Register for the lottery HERE. Reservations can fill up quickly, especially during peak seasons, so it's advisable to plan ahead and check for availability as early as possible.
The reservation system allows for staggered entry times, ensuring a more manageable flow of hikers along the trail. Be sure to arrive at the trailhead on time to avoid any delays or complications.
Lunch Break: Zion Lodge Area
After an exhilarating morning of adventure, it is time to take a well-deserved break and refuel for the rest of your day in Zion National Park.
Head to the Zion Lodge Area, a serene oasis nestled amidst the natural beauty of the park, offering a perfect spot to relax and enjoy a delicious lunch.
The Zion Lodge, located at the heart of the park (shuttle stop number 5), provides a range of dining options catering to various tastes and preferences. Whether you're in the mood for a casual meal, a quick snack, or a refreshing beverage, you will find something to satisfy your cravings.
The Red Rock Grill offers a diverse menu featuring both traditional and contemporary dishes, with an emphasis on fresh, locally sourced ingredients. Enjoy a hearty burger, a crisp salad, or a flavorful sandwich while taking in the picturesque views of the surrounding cliffs and greenery.
For a lighter meal or a quick bite, the Castle Dome Café is a convenient option. Grab a sandwich, salad, or one of their famous homemade desserts to enjoy on their outdoor patio, soaking in the tranquil ambiance of the lodge area.
GOOD TO KNOW: If you prefer to bring your own lunch, there are picnic areas available near the lodge where you can enjoy a packed meal amidst the park's stunning landscapes.
Take this time to rest, recharge, and reflect on the incredible experiences you've had so far!
Afternoon: Emerald Pools and Weeping Rock
After a satisfying lunch, it is time to continue your exploration of Zion National Park with a visit to the enchanting Emerald Pools and the mesmerizing Weeping Rock.
After a satisfying lunch, it's time to continue your exploration of Zion National Park with a visit to the enchanting Emerald Pools and the mesmerizing Weeping Rock.
To reach the Emerald Pools, head towards the Zion Lodge area. From there, the trailhead for the Emerald Pools is easily accessible. Follow the well-marked signs that guide you along the trail.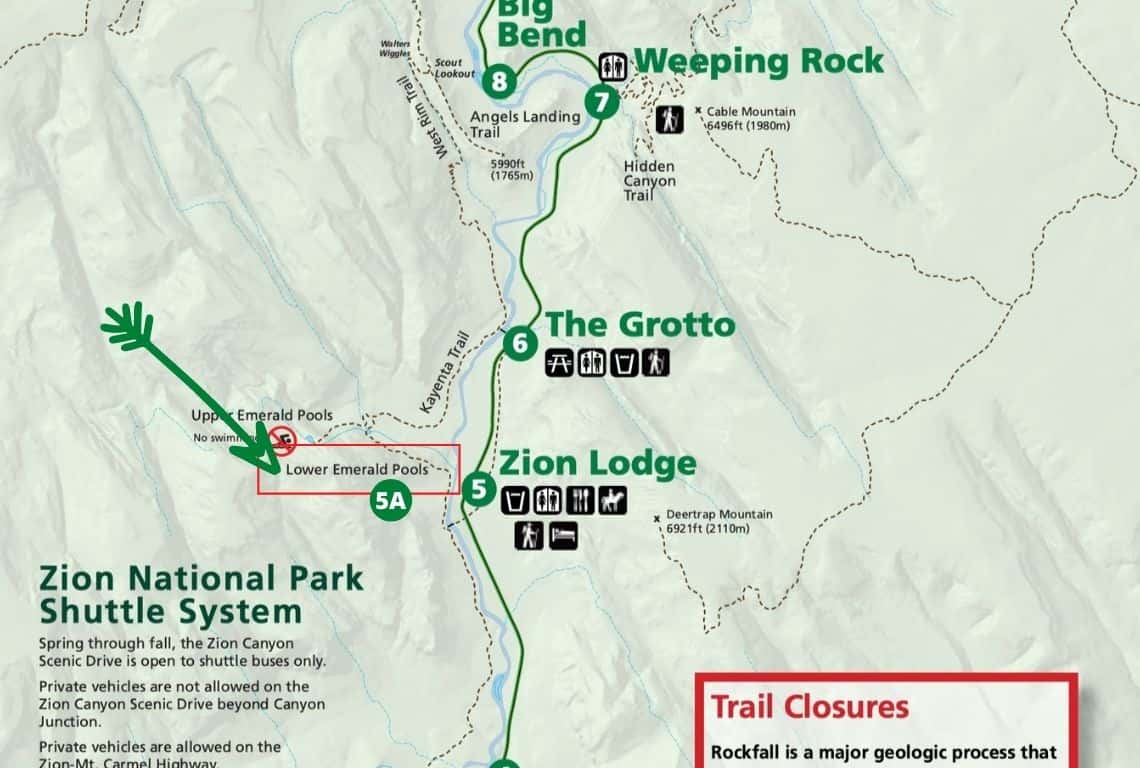 Map of Emerald Pools Trail in Zion National Park / One Day in Zion
The Emerald Pools Trail consists of a series of interconnected paths, including the Lower Emerald Pool Trail, the Middle Emerald Pool Trail, and the Upper Emerald Pool Trail. Each section offers a unique experience, so choose the ones that best fit your time and energy level.
As you ascend the trail, you will be treated to breathtaking views of cascading waterfalls, delicate wildflowers, and sparkling pools that lend their name to this enchanting area. Take your time to appreciate the serenity of the surroundings, feeling the mist on your face and listening to the gentle sounds of nature.
Emerald Pools Trail / One Day in Zion
What is cool is that this trail takes you under an alcove with the waterfall spilling over it.
However, I need to mention that if you are visiting during the summer months, there might not be very many waterfalls, they probably will be reduced to just a mere trickle.
Yet, something to keep in mind is that late summer is a monsoon season and it brings quite a few downpours. So, if there is a chance of rain, then I would immediately head to Emerald Pools and you would be amazed how beautiful this place is after the rain.
Emerald Pools Trail / One Day in Zion
After immersing yourself in the beauty of the Emerald Pools, make your way to the nearby Weeping Rock.
To access the Weeping Rock, make your way to the Weeping Rock Trailhead, which is located along the park's main Zion Canyon Scenic Drive (shuttle stop number 7)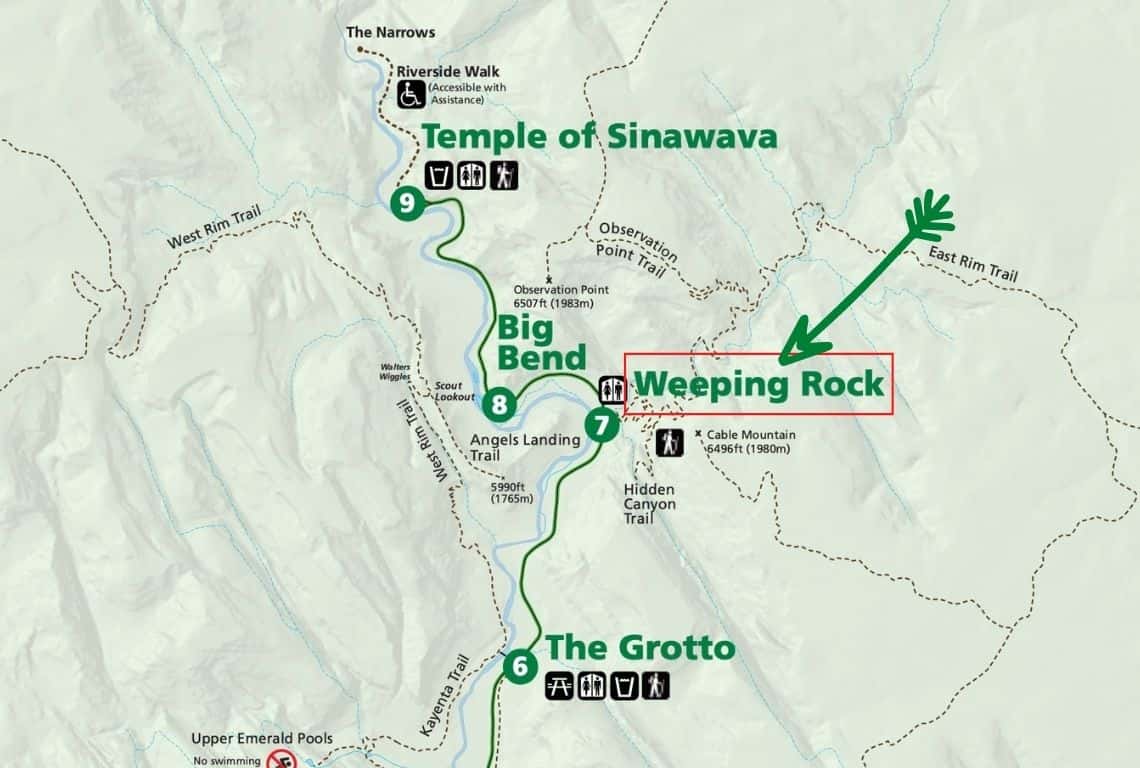 Map of Weeping Rock Trail in Zion National Park / One Day in Zion
The Weeping Rock hike is short but steep. The trail is paved and well-maintained, allowing visitors of various fitness levels to enjoy the experience.
This geological wonder features a natural alcove where water seeps through the sandstone and falls from the cliff above, creating a captivating "weeping" effect. Step into the cool, refreshing mist and marvel at the spectacle of water trickling down the rock face, nurturing a lush hanging garden below.
Weeping Rock Trail / One Day in Zion
Take a moment to connect with the serene atmosphere and contemplate the ancient forces that shaped this remarkable landscape over thousands of years. The Weeping Rock offers a peaceful sanctuary and a unique opportunity to witness the harmonious dance between water and stone.
PRO TIP: Be on the lookout for the hanging Columbine. It is endemic to Zion. There are two species of Columbine in the park – the golden one, which has yellow flowers, and the western one, which has red and yellow flowers.
Weeping Rock Trail / One Day in Zion
Both the Emerald Pools and the Weeping Rock are relatively accessible, making them suitable for hikers of various skill levels. However, it's important to exercise caution, especially in wet conditions, as the trails can become slippery.
Late Afternoon: Canyon Overlook Trail
As the day begins to wind down, treat yourself to one final adventure in Zion National Park: the captivating Canyon Overlook Trail that offers breathtaking vistas and a stunning panoramic view of the park's awe-inspiring landscapes.
GOOD TO KNOW: To reach the trailhead, drive along the Zion-Mount Carmel Highway, also known as Highway 9, until you spot the parking area for the Canyon Overlook Trail. Park your vehicle and get ready to embark on a memorable journey.
The Canyon Overlook Trail is a moderately easy hike that spans approximately 1-mile roundtrip. The trail winds along the edge of the canyon, revealing awe-inspiring views of the deep chasms, towering cliffs, and the winding road that stretches below.
After a relatively short ascent, you will reach the grand finale: the Canyon Overlook. From this vantage point, you will be rewarded with a breathtaking panorama that showcases the raw beauty of Zion National Park.
Take a moment to savor the sight of the sweeping canyons, the Virgin River carving its way through the landscape, and the majestic cliffs that rise proudly against the horizon.
The Canyon Overlook Trail offers a perfect ending to your day in Zion, providing a captivating and memorable experience that encapsulates the essence of this remarkable national park.
Zion Canyon Overlook / One Day in Zion
Bonus: Observation Point Hike
If you are not able to reserve tickets for Angel's Landing, then another option is to hike the Observation Point Trail.
I have to honestly say that the view from the Observation Point is so much better than the view from Angels Landing. Why? Observation Point stands at 6,507 feet above sea level, which is over 700 feet higher than the famous Angels Landing.
So, once you get to the top, you will be able to see Angels Landing and pat yourself on the back for being adventurous to conquer the higher viewpoint.
GOOD TO KNOW: Weeping Rock Trailhead is the starting point for Observation Point Trail (shuttle stop number 7).
What you need to know is that the round trip distance is 8 miles. It will take you at least 4-5 hours to complete this trail. All in all, it is a strenuous hike with an elevation change of 2,100 feet.
Notably, almost right from the beginning, you start climbing. It will be a switchback after switchback, however, slowly you will be gaining elevation. You will be able to start enjoying the views fairly shortly after you start.
Observation Point Trail / One Day in Zion
After 0.7 miles of climbing up the switchbacks, you will reach the junction to the Hidden Canyon Trail.
From here, the trail takes a turn and enters Echo Canyon. You will immediately notice a change of scenery. You are now surrounded by canyon walls.
There are more shady areas and the temperature is much lower at this point. Also, the trail flattens a little as well.
By the way, Echo Canyon is quite beautiful. You will definitely take some great photos of the small slot canyons.
Echo Canyon Along Observation Point Trail / One Day in Zion
After 2.1 miles, you will pass a junction that connects to the East Rim Trail. Next, continue through a series of steep zigzags. This will be a final ascent through the upper White Cliff formations.
Right after, you are standing on the rim of the sandy upper plateau. The last mile is mostly level as the trail heads northwest.
Next, you will pass the last trail junction, which is East Mesa Trail. Subsequently, the trail heads south, and there you are! You made it! The view is magnificent with Angels Landing and the valley far below.
View from Observation Point / One Day in Zion
Intrepid Scout's Tips for One Day in Zion
As the sun sets on your one-day adventure in Zion National Park, reflect on the incredible experiences and memories you've created. From the awe-inspiring beauty of The Narrows to the exhilarating heights of Angel's Landing, the serene Emerald Pools, the captivating Weeping Rock, and the breathtaking vistas of the Canyon Overlook, each moment has been filled with wonder and awe.
Before you leave Zion National Park, here are a few tips to ensure a memorable and enjoyable visit:
Plan ahead: With only one day to explore, it's essential to plan your itinerary in advance. Research the trails, check for any closures or restrictions, and make necessary reservations to optimize your time.
Start early: Maximizing your day starts with an early start. Arrive at the park with plenty of time to secure parking and begin your first adventure.
Stay hydrated and nourished: Carry sufficient water and snacks throughout the day to stay energized and hydrated. Remember to pack out any trash and leave no trace behind.
Dress appropriately: Zion's weather can vary, so wear comfortable and layered clothing suitable for the season. Don't forget sturdy hiking shoes, sunscreen, and a hat.
Respect nature: Zion National Park is a precious ecosystem. Stay on designated trails, follow park regulations, and treat the environment with care and respect.
More Information About Zion National Park
Did You Find One Day in Zion National Park Useful?
Why Not Save It to Your Pinterest Board!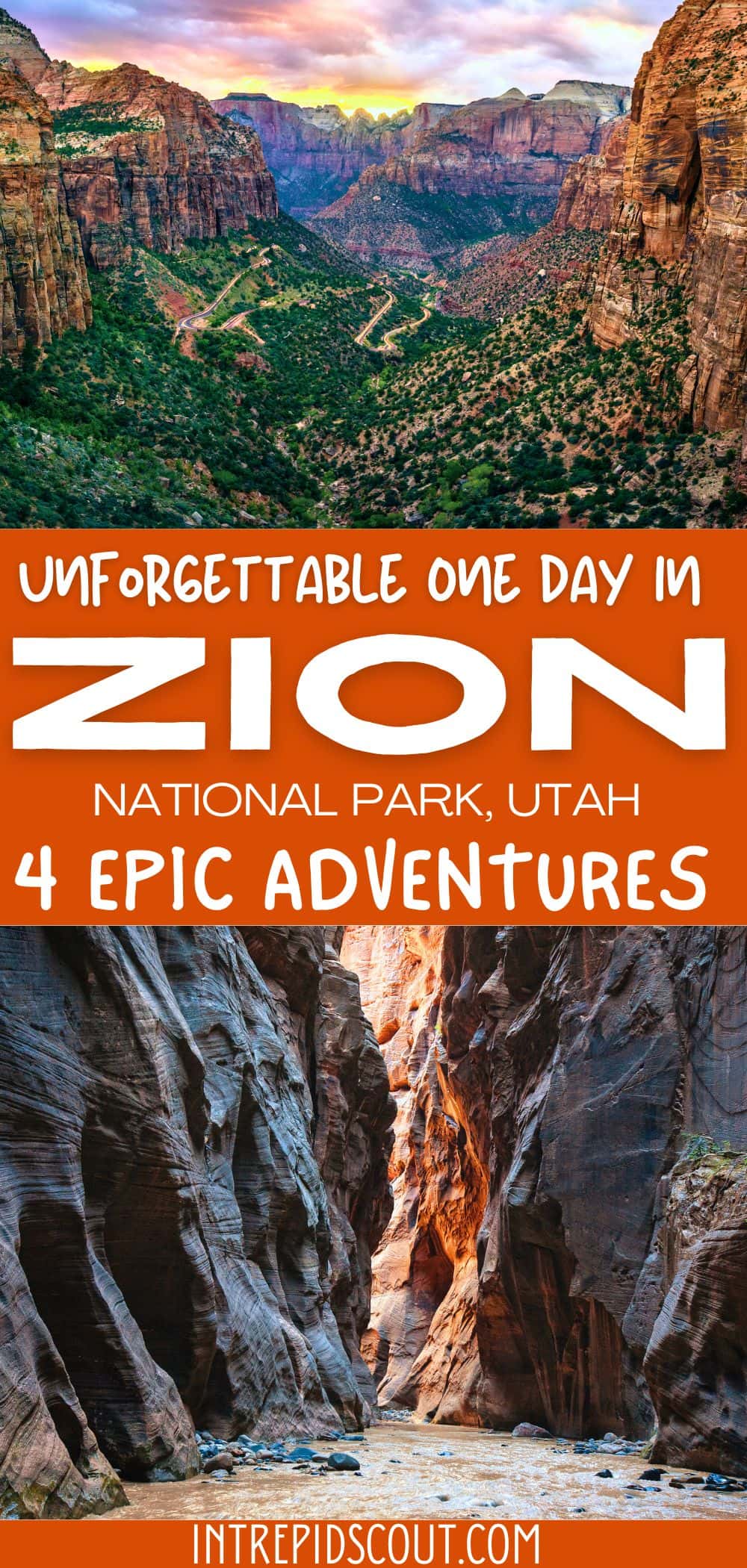 Now, It Is Your Turn, I Would Like to Hear Back from You!
Are you planning your trip to Zion National Park?
Please let me know! Drop me a quick comment right below!
Click on any of the images below to get inspired and to help you with the planning process with your trip to Zion National Park!