This site uses affiliate links, meaning that if you make a purchase through our links, we may earn an affiliate commission.
ANGELS LANDING HIKE
(MAP AND PHOTOS) -
STEP-BY-STEP GUIDE TO AMERICA'S SCARIEST HIKE
Few hikes can hold a candle to Zion's daring Angels Landing.
Here's your step-by-step guide (with MAP and PHOTOS) to acing Angels Landing hike – America's scariest hike.
THINGS YOU NEED TO KNOW BEFORE YOU HIKE ANGELS LANDING
Angels Landing is a strenuous hike. Almost entire hike is straight up. You need to be in good physical shape to be able to do it.
Angels Landing hike is not for people with the fear of heights. The last section of the trail is on the narrow spine of the mountain. You will have to use chains to help you up.
Before you reach the chains, there is a spot to rest. I recommend that you take the time to regroup and get your energy back. It is a place where you can make the decision if you are up for the final stretch.
The trail can be hiked year-round, but in winter it is not uncommon to find ice and snow on the trail, so bring crampons or similar traction devices. In addition, the conditions might be dangerous during the winter months, so check with park rangers before attempting to hike Angels Landing Trail.
The sun exposure in summer months can be extreme so hiking early in the day is best. In addition, the trail gets crowded during summer months, so be patient and cordial.
Don't have time to read it now?
Save it to your Pinterest board!
ANGELS LANDING HIKE –
STEP-BY-STEP GUIDE (MAP AND PHOTOS)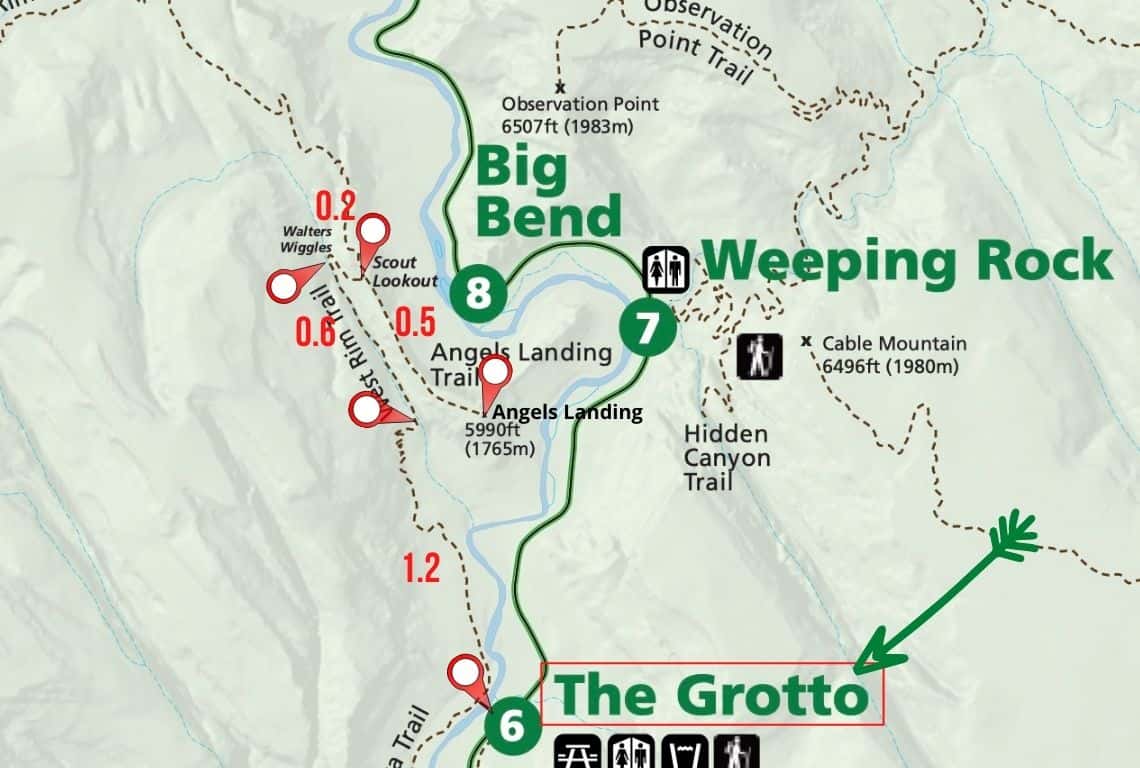 Image Credit: NPS
Roundtrip Distance: 5 miles
Trail Location: The Grotto
Elevation Gain: 1,500 feet
Angels Landing Trail starts at the Grotto Trailhead. It is shuttle stop number 6.
To begin with, cross the hiker's bridge over the Virgin River and follow the trail.
You are now hiking along West Rim Trail.
The trail remains at an easy grade as it approaches the lower cliffs blocking the entrance to Refrigerator Canyon.
At 1.2 miles you will the get to Refrigerator Canyon. It is a straight, shaded canyon named for its cool temperature year-round. It is a good spot to give your heart, lungs and legs a break. Likewise, you will feel a cool breeze.
Next, as you get closer to the lower cliffs the trail begins a series of switchbacks. Although the switchbacks are wiggly, these are not the famous Walter's Wiggles yet. You will reach them later on.
The first series of switchbacks will take you to the top of the ridge above Refrigerator Canyon.
Continue for about 0.6 miles.
Subsequently, the trail mostly levels out, giving you a chance to recuperate a little bit before you hit one of the most famous sections of the trail, namely Walter's Wiggles.
Also, the views get so much better!
In my opinion, Walter's Wiggles is the most grueling section of the trail.
Each wiggle is a short switchback. There are a total of 21 of these wiggles that track back and forth!
After you conquer the wiggles, you will be on the way to Scout's Lookout.
It is 0.2 miles from the end of Walter's Wiggles to Scout's Lookout.
At this point, you leave West Rim Trail and continue on Angels Landing Trail.
The views get better and better. If you look down, you will be able to see the canyon below and the Organ. 
The Organ is a  400-foot high rib that juts out to the east of Angels Landing above the Virgin River. It derives its name from its many tall crack systems resembling organ pipes.
Ahead of you is the seemingly impossible last half-mile of the trail leading to Angels Landing. You are going to hike on the near-vertical knife-edge of a rock.
You will be using chains anchored to the cliff walls to help you get higher up. There are guard rails as well as some steep carved steps to steady your climb.
For many, this is the stopping point. And, I want to stress that it is ok!
If you are not up to the final stretch, it is just fine! You can rest here, and then make your way down the trail.
If you decide to continue, then I recommend that you take your time and rest at this point. Once you are ready, begin your final ascent. Take your time and go slow, there is no need to rush.
Make sure to grasp the chain with all your strength and gradually pull yourself up. Get a good foothold. Once you get the rhythm going, you will be gaining the height.
Soon, the unrelenting steepness of the trail eases and you will reach a large, mostly flat plateau.
Congratulations, you reached the top of Angels Landing.
You are rewarded with amazing views!
To the north, you can see up Zion Canyon to the Temple of Sinawava.
To the south, you can see the Great White Throne, and directly east you can make out the trail to Echo Canyon/Observation Point as it climbs out of the canyon.
Now, when you are ready to get back, retrace your steps. Ahead of you is a long descent back to where you started.
Take your time and enjoy the views along the way!
WHAT TO BRING WHEN HIKING ANGELS LANDING
1. Appropriate footwear – trail shoes are great; hiking boots are even better since they offer more support.
2. Plenty of water – without enough water your body's muscles and organs simply cannot perform as well. Consuming too little water will not only make you thirsty, but susceptible to hypothermia and altitude sickness.
3. Food – food will help keep up energy and morale.
4. Rain gear and extra clothing – the weatherman is not always right. Be prepared for unannounced rain or a cold spell. Dress in layers. It will allow you to adjust to changing weather and activity levels. Two rules: avoid cotton (it keeps moisture close to your skin) and always carry a hat.
5. First aid kit – prepackaged first-aid kits for hikers are available at any outfitter.
6. Knife or multi-purpose tool – these enable you to cut strips of cloth into bandages, remove splinters, etc.
7. Sunscreen and sunglasses – especially in the summer time , you will need sunscreen to prevent sunburn.
8. Daypack/backpack – you need something you can carry comfortably and has the features designed to keep you hiking smartly. Don't forget the rain cover; some packs come with one built-in.
9. Trash Bag – this will make sure that the trail will stay beautiful for generations to come. A zip-lock bag is a great option as well for keeping the trash you pick up along the trail separate from the rest of your gear.
INTREPID SCOUT'S POINTERS FOR HOW TO ACE ANGELS LANDING HIKE IN ZION NATIONAL PARK
If you are visiting the park between the months of March through October, then you will have to use the shuttle.
No private vehicles are allowed inside the park. The shuttle is free. Your park entrance ticket covers the cost of the shuttle. The shuttle operates in Springdale, Utah, as well as inside the park.
To get to the start of Angels Landing Hike, get off at the Grotto, which is shuttle stop number 6.
The best time to hike Angels Landing Trail is during spring or fall, specifically April-May and September-October.
The weather is mild with daytime average temperatures in the 60s and 70s F.
Furthermore, Summer, specifically June-September is the high season. You will have a lot of companionship on the trail. The temperatures range from high 80s to 100s F.
Finally, winter, specifically November through March, might be a good time to hike Angels Landing trail. Above all, you will be able to find some solitude. However, make sure to check the weather and local snow conditions. You need to make sure that Angels Landing trail is clear and safe. During winter months Angels Landing can be snowy/icy on the higher sections.Temperatures can range from low 50s to sometimes low 70s F.
Keep in mind that Angels Landing Trail is 2.5 miles one-way. It does not sound like a long hike, right?
Yes, 2.5 miles does not sound like a long hike. However, the elevation gain is 1,500 feet!
1. Grotto trailhead is located at the elevation of 4,300 ft. From Grotto trailhead to Refrigerator Canyon, it is 600 ft ascent.
2. Refrigerator Canyon is located the elevation of 4,900 ft. From Refrigerator Canyon to Scouts Lookout, it is 450 ft ascent.
3. Scouts Lookout is located at the elevation of 5,350 ft. From Scouts Lookout to Angels Landing, it is 440 ft ascent.
4. Angels Landing is located at the elevation of 5,790 ft.
Finally, one of the cool ways to experience the beauty of Zion National Park is to take the Zion Scenic Drive!
A trip to Zion National Park  is perfect paired with a side trip to Bryce Canyon National Park, Grand-Staircase Escalante National Monument, or Canyonlands, Capitol Reef National Parks.
Check out my post: Zion to Bryce Canyon: 3-Day Adventure (with Maps and Photos)
Did you know that Utah has five national parks known as 'The Mighty 5'. Have you visited any of them? Which is your favorite Utah National Park?
Canyonlands National Park
Capitol Reef National Park, and
Did you find this useful?
Why not save it to your Pinterest board!
Now, it is your turn, I would like to hear back from you!
Are you planning your trip to Zion National Park?
Please let me know! Drop me a quick comment right below!
Click on any of the images below to get inspired and to help you with the planning process with your trip to Zion National Park!