This site uses affiliate links, meaning that if you make a purchase through our links, we may earn an affiliate commission.

Observation Point Hike -
Zion National Park's Best Kept Secret

Observation Point Hike is one of Zion National Park's best kept secrets.
Forget overcrowded and touristy Angels Landing! Observation Point stands at 6,507 feet above the sea level, which is over 700 feet higher than Angels Landing. The viewpoint at the end of Observation Point Trail is an iconic image of Zion National Park.
Plus, once you get to the top , you will able to give yourself a pat on the back for being adventurous to conquer the higher viewpoint!
Read about my hiking Observation Point Trail and see why it is the most stunning hike in Zion National Park.
Where is Observation Point Trail Located
Observation Point Trail is located in Zion National Park, Utah.
Image credit: Google Maps – Map data @2019
The Essential Guide to Zion National Park
Before we go on any further, read my detailed post about Zion National Park: The Essential Guide to Zion National Park to find out how to get to Zion and where to stay. Read about the entrance fees and how to get around using the shuttle bus. Plus, find out all about best family-friendly hikes and longer, more strenuous adventures in Zion.
How to Get to Observation Point Trail
If you are visiting the park between the months of March through October, then you will have to use the shuttle. No private vehicles are allowed inside the park.
By the same token, shuttle is free. Your park entrance ticket covers the cost of the shuttle. The shuttle operates in Springdale, Utah, as well as inside the park. If you are using the shuttle, then get off at Weeping Rock, which is shuttle stop number 7.
When Is the Best Time to Hike Observation Point Trail
Spring or Fall
The best time to hike Observation Point Trail is during spring or fall, specifically April-May and September-October. The weather is mild with daytime average temperatures in the 60s and 70s F.
Summer
Furthermore, Summer, specifically June-September is the high season. You will have a lot of companionship on the trail. The temperatures range from high 80 F to 100 F and well above.
Winter
Finally, winter, specifically November through March, might be a good time to hike Observation Point Trail.
Above all, you will be able to find some solitude. However, make sure to check the weather and local snow conditions. You need to make sure that Observation Point Trail is clear and safe. During winter months Observation Point Trail can be snowy/icy on the higher sections.Temperatures can range from low 50s to sometimes low 70s F.
How Long Is Observation Point Trail
Observation Point Trail is 8 miles round-trip starting at Weeping Rock trailhead to Observation Point and back.
How Long Does It Take to Hike Observation Point Trail
It takes about four to six hours to hike from Weeping Rock trailhead to Observation Point and back.
What Is the Elevation Gain on Observation Point Trail
The elevation gain on Observation Point Trail is 2,100 ft ascent.
Don't have time to read it now?
Save it to your Pinterest board!
Essential Gear to Tackle Observation Point Trail
1. Appropriate footwear – trail shoes are great; hiking boots are even better since they offer more support.
2. Plenty of water – without enough water your body's muscles and organs simply cannot perform as well. Consuming too little water will not only make you thirsty, but susceptible to hypothermia and altitude sickness.
3. Food – food will help keep up energy and morale in balance.
4. Rain gear and extra clothing – the weatherman is not always right. Be prepared for unannounced rain or a cold spell. Dress in layers. It will allow you to adjust to changing weather and activity levels. Two rules: avoid cotton (it keeps moisture close to your skin) and always carry a hat.
5. First aid kit – prepackaged first-aid kits for hikers are available at any outfitter.
6. Knife or multi-purpose tool – these enable you to cut strips of cloth into bandages, remove splinters, etc.
7. Sunscreen and sunglasses – especially in the summer time , you will need sunscreen to prevent sunburn.
8. Daypack/backpack – you need something you can carry comfortably and has the features designed to keep you hiking smartly. Don't forget the rain cover; some packs come with one built-in.
9. Trash Bag – this will make sure that the trail will stay beautiful for generations to come. A zip-lock bag is a great option as well for keeping the trash you pick up along the trail separate from the rest of your gear.
What to Expect When Hiking Observation Point Trail in Zion
Observation Point Trail is a strenuous hike. By the same token, almost entire hike is straight up. In other words, you need to be in good physical shape to be able to do it and enjoy this incredible experience.
The trail can be hiked year-round, but in winter it is not uncommon to find ice and snow on the trail, so bring crampons or similar traction devices. In addition, the conditions might be dangerous during the winter months, so check with park rangers before attempting to hike Observation Point Trail.
The sun exposure in summer months can be extreme so hiking early in the day is best. In addition, the trail gets crowded during summer months, so be patient and cordial.
Observation Point Hike Step-By-Step Guide 
Weeping Rock trailhead is the starting point for Observation Point Trail.
Notably, almost right from the beginning, you start climbing.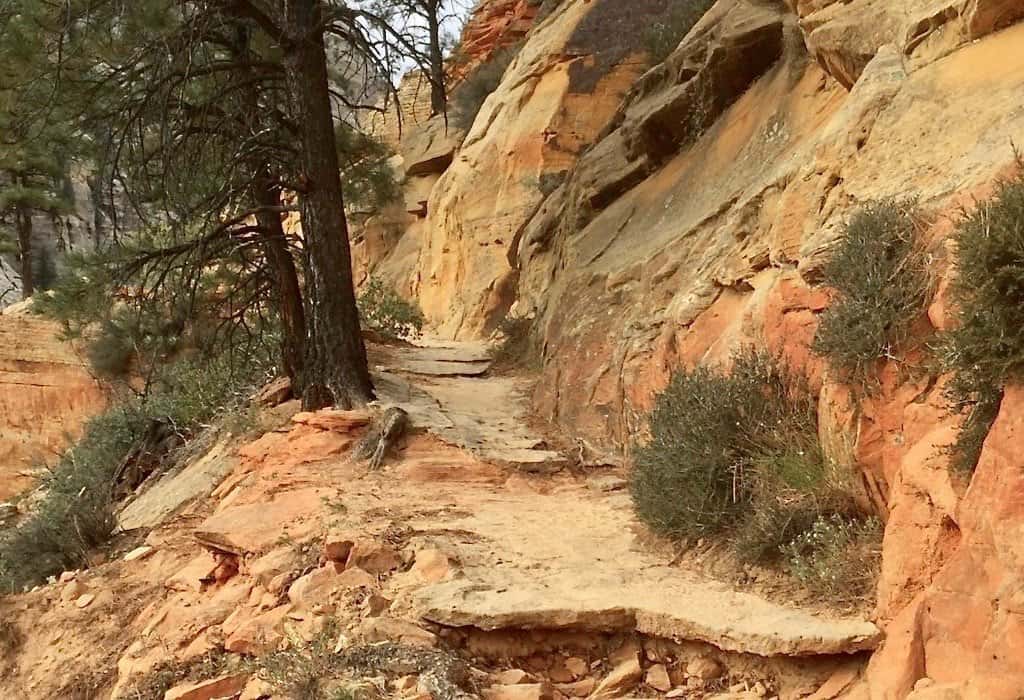 It will be a switchback after switchback, however, slowly you will be gaining elevation.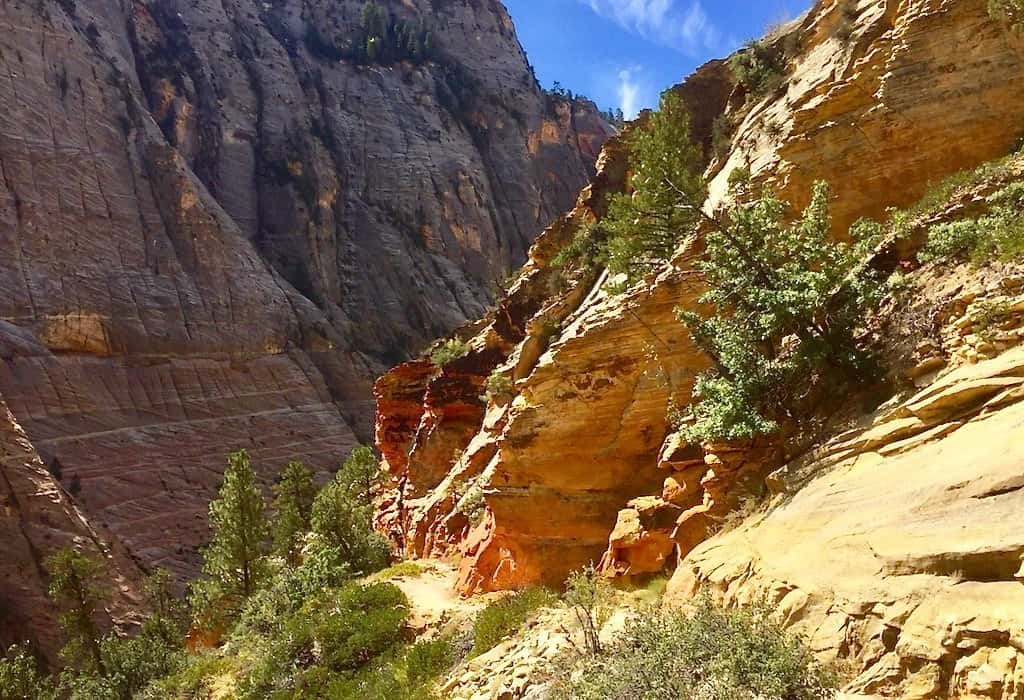 In fact, you will be able to start enjoying the views fairly shortly after you start.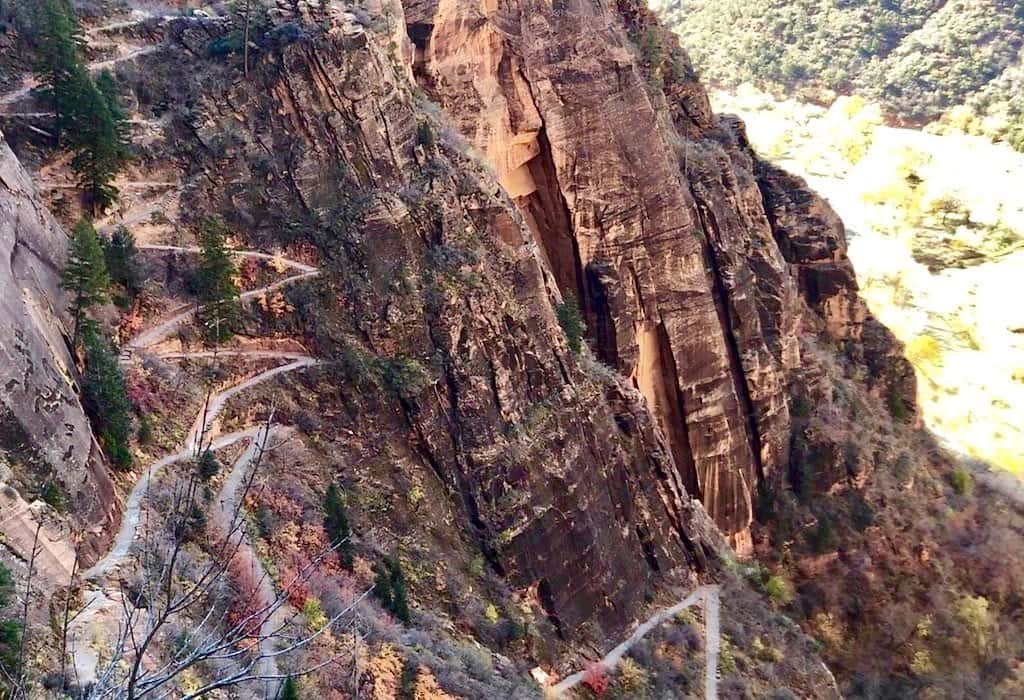 Needless to say, the higher you go, the views will only get better!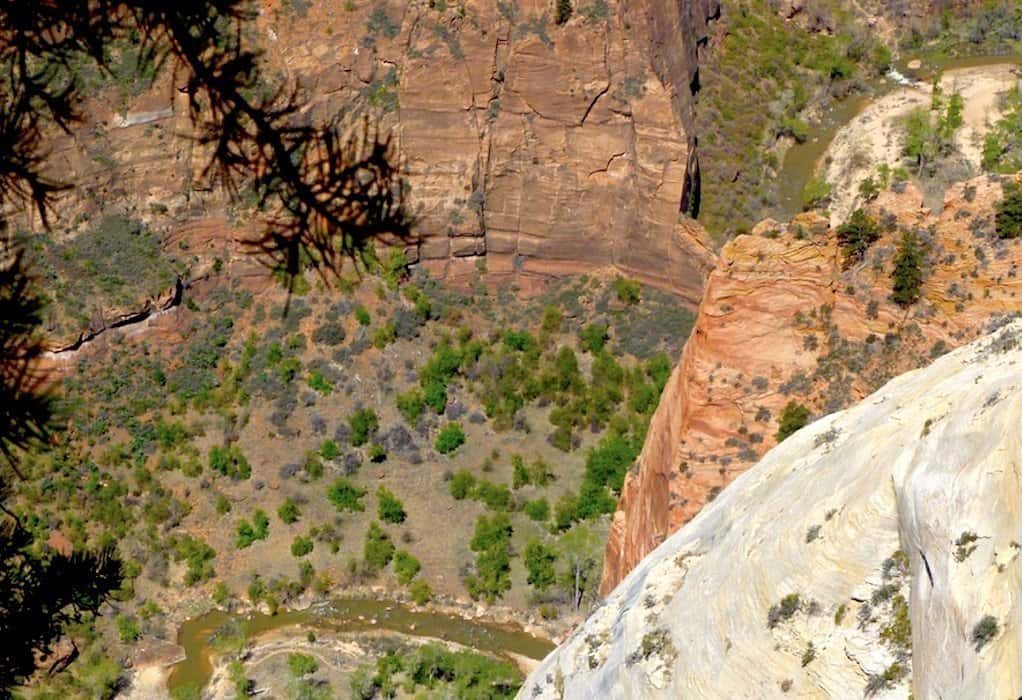 After 0.7 miles of climbing up the switchbacks, you will reach the junction to the Hidden Canyon Trail. From here, the trail takes a turn and enters Echo Canyon. You will immediately notice a change of scenery. You are now surrounded by canyon walls.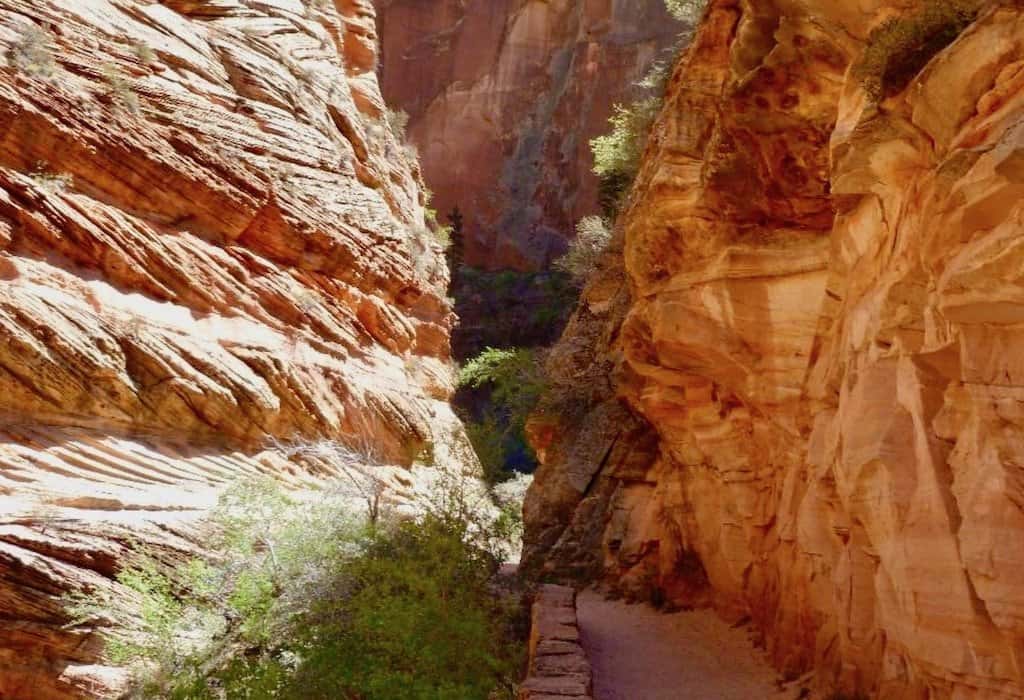 There are more shady areas and the temperature is much lower at this point. Also, the trail flattens a little as well.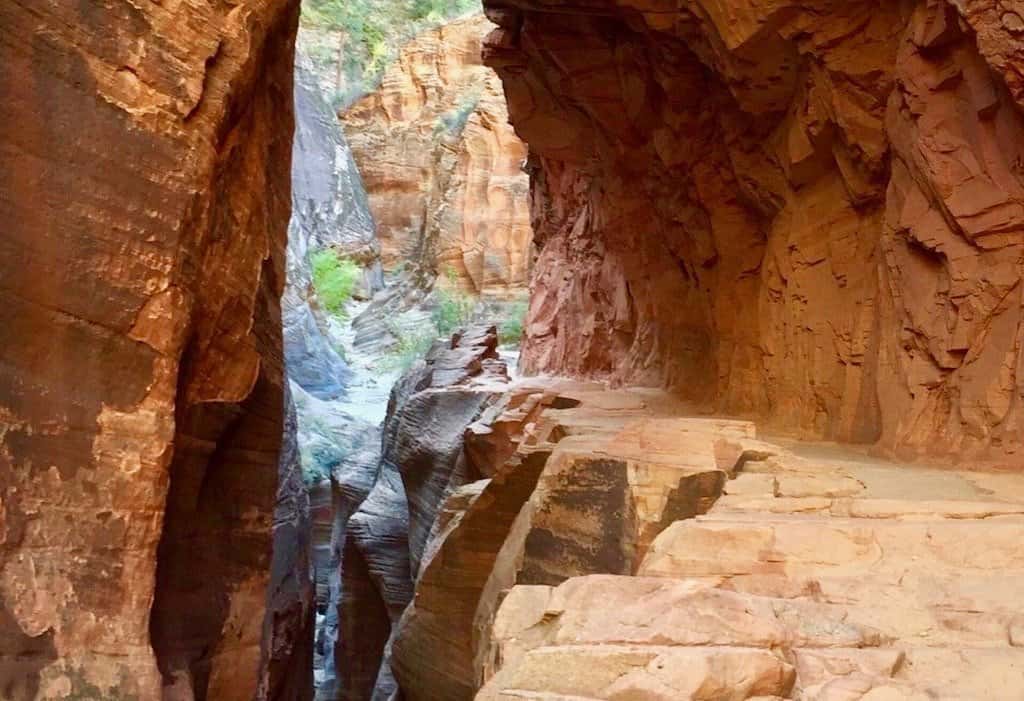 By the way, Echo Canyon is quite beautiful. You will definitely take some great photos of the small slot canyons.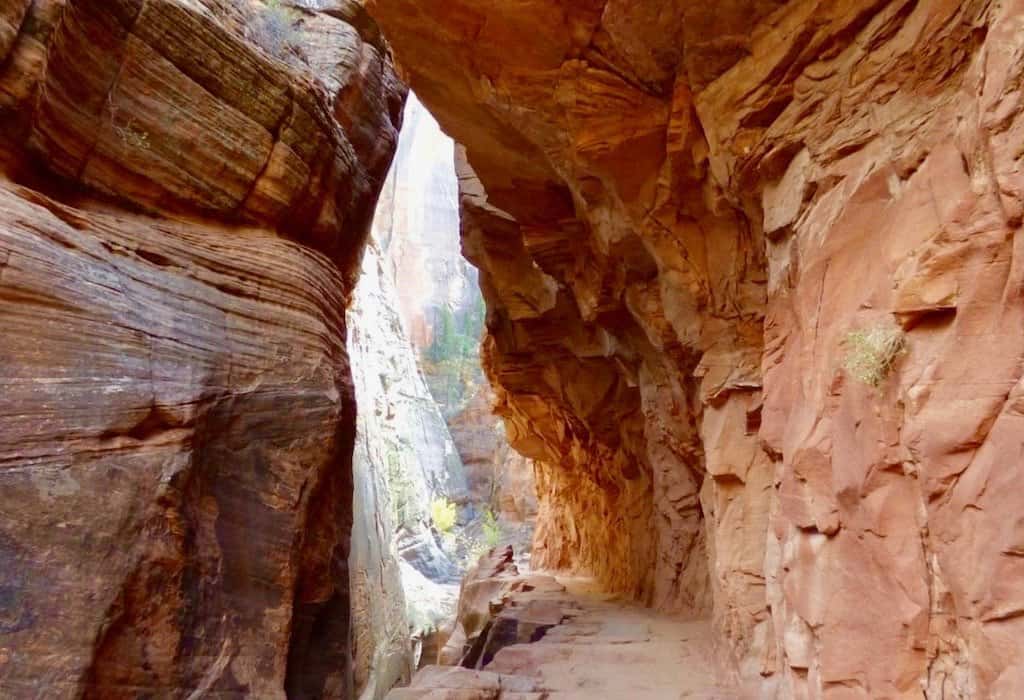 After 2.1 miles, you will pass a junction that connects to the East Rim Trail.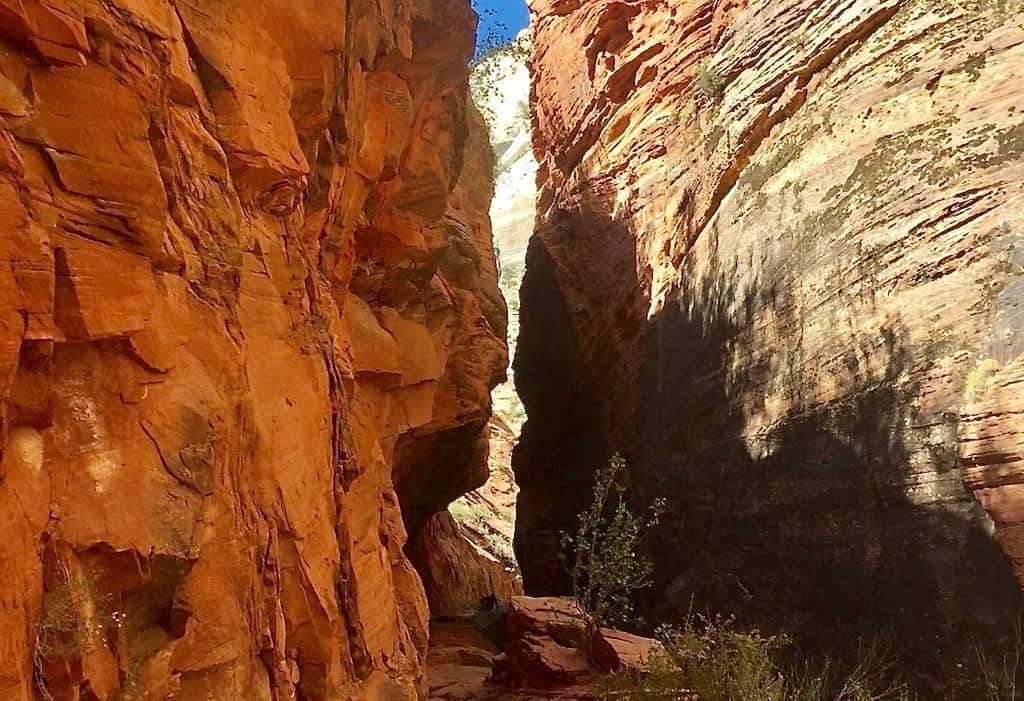 Next, continue through a series of steep zigzags. This will be a final ascent through the upper White Cliff formations.
Right after, you are standing on the rim of the sandy upper plateau. The last mile is mostly level as the trail heads northwest. Next, you will pass the last trail junction, which is East Mesa Trail.
Subsequently, the trail heads south and there you are! You made it!
The view is magnificent with Angels Landing and the valley far below.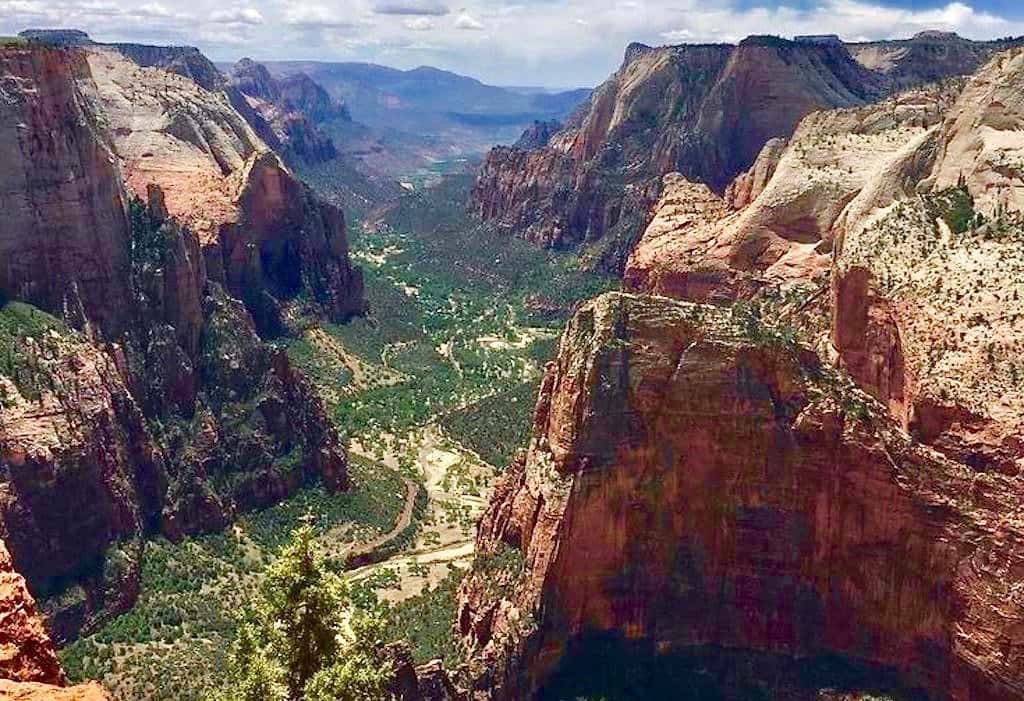 Did you find this useful?
Why not save it to your Pinterest board!
Now, I would like to hear back from you! Are you planning a trip to Zion National Park?
Is Observation Point Hike on your list? Let me know! Leave me a quick comment right below!
Also, click on any of the images to get inspired and to help you plan a great trip to Zion and more places in Utah.