This site uses affiliate links, meaning that if you make a purchase through our links, we may earn an affiliate commission.
Welcome to the breathtaking world of Zion National Park, where nature's wonders and awe-inspiring views await your exploration!
Join us as we embark on the unforgettable hike to Observation Point via East Mesa Trail. Get ready to discover why this trail has earned its reputation as the gateway to the best view in Zion, a place where nature's magnificence takes center stage and leaves you in awe of its timeless beauty.
Forget overcrowded and touristy Angels Landing! Observation Point stands at 6,507 feet above sea level, which is over 700 feet higher than Angels Landing. The view at the end of Observation Point Trail is an iconic image of Zion National Park.
As you traverse the East Mesa Trail, you will find yourself immersed in a wilderness of towering cliffs, vibrant foliage, and the serenity of nature. Each step forward brings you closer to the grand unveiling of Observation Point, a vantage point renowned for its commanding views over Zion Canyon. But this is not just any viewpoint – it is recognized as the crown jewel, the very best perspective from which to witness the unparalleled majesty of this remarkable landscape!
Are you ready to answer the call of adventure and witness a vista that will etch itself into your memory forever? Lace-up your boots, strap on your backpack, and let's embark on this extraordinary journey together.
Zion National Park At-A-Glance
Before diving in, here are a few Zion National Park highlights to help you plan your trip:
Best Time to Visit Zion National Park
April and May and then September and October, are my favorite months to visit Zion National Park. The temperatures are mild with daytime temps in the 60s and 70s F. You will see fewer crowds as well and have some serene experiences on trails and at viewpoints.
Summer is the high season. Expect a lot of companionship on the trails and everywhere throughout the park. The temperatures skyrocket as well ranging from the high 80s to 100s F.
Winter is a good time to visit Zion National Park. Above all, you will be able to find some solitude. Snow seldom reaches the canyon floor and that being the case, the scenic drive and some hiking can be enjoyed during that time.
Where to Stay When Visiting Zion National Park
Springdale, UT is conveniently right at the entrance to Zion and it is the perfect getaway to Zion National Park. I stayed in Springdale several times and my two top choices are Hampton Inn & Suites Springdale/Zion National Park, and SpringHill Suites by Marriott Springdale Zion National Park. Both places are clean and comfortable, and the location is perfect.
How to Get to Zion National Park
The closest International Airports to Zion National Park that you can fly into are located in Las Vegas (LAS), Nevada, and Salt Lake City (SLC), Utah. There are smaller Regional Airports in St. George (SGU), Utah, and Cedar City (CDC), Utah. I use Skyscanner to browse flights and find the best price.
How to Get Around in Zion National Park
If you are visiting Zion National Park between the months of March through November, then you will have to use the shuttle. No private vehicles are allowed inside the park. The cost of the shuttle is included in your recreational use pass. You can hop on and hop off at any of the shuttle stops.
How Much Does It Cost to Vist Zion National Park
In order to visit Zion National Park, you need to purchase a recreational day-use pass, which costs $35 per vehicle and is good for 7 consecutive days. You can purchase the pass right at the entrance to the park. If you are visiting several national parks then make sure to get America the Beautiful National Park Pass. This $80 pass is valid for 12 months and gets you into all 400+ national park sites!
How to Get to Observation Point in Zion National Park
Reaching Observation Point in Zion National Park via East Mesa Trail is an adventure in itself.
Follow these steps to navigate your way to this iconic viewpoint:
Due to a large rockfall in 2019, the route to Observation Point from Weeping Rock Trailhead (located inside the park) is closed until further notice.
Observation Point can still be reached from the East Mesa Trailhead.
To get to the East Mesa Trailhead, follow Highway 9, also called the scenic Zion Mt. Carmel Highway, past Checkerboard Mesa, and turn left on North Fork County Road. On the way, you will pass Zion Ponderosa Ranch Resort as you follow back roads to the trailhead.
The road to the East Mesa Trailhead is rough and unpaved. It is most suited for 4WD vehicles, however, I have seen many 2WD vehicles on this road as well.
If you do not feel comfortable driving on this road, then take a shuttle from Zion Ponderosa Ranch Resort to the trailhead.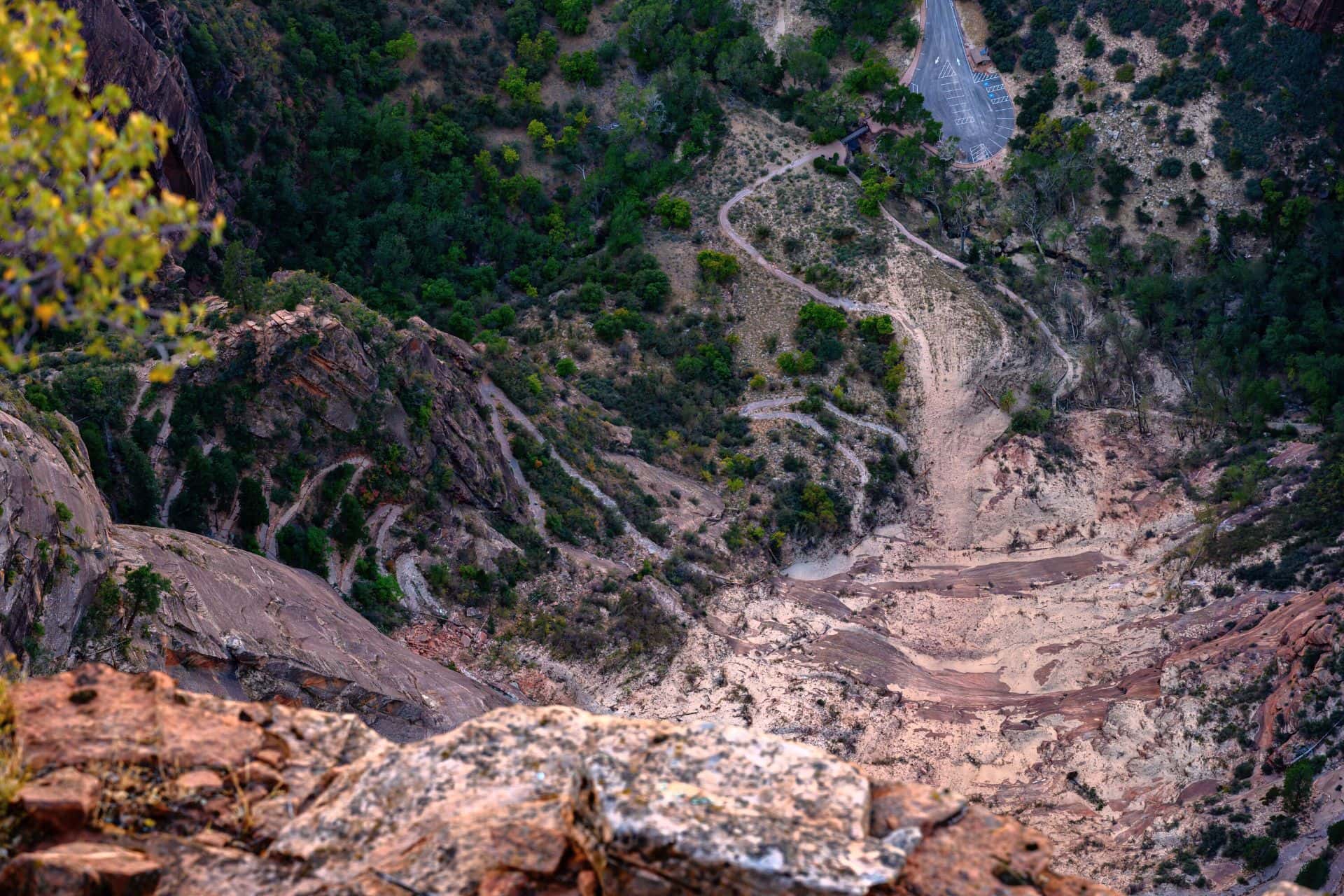 Top view of the rock slide that closed Weeping Rock Trailhead to Observation Point / Hike to Observation Point Via East Mesa Trail
When Is the Best Time to Hike Observation Point Trail
The best time to hike the Observation Point Trail is during spring or fall, specifically April-May and September-October. The weather is mild with daytime average temperatures in the 60s and 70s F.
Summer (June-September) is the high season. You will have a lot of companionship on the trail. The temperatures range from high 80 F to 100 F and well above.
Winter (November through March) might be a good time to hike the Observation Point Trail. Above all, you will be able to find some solitude. However, make sure to check the weather and local snow conditions. You need to make sure that Observation Point Trail is clear and safe. During the winter months, Observation Point Trail can be snowy/icy on the higher sections.
What to Pack for Hiking Observation Point Trail
When preparing for your hike to Observation Point via the East Mesa Trail in Zion National Park, it is essential to pack the right gear and supplies.
Here is a list of items to consider bringing:
Water: Carry an ample water supply to stay hydrated throughout the hike. It's recommended to bring at least 2 liters of water per person. Consider using a hydration reservoir or water bottles.
Snacks/Energy Food: Pack lightweight and energizing snacks such as granola bars, trail mix, or fruit to keep your energy levels up during the hike. Choose items that are easy to eat on the go.
Backpack: Use a comfortable backpack with sufficient capacity to carry your water, snacks, and other essentials. Look for one with adjustable straps and a waist belt for proper weight distribution.
Hiking Shoes: Wear comfortable and sturdy hiking shoes or boots that provide good traction and ankle support. Opt for footwear that has been broken in prior to the hike to avoid discomfort and blisters.
Clothing: Dress in layers to accommodate changing weather conditions. Include moisture-wicking and quick-drying materials.
Hat and Sunglasses: Protect yourself from the sun by wearing a hat that shades your face, neck, and ears. Bring sunglasses with UV protection to shield your eyes from the sun's glare.
Sunscreen: Apply a broad-spectrum sunscreen with a high SPF rating to all exposed areas of your skin, including your face. Reapply as needed during the hike.
Trekking Poles: Consider using trekking poles to provide extra stability and support, especially during steep sections of the trail. They can help reduce strain on your joints and provide balance on uneven terrain.
Map and Compass: Carry a detailed map of the trail and a compass to help navigate your way. Familiarize yourself with the route before setting off.
First Aid Kit: Pack a basic first aid kit with essentials such as adhesive bandages, antiseptic wipes, blister treatment, pain relievers, and any personal medications you may need.
Emergency Whistle: Bring a whistle to attract attention in case of an emergency.
Camera/Phone: Capture the stunning vistas along the way by bringing a camera or smartphone. Ensure they are protected from the elements.
Insect Repellent: Depending on the time of year, insects may be present. Bring insect repellent to ward off mosquitoes and other bugs.
Trash Bag: Carry a small trash bag to pack out any waste and maintain the pristine condition of the trail.
PRO TIP: Remember to pack according to the specific needs of your hike and the prevailing weather conditions. It's important to strike a balance between carrying necessary items and keeping your backpack lightweight. Be prepared, stay hydrated, and have a safe and enjoyable journey to Observation Point in Zion National Park!
Hike to Observation Point via East Mesa Trail - Step-By-Step Guide
Map of the Hike to Observation Point via East Mesa Trail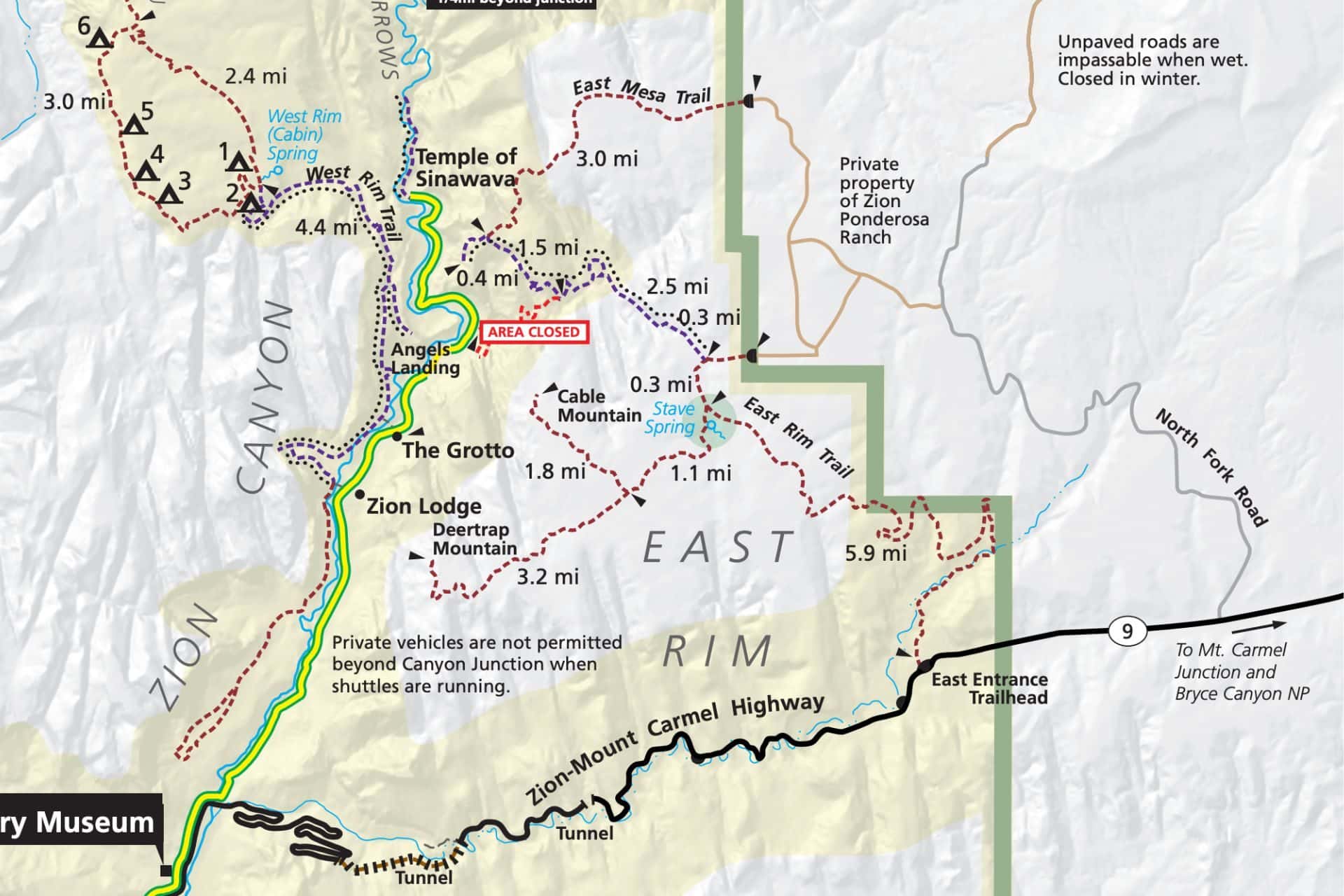 Map of Observation Point Hike to Zion's Best View / Source: NPS
Observation Point Hike via East Mesa Trail Quick Facts
Distance: The round trip distance of the hike is approximately 8 miles (12.9 kilometers). This includes the out-and-back journey from the East Mesa Trailhead to Observation Point.
Difficulty: The hike to Observation Point is considered strenuous, mainly due to the elevation gain and length of the trail. The ascent involves steep sections and switchbacks, which can be physically demanding. It is essential to be in good physical condition and have prior hiking experience before attempting this trail.
Time Needed: Plan for a half-day adventure when tackling the Observation Point Hike. The average completion time is around 4 to 6 hours, depending on your pace, rest stops, and time spent enjoying the viewpoint.
What to Expect When Hiking to Observation Point via East Mesa Trail
The first 3 miles of the East Mesa Trail are mostly flat and meander through forests and meadows of the east plateau.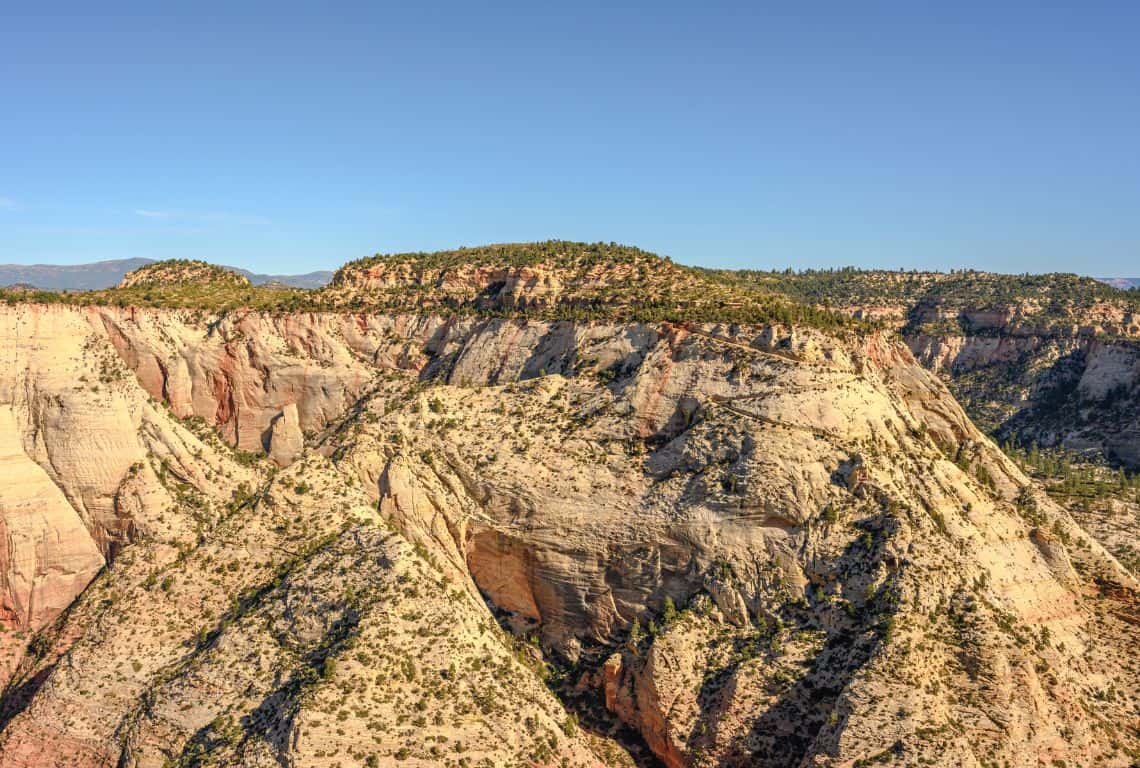 Hike to Observation Point via East Mesa Trail
Along the way, you will encounter impressive sandstone cliffs, unique rock formations.
The trail will you through beautiful desert landscapes, offering a chance to appreciate the park's remarkable natural beauty.
At the end of the 3-mile section, the East Mesa Trail descends 400 feet to meet the trail to Observation Point.
Next, take the Observation Point Trail and continue for no more than 0.4 miles until you reach the Observation Point and the stunning view of Zion Canyon.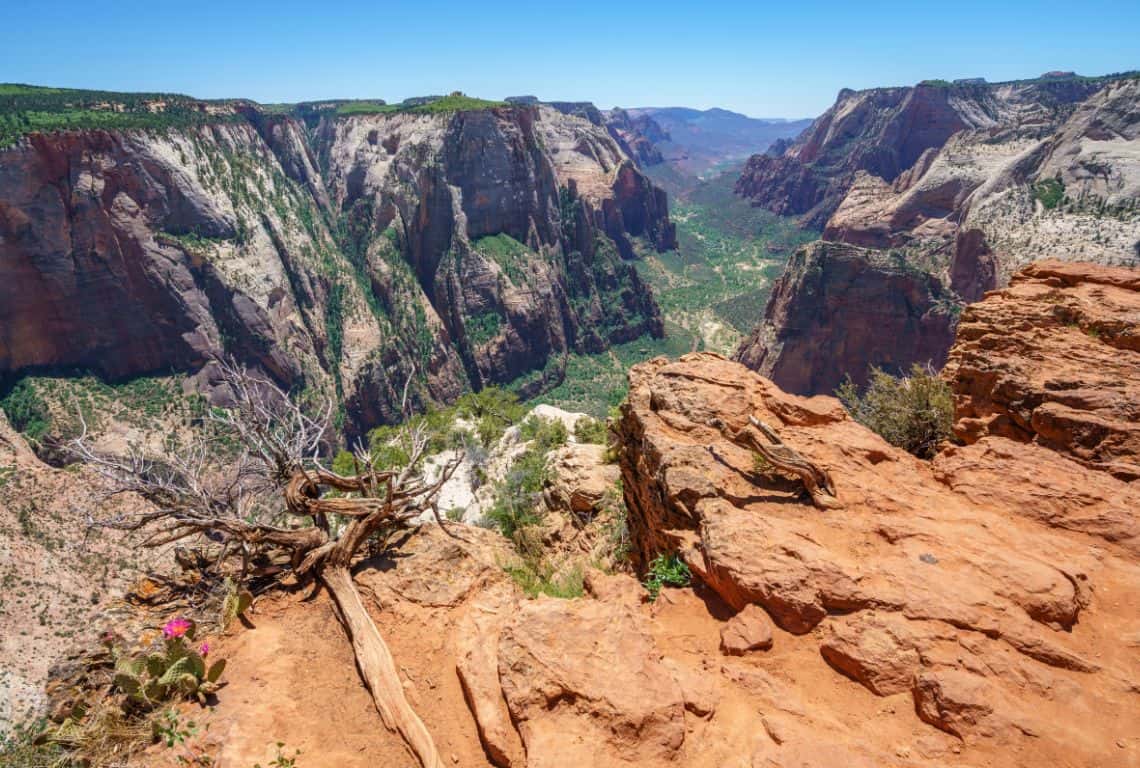 View from Observation Point / Hike to Observation Point via East Mesa Trail
View from Observation Point / Hike to Observation Point via East Mesa Trail
Intrepid Scout's Tips for Observation Point Hike
Tips to enhance your experience on the hike to Observation Point via the East Mesa Trail:
Start Early for Serenity: To enjoy a more peaceful and tranquil hike, start early in the morning before the trail gets crowded. This allows you to immerse yourself in the serenity of the surroundings and have uninterrupted moments at Observation Point.
Embrace the Journey: While the destination of Observation Point is remarkable, don't forget to appreciate the journey itself. Take the time to notice the intricate details of the landscape, listen to the sounds of nature, and breathe in the fresh air. It is about more than just reaching the endpoint; it is about immersing yourself in the beauty of the trail.
Pace Yourself: The hike to Observation Point is challenging, so listen to your body and pace yourself accordingly. Take breaks when needed to rest, hydrate, and soak in the scenery. Enjoy the experience at your own rhythm without feeling rushed.
Stay Mindful and Respectful: As you explore Zion National Park, remember to respect the environment and leave no trace. Stay on designated trails, avoid disturbing wildlife or vegetation, and pack out any trash you bring with you. By being mindful and respectful, you help preserve the pristine nature of the park for future generations.
More Information About Zion National Park
Did You Find This Useful?
Why Not Save Observation Point Hike to Your Pinterest Board!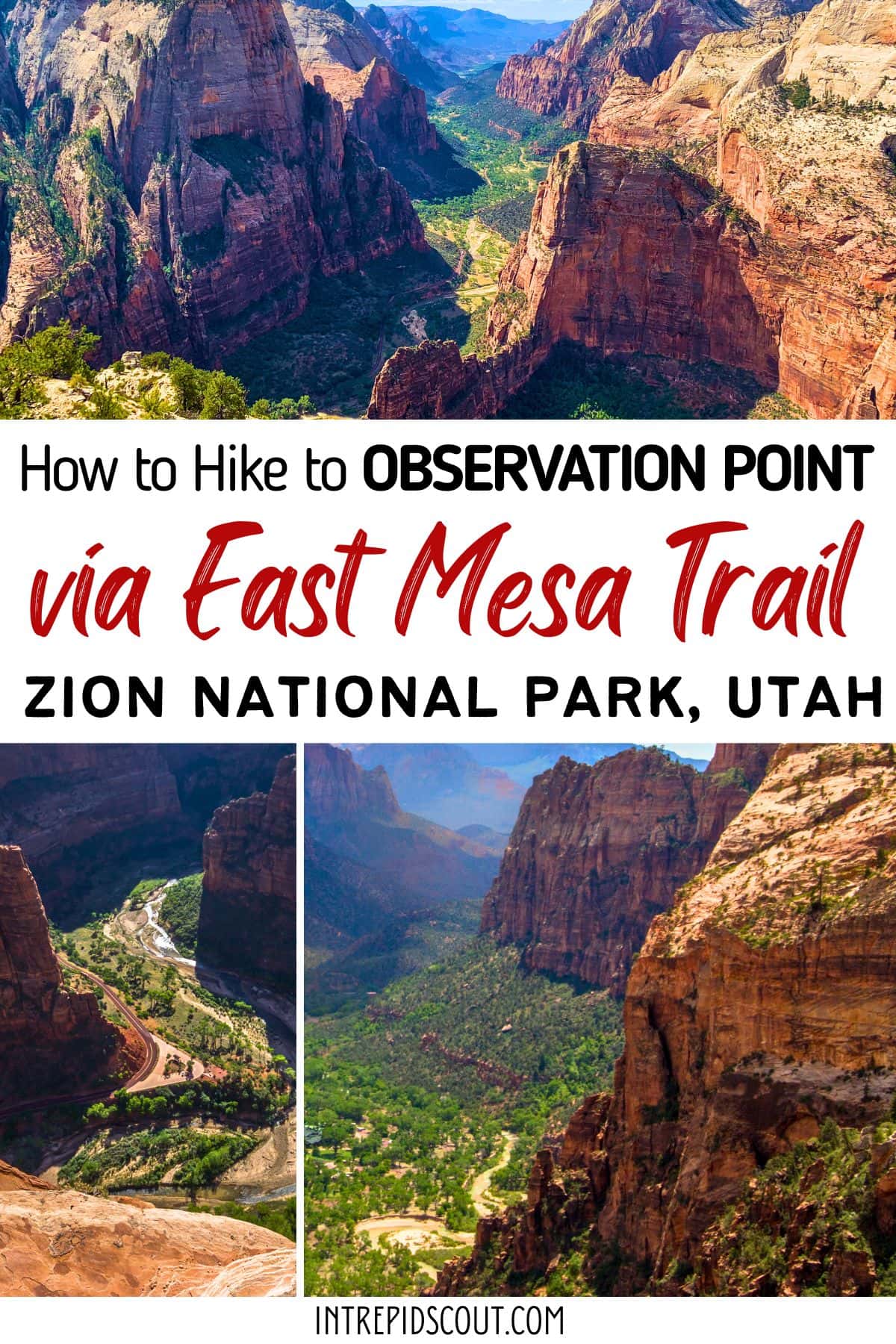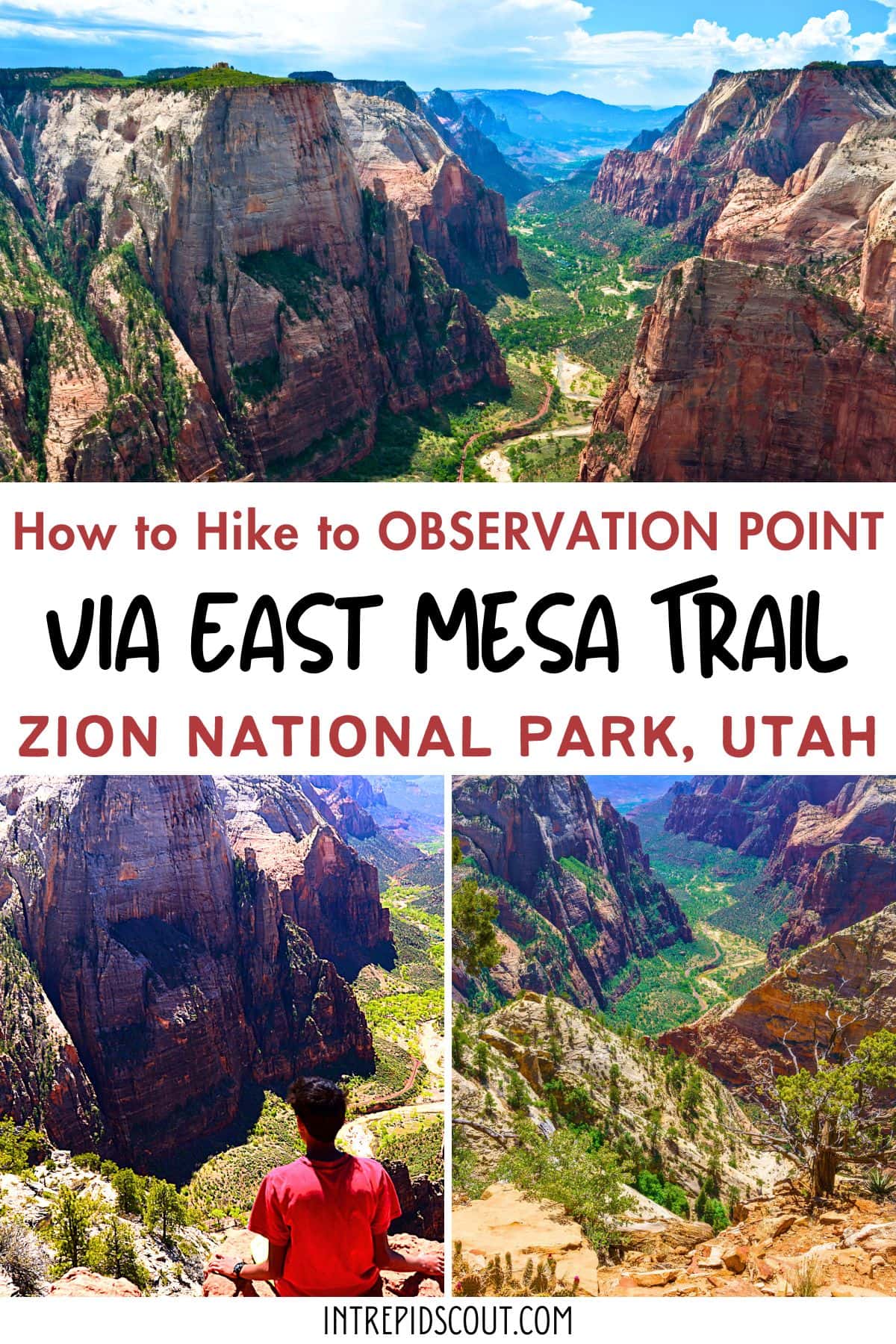 Now, It Is Your Turn, I Would Like to Hear Back from You!
Are you planning a road trip to Zion National Park?
Please let me know! Drop me a quick comment right below!
Click on any of the images below to get inspired and to help you with the planning process for your trip to Zion!