This site uses affiliate links, meaning that if you make a purchase through our links, we may earn an affiliate commission.
Observation Point Hike is one of Zion National Park's best-kept secrets. Forget overcrowded and touristy Angels Landing! Observation Point stands at 6,507 feet above the sea level, which is over 700 feet higher than Angels Landing. The view at the end of Observation Point Trail is an iconic image of Zion National Park. Plus, once you get to the top, you will be able to give yourself a pat on the back for being adventurous to conquer the higher viewpoint! Read about Observation Point hike to Zion's best view via East Mesa Trail and see why it is the most stunning hike in Zion National Park.
Zion National Park At-A-Glance
Before diving in, here are a few Zion National Park highlights to help you plan your trip:
Best Time to Visit Zion National Park
Zion National Park is a great destination to visit at any time of the year. And, it is open 24 hours a day, every day of the year. I have visited Zion so many times at different times of the year and I have to honestly say that it is an awesome place to see no matter what month you visit!
Needless to say, April and May and then September and October, are my favorite months to visit Zion National Park. The temperatures are mild with daytime temps in the 60s and 70s F. You will see fewer crowds as well and have some serene experiences on trails and at viewpoints.
Summer is the high season. Expect a lot of companionship on the trails and everywhere throughout the park. The temperatures skyrocket as well ranging from the high 80s to 100s F.
Winter is a good time to visit Zion National Park. Above all, you will be able to find some solitude. Snow seldom reaches the canyon floor and that being the case, the scenic drive and some hiking can be enjoyed during that time. Temperatures can range from low 50s to sometimes low 70s F. However, make sure to check the weather and local snow conditions. Make sure that the trails you are planning to hike are clear and safe.
Where to Stay When Visiting Zion National Park
Hands down, nothing beats staying inside the park! However, accommodations inside the park are very limited and you will need to make reservations at least a year in advance. Zion Lodge is the only hotel inside the park. It is open year-round and has several different types of accommodations like cabins, hotel rooms, and suites.
Zion National Park has three campgrounds. South and Watchman Campgrounds are inside the Zion Canyon, Lava Point Campground is about 1-hour drive from Zion Canyon on the Kolob Terrace Road. Reservations are required at South and Watchman Campgrounds.
Springdale, UT is conveniently right at the entrance to Zion and it is the perfect getaway to Zion National Park. I stayed in Springdale several times and my two top choices are Hampton Inn & Suites Springdale/Zion National Park, and SpringHill Suites by Marriott Springdale Zion National Park. Both places are clean and comfortable, and the location is perfect.
How to Get to Zion National Park
The closest International Airports to Zion National Park that you can fly into are located in Las Vegas (LAS), Nevada, and Salt Lake City (SLC), Utah. There are smaller Regional Airports in St. George (SGU), Utah, and Cedar City (CDC), Utah. I use Skyscanner to browse flights and find the best price.
How to Get Around in Zion National Park
If you are visiting Zion National Park between the months of March through November, then you will have to use the shuttle. No private vehicles are allowed inside the park. The cost of the shuttle is included in your recreational use pass. You can hop on and hop off at any of the shuttle stops.
There are two shuttle routes: Zion Canyon Shuttle, which runs along the Zion Scenic Drive and makes 9 stops at viewpoints and trailheads, and Springdale Shuttle which stops at 9 locations in the town of Springdale and picks up and drops off visitors at the park's pedestrian/bike entrance.
How Much Does It Cost to Vist Zion National Park
In order to visit Zion National Park, you need to purchase a recreational day-use pass, which costs $35 per vehicle and is good for 7 consecutive days. You can purchase the pass right at the entrance to the park. If you are visiting several national parks then make sure to get America the Beautiful National Park Pass. This $80 pass is valid for 12 months and gets you into all 400+ national park sites!
How to Get to Observation Point in Zion National Park
Important: Due to a large rockfall in 2019, the route to Observation Point from Weeping Rock Trailhead (located inside the park) is closed until further notice.
Observation Point can still be reached from the East Mesa Trailhead.
To get to the East Mesa Trailhead, follow Highway 9, also called the scenic Zion-Mt. Carmel Highway, past Checkerboard Mesa, and turn left on North Fork County Road. On the way, you will pass Zion Ponderosa Ranch Resort as you follow back roads to the trailhead.
The road to the East Mesa Trailhead is rough and unpaved. It is most suited for 4WD vehicles, however, I have seen many 2WD vehicles on this road as well.
If you do not feel comfortable driving on this road, then take a shuttle from Zion Panderosa Rach Resort to the trailhead.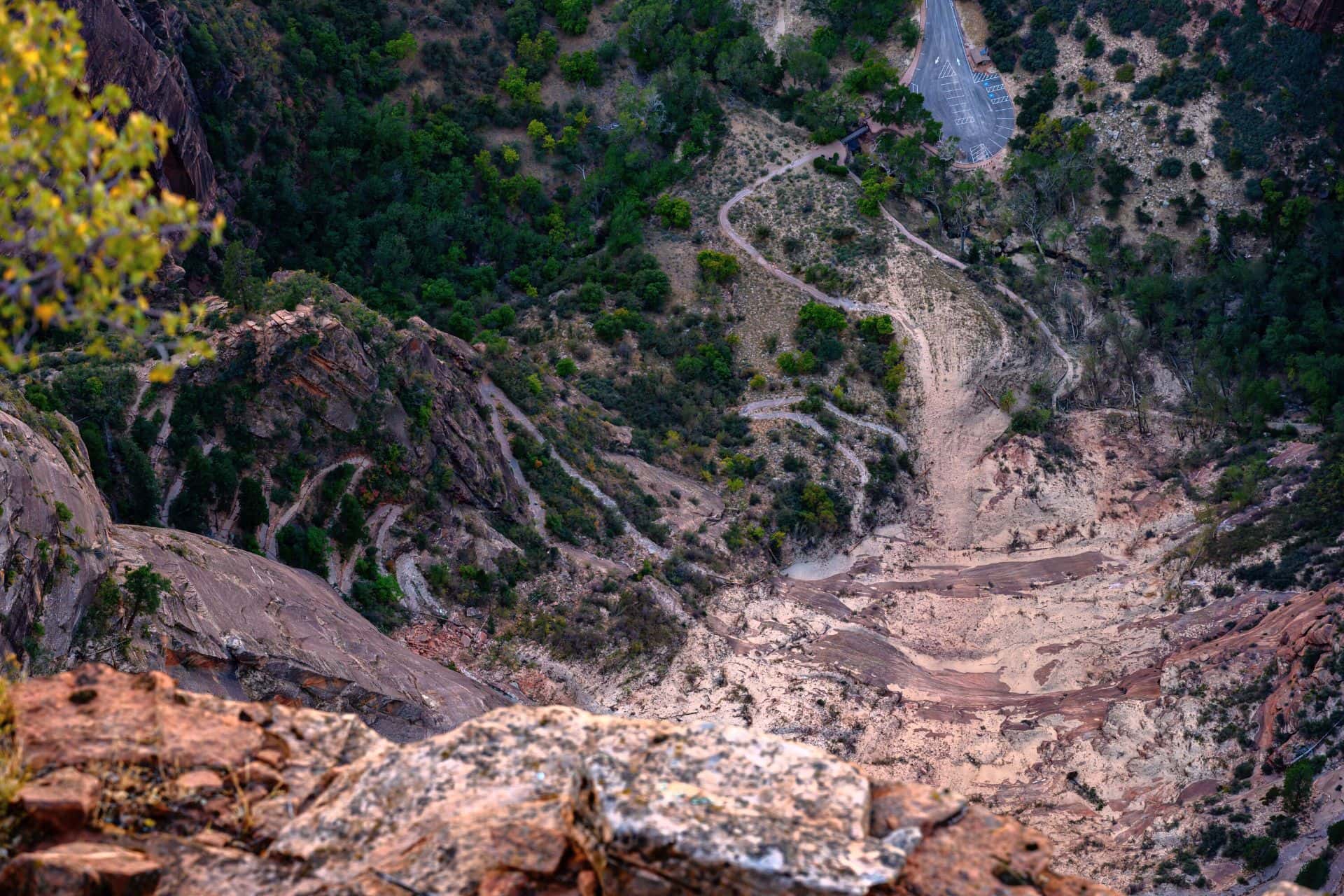 Top view of the rock slide that closed Weeping Rock Trailhead to Observation Point / Observation Point Hike to Zion's Best View
When Is the Best Time to Hike Observation Point Trail
The best time to hike the Observation Point Trail is during spring or fall, specifically April-May and September-October. The weather is mild with daytime average temperatures in the 60s and 70s F.
Summer (June-September) is the high season. You will have a lot of companionship on the trail. The temperatures range from high 80 F to 100 F and well above.
Winter (November through March) might be a good time to hike the Observation Point Trail. Above all, you will be able to find some solitude. However, make sure to check the weather and local snow conditions. You need to make sure that Observation Point Trail is clear and safe. During the winter months, Observation Point Trail can be snowy/icy on the higher sections.
What to Pack for Hiking Observation Point Trail
Trail shoes are great; hiking boots are even better since they offer more support. You'll want sturdy, comfortable hiking boots with solid traction. Don't forget to break in your shoes before bringing them to Zion National Park. Also, do not forget merino wool socks. They will keep your feet dry, and protect you from blisters.
Without enough water, your body's muscles and organs simply cannot perform as well. Consuming too little water will not only make you thirsty but susceptible to hypothermia and altitude sickness. I have been using Yeti Rumbler 26 oz insulated, stainless steel bottle, and I am highly recommending it!
Food will help keep up energy and morale. I like RXBAR. It is a high-protein bar, gluten-free, and it is super yummy! Make sure to get a variety pack to keep it interesting.
Rain gear and extra clothing
The weatherman is not always right. Be prepared for unannounced rain or a cold spell. Dress in layers. It will allow you to adjust to changing weather and activity levels. Two rules: avoid cotton (it keeps moisture close to your skin) and always carry a hat. I have had my North Face Women's Osito Triclimate Jacket for years, and I love it. Also, I am highly recommending these Patagonia moisture-wicking hiking shirts and Patagonia warm fleece pullovers.
Prepackaged first-aid kits for hikers are available at any outfitter.
A knife or even better, a multi-purpose tool is always good to have. These enable you to cut strips of cloth into bandages, remove splinters, etc.
Protect Yourself from the Sun
If you are hiking in the summer, keep in mind that many trails are unshaded, so it's important to protect yourself from the sun. Sunscreen is essential, however, a lightweight long sleeve shirt is a must! My favorite are sun shirts by Columbia. Also, it is a good idea to wear lightweight long pants to protect yourself from the sun and bugs!
Wear sunglasses with UV protection. Sunglasses are an important part of your sun-protective wardrobe. When purchasing sunglasses, always look for lenses that offer UV protection.
A wide-brimmed hat is a simple and effective way to cover up your face and neck. When selecting a hat, choose one that has a wide brim, which will protect your ears, as well as your head and neck. Avoid baseball hats or straw hats with holes, as these are not as effective in protecting you outdoors.
Apply an effective insect repellent
Insect repellent is an important step against mosquitoes and ticks that can spread diseases like West Nile and Lyme.  When selecting an effective insect repellent, do not look at the brand names, but rather, look at the concentration of the active ingredients. Concentrations of DEET at 25 to 30% are the best to keep you protected.
You need something you can carry comfortably and has the features designed to keep you hiking smartly. Don't forget the rain cover; some packs come with one built-in. I have Osprey Daylite Daypack and it is perfect for day hiking.
Zion National Park is a photographer's dream! If you are like me, you will be taking hundreds, if not thousands, of photos. The scenery is just breathtaking and constantly changing. I have a Nikon COOLPIX P1000 Super Telephoto Camera that I bought a couple of years ago and I really like it.
A spare battery for the camera
Make sure to have a spare battery for your camera. I think there is nothing more frustrating than knowing that you still have half a day ahead of you, yet your camera's battery is gone.
This will make sure that the trail will stay beautiful for generations to come. A zip-lock bag is a great option as well for keeping the trash you pick up along the trail separate from the rest of your gear.
Observation Point Hike to Zion's Best View via East Mesa Trail - Step-By-Step Guide
Map of Observation Point Trail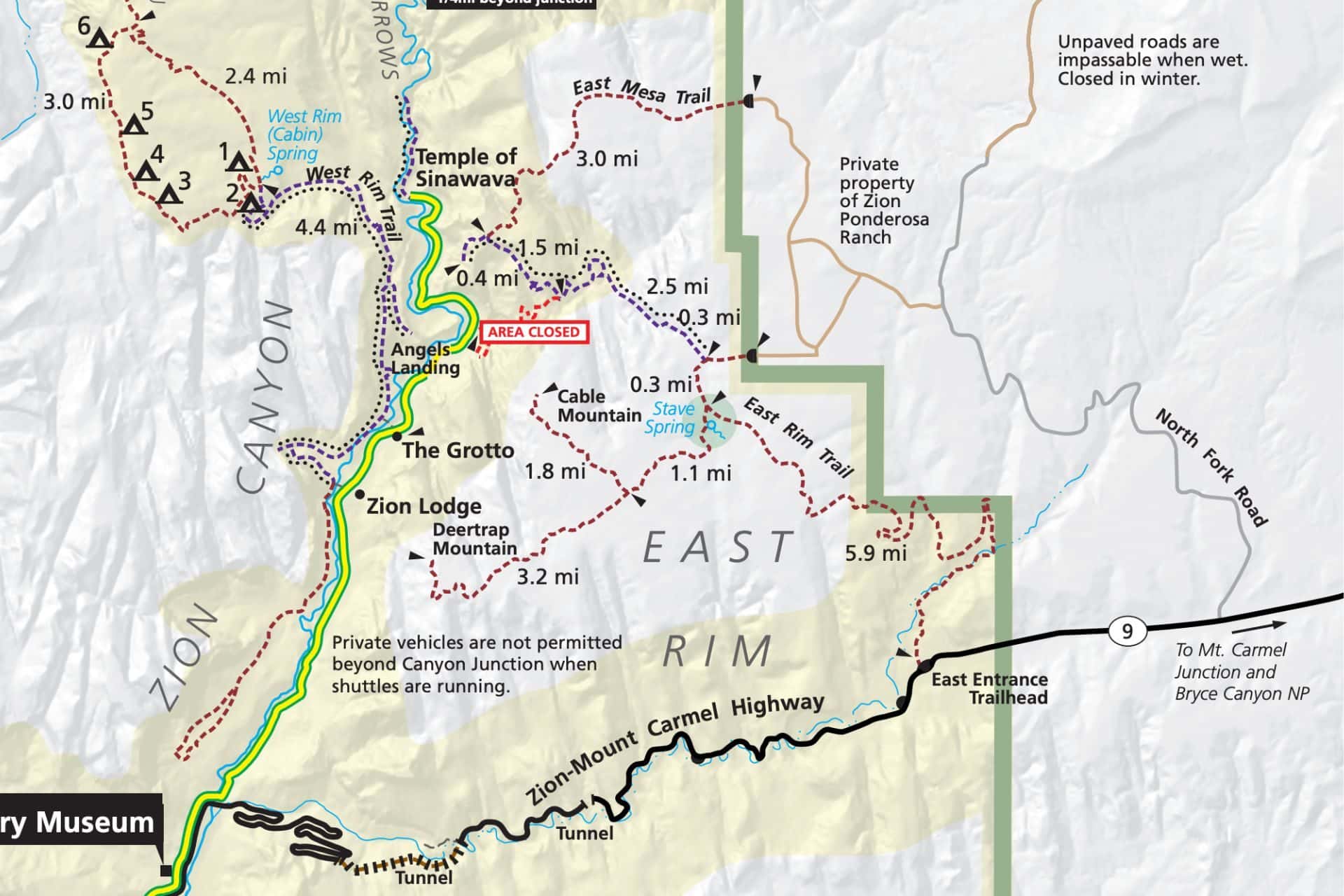 Map of Observation Point Hike to Zion's Best View / Source: NPS
Observation Point Hike via East Mesa Trail Quick Facts
Distance: 7 miles round trip
Elevation Gain: 700 feet
Duration: 3–4 hours round trip
Difficulty: Moderate
What to Expect When Hiking to Observation Point via East Mesa Trail
The first 3 miles of the East Mesa Trail are mostly flat and meander through forests and meadows of the east plateau.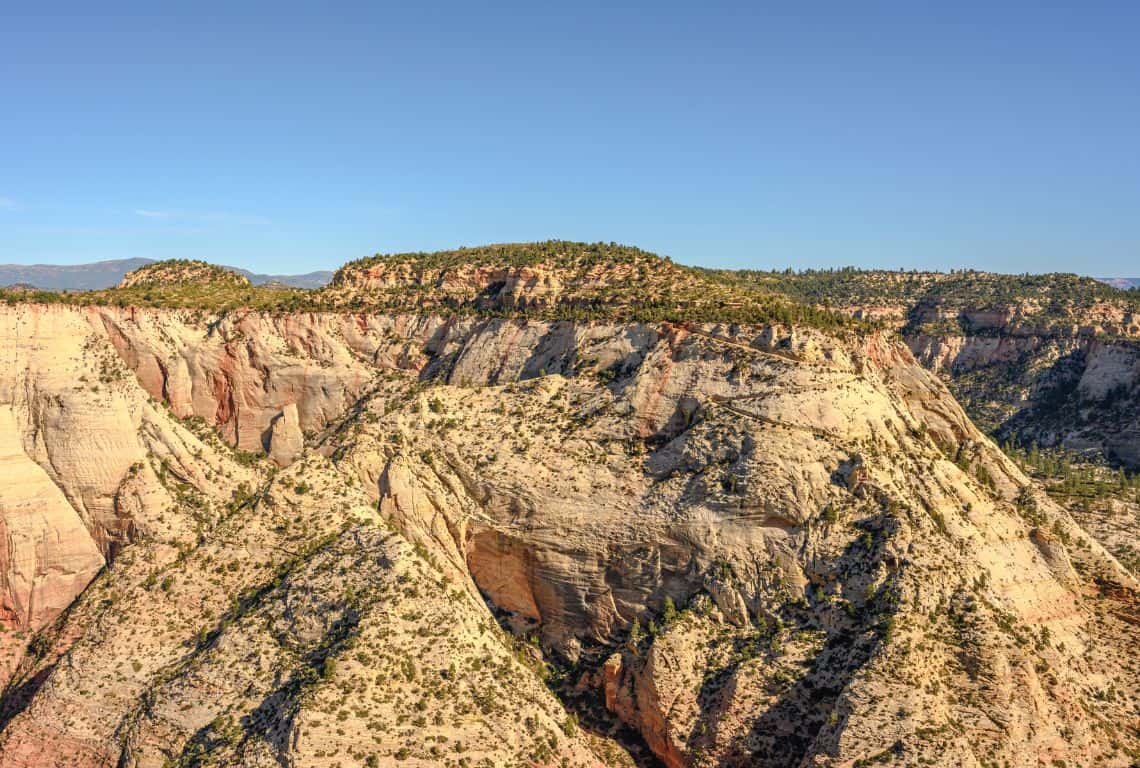 Observation Point Hike to Zion's Best View via East Mesa Trail 
At the end of the 3-mile section, the East Mesa Trail descends 400 feet to meet the trail to Observation Point.
Next, take the Observation Point Trail and continue for no more than 0.4 miles until you reach the Observation Point and the stunning view of the Zion Canyon.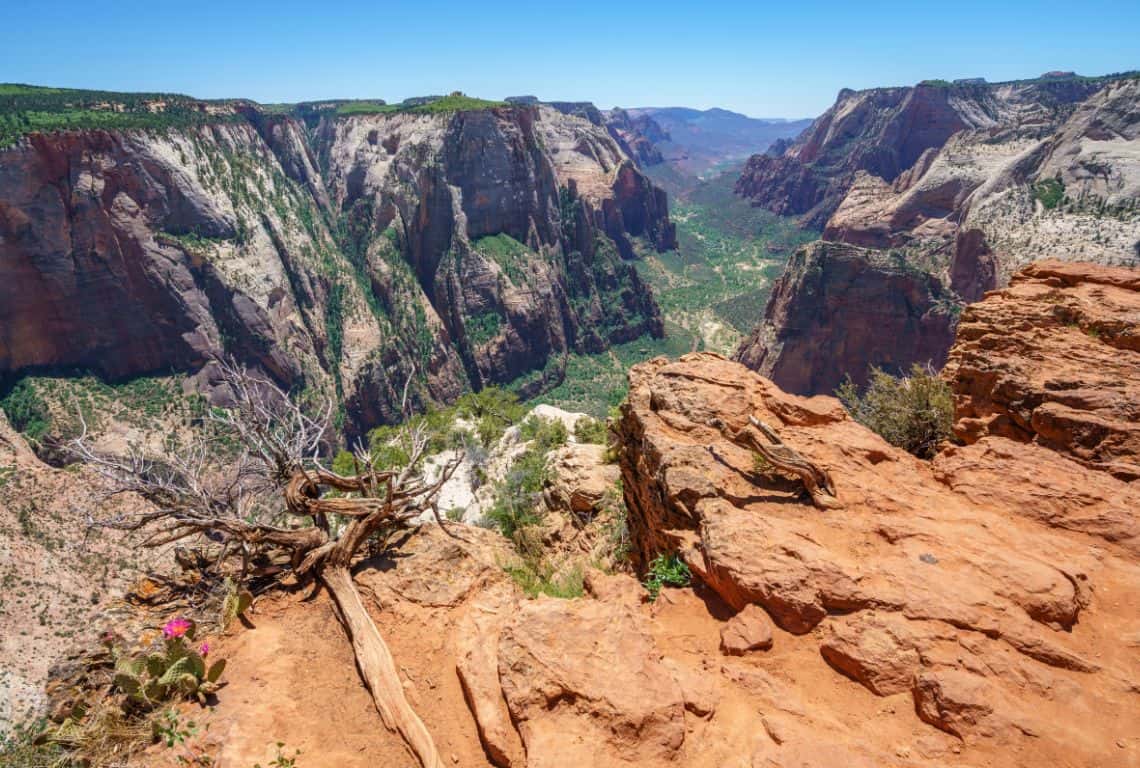 Observation Point Hike to Zion's Best View via East Mesa Trail 
Observation Point Hike to Zion's Best View via East Mesa Trail 
Intrepid Scout's Tips for Observation Point Hike
Check with park rangers for the latest closures and the conditions of the road out to East Mesa Trailhead.
Stock up on snacks and water, and fill up the gas tank. Get all your water, snacks, and lunch, and fill up the gas tank before heading out to the trailhead.
Be prepared for crowds. Zion National Park is the most visited national park in the United States. 4.5 million people visited Zion National Park in 2019. With that being the case, be prepared for crowds everywhere.
Arrive early. The parking space at East Mesa Trailhead is very limited and fills up by about 8 am.
A trip to Zion is perfect when paired with a side trip to Bryce Canyon National Park, Grand-Staircase Escalante National Monument, or Canyonlands, Capitol Reef National Parks.
Check out my post: Zion to Bryce Canyon: 3-Day Adventure (with Maps and Photos)
Did you know that Utah has five national parks known as 'The Mighty 5'. Have you visited any of them? Which is your favorite Utah National Park? Let me know in the comments below which one you think is one of the best Utah national parks. Get inspired with this Epic 7-Day Road Trip Through Utah National Parks.
Now, It Is Your Turn, I Would Like to Hear Back from You!
Are you planning a road trip to Zion National Park?
Please let me know! Drop me a quick comment right below!
Click on any of the images below to get inspired and to help you with the planning process for your trip to Zion!
Did You Find This Useful?
Why Not Save Observation Point Hike to Your Pinterest Board!