This site uses affiliate links, meaning that if you make a purchase through our links, we may earn an affiliate commission.

15 Must See Things at Hakone Open Air Museum

If you are planning a day trip to Hakone, then Hakone Open Air Museum is a must-see attraction!
Hakone Open Air Musuem is a world-class open-air gallery. It covers an area of 70,000 square meters of beautiful lawns and gardens surrounded by forested hills. It's collections include some of the world's most significant modern sculptures and works of art. It is one of the top things to see in Hakone.
The museum was established in 1969 with an intention of creating a connection between nature and art.
It is just simply not possible to see all the sculptures and works of art in one day, so following are 15 must-see things at Hakone Open Air Museum.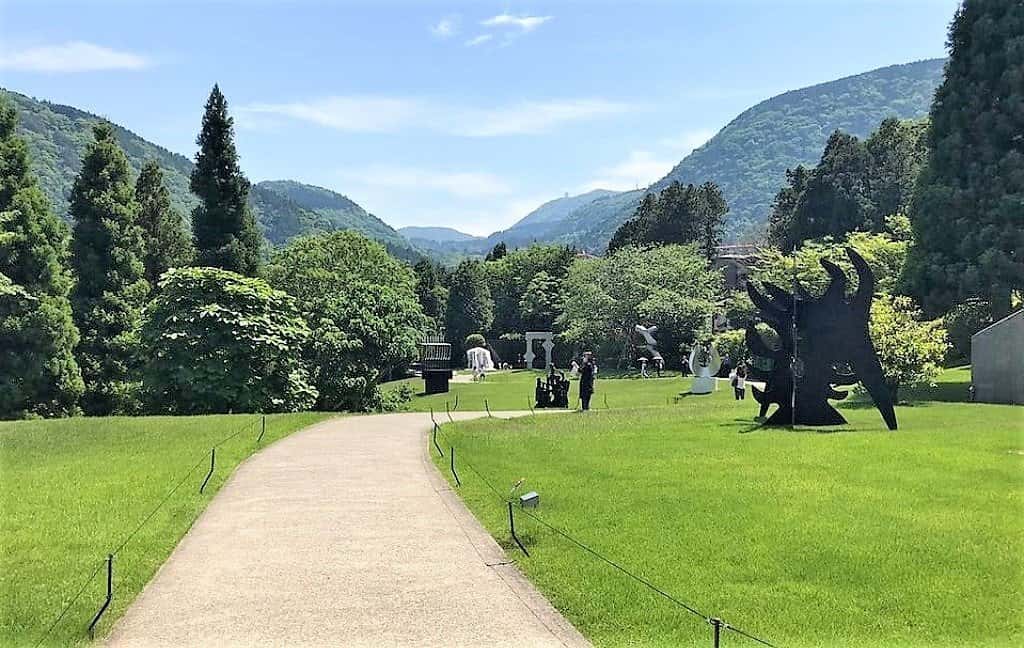 The Picasso Exhibition Hall –
The Most Famous Exhibition at Hakone Open Air Musuem

The most notable of the indoor exhibits is a collection of Pablo Picasso creations. It includes more than 300 of Picasso's works, comprising of oil paintings, prints, sculptures, ceramics, and gold objects.
The exhibit is organized into specific themes such as childhood, sexuality, life, death, and Picasso's passion for bullfighting.
Unfortunately, pictures and sketching are not allowed inside the building, so I am not able to share any pictures with you. However, it is all embedded in my memory!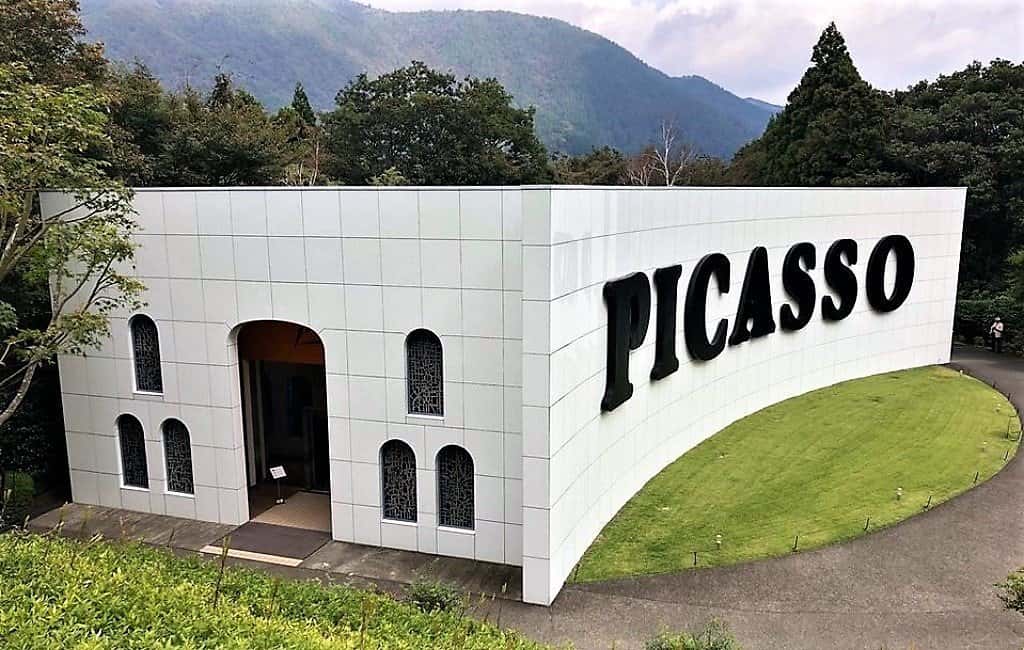 Symphonic Sculpture by Gabriel Loire –
The Most Popular Artwork at Hakone Open Air Museum

One of the most popular pieces at Hakone Open Air Museum is the Symphonic Sculpture by Gabriel Loire.
Symphonic Sculpture is a tower enclosed by colorful stained glass. Furthermore, inside the stain-glass tower is an 18-meter tall circular staircase that you can ascend all the way up to the viewing platform. Needless to say, the views of the park and the surrounding mountains are spectacular.
As you walk up the stairs, take your time to study the incredible glasswork which surrounds you.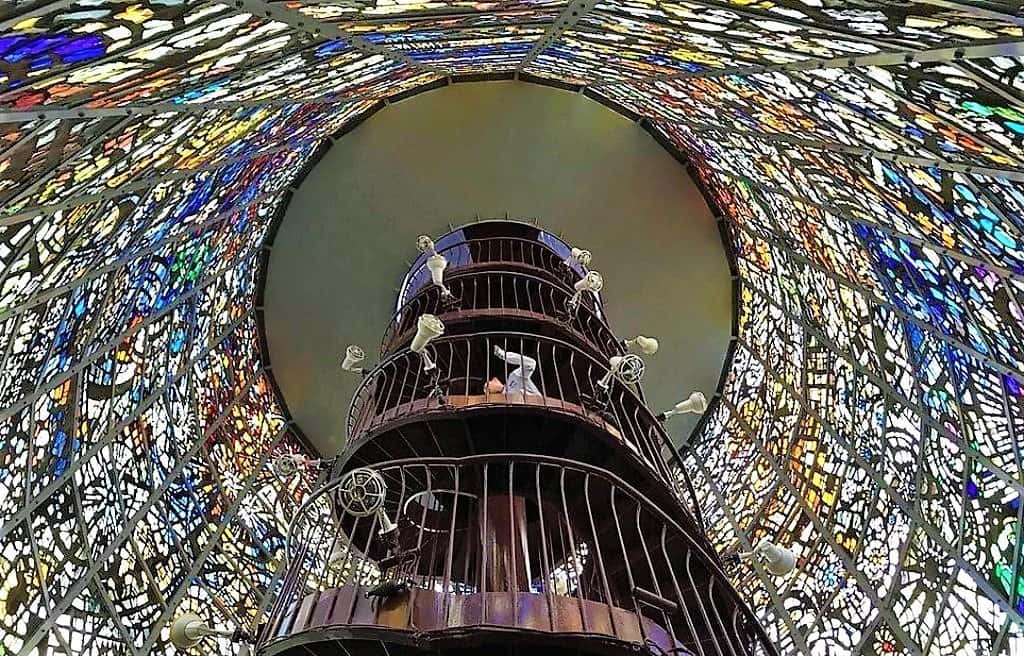 The stained glass created by Loire is called "slab glass". It is much thicker and stronger than the stained glass technique of the Middle Ages.
The use of this technique of creating stained glass allows for deeper colors especially when illuminated by bright sunlight.
Notably, Gabriel Loire's greatest post-war work is in the Saint Paul's Church, Whiteinch, Glasgow (1960). It consists of 162 square meters of curved window set in cement and embedded with chipped glass.
Sculptures by Henry Moore at Hakone Open Air Museum



Hakone Open Air Museum holds quite a collection of sculptures by Henry Moore.
Moore's work can be broadly categorized into three themes: mother and child, reclining figures, and internal/external form. Another addition, which came later in his life is: family group. It reflects Moore's experience of becoming a father.
Family Group by Henry Moore is a captivating sculpture. It evokes the deep emotions of human love, family ties and protection of a new life.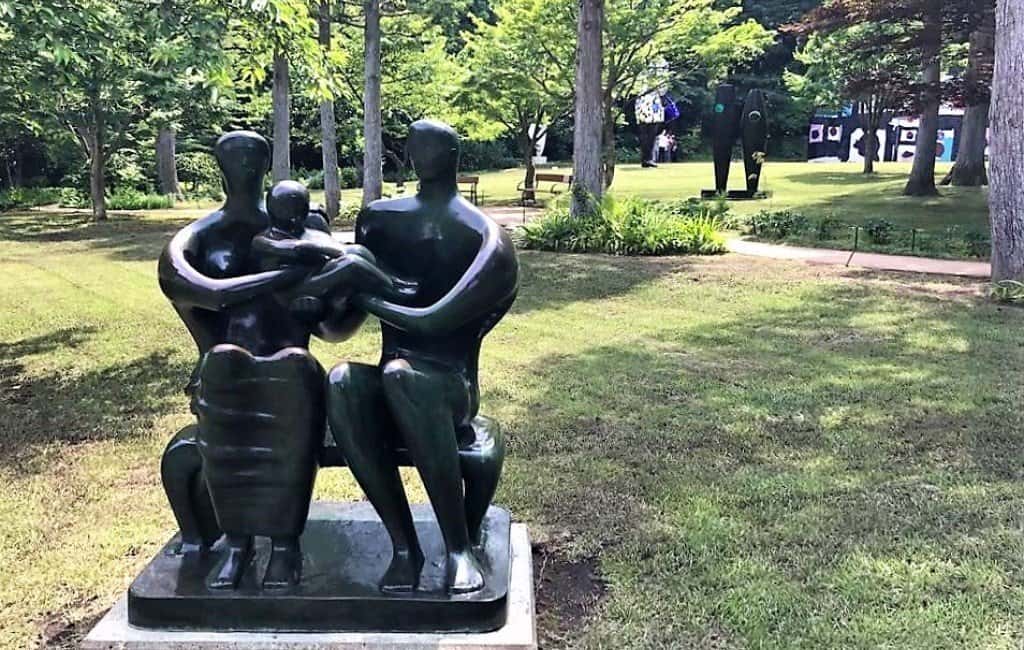 Another famous sculpture, from the series of reclining figures, is Reclining Figure: Arch Leg. For me, it emanates power and, at the same time, vulnerability.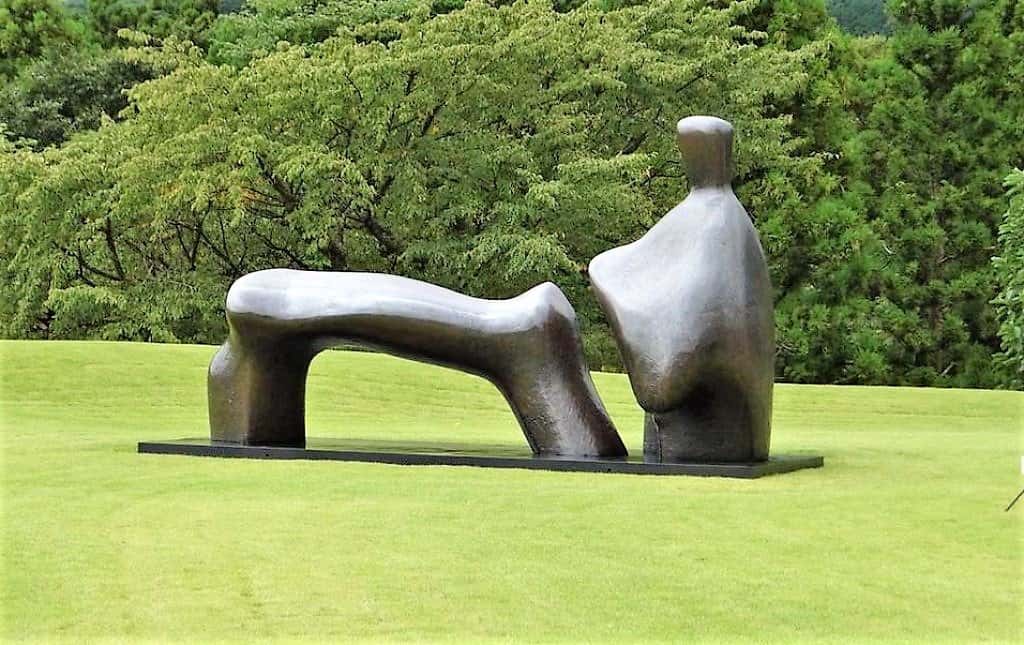 Miss Black Power by Niki de Saint Phalle
Miss Black Power by Niki de Saint Phalle is visible through the trees from many areas of the park. The sculpture is enormous and brightly colored.
Miss Black Power is a piece from the series called Nanas introduced by Niki de Saint Phalle in 1965.
The sculpture emanates strength and confidence. By the same token, the strength is in body posture – straight and erect. Likewise, the confidence is expressed by the brightly colored clothing and a fashionable handbag.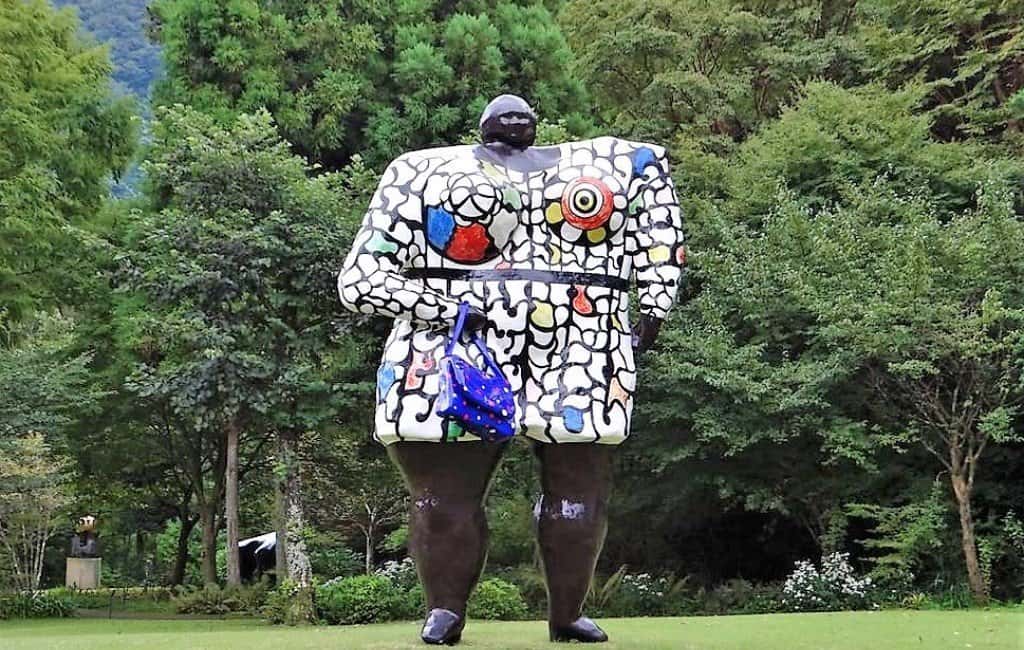 Don't have time to read it now?
Pin it on your Pinterest board!
Sculptures by Carl Milles at Hakone Open Air Museum

There are two sculptures by Milles at Hakone Open Air Museum that are absolutely breathtaking. Namely, The Hand of God and Man and Pegasus.
Milles was a Swedish artist who throughout his career created daring works of art. Even more, his sculptures integrated themselves seamlessly into their environment.
The Hand of God sculpture depicts an enormous outstretched human hand with a tiny naked human form precariously balancing his weight between the thumb and a forefinger.
However, what really will capture your attention is how intently the human gazes into the sky.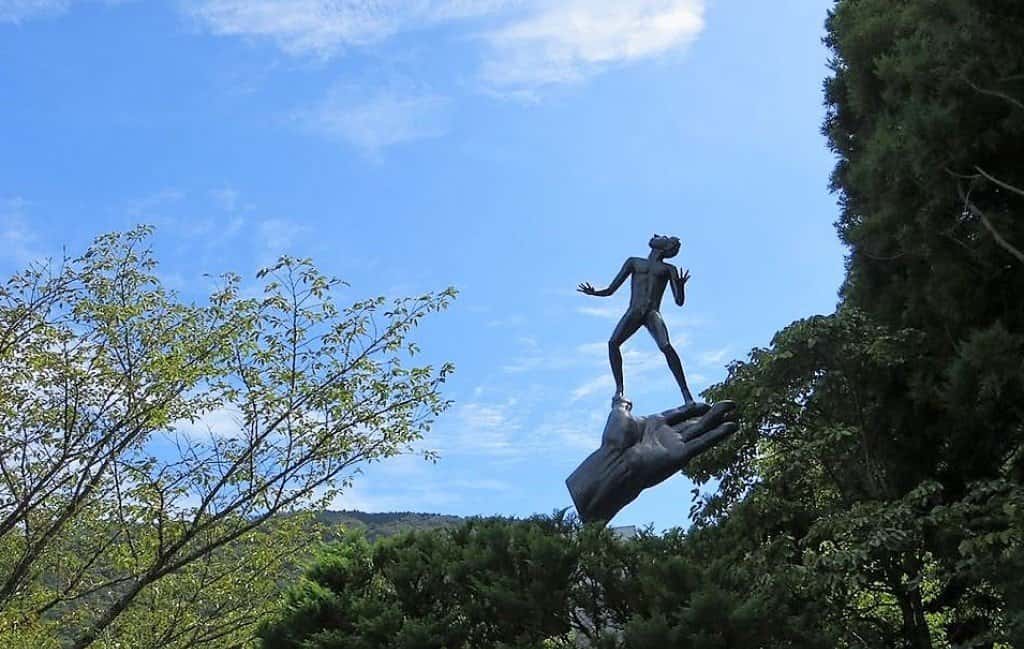 Man and Pegasus depicts a scene in Greek mythology in which hero Bellerophon rides Pegasus on his way to defeat the monster Chimera.
In Milles' sculpture both Bellerophon and Pegasus are positioned atop a towering pedestal. Even more, both of their bodies are stretched out as if together they can fly even higher.
However, if you were to examine the sculpture a little bit more closely, then, you would notice that Bellerophon is barley touching Pegasus. Moreover, his body is leaning slightly forward, indicating that his perilous fall is about to happen.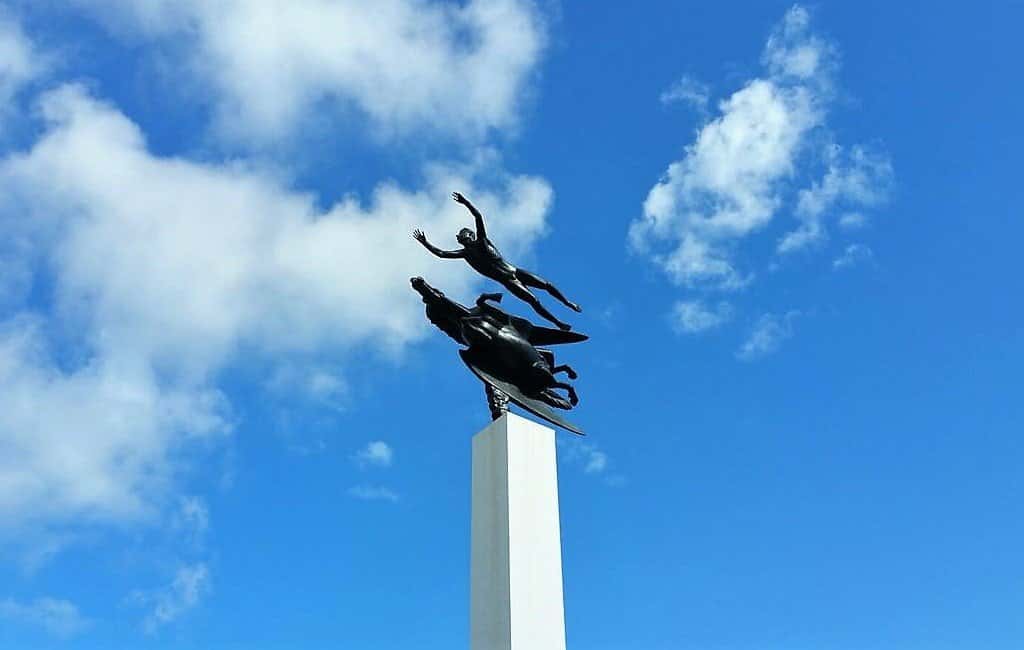 Intersecting Space Construction by Ryoji Goto
Intersecting Space Construction by Ryoji Goto is made up of a total of 144 figures, or 72 each of black male figures and red female figures. Their bodies are stretched out in a leaping action and connected together by hands and feet. They are all lined up precisely together forming one synchronized unit.
There is definitely a feeling of energy emanating from this group and, also, feeling of power created by unity.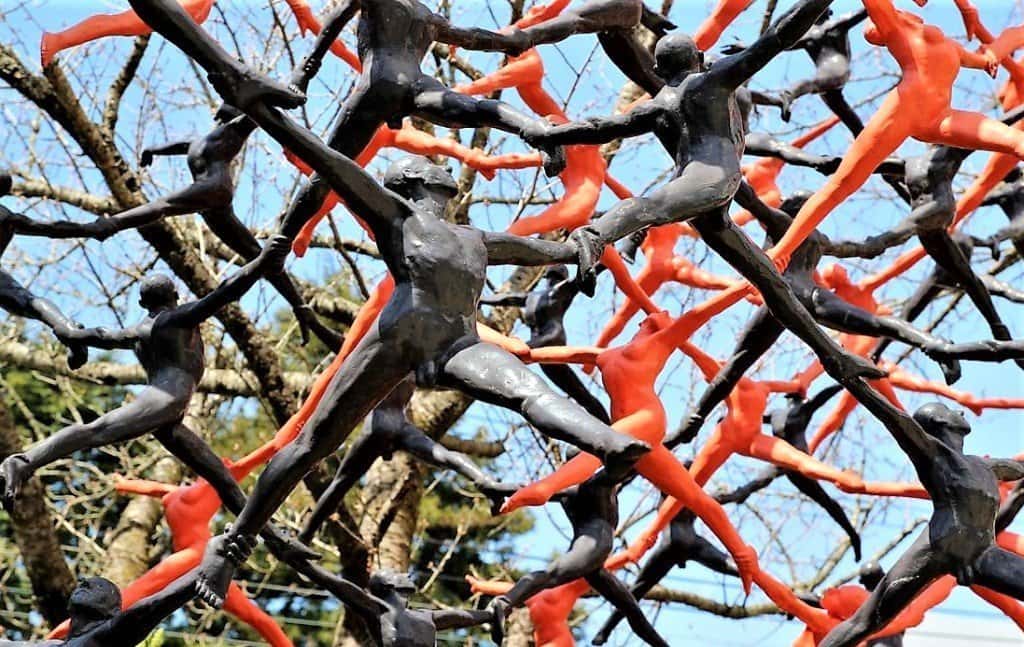 Sphere Within Sphere by Arnaldo Pomodoro
Sphere Within Sphere by Arnaldo Pomodoro is one of the more famous designs at Hakone Open Air Musuem.
Actually, there are other spheres made by Arnaldo Pomodoro. They are located all over the world.
The surface of the sphere is brightly polished and can be spotted from a far distance gleaming in the sun. As you come closer, you notice that there is a tear in the perfect orb. It looks like a part of it was either ripped out or torn away. The tear exposes the interior with another sphere inside. It looks like a world within the world.
The perfect sphere with a torn insides gave me an unsettling feeling. What is your perception of this piece of art?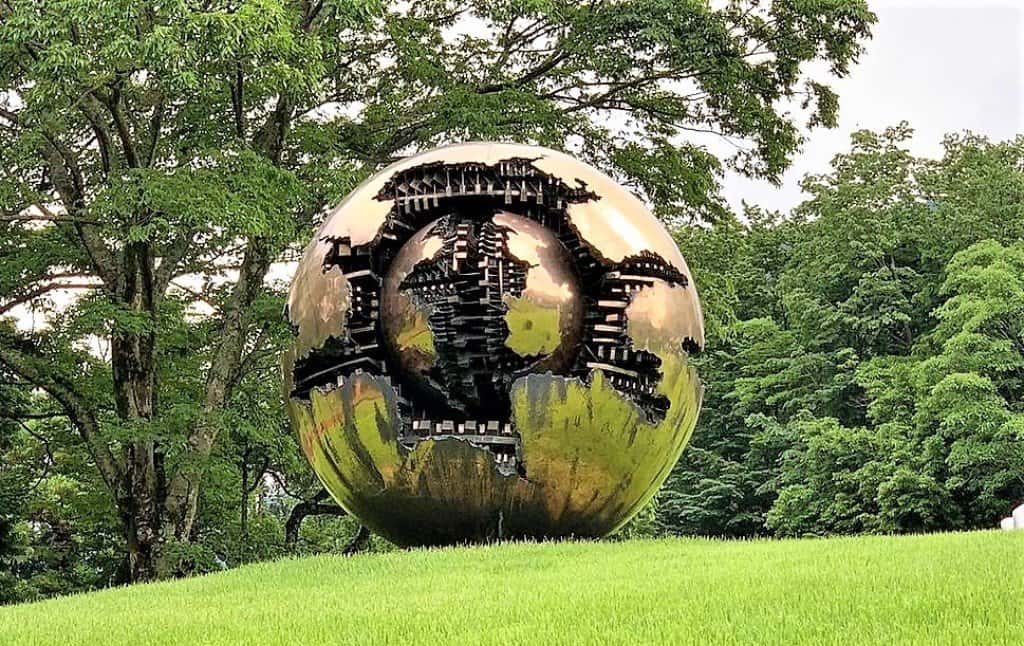 Hercules, the Archer by Emile-Antoine Bourdelle
Hercules, the Archer by Emile-Antoine Bourdelle is an absolutley must-see piece of art.
The nude figure of Hercules conveys incredible energy. Every muscle in his body is flexed to the max. From his arm pulling on the invisible bowstring to the foot braced against the rock, we can feel the pent-up power.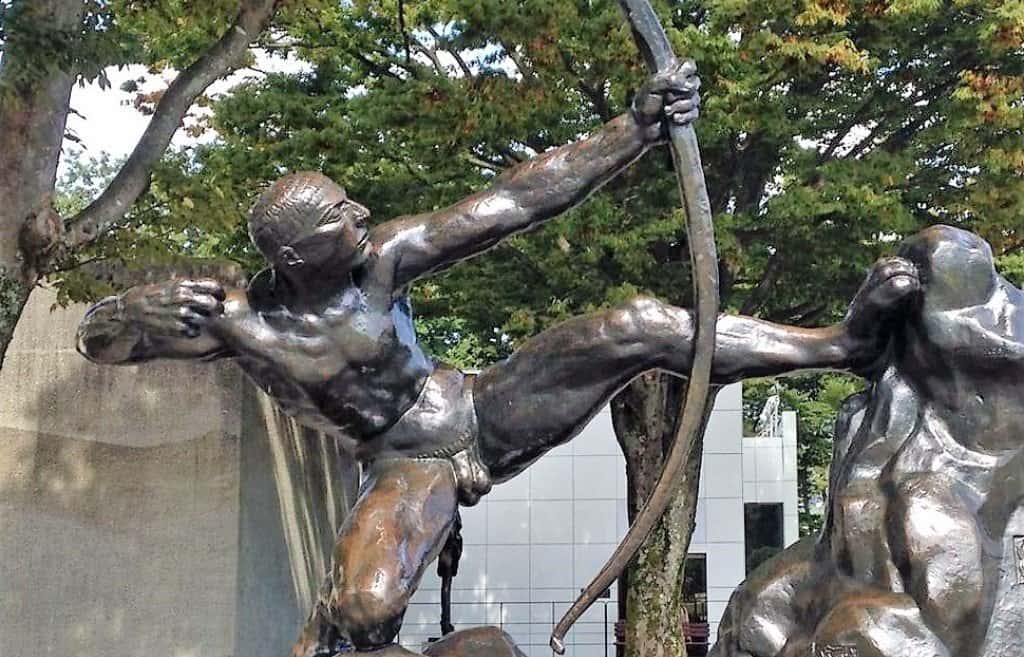 Emile-Antoine Bourdelle worked as an assistant in Rodin's studio. While their styles are similar, the differences are also very noticeable. Rodin followed a strict analytical modelling technique while Bourdelle's works give a modern twist on Greek and Roman sculptures.
La Pleureuse by Francois-Xavier and Claude Lalanne
La Pleureuse by Francois-Xavier and Claude Lalanne is an extraordinary sculpture.
Consequently, it helps to better understand this piece of art to know that 'la pleureuse' means 'the mourner' in English. The mourner is represented by an enormous stone sculpture of a human head positioned on its side in a pool of blue water. Hence, if you look closely, you will notice a teardrop descending down her cheek.
Albeit, the bright green foliage sprouting from the head blends beautifully with the surrounding area no matter what time of the year you visit.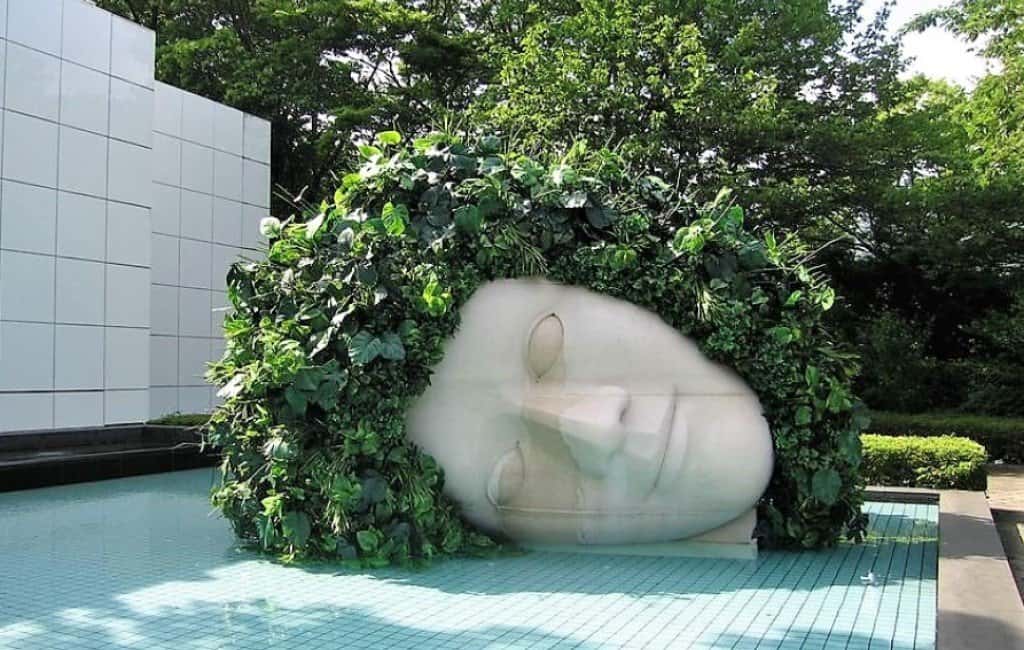 Curved Space-Diamond Structure by Peter Pearce

Curved Space-Diamond Structure by Peter Pearce is a giant construction. From a distance, it looks like a bunch of enormous soap bubbles piled up on top of each other.
However, the composition of the structure is based on the shape of a diamond molecule enlarged 8 billion times.
This is the place where kids can go inside, climb, and explore.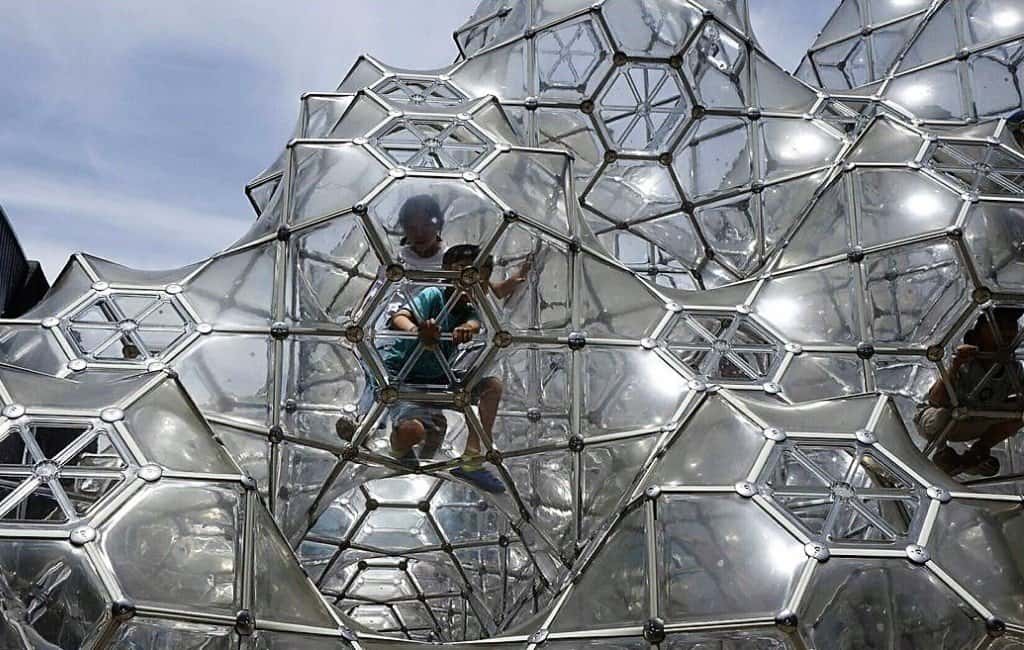 Floating Sculpture 3 by Marta Pan
The floating sculptures of Marta Pan's Floating Sculpture 3 are painted the vermilion color reminiscent of Tori gates.
They slide and sway and gently float closer and away from each other. They are sensitive to the slightest breeze.
And, dozens of koi fish swirl around them as if enjoying this slow dance.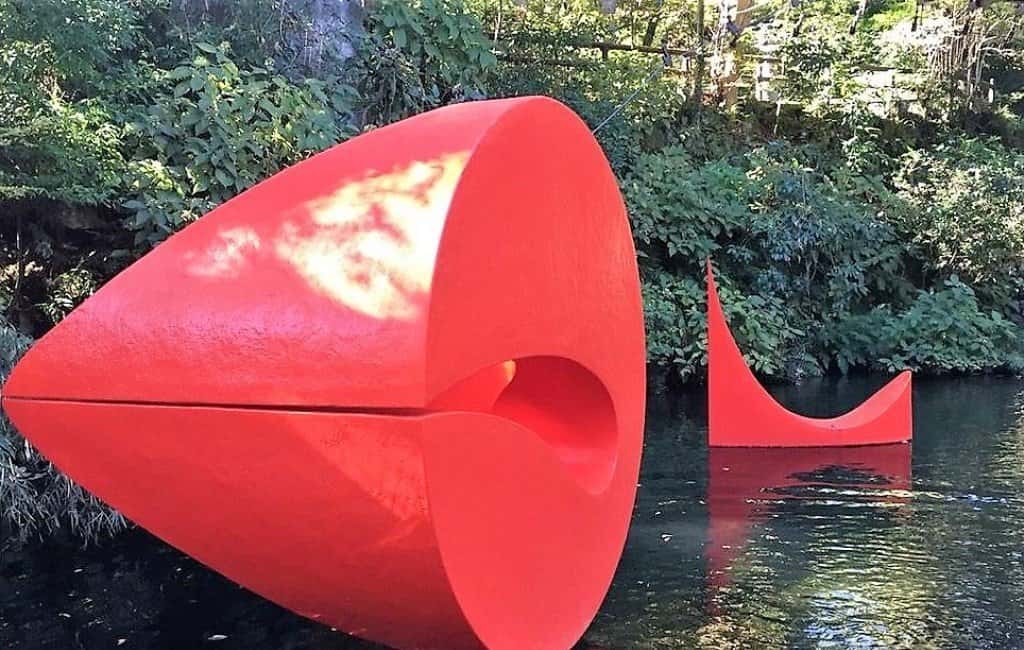 Personnage by Joan Miró
You will see Personnage by Joan Miró from a far distance. His beautiful sculpture is boldly colored and very expressive.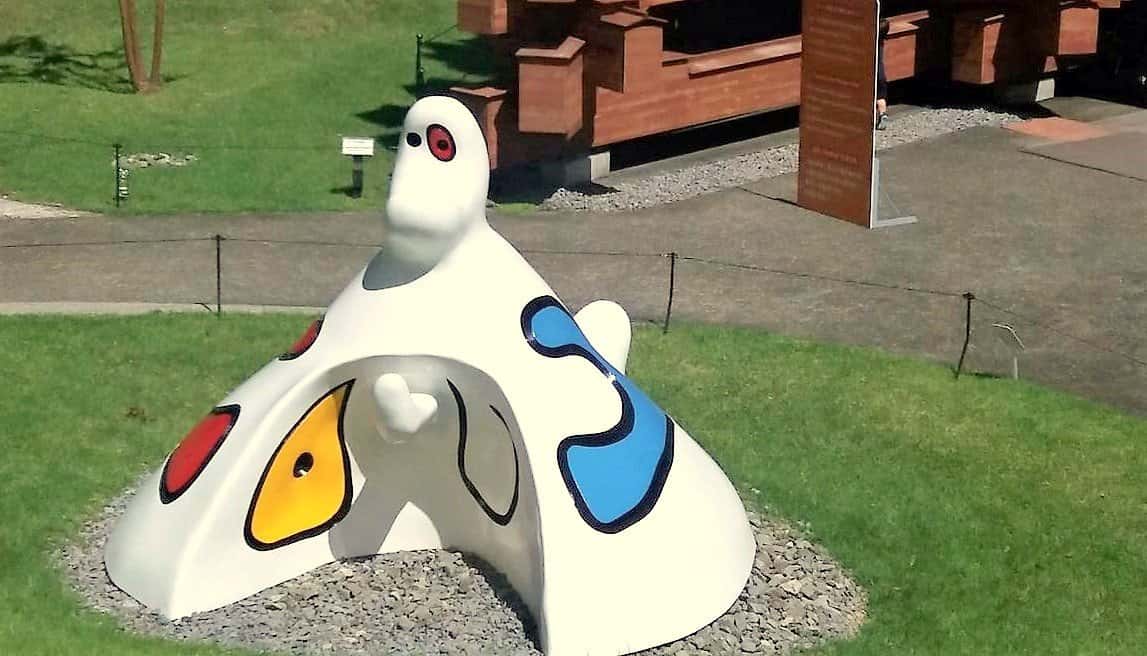 Notably, Miro was a Spanish artist and one of the most well known Surrealist sculptors.
I read that Personnage explores the idea of art created from poetry and that different shapes and colors plastered onto the form are to Miro like words which all together create a poem.
Woods of Net by Tezuka Architects
Woods of Net was created by Tezuka Architects, a team of architectural artists. The structure is made of timber without any use of the metal.
The technique that was used for combining the joints was inspired by the thousand-year-old Japanese wooden temple designs in Nara and Kyoto.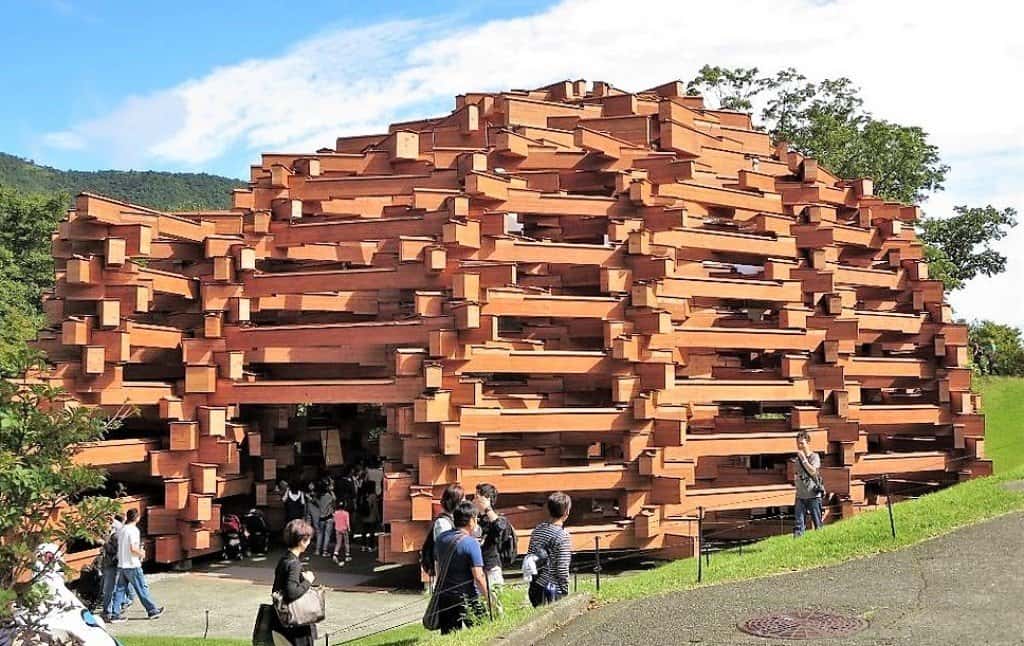 Knitted Wonder Space 2 by Toshiko Horiuchi MacAdam
All in all, Woods of Net by Tezuka Architects holds the incredible artwork of Toshoiko Horiuchi MacAdam. As soon as you walk through the open gateway of Woods of Net, you see the brightly colored Knitted Wonder Space 2.
Notably, Horiuchi MacAdam knitted the entire net by hands. Admittedly, the piece itself took over 650 kg of braided nylon, three months of time to dye it, and over a year spent crocheting the textile into nets.
Notwithstanding, I have read that the net is meant to symbolize the cradle of a womb.
Knitted Wondre Space 2 is designed for children to crawl in, swing on, and jump around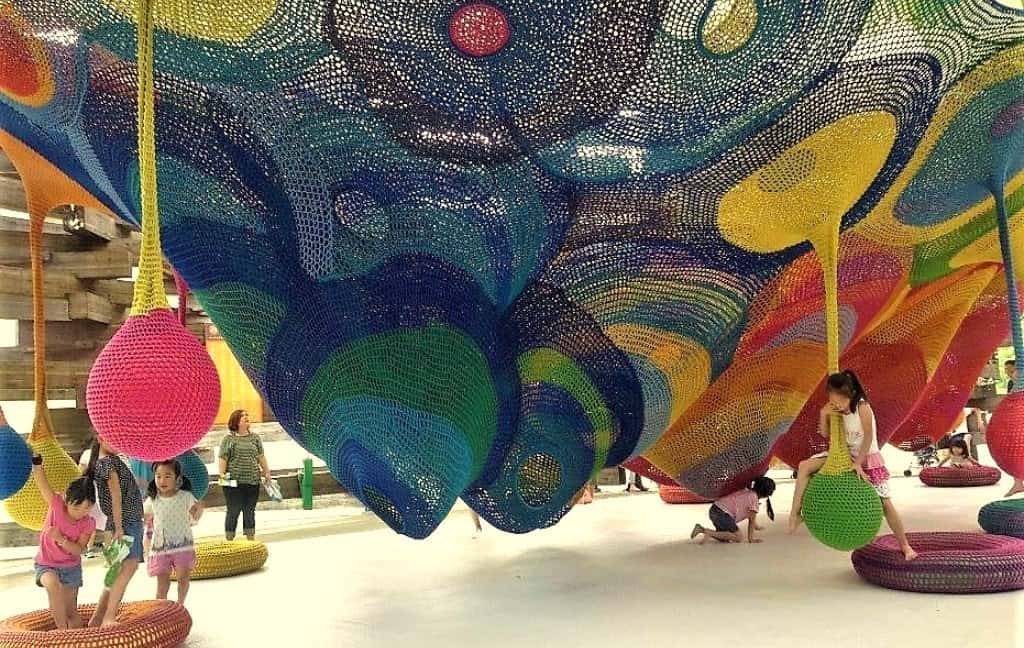 In addition, I found out that Horiuchi MacAdam was inspired by the works of Antoni Gaudi.
Outdoor Foot Bath
Hakone Open Air Musuem's piece de resistance is the outdoor foot bath.
Here, you can soak your footsies in the warm mineral waters scented with floating oranges and lemons and massage your feet on raised river pebbles.
If you need a towel, there are vending machines that dispense tiny towels. Furthermore, the towel could be utilized as a little keepsake from the museum.
How cool all of this is!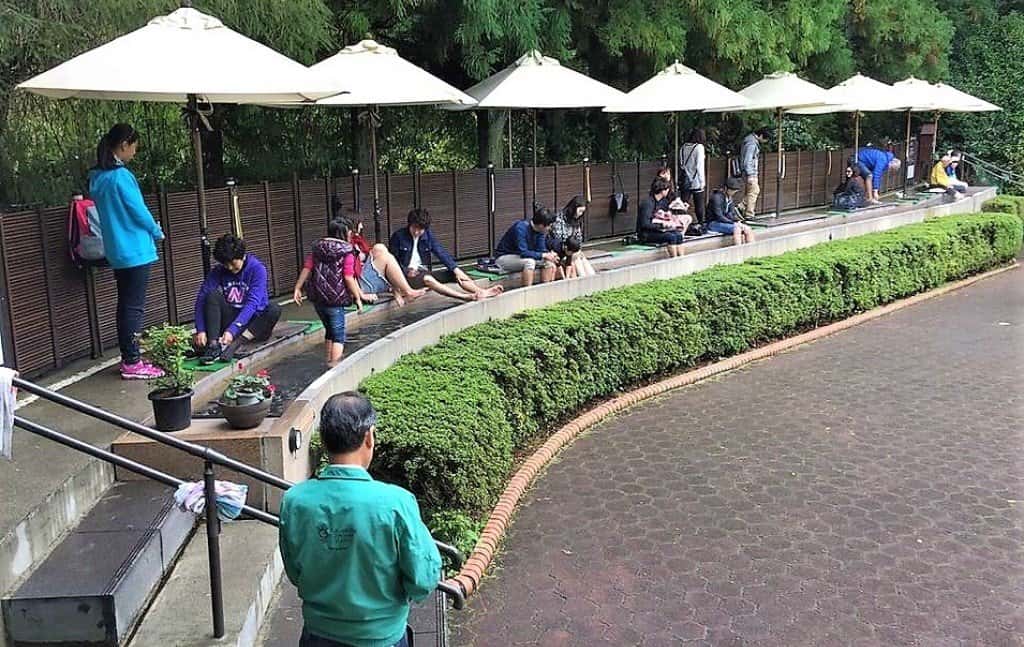 Opening Hours, Entrance Fees and Special Events at Hakone Open Air Musuem
Hakone Open Air Museum is open everyday of the year. The opening hours are 9 am till 5 pm. Furthermore, the last admission is at 4:30 pm.
The entrance ticket costs 1,600 yen. If you have Hakone Free Pass, then the entrance ticket is 1,400 yen.
If you are visiting Hakone Open Air Museum between December 1st and January 8th, then do not miss a special event held every night after 5 pm. It is called Night at the Museum.
The main sculptures are lit up at that time giving them completely different look.
But the coolest part is that all the visitors are handed gorgeous LED-powered lanterns – an artwork made by Japanese artist
Kyota Takahashi
, which emanate different color light depending on what piece of art you are visiting.
How to Get to Hakone Open Air Museum
1. First of all, from Tokyo Station in Tokyo, you can take either JR East Tokaido Line to Odawara or JR Central Tokaido-Sanyo Shinkansen Westbound to Odawara. If you have a JR Pass, then your trip will be covered by the pass.
In addition, if you decide to take JR East Tokaido Line, then you will be able to reserve your seats online. However, there are no online reservations available for JR Central Tokaido-Sanyo Shinkansen, but you can make reservations at any of JR Central office locations.
2. Next, from Odawara Station take Hakone Tozan Line Train to Stop OH56, which is Chokoku-no-mori Station
Another option of getting to Hakone is to take the Odakyu Line LTD. Express "Romancecar" from Shinjuku Station in Tokyo. It will take you to Hakone-Yumoto Station Travel in 1 hour and 15 minutes. Reservations are required and can be made at Odakyu Sightseeing Service Center at Shinjuku Station. And then from Hakone-Yumoto, you can take Hakone Tozan Line train to Stop OH56 Chokoku-no-mori Station.
The "Romancecar" is not covered by JR Pass.
Likewise, the cost of the ticket for Odakyu Line LTD. Express "Romancecar" depends on whether you have the Hakone Free Pass or not.
If you have the Hakone Free Pass then an additional surcharge of 1,090 yen is required for one-way travel between Shinjuku and Hakone-Yumoto. If you do not have the pass, then the cost is 1,190 yen, plus 1,090 yen surcharge one way.
Did you find this useful?
Pin it on your Pinterest board!
Now, I want to hear from you!
Have you been to Hakone Open Air Musuem?
Let me know! Leave a quick comment in the comment section right below!
More posts about Hakone:
Click on the image to read.