This site uses affiliate links, meaning that if you make a purchase through our links, we may earn an affiliate commission.
Secrets of Fushimi Inari-Taisha Shrine in Kyoto -
Japan's Most Visited Shrine
For many people all over the world a visit to Fushimi Inari Taisha Shrine in Kyoto is a major bucket list item during a trip to Japan.
The most-visited shrine in Japan contains many secrets just waiting to be discovered.
Here is what you must know to ace your visit to Fushimi Inari in Kyoto!
There are over 10,000 Torii (Gates) at Fushimi Inari-Taisha Shrine
Fushimi Inari-Taisha Shrine is world-famous for its Torii (Gates). By the way, once you visit Japan, you will realize that they are the iconic image of Japan! It is said that there are over 10,000 Torii at Fushimi Inari. However, some sources claim that the number of Torii at Fushimi Inari is closer to 30,000.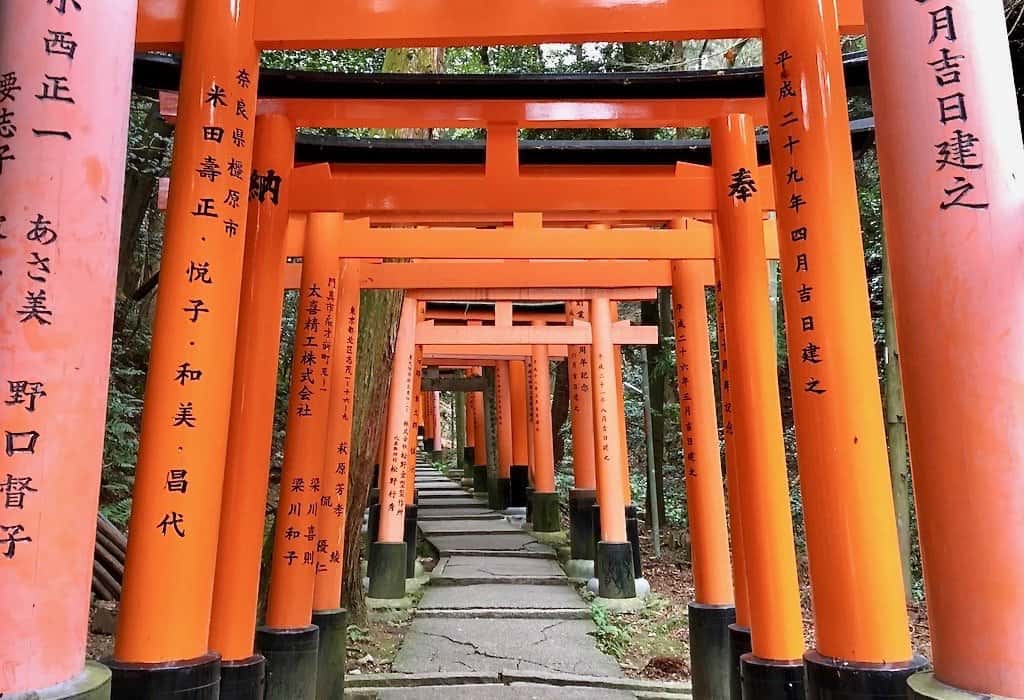 Torii are said to be the division between the physical and spiritual worlds.
They are donated by worshippers and they come in different sizes. The cost of Torii depends on its size. The large Torii could cost over one million yen.
Each Torii is inscribed with a donors name, alongside with their wish for health, wealth and prosperity.
Notably, each Torii gate lasts about 5 years. However, during that time it needs to be constantly maintained.
Torii are painted vermillion color, which is an orange-reddish color
The vermillion color is called shuiro in Japanese. Torii are painted with this distinct shade of red. To me, it looks to like a brilliant red or scarlet, but to some it appears as orange-reddish color.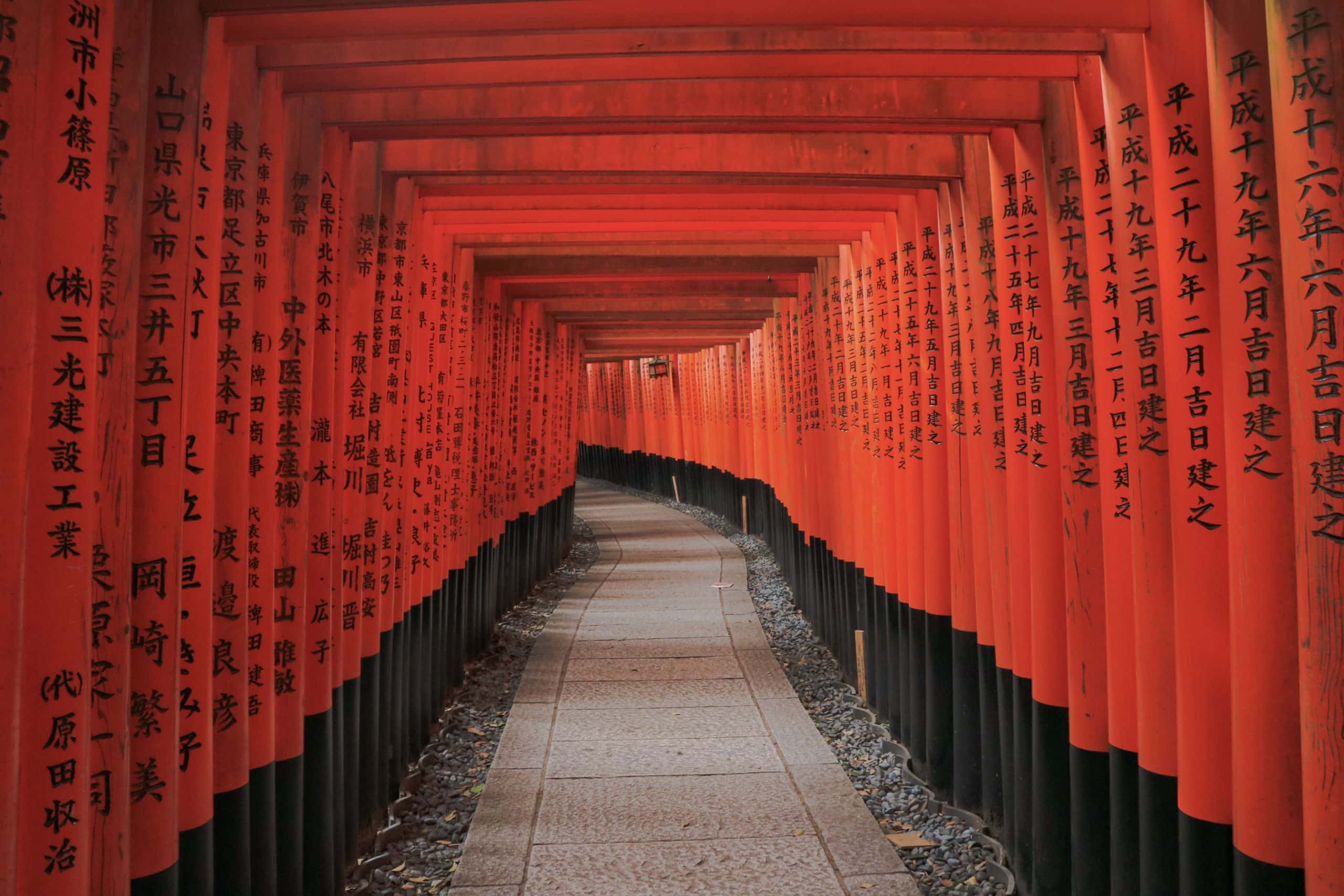 Originally, the vermillion pigment was made from powdered mineral called cinnabar. The pigment was used in the art and decoration in Ancient Rome, in the illuminated manuscripts of the Middle Ages, in the paintings of the Renaissance, and in the art and lacquerware in China.
In Japan, the vermillion color is meant to represent the color of the sun and the goddess Amaterasu which is the goddess of the sun. Amaterasu is the most important deity in Shinto religion.
In addition, the vermillion color in Shinto religion is supposed to expel evil spirits, obstruct magical powers and fend against diseases. It serves as a protection against misfortune and calamity.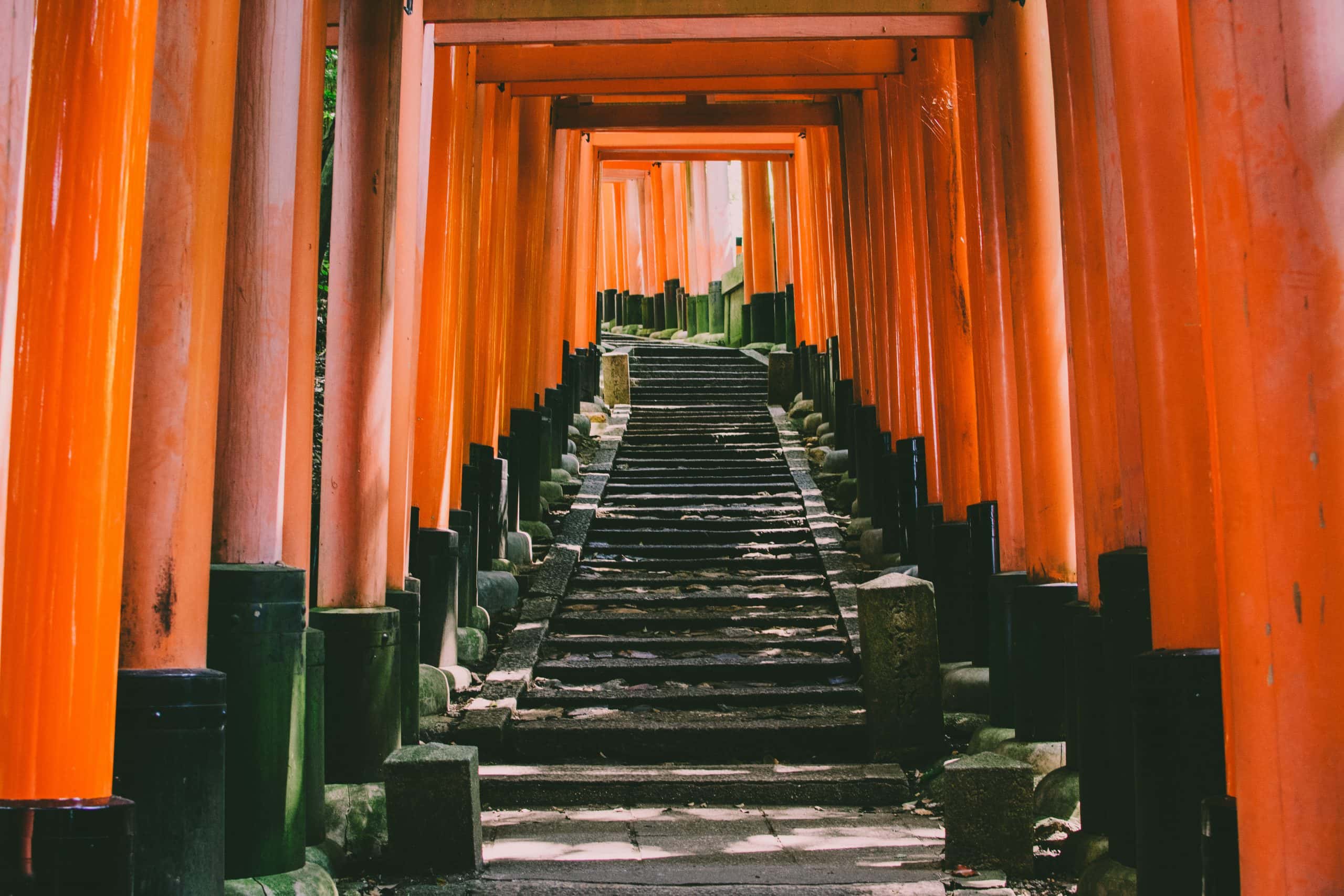 The Shinto god of business is now worshipped at Fushimi Inari
Fushimi Inari Shrine was dedicated to the Shinto gods of rice and sake. Yet people do not come here to play homage to these gods anymore, but rather the Shinto god of business is worshiped here.
Hence, thousands of torii gates are presented by the individuals and businesses grateful for their luck and prosperity and hopeful for more good fortune.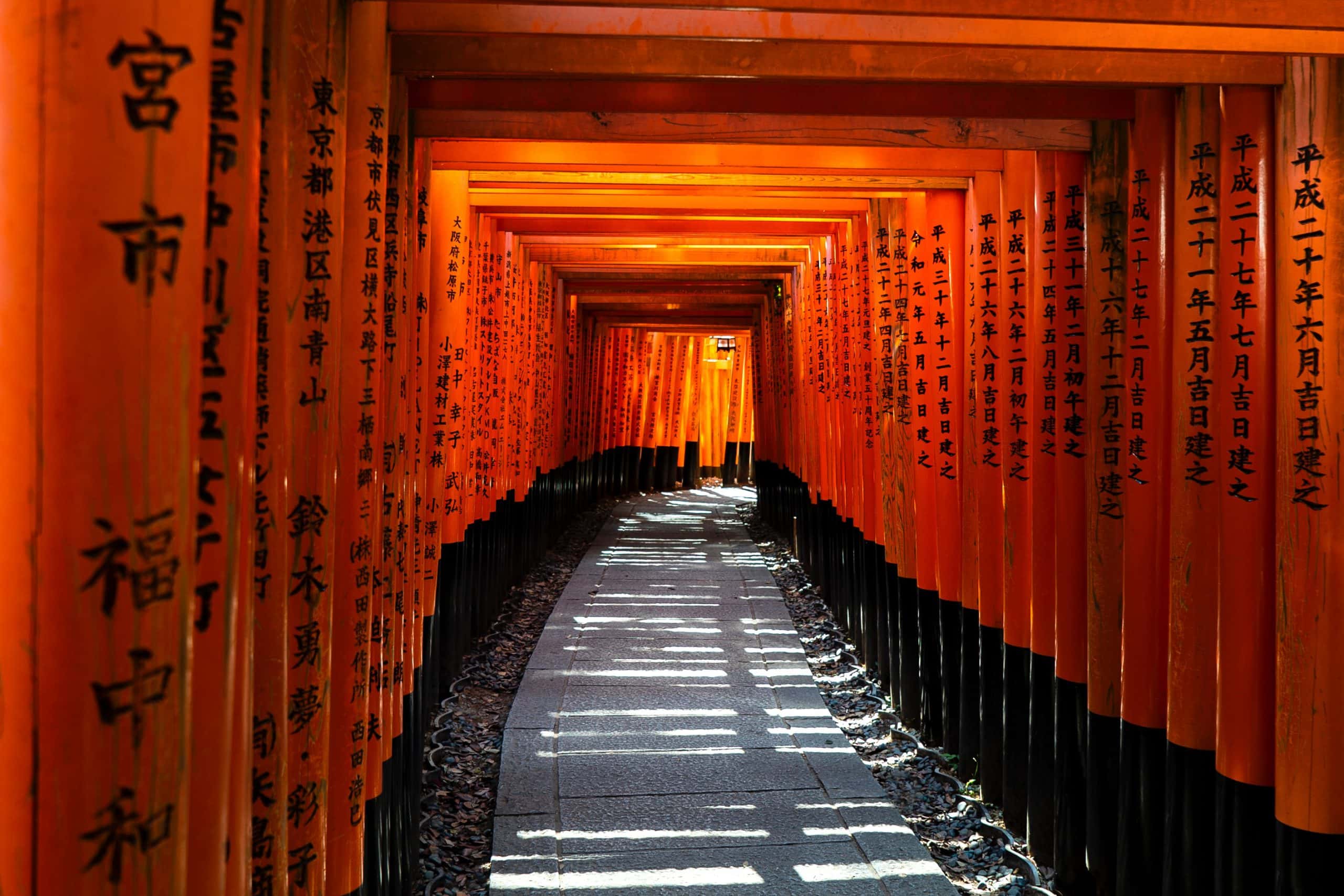 There are literally hundreds of fox statues at Fushimi Inari Shrine
There were hundreds of fox statues at Fushimi Inari. They are called kitsune in Japanese.
They are the messengers for the gods.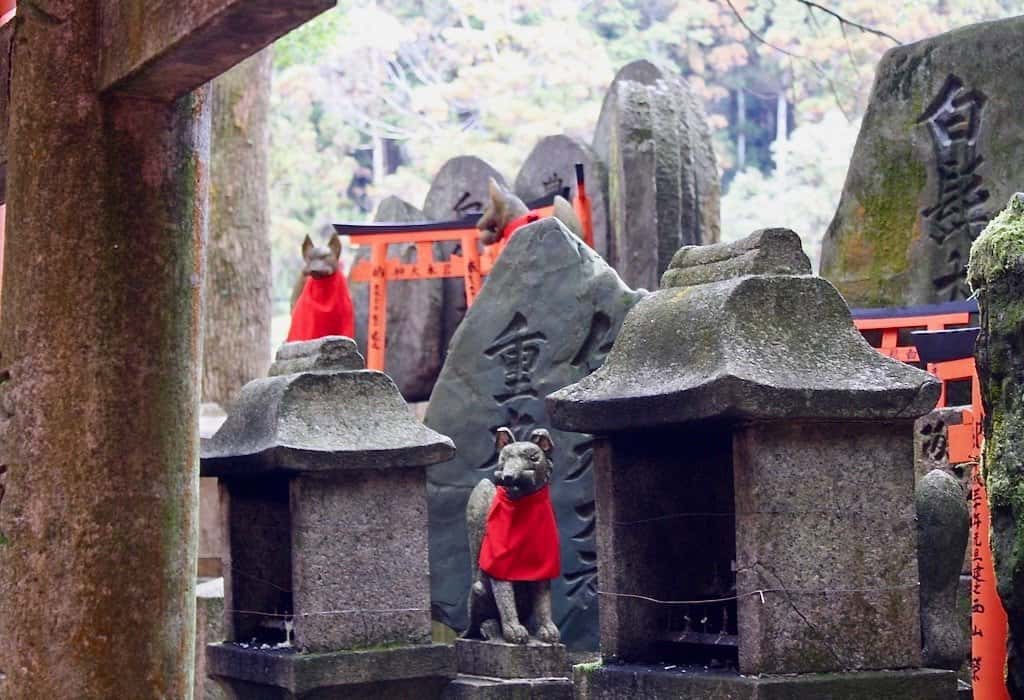 Some of the foxes that I saw, held a key in their mouth. The key represented their ability to unlock the rice granary and bring forth sustenance. Some foxes had a scroll, which meant that the fox would bring wisdom to the recipient. Some had a bamboo, which symbolized plentiful harvest. Some held an orb, which meant spiritual power.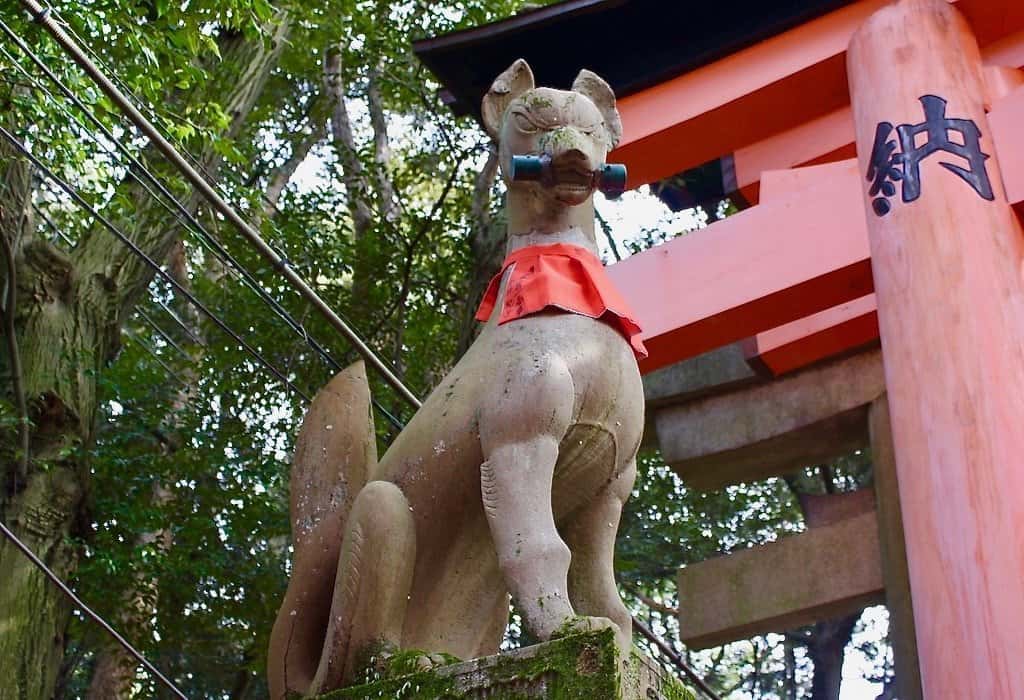 Fushimi Inari-Taisha Shrine had to be moved to the base of Inari Mountain
Currently, Fushimi Inari Shrine sits at the bottom of the Inari mountain.
However, originally, when it was built in 711, it was positioned higher up on the mountain. To protect it from the earthquakes, it was moved to the base of the mountain in 816.
A beautiful, the two-storied Romon gate dominates the shrine's entrance. The Romon gate was built in 1589 by the most famous samurai Toyotomi Hideyoshi.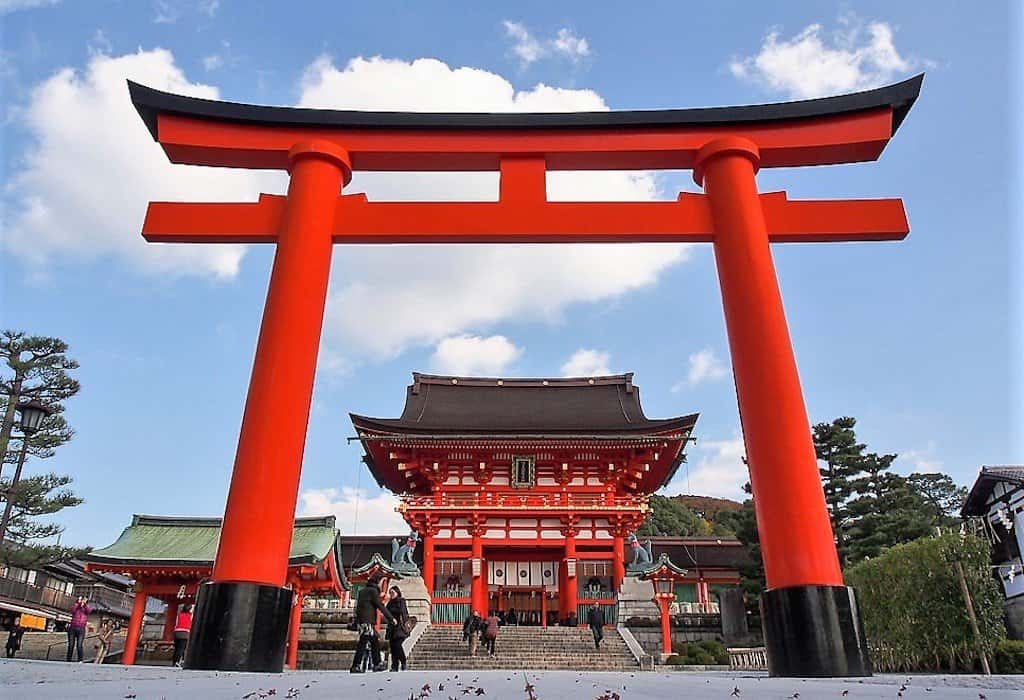 Fushimi Inari-Taisha Shrine has honden which is the main hall and right next to it is haiden which is where offerings are made. Here, the visitors can say their prayers.
Origami Cranes strung together on strings tell a fascinating story
Torii might be Fushimi Inari's most famous attraction, but many people do not realize that origami cranes are just as important. You will find them along the way as you are exploring Fushimi Inari.
The Japanese word, origami is a combination of two words: ori means to fold and kami means paper. It is believed that Japanese origami began in the 6th century and because of the high costs of paper, origami was only used for religious ceremonial purposes.
Don't have time to read it now?
Save it to your Pinterest board!
In Japan, the crane is a mystical creature and is believed to live for a thousand years. It represents good fortune and longevity. The Japanese refer to the crane as "the bird of happiness". The wings of the crane were believed to carry souls up to paradise.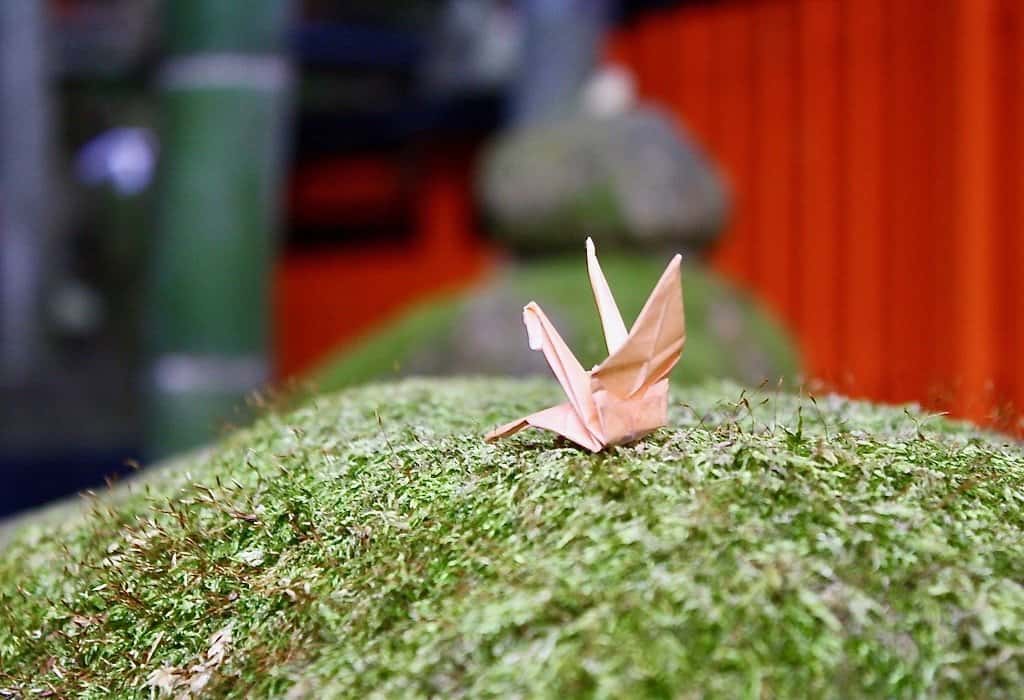 Traditionally, it was believed that if one folded 1,000 origami cranes, in Japanese called senbazuru, one's wish would come true. It has also become a symbol of hope and healing during challenging times. The cranes are strung together on strings – usually 25 strings of 40 cranes each – and given as gifts.
A famous story about senbazuru is that of Sadako Sasaki. Sadako was a little girl who was exposed to radiation as an infant when the atomic bomb was dropped on Hiroshima. Although she survived the bomb, she was diagnosed with leukemia by the age of 12.
She decided to fold 1000 cranes, hoping that her wish to live would come true. Unfortunately, she only was able to fold 644 cranes before she passed away. Her classmates then continued to fold cranes in her honor and she was buried with a wreath of 1,000 cranes to honor her dream.
There is a statue now of Sadako in Hiroshima Peace Park – a little girl standing with her hand outstretched, holding a paper crane. Every year, thousands of wreaths of senbazuru are draped over her statue.
Hiking fans can embark on Fushimi Inari-Taisha Shrine hike
Once you pass by the main shrine, you will be able to embark on Inari Mountain hike. It is an easy hike that winds around the mountain.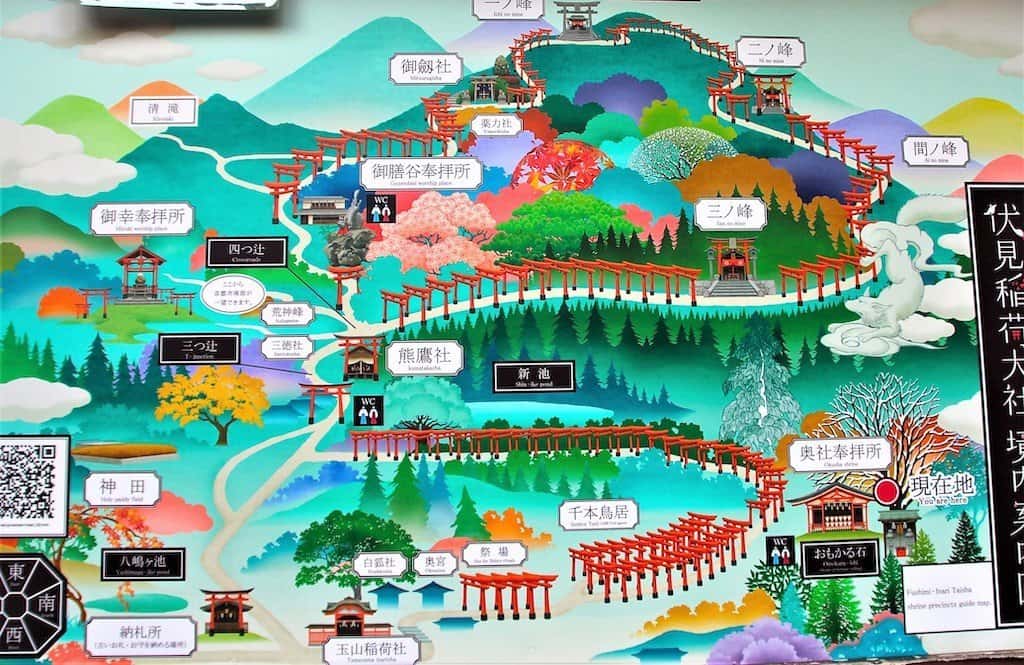 Right from the start, you will have to make a decision whether to choose the path on the left or right-hand side. Each path starts with a row of Torii.
But, no matter which path you take, they will both lead you to the inner shrine positioned right about half-way through the hike.
When you reach the first station – Okusha Hohaisho, the inner shrine of Fushimi Inari, dedicated to the god of rice and sake by the Hata clan in the 8th century, you will see a box in front of the shrine and bells hanging from the awning.
If you throw a coin into a box and ring the bell, it is believed that these bells will summon kami – spirits, gods worshipped in the religion of Shinto, and let them know that you are here.
Besides the shrine, you will find omokaru ishi – 'light heavy stones'. Here, you can place a coin in the box, make a wish and then pick up the stone from the pile. If the stone is lighter than you thought, then the wish will be granted.
Inside the shrine, you will see ema – plaques in the shape of foxes' face. The worshippers draw the fox faces and give them different expressions. They write their wishes and prayers on the back of the ema.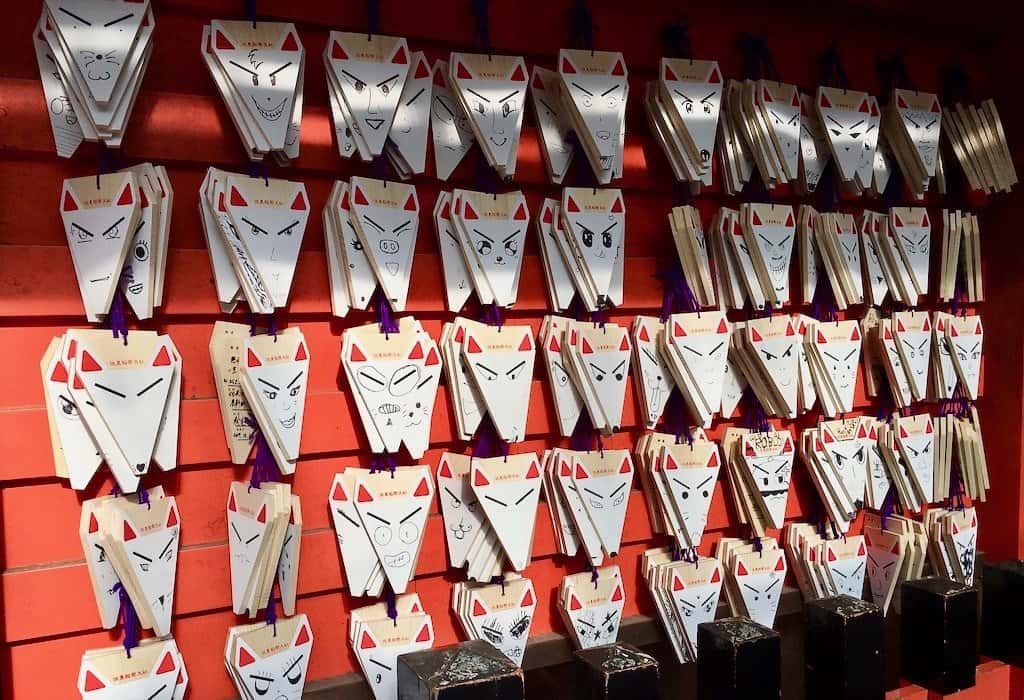 Next, as you continue your hike, you will reach Kumatakusha. Here, you will get a great view of a tunnel of torii gates from outside of it. You will be able to see how densely they were packed.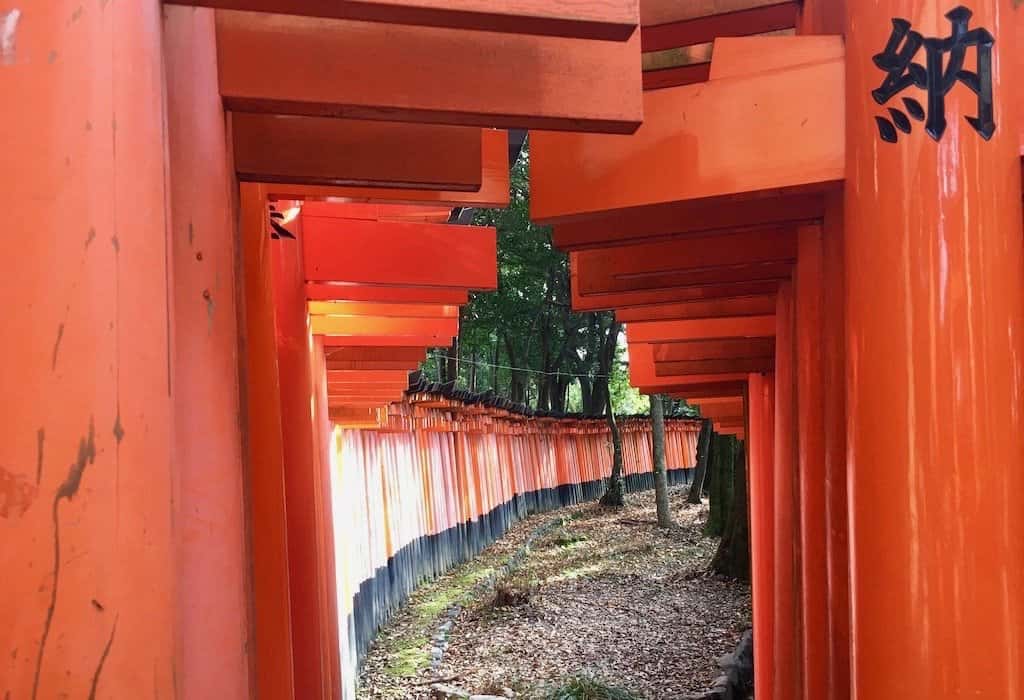 And soon, you will be rewarded with the view of the most beautiful lake. The legend has it that if you face the lake and clap your hands – you will hear an echo come back to you. Listen carefully for which direction the echo returns. If you follow in that direction, it will lead you to someone who has lost their way.
Next, you will reach Yotosutsuji intersection, which is pretty much half way up the mountain. There you will be able to enjoy some outstanding views over Kyoto.
Pretty soon, you will get to the Kamino-Yashiro shrine, which is situated at 233 meters above the sea level. And, at that point, you will reach the top of the mountain.
In the main hall of the Kamino-Yashiro shrine, you will came across a place to buy omikuji – fortune-telling paper strips, which are notorious for being extremely accurate. That is one of the main reasons why people make the hike to the summit.
But be warned: not all of them are good fortunes. The fortune that one is granted can range from having a great blessing to a great curse. If you receive a bad fortune, do not keep it. Tie it to a tree or the wire fences outside the shrine, this way you will leave the fortune behind.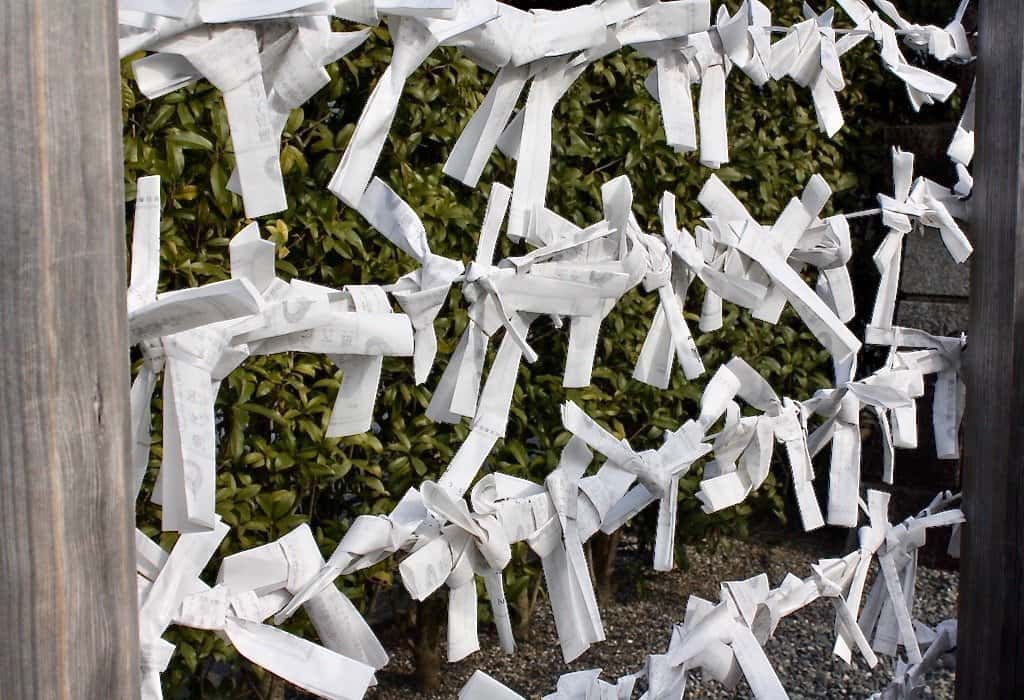 Aburaage (fried tofu topping) is supposed to be kitsune (foxes) favorite food
As I was leaving the shrine and heading back, I passed by some sweet shops. I had their most famous treats: tsujiura senbei – a fortune cookie and a roasted dango, which is a Japanese dumpling made from mochiko – rice flour.
In addition, I had Inari sushi – fried tofu around sweetened rice and Kitsune udon – noodle soup with aburaage – fried tofu topping. Aburaage is supposed to be the foxes' favorite food.
Many visitors come back and tour Fushimi Inari at night
If you are brave enough, then I am recommending that you come back and do Inari Mountain hike at night.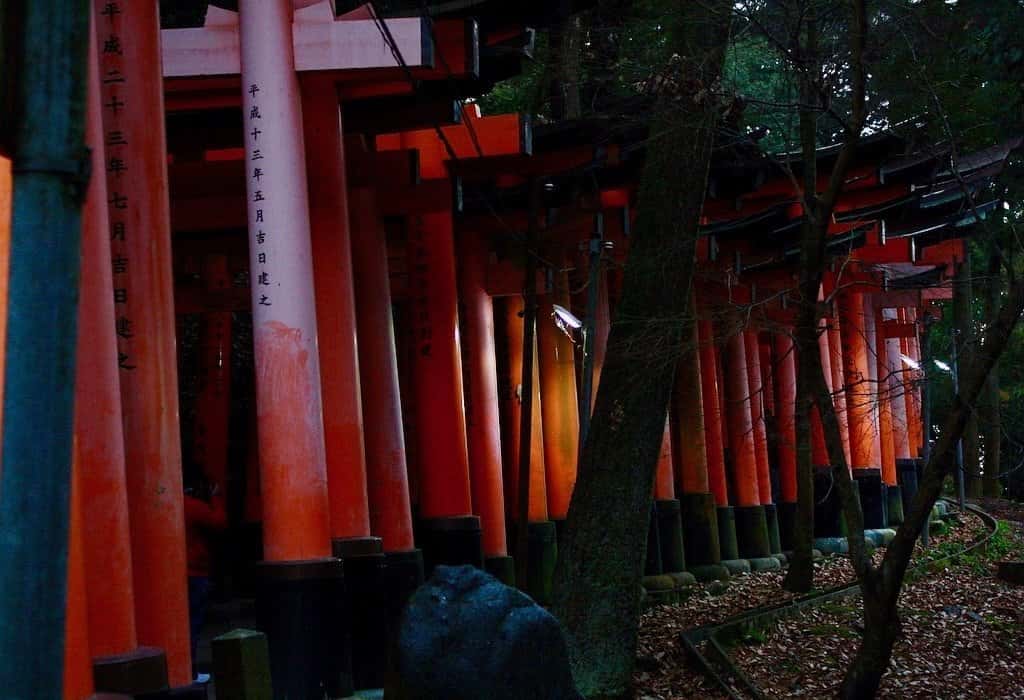 Needless to say, I found it a bit scary at night. However, I do not regret wondering through the place in semi-darkness. You pretty much have the place all to yourself! And, you get to take some awesome pictures.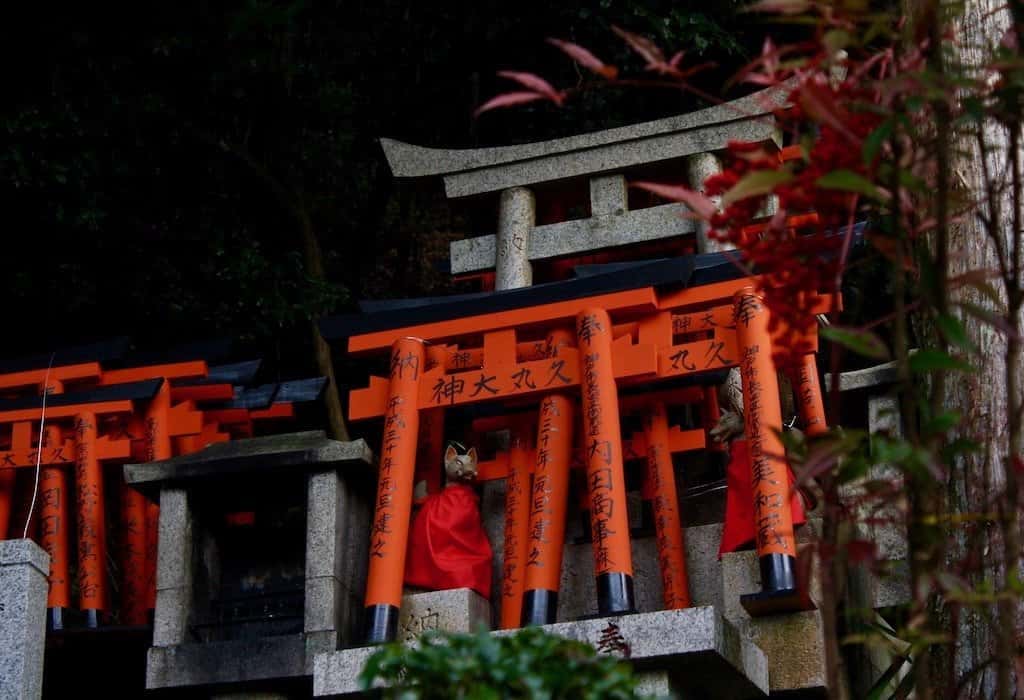 If I were to do it again, I would say that it was 100% worthwhile.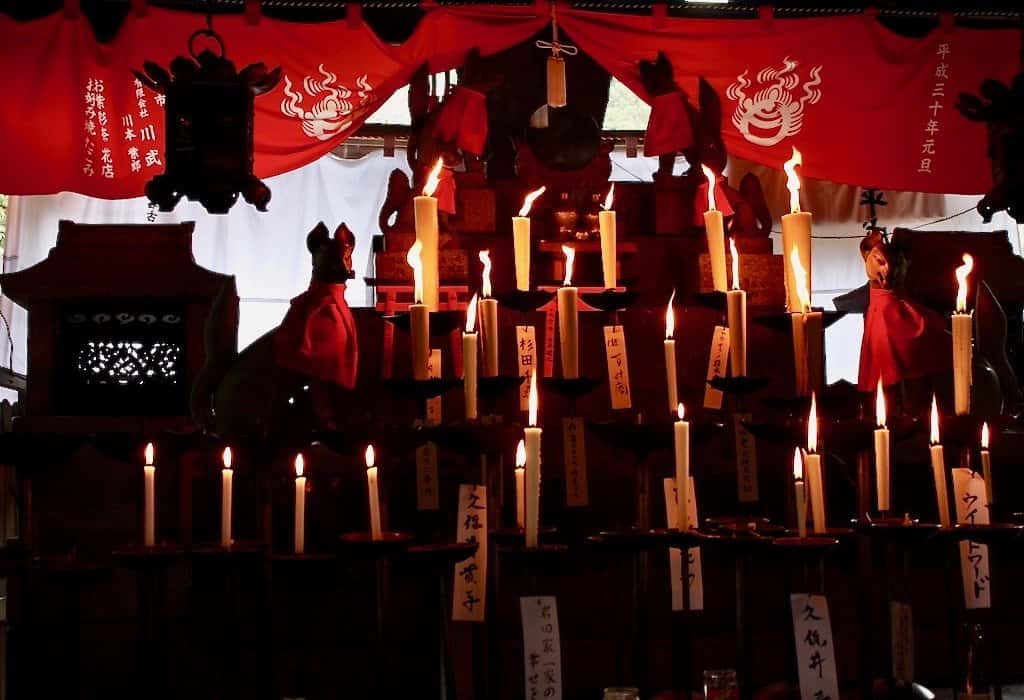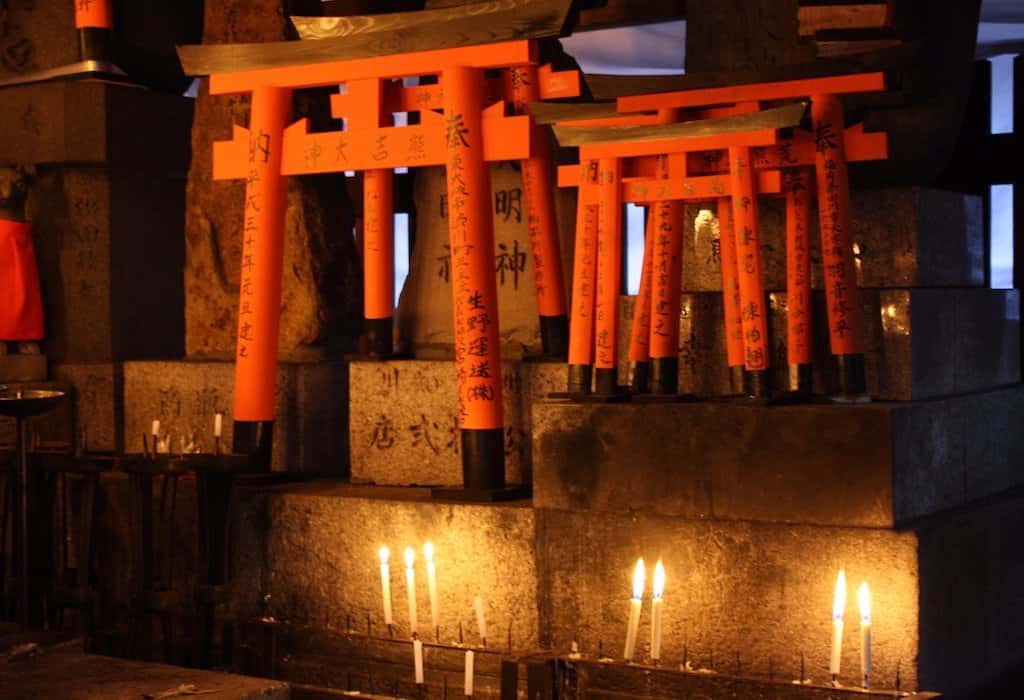 How to get to Fushimi Inari-Taisha Shrine
Getting to Fushimi Inari was not hard. I took the train along the JR Nara Line from Kyoto Station and got off at the Inari Station, which was the second station from Kyoto. It was a short ride, maybe 5 minutes at the most. I used my JR Pass for this ride. If you do not have a JR Pass, just buy a ticket from the super-friendly agents at the ticket office or a machine for 140 yen (one way).
Just a note of caution here: there is a number of express trains operating on the JR Nara Line and these trains do not stop at Inari Station. So, make sure to board the train marked Nara.
When I arrived at the station, I immediately noticed the vermillion painted columns all over the platform to replicate the torii gates.
Walking over from the station and looking up the mountain, it did not seem like such a strenuous hike, but it took me 3 hours to make the climb and if you are like me, and like to stop and take hundreds of pictures, it might take you close to 4 hours.
Did you find this useful?
Why not save it to you Pinterest board!
Now, I want to hear back from you?
Are you planning a trip to Kyoto? Is Fushimi Inari on your list of places to visit?
Let me know! Leave me a quick comment right below!
If you are you planning a trip to Kyoto, then look no further, here is a perfect 2-4 days itinerary to help you in your planning process.
Also, click on any images right below to get inspired and to help you plan your trip.