This site uses affiliate links, meaning that if you make a purchase through our links, we may earn an affiliate commission.
If you have just landed in Tokyo, then this is a perfect introductory self-guided walking tour itinerary for Tokyo. You will explore Shibuya and Harajuku.
We will start at the famous Shibuya Crossing and scout the entire area. Next, we will continue on to Harajuku and tour Takeshita Street, Meiji Shrine, and Yoyogi Park. Finally, we will discover Omotesando and do some shopping.
So with no further delay let's dive into Shibuya and Harajuku walking tour! Welcome to Tokyo!
Shibuya and Harajuku Walking Tour Map
Following is Shibuya and Harajuku walking tour map that I will be referring to throughout my post.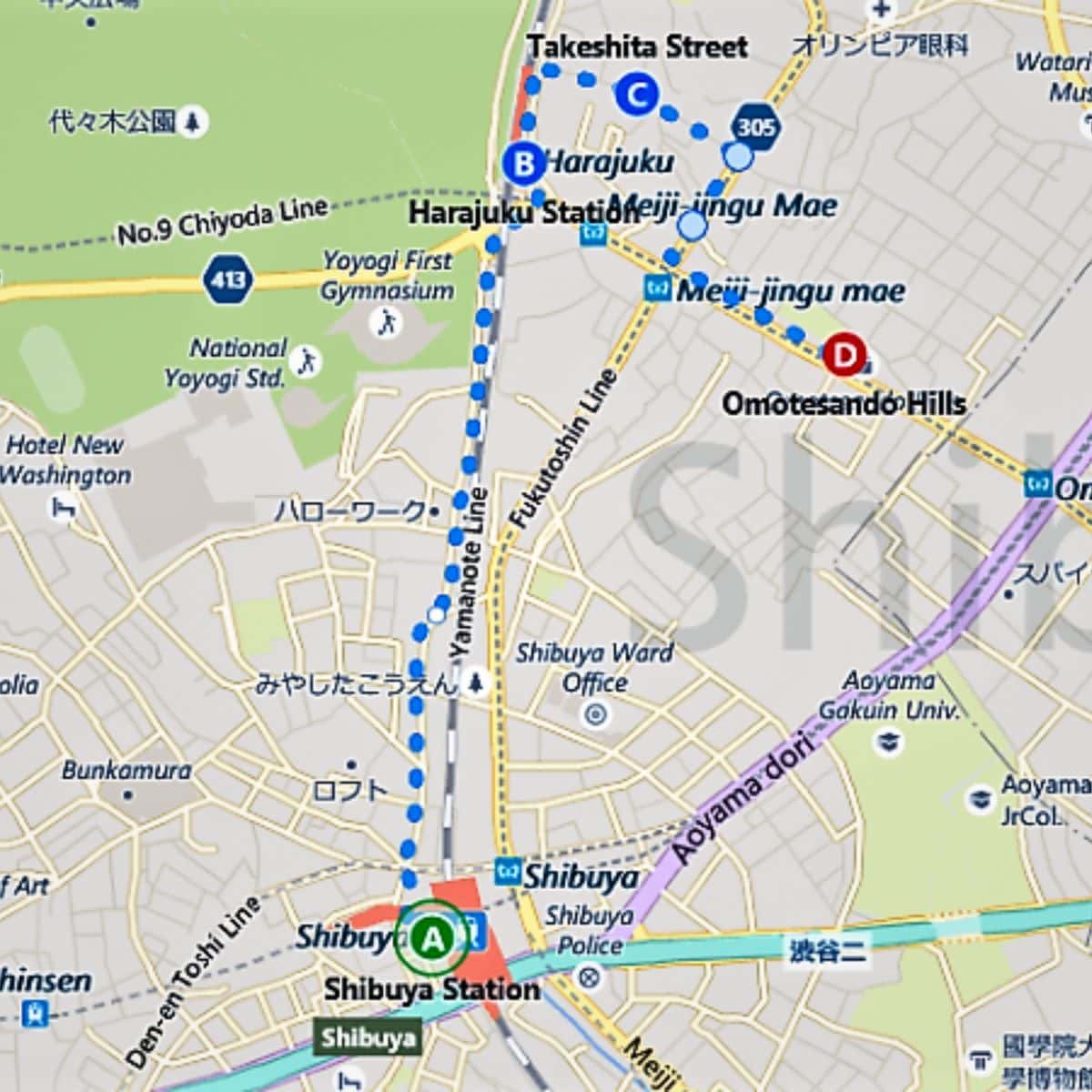 Shibuya and Harajuku Walking Tour Map
Shibuya and Harajuku in Tokyo (1-Day Walking Tour itinerary)
Shibuya and Harajuku tour starts in front of Shibuya Station. Furthermore, Shibuya Station is marked as "A" on the map.
In order to get to Shibuya Station, you can either use JR East or Tokyo Metro. If you are a holder of JR Pass, then you should use the JR East line called Yamanote. It stops at Shibuya Station and the cost of your trip will be covered by the pass. If you are going to use Tokyo Metro, then there are several lines that will bring you to Shibuya Station. You can use Ginza, Fukutoshin, or Hanzonmon Line.
Notably, Shibuya Station sits in the heart of the famous fashion, shopping, and entertainment district of Shibuya. By the way, the station is the third busiest train station in Tokyo, after Shinjuku and Ikebukuro, with around 2.4 million passenger movements per weekday. However, it is clearly marked and easy to navigate.
Shibuya Station has five exits. The exit you need to take is called Hachiko. I have attached a link to JR East Shibuya Station Map.
When you exit Shibuya Station via Hachiko Exit, you will encounter the famous Hachiko Statue.
As you know from the movie Hachi: A Dog's Tale Hachiko was an extremely loyal dog who kept up his daily routine of waiting for his owner, Professor Ueno, in front of the Shibuya Station even after Professor's death. Consequently, Hachiko was honored with a statue.
By the way, this is a great spot to take some pictures with the famous dog.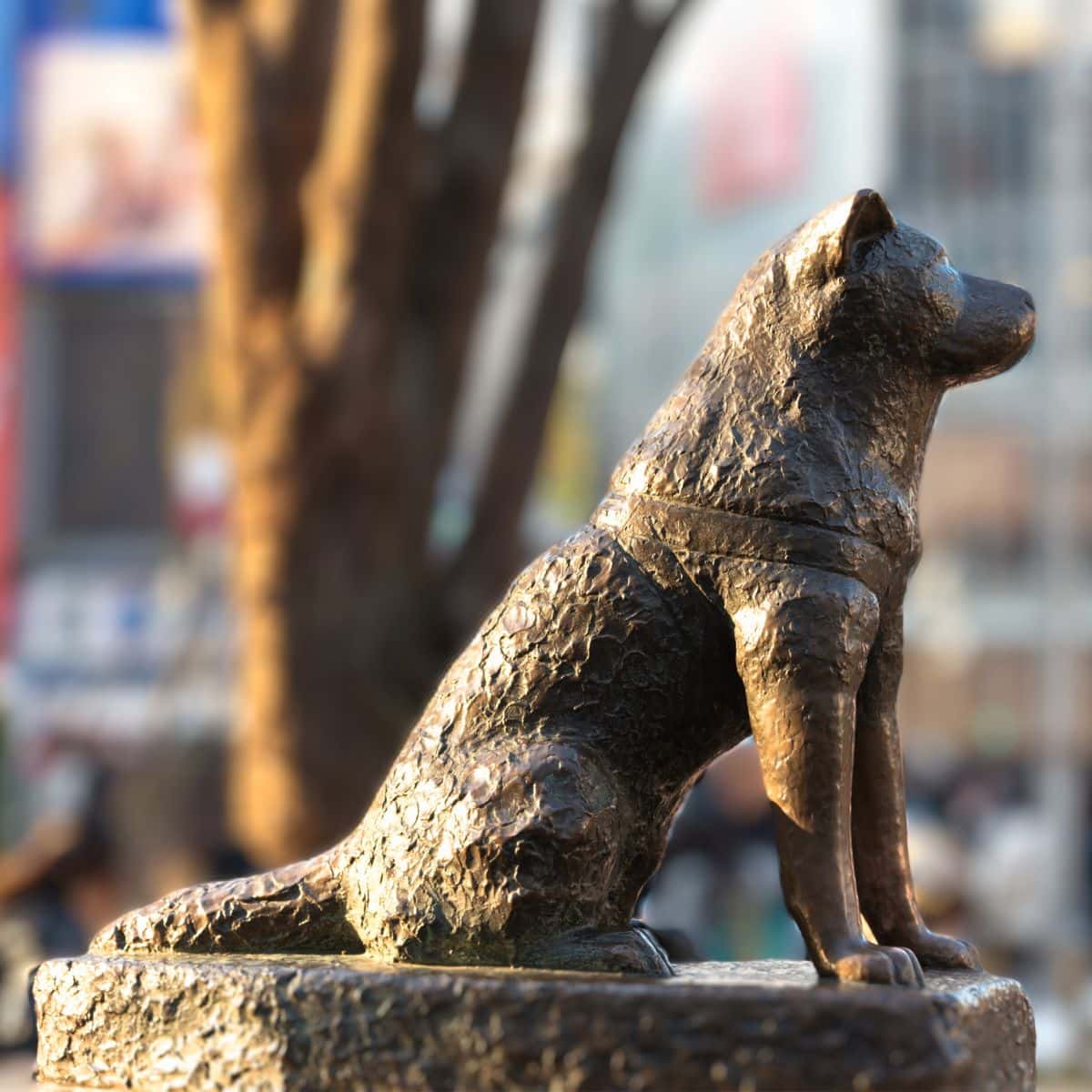 Hachiko Statue / Shibuya and Harajuku Walking Tour
Next, right in front of you will be the famous Shibuya Crossing. By the way, going to Tokyo and not doing the scramble through Shibuya Crossing is like going to China and not seeing the Great Wall, or going to India and not visiting the Taj. It is not a cliché, you must experience Shibuya Crossing in Tokyo.
I would recommend watching a few rounds of the scramble before plunging into the crowd.
Specifically, five streets intersect each other at the Shibuya Crossing. The lights change every two minutes and within these two minutes, large crowds collect at the curb. Once the lights change, the massive flooding of the street starts. It is amazing that everyone finishes on time.
On top of that, Shibuya Crossing is smothered in billboards, and sound commercials, and every size and color of neon lights possible seems to be there.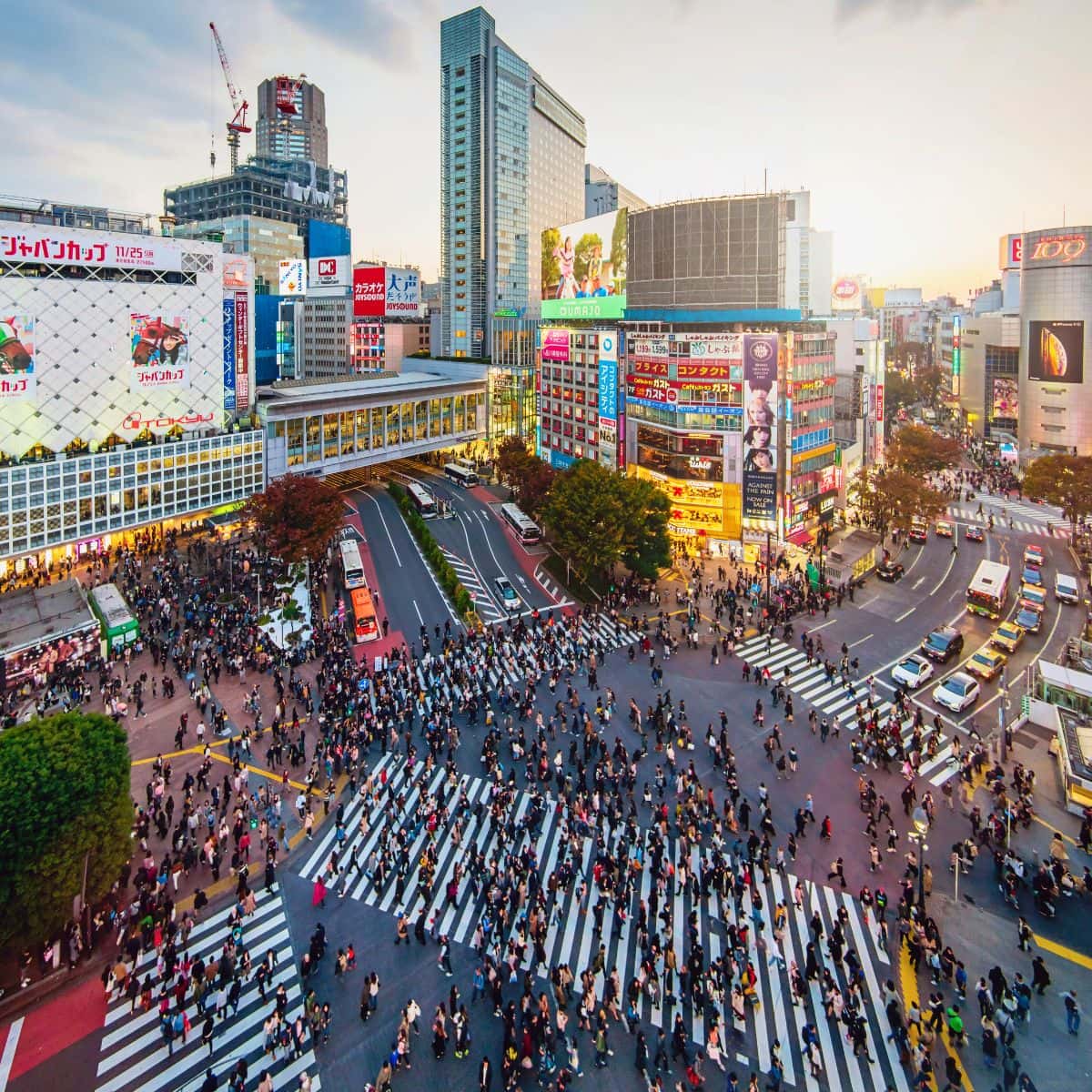 Shibuya Crossing / Shibuya and Harajuku Walking Tour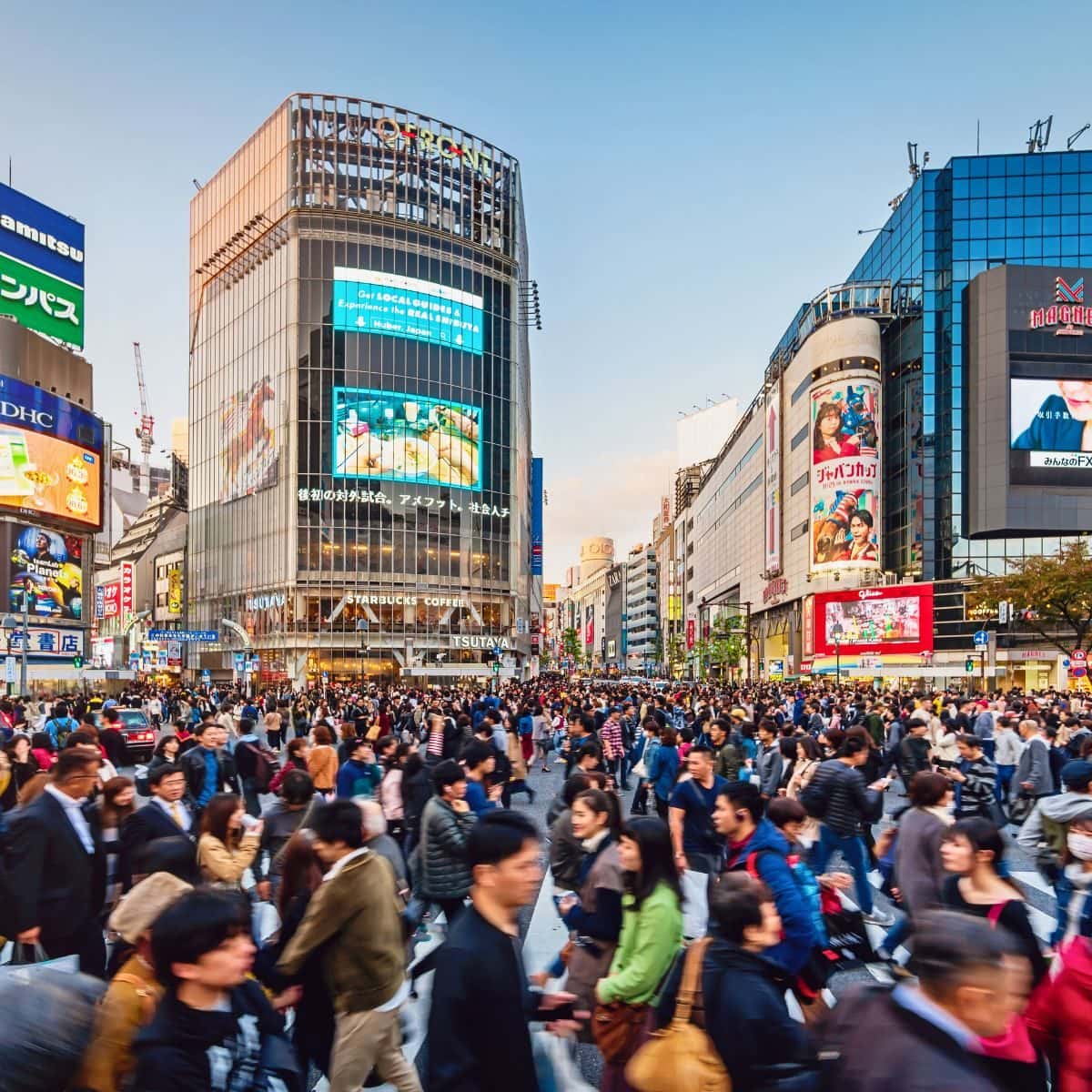 Shibuya Crossing / Shibuya and Harajuku Walking Tour
Across the road from Shibuya Station is Shibuya Center-gai, or Sentagai. It is a short pedestrian street in Shibuya that's famous throughout Japan.
I think that it is the busiest and most youth-focused street in Shibuya.
Shibuya Center-gai is full of neon lights, advertising boards, and giant TV screens. Game arcades, music shops, fast food joints, cafes, and pachinko line up the street.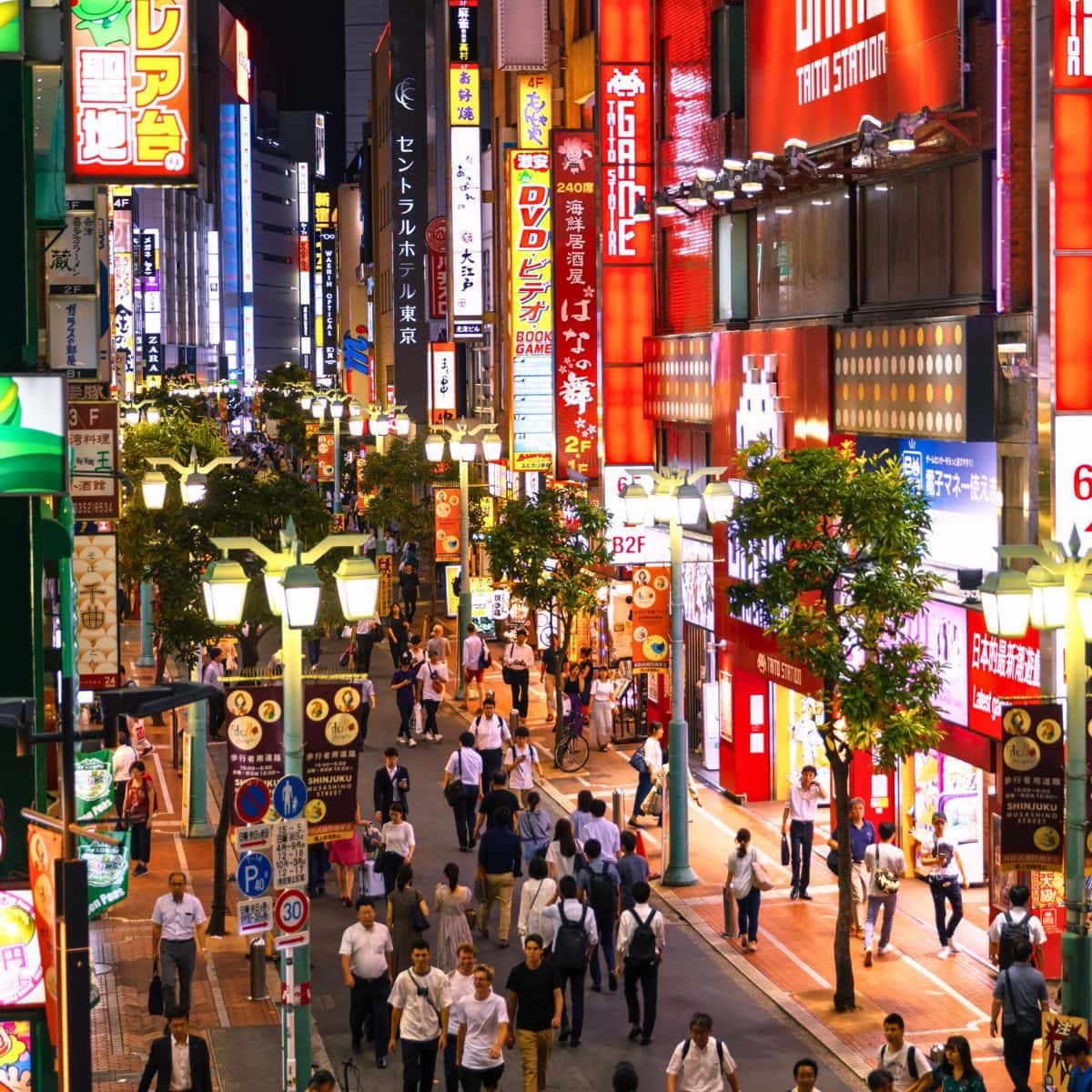 Shibuya Center-gai / Shibuya and Harajuku Walking Tour
Shibuya Center-Gai attracts various Tokyo subcultures. The most visible subculture at Shibuya Center-Gai is Gyaru.
Gyaru is Japanese English for "gal" and Gyaru style is a girly-glam style. Gyaru are trend seekers who change their style every few months. The one constant feature is a Japanese beach style — dark tanned skin and surfer girl hair.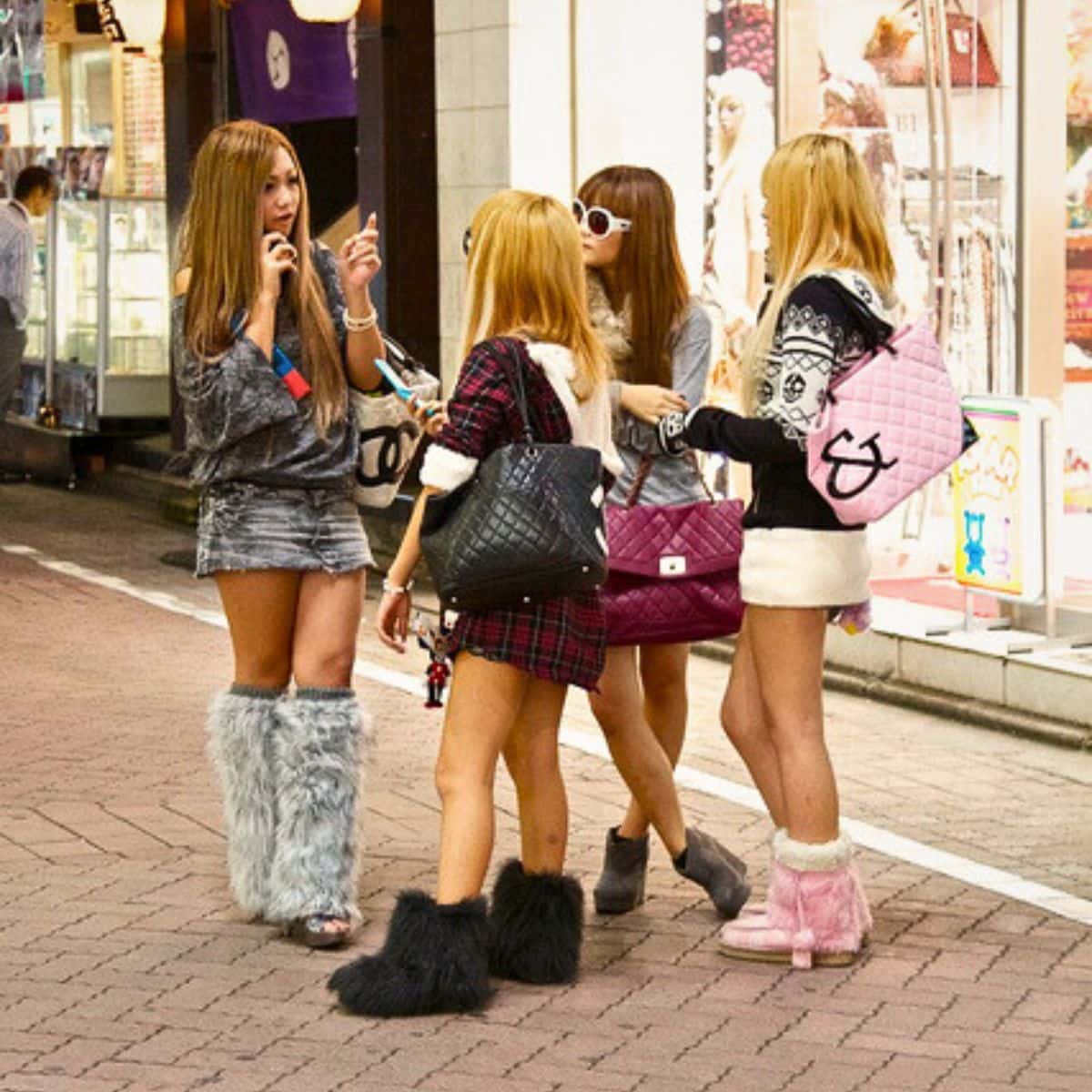 Gyaru / Shibuya and Harajuku Walking Tour
Continue past Shibuya Center-gai and you will reach Hikarie. It is no more than a 10-minute walk. Following is a map that will help you navigate through the area: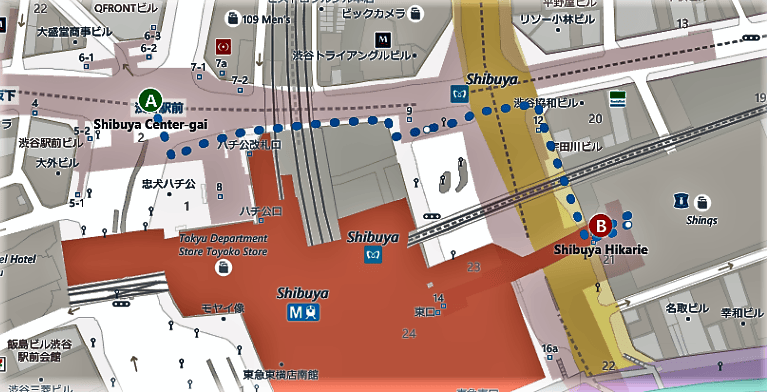 Shibuya Center-gai to Hikarie Map / Shibuya and Harajuku Walking Tour
Once you get to Hikarie, hop on the elevator and go to the Sky Lobby. It is located on the 16th floor. Here, you will get the best views of Shibuya and beyond. In addition, you will find a lot of restaurants here, if you want to get something to eat.
The floors at Sky Lobby are open till 11 pm. It is a fun place to hang out in the evening and catch some awesome views of Tokyo at night.
View of Shibuya Crossing from Sky Lobby at Hikarie at sunset / Shibuya and Harajuku Walking Tour
Now, retrace your steps and head back to the Shibuya Crossing and locate Shibuya 109. A tall building clearly signed – 109.
A visit to 109 is a must. It is a teen girl's paradise, and floor after floor is dedicated to a seemingly endless array of wearable art.
Consequently, ten floors house more than a hundred boutiques; music blares from speakers at every turn, and store associates shout their hearts out trying to lure you in. Furthermore, if you are visiting on a weekend, the place will be jam-packed with shoppers.
Shibuya and Harajuku tour will give you an insight into Tokyo's youth fashion culture and even if fashion is not your thing, it's well worth stopping by Shibuya 109.
Next, continue past Shibuya 109 to Don Quijote ("Donki"). You will not miss it. It is maybe a 10-minute walk.
Shibuya 109 to Donki Map / Shibuya and Harajuku Walking Tour
Don Quijote ("Donki") is a giant discount chain store found all over Japan. It sells all kinds of cool, fascinating, wacky, random, cheap stuff.
I guarantee that you will find something to buy there. The shelves are crammed with goods and the noise level is high with a constant "don don don donki" theme song blasting out of in-store speakers.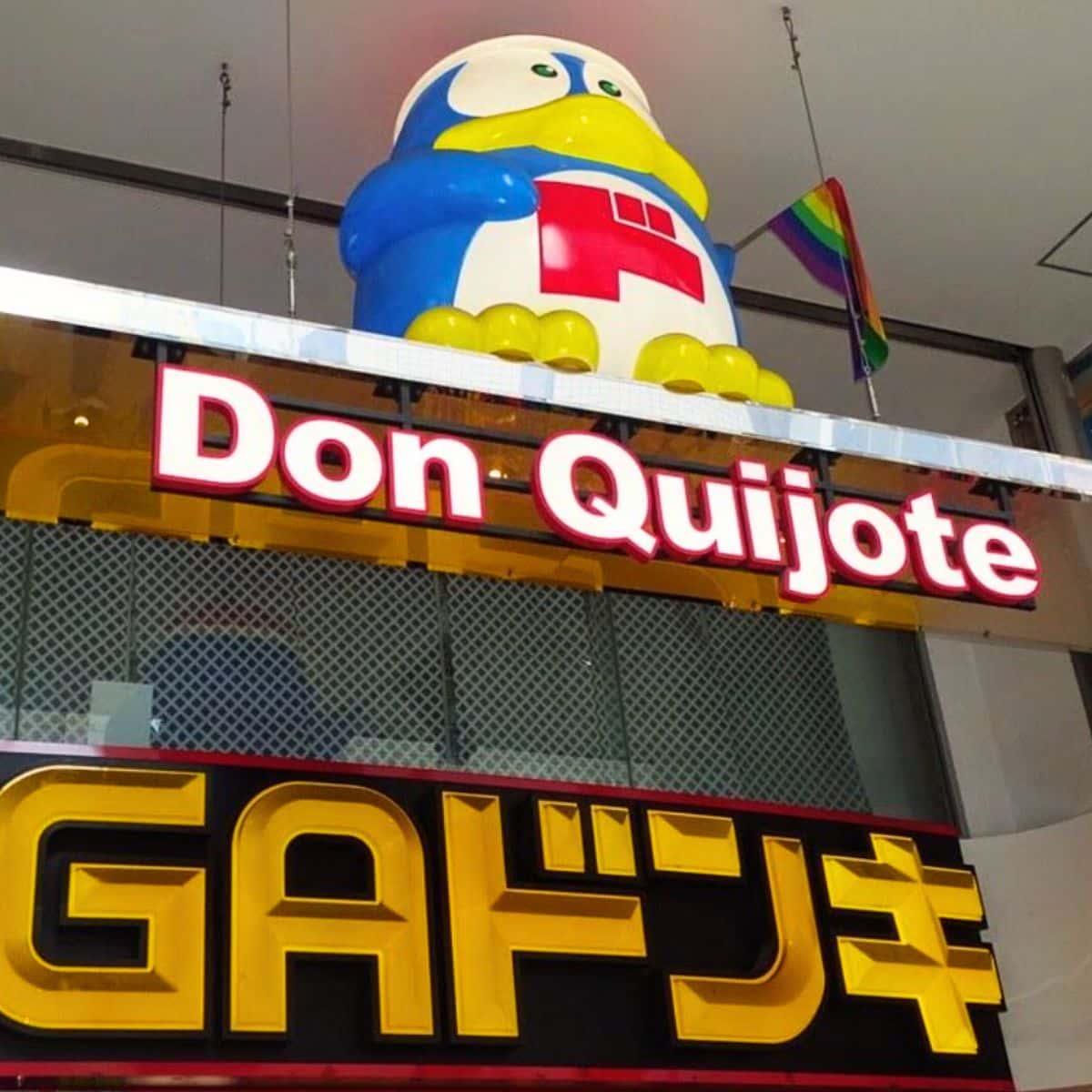 Donki in Shibuya / Shibuya and Harajuku Walking Tour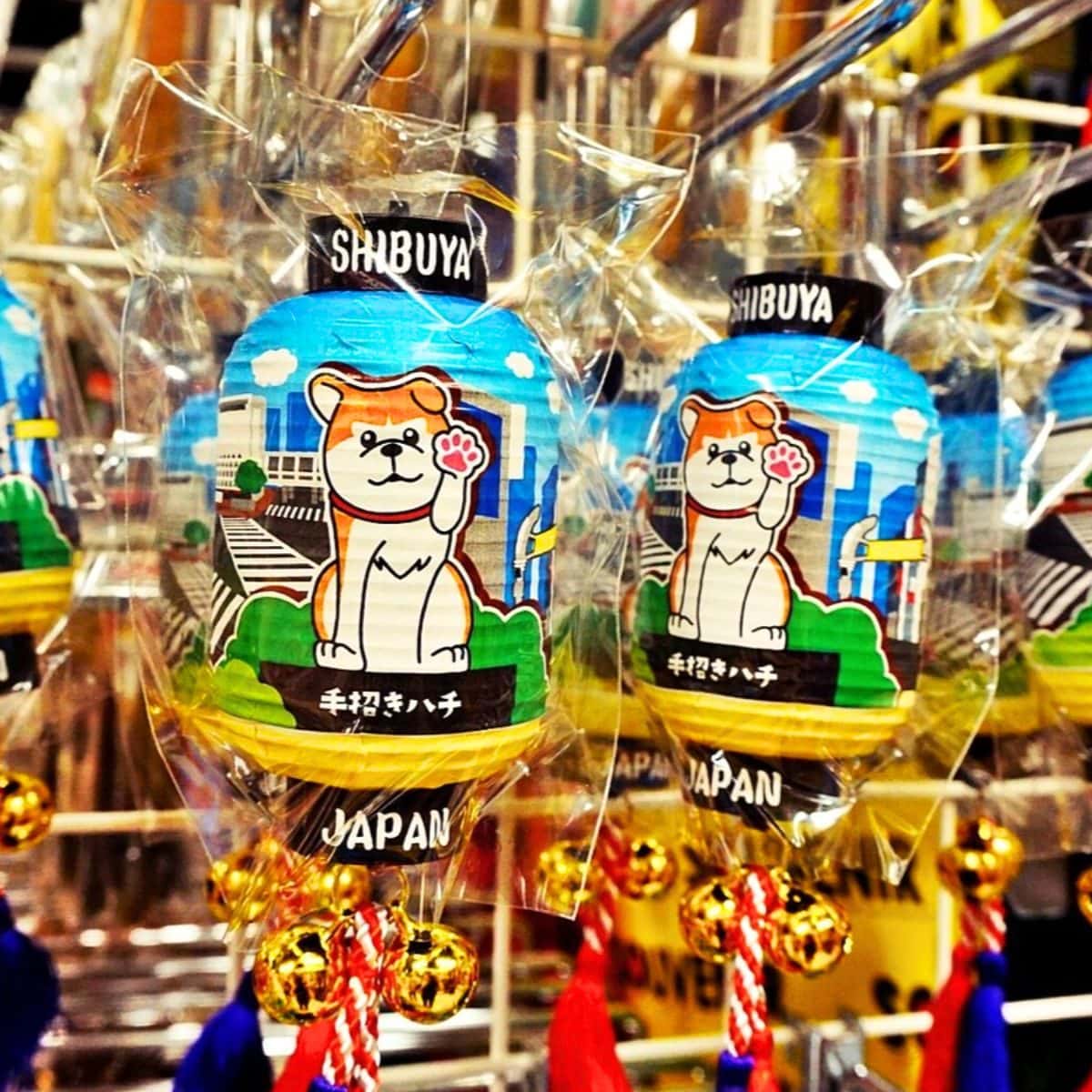 Donki in Shibuya / Shibuya and Harajuku Walking Tour
Now, let's continue our tour and head on to Harajuku. It is about a 20-minute walk from Shibuya Station to Harakuju Station. If the weather is nice, and you feel like walking, then take Inokashira Dori.
If you absolutely do not want to walk, then hop on JR East Yamanote Line and get off at Harajuku Station.
The focal point of Harajuku is Takeshita Street. Notably, the street is narrow and tightly packed with trendy shops, high fashion boutiques, and used clothing stores. Needless to say, every single day of the year, Takeshita Street is extremely busy and jam-packed.
Both locals and tourists love to stroll through this shopping mecca of the world, hang out, and check out the latest trends.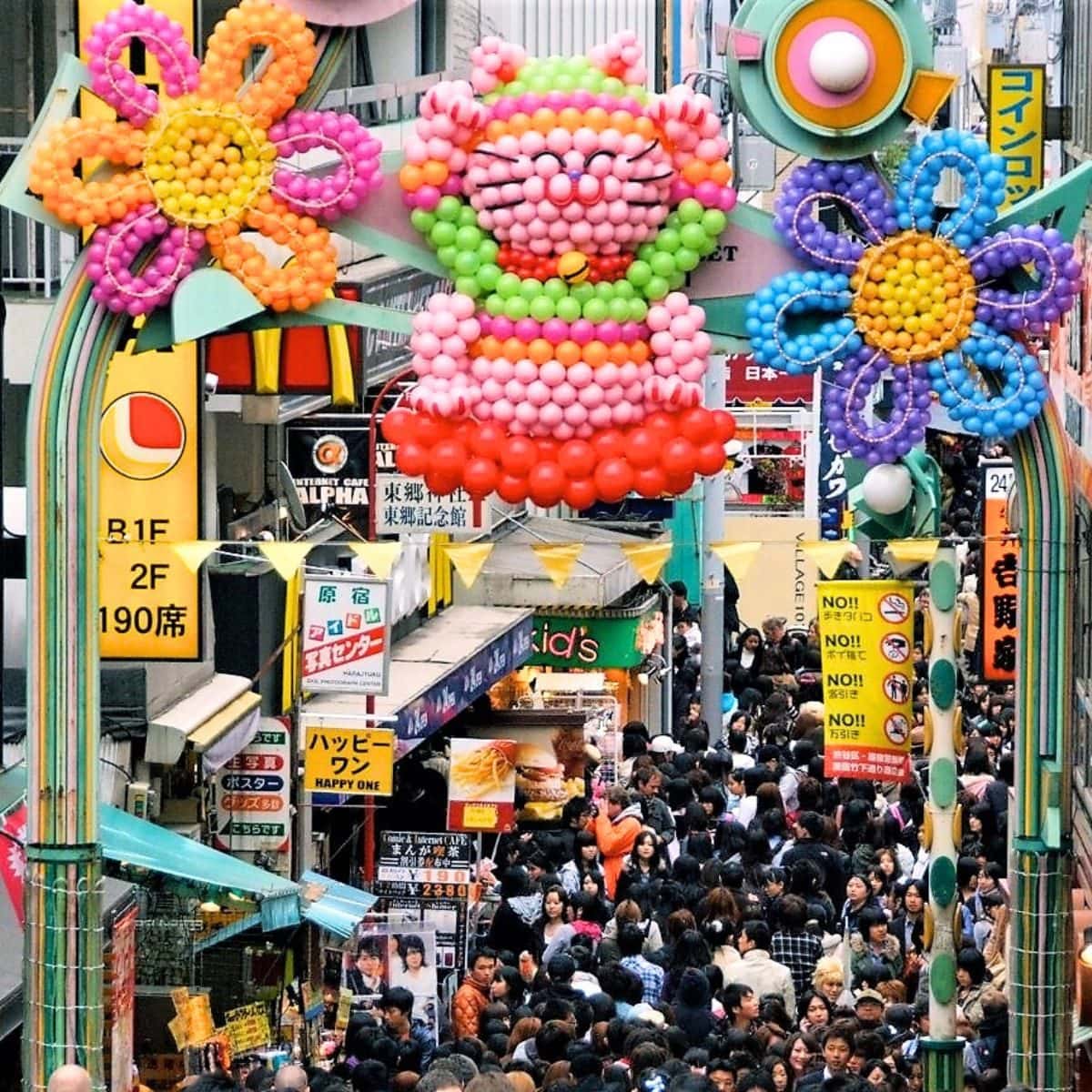 Takeshita Street / Shibuya and Harajuku Walking Tour
Takeshita Street is the birthplace of many of Japan's fashion trends and a symbol of teenage culture. Harajuku Fashion is one of the fashion trends that originated here.
Incidentally, Harajuku's start as a center of fashion and youth culture came after WWII. US Army barracks, called Washington Heights, were built here. Shops that catered to military families followed. This attracted young people curious about Western culture.
In 1964 when the Olympic Games came to Tokyo, Washington Heights became the Olympic Village housing the athletes. People from all over Japan came to Harajuku for a chance to meet the athletes. In 1978, the Laforet fashion mall was opened and it quickly became Harajuku's main attraction. It changed from being a place, into being a concept. Hence, Harajuku Fashion was born. It stood for energy, change, and novelty.
On the whole, trends come and go at lightning speed on Takeshita Street: Decora, Goth-Loli, Cyber-Punk, Mori Girl, the list is endless. Many happen at the same time and influence each other. Often, it is impossible to determine what gave birth to what.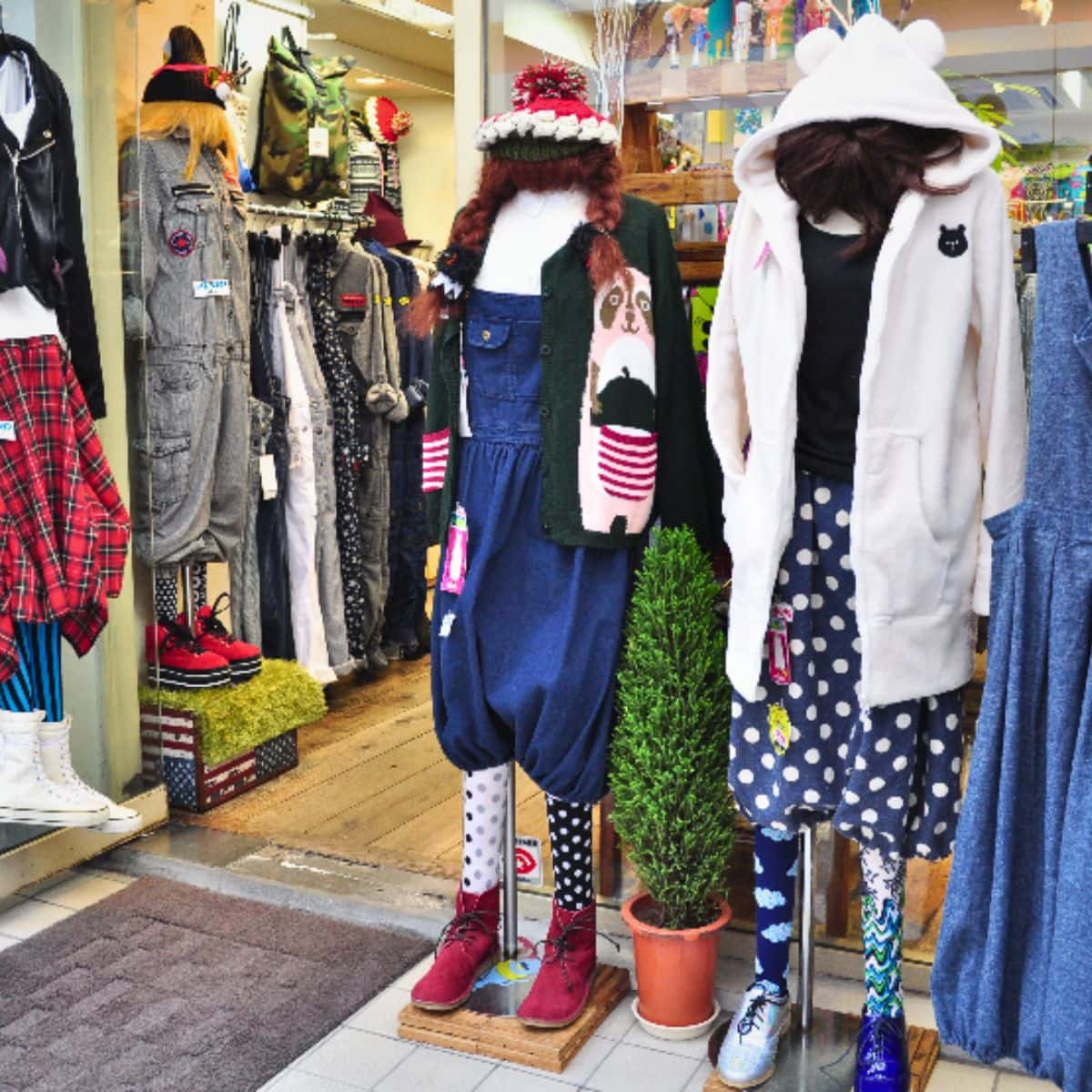 Takeshita Street / Shibuya and Harajuku Walking Tour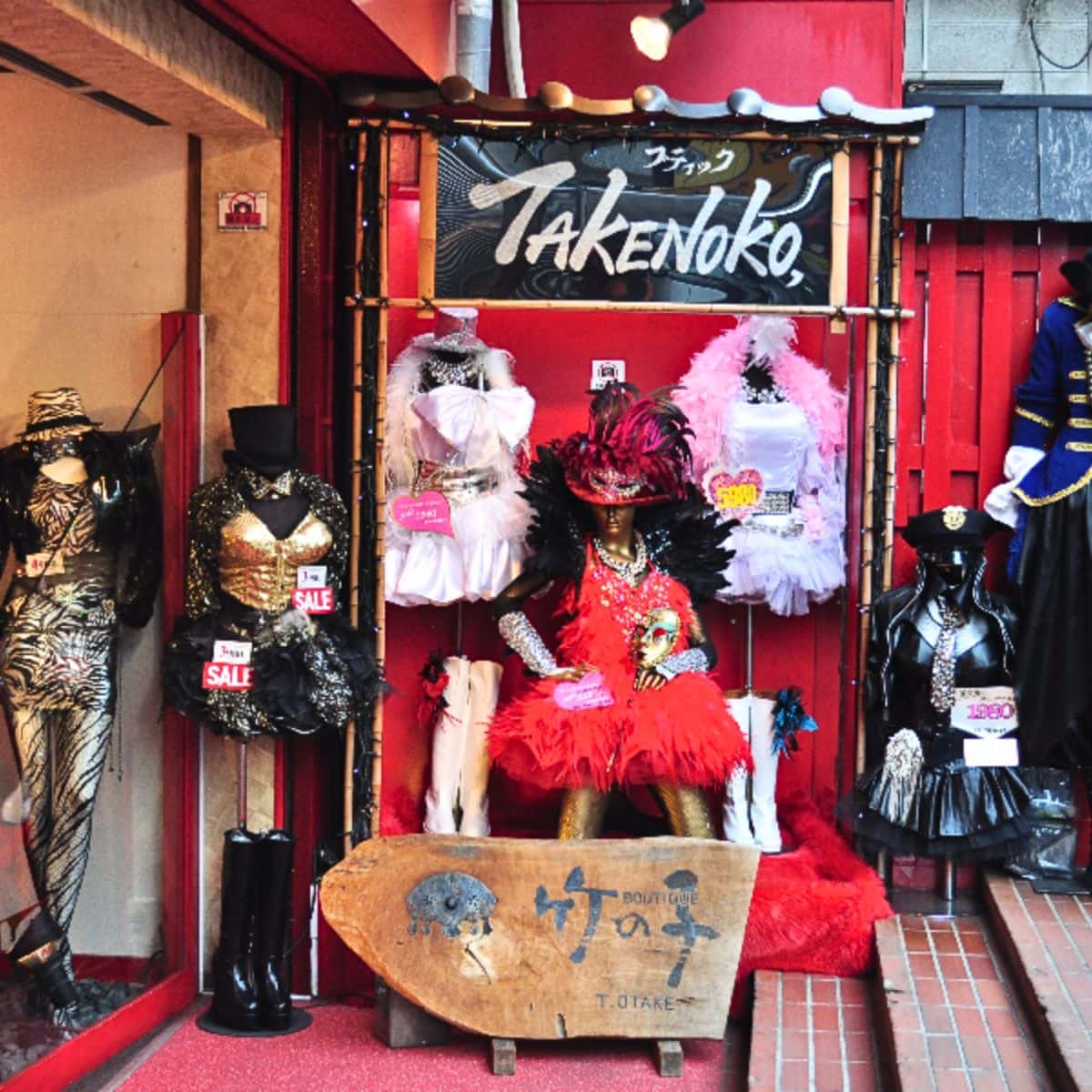 Takeshita Street / Shibuya and Harajuku Walking Tour
Personally, I skipped the high fashion shops and focused on sampling some of the food.
First, you need to head on to Totti Candy Factory and buy their giant cotton candy.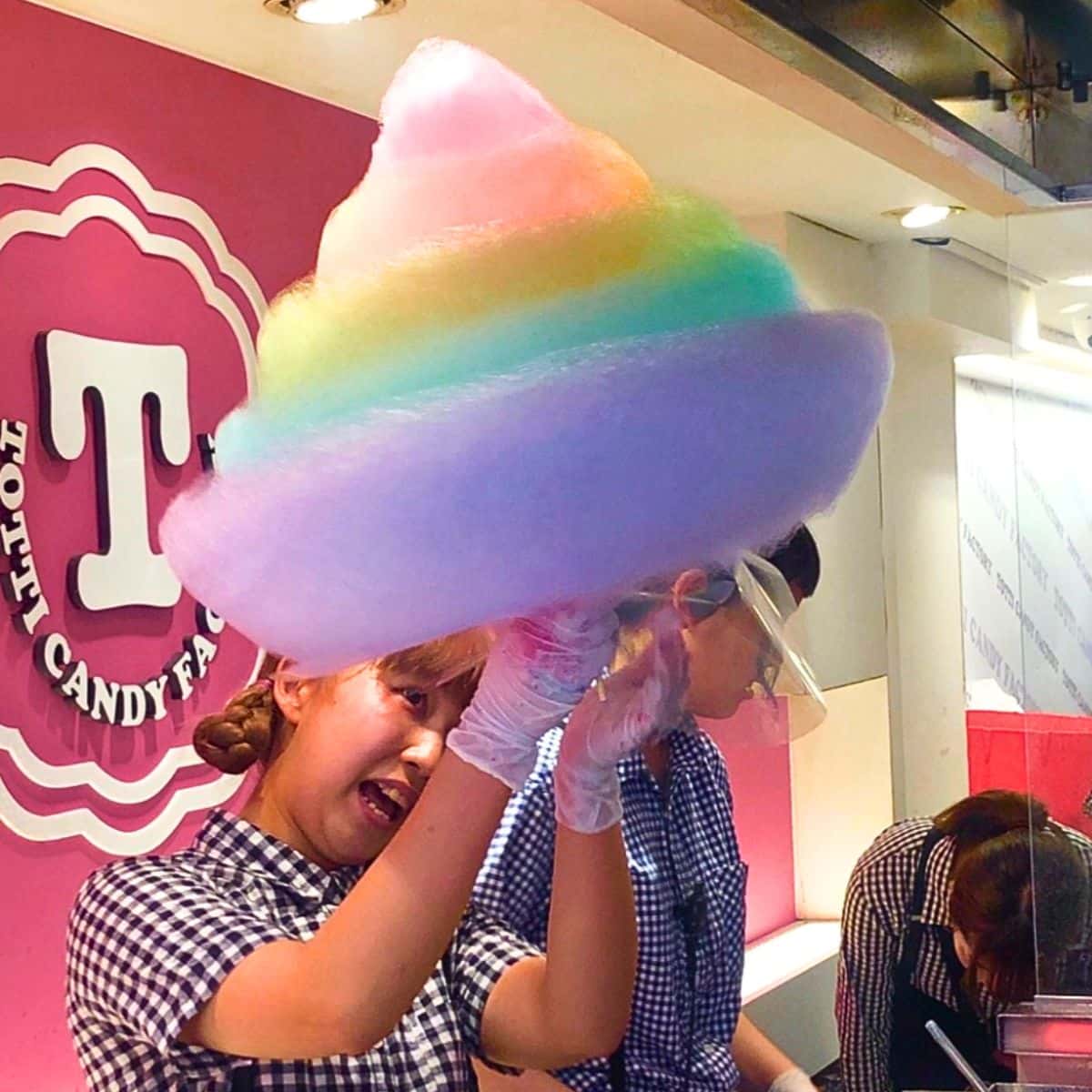 Totti Candy Factory on Takeshita Street / Shibuya and Harajuku Walking Tour
Second, you need to try some crepes!
It is hard to decide which filling to choose from. All of the plastic displays look so good. I usually settle on a crepe with Caesar salad and chicken filling and afterward, I usually have another crepe with cheesecake and raspberry filling. Yummy!
Where do you find the best crepes on Takeshita Street? You have several choices: Angels Heart, Marion Crepes, and Santa Monica Crepes.
And, if you want my opinion, definitely head on to Angels Heart. As they say, the devil is in the details and these people know all about crepes! They make fresh crepes right in front of you and have the best fillings as well. In addition, do not be alarmed by a long line, it moves with lightning speed, because they run the best operation.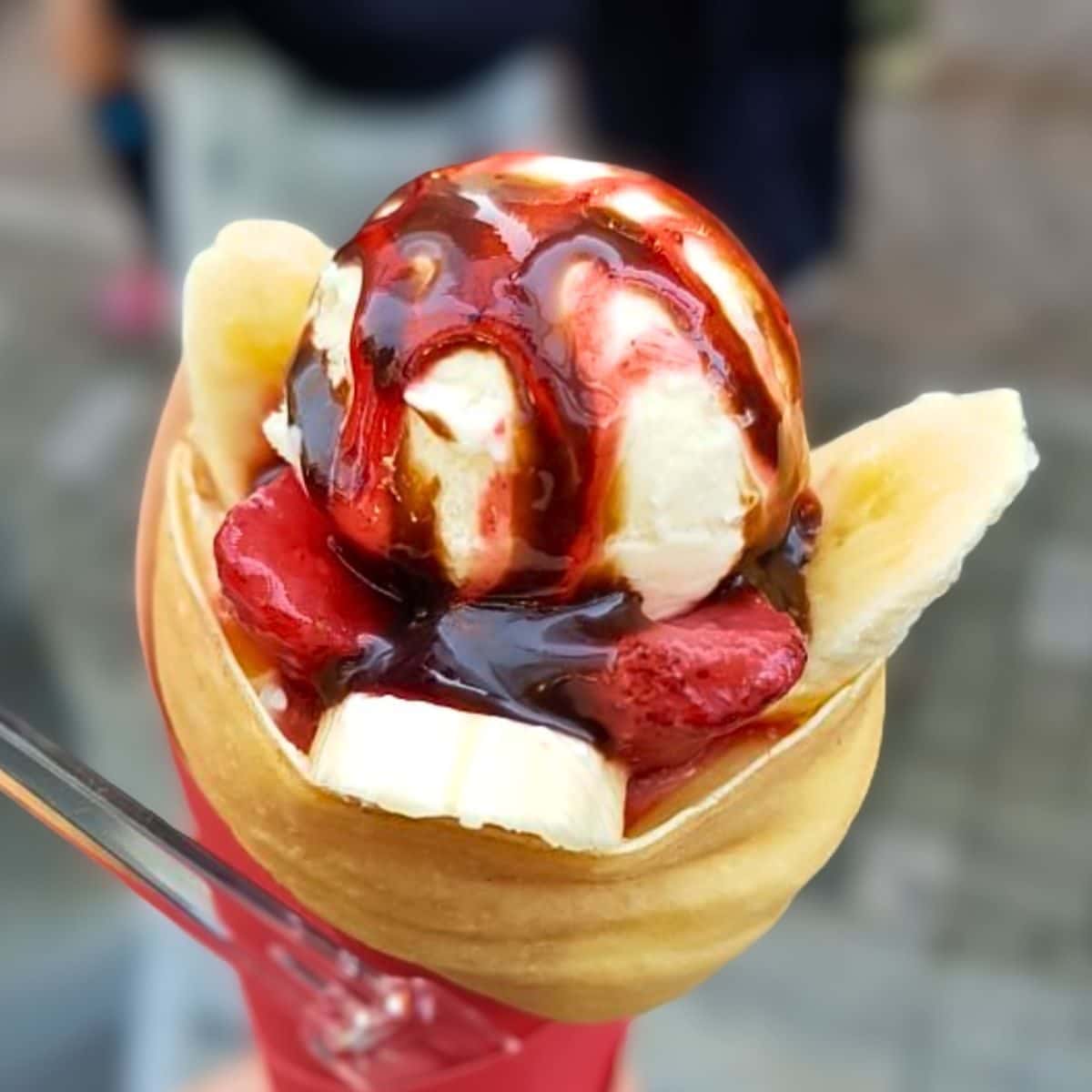 Crepes on Takeshita Street / Shibuya and Harajuku Walking Tour
For a change of pace and scenery, let's head on to Meiji Shrine.
You will need to retrace your steps back to Harajuku Station and continue past the station. The entrance to the Meiji Shrine grounds will be on your right.
Meiji Shrine (Meiji Jingu) is a large Shinto shrine built in 1920 dedicated to the souls of Emperor Meiji (1852-1912) and his wife, Empress Shoken (1849-1914).
Emperor Meiji became a ruler in 1867 at the time when Japan saw the violent end of over 260 years of Tokugawa rule. Emperor Meiji led the industrialization, urbanization, and colonial expansion of Japan.
Start at the Torii gate, which is the entrance to the Meiji Shrine grounds. Then continue on a path lined by large cedar trees to the shrine.
If you are visiting in late June, make sure to stop by the beautiful Inner Garden (admission is 500 yen). It is filled with over 150 species of irises which are in full bloom in late June. It is said that Emperor Meiji designed the garden himself for the pleasure of his wife.
Next, explore the Treasure House Annex (admission is 500 yen). You will see the royal couple's clothes and personal things on display.
Also, check out Kaguraden for sacred kagura dances.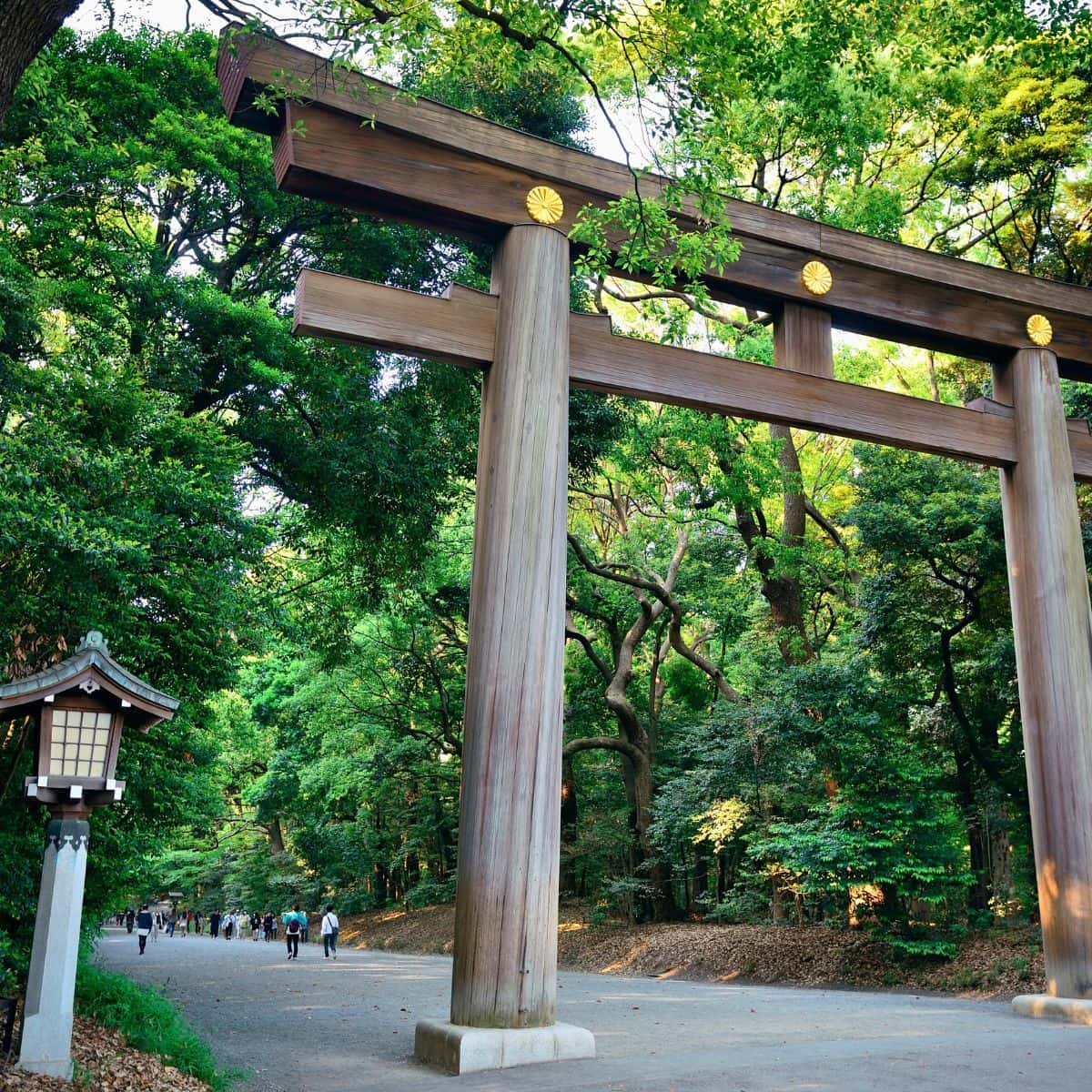 Torii Gate leading to Meiji Shrine / Shibuya and Harajuku Walking Tour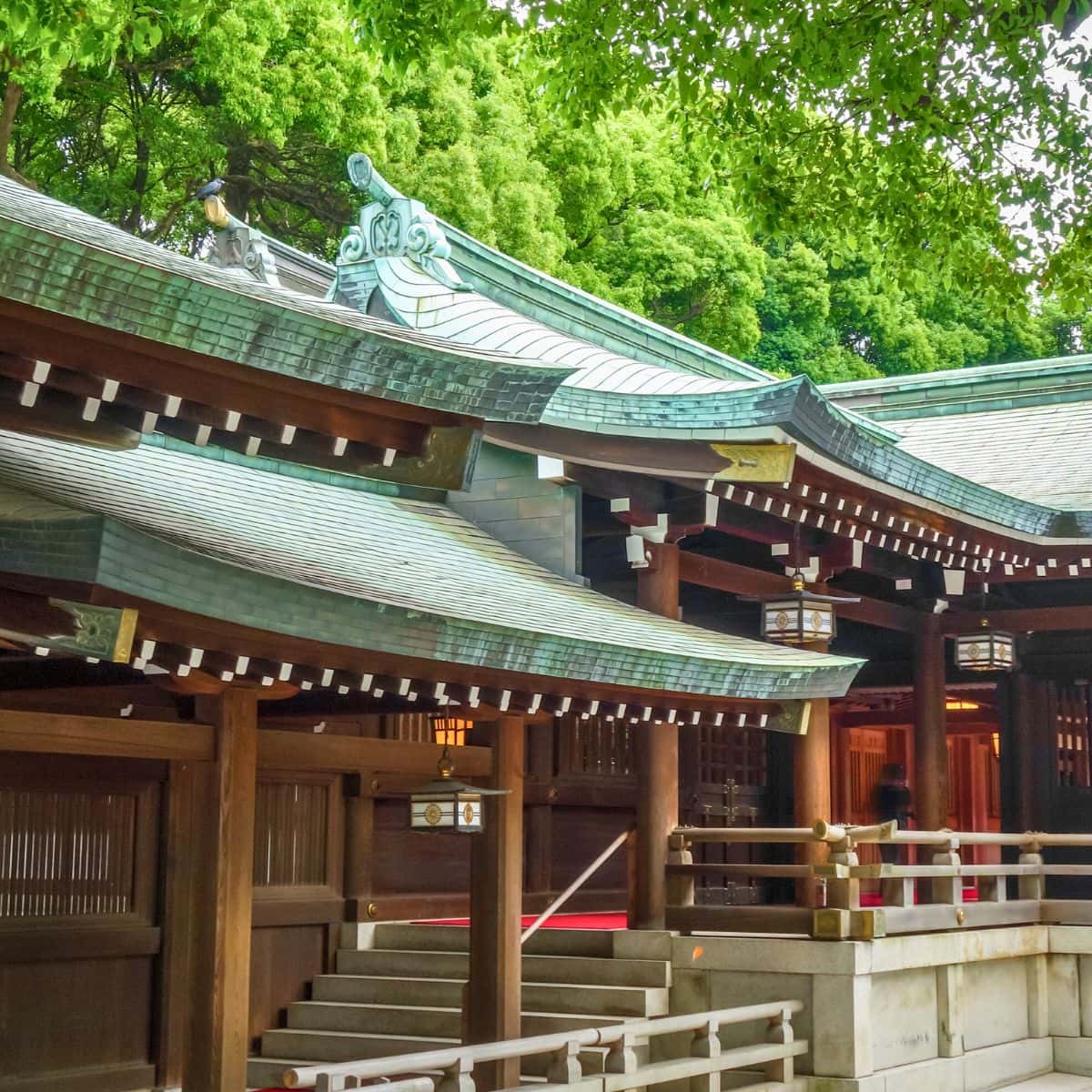 Meiji Shrine / Shibuya and Harajuku Walking Tour
The park that surrounds Meiji Jingu Shrine contains some 120,000 trees of 365 different species. Spring is the best time to visit. When the cherry trees are in full bloom it is one of the most amazing things to see!
However, if you are visiting in winter, stop by the North Pond in front of the Treasure Museum – you will see a lot of beautiful Mandarin ducks.
Every Sunday the famous Rockabilly Club performs in the park. It is fun to watch them. You can find them at the Harajuku entrance to Yoyogi Park.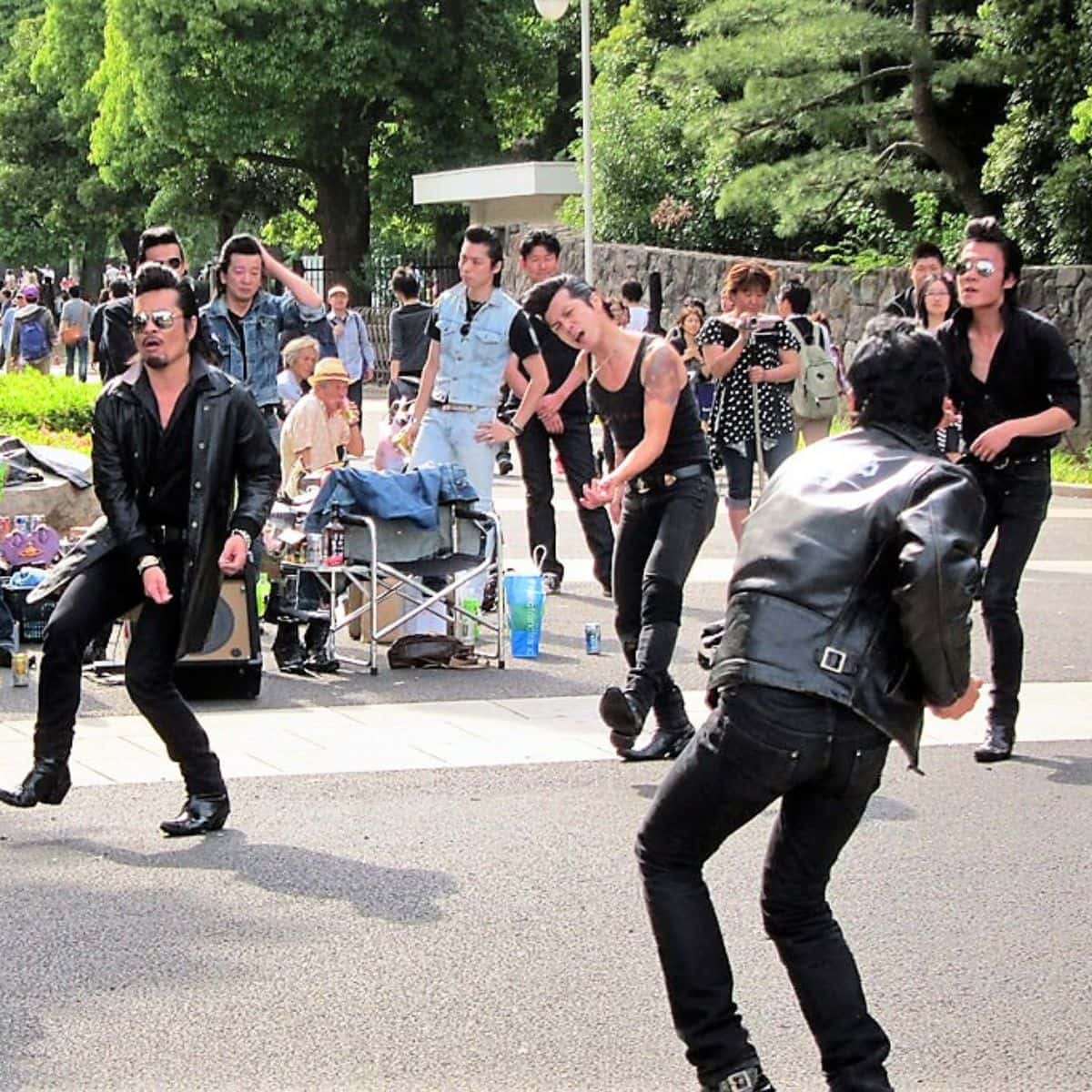 Rockabilly Club at Yoyogi Park / Shibuya and Harajuku Walking Tour
Omotesando starts right in front of the entrance to the Meiji Shrine grounds. All you have to do is cross the street and there you are.
Omotesando is a broad, tree-lined avenue often referred to as Tokyo's Champ Elysees. Here, you can find famous brand-name shops, elegant cafes, and upscale restaurants.
Tokyu Plaza is worth stopping by and riding the escalator. The faceted mirrors all around the escalator reflect off each other like a cut diamond.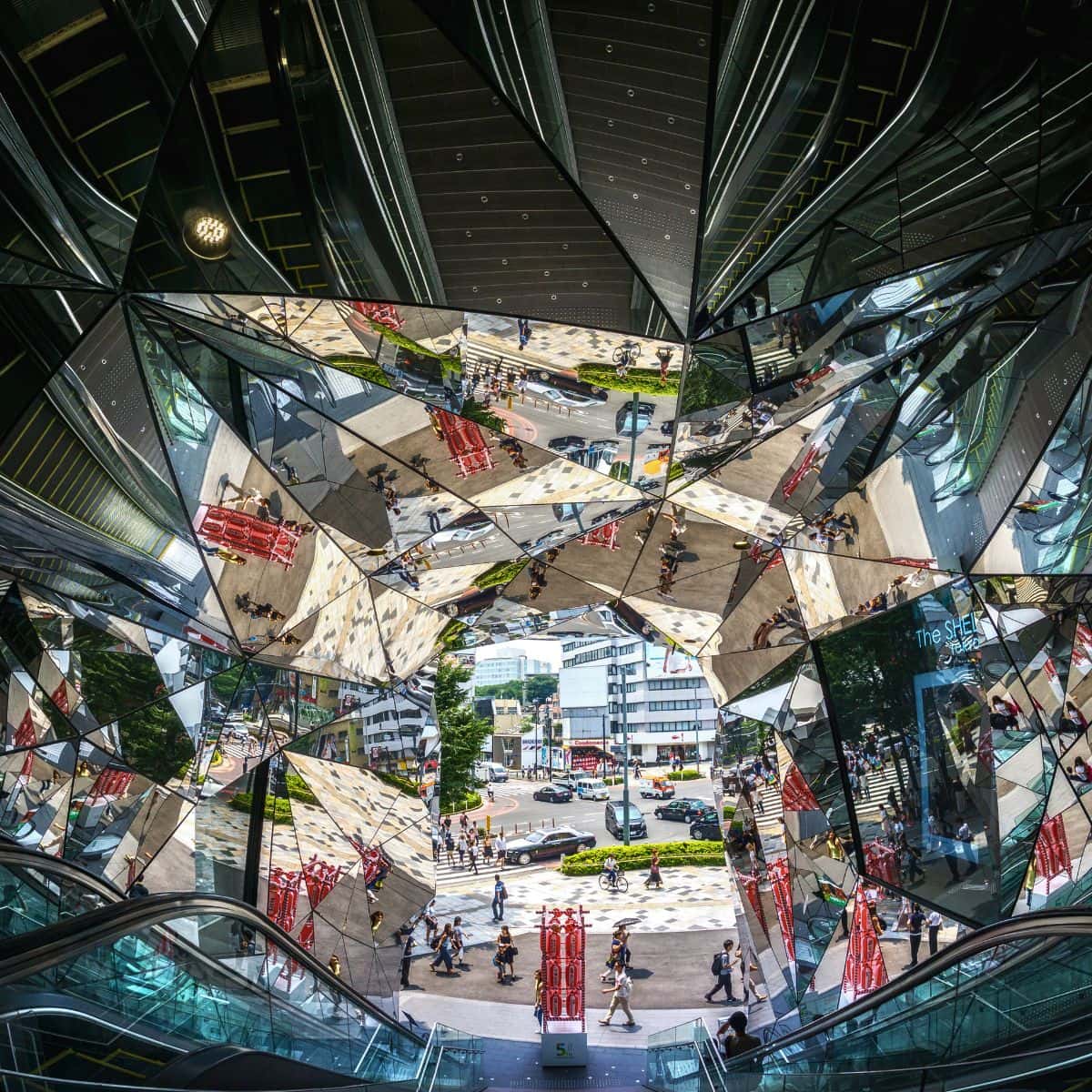 Tokyu Plaza / Shibuya and Harajuku Walking Tour
Make sure to stop by Omotesando Hills Complex. Ando Tadao designed it and it has intriguing design elements. Many boutiques, restaurants, and beauty shops are housed inside the complex.
I always stop by Kiddy Land. The store transcends age and nationality and immerses all visitors in the joy of Japan's kawaii culture! The store is virtually a theme park of character goods.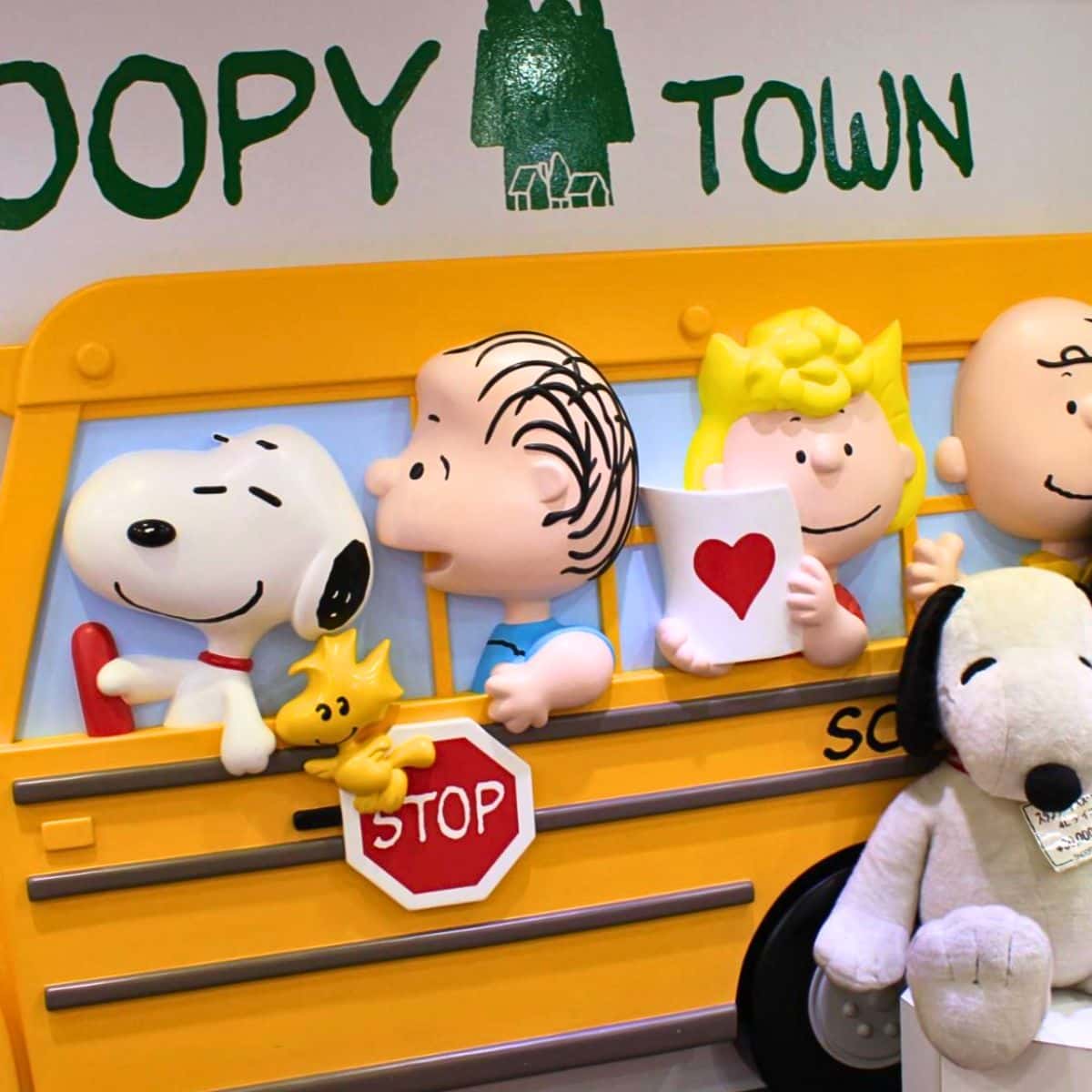 Kiddy Land / Shibuya and Harajuku Walking Tour
Shibuya and Harajuku tour ends in Omotesando.
If I were you, I would head back to Hikarie, grab dinner there, and soak in some great sunset views of Tokyo.
Intrepid Scouts Tips for Shibuya and Harajuku Walking Tour
Here are some helpful tips for planning your trip to Tokyo:
Tokyo experiences four distinct seasons: spring, summer, autumn, and winter, each with its unique charm.
Spring (March to May): Spring is one of the most popular times to visit Tokyo due to the famous cherry blossom season. Spring weather is mild and pleasant, with temperatures ranging from 10 to 20 C (50 to 68 F).
Summer (June to August): Summer in Tokyo can be hot and humid, with temperatures ranging from 25 to 35 degrees Celsius (77 to 95 degrees Fahrenheit). However, it is also a vibrant season with various summer festivals, outdoor events, and fireworks displays.
Autumn (September to November): Autumn is another popular time to visit Tokyo, with mild weather and beautiful fall foliage in parks and temples. The temperatures range from 15 to 25 C (59 to 77 F).
Winter (December to February): Tokyo's winter is generally cold, with temperatures ranging from 0 to 10 C( 32 to 50 F). However, Tokyo's winter illuminations and holiday decorations are spectacular, creating a festive atmosphere throughout the city.
My first choice is to always stay in Ginza. Ginza is Tokyo's luxury shopping district, known for its upscale boutiques, department stores, and high-end restaurants.
There are several hotels that I stayed at and really enjoyed. Check them out and see which one you like the best:
Muji Hotel Ginza – this is my first choice. The rooms are elegantly designed like all Muji products. The location is perfect near the JR Yamanote line. The in-room extras, all Muji branded, are great, with everything from the slippers to bags of Japanese sweets yours to take with you. The breakfast is lovely with healthy and high-quality food options.
AC Hotel by Marriott Tokyo Ginza – it is a beautiful, modern, and well-maintained hotel right in the heart of Ginza. The rooms are a good size, which is unusual for Tokyo, nicely designed, and super clean.
Agora Tokyo Ginza – stylish and elegant hotel. The location is great close to train stations. Rooms are on the smaller side, however, they are very comfortable and clean. You will love the bathroom which is beautifully designed and huge in size.
How to Get Around in Tokyo
Tokyo has an extensive and efficient public transportation system that makes it easy to get around the city. Here are some common methods of transportation for navigating Tokyo:
The Tokyo Metro and subway are a convenient and efficient way to travel within the city, with multiple lines covering different areas. Make sure to get rechargeable IC cards such as Suica or Pasmo, which offer discounted fares and can be used on multiple transportation systems.
Japan Railways (JR) operates several lines in Tokyo, including the Yamanote Line, which is a loop line that circles central Tokyo and connects major neighborhoods.
Buses are another option for getting around Tokyo, although they are not as easy to use as Tokyo Metro and subway, as well as JR.
Taxis are widely available in Tokyo, but they can be more expensive compared to other forms of public transportation.
Walking is a great way to explore Tokyo's neighborhoods like Shibuya, Shinjuku, and Asakusa.
Make sure to buy JR Pass before going to Japan. It is a huge cost-saving tool. It allows unlimited use of most JR trains, including the Shinkansen (bullet trains), limited express trains, and local trains, for a set period of time (7, 14, or 21 days).
The JR Pass also includes some additional benefits, such as free seat reservations on most trains, which can be especially useful during peak travel times, and access to some JR buses and ferries. It also covers the Tokyo Monorail to/from Haneda Airport and the Narita Express to/from Narita Airport, which can be convenient for travelers arriving or departing from these airports.
Did You Find This Useful?
Why Not Save Shibuya and Harajuku Walking Tour to Your Pinterest Board!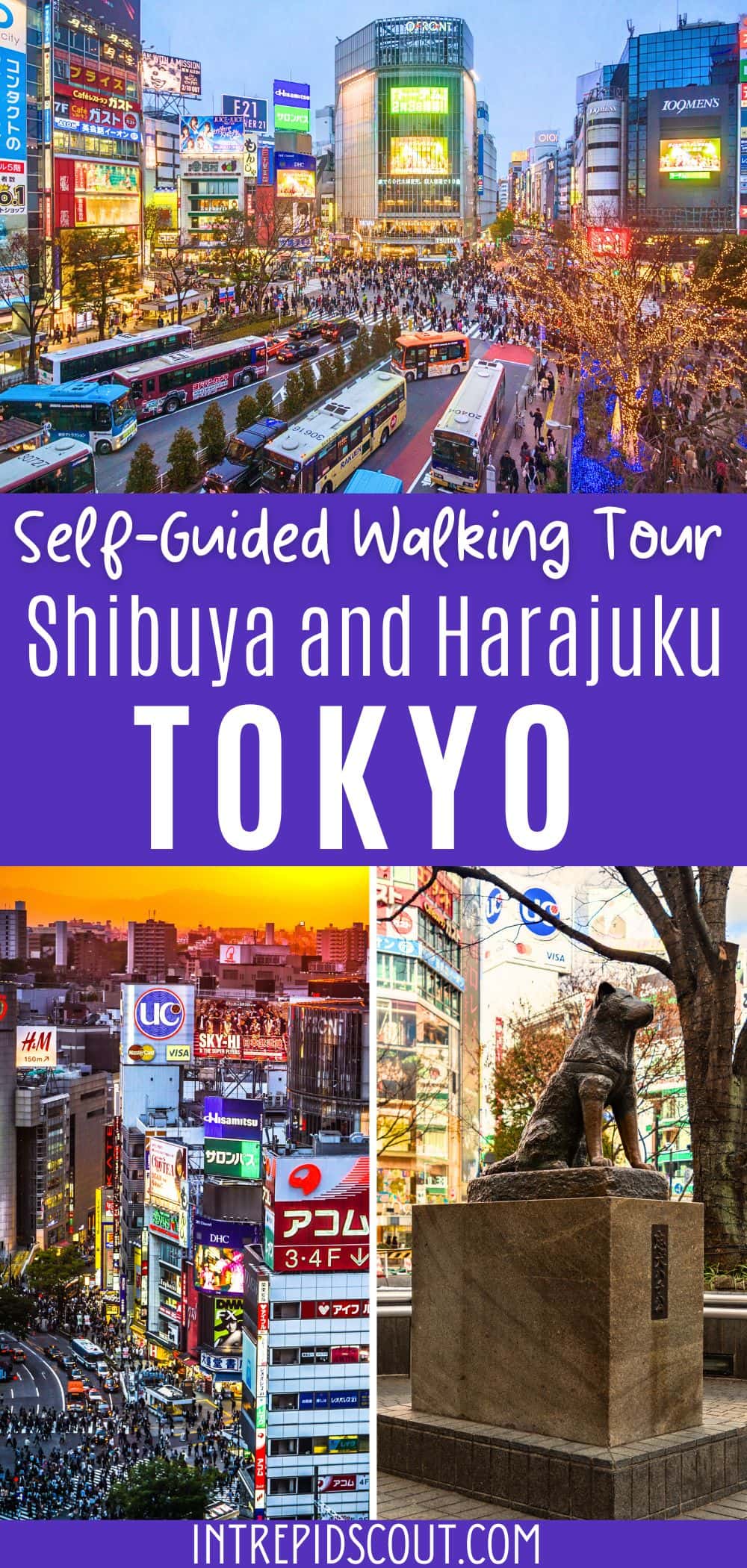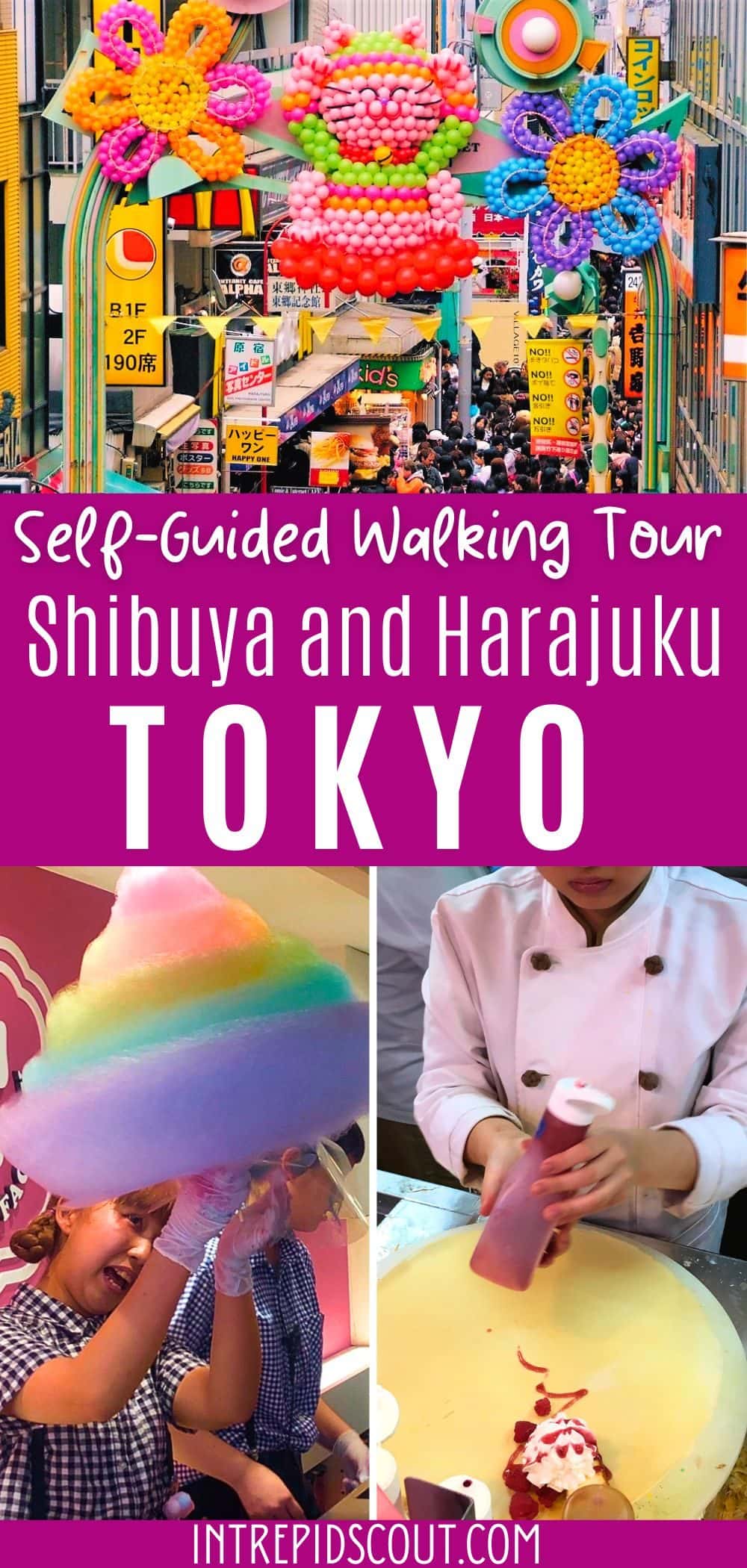 Now, It Is Your Turn, I Would Like to Hear Back from You!
Are you planning on visiting Tokyo? What is on your list of places to see in Tokyo?
Please let me know! Drop me a quick comment right below!
Click on any of the images below to get inspired and to help you with the planning process for your trip to Japan!