This site uses affiliate links, meaning that if you make a purchase through our links, we may earn an affiliate commission.
Are you looking for the best ramen in Ginza? Well, I am not your typical ramen/udon fresser. To me, ramen/udon is comfort food – noodles in soup. But, when you are in Tokyo and you see a line of hungry, indulgent Tokyoites outside a ramen joint called Ippudo, you know it is probably good.
And, if you join the line and the smells confirm your instincts, I would recommend that you keep your spot. Once you get to the front of the line and your ears pick up a chorus of slurps because you are in Japan and it is OK to slurp the noodles – it is the only way to eat the darn things anyway – you know you picked well.
Here is why you should try Ippudo's ramen. It is the best ramen in Ginza!
I think that the winning formula for Ippudo is comprised of thin, yet firm, straight noodles that retain their bite even after being soaked in broth for some time, creamy yet not too heavy or oily pork broth, and a very clean and minimalist presentation.
Ippudo was first opened in Hakata on the island of Kyushu in 1985. It is owned by Shigemi Kawahara, three-time winner of the TV show Champion Ramen Chef. Ippudo is one of the most famous ramen chains in Japan with many branches spread out all over the world.
Ippudo serves tonkotsu broth which originated in Hakata. The broth is made from pork bones simmered in a special cauldron for 18 hours and then cooled down for a whole day. The result is creamy, silky, and flavorful broth nearly white in color.
The rich broth blends perfectly with their noodles which are chewy with a firm texture.
Ippudo in glitzy Ginza is my favorite location. It is cozy and clean.
The address is 4-10-3 Ginza, Chuo Ward, Tokyo. It is about a 1-minute walk from West Ginza Station Exit A8 on the Toei Asakusa Line. In order to find it you need to look for the Ippudo sign in Japanese and a 4-foot-long paper lantern hanging outside the door.
Hours: Mon.-Thurs.: 11:00 am-2:00 am, Fri./Sat./Day before a holiday: 11:00 am-3:00 am, Sun./Holiday: 11:00 am-1:00 am
Credit Cards are accepted.
The staff is attentive, and the service is quick.
The menu is in both Japanese and English with pictures.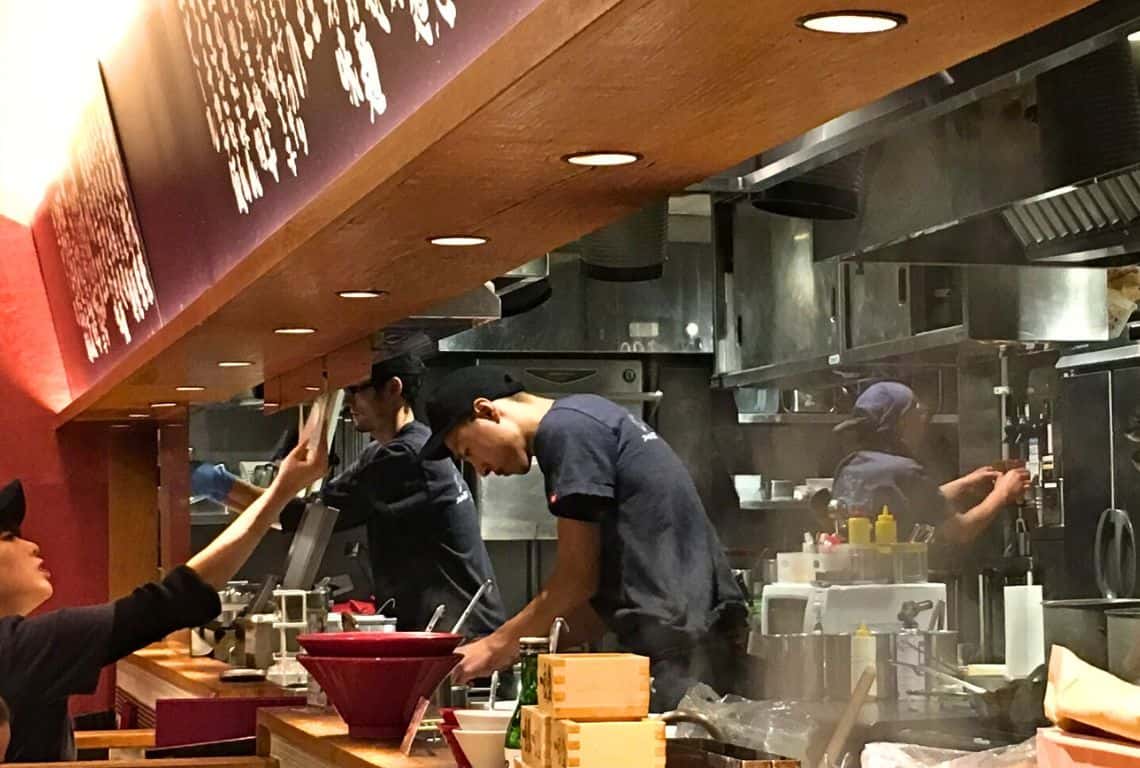 Ippudo in Ginza / Best Ramen in Ginza
Tonkotsu with Ramen in 3 Variations
Shiromaru Classic and Special
Shiromaru Classic / 790 Yen. The ingredients include tonkotsu broth, noodles, pork belly, bean sprouts, black fungus, and spring onions.
They also serve Shiromaru Special / 1,020 Yen which is a version of Shiromaru Classic and includes a boiled egg and a sheet of nori.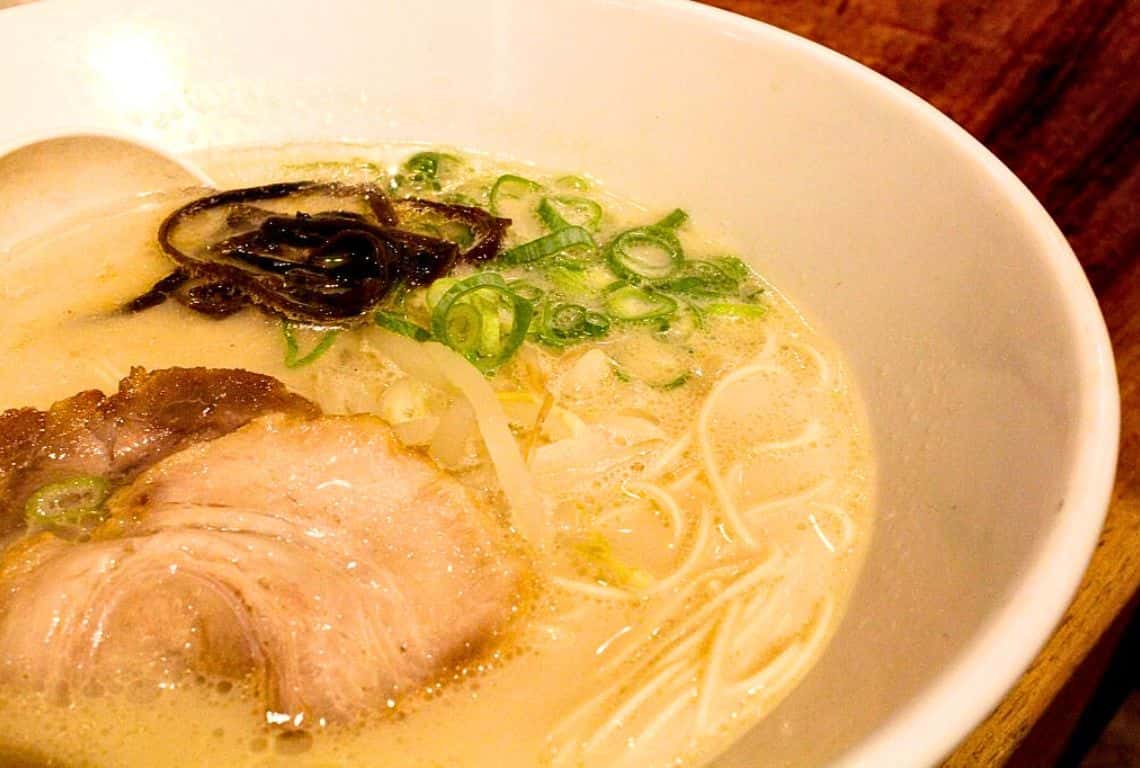 Shiromaru Classic and Special / Best Ramen in Ginza
Akamaru Modern and Special
Akamaru Modern / 850 Yen consists of tonkotsu broth enhanced with specially blended miso paste and garlic oil, noodles, pork belly, bean sprouts, black fungus, and spring onions.
And, Akamaru Modern Special / 1,080 Yen which is the same as Akamaru Modern and includes a boiled and a sheet of nori.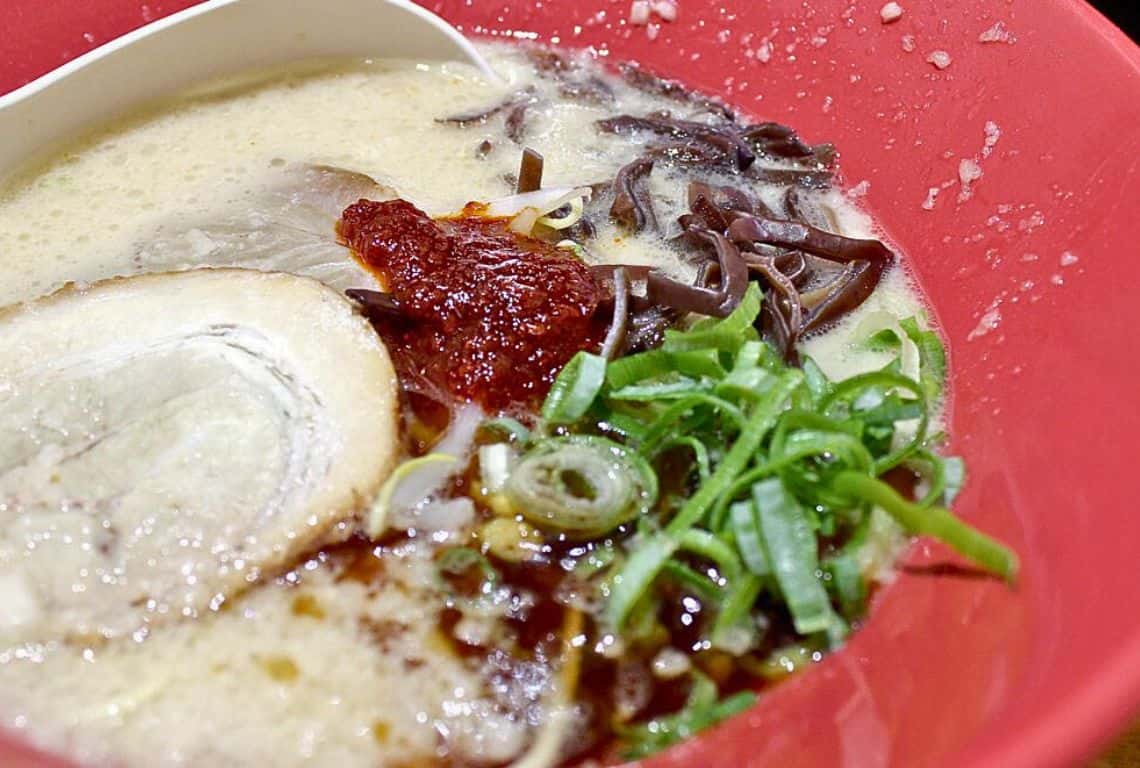 Akamaru Modern and Special / Best Ramen in Ginza
Ippudo Karaka Ramen / 890 Yen consists of tonkotsu broth, spicy minced meat miso, spring onions, and minced pork.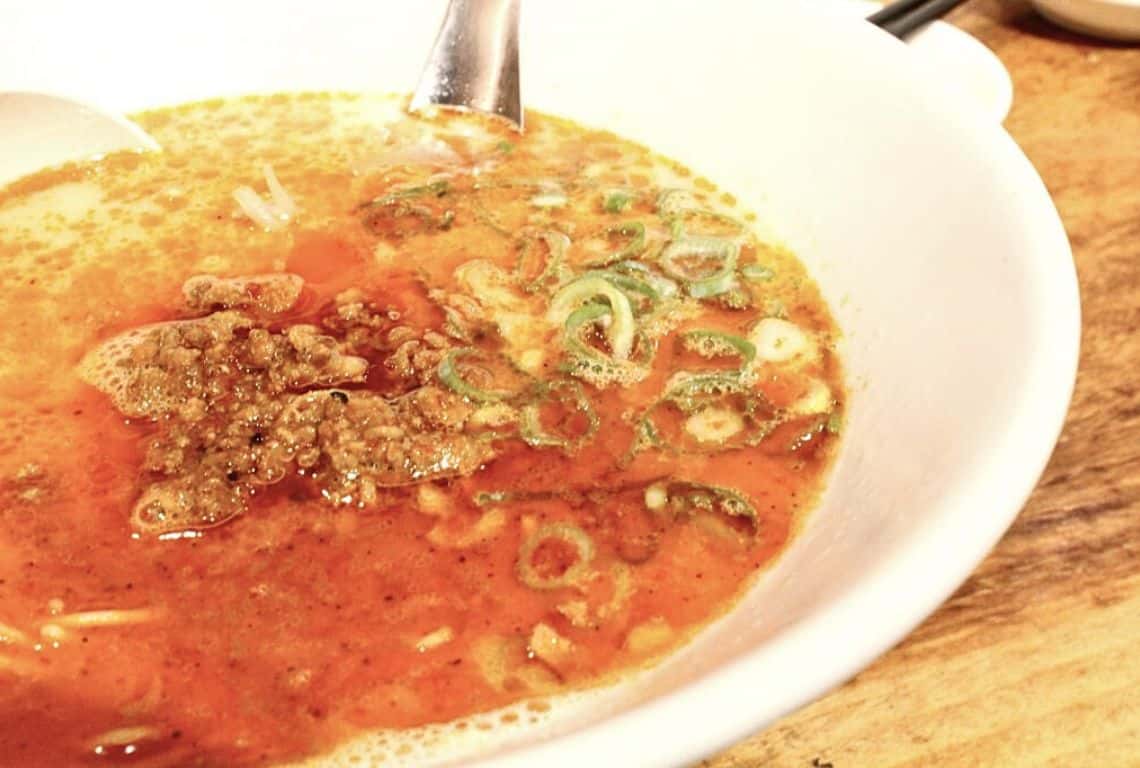 Ippudo Karaka Ramen / Best Ramen in Ginza
You also have the option to doctor up your bowl of noodles with an assortment of piquant all-you-can-eat toppings, including spicy moyashi (bean sprouts), crushed ninniku (garlic), karashi takana (spicy pickled greens) and shoga (pickled ginger).
If you are still hungry, order kaedama or rice. Kaedama is another serving of noodles, which is great if you finish your noodles before your broth. Kaedama is only 130 Yen and rice – Mentaiko Gohan – is 300 Yen. And, if you are really hungry go for Hakata Chikara Meshi / 360 Yen which is rice with extra slices of pork belly.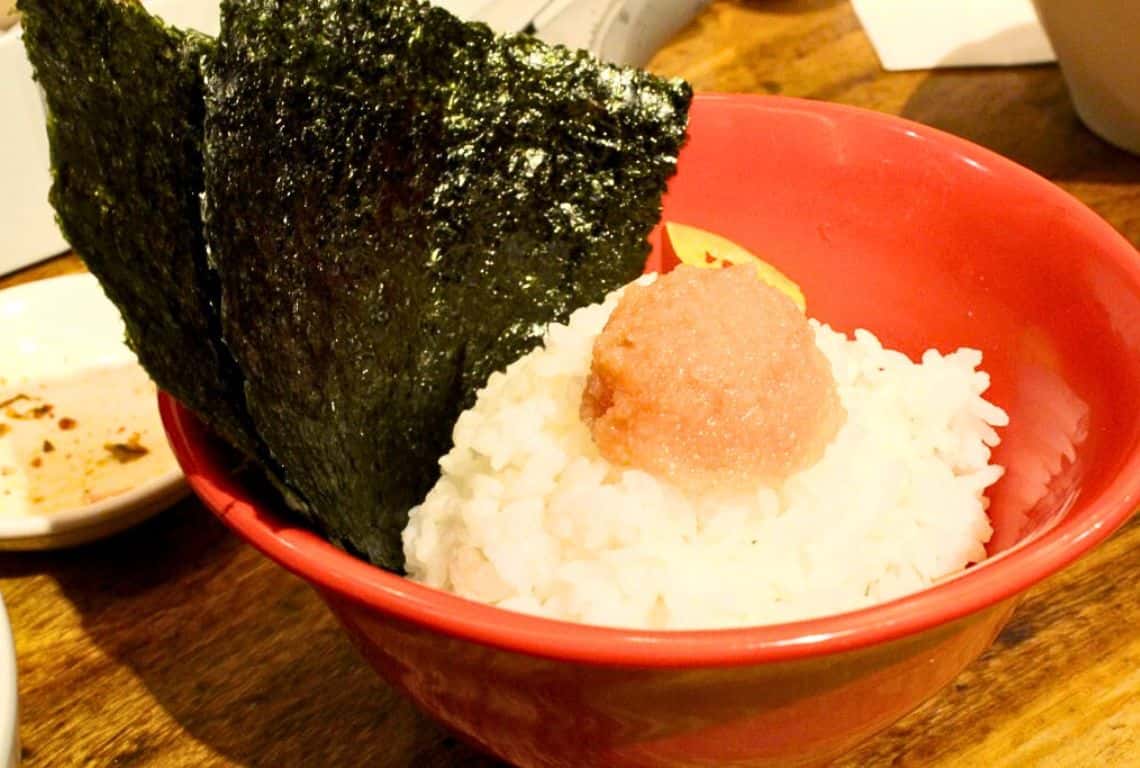 Extra options at Ippudo / Best Ramen in Ginza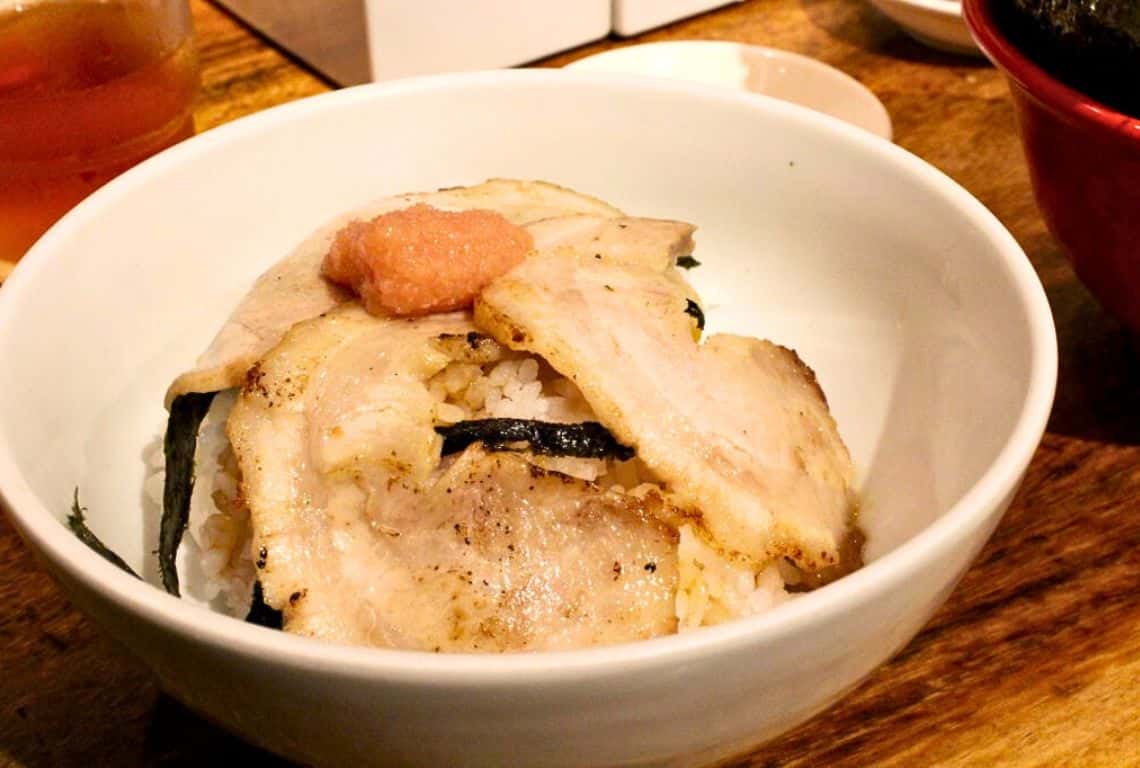 Extra options at ippudo / Best Ramen in Ginza
Ippudo serves a mean Hakata Gyoza. They are crunchy, bite-size, crispy outside, and juicy inside, with the most delicious filling. They are 420 Yen.
Hakata Gyoza at Ippudo / Best Ramen in Ginza
Ippudo is my benchmark for all other ramen I ate in Japan.
Head to Ippudo, conveniently scattered around Tokyo and Japan for a truly mouthwatering experience.
Now, It Is Your Turn, I Would Like to Hear Back from You!
Are you planning on visiting Tokyo? What is on your list of places to see in Tokyo?
Please let me know! Drop me a quick comment right below!
Click on any of the images below to get inspired and to help you with the planning process for your trip to Japan!