This site uses affiliate links, meaning that if you make a purchase through our links, we may earn an affiliate commission.
Welcome to the bustling and vibrant neighborhood of Shibuya in Tokyo! Shibuya is known as one of Tokyo's most iconic and energetic districts. It is a hub of entertainment, fashion, and culture.
Are you wondering what to do in Shibuya? From its famous scramble crossing to its trendy shops and electrifying nightlife, Shibuya offers activities and experiences for everyone to enjoy.
Whether you're a first-time traveler or a seasoned explorer, this post will take you on a journey through the top things to explore in Shibuya.
Get ready to immerse yourself in the sights, sounds, and flavors of this dynamic neighborhood, and discover the best ways to make the most of your time in Shibuya. So, grab your camera, put on your walking shoes, and let's dive into the vibrant world of Shibuya!
Tokyo At-A-Glance
Before diving in, here are a few helpful tips for planning your trip to Tokyo:
Tokyo experiences four distinct seasons: spring, summer, autumn, and winter, each with its unique charm.
Spring (March to May): Spring is one of the most popular times to visit Tokyo due to the famous cherry blossom season. Spring weather is mild and pleasant, with temperatures ranging from 10 to 20 C (50 to 68 F).
Summer (June to August): Summer in Tokyo can be hot and humid, with temperatures ranging from 25 to 35 degrees Celsius (77 to 95 degrees Fahrenheit). However, it is also a vibrant season with various summer festivals, outdoor events, and fireworks displays.
Autumn (September to November): Autumn is another popular time to visit Tokyo, with mild weather and beautiful fall foliage in parks and temples. The temperatures range from 15 to 25 C (59 to 77 F).
Winter (December to February): Tokyo's winter is generally cold, with temperatures ranging from 0 to 10 C( 32 to 50 F). However, Tokyo's winter illuminations and holiday decorations are spectacular, creating a festive atmosphere throughout the city.
My first choice is to always stay in Ginza. Ginza is Tokyo's luxury shopping district, known for its upscale boutiques, department stores, and high-end restaurants.
There are several hotels that I stayed at and really enjoyed. Check them out and see which one you like the best:
Muji Hotel Ginza – this is my first choice. The rooms are elegantly designed like all Muji products. The location is perfect near the JR Yamanote line. The in-room extras, all Muji branded, are great, with everything from the slippers to bags of Japanese sweets yours to take with you. The breakfast is lovely with healthy and high-quality food options.
AC Hotel by Marriott Tokyo Ginza – it is a beautiful, modern, and well-maintained hotel right in the heart of Ginza. The rooms are a good size, which is unusual for Tokyo, nicely designed, and super clean.
Agora Tokyo Ginza – stylish and elegant hotel. The location is great close to train stations. Rooms are on the smaller side, however, they are very comfortable and clean. You will love the bathroom which is beautifully designed and huge in size.
How to Get Around in Tokyo
Tokyo has an extensive and efficient public transportation system that makes it easy to get around the city. Here are some common methods of transportation for navigating Tokyo:
The Tokyo Metro and subway are a convenient and efficient way to travel within the city, with multiple lines covering different areas. Make sure to get rechargeable IC cards such as Suica or Pasmo, which offer discounted fares and can be used on multiple transportation systems.
Japan Railways (JR) operates several lines in Tokyo, including the Yamanote Line, which is a loop line that circles central Tokyo and connects major neighborhoods.
Buses are another option for getting around Tokyo, although they are not as easy to use as Tokyo Metro and subway, as well as JR.
Taxis are widely available in Tokyo, but they can be more expensive compared to other forms of public transportation.
Walking is a great way to explore Tokyo's neighborhoods like Shibuya, Shinjuku, and Asakusa.
Make sure to buy JR Pass before going to Japan. It is a huge cost-saving tool. It allows unlimited use of most JR trains, including the Shinkansen (bullet trains), limited express trains, and local trains, for a set period of time (7, 14, or 21 days).
The JR Pass also includes some additional benefits, such as free seat reservations on most trains, which can be especially useful during peak travel times, and access to some JR buses and ferries. It also covers the Tokyo Monorail to/from Haneda Airport and the Narita Express to/from Narita Airport, which can be convenient for travelers arriving or departing from these airports.
Map with Top Things to Do in Shibuya
Map with Top Things to Do in Shibuya
What to Do in Shibuya?
11 Things to Explore in the Vibrant Heart of Tokyo
Explore the Famous Shibuya Crossing - The World's Busiest Intersection
The iconic Shibuya Crossing is a bustling intersection located in the heart of Shibuya and is known as the world's busiest pedestrian crossing.
With its sheer size and electrifying energy, Shibuya Crossing has become one of the most famous landmarks of Tokyo and a must-visit destination.
First and foremost, the sheer volume of people at Shibuya Crossing is awe-inspiring!
As the traffic lights turn red, pedestrians from all directions start to gather at the crossing, waiting for the signal to change. Once the signal changes to green, the intersection is filled with a sea of people moving in unison, crossing the intersection all eager to make their way to the other side.
The sight of the synchronized movement of people, the sound of footsteps, and the flashing lights of billboards overhead create a sensory overload that is both awe-inspiring and exhilarating.
Shibuya Crossing / What to Do in Shibuya
Shibuya Crossing has been featured in several famous movies, TV shows, and music videos. Here are some of the most popular ones:
The movie "Lost in Translation", directed by Sofia Coppola, features Shibuya Crossing in a memorable scene where the main characters, played by Bill Murray and Scarlett Johansson, navigate the bustling streets of Tokyo.
The movie "Fast & Furious: Tokyo Drift" showcases Shibuya Crossing in several high-octane car chase scenes.
The movie "Resident Evil: Retribution" features Shibuya Crossing as a backdrop for intense action sequences, including a battle with zombies amidst the busy pedestrian crossing.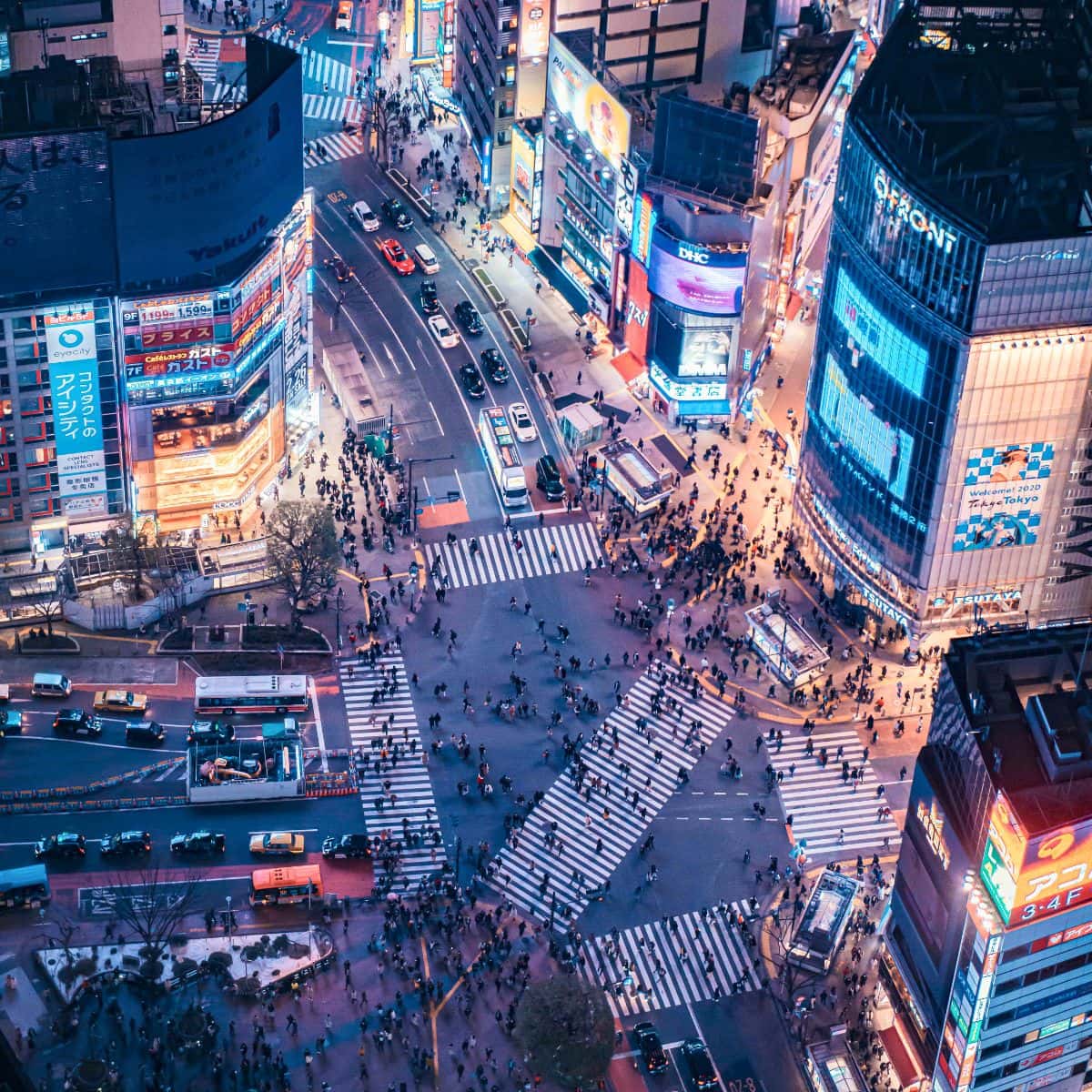 Shibuya Crossing / What to Do in Shibuya
One of the best ways to experience Shibuya Crossing is by standing at one of the surrounding vantage points. Here are some of the best spots where you can get a bird's-eye view of the crossing:
Starbucks Shibuya Tsutaya – Located on the second floor of Tsutaya Shibuya, the Starbucks cafe offers a great vantage point overlooking Shibuya Crossing. However, it is a busy place and you might have to patiently wait for an opportunity to get to one of the windows.
Shibuya Sky – The observation deck is located on the rooftop of the Shibuya Scramble Square Building, which is one of the tallest buildings in Shibuya, and is definitely one of the best spots to photograph the crossing. The glass windows extend all the way to the floor, giving you uninterrupted views. However, there is an entrance fee to the deck which are s typically around 2,000 to 2,500 yen for adults.
Shibuya Stream – Shibuya Stream has a rooftop terrace with an open-air deck with glass railings, providing an excellent spot for photography. But, it is not free. There is an entrance fee to the rooftop terrace which is typically around 2,000 yen.
Pedestrian Bridges – There are two pedestrian bridges that you might want to check out: the Shibuya Mark City Bridge and the Tokyu Plaza Shibuya Bridge. Both are popular spots for photographing the crossing.
Street Level – Don't forget that capturing the energy and atmosphere of Shibuya Crossing from the street level can result in some unique and dynamic photos! Make sure to include some foreground, and middle ground to create some dimension.
Hands down, Shibuya Crossing is a place where the pulse of the city can be felt, and the fast-paced urban lifestyle of Japan comes to life. A visit to Tokyo would not be complete without experiencing the electrifying energy and iconic atmosphere of Shibuya Crossing.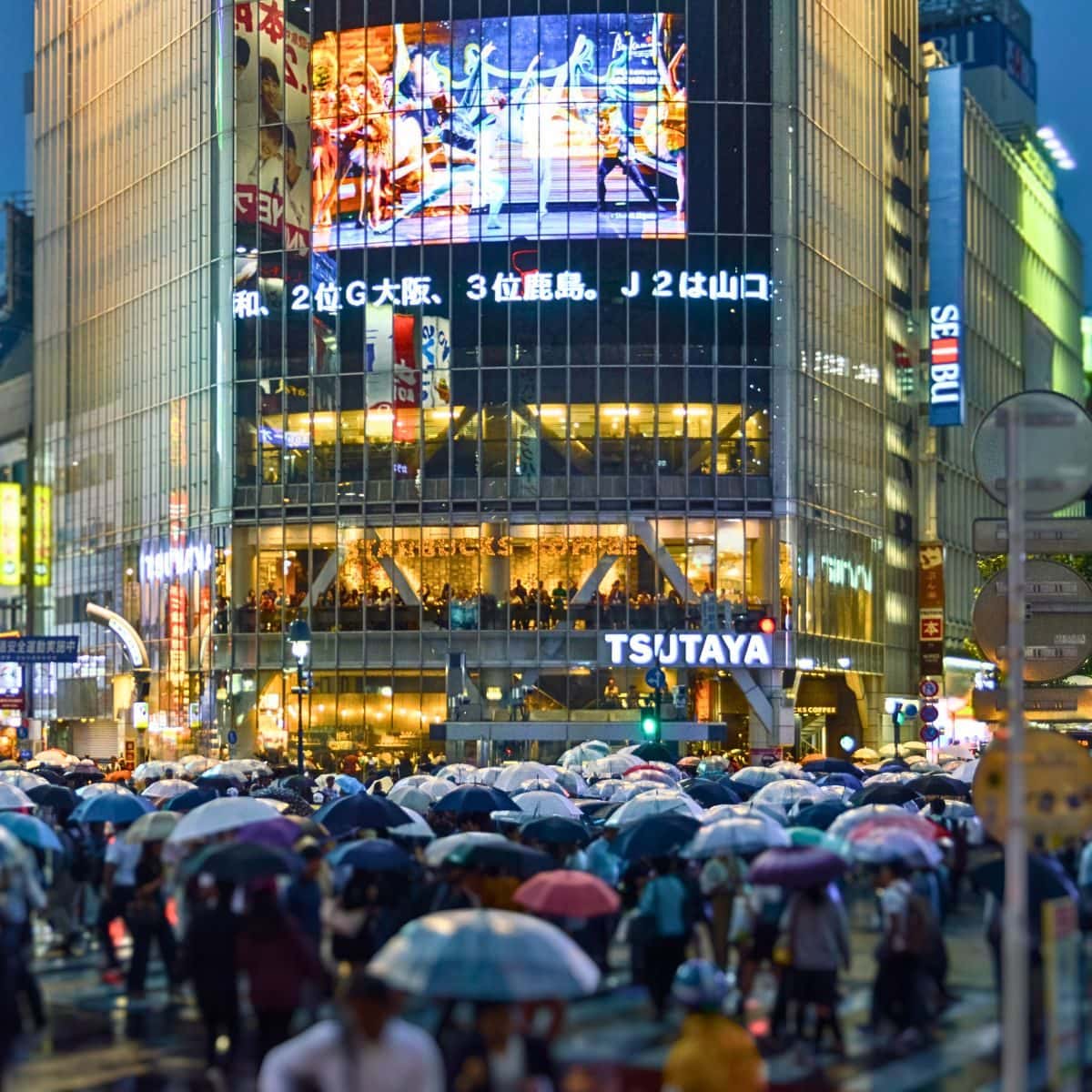 Shibuya Crossing / What to Do in Shibuya
Dive into Shopping and Dining at Shibuya Center-Gai
Shibuya Center Gai is a bustling shopping street located in the heart of Shibuya, known for its trendy fashion boutiques and unique shops. Here are some of the shops you should not miss:
Uniqlo is a great store that you need to check out. Once I visited the store, I fell in love with this brand. It is known for its minimalist designs, high-quality materials, and attention to detail. They offer a wide range of basic wardrobe staples, including t-shirts, jeans, outerwear, sweaters, dresses, and accessories. It has nice clean lines, neutral colors, and versatile styles that can be easily mixed and matched for everyday wear. The brand's name "Uniqlo" is short for "Unique Clothing Warehouse".
Zara is another international fashion brand that offers a wide range of clothing, shoes, and accessories for men, women, and children, known for its on-trend designs.
Wego is a popular Japanese fashion brand that offers trendy and casual clothing for men and women, with a focus on street style and youth culture.
Loft is a lifestyle store that offers a wide range of products, including stationery, home goods, beauty products, and unique Japanese merchandise.
Village Vanguard is a unique store that offers an eclectic mix of merchandise, including books, novelty items, quirky home goods, and unique gifts.
Bershka is another international fast fashion brand that offers trendy clothing, shoes, and accessories for men and women, with a focus on street style and youthful fashion.
Tokyu Hands is a popular Japanese department store known for its wide range of products, including home goods, crafts, stationery, and beauty products.
Don Quijote is a well-known discount store chain in Japan that offers a wide range of products, from cosmetics and snacks to electronics and souvenirs, with a unique and diverse selection.
Shibuya Center-Gai / What to Do in Shibuya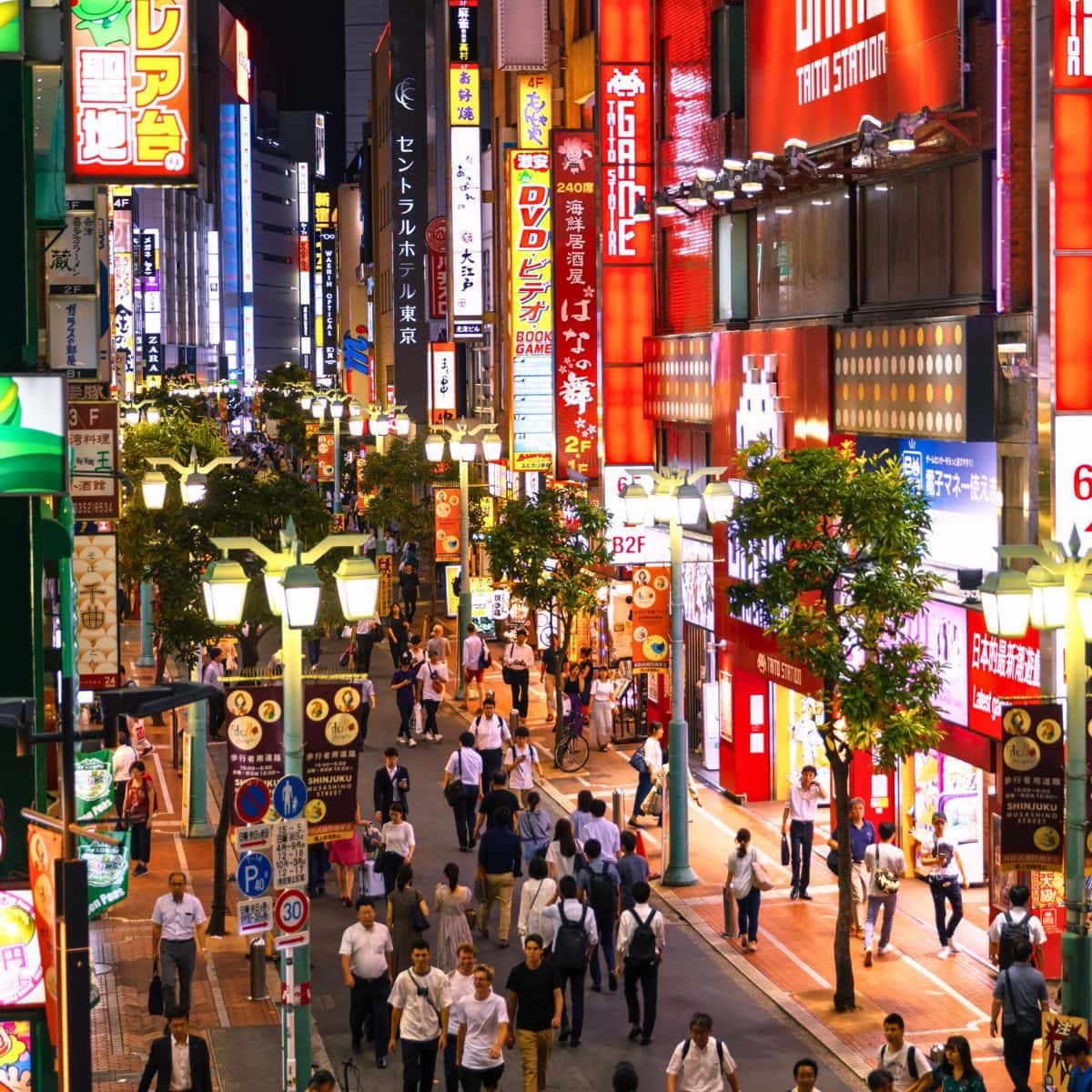 Shibuya Center-Gai / What to Do in Shibuya
Center Gai is also known for its diverse dining options, with numerous cafes, restaurants, and food stalls serving a variety of cuisines. From Japanese street food to international cuisine, you can find something to suit your palate.
Here are some popular dining spots in Center Gai that you should add to your list:
Ichiran Ramen is a great ramen restaurant chain in Japan known for its unique dining experience and delicious tonkotsu (pork bone broth) ramen. The broth is rich and creamy, made from simmering pork bones for hours to extract the maximum flavor. You can customize your ramen by filling out an order sheet with your preferences, including noodle firmness, soup richness, garlic strength, spice level, and other toppings.
Gyukatsu Motomura is another very popular restaurant in Shibuya known for its specialty dish called gyukatsu, which is a deep-fried beef cutlet. The beef cutlets are breaded and deep-fried to a crispy texture, while the inside remains tender and juicy. The result is a beautifully flavorful cutlet. Just writing about it makes me hungry!
Uobei Sushi is a great and affordable fast-paced sushi dining experience in Shibuya. It is known for its unique system where you place your orders using a touch screen panel, and the sushi is delivered to your table on a conveyor belt.
Pablo Mini is a popular dessert cafe located in Shibuya known for its delectable and adorable mini cheese tarts in various flavors, including matcha, chocolate, and seasonal flavors. The cafe is a part of the famous Japanese cheese tart brand, Pablo, which is known for its high-quality and delicious cheese-based desserts.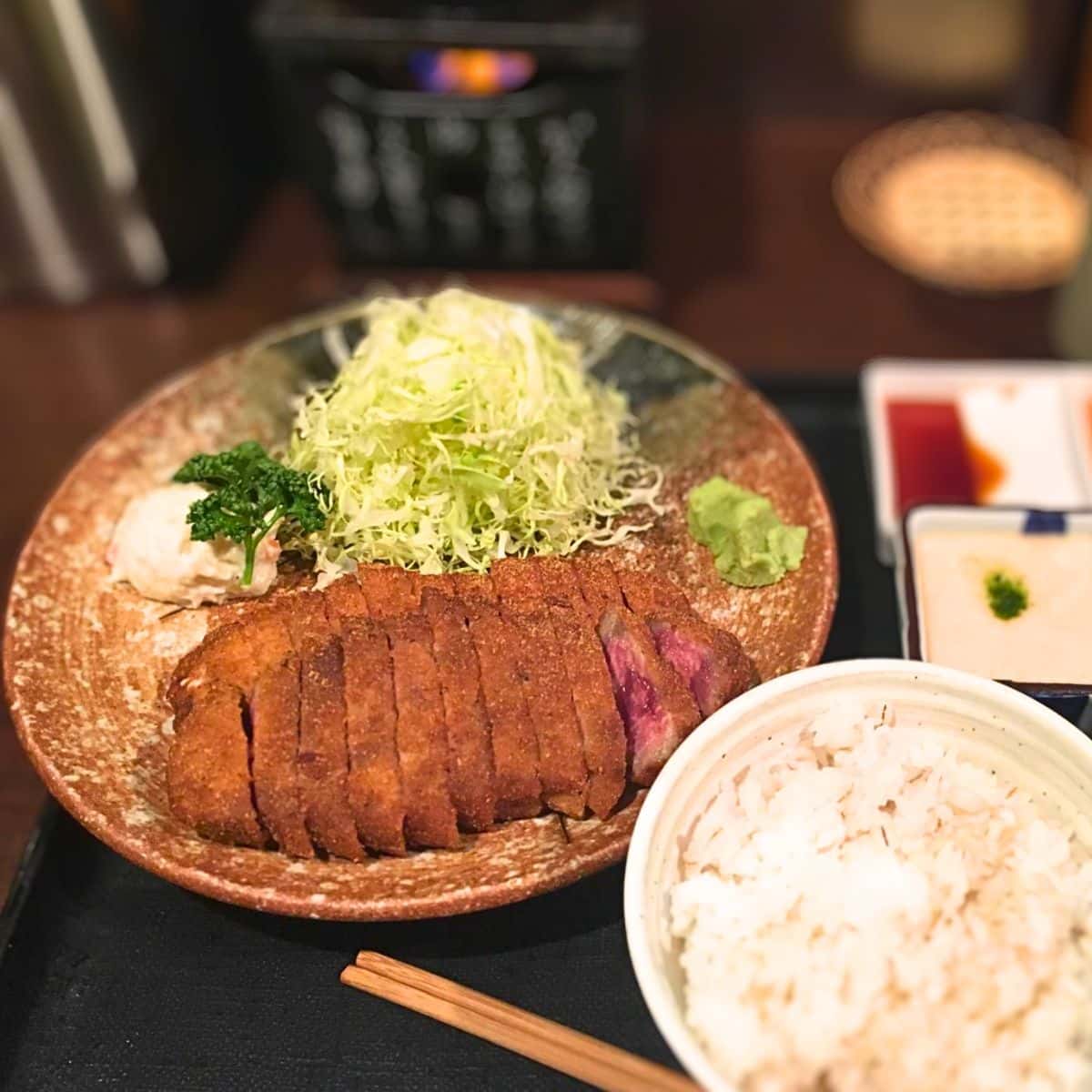 Gyukatsu Motomura / What to Do in Shibuya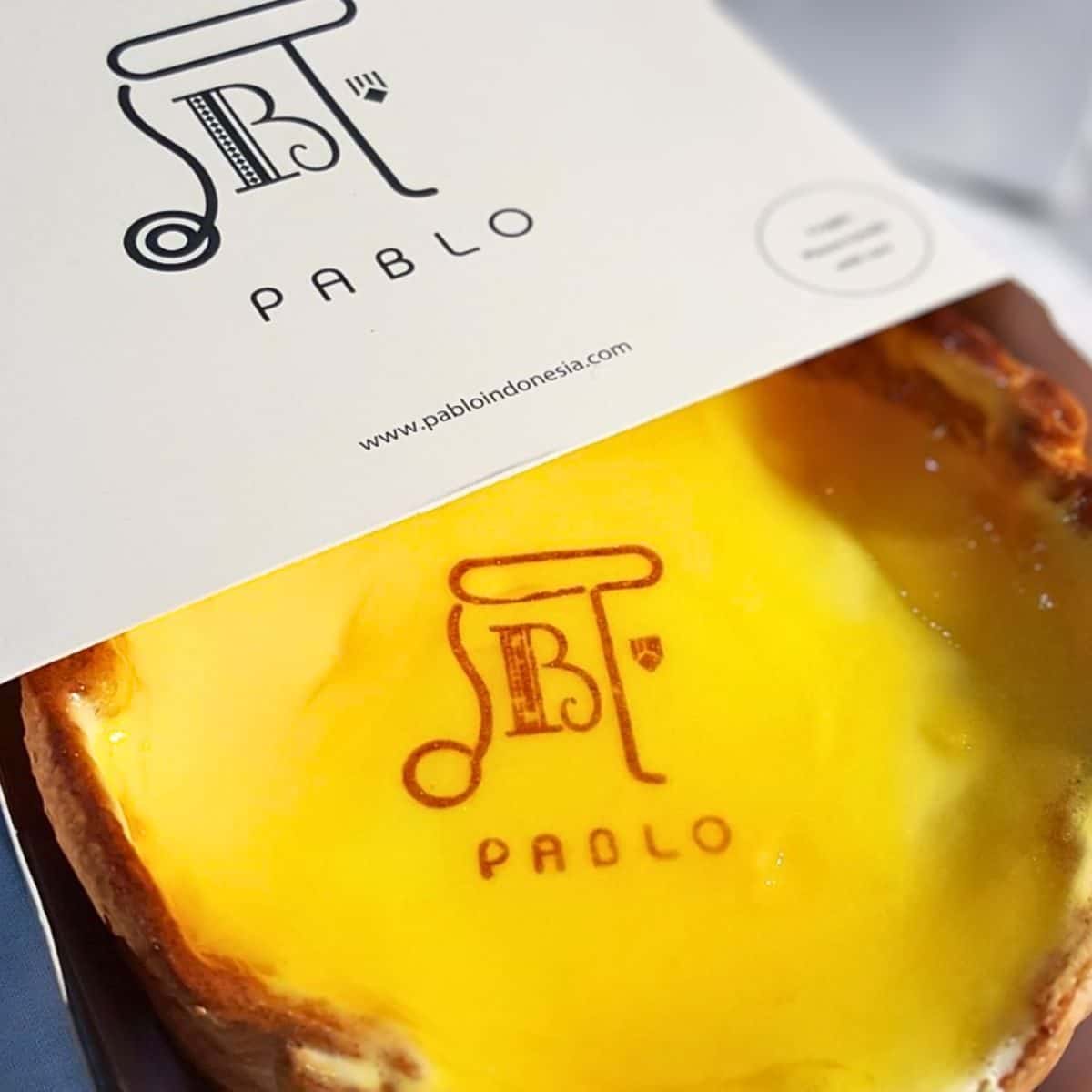 Pablo Mini / What to Do in Shibuya
Take Commemorative Photos of Hachiko Statue
Hachiko's Memorial Statue is a famous bronze statue of the dog Hachiko right next to the Shibuya Station.
The statue is a symbol of unwavering love, devotion, and loyalty.
Hachiko, also known as "Hachi", was a Japanese Akita dog that belonged to Professor Hidesaburo Ueno, a professor at Tokyo Imperial University.
According to the story, Hachi would accompany Professor Ueno to Shibuya Station every day when he went to work, and would patiently wait for him to return in the evening.
However, in 1925, Professor Ueno unexpectedly passed away at work, leaving Hachi waiting at the station, unaware of his owner's fate.
Despite Professor Ueno's passing, Hachi continued to go to Shibuya Station every day for the next nine years, waiting for his owner to return.
He became a symbol of loyalty and devotion, capturing the hearts of the local community and gaining national attention. In 1934, a bronze statue of Hachiko was erected near Shibuya Station to commemorate his loyalty and dedication.
Today, the Hachiko statue in Shibuya is a popular meeting spot for locals.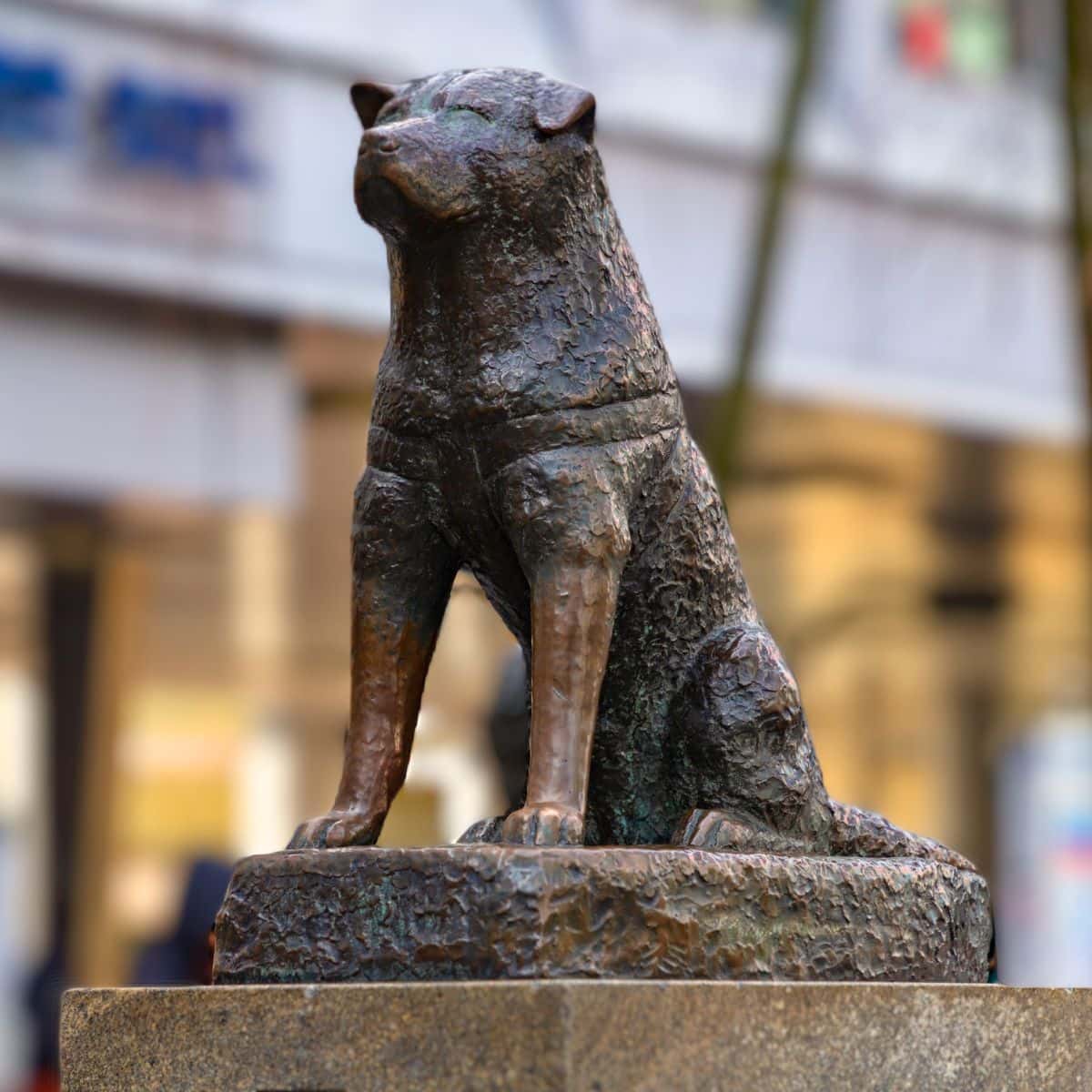 Hachiko Memorial Statue / What to Do in Shibuya
Visit Meiji Shrine - A Serene And Beautiful Shinto Shrine
Meiji Shrine is a beautiful and serene Shinto Shrine that should not be missed while visiting Shibuya.
Meiji Shrine was built in 1920 to honor Emperor Meiji, who played a pivotal role in modernizing Japan during the Meiji Restoration period. Emperor Meiji is revered as a symbol of Japan's transition from a feudal society to a modern, industrialized nation.
Meiji Shrine's architecture is a perfect example of traditional Shinto Shrine design which is simple, yet elegant, with attention to detail. The main gate, torii gates, and other structures are made of wood and copper, reflecting the architectural style of the Meiji era.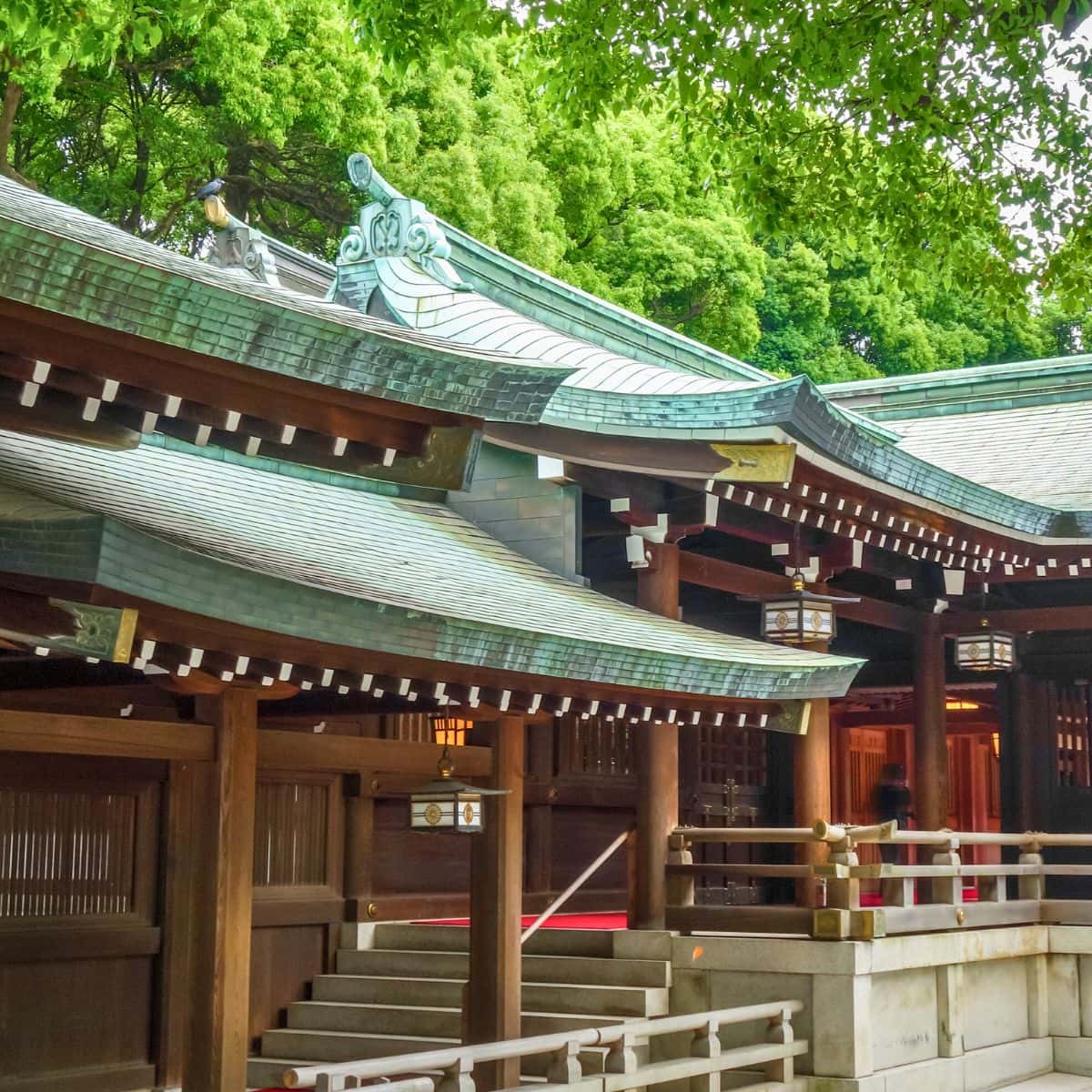 Meiji Shrine / What to Do in Shibuya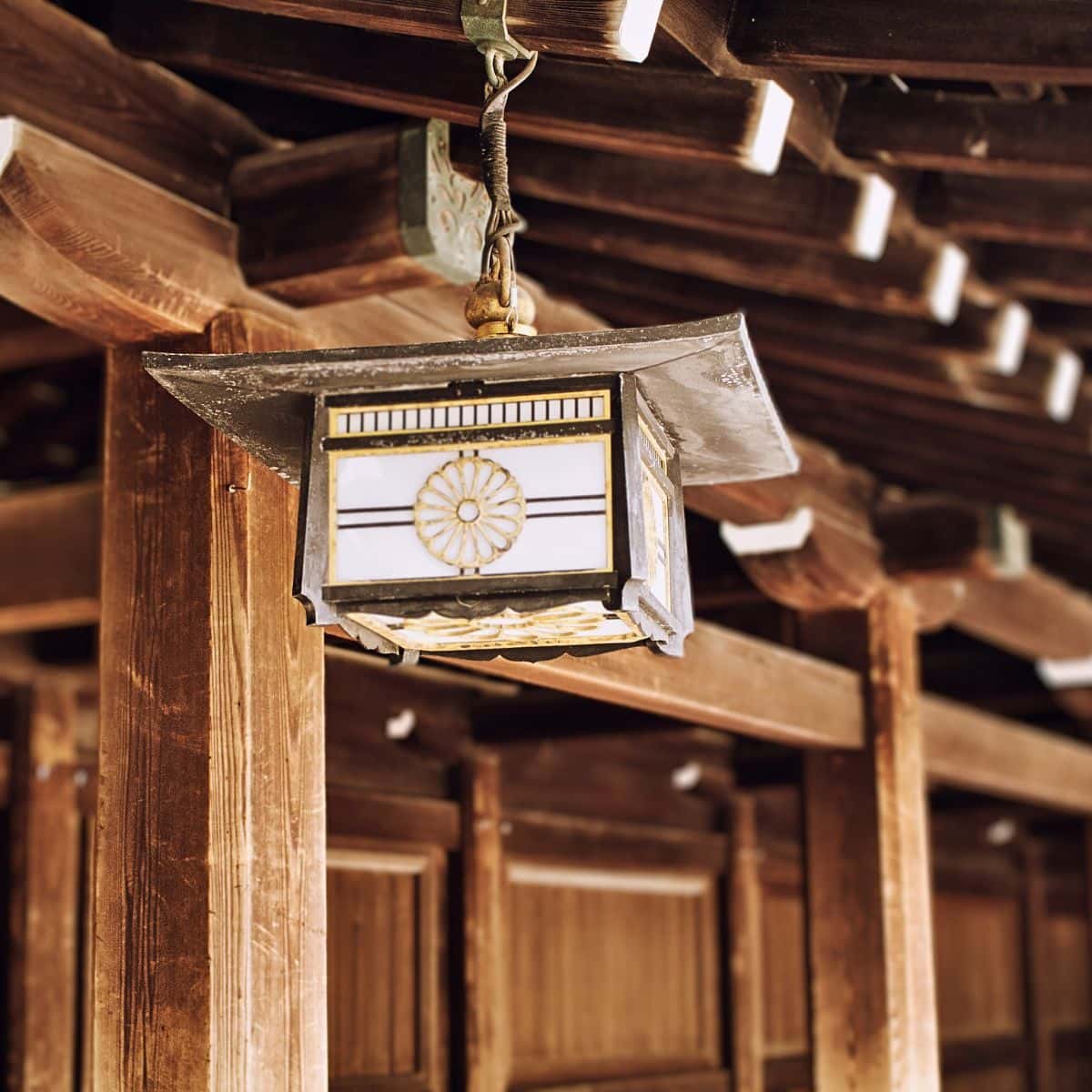 Meiji Shrine / What to Do in Shibuya
Meiji Shrine is located in a serene forested area, making it a peaceful oasis in the heart of bustling Tokyo. The shrine is surrounded by a large forested park called Meiji Jingu Gyoen, which is home to over 100,000 trees donated from all over Japan.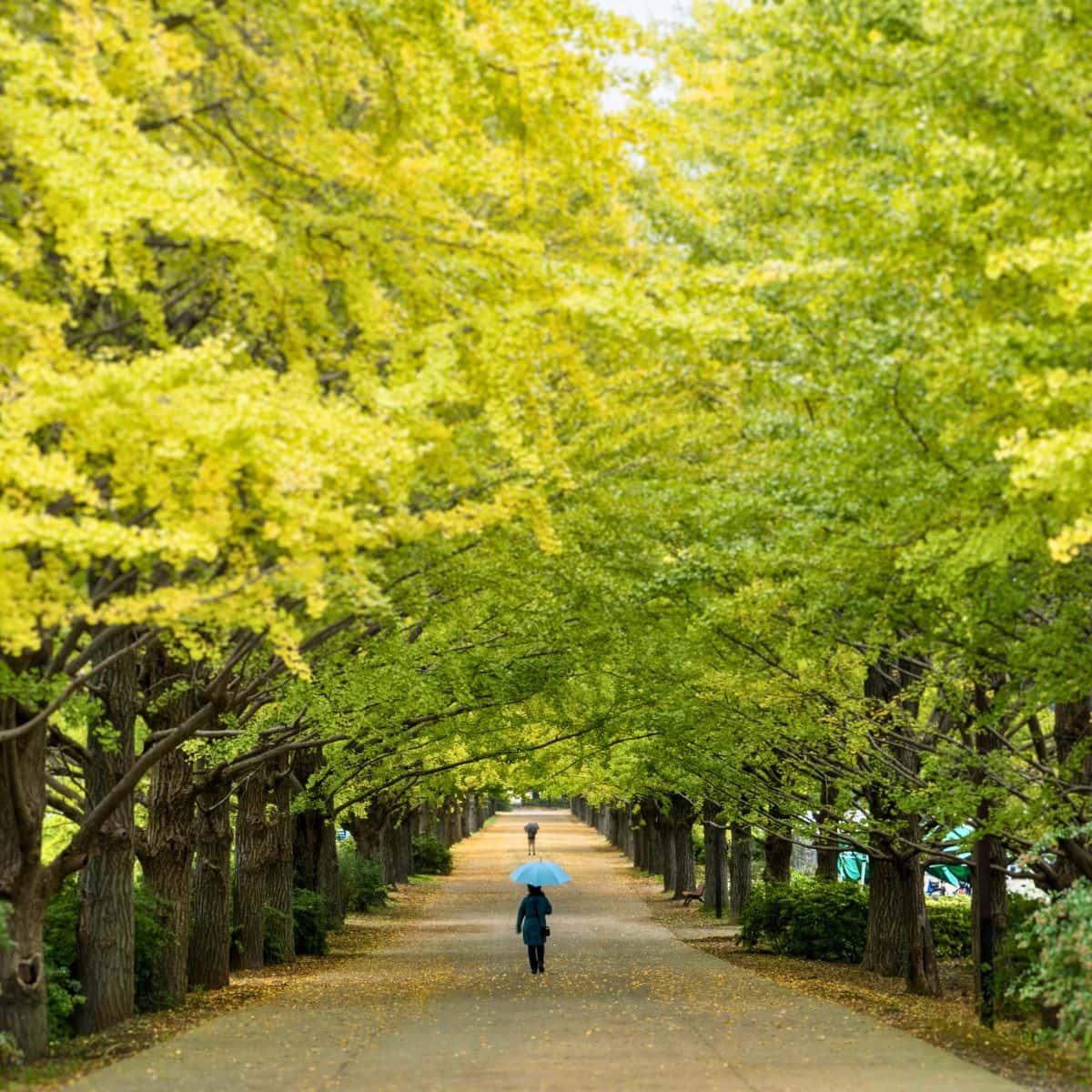 Meiji Jingu Gyoen / What to Do in Shibuya
Check Out the Shopping Scene at Omotesando
Omotesando is a must-visit destination for fashion enthusiasts, design aficionados, and anyone looking for a unique shopping experience in Tokyo. It is often referred to as Tokyo's Champs-Élysées due to its wide tree-lined boulevard and fashionable atmosphere.
There are many international and Japanese designer brand stores, flagship stores, and concept stores.
Omotesando is known for its unique and modern architecture, with many flagship stores designed by world-renowned architects. The buildings themselves are often considered works of art, with innovative and eye-catching designs.
For example, the Omotesando Hills Shopping Complex, designed by renowned architect Tadao Ando, features a sleek and minimalist design with a spiraling ramp that connects its multiple floors. The Prada Building, designed by Swiss architects Herzog & de Meuron, is another notable architectural landmark in Omotesando, with its distinctive glass and stone facade.
Omotesando is also famous for its concept stores, which offer unique and immersive shopping experiences. These stores go beyond traditional retail and offer a combination of shopping, art, design, and culture.
A popular concept store is the Omotesando Koffee, a minimalist coffee shop housed in a converted traditional Japanese house, known for its excellent coffee and serene ambiance.
Japanese designers have their flagship stores or boutiques in Omotesando, offering unique and innovative fashion items that blend traditional Japanese aesthetics with contemporary design. Brands such as Comme des Garçons, Issey Miyake, Yohji Yamamoto, Sacai, and A Bathing Ape (BAPE) are some of the local Japanese brands that you can find in Omotesando.
Winter Illumination in Omotesando / What to Do in Shibuya
Takeshita Street is a popular and vibrant shopping street located in the Harajuku neighborhood within the Shibuya District.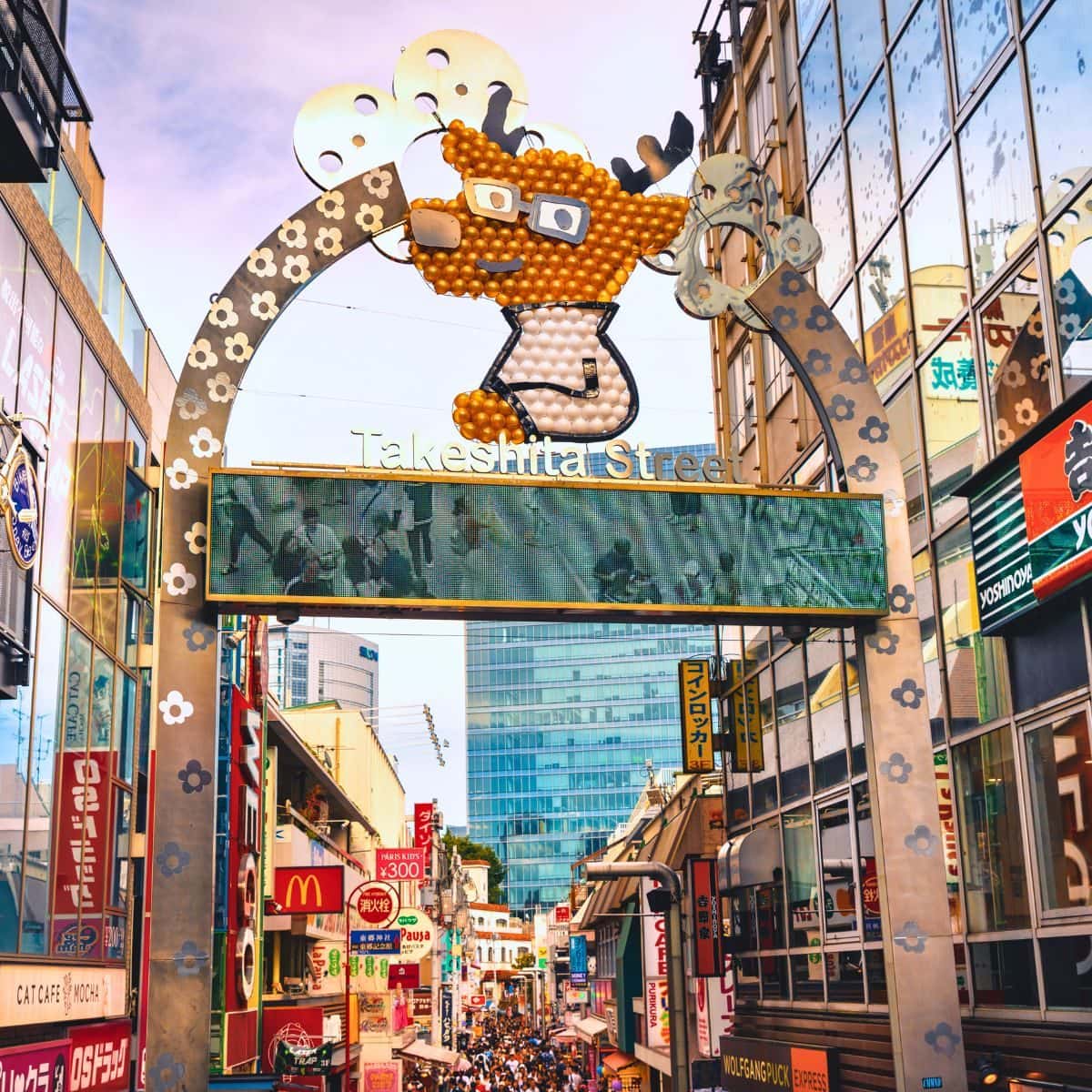 Takeshita Street / What to Do in Shibuya
Here are some of the best places to check out on Takeshita Street:
Crepes are a popular street food on Takeshita Street. My favorite ones are Marion Crepes and Angels Heart. They come in a variety of sweet and savory flavors. They are delicious, so make sure to get a savory and sweet one.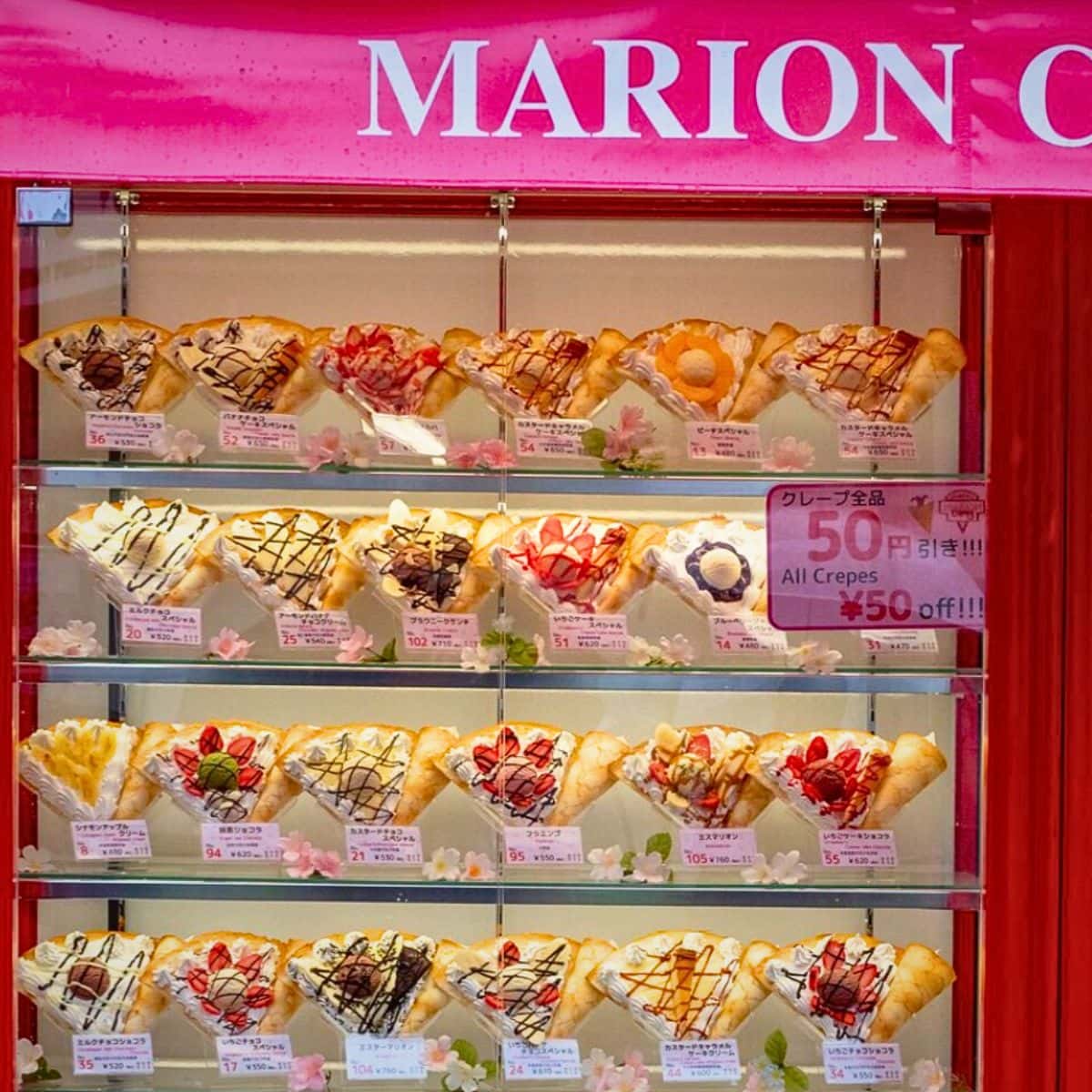 Marion Crepes / What to Do in Shibuya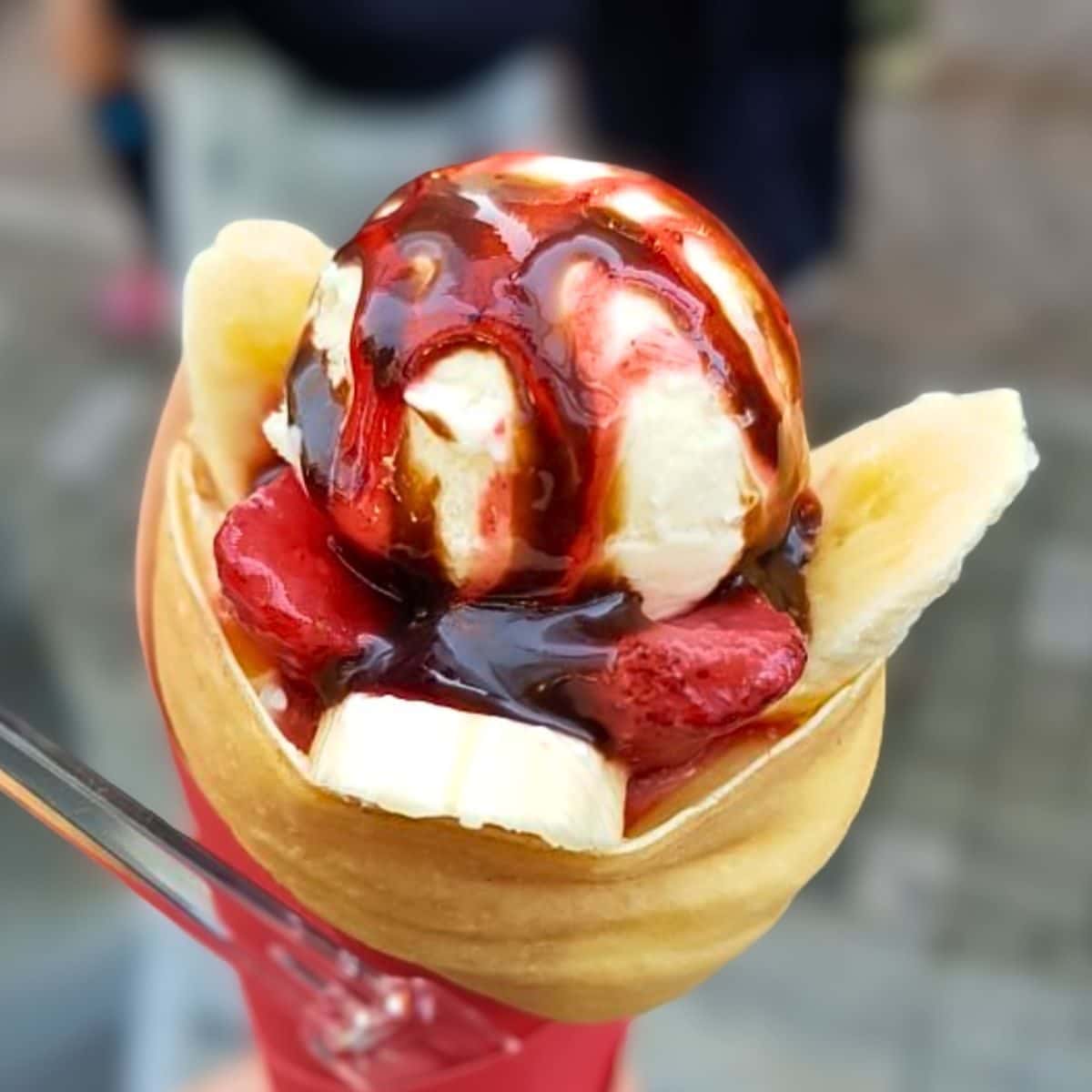 Crepes on Takeshita Street / What to Do in Shibuya
If you have a sweet tooth, Totti Candy Factory is a must-visit. This colorful candy store offers a wide range of colorful and oversized candies, including rainbow-colored cotton candy and lollipops, that make for great photo opportunities.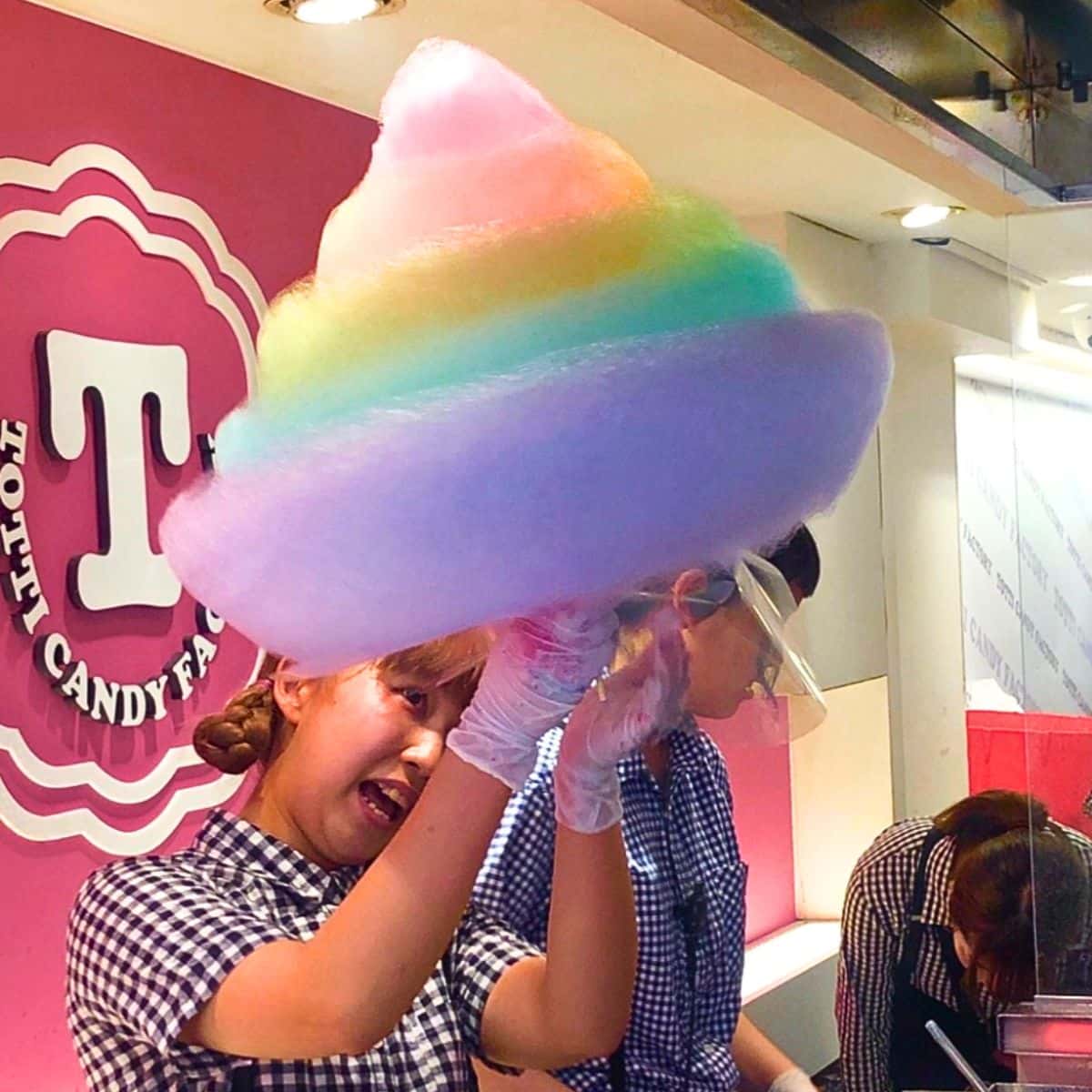 Totti Candy Factory / What to Do in Shibuya
Daiso is a popular Japanese chain of 100-yen stores, and Daiso Harajuku located on Takeshita Street is a must-visit for budget-conscious shoppers. You can find a wide variety of affordable and cute items, including stationery, beauty products, accessories, and more.
WEGO is a popular Japanese fashion brand that offers a wide range of trendy clothing and accessories, with a focus on street fashion, casual wear, and vintage-inspired styles. It's a favorite among Harajuku's youth and is known for its unique and affordable fashion items.
Takeshita Street is renowned for its fashion boutiques that offer a wide range of trendy and unique clothing items, accessories, and cosmetics. From colorful and eccentric street fashion to kawaii (cute) styles, you'll find an array of fashion-forward stores catering to different tastes.
Harajuku is known as the birthplace of cosplay, and Takeshita Street is no exception. There are several shops that specialize in cosplay costumes, wigs, and accessories for those who are interested in Japanese anime, manga, and gaming culture. Make sure to check out ACOS (Anime Cosplay). It is a well-known cosplay store chain in Japan, and its Harajuku store is located on Takeshita Street. They offer a wide range of cosplay costumes, wigs, props, and accessories from various anime, manga, and gaming series.
Calbee Plus is a snack shop that offers freshly made potato chips and other snacks. They have a customization station where you can choose your favorite toppings, such as cheese or chocolate, to be added to your chips. It's a fun and tasty experience to create your own unique flavor combination.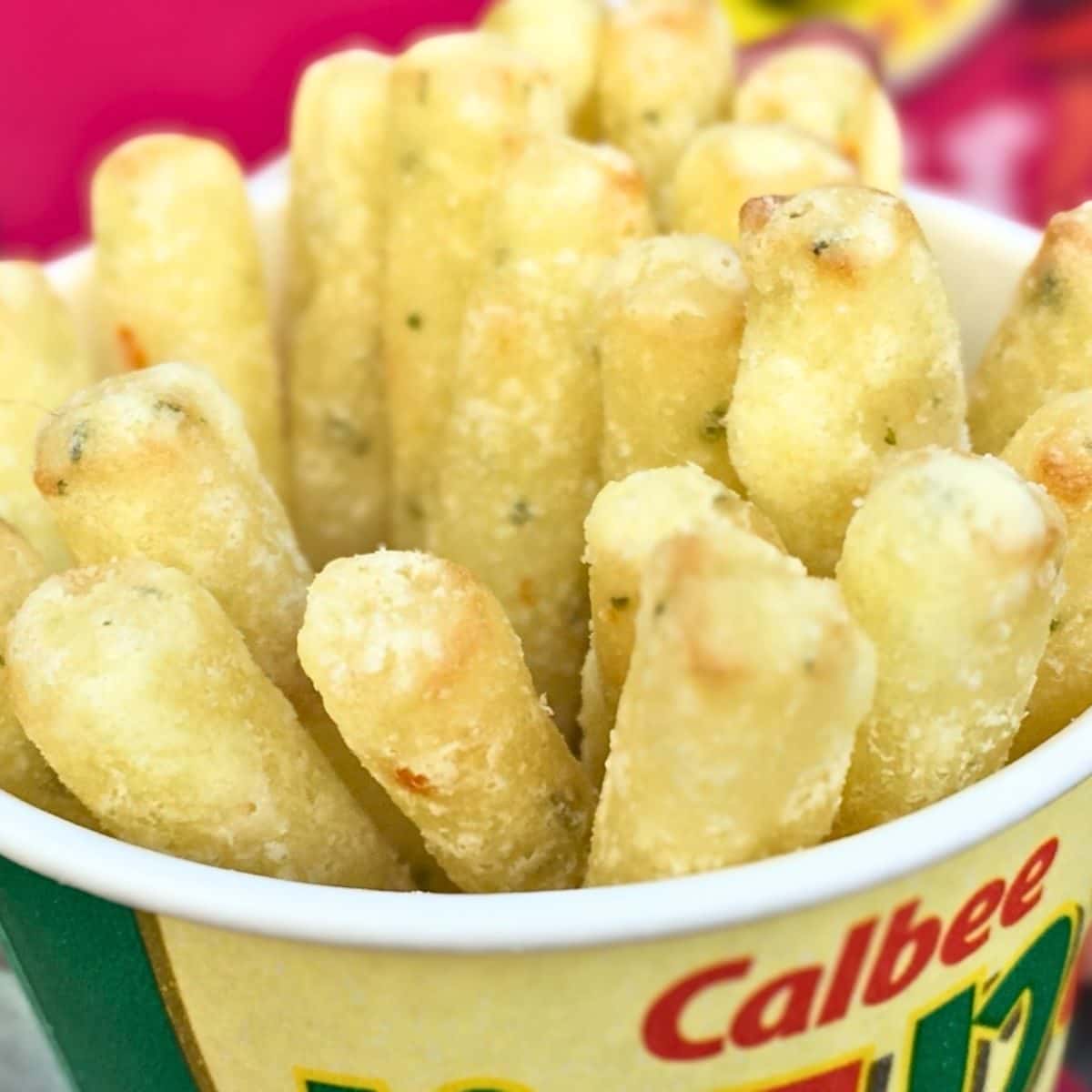 Calbee / What to Do in Shibuya
Take a Stroll on Sophisticated Cat Street
Cat Street is located just a short walk from Takeshita Street. It is a trendy shopping street known for its upscale boutiques, vintage stores, and stylish cafes.
It's a great place to find unique and high-end fashion items, as well as enjoy a more relaxed and sophisticated atmosphere compared to Takeshita Street.
The Cat's Tail is a popular boutique on Cat Street known for its unique and eclectic fashion items. They offer a wide range of clothing, accessories, and lifestyle products, with a focus on vintage-inspired, bohemian, and casual chic styles. The store has a cozy and welcoming atmosphere, and you can find many one-of-a-kind pieces to add to your wardrobe.
Ragtag is a well-known vintage clothing store on Cat Street that offers a curated selection of high-quality and fashionable pre-owned clothing. They have a wide range of items, including clothing, accessories, and bags, from both Japanese and international brands. If you're into vintage fashion, Ragtag is a must-visit store on Cat Street.
Deus Ex Machina is a unique concept store on Cat Street that combines a motorcycle workshop, cafe, and retail space. They offer a range of motorcycle-inspired clothing, accessories, and lifestyle products, along with a cafe that serves coffee, food, and craft beer. It's a cool and laid-back place to explore, even if you're not into motorcycles.
UNITED ARROWS is a popular Japanese fashion brand that has a store on Cat Street. They offer a curated selection of stylish and high-quality clothing for men and women, with a focus on contemporary and minimalist styles. The store has a sleek and modern interior, and you can find a wide range of clothing, accessories, and footwear.
The Great Burger is a trendy burger joint located on Cat Street, known for its delicious and Instagram-worthy burgers. They offer a variety of gourmet burgers, including vegetarian and vegan options, with creative toppings and combinations.
Streamer Coffee Company is a specialty coffee shop on Cat Street that is popular among coffee enthusiasts. They are known for their high-quality coffee, including specialty lattes and pour-over coffee, and they have a cozy and stylish interior where you can relax and enjoy your coffee.
Explore Spain-zaka Street
Spain-zaka, also known as Spain Slope, is a trendy street with lots of unique shops and a stylish vibe located near the Harajuku neighborhood in Shibuya.
Laforet Harajuku is a famous fashion department store located on Spain-zaka Street. It's known for its avant-garde fashion and cutting-edge designs, showcasing the latest trends from both local and international designers.
Kiddy Land Harajuku is a must-visit for fans of character goods and toys. This iconic toy store offers a wide range of toys, games, and merchandise featuring popular characters from anime, manga, and other Japanese pop cultures.
Harajuku Owl Cafe is a unique cafe where you can interact with cute and friendly owls up close. The cafe offers a chance to hold, pet, and take photos with these majestic birds while enjoying a drink or snack.
Mame-Shiba Cafe is another animal-themed cafe located on Spain-zaka, where you can interact with adorable miniature Shiba Inu dogs. These small-sized Shiba Inus, known as "mame-shiba," are known for their cute and expressive faces.
Enjoy Shibuya's Nightlife
Shibuya is known for its vibrant nightlife, with numerous bars, clubs, and entertainment venues that cater to a variety of tastes.
The area around Dogenzaka and Nonbei Yokocho is well known for its nightlife scene.
Club Womb, one of Tokyo's most famous nightclubs, is located in Dogenzaka. It's known for its cutting-edge electronic dance music (EDM) scene, attracting both local and international DJs, and offering a high-energy clubbing experience. Club Womb is a must-visit spot for electronic music enthusiasts and party-goers.
Nonbei Yokocho is a small, narrow alleyway located in Shibuya. And, it is kind of a hidden gem off the touristy path giving you a chance to explore a more local and authentic side of Tokyo.
The name "Nonbei Yokocho" translates to "drunkard's alley" or "alley of the drunkards," reflecting its reputation as a place where you can enjoy drinks and socialize in a cozy, traditional setting.
Nonbei Yokocho is famous for its retro ambiance with low-rise buildings, and dimly lit lanterns creating a nostalgic feel of old Japan. It is filled with small, intimate izakayas (bars) that can seat only a handful of customers at a time.
The izakayas in Nonbei Yokocho offer a wide range of Japanese food and drinks, including sake, beer, grilled skewers (yakitori), fried dishes (karaage), and more. Many of the izakayas have been operating for decades and are run by proprietors who take much pride in serving customers.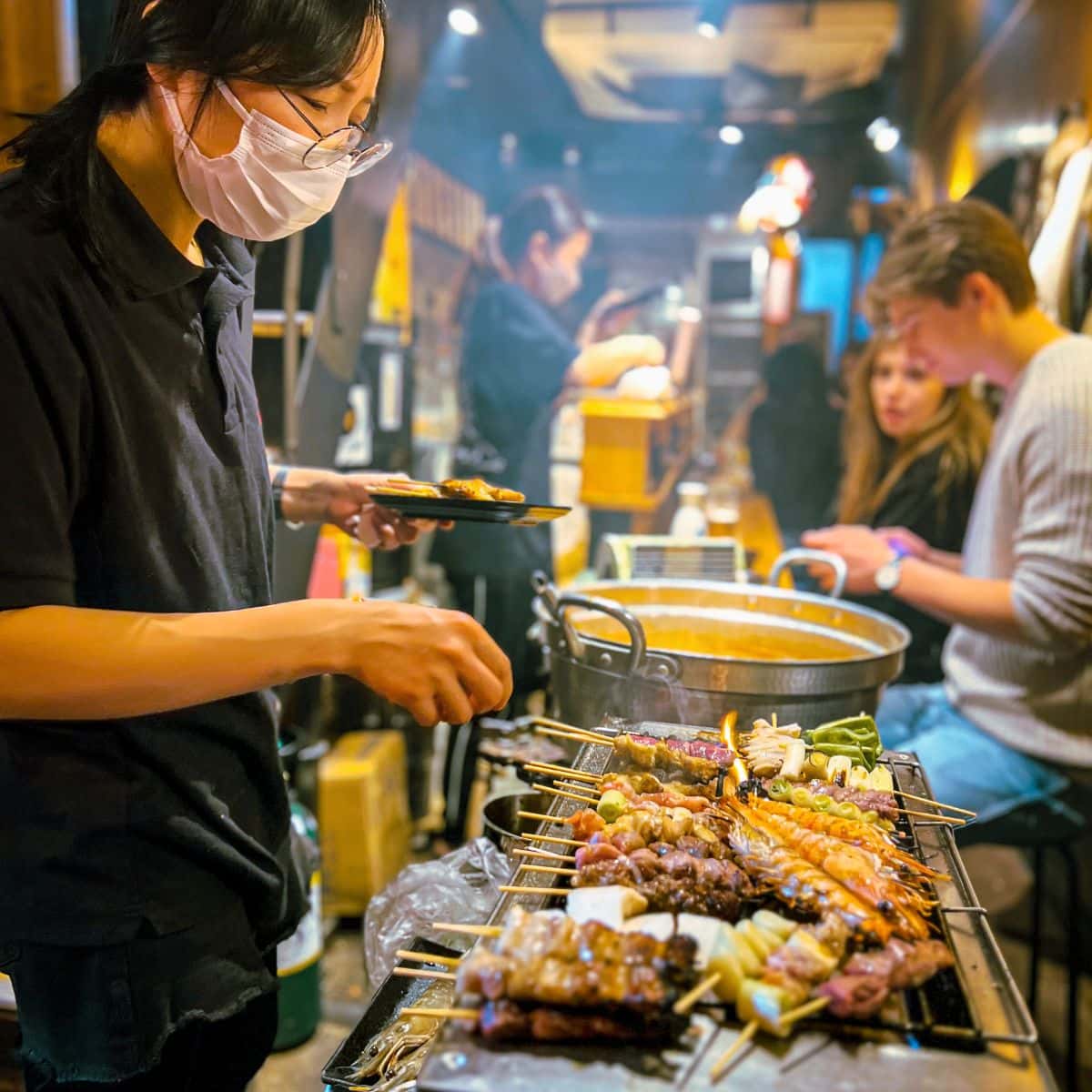 Nonbei Yokocho / What to Do in Shibuya
Experience VR (Virtual Reality) in Shibuya
Virtual Reality (VR) experiences have become increasingly popular in recent years, and Shibuya offers several options for VR enthusiasts.
VR Park Tokyo is a state-of-the-art VR entertainment facility located in the heart of Shibuya. It offers a variety of VR experiences, including immersive games, interactive experiences, and virtual adventures.
You can try out a wide range of VR activities, such as fighting zombies, exploring virtual worlds, and solving puzzles.
VR Zone Shibuya is a virtual reality arcade also located in Shibuya that offers a range of VR experiences.
It's operated by Bandai Namco, one of Japan's leading entertainment companies, and features popular VR games and experiences based on popular franchises like Mario Kart, Dragon Ball, and Gundam.
Discover Some of Shibuya's Hidden Gems
While there are many popular spots in Shibuya, there are also hidden gems that offer unique and off-the-beaten-path experiences for those who are willing to explore.
As mentioned earlier, Nonbei Yokocho, also known as "Drunkard's Alley," is a narrow alley lined with small bars and izakayas (Japanese-style pubs). Despite its central location in Shibuya, Nonbei Yokocho retains a nostalgic and retro atmosphere, with its narrow cobblestone streets and dimly lit bars. It's a hidden gem for those seeking an intimate and authentic drinking experience in a traditional Japanese setting.
Udagawacho Coffee is a small, hidden coffee shop located in a narrow alley off the main streets of Shibuya. It's known for its cozy and relaxed ambiance and serves delicious coffee brewed with care and precision. The shop also offers a small selection of pastries and sandwiches, making it a perfect spot for a quiet break from the hustle and bustle of Shibuya.
246 Common is a hidden courtyard located behind the busy streets of Shibuya, offering a unique blend of food, fashion, and art. It's a creative and alternative space that hosts various events, pop-up shops, and exhibitions, showcasing the work of local artists and designers.
Bunkamura Street is a narrow pedestrian street located near the Bunkamura cultural complex in Shibuya, lined with stylish boutiques, cafes, and restaurants. It's a hidden gem for fashion enthusiasts and those looking for unique and independent fashion brands, as well as a quiet spot for a leisurely stroll away from the crowded streets of Shibuya.
Love Hotel Hill is a hidden area in Shibuya known for its quirky and unique love hotels, which are themed hotels typically designed for couples seeking privacy and intimacy. The area offers a unique and colorful atmosphere with its neon signs, flashy decorations, and themed rooms.
Intrepid Scout's Tips for What to Do in Shibuya
Shibuya has been a hub for various subcultures that have emerged and evolved over the years.
Gyaru is a Japanese subculture that originated in the late 1990s and early 2000s and was popularized in Shibuya.
Gyaru fashion is characterized by glamorous and exaggerated looks, with a focus on tanned skin, dyed hair (often blonde or colorful), heavy makeup, and flashy clothing.
Gyaru girls, also known as "gals," are known for their confident and outgoing personalities and their love for fashion, nightlife, and socializing in Shibuya's trendy streets.
Harajuku fashion, known for its eccentric and avant-garde styles, has had a significant impact on Shibuya's fashion and subculture scene.
Harajuku fashion encompasses various styles, including Lolita, Decora, Visual Kei, and more, and has been a source of inspiration for many young people in Shibuya who embrace alternative and unique fashion expressions.
Otaku refers to individuals with a deep passion for anime, manga, video games, and other forms of Japanese pop culture.
Shibuya is home to many shops, arcades, and cafes catering to otaku interests, making it a hotspot for otaku culture.
Shibuya's "geek" culture can be seen in various forms, such as cosplay (costume play), maid cafes, anime-themed merchandise, and gaming events, attracting otaku enthusiasts from all over Japan and beyond.
Shibuya has a thriving street culture scene, with an emphasis on hip-hop, skateboarding, and street art.
Many young people in Shibuya are influenced by urban street culture, and you can often see them dressed in streetwear, practicing skateboarding tricks, or enjoying street art exhibitions and installations.
Shibuya's streets and parks often serve as a gathering place for urban street culture enthusiasts, creating a vibrant and dynamic subculture scene.
Did You Find This Useful?
Why Not Save What to Do in Shibuya to Your Pinterest Board!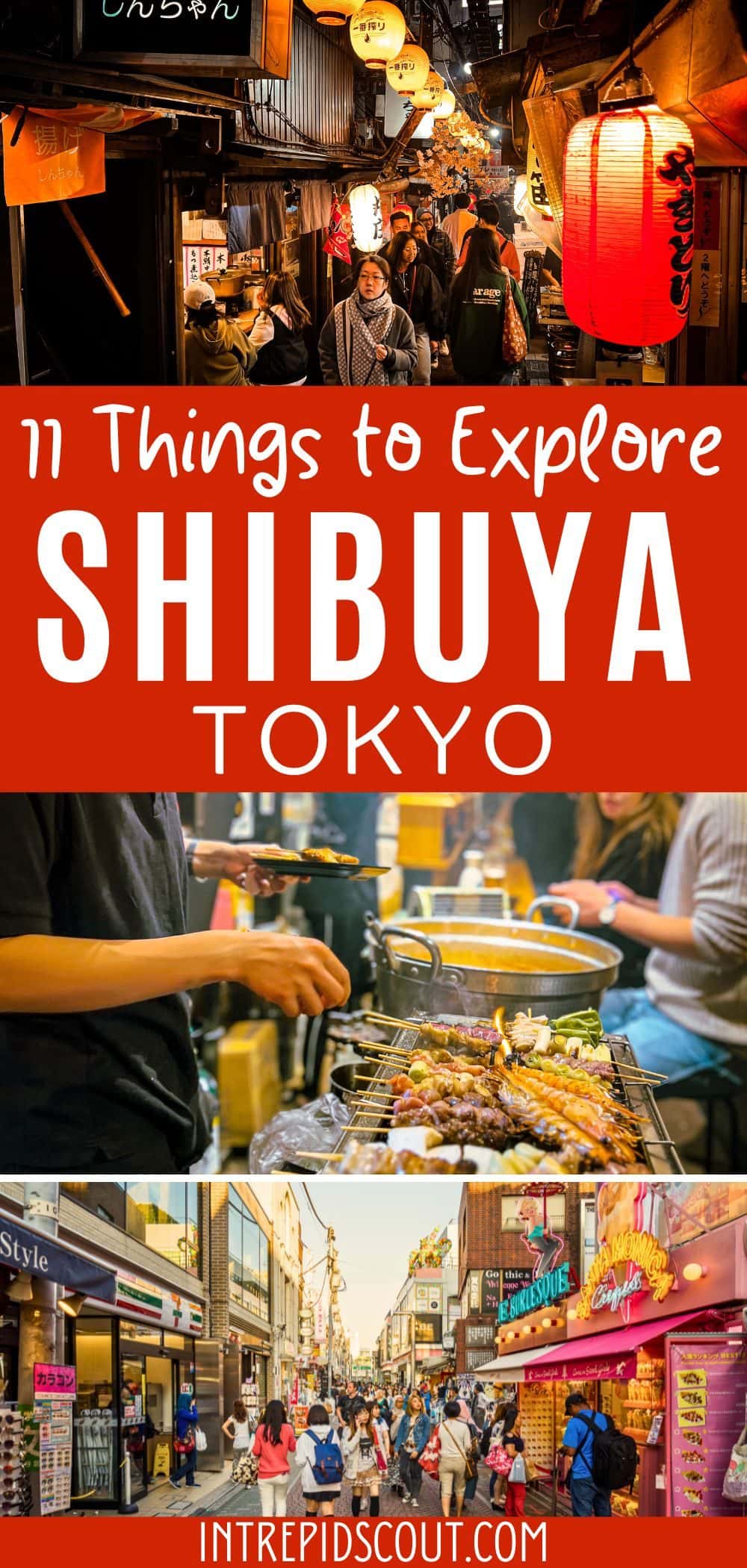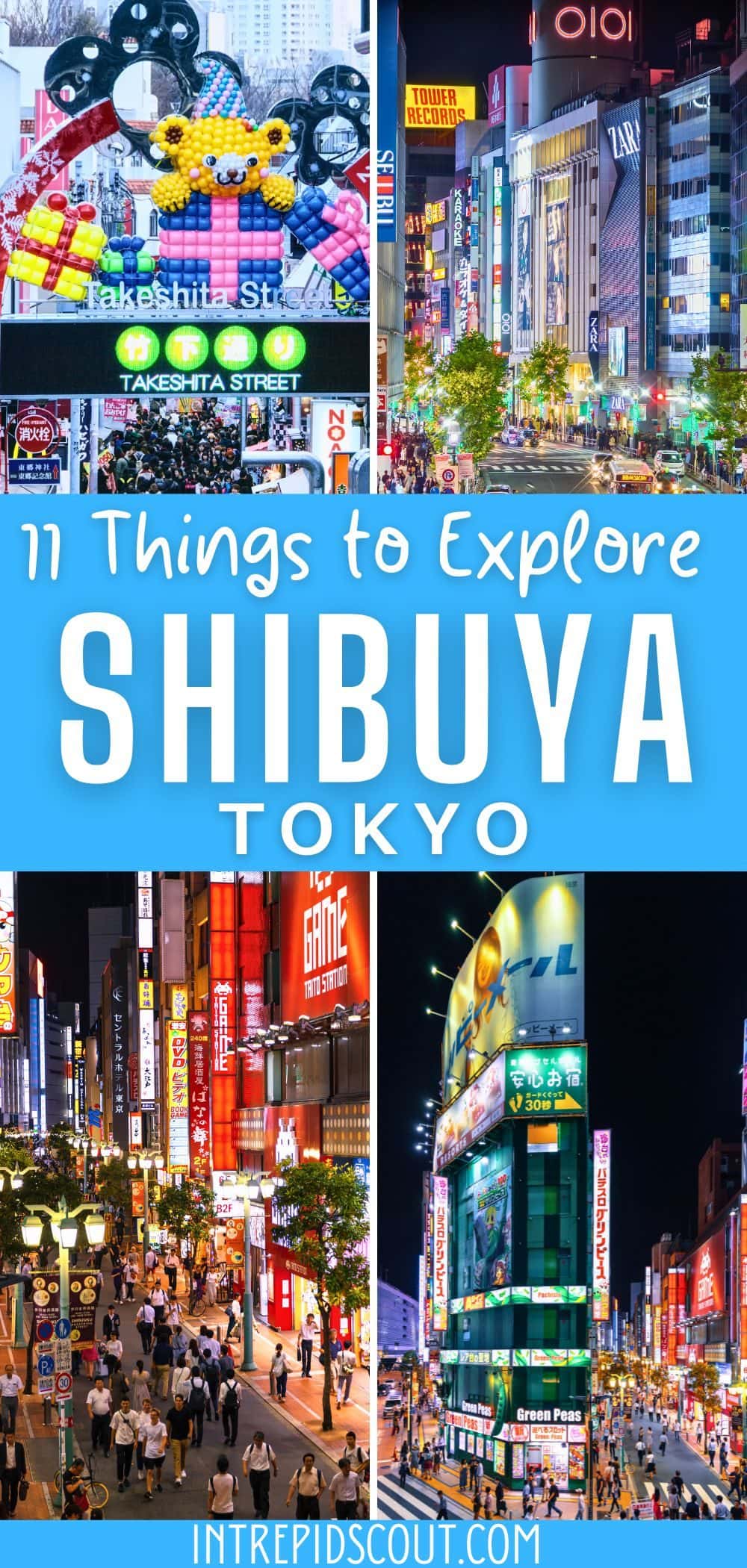 Now, It Is Your Turn, I Would Like to Hear Back from You!
Are you planning on visiting Tokyo? What is on your list of places to see in Tokyo?
Please let me know! Drop me a quick comment right below!
Click on any of the images below to get inspired and to help you with the planning process for your trip to Japan!