This site uses affiliate links, meaning that if you make a purchase through our links, we may earn an affiliate commission.
It is impossible to make an Osaka itinerary without including Dotonbori and Shinsaibashi. Although, they are known as the city's tacky tourist traps, they are actually a must-see attraction that you cannot miss. What is more, if you are a bit adventurous, and you want to escape the main streets, then venture into some of the vibrant side alleys in Dotonbori and Shinsaibashi.
So, take a stroll with me through the neighborhoods of Dotonbori and Shinsaibashi that truly define Osaka.
Dotonbori and Shinsaibashi Walking Tour Map
Following is a quick overview of the walking tour of Dotonbori and Shinsaibashi:
The walking tour starts at Osaka-Namba Station, which I marked on the map (right below).
Next, you will explore Dotonbori. Likewise, Dotonbori is a street located along the Dotonbori River. Specifically, it is situated on the south side of the river. I marked that area on the map as well.
After strolling through Dotonbori, the walking tour takes you to Shinsaibashi. Notably, Shinsaibashi is a shopping district between Dotonbori River and Shinsaibashi Station. It is marked on the map as well. I have to mention, that the boundaries between the two areas are not clear. Actually, they pretty much blend into each other. By the way, the whole area is called "Minami" in Japanese
Finally, the walking tour ends at Shinsaibashi Station.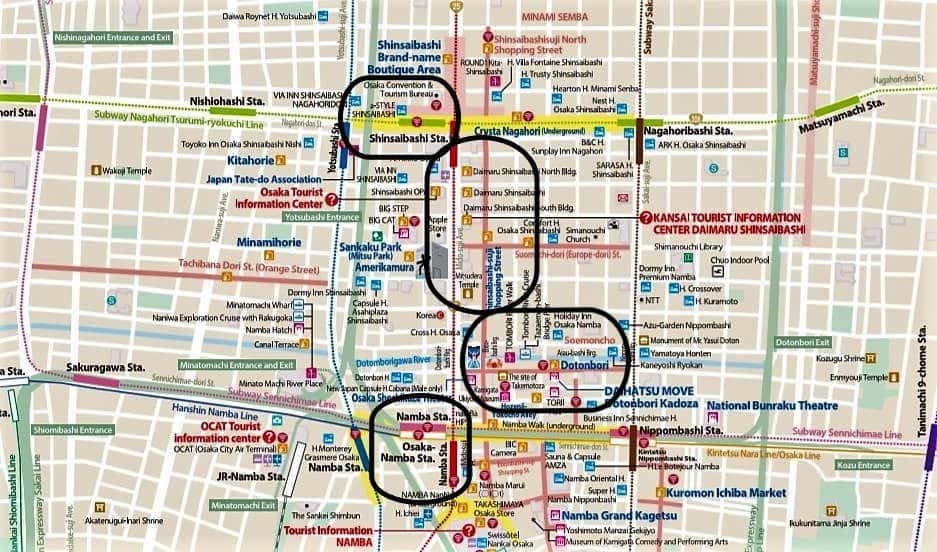 Furthermore, make sure to download some very useful maps from Osaka Info website that cover Osaka in detail. I used them all and they helped me tremendously to navigate throughout the area. Following is the website: Osaka Info
In addition, you might want to review my post about free offline map apps that I used while traveling throughout Japan: Japan – Free Offline Map Apps with GPS Navigator for iPhone
Osaka Transportation
I recommend that you get familiar with Osaka transportation system. Following is the map that I used to figure out the subway and railway systems.
If you are JR Pass holder, then you should most definitely utilize JR Osaka Loop Line while exploring Osaka. The cost of your travels will be included in the pass.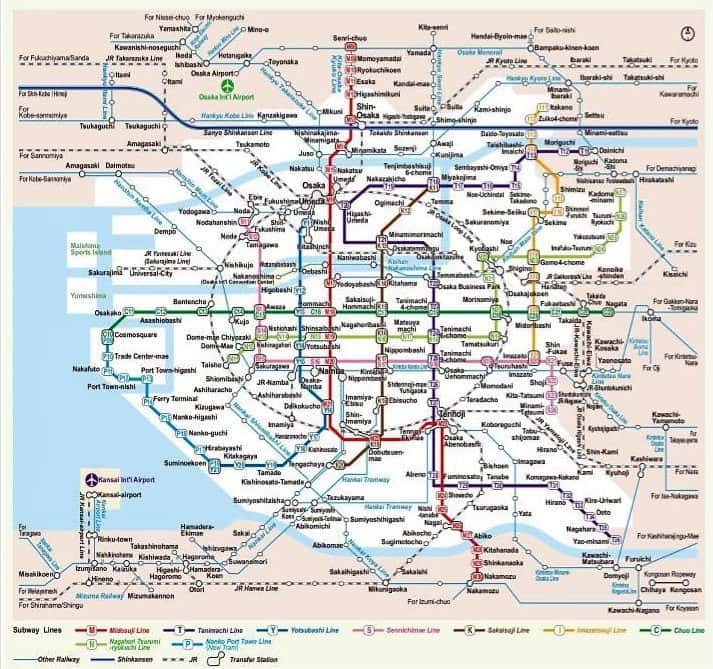 Osaka-Namba Station
To start with, you need to get to Osaka-Namba Station. You have several options of getting to Osaka-Namba Station and it all depends what direction you are coming from. To start with, you can take the Midosuji subway line, Yotsuyabashi subway line and Sennichimae subway line. They will all take you to Osaka-Namba Station.
In addition, if you are a holder of JR Pass, then you should consider taking JR Osaka Loop Line. If you decide to take JR Loop Line then get off at Inamiya Station and then transfer to JR Namba and get off at JR Namba Station.
I know that figuring out transportation can be frustrating and time consuming. However, it really pays off and saves a lot of time once you are familiar with the system.
How to Get to Dotonbori and Shinsaibashi from Osaka-Namba Station
Once you arrive at the station take exit 14. Next, walk to the left on the main street and turn right before the first bridge. You will be heading north from the station. Following is the map of Osaka-Namba Station. If you look closely, you will notice that exits 14 through 27 are located on the north side. It is no more than a 5-minute walk from the station to Dotonbori.
Dotonbori and Shinsaibashi Walking Tour
Dotonbori – Bright Lights and Sizzling Street-Food

Needless to say, Dotonbori is a bustling streetscape that looks and feels like a cross between the movie sets for Blade Runner and Total Recall. The narrow streets are packed with crowds to the brim. All the shop fronts have bright, flashing and colorful displays trying to get your undivided attention. In addition, there are hundreds of food stalls preparing and selling sizzling delicacies.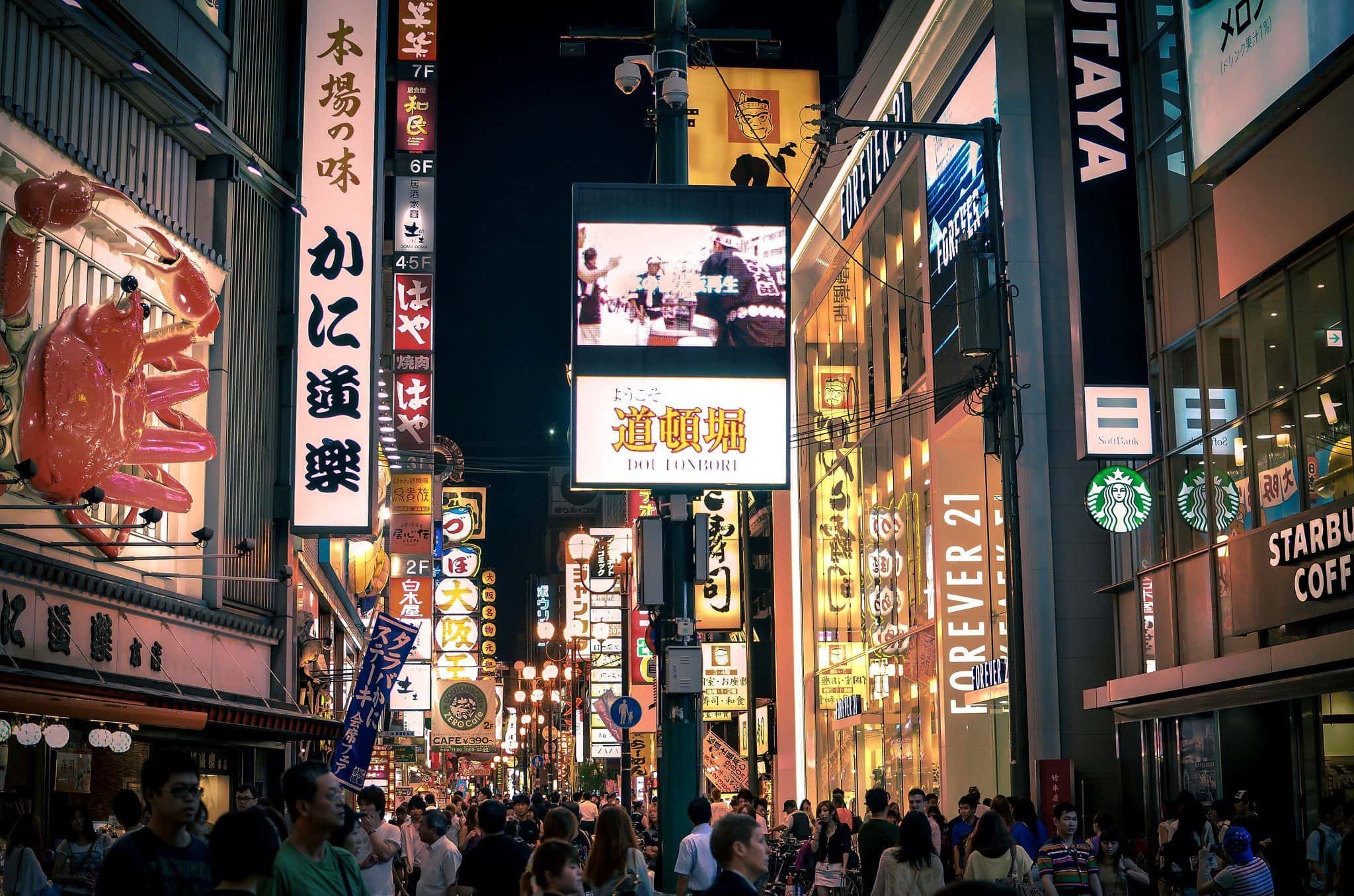 Take your time and meander along Dotonbori River. As you stroll, "graze" your way around and taste lots of different and unusual delights. Above all, make sure to try takoyaki and okonomiyaki. Or, stop by Ichiran Ramen and Ippudo, which are two of my favorite restaurants. If you venture into any of the side alleys around the main street, you will find some lovely eateries that are a lot calmer and cater more to the locals.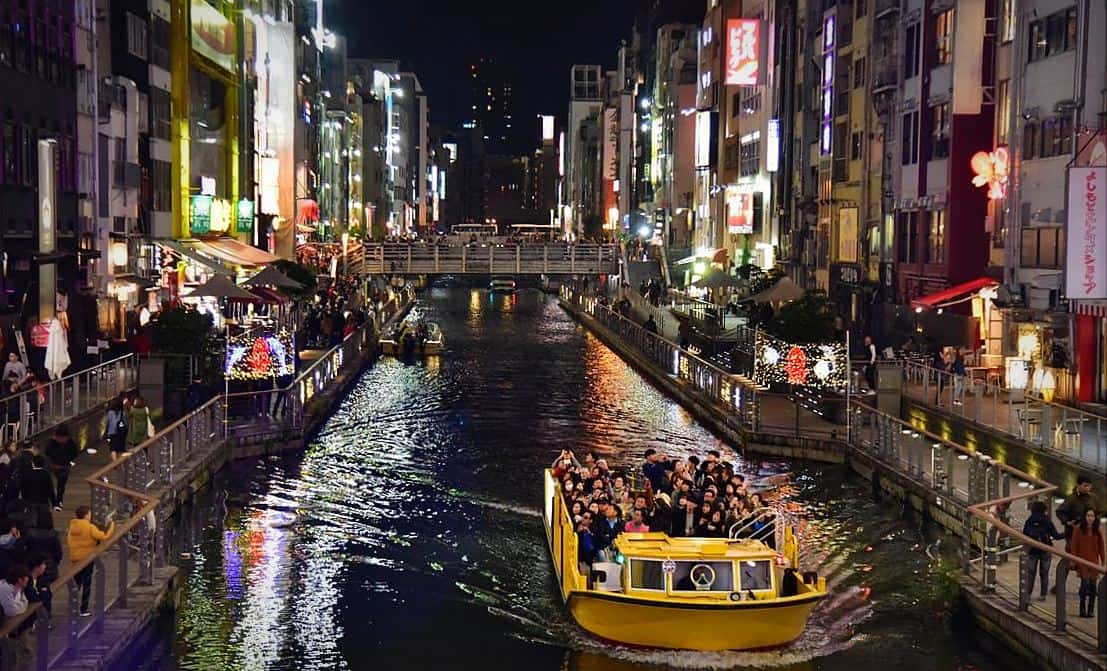 As it starts getting darker, more lights will come on. Make sure to take a look all around. There are literally hundreds of neon lights and billboards in Dotonbori. After awhile, it all becomes a sensory overload. However, you should not miss Kani Doraku Crab and the famous Glico Man.
Kani Doraku Crab
The famous Kani Doraku billboard is right by the Ebisubashi Bridge. The enormous crab is an attention-getter for the restaurant that specializes in crab dishes. Kani Doraku is famous for its "kanisuki" (5,000 yen plus tax) sukiyaki-style crab hotpot.
Also, Kani Doraku sells grilled crab right in the front on the restaurant. It is delicious!
Glico Man
The famous poster of running man known as Glico Man goes back to 1920's, when Riichi Ezaki started experimenting with extracting glycogen in oysters to produce healthy food, particularly in confectionery, to help improve the health of the children. By the way, glycogen is substance that serves as a form of energy storage in humans and animals.
The first product launched was caramel candy containing glycogen. The caramel candies laced with glycogen were named "Glico" and packaged in boxes featuring a running man and an inscription: "300 Meters on a Single Piece".
Glico had a pretty clever marketing campaign. First of all, each caramel candy box contained a miniature toy. In addition, Glico developed and installed vending machines in malls. Each vending machine had a built-in projector that would play a 20-second movie in five parts. In order to see the entire movie, you had to purchase five candies.
All in all, the first Glico signboard was installed in 1937 and it has become Osaka's landmark ever since.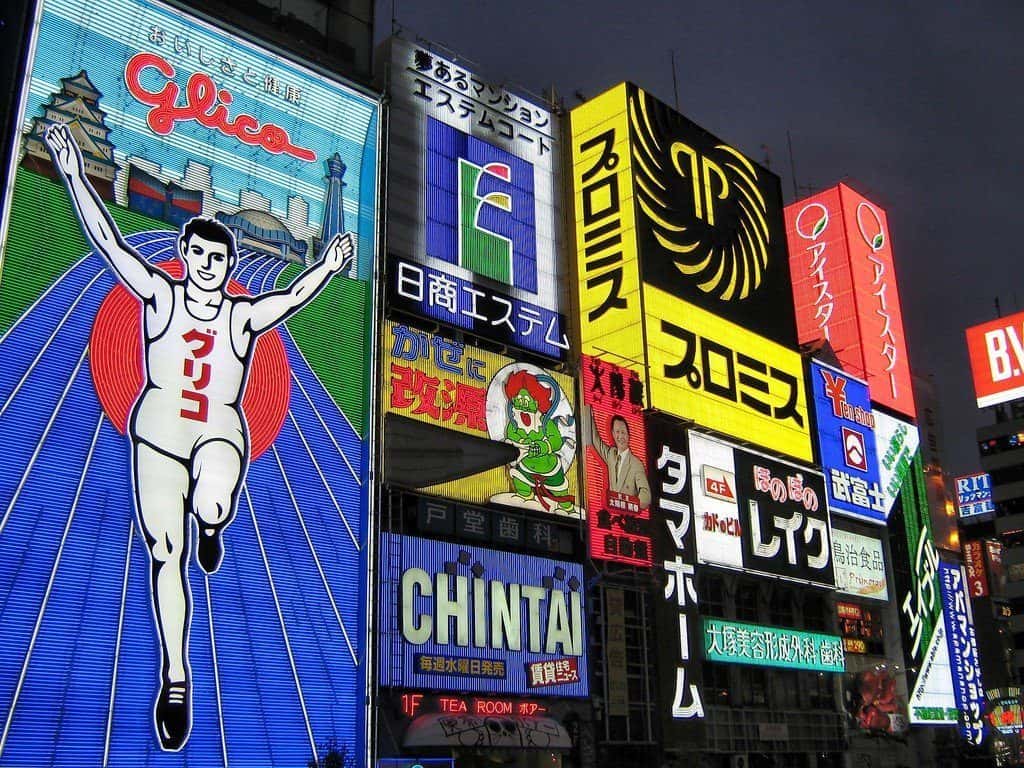 What Does Dotonbori Mean?
Dotonbori can trace its history back to 1612, when a local entrepreneur, Yasui Doton, started expanding the tiny river and building a canal in hope of increasing commerce in the area. The canal project was completed in 1615 and named Dotonbori in praise of Doton.
Doton was taken from his name, and "bori" (from "hori") which means "moat" or "canal".
History of Dotonbori
Theater Scene
In the late 17th century, many great theaters were opened in Dotonbori including Nakaza, Kadoza and Naniwaza, as well as Takemotoza and Toyotakeza (za means theater). The opening of so many theaters lead to the Kabuki boom.
Chikamatsu Monzaemon was the most famous playwriter during that time. He wrote 130 plays and most of them were performed at Takemotoza theater in Dotonbori. Chikamatsu Monzaemon was called the Eastern Shakespeare.
If you have time, then you should try attending the Kabuki performance at Kadoza, which is operating until this day.
Jazz Scene
In the 20th century, Dotonbori became the jazz capital of Japan. It was lined up with many jazz dance halls and jazz cafes. In addition, professional foreign jazz musicians played in many of the clubs.
You can still listen to jazz in Dotonbori today. There are many jazz clubs along Dotonbori River walk. In addition, you can take a 40-minute boat ride and listen to jazz as you are soaking up the sights of Dotonbori.
Dotonbori and Shinsaibashi Walking Tour Continues
Shinsaibashi
Dotonbori and Shinsaibashi walking tour continues. Your next stop is Shinsaibashi. As I said before, the two areas: Dotonbori and Shinsaibashi blend into each other and their boundaries are not really clear.
However, if you look at the first map included at the beginning of this post, Shinsaibashi is located north of Dotonbori.
Shinsaibashi is an undercover shopping arcade approximately 600 meters long. It has hundreds of chain retail stores, many unique trendy boutiques, as well as expensive brand name stores.
Daimaru, a huge department store has quite a presence in Shinsaibashi. The highlight for me is always the supermarket and food hall. What a riot of color and exquisite stuff like 21,000 yen melons.
At any rate, if you have any shopping to do, then head straight to Shinsaibashi. There is something for every shopper and every wallet on this street. There are also dozens of delicious restaurants and cafes hidden in the streets and the alleys leading just off it.
The western area of the Shinsaibashi has famous imported fashion spot named America-Mura. You can find many young people always heading to that place. If you have time, I recommend stopping by America-Mura.
America-Mura
Since the 1970s, America-Mura (America Village) has been the center of youth culture in Osaka. It is the place where young Japanese come to be seen and check out the latest fashions and trends.
The area got its name from the import shops selling miscellaneous goods from America which were set up here around 30 years ago.
The streets are crammed with used clothing stores, miscellaneous goods shops, trendy boutiques, cafes, bars and restaurants. It has been estimated that at least 200,000 young people descend here on the weekends.
Another place that I found to be worth exploring in Shinsaibashi is the cutest boutique called Alice on Wednesday.
Alice on Wednesday
If you are a fan of Lewis Caroll's "Alice in Wonderland", then you will truly enjoy Alice on Wednesday. It is the most adorable boutique containing quite a collection of items inspired by Alices' adventures in Wonderland.
The entrance to the boutique is a tiny door only a meter tall.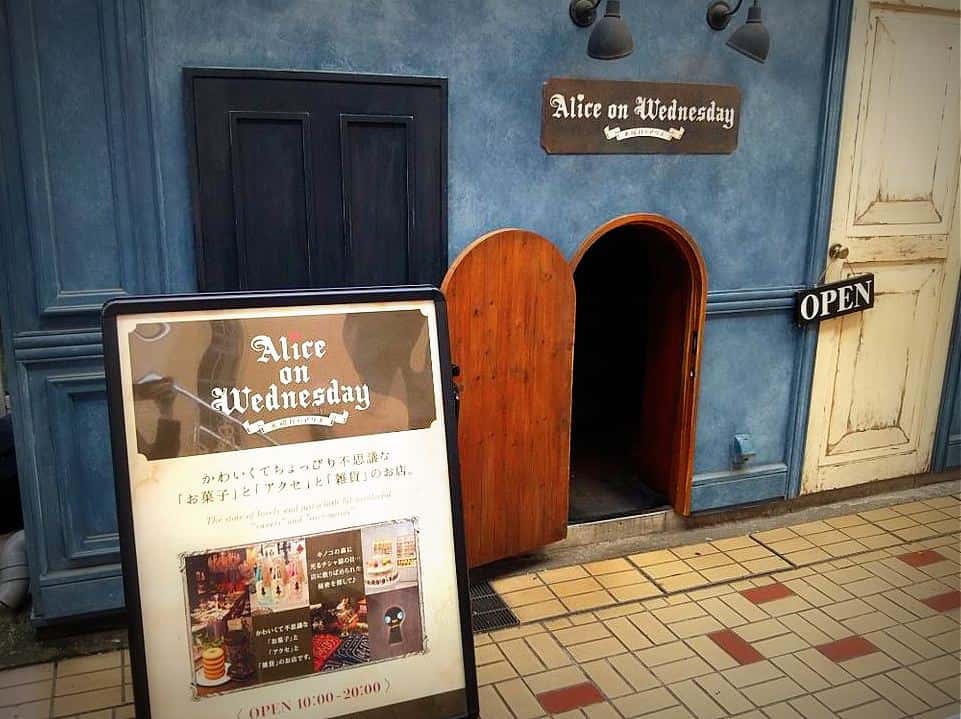 I loved browsing through the items which included bottles labeled "drink me" and chocolates labeled "eat me".
The store is small, so be ready to get in line and wait your turn to enter. For one thing, it was totally worth it for me to see some of my childhood memories brought to life. Moreover, check out their website: Alice on Wednesday
Cat of Liberty
If you need a break from shopping or constant crowds and you are a cat lover, then stop at Cat of Liberty. It is a cute cat cafe and a great introduction to the animal cafes in Japan.
You pay by the hour to just sit and sip some coffee or tea and play with over a dozen furry friends. 1-hour, which includes a drink, costs 1,100 yen, or another option is 30-minute session, without a drink for 600 yen. By the way, cat treats and toys cost slightly extra.
There are many types of cats to play with at this cafe, including a Sphinx cat and a giant Maine Coon. Moreover, if you have any questions about the cats, just ask the staff, they are very knowledgeable. Above all, the atmosphere is very relaxing and calming.
Make sure to check out their website for the most adorable pictures of cats: Cat of Liberty
Shinsaibashi Station
Next, head towards Shinsaibashi Station. Dotonbori and Shinsaibashi walking tour concludes at Shinsaibashi Station. This is a good spot to take you back to your hotel and if you are ready to continue exploring Osaka some more, then this is a good place to take you wherever you are going next.
MORE IDEAS FOR PLACES TO VISIT IN JAPAN
HAKONE
HIROSHIMA
KANAZAWA
KYOTO
MIYAJIMA
NARA
OSAKA
TOKYO
YAMANOUCHI