This site uses affiliate links, meaning that if you make a purchase through our links, we may earn an affiliate commission.

5 Unforgettable DayTrips from Hiroshima -
You Do Not Want to Miss

There is a lot to do in Hiroshima. And, you could easily spend a few days exploring the city.
However, sometimes it is nice to a break from the busy city life and discover some places around it.
There are plenty of

rewarding and easy day trips from Hiroshima that will help you discover another side of Japan.
Map of Day Trips from Hiroshima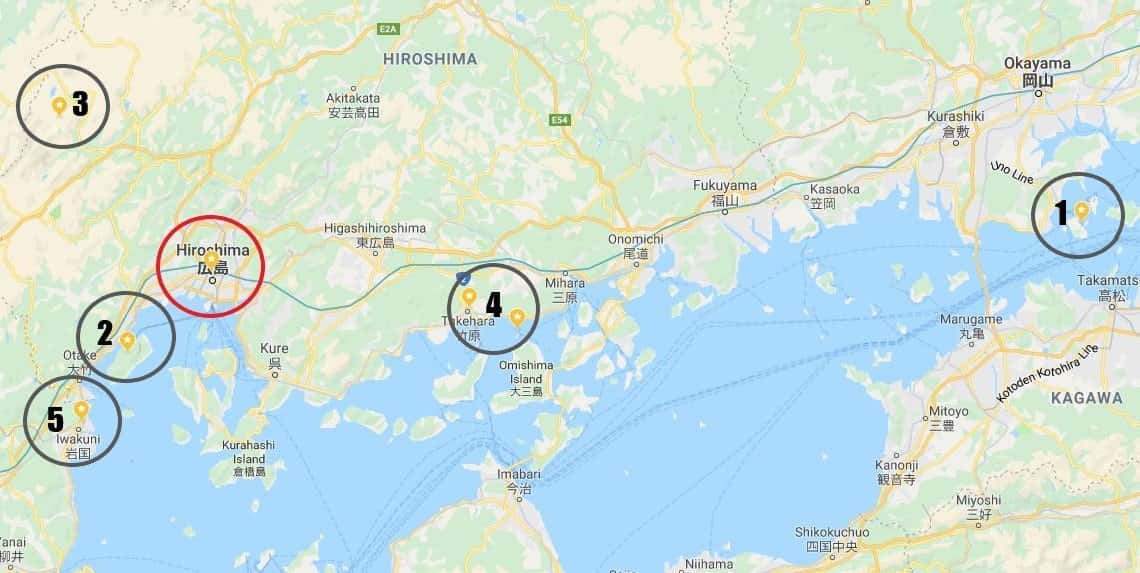 1. Naoshima Island
2. Miyajima Island
3. Sandankyo Gorge
4. Takehara
5. Iwakuni
Day Trip from Hiroshima to Naoshima – 'Japan's Art Island'
Naoshima Island, also known as 'Japan's Art Island' is an art lover's paradise. Furthermore, it is definitely one of a kind experience. However, even if you are not an art or architecture buff, you should still visit the island for the breathtaking views, stunning landscapes, and charming island atmosphere. It is one of my favorite day trips from Hiroshima!
How to Get to Naoshima Island from Hiroshima
First, take Shinkansen from Hiroshima Station to Okayama Station. Next, from Okayama Station, take the local train (JR Uno Line) to Uno and finally, from Uno take a ferry to Miyanoura.
Once you are on the island, you can practically walk eveywhere, or you can rent a bike. There is a local bus that you can take as well. Finally, there is a free shuttle that operates between Miyanoura and Chichu Art Museum.
Map of Naoshima Island
To help you navigate around the island, I put together this map with all the attractions as well as my favorite place for lunch or dinner.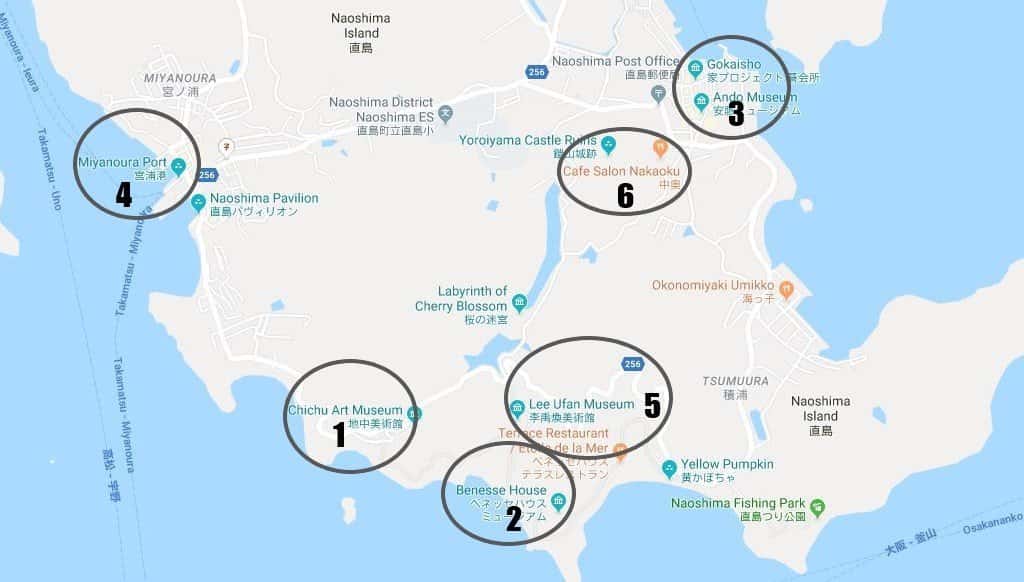 What to See and Do in Naoshima
1. Chichu Art Museum
When I first visited Chichu Art Museum I was overwhelmed by this unique space designed by Tadao Ando
First of all, the museum is built mostly underground. However, a lot of natural light beautifully filters into each room. Depending on the time of the day and the season of the year, the natural light changes the appearance of the artworks and the ambience of the space.
On permanent display are selected pieces from three masters:
Claude Monet
James Turrell
Walter De Maria
My favorite are five paintings from the Water Lilies series produced by the great Impressionist painter Claude Monet. In my opinion, this alone is worth going to Naoshima.
Walter De Maria artwork is stunning and thought provoking. It features a sphere and gilded geometric forms.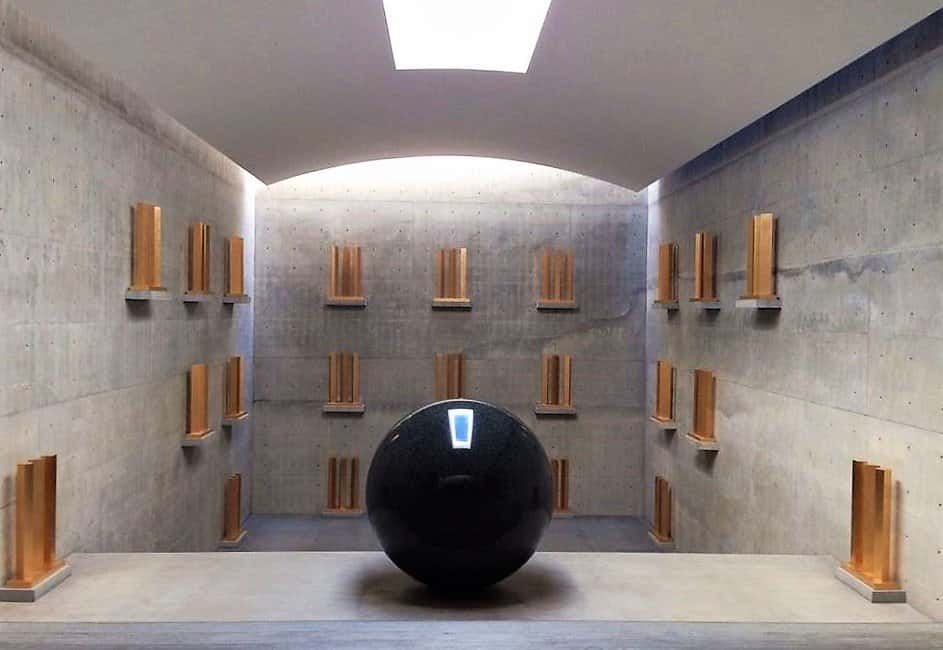 And finally, James Turrell's play on space and light is stunning.
Moreover, for opening hours and entrance fees click here. Also, make a note that the museum is closed on Mondays.
If you are visiting during springtime, make sure to stroll by a recreation of Monet's garden.
2. Benesse House Museum
Benesse House Museum is my favorite museum on Naoshima Island.
The entire facility was designed by Tadao Ando and houses a modern art museum as well as an exquisite hotel. The complex sits on a high ground and overlooks the Seto Sea. Needless to say, the views are simply breathtaking!
The art displayed in and around the museum is a great variety of paintings, sculptures, photography, and installations.
And, the fans of Yayoi Kusama will not be disappointed. Yes! If you are a fan of her giant pumpkins, then you are for a treat.
Perfectly positioned and overlooking the Seto Sea is the famous pumpkin: Yayoi Kusama 'Yellow Pumpkin'
3. The Art House Project
The Art House Project is a collection of old houses and workshops that have been converted into art installations and venues for contemporary art by artists and architects from Japan and abroad.
The art houses are scattered throughout Honmura village (located on the east side of the island).
By the way, once you get to Honmura Village head straight to The Honmura Lounge. It located just a few steps away from the bus stop!
The Honmura Lounge serves as an information center for the Art House Project. Here, you will be able to get all the details regarding the artists and architects who are part of the Art House Project.
My three favorites of the Art House Project are: Go'o Shrine, Kadoya, Minamidera, and Ishibashi.
Go'o Shrine – Go'o Shrine was designed by Hiroshi Sugimoto. An interesting glass staircase connects the worship hall with an underground chamber and represents a unity between heaven and earth.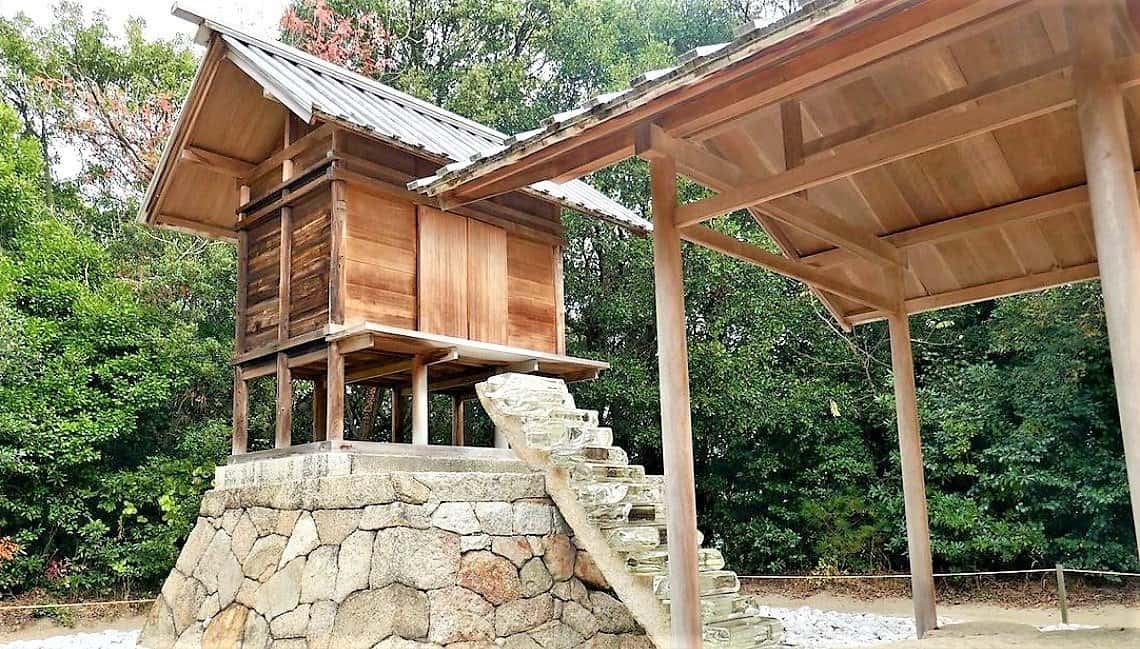 Kadoya – Kadoya is a restored residence that houses the artworks of Tatsuo Miyajima.
Minamidera – Minamidera is a structure designed by Ando Tadao. It houses the artwork by James Turrell.

4. Akakabocha
Akakabocha, the 'Red Pumpkin' is one of the two installations by famous Japanese artist Yayoi Kusama on Naoshima Island.
The 'Red Pumpkin' can be found at Miyanoura Port. Actually, when you step out of the ferry, 'The Red Pumpkin' will be right in front of you.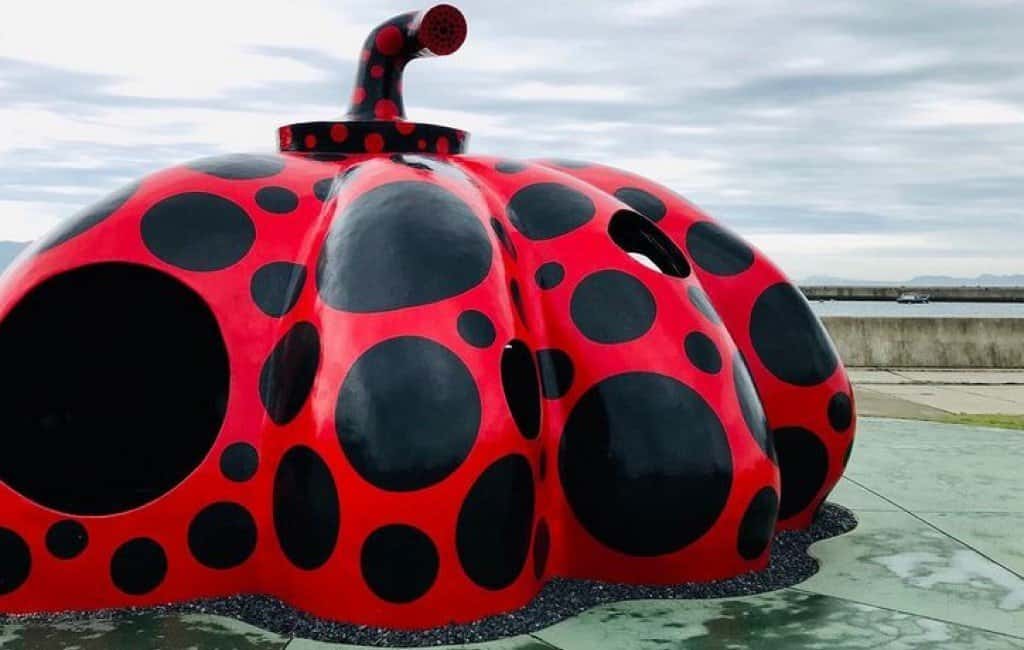 5. Lee Ufan Art Museum
The incredible structure of the museum designed by Tadao Ando houses a collection of only 7 items.
The 7 items are by one artist – Lee Ufan.
Be the judge yourself, however, in my opinion the building and the art pieces are coherent. The entire complex invites you to look in new ways at the surrounding nature and presented art, light and shadow.
Where to Stay on Naoshima Island
Benesse House is my top choice for an overnight stay.

It has Western-style rooms in the Museum, Oval, Park and Beach buildings. The rates start at 31,185 yen for a double room in the Park building, or 34,650 yen for the Museum. It is expensive, however totally worth it. You get to enjoy magnificent views and furthermore, you can wander around and explore the museum after the closing hours.
For prices and availability click here.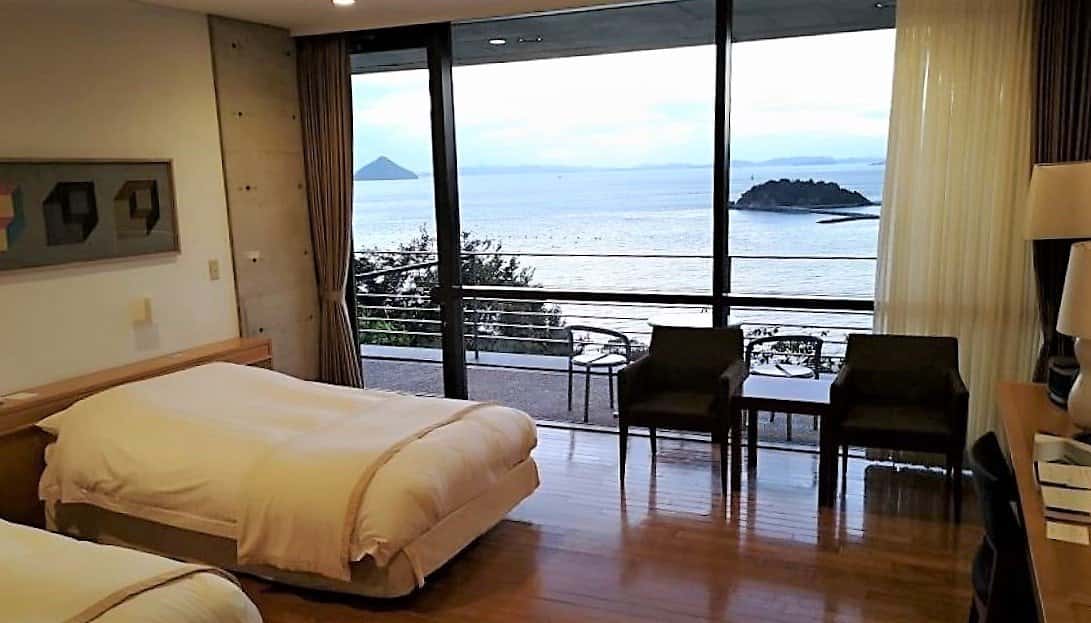 Where to Eat on Naoshima Island
The best choices are either in Honmura village or Miyanomura village.
My recommendation is to head straight to Cafe Salon Nakaoku located in Honmura Village.
I have to say that everything I tried at Cafe Salon Nakaoku was delicious. I am recommending that you try miso soup, omu rice with tomato sauce, and karaage chicken. These dishes are my favorites! However, they always have specials of the day, and they are great as well!
The inside is very attractive and cozy with lots of wood elements and quiet places to enjoy your meal.
Want to read about day trips from Hiroshima later?
Pin it on your Pinterest board!
Day Trip from Hiroshima to Miyajima Island – 'The Island of Gods'
If you are looking for a perfect day trip and a little adventure, then Miyajima Island, the "Island of Gods" is a perfect day trip from Hiroshima. Located less than an hour away from Hiroshima, Miyajima Island has an overwhelming range of things to do. In addition, Miyajima Island is one of my favorite day trips from Hiroshima.
How to Get to Miyajima from Hiroshima
Let's start off with how to get to Miyajima Island. The good news is that it is super easy! In no time you will be on your way to Miyajima Island day trip.
First off, trains depart from Hiroshima Station every 15 minutes and will take you to Miyajimaguchi Station. It is about 30-minute ride from Hiroshima to Miyajimaguchi Station. Once you arrive at Miyajimaguchi Station, follow the signs for Miyajima Island ferry.
By the way, the ferry is located no more then a 10-minute walk from the station.
Miyajima Island Map
Next, take a look at the Miyajima Island map. I used it every time I visited the island. It helped me plan the routes for each day.
If you look on the left hand side of the map, it gives you a list of places to visit and an approximate walking time from the ferry terminal.
What to See and Do on Miyajima Island
1. Miyajima Island Floating Torii
The number one attraction as well as the symbol of Miyajima Island is a giant torii (gate). During the high tide, it appears as if the torii is floating out in the sea.
My recommendation is to rent a kayak for a couple of hours and go around and under the torii. You can check Paddle Park for prices and availability. The website is in Japanese. However, if you scroll down, you will get to the English section.
If you are visiting the island during the low tide, you can walk up all the way to the torii and really get the feel of how enormous this structure is.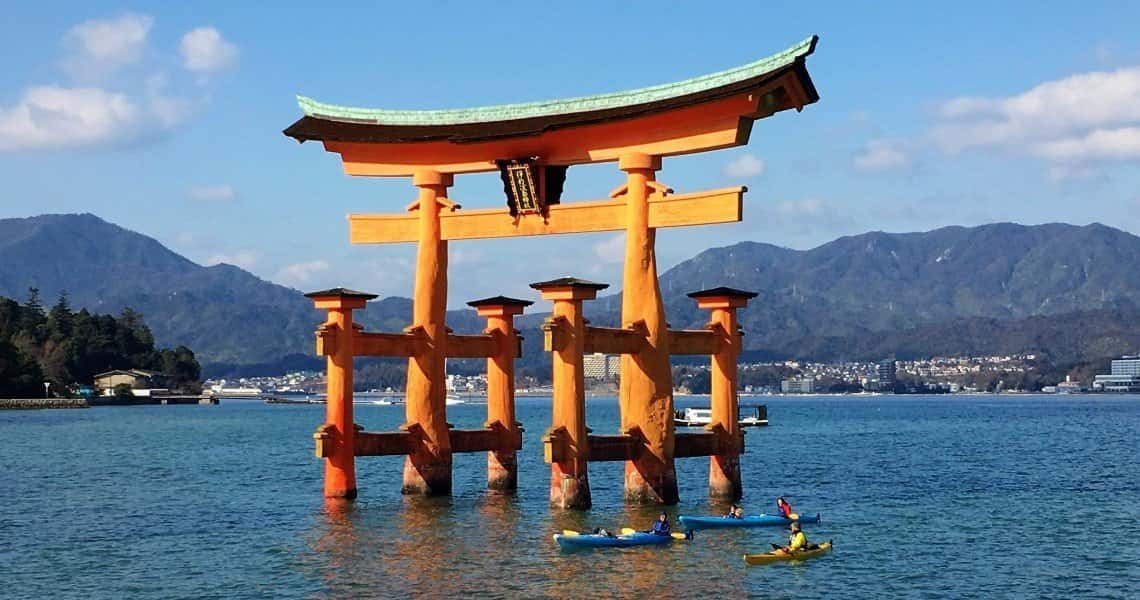 2. Itsukushima Shrine
Next, head on to Itsukushima Shrine. The shrine was built in 593 and became an important place of worship in about 1168. In 1996 the World Heritage Committee officially inscribed Itsukushima Shinto Shrine as a World Cultural Heritage.
Itsukushima Shrine is well known for its unique construction.
It consists of four main areas:
the Holy Hall where the gods live (Heiden)

the inner part where only the priests enter (Haiden)

the external area for worship (Haraiden)

the noh theater stage
All the sections are connected by numerous boardwalks and supported by pillars above the sea. During the high tide, the shrine looks as if it is floating in the Seto Sea.
Interestingly enough, the reason why the shrine was built out in the sea was because the island was originally thought to be too sacred for commoners to set a foot upon.
3. Daishoin Temple
Daishoin Temple is about a 10 to 15-minute walk from Itsukushima Shrine and it is well worth the visit.
Founded by Kobo Daishi in 806, Daishoin Temple is the headquarters of the Omuro branch of the Shingon Buddhists.
The path leading to the temple is adorned with thousands of Buddha statues.
These are the statues of the disciples of the historical Buddha, Shaka Nyoria. They all look adorable wearing different colored beanies.
Next, follow the path, which will gradually climb through a beautifully designed garden.The design is so perfect that at the first sight it is not possible to determine whether it is a man-made garden or a scenery crafted by nature.
Eventually, the path will take you to Daishoin Temple. Make sure to step inside the temple.
The ceiling of the temple is studded with lanterns emitting low warm light.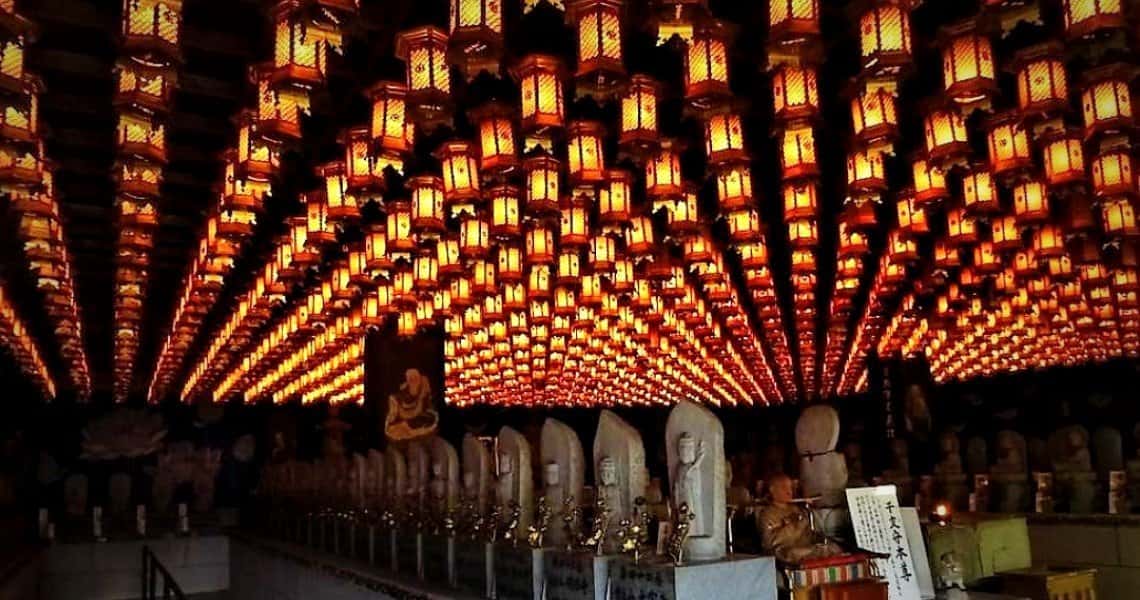 My recommendation is to linger inside the temple for a few minutes and enjoy this peaceful and meditative atmosphere.
4. The Ropeway
Next, take the ropeway to catch the magificient views of the island.
The ropeway leaves from Momijidani Station. You can take a bus or you can walk to the station. My recommendation is to walk to Momijidani Station. It is no more than a 10-minute hike up a slight incline. Simply, take the path leading from Itsukushima Shrine to Momijidani Park.
On the way to Momijidani Station, you will pass through Momijidani Park.
Momijidani Park is a hang out place for the famous Miyajima Island deer. They will be happy to see you and eager to find out if you have any treats. In addition, if you are planning your day trips from Hiroshima during the fall months, then keep in mind that Momijidani Park is one of the most famous maple leaves parks in Japan.
The ropeway goes from Momijidani Station to Kayadani Station. Once you reach Kayadani Station, you will take a second ropeway to your final destination which is Shishiwa Station.
Shishiwa Station is 430 meters above the sea level. The views of the Seto Sea from the station are breathtaking.
Where to Eat on Miyajima Island
If you are an oyster lover, then head straight to Yakigaki No Hayashi Restaurant. You will have no trouble finding it! First of all, there is always a small line of people waiting for a table, secondly, the smell of the grilled oysters will lead you right to this place.
They have the best selection of fresh oysters. You can choose from boiled, grilled, deep fried, raw oysters.
All delicious!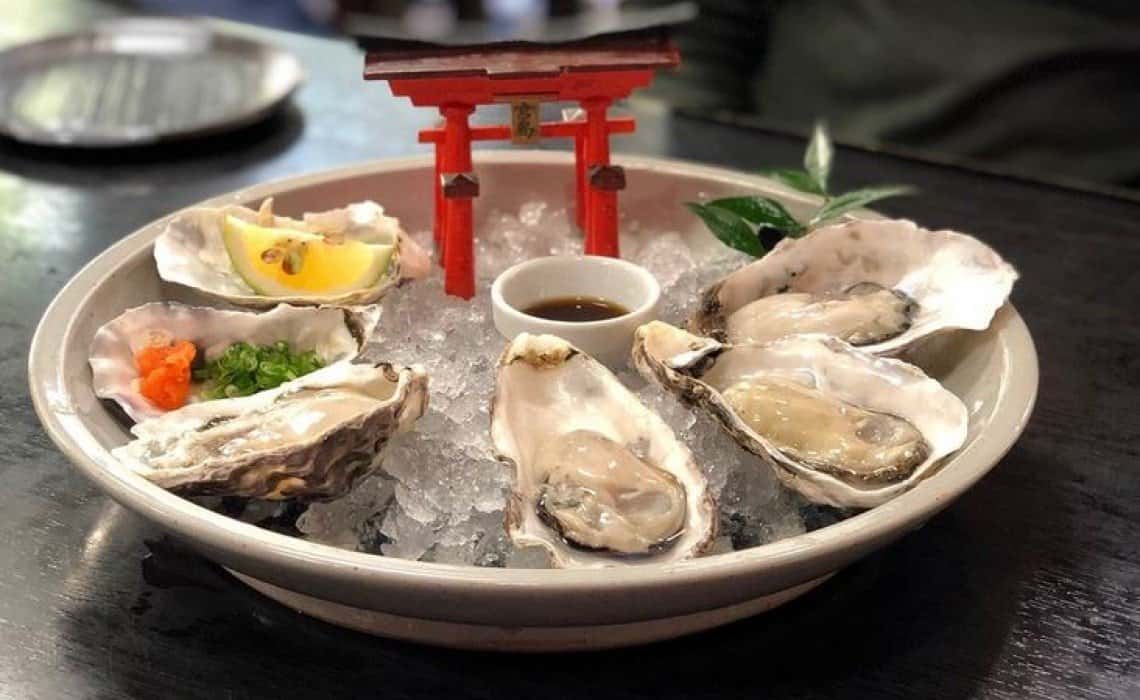 Where to Stay on Miyajima Island
Iwaso Hotel is one of the places that I keep coming back to. It is a luxurious Japanese style hotel. The service is superb and cuisine is outstanding.
Iwaso Hotel occupies a traditional wooden building as well as some cottages dating back to 1900. It is situated no more than a 5-minute walk from Itsukushima Shrine and from the floating torii.
My recommendation is to experience a traditional kaiseki meal, which is served in your room.
The prices for the room are about $400 per night depending on the time of the year.
A Day Trip to Sandankyo Gorge from Hiroshima
A day trip to Sandankyo Gorge is a perfect choice for nature lovers and hikers. It is one of the day trips from Hiroshima that will let you completely escape the busy city life.
How to get to Sandankyo Gorge from Hiroshima

First, get to Hiroshima Bus Center and purchase a bus ticket bound for Sandankyo Gorge. Next, head to Platform # 7. Finally, board the bus and get off at the last stop.
The express buses (1,440 yen one way) will get you to Sandankyo in about 80 minutes; the local busses (1,230 yen one way) take well over 2 hours.
My recommendation is to take 8:18 am express bus. It will get you to Sandanyo Gorge by about 9:30 am.
And, take the return express bus at 3 pm. It will get you back to Hiroshima Bus center at about 4:20 pm.
What to Do and See at Sandankyo Gorge
Sandankyo Gorge runs through the mountains northwest of Hiroshima City. It is 13 km long.
The hike runs along the gorge and takes you through the most beautiful natural scenery around Hiroshima.
Personally, I loved this hike. The trail has plenty of ups and downs and the breathtaking scenery changes at every turn.
You can take it as a leisurely stroll and turn back when you had enough of trekking. Or you can take a full hike, which takes about 5 hours one-way and leads up to Hijiri Lake.
The gorge contains five famed scenery spots and it is one of the Top 5 Special Valleys of Scenic Beauty in Japan.
Shimaidaki Waterfall (Sister Falls)



The first viewpoint that you will reach is Shimaidaki Waterfall (Sister Falls). It takes no more than 10 minutes to reach this point.
Shimaidaki Water is actually two waterfalls that flow parallel to each other.

Tatsunokuchi (Dragon Mouth Torrent)
Next, after about 30 minutes, you will reach Tatsunokuchi (Dragon Mouth Torrent). Here, the water picks up some speed and creates a few rapids.
Continue on, and maybe after 10 minutes, and on your right, you will spot a smaller waterfall called Akadaki (Red Falls). It is a really beautiful waterfall with the red soil showing through the cascading water.
After about 1-hour hike from the entrance of the gorge, you will arrive at Meotobuchi.
Meotobuchi is a pool and it is famous for its blue water. It is one of the most scenic spots on the hike. Furthermore, it is also known as one of the most romantic places on this hike.
There is an elevated platform, which gives great views and it is a perfect spot to take some pictures.
Next, you will reach Ishidoi. Here the walls of the gorge narrow, creating a breathtaking point with the river pushing through among high rocks on either side.
Kurobuchi is one of the most famous spots along this trail. It is a deep pool surrounded with 100–meter-tall rocks.
My recommendation is to take a boat ride to Kurobuchiso. It costs 300 yen, and it is totally worth it! The boats run from the end of April through the end of November.
When you reach Kurobuchiso, you should stop for lunch. There is a restaurant "Kurofuchi-so" where you can taste famous grilled yamame (landlocked salmon) and rice balls cooked with super soft water of Sandankyo Gorge as you admire the splendid ravine.
Next, it all depends how much time you have! You can continue on the trail up to the remaining key sights of Sarutobi, Nidandaki, and Sandandaki, or head back to the bus stop.
Day trip from Hiroshima to Takehara – 'Hiroshima's Little Kyoto' and Okunoshima Island – 'Rabbit Island'

Take a stroll back in time at Takehara, also known as 'Hiroshima's Little Kyoto' and then visit Okunoshima Island, also known as 'Rabbit Island'. It is one of the most diverse day trips from Hiroshima.
How to Get from Hiroshima to Takehara and Okunoshima Island
1. First, get to Hiroshima Bus Center. Next, take the bus to Takehara. It is about 1hour and 20 minutes ride. Finally, walk to the town center, which is no more than 15-minute walk.
If you prefer to take the train, then head to Hiroshima Station. Next, take either a bullet or a regular train to Mihara Station. Finally, transfer for the JR Kure Line for Hiro and get off at Takehara Station.
2. Once you are done visiting Takehara, it is time to head to Okunoshima. First, take a train from Takehara Station to Tadanoumi Station. It is about 15-minute train ride. Next, from Tadanoumi Station walk to Tadanoumi Port to catch the ferry. It is no more than a 5-minute walk to where the ferry is located. Finally, board the ferry and enjoy the views. You will reach Okunoshima in about 15 minutes.
Map of Takehara and Okunoshima Island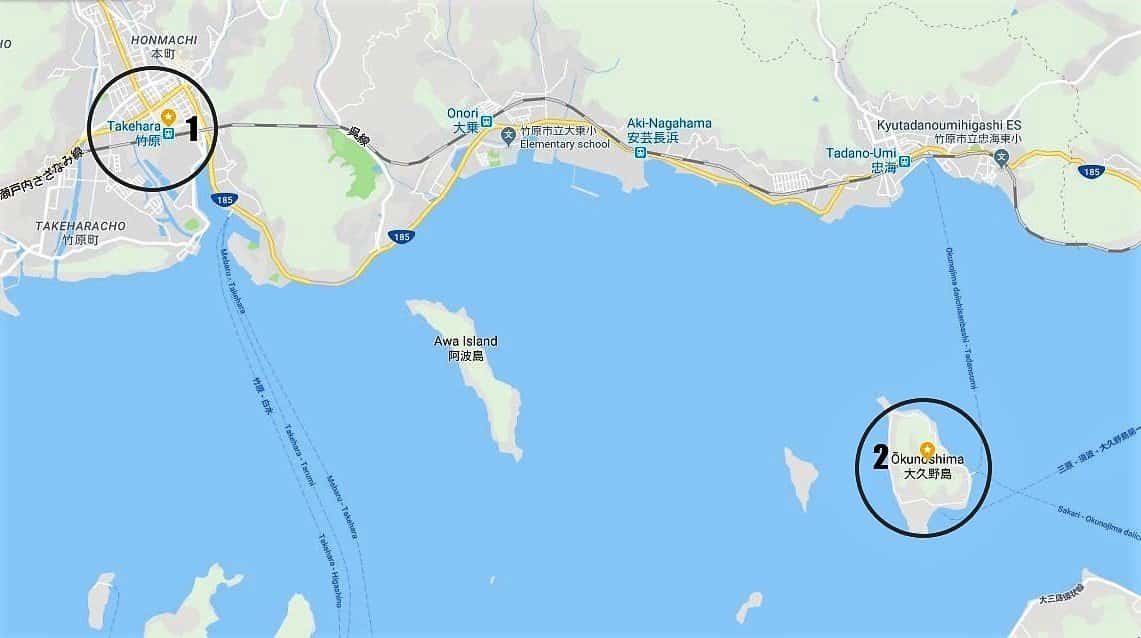 1. Takehara
2. Okunoshima
What to See and Do in Takehara – 'Hiroshima's Little Kyoto'
1. Takehara Preserved Historical Town
Takehara achieved its modest fame and Edo-era prosperity from sea salt cultivation and sake making. At the present time, the area is famed for its preserved historical townscape.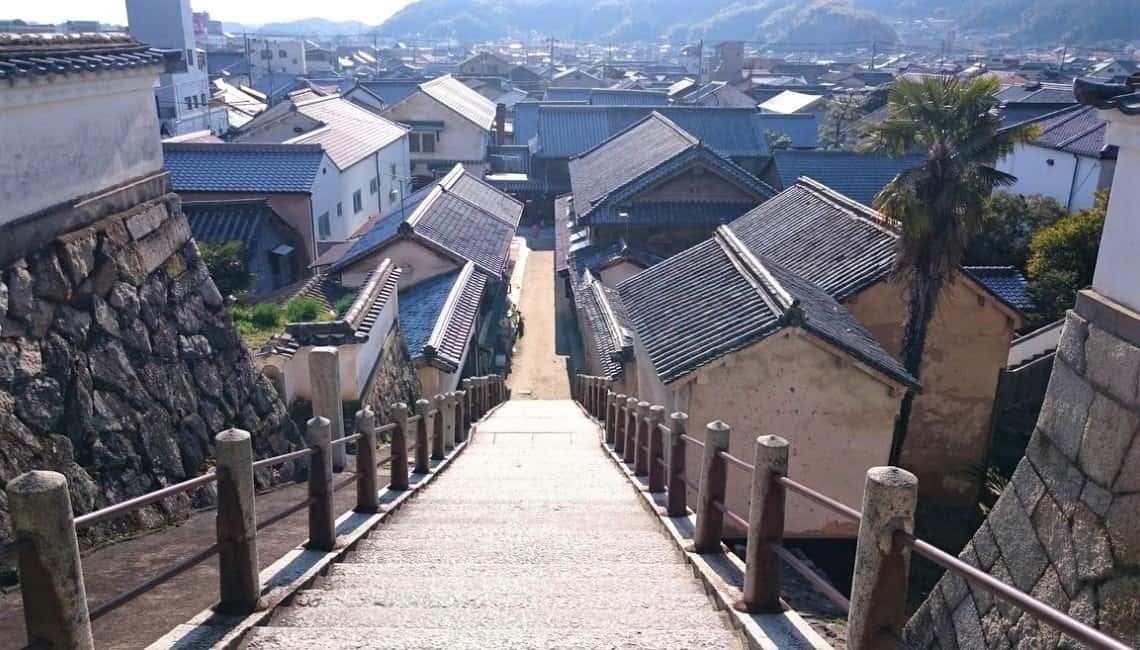 The streets are lined with traditional wooden buildings going back to the Edo period (1603-1867). While you are taking a stroll, take a closer look at the buildings and notice the paper-art like panel lattice, called 'Takehara Lattice' adorning many of buildings.
Takehara's old town is designated as an important preservation district of historical buildings.
2. Taketsuru Sake Brewery and Ozasaya Sake Museum

Next, visit the Taketsuru Sake Brewery and Ozasaya Sake Museum to learn about how sake is brewed. In addition, find out about Masataka Taketsuru who was born in Takehara and who is the founder of The Nikka Whisky, one of the renowned whisky brewers in Japan.
What to Do and See on Okunoshima Island -'Rabbit Island'
Okunoshima Island is a small island, with a circumference of about 4 km.
At the present time, it is known as a home to a bunch of roaming rabbits. However, Okunoshima was formerly a secret island producing poison gas for Japanese military. Make sure to visit the Poison Gas Museum to learn about the effects of the deadly gas and to remember the victims of the attacks.
1. See and Feed the Rabbits
It is just fun and relaxing to see all these rabbits roaming around.
Make sure to buy some carrots and cabbage before heading to the island.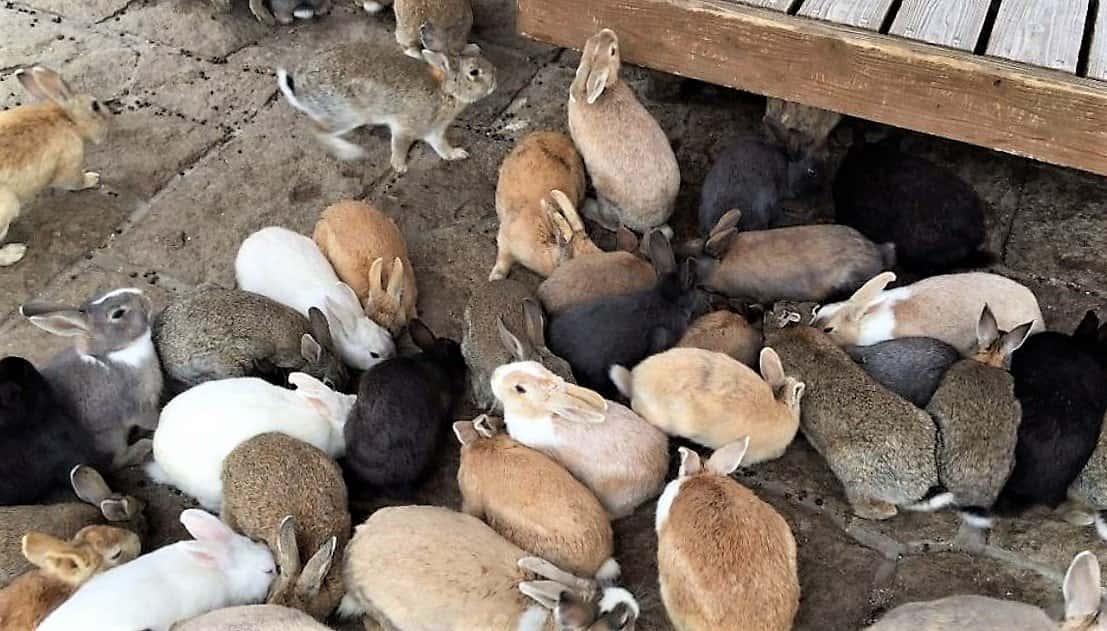 2. The Poison Gas Museum
The Poison Gas Museum was created in 1988 to remind us about the deadly gas that was manufactured on the island. It displays the materials from that time and explains the misery brought by the gas.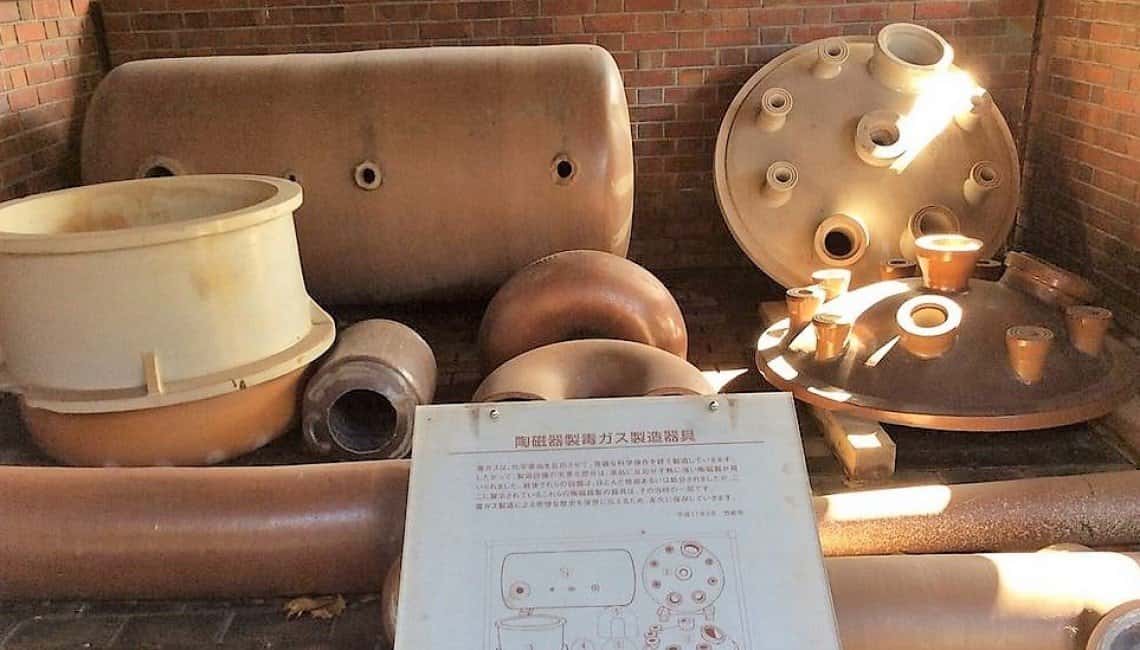 3. Hike Around the Island
Finally, go for a hike around the island and stop once in a while to feed the rabbits and take their pictures.
Furthermore, the views from the island are breathtaking.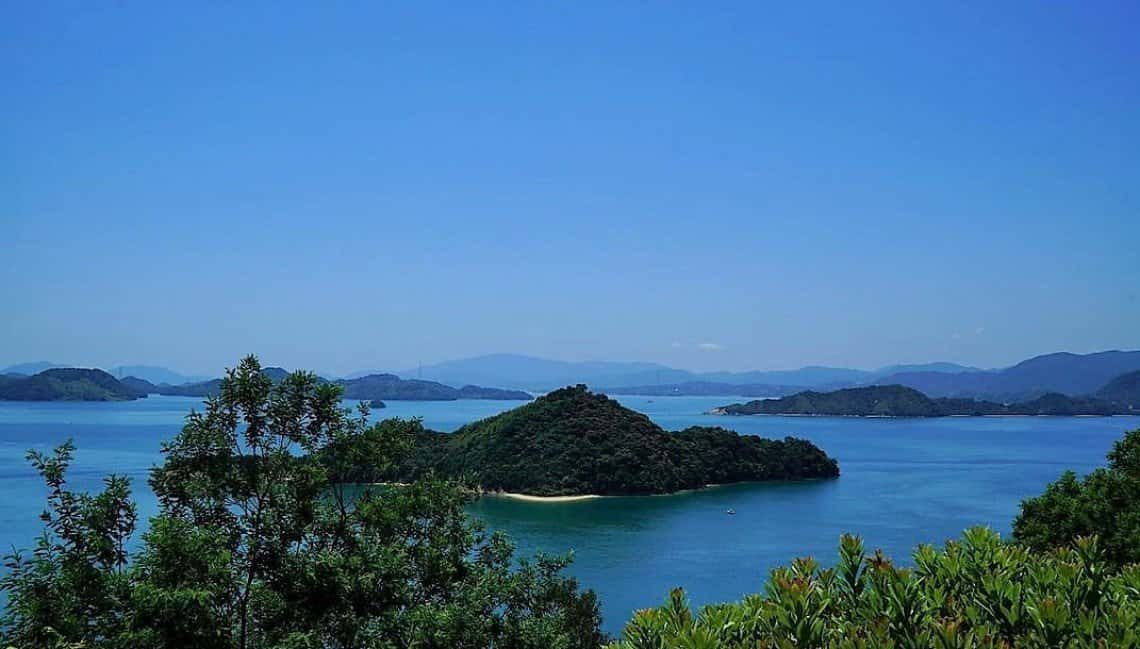 Day Trip to Iwakuni from Hiroshima
The Kintaikyo Bridge has been Iwakuni's most distinguished landmark and a subject of admiration for hundreds of years. However, there is so much more to explore in Iwakuni. Visiting Iwakuni is another of my favorite day trips from Hiroshima.
How to Get to Iwakuni from Hiroshima
First, from Hiroshima Station take JR Sanyo Line train to Iwakuni Station. It takes about 1 hour to reach Iwakuni from Hiroshima. Next, take a bus from Iwakuni Station to Kintaikyo Bridge. The bus stop is right outside the station. The trip takes about 20 minutes. (1-2 buses per hour)
Map of Iwakuni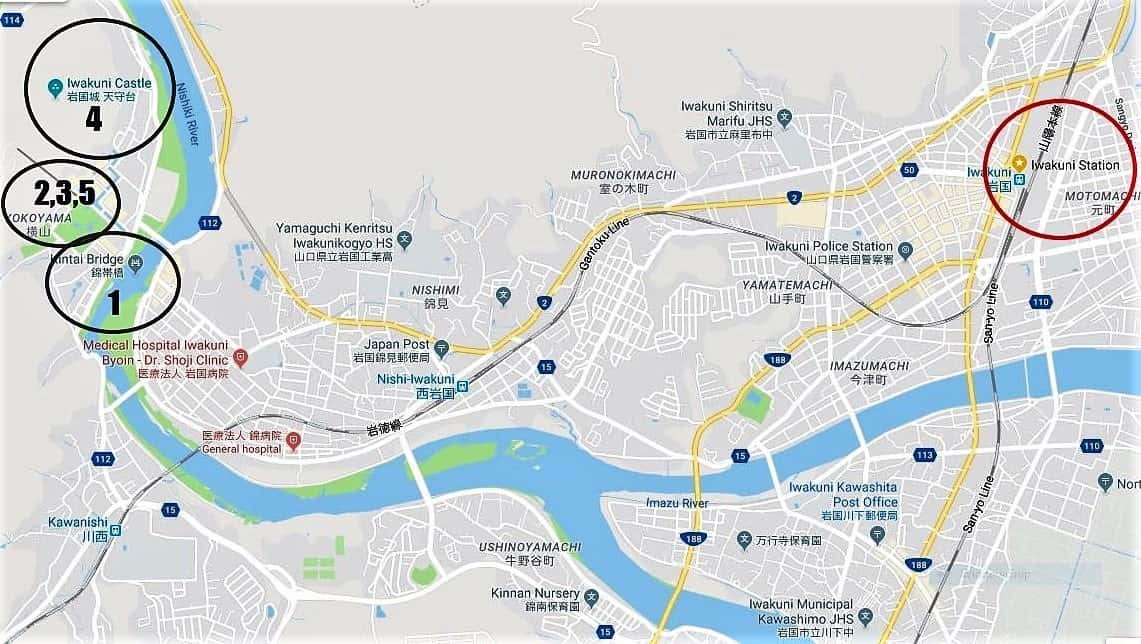 What to Do and See in Iwakuni
Once you arrive at Iwakuni Station, make sure to purchase a combination ticket which will include:
entrance to cross the bridge
ropeway to/from Iwakuni Castle
Iwakuni Castle castle admission ticket
The cost of the combo ticket is 940 yen (castle, ropeway and Kintaikyo bridge).
1. Kintaikyo Bridge
Kintaikyo is a magnificent pedestrian wooden bridge. It is made up of five massive arches standing atop four stone piers.
Kintaikyo was built in 1673 using only wood (no metal pins or nails were used in the construction). It was built using 5 different types of wood – Japanese zelkova, pine, chestnut, oak and cypress. Interestingly enough, it could only be crossed by a samurai!
Kintaikyo Bridge kept standing until 1950, when it was destroyed by a typhoon. The reconstruction of the bridge was completed in 1953. In the early 2000s, Kintaikyo underwent extensive renovations, which cost over two billion yen.
Admission cost to the bridge (round trip over the bridge only) is 300 yen. However, if you are continuing to explore the area, then make sure to purchase a combo ticket that includes the bridge, castle and ropeway.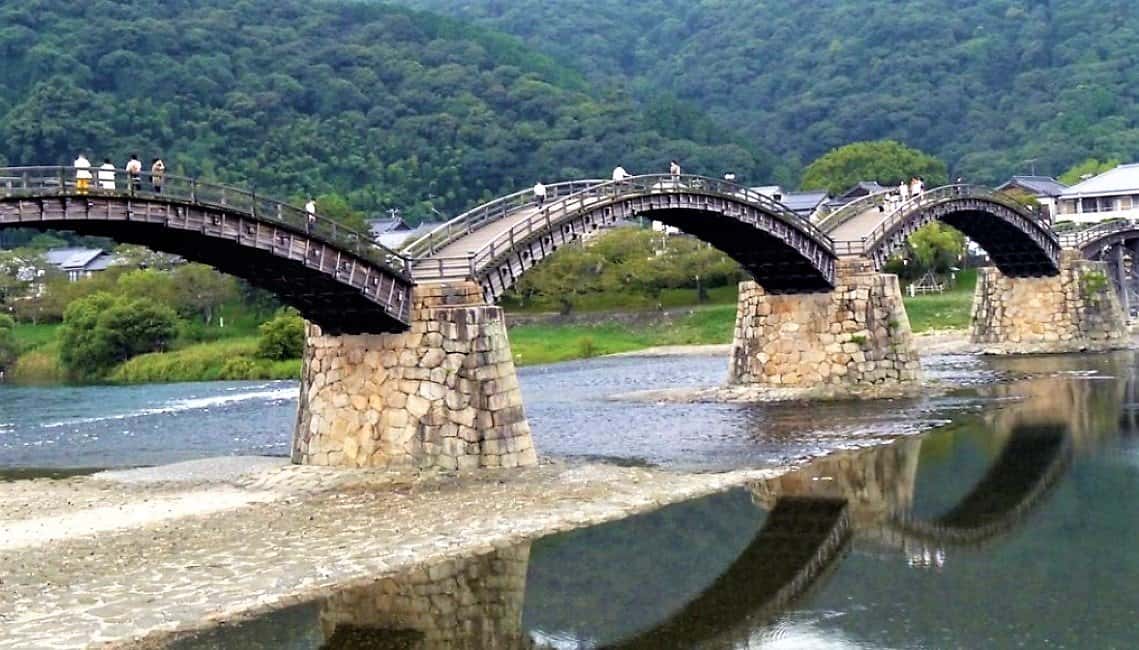 2. Kikko Park
If you are planning your day trips from Hiroshima during springtime, then Kikko Park is a place to be!
Kikko Park is one of the top best cherry blossom viewing spots in Japan.
The entrance to the park is overseen by a statue of Hiroyoshi Kikkawa, the feudal lord who directed the construction of the Kintaikyo.
Inside the park, there are several samurai family-owned houses, however they are still private residences.
As you are strolling through the park, there are places where cormorant birds are housed. If possible, be there around noon when it's feeding time.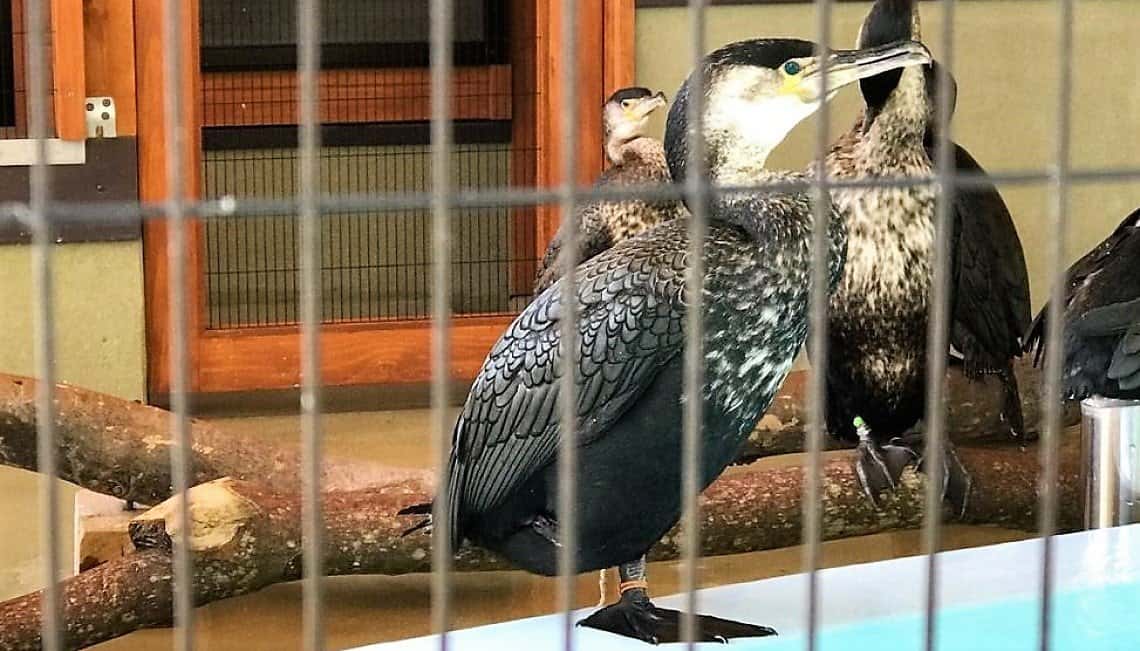 If you happen to be visiting in summertime, check out the ancient Japanese art of cormorant fishing. The fishermen dressed in traditional costumes use trained cormorant birds to catch fish. The birds have a ring around their necks that keeps them from swallowing the fish. It is quite a spectacular event. It takes place in the evening and into the night. The fisherman use torches to lure the fish. You can watch from ashore, or you can join the boat.
By the way, boats start leaving at around 6:30 pm from a spot next to Kintaikyo Bridge and the fishing starts at around 8 pm.
In addition, there are two museums worth checking out:
the Choko-ka – it is a library with historical documents and scroll paintings
the Kikkawa Museum – it is dedicated to the family of warlords, and includes some of their weapons.
3. The Ropway
Next, take the cable-car up Shiroyama mountain to the Iwakuni Castle. The views along the way to the top are pretty spectacular!
The top of Shiroyama mountain is a nature preserve. If you have time, then go for a short hike as well.
By the way, the cost of a ticket (ropeway only) to and back from the castle is 550 yen.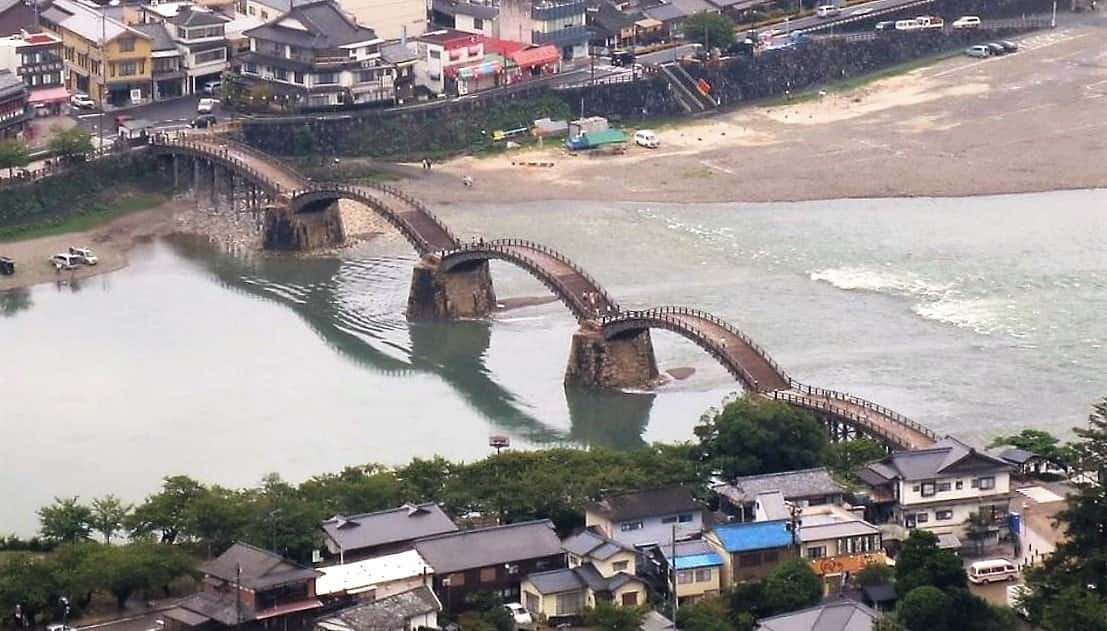 4. Iwakuni Castle
Iwakuni Castlewas was built in 1608. The site of the castle was chosen for its natural defensive advantages. It is perfectly positioned on top of Mount Shiroyama and half surrounded by a natural moat, the Nishiki River.
Interestingly enough, the castle lasted only about 7 years when it was torn down by the decree of Tokugawa Ieyasu.
The present castle was reconstructed in 1962.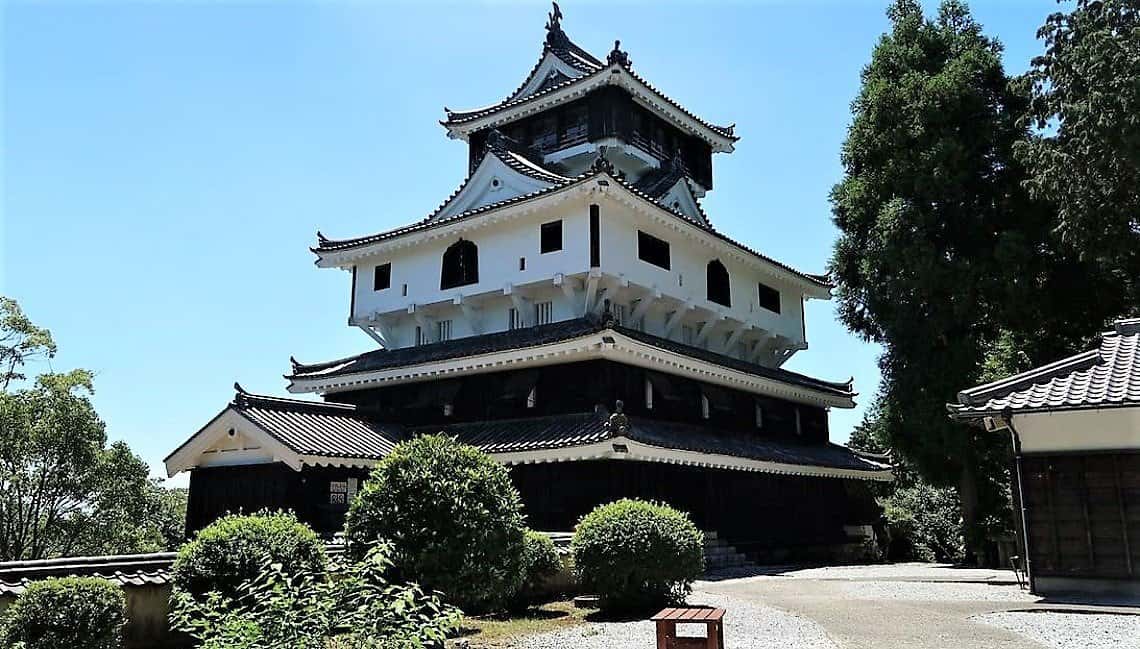 Furthermore, inside the castle, you will find a great display of samurai swords, armor and other items related to the castle's history.
In addition, there is a very informative display on Kintaikyo Bridge, as well as other famous bridges across Japan.
Opening hours are 9 am till 4:45 pm.
Admission cost is 260 yen (castle only).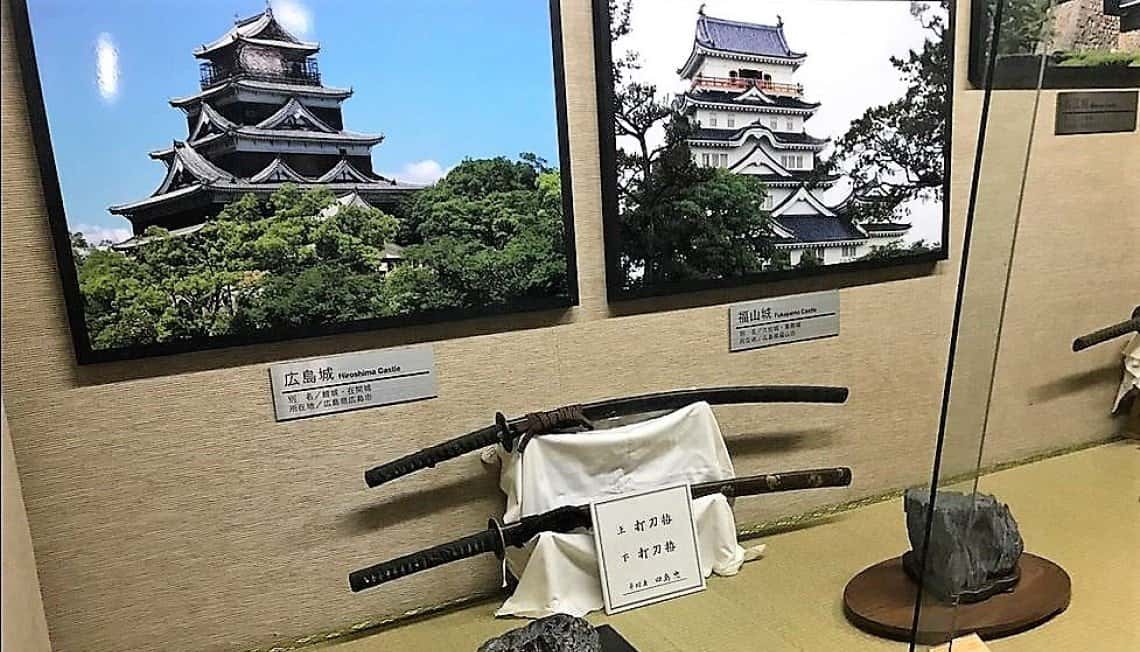 5. The White Snake Museum
The White Snake Museum has a collection of white snakes, which are native to the Iwakuni area. Interestingly enough, white snakes can grow to around 1.8 meters in length. They are quite beautiful with red eyes and white or ivory/yellow scales.
White snakes have been designated as national treasures.
By the way, the Japanese revere these animals and believe that they are messengers of Beten, the Japanese goddess of wealth. Also, they are considered a sign of good luck
Admission to the museum is free and for opening hours click here.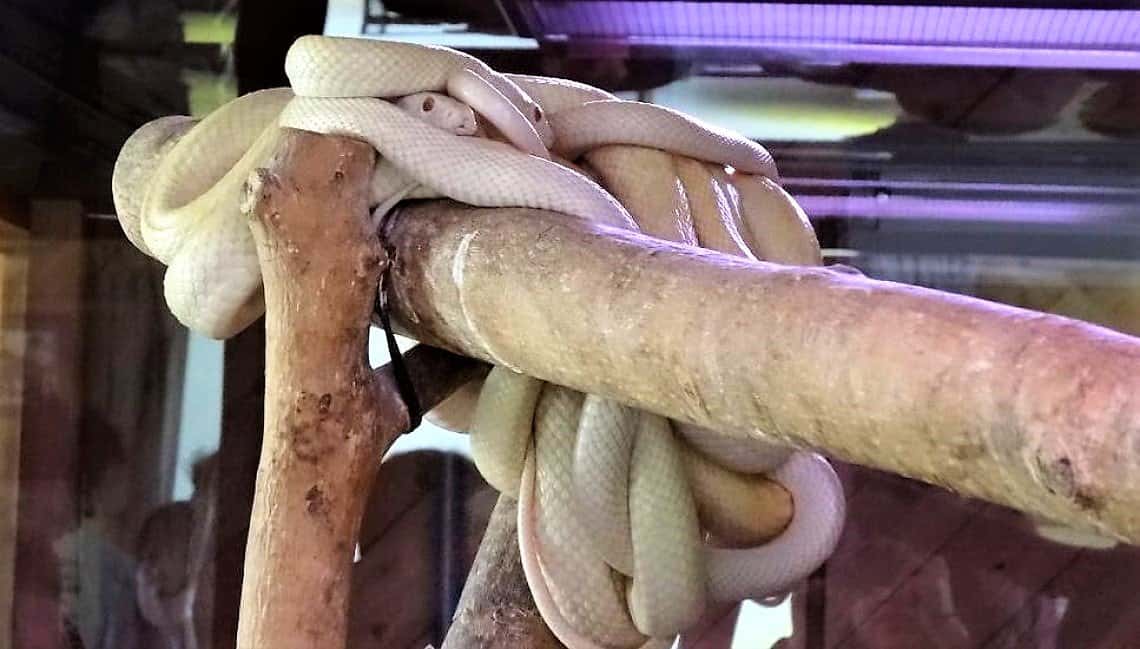 Where to Stay in Iwakuni
If you decide to stay the night in Iwakuni, I would recommend that you check out Iwakuni Kokusai Kanko Hotel.

First of all, the hotel is located right by the all the main attractions in Iwakuni. Actually, I could see the stunning Kintaikyo Bridge right from my room. I need to say, that the hotel and the rooms are a bit outdated, however, everything was clean and well taken care of.
If you decide to stay, then for availability and prices click here.
Where to Eat in Iwakuni
Iroro Sanzoku 'Chicken Shack' is one of the most popular places to grab a bite while you are visiting Iwakuni.
It is a large sprawling restaurant on the side of a mountain. There is inside dining, open-air dining that is covered as well as a dining area under the trees. If you are visiting during summer months, then grab a seat under the trees.
They serve grilled chicken on a stick. I recommend that you add a miso soup, rice or some other accompaniments to complete your meal.
For location, hours, and how to order click here.
My recommendation is to order Sanzoku Yaki and most definitely try their gyoza!
Did you find the information about day trips from Hiroshima useful?
Why not Pin it?
Now, I would like to hear back from you! Are you planning a trip to Hiroshima? Are you looking fro some day trips from Hiroshima? When are you going? Let me know! Leave me a quick comment right below!

Also, click on the image below to get inspired!