This site uses affiliate links, meaning that if you make a purchase through our links, we may earn an affiliate commission.

7 Reasons Why You Should Visit Kasuga Taisha Shrine in Nara, Japan

Think that Kasuga Taisha Shrine in Nara in nothing but another shrine in Japan? Well, think again!
If you have never been to Kasuga Taisha Shrine in Nara, then here are 7 reasons why it should be on your must-visit list.
Walk Along the Path of 3,000 Lanterns
The path leading to Kasuga Taisha Shrine is lined with thousands of aged, moss-covered stone lanterns.
They are known as "toro" and have been donated by worshipers as an expression of their faith.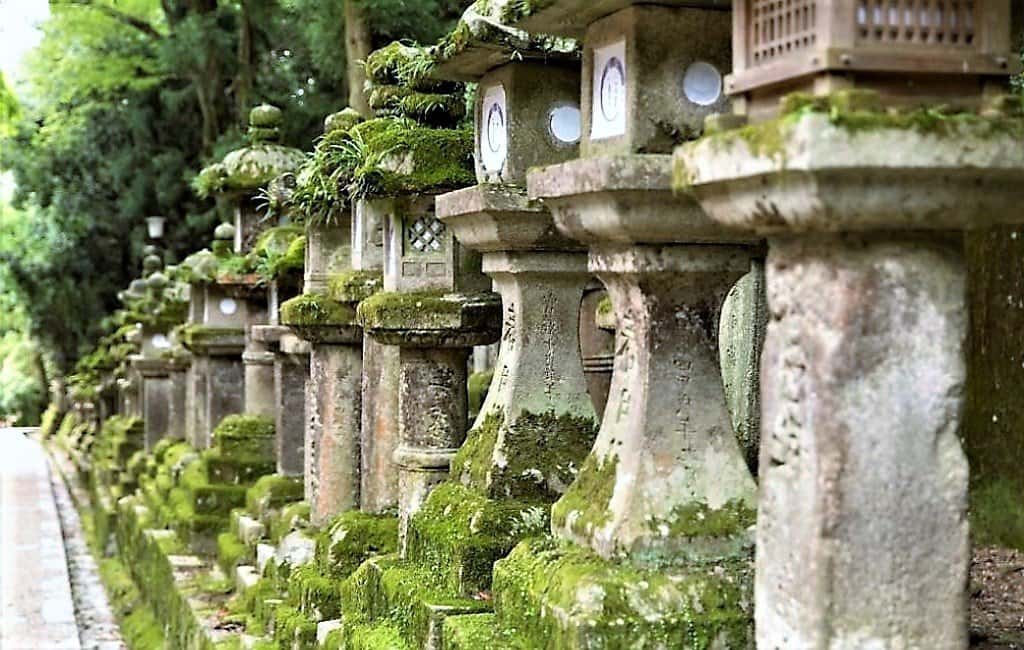 And, as you walk, be on the look-out for the deer peeking in-between the lanterns.
Visit Kasuga Taisha Shrine
Kasuga Taisha Shrine is considered as one of the most valuable shrines in Nara. It is designated as one of the Three Great Shrines in the entire Japan.
When you enter the main area of the shrine, you will be immediately struck by the multitude of vermilion columns of the shrine buildings. They standout beautifully against the contrasting white walls and roofs of the shrine which are made out of cedar bark.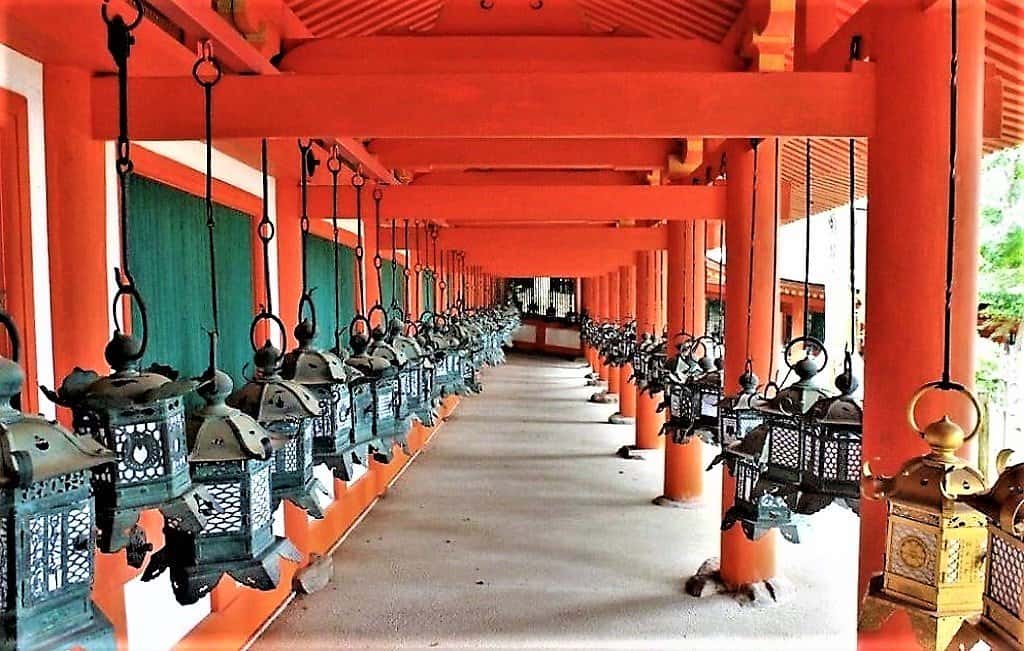 Next, you will notice that the eves of the shrine are decorated with thousands of hanging brass and bronze lanterns; some new and brightly polished, some old and tarnished by time.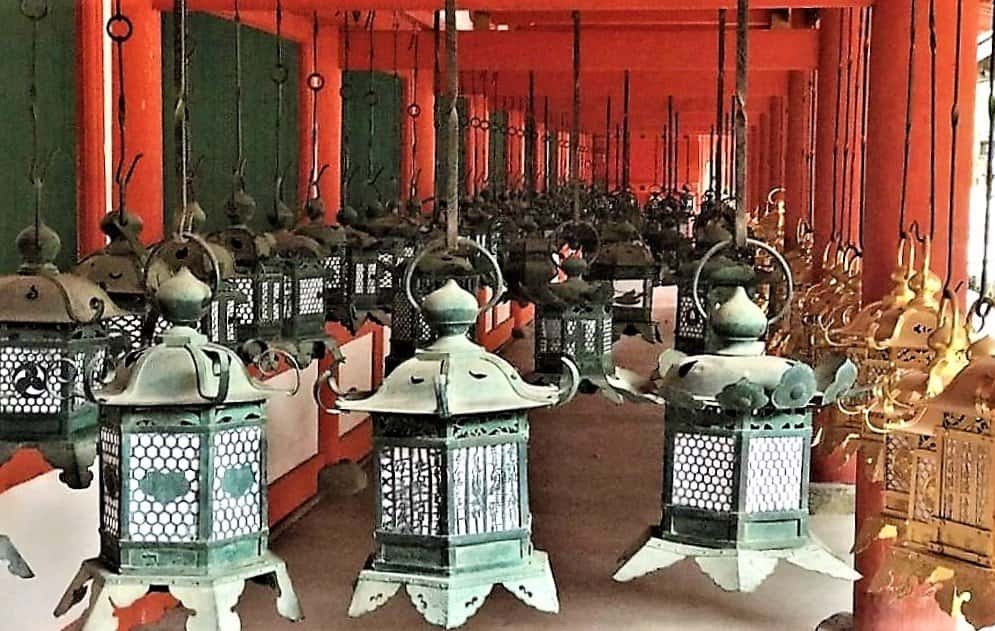 Like the Kōfuku-ji Temple, the Kasuga Shrine was commissioned by the Fujiwara family, which was one of the most powerful families during the ancient period. Notably, the Fujiwaras dominated Japanese politics until the 11th century.
When the shrine was officially finished in 768, it became the worship place of not only the Fujiwara family but, also, the entire Imperial Court. According to Shinto concepts of purity, Kasuga Taisha Shrine in Nara was torn down and rebuilt every 20 years in its original form until 1863.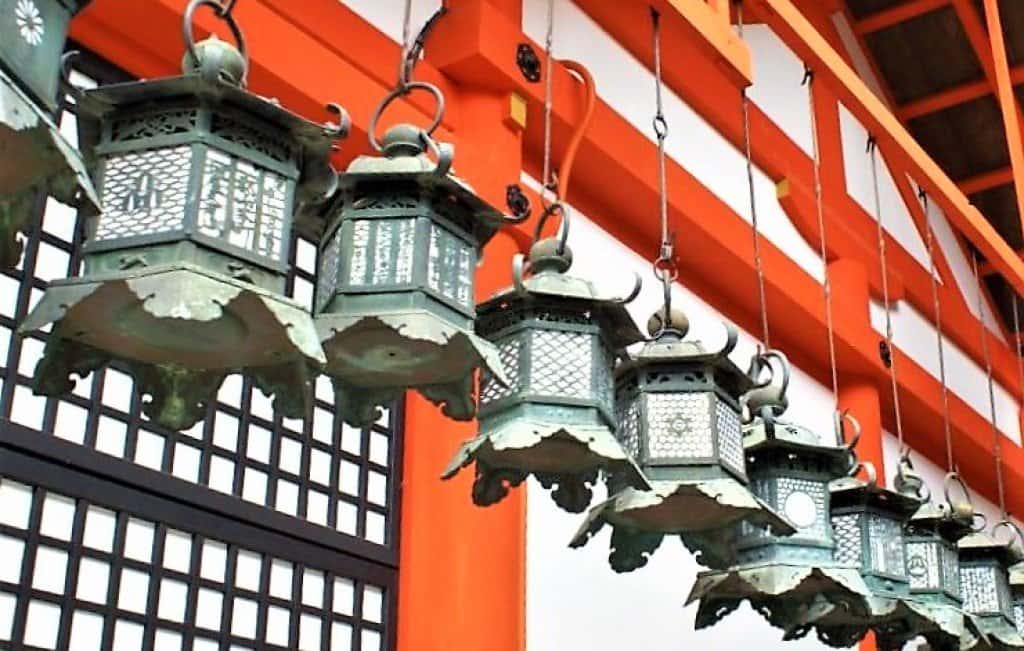 There are four main deities enshrined at Kasuga Taisha Shrine:Takemikazuchi-no-mikoto, Futsunushi-no-mikoto, Amenokoyane-no-mikoto and his consort Himegami. These four deities are also known as Kasuga-sume-ookami or Kasuga-Daimyojin (the Great Deities of Kasuga).
Kasuga Taisha Shrine was designated as a UNESCO World Heritage Site in 1998.
Kasuga Taisha Shrine is open all year-round from 6:00 am to 6:00 pm from April to September, and 6:30 am to 5:30 pm the rest of the year. The entrance to the outer compound is free, however, if you want to tour the shrine's inner grounds, then there is an entrance fee of 500 yen.
Visit Fujinami-no-ya Hall
Don't miss Fujinami-no-ya hall! It is a hall located in the inner section of Kasuga Taisha Shrine. Specifically, it stands directly behind the main shrine in the North cloister.
Fujinami-no-ya hall has an astounding collection of brass and bronze lanterns. Notwithstanding, this is one place where all the lanterns remain lit continuously.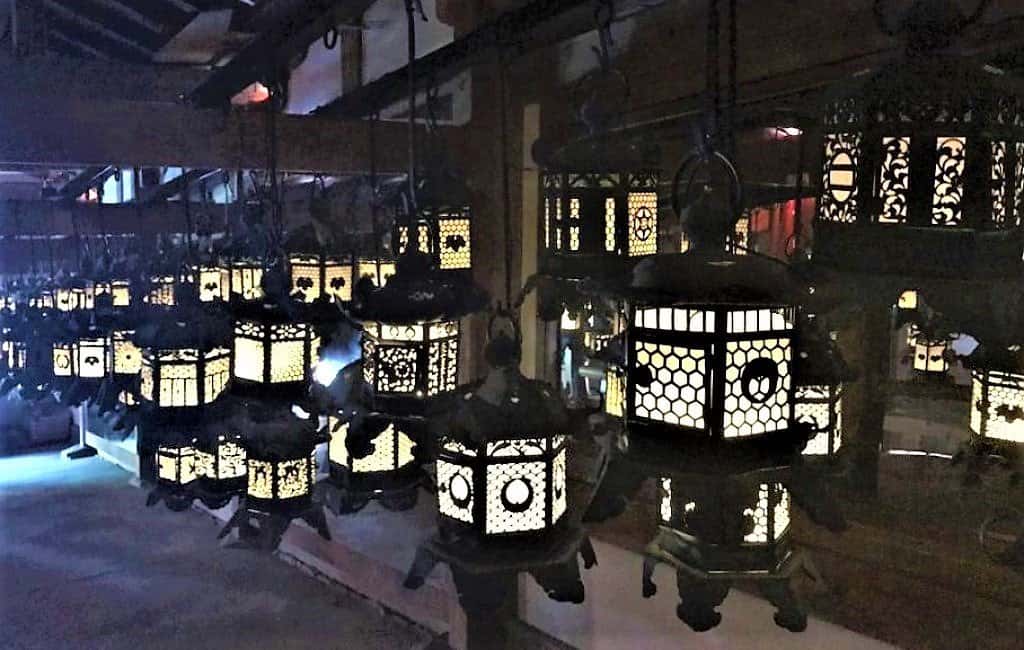 Attend Setsubun Mantoro or Obon Mantoro Festival
The most spectacular time to visit Kasuga Taisha is when all 3,000 of the shrine's lanterns are lit at once.
This happens only a few days each year, during the two festivals:
Setsubun Mantoro Festival, which happens on February 2nd through February 4th
Obon Mantoro Festival, scheduled on August 14th though August 15th.
Credit: Degueulasse via Wikimedia Commons
Pin it on your Pinterest board!
Kasuga Taisha Shrine Wisteria
Kasuga Taisha Shrine in Nara comes to life every spring, specifically, in early May, when more than 200 wisteria trees are in full bloom.
Notably, the wisteria flower is the motif of the family crest of the Fujiwara family. "Fujiwara" can be translated as "field of wisteria."
Some of the wisteria trees, located all around the the shrine, are hundreds of years old. However, the most spectacular wisteria tree is located right in the middle court. It is said, that it is at least 800 years old. It is known as Sunazuri no Fuji and when it is in full bloom, then its flowers grow so long that they nearly touch the ground.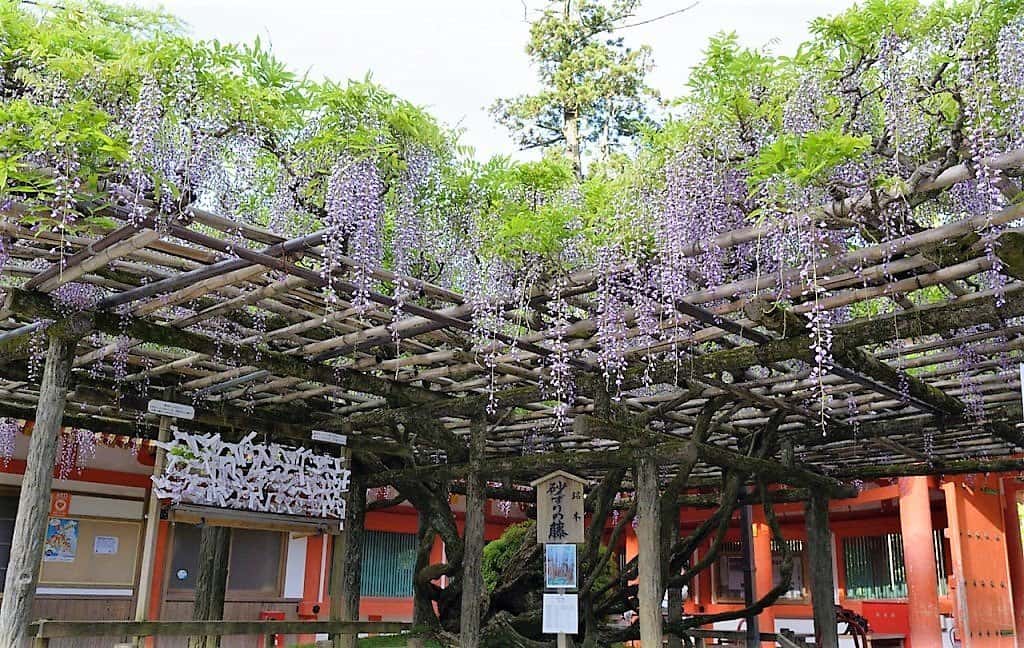 Manyo Botanical Garden
Kasuga Taisha Shrine Manyo Botanical Garden, is the best place to see the wisteria flowers in their glory. The garden has about 200 wisterias in colours ranging from white, cream, pink, dark red, lilac and deep purple.
The last time I visited Manyo Botanical Garden, I was blown away by the beauty of the garden. The purple wisteria was in full bloom all over the place. It was propped up on frames and hanging over ponds and trails. And, they all smell like heaven!
Take your time and stroll through the winding paths shaded by wisteria curtains.
Apart from wisteria, there are over 250 species of plants in the garden as well and it is worth the visit at any time of the year.
The Botanical Garden is open from 9:00 am to 5:00 pm (until 4:30 pm from December to February). It is closed on Mondays form December to February. The entrance fee is 500 yen.

Buy O-mikuji Fortune
O-mikuji are random fortunes written on small strips of paper at Shinto shrines and Buddhist temples in Japan.
O-mikuji literally means "sacred lot".
When the prediction is an unfavorable one, it is a custom to fold up the strip of paper and attach it to a pine tree. The Japanese word for pine tree is 'matsu'. However, Japanese verb 'to wait' is also 'matsu'. So the idea is that the bad luck will wait by the pine tree, rather then, follow the fortune seeker. Now, if the pine tree is not available, then any wall of metal wires will suffice as well.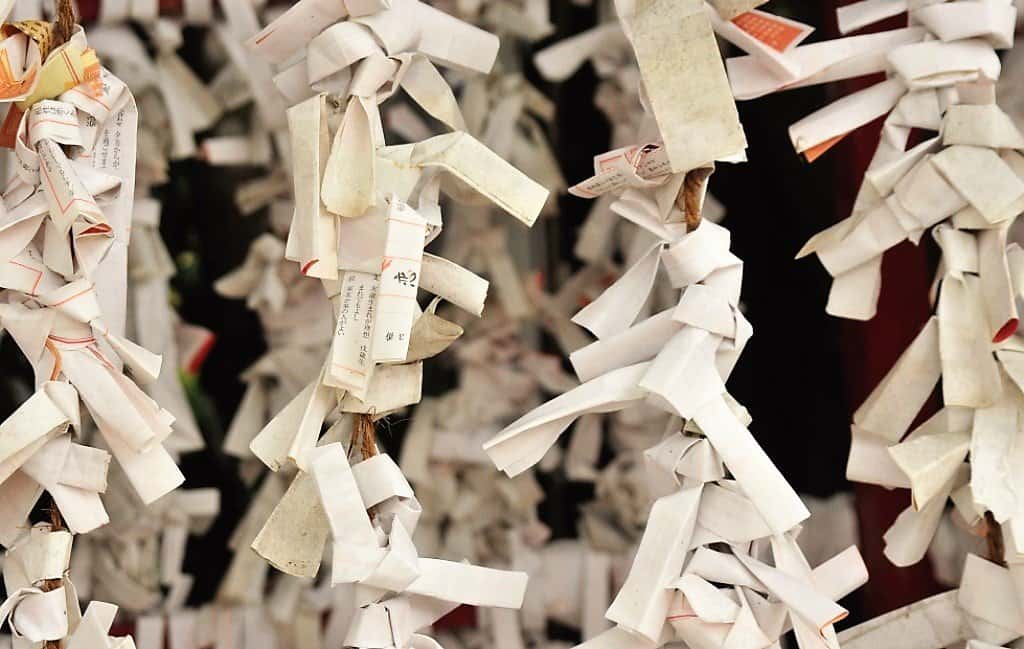 If the fortune is a good one, then the fortune seeker can tie it to the tree or wires so that the fortune has a greater power, or he or she can keep it for good luck.
How to Get to Kasuga Taisha Shrine in Nara
Kasuga Taisha Shrine is located in the south-east section of Nara Park in Nara.
If you are arriving at Kintetsu Nara Station, then it is about 20-minute walk to reach the shrine. Likewise, if you arrive at JR Nara Station, then it is no more than 30-minute walk to Kasuga Taisha Shrine.
Find this useful?
Why not Pin it!
Are you planning a trip to Nara, Japan? Or, maybe you have already visited Nara? Have you been to Kasuga Taisha Shrine?
Let me know in the comment section below!
Also, click on the images right below to get inspired and to help you with the planning process!