This site uses affiliate links, meaning that if you make a purchase through our links, we may earn an affiliate commission.
Peru, a captivating country nestled in the heart of South America, is world-renowned for its remarkable treasures. Wondering, "What is Peru known for?" From ancient ruins steeped in history to vibrant cultural traditions and gastronomic delights, Peru offers an array of unique experiences. Join us on an exploration as we delve into the 29 specific gems that make Peru famous and unique.
29 Things That Make Peru Famous and Unique
No visit to Peru is complete without experiencing the mystical allure of Machu Picchu. This ancient Inca citadel, nestled high in the Andes Mountains, captivates with its intricate stone structures and breathtaking vistas.
As you wander through its awe-inspiring terraces and marvel at the architectural prowess of the Incas, you will understand why it is considered a testament to human ingenuity.
Climb to the Sun Gate and witness the breathtaking vistas of the surrounding mountains and valleys. The view from this vantage point is a testament to the Inca's deep reverence for the natural world, as they strategically positioned their sacred city amidst the awe-inspiring Andean landscape.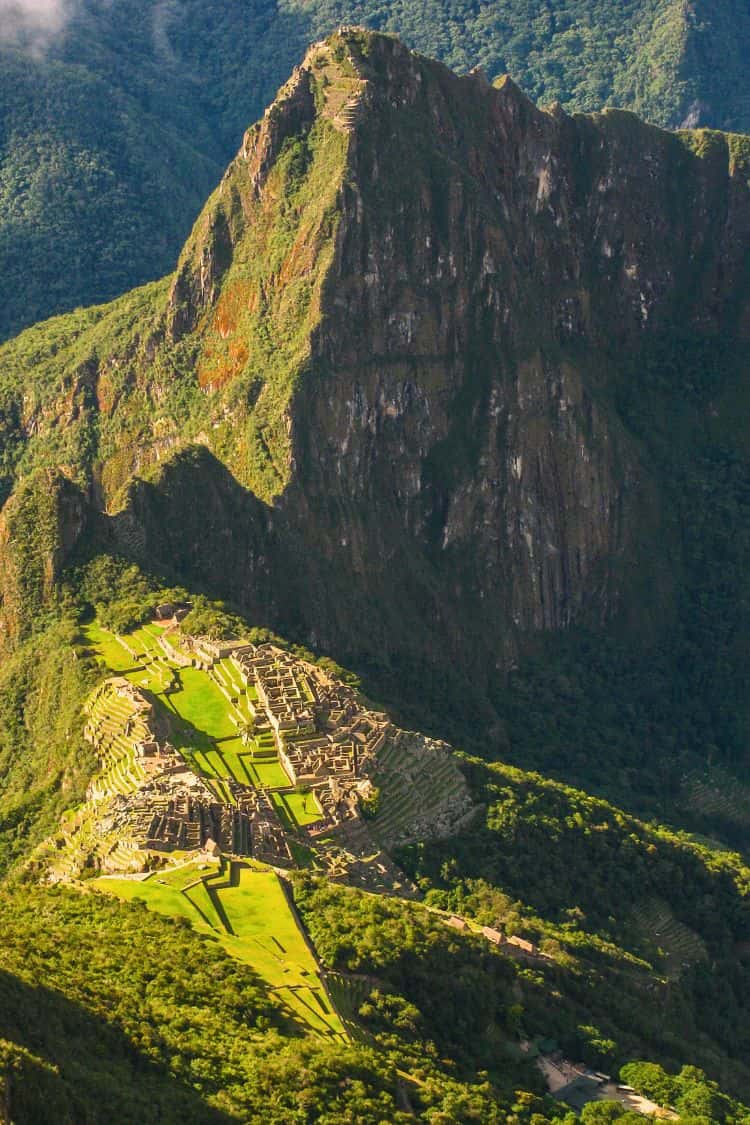 What is Peru Known For: Machu Picchu
Peru is known for the enigmatic Nasca Lines, hidden in the desert plains of southern Peru.
These enormous geoglyphs, estimated to be over 2,000 years old, depict various animals, plants, and geometric shapes etched into the earth.
Covering an area of approximately 450 square kilometers, the Nasca Lines consist of over 800 straight lines and 300 geometric shapes, created with remarkable precision without the aid of modern technology.
Their purpose remains a mystery, leaving archaeologists and visitors captivated by their enigmatic allure. Some researchers believe that the Nasca Lines may have astronomical significance, as certain geoglyphs align with celestial events like solstices and equinoxes, hinting at ancient astronomical practices.
The Nasca Lines' preservation is a testament to the region's arid desert climate, which has protected these ancient markings for centuries.
As a UNESCO World Heritage Site, this fascinating and mystifying attraction continues to intrigue the curious minds of travelers, offering a glimpse into Peru's ancient past and the enduring enigma of these awe-inspiring geoglyphs.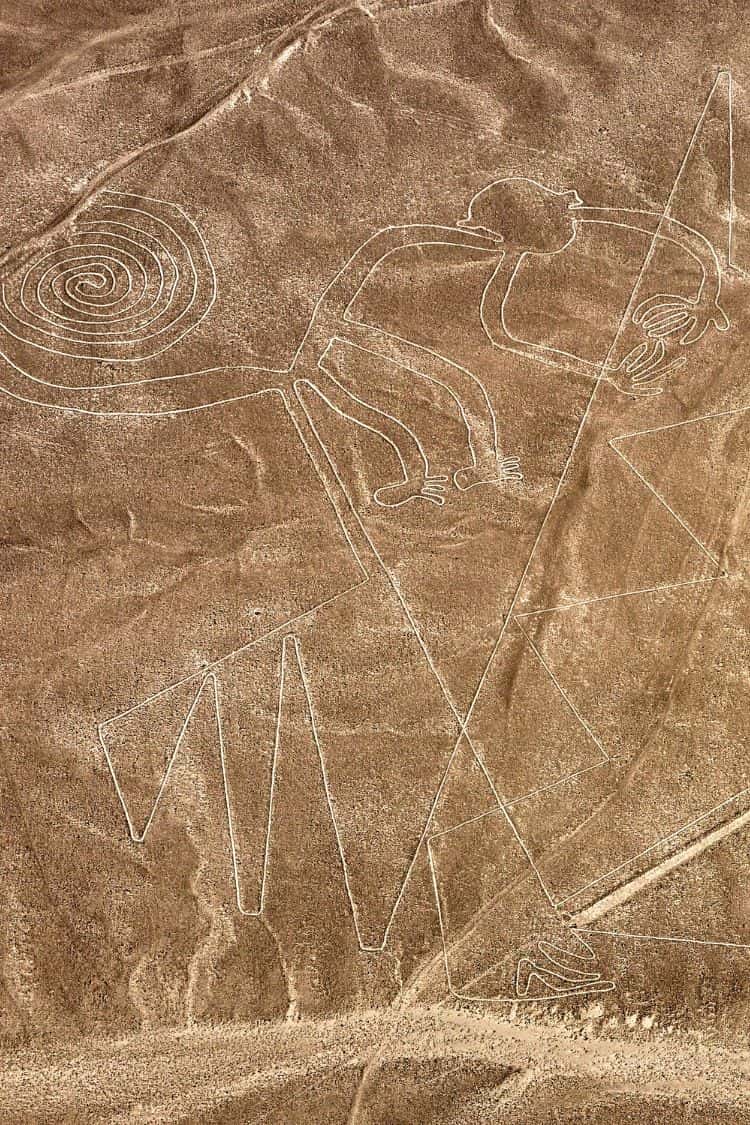 What is Peru Known For: Nasca Lines (Monkey Geoglyph)
Peruvian Amazon Rainforest
Peru is known for the Peruvian Amazon Rainforest, and one of its notable highlights is the Tambopata National Reserve.
Located in the southeastern region of the country, Tambopata is a biodiversity hotspot renowned for its rich flora and fauna. The reserve offers visitors a chance to immerse themselves in the dense jungle, spot vibrant bird species, encounter playful monkeys, and discover the unique plant life.
Exploring Tambopata is a journey into the heart of an untamed wilderness, where the sights and sounds of nature captivate and leave a lasting impression of Peru's extraordinary rainforest heritage.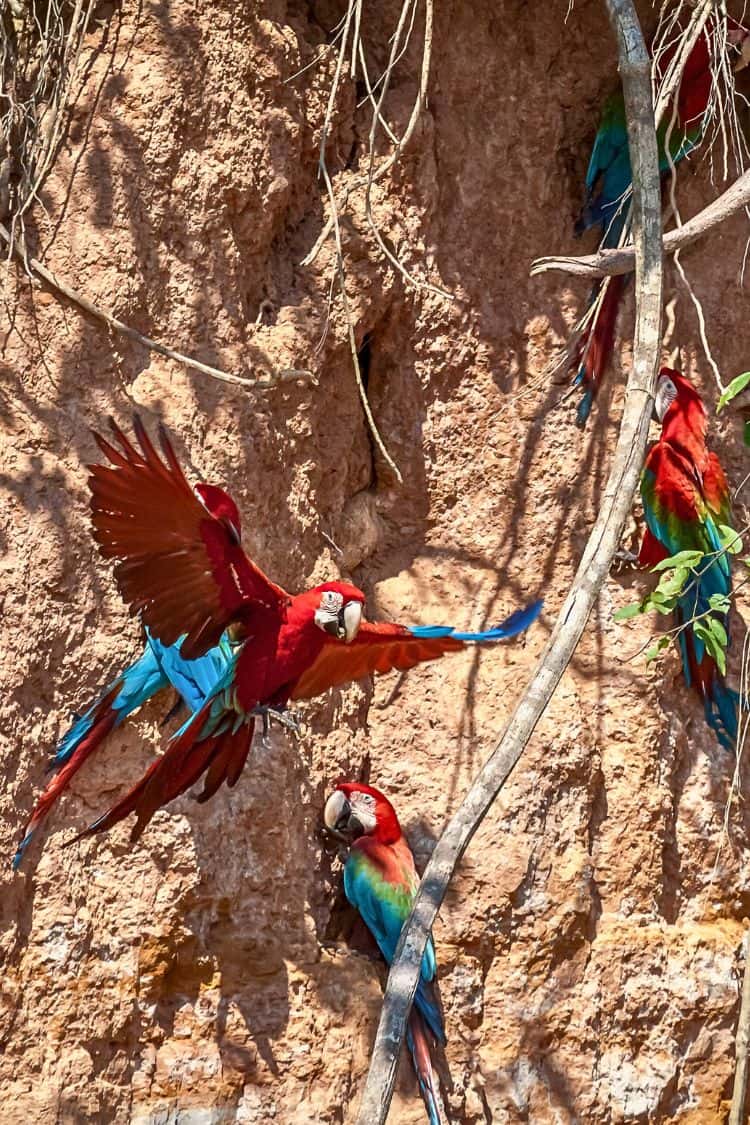 What is Peru Known For: Peruvian Amazon Rainforest (Chuncho Macaw Clay Lick)
Nestled in southern Peru, Colca Canyon beckons adventurers with its awe-inspiring beauty as one of the deepest canyons globally, boasting cliffs that rise dramatically from its depths.
The journey through this natural wonder reveals breathtaking terraced fields cultivated by ancient civilizations, and you will have the unique opportunity to witness the majestic Andean condor gracefully gliding on thermal currents.
The experience goes beyond the scenic views, as you will immerse yourself in the vibrant Andean culture of local communities, where time-honored traditions and warm hospitality greet visitors.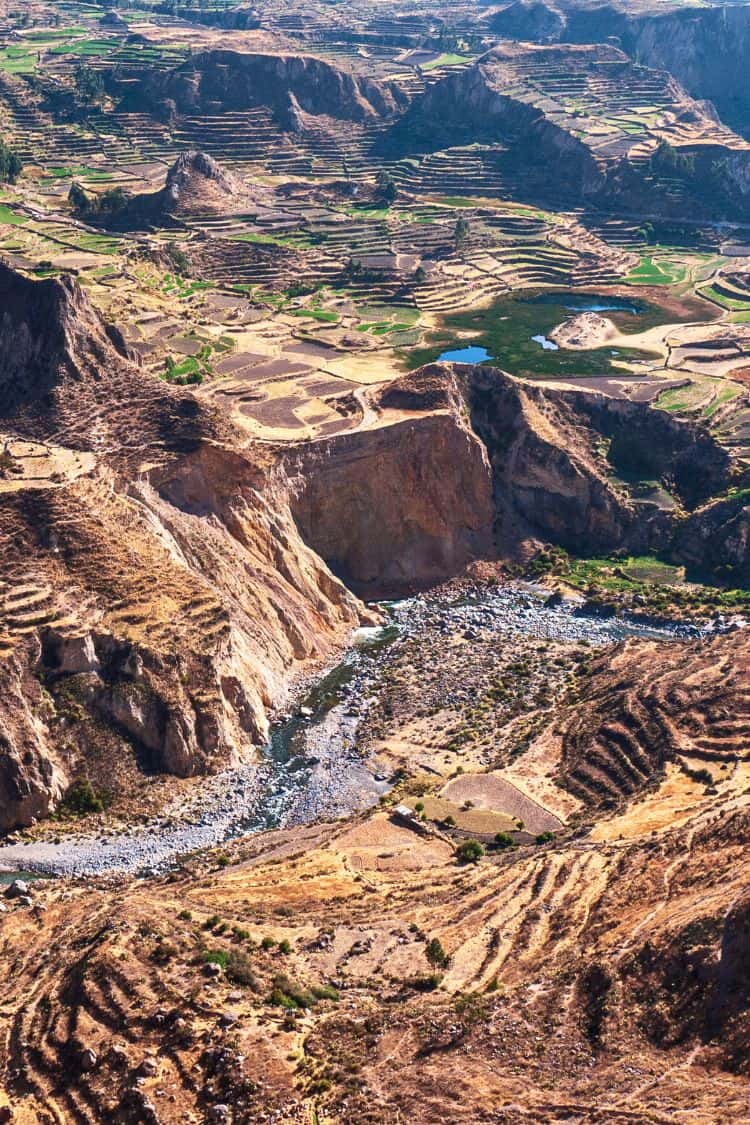 What is Peru Known For: Colca Canyon
Lake Titicaca and Unique Uros Floating Islands
Peru is known for Lake Titicaca, a stunning high-altitude lake situated in the Andes Mountains, straddling the border between Peru and Bolivia. With an elevation of approximately 3,812 meters (12,507 feet), it holds the distinction of being the highest navigable lake globally, captivating travelers with its breathtaking beauty and vast expanse.
One of the main highlights of Lake Titicaca is the unique Uros Floating Islands, home to the Uros people, who have lived on these reed islands for centuries.
These remarkable islands are constructed entirely from totora reeds that grow abundantly in the lake's shallows. The Uros people skillfully weave the reeds into the islands, their homes, and even their boats, creating a symbiotic relationship with the lake and its resources.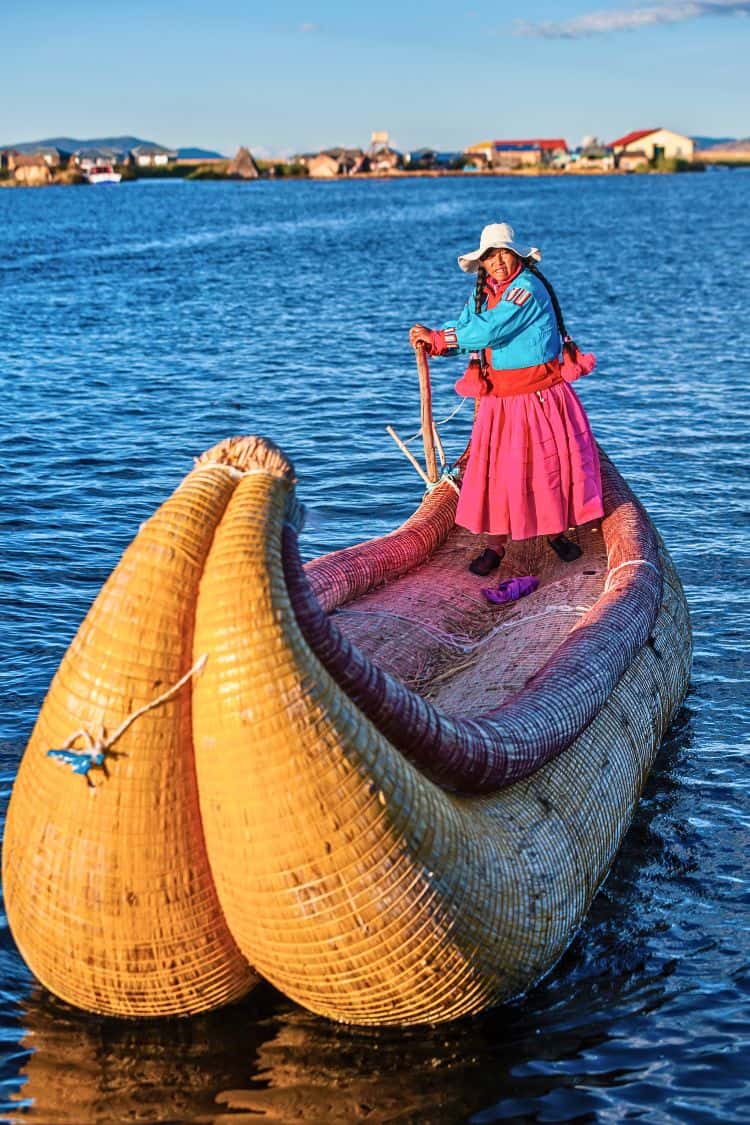 What is Peru Known For: Lake Titicaca
The White City Of Arequipa
Peru is known for the captivating White City of Arequipa, a UNESCO World Heritage site that charms visitors with its stunning architecture and rich cultural heritage.
Located in the southern part of the country, Arequipa is renowned for its elegant colonial buildings constructed from a unique volcanic white stone called sillar, which gives the city its distinctive appearance.
The most iconic landmark is the Santa Catalina Monastery, a magnificent complex featuring colorful streets, courtyards, and cloisters, where nuns once lived in seclusion.
Another notable attraction is the majestic Plaza de Armas, boasting a magnificent cathedral and surrounded by historic buildings.
GOOD TO KNOW: Arequipa is also a gateway to explore the breathtaking Colca Canyon, home to the majestic Andean condor and offering sweeping views of the Andean landscapes.
What is Peru Known For: The White City of Arequipa
Peru is known for the captivating Sacred Valley, a place of enchanting beauty nestled amidst the majestic Andes Mountains.
This fertile valley, once the heartland of the Inca Empire, is brimming with historical and cultural treasures. Ancient Inca ruins, such as those in Pisac and Ollantaytambo, stand as testaments to the empire's remarkable architectural achievements and spiritual connection to the land.
The valley's terraced agricultural landscapes, ingeniously designed by the Incas, showcase their advanced farming techniques and respect for nature's balance.
Today, the Sacred Valley remains home to vibrant indigenous communities, preserving age-old traditions and craftsmanship. Exploring the local markets, you will find a diverse array of handcrafted textiles, pottery, and other artisanal products.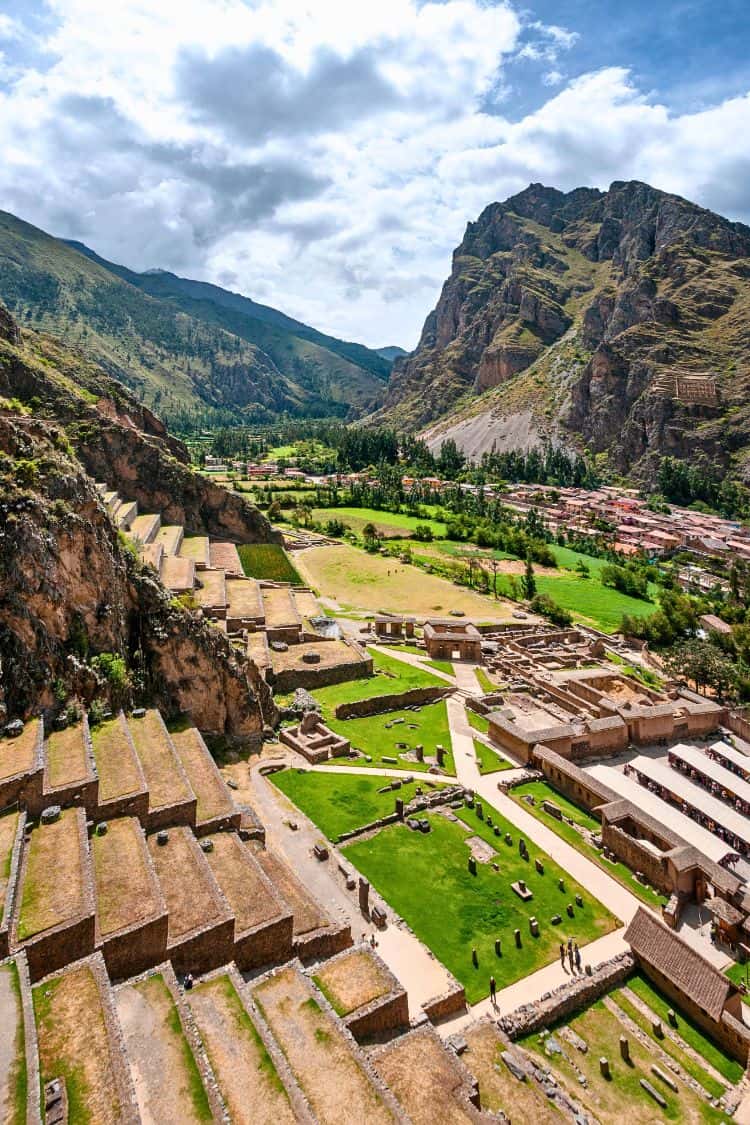 What is Peru Known For: The Sacred Valley (Ollantaytambo)
Peru is known for the awe-inspiring Huascaran National Park, a UNESCO World Heritage site that showcases the breathtaking beauty of the Cordillera Blanca mountain range.
Located in the Ancash region of northern Peru, this vast protected area covers over 3,400 square kilometers and is home to numerous majestic peaks, some soaring over 6,000 meters (19,600 feet) in elevation. The park's centerpiece is Huascaran Mountain, the tallest peak in Peru, standing at an impressive 6,768 meters (22,205 feet) above sea level.
Huascaran National Park is a paradise for outdoor enthusiasts, offering a variety of trekking and mountaineering opportunities. From challenging climbs to more accessible day hikes, the park caters to adventurers of all skill levels.
Among its many stunning features, the park is graced by the mesmerizing Llanganuco Lakes, two glacial lakes with crystal-clear turquoise waters nestled amidst the breathtaking mountain scenery.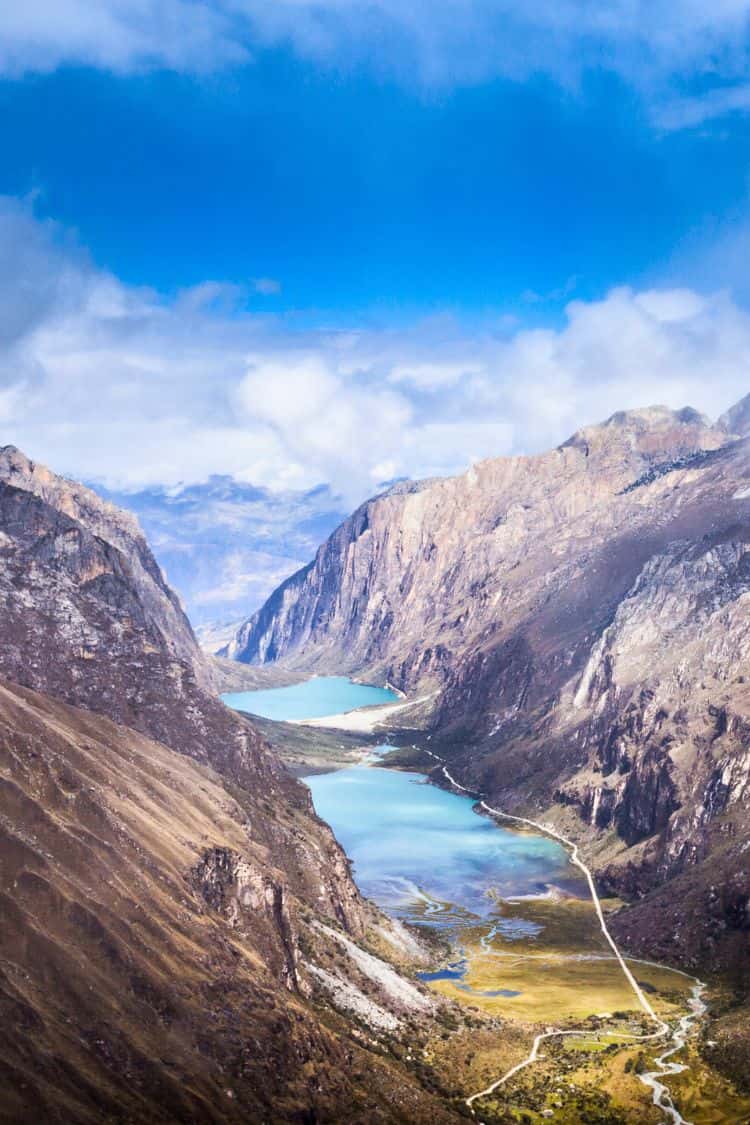 What is Peru Known For: Huascaran National Park (Llanganuco Lakes – Chinancocha and Orconcocha)
Another iconic glacial lake within the park is Lake 69, renowned for its stunning beauty and azure hues, making it a popular destination for trekkers seeking to immerse themselves in the natural wonders of the Andean highlands.
The diverse landscapes within the park also include lush valleys and dense forests, providing a haven for a wide range of flora and fauna, including endangered species like the Andean condor. The park's remarkable biodiversity makes it a haven for nature lovers and birdwatchers, with over 780 plant species and over 170 bird species thriving within its boundaries.
Additionally, Huascaran National Park plays a vital role in conserving Peru's water resources, as its glacial lakes, including Lake 69 and the Llanganuco Lakes, serve as essential sources of fresh water for surrounding communities.
The Adobe City of Chan Chan
Peru is known for the magnificent archaeological site of Chan Chan, a UNESCO World Heritage site and the largest pre-Columbian adobe city in the Americas.
Located near Trujillo on the northern coast of Peru, Chan Chan was once the capital of the ancient Chimu Kingdom, flourishing between the 9th and 15th centuries. The city's name translates to "Sun Sun," reflecting the Chimu people's reverence for the sun as a symbol of power and fertility.
Chan Chan's vast complex spans over 20 square kilometers, consisting of nine distinct citadels, each with its own intricate architectural design and purpose. The city's adobe walls, elaborately decorated with intricate patterns and reliefs, showcase the Chimu's remarkable craftsmanship and artistic prowess.
The Tschudi Palace is one of the most well-preserved structures within Chan Chan, displaying a labyrinth of rooms, courtyards, and ceremonial spaces.
The city's urban planning features a sophisticated system of water canals, reflecting the Chimu's advanced engineering skills, which enabled them to efficiently manage water resources in the arid coastal environment.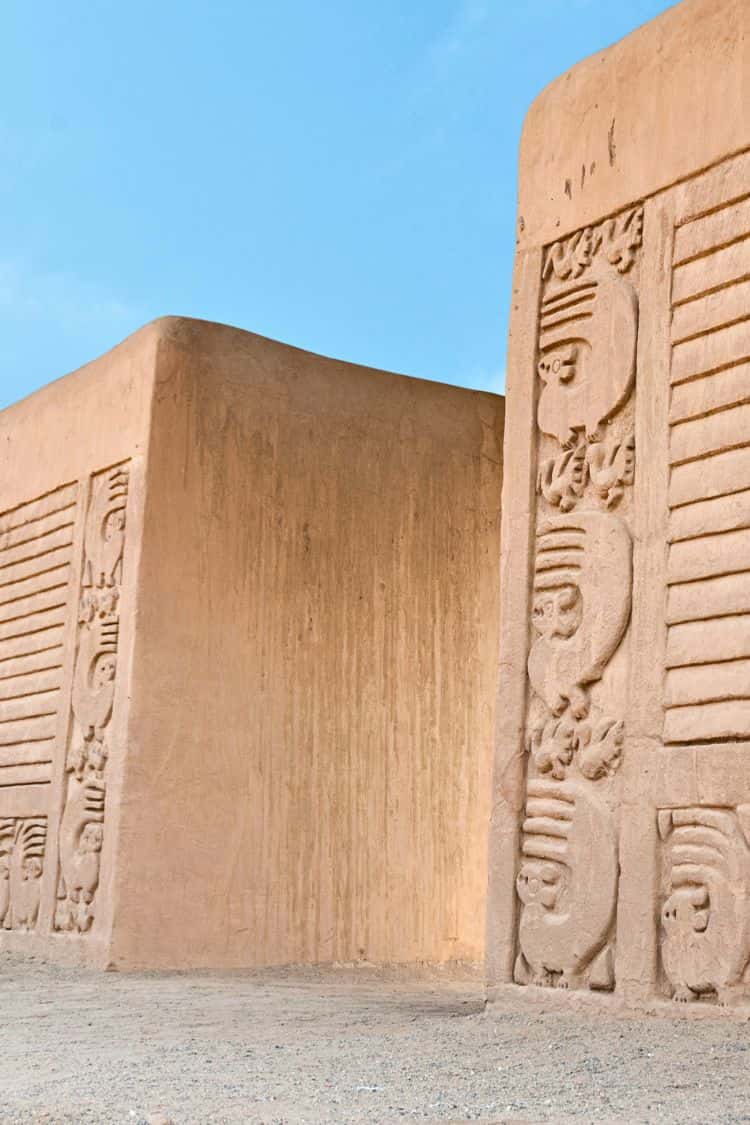 What is Peru Known For: Chan Chan
Ballestas Islands (Galapagos of Peru)
Peru is known for the captivating Ballestas Islands, a group of small islands located off the Pacific coast near the town of Paracas.
Often referred to as the "Galapagos of Peru," these islands are a sanctuary for diverse marine life and seabirds, offering visitors a thrilling wildlife encounter. The Ballestas Islands are teeming with colonies of sea lions, providing a delightful spectacle as these playful creatures frolic on the rocky shores.
Additionally, the islands serve as nesting grounds for an array of bird species, including Humboldt penguins, Peruvian boobies, and pelicans, creating a vibrant avian paradise.
What is Peru Known For: The Ballestas Islands
One of the most remarkable features of the Ballestas Islands is the famous Candelabra geoglyph etched into the sandy cliffs. This mysterious and enormous figure resembles a candelabra, and its origins and purpose remain shrouded in mystery, intriguing archaeologists and visitors alike.
To visit the Ballestas Islands embark on a boat tour from Paracas. It offers an up-close encounter with the islands' wildlife while respecting their protected status. Exploring these biodiverse islets provides a unique opportunity to witness the wonders of Peru's marine ecosystem and appreciate the country's dedication to preserving its natural treasures.
Mesmerizing Rainbow Mountain
Peru is known for the mesmerizing Rainbow Mountain, locally known as Vinicunca, which is situated in the Peruvian Andes.
This extraordinary natural wonder is adorned with vivid stripes of mineral-rich hues, creating a surreal and otherworldly landscape that captivates all who venture to witness its beauty.
To reach the summit and marvel at this geological masterpiece, adventurers embark on a challenging hike through the high-altitude terrain, surrounded by breathtaking vistas of the Andean peaks.
As the sun illuminates the vibrant colors of the mountain, the scene becomes even more enchanting, that will leave you in awe of nature's artistic prowess.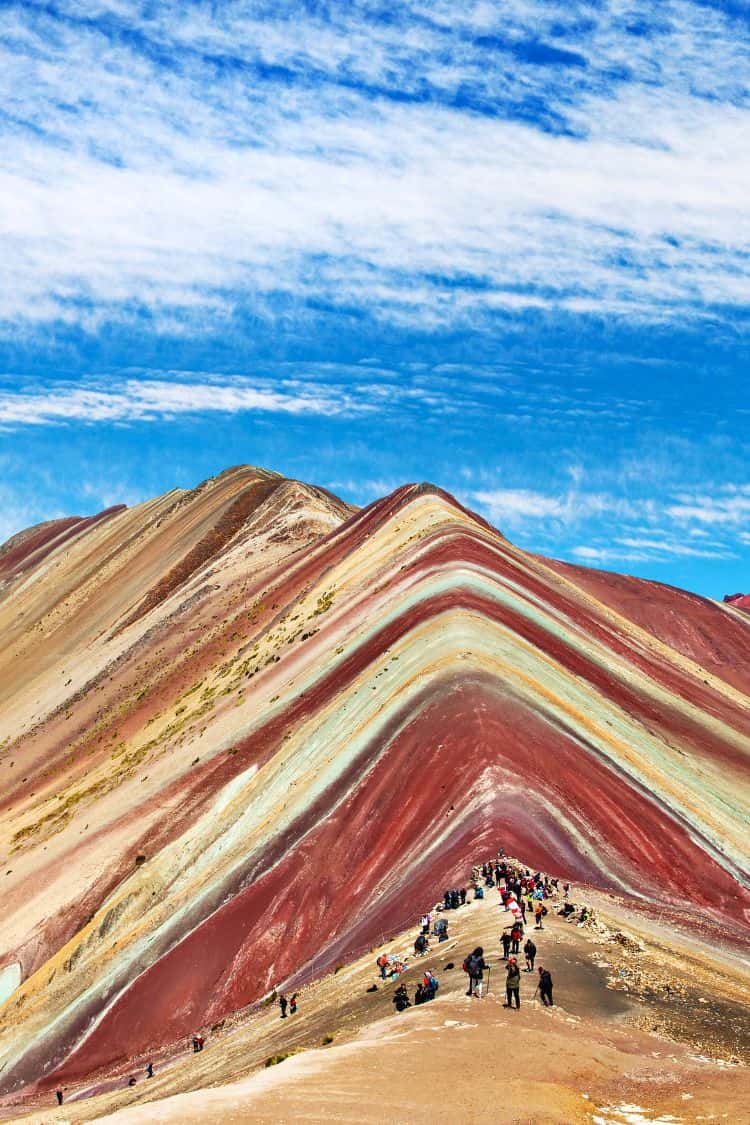 What is Peru Known For: Rainbow Mountain
Indulge in Peru's beloved ceviche, a refreshing dish that showcases the country's abundant seafood. Fresh fish or seafood is marinated in citrus juices, typically lime or lemon, and spiced with aji chili peppers. The result is a burst of vibrant flavors that perfectly balances tanginess and heat.
Served with onions, sweet potatoes, and crunchy corn kernels, ceviche is a true Peruvian culinary gem.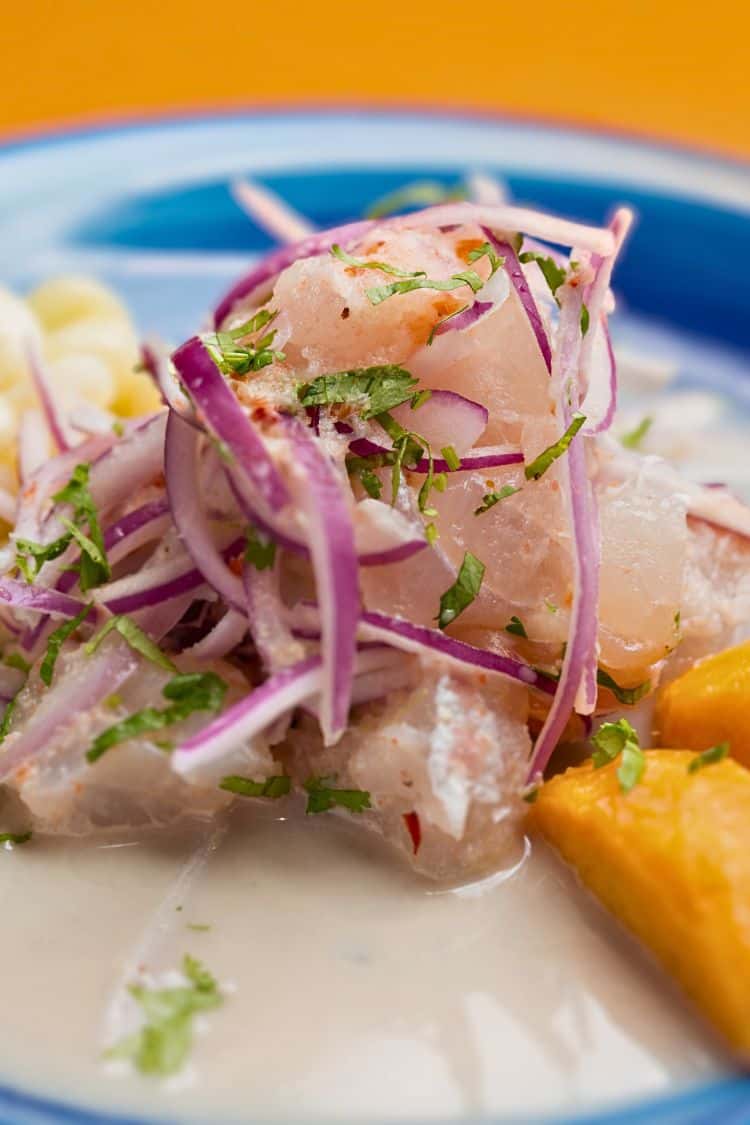 What is Peru Known For: Ceviche
Peru is renowned for the iconic Inca Trail, an ancient and historic route that draws travelers from across the globe.
This legendary trail, stretching approximately 43 kilometers (26 miles), leads adventurers on a mesmerizing journey through the rugged Andean landscapes, following the footsteps of the ancient Inca civilization.
The trail begins at the Sacred Valley's picturesque town of Ollantaytambo and culminates at the awe-inspiring archaeological marvel of Machu Picchu.
The Inca Trail offers not only breathtaking vistas of mist-shrouded mountains, lush cloud forests, and ancient ruins but also an unparalleled cultural and historical experience. Along the way, hikers encounter impressive Inca archaeological sites such as Wiñay Wayna, Intipata, and the Sun Gate (Inti Punku), each revealing the remarkable engineering and architectural skills of the Inca people.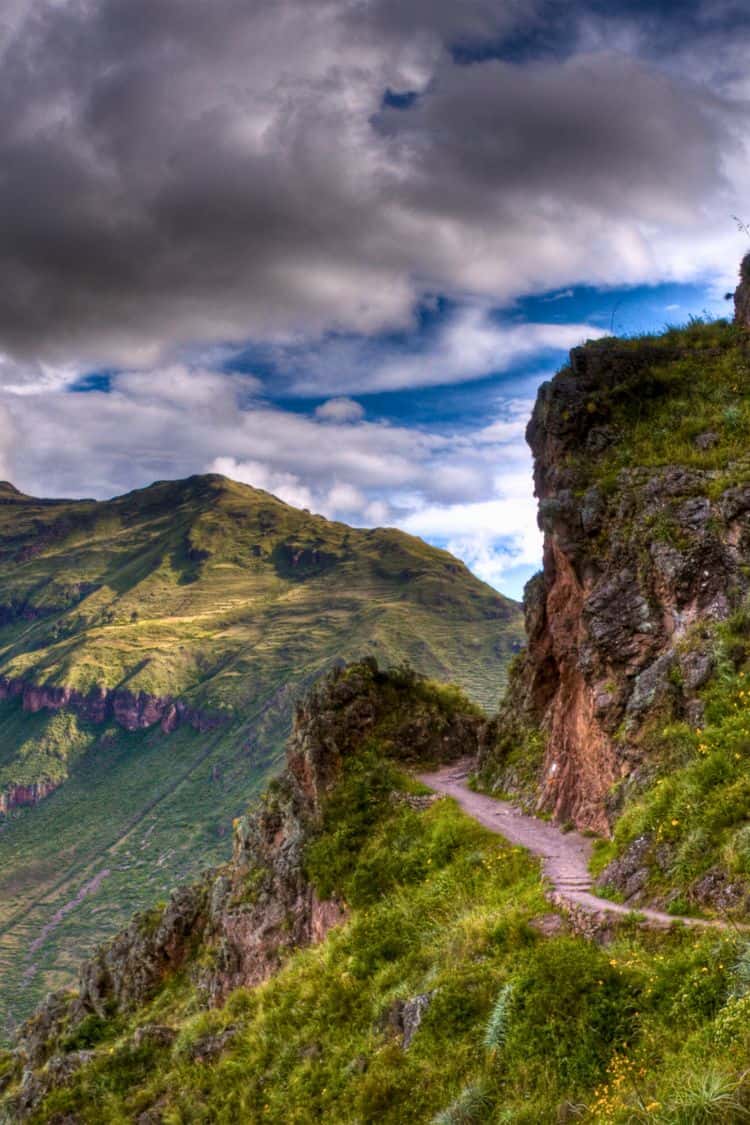 What is Peru Known For: Inca Trail
A highlight of the Inca Trail is the final approach to Machu Picchu through the Sun Gate, where trekkers are rewarded with their first glimpse of the "Lost City of the Incas" perched atop a mountain ridge. This unforgettable moment provides a profound sense of accomplishment and wonder, making the journey even more rewarding.
The popularity of the Inca Trail has led to regulations limiting the number of daily hikers to preserve its fragile ecosystem and cultural heritage. As such, obtaining permits for this once-in-a-lifetime experience requires planning well in advance.
Peru is indeed renowned for its incredible diversity of potatoes, boasting an astonishing number of potato varieties. It is estimated that there are approximately 4,000 different types of potatoes cultivated in Peru, making it one of the world's centers of potato biodiversity.
The Andes Mountains, which run through Peru, provide a wide range of altitudes and microclimates, creating ideal conditions for diverse potato cultivation. The country's rich agricultural heritage, dating back to ancient times, has contributed to the preservation and development of numerous potato varieties.
Each potato variety has unique characteristics, such as size, color, texture, and flavor. Some potatoes are better suited for frying, while others are perfect for mashing or baking. This remarkable diversity has led to a myriad of traditional Peruvian dishes, each showcasing the distinct flavors and textures of different potato types.
In recognition of its rich potato heritage, Peru celebrates National Potato Day on May 30th each year, highlighting the significance of this essential crop in the country's culture and cuisine.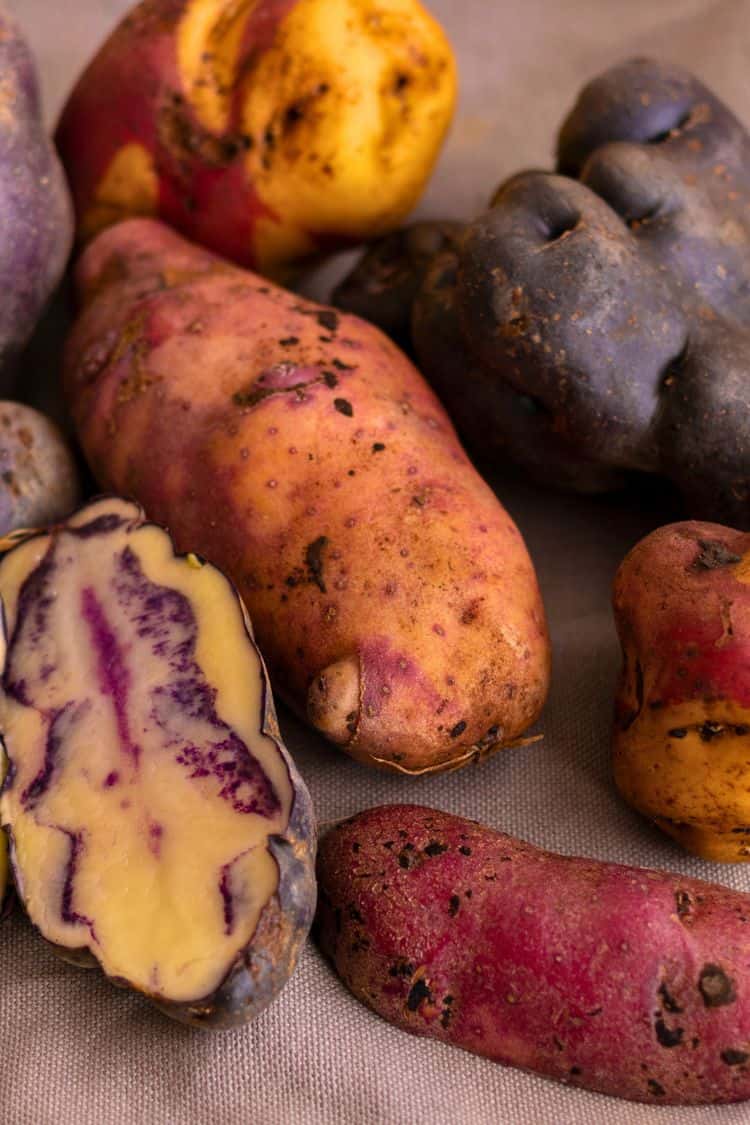 What is Peru Known For: Potatoes
Peru is celebrated for its diverse and flavorful chili peppers, which have played a vital role in the country's culinary heritage for centuries. From mild to fiery hot, Peru's chili peppers come in a wide array of shapes, sizes, and colors, adding a delightful kick to various dishes.
One of the most famous varieties is the Aji Amarillo, characterized by its vibrant orange color and fruity, slightly spicy flavor. Aji Panca, another popular chili pepper, offers a rich, smoky taste, while Aji Limo packs a potent punch with its intense heat.
Peruvian cuisine showcases the versatility of chili peppers, as they are incorporated into traditional dishes like ceviche, causa, and anticuchos, as well as spicy dipping sauces known as aji sauces. Aji Amarillo, in particular, is a key ingredient in the beloved Peruvian green sauce, or "huancaina sauce," served with many dishes and admired for its deliciously complex flavors.
The use of chili peppers in Peruvian cooking dates back to pre-Columbian times when indigenous communities embraced these spicy gems in their everyday meals. Today, chili peppers remain an integral part of Peruvian gastronomy, contributing to the country's reputation as a culinary destination.
Whether you are a fan of mild flavors or crave fiery heat, Peru's chili peppers offer a tantalizing and unforgettable gastronomic adventure that adds a deliciously spicy twist to the country's rich and diverse culinary tapestry.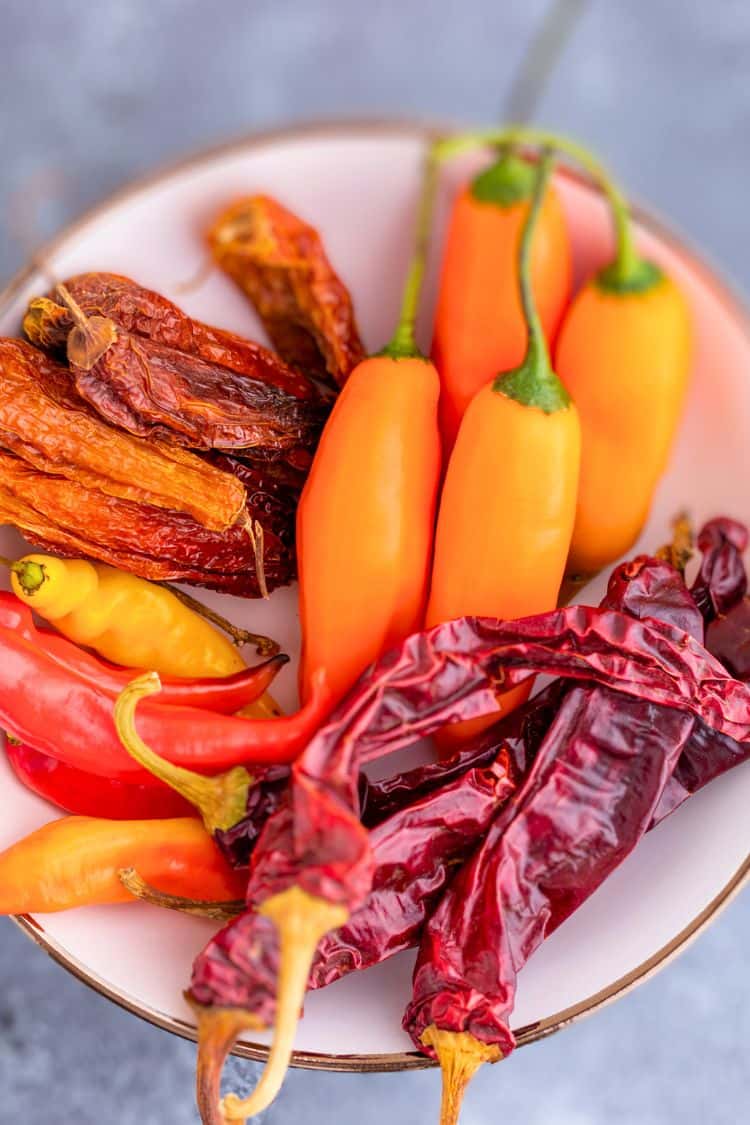 What is Peru Known For: Chili Peppers
Camelid Species: Alpacas, Llamas, Vicuñas, And Guanacos
Peru is renowned for its captivating camelid species, which have been an integral part of the country's cultural heritage for thousands of years. Among the most well-known are alpacas, llamas, vicuñas, and guanacos, each possessing unique characteristics that have made them essential to the lives of Andean communities.
Alpacas, with their soft and luxurious fleece, have been domesticated for their wool, which is prized for its warmth and durability. Peruvian alpaca wool is highly regarded worldwide for its exceptional quality and is used to create a wide range of garments, from cozy sweaters to elegant shawls.
Llamas have been integral to the Andean way of life as pack animals, used for transporting goods across the rugged terrains of the Andes. Their adaptability and gentle disposition make them valuable companions for locals and visitors alike.
The vicuña, the smallest and most delicate of the four camelid species, is celebrated for its remarkably fine and precious fleece. Due to their endangered status, their wool can only be obtained through ethical and sustainable means, making it one of the most sought-after and expensive fibers in the world.
Guanacos, the wild cousins of llamas, roam freely in the high-altitude regions of Peru. Their grace and beauty in their natural habitats add to the allure of the Andean landscapes.
Camelid species have become a symbol of Peru's rich cultural heritage and continue to play a significant role in the country's economy, artisanal craftsmanship, and conservation efforts.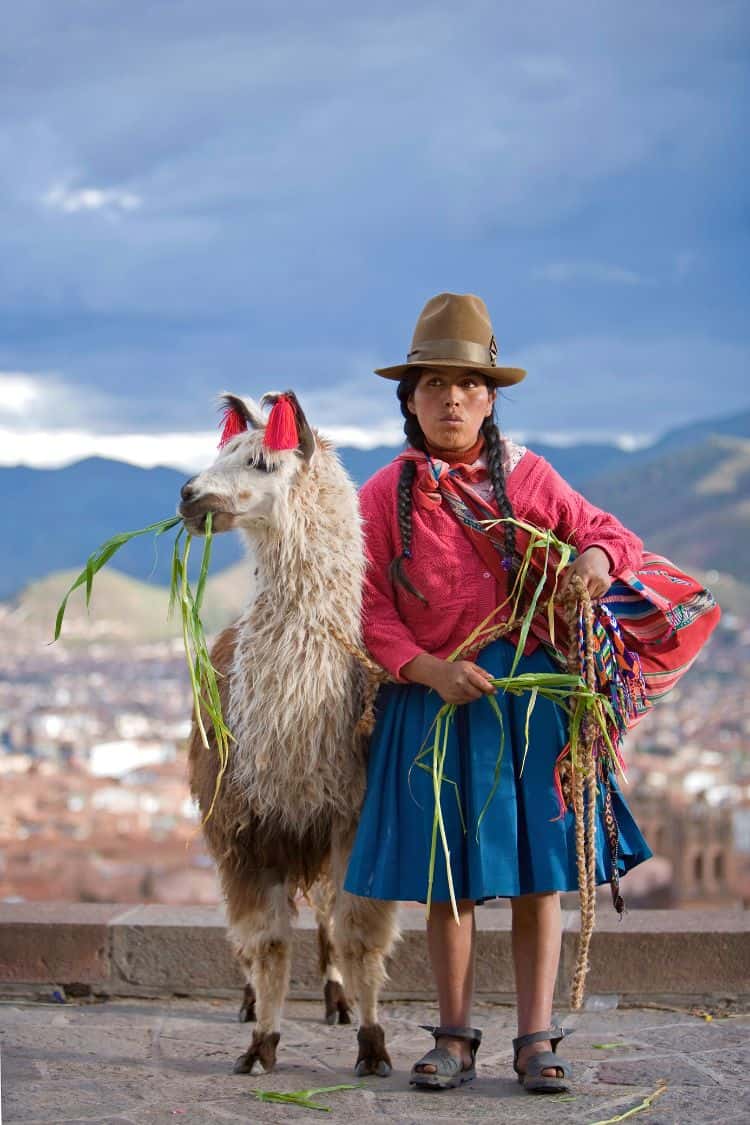 What is Peru Known For: Camelid Species (Peruvian Woman With Her Llama)
Sandboarding in Huacachina
Peru is celebrated for offering exhilarating sandboarding experiences in the enchanting desert oasis of Huacachina.
Located just outside Ica, Huacachina is a picturesque desert oasis surrounded by towering sand dunes, creating a paradise for adventure seekers.
Sandboarding, a thrilling activity akin to snowboarding but on the sand, attracts travelers worldwide to experience the adrenaline rush of gliding down the sandy slopes.
In Huacachina, you can rent sandboards or sand sleds and venture into the vast dunes, where expert guides will lead you on a journey to conquer the sandy peaks.
Whether standing on the board or lying on a sled, sliding down the slopes promises moments of sheer excitement and unparalleled views of the stunning desert landscape. For those seeking an even more memorable experience, some operators offer sandboarding excursions during sunset, allowing riders to witness the sun's fiery hues painting the dunes with an ethereal glow.
Beyond sandboarding, Huacachina offers a variety of activities to enjoy, such as dune buggy rides, where adventurers can race up and down the dunes in specialized off-road vehicles, adding an extra dose of adrenaline to the desert escapade.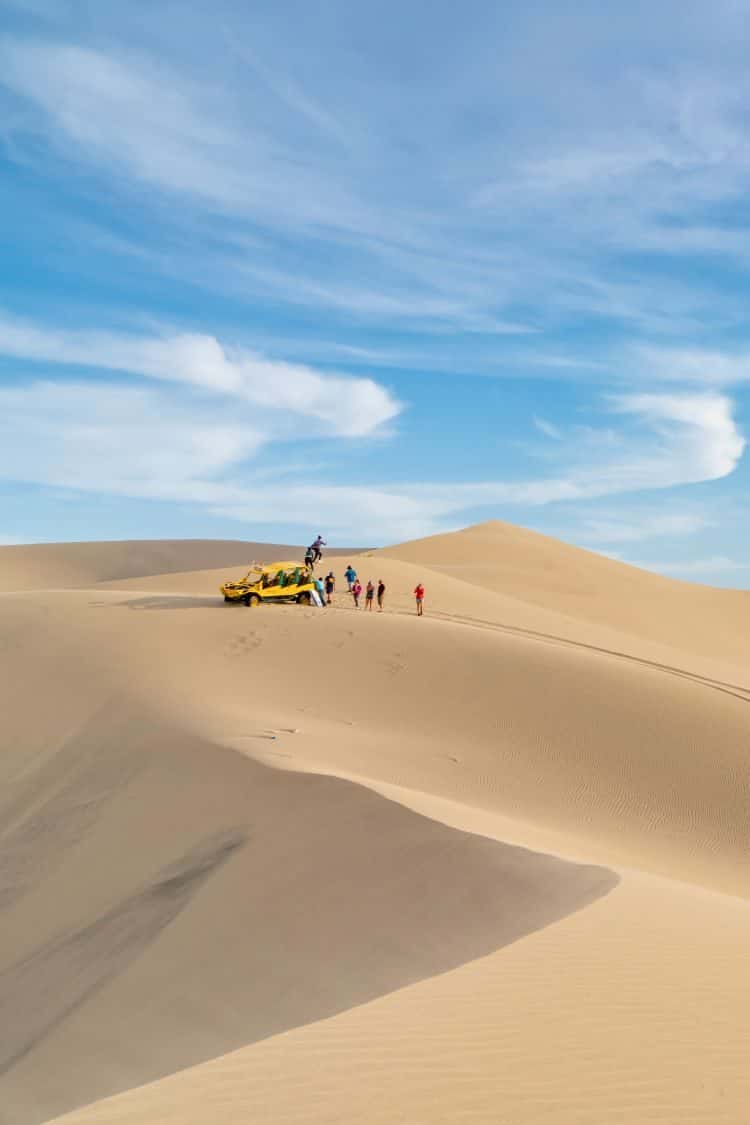 What is Peru Known For: Sandboarding in Huacachina
Peru is renowned worldwide for its beloved cocktail, the Pisco Sour, a delightful and refreshing drink that reflects the country's rich history and cultural heritage.
This iconic concoction traces its roots back to the early 20th century when it was first crafted by Victor Vaughen Morris, an American bartender, in Lima, Peru. The key ingredient that gives the Pisco Sour its unique identity is Pisco, a grape-based brandy that has been produced in Peru for centuries.
The traditional recipe for a Pisco Sour typically includes Pisco, freshly squeezed lime or lemon juice, simple syrup, egg white, and a few dashes of bitters. The egg white gives the cocktail a frothy and velvety texture, while the bitters add a delightful aroma and complexity to the flavor.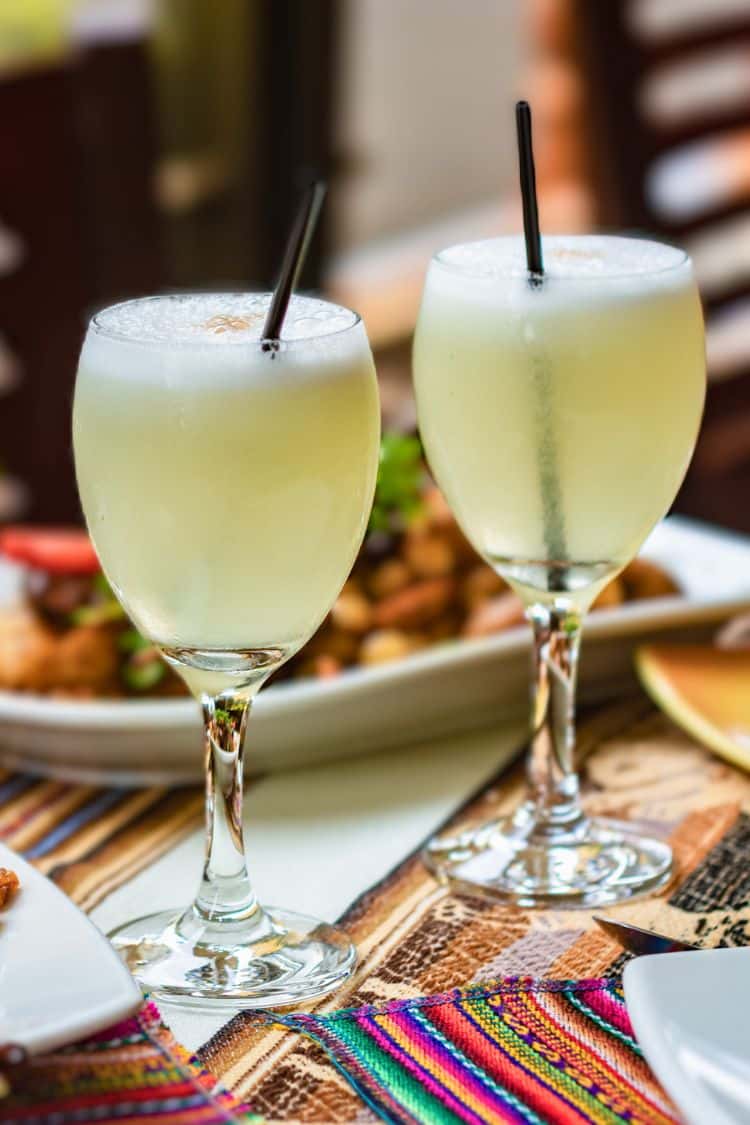 What is Peru Known For: Pisco Sour
Pisco Sour holds a special place in Peruvian culture, and it is often enjoyed as a pre-dinner aperitif or a festive drink during celebrations and gatherings. The cocktail has become a symbol of national pride and a significant part of Peru's culinary identity, with variations and regional twists found throughout the country.
A fascinating aspect of the Pisco Sour is its heated rivalry with the Chilean Pisco Sour, as both Peru and Chile claim to be the originators of the cocktail. This friendly competition adds an element of fun and national pride to the drink, making it a conversation starter for locals and visitors alike.
Sipping on a well-crafted Pisco Sour not only tantalizes the taste buds but also offers a taste of Peru's vibrant culture and heritage. Whether enjoyed on a sunny terrace overlooking the city or in a bustling bar surrounded by a lively atmosphere, the Pisco Sour is a quintessential Peruvian experience that delights cocktail enthusiasts and cultural explorers alike.
Culinary Delicacy: Cuy (Guinea Pig)
Peru is famous for its unique culinary delicacy, cuy, which refers to a guinea pig, a small rodent that has been an essential part of the country's gastronomic heritage for thousands of years.
Cuy holds a special place in Peruvian culture, dating back to pre-Columbian times when it was not only a vital food source but also held ceremonial significance in Inca rituals.
Today, cuy remains an integral part of Peruvian cuisine and is considered a traditional and festive dish, often served on special occasions and celebrations. The preparation of cuy involves roasting or frying the whole animal, resulting in crispy skin and tender meat with a distinctive flavor that is often described as a cross between chicken and rabbit.
The presentation of cuy is a culinary spectacle, with its golden-brown appearance served on a platter with garnishes and sides. In some regions, it is accompanied by traditional Andean ingredients such as potatoes, corn, and various types of chili peppers, enhancing the dish's cultural significance.
For adventurous food enthusiasts, trying cuy is an opportunity to immerse themselves in Peruvian culture and explore the country's diverse culinary offerings. Though it may not be a common dish in urban areas, cuy remains a cherished tradition in rural communities, where it symbolizes a connection to ancestral roots and continues to be a source of pride for Peruvians.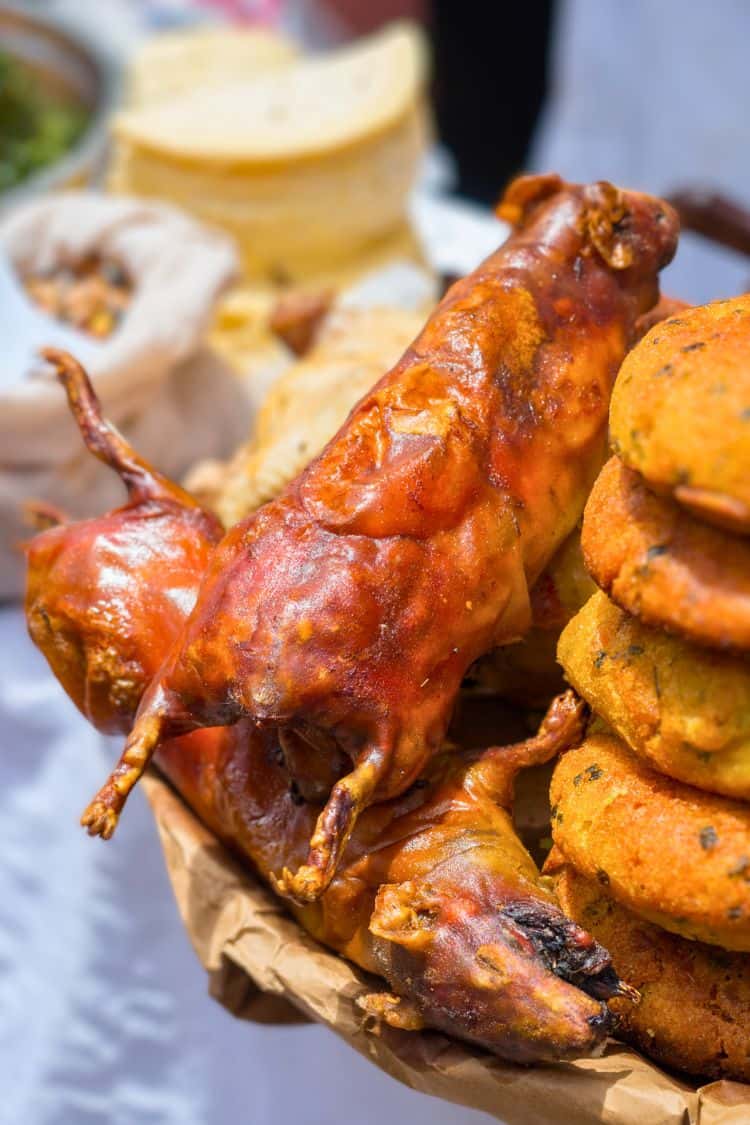 What is Peru Known For: Cuy
Exhilarating Huayhuash Trek
Peru is renowned among avid trekkers and nature enthusiasts for the exhilarating Huayhuash Trek, a challenging and rewarding adventure that takes travelers through the awe-inspiring landscapes of the Huayhuash mountain range in the Peruvian Andes.
Located in the northern part of the country, the Huayhuash Trek offers an unforgettable journey amidst soaring peaks, crystal-clear glacial lakes, and remote alpine valleys.
Stretching approximately 130 kilometers (about 80 miles), the Huayhuash Trek is known for its breathtaking scenery and rugged terrain, making it a bucket-list destination for hikers seeking a true wilderness experience. The trek typically takes around ten to twelve days to complete, during which trekkers are treated to unparalleled views of some of the highest mountains in Peru, including Yerupajá, Siula Grande, and Rasac.
The trail weaves through picturesque landscapes, passing through remote Andean villages where you can interact with local communities and learn about their time-honored traditions. The hospitality and warmth of the mountain communities add a cultural dimension to the trek, creating a unique connection between hikers and the people who call these stunning landscapes home.
The Huayhuash Trek is considered a challenging trek that requires physical fitness and acclimatization to the high altitudes. Hikers are advised to be well-prepared with proper gear, and many choose to join organized trekking groups with experienced guides to ensure a safe and enjoyable experience.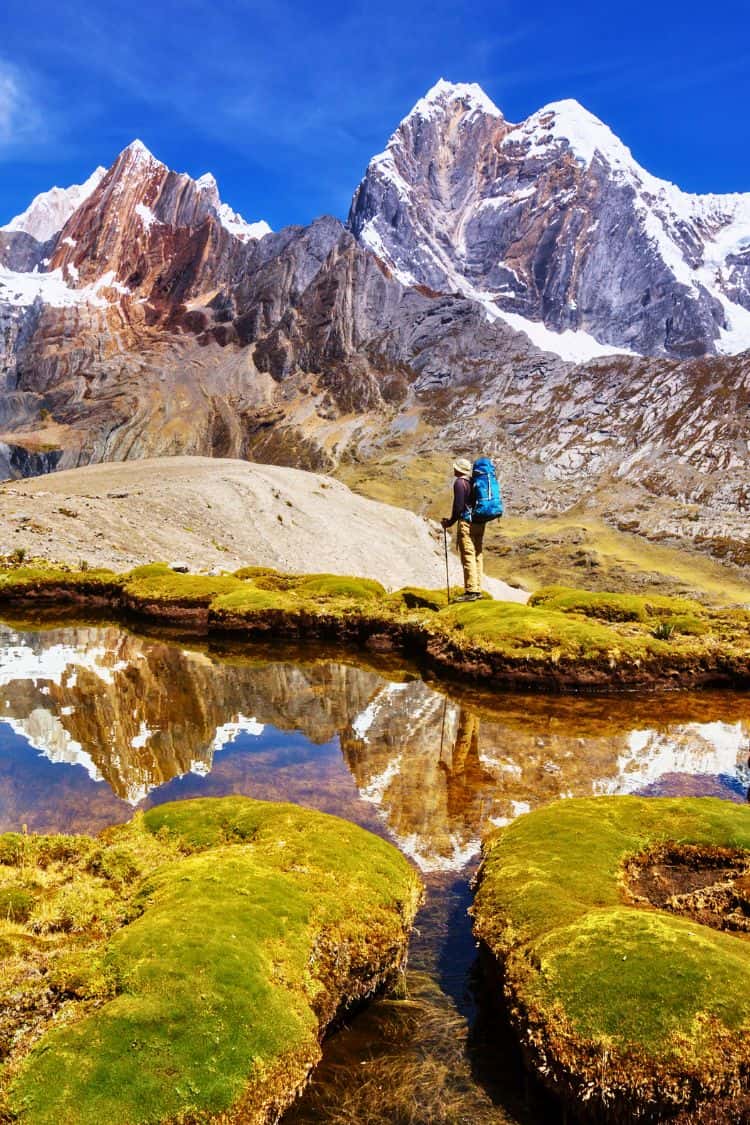 What is Peru Known For: Huayhuash Trek
Peru is internationally renowned for its fascinating Inca culture, an ancient civilization that left an indelible mark on the country's history and heritage.
The Inca Empire, which thrived in the Andean region from the 15th to the early 16th century, was an impressive feat of engineering, architecture, and governance. One of the most iconic legacies of the Inca culture is the breathtaking citadel of Machu Picchu, an architectural wonder and a UNESCO World Heritage site.
The Inca civilization excelled in constructing intricate stone structures without the use of mortar, resulting in masterpieces that have withstood the test of time. The precision of their stonework is still admired by experts and visitors alike, showcasing the advanced engineering knowledge possessed by the Inca people.
The Inca's intricate road network, known as the Qhapaq Ñan, spanned thousands of kilometers, connecting various regions of their vast empire. This impressive feat of infrastructure facilitated trade, communication, and administration, highlighting the Inca's organizational skills.
Inca culture was deeply spiritual, and their religious beliefs were intertwined with their natural surroundings. They worshipped a multitude of deities, with the sun god, Inti, holding particular significance. Temples and sacred sites dedicated to these deities can still be found scattered throughout Peru, adding to the allure of the country's rich cultural heritage.
Today, the legacy of the Inca culture is celebrated through traditional festivals, colorful costumes, and vibrant music and dance. The Quechua language, spoken by many Peruvians, is a testament to the enduring influence of the Inca civilization on modern-day Peru.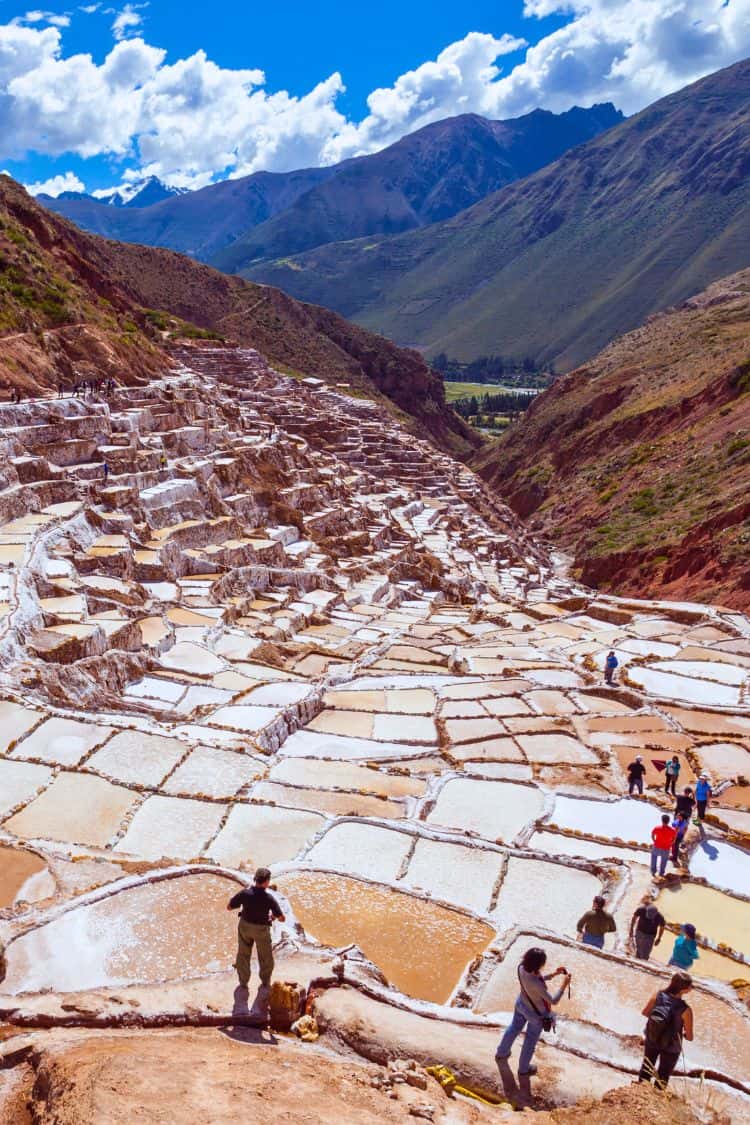 What is Peru Known For: Inca Culture (Maras Salt Mines)
Peru is celebrated for its delightful chicha morada, a traditional and colorful beverage deeply rooted in the country's history and culture.
Chicha morada is made from purple corn, a variety of maize native to Peru, and is infused with a delightful blend of fruits and spices. The drink's captivating deep purple hue comes from the natural pigments found in the purple corn, making it both visually appealing and refreshing.
Chicha morada has ancient origins, dating back to pre-Columbian times when it was consumed by the Inca civilization. It was an essential part of their daily diet and held cultural significance during rituals and ceremonies. Today, chicha morada remains a beloved beverage, cherished by Peruvians and embraced by visitors as a taste of authentic Peruvian heritage.
The drink's preparation involves boiling purple corn with ingredients like pineapple, cinnamon, cloves, and sometimes other fruits like apple or quince, infusing the beverage with a delightful medley of flavors. Once the liquid is strained and cooled, it is typically sweetened with sugar or sweeteners, resulting in a delightful balance of tanginess and sweetness.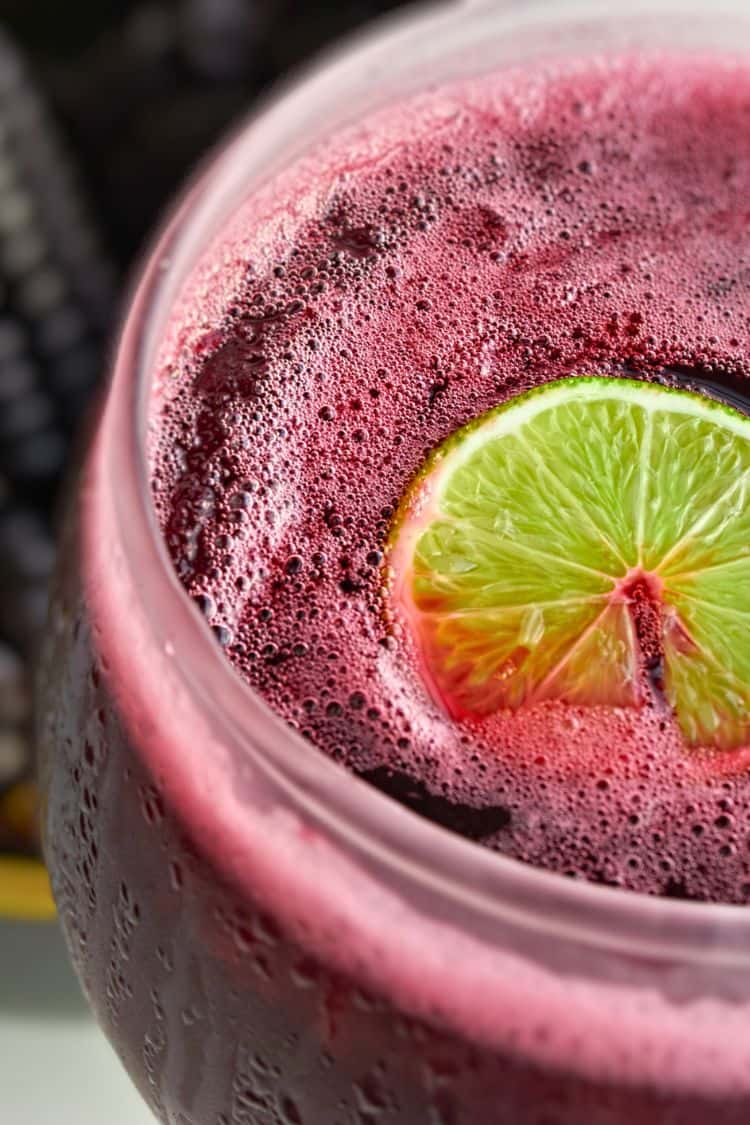 What is Peru Known For: Chicha Morada
Chicha morada is not fermented like other types of chicha, making it a non-alcoholic beverage suitable for all ages. Its versatility extends to culinary applications, where it is used as a base for various desserts and sauces, showcasing the drink's adaptability in Peruvian cuisine.
Beyond its delicious taste, chicha morada is celebrated for its potential health benefits. The purple corn used to make the drink contains natural antioxidants known as anthocyanins, which are believed to offer various health advantages, including promoting heart health and supporting the immune system.
For travelers, sipping on a glass of chicha morada offers an authentic and refreshing taste of Peru's culinary heritage. Whether enjoyed at a traditional market, a local restaurant, or during festive celebrations, this vibrant beverage provides a glimpse into the country's rich history and cultural appreciation for the diverse flavors of the Andean region.
Peru is famous for its beloved Inca Kola, a vibrant and iconic soda that holds a special place in the hearts of Peruvians. This neon-yellow, sweet, and fizzy beverage is not only a popular refreshment but also a symbol of national pride and cultural identity.
Inca Kola was first introduced in the 1930s by British immigrant Joseph Robinson Lindley, who was inspired to create a unique soda flavor that would appeal to Peruvian tastes. Over the years, Inca Kola has become deeply ingrained in Peruvian culture, earning the nickname "The Golden Kola" for its bright hue and popularity.
One interesting fact about Inca Kola is its overwhelming success in Peru, where it outsells other well-known international soda brands. The unique flavor, described as a blend of bubblegum and fruity notes, has resonated with the palates of generations of Peruvians, making it the top-selling soft drink in the country.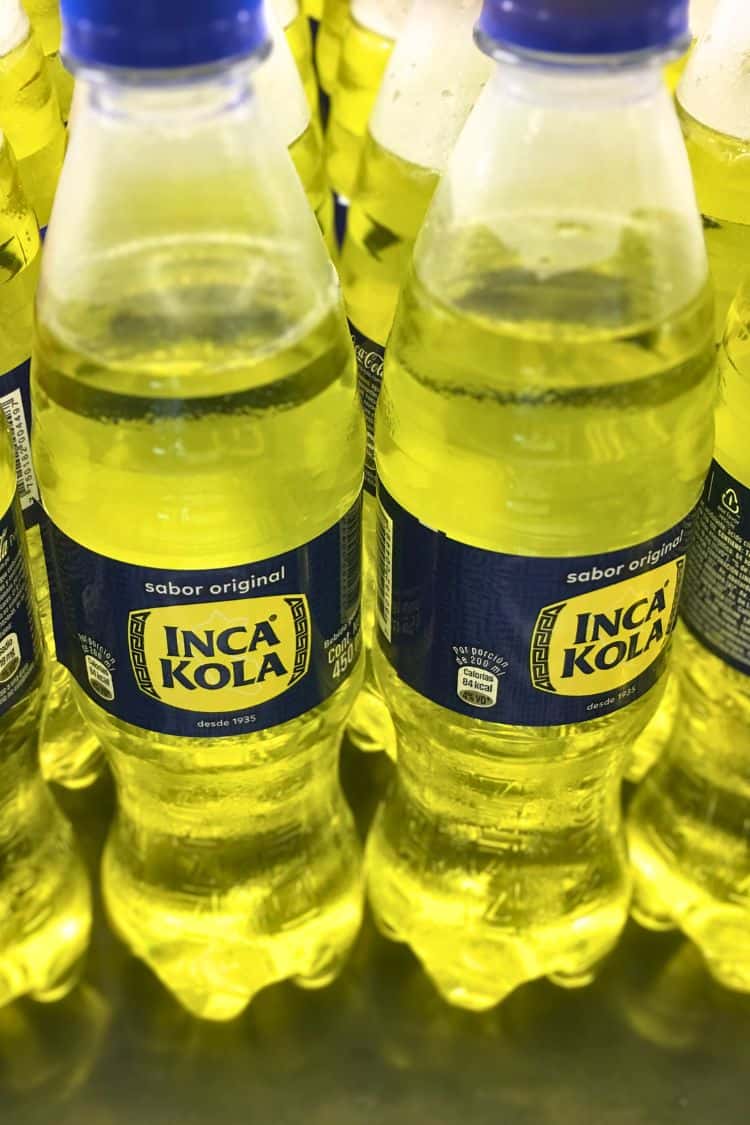 What is Peru Known For: Inca Kola
Inca Kola's cultural significance goes beyond its popularity as a beverage. Soda has become an integral part of Peruvian life, often associated with family gatherings, celebrations, and traditional meals. It is not uncommon to see bottles of Inca Kola on dining tables during special occasions and festivals throughout the year.
Additionally, Inca Kola's branding and advertising campaigns have been deeply rooted in Peruvian culture, featuring indigenous motifs, iconic landmarks, and traditional customs, which further strengthens its connection to the country's heritage.
Inca Kola's unique flavor and strong cultural ties have also led to its export to other countries with significant Peruvian communities, as well as to curious consumers eager to try this distinctive soda. The brand's success has extended beyond Peru's borders, making it a symbol of Peruvian identity and a delightful taste of Peru for people around the world.
Peru is gaining recognition as a producer of high-quality coffee, and its coffee industry has been steadily growing in recent years. The country's diverse microclimates, fertile soil, and high-altitude regions create ideal conditions for cultivating specialty coffee beans.
Peruvian coffee is predominantly grown in the Andean regions, where small-scale farmers embrace sustainable and organic practices, resulting in unique and flavorful coffee profiles.
Peru's coffee offerings are characterized by a remarkable diversity of flavors, ranging from fruity and floral notes to nutty and chocolatey undertones. The elevation at which the coffee is grown contributes to its complexity, as the cooler temperatures slow down the coffee cherry maturation process, allowing for more concentrated flavors.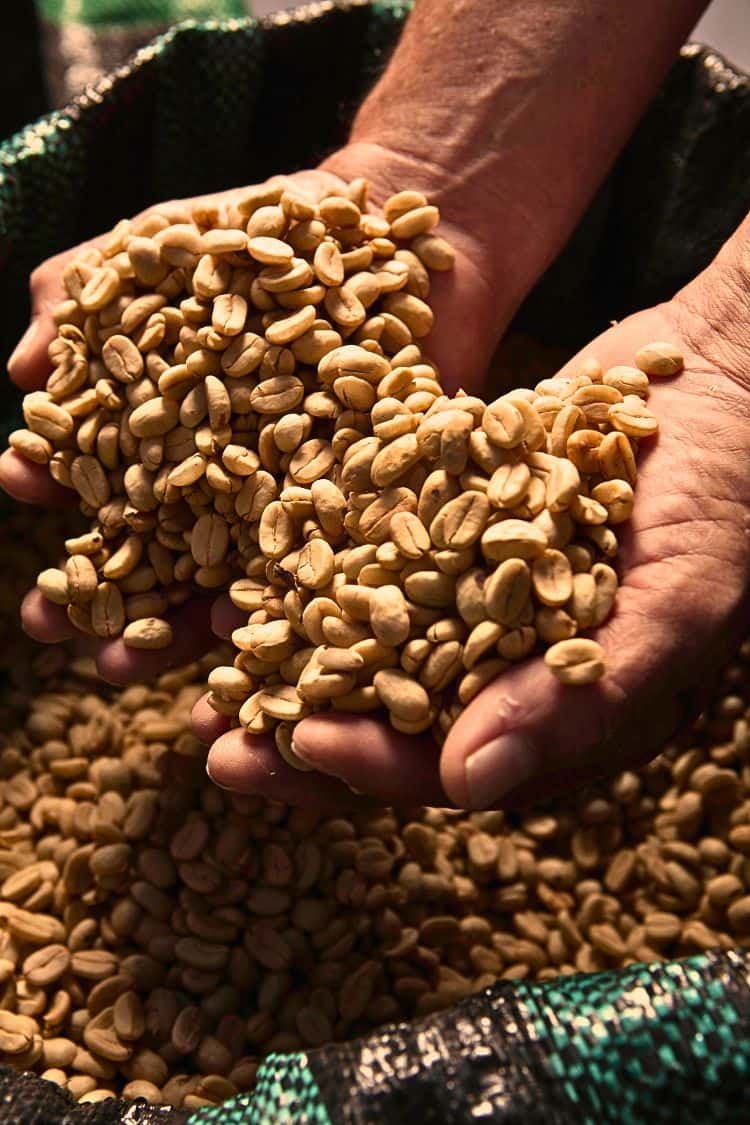 What is Peru Known For: Inca Kola
The cultivation of coffee in Peru has deep historical roots, dating back to the 18th century when it was first introduced by Jesuit missionaries. Since then, coffee has become an integral part of the country's agricultural heritage and rural economy. The coffee industry provides livelihoods for thousands of farmers and their families, who meticulously care for their coffee plants and harvest the ripe cherries by hand.
Peruvian coffee is gaining global recognition and winning prestigious awards in various international coffee competitions. The rise of specialty coffee shops and roasters in Peru's urban centers, such as Lima and Cusco, further showcases the country's dedication to producing high-quality coffee.
Spiritual and Healing of Ayahuasca
Peru is renowned for Ayahuasca, a traditional entheogenic brew used by indigenous communities for centuries as part of their spiritual and healing practices.
Derived from a combination of plants, Ayahuasca contains the psychedelic compound dimethyltryptamine (DMT) and a monoamine oxidase inhibitor (MAOI), which work together to induce powerful and introspective visionary experiences.
For many indigenous tribes in the Amazon rainforest, Ayahuasca holds deep cultural and medicinal significance. The brew is believed to allow individuals to connect with the spiritual realm, gain insights into their lives, and heal physical and emotional ailments.
Shamanic rituals involving Ayahuasca are considered sacred, and the experience is often referred to as a spiritual journey or "plant medicine ceremony."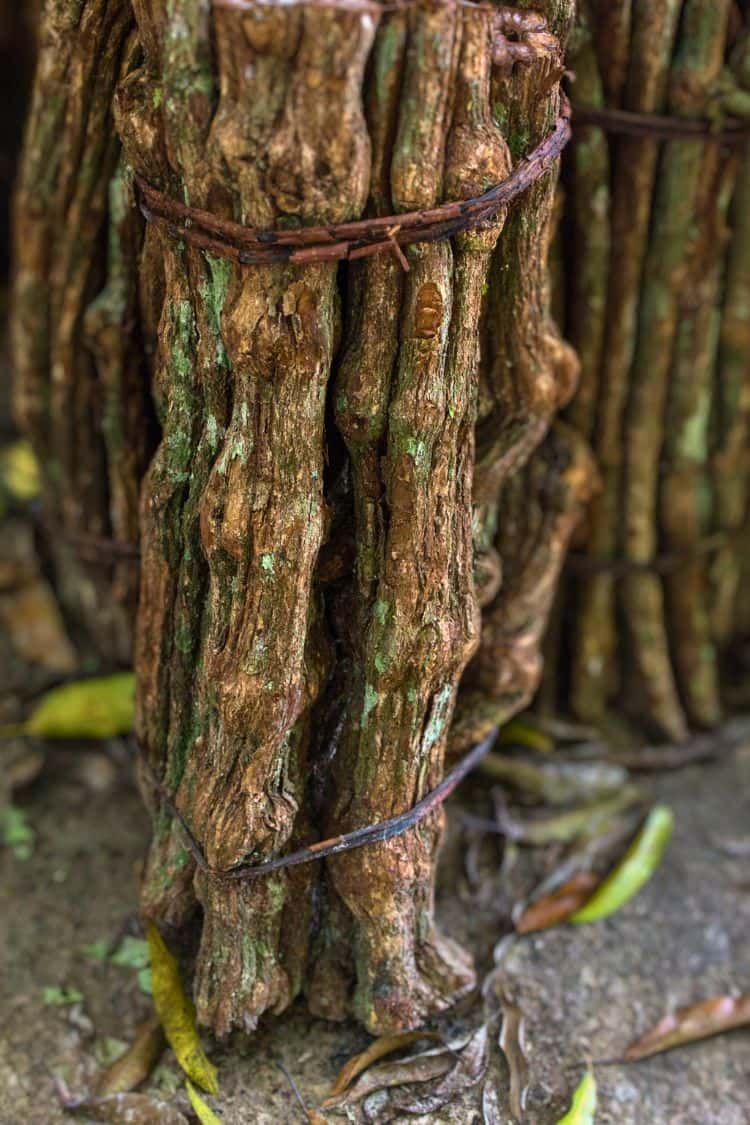 What is Peru Known For: Ayahuasca
In recent years, Ayahuasca has garnered interest from people worldwide seeking spiritual growth, personal transformation, and healing. Retreat centers and shamans in Peru now offer Ayahuasca ceremonies to international visitors, attracting those in search of alternative healing practices and expanded consciousness.
However, it's essential to approach Ayahuasca with respect and caution, as its effects can be intense and emotionally challenging. Participants are advised to partake in ceremonies under the guidance of experienced and reputable shamans who can navigate the spiritual dimensions of the experience and provide support throughout the process.
The popularity of Ayahuasca has led to discussions around its potential therapeutic benefits and its role in mental health treatments. Scientific research on the brew's effects is ongoing, with studies exploring its potential applications in treating depression, anxiety, and addiction.
Nutritional Grains of Quinoa
Peru is renowned as the birthplace of quinoa, an ancient and nutritious grain that has been cultivated in the Andean region for over 5,000 years. This superfood has gained global popularity in recent years due to its numerous health benefits and culinary versatility.
Quinoa, often referred to as the "mother of all grains," was a staple food in the diet of the Inca civilization and played a crucial role in their sustenance and cultural practices.
Quinoa is highly valued for its exceptional nutritional content, being a complete protein source containing all nine essential amino acids. It is also rich in fiber, vitamins, and minerals, making it a valuable addition to vegetarian and vegan diets.
In Peru, quinoa is cultivated in the high-altitude regions of the Andes, where the harsh climate and rugged terrain provide an ideal environment for its growth.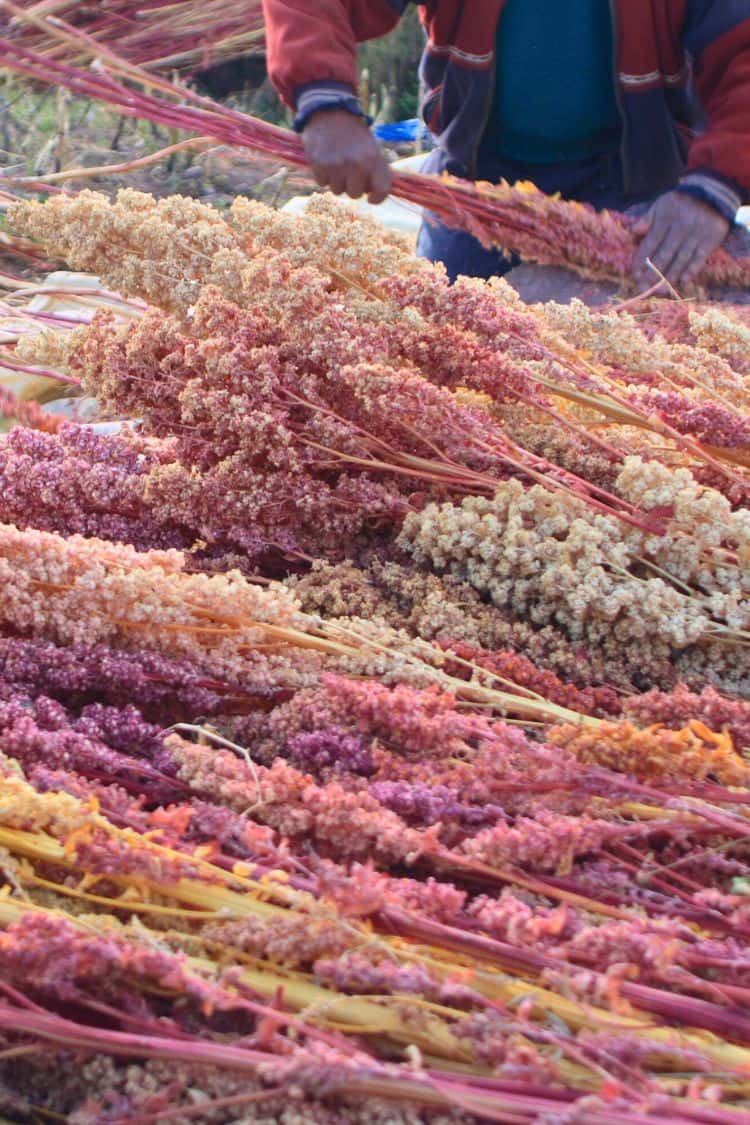 What is Peru Known For: Quinoa
The variety of quinoa cultivated in Peru comes in a range of colors, including white, red, black, and even purple. Each type has a slightly different taste and texture, adding diversity to its culinary applications.
In Peruvian cuisine, quinoa is celebrated for its versatility and is incorporated into a wide array of dishes, from hearty soups and stews to refreshing salads and nutritious breakfast bowls. Quinoa's popularity has spread beyond Peru's borders, and it is now a beloved ingredient in kitchens worldwide, appreciated for its nutty flavor and nutritional value.
Beyond its culinary appeal, quinoa's significance extends to its cultural importance in Peruvian traditions. The annual "Festival of Quinoa" in Puno, Peru, celebrates the grain's vital role in the country's history and heritage, featuring colorful parades, traditional dances, and elaborate quinoa-based dishes.
Chifa -Blend of Chinese and Peruvian Flavors
Peru is renowned for its delicious culinary fusion known as Chifa, a captivating blend of Chinese and Peruvian flavors.
The word "chifa" itself is derived from the Chinese term "chi fan," meaning "to eat rice," reflecting the central role of rice in this cuisine.
Chifa originated from the culinary exchange between Chinese immigrants and Peruvian locals, resulting in a unique gastronomic experience that delights the senses. The fusion incorporates traditional Chinese dishes such as stir-fries, dumplings, and fried rice, infused with Peruvian ingredients and spices, creating a harmonious balance of taste and texture.
One of the signature Chifa dishes is "lomo saltado," a tantalizing stir-fry of beef, onions, tomatoes, and fries, which perfectly encapsulates the blending of Chinese and Peruvian culinary traditions.
As a symbol of cultural integration and gastronomic innovation, Chifa has become an integral part of Peru's diverse culinary landscape, satisfying the palates of locals and visitors alike with its tantalizing flavors and rich cultural heritage.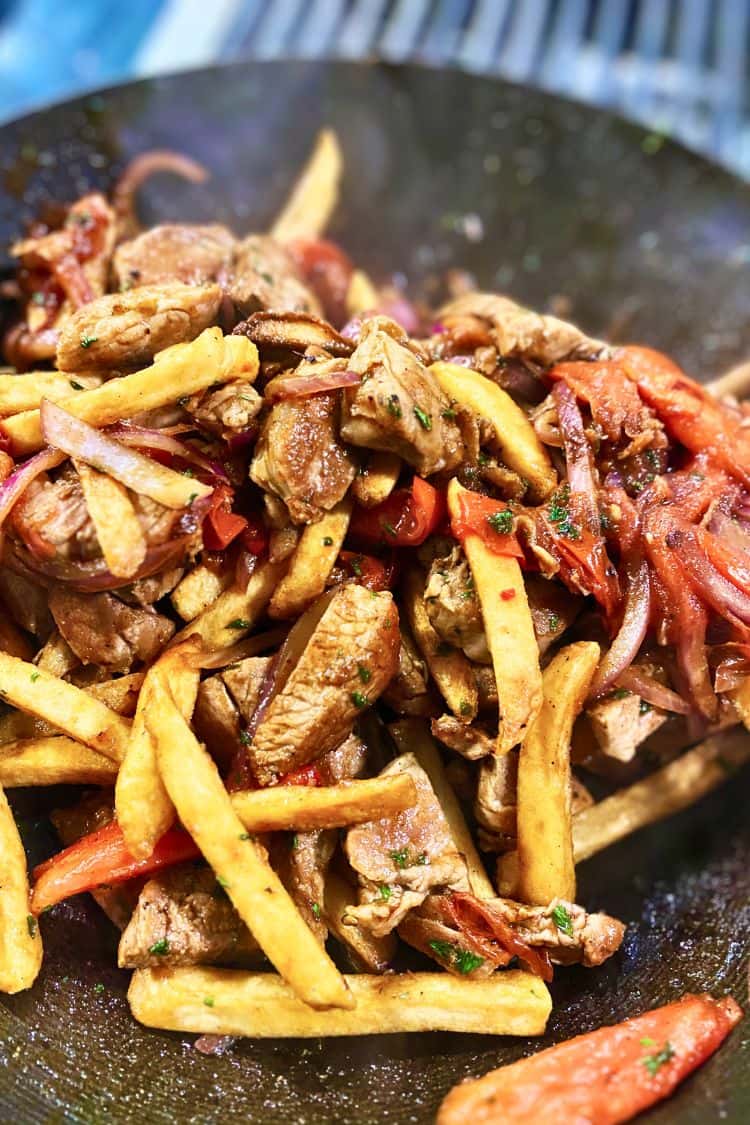 What is Peru Known For: Chifa (Lomo saltado)
Peru is renowned for its thriving surfing scene, attracting wave enthusiasts from all over the world to its Pacific coastline. With a coastline stretching over 2,400 kilometers (nearly 1,500 miles), Peru offers a variety of surf spots catering to surfers of all levels, from beginners to experienced wave riders.
The northern coast, with its warm waters, boasts some of the best surf breaks in the country, including the famous Chicama, known for having the longest left-hand wave in the world. The central and southern regions also provide consistent swells, making spots like Punta Rocas and La Herradura popular choices among surfers.
Peru's unique geography, with the cold Humboldt Current meeting the warm waters of the Equatorial Current, creates favorable conditions for wave formation, resulting in an impressive variety of surf breaks.
Surfing in Peru goes beyond the thrill of riding waves; it offers an opportunity to experience the vibrant coastal culture and immerse oneself in the country's rich marine life.
Whether it's catching the perfect wave or soaking in the laid-back beach vibes, Peru's surf scene promises an unforgettable experience for surfers seeking to ride the waves along one of the most diverse and beautiful coastlines in the world.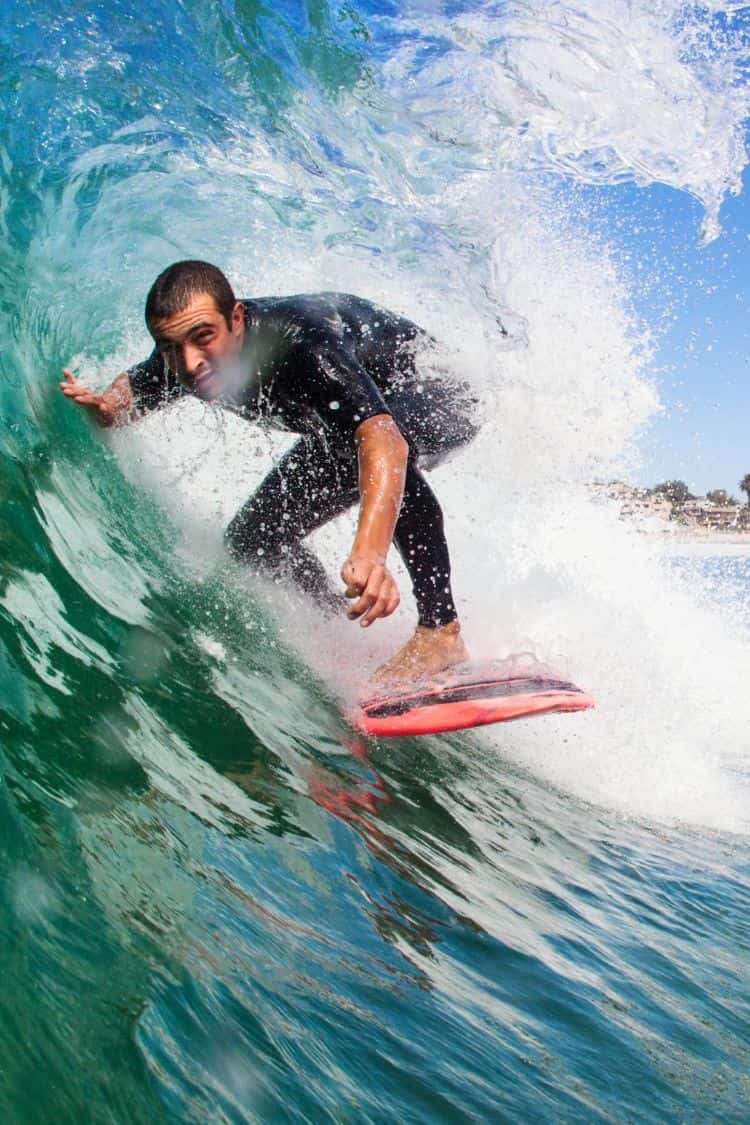 What is Peru Known For: Surfing
Vibrant and Intricate Textiles
Peru is renowned for its vibrant and intricate textiles, which are a reflection of the country's rich cultural heritage and artisanal craftsmanship.
For thousands of years, Peruvian communities have practiced the art of weaving, passing down traditional techniques and designs from one generation to another.
The textiles are crafted using various materials, including alpaca, llama, and sheep wool, as well as cotton and silk.
Each region of Peru boasts its distinct weaving style and patterns, with vibrant colors and symbolic motifs representing the community's history, beliefs, and connection to nature.
One of the most iconic symbols found in Peruvian textiles is the chakana or Inca cross, symbolizing the three realms of existence – the underworld, the human world, and the celestial world.
The intricate weaving techniques used by the artisans result in finely crafted textiles, including ponchos, shawls, blankets, and tapestries, which have become highly prized works of art and sought-after souvenirs for travelers. Exploring Peru's textile traditions offers a fascinating insight into the country's diverse cultural heritage and the enduring artistry of its skilled weavers.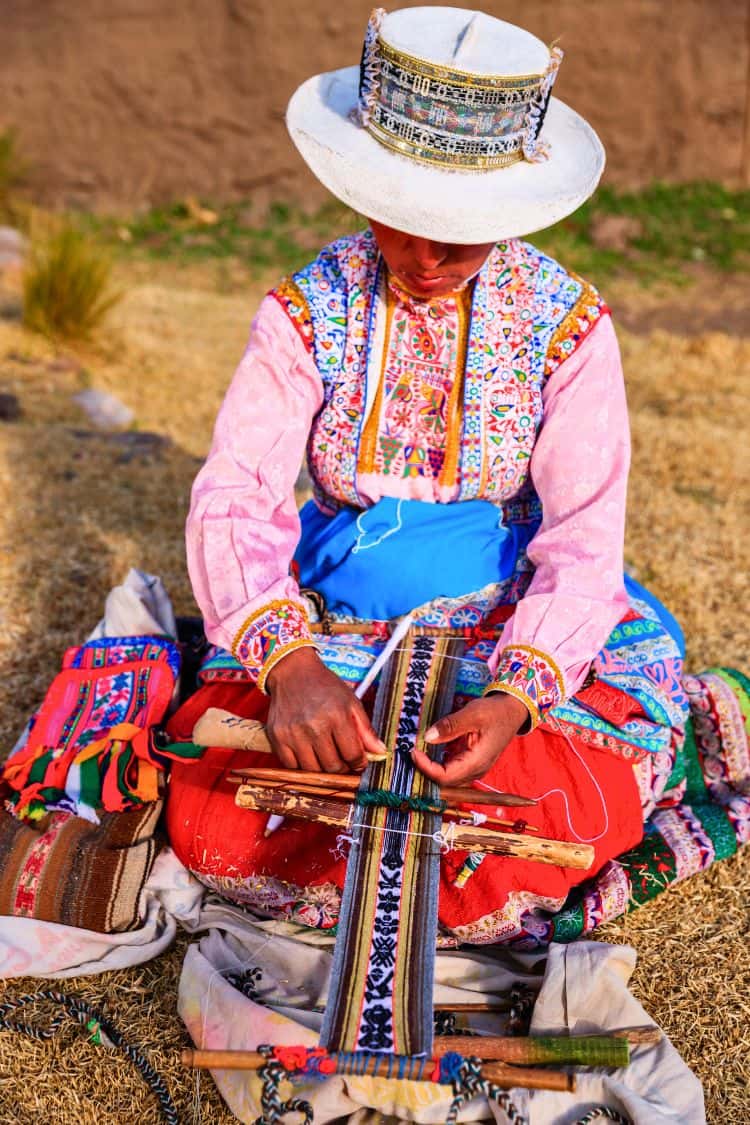 What is Peru Known For: Vibrant and Intricate Textiles
Did You Find This Useful?
Why Not Save What Is Peru Known For to Your Pinterest Board!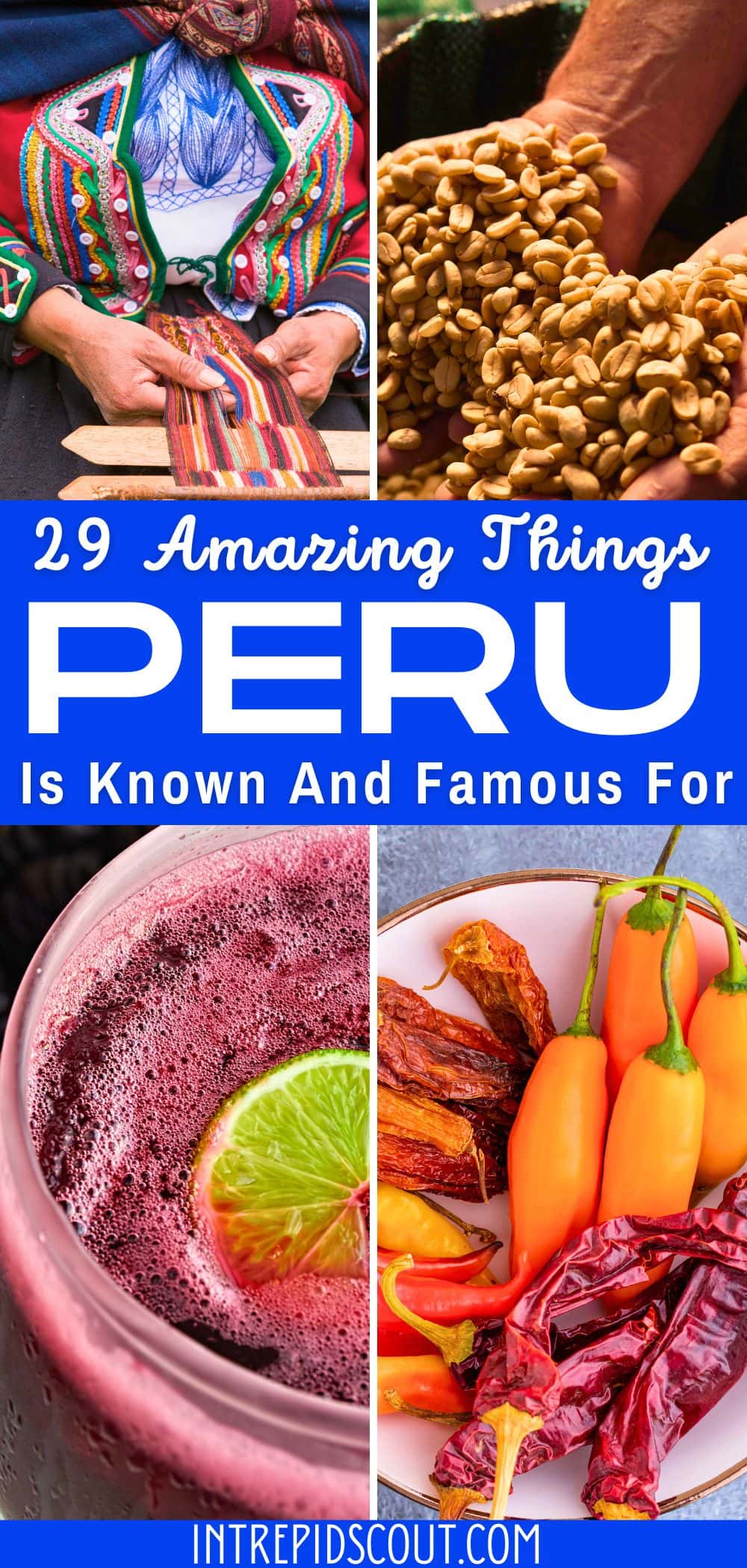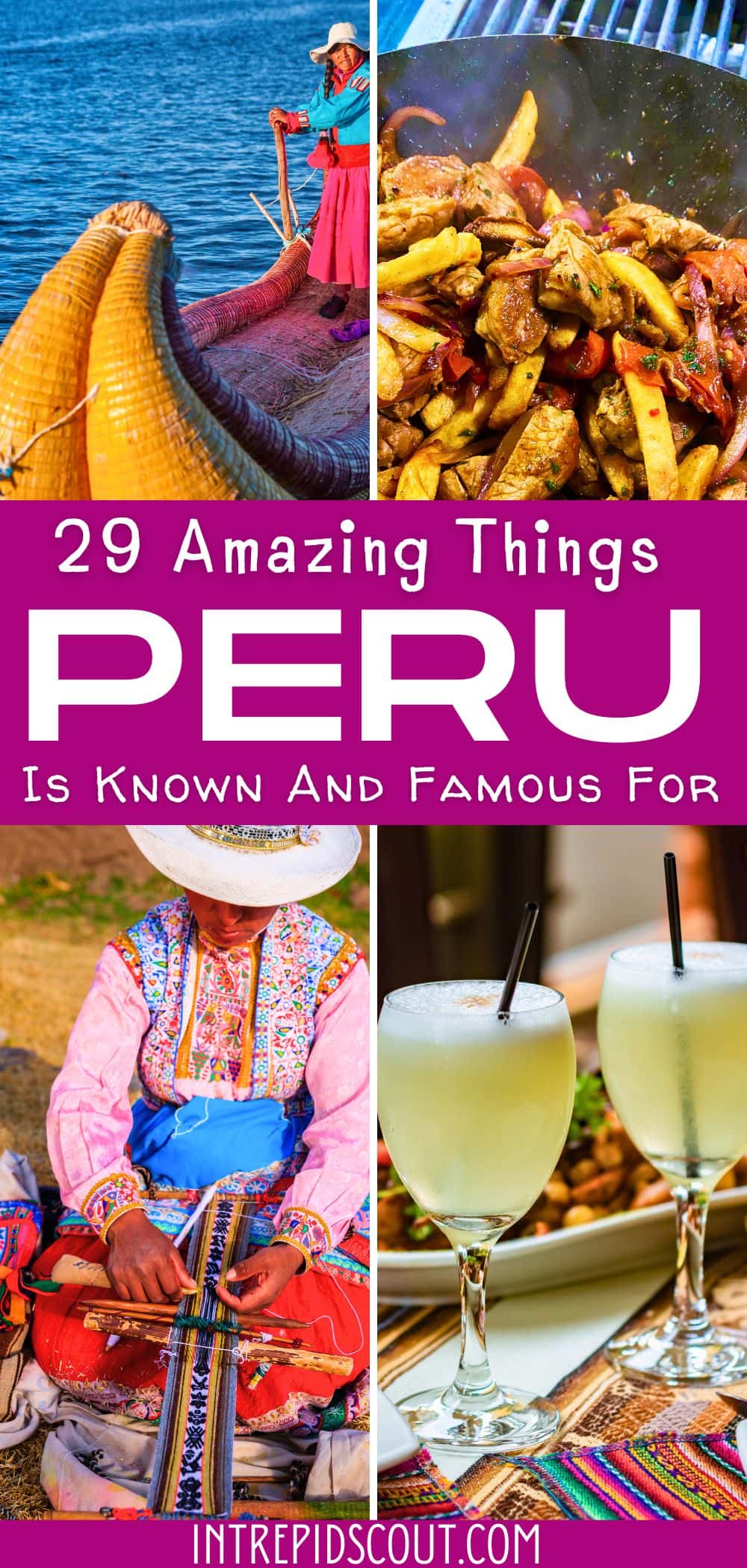 Now, It Is Your Turn, I Would Like to Hear Back from You!
Are you planning a trip to Peru?
Please let me know! Drop me a quick comment right below!
Click on any of the images below to get inspired and to help you with the planning process for your trip to Peru!