This site uses affiliate links, meaning that if you make a purchase through our links, we may earn an affiliate commission.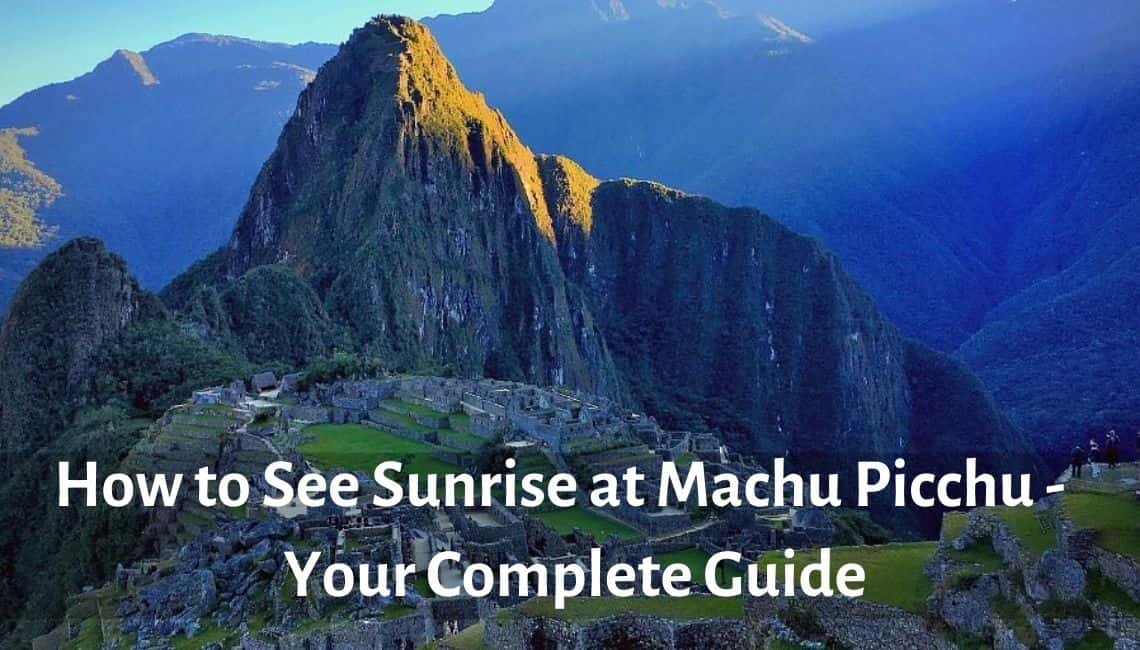 HOW TO SEE SUNRISE AT MACHU PICCHU -
YOUR COMPLETE GUIDE
To start with, the burning question is: is it worth to see a sunrise at Machu Picchu?
Is it worth to get up in the middle of the night and either trek or take a bus to Machu Picchu from Aguas Calientes?
The answer is: it depends! Yes, it all depends on the weather!
If you are lucky with the perfect weather, then hands down, sunrise at Machu Picchu is an awesomely magical experience.
WHEN IS THE BEST TIME TO GO TO MACHU PICCHU
So, first things first, if you are planning your trip to Machu Picchu, then in order to see Machu Picchu at sunrise, you need to go to during the best time of the year.
When is the best time to go to Machu Picchu?
The answer is: go during the dry season, which is late May through early October. Remember, there are no guarantees! However, your chances of clear skies are very good. However, make sure to read my post to get all the details. It will definitely help you decide when to schedule your trip to Machu Picchu.
If you are a risk taker and decide to go before late May or after early October, be prepared for mists, fogs, and right-down downpours.
However, I need to say, you might see the most incredible sight even when the site is shrouded in cloud. The cloud and fog might start to slowly burn out and disappear and reveal the outlines of Machu Picchu. It is pretty cool!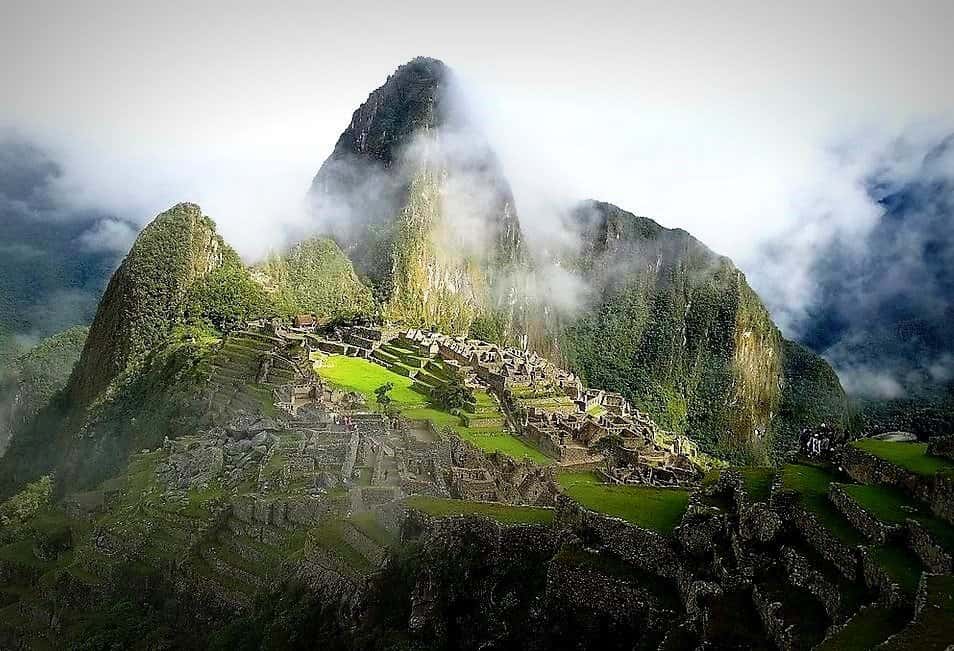 WHEN IS THE BEST TIME TO SEE THE SUNRISE AT MACHU PICCHU
Next, the truth is that you are not going to see a "true" sunrise at Machu Picchu. What I mean here, is that there is no horizon with the sun rising above it. So, what you are going to see are sun rays gradually lighting up Machu Picchu Inca ruins as the sun moves up in the sky.
So, to be clear, for example, the actual sunrise times at Aguas Calientes (the town below Machu Picchu) differ by an hour depending on the time of year. The earliest sunrise is at 5:13 am in November, and the latest sunrise is at 6:13 am in July.
Now, it is about an hour after the actual sunrise until the sun rises up above the mountains and the sun rays reach and shine upon Machu Picchu Inca ruins.
Needless to say, sunrise or sun rays, whatever we want to call them, once they shine upon Machu Picchu and gradually lit up the entire place, the sight will just take your breath away.
Before the sun rays start gradually appearing, the entire site is hidden in deep shadows. Above all, it gets very quiet. I think everyone is holding their breath in anticipation of the first sun ray. 
The first sun ray reveals just the outline of Huayna Picchu.
As the seconds tick away, more Huayna Picchu gets bathed in sunlight.
Pretty soon the entire Huayna Picchu is revealed.
Gradually, the sun starts revealing the details of the Machu Picchu ruins.
Finally, the entire site is bathed in light.
Don't have time to read it now?
Why not save it to your Pinterest board!
HOW TO GET TO MACHU PICCHU FOR SUNRISE FROM AGUAS CALIENTES
In order to get to Machu Picchu for sunrise from Aguas Calientes, you have two choices: you can either hike or you can take a bus.
Majority of the tourists take the bus. It is about 20-minute bus ride. The bus ticket costs 24 soles (round trip).  Check out my post if you decide to take a bus. It will save you a lot of time. It has everything you need to know like where to buy the bus tickets, where is the bus stop with the buses leaving for Machu Picchu, and what time the line for the buses forms.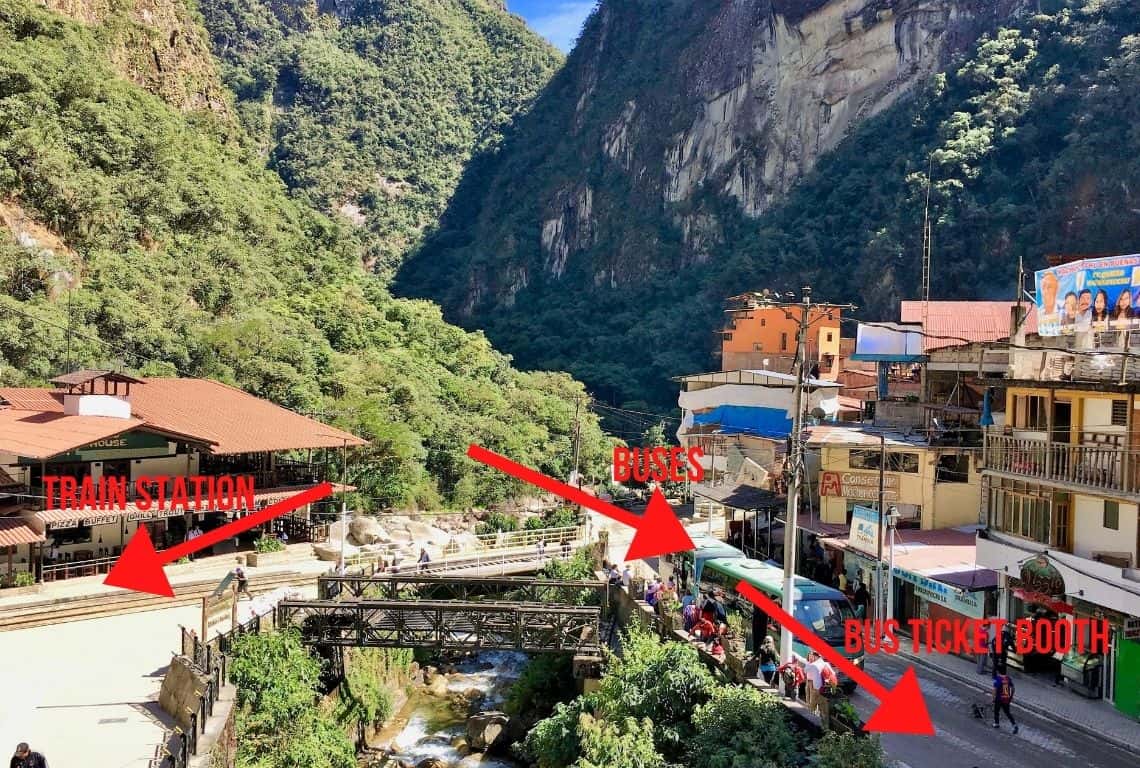 However, if you are interested in hiking to Machu from Aguas Calientes then check out my post.
You need to keep in mind that if you decide to hike to Machu Picchu from Aguas Calientes in order to catch the sunrise or the first sun rays, you will be hiking in total darkness.
Consequently, you will need a headlamp or a flashlight. Notwithstanding, I have seen many hikers on this trail with headlamps and flashlights, so it can be done, no problem!
Plan accordingly, this hike is strenuous and takes about 1 hour and 30 minutes, if you are in good physical shape.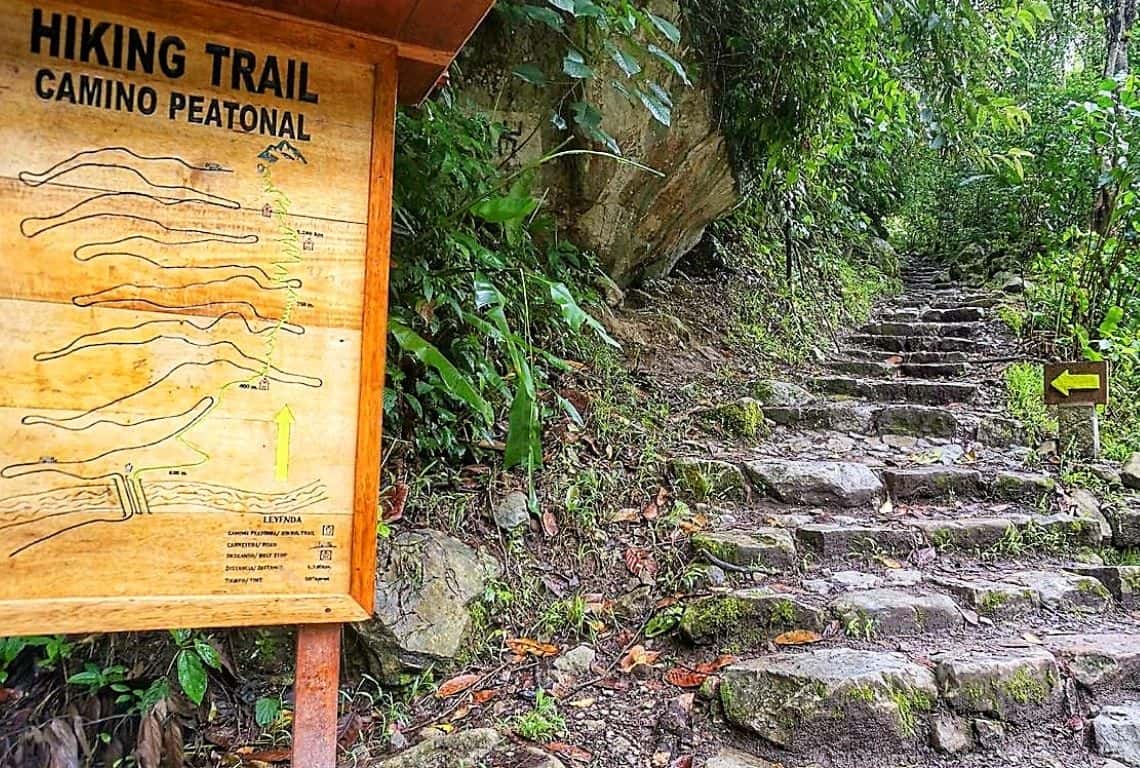 WHEN TO ARRIVE TO AGUAS CALIENTES TO MAKE IT FOR SUNRISE AT MACHU PICCHU
Incidentally, in order to make it for the sunrise or the sight of the first sunrays at Machu Picchu, you will need to arrive to Aguas Calientes the day before and spend the night.
Once you arrive to Aguas Calientes, you might have a few hours to kill before you hit the bed.
Here are my top choices for things to do in Aguas Calientes:
If you need more ideas, then check out my post: 7 Best Things to Do in Aguas Calientes, Peru (Besides Machu Picchu)
WHAT IS THE BEST SUNRISE OBSERVATION POINT AT MACHU PICCHU
Once you arrive by bus or reach Machu Picchu on foot, be prepared to brave the crowds.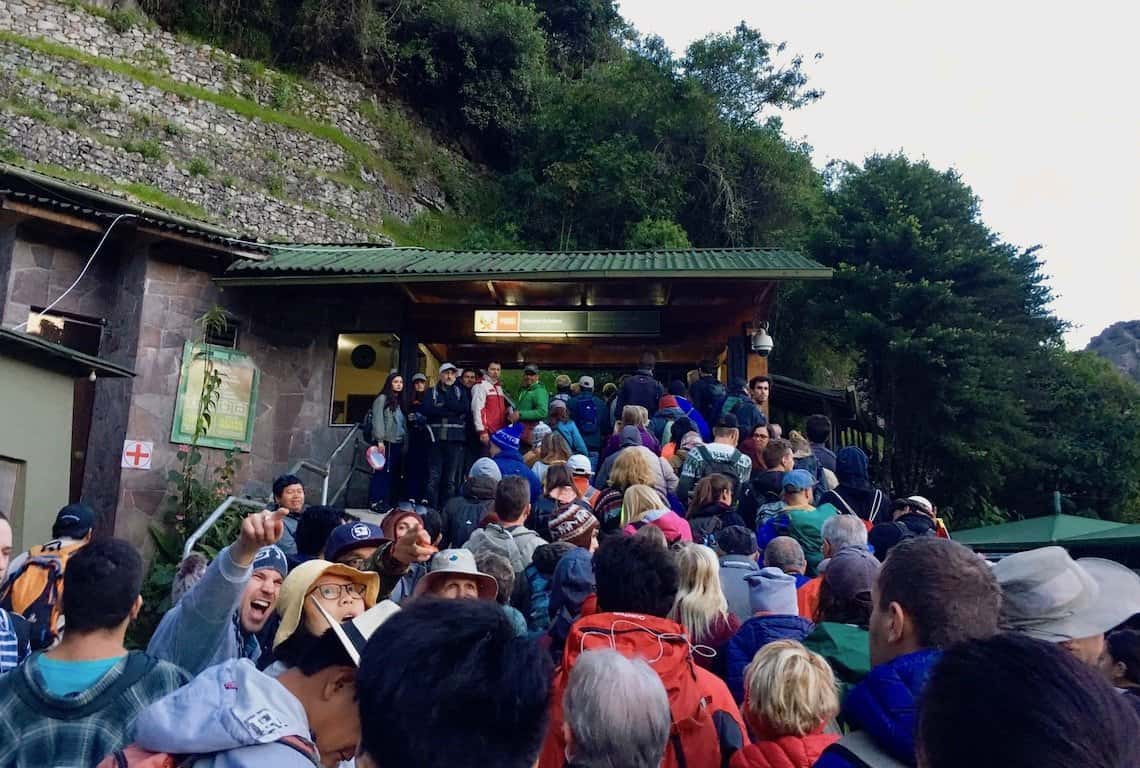 Above all, have your ticket, passport and camera ready.
Next, once you are inside, take the path that leads to Machu Picchu Inca ruins. It is the only path and it gets crowded. 
So, take it slow. There will be people pushing and running. It is ok! Take your time.
Once you get to the intersection, turn left and continue climbing. You want to gain as much altitude as possible. If you can make it to Puerta de la Ciudad, that is great. If you can hike a bit more to Casa del Guardian, that is where you want to be for the sunrise at Machu Picchu.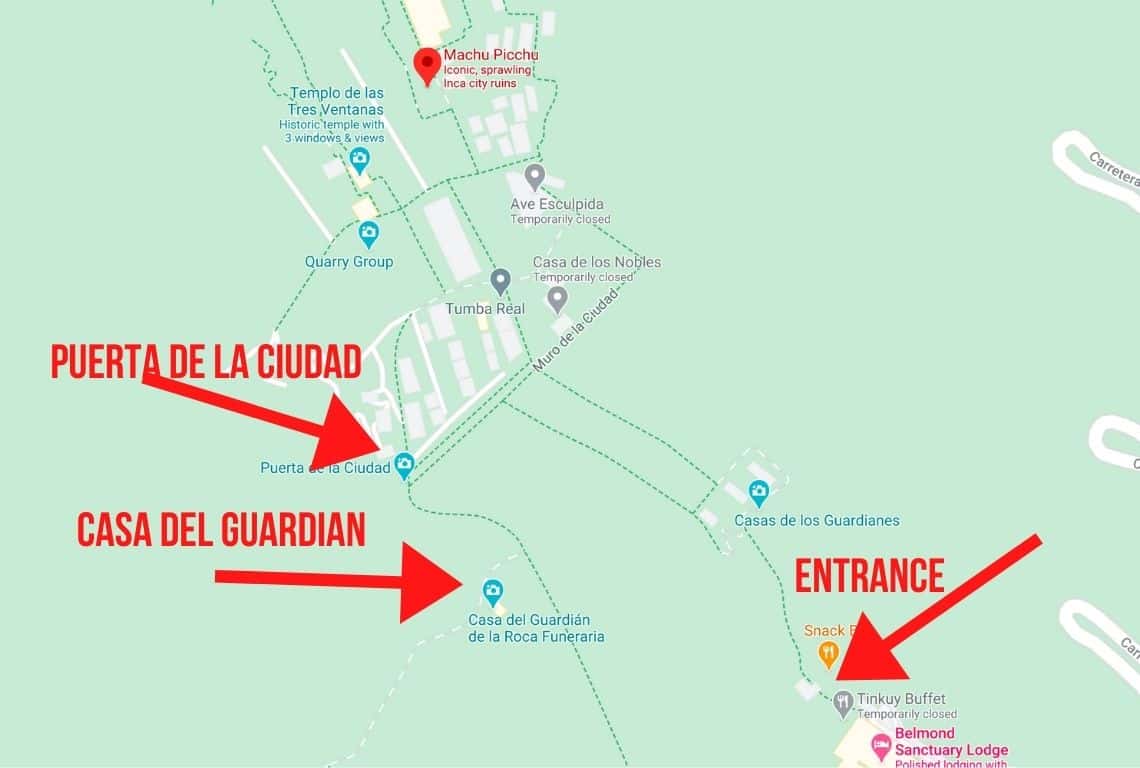 If it all fails and you find yourself a bit lost, just follow all the other tourists. Needless to say, pretty much everyone will be heading in that direction to catch the first sun ray.
I am not an expert in photography, however, I would like to recommend that you use wide-angle lens to capture the sunrise at Machu Picchu.
In addition, I found this cool video by Lance Lundstrom – Machu Picchu Sunrise Timelapse
As far as I am concerned, it was all worth it for me. It is a magical moment watching as the first sun ray touched the top of Huayna Picchu and then gradually the entire place was bathed in glorious light. It was a sight that I will treasure for the rest of my life.
I need to add, that many photographers argue that the best light is around 4 or 4:30 pm. With this being the case, If you decide to spend the day at Machu Picchu, make sure to pack some healthy snacks and hang out till the afternoon.
Another option worth considering is visiting the site over two days, once in the morning, once in the afternoon. This will allow you to capture Machu Picchu in your photos in different light as well.
Did you find this useful?
Why not save it to your Pinterest board!
Now, I would like to hear back from you!
Are you planning your trip to Machu Picchu?
Please let me know! Drop me a quick comment right below!
Also, click on any of the images below to get inspired and to help you with the planning process with your trip to Peru!