This site uses affiliate links, meaning that if you make a purchase through our links, we may earn an affiliate commission.
SACRED VALLEY, PERU - TOP 10 PLACES TO SEE
If you are planning a trip to Peru, then Sacred Valley of the Incas is on your list of places to visit.
How do you decide what to do and see in Sacred Valley?
The area runs alongside Urubamaba River and stretches from Pisaq to Ollantaytambo.
The Inca built amazing agricultural terraces, ceremonial sites, and fortresses in this section of the valley.
Here is Sacred Valley bucket list – top 10 places that you absolutely must see.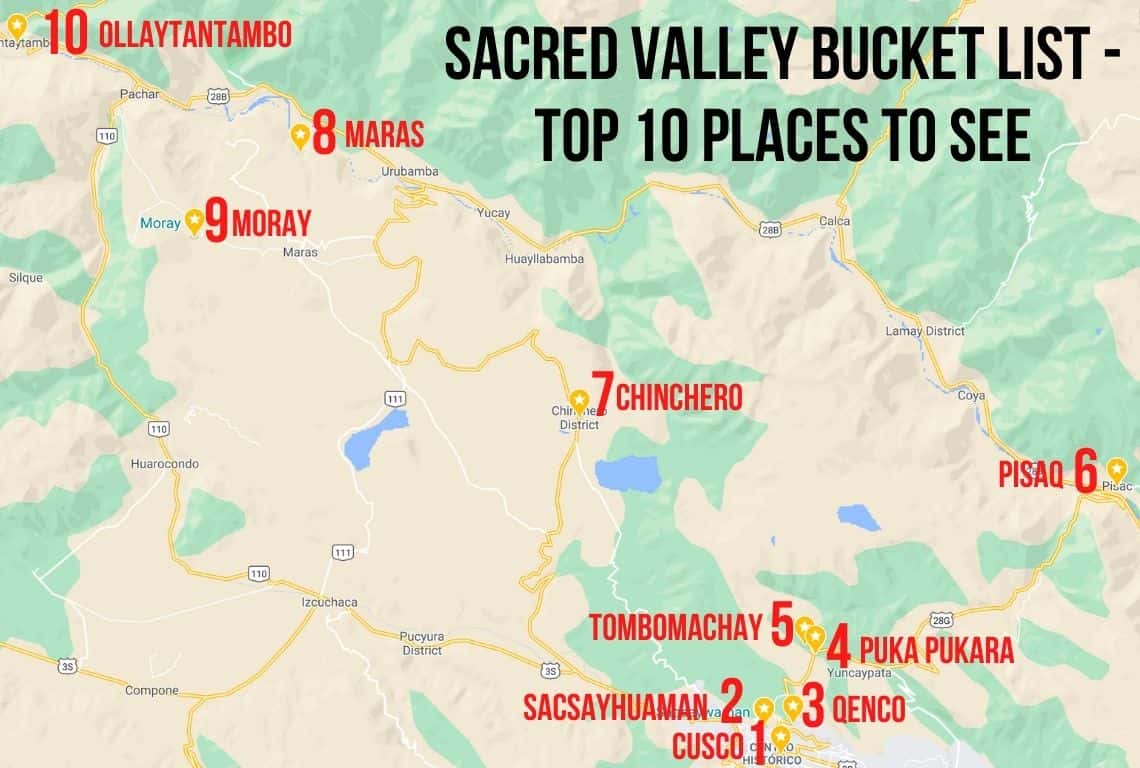 CUSCO
Cusco needs to be your number one place to see in Sacred Valley. It was the historic capital of the Inca Empire from the 13th century until the 16th century Spanish conquest.
There is a lot to see and do in Cusco. Here are 3 top things you must see in Cusco.
CORICANCHA – TEMPLE OF THE SUN
Coricancha was dedicated to Inti, the ancient Incan sun god.
The Inca used ashlar masonry to construct Coricancha.
INCAS WERE FAMOUS FOR THEIR ASHLAR MASONRY!
WHAT IS ASHLAR MASONRY?
In ashlar masonry, all the stones are cut and dressed, or worked, so they have the same shape, size and surface texture.
Ashlar masonry was used in the most sacred, elite Inca structures.
Most of Coricancha was destroyed and gradually disassembled after the 16th century war with the Spanish conquistadors.
Its foundation was used to build Cusco Cathedral and Convent of Santo Domingo.
Spanish reports describing Coricancha tell of an opulence that was "fabulous beyond belief".
The walls were covered in sheets of gold and the adjacent courtyard was filled with golden statues.
When the Spanish in 1533 required the Inca to raise a ransom in gold for the life of their leader Atahualpa, most of the gold was collected from Coricancha.
Step inside the main courtyard and explore the restored chambers and corridors. Imagine how they looked like covered in sheets of gold.
Make sure to stop by and visit Museo de Sitio Coricancha. You will not need a ton of time to tour a museum. There are just three small rooms here, displaying Inca and pre-Inca ceramics, metalwork, and textile weavings. However, it is still worth checking out.
Coricancha is open from 8:30 am to 5:30 pm Monday through Saturday. On Sundays, it is open from 2 pm to 5 pm.
The entrance ticket (without Cusco Tourist Ticket) is 15 soles for adults and 8 soles for students. However, if you have Cusco Tourist Ticket, then the entrance fee is covered by Cusco Tourist Ticket.
By the way, you should check out Cusco Tourist Ticket to see if it is worth buying for you. I wrote a post that covers all the options and prices. Check it out before you decide to buy it. It will save you a lot of time!
Nowadays, the Twelve-Angled Stone is part of a wall of the Palace of Archbishop of Cusco.
The stone's twelve-angled border is an example of perfectionist Incan architecture.
The stone reaches up to two meters deep and weighs six tons.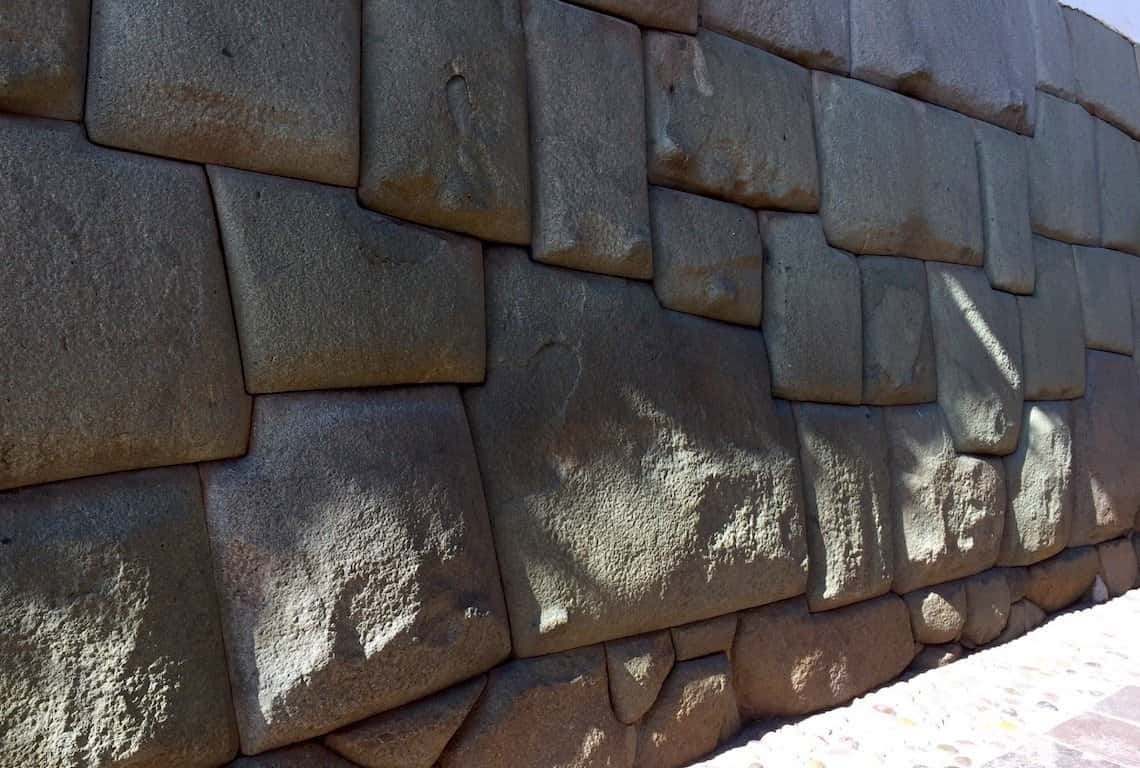 Finally, head to Barrio de San Blas. It is a short but pretty steep walk from Plaza de Armas.
San Blas in Cusco is my favorite area to explore. It is filled with restaurants and bars, hotels, and artists' studios, workshops and all kinds of stores selling souvenirs.
SAQSAYHUAMAN
Saqsayhuaman sits on a steep hill located just outside of Cusco, so it is perfect place to see in Sacred Valley right after you finish exploring Cusco. Specifically, it is located 1.4 miles (2 kilometers) north of Cusco's city center.
To get to Saqsayhuaman, you can hike, which is going to take about 45 minutes. Keep in mind that it is a steep up the hill hike. You can get a taxi, or join an organized tour.
Saqsayhuaman used to be Cusco's hilltop citadel consisting of three stone towers and buildings that housed thousands of soldiers.
Today, what's left of Saqsayhuaman are three tiered rows of walls.
You will be amazed by the colossal stones that were used to build the fortress and you will be in awe of the ingenuity of Incan building capabilities.
Notice, how these massive blocks are locked precisely together without mortar.
Some of the blocks are more than 10 feet (3 meters) high and weigh more than 100 tons (91,000 kilograms).
The biggest stone is 28 feet (8.5 meters) high.
In order to enter Saqsayhuaman Archaeological Site you need Cusco Tourist Ticket. There are different options and prices depending on what you are planing to see in Sacred Valley of the Incas.
The opening hours of Saqsayhuaman Archaeological Site are Monday through Sunday from 7 am till 6 pm.
QENCO
Qenco is one of the largest places that was used for worship and ceremonies in the Cusco Region.
Qenco has numerous ceremonial carvings, holes, labyrinths, and canals and a sacrificial room cut into the rock.
What you can still see today is an area called the Amphitheater. It is a semicircular construction with carved niches along the wall.
In the center of the amphitheater is a rock that may have been a sculpture.
Make sure to check out the Underground Chamber carved out of the rock.
Inside the Underground Chamber is room called the Sacrificial Room.
In order to enter Qenco you need Cusco Tourist Ticket.
The opening hours are daily from 7 am till 6 pm.
Don't have time to read it now?
Why not save it to your Pinterest board!
PUKA PUKARA
Puka Pukara is a site of Inca military ruins located on a high ground overlooking the Sacred Valley.
"Puka" in Quechua means "Red" and "Pukara" means "Fortress or Watchtower".
Located at a strategic point, Puka Pukara served as a checkpoint on the Inca road and was a military and administrative center.
This fort was made of large walls, terraces, and staircases.
Interestingly, what you can see is that the stones used to build most of the walls are very irregularly shaped, stacked together in an ad hoc kind of manner. It is quite contrary to the precision with which Incas built their temples or ceremonial sites.
It is possible that Puka Pukara was needed to be constructed quickly that is why it is lacking the Incan building precision.
The name probably comes from the red color of the rocks at dusk.
In order to enter Puka Pukara Archaeological Site, you will need Cusco Tourist Ticket. The opening hours are Monday to Sunday from 7 am till 6 pm.
TOMBOMACHAY
The precise function of Tombomachay is unknown. However, it is believed that Tombomachay was an important ceremonial site focused on the worship of water.
Tombomachay was built over a natural spring and consists of a series of aqueducts, well-crafted canals, and waterfalls that run through terraced rocks.

Interestingly, there are several walls with the trapezoidal niches inside, so its possible that they had a ceremonial purpose, probably to hold offerings.
As is evident at numerous sites throughout the Sacred Valley, water— and the control of water—had a ceremonial function for the Incas.
They were able to control the flow of water with great precision, often bringing the water from springs way up in the mountains via stone channels and aqueducts, and finally to fountains and waterfalls at important points within their religious sites.
The site is also known as El Baño del Inca, or the Bath of the Inca. So, it is possible that Tombomachay was a site of imperial baths.
Entrance to Tombomachay is included with the Boleto Turistico de Cusco (Cusco Tourist Ticket). The opening hours are Monday through Sunday from 7 am till 6 pm.
PISAQ
Of Sacred Valley bucket list, Pisaq is one of my favorites!
Pisaq is most known for its Inca ruins and large market which takes place every Sunday, Tuesday, and Thursday.
The Inca ruins are situated atop a hill at the entrance to the valley.
The most impressive is a group of ruins called Inti Watana. It includes the Temple of the Sun, baths, altars, water fountains, a ceremonial platform.
The agricultural terraces cover the steep hillsides as far as you can see.
Do not miss the cliff-side that looks like it is riddled with holes. These are some of the Inca tombs long since looted by the grave robbers.
Most people visit Pisaq to see the market on Sunday.
Originally, it was a local affair with farmers coming into town to trade and sell their produce.
Now, the market has evolved into a huge crafts market where you can buy all kinds of souvenirs.
The entrance to Pisaq Inca ruins is included with the Cusco Tourist Ticket (Boleto Turistico). The opening hours are Monday through Sunday from 7 am till 6 pm.
CHINCHERO
Chinchero is an old colonial settlement which is famous for its Inca ruins, Sunday market and traditional weaving techniques.
Chinchero's location is breathtaking overlooking the Sacred Valley, with the Vilcabamba range and the snow-capped peak of Salcantay dominating the horizon to the west.
First of all, take an uphill cobblestone street to Plaza Principal which may have been the original Inca marketplace.
Plaza Principal is surrounded on one side by an impressive wall reminiscent of the Sacsayhuaman walls. Ten trapezoidal niches can be seen along its surface. The are large enough for a standing person. Their purpose is still a mystery.
Next, head to Iglesia de Chinchero. It dates back to the early 17th century and it was built on top of the Inca temple.
Step inside and take a look at the impressive frescoes that extend to the ceiling and check out some of the paintings.
Image Credit: Sucram Yef via Flickr
Iglesia de Chinchero is open Thursday through Sunday from 8 am till 5 pm.
Once you step out of the church, check out the extensive agricultural terraces that are still being in use.
If you happen to be visiting on Sunday, then join the crowds for the Sunday market.
However, if you visit any other day of the week, you will still be able to get the frill of the market.
Most of the locals are dressed in distinctive traditional clothing and you will be able to buy all kinds of souvenirs to take home.
Entrance to the main plaza and ruins is included in the Cusco Tourist Ticket (Boleto Turistico). There is no entrance fee to the Sunday morning market which is held at the bottom of the hill by the main car-park.
Chinchero is famous for its weaving techniques.
If you are interested in learning about weaving, then visit Centro Textil URPI. You will find out all about spinning fibers from alpacas, the dying processes using natural ingredients like leaves, seeds and roots.
Maras Salt Mines are thousands of individual shallow pools filled with salt water located on a hillside.
The view of the glittering pools is absolutely off the charts!
The salt pools were built around 200 AD-900 AD by the Chanapata culture, pre-dating the Incas, and are known in Quechua as Kachi Raqay.
The easiest way to explore the salt ponds is by sticking to the official path that leads along the upper ridge.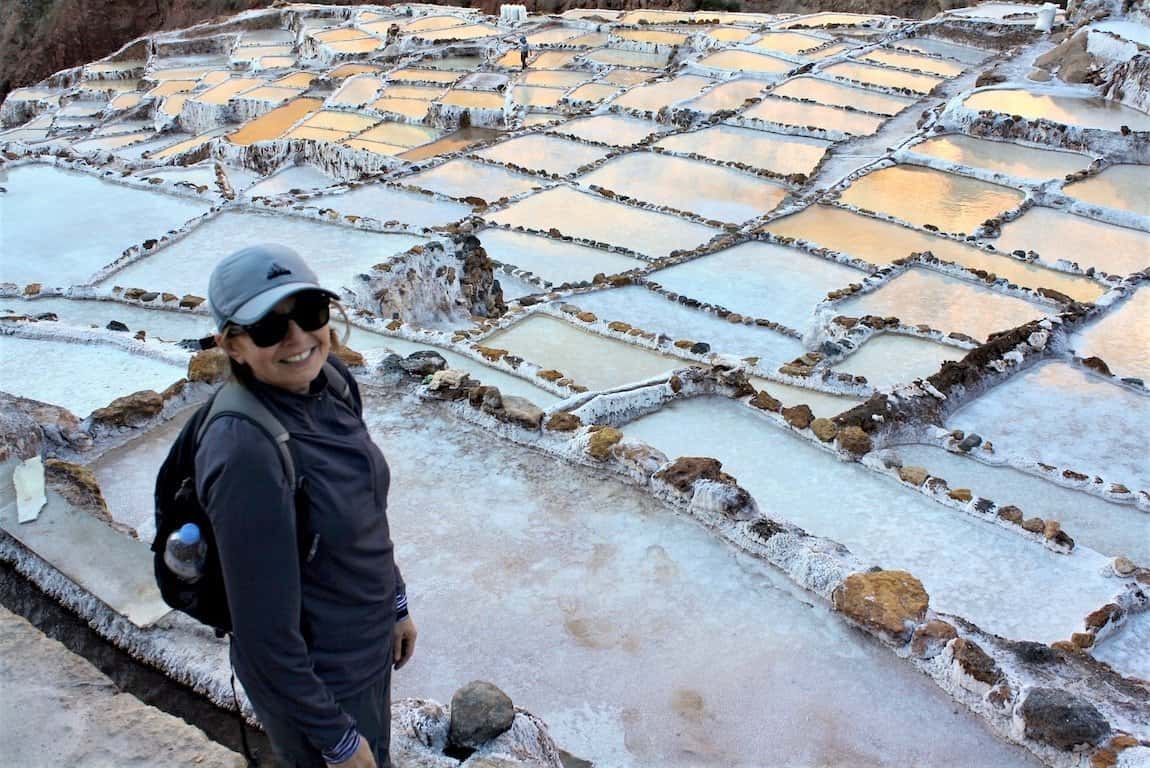 Incidentally, salt ponds are usually found on coastal plains. They are filled with seawater from the incoming tide. Consequently, the salt is collected by the evaporation process.
In contrast, the Salt Mines of Maras are a long way from the ocean, situated at an altitude of 3,380 meters.
Find out how the sea salt was locked into the rocks. Learn how the Peruvin Pink Salt from Maras is harvested today. Check out my post before you head to Maras Salt Mines!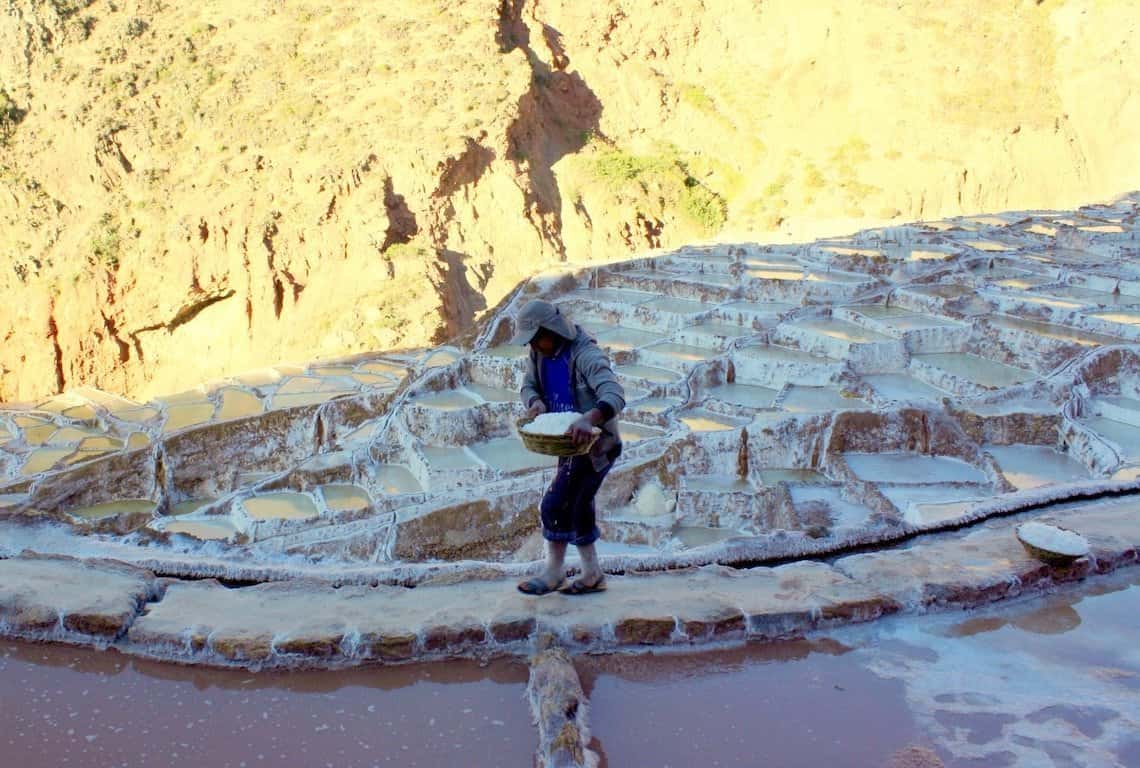 MORAY
Moray has no Inca fortresses or temples.
However, you cannot miss it!
Moray boasts three huge, circular or oval-shape terraced pits sunk into the earth.
It has captivated and puzzled researchers and travelers since it was first photographed during an aerial survey of the Sacred Valley by the American geologist Robert Shippee in 1931.
In the 1970's an Australian physicist John Earls recorded a drastic temperature stratification in the rings, ranging as much as 15 degrees C between the hottest and coldest ring.
John Earls speculated that the site might be an open-air agricultural research station.
Find out all about Moray. Check out my post!
OLLAYTANTAMBO
Hands down, Ollaytantambo is my favorite archaelogical site in Sacred Valley of the Incas.
To start exploring, climb up the steep Temple Hill. The steep Inca stairs are located on each side of the Temple Hill. You will be climbing through the numerous wide agricultural terraces.
Take your time though, the high altitude will have you breathless in no time.
First, you will reach the path along the Enclosure of the Ten Niches. Next, you are going to get to the double-jamb doorway.
Now, take your time and soak in the marvelous views of the valley.
Continue on, you will soon reach a massive structure consisting of six monolithic blocks united by slim spacer stones.
The stones were quarried from the bluff located more than 2 miles (3 kilometers).
It is baffles me how these massive stones were transported from the quarry, then across the valley and up the Temple Hill.
On your way down, do not miss the area called Incamisana. It includes numerous canals and waterfalls, and fountains.
There is so much more to explore in Ollantaytambo Inca ruins and in the village of Ollantaytambo. So, check out my post and find out all the details.
To enter Ollantaytambo Archaeological Site Inca you need Cusco Tourist Ticket (Boleto Turistico). The opening hours are Monday through Sunday from 7 am till 6 pm.
HOW TO GET AROUND IN SACRED VALLEY OF THE INCAS?
With a Private Guide and a Driver
I think that having a private driver and a guide is the best way to go. This option gives you total flexibility. Also, having a knowledgeable guide by your side is simply invaluable. Now, if you are staying in one of the hotels in Cusco, I am sure that your hotel will be more than happy to arrange for you a driver and a guide. Needless to say, this is an expensive option, but it is all worth it.
There are plenty of day tours that stop at all major attractions in Sacred Valley. I am positive that your hotel can make all the arraignments for you. It is probably one of the least expensive options. But, it does not give you much flexibility.
If you do want to hire a private driver and a guide, or go on an organized tour, then book a taxi and stop at all the major attractions in Sacred Valley of the Incas. You will always be able to hire a guide right at the entrance to all of the major attractions in Sacred Valley.
I would recommend that you ask your hotel to get a taxi for you.
There is a colectivo station on Avenida Grau in Cusco. Now, something to keep in mind that colectivos do not leave until they are full. You would probably need a few days to cover all the major attractions if you are using colectivo.
If your time in is limited, then this is not a good option.
INTREPID SCOUT'S POINTERS FOR SACRED VALLEY
In order to enter the archaelogical sites in Sacred Valley, you will need Cusco Tourist Ticket. Check out my post which lists different options and prices. Select the option that is the best for your itinerary.
If your time is limited, then ask your hotel to get you taxi or a private car/driver so that you can get to as many places in Sacred Valley as possible. The roads are in poor conditions, so give yourself extra time in order to get to all the sites.
Stay in Cusco and make Cusco your basecamp for all the day trips. Stay in San Blas section in Cusco.
Did you find this useful?
Why not save it to your Pinterest board!
Now, it is your turn. I would like to hear back from you!
Are you planning your trip to Peru?
Please let me know! Drop me a quick comment right below!
Also, click on any of the images below to get inspired and to help you with the planning process with your trip to Peru!