This site uses affiliate links, meaning that if you make a purchase through our links, we may earn an affiliate commission.
Peru, with its diverse landscapes, rich culture, and ancient ruins, is a destination that offers an incredible travel experience. To make the most of your trip and ensure you are well-prepared for the different regions and activities, it is essential to pack strategically.
This comprehensive guide will provide you with a detailed packing list covering everything you need for your adventure in Peru.
From discovering the gems of the Sacred Valley, and exploring Machu Picchu to trekking through the Amazon rainforest and enjoying the sights of Lima, we will help you pack efficiently for every aspect of your journey. Discover what to pack for Peru and embark on a memorable adventure that encompasses the best of this fascinating country!
GOOD TO KNOW: To get you started planning your Peru trip, we put together a post, that you might enjoy: 12 Days in Peru Itinerary: Cusco, Sacred Valley, Machu Picchu, Amazon Rainforest, and Lima.
The packing list will ensure you are well-prepared for your 10-day adventure through Peru. It covers essential items you will need for various destinations and activities, including Cusco, the Sacred Valley, Machu Picchu, the Amazon Rainforest, and Lima.
So, get ready to pack your bags and embark on an unforgettable journey through the diverse landscapes and captivating destinations of Peru!
The Ultimate Packing Guide: What to Pack for Peru's Adventure-Filled Journey of a Lifetime
Pack Moisture-Wicking, Quick-Drying Short and Long-Sleeve Shirts
Shirts are an essential clothing item to include in your packing list for Peru. When selecting shirts, opt for moisture-wicking quick-drying short and long-sleeve shirts to cater to different weather conditions and activities you will encounter during your trip.
GOOD TO KNOW: Peru's climate can vary significantly depending on the region and altitude. In lowland areas like the Amazon rainforest or coastal regions, temperatures can be hot and humid. For these areas, pack lightweight, short-sleeved shirts made from breathable fabrics. Look for materials that are moisture-wicking, such as cotton blends or synthetic fabrics like polyester or nylon. These fabrics help draw sweat away from your skin, keeping you cool and comfortable in Peru's humid environments.
In higher-altitude areas like Cusco or the Sacred Valley, temperatures can be cooler, especially in the evenings. Layering becomes essential to adapt to changing weather conditions. Long-sleeved shirts made from lightweight fabrics are ideal for layering. They provide extra warmth when worn under a sweater or fleece jacket, and you can easily roll up the sleeves or remove them if it gets warmer during the day.
Having a mix of short and long-sleeve moisture-wicking quick-drying shirts gives you flexibility in adapting to various activities as well. For instance, when embarking on a day trip to Machu Picchu or exploring archaeological sites, you might start the day with cooler temperatures and gradually warm up as the day progresses. Being able to layer or remove layers accordingly allows you to regulate your body temperature and stay comfortable throughout your adventures.
PRO TIP: Consider the versatility of the shirts you pack. Choose neutral colors or patterns that can easily be mixed and matched with other clothing items in your wardrobe. This allows you to create different outfits without packing excessive clothing. Versatile shirts can be dressed up or down depending on the occasion, whether you're exploring a city, hiking, or enjoying a cultural experience.
I like Patagonia Capilene Cool Lightweight Short-Sleeve Shirts and Patagonia Capilene Cool Daily Long-Sleeve Shirts.
Take Along Versatile and Comfortable Pants for Your Peru Adventure
Pants are an important clothing item to include in your packing list for Peru. They offer protection, versatility, and comfort for various activities and weather conditions you may encounter during your trip.
When selecting pants, opt for a mix of lightweight options suitable for different activities.
GOOD TO KNOW: Look for pants made from breathable and quick-drying materials, such as nylon or polyester blends. These fabrics help wick away moisture and dry quickly, which is particularly useful in Peru's unpredictable weather, where rain showers or humidity can occur.
Convertible pants are an excellent choice for Peru. These pants feature zip-off legs, allowing you to easily transform them into shorts when needed. This versatility is beneficial when transitioning between different climates or engaging in activities that require more freedom of movement, such as hiking or exploring archaeological sites. With convertible pants, you can adapt to changing weather conditions without the need for carrying additional clothing items.
Additionally, consider the fit and comfort of the pants. Look for options with a relaxed or slightly loose fit that allows for easy movement. Elastic waistbands or drawstrings can provide a comfortable and adjustable fit. It's also a good idea to choose pants with multiple pockets for storing small essentials like a map, sunscreen, or a small camera.
PRO TIP: Neutral colors like khaki, gray, or black are versatile and can be easily paired with different shirts and footwear, allowing you to create various outfit combinations without packing excess clothing. Additionally, darker colors can help conceal dirt or stains that may occur during outdoor activities.
Having a mix of lightweight pants and convertible options in your packing list ensures that you are prepared for different activities and weather conditions in Peru. Whether you are exploring the urban streets of Lima, hiking in the Andes, or venturing into the Amazon rainforest, suitable pants will keep you comfortable and protected throughout your journey.
I like REI Co-op Sahara Convertible Pants – Women's and The North Face Aphrodite 2.0 Pants – Women's.
Bring Cool and Active Shorts or Skirts for Your Peru Adventure
When preparing for your Peru adventure, it is important to include a few pairs of shorts or skirts in your packing list, especially for warmer days and coastal areas. These items provide comfort and freedom of movement, and help you stay cool in hot weather conditions.
Shorts are perfect for outdoor activities such as hiking, exploring ancient ruins, or simply strolling around the cities.
GOOD TO KNOW: Look for shorts made from lightweight and breathable fabrics like cotton or synthetic blends. These materials allow for better airflow and help wick away moisture, keeping you comfortable during your explorations.
Choose shorts that are suitable for the activities you plan to engage in. For example, if you are planning to embark on a hike in the Sacred Valley or enjoy a walking tour in Lima, opt for longer-length shorts that offer more coverage and protection against the sun and potential insects. Cargo-style shorts with multiple pockets can also be practical for storing small essentials like a map, sunscreen, or a small water bottle.
Similarly, if you prefer skirts, select options made from lightweight and flowy fabrics. Maxi skirts or midi skirts are great choices as they provide coverage while allowing for breathability and ease of movement. Pair them with comfortable walking shoes or sandals to create a casual yet stylish look.
PRO TIP: Keep in mind the cultural norms and modesty expectations in certain regions of Peru, particularly when visiting religious sites or conservative areas. It is advisable to choose skirts or shorts that fall at or below the knee to respect local customs and ensure a comfortable and respectful experience.
I like REI Co-op Trailmade Shorts and Patagonia Baggies Shorts.
Stay Cozy and Layered: Best Sweaters and Fleece for Exploring Peru
When preparing for your trip to Peru, it is important to pack a lightweight sweater or fleece jacket to ensure comfort during cooler evenings and high-altitude destinations. Peru's diverse landscapes, particularly the Andean regions, can experience significant temperature fluctuations throughout the day, and having a warm mid-layer is essential for staying comfortable in colder conditions.
GOOD TO KNOW: A lightweight sweater or fleece jacket serves as a versatile layering piece that provides insulation when temperatures drop. It acts as a barrier against chilly winds and helps retain body heat, keeping you cozy and warm during cooler evenings or at higher elevations. Opt for materials like merino wool or synthetic fleece, as they are known for their excellent insulation properties while remaining lightweight and packable.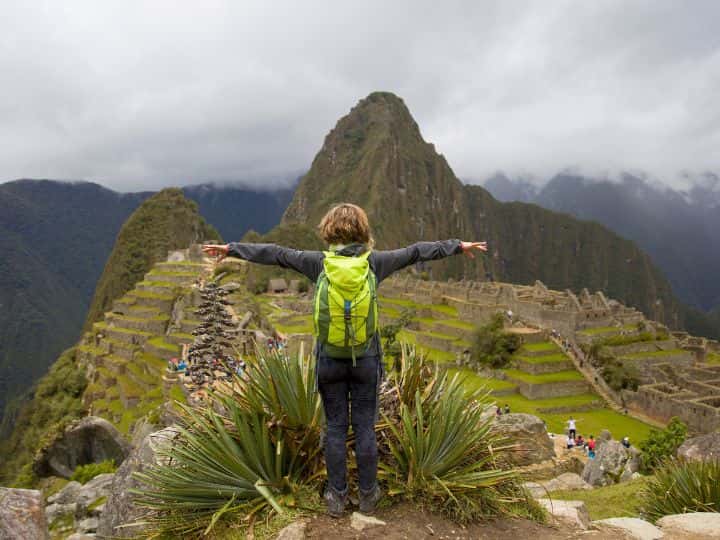 Machu Picchu, Peru / What to Pack for Peru
PRO TIP: Layering is key in Peru, as it allows you to adapt to changing weather conditions throughout the day. During the mornings and evenings, when temperatures are cooler, you can wear a sweater or fleece as an outer layer. As the day progresses and temperatures rise, you can easily remove or tie the layer around your waist.
Additionally, high-altitude destinations like Cusco, the Sacred Valley, or the Andean treks can have lower temperatures due to the altitude. Having a warm mid-layer like a sweater or fleece is particularly important in these areas, as it provides added warmth during your explorations. Even in the summer months, evenings and early mornings can be chilly, so having a versatile mid-layer ensures your comfort throughout your trip.
Opt for neutral or versatile colors that can easily be paired with different outfits, maximizing their versatility during your travels.
I like Patagonia Better Sweater Fleece Jacket and Patagonia Lightweight Synchilla Snap-T Fleece Pullover.
Stay Dry and Protected with Must-Have Waterproof Jackets
When preparing for your trip to Peru, it is crucial to include a waterproof and wind-resistant jacket in your packing list. This essential item will protect you from rain and wind, ensuring your comfort and well-being during your adventures, especially if you plan to visit regions like the Amazon rainforest or high-altitude areas around Cusco.
Peru's diverse landscapes and microclimates make it prone to sudden rain showers, particularly in the rainforest and mountainous regions. Having a waterproof jacket is essential to keep you dry and protected from unexpected downpours.
PRO TIP: Look for jackets with sealed seams and waterproof materials like Gore-Tex or nylon with a durable water-repellent (DWR) finish. These features help prevent water from seeping through the fabric, keeping you dry and comfortable.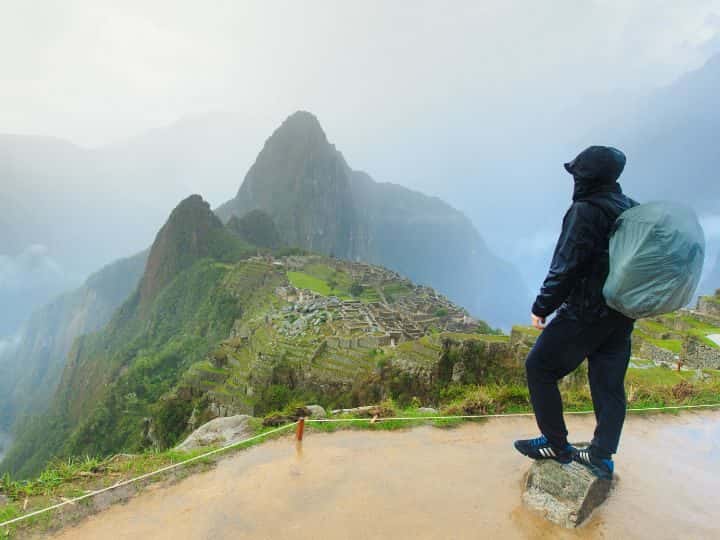 Machu Picchu, Peru / What to Pack for Peru
In addition to rain protection, a wind-resistant feature is important, especially in higher altitude areas. Wind can make the temperature feel even colder, so a jacket that blocks out wind will help retain your body heat and keep you warm. Look for jackets with a windproof membrane or a tight weave that blocks the wind effectively.
Choosing a lightweight and packable option is ideal for travel. It allows you to easily stow the jacket in your daypack when not in use and won't take up much space in your luggage.
PRO TIP: Look for jackets that can be compressed or folded into a small pouch, making it convenient to carry around without adding bulk to your bags.
A versatile color or design is recommended so that your jacket can be easily paired with different outfits. Neutral colors like black, gray, or navy are popular choices as they are easy to match and hide dirt or stains that may occur during outdoor activities.
I like The North Face Antora Jacket and REI Co-op Rainier Rain Jacket.
Pack Thermal Base Layers to Stay Warm and Cozy
When preparing for your Peru adventure, it is essential to pack thermal base layers if you plan to visit high-altitude regions or engage in trekking activities. These specialized garments provide extra insulation and help regulate your body temperature, ensuring your comfort in colder conditions.
High-altitude regions in Peru, such as Cusco, the Sacred Valley, or the Andean treks, can experience significantly colder temperatures, especially during the early mornings and evenings. Thermal base layers are designed to provide an additional layer of warmth by trapping body heat close to your skin. They act as a barrier against the cold air, helping to keep you comfortable and cozy.
GOOD TO KNOW: Thermal base layers are typically made from synthetic or natural materials that offer excellent insulation properties while being lightweight and moisture-wicking. Synthetic materials like polyester or merino wool are popular choices as they effectively wick away moisture from your skin, keeping you dry even during strenuous activities. This is crucial for maintaining your body temperature as moisture can make you feel colder.
By wearing thermal base layers, you create a microclimate next to your skin that is warm and dry. This layer helps to regulate your body temperature by insulating you from the cold and removing moisture to prevent cooling through evaporation. It also allows for better breathability, preventing you from overheating during physical exertion.
PRO TIP: Choose a set that includes both a long-sleeved top and bottoms for full-body coverage. Look for a snug yet comfortable fit that allows for easy movement. It is a good idea to bring at least two sets so that you can rotate between them while one set is being washed or dried.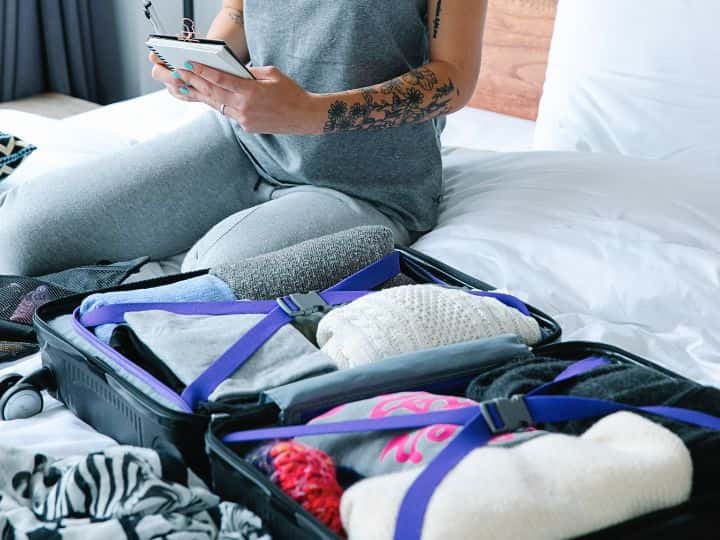 Stay Comfortable from Head to Toe: Pack Socks and Undergarments
When packing for Peru, it is important to include a sufficient number of socks suitable for your activities, especially if you plan on engaging in outdoor adventures and hiking. Socks play a crucial role in keeping your feet comfortable, preventing blisters, and maintaining good hygiene.
Choose socks specifically designed for hiking or outdoor activities, as they are typically made from moisture-wicking materials that help keep your feet dry.
PRO TIP: Look for socks with cushioning in the heel and toe areas to provide extra support and reduce friction. It is recommended to bring a few pairs of hiking socks to ensure you have enough for your entire trip. If you plan on trekking or spending extended time outdoors, consider merino wool socks as they offer excellent moisture management and insulation properties.
Comfortable undergarments suitable for different climates are essential for your overall comfort during your Peru trip. Choose undergarments made from breathable fabrics that wick away moisture, helping to keep you dry and comfortable throughout the day.
Consider the climate and activities you will be engaging in when selecting undergarments. For warmer regions and activities that involve more physical exertion, opt for moisture-wicking materials like polyester or nylon to keep you cool and dry. In cooler regions or during high-altitude hikes, consider thermal or insulating undergarments to provide extra warmth.
PRO TIP: Pack enough undergarments to last your entire trip, taking into account any potential laundry opportunities or access to laundry facilities at your accommodations. Having fresh and comfortable undergarments will contribute to your overall well-being and allow you to fully enjoy your adventures in Peru.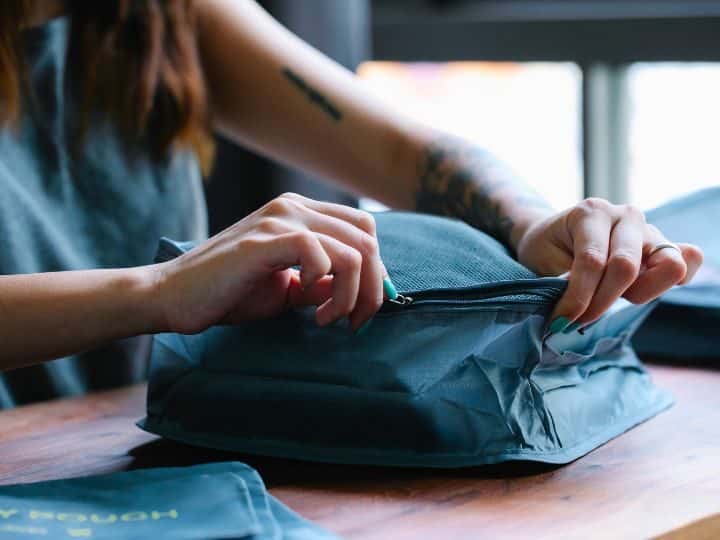 Rest Easy in Peru: Choose the Perfect Sleepwear for a Good Night's Sleep
Sleepwear is an often overlooked but crucial aspect of packing for your Peru adventure. Having comfortable sleepwear ensures a restful night's sleep, allowing you to wake up refreshed and ready for your daily explorations. When choosing sleepwear for Peru, it is important to consider the prevailing temperatures in the areas you will be visiting, as well as the time of year.
GOOD TO KNOW: In Peru, the climate can vary greatly depending on the region and altitude. Coastal areas like Lima and Paracas tend to have milder temperatures, while high-altitude destinations like Cusco and the Andean regions can be colder, especially during the evenings and early mornings. The Amazon rainforest has its own unique climate, with higher humidity and warmer temperatures year-round.
For coastal areas or warmer regions, lightweight and breathable sleepwear, such as cotton pajamas or sleep shorts, are suitable. These fabrics allow for better airflow and help keep you cool during the night.
In high-altitude regions or colder seasons, consider packing warmer sleepwear options, such as long-sleeved pajamas or thermal sleepwear. Opt for materials like fleece or flannel, which provide extra insulation and keep you cozy in cooler temperatures.
PRO TIP: It's always a good idea to check the weather forecast for the specific regions and time of year you will be traveling to ensure you pack sleepwear that is appropriate for the prevailing conditions. Additionally, layering is key, so you can adjust your sleepwear based on the temperature of your accommodations.
I like Real Essentials 2 Pack: Women's Pajama Set Super-Soft Short & Long Sleeve Top With Pants (Available In Plus Size).
Step in Comfort and Safety: Essential Footwear for Your Peru Adventure
Investing in a good pair of hiking boots is essential for exploring Peru's diverse terrains and engaging in outdoor adventures.
PRO TIP: Look for boots that are sturdy, waterproof, and provide ankle support.
The rugged terrains of Peru, such as the Inca Trail or the Andean mountains, require boots with excellent traction to ensure stability and prevent slips and falls. Additionally, opt for boots with a durable sole to withstand rocky surfaces and uneven terrain.
Walking Shoes or Sneakers
While hiking boots are crucial for challenging trails, it is also important to have a pair of comfortable walking shoes or sneakers for city explorations and less demanding hikes.
PRO TIP: Choose lightweight options with good arch support and cushioning that are ideal for urban environments and shorter walks. These shoes provide comfort and flexibility, allowing you to navigate through cobblestone streets, archaeological sites, and various tourist attractions with ease.
Including a pair of sandals or flip-flops in your footwear collection is essential for relaxation and visits to coastal areas in Peru. Comfortable and durable options that can handle uneven terrain are recommended.
Sandals are perfect for beachside activities, strolling along coastal towns, and allowing your feet to breathe in warmer weather.
PRO TIP: Look for sandals with sturdy soles and adjustable straps for a secure and comfortable fit. Having sandals or flip-flops provides a break from closed-toe shoes, allows your feet to stay cool, and is practical for beach outings or casual walks.
GOOD TO KNOW: I have Salomon X Ultra 4 Mid GORE-TEX Hiking Boots, that I am highly recommending. My daughter swears by HOKA Anacapa Mid GTX Hiking Boots.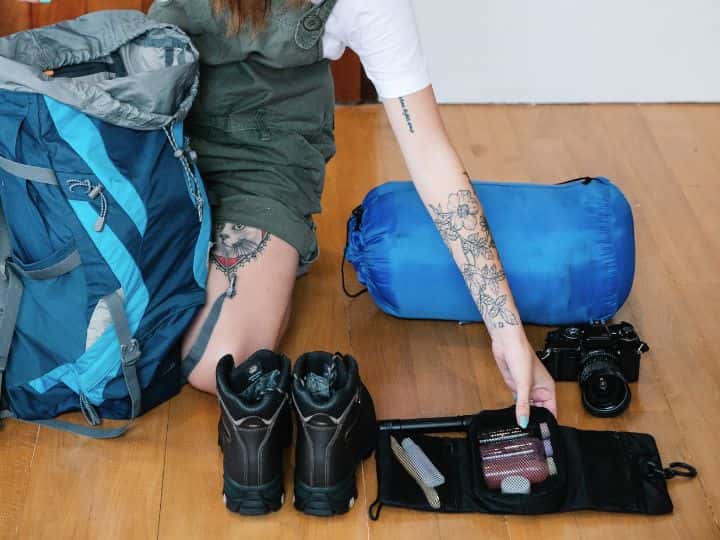 Rain Gear and Rain Accessories: Stay Dry and Prepared
Carrying a compact and lightweight rain poncho is a practical choice for protecting yourself and your belongings from heavy downpours in Peru.
Ponchos offer excellent coverage and are designed to keep you dry without restricting movement. They are especially convenient if you are carrying a backpack, as they provide protection for both you and your gear.
Rain ponchos are easy to carry, quick to put on when it starts raining and can be folded into a small size when not in use.
Bringing a small travel umbrella is a versatile option for dealing with light rain or drizzles during your travels in Peru.
While not suitable for outdoor activities that require both hands, an umbrella is handy for urban areas or city sightseeing where you may need protection from occasional showers.
PRO TIP: Look for a compact and sturdy umbrella that can withstand wind gusts and easily fit in your backpack or bag.
Waterproof Backpack Cover
If you will be carrying a backpack during your adventures in Peru, it is essential to pack a waterproof cover to protect your belongings from rain and moisture.
A waterproof backpack cover provides an extra layer of protection, keeping your gear dry and safe during rainy hikes or when traveling in wet conditions.
Cordillera Mountains, Peru / What to Pack for Peru
Bring Accessories to Enhance Your Comfort and Style
To enhance your comfort and convenience during your unforgettable journey through Peru, it is important to pack the right accessories and essentials. These items will not only protect you from the elements but also add convenience and style to your travel experience.
From sun protection and swimwear to versatile scarves and warm accessories for higher altitudes, this comprehensive guide will ensure you are well-prepared for whatever Peru has in store.
Let's delve into the essential accessories and must-have items that will elevate your comfort, protect your well-being, and help you make the most of your adventure in Peru.
A wide-brimmed hat is a must-have accessory for your journey in Peru. It offers essential protection from the strong sun, particularly in regions with high altitudes or coastal areas.
GOOD TO KNOW: The wide brim shields your face, ears, and neck from harmful UV rays and helps prevent sunburn. Whether you're exploring ancient ruins or hiking through the Andes, a hat provides shade, keeps you cool, and ensures a more enjoyable experience under the sun.
Peru's vibrant landscapes and high-altitude regions call for reliable eye protection. Bringing sunglasses with UV protection is crucial to shield your eyes from harmful rays. The intense sunlight can be especially harsh in areas like Cusco and the Sacred Valley. Not only do sunglasses safeguard your vision, but they also reduce glare and enhance visual comfort, allowing you to fully appreciate the stunning surroundings.
Peru is blessed with beautiful beaches and coastal areas along its extensive coastline. If you plan on taking a refreshing dip or indulging in beach activities, do not forget to pack your swimwear. Whether you are visiting Mancora, Paracas, or other seaside destinations, having your swimsuit on hand ensures you can fully enjoy Peru's coastal charm.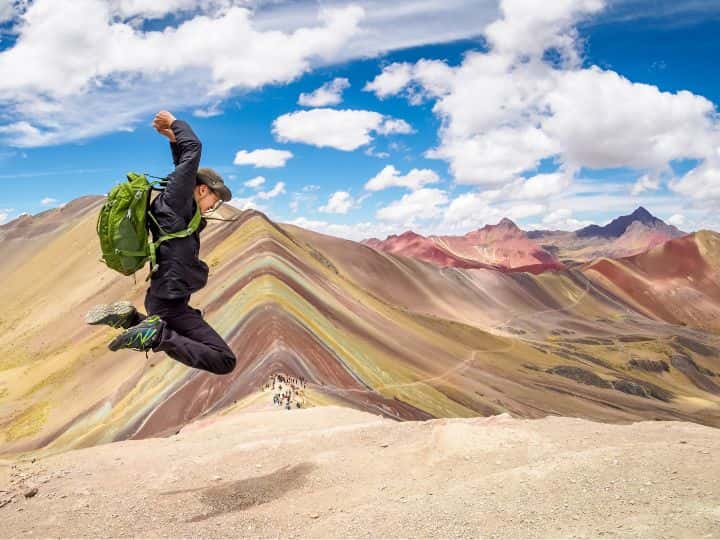 Rainbow Mountain, Peru / What to Pack for Peru
A versatile scarf or buff is a practical accessory to include in your packing list. It serves multiple purposes, providing protection against dust, wind, or cold temperatures. You can wrap it around your neck to keep warm, cover your head as a headscarf, or use it as a fashion accessory to elevate your outfit. This lightweight and versatile item adds both style and functionality to your travel ensemble.
For those planning to venture into higher altitudes or engage in outdoor activities in colder weather, packing warm gloves and a beanie is essential. These items provide insulation, keeping your hands and head cozy in low temperatures. Whether you're exploring the Andes or embarking on a mountain trek, these accessories ensure comfort and help protect against chilly conditions.
A reliable belt is a practical accessory to secure your pants or shorts during various activities. It ensures a comfortable and secure fit, especially during outdoor adventures like hiking or trekking. A sturdy belt provides peace of mind, preventing your bottoms from slipping or sagging while you're on the move.
Must-Have Travel Essentials for a Seamless Journey in Peru
To ensure a smooth and convenient travel experience during your trip to Peru, it is important to have the right travel accessories at hand. These items will not only provide practicality but also enhance security and convenience throughout your journey.
From a reliable daypack to a travel adapter and essential travel documents, this section covers the must-have items that will make your travel in Peru hassle-free. Let's explore the essential travel accessories you should consider packing for your adventure in Peru.
A small daypack is an essential travel companion for your daily excursions in Peru. It allows you to carry important items like water, snacks, a camera, sunscreen, and a rain jacket.
PRO TIP: Look for a pack that is comfortable to wear with adjustable shoulder straps and multiple compartments for organized storage.
Additionally, consider features like a padded back panel for comfort and breathability, side pockets for quick access to smaller items, and durable materials that can withstand various weather conditions.
GOOD TO KNOW: I like Osprey Daylite Pack and my daughter's favorite is REI Co-op Trail 25 Pack.
As Peru uses Type A and Type C electrical outlets, it is crucial to have the appropriate travel adapter for your electronic devices.
PRO TIP: Opt for a universal adapter that offers multiple plug options, ensuring compatibility with various outlets.
With a portable charger, you can keep your electronic devices powered up throughout your journey. This is especially useful when exploring remote areas with limited access to charging points.
PRO TIP: Invest in a portable charger with sufficient capacity to charge your phone, camera, or other electronics.
To ensure the security of your belongings, I am recommending to bring small padlocks. These locks can be used to secure your bags or lockers, providing an additional layer of protection during transit or when staying in shared accommodations.
Consider using a money belt or neck pouch to keep your valuables safe and secure. These hidden compartments provide extra security for your passport, cards, and cash.
Include a compact and quick-drying travel towel in your packing list. It will come in handy for various activities such as swimming, hiking, and visiting places where towels may not be readily available.
Packing Cubes are a game-changer when it comes to organizing your belongings and maximizing space in your luggage for your trip to Peru. These lightweight and compact fabric cubes will help compartmentalize your clothes, accessories, and other items, keeping them neat and easily accessible.
GOOD TO KNOW: By using packing cubes, you can separate your clothing by type or outfit, making it convenient to find what you need without rummaging through your entire suitcase. They also help to compress your items, allowing you to fit more into your luggage and avoid excessive wrinkling.
PRO TIP: Packing cubes are particularly useful when moving between different destinations in Peru, as they keep your belongings tidy and prevent them from shifting during transit. Whether you are exploring the cities, hiking through the mountains, or venturing into the rainforest, packing cubes ensure a well-organized suitcase and simplify the process of unpacking and repacking throughout your journey.
Carrying your travel documents is of utmost importance. Make sure to have your passport, visa (if required), travel insurance, and a printed copy of your itinerary. It's also advisable to keep digital copies of these documents securely stored in your email or cloud storage for easy access.
Having a mix of cash (Peruvian Soles) and debit/credit cards is essential for your financial needs in Peru. Inform your bank about your travel plans to avoid any payment issues. Additionally, consider carrying a hidden emergency cash stash for unforeseen circumstances.
Bring Health and Hygiene Essentials
Staying healthy and maintaining good hygiene is essential during your trip to Peru. Include the following items to ensure your well-being:
Travel toiletry bottles are a practical and space-saving solution for carrying your favorite personal care products with you during your trip to Peru. These small, portable bottles allow you to transfer and pack your preferred shampoos, conditioners, lotions, and other toiletries in a convenient and organized manner.
By using travel toiletry bottles, you can comply with airline regulations regarding liquid quantities and easily fit them into your carry-on luggage. They are designed to be leak-proof and durable, ensuring that your toiletries stay secure and protected throughout your journey.
PRO TIP: Having your own travel-sized toiletries also allows you to maintain your preferred skincare and haircare routine while on the go. You can avoid relying on hotel-provided products, which may not suit your specific needs or preferences.
Remember to label your travel toiletry bottles to identify the contents easily. This will save you time when searching for a specific product and ensure that you have all your essential toiletries readily available.
Pack a well-stocked first aid kit that includes essentials such as band-aids, antiseptic cream or wipes, pain relievers (such as ibuprofen or acetaminophen), and any prescription medications you may need. This will help you address minor injuries, illnesses, or discomforts that may arise during your travels.
It is important to have easy access to necessary medical supplies, especially when visiting remote areas or engaging in outdoor activities.
Protecting your skin and lips from the sun's intense rays is crucial, particularly at high altitudes in Peru. Choose a broad-spectrum sunscreen with a high SPF (Sun Protection Factor) to shield your skin from harmful UVA and UVB rays.
Apply sunscreen generously and reapply as needed, especially if you are spending prolonged periods outdoors. Additionally, use a lip balm with SPF to prevent dryness and sunburn on your lips.
When traveling to Peru, especially in regions with mosquitoes like the Amazon rainforest, it is essential to protect yourself from insect bites.
Deet-free mosquito-repellent bracelets are a convenient and effective solution. These bracelets are infused with natural ingredients such as citronella, lemongrass, and lavender, which act as natural repellents against mosquitoes. They provide a long-lasting shield against mosquito bites without the use of harsh chemicals.
GOOD TO KNOW: The bracelets are adjustable and can be worn on your wrist or ankle, offering continuous protection throughout the day. Their lightweight and portable design makes them ideal for outdoor activities and exploration in Peru.
By wearing these bracelets, you can enjoy your trip without the annoyance of mosquito bites, allowing you to fully immerse yourself in the beauty of Peru's natural landscapes and cultural experiences.
Hand Sanitizer and Wet Wipes
Maintaining good hygiene practices is important, especially when clean water may not be readily available. Carry a small bottle of hand sanitizer containing at least 60% alcohol to clean your hands when soap and water are not accessible.
Additionally, pack wet wipes or antibacterial wipes for wiping surfaces, sanitizing objects, or freshening up while on the go. These items are convenient and help minimize the risk of germs and infections.
An eye mask and ear plugs are essential travel accessories for a comfortable and restful experience in Peru. Whether you are staying in bustling cities or remote locations, these items can help you get a good night's sleep or relax during long journeys.
The eye mask blocks out unwanted light, creating a dark and soothing environment for sleep, even in brightly lit accommodations or during early morning flights. It is especially useful when dealing with time zone changes or adjusting to new sleeping patterns.
Ear plugs effectively reduce ambient noise, providing a peaceful atmosphere for relaxation and uninterrupted sleep. They come in handy when staying in noisy accommodations, traveling on planes or buses, or dealing with street sounds.
Water Bottle with Built-In Filter
A water bottle with a built-in filter is an excellent accessory to have when traveling in Peru. With varying water quality standards and the risk of waterborne illnesses, it is important to have access to safe drinking water throughout your journey.
A water bottle with a built-in filter allows you to fill it up from various water sources, and the built-in filter removes impurities and contaminants, providing you with clean and safe drinking water on the go. This eliminates the need to rely on single-use plastic water bottles and helps reduce waste.
PRO TIP: Look for a durable and leak-proof bottle with a reliable filter that removes bacteria, parasites, and other harmful substances. Having a water bottle with a built-in filter gives you peace of mind and ensures hydration wherever you go, allowing you to explore Peru's beautiful landscapes while staying hydrated and healthy.
Activated charcoal is a useful addition to your travel essentials for your trip to Peru. With its detoxifying properties, activated charcoal can help alleviate digestive discomfort and prevent stomach issues that may arise from consuming unfamiliar foods or water.
Peru is known for its delicious and diverse cuisine, but it is always a good idea to be prepared for any potential digestive challenges.
GOOD TO KNOW: Activated charcoal works by binding toxins and chemicals in the gastrointestinal tract, helping to reduce symptoms of bloating, gas, and indigestion. It can also be used as a natural remedy for relieving symptoms of altitude sickness, which is common in high-altitude regions like Cusco. Activated charcoal comes in convenient capsule form, making it easy to carry and take when needed.
When traveling to Peru, it is important to be prepared for restroom facilities that may not provide toilet paper. Having travel-sized toilet paper on hand ensures that you are equipped for any situation.
Compact and lightweight, travel toilet paper rolls are designed to fit easily into your backpack or daypack. They are made with durable, biodegradable materials that are gentle on the skin. This essential item offers convenience and peace of mind, allowing you to maintain hygiene and comfort wherever your adventures in Peru take you.
A female urination device (FUD) is a practical accessory to consider for your trip to Peru. This device allows women to urinate while standing, providing convenience and hygiene, especially in outdoor or public restroom facilities that may be less sanitary or lack proper facilities.
GOOD TO KNOW: FUDs are compact, lightweight, and discreet, making them easy to carry in your bag or pocket. They are designed to fit securely and comfortably, allowing women to urinate in a more upright position without the need for squatting or direct contact with unsanitary surfaces. This can be particularly useful during hikes, camping trips, or long journeys where restroom options may be limited.
With a female urination device, you can have greater flexibility and peace of mind, ensuring a more comfortable and convenient experience during your travels in Peru.
If you take any prescription medications, ensure you have an adequate supply for the duration of your trip.
It is advisable to carry your medications in their original packaging and bring a copy of the prescription or a doctor's note to avoid any issues at customs or in case of emergencies.
It is also a good idea to keep medications in your carry-on luggage to have them readily available during your journey.
Bring Electronics and Pack These Few Miscellaneous Items
When packing electronics for your trip to Peru, consider the following essential items:
Smartphone and Universal Waterproof Phone Case
A smartphone is a versatile device that can serve multiple purposes during your travels. It allows you to stay connected, access maps and travel apps, capture photos and videos and even serve as a portable entertainment device.
A universal waterproof phone case is a practical accessory to have during your travels in Peru, especially if you will be engaging in water activities or visiting coastal areas.
GOOD TO KNOW: These cases provide a protective barrier that keeps your phone safe from water, sand, and dust, allowing you to capture photos and videos without worrying about damage.
Whether you are exploring the stunning beaches of Mancora, taking a boat ride on Lake Titicaca, or simply encountering unexpected rain showers, a waterproof phone case ensures that your device remains dry and functional.
With transparent windows, you can still operate your phone's touch screen, take clear pictures, and even make calls while keeping it secure inside the case. It offers peace of mind, allowing you to document your adventures without compromising the safety of your valuable device.
Peru offers stunning landscapes and historic sites, making it a photographer's paradise. Bringing a camera with you will allow you to capture the beauty of places like Machu Picchu, the Amazon rainforest, and colorful local markets. I have Nikon COOLPIX B500.
PRO TIP: Bring a camera bag or protective case to keep your equipment safe.
PRO TIP: If you rely on a stable internet connection for staying connected with loved ones, a portable Wi-Fi router can be handy. It allows you to create your own personal Wi-Fi hotspot, providing a reliable internet connection wherever you go.
PRO TIP: If you're an avid reader or enjoy watching movies or TV shows, consider bringing an e-reader or tablet. It provides entertainment during long flights or bus rides and allows you to carry multiple books or digital content without adding extra weight to your luggage.
Invest in a good pair of headphones for a more immersive audio experience while listening to music, watching movies, or even during guided tours. Noise-canceling headphones can be especially useful in crowded or noisy environments.
Invest in reliable guidebooks to learn more about Peru's history, culture, and attractions. Guidebooks from publishers like Lonely Planet, Fodor's, or Bradt offer comprehensive information to enhance your travel experience.
While many Peruvians speak English, having a basic Spanish phrasebook can be helpful, especially in more remote areas. Learn a few key phrases and expressions to communicate with locals and navigate daily interactions.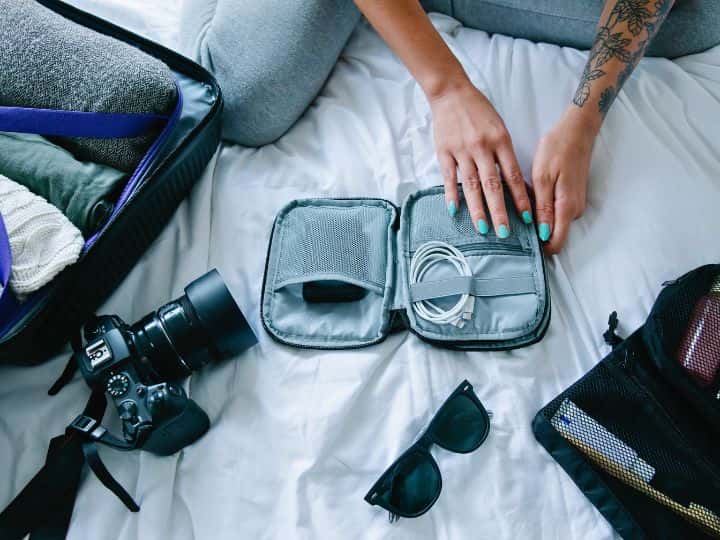 Intrepid Scout's Tips for What to Pack for Peru
Research the Climate: Peru has diverse climates, ranging from tropical rainforests to high-altitude mountains. Before packing, research the specific regions you will be visiting and the time of year to understand the expected weather conditions. This will help you pack appropriate clothing and gear.
Layering is Key: Peru's weather can be unpredictable, with temperature variations throughout the day. Layering allows you to adjust your clothing based on the changing weather conditions. Pack lightweight, versatile pieces that can be easily layered to accommodate temperature fluctuations.
Pack Comfortable Walking Shoes: Peru involves a fair amount of walking, whether exploring cities, hiking to archaeological sites or navigating uneven terrain. Invest in comfortable walking shoes or sneakers with good arch support. Ensure that you break them in before your trip to avoid discomfort or blisters.
Pack a Daypack: A small daypack is essential for day trips and excursions in Peru. Choose one that is comfortable to carry and has enough room for your essentials, including water, snacks, sunscreen, camera, and other items you may need during the day.
Prepare for Altitude: If you plan to visit high-altitude regions like Cusco or trekking in the Andes, be aware of the potential effects of altitude sickness. Pack remedies such as medication, altitude sickness prevention supplements, or coca tea to help alleviate symptoms. Consult with your healthcare provider before taking any medications or supplements.
Leave Room for Souvenirs: Peru offers unique handicrafts, textiles, and souvenirs. Leave some space in your luggage to bring back mementos of your trip. Consider packing a foldable duffel bag or an extra lightweight bag to accommodate any additional items you acquire during your journey.
Pack Travel Insurance Details: Before departing, make sure you have a copy of your travel insurance details, including emergency contact information. It is essential to have this information readily available in case of any unforeseen circumstances or emergencies.
Pack a Sense of Adventure: Finally, pack a positive attitude and an open mind. Peru is a captivating country with a rich cultural heritage, stunning landscapes, and friendly locals. Embrace the adventure, immerse yourself in the experience, and create lasting memories.
Did You Find This Useful?
Why Not Save What to Pack for Peru to Your Pinterest Board!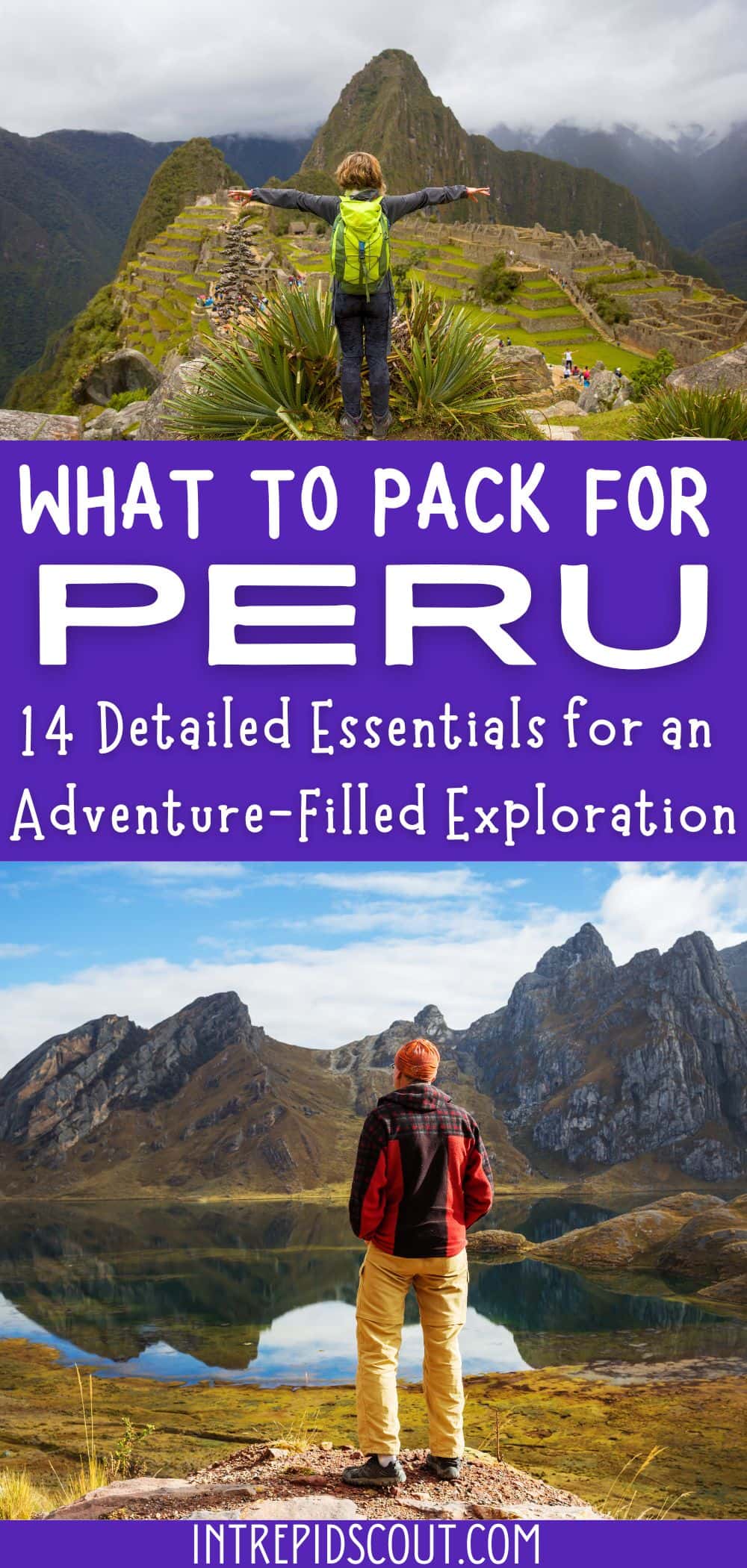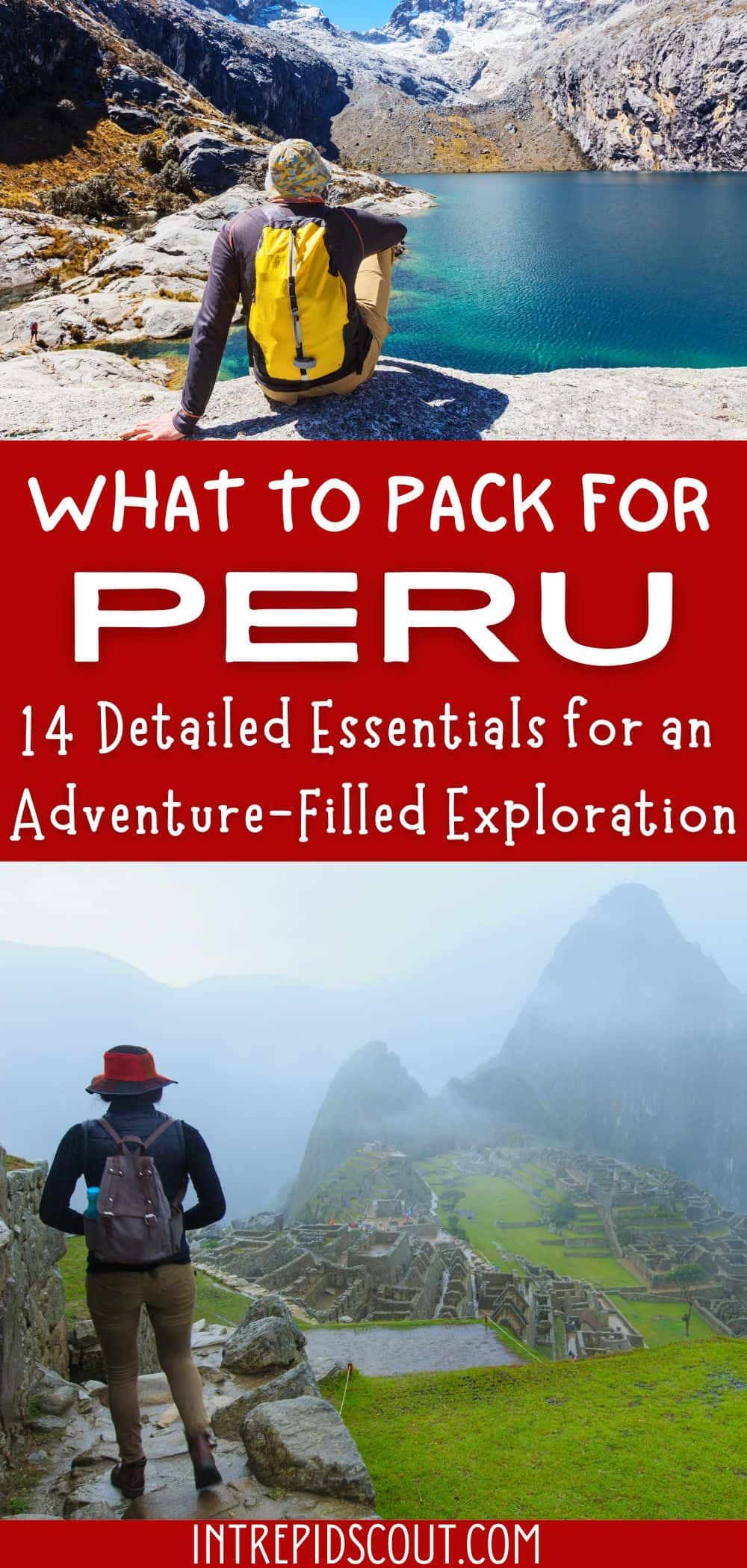 Now, It Is Your Turn, I Would Like to Hear Back from You!
Are you planning a trip to Peru?
Please let me know! Drop me a quick comment right below!
Click on any of the images below to get inspired and to help you with the planning process for your trip to Peru!