This site uses affiliate links, meaning that if you make a purchase through our links, we may earn an affiliate commission.
THE PERUVIAN AMAZON RAINFOREST -
3-DAY ADVENTURE ITINERARY
Planning on going to Peruvian Amazon Rainforest?
Here is your complete 3-Day itinerary.
Check it out!
WHAT IS PERUVIAN AMAZON RAINFOREST
Peruvian Amazon Rainforest or Peruvian Amazonia is the area of the Amazon rainforest included within Peru. It stretches from east of the Andes to the borders with Ecuador, Colombia, Brazil and Bolivia.
Peruvian Amazon Rainforest covers over half of Peru's land. The area is divided into the Northern, Central and Southern Amazon.
WHICH IS THE BEST PERUVIAN AMAZON REGION TO VISIT
In Peru there are three main regions where it is possible to go on tours to the Amazon Rainforest:
The Northern Amazon (Iquitos Amazon Jungle Region)
The Central Amazon (Manu Amazon Jungle Region)
The Southern Amazon (Tambopata Amazon Jungle Region)
THE NORTHERN AMAZON (IQUITOS AMAZON JUNGLE REGION)
The Northern Amazon or Iquitos Amazon Jungle Region has one entry point and it is the city of Iquitos.
Iquitos can only be accessed by plane or by boat.
The flight from Lima is about 1 hour and 45 minutes. However, if you are flying from Cusco to Iquitos, then the flight is over 5 hours long and there is usually a stopover in Lima, and, of course, it is more expensive.
The boat ride is about 10-12 hours and it originates either in Brazil or Columbia.
One of the benefits of choosing Iquitos Amazon Jungle Region is that this is the only region of Peru where it is possible to visit the true "Amazon River". What it means that you are going to be on the Amazon River as opposed to a tributary of the Amazon River.
In addition, the Amazon River has wildlife that is not found in any other tributaries. So, if you want to spot the very rare pink river dolphins, then this is the place to go.
THE CENTRAL AMAZON (MANU AMAZON JUNGLE REGION)
The Central Amazon or Manu Amazon Jungle Region is split into three main zones:
Manu National Park is a UNESCO World Heritage Site. The access is restricted to only indigenous tribes, park rangers and research scientists.
However, you will be able to visit the Reserved Zone and the Cultural Zone which both flank Manu National Park but are not part of the National Park.
First of all, the Cultural Zone can be accessed via road on a full day journey from Cusco or by plane. If you decide on a plane then you will be flying into Pucallpa. The flight from Lima to Pucallpa is about 1 hour long. The flight from Cusco to Pucallpa is over 4 hours long.
Second, the Reserved Zone is situated deeper into the jungle and can be accessed by flight into Pucallpa and then by boat.
If you are set on seeing Peruvian Cock of the Rock bird of paradise than you need to head to the Reserved Zone.
THE SOUTHERN AMAZON (TAMBOPATA AMAZON JUNGLE REGION)
Finally, the Southern Amazon or Tambopata Amazon Jungle Region. There is only one key access point in the Southern Amazon and it is the city of Puerto Maldonado.
The best way to reach Puerto Maldonado is by plane. The flight from Cusco to Puerto Maldonado is about 1 hour. If you are flying from Lima to Puerto Maldonado, then your flight will be about 1 hour and 30 minutes.
After doing all the research, I decided on going to the Southern Amazon. First of all, the flight from Cusco was only about 1 hour long. And, it was very inexpensive. Second, there were numerous daily excursions that were possible in this area. But, what really made me decide on Tambopata Amazon Jungle Region was the fact that it is has the highest concentration of avian clay licks in the world.
Finally, I was really impressed by some of the lodges in that area. Not only offering nice accommodations, but also being so close to the wildlife viewing opportunities and having guided tours.
Don't have time to read it now?
Why not save it to your Pinterest board for later!
WHEN IS THE BEST TIME TO VISIT PERUVIAN AMAZON RAINFOREST
The rainforest weather is mostly hot and humid with average temperatures of 28 degrees C and high humidity which is over 75%. The weather does not change much throughout the year.
What changes are rainfall levels and they distinguish the weather differences throughout the year.
So, there is the wet season. It lasts from around mid-October to mid-March. And, the dry season that is from around mid-April to mid-November. The water levels change drastically from one season to the next.
The ideal time to go is during the dry season if you are looking into exploring the Amazonian rainforest. First of all, the trails will be dry and accessible. Second, the heavy rainpours will not keep you inside.
WHAT TOUR COMPANY SHOULD YOU SELECT TO PERUVIAN AMAZON RAINFOREST
Honestly, after I decided on visiting the Southern Amazon, I spent hours researching and reading reviews of different companies that operate in the Tambopata Amazon Jungle Region. There is a lot of choices.
I decided to go with Rainforest Expeditions. It was the right choice. They are excellent! I am recommending them 100% and I am not getting paid for this.
They offer three Amazon lodges:
Tambopata Research Center
Check out their Lodge Comparison Chart and decide which place would be the best for you.
I decided on Refugio Amazonas. It was only 2 hours away from Puerto Maldonado and they offered numerous activities that sounded very interesting to me.
HOW TO GET TO REFUGIO AMAZONAS
Getting to Refugio Amazonas takes time.
The first step is to take a plane to Puerto Maldonado.
Puerto Maldonado is located in the confluence of the rivers Tambopata and Madre de Dios and 55 km west of Bolivian border.
Image credit: Google Map data ©2020
I took a plane from Cusco to Puerto Maldonado. The flight was about 1 hour long.
Make a note, when booking your flight, make sure that your arrival is scheduled before 1:00 pm and your departure after 1:00 pm.
Rainforest Expedition departures from the airport to Refugio Amazonas are scheduled twice a day at 1 pm and 1:30 pm.
Furthermore, Rainforest Expeditions returns from lodge to Puerto Maldonado are scheduled at 7 am and 8 am.
Once you arrive in Puerto Maldonado, you will be greeted by Rainforest Expeditions staff and escorted to a waiting vehicle.
Next, they will take you to their operations office in Puerto Maldonado. You will store your luggage there and take only what you absolutely need for the jungle adventure. So, it is a good idea to have a separate bag, or a backpack with just the things you will need to use for 3 days in Peruvian Amazon rainforest. By the way, allowance is restricted to 15 kg per person. 
Honestly, there was a lot of luggage that these people had to handle, loading and unloading it. So, be mindful, bring only what you absolutely need.
After sorting out all your luggage, you will take a 40-minute bus ride along a very, very bumpy road to the Community Port of Infierno.
Finally, in Infierno, you will board a canoe and head to Refugio Amazonas.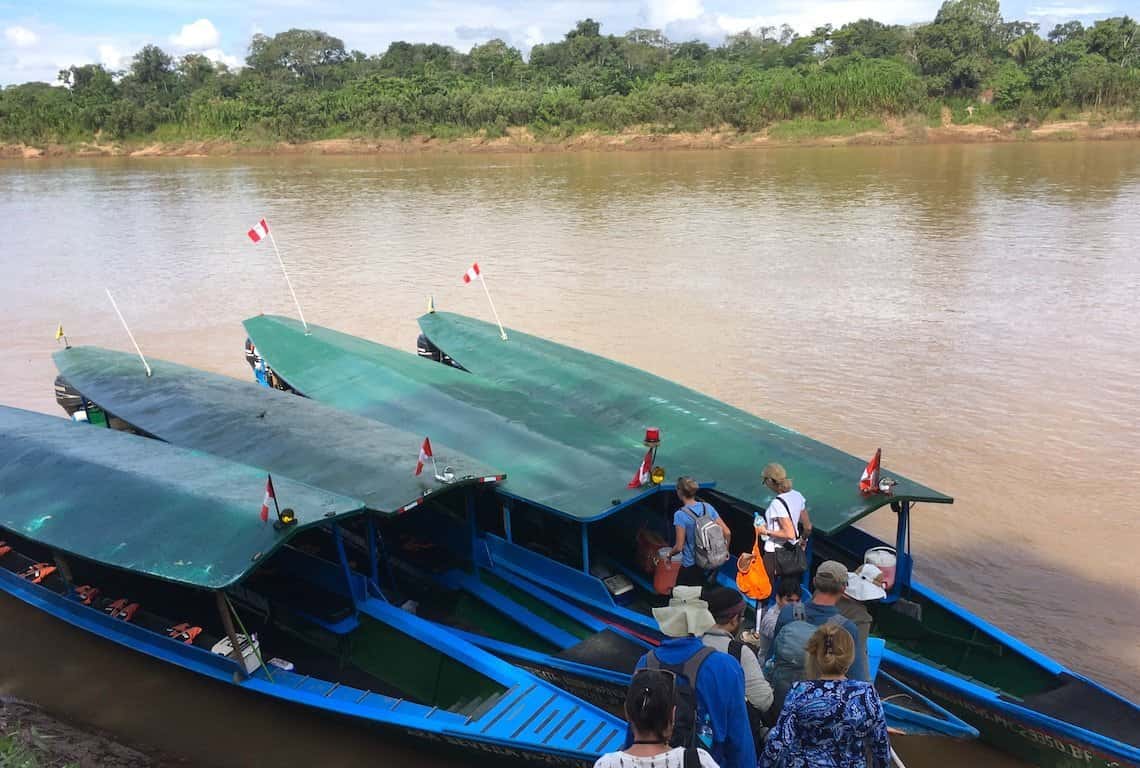 The boat ride is about 2 and half hours and I guarantee you that you will get to see a lot of animals.
I have to be honest and say that I enjoyed the boat ride. It felt like at last the adventure was about to start.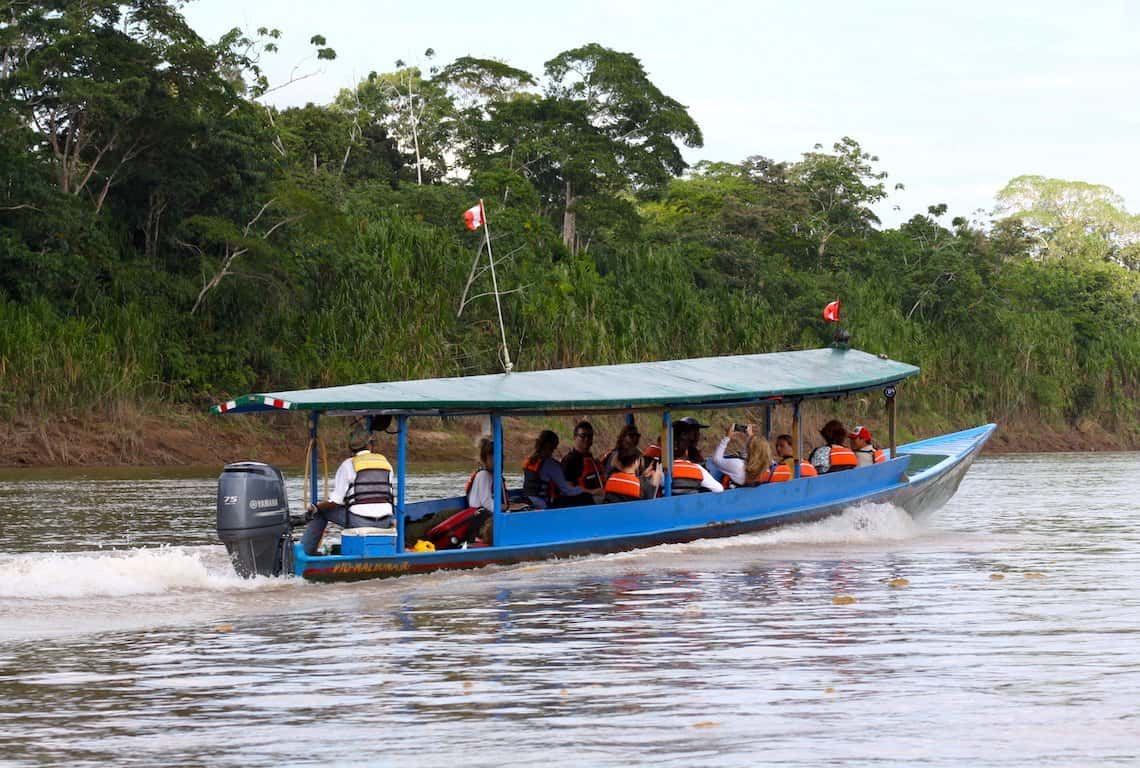 Also, you will be served lunch which was delicious and nicely presented.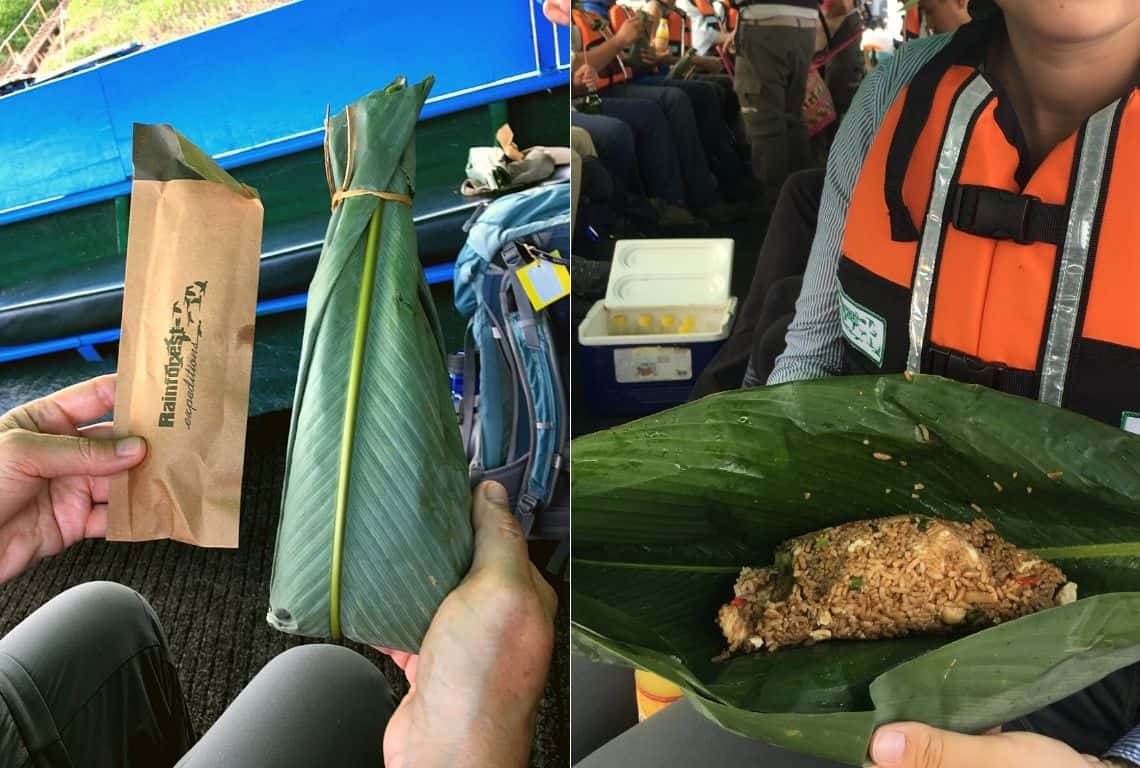 First, we saw Yellow-Spotted Side-Necked Turtle. Interesting fact about them is that they often have yellow spots on the head, and when threatened they move their heads to the side, rather than back into their shells.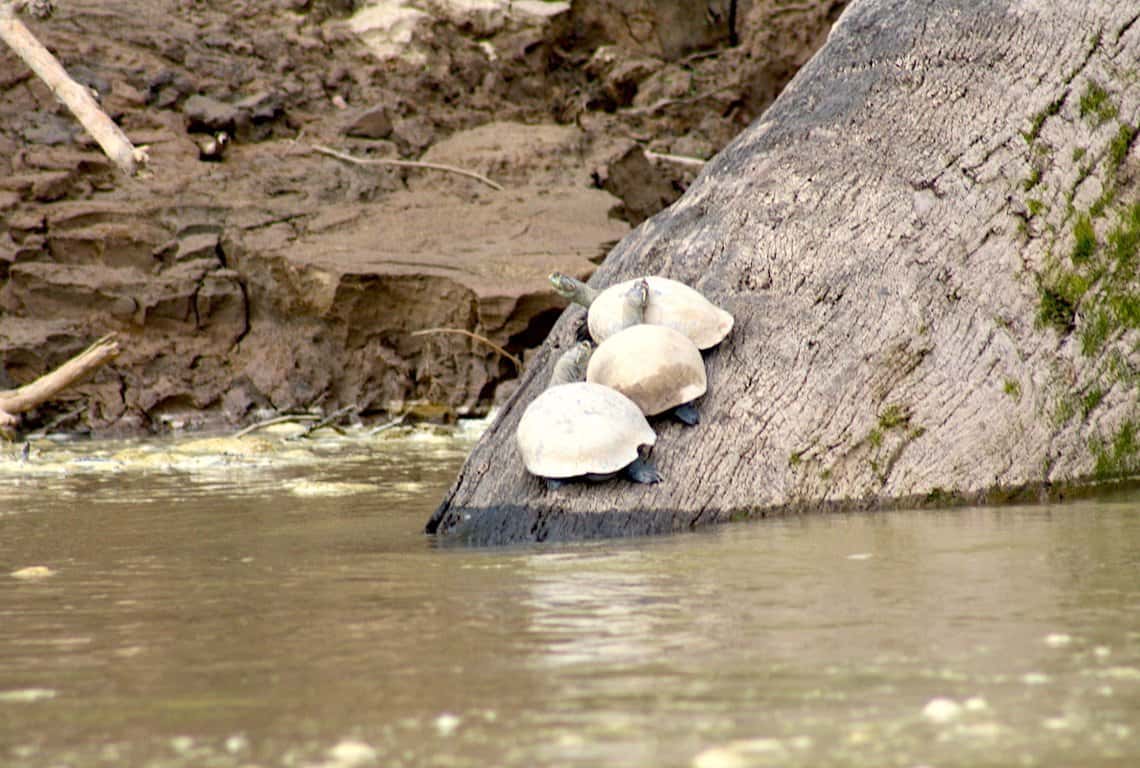 Next, we saw White Lipped Peccary, also known as "pig of the jungle", swimming across the river. They are recognized by their brown or black fur and the white patch (or "lip") around the snout.
White Lipped Peccaries are categorized as vulnerable by the International Union for Conservation of Nature and near threatened by Peru's Ministry of Agrarian Development and Irrigation.
White Lipped Peccaries are invaluable to the Amazon Jungle. They change the forest floor by trampling it in huge herds of 20-300 individuals. The changes they create help maintain the variety of wildlife, including plants, amphibians, and reptiles, while dispersing seeds throughout the jungle.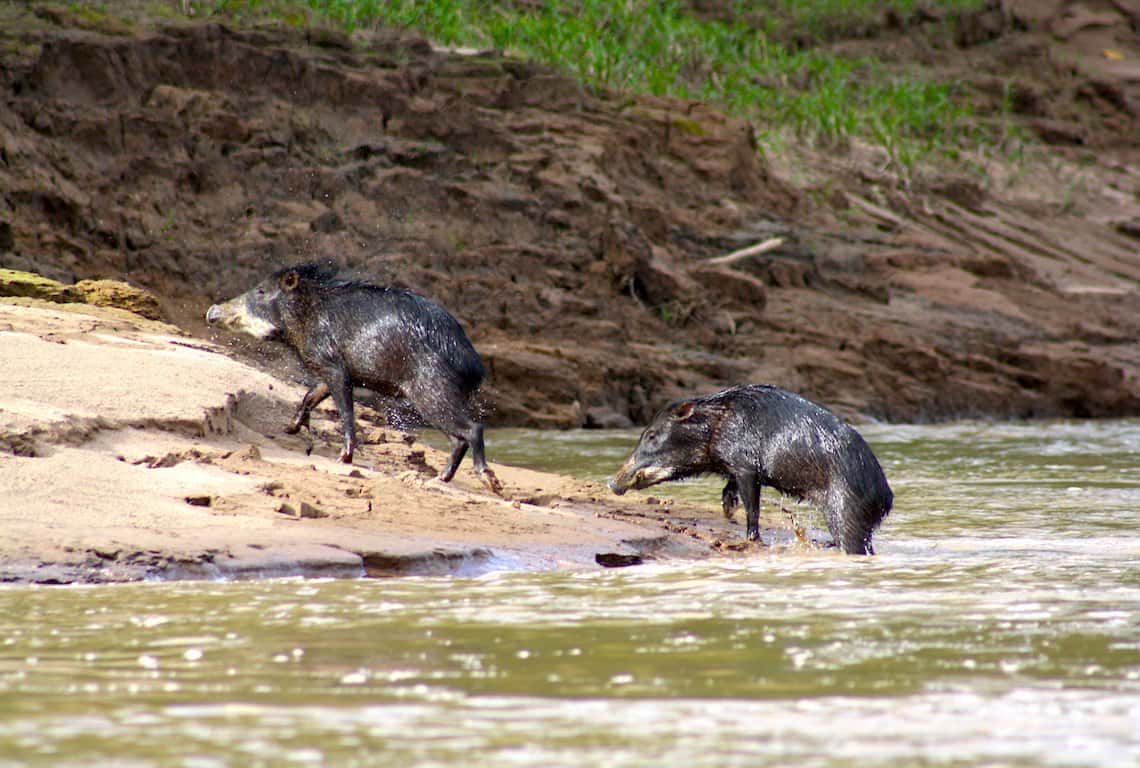 Next, we saw  herd of Capybaras. Our guide told us that they are good swimmers. They have partially-webbed feet that allow them to dive deep and swim underwater for long distances. They often are seen floating with only their eyes, ears, and nostrils sticking out of the water.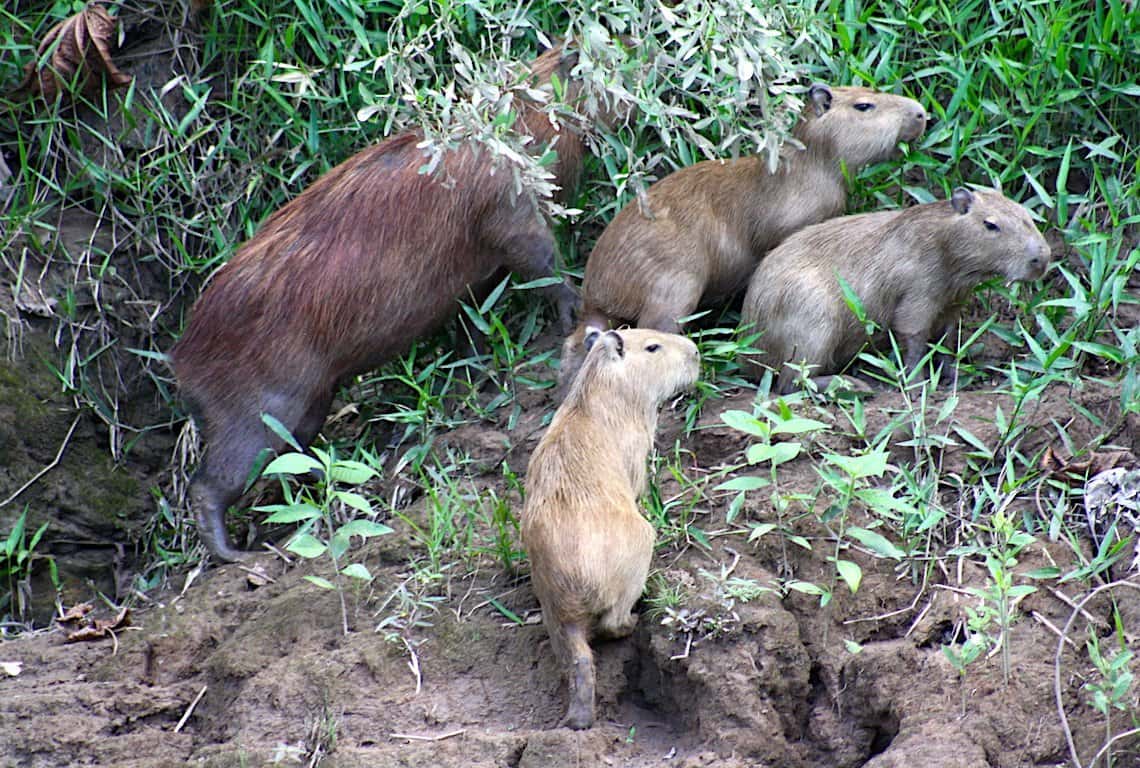 We learned that Capybaras are very social animals. They live in small family groups of about 10-20. A typical group includes one dominant male, several females, their off-springs, and a few subordinate males.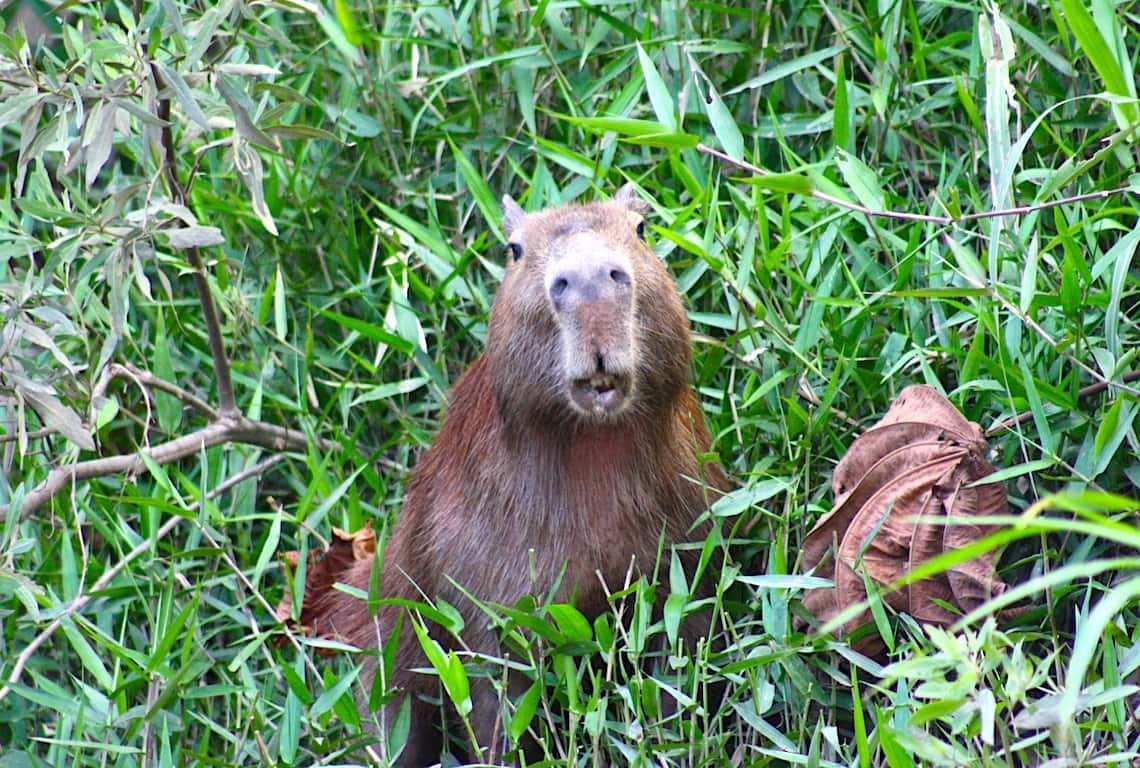 Once you arrive at Refugio Amazonas Lodge, you are going to have to climb about 70-90 starts (depending on the season and the fluctuation of water).
And then, just a short walk to the lodge.
WHY YOU SHOULD GO TO REFUGIO AMAZONAS LODGE
Refugio Amazonas Lodge is beautiful and meticulously maintained. You will love it!
The rooms are spacious and kept sparkling clean. I was amazed that one side of room was open to the surrounding jungle. All you have to do is swing in the hammock, listen to the sounds of the jungle and observe the wildlife.
Also, check out their bath products that are locally made. They are great and smell amazing!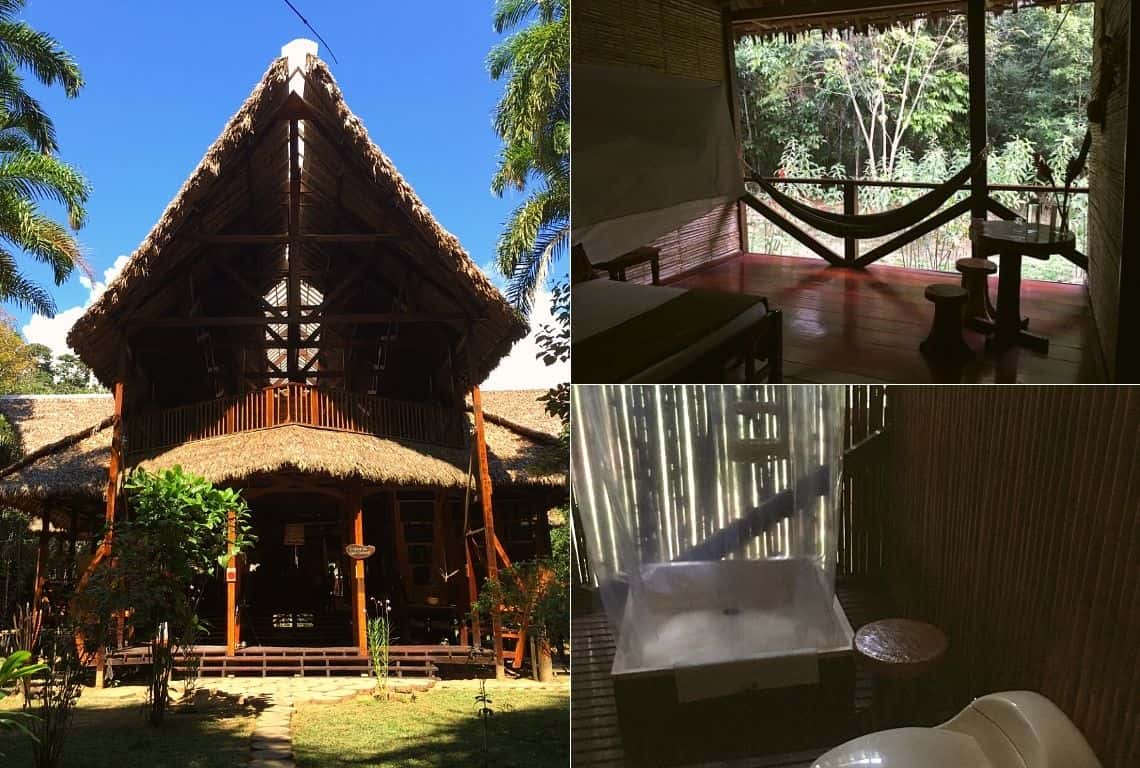 All the facilities are top notch!
All the meals are served in a beautiful dinning hall. In addition, there are several areas comfortably decorated where you can hang out and relax.
Also, make sure to sign up for a massage as soon as you arrive, because all the available spots fill out fast.
Finally, go for an evening stroll and see all the buildings and walkways beautifully illuminated. However, make sure to stay on the designated boardwalks and do not venture into the jungle by yourself.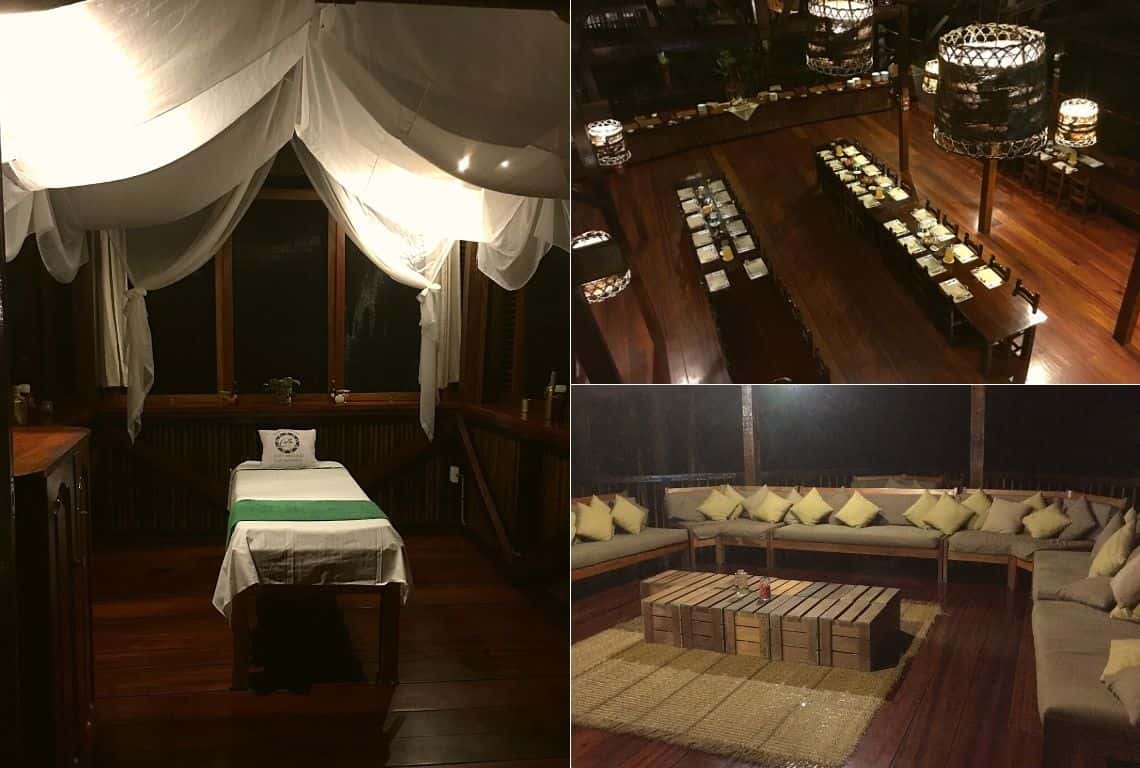 The mosquito nets did an amazing job of keeping all the bugs and everything else out. However, before you snuggle up, my recommendation is to check and then double check to make sure that there are no insects hiding anywhere.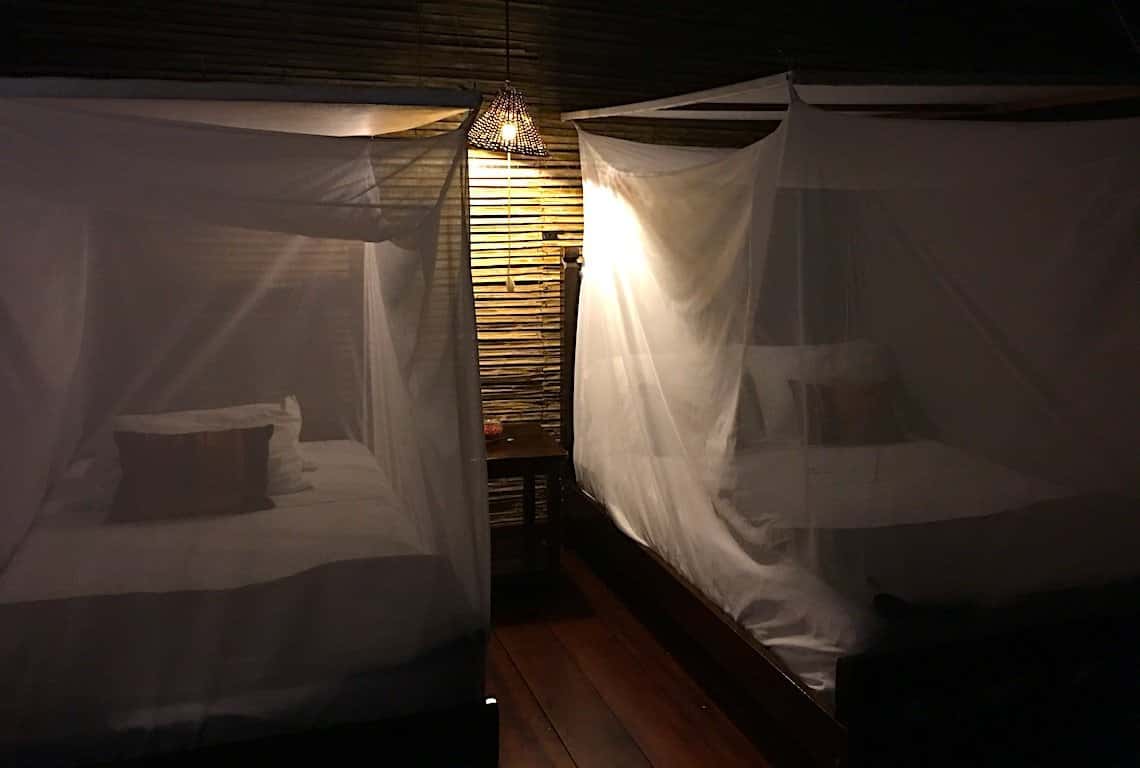 There is no wifi in the rooms. However, wifi is available in the common areas. The connection is not the best and it is tough to upload photos, etc.
Now, electricity is supplied by the generators and it is available in the morning, around lunchtime, and in the evening. At around 10 pm – it is lights out! So, if you are still tinkering around, make sure you have your flashlight handy.
Also, if you need to re-charge your devices there are chargers in the common areas.
As far as I am concerned, I really enjoyed the afternoons. I would be in the hammock swinging and taking pictures of the animals.
First of all, I saw a lot of monkeys.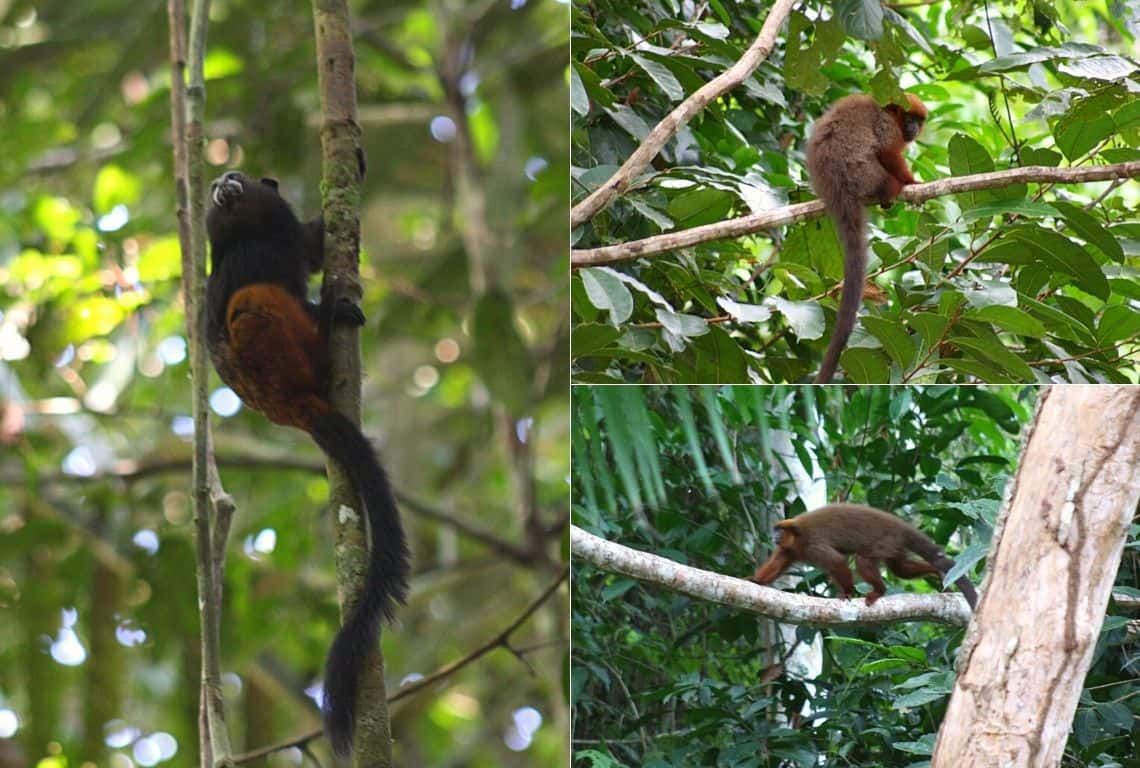 By the way, Peru is home to over 32 species of monkeys.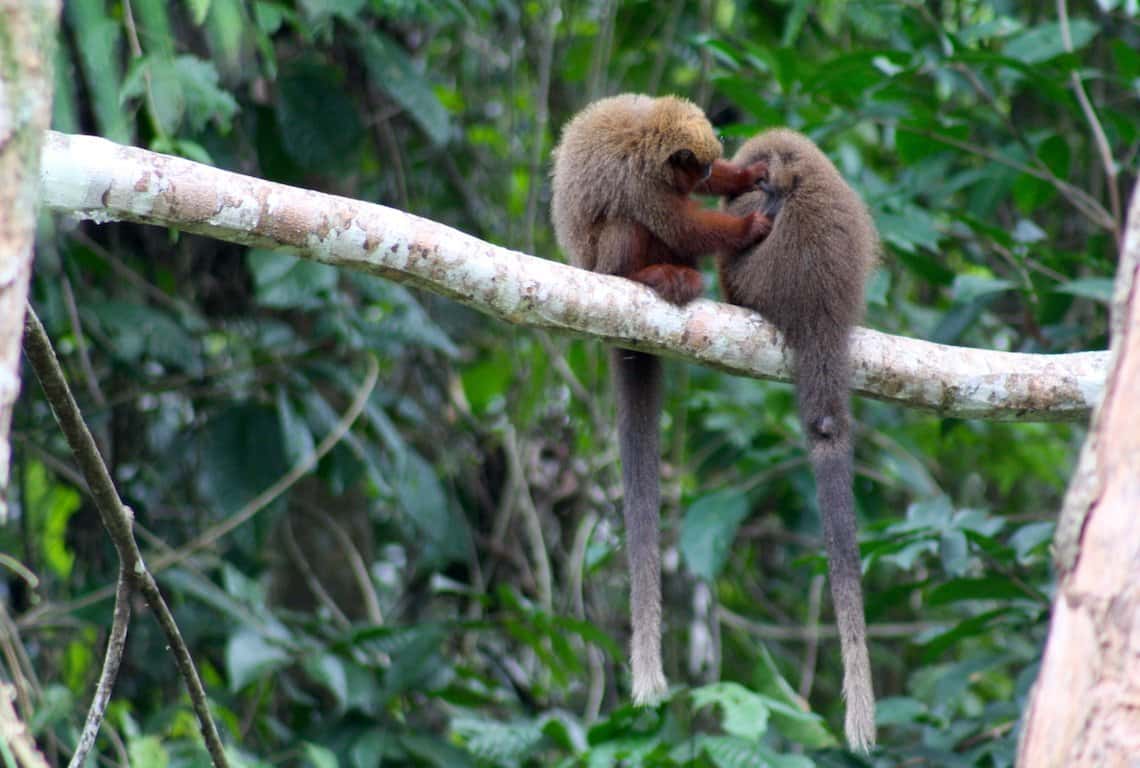 Next, I was visited several times by Agouti. They look like an oversized guinea pig crossed with a squirrel.
What is interesting is that Agoutis are experts at opening tough Brazil nuts. They gnaw on the seed pod with their strong, sharp incisors until they crack it open and get the seeds that are inside. The only other animal capable of opening a Brazil Nut seed pod is the Red and Green Macaw.
Did you know that the word agouti means fur in which each hair has alternate dark and light bands, producing a grizzled appearance.
Now, something interesting that I want to share with you.
In the front of the lodge are trees and hanging from their branches are what appear to be long, brown sacks. The long bag-shaped structures are nests and they all belong to one dominant male bird called green oropendola. 
The birds are polygamous and the structures are for their harems of females that can reach up to thirty individuals.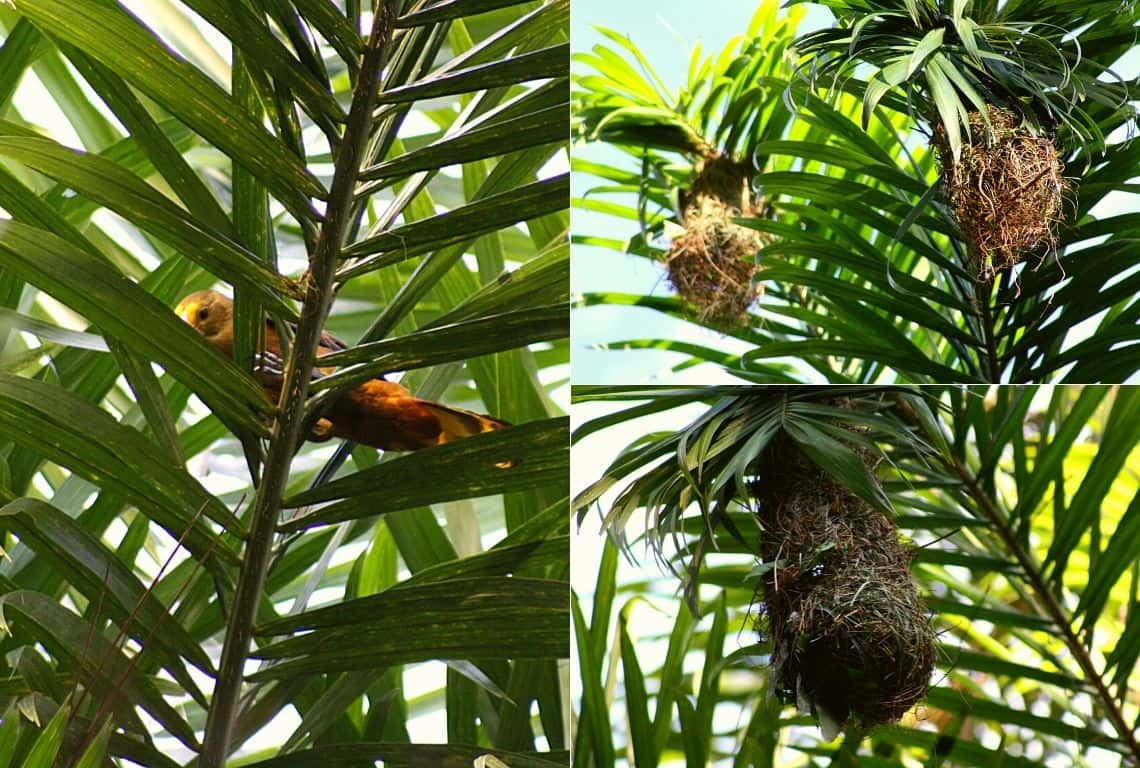 PERUVIAN AMAZON RAINFOREST – 3-DAY ITINERARY
JUNGLE ACTIVITIES
Refugio Amazonas offers a la carte activities which will allow you to create a unique and personal experience.
As soon as you get to the Refugio Amazonas Lodge, your guide will talk to you about all the activities that are available. So, choose the ones that interest you.
Following are some of the activities that I have done during Peruvian Amazon rainforest 3-day itinerary.
CHUNCHO MACAW CLAY LICK ACTIVITY
Chuncho Macaw Clay Lick activity was the highlight of my Peruvian Amazon rainforest 3-Day itinerary. It was an incredible experience to see so many colorful macaws flock to the river banks to gather clay and then eat it.
Chuncho Macaw Clay Lick activity is really more like an expedition. You will need to get up at 4 am and be ready to depart at 4:30 pm. All the participants will be divided into small groups and each group will board a boat.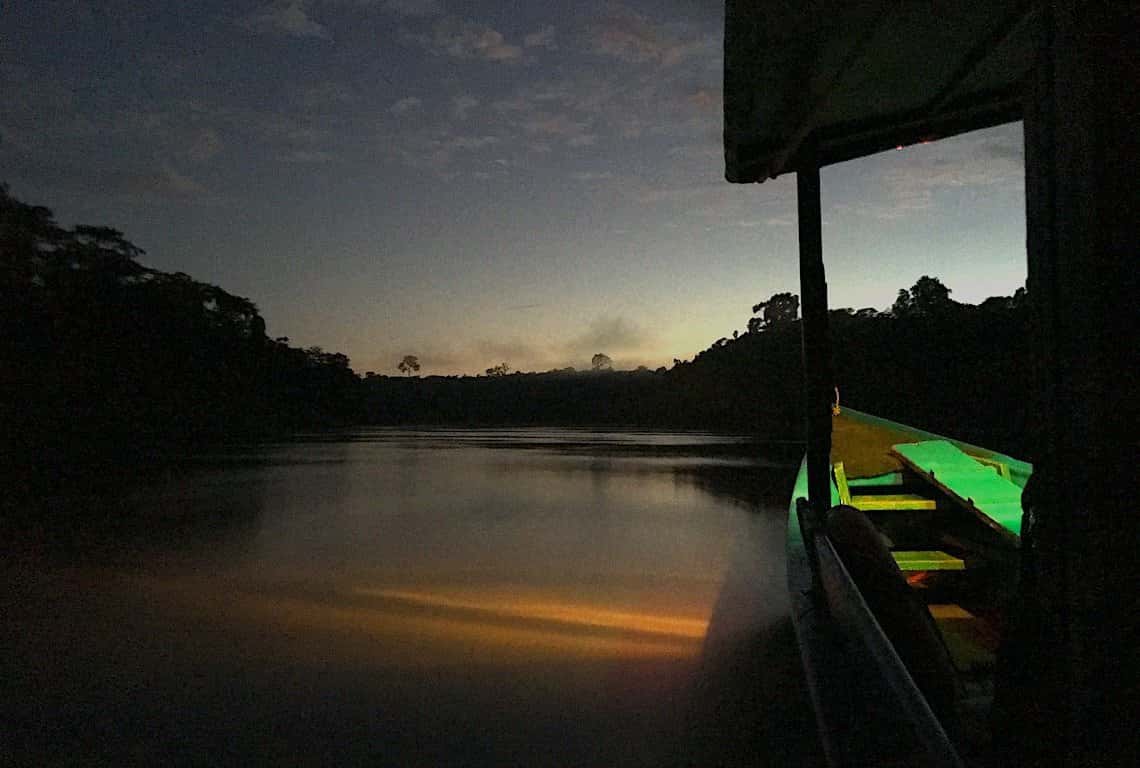 To be honest, the boat ride with the sun coming up is an awesome experience.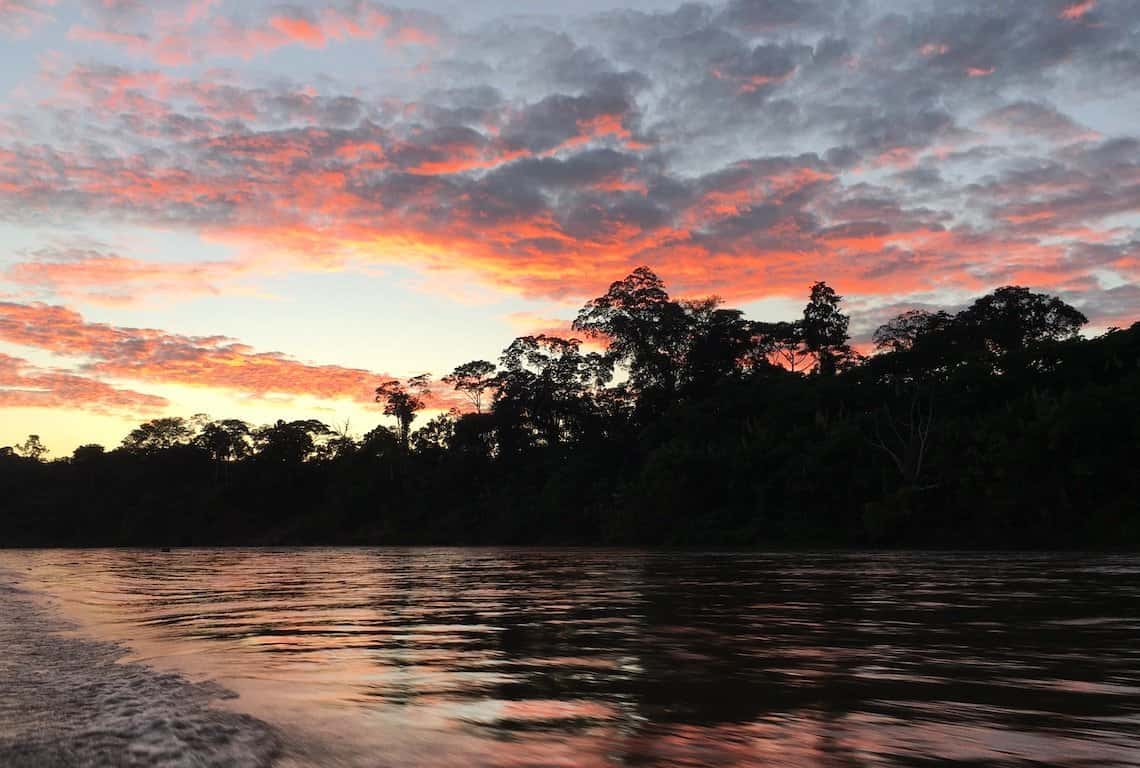 Pretty soon you will see the clay licks in the distance. Once you reach the steep cliffs, your guide will lead you to a spot where the viewing of the birds is the best.
It takes time for macaws to show up, so you need to be patient.
When I got there, the cliffs were occupied by the blue-headed parrots.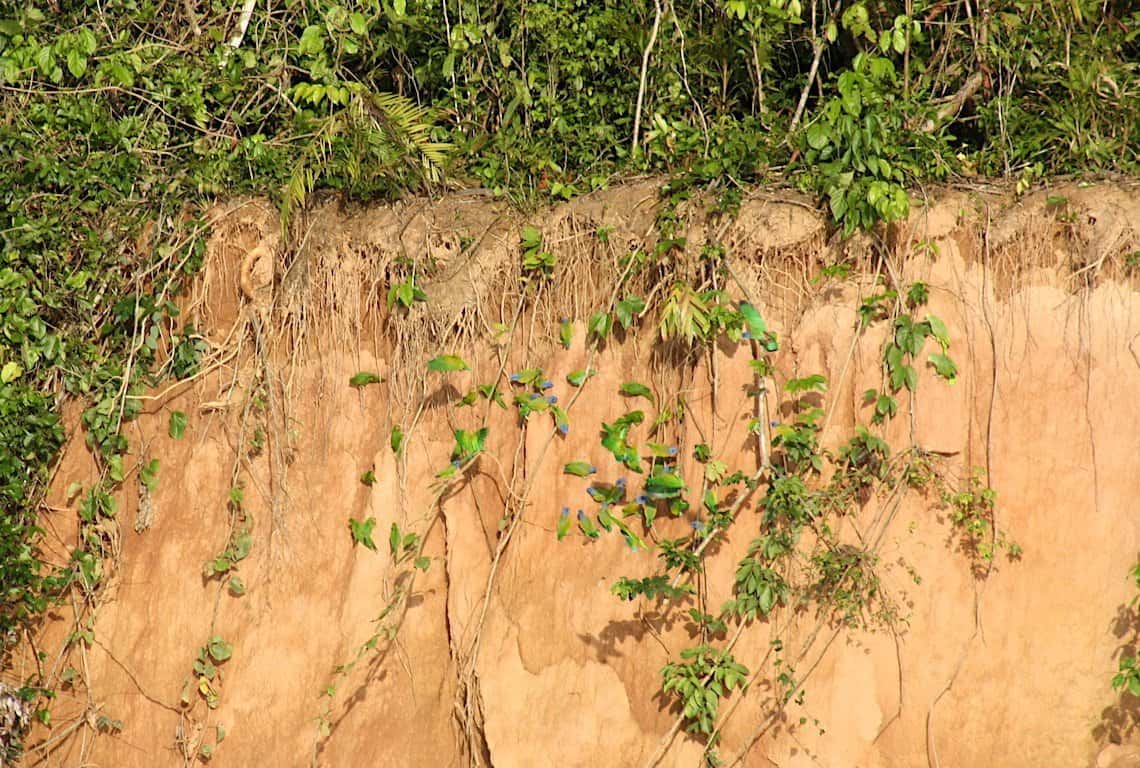 They were clinging to the vertical clay cliffs and nibbling on the clay.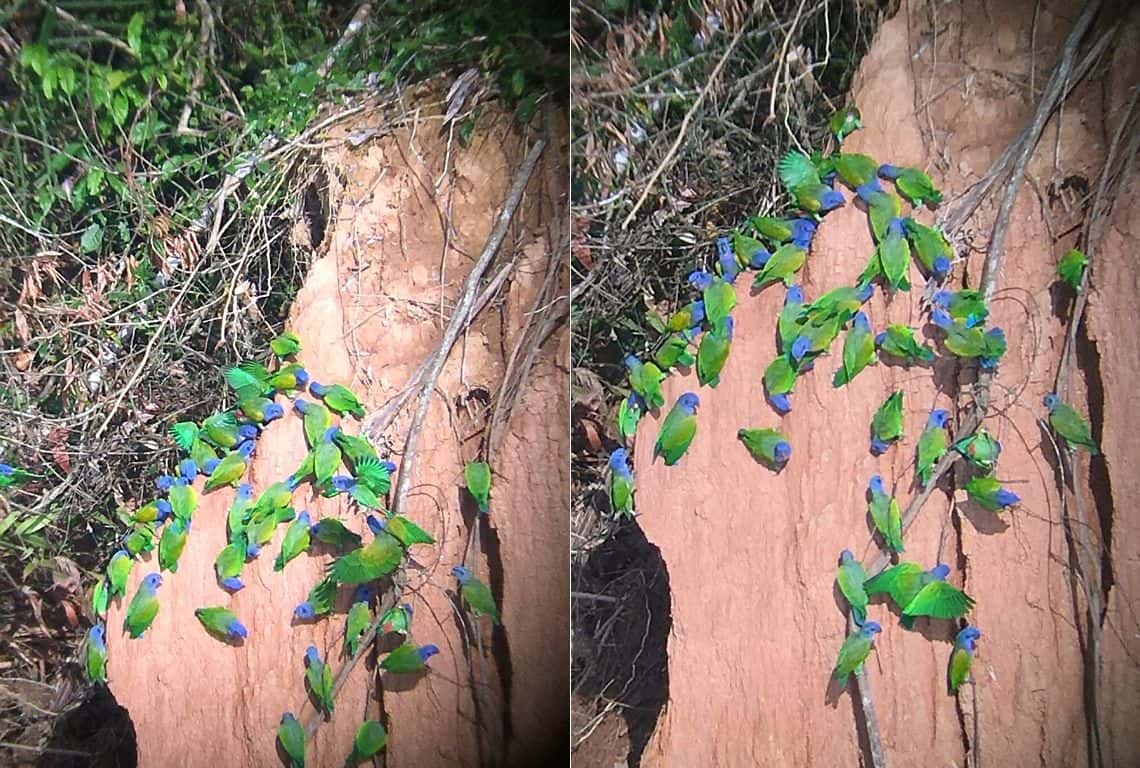 Pretty soon the macaws started to show up.
It is like a ritual with them. You will see several couples arrive and perch themselves on the nearby trees. Soon, more couples will join the ones that arrived at the beginning. There is definitely a communication and camaraderie between the couples.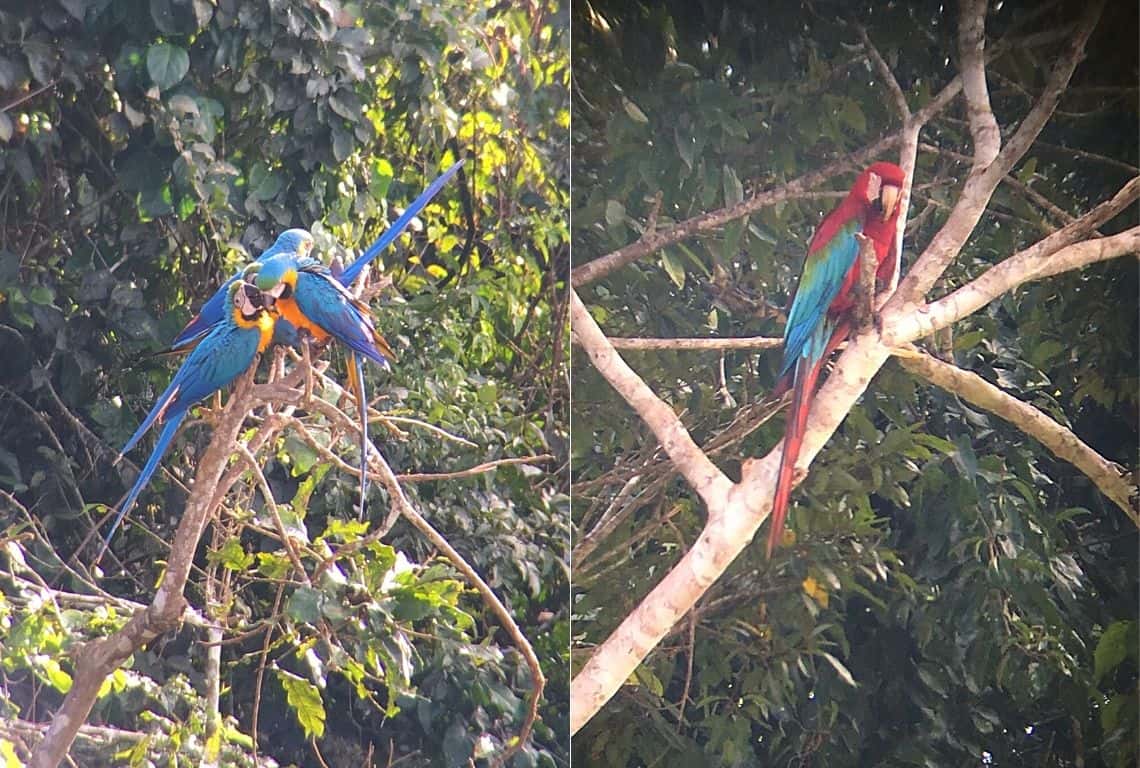 Your guide will remind you to stay put and be quiet.
This a crucial moment for the macaws to make a decision whether or not they will descent on the steep river banks.
Next, watch out and you will be able to spot a scout sent to the river banks to check if the area is safe .
Once that is done, the macaws will start congregating on the cliffs.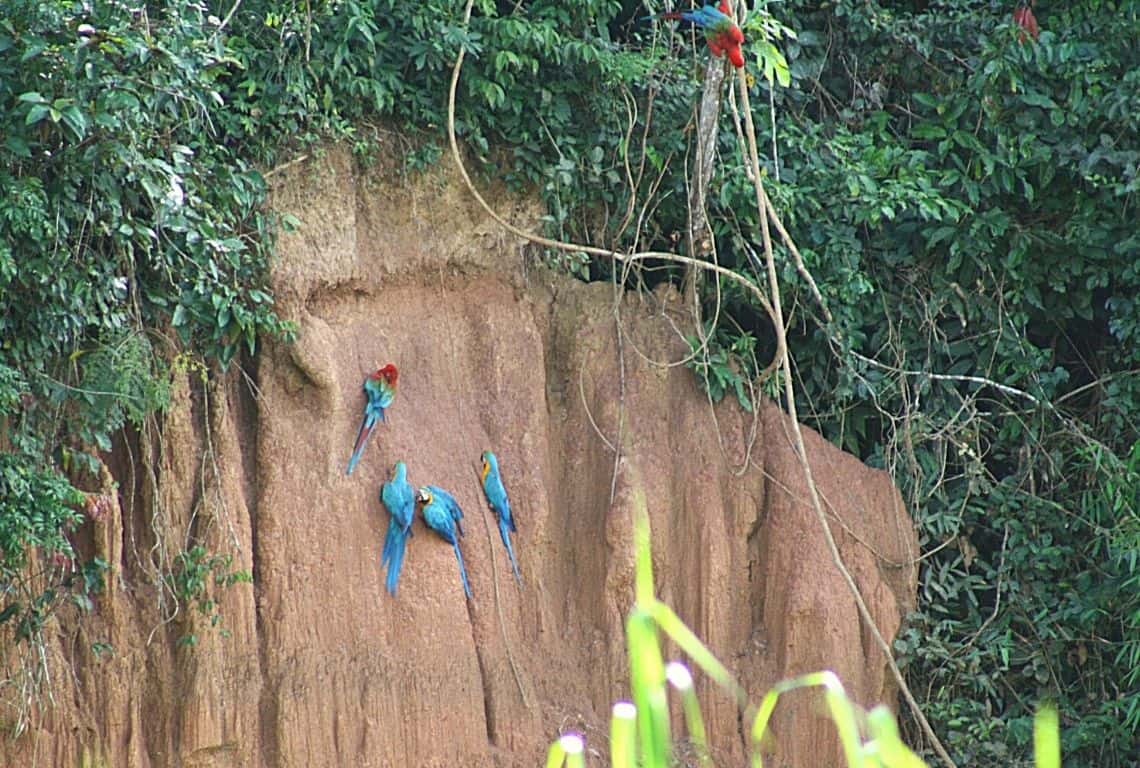 Why would various types of macaws and other parrots want to eat clay?
My guide told me that the birds eat the clay to neutralize and remove toxins from their bodies. The toxins, like naturally occurring tannins, are from the plants that the birds consume.
However, upon doing some additional reading, I found out that the birds might be using the clay to get the sodium.
TAMBOPATA MACAW PROJECT
Donald Brightsmith, who directs the Tambopata Macaw Project in the lowlands of southeastern Peru, points out that parrots in other regions around the globe consume foods that contain toxins, including those with tannins, and yet it's only those in the western Amazon basin who visit these clay banks, also called salt licks or clay licks.
Brightsmith argues that there's a connection between this clay-eating and the fact that the western Amazon basin is lacking in salt.
Macaws are fascinating birds.
Macaws usually mate for life. Once macaws reach breeding age at around 3 to 4 years old, they will pick a partner. Usually, they stay together for life. This is not just for the breeding purposes. They genuinely care for each other by sharing food, grooming each other and together caring for their off springs.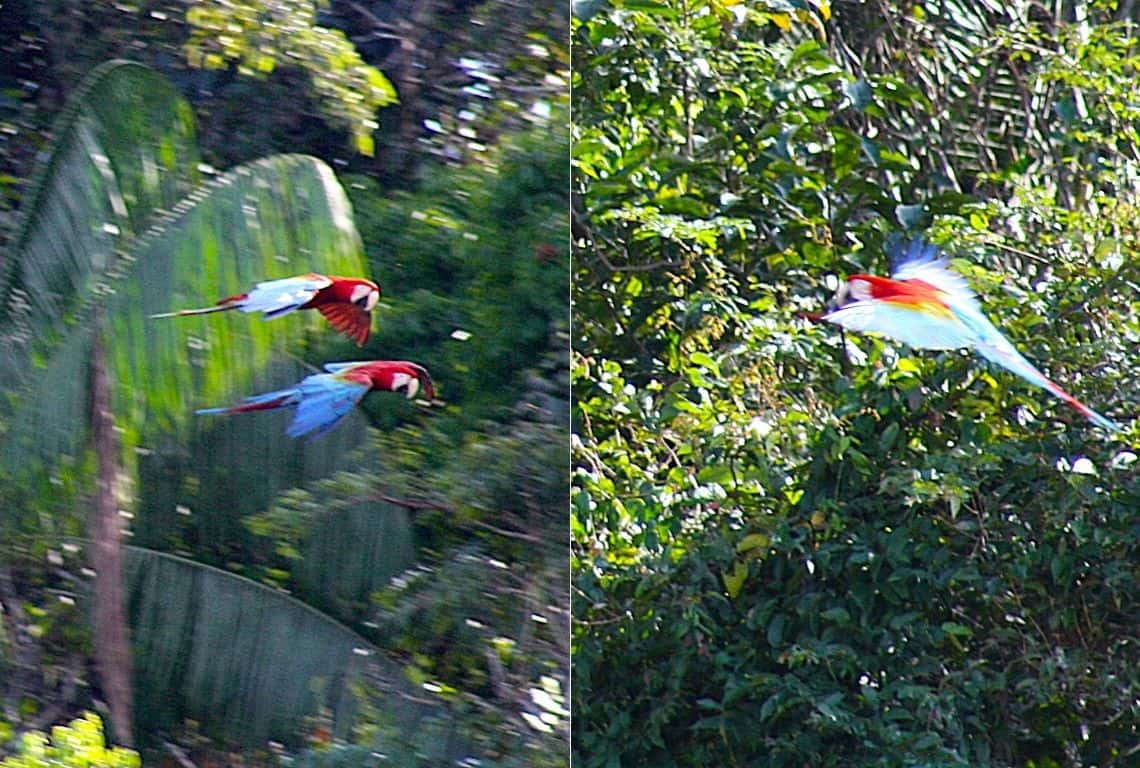 Macaws are very loud. They will announce their arrival at the clay lick with loud calls and shrieks. It is as if they are claiming their territory. Did you know that macaws give each of their chicks its own "name" and all members will know how to reproduce these individualized calls.
Macaws have a long life span. Macaws live to be around 60 years in the wild. Macaws life span in captivity can extend for up to 80-100 years.
Did you know that almost all macaw species are either threatened, critically endangered or extinct?
It is a great experience to see the parrots flock to the cliffs and feed on the clay.
My recommendation is to bring binoculars and a camera with a good zoom.
CANOPY OBSERVATION TOWER ACTIVITY
Canopy Observation Tower activity is a must for your trip to the jungle in Peru.
My recommendation is to schedule Canopy Observation Tower activity for sunrise. Not only you will have incredible views of the rainforest, but you will get to see it in the morning sunlight.
Keep in mind that you will have to get up super early to make it for sunrise. So, it is a good idea to get all your gear ready the night before. Once you wake up, get dressed and meet your guide outside the lodge.
It takes about 20-30 minutes to reach the Canopy Observation Tower from the lodge. You will be hiking through the jungle in pretty much complete darkness. Make sure you have a flashlight or a headlight.
Next, it takes roughly 15 minutes to climb the tower.
Now, the top platform can accommodate 4-5 people at a time. So, needless to say, talk to your guide the night before and make sure you have plenty of time to reach the tower for the sunrise. And, it would be great if you are the first one there. Otherwise, if another group beats you to it, you will have to wait your turn to climb onto the platform.
Now, as you ascent the tower, you will gradually leave he dense vegetation of the forest. As you are climbing, take a look at the changing scenery around you. It offers a large number and variety of habitats for rainforest species.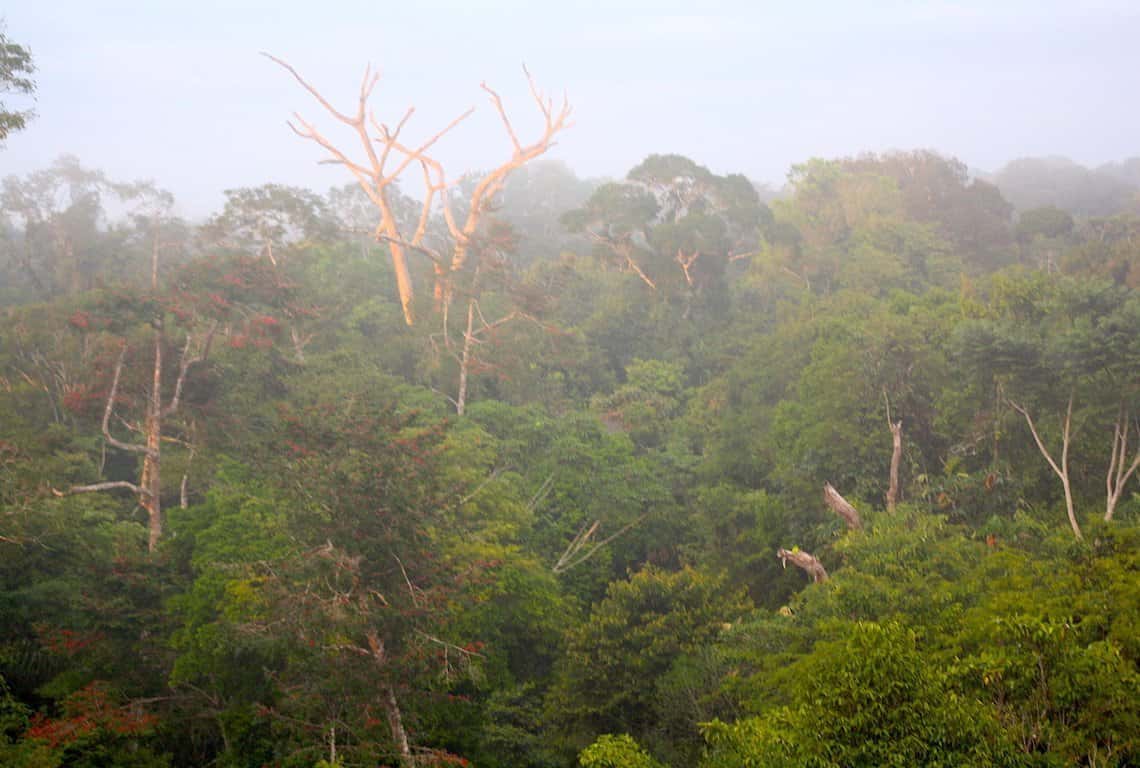 Did you know that the average size of the tallest trees ranges from 30 to 45 meters (98.4 to 147.6 feet). A few trees grow above these limits, reaching 60 meters (199 feet).
By the way, once you step on the platform, you will be able to finally take a good breath of air and be free of the oppressive humidity.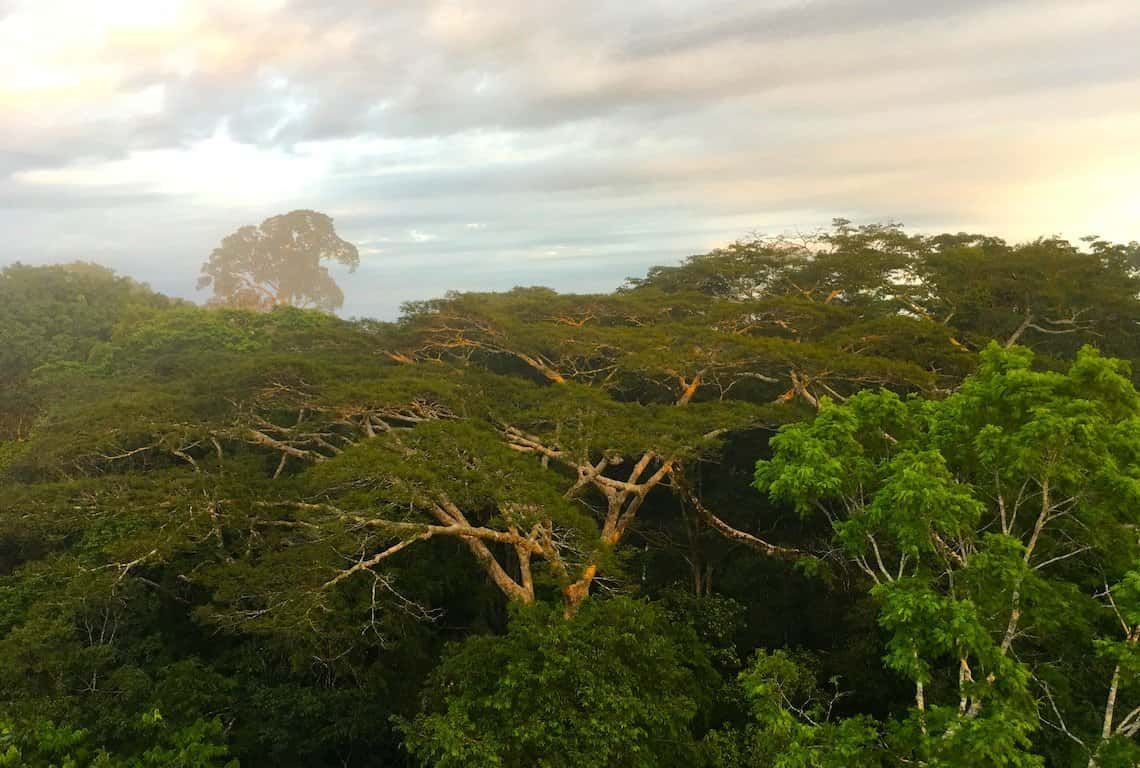 I have to honestly say that it was a bucket list experience for me to be able to see all the way to the horizon and be amazed by the endless sea of treetops. And, to top it off, see it all gradually bathed in the sunrise light.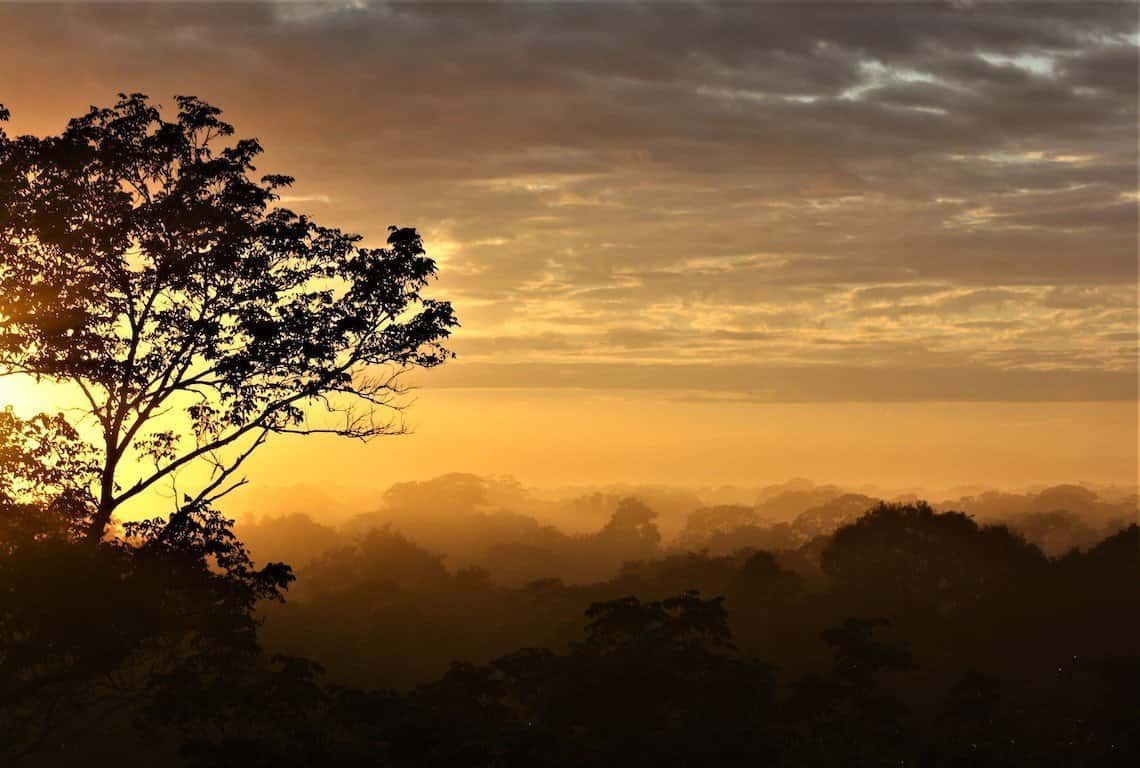 I did not know that the animals are most active in the canopy. My guide was pointing to me several Toucans perched on the tallest treetops. Then, the macaws loudly announced their arrival.
It was a 10 out of 10 kind of an experience! Don't miss it.
MAMMAL CLAY LICK ACTIVITY
Mammal Clay Lick activity is another awesome adventure that you should check out.
I just want to say that you need to be prepared to hike in the jungle in high temperatures and incredible humidity. Honestly, it is like a sauna once you step inside the jungle and you will be drenched in sweat in literally a couple of minutes.
The hike takes about 40 minutes to reach the watch hut (the blind).
Different animals visit the clay lick and it depends on your luck.
I was lucky to see howler monkeys.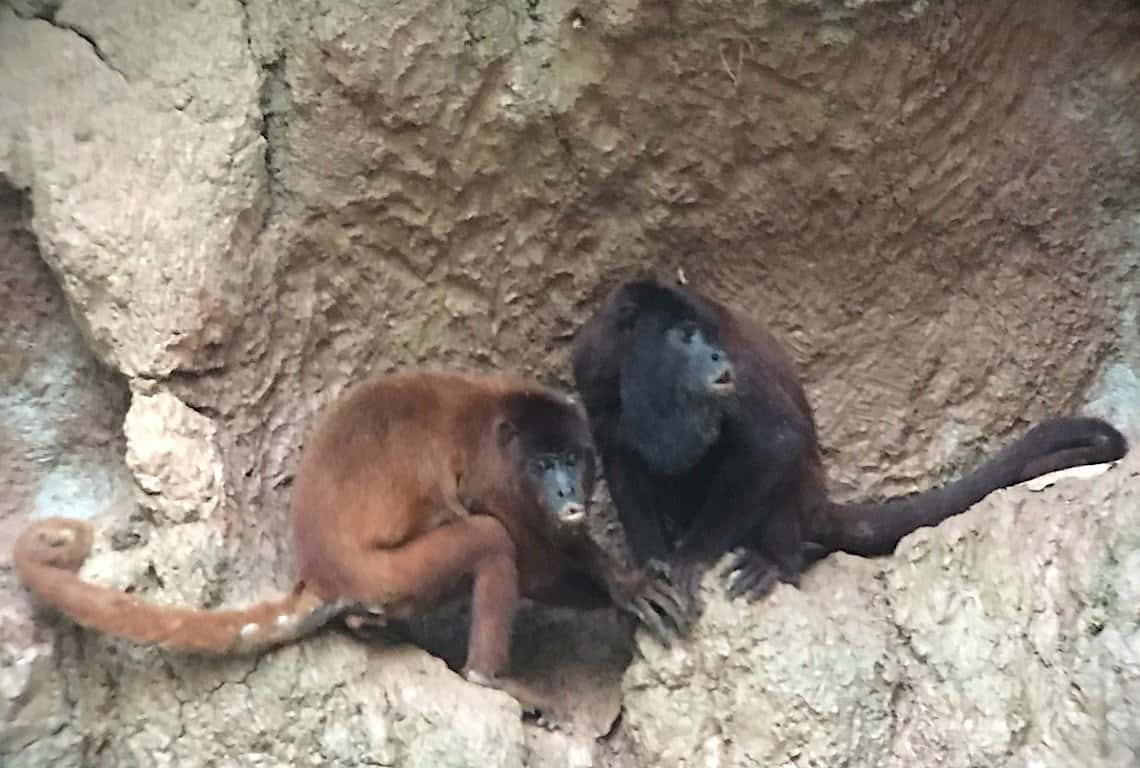 My guide took an excellent video.
NIGHT LECTURES
Make sure to participate in the night lectures. They are held every evening for about one hour and are conducted by the resident scientists.
They are fun and informational. You will learn about rainforest initiatives, listen to interesting stories and experiences.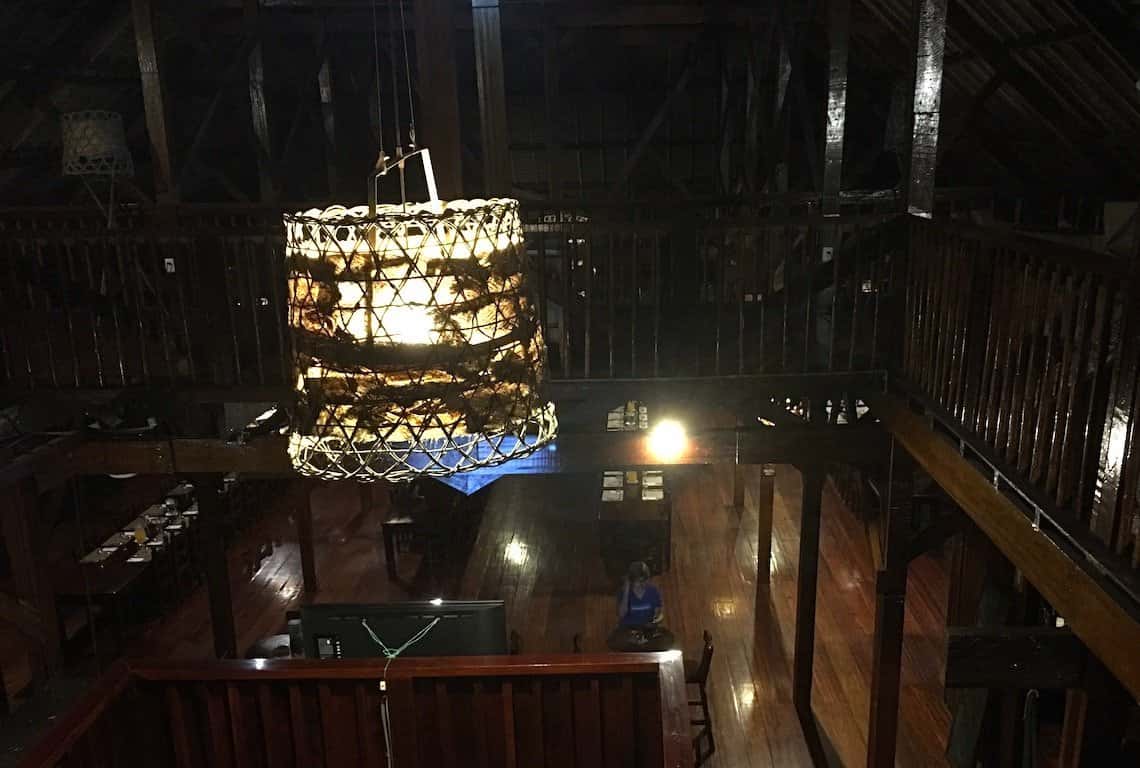 I listened to an interesting lecture about jaguars and watched the footage from several of the webcams set up throughout the jungle.
The area from Refugio Amazonas to the Tambopata Research Center is divided into two blocks on each side of the river. They form the Big Grid.
Each blue dot on the grid represents a camera station.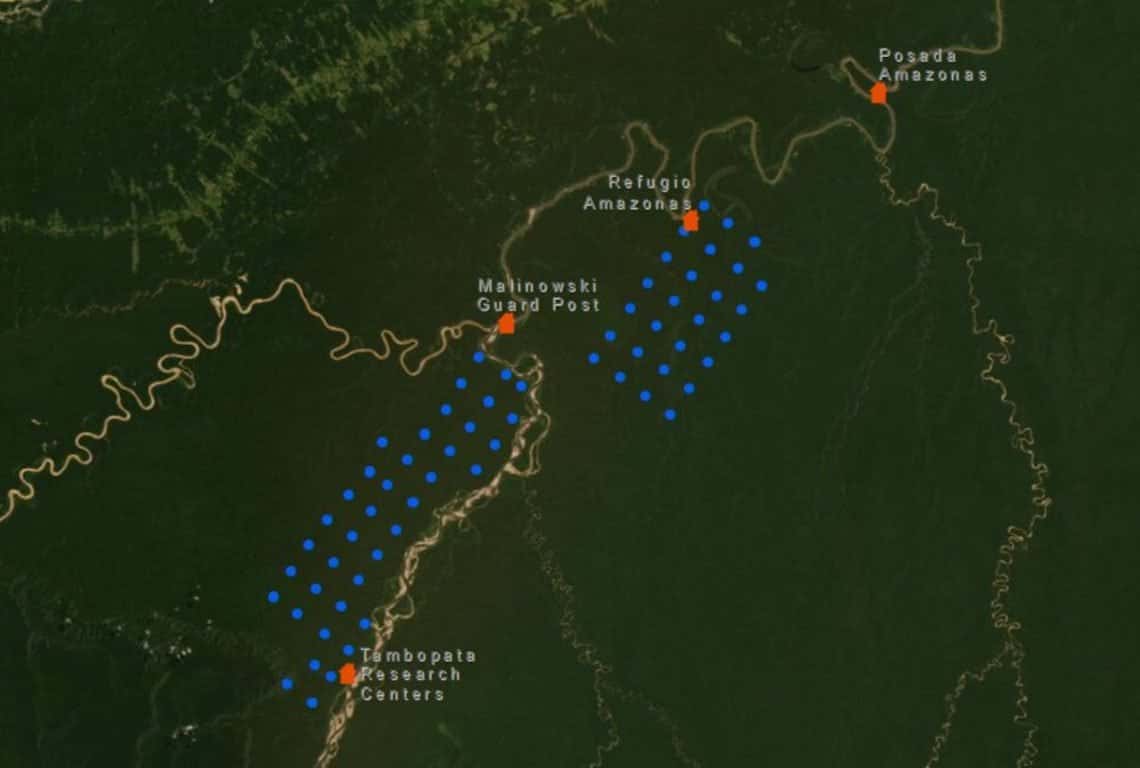 Interestingly, some stations have two cameras so that images of both sides of the animal are taken. It helps to  identify the jaguars since each jaguar has a unique pattern of spots.
Every 3 months a field team visits each camera to download the images and replace batteries. Images are collected and uploaded into the AmazonCam Tambopata project on Zooniverse where scientists can identify the different animals.
INTERESTING FACTS ABOUT JAGUARS
A beast of a name: The word "Jaguar" is a modern version of "yaguara", a term from one of the Brazilian Tupi-Guarani languages that means "beast".
One of the "big cats": The Jaguar belongs to the same genus as the Tiger, Lion, Leopard, Snow Leopard, and Clouded Leopard. These species are the "big cats" and share a common ancestor.
Water-loving: Jaguars have no qualms about taking to the water in pursuit of prey or when crossing a river. They will rush into wetlands to pursue capybaras or small caimans. You can even see them swimming across the Tambopata.
Rosettes, not spots: One of the ways to tell a Jaguar from the similar looking Leopard is by the pattern on its coat. Jaguars have rosettes or distinct groupings of three or four dark markings that surround a smaller spot. Leopards, on the other hand, have spots.
Widespread but rare: Historically, jaguars ranged from the southeastern United States south throughout the neotropics to eastern Argentina. They quickly disappear from areas impacted by people. Furthermore, they are listed as Near Threatened by conservation authorities.
Source: Rainforest Expeditions 
JUNGLE NIGHT WALK ACTIVITY
Do not miss Jungle Night Walk activity. It is the best! It is your chance to see the nocturnal species of the Amazon Rainforest.
While many animals go to sleep at night, many more emerge as soon as it gets dark. I found the jungle to be so much more alive at night compared to the day time.
If you decide to participate in Jungle Night Walk activity, then be prepared that you will be walking in deep darkness surrounded by all the jungle sounds.
My recommendation is to wear long sleeve shirt and pants (not shorts) to protect yourself from the insects. Above all, make sure you have your flashlight or your headlamp.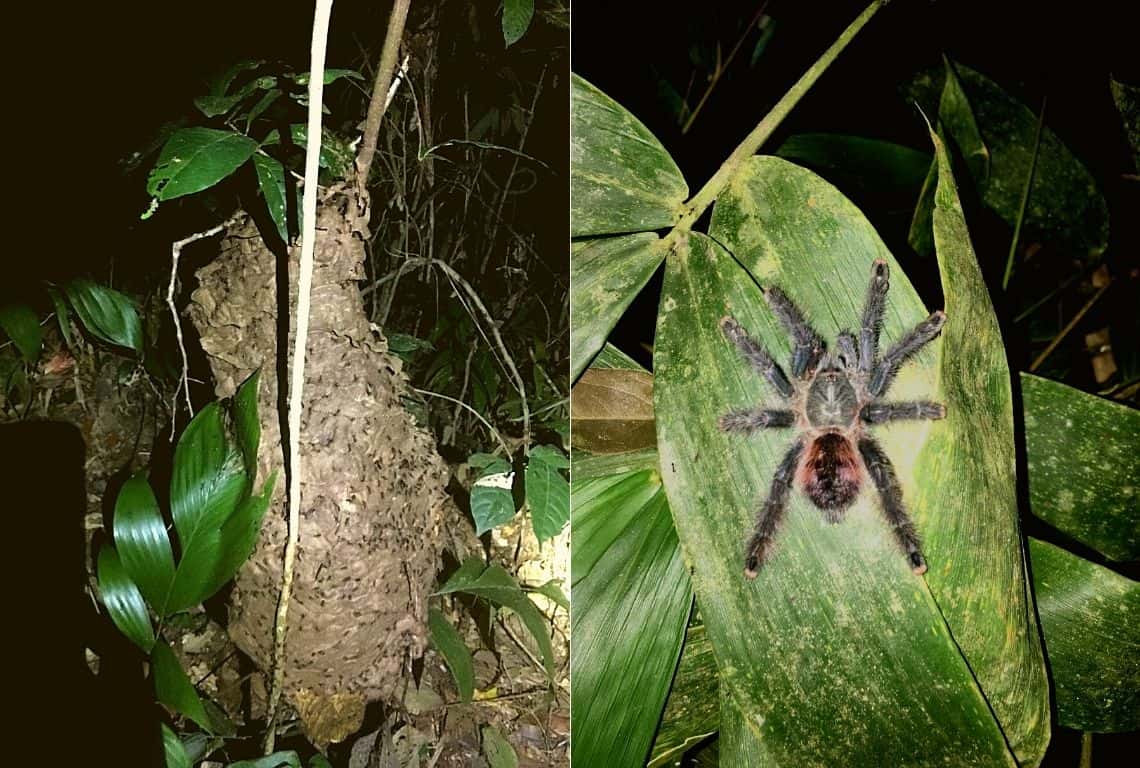 You are going to see a lot of insects. Especially, ants. Did you know that the Amazon region contains more than 1,000 species of ants.
I saw leaf cutter ants. It was quite a sight to watch them march, with each ant carrying a section of a leaf much greater than its own body.
Leaf cutter ants are amazing!
They cultivate fungus gardens, which they nourish with the leaves. The fungus is used to feed the ant larvae. What is very interesting is the fact that the bacteria that grow on their bodies enable them to  secrete chemicals that maintain the health of their fungus garden.
Leaf cutter ants from vast colonies with with a complex societies where different ants perform a range of duties. For example, the smallest minim ants tend the fungus garden, the patrolling minors act to defend forage lines, the mediae are responsible for cutting leaves and carrying them back to the nest, and the majors, the largest of the worker ants, combine with military discipline to defend the colony against intruders.
BRAZIL NUT TRAIL AND CAMP ACTIVITY
Learn all about Brazil nuts and Brazil nut trees!
Brazil nut trees are one of the largest and longest-lived trees in the Amazon rainforest. They can reach 50 m (160 ft) in height with a trunk 1 to 2 m (3 ft 3 in to 6 ft 7 in) in diameter. They may live for 500 years or more.
Brazil nut trees produce fruit that looks like a large capsule weighing as much as 2 kg (4 lb 7 oz). The capsules are so hard that we can only open them with several machete swings!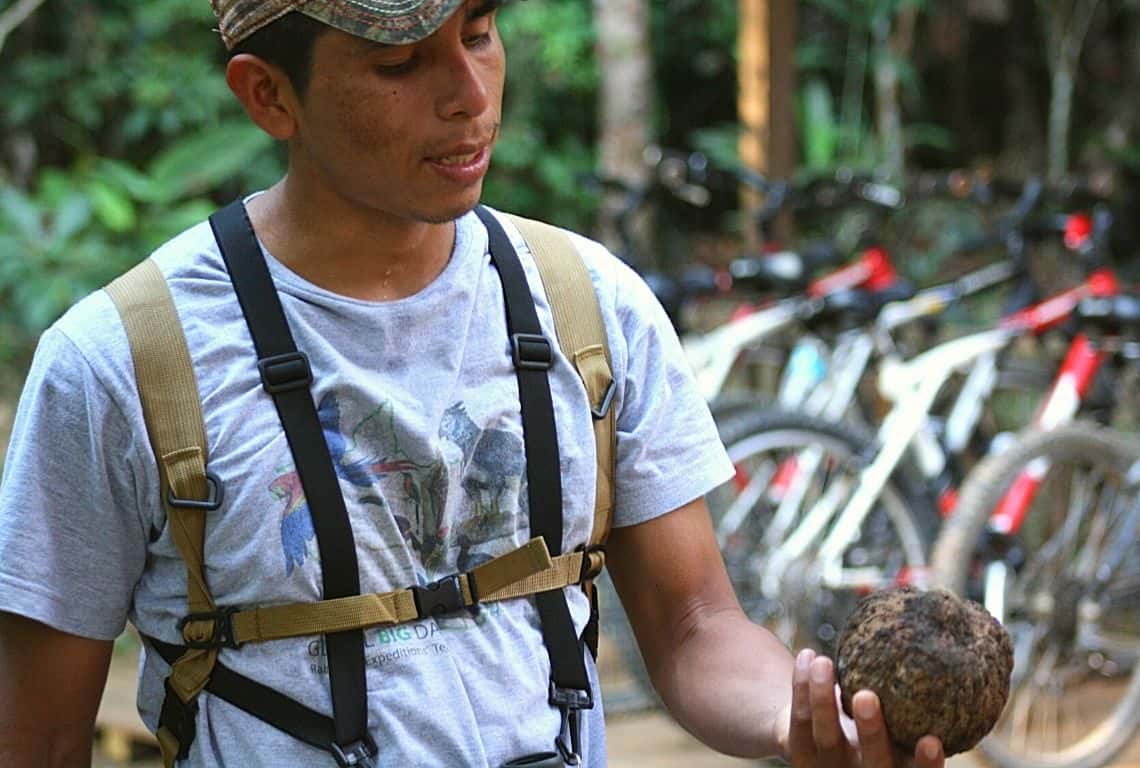 Inside the capsule are wedge-shaped seeds. The seeds are packed with healthy fats, selenium, magnesium, copper, phosphorus, manganese, thiamine, and vitamin E.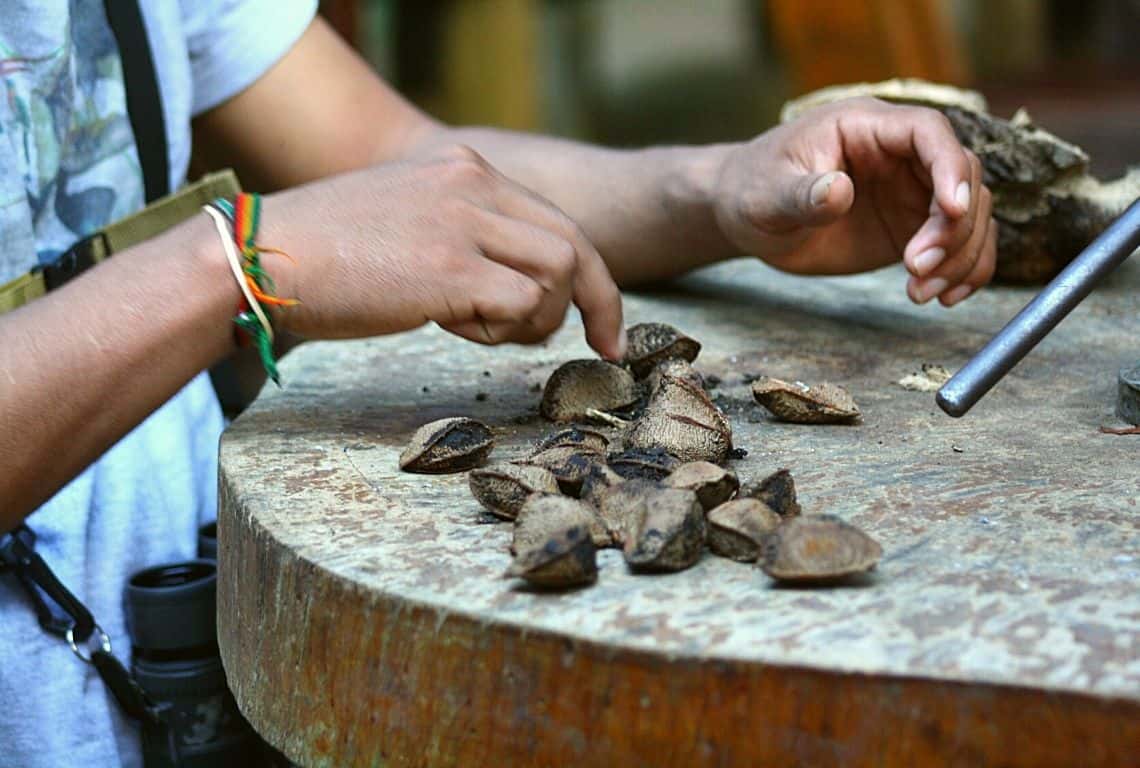 HOW TO PREPARE FOR PERUVIAN AMAZON RAINFOREST 3-DAY ADVENTURE
WHAT TO PACK FOR AN EXPEDITION INTO AMAZON
Clothing – pack light, thin and tightly woven clothing that includes long pants and long sleeve tops.
Long sleeve clothing and long pants will protect you from insect bites. Make sure to skip anything in bright colors or color white since these two colors attract insects. My recommendation is to pack knee high socks as well.
Also, pack several changes of clothing. You will need it! Trust me. The humidity is so high that after any activity you will be totally drenched in sweat. Or if not sweat, then an occasional rain will get you.
Shoes – bring ankle-high waterproof hiking shoes.
You will need good, sturdy shoes. The trails leading through the jungle are uneven and can be very muddy. Make sure you have waterproof shoes.
I strongly recommend bring a poncho. Even if you are going during the dry season, an occasional shower is not surprising.
Sunglasses
Flashlight and headlamp (plus, spare batteries)
Make sure to pack a good flashlight and have extra batteries. Electricity runs only for a few hours everyday. Also, bring a headlamp! You will need it for the Jungle Night Walk Activity.
Binoculars
Camera with a good zoom (plus, spare batteries) and tripod
A good zoom on your camera is invaluable. You will be able to get awesome pictures. Bring your tripod as well. I wish I did! You will need it for the Macaw Clay Lick Activity.
Sunblock
Insect repellent
Daypack
Cash – Soles and US Dollars/Euro for souvenirs, drinks, and gratuities, etc
Slippers or sandals for walking around the lodge
Keep in mind, that you will be asked to leave your shoes outside at the main entrance to the lodge. The trails can be very muddy and your
HOW TO BE SAFE IN PERUVIAN AMAZON RAINFOREST
Consult with your doctor and check with your health department prior to traveling to Peruvian Amazon Rainforest if there are any recommended vaccines you should be given. Look into hepatitis, typhoid, tetanus and an anti malaria vaccines/treatments. Malaria and yellow fever are present but extremely rare.
Drink only bottled water.
Use insect repellent. My recommendation is to use it several times a day!
Do not go into the jungle by yourself. Always, always be accompanied by the guides. All the activities are a la carte and the guides will accommodate any special requests you have.
Be quiet. Do not make loud noises. Observe the animals silently. You want to have a minimum impact on their natural habitat.
INTREPID SCOUT'S POINTERS FOR PERUVIAN AMAZON RAINFOREST –
3-DAY ADVENTURE ITINERARY
Go to Southern Amazon Jungle or Tambopata Region. Based on my research it has an incredibly diverse wildlife.
Fly into Puerto Maldonado from Cusco. It is a short flight and you will be in the middle of the jungle in less than an hour.
Check out Rainforest Expeditions. They are top notch!
Go to Refugio Amazonas Lodge. First of all, it is only 2 hours away on a boat from Puerto Maldonado. Second, it offers a long list of activities.
If you can only do a couple of activities, then my recommendation is to do: Macaw Clay Lick and Canopy Observation Tower at sunrise.
Finally, to help you with your planning process of your trip to Peru, make sure to check out my post: 1-Week Peru Itinerary.
Did you find this useful?
Why not save it to your Pinterest board!
Now, it is your turn, I would like to hear back from you!
Are you planning your trip to Peru?
Please let me know! Drop me a quick comment right below!
Also, click on any of the images below to get inspired and to help you with the planning process with your trip to Peru!