This site uses affiliate links, meaning that if you make a purchase through our links, we may earn an affiliate commission.
Nestled amidst the majestic Andes Mountains, Cusco stands as a testament to the ancient Inca civilization and boasts a wealth of historical treasures, captivating architecture, and vibrant traditions. With its winding cobblestone streets, awe-inspiring archaeological sites, and colorful markets, Cusco offers a captivating blend of past and present.
In this carefully crafted 2 days in Cusco itinerary, we invite you to discover vibrant Cusco. From exploring the impressive ruins of Sacsayhuaman to indulging in delectable Peruvian cuisine, you will witness the city's living history and experience the warmth of its people.
Get ready to be captivated by the timeless charm of Cusco!
Best Places to Stay in Cusco
When seeking the perfect place to stay in the captivating city of Cusco, look no further than the vibrant district of San Blas. This bohemian neighborhood is a hidden gem that guarantees a unique and unforgettable experience, blending charm, culture, and convenience seamlessly.
Here are some accommodations that I always enjoy staying in:
Antigua Casona San Blas – Discover the warmth of Peruvian hospitality and immerse yourself in a rich cultural experience at this charming boutique hotel in Cusco's San Blas district. Unwind in the peaceful central courtyard, enveloped by lush greenery and a soothing fountain. Indulge your taste buds at the onsite restaurant, where you can savor delectable dishes that showcase the flavors of Peruvian cuisine. Whether you crave traditional Peruvian specialties or international favorites, the restaurant at Antigua Casona San Blas offers a delightful dining experience. With its prime location in the vibrant San Blas neighborhood, you'll have easy access to art galleries, handicraft markets, and delightful cafes.
Atoq San Blas Hotel – Experience a delightful blend of comfort and cultural exploration at this charming boutique hotel nestled in Cusco's San Blas district. The cozy and inviting atmosphere, comfortable rooms, and a rooftop terrace with panoramic views of the city make for a truly memorable stay. Immerse yourself in the vibrant art scene of San Blas as you explore the nearby art galleries, craft shops, and quaint cafes. The attentive staff is always ready to provide personalized service and recommendations for local attractions, ensuring a memorable experience in the heart of Cusco.
Quinta San Blas by Ananay Hotels
Quinta San Blas by Ananay Hotels – Indulge in luxury at this exquisite boutique hotel located in the charming San Blas district of Cusco. With its elegant design, sophisticated rooms, and serene courtyard, this establishment offers a haven of tranquility in the heart of the city. Pamper yourself with the finest amenities, relish delectable cuisine at the renowned restaurant, and immerse yourself in the vibrant art scene and cultural attractions of San Blas.
Whether you choose Antigua Casona San Blas, Atoq San Blas Hotel, or Quinta San Blas by Ananay Hotels, you are guaranteed an extraordinary stay in Cusco's enchanting San Blas district.
Best Places to Eat in Cusco (Breakfast, Lunch, and Dinner)
Cusco is not only a city of historical wonders but also a gastronomic paradise. From traditional Peruvian cuisine to international flavors with a unique twist, Cusco offers a myriad of dining options that will tantalize your taste buds and leave you craving for more.
Whether you're seeking hearty traditional dishes, vegetarian or vegan options, or innovative fusion cuisine, Cusco has something to satisfy every craving. Check out some of these places:
Jack's Café: Located near the Plaza de Armas, Jack's Café offers a cozy atmosphere and serves a variety of breakfast options, including delicious pancakes, omelets, and freshly squeezed juices.
The Meeting Place: This charming café not only offers a tasty breakfast menu featuring homemade granola, eggs Benedict, and avocado toast, but it also supports a social cause by providing training and employment to local youth.
Green Point: A vegetarian and vegan restaurant with a welcoming ambiance, Green Point offers a diverse menu of healthy and flavorful dishes, including vegan burgers, quinoa bowls, and refreshing smoothies.
Pachapapa: Located in the San Blas neighborhood, Pachapapa serves traditional Peruvian cuisine in a rustic setting. Enjoy mouthwatering dishes such as alpaca steak, rocoto relleno (stuffed spicy pepper), and delicious Andean soups.
Chicha por Gastón Acurio: This renowned restaurant, founded by renowned Peruvian chef Gastón Acurio, showcases the flavors of Peruvian cuisine in a contemporary setting. Sample dishes like causa (potato terrine), tiraditos, and a variety of ceviche.
Cicciolina: Located in the heart of Cusco, Cicciolina offers a fusion of Peruvian and international flavors. The menu features dishes such as grilled octopus, Peruvian-style risotto, and creative cocktails, all served in a cozy and elegant setting.
Transportation Options in Cusco
Navigating the captivating city of Cusco efficiently and conveniently is essential for making the most of your visit. With its ancient ruins, bustling markets, and picturesque neighborhoods, Cusco offers a plethora of sights and experiences waiting to be explored. To assist you in getting around this vibrant city with ease, we have compiled a guide to help you make the most of your time in Cusco.
Cusco's compact city center lends itself well to exploration on foot. Take leisurely strolls along its narrow cobblestone streets, immerse yourself in the charming atmosphere, and uncover hidden gems at your own pace. Walking allows you to appreciate the city's architectural wonders, vibrant markets, and local culture up close.
Taxis are readily available throughout Cusco, providing a convenient and flexible mode of transportation. You can easily hail a taxi on the street or locate them at designated taxi stands. It's advisable to negotiate the fare or ensure that the meter is used before embarking on your journey.
Opting for a private guide and driver offers the utmost flexibility and convenience. This option allows you to tailor your itinerary according to your preferences, and having a knowledgeable guide by your side can enhance your experience significantly.
There is an abundance of full-day or half-day tours available that cover Cusco's major attractions. This is a convenient option for those seeking a guided experience, as it saves you the hassle of planning and navigating on your own. However, it's important to note that tours may limit your flexibility to explore at your own pace.
By utilizing walking, taxis, private guides/drivers, or joining tours, you can navigate Cusco's enchanting cityscape effortlessly, ensuring you do not miss out on the remarkable sights and experiences it has to offer.
Amazing 2 Days in Cusco Itinerary
DAY 1
Morning:
Savory Delights: A Delicious Breakfast in Cusco
Plaza de Armas: Unveiling Cusco's Colonial Splendor
Qoricancha: Exploring the Temple of the Sun
San Pedro Market: Immerse Yourself in Local Flavors
Afternoon:
Bohemian Bliss: Lunch and Art in San Blas
Artisan's Haven: Discovering San Blas Neighborhood
San Blas Church Overlook: Marvel at Cusco's Panoramic Views
Evening:
Sunset Serenity: San Cristobal Church and Breathtaking Views
Gastronomic Delights: Dinner and Culinary Exploration in Cusco
Nighttime Wonders: Strolling Through Illuminated Cusco
A Delicious Breakfast in Cusco
Start your day in Cusco with a delightful breakfast at a local café!
My two go-to places are either Jack'sCafé or The Meeting Point.
Do not hold back and indulge in mouthwatering options like quinoa pancakes topped with fresh fruits and local honey or savor a classic Andean breakfast bowl filled with wholesome ingredients like quinoa, chia seeds, and yogurt.
Pair your breakfast with a steaming cup of aromatic Peruvian coffee or a refreshing herbal tea to energize you for the day ahead.
After breakfast, make your way to the historic Plaza de Armas, the main square of Cusco. Be prepared to be awestruck by the remarkable colonial architecture that surrounds the plaza.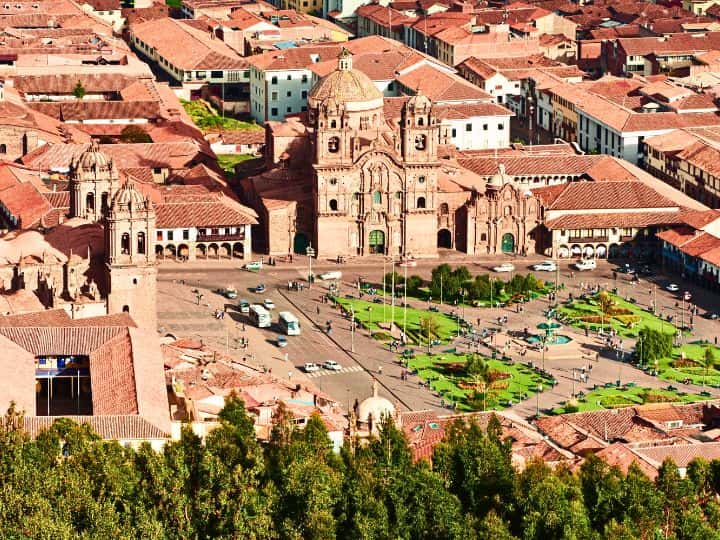 Plaza de Armas / 2 Days in Cusco Itinerary
Marvel at the grandeur of the Cusco Cathedral, a prime example of Spanish colonial design, with its intricate façade and impressive collection of religious art.
Explore the nearby Church of La Compañía de Jesús, renowned for its ornate Baroque architecture and exquisite altars. Take your time to appreciate the blend of Spanish and Inca influences that make these structures truly unique.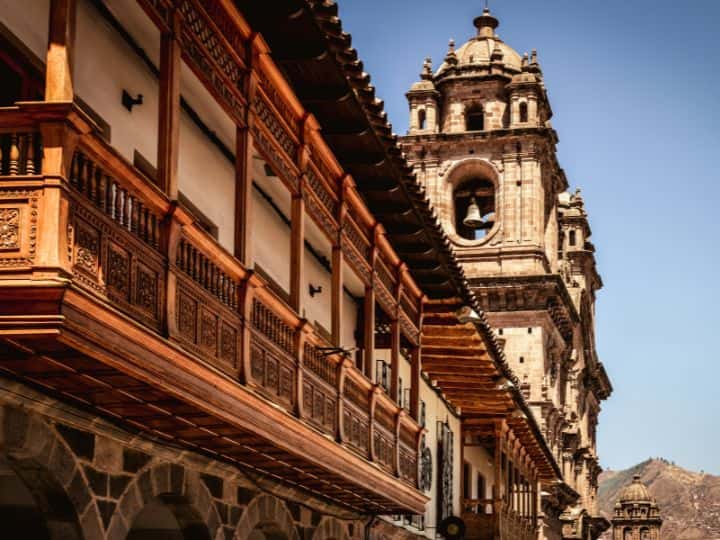 Plaza de Armas / 2 Days in Cusco Itinerary
GOOD TO KNOW: As you explore the Plaza de Armas, take note of Hatunrumiyoc Street, which runs adjacent to the Cusco Cathedral. This street is home to the famous Inca Stone Wall, known for its incredible precision and craftsmanship. The massive stones fit together without the use of mortar, showcasing the engineering prowess of the Inca civilization. One particular stone, known as the Twelve-Angled Stone, stands out for its remarkable shape, which has become an iconic symbol of Cusco's ancient architectural heritage.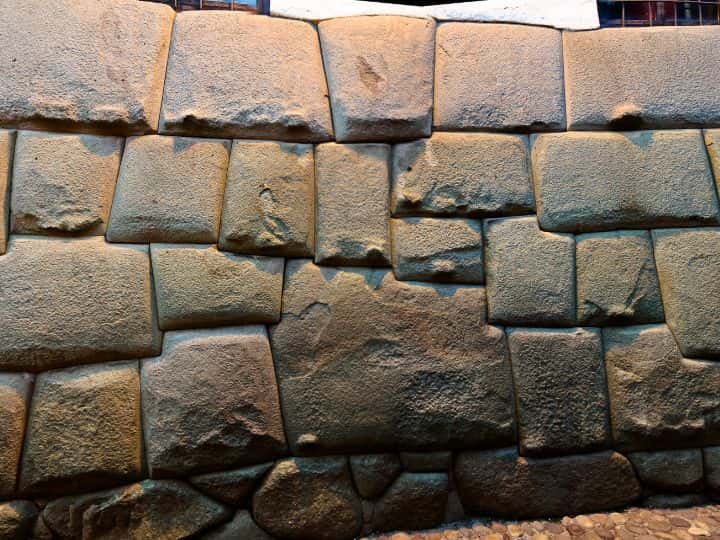 Twelve-Angled Stone / 2 Days in Cusco Itinerary
PRO TIP: For a quieter atmosphere, consider visiting the Plaza de Armas early in the morning. The square is often less crowded, allowing you to appreciate the architectural beauty of the Cusco Cathedral and the Church of La Compañía de Jesús in a more serene setting. You can also capture stunning photos without the hustle and bustle of the daytime crowds.
Qoricancha - The Temple of the Sun
Next is Qoricancha, or the Temple of the Sun. It is a must-visit site in Cusco, located just a short walk from the Plaza de Armas.
Qoricancha, meaning "Golden Enclosure" or "Golden Courtyard" in Quechua, was one of the most revered and significant religious sites for the Inca civilization. It was dedicated to Inti, the Sun God, who held a central position in Inca religious beliefs.
Originally built by the Inca ruler Pachacuti, the temple was constructed with remarkable precision and adorned with golden decorations. The walls were made of finely crafted stone blocks, expertly fitted together without the use of mortar. The temple's grandeur and opulence were renowned throughout the Inca Empire.
When the Spanish conquistadors arrived in Cusco in the 16th century, led by Francisco Pizarro, they were amazed by the splendor of Qoricancha. However, they saw it as a symbol of paganism and sought to dismantle and replace it with Christian structures.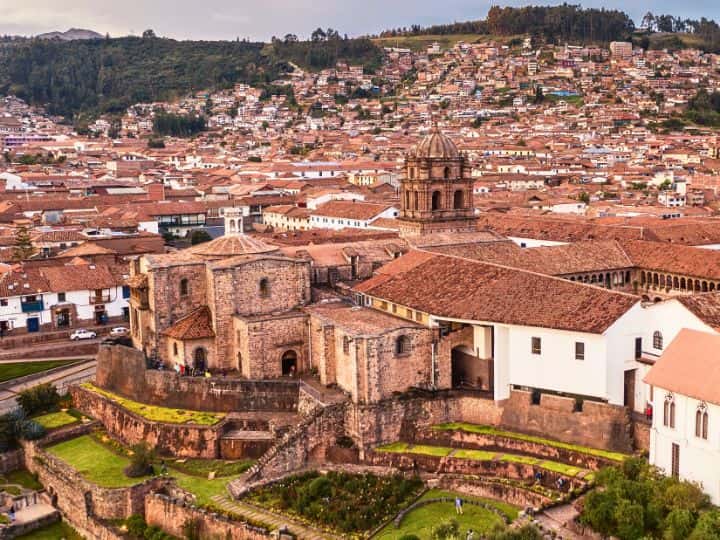 Coricancha / 2 Days in Cusco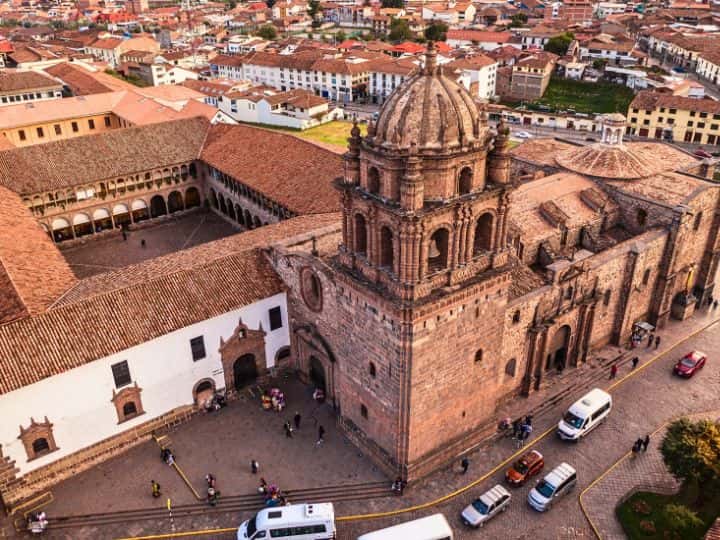 Coricancha / 2 Days in Cusco
The Spanish repurposed the temple's foundations, using them as the base for the construction of the Santo Domingo Convent. Much of the original Inca stonework was preserved and integrated into the new colonial architecture, resulting in a unique blend of Inca and Spanish styles.
Despite the Spanish efforts to suppress Inca religious practices, Qoricancha remains a significant symbol of Inca culture and heritage. The site showcases the architectural achievements of the Incas and serves as a reminder of the complex spiritual beliefs and reverence for the sun that were integral to Inca society.
You can explore the temple's remaining structures, witness the impressive Inca stonework, and learn about the religious rituals and traditions that took place within its walls. It stands as a testament to the enduring legacy of the Inca civilization and the cultural richness of Cusco.
Coricancha / 2 Days in Cusco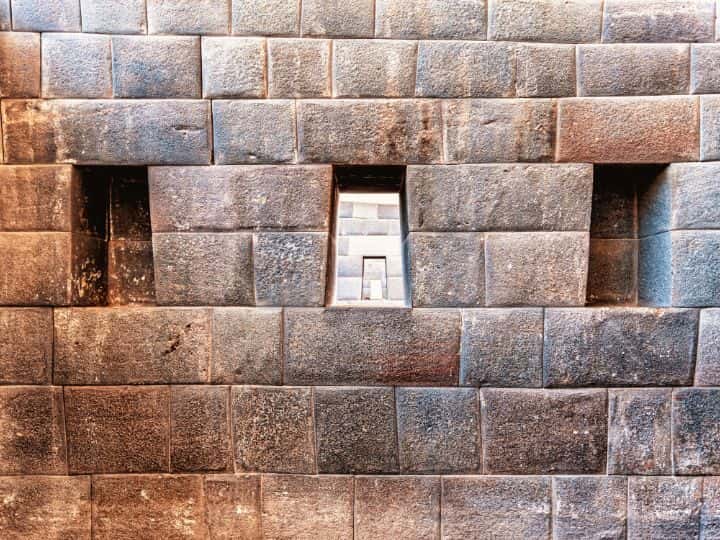 Coricancha / 2 Days in Cusco
To truly immerse yourself in the vibrant culture of Cusco, a visit to the bustling San Pedro Market is a must. This lively marketplace is a sensory delight, where you can explore a world of colors, aromas, and flavors.
As you step into the market, you will be greeted by a kaleidoscope of vibrant stalls. Fresh fruits and vegetables overflow in a riot of colors, ranging from familiar favorites like bananas and oranges to unique Andean produce like purple corn and physalis.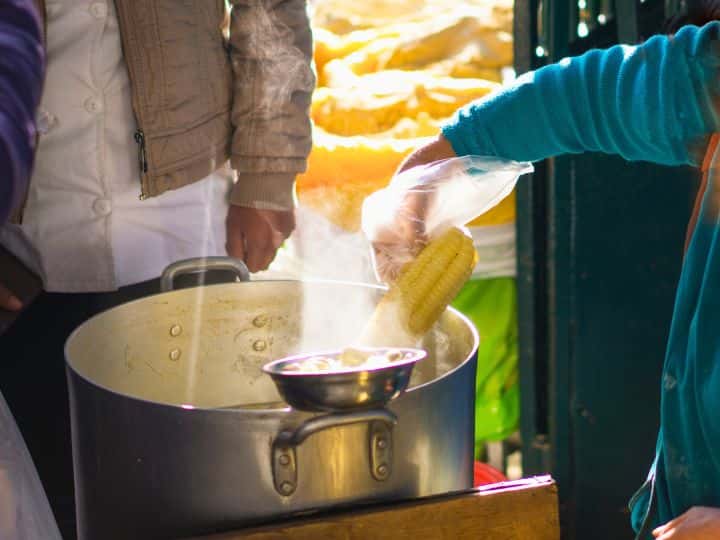 San Pedro Market / 2 Days in Cusco
One of the highlights of San Pedro Market is the opportunity to sample traditional Peruvian snacks. Head to the food section, where you will find vendors preparing mouthwatering empanadas filled with savory meats or vegetarian fillings like cheese and spinach. The freshly baked pastries are crispy on the outside and delightfully flavorful on the inside.
Do not miss the chance to explore the artisanal products on offer at the market. Browse through the stalls showcasing alpaca wool garments, intricately woven textiles, and handmade jewelry. These unique items make excellent souvenirs to remember your Cusco adventure, while also supporting local artisans.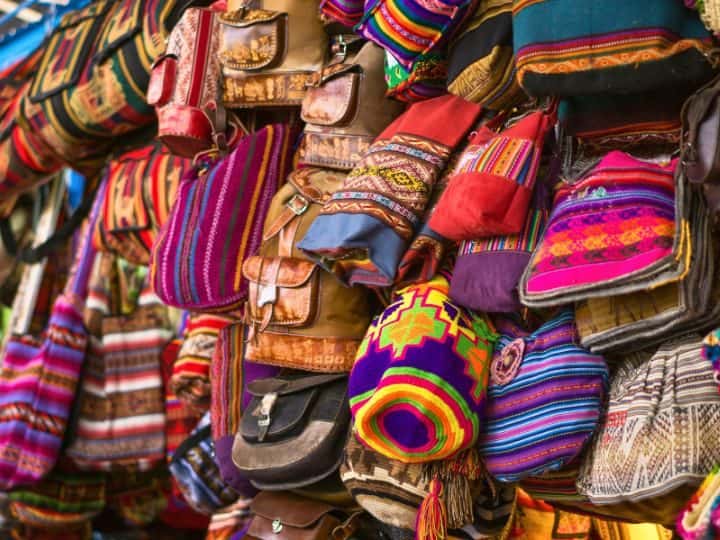 San Pedro Market / 2 Days in Cusco
GOOD TO KNOW: San Pedro Market can get crowded, especially during peak hours. Bargaining is common at the market, especially for non-food items. Don't hesitate to negotiate the price if you are interested in purchasing artisanal products.
PRO TIP: To make the most of your visit to San Pedro Market, come hungry and ready to try new flavors. Be adventurous and sample some of the lesser-known fruits and snacks offered by the vendors. Additionally, keep an eye out for the daily specials and seasonal produce, as they often offer the freshest and most unique culinary experiences.
Lunch and Art in San Blas
As midday approaches, treat yourself to a leisurely lunch in the vibrant San Blas neighborhood. This artistic district is known for its charming streets, quaint cafes, and bohemian ambiance.
Choose from a variety of cozy restaurants that offer traditional Peruvian dishes with a contemporary twist. Sample the famous ceviche, a refreshing dish of marinated raw fish, or indulge in a flavorful lomo saltado, a stir-fry of beef, onions, and tomatoes served with rice and potatoes.
As you dine, take in the artistic atmosphere and admire the works of local painters and artisans displayed in the surrounding galleries.
GOOD TO KNOW: Green Point is my favorite place for lunch!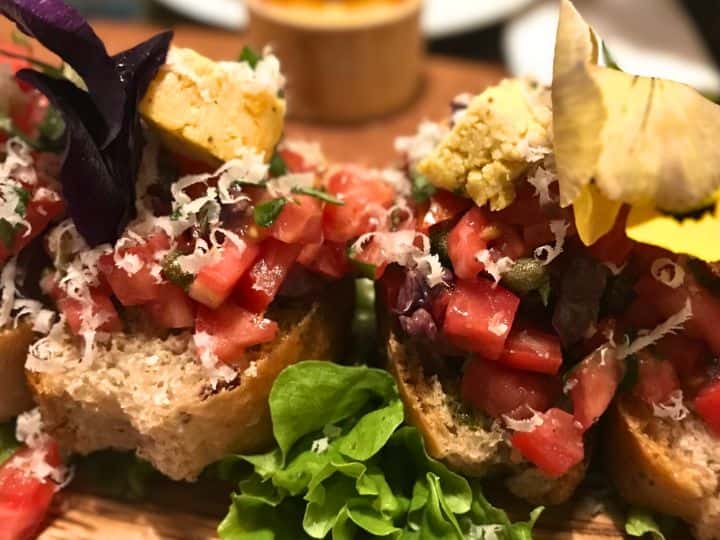 Lunch at Green Point / 2 Days in Cusco
After lunch, immerse yourself in the creative spirit of San Blas!
Wander through the narrow cobblestone streets, lined with artisan workshops and boutique stores. The neighborhood of San Blas is a haven for artists and artisans, and you will find a wealth of unique craftsmanship to explore.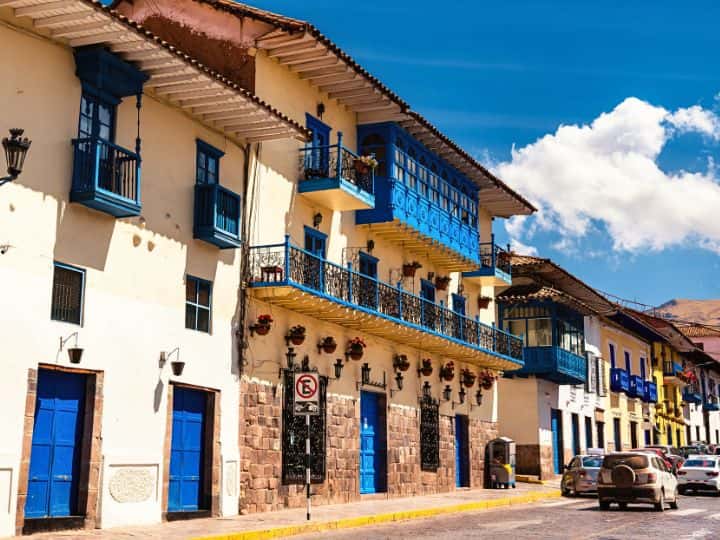 San Blas in Cusco / 2 Days in Cusco
As you stroll through San Blas, you will encounter a diverse range of artistic expressions. Admire the intricate woodwork, hand-carved by talented artisans, showcasing traditional Andean motifs and contemporary designs. Marvel at the skillful weaving of textiles, which may include vibrant tapestries, cozy alpaca wool garments, or intricately patterned accessories.
Many workshops have open doors, allowing you to witness firsthand the craftsmanship that goes into each piece.
GOOD TO KNOW: The San Blas neighborhood is located uphill, so be prepared for some uphill walking and uneven surfaces. Wear comfortable shoes and take breaks as needed. Many shops and workshops in San Blas are closed on Sundays, so plan your visit accordingly. Bargaining is not as common in San Blas compared to other markets in Cusco. However, if you are purchasing multiple items or custom pieces, it is worth asking if there's any flexibility in the price.
A highlight of the San Blas neighborhood is the San Blas Church, a beautiful colonial-era church that boasts impressive architectural details. As you approach the church, you will be greeted by its striking stone facade and ornate wooden doors, which reflect the colonial influence of Cusco's architectural heritage.
Next, make your way to the church's overlook, a short uphill climb from the main plaza, and be prepared to be captivated by the panoramic views that await you.
From this vantage point, you will be treated to breathtaking vistas of Cusco's picturesque landscape. Take in the sight of the city's red-tiled rooftops. Admire the surrounding mountains that provide a stunning backdrop, showcasing the natural beauty of the Andean region.
From the overlook, you will also be able to spot some of Cusco's iconic landmarks. Look out for the Cusco Cathedral, with its impressive bell towers, and the Church of La Compañía de Jesús, with its exquisite Baroque facade. These landmarks serve as a reminder of Cusco's rich history and its status as the former capital of the Inca Empire.
GOOD TO KNOW: The uphill climb to the San Blas Church overlook may be challenging, particularly if you are not accustomed to the altitude. Take your time, rest when needed, and drink plenty of water to stay hydrated.
Sunset at the San Cristobal Church
As the sun begins its descent, head towards the picturesque neighborhood of San Cristobal, which offers a unique vantage point to witness a mesmerizing sunset over the city of Cusco.
Embark on a short hike up to the San Cristobal Church, located atop a hill. The path leading to the church is well-defined, and you will be surrounded by charming streets and traditional houses as you make your way up.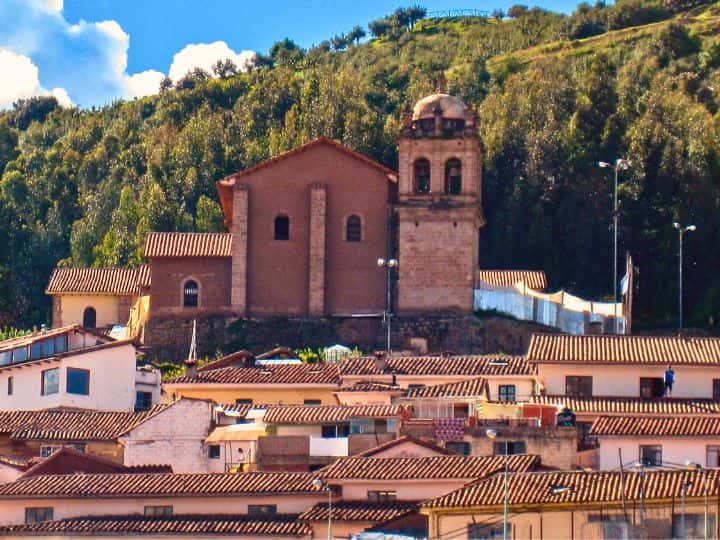 San Cristobal Church / 2 Days in Cusco
As you reach the top, prepare to be captivated by the panoramic views that unfold before you. From this elevated vantage point, you will have an uninterrupted view of the city's iconic landmarks.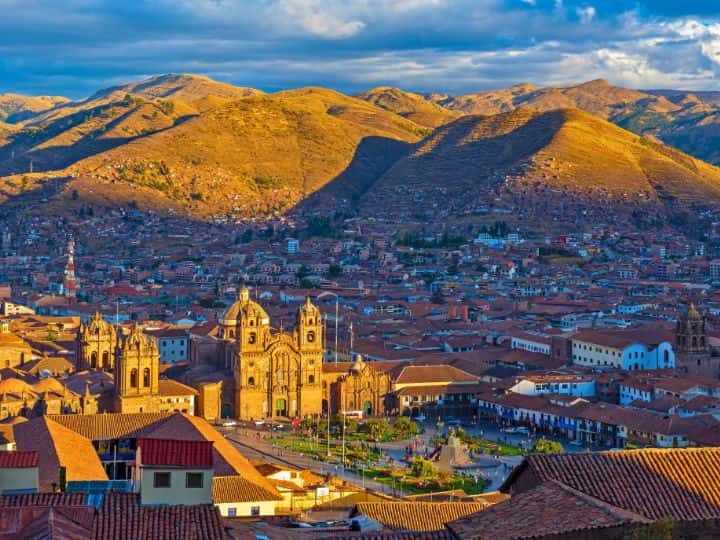 View of Cusco at Sunset / 2 Days in Cusco
GOOD TO KNOW: The hike to the San Cristobal Church involves some uphill sections, so take your time and rest as needed.
PRO TIP: Check the sunset time in Cusco and plan your visit accordingly. Arriving at least 30 minutes before sunset allows you to find an excellent spot to enjoy the changing colors of the sky and the cityscape.
Dinner and Culinary Exploration in Cusco
As the evening unfolds, Cusco's diverse culinary scene beckons you to indulge in a memorable dining experience. From traditional Peruvian cuisine to innovative fusion dishes, the city offers a plethora of options to satisfy your palate.
Choose a restaurant that piques your interest and embark on a culinary adventure!
Delight in the flavors of Peruvian classics such as anticuchos (grilled skewered meat), causa (layered potato dish), or ají de gallina (creamy chicken stew). Pair your meal with a refreshing Pisco Sour, Peru's national cocktail, and toast to a day well spent in the enchanting city of Cusco.
My two go-to places are Chicha por Gastón Acurio and Cicciolina.
Stroll Through Illuminated Cusco
To conclude your day in Cusco, take a leisurely stroll through the enchanting streets of the city.
As you wander, allow yourself to be captivated by the beautifully lit historical buildings, which take on a magical aura in the evening. The warm glow emanating from the colonial facades creates a romantic ambiance, setting the stage for a memorable evening walk.
Immerse yourself in the lively nightlife scene as you pass by bars and clubs that come alive with vibrant music and dancing. The vibrant energy of Cusco's nightlife adds an exciting dimension to your evening exploration, offering a glimpse into the city's vibrant social scene and cultural festivities.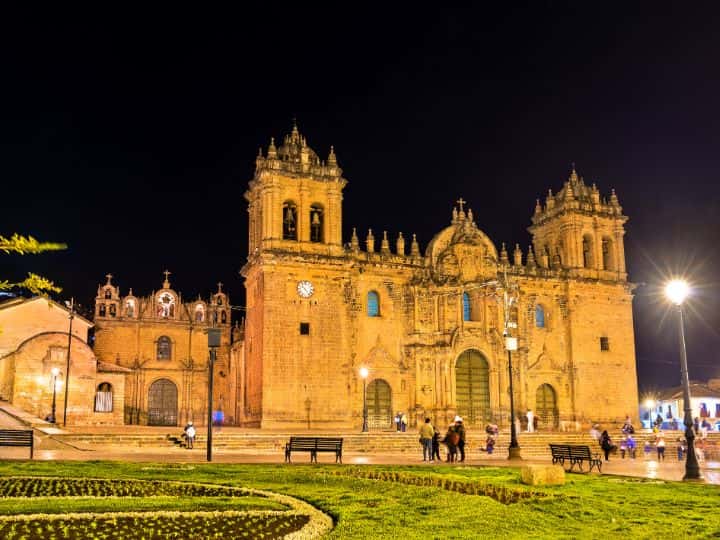 Cusco at Night / 2 Days in Cusco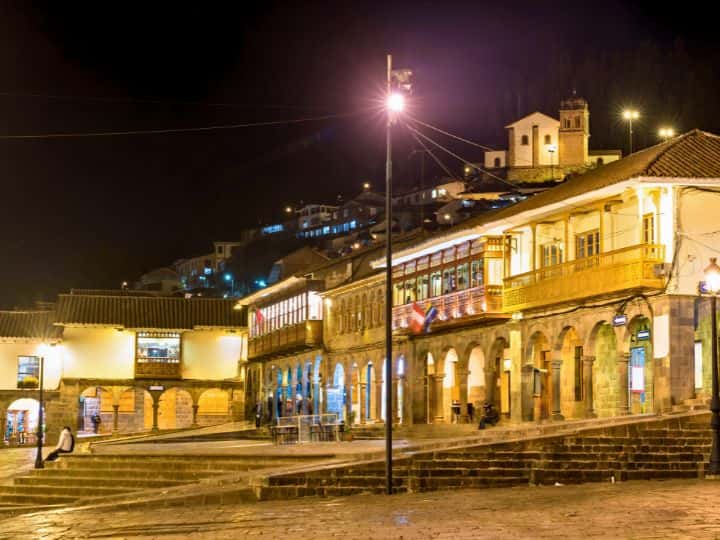 Cusco at Night / 2 Days in Cusco
Alternatively, if you prefer a quieter atmosphere, find a cozy café tucked away in one of the charming streets. Sit back, relax, and unwind as you reflect on the rich history and experiences of your first day in Cusco. Savor a cup of Peruvian coffee or indulge in a sweet treat, allowing the ambiance of the café to envelop you.
Let the charm of the city embrace you as you soak up the unique atmosphere of the evening. The combination of beautifully lit buildings, lively nightlife, and cozy cafes creates a perfect setting for a romantic evening walk or a peaceful moment of introspection.
GOOD TO KNOW: Cusco's city center is generally safe for walking, but it is always a good idea to exercise caution and be aware of your surroundings, especially in crowded areas.
If you're interested in exploring Cusco's nightlife, ask locals or your hotel staff for recommendations on popular bars, clubs, or live music venues to visit during your evening stroll.
PRO TIP: Consider bringing a light jacket or layer, as evenings in Cusco can get chilly.
DAY 2
Morning:
Sacsayhuaman: Prepare to Be Enthralled by Remarkable Engineering
Qenko: Unveil the Religious and Astronomical Practices of the Incas
Afternoon:
Puka Pukara: Explore the Red Fortress
Tombomachay: Discover the Site Dedicated to Water Warship
Start your day by visiting Sacsayhuaman, an incredible archaeological site located just outside of Cusco. This ancient Inca fortress stands as a testament to the remarkable engineering and stonework skills of the Incas.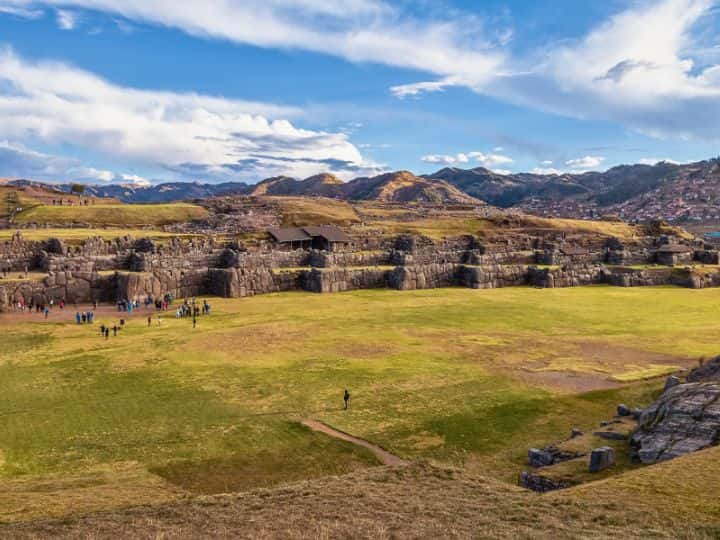 Sacsayhuaman 2 Days in Cusco
The site's name translates to "satisfied falcon" in Quechua, and it is believed to have been an important ceremonial and military complex during the Inca Empire.
As you explore Sacsayhuaman, marvel at the massive stone walls that make up the fortress. Some of these stones are enormous, weighing up to 200 tons. It is awe-inspiring to consider the ingenuity and strength that the Incas possessed to transport and shape these stones with such precision.
One of the most impressive features of Sacsayhuaman is its intricate stone masonry. The Incas employed a technique known as "ashlar" to fit the stones together without the use of mortar. The precision with which the stones were cut and fitted is truly remarkable, with some walls featuring interlocking joints that are barely visible.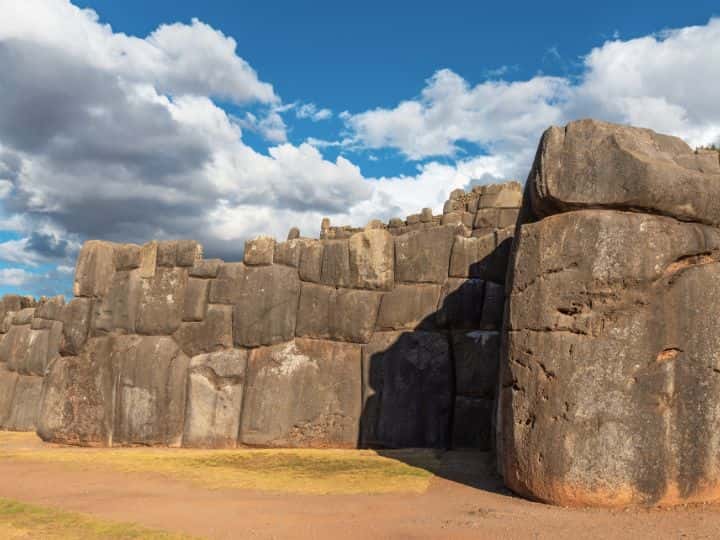 Sacsayhuaman / 2 Days in Cusco
From the hilltop of Sacsayhuaman, you will be rewarded with panoramic views of Cusco and its surrounding landscapes. Take a moment to soak in the grandeur of the ancient citadel while appreciating the breathtaking scenery that stretches before you. The sweeping vistas allow you to grasp the strategic importance of Sacsayhuaman as a defensive stronghold and a place of ceremonial significance.
GOOD TO KNOW: Sacsayhuaman is located about 2 kilometers (1.2 miles) from the city center of Cusco. You can reach the site by taxi or as part of a guided tour.
PRO TIP: The site is situated at an elevation of approximately 3,700 meters (12,140 feet), so be mindful of the high altitude. Take it easy and drink plenty of water.
Continue your exploration by visiting Qenko, a fascinating ceremonial site located just a short distance from Sacsayhuaman.
Qenko, which means "zigzag" in Quechua, is an intriguing complex with unique stone formations and rock channels that offer insights into the religious and astronomical practices of the Incas.
As you arrive at Qenko, you will be greeted by an impressive carved stone formation that resembles a natural amphitheater. This structure is believed to have been used for ceremonial purposes, possibly as an outdoor space for rituals and gatherings. Take your time to appreciate the intricate details of the carvings and imagine the vibrant atmosphere that once filled this sacred place.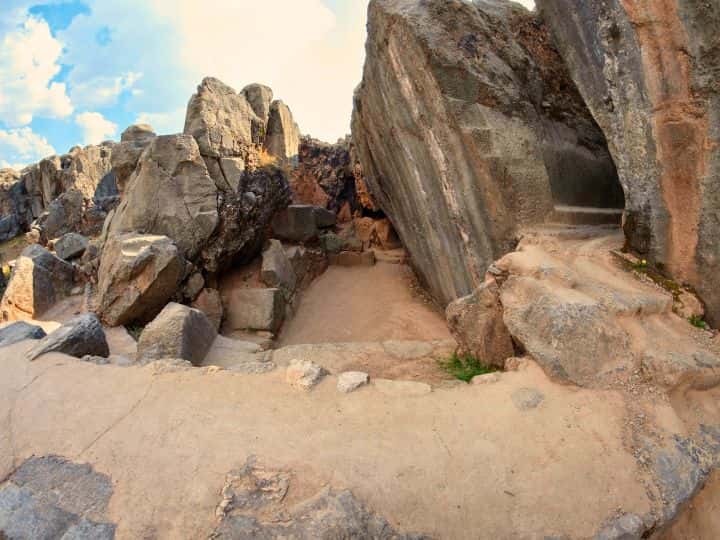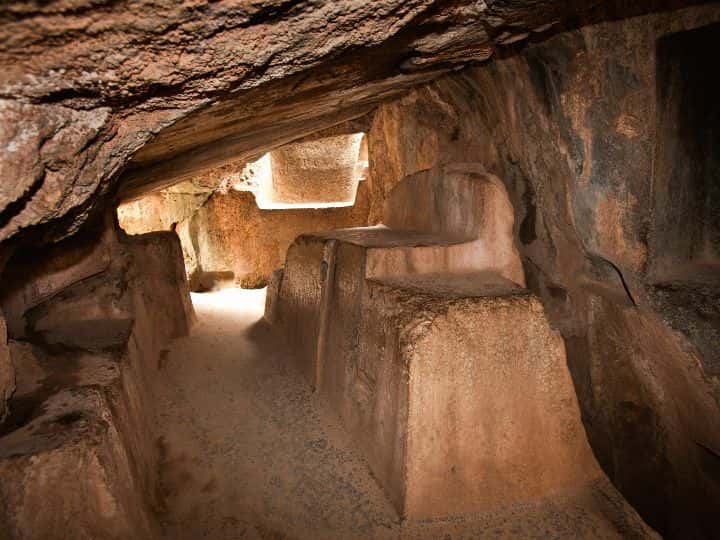 Explore the rock channels that meander through the site. These carefully constructed channels, known as canchas, are believed to have been used for the flow of water and as conduits for rituals. It is thought that the Incas utilized the flowing water for purification ceremonies or other sacred practices.
Wander through the underground chambers of Qenko, which are dimly lit and filled with mysterious energy. Inside, you will discover a carved stone altar that stands as a focal point of the site. This altar was likely used for offerings and ceremonies, making it an essential component of the religious practices carried out at Qenko.
Next, head to Puka Pukara, an intriguing archaeological complex often referred to as the "Red Fortress."
This site, located just a short distance from Cusco, is believed to have served as a military stronghold and administrative center for the Incas.
As you arrive at Puka Pukara, you will be greeted by its distinctive red-hued stone structures, which give the site its name. Take your time to explore the well-preserved ruins and gain insights into the strategic importance this fortress held during the Inca Empire.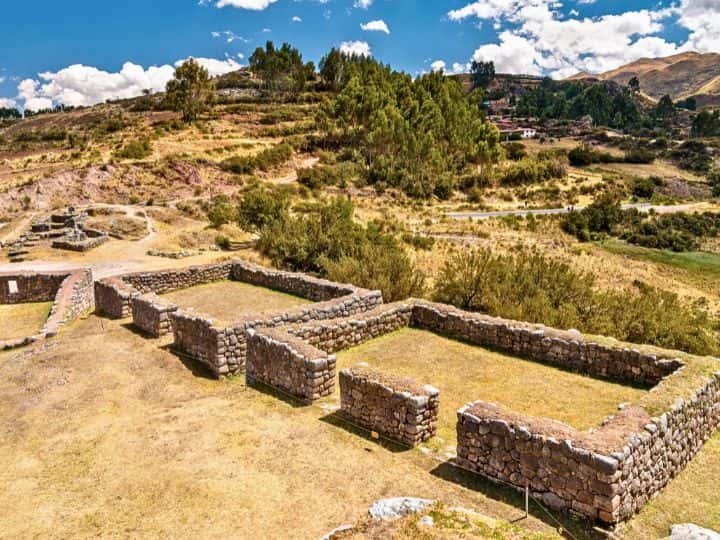 Puka Pukara / 2 Days in Cusco
Marvel at the defensive walls that surround the complex, which were designed to protect the area from potential invasions. These walls showcase the skillful stonework of the Incas, with precisely fitted stones that create a formidable barrier. Walk along the terraces and courtyards, and imagine the bustling activity that once took place within the complex.
Puka Pukara's strategic location allowed for surveillance of the surrounding countryside, making it an essential outpost for military operations and control of trade routes.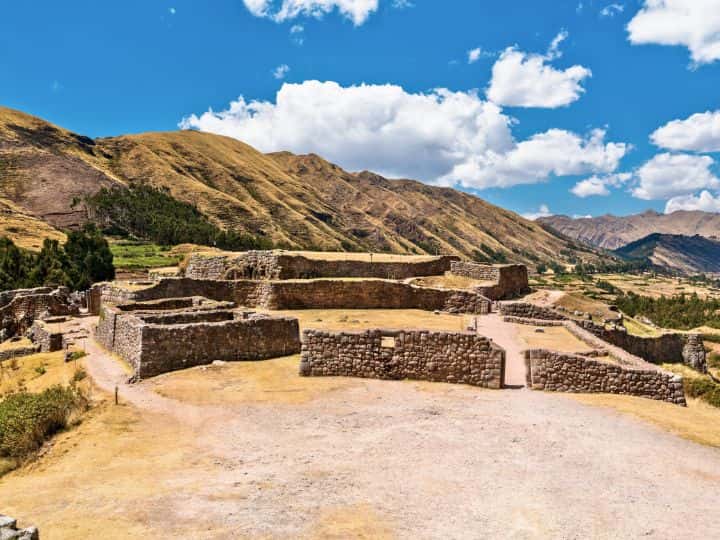 Puka Pukara / 2 Days in Cusco
PRO TIP: To fully appreciate the significance and atmosphere of Puka Pukara, consider visiting during the late afternoon. The warm golden light of the setting sun bathes the site in a magical glow, enhancing the experience and creating stunning photo opportunities.
Conclude your day by visiting Tambomachay, a fascinating site dedicated to water worship and known as a place of relaxation and spiritual renewal.
Tambomachay, located a short distance from Cusco, offers a glimpse into the advanced hydraulic engineering skills of the Incas and their reverence for water.
As you arrive at Tambomachay, you will be greeted by a series of intricate stone canals and fountains. These structures showcase the remarkable craftsmanship and hydraulic engineering knowledge of the Incas. Marvel at the precision with which the canals were constructed to channel the flowing water, creating a soothing and serene atmosphere.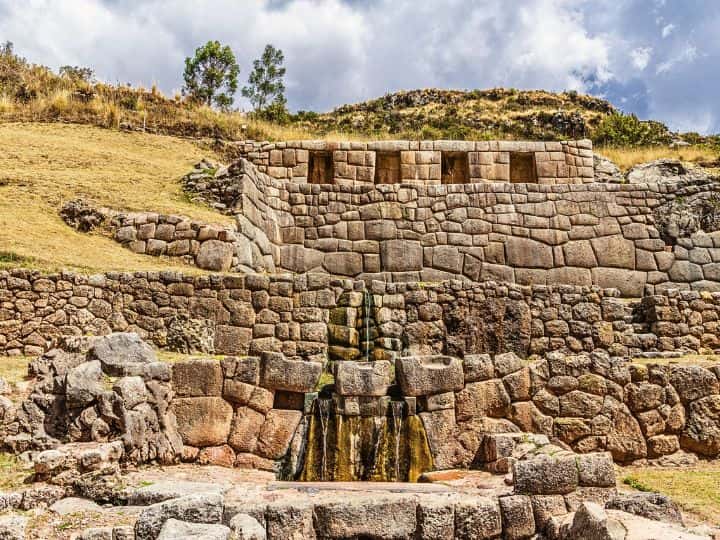 Puka Pukara / 2 Days in Cusco
Take the time to explore the site and discover the natural springs that still flow with crystal-clear water. The Incas believed that these sacred waters possessed healing properties, and Tambomachay served as a place of ritual purification and rejuvenation. You can dip your hands into the refreshing waters and experience the tranquility that surrounds the site.
Immerse yourself in the serene ambiance of Tambomachay as you contemplate the significance of water in Inca culture. Reflect on the harmonious relationship between the Incas and their natural surroundings, as water was considered a sacred element that sustained life and connected the spiritual and physical realms.
GOOD TO KNOW: The site is situated at an elevation of approximately 3,700 meters (12,140 feet), so be mindful of the high altitude. Take it easy and drink plenty of water to stay hydrated.
PRO TIP: The best time to visit Tambomachay is in the late afternoon to experience the site in a tranquil setting. The soft golden light of the setting sun casts a warm glow over the stone structures, creating a serene and peaceful ambiance. Take a moment to sit by the flowing waters and immerse yourself in the serenity of the surroundings.
Intrepid Scout's Tips 2 Days in Cusco Itinerary
Cusco is located at a high altitude, so it is essential to acclimatize properly. Spend a day or two in Cusco before engaging in strenuous activities, drink plenty of water, and take it easy if you experience any symptoms of altitude sickness.
The weather in Cusco can be unpredictable, with temperature variations throughout the day. Dress in layers so you can adjust accordingly and be prepared for changes in weather conditions.
Comfortable Walking Shoes
Exploring Cusco involves walking on uneven surfaces and navigating uphill climbs. Wear comfortable walking shoes to ensure a pleasant and comfortable experience.
The high altitude and dry climate in Cusco can lead to dehydration. Carry a water bottle with you and drink plenty of water throughout the day to stay hydrated.
Explore Beyond the Main Sites
While the main attractions are must-visits, do not be afraid to venture off the beaten path and discover hidden gems. Cusco is full of surprises, and exploring lesser-known areas can lead to memorable experiences.
Did You Find This Useful?
Why Not Save 2 Days in Cusco to Your Pinterest Board!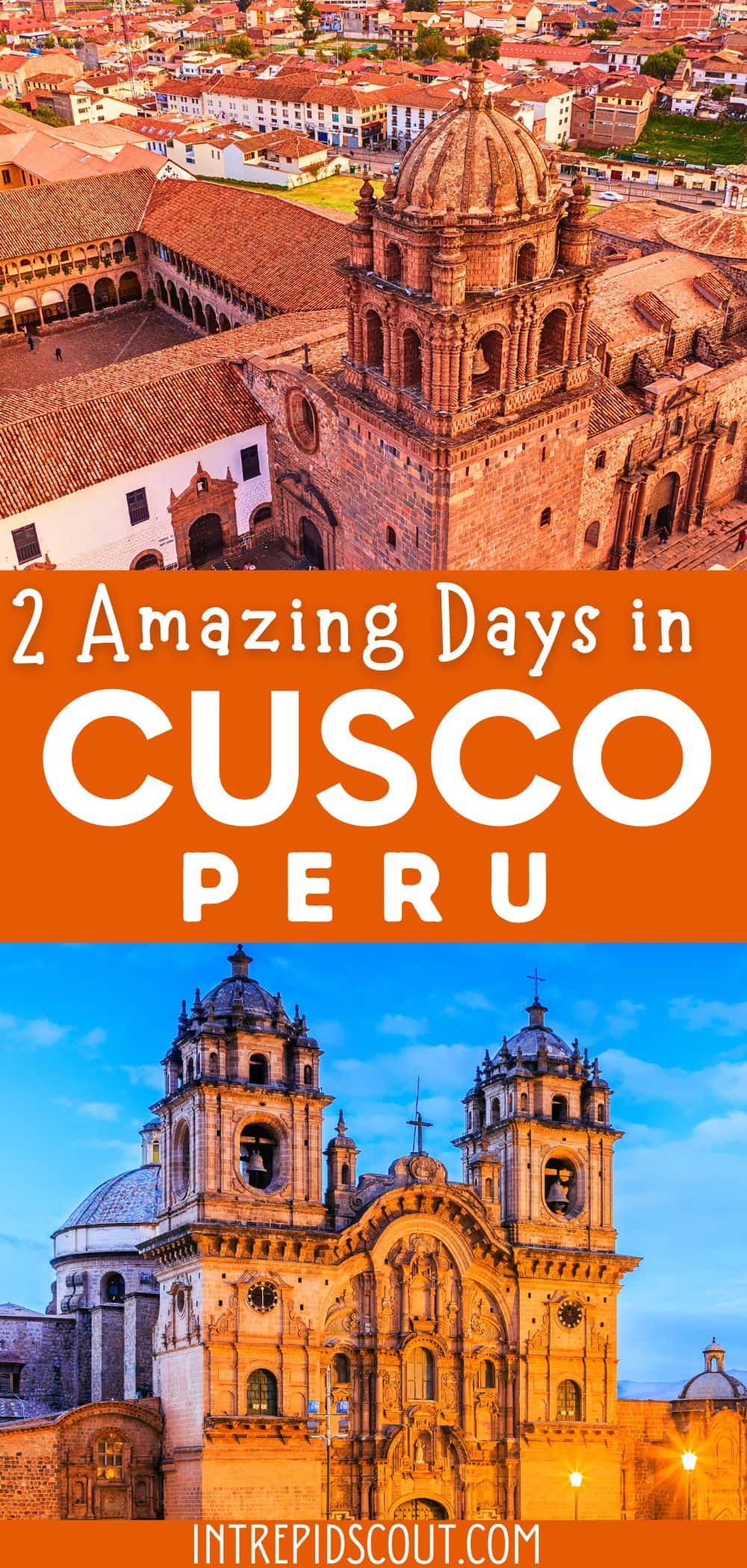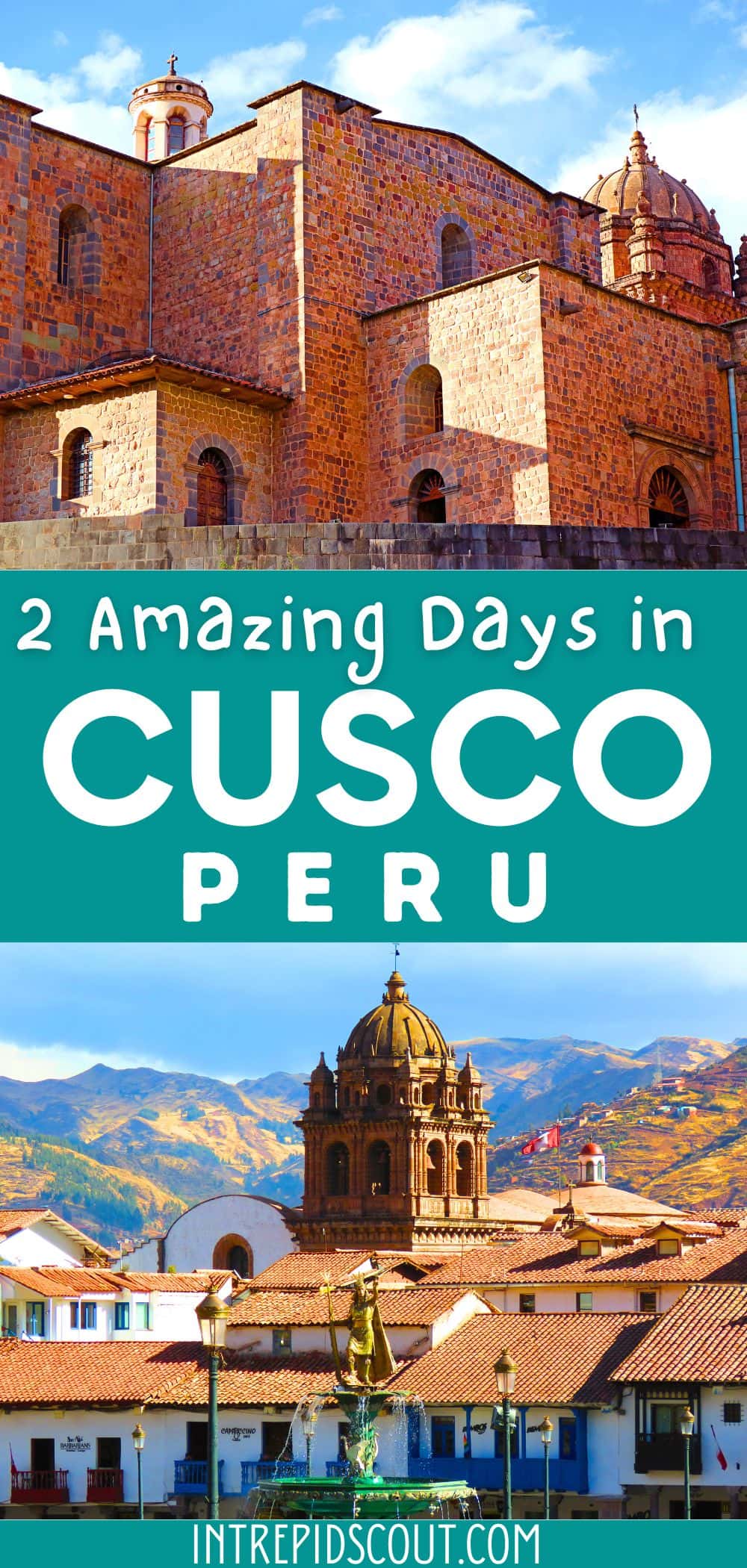 Now, It Is Your Turn, I Would Like to Hear Back from You!
Are you planning a trip to Peru?
Please let me know! Drop me a quick comment right below!
Click on any of the images below to get inspired and to help you with the planning process for your trip to Peru!