This site uses affiliate links, meaning that if you make a purchase through our links, we may earn an affiliate commission.
SAQQARA - TOP TIPS FOR VISITING SAQQARA IN CAIRO, EGYPT
Planning your visit to Saqqara in Cairo?
Here are my travel-tested tips for making the most of visiting Saqqara Archaeological Site!
Find out what to see in Saqqara when you visit.
Learn about how to buy the tickets, save time, avoid lines.
Here is everything you need to know to make visiting Saqqara efficient and memorable!
WHAT IS SAQQARA IN CAIRO, EGYPT

Saqqara, also spelled Sakkara or Saccara in English, is the vast necropolis site of the ancient capital city of Memphis.
Saqqara covers an area of around 7 by 1.5 km (4.35 by 0.93 mi).
And, this is the place where the building of pyramids first began in Egypt.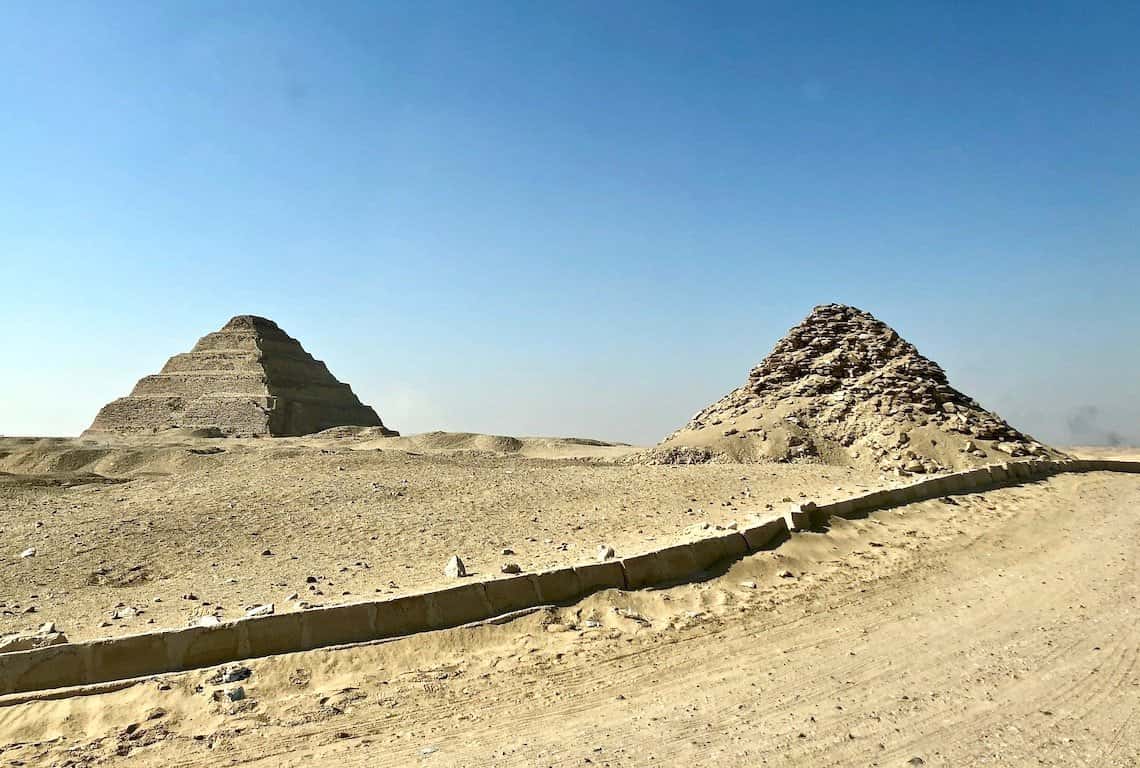 WHERE IS SAQQARA ARCHEOLOGICAL SITE

Saqqara is located on the west bank of the River Nile, about 30 km (19 mi) south of Cairo. It takes approximately an hour to reach Saqqara traveling by car from Cairo.


Image Credit: Map data ©2020 ORION-ME
HOW TO GET TO SAQQARA FROM CAIRO

WITH A PRIVATE GUIDE AND A DRIVER
I think that having a private driver and a guide is the best way to reach and tour Saqqara. This option gives you total flexibility. Also, having a knowledgeable guide by your side is simply invaluable.
Now, if you are staying in one of the hotels in Cairo, your hotel will probably be more than happy to arrange for you a driver and a guide. Needless to say, this is an expensive option, but it is all worth it.
You can ask your hotel for a bus tour that stops at all major attractions in and around Cairo or for a day trip tour from Cairo that covers several stops. It is probably one of the least expensive options. But, it does not give you much flexibility.
Another option is to just book a taxi and head to Saqqara. You will always be able to hire a guide right at the entrance to the Saqqara Archaeological Site.
Don't have time to read it now?
Why not save it to your Pinterest board!
WHAT TO SEE WHEN VISITING SAQQARA

Saqqara features numerous pyramids, including the world-famous Step Pyramid of Djoser.
In addition, there is a number of mastabas that are worth checking out!
WHAT IS A MASTABA?
A mastaba is a type of ancient Egyptian tomb in the form of a flat-roofed, rectangular structure with inward sloping sides, constructed out of mudbricks.
In the Old Kingdom epoch, local kings began to be buried in pyramids instead of in mastabas, although non-royal use of mastabas continued for over a thousand years.
Source: Wikipedia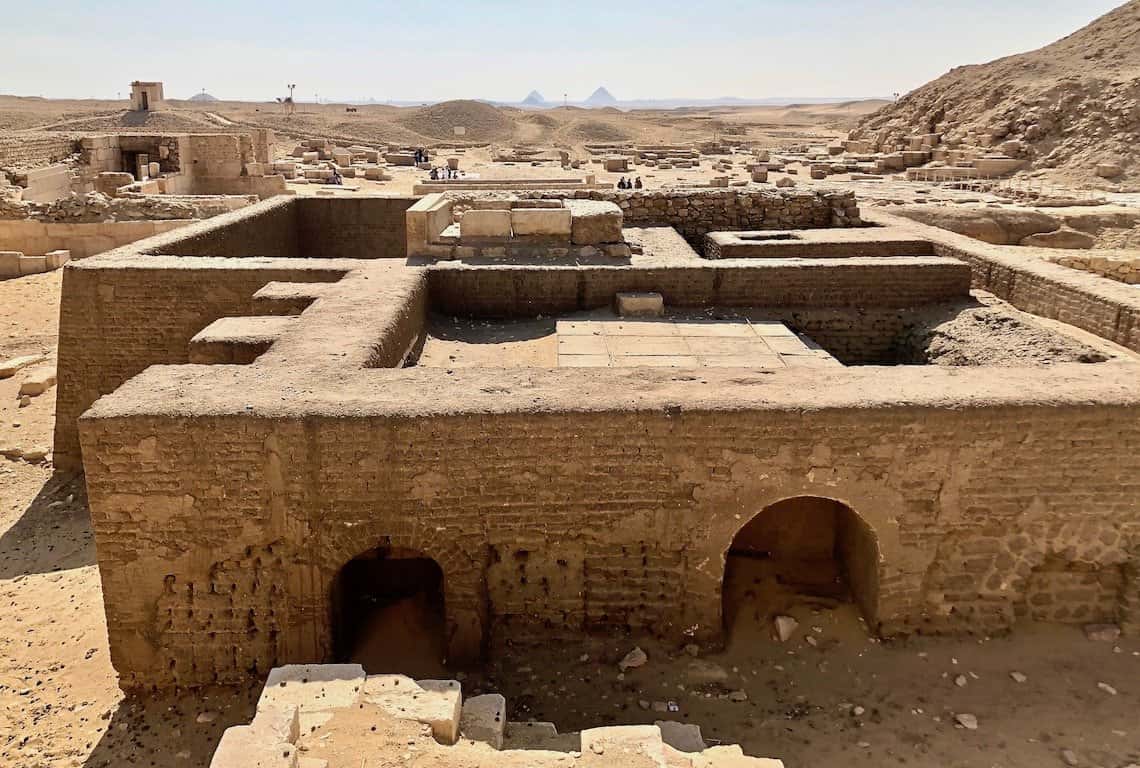 Also, there is a museum, the Imhotep Museum, and your entrance ticket to Saqqara Archaeological Site covers the Imhotep Museum as well.
The Imhotep Museum is a great starting point for visiting Saqqara. So, make sure to start your Saqqara Archaeological Site tour at the Museum of Imhotep and learn all about the excavations and discoveries made at Saqqara.
THE IMHOTEP MUSEUM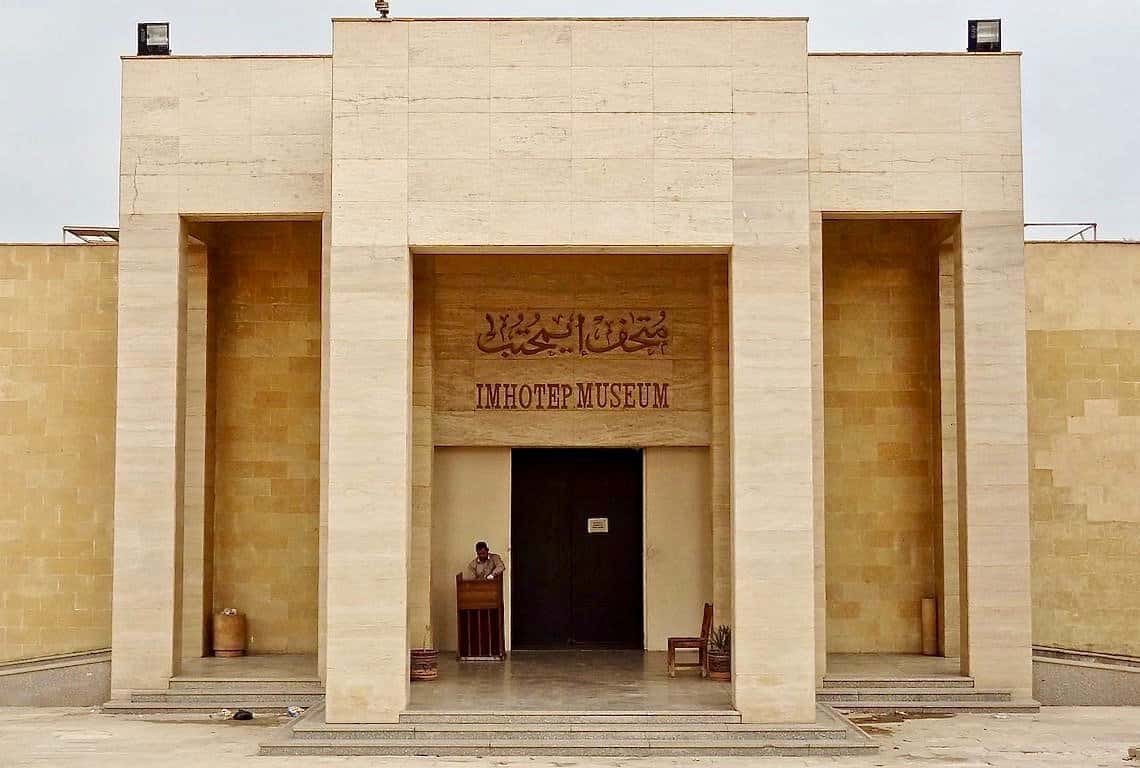 Source: Wikimedia Commons
The Imhotep Museum is named in honor of the Egyptian architect Imhotep who is credited with designing the famous Step Pyramid of Djoser as well as the whole complex around the pyramid.
The Museum has several halls with beautifully designed and well signed displays.
You will be able to see archaeological findings from various excavations in Saqqara.
I especially enjoyed looking at ancient tools used for the construction of monuments. Other interesting objects were green and blue faience wall tiles that decorate the walls of the chambers under the pyramid complex.
The Imhotep Museum is open from 8 am till 5 pm during summer months (May through August) and 8 am till 4 pm during winter months (September through April). The admission cost to the museum is included in the entrance ticket to the Saqqara Archaeological Site.
THE STEP PYRAMID OF DJOSER
The Step Pyramid of Djoser at Saqqara was constructed by Imhotep. It was the first pyramid ever built in Egypt. In addition, as my guide told me, the Step Pyramid of Djoser is the oldest surviving stone building in the world! It was built in the period from 2630 to 2611 BC.
The Step Pyramid is 60 meters high (204 feet) and consists of six steps.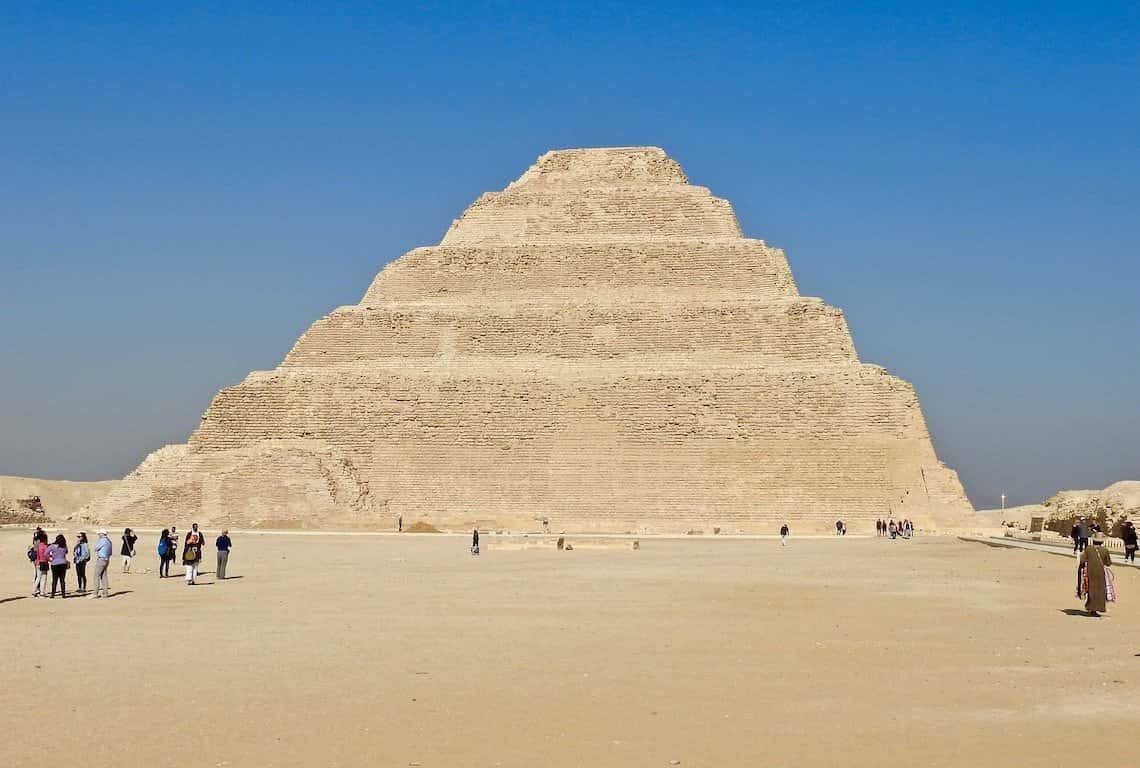 HOW WAS THE STEP PYRAMID CONSTRUCTED?
The building process went through many different stages and there were a few false starts.
Investigations have shown that the pyramid began as a square mastaba, instead of the usual rectangular shape, and then was changed to rectangular. Why Imhotep decided to change the traditional rectangular mastaba shape is unknown but it is probable that Imhotep had in mind a square-based pyramid from the start.
When completed, the Step Pyramid rose 204 feet (62 meters) high and was the tallest structure of its time.
Source: Ancient History Encyclopedia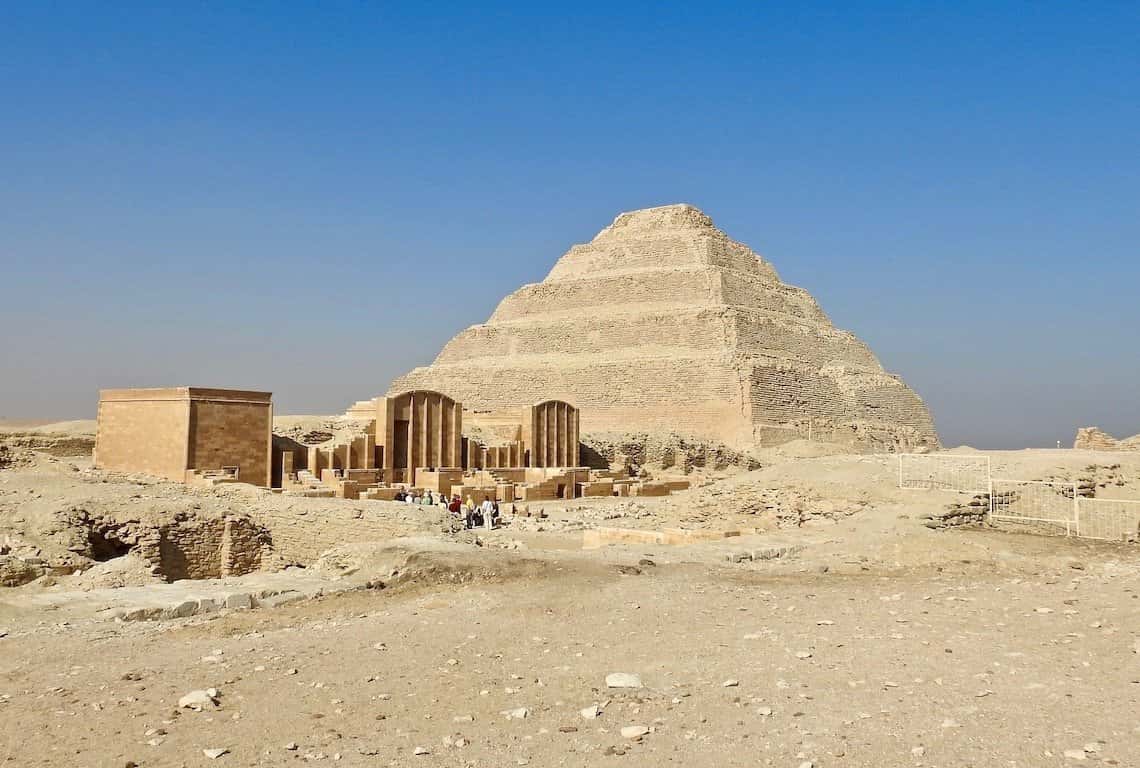 THE STEP PYRAMID FUNERARY COMPLEX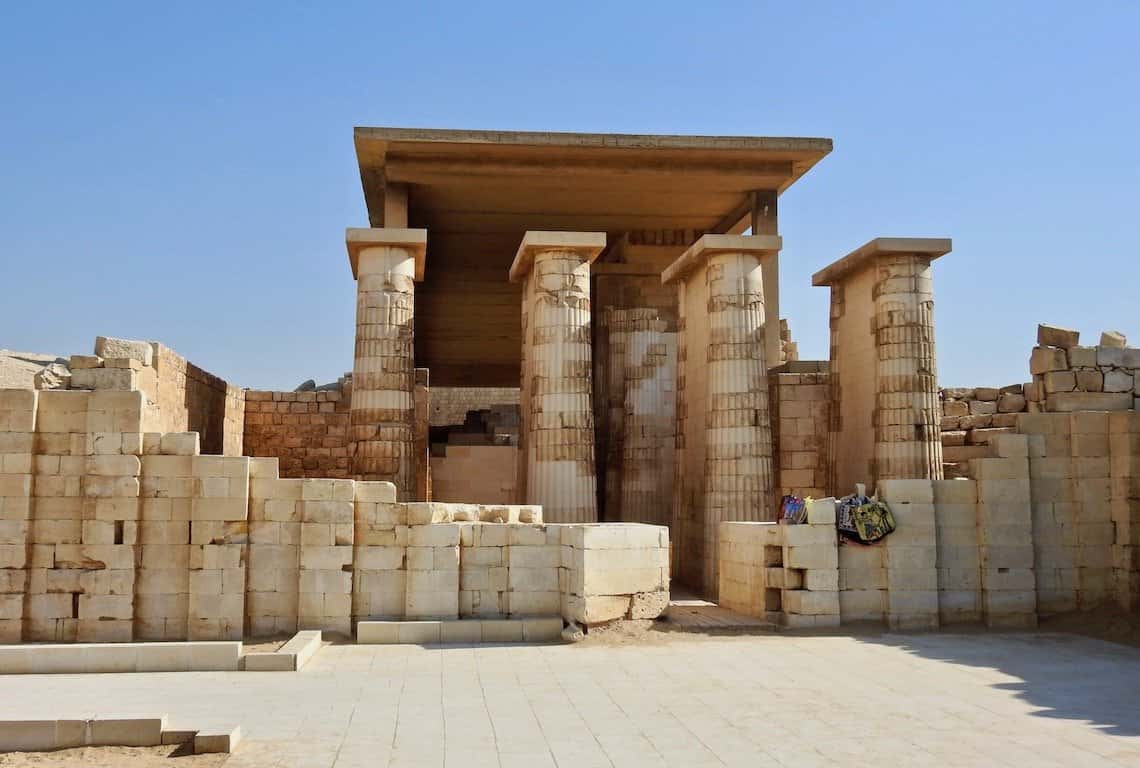 The Step Pyramid of Djoser at Saqqara was a part of a funerary complex consisting of temples, courtyards, shrines, and living quarters for the priests.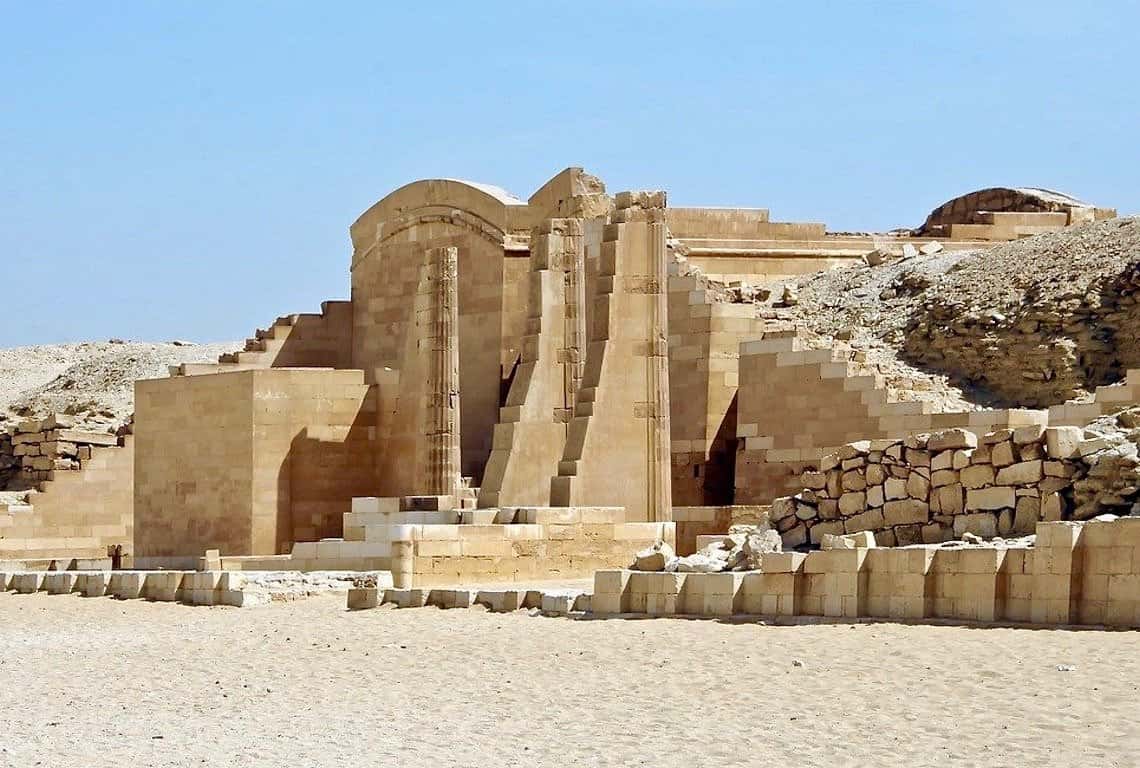 The complex was surrounded by a wall. And, interestingly, as my guide told me, the wall had 13 false doors which were cut into the wall. In addition, there was a trench surrounding the wall. All of this, to protect, defer and discourage any invading intruders.
What remains today of the Step Pyramid Funerary Complex is still well preserved. Make sure to take some cool pictures of the beautiful Hypostyle Hall at the Temple of Djoser.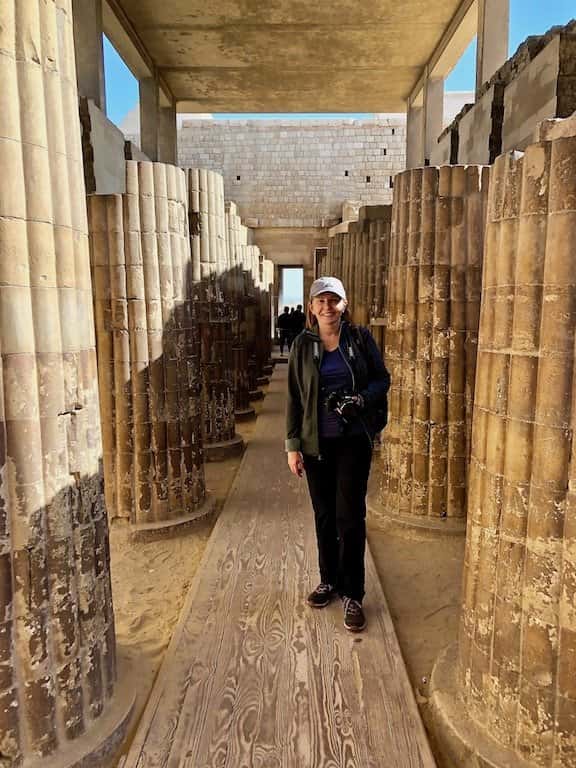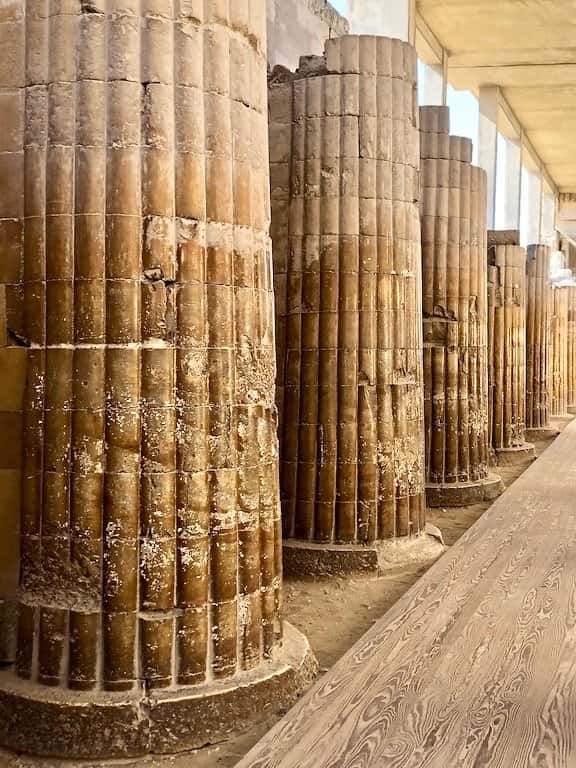 THE TOMB OF KA-GMNI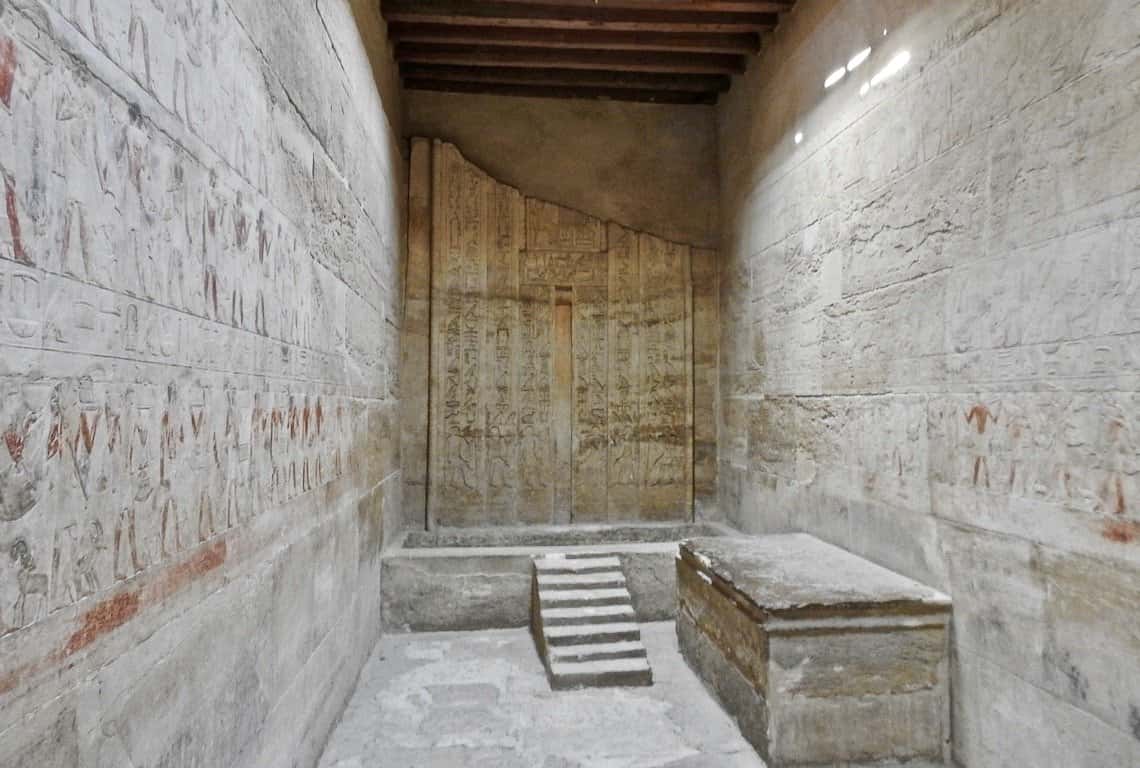 The tomb of Ka-gmni consists of eight decorated chambers and five storage rooms.
The decorations in the first chamber show scenes depicting fishing and fowling.
However, what caught my attention were splendid depictions of birds and animals.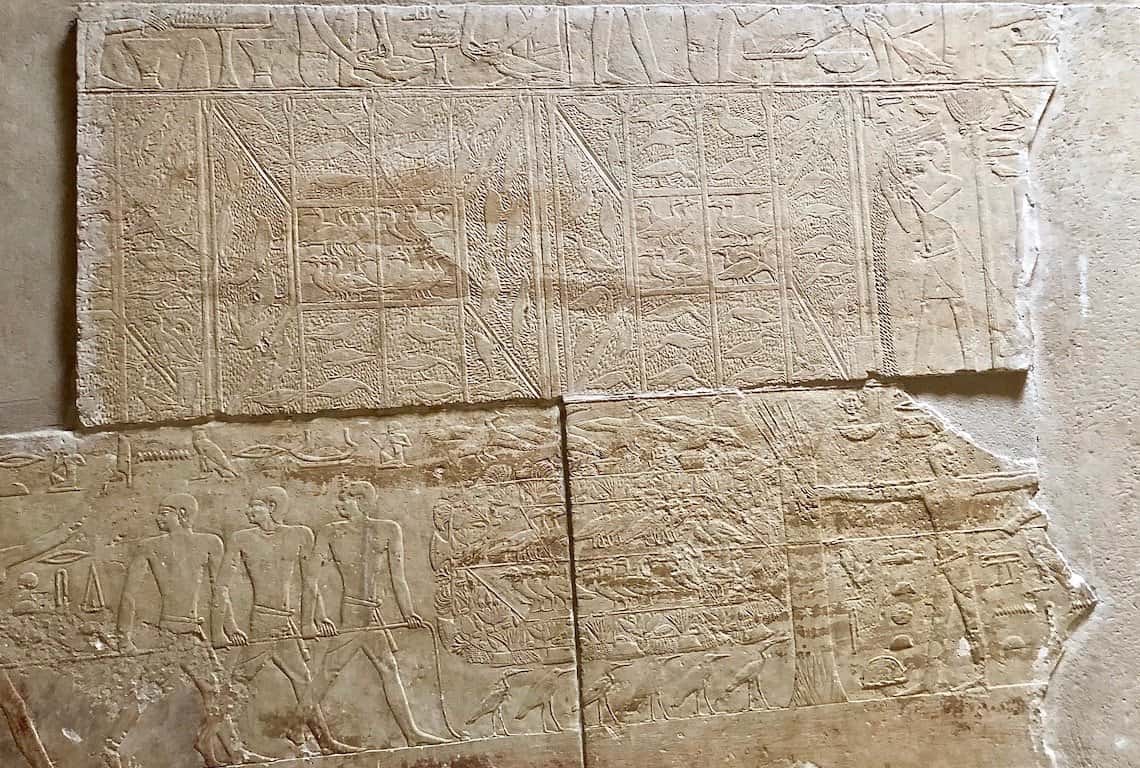 Make sure not to miss beautiful reliefs of offerings bearers.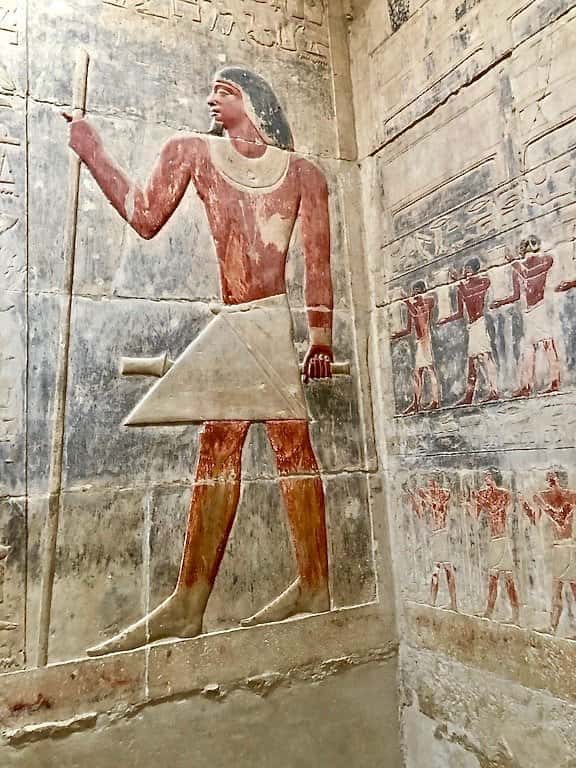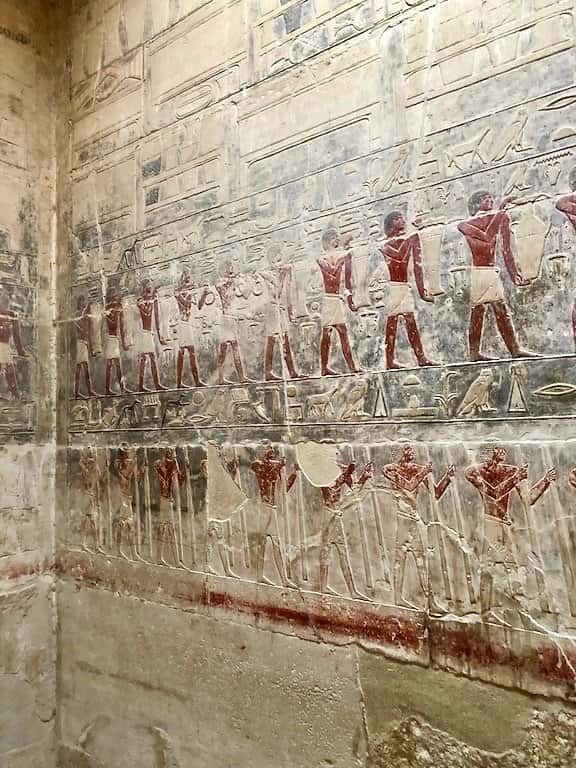 WHO WAS KA-GMNI?
Ka-gmni was a vizier from the early part of the reign of King Teti of the Sixth dynasty of Egypt. Ka-gmni's wife Nebtynubkhet Sesheshet was a King's Daughter and likely the daughter of Teti.
Ka-gmni held a great number of titles. He was an overseer of the two houses of gold and an overseer of the two treasuries.
He also held several religious positions, including that of High Priest of Re and Stolist of Min.
Other duties were related to the royal palace: overseer of the two chambers of the king's adornment, director of the Mansions of the White and Red Crowns and keeper of the head ornaments.
As vizier, Ka-gmni also held the positions of overseer of the scribes of the king's documents, overseer of all the works of the king, and overseer of the six great courts.
Source: Wikipedia
ARE YOU UP TO GOING INSIDE THE KA-GMNI'S TOMB?
I am not recommending that you visit this tomb if you are claustrophobic or have any breathing problems.
There are long and narrow passages that you have to go through to get to each chamber with no ventilation of any kind. However, getting through the passages is manageable.
You will just need to do some bending and squatting to get through some areas.
HOW MUCH TIME DO YOU NEED TO VISIT SAQQARA

In my opinion, you will need at least 1-2 hours to tour the Saqqara Archaeological Site. This includes just visiting one tomb and then the funerary complex and snapping a few pictures of the Step Pyramid. If you are planning on visiting additional tombs then you need to account for more time needed.
HOW MUCH DOES IT COST TO VISIT SAQQARA

First of all, you can purchase your ticket right at the entrance to the Saqqara Archaeological Site. It costs 180 EGP. The entrance ticket covers both, the Saqqara Archaeological Site and the Imhotep Museum.
CAN YOU TAKE PICTURES INSIDE THE TOMBS AT SAQQARA

At the time of my visit, tourists were allowed to take pictures inside the tombs. I used both my camera and my cell phone. However, rules change a lot, so always be prepared. Make sure to carry all of your equipment with you.
WHAT ARE THE OPENING TIME OF SAQQARA

Saqqara site is open daily for visitors. In the summer (May through August), Saqqara is open from 8 am till 5 pm. During winter months (September through April), it is open from 8 am till 4 pm.
WHAT IS THE BEST TIME TO VISIT SAQQARA

First of all, without any doubt, plan your visit to Saqqara as early as possible. If you manage to get there by at least 8 am, you will be in good shape. You will practically have the place all to yourself and be able to get some great pictures without any tourists in them. It starts to get crowded by about 10 am.
In addition, if you are visiting during summer months, then keep in mind that practically you will be outside in the scorching sun the entire time. So, it makes sense to get there early in the morning. Furthermore, wear a hat and hydrate.
Did you find it useful?
Why not save it to your Pinterest board!
Now, I would like to hear back from you!
Are you planning your trip to Egypt? Is Saqqara in your Egypt itinerary?
Please let me know! Drop me a quick comment right below!
Also, click on any of the images below to get inspired and to help you with the planning process with your trip to Egypt!
Check out my latest post about the amazing Khan el-Khalili Bazaar in Cairo which you cannot miss if you are planning to be in Cairo!