This site uses affiliate links, meaning that if you make a purchase through our links, we may earn an affiliate commission.
Step into the heart of Cairo's vibrant culture and immerse yourself in the bustling world of Khan el-Khalili Bazaar in Cairo, an essential destination for anyone looking to experience the enchanting essence of Egypt.
Nestled within a labyrinth of winding alleyways, this iconic marketplace beckons visitors with its rich tapestry of sights, scents, and treasures.
At Khan el-Khalili, you will wander through a mesmerizing array of stalls and shops, each offering its own unique allure. Spice and perfume markets entice your senses with exotic fragrances, while antique and fabric emporiums showcase centuries of history woven into exquisite textiles. Here, carpet vendors unfurl stories beneath your feet, and souvenir stands beckon with keepsakes to commemorate your journey.
But Khan el-Khalili is more than just a shopping destination—it is an adventure in negotiation and immersion. Hone your bargaining skills as you engage with local vendors, and let the chaotic energy of the bazaar transport you to a bygone era.
In this guide, we will unravel the secrets of how to visit and what to explore within Khan el-Khalili Bazaar, ensuring you make the most of this captivating Cairo experience.
Tracing the Past: Khan el-Khalili Bazaar's Rich History
Khan el-Khalili Bazaar is not just your run-of-the-mill marketplace; it stands as one of the world's most historically significant sites.
In 1382, Emir Djaharks el-Khalili, who held the prestigious position of Master of the Stables during Sultan Barquq's reign (1382-1389), embarked on a transformative endeavor. He razed the Fatimid family mausoleum nestled in the heart of the city, replacing it with an expansive khan, also known as a caravansary, which was subsequently named Khan al-Khalili.
Over time, the name expanded to encompass the entire district.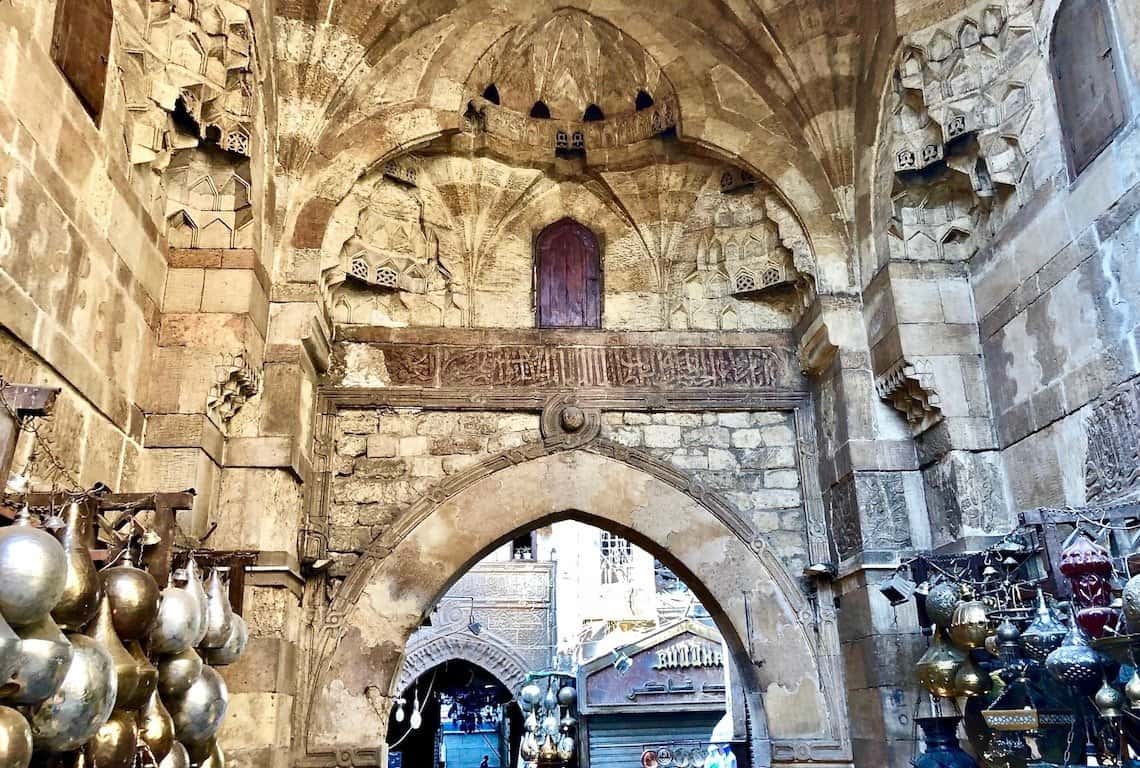 How to Visit and What to See at Khan el-Khalili Bazaar in Cairo
So, what exactly is a caravansary?
It was a vital pitstop along trade routes, serving as an inn and rest house for weary merchants. Typically designed as a square layout, it featured structures enclosing a central courtyard.
The ground level boasted rooms facing the courtyard, serving as storage spaces for trade goods and animal stalls. On the outer side, rooms with openings facing the streets transformed into shops for displaying wares.
Above, the upper level became living quarters for the merchants.
In the 15th century, under the rule of Sultan Qaitbay, Khan el-Khalili flourished as a pivotal foreign trade hub.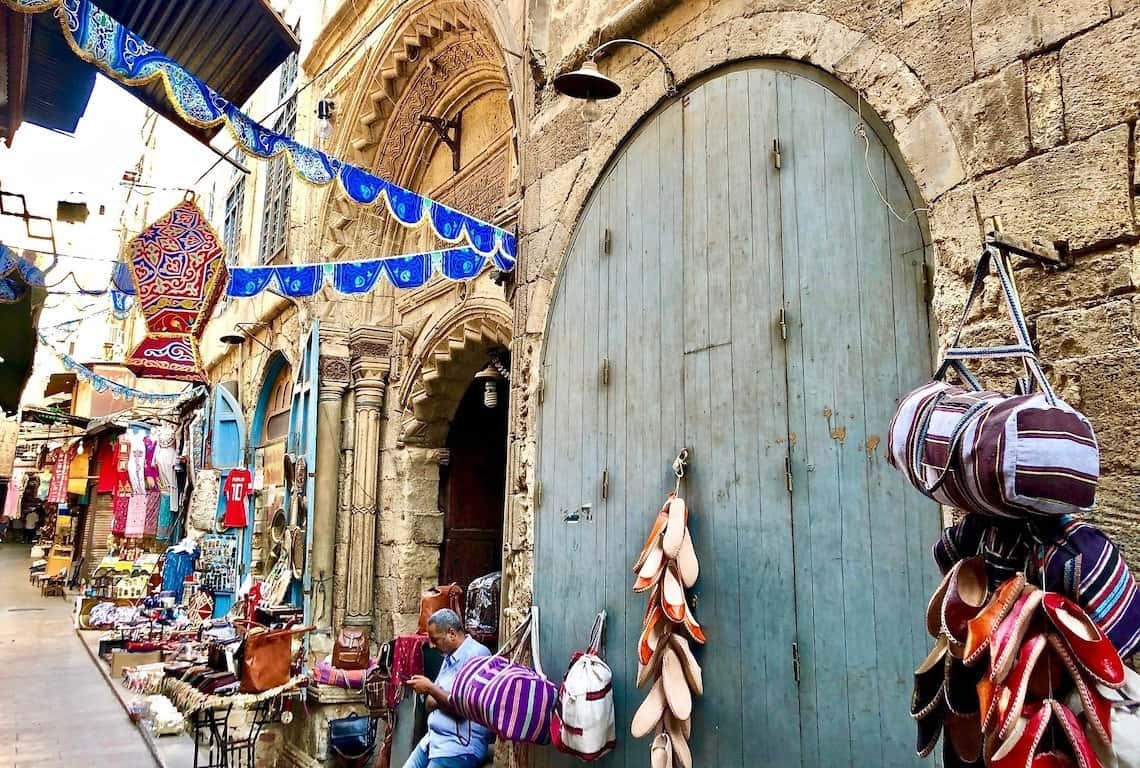 How to Visit and What to See at Khan el-Khalili Bazaar in Cairo
Interestingly, the famous novel "Midaq Alley" by Naguib Mahfouz, the 1988 Nobel Prize Winner for Literature, unfolds within one of the bazaar's evocative alleys.
Mahfouz's masterpiece vividly portrays the denizens of Midaq Alley in 1940s Cairo, from Zaita the cripple-maker to Kirsha the cafe owner. Their tales, encompassing greed, love, and escape, mirror the alley's vibrant microcosm on the cusp of modernity.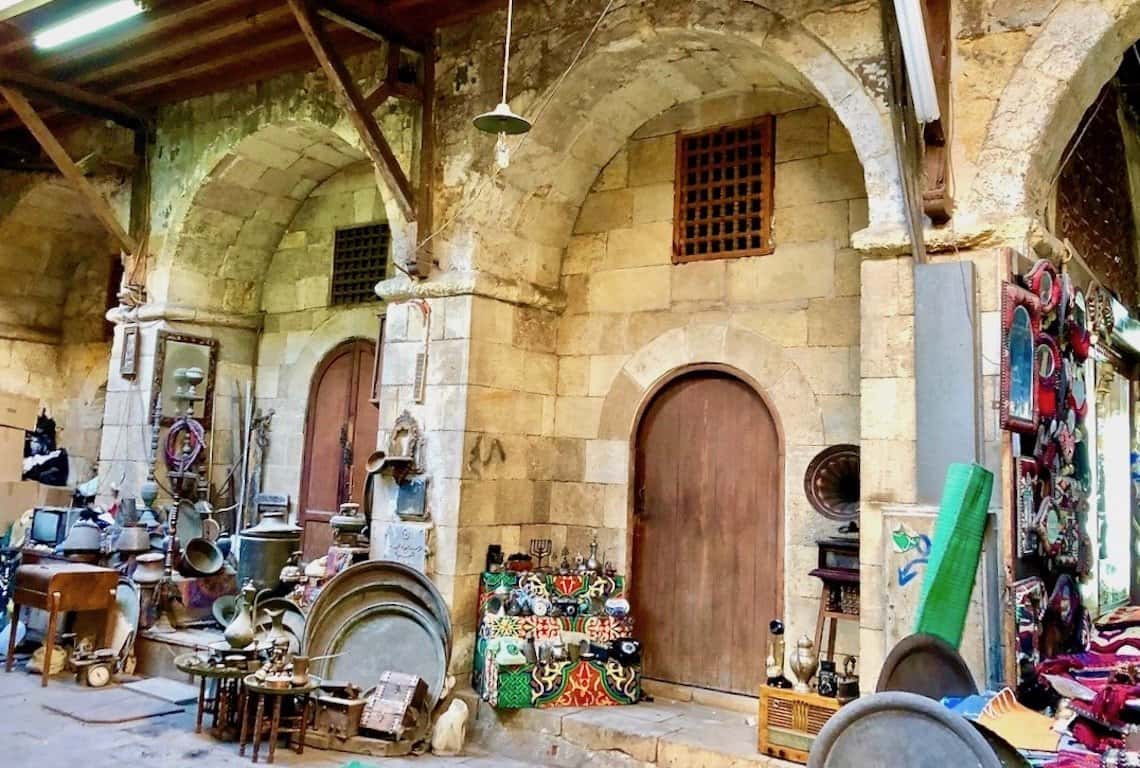 How to Visit and What to See at Khan el-Khalili Bazaar in Cairo
As you wander through Khan el-Khalili, a visit here is akin to stepping back in time.
Don't miss Bab al-Badistan, an ancient Mamluk-era gate commissioned by Sultan al Ghuri, where remnants of the old upper floors still grace the skyline.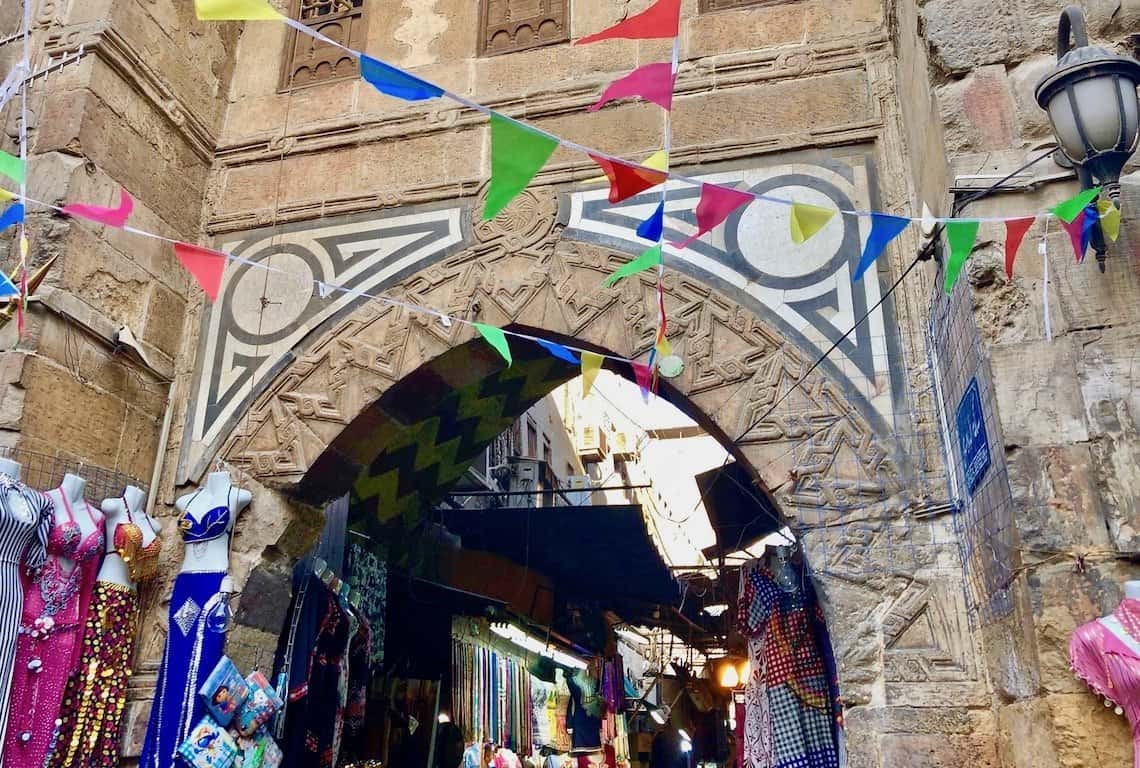 How to Visit and What to See at Khan el-Khalili Bazaar in Cairo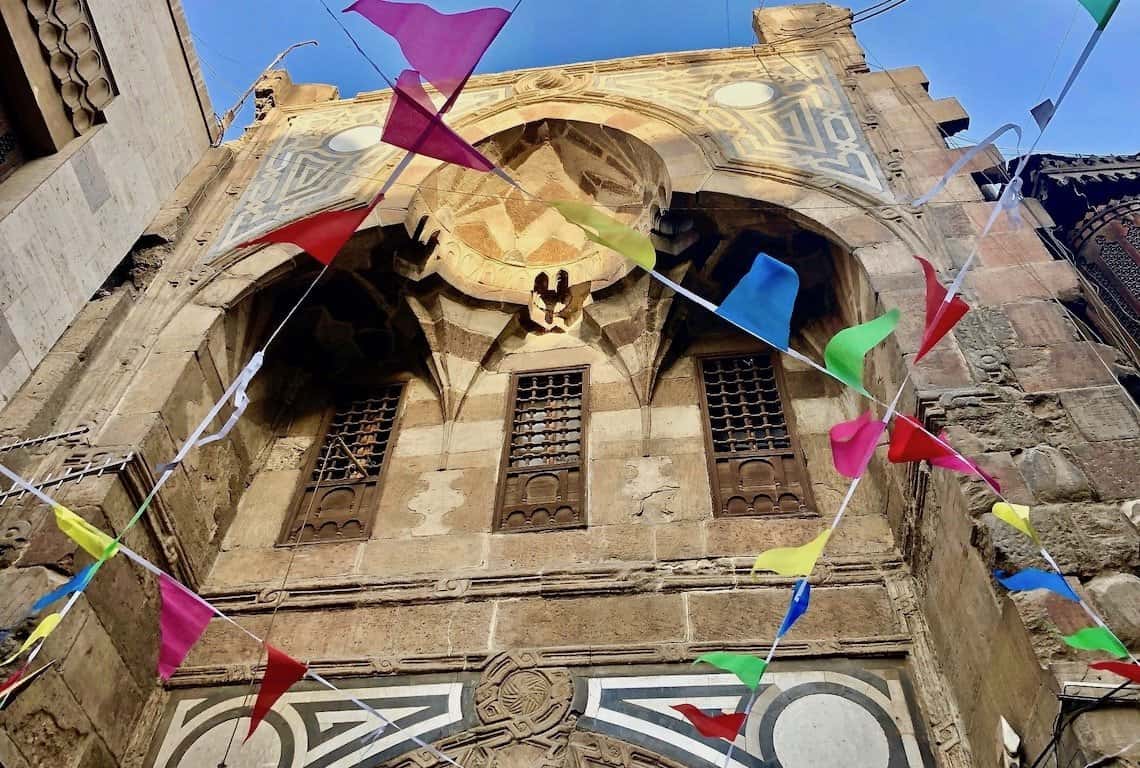 How to Visit and What to See at Khan el-Khalili Bazaar in Cairo
Another historical gem is the gate of Wikala of Sultan Qansuh al-Ghuri, which awaits your exploration amidst the labyrinthine alleyways, where century-old structures stand as silent witnesses to a bygone era.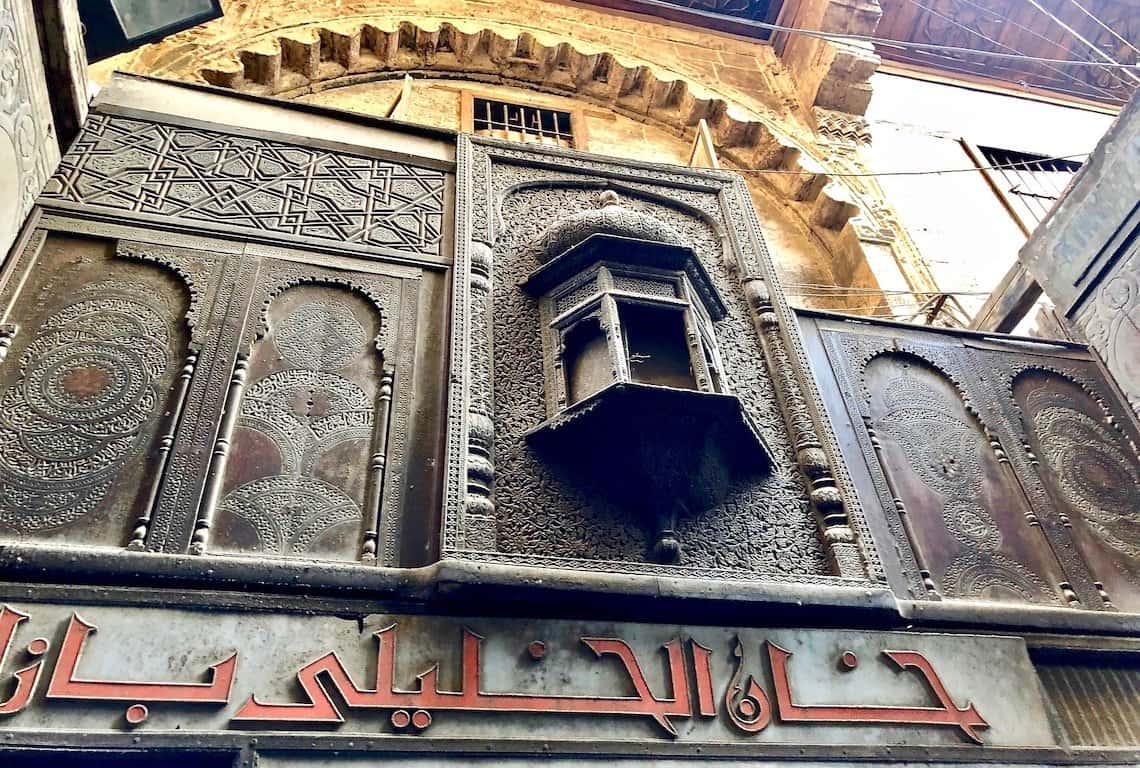 What to See at Khan el-Khalili Bazaar in Cairo
Best Time to Visit Khan el-Khalili Bazaar
If you find yourself with limited time to explore Khan el-Khalili Bazaar, you might wonder whether it is best to visit during the day to appreciate its historical landmarks or in the evening to immerse yourself in the lively hustle and bustle.
In my recommendation, an evening visit offers a truly remarkable experience. As the sun sets, the bazaar transforms into a mesmerizing spectacle, with stands and shops illuminated in a colorful display.
It is a sight to behold as both locals and tourists throng the lanes, engaged in animated haggling sessions with shopkeepers.
PRO TIP: It is crucial to allocate sufficient time for your journey. Evening traffic congestion can be daunting, with streets teeming with vehicles and pedestrians. However, the time and effort invested in reaching Khan el-Khalili Bazaar are undeniably worthwhile.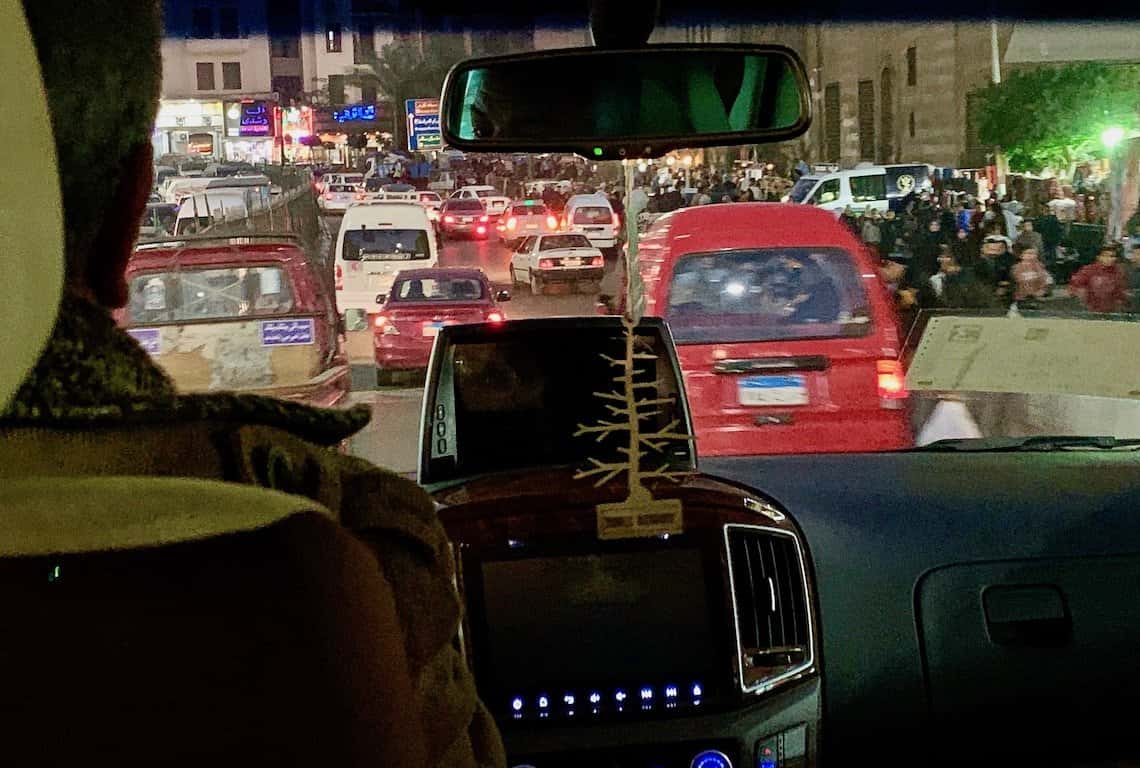 What to See at Khan el-Khalili Bazaar in Cairo
Khan el-Khalili Bazaar undergoes a magical metamorphosis in the evening, presenting an entirely different and captivating ambiance.
Therefore, I strongly advise planning your visit for the nighttime hours, allowing you to wander through its vibrant alleyways under the enchanting cover of darkness.
For a seamless and stress-free experience, I recommend considering the services of a tour guide and a driver. They possess the expertise to efficiently guide you to the bazaar and adeptly navigate the labyrinthine streets of Cairo. This way, you can fully relish your visit without the worry of becoming disoriented amidst the vibrant chaos of the city.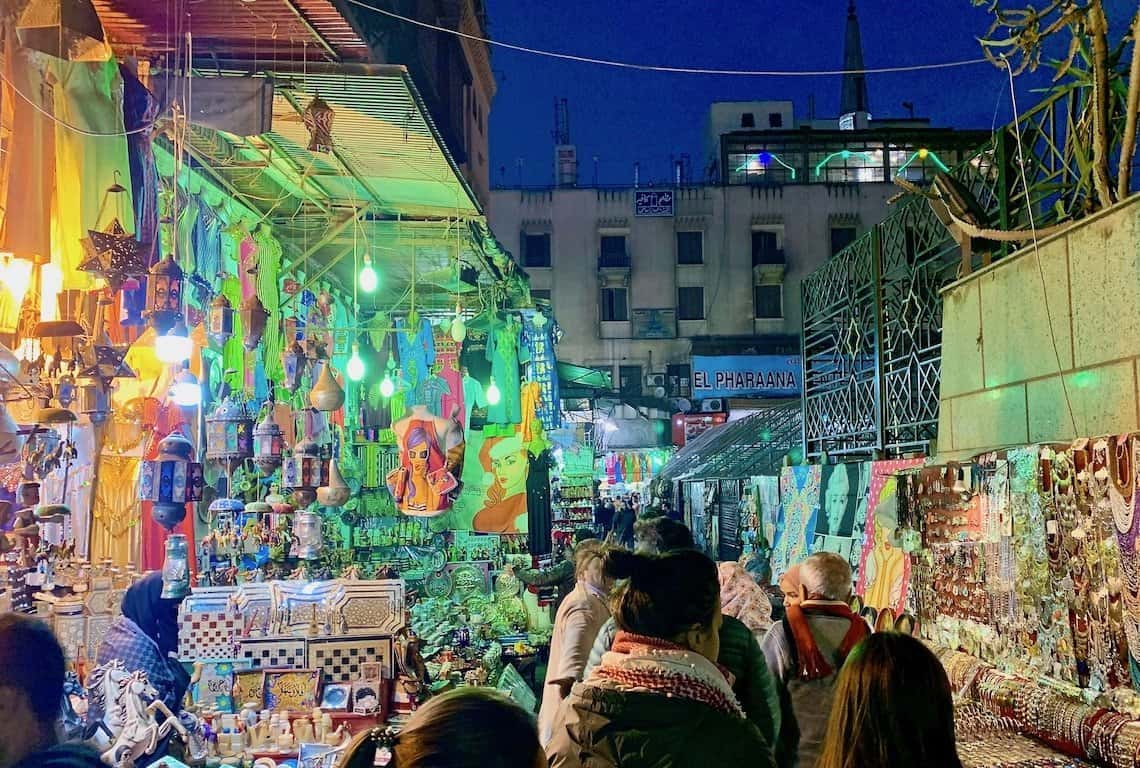 What to See at Khan el-Khalili Bazaar in Cairo
There are many unique and interesting places you can find in Khan El-Khalili Bazaar.
Make sure to stop by the spice market and enjoy the smells of different spices.
Next, stroll the perfume market and be amazed by the variety of scents.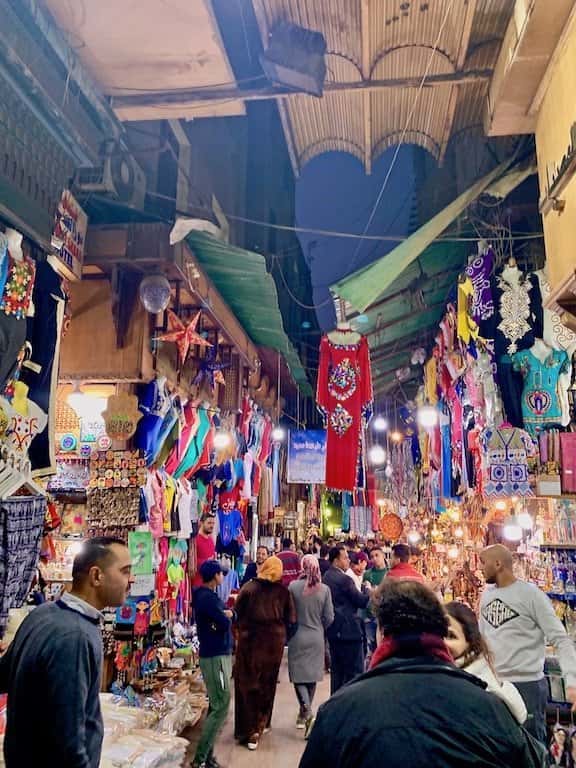 What to See at Khan el-Khalili Bazaar in Cairo
If you venture out deeper into the bazaar, you will encounter many antique, fabric, copper, and silver shops, as well as some amazing carpet collections.
However, if you are looking for some gifts to take home, then you will have plenty of choices since there is a multitude of stands selling a variety of inexpensive souvenirs.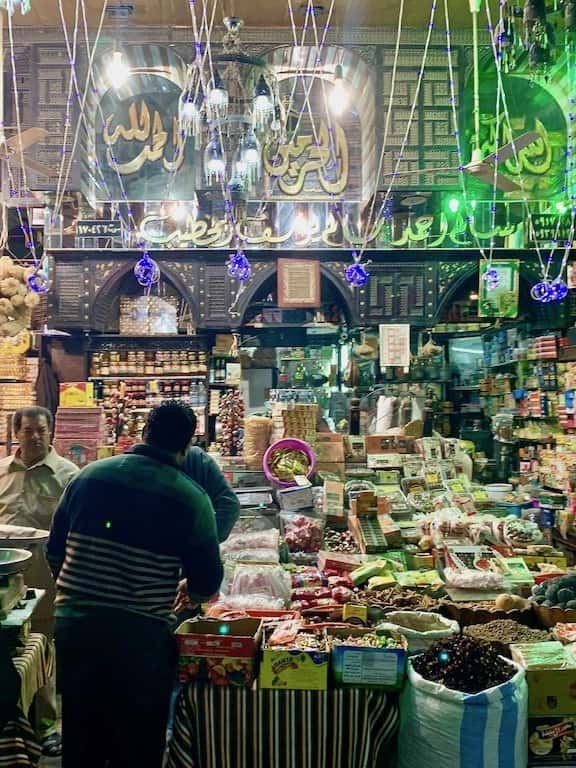 What to See at Khan el-Khalili Bazaar in Cairo
I think my favorite were stores selling stained glass lamps. The storefronts looked absolutely magical with all the stained glass lamps lit up.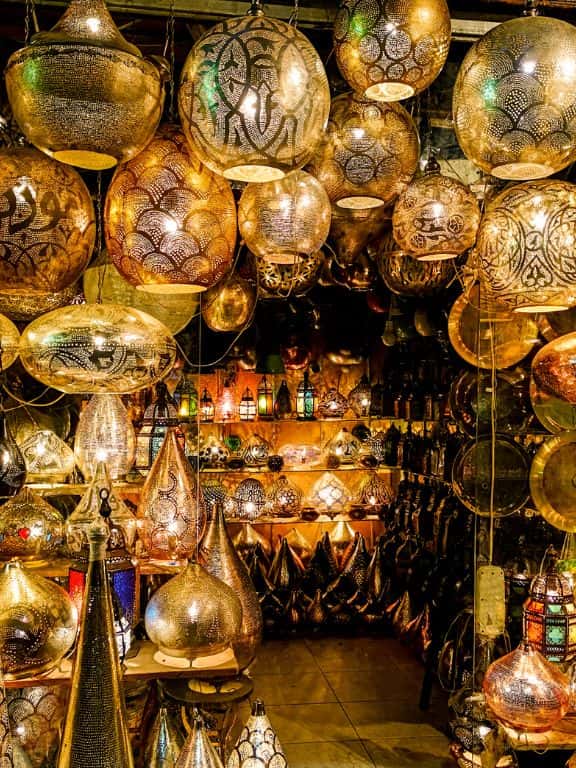 What to See at Khan el-Khalili Bazaar in Cairo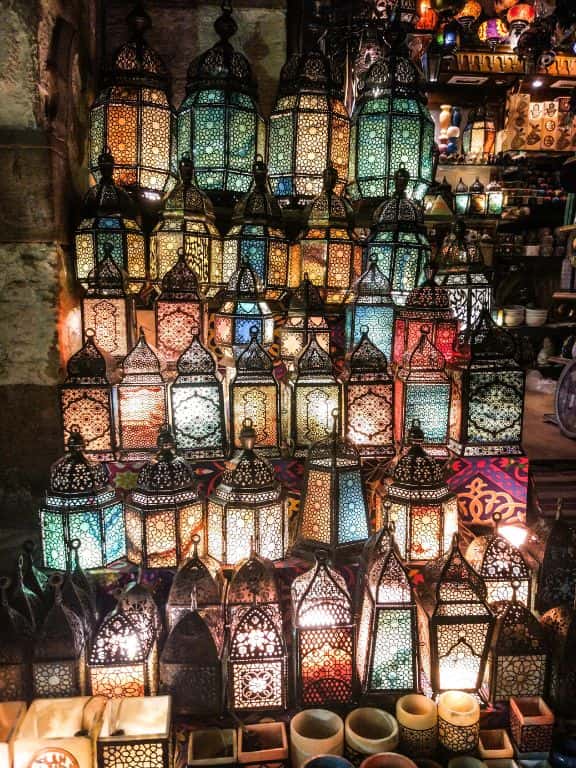 What to See at Khan el-Khalili Bazaar in Cairo
Finally, make sure to stop by, rest a little, and try some strong Arabian coffee, a mint tea, or a fruit-flavored shisha at the famous El Fishawy Coffee Shop.
El Fishawy Coffee Shop was founded in 1769 and it is one of the oldest coffee shops in the middle east.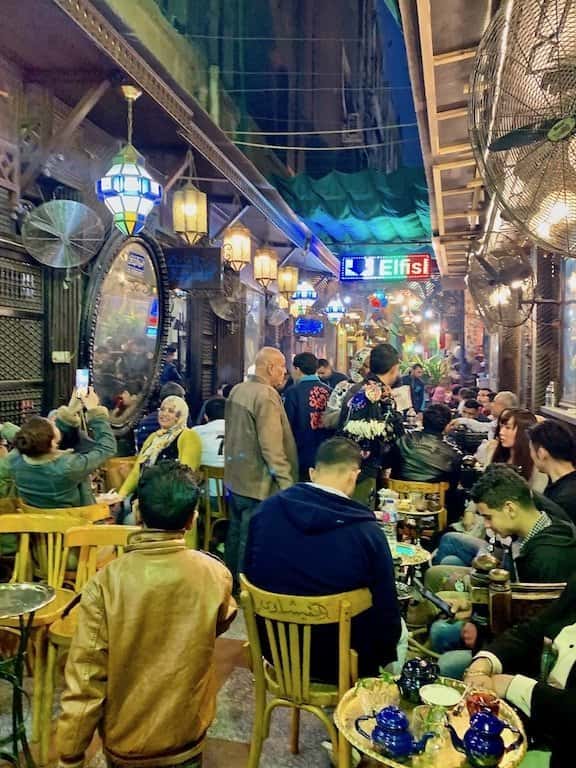 What to See at Khan el-Khalili Bazaar in Cairo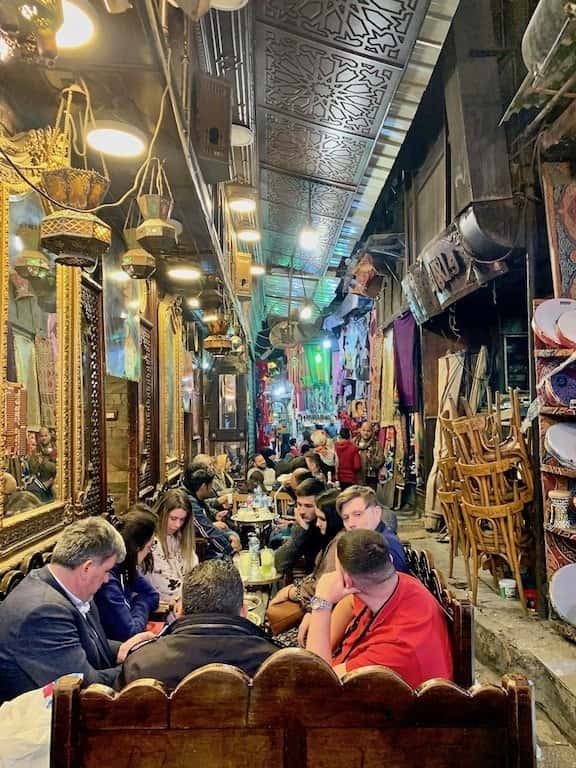 What to See at Khan el-Khalili Bazaar in Cairo
Tips for Visiting Khan el-Khalili Bazaar in Cairo
Make Sure to Bargain and Be a Savvy Shopper
At Khan el-Khalili Bazaar, prices are not fixed, and the art of bargaining is not just encouraged; it's an integral part of the shopping experience. Sellers fully expect and even relish the negotiation process, so do not hesitate to dive right in.
To navigate this time-honored tradition successfully, start by offering the lowest possible price and engage in a friendly back-and-forth until a mutually agreeable deal is reached.
Maintaining a positive and amiable attitude throughout the process is key to a satisfying transaction.
PRO TIP: Here is a tip to be a savvy shopper: It's important to note that many of the souvenirs available at Khan el-Khalili are mass-produced, low-quality items typically originating from China. If you are in search of authentic Egyptian craftsmanship, it is wise to consult with your guide and be specific about your preferences. With their guidance, you will have the opportunity to discover remarkable, genuine treasures amidst the bustling marketplace.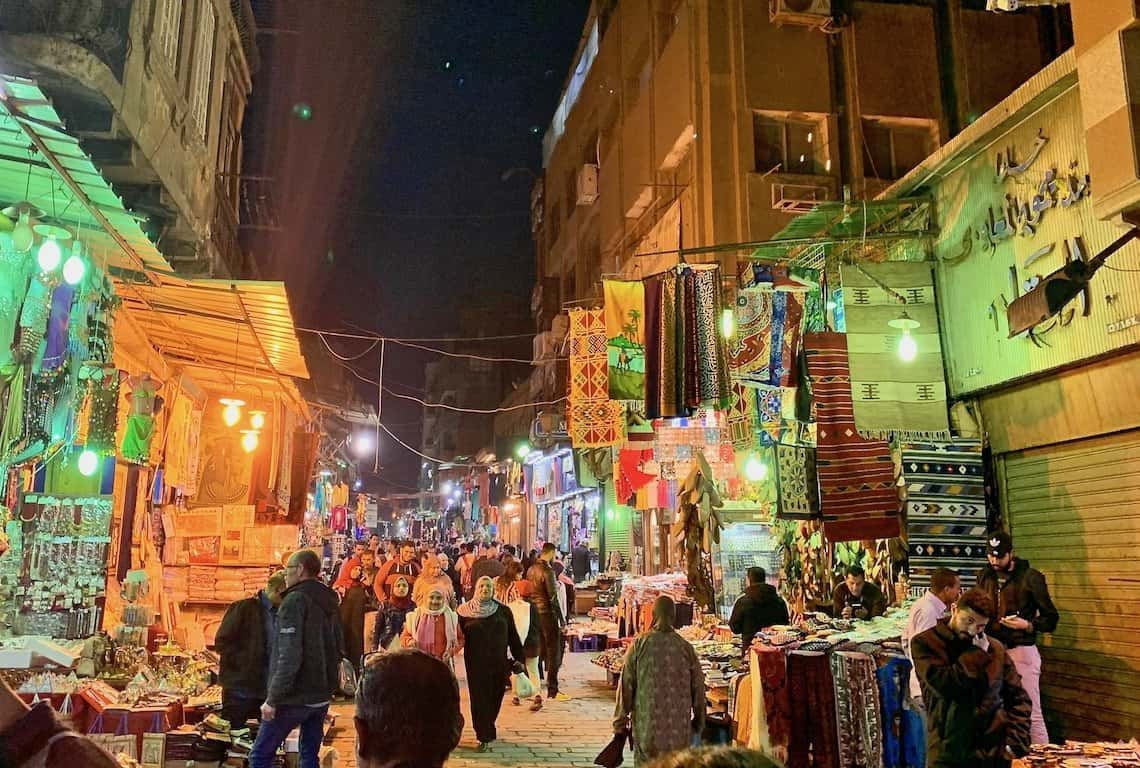 Tips for Visiting Khan el-Khalili Bazaar in Cairo
When embarking on your shopping adventure at Khan el-Khalili Bazaar, it is essential to have an ample supply of cash at your disposal. Credit cards, unfortunately, are not commonly accepted in most of the shops within the bazaar.
However, you will find that both euros and dollars are widely embraced as alternative forms of payment, ensuring flexibility in your transactions.
So, before delving into the captivating world of Khan el-Khalili, be sure to exchange some cash into these currencies to facilitate your purchases and make the most of your shopping experience.
Exploring Khan el-Khalili with a knowledgeable guide is a wise choice for several compelling reasons.
To begin, the bazaar's intricate maze of alleyways can be perplexing to navigate, and it's all too easy to lose your way amidst the labyrinthine streets. A guide provides invaluable direction and ensures you do not find yourself disoriented in this captivating yet intricate marketplace.
Moreover, if your time is limited, a guide becomes an invaluable asset. They will expertly lead you on a comprehensive tour of the bazaar, ensuring you do not miss any of its historic landmarks and must-see spots. With their guidance, you will efficiently make your way to the specific shops or districts tailored to your interests.
Khan el-Khalili Bazaar is neatly segmented into distinct districts, each dedicated to particular types of wares and goods. Whether you are in search of a specific item or seeking to explore a particular category of merchandise, your guide can swiftly direct you to the appropriate district, streamlining your shopping experience and maximizing your time at this iconic Cairo destination.
Have Tea or Coffee at El Fishawy Coffee Shop and Try Hamam Mahshy at Farahat
Indulge in a well-deserved pause at El Fishawy Coffee Shop, an integral part of the Khan el-Khalili experience.
Here, you can savor the rich flavors of mint tea or the robust allure of strong Arabian coffee. The cafe is not merely a place to refuel; it is a cherished component of the bazaar's vibrant atmosphere.
For those with an adventurous palate, consider trying "hamam mahshy," a culinary adventure that involves savoring stuffed pigeon.
My guide enthusiastically asserted that the rendition of this traditional Egyptian dish at Farahat is amongst the finest you will find in all of Egypt.
Farahat has earned its reputation for crafting exceptional stuffed pigeon, and it is an opportunity to savor a taste of authentic Egyptian cuisine.
As you relish these culinary delights, you will discover that Khan el-Khalili not only tantalizes the senses through its shopping experiences but also through its delectable culinary offerings, making it a truly immersive adventure for all.
Did You Find This Useful?
Why Not Save How to Visit and What to See at Khan el-Khalili Bazaar to Your Pinterest Board!
Now, It Is Your Turn, I Would Like to Hear Back from You!
Are you planning on visiting Cairo? Is Khan el-Khalili Bazaar on your list of places to see?
Please let me know! Drop me a quick comment right below!
Also, click on any of the images below to get inspired and to help you with the planning process for your trip to Egypt!