This site uses affiliate links, meaning that if you make a purchase through our links, we may earn an affiliate commission.
Traveling in Egypt can be challenging, even for the most seasoned nomad. There's so much to know about Egypt and consider before planning a trip, however, with these 14 Egypt tips for first timers, you will make the most of your time, avoid possible challenges, and ensure you have a safe and enjoyable stay in Egypt.
14 Egypt Tips for First Timers
Is It Safe to Travel to Egypt
Safety is the number one concern when deciding whether to travel to Egypt or not.
I understand it because, for many years, Egypt remained on my list of places to visit, however, it was not a safe place to travel to due to political instability and terrorism. It was not until 2019 that I started looking at the possibility of visiting Egypt and finally, I decided to travel to Egypt that year.
I have to honestly say that I felt safe during my entire trip to Egypt which started in Cairo and went all the way down the Nile to Abu Simbel near the Sudan border.
During my visit to Egypt in 2019/2020, I saw police and military at all major tourist attractions. While traveling to the Temples of Abu Simbel, we had to stop at several security checkpoints. And, every time I entered my hotel or visited a popular tourist site, I had to go through metal detectors. All these measures were in place to protect tourists and make them feel safe.
Tourism in Egypt used to be one of the leading sources of income, crucial to Egypt's economy.
At its peak in 2010, the sector employed about 12% of the workforce of Egypt, serving approximately 14.7 million visitors to Egypt, and providing revenues of nearly $12.5 billion.
Between 2015-2016 that revenue dropped to $3.3 billion due to political unrest and terrorism.
In 2017, Bloomberg said Egypt has "shed its years of social and political unrest" and made the top 20 list of 2017 travel destinations.
Egypt was on the path of recovery until the Covid epidemic. In 2020, Egypt's tourism revenue dropped by about 70% to $4 billion, reducing tourist arrivals to 3.5 million from 13.1 million in 2019.  Egypt's revenues from tourism for the months of the 2020-2021 fiscal year plunged by 67.4%.
When Should You Go to Egypt
The best time to visit Egypt is spring or fall. About mid-March until mid-May and mid-September until mid-November are the best times to travel to Egypt. In these transition months, temperatures are mild and the weather is pleasant. Spring and fall are the most perfect times of the year to visit Egypt.
Summers (July, and August) are unbearably hot. Temperatures can range from 104F to 130F. By all means, avoid traveling to Egypt in the summer months.
Winter months can be cool (especially at night, down to 50F), but temperatures during the day should be nice and perfect for exploring Egypt. December and January are the most popular months for travel to Egypt, so expect crowds at all popular destinations in Egypt.
Will You Need a Visa to Travel to Egypt
Most foreign visitors who want to visit Egypt need a visa as well as a valid passport.
The best and simplest way to obtain a visa is to apply for an e-Visa. Currently around 150 countries can apply for an electronic visa for Egypt through a quick online application. Once approved, the e-Visa will be electronically linked to the passport and a copy will also be sent via email. You will need to print it and present it to immigration control upon your arrival in Egypt. An Egypt tourist e-Visa allows a total stay of 30 days per entry.
You can also obtain a visa on arrival at any immigration checkpoint. In the Cairo International Airport, right before the passport control, there is a bank window where you can purchase a visa on arrival. It costs USD 25 and you need to pay in cash. Next, take your visa and passport to passport control where the immigration officer will add the visa to your passport and stamp it.
Should You Hire a Tour Company
I recommend hiring a reputable travel company that can assist you with navigating from one attraction to the next while you are visiting Egypt. I want to caution you against self-driving in Egypt due to heavy and unpredictable traffic as well as poor road conditions.
I am not recommending using public transportation either. You will find bus systems in larger cities like Cairo and Alexandria. However, buses are not the easiest mode of transport for visitors in Egypt. First of all, the bus numbers are displayed in Arabic. Second, they are overcrowded and uncomfortable.
In my opinion, taxis are the most efficient way to get around in Egypt.
I collaborated with Your Egypt Tours to help me put together an itinerary for Egypt. They supplied drivers and guides, as well as booked a cruise on River Nile for me. On the other hand, I researched and booked all the hotels and flights. Honestly, I recommend them and have to say that they have done a great job! Just to clarify, I am not getting paid for recommending them.
What Should You Wear in Egypt
Egypt is a conservative Muslim country. However, Egypt is used to foreign visitors and there are no set rules as far as the dress code. But, my recommendation is to be modest and respectful of Egypt's religion and culture.
With that being the case, I would suggest wearing short or long sleeve shirts and loose or baggy-fitting pants during the cooler times of the year.
During the summer months, when temperatures soar above 100F, it is just fine to wear longer shorts and short sleeve shirts. I have seen many female travelers wear loose-fitting dresses and capris as well.
Simply put, be comfortable and yet be modest!
You will see the majority of Egyptian women wearing headscarves, and many women keep themselves completely covered. It is not required that you comply with these rules at all unless you are visiting a mosque – in that case, you do need to respect the fact that you are entering a religious building and it is advisable that you cover up. I usually carry a scarf wherever I travel and I have it handy.
As a female traveler to Egypt, I stay away from sleeveless or strapless tops and dresses, and shorts out of the respect for Egyptian culture and religion.
If you are planning on going on the River Nile cruise or visiting any of the resorts while in Egypt, you will find a very different and relaxed atmosphere with tourists wearing western summer attires – sleeveless tops, shorts, bathing suits, short dresses, etc.
Is It Safe to Drink Tap Water
It is not fun to get sick while you are traveling and I got very sick several times while traveling to different destinations around the world. So, I tend to stay super cautious when it comes to drinking tap water, consuming uncooked foods, or consuming food in general. While food and water might be safe for locals whose systems are used to them but can create quite gastrointestinal havoc for visitors.
The bottom line, it is not safe to drink tap water, brush your teeth with tap water in Egypt, or eat uncooked foods that might have been rinsed with tap water. Tap water in Egypt can contain harmful organisms such as viruses and bacteria that could make you sick if you ingested them.
Buy bottled water in Egypt and check that the seal is not broken. Drink bottled water, brush and rinse your teeth with bottled water, and above all stay away from any uncooked foods like salads, raw vegetables, unpeeled fruit, and meat that isn't thoroughly cooked.
If you do get an upset stomach, take diarrhea relief tablets and drink plenty of purified water.
Supposedly, it is safe to use tap water in Cairo since it is heavily chlorinated, but, I was told, it tastes awful and requires some getting used to it. I would not recommend it either since a lot of chlorine in the water might upset your digestive system.
What You Need to Know About Tipping in Egypt
Tipping is a tradition in Egypt and while traveling in Egypt be prepared to tip a lot. By tipping, you are showing your gratitude for the services that were provided to you.
How much should you tip? It is recommended that you tip at least 5-10% of the total cost of the service.
I tipped in US Dollars and before traveling to Egypt, I prepared envelopes with tips for drivers, guides, porters, the River Nile Cruise staff, and the list goes on and on.
Following are some guidelines that you can follow:
Restaurant – it is usual to leave between 5 and 10% of the tip amount, in addition to the service charges.
Hotel – normally, $1-$3 usually left with the doorman and other employees
Hotel Bags – between 10 and 20 Egyptian pounds.
Tour Guide and Driver – a standard tip for the tour guide is $30-$50 per person for the trip and for the driver $10-$20.
Toilet Attendants – 5 Egyptian pounds is appropriate
Guardians at archaeological sites – 10 Egyptian pounds are suitable for a particular extra service. The tip is only to be given if you have formulated your agreement and accepted or requested this service, for example: taking your picture.
Also, just want you to be aware that if someone offers to take your picture, they are not doing it for free. They will want to be paid. So, be prepared to tip them for their service. If you see a photogenically positioned camel in front of the pyramids, be aware that if you snap a picture of the camel, then you will have to pay the owner of that camel.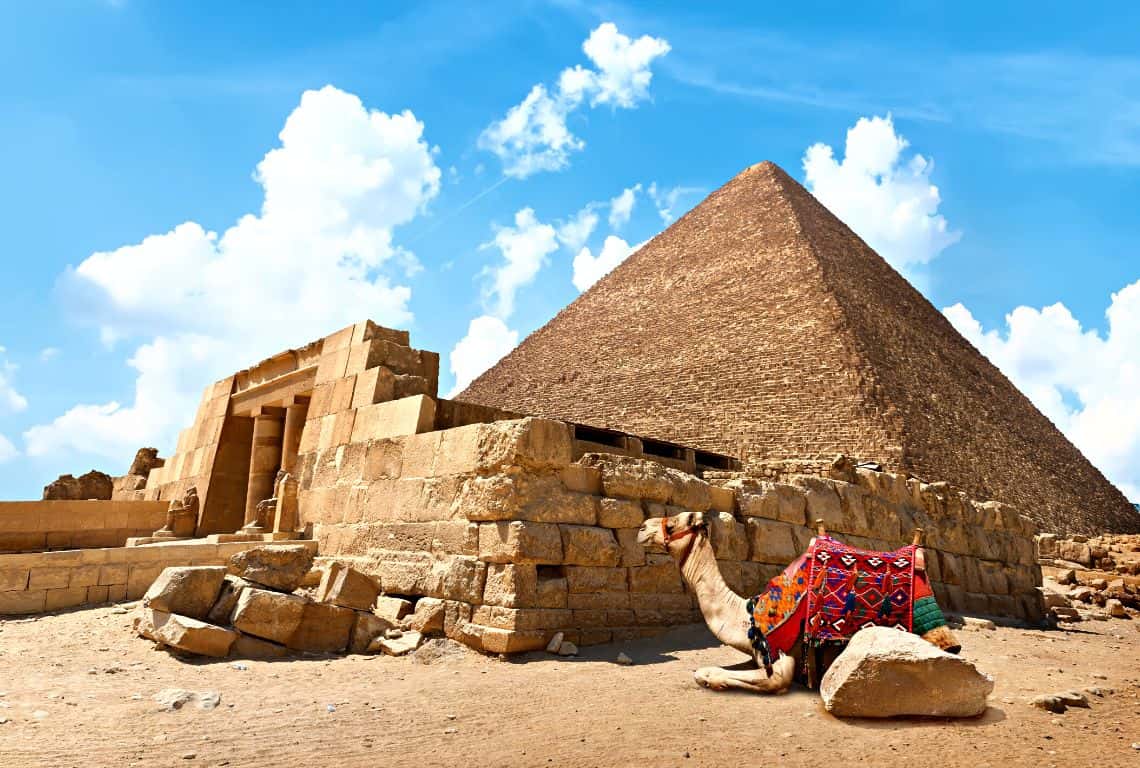 What You Need to Know About Tipping in Egypt /  Egypt Tips for First Timers
Egypt Tips for First Timers
Do You Need to Exchange Money When Traveling in Egypt
You do not need to exchange a lot of money while traveling in Egypt. Exchange just enough money to cover some of the tips and have some on hand.
Other than that, US Dollars are widely accepted and a preferred method of payment and tipping. Also, credit cards are accepted almost everywhere.
If you need to exchange money, then there are plenty of ATM's pretty much every place that tourists visit.
How to Get Around in Egypt
My recommendation is to collaborate with a reputable tour company. They can provide drivers and tour guides and you can book flights and hotels. Or, they can do it all. Honestly, having drivers and tour guides scheduled for each day of your trip is the most efficient way to get around in Egypt.
Another option is to join a bus tour that stops at all major attractions in each location you plan to explore. It is probably one of the least expensive options. It does not give you much flexibility and you are stuck with a large group of visitors.
Another pretty efficient option is to just book a taxi and head to all the major attractions You will always be able to hire a guide right at the entrance.
I do not recommend renting a car in Egypt. The roads are in poor condition, the traffic is incredible (Cairo or Luxor), and traffic rules do not exist. On the roads outside the cities, there are security checkpoints, and you need to be able to communicate with the officers.
Can You Fly a Drone in Egypt
To bring a drone to Egypt and fly it, you need to receive permission from the country's Civil Aviation Authority (CAA).
If you do not have documentation of authorization, your drone will be confiscated at customs.
However, it's difficult to get permission to fly a drone from the CAA.
Bargaining or haggling is an integral part of the Egyptian shopping experience and should be considered more like a fun game, rather than a serious battle.
Here are a few tips:
First of all, ask the seller for the price of an item you are interested in.
Most sellers will start their offer at some exorbitant price. My suggestion is to counteroffer with one-third of the asking price.
The seller will appear to be appalled by your offer and will ridicule it. Stay calm and just keep smiling. Remember, it is all a game and you should have fun.
If the seller is not willing to lower the price, then pretend you are no longer interested in the item and walk away.
I can assure you that you will be followed and offered a lower price.
Don't feel guilty about getting the item at a lower price. It is a process and the seller is still making a profit.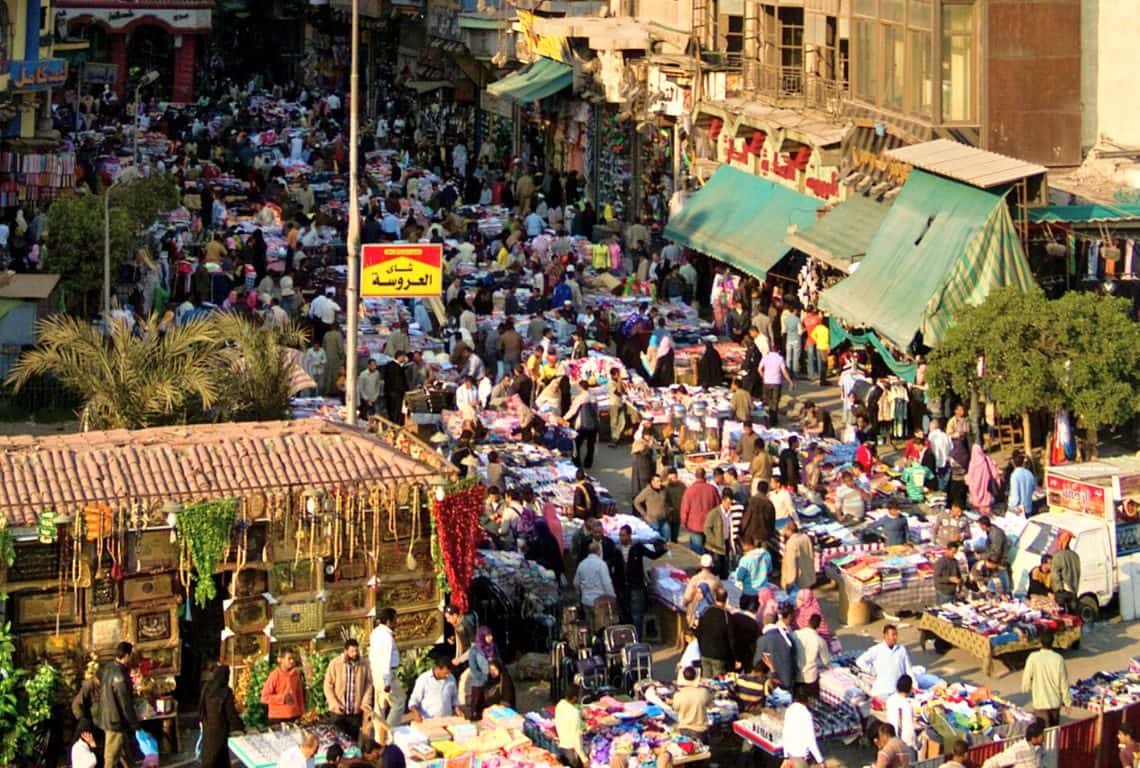 Busy Market in Cairo /  Egypt Tips for First Timers
Egypt Tips for First Timers
Should You Go on a Camel Ride
Should you go on a camel ride at the Pyramids of Giza? My answer is yes! YES!
Going on a camel ride and taking a photo with the pyramids behind you is one of the most touristy things to do in Egypt, however, it is a tradition that everyone coming to Egypt needs to do.
How much does it cost to go on a camel ride at the Pyramids of Giza? For a 30-minute camel ride, the average price is 300 EGP, which is about $20 USD.
However, this price can vary a lot. You will need to negotiate the price, time, distance, etc with the camel owner. Then, the camel handler will take you to several good photo locations and take your pictures. You will need to tip the camel handler at the end of the ride as well.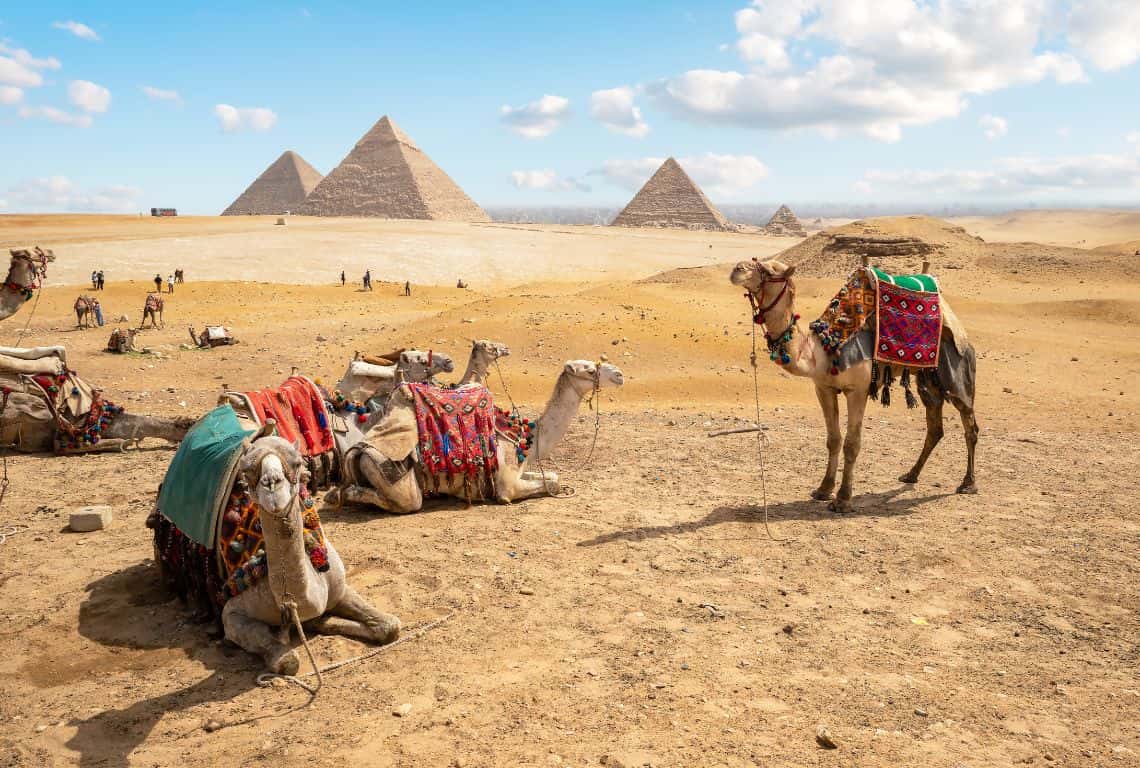 Pyramids of Giza / Egypt Tips for First Timers
Egypt Tips for First Timers
How to Use a Public Toilet in Egypt
Public toilets in Egypt are not maintained to the best standard. Here are a few suggestions about how to use public toilets in Egypt:
Public toilets in Egypt are usually staffed by a toilet attendant. So, make sure to leave a tip for the attendant before leaving the restroom. They might hand you a piece of toilet paper and turn on the facet, but it is not a rule.
Bring your own toilet paper.
The water faucet might not be working. There might not be any soap. Make sure to bring hand sanitizer with you.
Be prepared that the restroom might have only 'squat' toilets. However, I have seen both "squat" and "sit down" toilets.
What to See in Egypt for First-Time Visit
From the incomparable pyramids, majestic sands of the Sahara, breathtaking Temples of Abu Simbel, and the beauty of the River Nile, the list of places to visit in Egypt goes on and on.
While you are working on your Egypt itinerary, make sure not to miss these must-see places:
I am sure you heard of the Seven Wonders of the Ancient World. The Great Pyramid of Giza is the only Wonder of the Ancient World that is still in existence.
Built during the Old Kingdom (c. 2686-2181 BC), specifically, during the reign of the Fourth Dynasty kings, more than 4,000 years ago, the Great Pyramids of Giza give us a glimpse into Egypt's past.
For me, the Great Pyramids of Giza are the most magnificent structures and the most iconic sight in the world. Both, the Great Pyramids of Giza and the Great Sphinx of Giza have been on my list of places to explore for the longest time.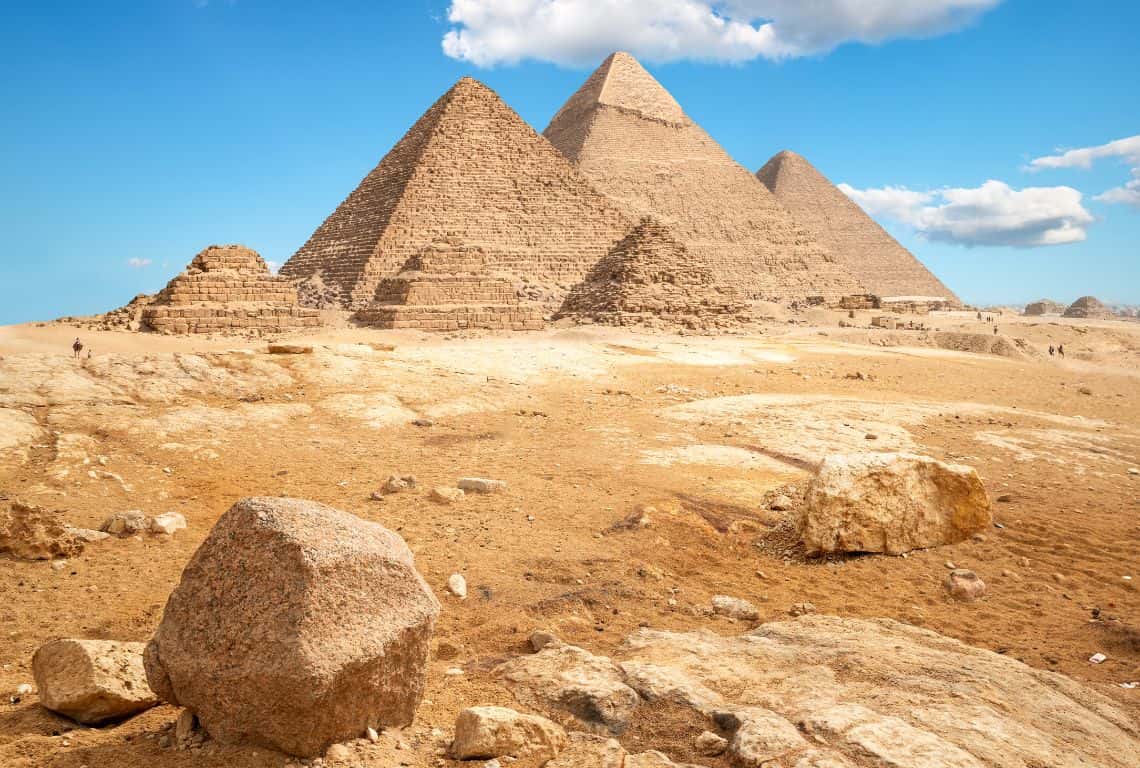 Pyramids of Giza / Egypt Tips for First Timers
Egypt Tips for First Timers
Valley of the Kings in Luxor
For a period of nearly 500 years, from the 16th to the 11th century BC, known as the New Kingdom of Ancient Egypt, the Valley of the Kings was the burial ground for pharaohs such as Tutankhamun, Seti I, and Ramses II, as well as queens, high priests, and other elites of the 18th, 19th, and 20th dynasties.
There are some 65 magnificent royal tombs, that have been discovered so far.
Nowadays, their contents are gone. However, you can still see the amazing wall and ceiling decorations with religious images and texts from the netherworld books, designed to guide the pharaohs in their journey to the afterlife.
The Temples of Abu Simbel 
One of the must-see sights when visiting Egypt is the Abu Simbel Temple Complex. However, some advance planning is advisable to enjoy this incredible place to its fullest. Here is everything you need to know about how to visit Abu Simbel:
Inside the Great Temple of Abu Simbel / Egypt Tips for First Timers
Karnak and Luxor Temples in Luxor
Karnak is a massive Ancient Egyptian temple complex. At the heart of it lies the Temple of Amun, dedicated to the king of the gods. In addition, there are a number of smaller temples, chapels, and sanctuaries dedicated to other deities. Moreover, there are endless halls, a sacred lake, pylons, colossi, and obelisks.
Luxor Temple is one of the most beautiful temples located on the East Bank of the River Nile in Luxor.
Luxor and Karnak Temples need to be on your bucket list of places to visit.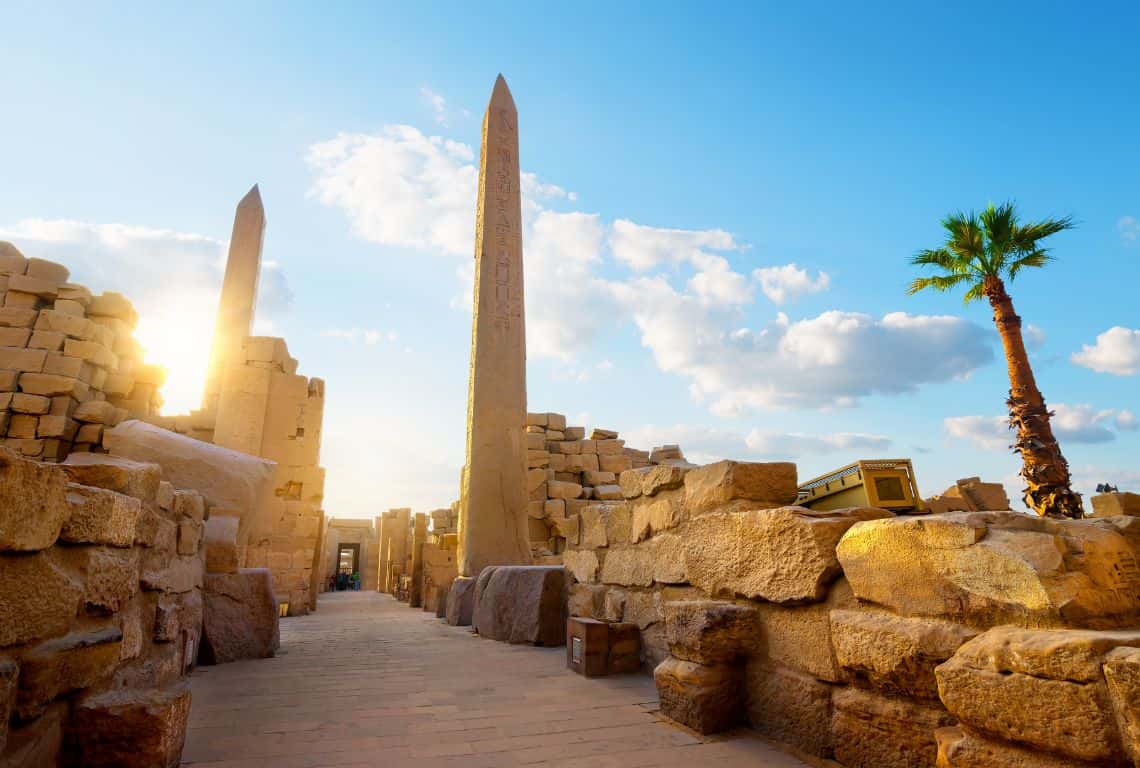 Karnak Temple / Egypt Tips for First Timers
Egypt Tips for First Timers
Temple of Hatshepsut in Luxor
The Temple of Hatshepsut, also known as Djeser-Djeseru (Holy of Holies), is one of the most stunning temples located on the West Bank of the River Nile in Luxor. Constructed by Pharaoh Hatshepsut and dedicated to herself and god Amun, the temple is built into a cliff face and consists of a series of spectacular terraces that can be reached by long ramps.
Temple of Hatshepsut / Egypt Tips for First Timers
Egypt Tips for First Timers
The Museum houses the world's largest collection of Pharaonic antiquities consisting of more than 120,000 items (with a representative amount on display and the remainder in storerooms). To see it all, would take you days! To make it manageable, read 19 must-see things at Egyptian Museum. PLUS, things you need to know before going to the museum.
Intrepid Scout's Egypt Tips for First Timers
Get your e-Visa before traveling to Egypt. Apply and get your visa to Egypt online. It is a simple process to apply online and it will save you time when you arrive in Egypt.
The best time of the year to visit Egypt is during the winter months. The temperatures are mild and perfect for exploring Egypt.
Book the Nile river cruise! The Nile river cruise is still one of the most popular ways to see Egypt's ancient sights. Many of the most famous sites are located directly on the river. At night, many of the temples and monuments are beautifully illuminated, and the sight of them from the water is stunning.
Don't Have Time To Read it Now?
Why Not Save Egypt Tips for First Timers to Your Pinterest Board!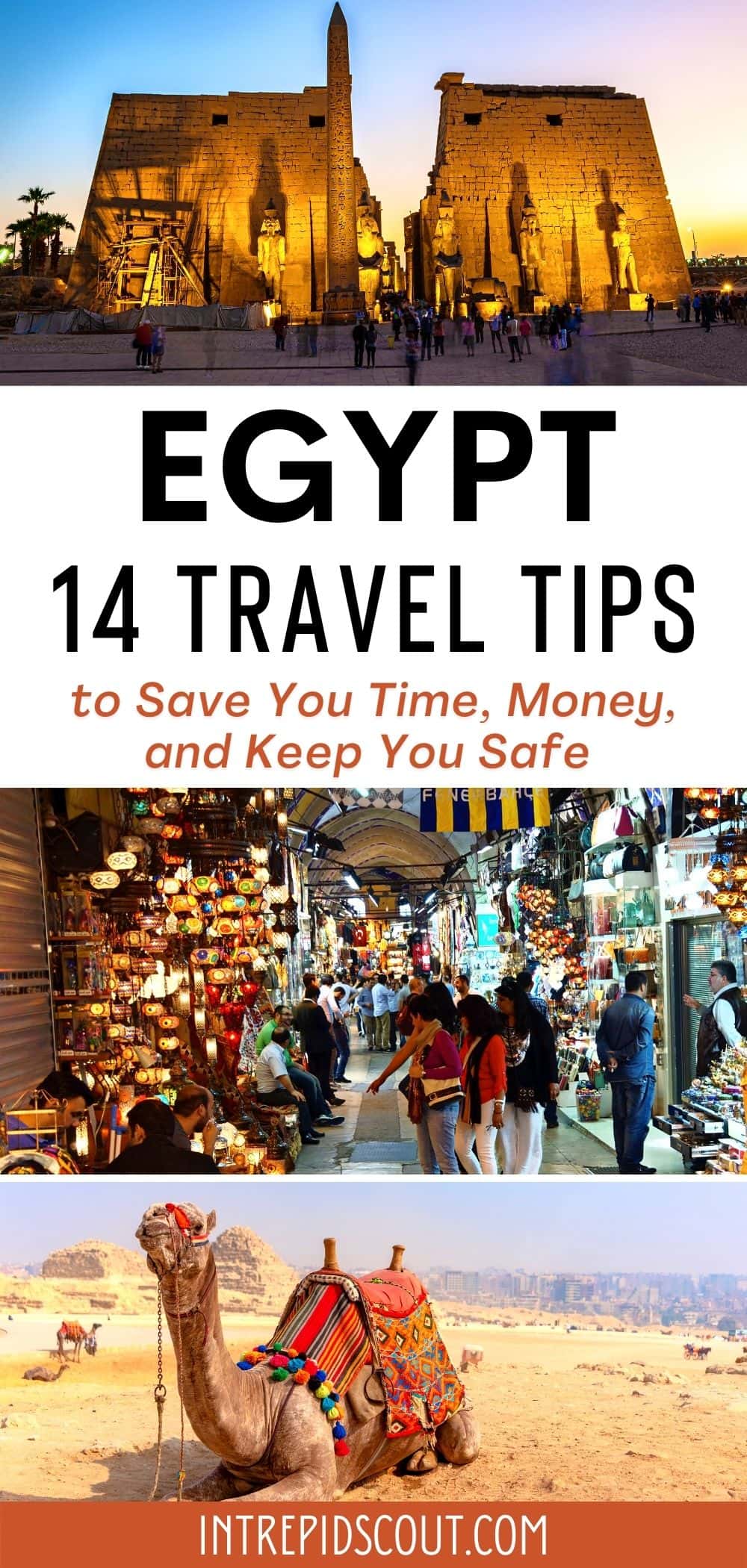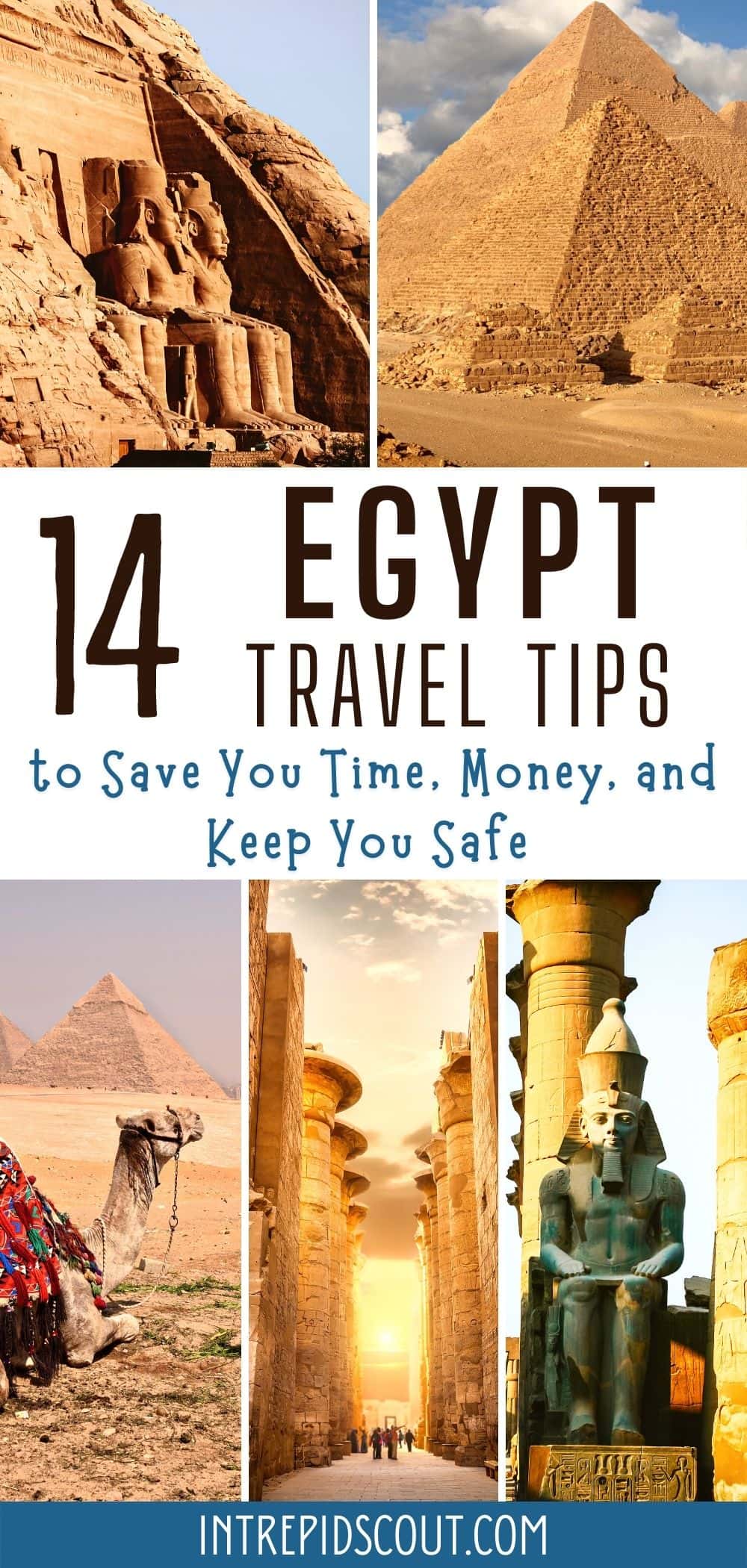 Now, It Is Your Turn, I Would Like to Hear Back from You!
Are you planning your trip to Egypt?
Please let me know! Drop me a quick comment right below!
Click on any of the images below to get inspired and to help you with the planning process for your trip to Egypt!