This site uses affiliate links, meaning that if you make a purchase through our links, we may earn an affiliate commission.
Yosemite National Park, renowned for its awe-inspiring landscapes and captivating beauty, presents a remarkable opportunity to witness nature's daily spectacle—the sunset.
For those who yearn to witness this daily marvel without the demand of hiking trails, fear not—Yosemite offers a selection of prime sunset viewing locations requiring no arduous treks.
Join us in this guide as we unveil the crème de la crème of Yosemite sunset spots, providing you with unobstructed panoramas and vivid hues, all within easy reach and without the need for hiking.
Yosemite National Park At-A-Glance
Before diving in, here are a few Yosemite National Park highlights to help you plan your trip:
Best Time to Visit Yosemite National Park
Make sure to read: 8 Best Times to Visit Yosemite (Find the Perfect Time for Your Adventure) to uncover the ultimate months for witnessing waterfalls, wildflowers, and Firefall phenomenon, avoiding crowds, enjoying summer adventures, capturing stunning photographs, embracing winter activities, and indulging in serene hikes. This comprehensive guide will help you plan your perfect Yosemite adventure, ensuring you experience its wonders at their most enchanting.
Where to Stay When Visiting Yosemite National Park
Yosemite offers various lodging options within the park, ranging from campgrounds to lodges. Yosemite Valley is convenient for iconic sights, but accommodations fill up quickly. Outside the park, nearby towns like Mariposa and Groveland offer additional lodging choices, though be prepared for longer drives into the park. Make sure to read: 5 Towns Near Yosemite (with Best Places to Stay and Eat). It is a comprehensive guide to the best places to stay inside the park as well as the towns that surround it.
How to Get to Yosemite National Park
Yosemite National Park is accessible by car from various directions. But if you are looking to elevate your journey with the ease of flying, we have got you covered! Dive into the Ultimate Guide to Airports Near Yosemite, complete with Pro Tips to ensure your access is as seamless as the breathtaking vistas that await.
How to Get Around in Yosemite National Park
Getting around Yosemite National Park is primarily done by car, as the park is vast and public transportation options are limited. There is a free Yosemite Shuttle Bus connecting major points of interest. During peak seasons, parking can be challenging, so utilizing the shuttle system and planning to arrive early can help. Make sure to read: Best Yosemite Shuttle Bus Guide (Useful Tips+Maps+Routes)
How Much Does It Cost to Vist Yosemite National Park
In order to visit Yosemite National Park, you need to purchase a recreational day-use pass, which costs $35 per vehicle and is good for 7 consecutive days. You can purchase the pass right at the entrance to the park. If you are visiting several national parks then make sure to get America the Beautiful National Park Pass. This $80 pass is valid for 12 months and gets you into all 400+ national park sites!
Check Yosemite National Park Website for Trail Closures and Changes to Shuttle Operations
It is important that you check Yosemite National Park's Website for any trail or road closures prior to going to the park. You can check for updates HERE.
Yosemite Sunset Photography Tips
Timing is Key: Plan to arrive at your chosen location well in advance, as the best colors often appear before the sun actually sets.
Scout the Location: Arrive early to scout the area for potential compositions, interesting foreground elements, and suitable angles.
Bring a Tripod: A sturdy tripod is essential for stable shots, especially in low-light conditions. It allows you to use slower shutter speeds without introducing camera shake.
Use the Right Lens: A wide-angle lens is often preferred for sunset landscapes as it can capture both the colorful sky and foreground elements.
Shoot in RAW: Capture your images in RAW format to have greater flexibility in post-processing for adjusting exposure, color balance, and more.
Manual Mode Mastery: Experiment with manual mode to control settings like aperture, shutter speed, and ISO to achieve the desired exposure.
Balancing Exposure: Use graduated ND filters or bracketing to balance the exposure between the bright sky and the darker landscape.
Dynamic Range: Consider using HDR techniques to capture a broader range of light and dark areas, preserving details in both the sky and landscape.
Rule of Thirds: Compose your shot using the rule of thirds grid, placing the horizon and main subjects along the intersecting lines for a balanced composition.
Leading Lines: Utilize natural lines in the landscape—such as paths, rivers, or cliffs—to guide the viewer's eye towards the focal point of your photo.
Foreground Interest: Incorporate interesting foreground elements to add depth and a sense of scale to your images.
Experiment with White Balance: Play with white balance settings to create different moods—try warmer tones for a cozy feel or cooler tones for a serene ambiance.
Silhouettes: Capture the beauty of silhouettes by positioning subjects in front of the setting sun, creating dramatic contrast.
Stay After Sunset: Continue shooting for a while after the sun has set. The colors in the sky can often intensify during the "blue hour."
Remember, practice makes perfect. The more you experiment with these techniques and pay attention to the changing light and conditions, the better your sunset photography will become.
9 Best Yosemite Sunset Spots (No Hiking Needed)
Tunnel View is a quintessential spot that offers a breathtaking panorama of Yosemite Valley, including iconic landmarks like El Capitan, Bridalveil Fall, and Half Dome.
You will be amazed at how this expansive view showcases the valley bathed in the warm hues of sunset.
Good to Know: Ansel Adams, the renowned photographer, captured his iconic image "Monolith, the Face of Half Dome" from this very viewpoint.
Pro Tip: Arrive early to secure a prime spot, especially during peak seasons.
How to Get There: Tunnel View is easily accessible. It is located on Wawona Road (Highway 41), just after passing through the tunnel when driving into Yosemite Valley.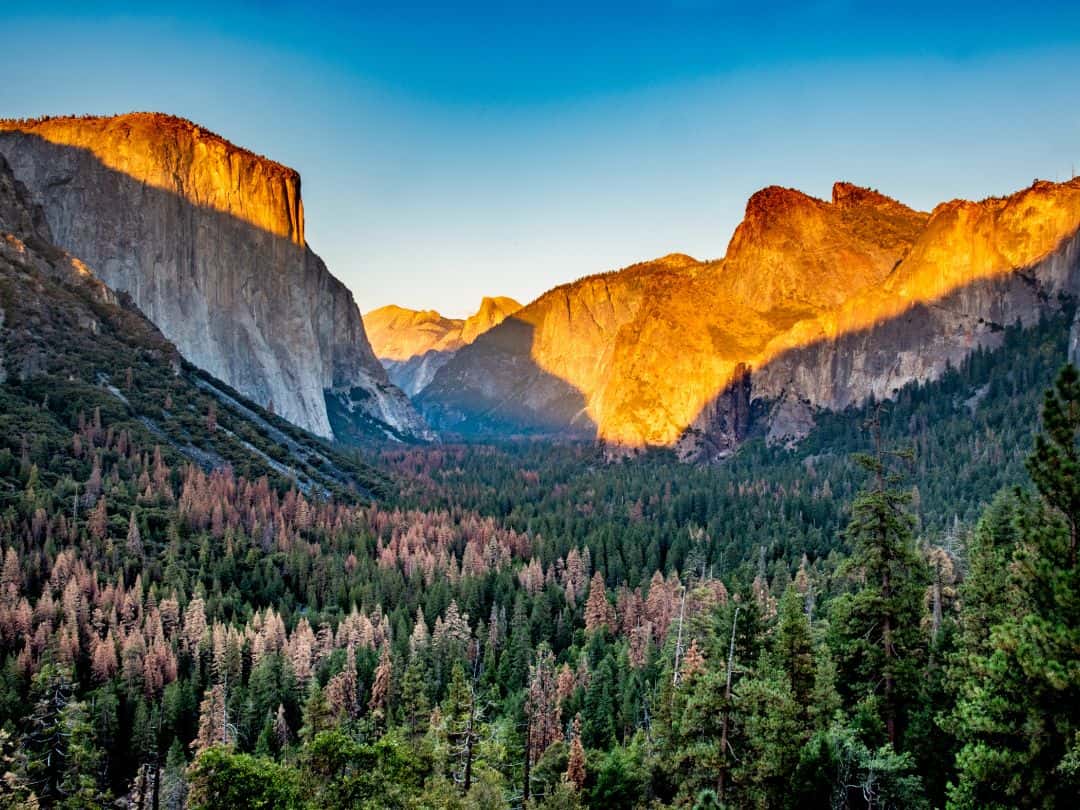 Yosemite Sunset Spots / Iconic Tunnel View at Sunset
Perched high above the valley, Glacier Point offers a panoramic spectacle of Half Dome, Yosemite Valley, and the High Sierra peaks.
The dramatic elevation and unobstructed views make Glacier Point an exceptional location for capturing the full splendor of a Yosemite sunset.
Good to Know: Glacier Point is also a prime spot for stargazing due to its lack of light pollution.
Pro Tip: Bring warm clothing, as the high elevation can bring cooler temperatures, even during summer.
How to Get There: From Yosemite Valley, take Wawona Road (Highway 41) and then turn onto Glacier Point Road to reach Glacier Point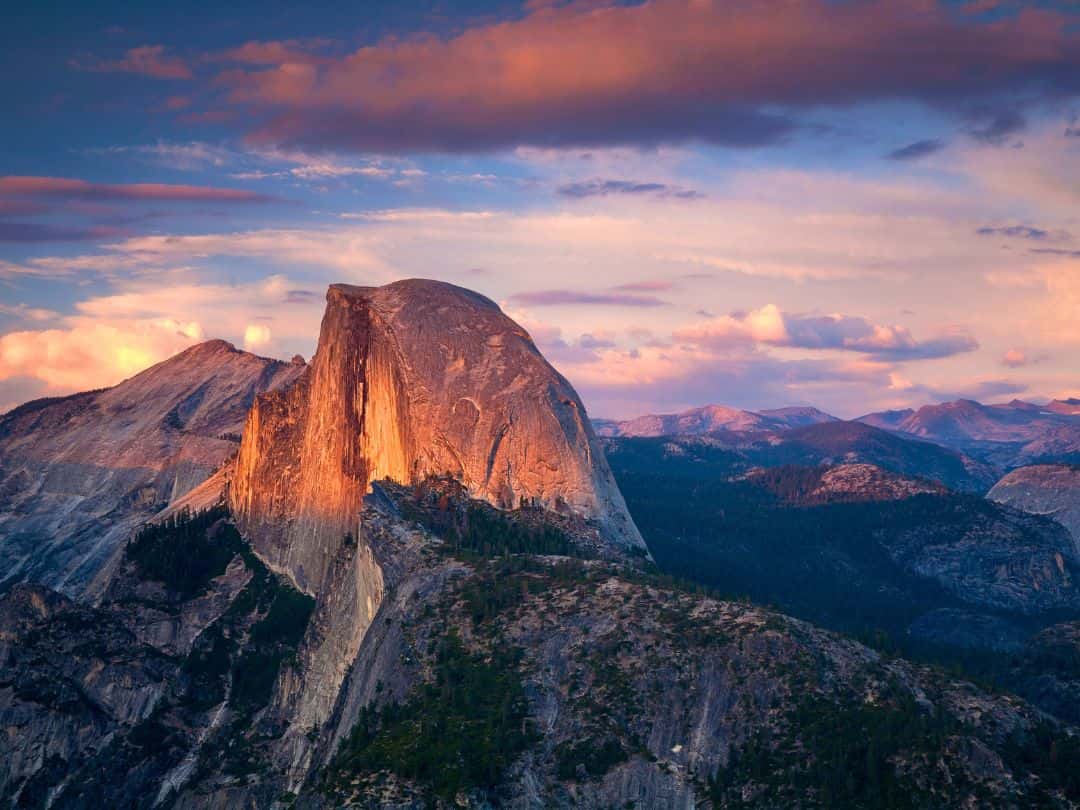 Yosemite Sunset Spots / View of Half Dome from Glacier Point at Sunset
Positioned in the heart of Yosemite Valley, Sentinel Bridge offers serene reflections of Half Dome and surrounding features in the Merced River.
The bridge's proximity to iconic landmarks and its calm waters create a picturesque scene as the sun sets.
Good to Know: This spot is also favored for early morning photography.
Pro Tip: Arrive well ahead of sunset to capture the transition from daylight to dusk and explore different compositions.
How to Get There: Easily accessible near the Yosemite Valley Lodge, with parking available.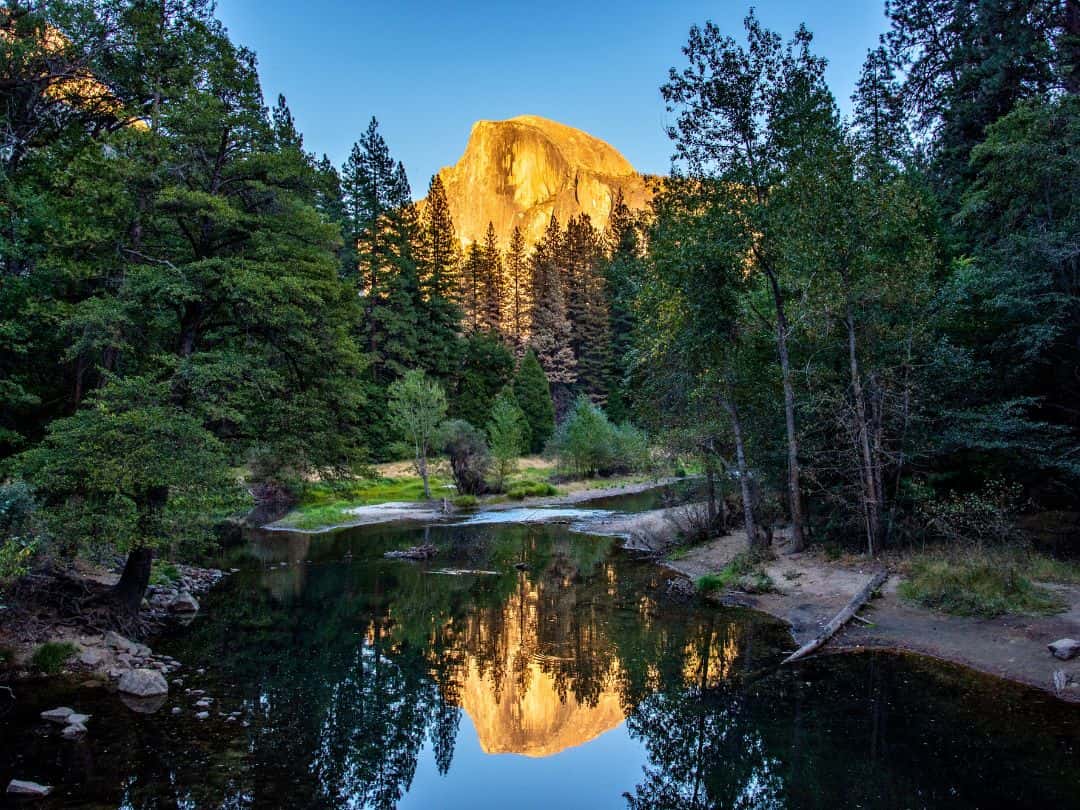 Yosemite Sunset Spots / View fo Half Dome Reflected in Merced River from Sentinel Bridge at Sunset
Taft Point offers jaw-dropping views of Yosemite Valley, including El Capitan and Yosemite Falls, from a dramatic cliff edge.
The dramatic location and awe-inspiring vistas make Taft Point a must-visit spot for a memorable sunset experience.
Good to Know: Famed daredevil and highliner Dean Potter performed stunts here, adding to the spot's intrigue.
Pro Tip: Exercise caution near the cliff edge and be sure to arrive with enough daylight to safely hike back after sunset.
How to Get There: Ok… so this is one Yosemite sunset spot that will require a short walk. But it is so worth it! To reach Taft Point, follow Glacier Point Road, park at the Taft Point trailhead, and hike a short 1-mile trail to the stunning cliff-edge viewpoint.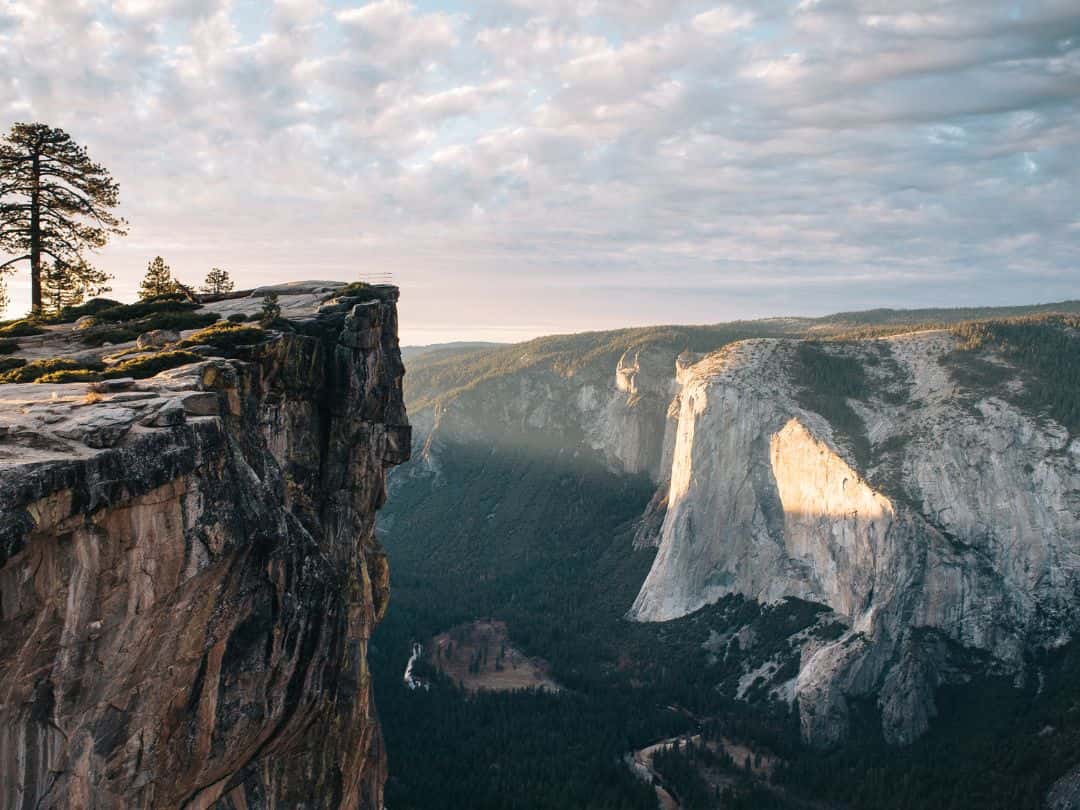 Yosemite Sunset Spots / View from Taft Point
Nestled along the Merced River, Valley View provides an intimate perspective of El Capitan and Bridalveil Fall, framed by lush greenery and rugged terrain.
The proximity to the river and the iconic rock formations create a tranquil and compelling sunset view.
Good to Know: Springtime sees an increase in water flow in the Merced River, adding to the scene's beauty.
Pro Tip: Bring a tripod to capture long exposure shots of the river with the colorful sky.
How to Get There: Located along Northside Drive, between El Capitan and Bridalveil Fall.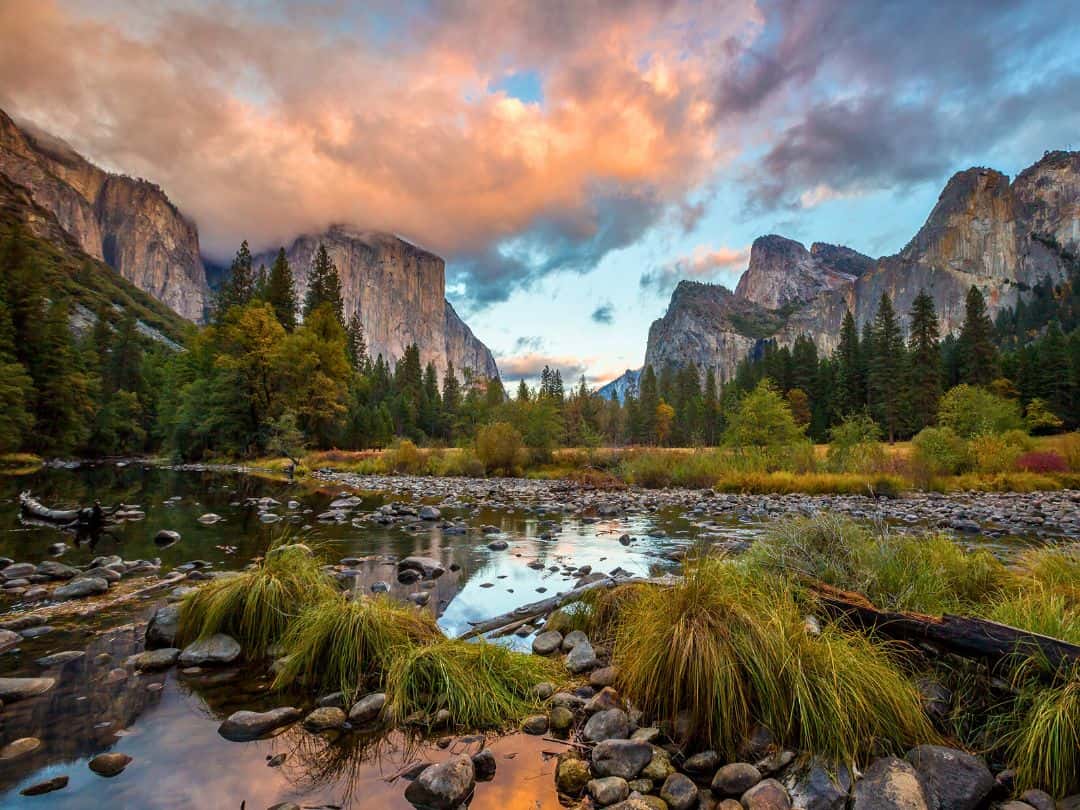 Yosemite Sunset Spots / Valley View at Sunset
Tenaya Lake offers unobstructed views of the surrounding granite peaks, reflecting in the tranquil waters of the lake. As the sun sets, the scenery is painted with warm and soft hues.
The peaceful ambiance of the meadow near Tenaya Lake combined with the lake's reflections creates a serene and less crowded sunset experience.
Good to Know: Tenaya Lake is named after Chief Tenaya, a leader of the Ahwahneechee tribe.
Pro Tip: Bring insect repellent, as the meadow area can have relentless mosquitoes.
How to Get There: Accessible via Tioga Road (Highway 120), with parking available near the lake.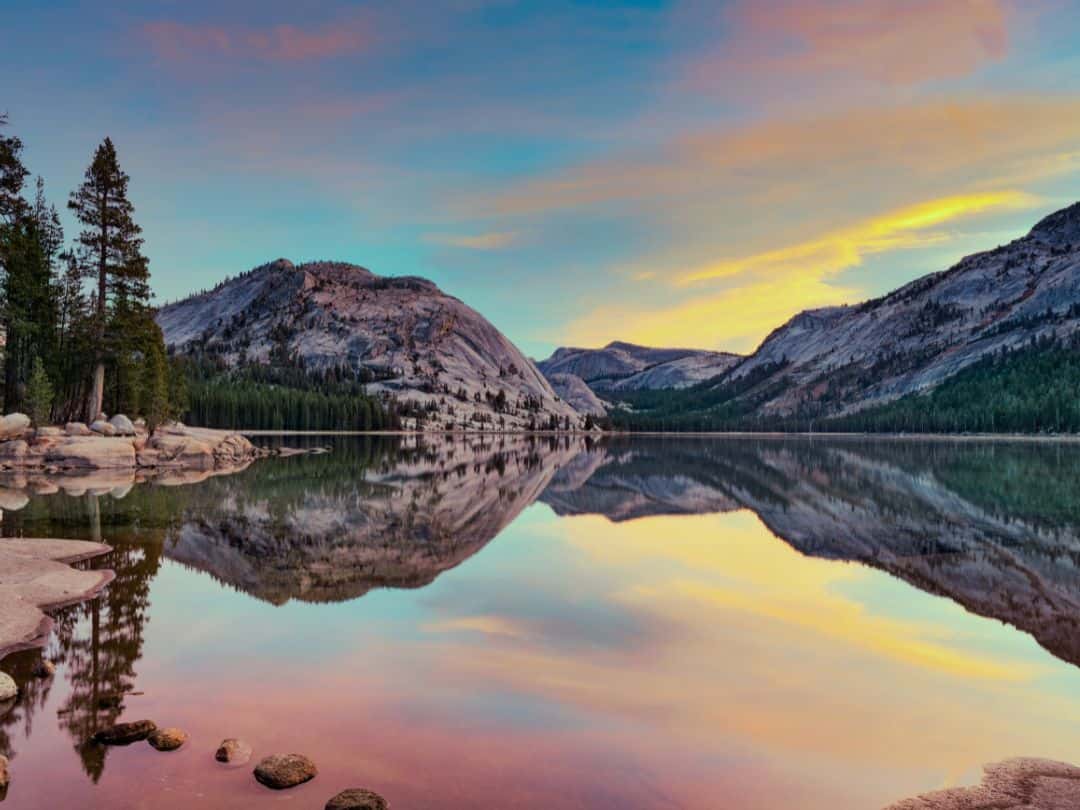 Yosemite Sunset Spots / Sunset at Tenaya Lake
Olmsted Point offers a unique perspective of the high country, with panoramic views of granite domes and Tenaya Lake. The alpine glow during sunset adds a magical touch.
Good to Know: Named after Frederick Law Olmsted, a landscape architect who played a significant role in the establishment of the National Park System.
Pro Tip: Pack warm clothing, as the higher altitude brings cooler temperatures, and take a moment to explore the unique rock formations nearby.
How to Get There: Accessible via Tioga Road (Highway 120), approximately 1.5 miles east of Tenaya Lake.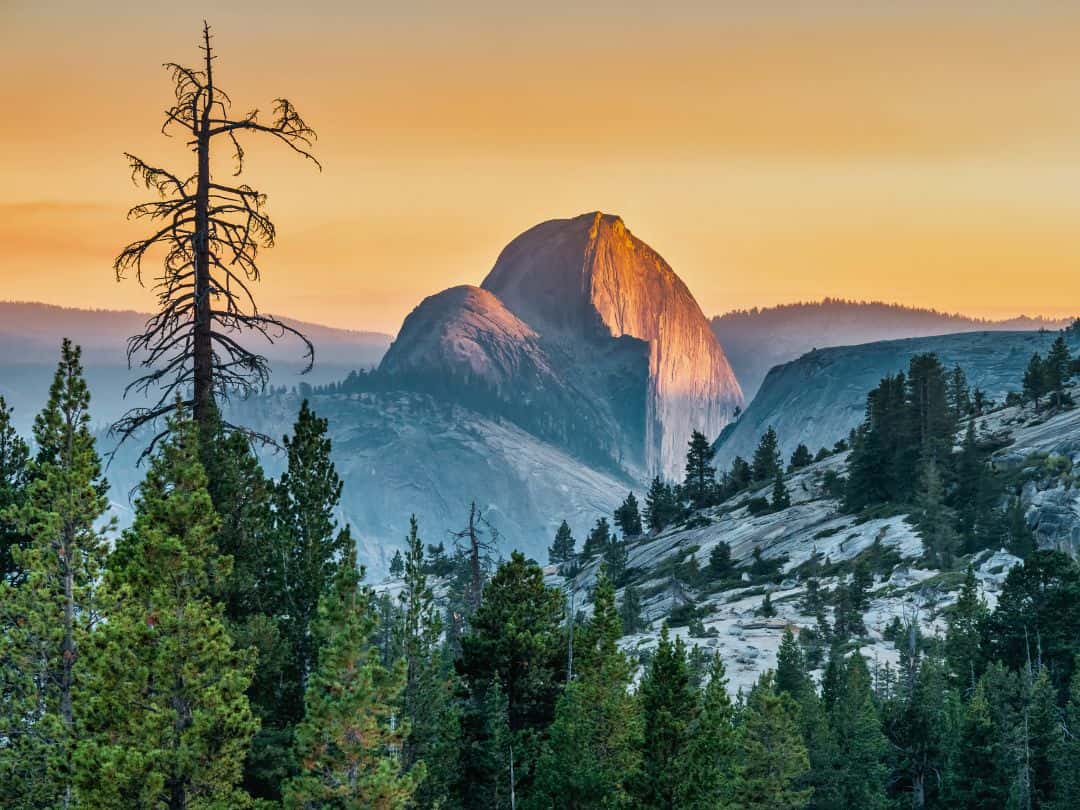 Yosemite Sunset Spots / Olmsted Point
Horsetail Fall (Firefall Spectacle)
Horsetail Fall's unique phenomenon, known as the "Firefall," occurs when the setting sun illuminates the waterfall, creating an awe-inspiring cascade of molten-like orange and red hues.
This annual event draws photographers and spectators from around the world.
The Firefall phenomenon is a rare event that occurs during the right conditions in mid to late February. Needless to say, this spectacular event draws photographers and spectators from around the world.
Good to Know: The Firefall spectacle occurs for a short window during clear evenings with enough water flow and the right angle of sunlight.
Pro Tip: Arrive early to secure a prime viewing spot along Southside Drive near El Capitan Picnic Area.
How to Get There: Drive on Southside Drive, and park at El Capitan Picnic Area. Then, take a short walk to the viewing area.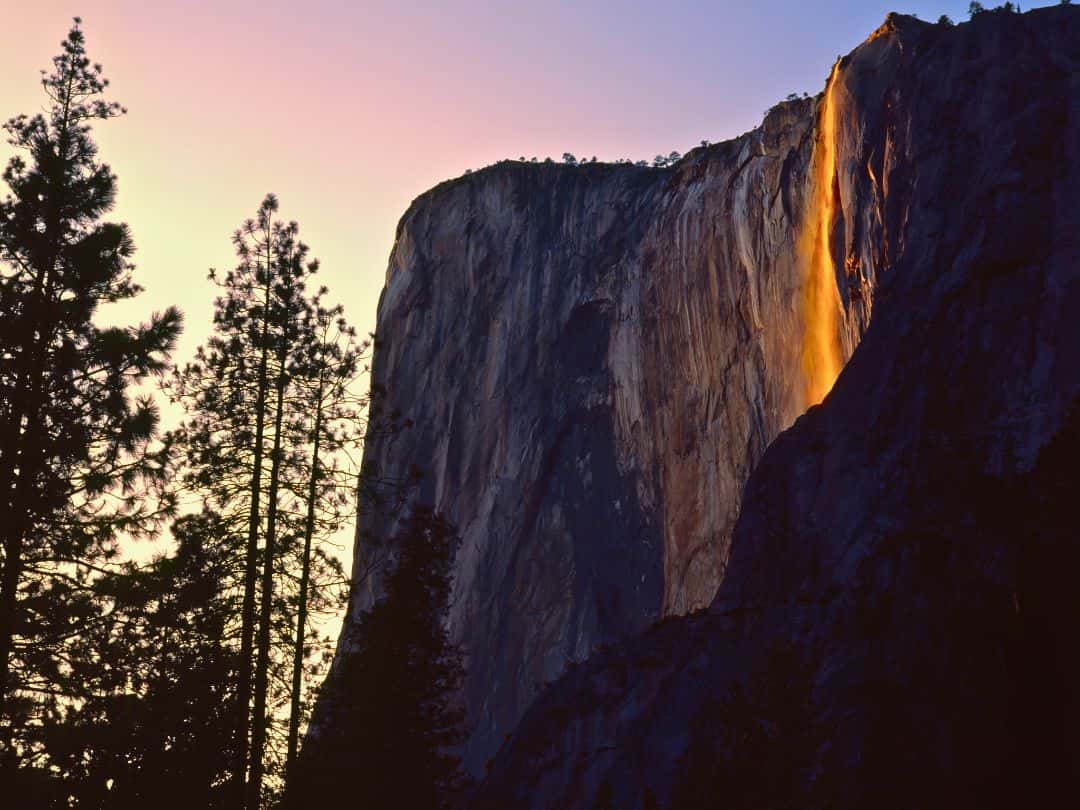 Yosemite Sunset Spots / Horsetail Fall
Tuolumne Meadows, situated in the high country of Yosemite, offers a serene and expansive landscape dotted with granite domes, lush meadows, and the tranquil Tuolumne River. As the sun sets, the meadows and surrounding peaks are bathed in warm hues.
Good to Know: The meadows are a hub for hikers and backpackers, offering access to various trails.
Pro Tip: Explore the meadows during the "golden hour" leading up to sunset to capture the soft, magical light.
How to Get There: Accessible via Tioga Road (Highway 120), a scenic drive that takes you through the high country of Yosemite.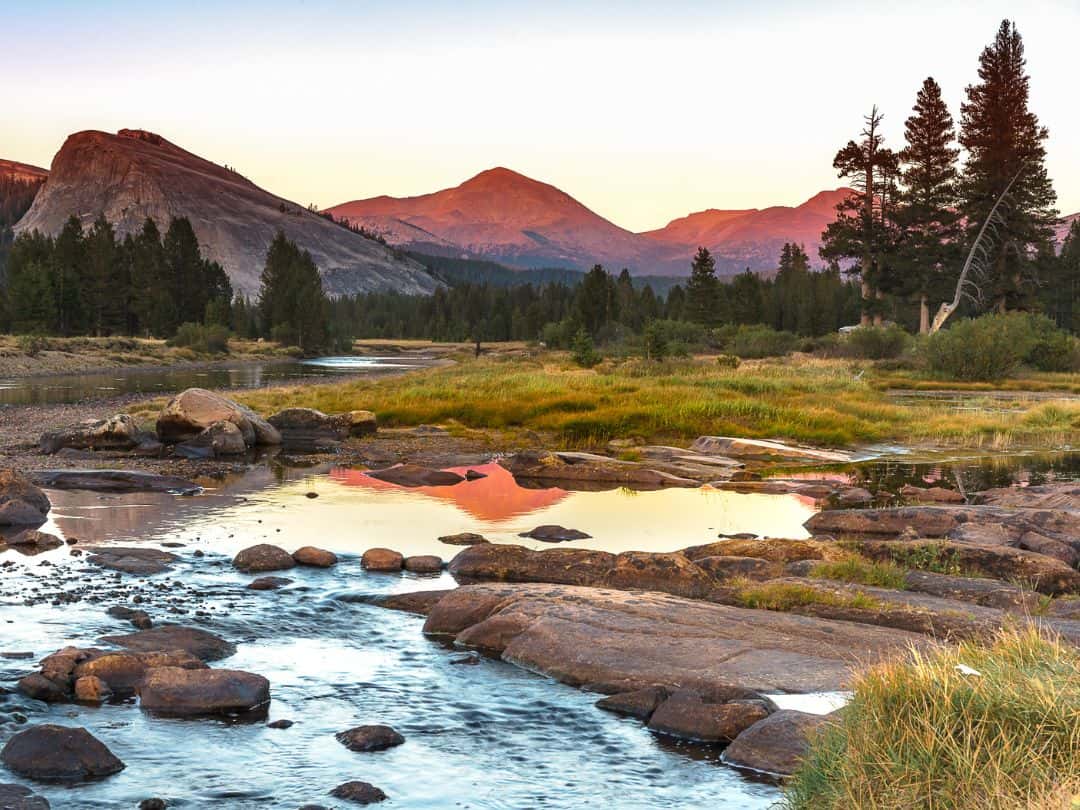 Yosemite Sunset Spots / Tuolumne Meadow
Did You Find This Useful?
Why Not Save Yosemite Sunset Spots to Your Pinterest Board!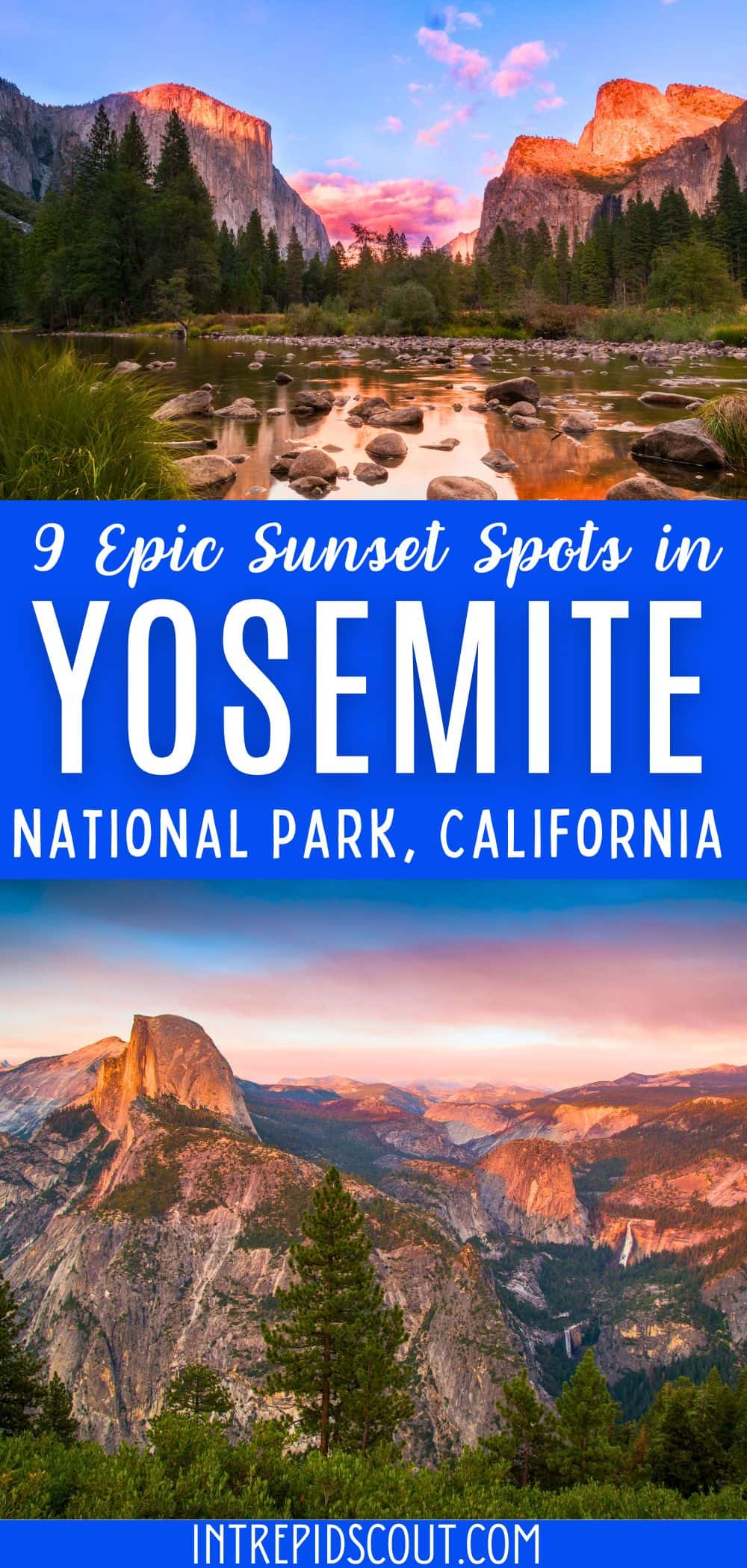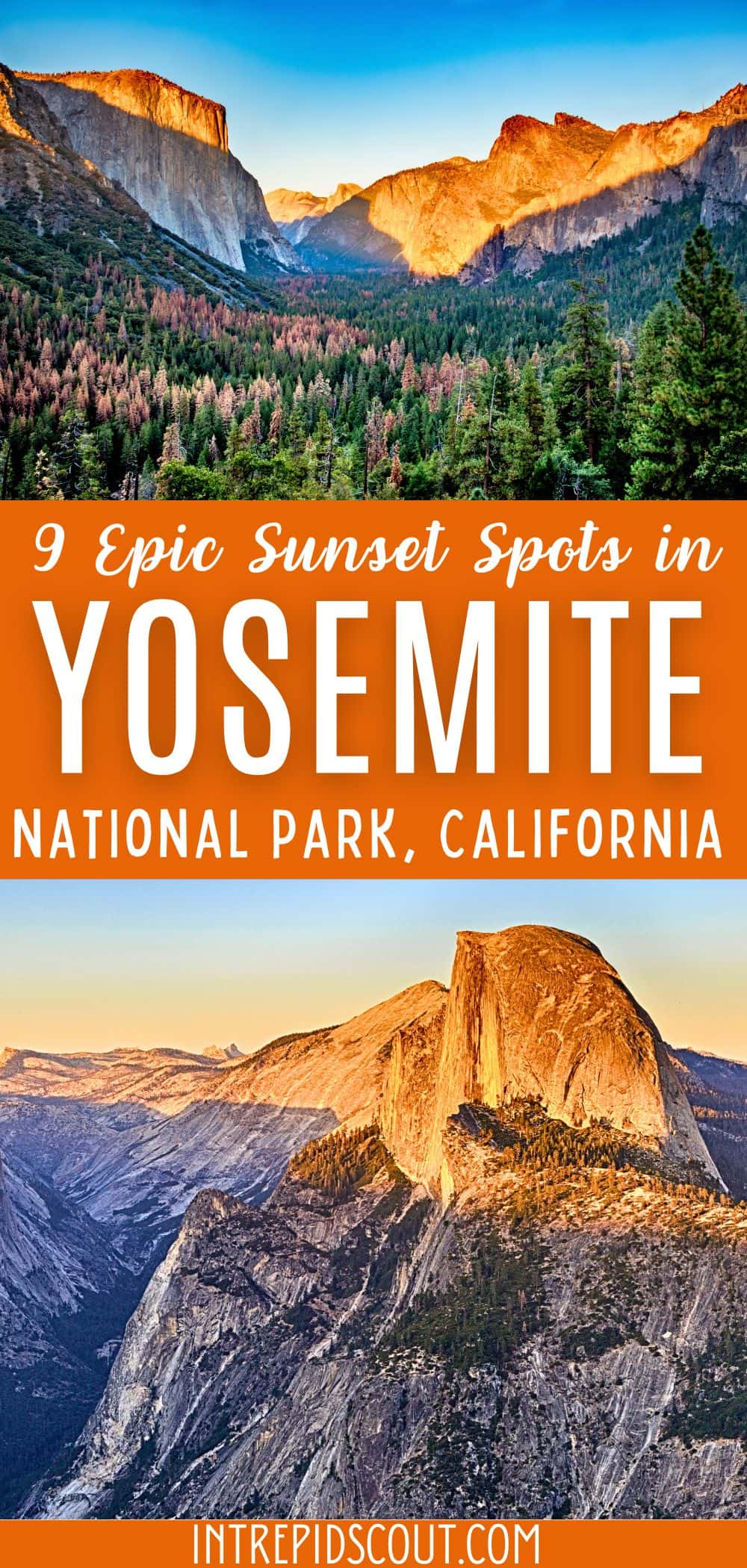 Now, It Is Your Turn, I Would Like to Hear Back from You!
Are you planning a trip to Yosemite?
Please let me know! Drop me a quick comment right below!
Click on any of the images below to get inspired and to help you with the planning process for your trip to Yosemite!