This site uses affiliate links, meaning that if you make a purchase through our links, we may earn an affiliate commission.
Yosemite National Park, a gem within the Sierra Nevada Mountains, promises a spectacular natural experience. With its captivating waterfalls, blooming wildflowers, and varied terrain, Yosemite offers something special in every season.
This guide is your key to discovering the best times to visit Yosemite, allowing you to pick the ideal month for your adventure. Prepare to uncover when to explore Yosemite's remarkable features, ensuring an awesome adventure.
Yosemite National Park At-A-Glance
Before diving in, here are a few Yosemite National Park highlights to help you plan your trip:
Where to Stay When Visiting Yosemite National Park
Yosemite offers various lodging options within the park, ranging from campgrounds to lodges. Yosemite Valley is convenient for iconic sights, but accommodations fill up quickly. Outside the park, nearby towns like Mariposa and Groveland offer additional lodging choices, though be prepared for longer drives into the park. Make sure to read: 5 Towns Near Yosemite (with Best Places to Stay and Eat). It is a comprehensive guide to the best places to stay inside the park as well as the towns that surround it.
How to Get to Yosemite National Park
Yosemite National Park is accessible by car from various directions. But if you are looking to elevate your journey with the ease of flying, we have got you covered! Dive into the Ultimate Guide to Airports Near Yosemite, complete with Pro Tips to ensure your access is as seamless as the breathtaking vistas that await.
How to Get Around in Yosemite National Park
Getting around Yosemite National Park is primarily done by car, as the park is vast and public transportation options are limited. There is a free Yosemite Shuttle Bus connecting major points of interest. During peak seasons, parking can be challenging, so utilizing the shuttle system and planning to arrive early can help. Make sure to read: Best Yosemite Shuttle Bus Guide (Useful Tips+Maps+Routes)
How Much Does It Cost to Vist Yosemite National Park
In order to visit Yosemite National Park, you need to purchase a recreational day-use pass, which costs $35 per vehicle and is good for 7 consecutive days. You can purchase the pass right at the entrance to the park. If you are visiting several national parks then make sure to get America the Beautiful National Park Pass. This $80 pass is valid for 12 months and gets you into all 400+ national park sites!
Check Yosemite National Park Website for Trail Closures and Changes to Shuttle Operations
It is important that you check Yosemite National Park's Website for any trail or road closures prior to going to the park. You can check for updates HERE.
Best Times to Visit Yosemite National Park
April -June: Best Time to Visit Yosemite for Spectacular Waterfalls
Yosemite National Park's waterfalls are a sight to behold, offering a mesmerizing display of nature's power and beauty. Among the most sought-after experiences is witnessing these majestic cascades during their peak season.
From April to June, Yosemite's waterfalls come to life in a breathtaking show of cascading water, drawing visitors from around the world.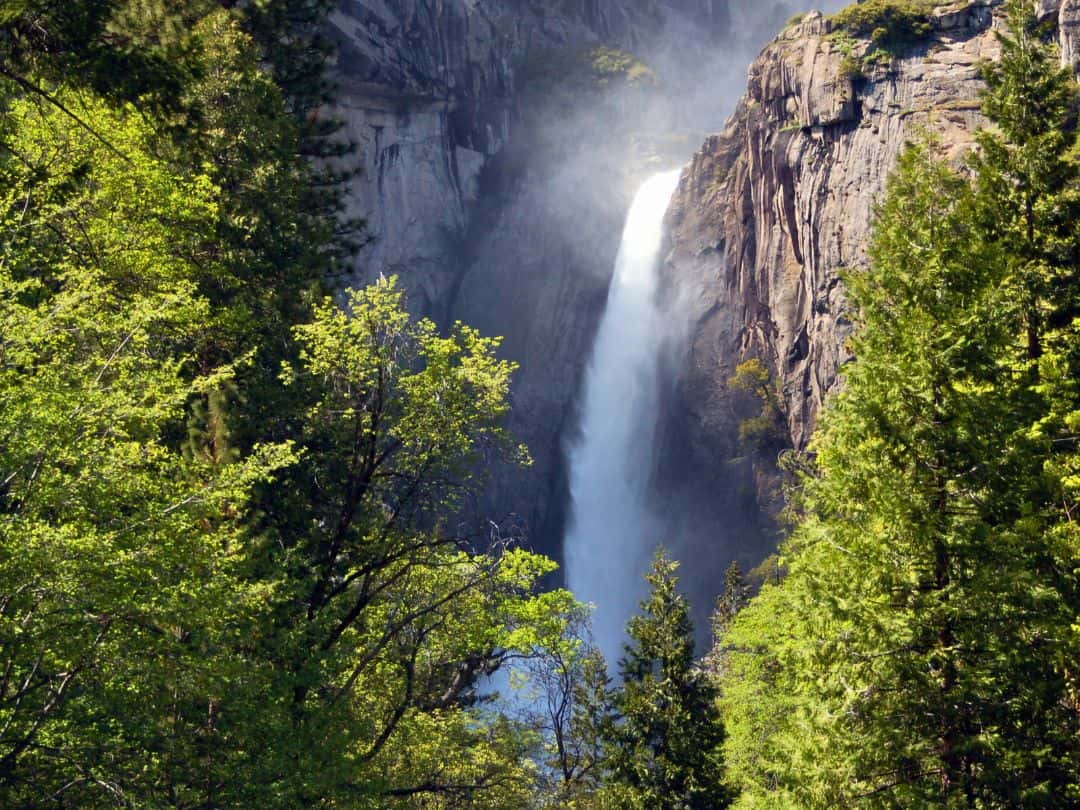 Best Times to Visit Yosemite / Lower Yosemite Falls
During these months, the snowmelt from the towering peaks of Yosemite's mountains rushes down into the valleys, creating a spectacular surge in the park's waterfalls. This surge transforms the usually serene and tranquil falls into thunderous cascades that command attention and captivate the senses.
If you are a fan of powerful natural displays, this is the time to visit!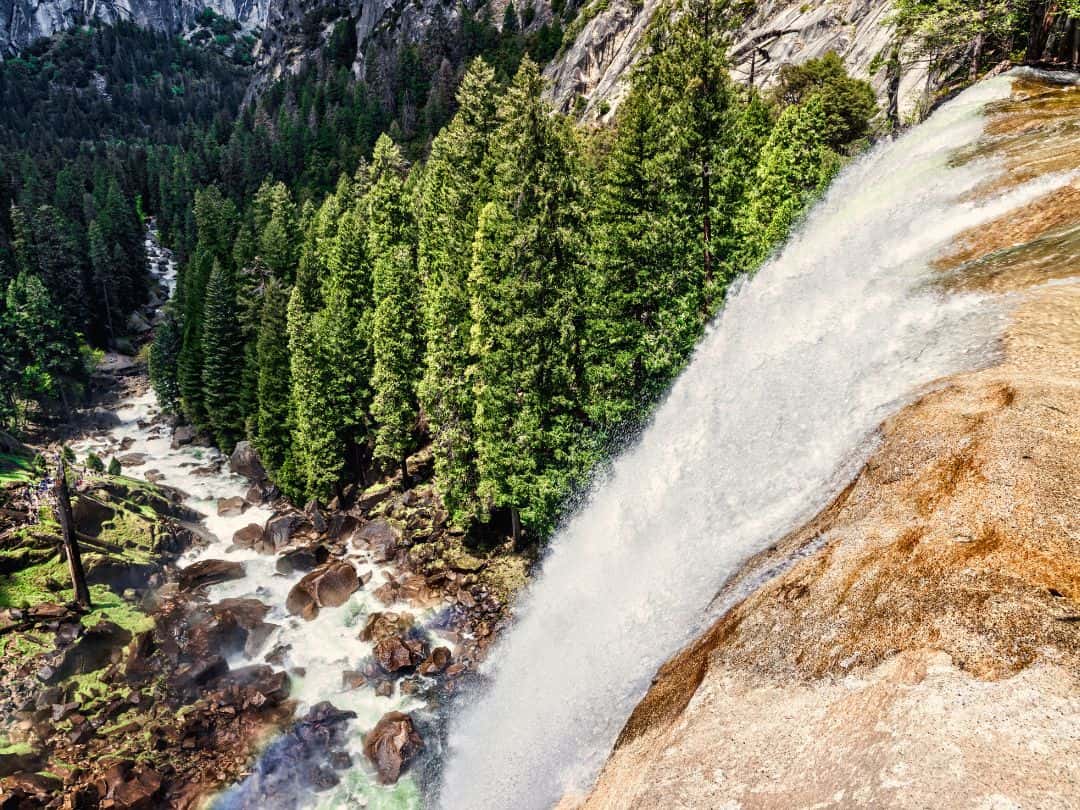 Best Times to Visit Yosemite / Vernal Falls
Popular Waterfalls to Explore:
Yosemite Falls: The crown jewel of Yosemite's waterfalls, Yosemite Falls is a three-tiered wonder that becomes even more impressive during these months. Witness the Upper Fall's 1,430-foot drop and the Lower Fall's dramatic plunge.
Bridalveil Fall: This iconic fall is known for its delicate mist and easy accessibility. In the spring, its flow intensifies, creating a captivating curtain of water.
Vernal and Nevada Falls: Hike the Mist Trail to witness the power of Vernal Fall, which lives up to its name with its misty spray. Continue on to Nevada Fall for a more strenuous but equally rewarding trek.
PRO TIP: Due to the popularity of this season, accommodations and camping sites tend to fill up quickly. Make reservations well in advance.
April-May: Best Time to Visit Yosemite for Wildflower Bloom
Witnessing Yosemite National Park's landscape adorned with a riot of colors is a truly enchanting experience!
During April and May, Yosemite's meadows burst into a kaleidoscope of colors as wildflowers blanket the landscape. Spring temperatures in Yosemite are generally mild and comfortable, making it pleasant to explore the park's meadows.
The peak bloom is relatively short-lived, typically lasting only a few weeks, so timing is crucial. Due to its popularity, some areas can become crowded as visitors flock to witness the wildflower spectacle.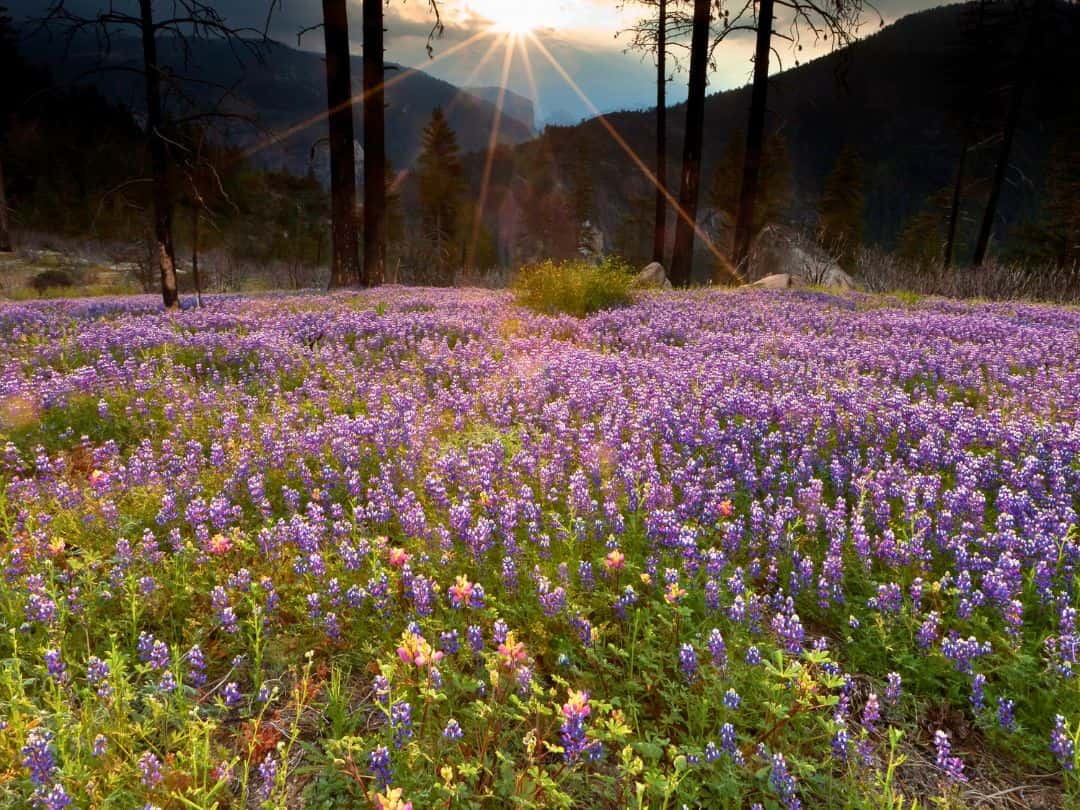 Best Times to Visit Yosemite / Wildflowers in Yosemite
Popular Wildflower Hotspots:
Tuolumne Meadows: Explore this high-country gem for a breathtaking display of alpine wildflowers against a backdrop of granite peaks.
Hite Cove Trail: A lower elevation trail along the Merced River, Hite Cove offers a profusion of wildflowers and stunning river views.
PRO TIP: Different elevations within the park experience peak bloom at slightly different times. Research the elevations you plan to visit to optimize your wildflower experience.
Mid to Late February: Best Time to Visit Yosemite for the Firefall Phenomenon
One of Yosemite National Park's most enchanting spectacles is the Firefall phenomenon.
As the sun dips below the horizon, it casts a fiery glow upon Horsetail Fall, giving the illusion of molten lava streaming down El Capitan's granite face.
This awe-inspiring event, which occurs during a specific timeframe, draws crowds of eager spectators each year.
This captivating spectacle takes place when the setting sun aligns perfectly with the fall, casting a warm and radiant illumination upon the water.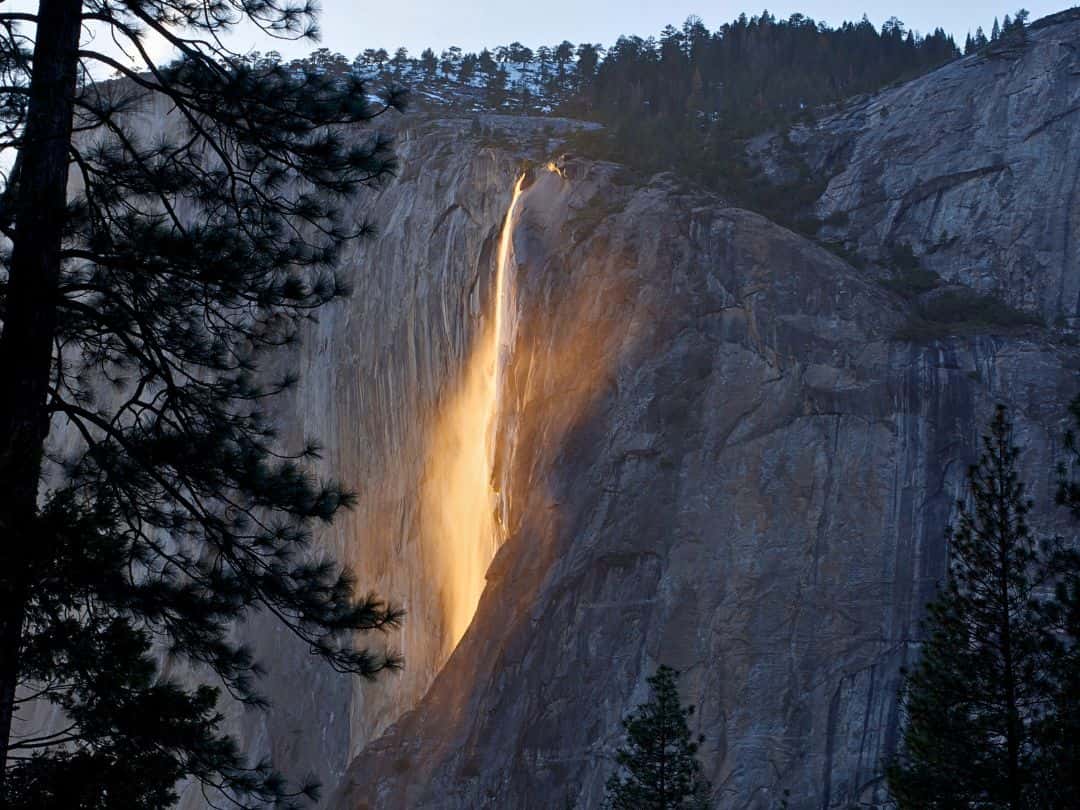 Best Times to Visit Yosemite / Horsetail Fall
The Firefall phenomenon is most likely to occur during mid to late February when several conditions converge:
Clear Skies: The skies must be clear to allow the sun's rays to reach Horsetail Fall unobstructed.
Angle of the Sun: The sun's angle must be just right, creating the illusion of the fall being set ablaze.
Water Flow: The fall should have sufficient water flow to reflect and refract the sunlight effectively.
GOOD TO KNOW: The Firefall usually occurs for a brief period, roughly 10 minutes, during sunset when the conditions align.
PRO TIP: For an unobstructed view of the Firefall head to the El Capitan Picnic Area and the nearby Southside Drive.
Early Spring (April-May) and Late Fall (September-October): Best Time to Avoid the Crowds in Yosemite
Yearning for a peaceful escape into the heart of nature's grandeur? Yosemite National Park, a haven of tranquility, has a solution: visiting during the less-crowded shoulder seasons. As the park's popularity peaks during the warmer months, you can savor the serene beauty of Yosemite without the hustle and bustle.
Visiting in the shoulder seasons of spring (April, May) and fall (September, October) allows you to relish Yosemite's unspoiled beauty with fewer crowds.
Enjoy the mild weather of these months, perfect for leisurely exploration and outdoor activities.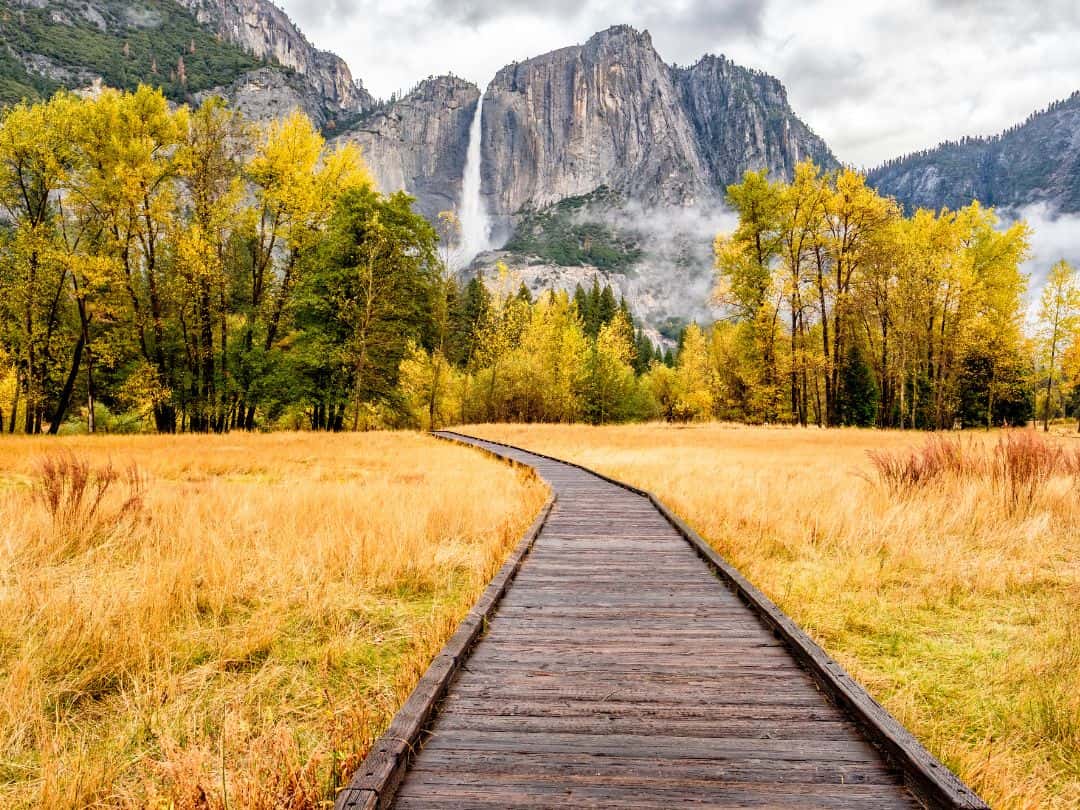 Best Times to Visit Yosemite / Fall in Yosemite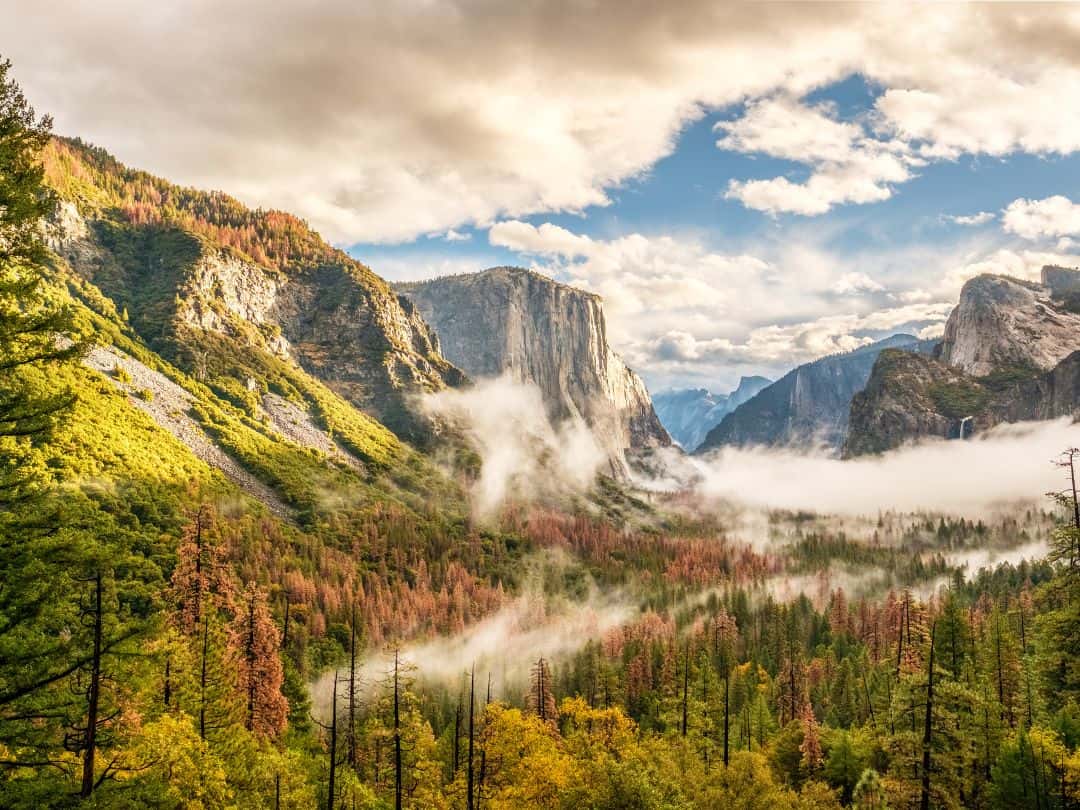 Best Times to Visit Yosemite / Fall in Yosemite
Navigating the Shoulder Seasons:
Spring (April, May): As the snow melts, lower elevation trails become accessible, offering a peaceful opportunity to witness blooming wildflowers and rushing waterfalls.
Fall (September, October): Experience the park's stunning fall foliage as you explore trails and meadows with fewer fellow visitors.
PRO TIPS: Research trail conditions in advance to ensure the trails you wish to explore are open and accessible and book accommodations early, especially if visiting during peak fall foliage season.
June - September: Best Time to Visit Yosemite for Hiking
Yosemite National Park is a hiker's paradise! With trails that wind through lush forests, ascend towering granite cliffs, and lead to stunning vistas, Yosemite offers hiking opportunities that cater to all skill levels.
The months of June through September provide warm temperatures and clear skies, creating ideal hiking conditions. Also, longer days mean more time to explore, making it easier to tackle longer trails or enjoy a leisurely pace.
Popular Hiking Trails:
Mist Trail to Vernal and Nevada Falls: Experience the spray of waterfalls as you ascend to stunning viewpoints.
Half Dome: A challenging ascent that rewards hikers with breathtaking panoramic views from the iconic granite dome.
PRO TIP: Start your hikes early in the morning to avoid the rush and enjoy popular trails with more solitude.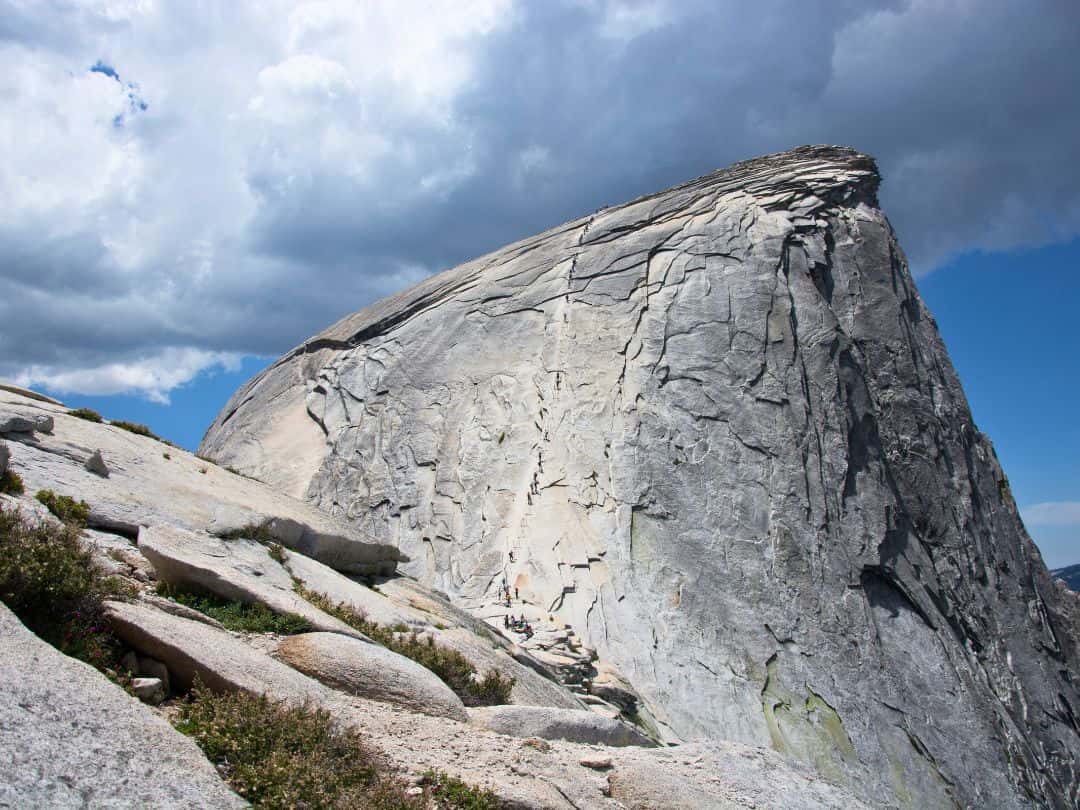 Best Times to Visit Yosemite / Half Dome in Yosemite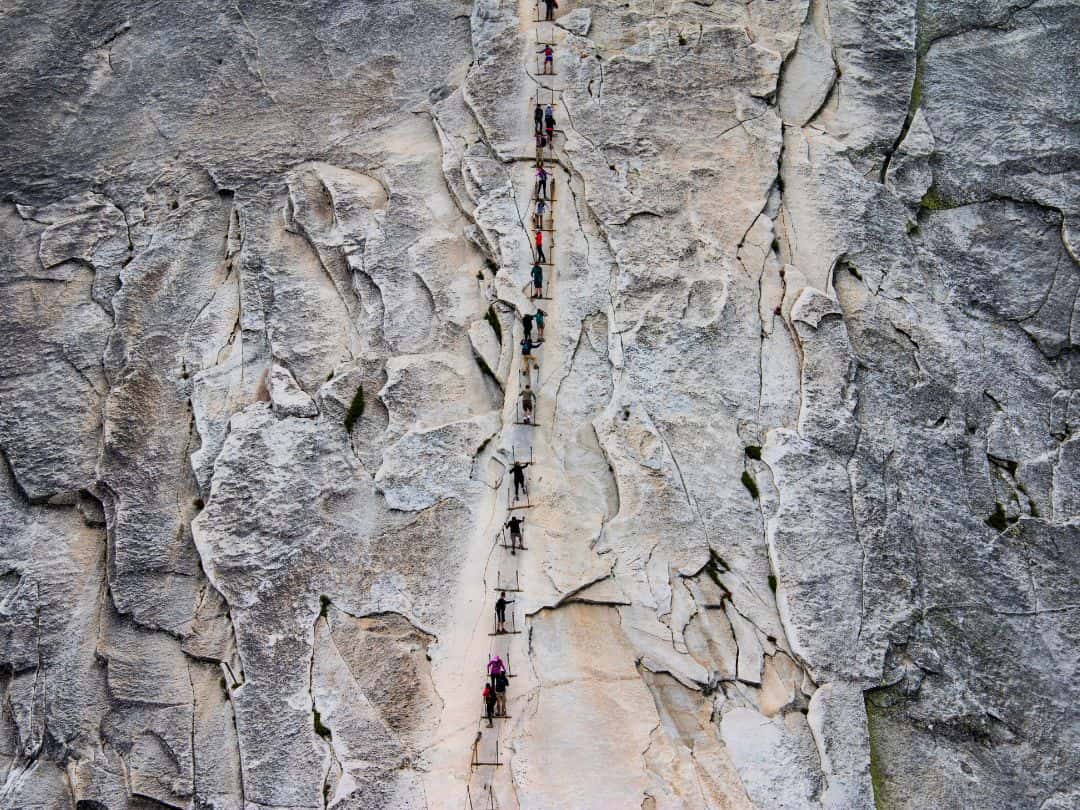 Best Times to Visit Yosemite / Half Dome in Yosemite
Spring (April-May) and Fall (September-October): Photographer's Paradise
Yosemite National Park, a landscape of majestic peaks, pristine meadows, and breathtaking waterfalls, is a dream come true for photographers. Whether you are a professional with top-notch gear or a casual shutterbug with a smartphone, Yosemite's vistas offer endless opportunities to capture its awe-inspiring beauty.
The best months for photography in Yosemite are spring (April – May) and fall (September – October).
Soft Lighting: Spring and fall offer softer, more diffused lighting due to the sun's lower angle, reducing harsh shadows and enhancing details.
Vibrant Colors: Spring brings blooming wildflowers, while fall showcases a tapestry of red, orange, and yellow leaves, adding vibrant colors to your shots.
Dynamic Skies: These months often feature dramatic skies, with cloud formations adding depth and drama to your photographs.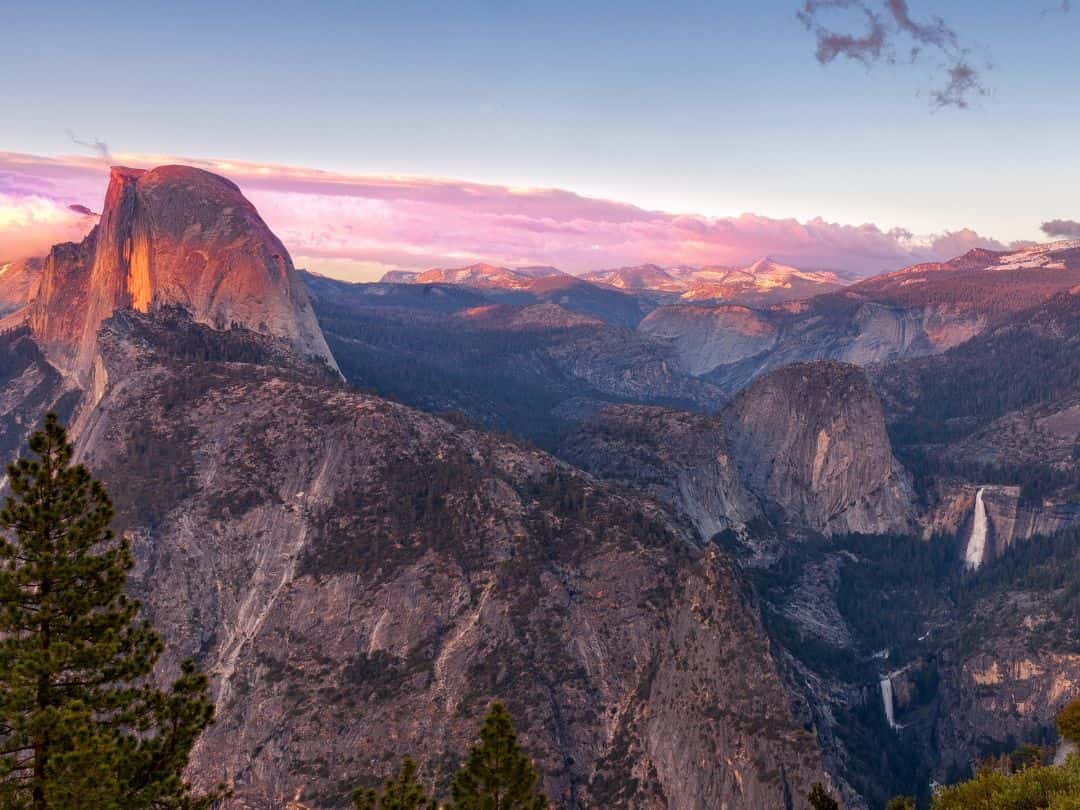 Best Times to Visit Yosemite / View from Glacier Point at Sunset
Photography Hotspots:
Tunnel View: This iconic overlook provides a breathtaking panorama of El Capitan, Half Dome, and Bridalveil Fall.
Valley View: Capture the Merced River winding through the valley with stunning reflections of iconic granite cliffs.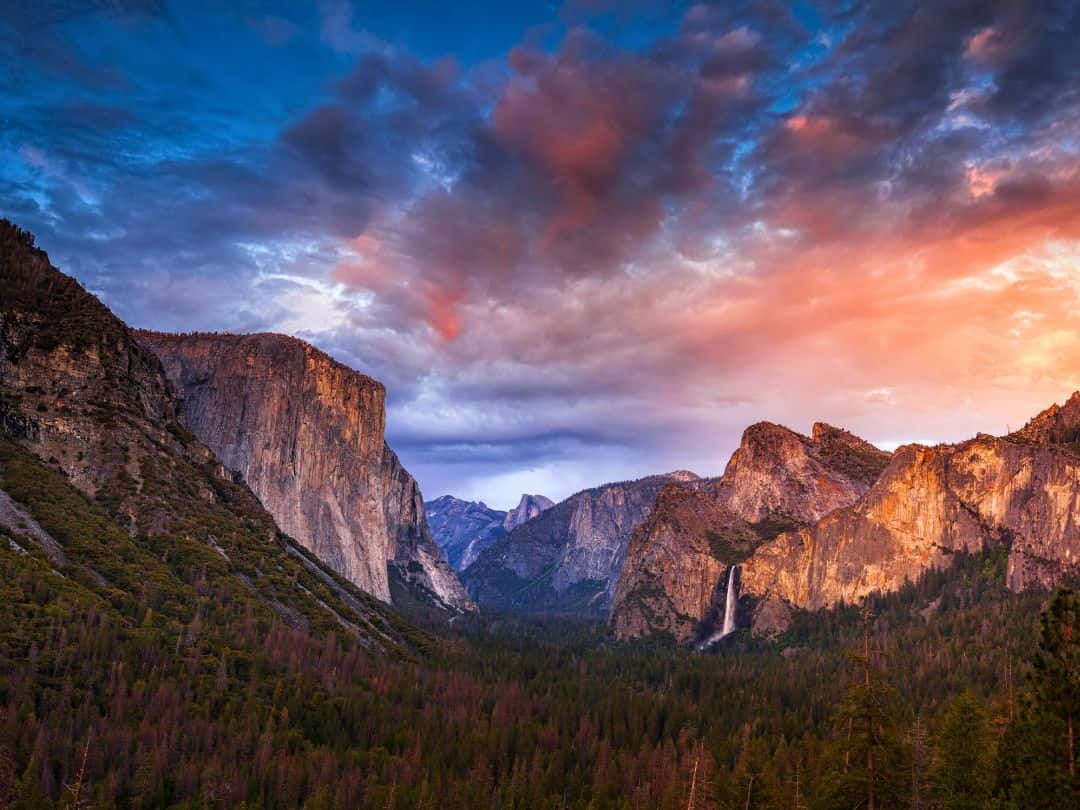 Best Times to Visit Yosemite / Tunnel View at Sunset
Photography Tips:
Golden Hour and Blue Hour: Make the most of the "golden hour" just after sunrise and before sunset, as well as the "blue hour" just before sunrise and after sunset.
Tripod for Stability: To capture the best details in low light, use a tripod to ensure sharp images.
PRO TIP: Research sunrise and sunset times for your chosen locations to maximize your chances of capturing the perfect shot.
July-August: Summer Adventure Rush in Yosemite
When the sun shines high and the days stretch long, Yosemite National Park transforms into a haven of endless adventure.
The months of July and August mark the peak of summer, beckoning outdoor enthusiasts, families, and explorers to embrace the warm embrace of nature's playground.
The summer months offer a plethora of outdoor activities, from hiking and rock climbing to swimming and wildlife watching.
Longer daylight hours mean more time to make the most of your adventures.
Camping in Yosemite's stunning landscapes is a quintessential summer experience, complete with campfires under starry skies.
PRO TIPS: Popular camping sites and accommodations fill up quickly in summer, so make reservations well in advance. The summer sun can be intense. Carry plenty of water and stay hydrated throughout your adventures. Beat the midday heat and the crowds by starting your outdoor activities early in the morning.
November-April: Best Time to Visit Yosemite for Winter Activities
As the temperature drops and a hush settles over the landscape, Yosemite National Park transforms into a winter wonderland of unique beauty and serene landscapes.
From November to April, the park is a perfect destination for those who embrace the magic of snow-covered trails, frost-kissed trees, and a quieter atmosphere.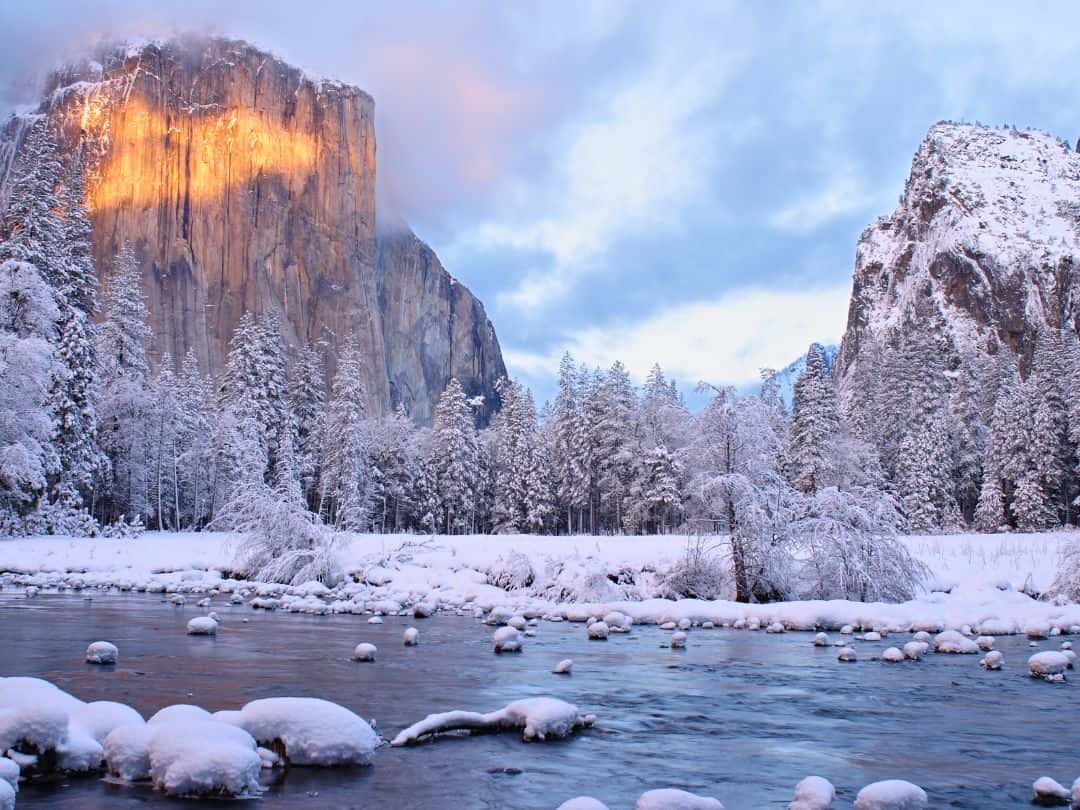 Best Times to Visit Yosemite / Yosemite in Winter
Winter Activities:
Snowshoeing and Cross-Country Skiing: Yosemite's trails become blank canvases for snowshoers and cross-country skiers as the snow falls.
Winter Photography: Capture the park's beauty in a different light, with frosty trees and glistening meadows offering captivating subjects.
Quiet Solitude: With fewer visitors, you'll have the opportunity to explore Yosemite's iconic sights with a sense of peacefulness.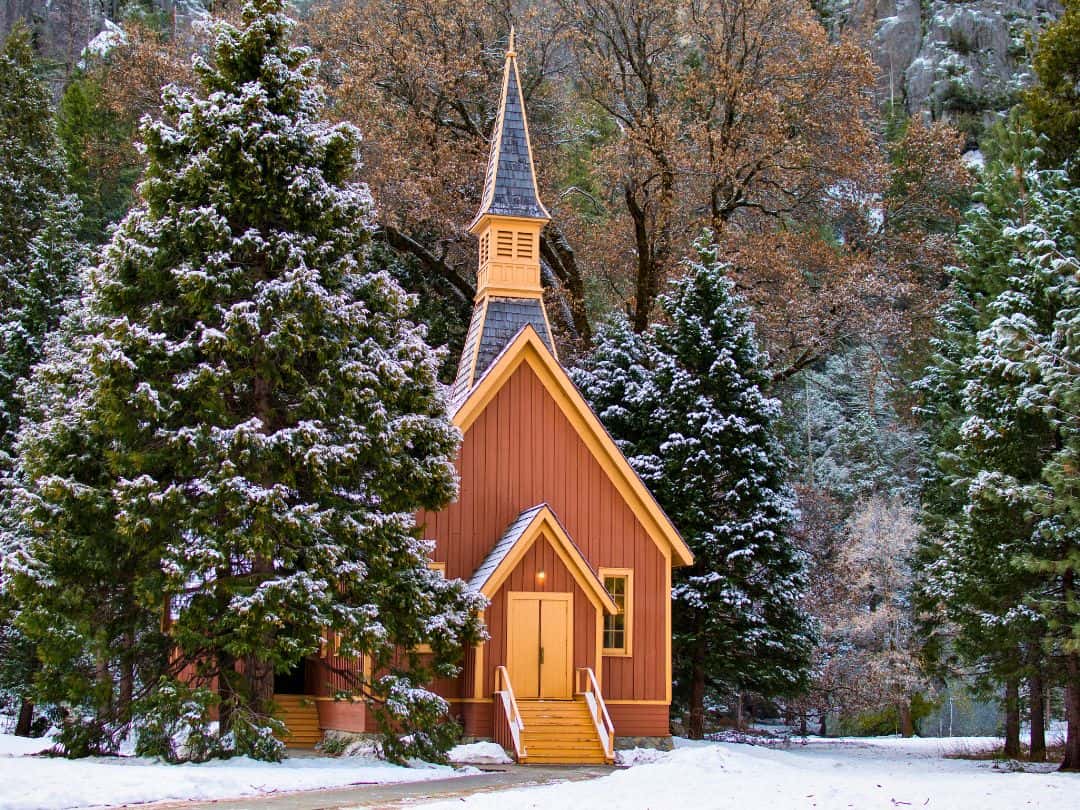 Best Times to Visit Yosemite / Yosemite Chapel
GOOD TO KNOW: Enjoy downhill skiing, snowboarding, and tubing in Badger Pass Ski Area, Yosemite's oldest ski resort.
PRO TIPS:
Ranger Walks: Join ranger-led snowshoe walks to learn about the park's winter ecology while immersing yourself in the serene landscape.
Check Road Conditions: Some roads and trails may be closed due to snow, so plan your route accordingly.
Dress in Layers: Winter temperatures can vary, so dress in warm layers and waterproof clothing.
Evening Stargazing: Yosemite's clear winter skies provide excellent conditions for stargazing. Bring a telescope or join a ranger-led stargazing event.
More Information About Yosemite National Park
Now, It Is Your Turn, I Would Like to Hear Back from You!
Are you planning a trip to Yosemite National Park?
Please let me know! Drop me a quick comment right below!
Click on any of the images below to get inspired and to help you with the planning process for your trip to Yosemite!