This site uses affiliate links, meaning that if you make a purchase through our links, we may earn an affiliate commission.
The iconic Tioga Road is an unforgettable adventure through Yosemite National Park. This guide will lead you to the best stops on Tioga Road, where breathtaking landscapes await. From tranquil lakes to majestic viewpoints, each stop offers a unique experience to cherish.
But that's not all; this guide is packed with valuable tips to ensure a seamless and enjoyable journey. Essential insights on road conditions, seasonal closures, and elevation changes will help you prepare for the trip of a lifetime. Moreover, we have included a comprehensive map featuring all the must-visit stops along Tioga Road to make navigation a breeze.
So let's embark on an unparalleled adventure through Yosemite's scenic highway. The wonders of Tioga Road await you!
Yosemite National Park At-A-Glance
Before diving in, here are a few Yosemite National Park highlights to help you plan your trip:
Best Time to Visit Yosemite National Park
Make sure to read: 8 Best Times to Visit Yosemite (Find the Perfect Time for Your Adventure) to uncover the ultimate months for witnessing waterfalls, wildflowers, and Firefall phenomenon, avoiding crowds, enjoying summer adventures, capturing stunning photographs, embracing winter activities, and indulging in serene hikes. This comprehensive guide will help you plan your perfect Yosemite adventure, ensuring you experience its wonders at their most enchanting.
Where to Stay When Visiting Yosemite National Park
Yosemite offers various lodging options within the park, ranging from campgrounds to lodges. Yosemite Valley is convenient for iconic sights, but accommodations fill up quickly. Outside the park, nearby towns like Mariposa and Groveland offer additional lodging choices, though be prepared for longer drives into the park. Make sure to read: 5 Towns Near Yosemite (with Best Places to Stay and Eat). It is a comprehensive guide to the best places to stay inside the park as well as the towns that surround it.
How to Get to Yosemite National Park
Yosemite National Park is accessible by car from various directions. But if you are looking to elevate your journey with the ease of flying, we have got you covered! Dive into the Ultimate Guide to Airports Near Yosemite, complete with Pro Tips to ensure your access is as seamless as the breathtaking vistas that await.
How to Get Around in Yosemite National Park
Getting around Yosemite National Park is primarily done by car, as the park is vast and public transportation options are limited. There is a free Yosemite Shuttle Bus connecting major points of interest. During peak seasons, parking can be challenging, so utilizing the shuttle system and planning to arrive early can help. Make sure to read: Best Yosemite Shuttle Bus Guide (Useful Tips+Maps+Routes)
How Much Does It Cost to Vist Yosemite National Park
In order to visit Yosemite National Park, you need to purchase a recreational day-use pass, which costs $35 per vehicle and is good for 7 consecutive days. You can purchase the pass right at the entrance to the park. If you are visiting several national parks then make sure to get America the Beautiful National Park Pass. This $80 pass is valid for 12 months and gets you into all 400+ national park sites!
Check Yosemite National Park Website for Trail Closures and Changes to Shuttle Operations
It is important that you check Yosemite National Park's Website for any trail or road closures prior to going to the park. You can check for updates HERE.
Tioga Road Travel Tips: Navigating Yosemite's Scenic Highway Like a Pro
Length: In this post, you will find information about starting your journey on Tioga Road from the Big Oak Flat Entrance Station and ending it in Mono Lake Tufa State Natural Reserve. The distance between these two points is 68.6 miles.
Driving Time: The driving time along Tioga Road can vary depending on traffic and how long you will stay at each stop. Generally, the drive can take around 1.5 to 2 hours without stops.
PRO TIP: To fully enjoy the journey and explore the various stops along the way, you will need to allocate at least half a day or more.
Elevation: Tioga Road reaches impressive heights, with the highest point being at Tioga Pass, which stands at approximately 9,943 feet above sea level.
PRO TIP: The significant elevation gain and change in altitude can affect some travelers, so take precautions if you are not accustomed to high altitudes.
Direction: Tioga Road can be driven in either direction, from east to west or west to east. However, many visitors prefer driving from west to east, starting from Crane Flat or Yosemite Valley, as this direction offers a gradual ascent and allows for better views of the surrounding landscapes.
Difficulty: Tioga Road is a well-maintained and paved highway, making it accessible to most passenger vehicles. However, some sections can be steep and winding, so exercise caution, especially during adverse weather conditions.
Permits: A permit is not required to drive on Tioga Road within Yosemite National Park.
Seasonal Closure: Tioga Road is subject to seasonal closures due to snowfall. It is typically closed from late fall (usually November) to late spring (usually May or June), depending on snow conditions. Before planning your trip, check the National Park Service website or call ahead to ensure the road is open for travel during your intended visit.
Services and Facilities: Fill up your gas tank before entering the park, as there are limited fuel options along Tioga Road. Carry plenty of water, snacks, and essentials, as services and facilities are limited on the road.
Tioga Road Map: Best Stops for an Unforgettable Yosemite Adventure
15 Best Stops on Tioga Road: Yosemite's Scenic Highway
Merced Grove is a hidden gem nestled amidst Yosemite's wilderness! Make sure not to miss these lesser-known groves that harbor ancient giants – the majestic Sequoias.
Take a leisurely stroll along the quiet Merced Grove Trail, see these giants up close, and feel the reverence that comes with standing among these towering arboreal wonders.
GOOD TO KNOW: The Merced Grove Trail is a moderately easy hike, covering approximately 2.6 miles round trip. First, the trail will take you through a forested area and eventually, you will reach the grove, where you'll be surrounded by these massive trees.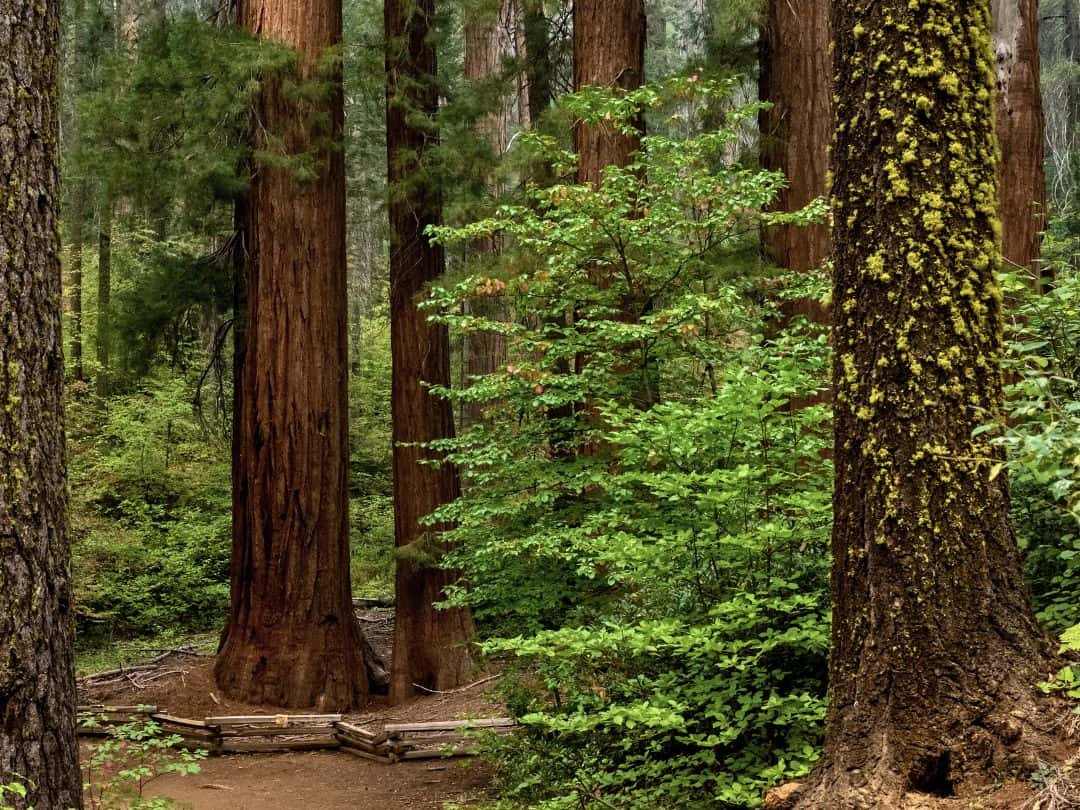 Best Stops on Tioga Road / Merced Grove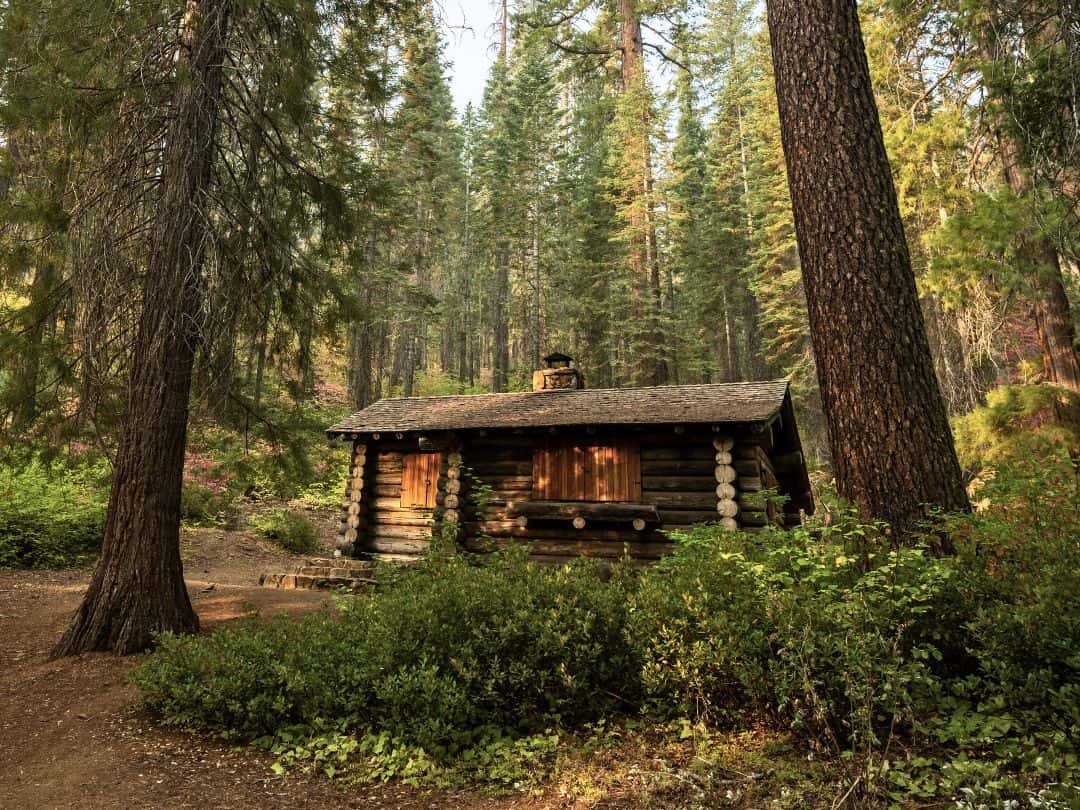 Best Stops on Tioga Road / Merced Grove
Tuolumne Grove of Giant Sequoias
Prepare to be humbled by nature's giants at the Tuolumne Grove of Giant Sequoias.
A short hike through this majestic grove allows you to stand in awe of some of the largest living organisms on Earth. The towering Sequoias, with their massive trunks and soaring canopies, create a surreal atmosphere that is both captivating and humbling.
PRO TIP: To avoid the crowds and enjoy a more tranquil experience, consider visiting Tuolumne Grove early in the morning or during the late afternoon.
GOOD TO KNOW: The hike to Tuolumne Grove of Giant Sequoias is approximately 2.5 miles round trip. The hike is rated as moderately challenging. The trail descends into the grove on the way in, and you will hike uphill on the return journey. The elevation gain on the return trip is 500 feet.
Depending on your pace and the time you spend exploring the grove, the hike typically takes around 1.5 to 2.5 hours to complete.
These awe-inspiring trees can reach heights of up to 250 feet or more and have trunks with diameters exceeding 25 feet. Some of the Sequoias in this grove are estimated to be over 1,000 years old, bearing witness to centuries of history.
One of the most prominent trees in Tuolumne Grove is known as the "Dead Giant, aka tunnel tree. This sequoia was tunneled back in 1878 to attract tourists to the park. It is 29 feet in diameter at the base and is big enough for a car to fit through its tunnel. You can walk through the tree's mighty trunk.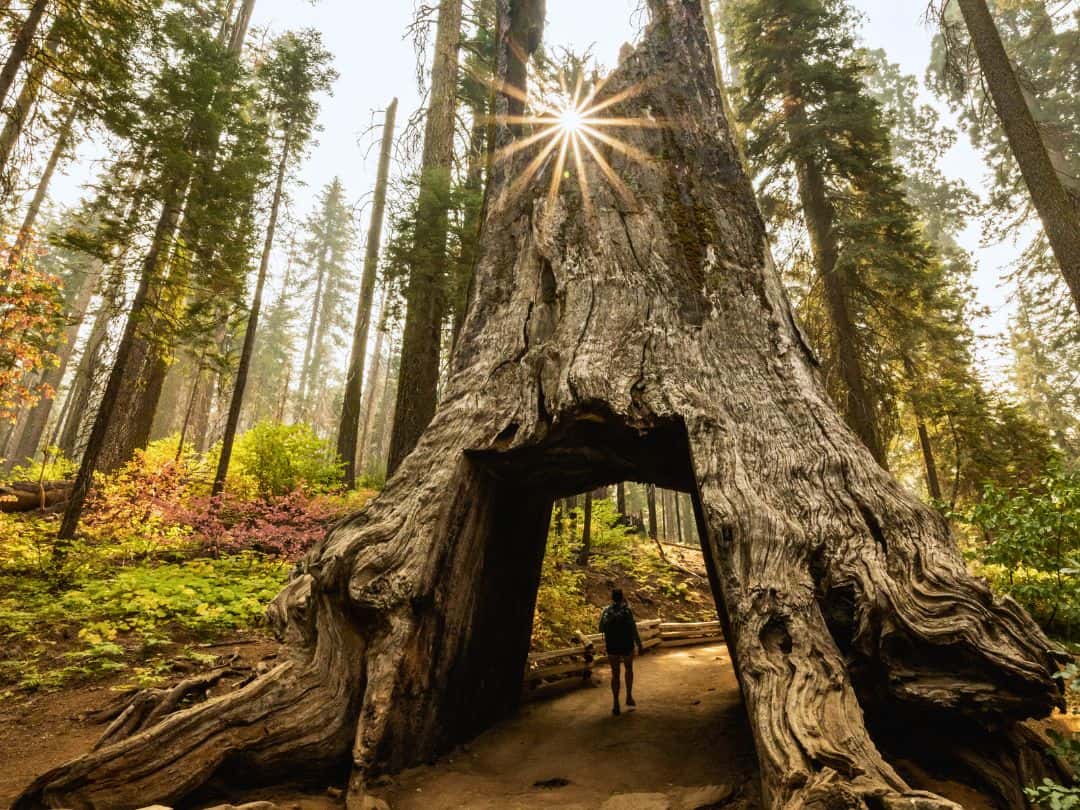 Best Stops on Tioga Road / Tuolumne Grove
The next stop is Lukens Lake. It is a picturesque alpine lake tucked away in a peaceful and secluded setting.
GOOD TO KNOW: The hike to Lukens Lake is approximately 4 miles round trip. The hike is of moderate difficulty, featuring some elevation gain as you make your way through a beautiful forested landscape.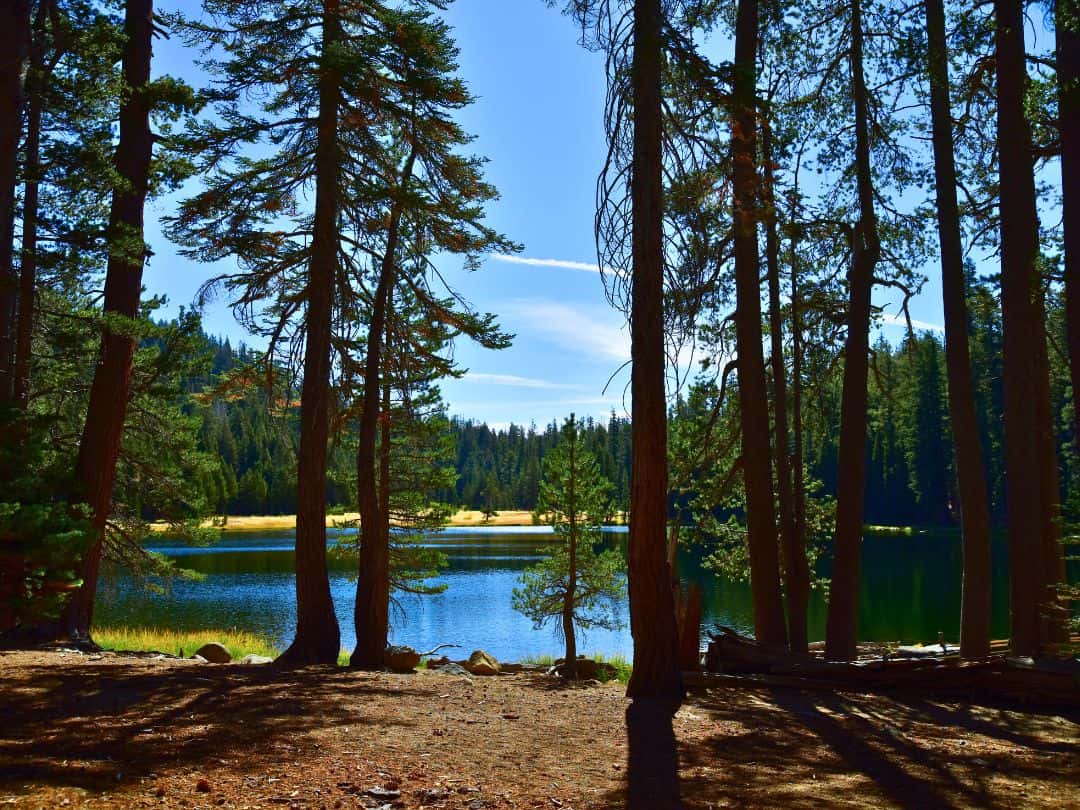 Best Stops on Tioga Road / Lukens Lake
Next is a breathtaking stop at Olmsted Point. Be prepared to be captivated by the awe-inspiring views!
Perched atop a granite outcrop, Olmsted Point provides an incredible panoramic vista of the high country, showcasing the dramatic granite formations, rugged mountain peaks, and the vast expanse of Tenaya Canyon. One of the most prominent features visible from Olmsted Point is the iconic Half Dome, a symbol of Yosemite's grandeur.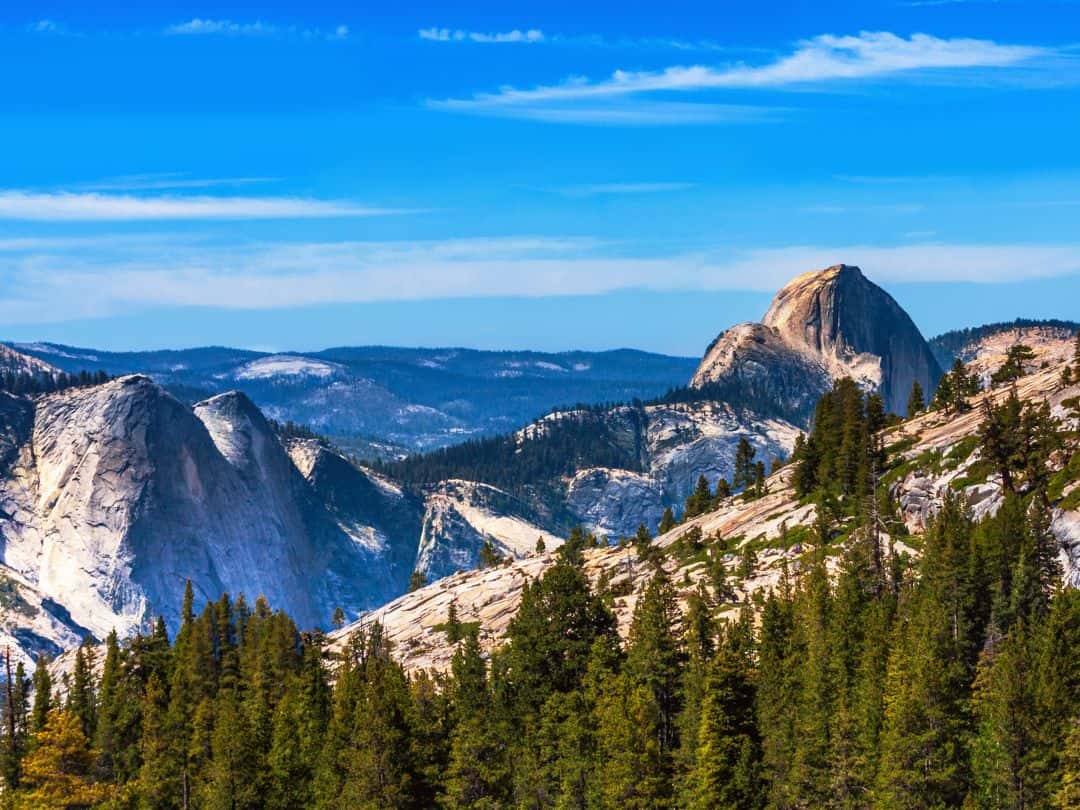 Best Stops on Tioga Road / Olmsted Point
PRO TIP: Visit Olmsted Point during the late afternoon or early evening to witness the breathtaking sight of the setting sun casting a warm glow over the surrounding peaks and granite cliffs. This time of day offers photographers a magical and unforgettable experience.
Next, be ready to be mesmerized by the natural splendor of Tenaya Lake! This stunning lake, with its crystal-clear turquoise waters, reflects the majestic granite peaks that surround it, creating a breathtaking view.
In addition to its scenic beauty, Tenaya Lake serves as a starting point for various hiking trails that lead to stunning destinations nearby. One trail that you should not miss is Tenaya Lake Trail. It offers a delightful walk along the lake's shore. The trail is an easy hike suitable for all fitness levels and it is approximately 2.5 miles round trip.
Best Stops on Tioga Road / Tenaya Lake
GOOD TO KNOW: Tenaya Lake offers ample opportunities for outdoor recreation. On warm summer days, you can enjoy swimming and sunbathing along the sandy shores. Also, kayaking and canoeing are popular activities.
Welcome to the vast and enchanting Tuolumne Meadows, a breathtakingly beautiful expanse of high-country wilderness in Yosemite National Park.
Tuolumne Meadows' grandeur lies in its wide-open spaces, framed by the majestic Sierra Nevada mountains. The Tuolumne River meanders gracefully through the meadow, reflecting the surrounding peaks.
The Meadow comes to life with colorful wildflowers during the late spring and summer, creating a vibrant and picturesque landscape.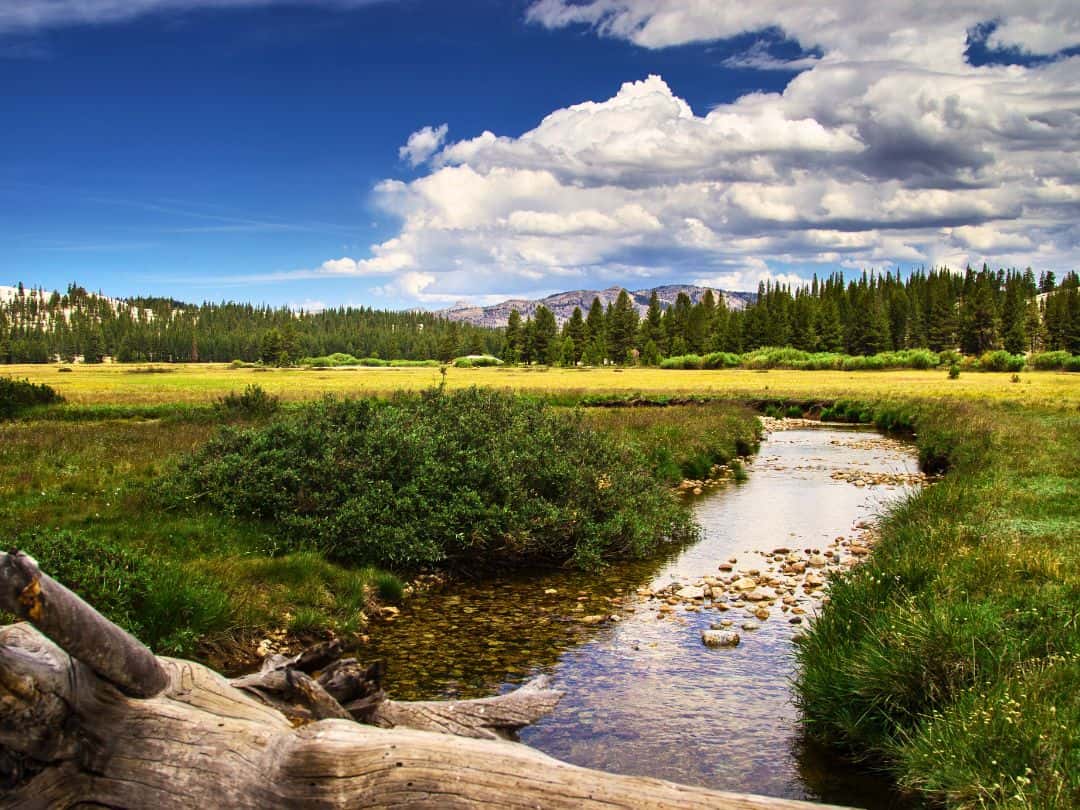 Best Stops on Tioga Road / Tuolumne Meadows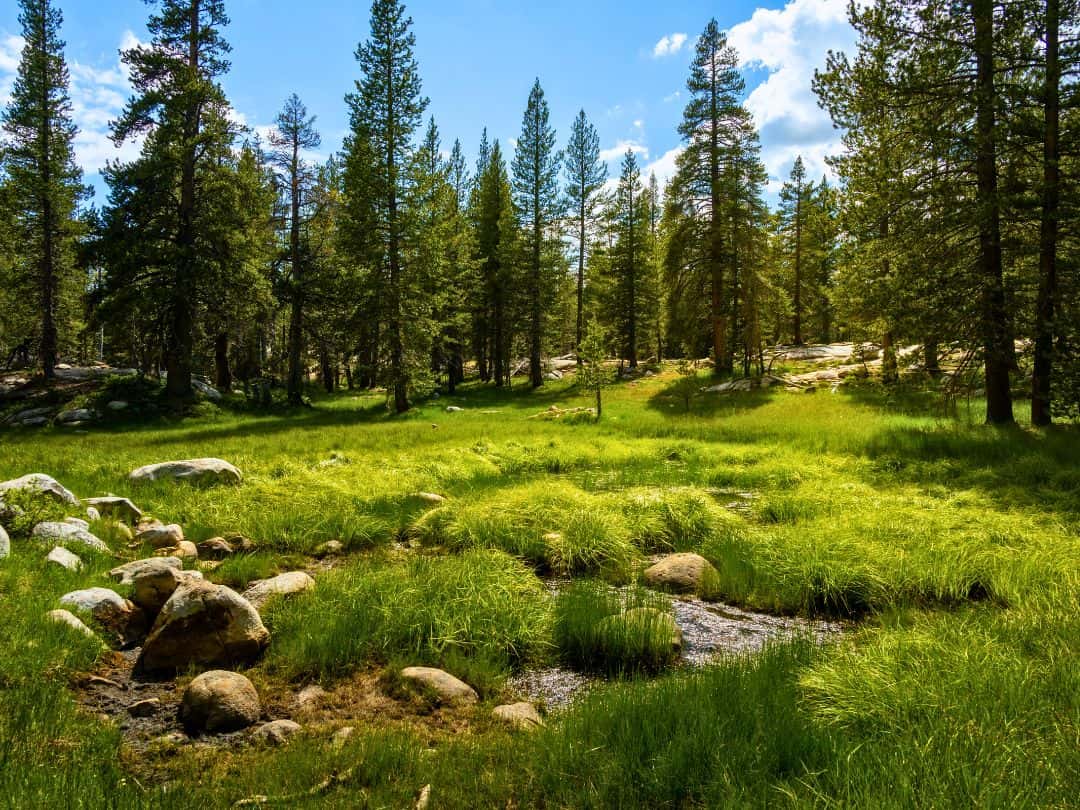 Best Stops on Tioga Road / Tuolumne Meadows
PRO TIP: Visit Tuolumne Meadows during the early morning or late afternoon to witness the meadows bathed in the golden hues of sunrise or sunset. The soft light accentuates the natural beauty and enhances your experience.
Soda Springs and Parsons Memorial Lodge
Soda Springs is a natural phenomenon that has attracted visitors for generations. The springs emit carbonated water, creating effervescent bubbles in the clear, icy-cold water.
Adjacent to Soda Springs stands Parsons Lodge, a rustic stone structure built in 1915. The lodge was named in honor of Edward Taylor Parsons, a prominent figure in the Sierra Club. The lodge serves as a tribute to Yosemite's early conservation efforts.
Soda Springs and Parsons Lodge are situated within the vast meadowlands of Tuolumne Meadows, offering breathtaking views of the surrounding granite peaks and lush greenery.
PRO TIP: While visiting Soda Springs, take a moment to read the informational signs to learn about the geological processes that give rise to carbonated water.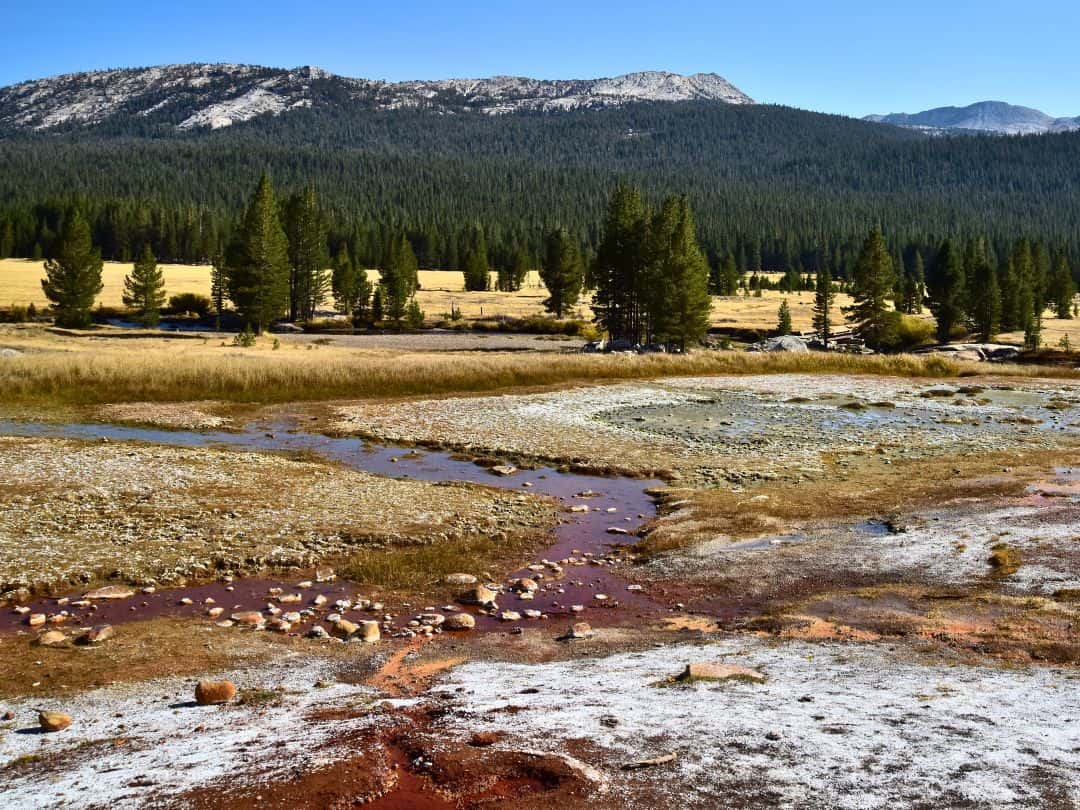 Best Stops on Tioga Road / Soda Springs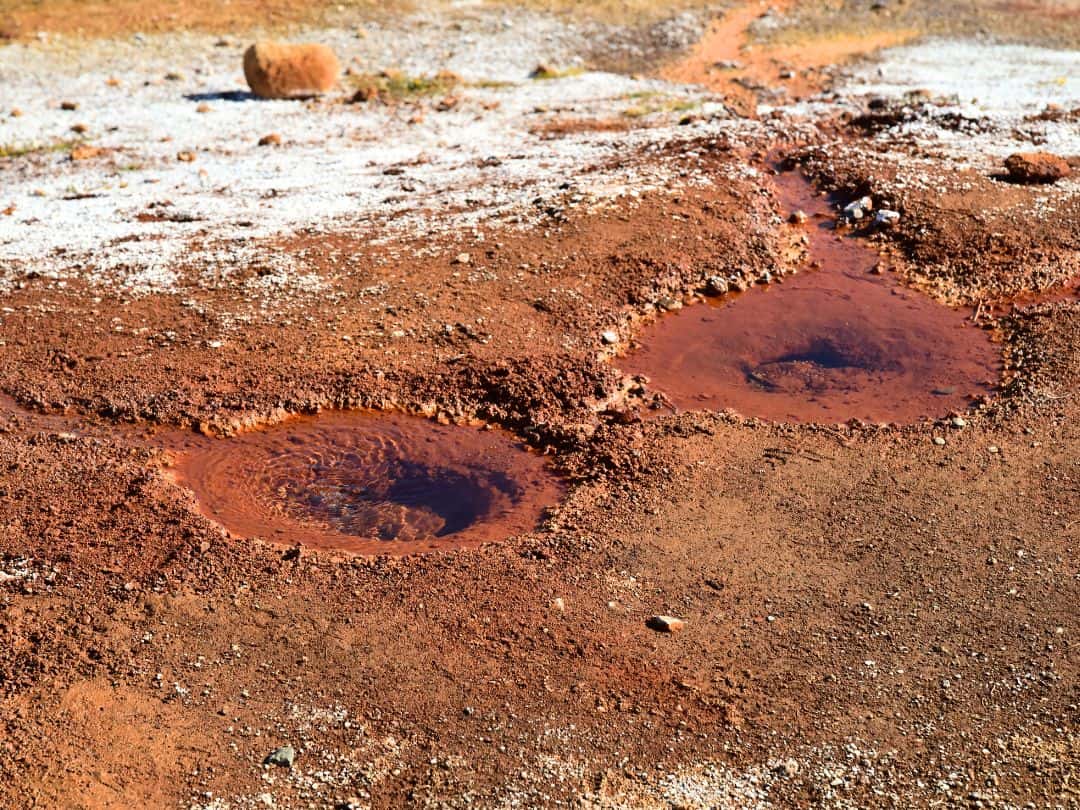 Best Stops on Tioga Road / Soda Springs
Lembert Dome stands majestically across Tioga Road, directly facing the heart of Tuolumne Meadows. While it may not boast the same iconic status as Half Dome, this striking granite formation offers a picturesque and awe-inspiring sight to all who visit.
The hike to the top of Lembert Dome is a popular and rewarding adventure, offering stunning views of the surrounding landscape. Here are the key details about the hike:
The round-trip distance for the hike to the top of Lembert Dome is approximately 2.8 miles. You will need to ascend around 850 feet to reach the summit of Lembert Dome.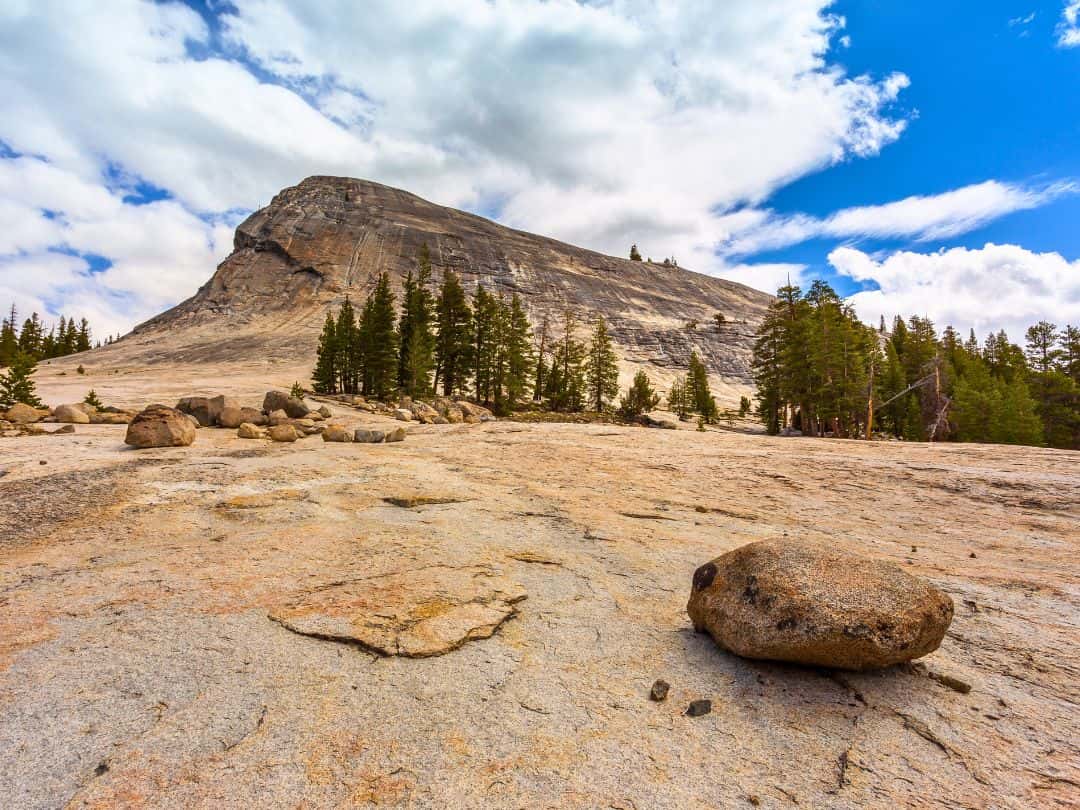 Best Stops on Tioga Road / Lambert Dome
GOOD TO KNOW: The hike is considered moderately strenuous. The ascent involves a relatively steep climb up the granite slopes of the dome, requiring some effort and endurance.
Throughout the hike, you will be treated to breathtaking views of Tuolumne Meadows, with the serene Tuolumne River winding its way through the landscape. As you approach the summit, the vistas expand to showcase the grandeur of the surrounding Sierra Nevada mountains, including the Cathedral Range and the distant peaks of Yosemite.
The next stop is Dana Meadows bordered by the majestic Mammoth Peak.
The meandering Dana Fork of the Tuolumne River gracefully winds through the meadows, adding a touch of serenity to the already stunning scenery. With Mammoth Peak standing tall in the backdrop, you will be treated to a scene that truly captures the essence of Yosemite's high country.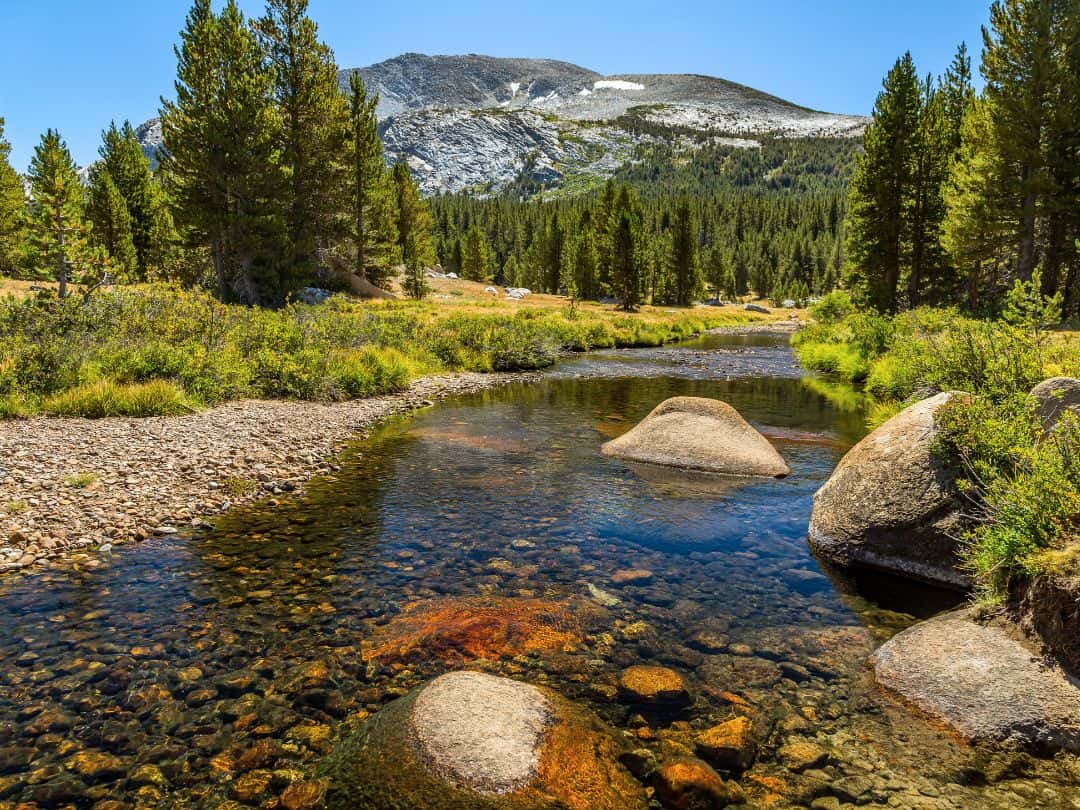 Best Stops on Tioga Road / Dana Meadows with Mammoth Peak in the Distance
Welcome to the next stop: Tioga Pass, a breathtaking mountain pass that spans the Sierra Nevada and serves as the gateway to Yosemite's eastern high country. As one of the highest drivable passes in California, Tioga Pass offers an awe-inspiring journey through some of the most stunning alpine landscapes in the world.
Driving along Tioga Pass is a mesmerizing experience. The winding road will take you through a diverse range of landscapes, from dense forests to open meadows, with commanding views of rugged mountain peaks and pristine lakes along the way. As you ascend to higher elevations, you will be rewarded with awe-inspiring vistas that seem to stretch on forever.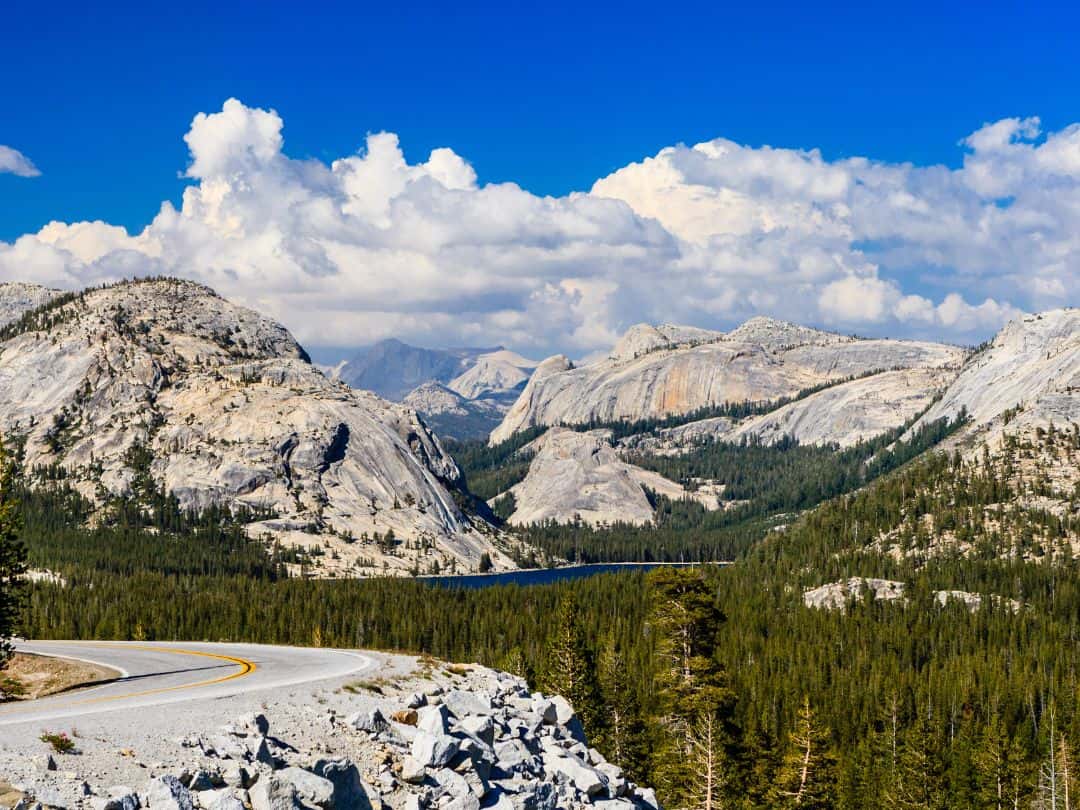 Best Stops on Tioga Road / Tioga Pass
GOOD TO KNOW: Tioga Pass reaches a remarkable elevation of approximately 9,943 feet above sea level.
PRO TIP: Tioga Pass is typically open from late spring through early fall, depending on snow conditions. It is best to check the current road status and weather conditions before embarking on your journey, especially in the early and late seasons when the pass may be subject to temporary closures.
The next stop is Tioga Lake with its crystal-clear waters mirroring the breathtaking landscape that surrounds it.
The combination of blue skies, lush greenery, and towering Mount Dana form a postcard-worthy panorama. Mount Dana is the second-highest peak in Yosemite National Park. It stands at an impressive 13,057 feet above sea level, providing a dramatic backdrop to the already picturesque lake.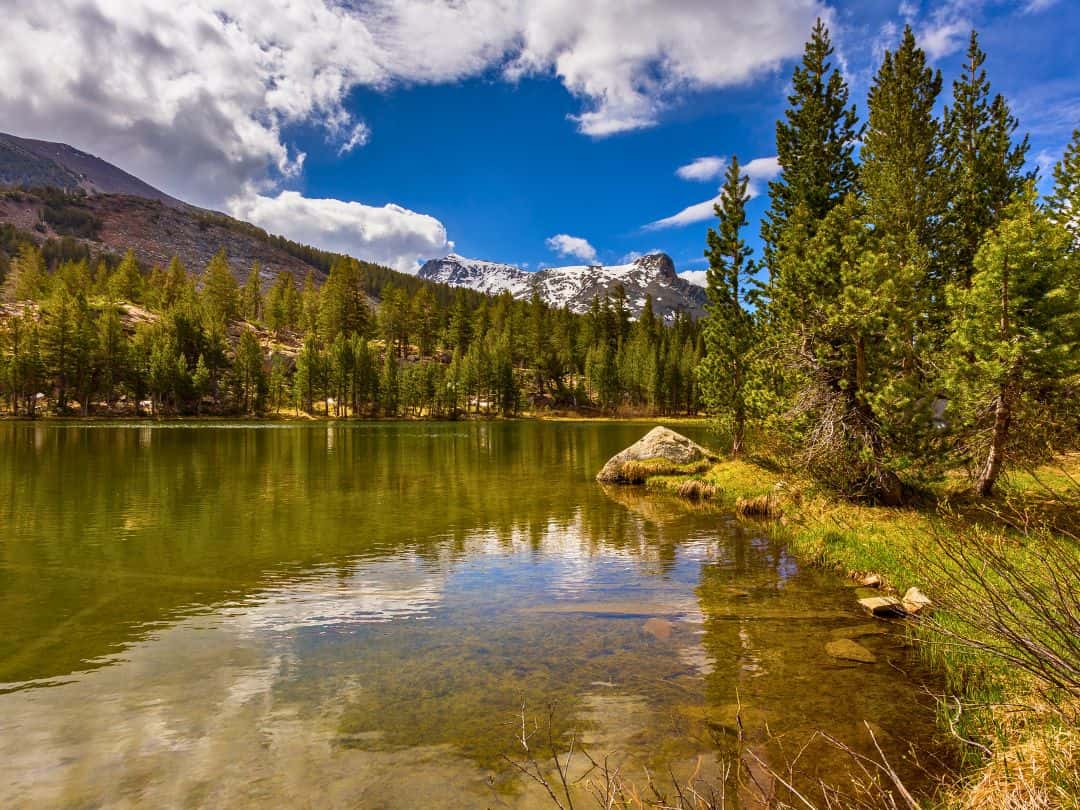 Best Stops on Tioga Road / Tioga Lake
GOOD TO KNOW: Like many other lakes in the Sierra Nevada, Tioga Lake owes its existence to glacial activity. It was formed by the movement of glaciers during the last Ice Age, which carved out the basin that now holds the lake. Tioga Lake is part of the headwaters of the Tuolumne River, one of the major rivers in Yosemite National Park.
PRO TIP: If you like fishing then Tioga Lake is known for its fishing opportunities. It is one of my daughter's favorite spots. Tioga Lake is home to various fish species, including rainbow trout and brook trout, providing an angler's paradise in the high country.
Nunatak Nature Trail is a short (1.5 miles round trip) and leisurely trail that weaves through a unique landscape shaped by glacial forces, offering a captivating glimpse into the park's geological and ecological history.
As you stroll along the trail, you'll encounter fascinating geological features such as glacial erratics—large boulders left behind by retreating glaciers. These erratics bear witness to the tremendous forces that carved the Yosemite landscape during the last Ice Age.
Along the way, informative signs provide insights into the geological and ecological significance of the area. Learn about the forces that shaped Yosemite's landscape and the resilient plant life that thrives in this challenging alpine environment.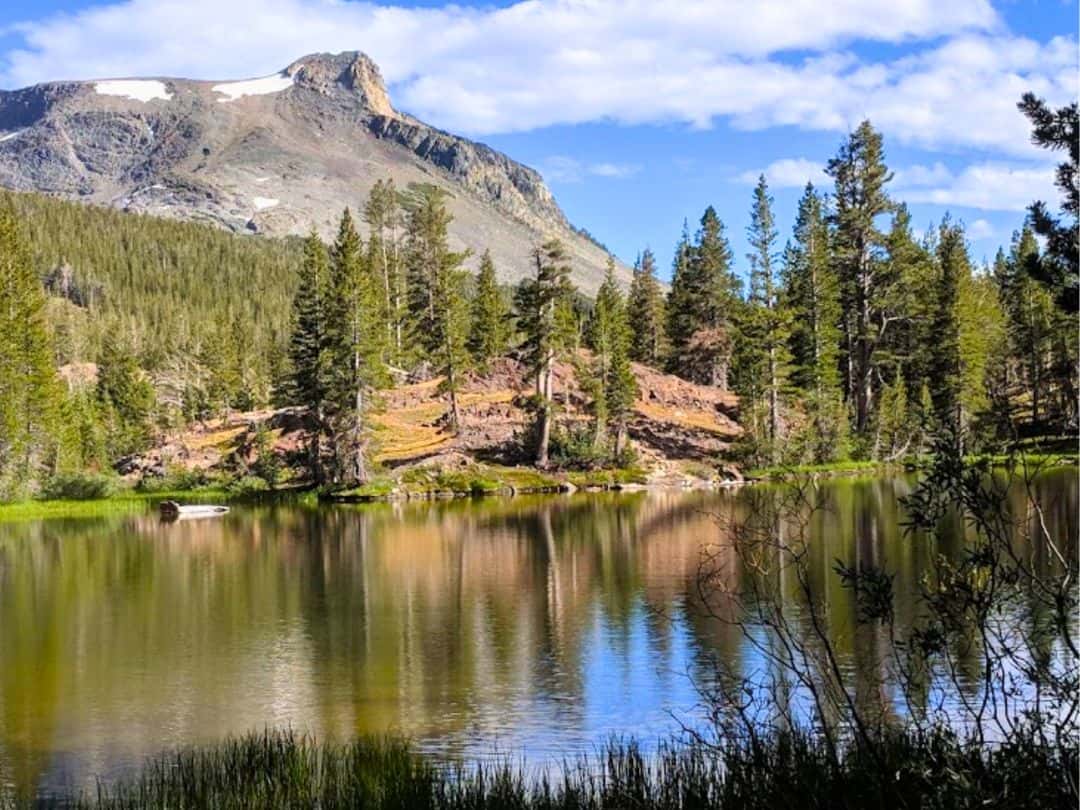 Best Stops on Tioga Road / Nunatak Nature Trail
The next stop is serene Ellery Lake with its turquoise waters that glisten under the sun.
Ellery Lake is surrounded by a dramatic backdrop of rugged mountain peaks, adding to its scenic beauty. The nearby mountains, including Mount Dana and Mount Gibbs, create a picaresque setting.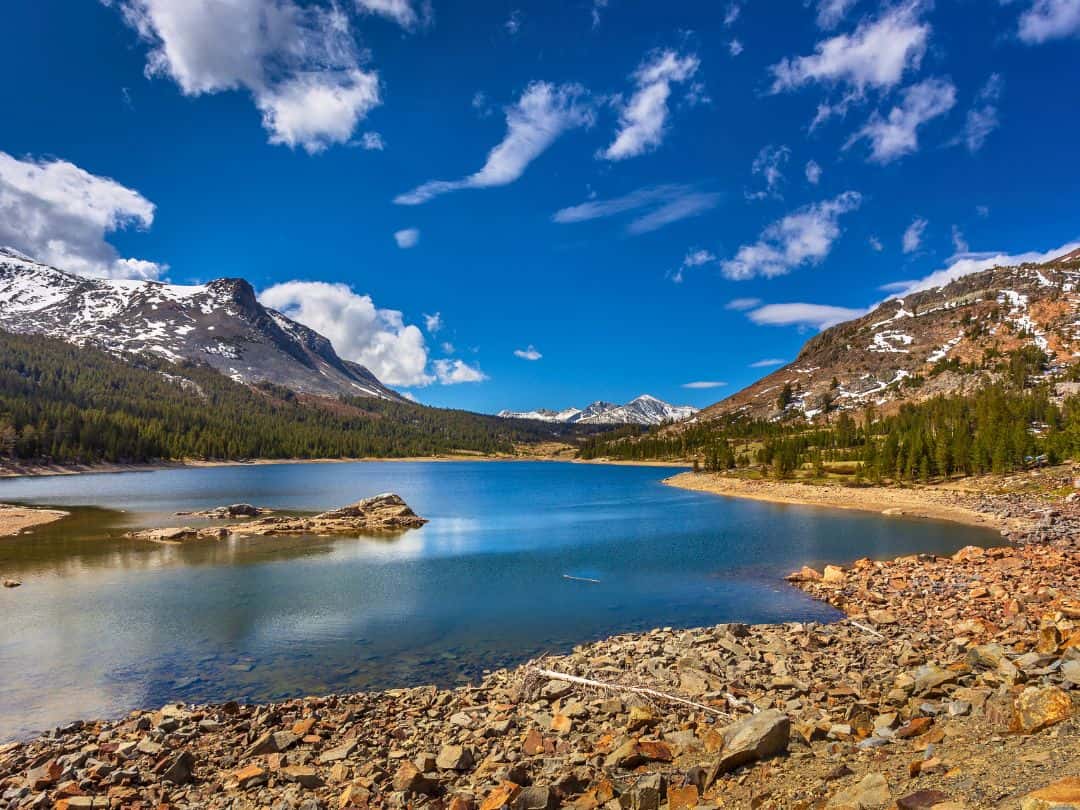 Best Stops on Tioga Road / Ellery Lake
GOOD TO KNOW: Like many other lakes in the Sierra Nevada, Ellery Lake was formed by glacial activity during the last Ice Age. As glaciers retreated, they left behind depressions in the landscape, which later filled with water, giving rise to the stunning alpine lake we see today.
PRO TIP: The lake is popular among anglers, as it offers excellent fishing opportunities for those seeking to cast their lines in pristine alpine waters. Fish species found in Ellery Lake include rainbow trout and brook trout.
Lee Vining and Whoa Nellie Deli
Lee Vining is a charming town that serves as the gateway to Yosemite's eastern entrance. A must-visit destination in Lee Vining is the renowned Whoa Nellie Deli.
Prepare to be delighted by the culinary delights at Whoa Nellie Deli, a beloved eatery perched inside the Mobil Gas Station at the junction of Highway 395 and Tioga Pass Road. Despite its unconventional location, the deli has garnered a reputation for its gourmet dishes, crafted with fresh, locally-sourced ingredients.
The menu features a diverse array of dishes, including gourmet sandwiches, freshly-prepared salads, and sumptuous seafood options. Indulge in their famous "Sierra Sunrise" fish tacos, which have earned a cult following among travelers.
Prepare to be transported to an otherworldly landscape as you venture to Mono Lake! This ancient saline lake is renowned for its mesmerizing tufa formations and unique ecology, offering a surreal and unforgettable experience for all who visit.
GOOD TO KNOW: Tufa is a type of limestone rock that forms underwater when calcium-rich spring water mixes with carbonate-rich lake water. Over time, these formations grow and emerge from the lake's surface, creating captivating and otherworldly structures. The tufa towers make for an incredible sight, particularly during sunrise and sunset when the golden light enhances their beauty.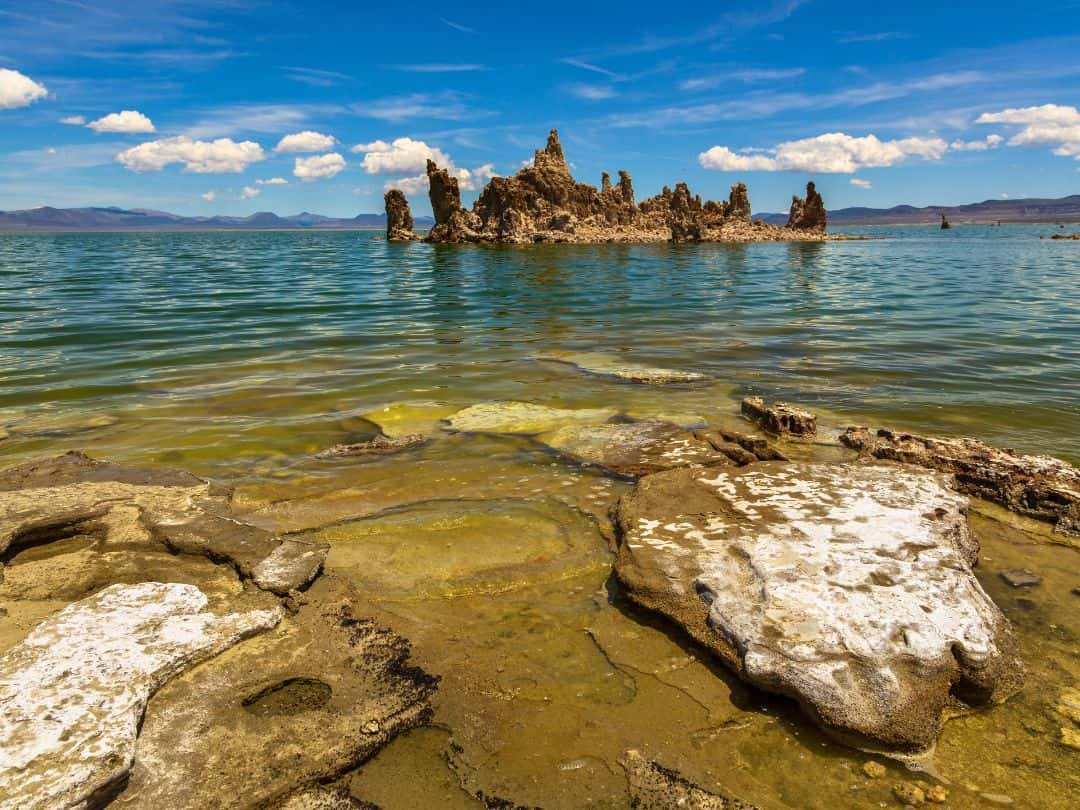 Best Stops on Tioga Road / Mono Lake
Mono Lake's alkaline waters support a thriving ecosystem of diverse and unique wildlife. The lake is a critical habitat for millions of migratory birds, making it an essential stopover point along the Pacific Flyway. Birdwatchers can spot a variety of bird species, including California gulls, eared grebes, and phalaropes. Mono Lake is also home to tiny brine shrimp and alkali flies, which serve as a vital food source for migratory birds.
PRO TIP: To fully immerse yourself in the magic of Mono Lake's tufa formations, visit the South Tufa Reserve. This area provides easy access to the most impressive and photogenic tufa towers. Stroll along the wooden boardwalks and enjoy up-close views of these natural sculptures while learning about the lake's ecology and geological history.
Intrepid Scout's Tips for Best Stops on Tioga Road
Before embarking on your journey along Tioga Road, check the current road and weather conditions. Tioga Pass may close temporarily due to snow or other weather-related factors, especially during the early and late seasons. Be prepared and flexible with your travel plans.
To beat the crowds and make the most of your day, start your adventure early in the morning. Early mornings also offer the best lighting for photography and a chance to enjoy the serene beauty of the high country.
Be sure to pack essential items such as water, snacks, sunscreen, a hat, and layers of clothing. Weather conditions can change rapidly at higher elevations, so be prepared for varying temperatures.
Respect the pristine wilderness of Yosemite by practicing Leave No Trace principles. Always dispose of trash properly and follow park guidelines to protect the delicate ecosystem and preserve the natural beauty for future generations.
Take advantage of the scenic beauty and plan for a picnic at one of the many stops along Tioga Road. Enjoy your meal while surrounded by awe-inspiring vistas, making it a memorable dining experience.
Tioga Road offers numerous stunning viewpoints and photo opportunities. Take your time to fully appreciate each stop and the natural wonders that surround you.
Did You Find This Useful?
Why Not Save Best Stops on Tioga Road to Your Pinterest Board!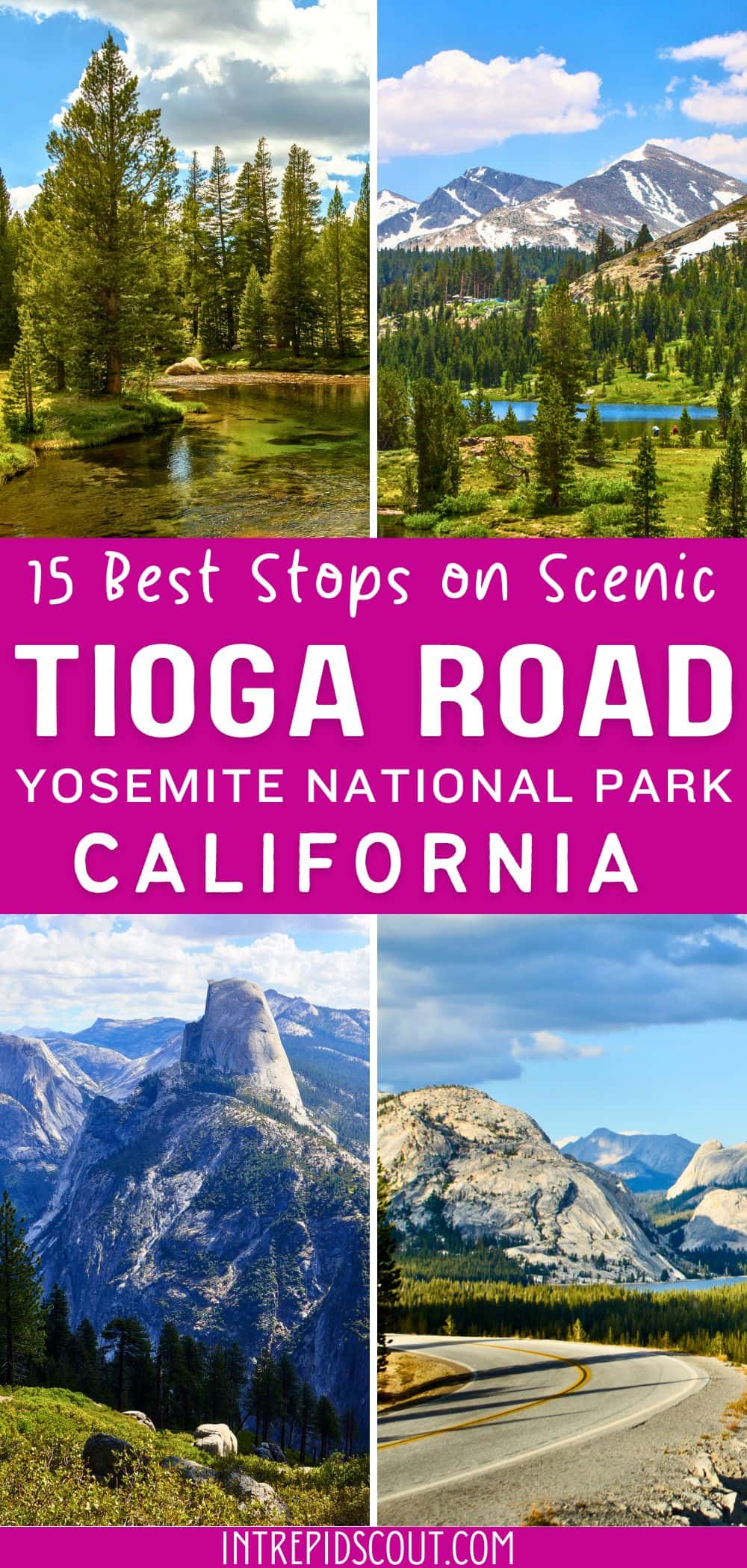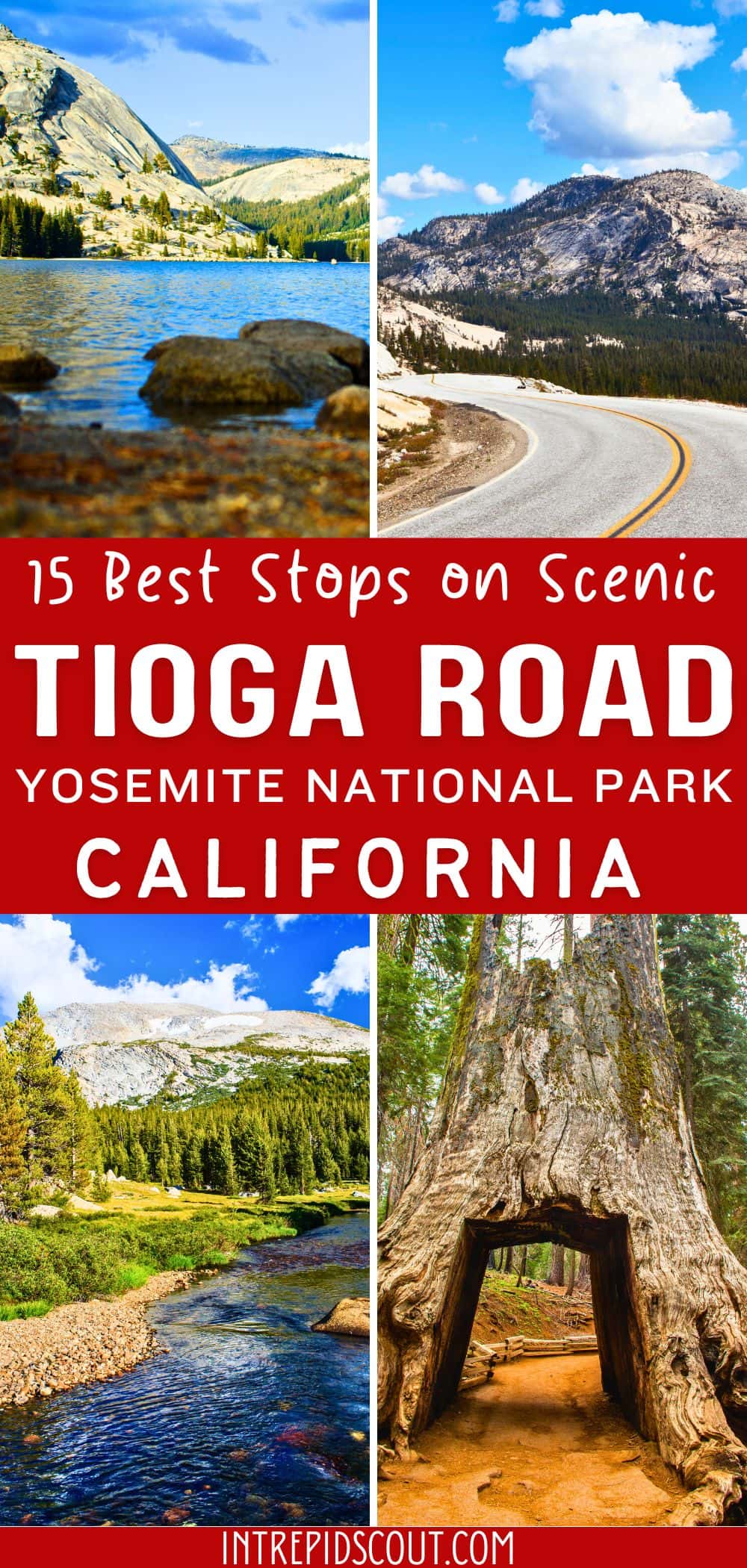 Now, It Is Your Turn, I Would Like to Hear Back from You!
Are you planning a trip to Yosemite?
Please let me know! Drop me a quick comment right below!
Click on any of the images below to get inspired and to help you with the planning process for your trip to Yosemite!