This site uses affiliate links, meaning that if you make a purchase through our links, we may earn an affiliate commission.
Hot Dog on a Bun? Wrong!
If you think Wiener Schnitzel is a hot dog in a bun, you are wrong.
I am talking about the real McCoy here – a slice of veal, pounded thin, coated in bread crumbs, and fried to perfection.
My Dad is a true aficionado of Wiener Schnitzel. I grew up hearing the pounding sounds coming from the kitchen, as my Mom tenderized the veal slices.
What Does Wiener Schnitzel Mean?
"Wiener Schnitzel" means a thin slice of meat (Schnitzel) schnitzel in the style of Vienna (Wiener); the Viennese style demands that the meat be veal. In fact, the term Wiener Schnitzel is protected by the Austrian and German Food Committee, and any schnitzel called by that name must be made from veal.
Wiener Schnitzel is a national dish of Austria, celebrated by the nation every year on September 9th.
Unfortunately, schnitzel did not originate in Austria.
The Origin of the Schnitzel
The origin of the schnitzel can be traced to the Romans – Marcus Gavius Apicius, a Roman gourmet and lover of refined luxury, wrote about it in the 1st century AD. His collection of Roman cookery recipes were compiled in the late 4th or early 5th century AD and called "Apicius." Hence, it is possible that the Roman armies brought their culinary skills to the Germanic countries.
Foreign origins notwithstanding, the fact is that the Viennese have made schnitzel their own and perfected its preparation.
Preparation
First of all the key to Wiener Schnitzel preparation is timing. The escalopes (thin slices) of veal are salted and pounded thin. How thin? A quarter inch or less.
They are first dipped in flour, then in egg (beaten with a little water or milk), and finally dipped in bread crumbs. As a general rule: the bread crumbs need to be from finely ground white bread. Once the veal is ready, the race against time starts. A pan with melted butter and oil needs to be on standby. Some chefs prefer lard, others use only oil. Next the meat is fried on one side and then turned over to the other side. The objective here is to achieve a beautiful golden-brown color schnitzel with an inside that is moist and tender and an outside that is crisp and tasty, without ever a hint of grease in flavor or texture.
Wiener Schnitzel is served with fresh lemon that you can squeeze over the meat, lingonberry jam (it is pretty tart; quite sour actually), and boiled potatoes with parsley and butter.
Homemade Wiener Schnitzel
My mom mastered the Wiener Schnitzel. It was always done correctly. The coating was always crisp and golden brown, and it never stuck to the veal. You should be able to slide a knife between the meat and the coating. Her secret was to fry the Wiener Schnitzel immediately after it had been coated with bread crumbs. Letting the breaded veal sit before frying causes the coating to stick to the meat.
Recommended Restaurant
Today Wiener Schnitzel is found on the menu of almost any restaurant in Vienna that boasts a traditional Viennese cuisine. My favorite is Figlmuller.
Whole families come here and get seated at wooden tables with benches.
They serve a good Wiener Schnitzel at Figlmuller. It is pounded thin, moist inside and crisp on the outside. It covers the entire plate and then some.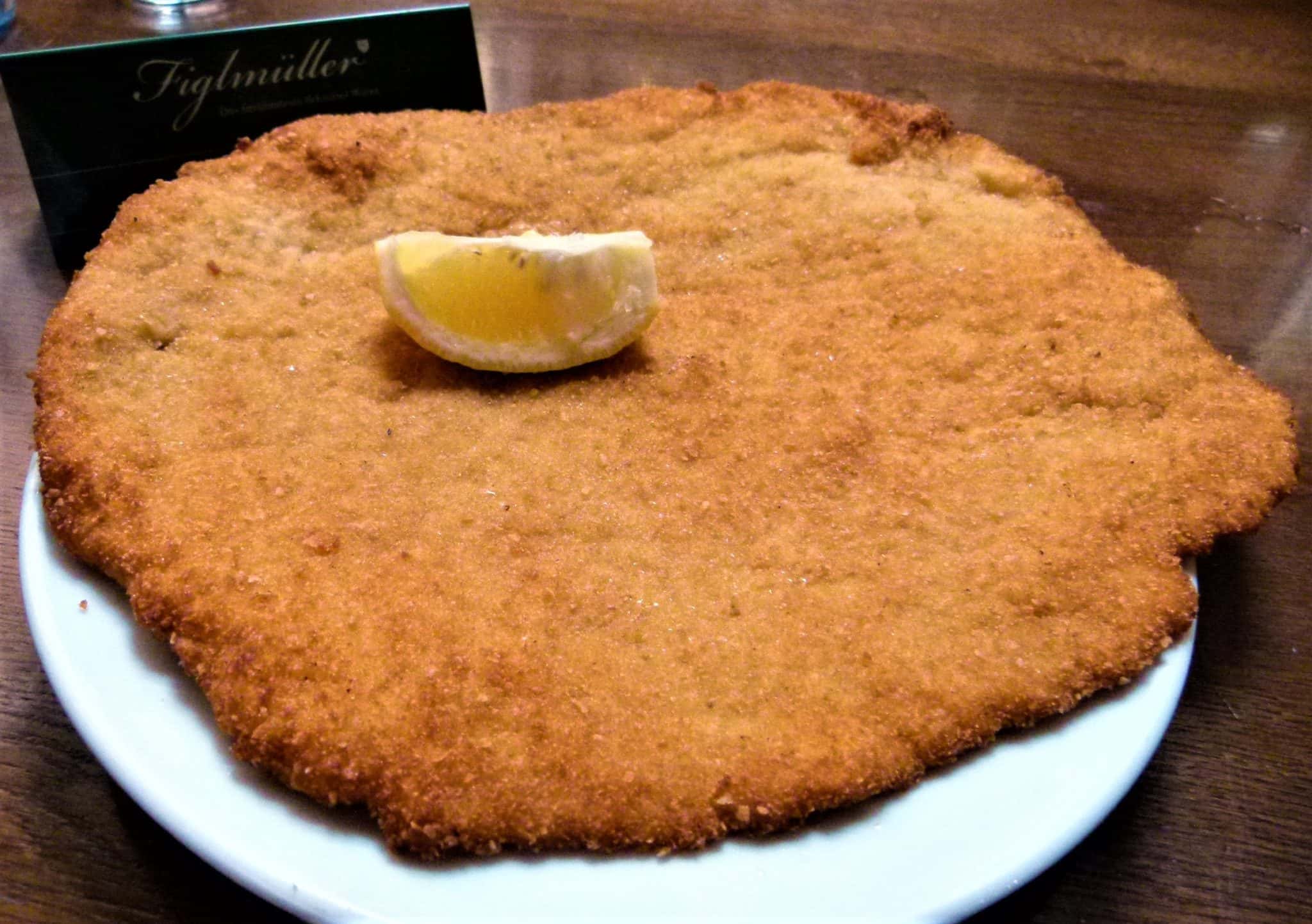 In conclusion, I hope you get to try it and I wish you, as they say in Austria: Guten Appetit!
If you are looking for more places to explore in Vienna, do not miss out Solo Traveller's Guide to Vienna. This great post has practically everything you need to know before taking off to explore this great city.