This site uses affiliate links, meaning that if you make a purchase through our links, we may earn an affiliate commission.
Gorilla trekking in Uganda is a once-in-a-lifetime experience that needs to be on your bucket list of things to see and do.
Having just returned from gorilla trekking in Uganda, I must say that no other wildlife encounter in Africa compares to the incredible time I had trekking in Uganda and spending face-to-face time with the gorillas in a natural habitat.
However, some advance planning and preparation are necessary to make gorilla trekking in Uganda one of the most memorable experiences of your life. Here are my 13 practical tips for gorilla trekking in Uganda:
13 Practical Tips for Gorilla Trekking in Uganda
When Is the Best Time to Do Gorilla Trekking in Uganda
Ok, here is a breakdown of when is the best time of the year to do gorilla trekking in Uganda as far as the weather is concerned.
Uganda has 2 rainy seasons and 2 dry seasons in a year. Let's take a quick look at each season so that you can make sense of it all.
Rainy Seasons in Uganda:
The short rainy season is from October to November
The long rainy season is from about mid-March till to the end of May
Dry Seasons in Uganda:
The short dry season is from December to February
The long dry season is from June to August
With that being the case, one of my top tips for gorilla trekking is to do it during the months of June, July, August, or September. And, keep in mind that June and July are the driest months of the year, BUT it can still rain!
The second option is December, January, and February.
The months of June, July, August, and September are considered the high season. You need to expect plenty of company everywhere. All the treks will be fully booked (or even overbooked) and the accommodations will be crowded.
The month of December is the peak month for gorilla trekking in Uganda. It is not only the busiest time of the year but also, the most expensive time for planning a trip to Uganda. Be prepared to pay extra for accommodations and flights.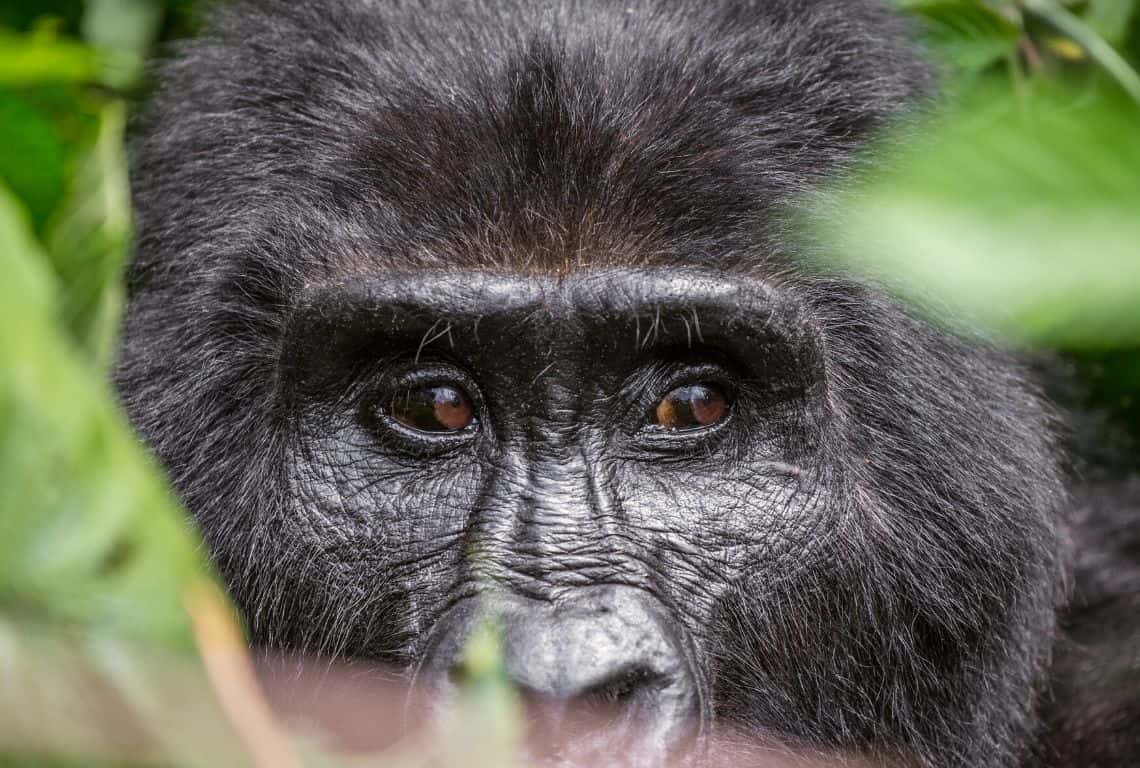 Tips for Gorilla Trekking in Uganda
If you can't stand the crowds and if you are on a tight budget, then the good news is that Gorilla trekking is conducted year-round in Uganda and you can plan your gorilla trek during the low season (rainy season).
What the rainy season in Uganda means is that most of the days will have some sunshine, but the extra rainfall will make dirt roads extremely muddy and forest trails more challenging to traverse. But, if you do not mind the extra rain and can tolerate challenging conditions, then you will be able to save some money.
As far as temperatures throughout the year, you do not have to worry about huge temperature fluctuations. They range from 21-25C (70-77F) throughout the entire year.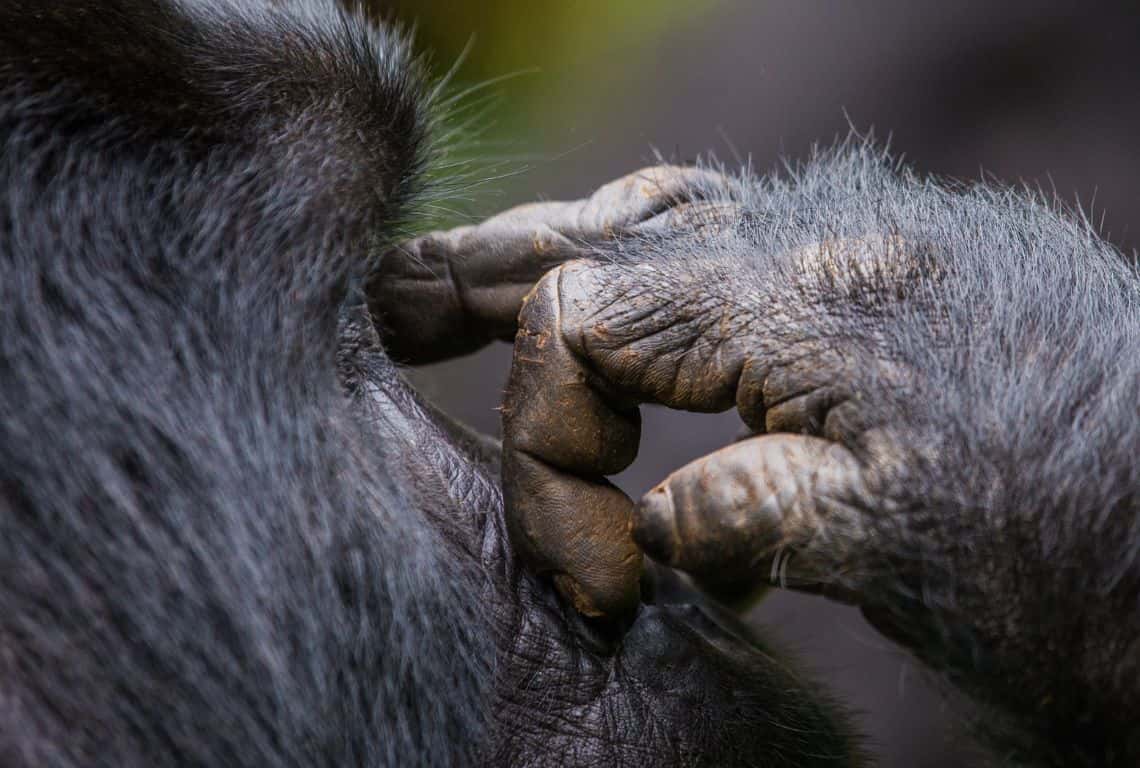 Tips for Gorilla Trekking in Uganda
Where Do You Go for Gorilla Trekking in Uganda
There are 2 places for mountain gorilla trekking in Uganda:
Bwindi Impenetrable Forest National Park
Mgahinga Gorilla National Park
Hands down, Bwindi Impenetrable Forest is the top place for gorilla trekking not only in Uganda but in the world.
First of all, about 300-400 gorillas live in Bwindi Impenetrable Forest, which is roughly half of the gorilla population in the world!
Second, Bwindi Impenetrable Forest is the home of the largest number of habituated gorilla families in Africa.
Currently, there are 18 habituated gorilla groups or families in Uganda that you can trek, and Bwindi Impenetrable Forest has 17 of these groups.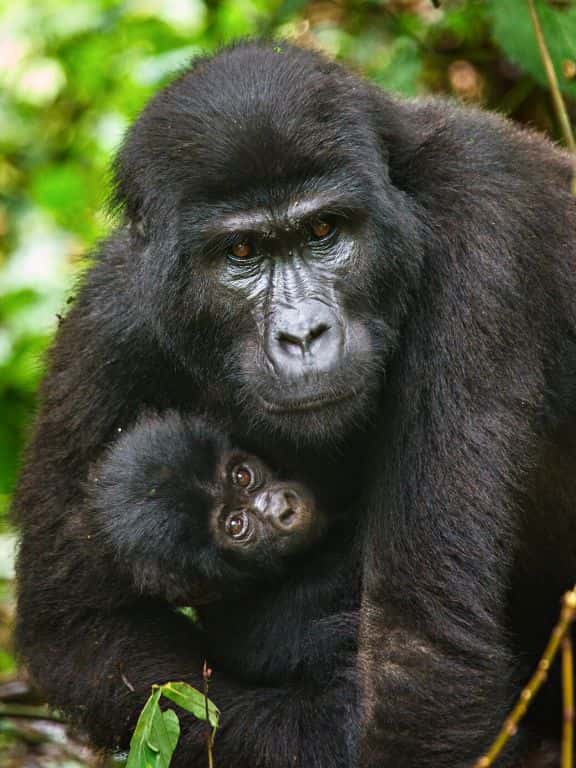 Tips for Gorilla Trekking in Uganda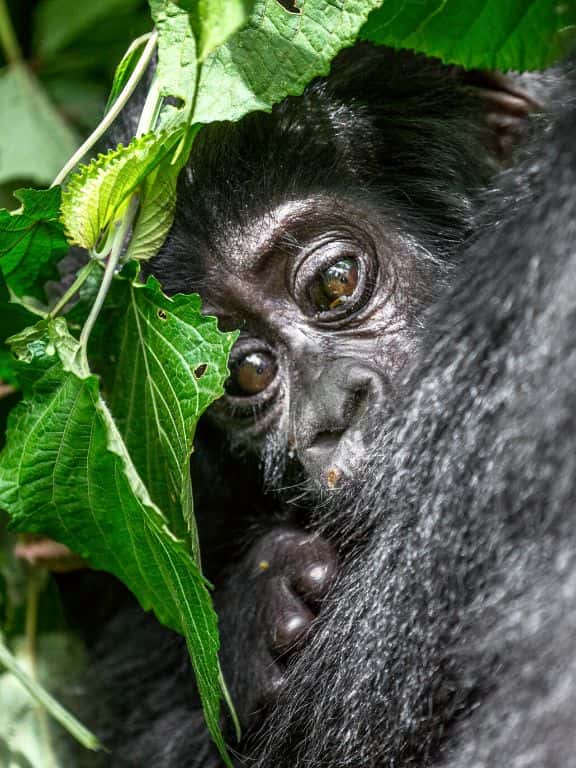 Tips for Gorilla Trekking in Uganda
There are 4 treks in Bwindi Impenetrable Forest and each trek has specific gorilla families.
Following is the list of all the treks in Bwindi Impenetrable Forest and gorilla families found around these treks. Keep in mind that not all of these listed gorilla families are habituated:
Ruhija Trek – gorilla families: Mukiza, Oruzogo, Bitukura and Kyaguliro
Buhoma Trek – gorilla families: Habinyanja, Katwe, Mubare, Rushegura
Nkuringo Trek – gorilla families: Christmas, Nkuringo, Bushaho
Rushaga Trek – gorilla families: Kutu, Bikingi, Mishaya, Bushigye, Kahungye, Rwigi, Bweza, Nshongi, Mucunguzi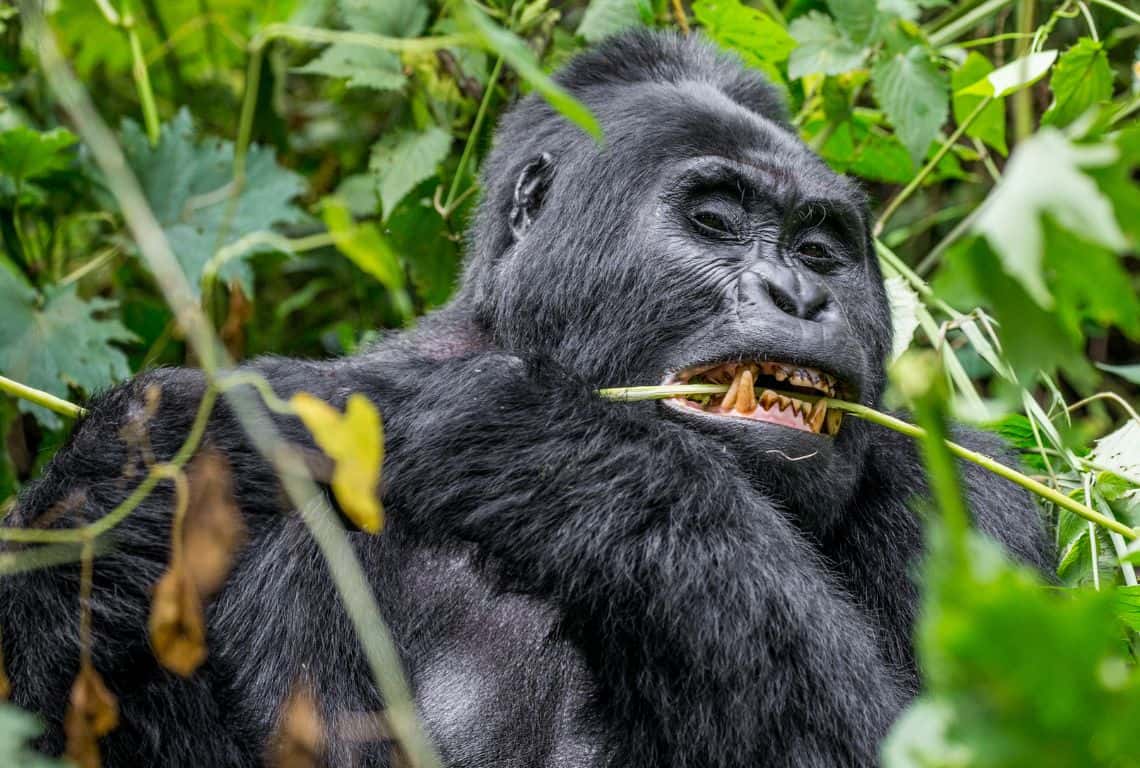 Tips for Gorilla Trekking in Uganda
How Many Days Do You Need for Gorilla Trekking
You need to plan a minimum of 3 days (2 nights accommodations) for gorilla trekking in Bwindi Impenetrable Forest.
Basically, the first day should be reserved for travel. It takes a good portion of the day to fly from Entebbe to Kihihi Air Strip and then at least 1.5 hours of driving from Khihi to Bwindi.
The second day should be reserved for gorilla trekking which can last from 2 hours to more than 7 hours depending on which trek you get and where the gorilla family you are trekking is located.
The third day is again your travel day wherever you are going next.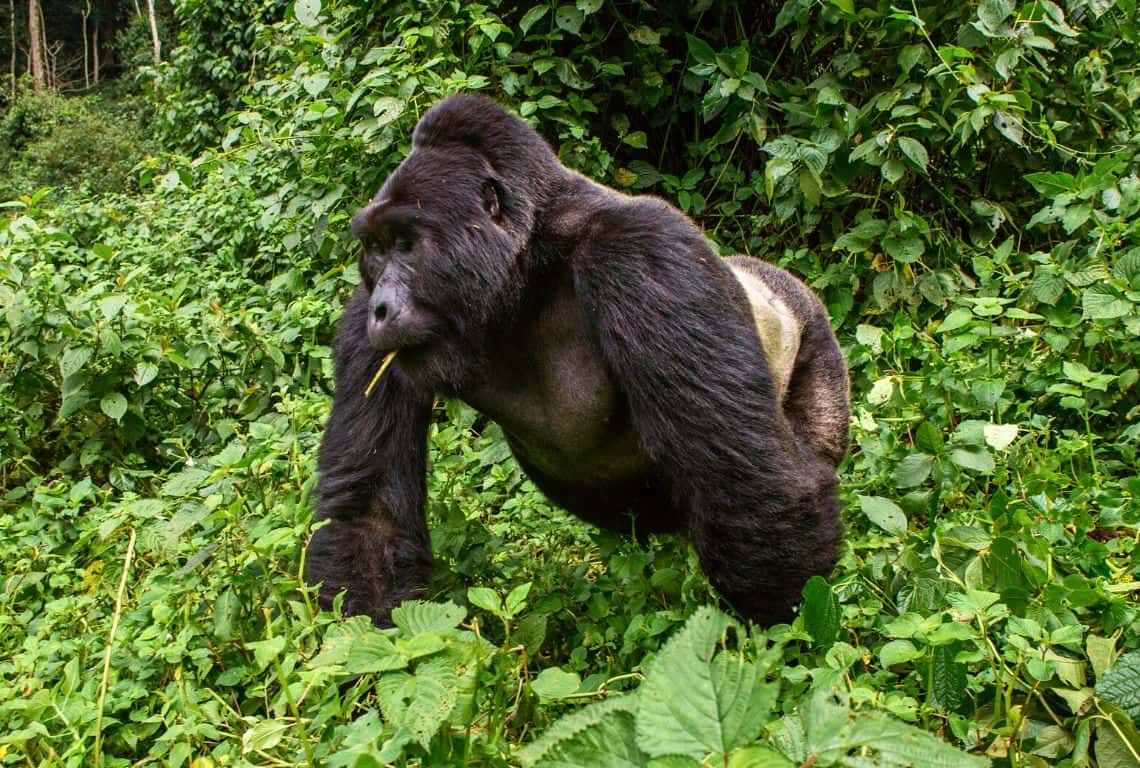 Tips for Gorilla Trekking in Uganda
My recommendation is to stay an extra day and enjoy a few other activities offered around Bwindi. Any of these activities can easily be arranged by your lodge management. Just ask and they will have a list of guides that you can hire for half or full-day:
If you have a passion for birds then Bwindi Impenetrable Forest is one of the top destinations for bird watching in Africa! 348 bird species have been recorded at Bwindi.
Bwindi has three bird species that are the only surviving representatives of their respective genera: African Green Broadbill, Grauer's Warbler (Graueria vittata), and Short-tailed Warbler (Hemitesia Neumann).
If you are interested in bird watching, let me know and I will connect you with the birding guide that my daughter had and who was excellent!
Go on Butterfly Watching Tour
Are you into butterflying? Bwindi has at least 220 butterfly species including 8 Albertine rift endemics. Three butterflies occur only in Bwindi including the Cream-banded swallowtail (Papilio leucotaenia), Graphium gudenusi, and Charaxes fournierae. The threatened African giant swallowtail (Papilio antimachus) is also found in Bwindi.
Join the Coffee and Tea Tour
There are lots of coffee and tea tours that you can join and learn how coffee and tea are grown, collected, and prepared. It is also a good idea to purchase some coffee and tea to support local communities.
Just outside the entrance to Bwindi Impenetrable Forest National Park, there is a craft market. Here, you will find all kinds of local crafts that are perfect to buy and take home as gifts. Again, you will be supporting the communities surrounding Bwindi.
Tips for Gorilla Trekking in Uganda
What Are the Requirements for Traveling to Uganda
It is important that you check your local Uganda Embassy continuously while planning a trip to Uganda since the entry requirements can change at any time.
Currently, the following entry requirements are in place:
All foreign visitors to Uganda must have a passport and it needs to be valid for at least 6 months.
Passports must have a clean and full visa page for endorsement.
Yellow Fever Vaccine Certificate
All visitors to Uganda must have a valid yellow fever vaccine certificate.
For most people, a single dose of the yellow fever vaccine provides long-lasting protection, and a booster dose of the vaccine is not needed. However, travelers going to areas with ongoing outbreaks may consider getting a booster dose of the yellow fever vaccine if it has been 10 years or more since they were last vaccinated.
Citizens of most countries traveling to Uganda will need a visa.
If you are a citizen of any of these countries, then you do need a visa. For a complete list click: HERE
Apply for your visa through Uganda E-Immigration System.
A visa to Uganda costs $50 and is valid for 90 days. The approval process takes just a few days and you will be notified via your email when it is approved. It is important that print your visa in color and take it with you.
Covid Vaccine Certificate
I decided to add Covid Vaccine Certificate to the list since I asked for it at numerous security checkpoints at Entebbe Airport.
If you are visiting Uganda, Kenya, and/or Rwanda, then apply for an East African Tourist Visa.
East African Tourist Visa is a multiple entry visa. it costs $100 and it is valid for 90 days.
For those beginning their trip in Kenya, apply for the East African Tourist Visa by visiting https://evisa.go.ke/evisa.html. Or click this link for more information.
For those beginning their trip in Rwanda, you can apply through the Rwanda Online Visa Application System. Under "Type of Visa" select "East Africa Tourist Visa." For more information contact your local Rwanda embassy.
For those beginning their trip in Uganda, you can find information on the visa application process on the consular section of your local Uganda embassy or its website.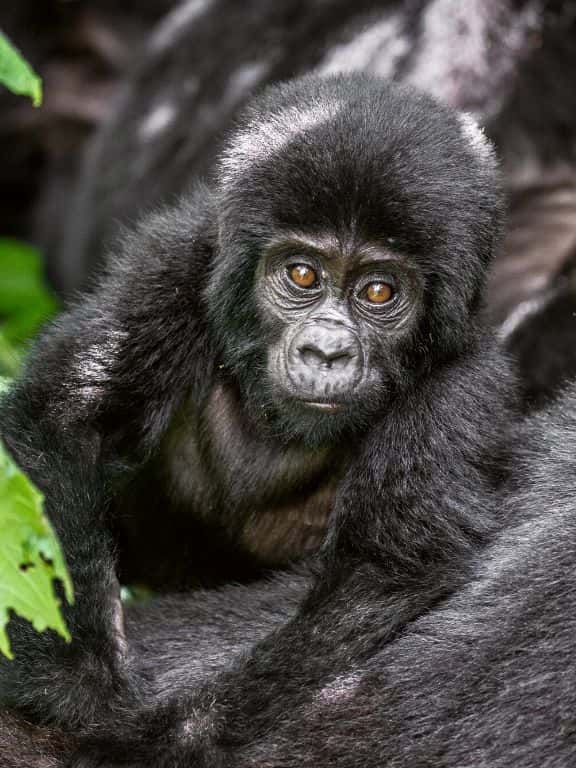 Tips for Gorilla Trekking in Uganda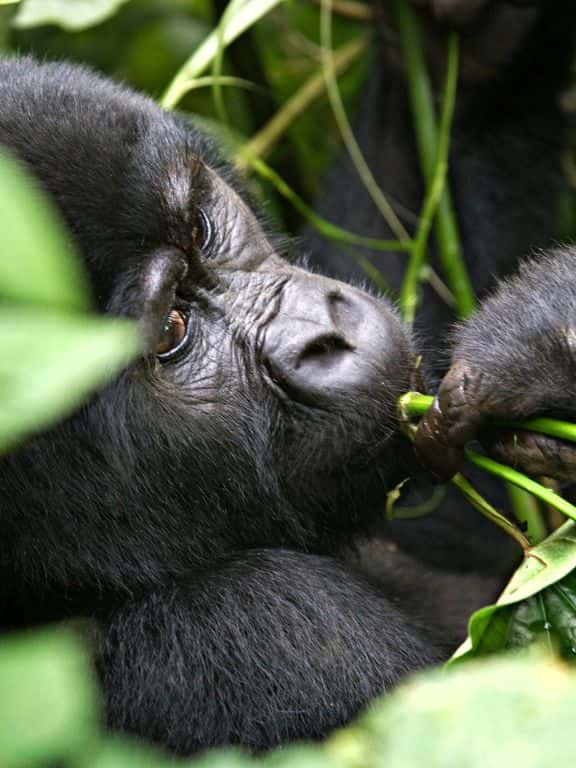 Tips for Gorilla Trekking in Uganda
What Is the Difference Between Gorilla Trekking vs Gorilla Tracking vs Gorilla Habituation Experience
While you are planning and researching your trip to Uganda, you are going to come upon a few terms pertaining to visiting the gorillas, namely: gorilla trekking, gorilla tracking, and gorilla habituation experience. What is the difference?
Gorilla trekking is defined as a guided hike into the rainforest jungles. You will be in a small controlled group of 8 travelers accompanied by an expert guide and 2 armed rangers. Once you reach the gorilla family, you will have 1 hour to observe them and take pictures. The cost for a gorilla trekking permit is $700.
Gorilla tracking is done by expert ranger guides, park staff, or researchers. This involves tracking down a specific habituated gorilla family and locating them based on their last known location, where they spent the night, and their feeding area.
Gorilla Habituation Experience
The Gorilla habituation experience is the process of introducing gorillas to the sight and presence of humans. There are only 4 tourists allowed in each habituation experience and you have at least 4 hours to spend with the gorilla family. The process is more demanding and requires a good level of physical fitness. The cost for a gorilla habituation experience is $1,500.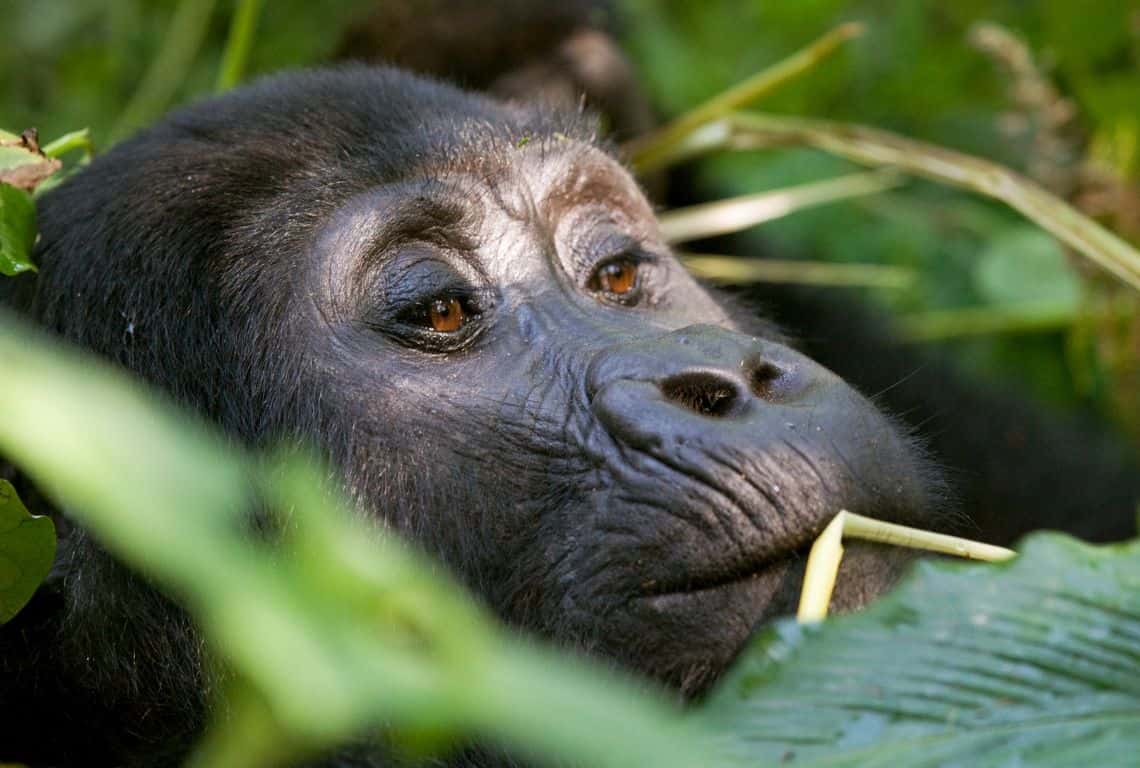 Tips for Gorilla Trekking in Uganda
How to Get Gorilla Trekking Permit and How Much Does it Cost
The best way to obtain a gorilla tracking permit is either through a tour operator or safari company which purchased them from the Uganda Wildlife Authority (UWA). However, you can purchase them directly from Uganda Wildlife Authority.
The cost of a gorilla trekking permit Is $700 and the cost of a gorilla habituation experience is $1,500.
It is important that you purchase your permit at least 6 months in advance to guarantee availability.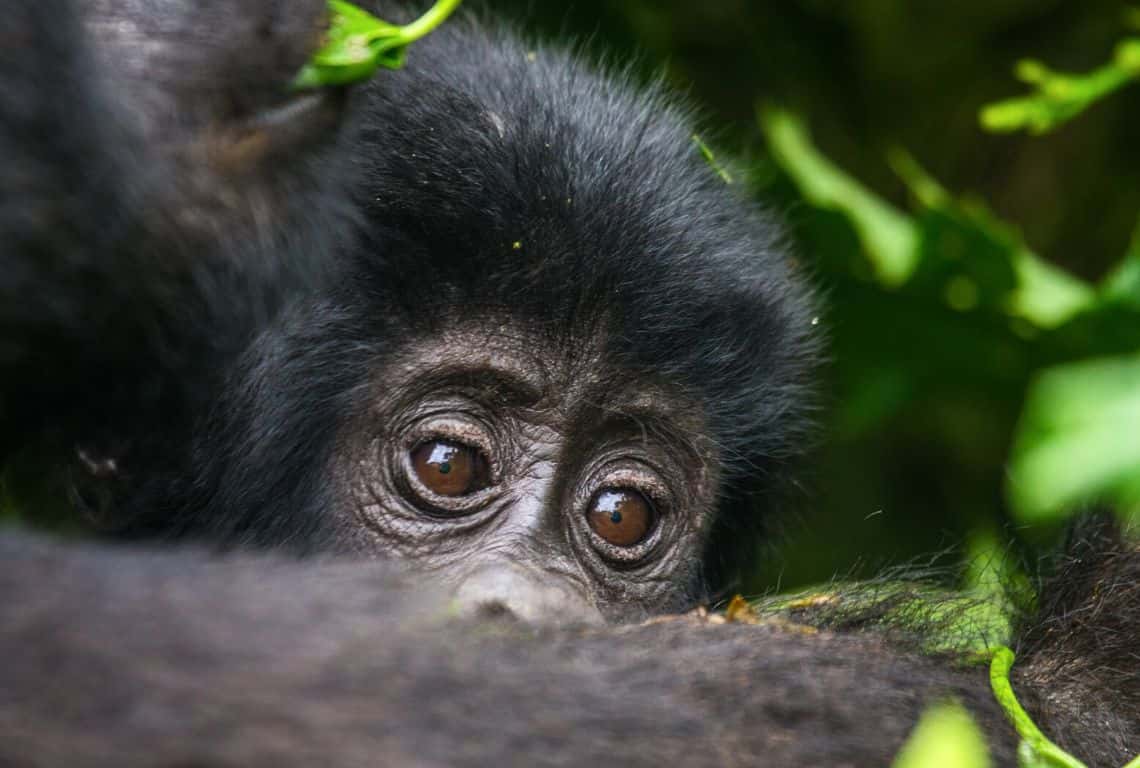 Tips for Gorilla Trekking in Uganda
What to Bring for Gorilla Trekking in Uganda
It is important that you are prepared for gorilla trekking. Here is the most condensed and comprehensive list of things you need to bring for gorilla trekking:
1. Camera!!!
Gorilla trekking is a photographer's dream! If you are like me, you will be taking hundreds, if not thousands, of photos. It is an incredible experience!
I have a Nikon COOLPIX P1000 Super Telephoto Camera that I bought a couple of years ago and I really like it. So, check it out and see if you might like it.
2. Spare battery for the camera
Make sure to have a spare battery for your camera. I think there is nothing more frustrating than knowing that you still have half a hike ahead of you, yet your camera's battery is gone.
3. Tripod
I like to use a tripod since it gives me more stability when taking close-ups of wildlife. I have Manfrotto Befree Live Carbon Fiber Tripod with Fluid Head. It is only 3.0 pounds and it fits nicely in my backpack.
4. Binoculars!
If your camera does not have a good zoom, then binoculars are a must. What a treat to see these amazing animals up close.
5. Bottled Water
Pack water! It will be hot and humid and you will sweat a lot! Your lodge will probably provide you with bottled water. Take as many bottles (at least 4 bottles) as you can!
6. Sunscreen
Protect your skin from the sun and apply sunscreen. The sun is very strong at these high altitudes around midday. My favorite is EltaMD UV Sport Broad Spectrum SPF 50 Sunscreen Sport Lotion.
6. First aid kit
Prepackaged first-aid kits for hikers is a must!
6. Insect Repellent
Insect repellent is an important step against mosquitoes and ticks that can spread diseases like West Nile and Lyme. When selecting an effective insect repellent, do not look at the brand names, but rather, look at the concentration of the active ingredients. Concentrations of DEET at 25 to 30% are the best to keep you protected.
7. Gardening Gloves
You are going to need sturdy, thick, and cut-resistant gardening gloves! As you are trekking in thick vegetation, you will need to grab and hold on to branches and vines to help yourself up or down the mountainside. Check out these Handson Gardening Gloves from Amazon.
8. Energy Snacks
The lodge where I was staying packaged the entire lunch for me. And, although, it all looked good, it was way too much food for me and it was not packaged efficiently. My recommendation is to bring and pack some high-energy bars. I like RXBAR. It is a high-protein bar, gluten-free, and it is super yummy! Make sure to get a variety pack to keep it interesting.
9. Day Pack
Obviously, all this stuff mentioned above needs to be packed into a sturdy day pack. My favorite day pack that I had for years is Osprey Daylite Plus Pack Special Edition. It is perfect for hiking or traveling.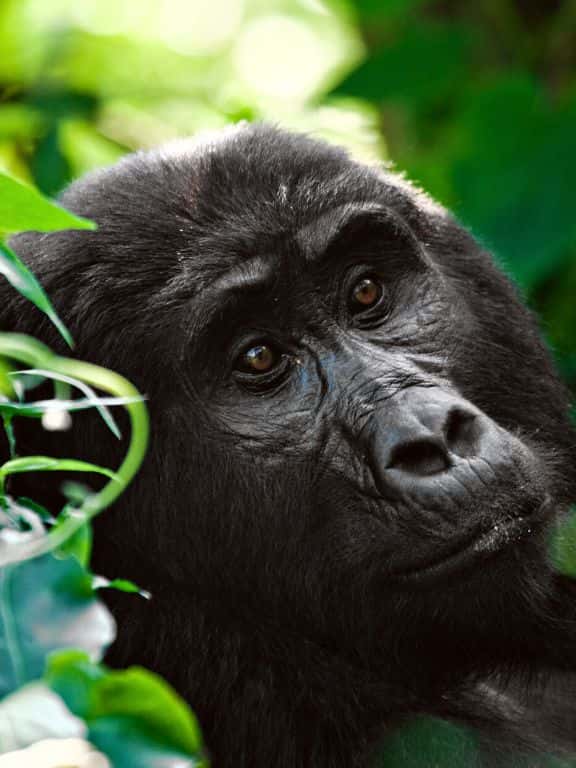 Tips for Gorilla Trekking in Uganda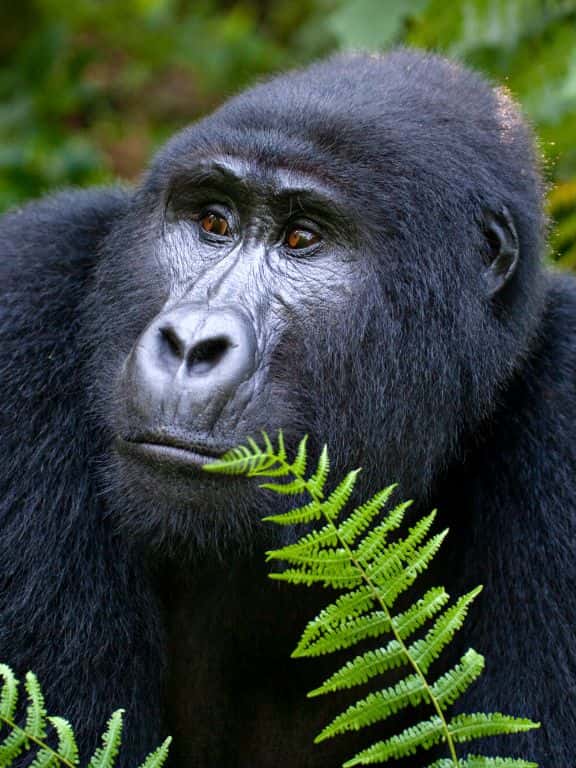 Tips for Gorilla Trekking in Uganda
What to Wear for Gorilla Trekking in Uganda
Gorilla trekking is not a walk in the park! It is not like your typical hiking either. There is no trail. You are trekking through the jungle. Here is a list of what you need to wear for gorilla trekking:
1. Waterproof Hiking Boots
Waterproof hiking books are a must! I would say that this is one of the most important things you need to have. Make sure that your hiking boots are waterproof because it might rain, besides the ground is usually wet and muddy. Next, ensure that your boots have good traction because the path can be very slippery. Lastly, your hiking boots need to offer good ankle support.
For my gorilla trekking in Uganda, I bought Salomon X Ultra 4 Mid GORE-TEX Hiking Boots from REI. I like them a lot! I am definitely recommending them.
My daughter bought HOKA Anacapa Mid GTX Hiking Boots also from REI and she is very happy with how well they performed.
2. Thick Over-the-Calf Socks
Thick over-the-calf socks are another absolute must for gorilla trekking. Make sure they are at least knee-high so that you can tuck your pants into the socks to protect yourself from insects crawling under your pants.
My favorite are Darn Tough Function 5 Over-The-Calf Padded Cushion Socks. They are made with merino wool that helps to regulate the temperature of your active feet, offering breathability at the same time.
3. Long Pants
For all my hiking trips I always pack KUHL Trekr Pants from REI. They are made of woven fabric that is peached for a soft feel with a built-in stretch that allows freedom of movement. There are plenty of zippered pockets that I like as well. Another nice feature is the waistband which is slightly higher in the back and lower in the front.
4. Sun Shirt
My favorite sun shirt is REI Co-op Sahara Solid Long-Sleeve Shirt. It is made of cool, moisture-wicking stretch nylon with UPF 50 sun protection. You can roll up and secure the sleeves. There are back vents to keep you cool and plenty of pockets to stash small necessities.
5. Lightweight Rain Jacket
A lightweight rain jacket is another must item to bring on gorilla trekking. The weatherman is not always right and it might rain in Uganda at any time with no advance warning. For my gorilla trekking in Uganda, I bought KUHL Stretch Voyagr Jacket at REI. I love it and I will definitely use it for my future travels!
6. Hat
A wide-brimmed hat is always a good idea. Check out the ones from REI and see which one you might like. Personally, I like trucker hats or caps.
7. Gaiters
Gaiters were recommended by my travel agent and I am glad I bought them. They protected my legs from thorns, insects, mud, and water. My recommendation is to buy good quality gaiters made from ballistic nylon so that they will resist tearing. The ones that I bought are Black Diamond GTX FrontPoint Gaiters.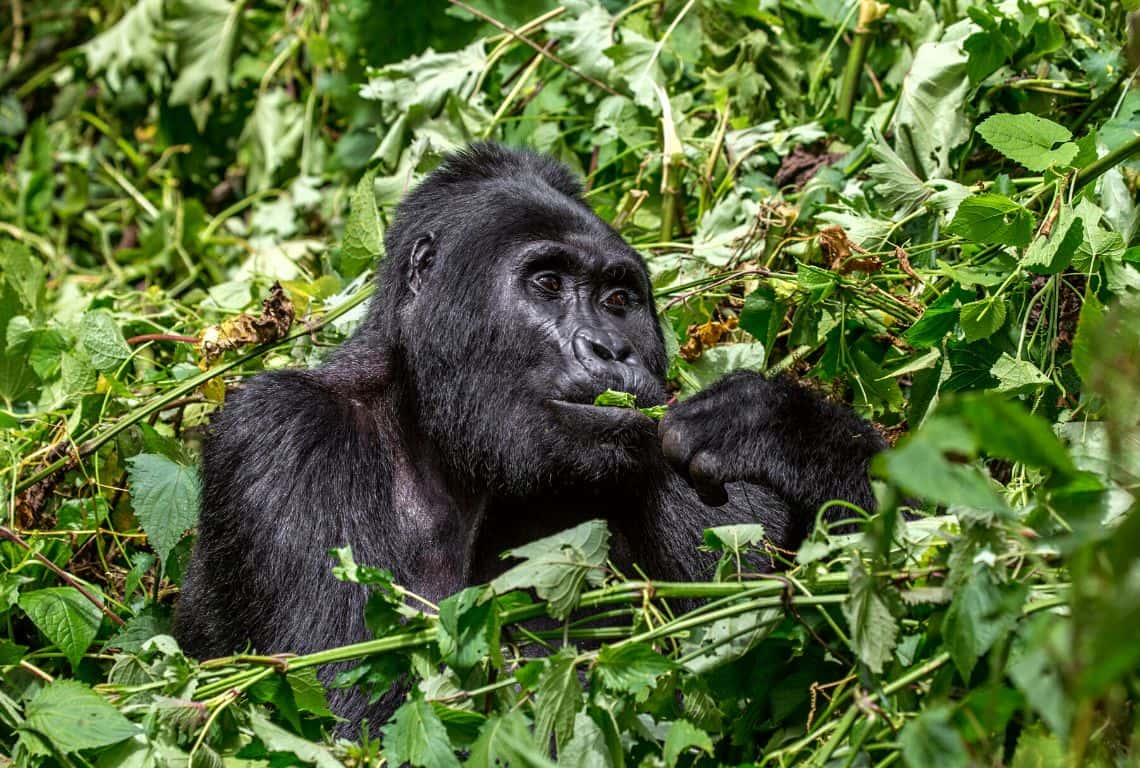 Tips for Gorilla Trekking in Uganda
Yes! You most definitely should hire a porter.
Once you arrive at the trailhead, you will find a group of uniformed men and women. They offer their services as porters.
They will not only carry your backpack but also help you out along the way. A little push or pull, and a helping hand will go a long way as you are trekking, and trust me, at the end of your trek you will be grateful that you hired a porter.
These porters provide their services for a small fee of $20.
However, above all, think about giving back to the community. Hiring a porter provides jobs to locals. Your contribution of $20 will provide a livelihood to several people.
Also, keep in mind that these porters are often people who depended on the protected jungle as their means of survival. Providing them with jobs will ensure the conservation of gorillas.
How Difficult Is Gorilla Trekking in Uganda
So to put it in perspective and give you some idea of how difficult is gorilla trekking in Uganda, you need to realize that about 60% of Bwindi Impenetrable National Park has an elevation of over 6,600 feet.
The elevation of the entire park is from 3,904 feet to 8,553 feet.
There are some steep elevation changes in many areas.
There are no well-defined hiking trails or paths. You are trekking in the jungle. Your guide will clear the narrow openings through thick vegetation with the machete and you will follow the guide in a closely controlled group. The ground will be wet, muddy, and slippery, that is why you need to invest in good hiking boots. Your sneakers or sandals are of no use in these conditions.
Make sure to wear your gloves and grab branches and vines and pull yourself up or steady yourself going down. Again, my recommendation is to hire a porter. They are familiar with the terrain and will help you out.
It might take 2 hours of trekking until you reach your gorilla family, or your trek might stretch to up to 6-8 hours. Once you reach your gorilla family, they might be resting, grooming, or socializing and it will be easy to observe them and take pictures. However, some families might be on the move and you will be following them until they settle down.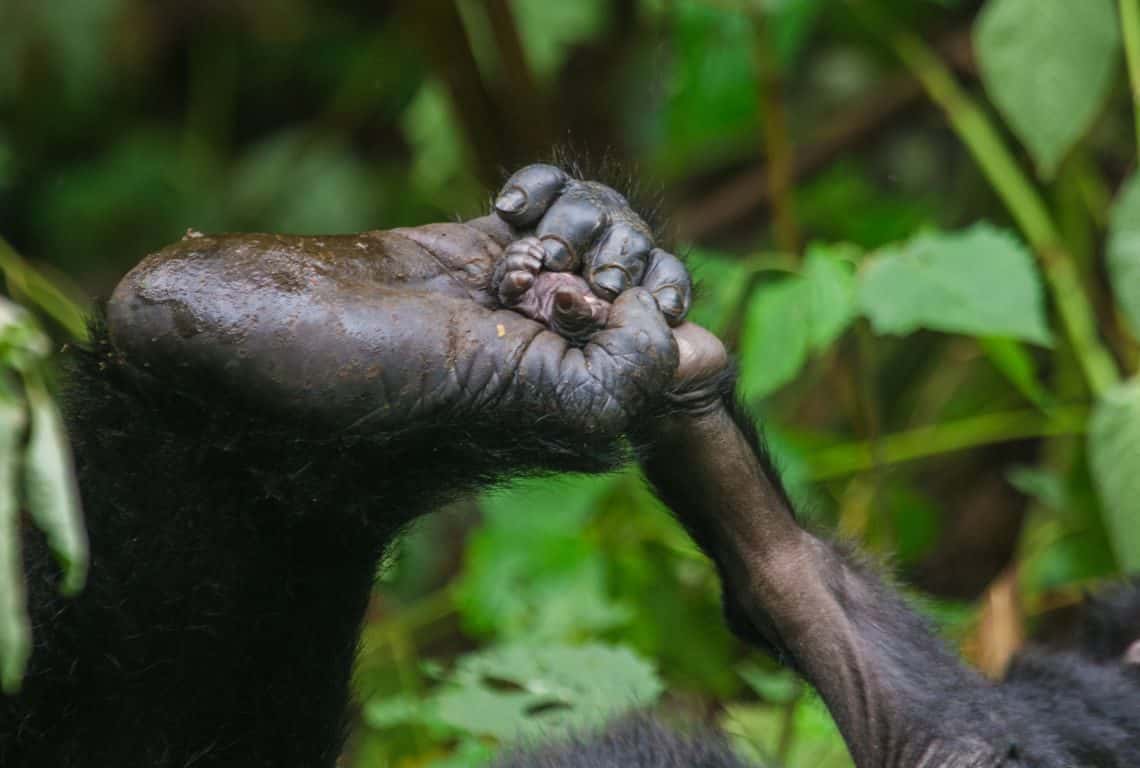 Tips for Gorilla Trekking in Uganda
I saw people from all age groups and fitness levels doing gorilla trekking in Uganda. And, it can be done and you can do it!
Now, if you think you are not up for a strenuous or long trek, then make sure to talk to your guide. The guides pretty much know where the gorilla families are located and how long it will take to reach them.
If you have any concerns, the guides will assign you to a proper group for your fitness level.
What to Expect While Trekking the Gorillas in Uganda
On the day of your trek, expect to get up super early. I got a wake-up call at 5:15 am and had breakfast at 6 am.
Right after breakfast, your local guide will take you to the briefing point.
Your temperature will be taken and you will be asked to sanitize your hands and have a mask and wear once you reach your gorilla family.
The briefing will start at about 7:30 am and first, you will watch local dances and presentations. Right after, all the visitors will be assigned to different groups each trekking a gorilla family.
Personally, my trek was not exceptionally long or strenuous. However, I have to admit that the terrain was rugged and steep and the jungle was thick. My group followed the expert tracker and was protected by two armed rangers.
The expert tracker cleared the narrow path for us with the machete. He was constantly on his walkie-talkie communicating with other rangers and trackers.
The other rangers and trackers usually go out at dawn to find the gorillas before they leave their nests and stay with them throughout the day. Then, they send coordinates to your tracker and make your trekking less challenging.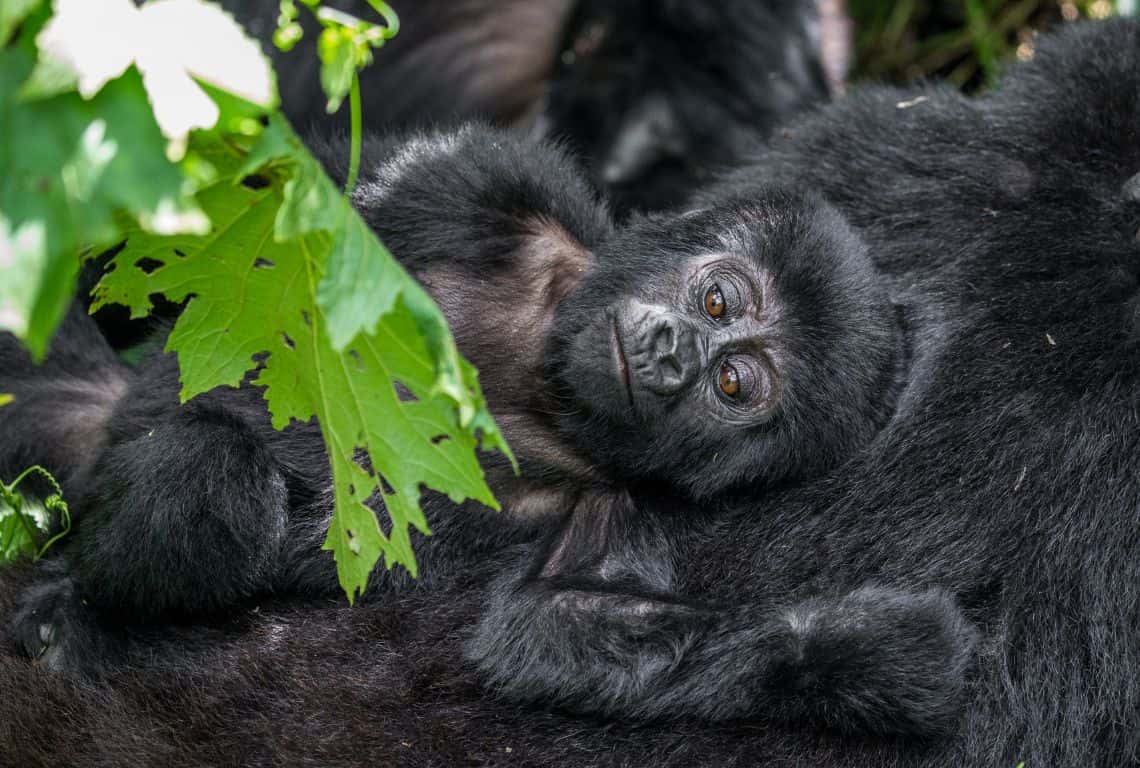 Tips for Gorilla Trekking in Uganda
When you finally find the gorillas, your trekking guide will ask you to wear your facemask.
You will only have one hour with the gorillas, so you need to be fast taking pictures and be super observant. Observe them in silence and stay at the safe distance.
I did hire a porter and I was glad that I did. He gave me a helping hand on many occasions along the trek. He also picked ants off my shirt that were frantically biting me (very ferocious little creatures), as I was completely mesmerized by the gorilla family and totally focused on taking pictures.
I found the female gorillas very calm and gracious, totally engaged in their activities of grooming and socializing.
At one point, the silverback came down loudly from a higher spot letting us know who was in charge. We were all very impressed by his huge size and powerful demeanor.
The baby gorilla was the superstar throughout the entire hour and I ended up with more pictures of the baby than anything else.
Needless to say, seeing the gorillas in their natural habitat was a life-changing experience for me.
How to Stay Safe During Gorilla Trekking in Uganda
The gorilla family you are going to visit has been habituated to human presence. However, mountain gorillas are wild creatures and are unpredictable.
Your trekking group will be accompanied by two armed rangers. They will escort you into the jungle and ensure you are not in danger from an attack.
It is important to know and follow these rules during your trek and encounter with the gorillas:
Stay with your trekking group and do not wander off.
Always follow your guide's instructions.
Wear a mask and maintain a distance of at least 10 meters (32 feet).
Do not reach out and touch the gorillas. They are vulnerable to human disease. However, be prepared that sometimes usually the younger gorillas can reach out to you and touch you. It is important that you do not engage with them and avoid their contact.
Be aware that the silverback might loudly announce his presence and dominance, or he might charge at you. In such instances, do not run or yell, but rather lay down, and curl up to let him know that you acknowledge his presence and dominance and he will back away.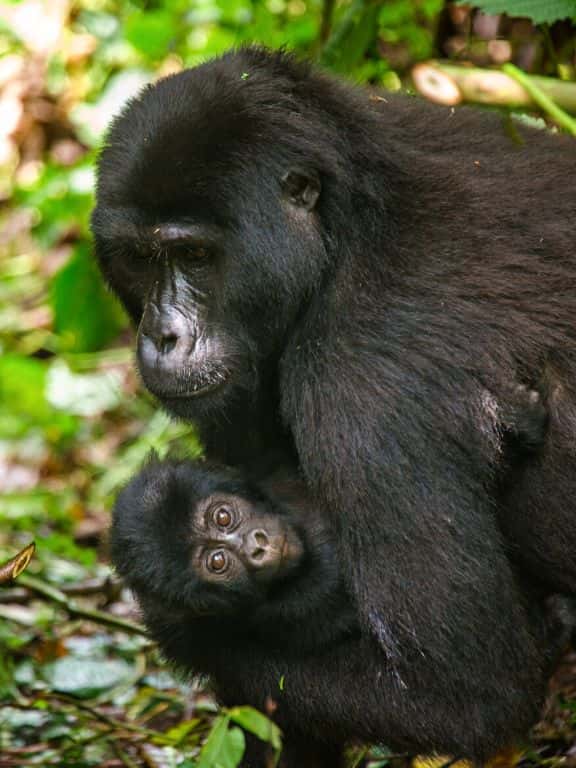 Tips for Gorilla Trekking in Uganda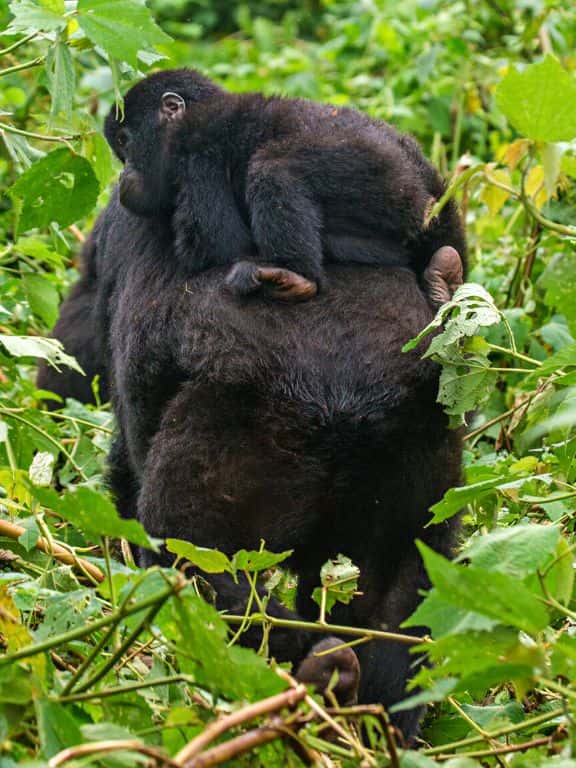 Tips for Gorilla Trekking in Uganda
Where to Stay During Trekking the Gorillas in Uganda
First of all, my entire trip to Africa was planned by Gamewatchers Safaris. I am highly recommending them. They have done an awesome job from accommodations to flights, to ensure I had all the necessary documents.
During gorilla trekking in Uganda, I stayed at Mahogany Springs Lodge. It is a beautiful lodge perched on a hillside, offering spectacular views of Bwindi from its panoramic terrace.
The rooms are spacious and bright with high ceilings and beautiful views of the surrounding area. My room had its own private terrace, large en-suite bathroom, and walk-in terracotta shower.
All the meals were delicious and beautifully presented.
Above all what stands out is their customer service skills which they take to the next level. They care about their guests and will go over and beyond to make you comfortable and accommodate all your requests.
I need to mention that I am not getting compensated by Gamewatchers Safaris or Mohogany Springs Lodge for my review. This is my honest opinion.
Intrepid Scout's Tips for Gorilla Trekking in Uganda - Is Gorilla Trekking Worth All the Money
I always get asked if gorilla trekking in Uganda is worth spending all that money. Needless to say, gorilla trekking in Uganda is an expensive endeavor: flights, transfers, accommodations, permits, and visas, it all adds up and you only get 1 hour with the gorillas.
So, to honestly answer this question, I need to say that of all my world travels, gorilla trekking in Uganda ranks at the top of my world chart of bucket-list-worthy experiences and places to visit.
Observing the mountain gorillas in the wild is awe-inspiring. It is a 10 out of 10 experience that you will never forget!
Now, It Is Your Turn, I Would Like to Hear Back from You!
Are you planning your trip to Uganga?
Please let me know! Drop me a quick comment right below!
Did You Find This Post Useful?
Why Not Save Tips for Gorilla Trekking in Uganda to Your Pinterest Board!