This site uses affiliate links, meaning that if you make a purchase through our links, we may earn an affiliate commission.
As you disembark at Marco Polo Airport (VCE), you are on the brink of your Venetian adventure, with Marco Polo Airport serving as your primary gateway to this iconic Italian city.
Your first task? Figuring out how to seamlessly travel from Marco Polo Airport to Venice.
Here is a crucial note for clarity: Venice is a unique island city connected to the mainland by a highway. However, vehicles are restricted from entering the city, and the farthest point that can be reached on the island is Piazzale Roma.
This underscores the importance of making an informed choice in transportation from Marco Polo Airport to Venice.
In this blog post, we will navigate you through practical options, ensuring your journey from Marco Polo Airport to the heart of Venice is smooth and hassle-free.
Whether you are drawn to the opulence of a water taxi, prefer the affordability of buses, or are looking for a balanced option in between, our guide is here to assist you. Let's commence this thrilling journey together!
Marco Polo Airport to Venice: 6 Ways to Seamlessly Reach the Heart of the City
The Alilaguna Water Bus: Your Ideal Voyage from Marco Polo Airport to Venice
Upon your arrival at Marco Polo Airport (VCE), your Venetian adventure begins, and the first decision you will make is how to journey to the heart of Venice!
While the Alilaguna Water Bus may not be the fastest option, it holds a special place as my preferred choice, offering a leisurely yet picturesque introduction to Venice's enchantment.
You have three Alilaguna lines to choose from: blue, orange, and red. They each make different stops.
The Red Line only makes stops at Murano and Lido Islands, so you will take either the Blue Line or the Orange Line. However, the most tailored advice should come from your hotel, guiding you toward the most suitable route.
The voyage will take approximately an hour to an hour and 15 minutes. It is not the fastest option, but to compensate for the extra time, you will be treated to quite a serene scenic ride! Above all, it will transport you most likely within walking distance of your accommodation.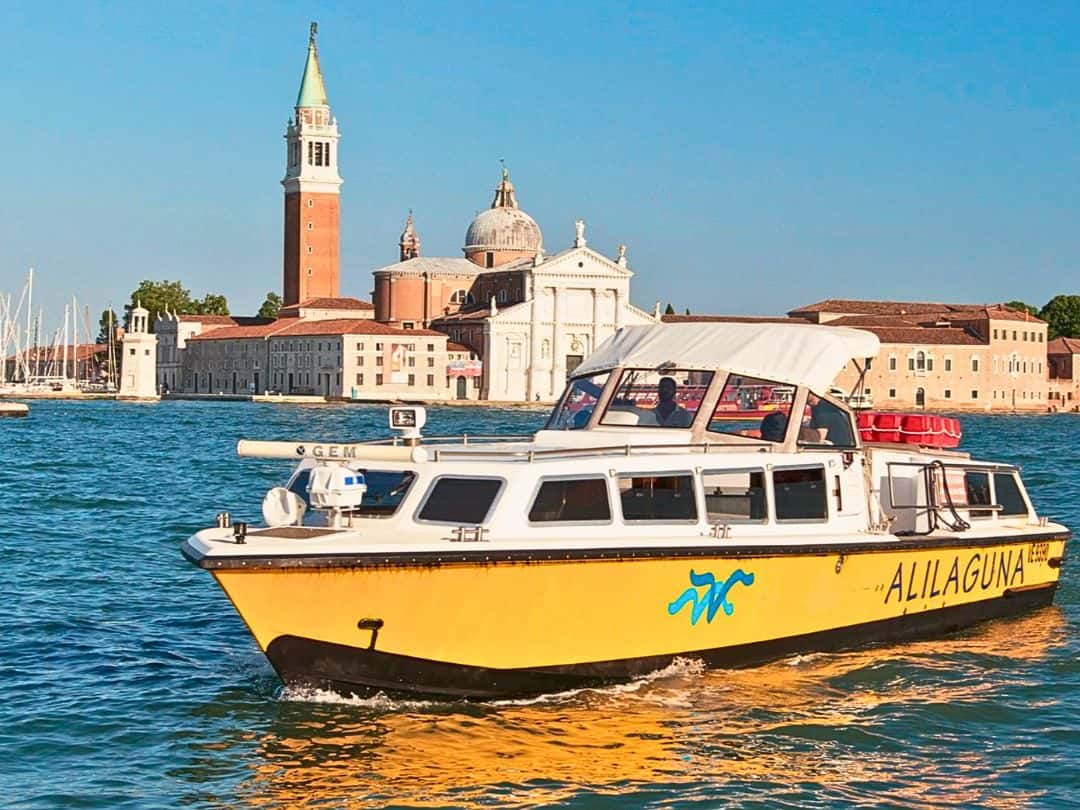 The Alilguana Water Bus / How to get from Marco Polo Airport to Venice
The Alilguana Water Bus provides a nice budget-friendly option at just 15 euros for a one-way ticket and a round-trip ticket goes for 27 euros. If you purchase your tickets online ahead of time the fare drops to 14 and 25 euro (more about purchasing tickets online right below).
What I like most about the Alilaguna Water Bus is that there is no need for transfers. Unlike the bus, car, taxi, or train there is no need for Vaporetto transfers (we will discuss all the options) making your journey hassle-free and luggage-friendly.
Tickets can be purchased in the arrivals area of the airport. Simply follow the well-placed signs marked "Transporti via acqua/Water transport."
While you can purchase tickets online, be aware that you will need to exchange your printed ticket for a boarding pass at the ticket office, which is really no big deal. Personally, I like to book it online.
For a mere extra euro, you can even secure your tickets onboard.
The boats are about a ten-minute walk once outside the airport. For those with substantial luggage, allow extra time to reach the dock.
The water buses depart every hour, slightly less frequent than land buses, but still a viable option at a reasonable price.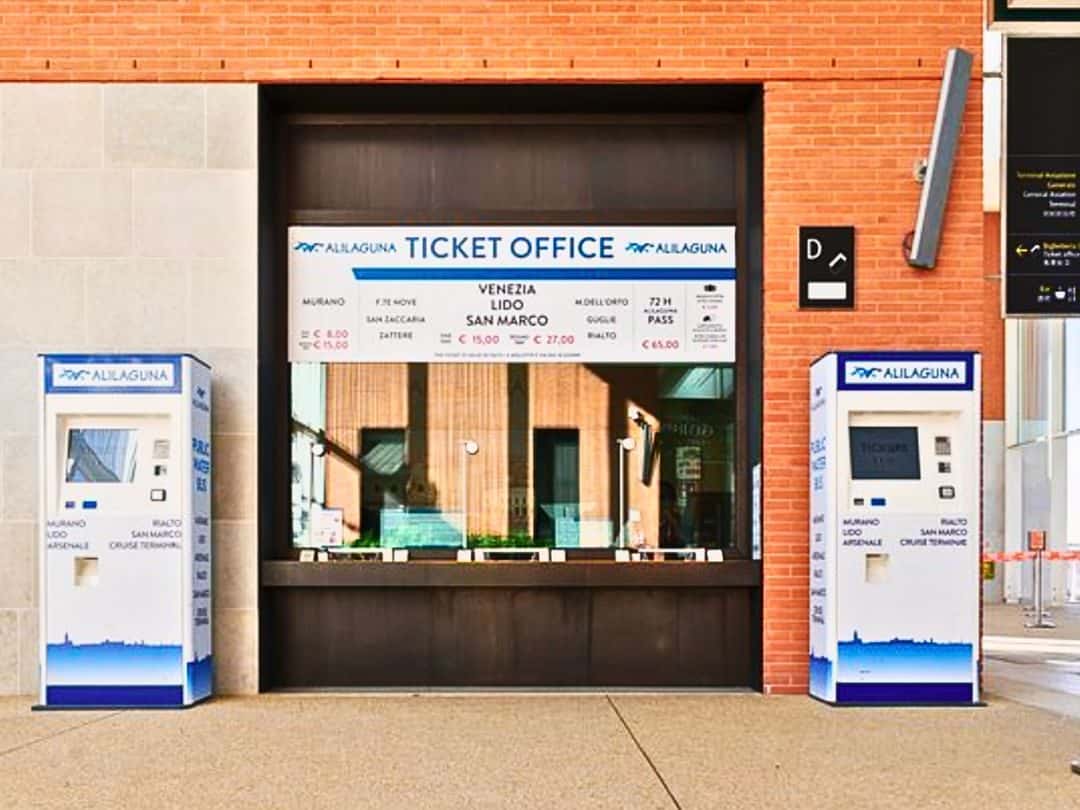 Ticket Office / How to get from Marco Polo Airport to Venice
It is essential to note that at the dock you will also find more expensive Water Taxis (we will discuss Water Taxis later in this blog post). Please be aware that they are not the Alilaguna Water Buses. Stay vigilant and avoid detours suggested by well-meaning drivers who might entice you toward pricier Water Taxis.
Alilaguna Water Bus Features
Alilaguna Water Buses are easily recognizable by their bright yellow bottom and bold "Alilaguna" lettering.
These spacious vessels can accommodate many travelers with luggage.
In contrast, the costly water taxis are smaller and feature a distinct all-white or brown wood-tone aesthetic.
In summary, the Alilaguna Water Bus is not just transportation; it is the first chapter of your Venetian adventure—a serene, picturesque journey that sets the perfect tone for your stay.
Water Taxi: Your Ultimate Comfort for the Marco Polo Airport to Venice Journey
When it comes to traveling from Marco Polo Airport to Venice, no option rivals the sheer convenience of a water taxi. While it may be the most expensive choice, it offers unparalleled ease, ensuring you are dropped right at your hotel's doorstep—or very close to it.
Water taxis are the epitome of convenience, swiftly cutting your travel time to Venice to approximately 30 minutes. If you prefer not to take a 10 to 15-minute walk to your hotel, the water taxi serves as a more comfortable alternative.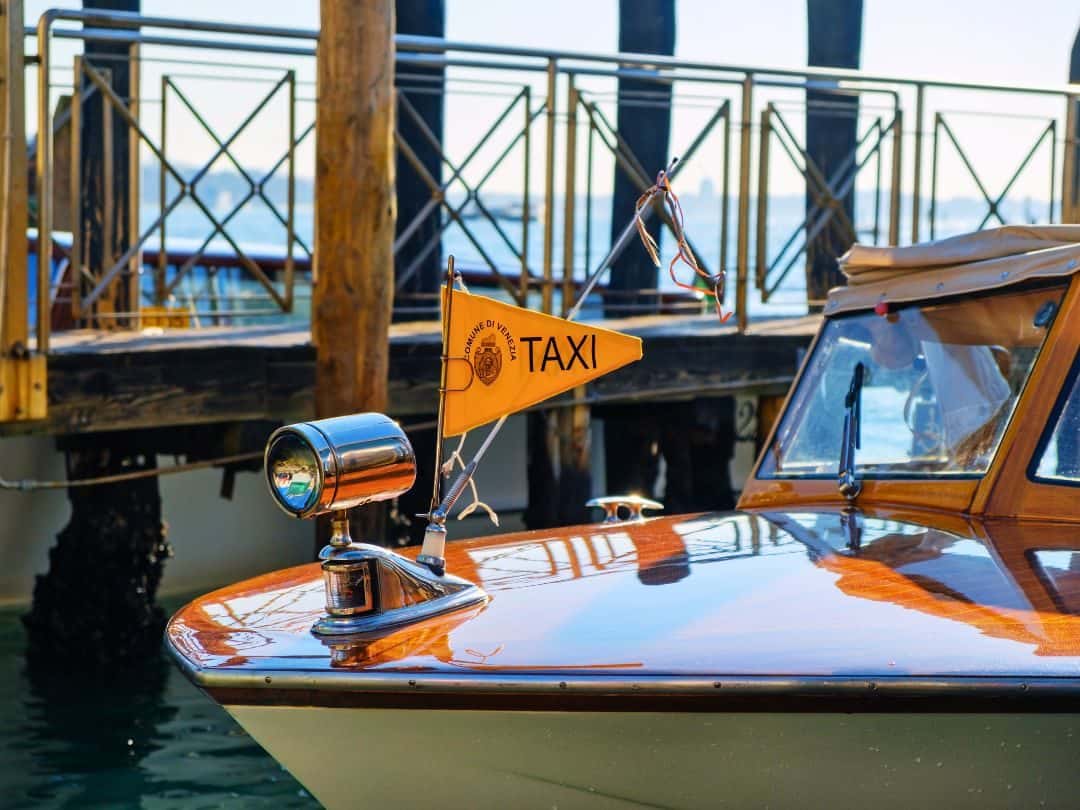 Water Taxi in Venice / How to get from Marco Polo Airport to Venice
However, the convenience comes at a price, with fares typically ranging from $200.
To avoid any unexpected charges or potential overcharging, it is advisable to finalize the fare with the taxi driver before you board. You can also work in advance with your hotel to arrange a water taxi or book your ride directly at the taxi desk within the arrivals area.
Personally, I like to book online to take all the stress out of negotiating the price. If you are traveling in a larger group, it might be worth considering as you can split the fare. Here are these two companies that I used in the past:
Private Departure Transfer from Venice to Marco Polo Airport – They provide transfer service from the airport to the dock, sparing you the need to navigate with your luggage. From there, they swiftly transport you to your hotel in approximately 30 minutes. Their boats can accommodate up to four passengers.
Transfer from Venice Airport to Venice – here you can simplify your journey from Venice's Marco Polo Airport into the heart of Venice with a private limousine transfer. You will travel comfortably on the mainland in a luxurious sedan and then seamlessly transition to a fully licensed water taxi for the final leg to the islands of Venice. Their boats can accommodate up to seven passengers.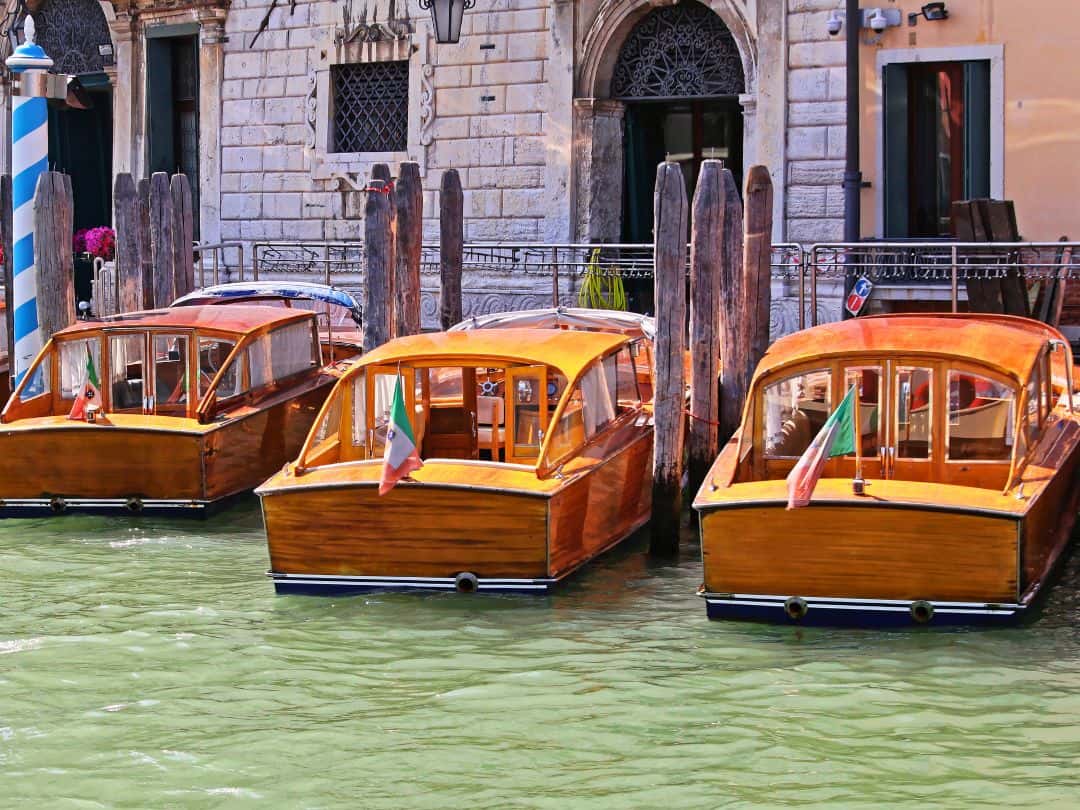 Water Taxis in Venice / How to get from Marco Polo Airport to Venice
Another alternative to the private water taxi is the shared water taxi. It offers a less crowded ride compared to the water bus and can potentially be more cost-effective than a private water taxi, with rates starting at around $35.
Here is what I have used in the past: Venice Marco Polo Airport Link Departure Transfer – pick one of 11 departure points most convenient to your hotel, and then hop aboard a waiting water taxi at your scheduled time. Sit back and enjoy the ride as you cruise by spectacular Venetian scenery on your way to the airport.
Bus: The Economical Route from Marco Polo Airport to Venice
When it comes to budget-conscious travelers seeking a wallet-friendly way to journey from Marco Polo Airport to Venice, the bus emerges as the most economical option. Not only does it offer affordability, but it also ensures a reasonably swift passage.
Opting for the bus from Venice Airport to Venice Island is a budget-conscious choice that also provides a faster option compared to the Alilaguna Water Bus.
Your journey on the bus will conclude at Piazzale Roma, the outermost point on the island where vehicles are permitted.
Upon reaching Piazzale Roma, be ready for at least one transfer via vaporetto to access your hotel, contingent on its location (further details about vaporetto will be discussed later in this blog post).
The trip on a bus from Marco Pollo Airport to Piazzale Roma lasts approximately 20 to 30 minutes.
Two reputable bus companies facilitate this route:
ATVO Bus: ATVO express buses depart from Marco Polo Airport every half an hour, providing express, non-stop service to Piazzale Roma, the primary bus station on Venice Island.
ACTV Bus: ACTV buses also connect Marco Polo Airport to Piazzale Roma. These buses run every fifteen minutes, making them a highly convenient choice.
One-way tickets cost €8 and round-trip tickets are €15 for either one of the bus companies.
ATVO tickets can be conveniently purchased at the airport, either from the automatic ticket machines in the baggage claim area or the ATVO ticket office in the arrivals hall. If the ticket machines in the baggage area are unreliable, it's advisable to go directly to the ticket office. There are also automatic ticket machines in the ATVO departure area outside the terminal, where you'll board the bus. Notably, ATVO buses feature spacious luggage compartments, eliminating the need to carry your luggage onto the bus.
ACTV tickets can be acquired from self-service machines located in both the airport and at Piazzale Roma. The bus line that runs from Marco Polo to Piazzale Roma is bus line #5. ACTV buses are equipped with luggage racks in the seating area, which means you'll need to bring your luggage onboard.
Tickets for the ATVO service can be conveniently acquired through their website, while tickets for the ACTV service can be purchased via Venezia Unica.
Additionally, if you need vaporetto tickets or passes for your onward journey within Venice (details available in the vaporetto information section below), they can also be purchased HERE.
Car Rental: A Middle Ground Between Convenience and Cost
For those who desire a balance between convenience and expense when traveling from Marco Polo Airport to Venice, car rental emerges as a viable alternative. It offers the flexibility to steer clear of public transportation while avoiding the substantial expense associated with water taxis, typically exceeding €100.
The cost of renting a car from Marco Polo Airport typically ranges from €40 to €55, although it can vary depending on the rental company. Renting a car can be a viable option, especially if you plan to explore more of Italy by road and continue your sightseeing adventures.
The journey to Piazzale Roma in Venice should typically take no longer than 20 minutes. Once you arrive there, you can either return the car to the rental company or park it in a garage for the duration of your visit to Venice.
Taxi or Private Transfer: Quick and Direct
For travelers seeking a swift and direct journey from Marco Polo Airport to Venice, a regular taxi or a private transfer are viable options.
Personally, I have utilized this option several times, especially during the winter season.
In approximately fifteen minutes, you can reach Piazzale Roma, the gateway to Venice, with a taxi or a private transfer. These are professionals who are used to maneuver in Italian traffic.
The cost for this service is typically 40 euros, with additional charges for luggage.
Train: Not the Ideal Choice, But Most Economical
While it is technically possible to take a train from Marco Polo Airport to Venice, it is not the recommended option due to the added complexity of the journey.
Bus Transfer to Mestre Train Station:
To begin this route, you would need to take a bus from Marco Polo Airport to the Mestre Train Station. The bus fare for this leg of the journey is 8 euros.
Train Ride to Santa Lucia Train Station:
If you decide to proceed with this option, the train journey continues from the Mestre Train Station to the Santa Lucia Train Station in Venice. Train fares for this leg start at 1.5 euros.
Given the added complexity and the need for transfers, I am not a fan of this option.
Using Vaporetto: Your Guide to Venice's Water Buses
When navigating Venice, a unique mode of transportation takes center stage – the Vaporetto. These water buses are the lifeblood of the city, serving as its public transportation system. To make the most of your Venice visit, it is essential to understand how to use these water buses effectively.
The Vaporetto is Venice's answer to traditional buses and metros. Instead of traversing roads, they glide gracefully along the city's intricate network of canals. These water buses are essential for both residents and visitors, providing a convenient and picturesque way to explore Venice and its islands.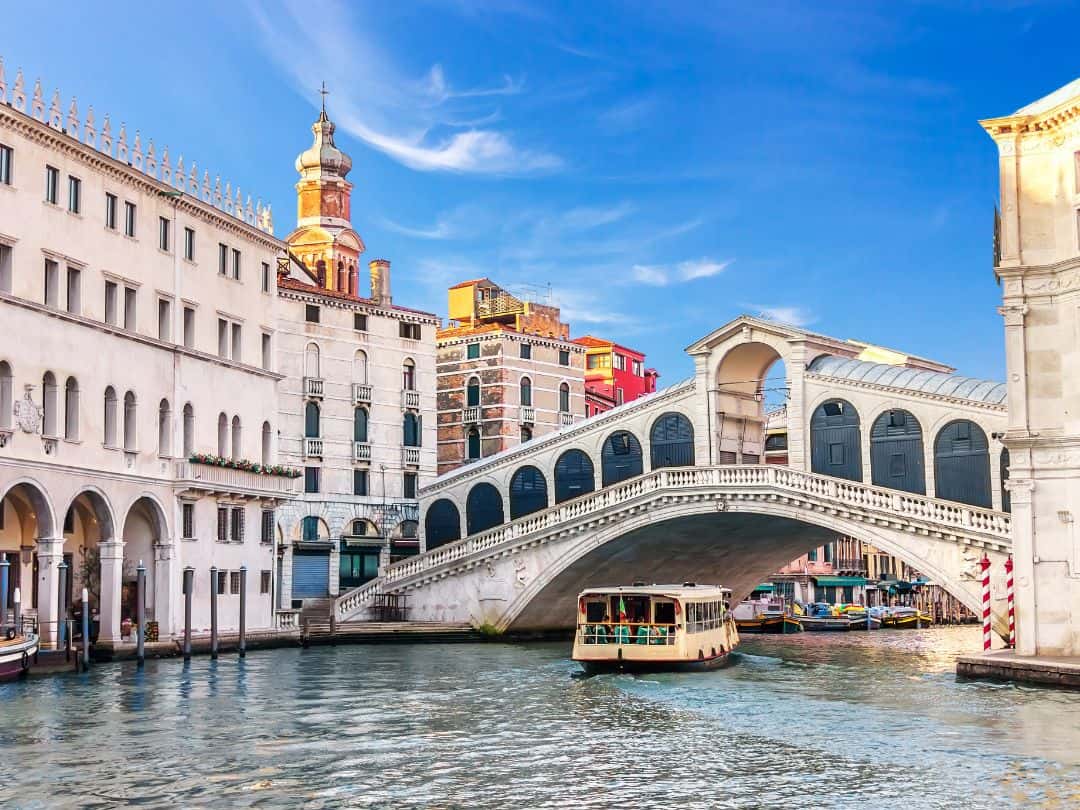 Vaporetto in Venice / How to get from Marco Polo Airport to Venice
Using the Vaporetto is straightforward. Here's what you need to know:
1. Purchase a Ticket: Before boarding, you will need a valid ticket. Prices vary depending on the length of validity. A single ticket typically costs around €7.50. You can purchase the tickets HERE or from conveniently located kiosks on the docks where the boats embark
2. Validate Your Ticket: To ensure your ticket is valid for use, you will need to validate it at the automated machines near the Vaporetto docks. Failure to do so may result in fines if you are caught traveling without a properly validated ticket.
3. Know Your Line: Venice's Vaporetto system consists of multiple lines, each serving a specific route. Familiarize yourself with the line that takes you to your desired destination. Signs and route maps are typically displayed at the Vaporetto stops.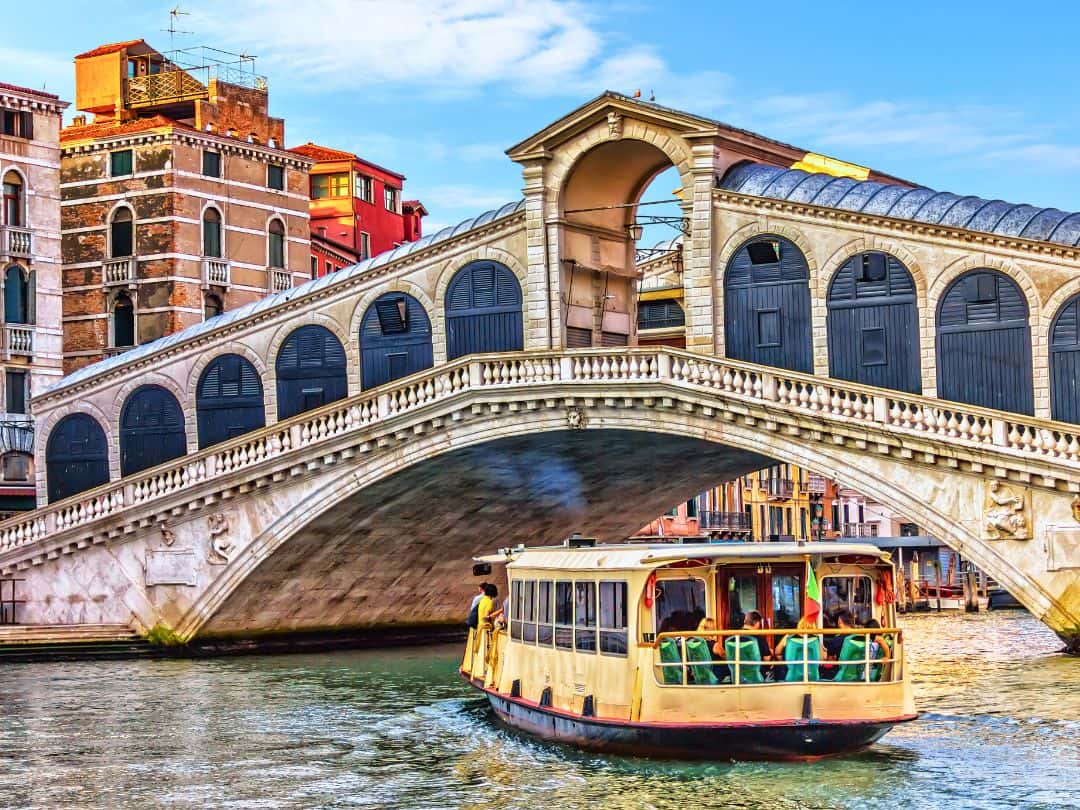 Vaporetto in Venice / How to get from Marco Polo Airport to Venice
4. Boarding: When the vaporetto arrives, wait for passengers to disembark before boarding. Avoid blocking the exit to allow smooth transitions for those leaving.
5. Enjoy the Ride: Once onboard, find a comfortable spot to enjoy the scenic journey through Venice's canals. Some Vaporetto lines offer outdoor seating, providing a unique perspective of the city.
6. Check the Stops: Keep an eye on the stops along the route, as they will be announced both visually and audibly. If your destination is approaching, signal to the crew by pressing the designated button or lever.
7. Exit Gracefully: When you reach your stop, disembark carefully, allowing others to alight as well. Follow the signs to reach your desired location on the island.
8. Ticket Options: Consider these ticket options based on your planned stay in Venice:
Single Ticket: Ideal for short visits or occasional use (Cost €7.50) €35, €45, and €65,
24-Hour Pass: Suitable for a day of exploration (Cost: €25)
48-Hour, 72-Hour, or 7-Day Pass: Perfect for extended stays or multiple days of sightseeing (Cost: €35, €45, and €65 respectively)
The Vaporetto is not just a mode of transport; it is an integral part of the Venetian experience. Understanding how to use it efficiently will enhance your Venice adventure, allowing you to explore the city and its islands with ease and convenience. So, do not hesitate to embrace the Vaporetto as your trusty companion during your time in this enchanting city of canals.
Intrepid Scout's Final Tips for a Smooth Journey from Marco Polo Airport to Venice
Plan Ahead: Research your transportation options before arriving at Marco Polo Airport. Knowing your choices and the associated costs can save you time and hassle upon arrival.
Ticket Purchase: For the vaporetto and other public transportation options, consider buying tickets online in advance. This can save you time and ensure you have the appropriate fare ready for your journey.
Luggage Management: Venice's bridges and cobblestone streets can be challenging to navigate with heavy luggage. Pack light and consider bringing luggage with wheels or a backpack for easier mobility.
Transport to Your Hotel: If you are staying in Venice, be aware that cars are restricted in the city, and the farthest you can go is Piazzale Roma. Check with your hotel in advance to see if they offer transportation options or provide guidance on reaching your accommodation from Piazzale Roma.
Language: While many Venetians speak English, it is always helpful to learn a few basic Italian phrases. This can make communication smoother and more enjoyable during your stay.
Navigation Apps: Download navigation apps like Google Maps that can help you find your way around Venice, locate Vaporetto stops, and plan your routes.
Water Bus Schedule: Familiarize yourself with the Vaporetto schedule, especially if you have specific sightseeing plans or dinner reservations. Some routes may run less frequently during certain times.
Be Prepared: Carry essentials like a city map, sunscreen, and water, especially if you plan to explore Venice on foot. Staying hydrated and protected from the sun will enhance your experience.
Enjoy the Journey: Venice is a unique and beautiful city. While the journey from the airport to your destination is practical, do not forget to take in the stunning views along the way and savor the magic of Venice's canals and architecture.
Travel with Patience: Venice is a popular tourist destination, and crowds are common, especially at transportation hubs. Be patient and allow extra time for potential delays during busy seasons.
With these tips in mind, you will be well-prepared for your journey from Marco Polo Airport to Venice and can start your Venetian adventure with confidence and ease. Buon viaggio! (Safe travels!)
Now, It Is Your Turn, I Would Like to Hear Back from You!
Are you planning your trip to Italy?
Please let me know! Drop me a quick comment right below!
Click on any of the images below to get inspired and to help you with the planning process for your trip to Italy!