This site uses affiliate links, meaning that if you make a purchase through our links, we may earn an affiliate commission.
Yellowstone National Park is home to almost half of the world's geysers, with the majority concentrated in the Upper Geyser Basin!
This compact one-square-mile area houses over 150 of these hydrothermal wonders, making it the planet's most densely packed geyser region.
Here is an in-depth guide to the Upper Geyser Basin in Yellowstone. We will walk you through its 5 distinct sections, provide invaluable trail insights, furnish you with maps for navigation, and unveil the top attractions that make this region a geological wonderland worth exploring.
So with no further delay, let's dive into this remarkable corner of the world!
Castle Geyser Erupting in the Upper Geyser Basin
Yellowstone National Park At-A-Glance
Before diving in, here are a few Yellowstone National Park highlights to help you plan your trip:
When Is the Best Time to Visit Yellowstone National Park
The best time to visit Yellowstone National Park is during the shoulder seasons of spring (April and May) and fall (September and October). The weather is relatively mild and the crowds are thinner. Wildlife is also active during these times, making it an ideal opportunity for viewing animals. However, if you're looking to experience the park's full range of activities and amenities, the summer months offer the most options despite larger crowds. On the other hand, winter provides a unique chance for a serene and snowy adventure.
Which Entrance Is the Best Gateway to the Park
Before you embark on your journey to Yellowstone, there is a pivotal decision to be made: which Yellowstone entrance is the best gateway for your adventure?
With a grand total of 5 entrances to Yellowstone to choose from, each offering its unique set of advantages and considerations, the task of selection might seem a tad overwhelming.
So here, we present your comprehensive guide to Yellowstone's 5 entrances complete with insights on the optimal routes to reach each entrance, the nearest attractions to explore, and the best lodging options: 5 Entrances to Yellowstone (Which One Is the Best Gateway to the Park)
Where to Stay When Visiting Yellowstone National Park
Accommodation options include lodges and cabins inside the park like the Old Faithful Inn, camping at various campgrounds, and lodging in gateway towns such as West Yellowstone, Gardiner, Cooke, and Cody.
Reservations are essential for in-park lodges and popular campgrounds due to high demand. Find out Where to Stay When Visiting Yellowstone (20 Best Lodging Options Inside and Near Yellowstone).
How to Get Around in Yellowstone National Park
Unlike many other national parks, Yellowstone does not offer a public shuttle system. There is an automated shuttle pilot program in Canyon Village that launched in 2021, and there could be more to come in the future. But for now, having your vehicle is the only way to get around the park.
How Much Does It Cost to Vist Yellowstone National Park
To visit Yellowstone National Park, you need to purchase a recreational day-use pass, which costs $35 per vehicle and is good for 7 consecutive days. You can purchase the pass right at the entrance to the park. If you are visiting several national parks then make sure to get America the Beautiful National Park Pass. This $80 pass is valid for 12 months and gets you into all 400+ national park sites!
Check Yellowstone National Park Website for Trail Closures and Road Construction
You must check Yellowstone National Park's Website for any trail or road closures before going to the park. You can check for updates HERE.
Why You Should Visit the Upper Geyser Basin
The Upper Geyser Basin is an absolute geographical wonder. Here, are some of the reasons to explore this destination:
Geothermal Marvels Galore:
Yellowstone National Park is renowned for its geothermal features, boasting over 10,000 such wonders.
The Upper Geyser Basin is the epicenter of this phenomenon, home to more than 150 of the world's active geysers, including the iconic Old Faithful. This concentration is unparalleled globally and offers a remarkable opportunity to witness nature's geothermal spectacle.
Old Faithful's Reliability:
Old Faithful lives up to its name, erupting with incredible regularity approximately every 90 minutes.
When it does erupt, it sends scalding water and steam soaring 130-180 feet into the sky, providing an extraordinary display of the Earth's formidable forces.
Unique Hydrothermal Features:
From the brilliant blue hues of the Morning Glory Pool to the surreal formations of Castle Geyser, the Upper Geyer Basin offers an array of hydrothermal features.
Easy Exploration:
Well-maintained boardwalks and trails crisscross the basin, ensuring that everyone can safely explore.
Best Way to Explore the Upper Geyser Basin
To make the most of your visit and witness the spectacular geysers, vibrant hot springs, and unique geological features, here are the best ways to explore the Upper Geyser Basin:
Start with the Visitor Center:
The Visitor Center provides valuable information, maps, and insights into the geological and ecological wonders within the Upper Geyser Basin.
Follow the Boardwalks and Trails:
The Upper Geyser Basin has a network of well-maintained boardwalks and trails that wind their way through the area.
To witness the world-famous Old Faithful geyser, check the predicted eruption times posted at the visitor centers. Arriving a bit early ensures you secure a good viewing spot.
All these geysers and hot springs operate on their own schedules. While Old Faithful is predictable, other geysers may surprise you with their eruptions. So, be patient and take your time.
Check out Ranger Programs:
Yellowstone National Park offers ranger-led programs and talks. These informative sessions provide deeper insights into the geology, ecology, and history of the Upper Geyser Basin.
The Upper Geyser Basin is a very popular place, so be prepared for crowds, especially around Old Faithful during its eruptions. Arriving early in the morning or later in the evening can offer a quieter experience.
How Much Time Do You Need to Visit the Upper Geyser Basin
The amount of time you should allocate for visiting the Upper Geyser Basin in Yellowstone National Park depends on your interests and the depth of exploration.
At a minimum, you can expect to spend around 2-3 hours to witness the main attractions, such as Old Faithful, and a few nearby geysers and hot springs. These areas are easily accessible from the parking lot and visitor centers, making them an excellent option for a quick visit.
However, to truly immerse yourself in the geothermal wonders of the Upper Geyser Basin and explore its various sections, including Geyser Hill, Castle Geyser to Morning Glory Pool, Biscuit Basin, and Black Sand Basin, plan to spend at least half a day or more.
What to See in the Upper Geyser Basin
In this guide, we will cover five distinct sections of the Upper Geyser Basin, each offering its own unique geothermal wonders:
Old Faithful Area
Geyser Hill Area
Castle Geyser to Morning Glory Pool Section
Biscuit Basin
Black Sand Basin
Each section of the Upper Geyser Basin promises a different geothermal experience, from the iconic eruptions of Old Faithful to the vivid colors of Morning Glory Pool.
Map of the Upper Geyser Basin (Print or Download)
5 Sections of the Upper Geyser Basin
The true superstar of the Old Faithful Geyser Area and the entire Upper Geyser Basin is undoubtedly Old Faithful itself. This remarkable geyser is a geological wonder that leaves everyone in awe.
In this section, we'll take a closer look at this iconic geyser and the Old Faithful Loop Trail that surrounds it. So, let's begin our exploration!
The Star of the Show: Old Faithful Geyser
Old Faithful Geyser, hailed as the star attraction of Yellowstone National Park has earned its legendary status for one reason—its unparalleled predictability. Like clockwork, Old Faithful graces visitors with its awe-inspiring eruptions approximately every 90 minutes.
These eruptions, shooting superheated water and towering columns of steam skyward, reach heights that often span from 130 to 185 feet.
The duration of Old Faithful's eruptions varies, typically lasting anywhere from 1 to 5 minutes, contingent upon several factors, including the buildup of pressure within the system.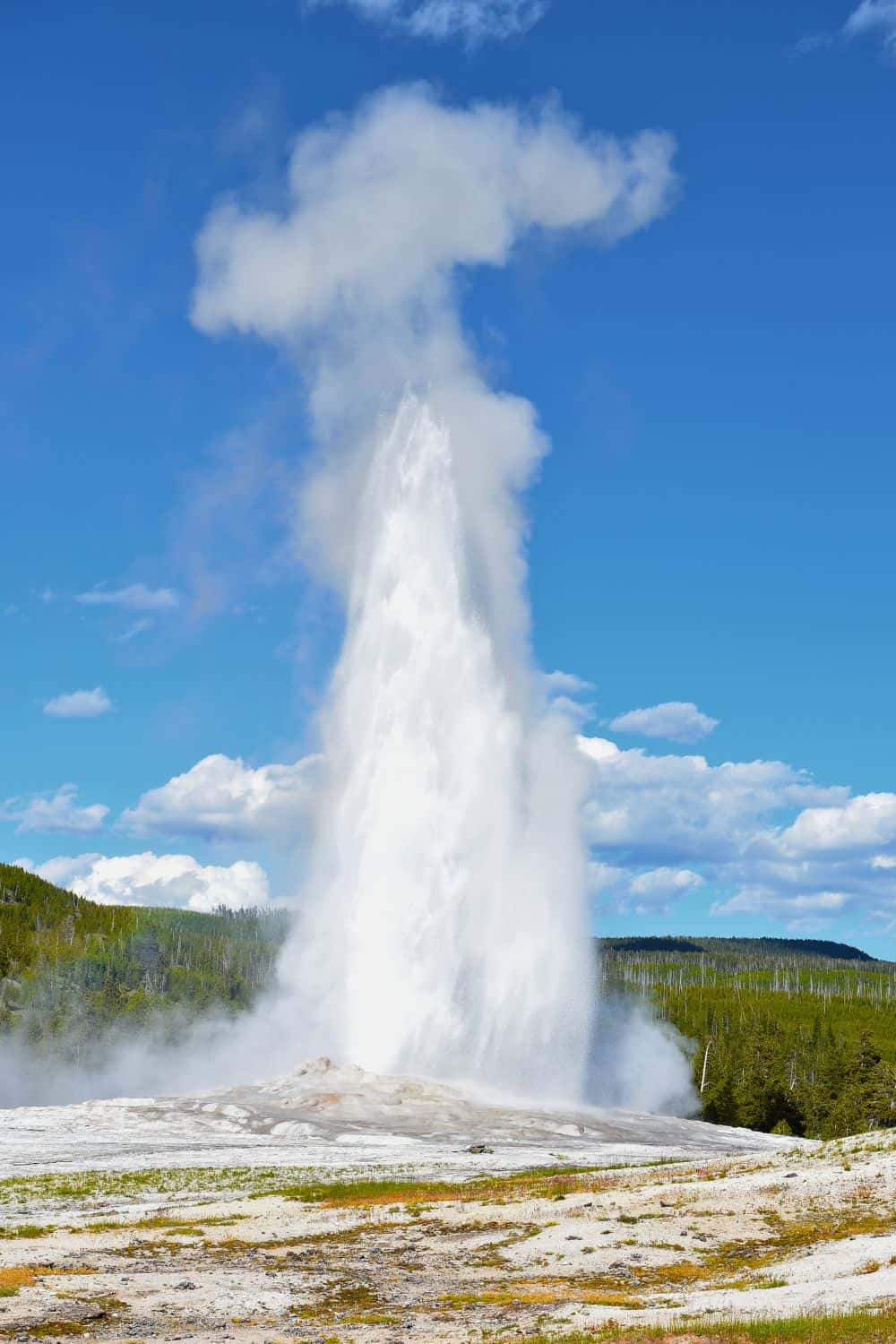 Old Faithful Geyser / Guide to the Upper Geyser Basin
GOOD TO KNOW: Old Faithful's fame and dependable performance are the result of a complex geological system concealed beneath its surface. Within the depths of the geyser lies an intricate network of underground chambers and conduits, brimming with scorching water.
As pressure within this subterranean labyrinth reaches a critical threshold, it triggers the dramatic release of water and steam through the geyser's vent.
While you are waiting for Old Faithful's show to start, take the 0.7-mile (1.1 km) Old Faithful Geyser Loop Trail.
Start your journey at the Old Faithful Lodge, and follow the boardwalk around the geyser.
PRO TIP: If you share my passion for photography, then embarking on this trail offers you an exceptional opportunity. It allows you to capture diverse perspectives and angles of Old Faithful's spectacular eruptions.
Geyser Hill, situated just a brief stroll from the renowned Old Faithful is home to an impressive collection of over 50 geysers, solidifying its status as the fourth-largest geyser field on our planet.
Following is the Geyser Hill Area map, conveniently divided into two sections to facilitate your exploration: the Geyser Hill Loop Trail and the Observation Point Trail.
This section of the map encompasses the Geyser Hill Loop Trail, which winds its way through the geothermal wonderland of Geyser Hill. Along this trail, you will encounter a mesmerizing array of geysers, hot springs, and other hydrothermal features.
The Observation Point Trail on the map leads you to a vantage point that offers a stunning perspective on Old Faithful's eruptions.
Map of Geyser Hill Area with Geyser Hill Loop Trail and Observation Point Trail
To begin your exploration, start with the Geyser Hill Loop Trail. This 1.3-mile (2.1 km) boardwalk will guide you through the geothermal marvels of the area.
GOOD TO KNOW: Since the Geyser Hill Trail is a loop, you can do it in either direction. I like to hike it clockwise. If you look at the map above, I organized all the attractions clockwise.
Here are some of the remarkable thermal features that you will find along the way worth your attention:
Anemone Geysers: Anemone Geysers consist of two geysers located close together, often appearing independent but occasionally seeming interconnected. Both geysers feature pools with smooth, round sinter formations, resembling sea anemones. These geysers maintain an average temperature of 185°F (85°C).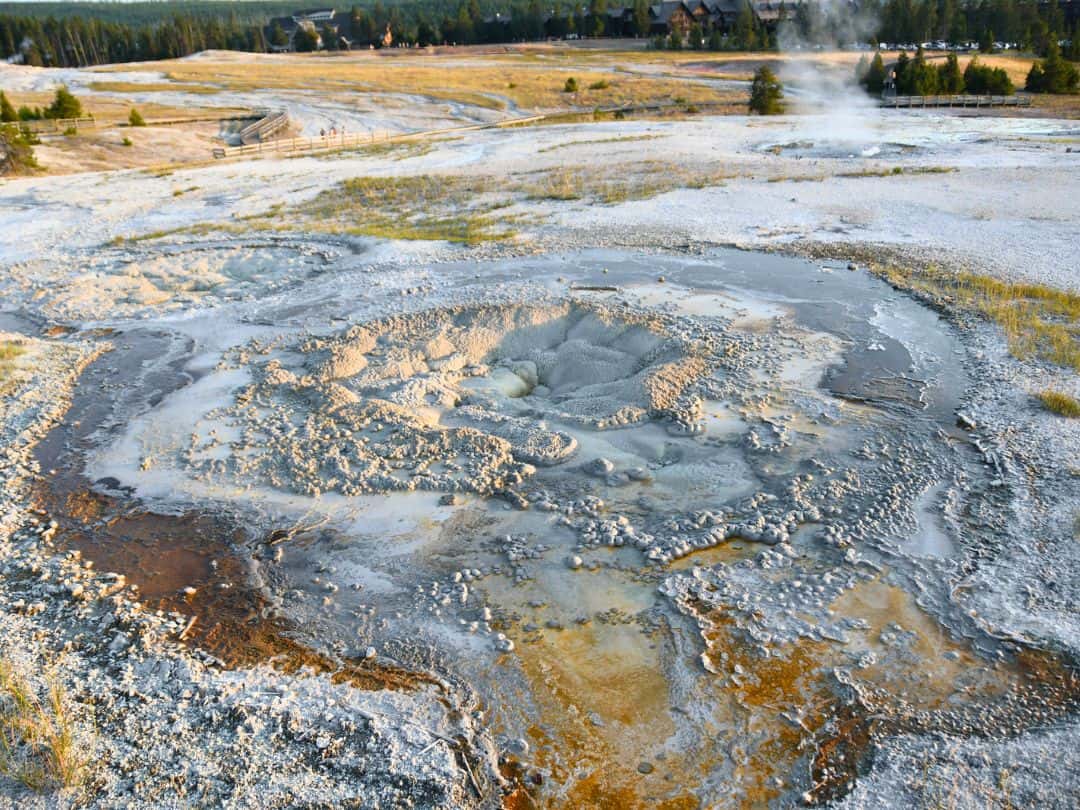 Anemone Geysers / Guide to the Upper Geyser Basin
Plume Geyser: Plume Geyser erupts at regular intervals of approximately every 20 minutes. During its eruptions, it releases 3 to 5 rapid bursts, soaring to impressive heights of up to 25 feet (8 meters).
Beehive Geyser: Beehive Geyser stands as the titan of Geyser Hill, reigning as its largest geyser. It showcases a symmetrical white cone standing at an impressive 4 feet in height. Its eruptions, while less frequent than Old Faithful, are nothing short of remarkable. With a resounding roar, Beehive forcefully propels a narrow jet of water skyward, reaching astonishing heights of over 150 feet.
The Lion Geyser Group: The Lion Geyser Group, comprises seven hydrothermal features, including four geysers and three hot springs. Remarkably, even the hot springs here have a history of erupting.
Lion Geyser, the largest in the group, undergoes a series of eruptions within one cycle. Little Cub Geyser, once the most frequent erupter, now varies in eruption frequency, ranging from hourly to almost every two days. Lioness Geyser and Big Cub Geyser, although rare, can reach heights of up to 50 feet (46 m) during eruptions.
Aurum Geyser: Aurum Geyser is consistently in a state of boiling within its primary vent. Presently, eruptions occur sporadically, with intervals spanning from 22 hours to more than two weeks. During an eruption, Aurum reaches a height of 20 feet (6 m) and maintains its display for approximately 70 seconds.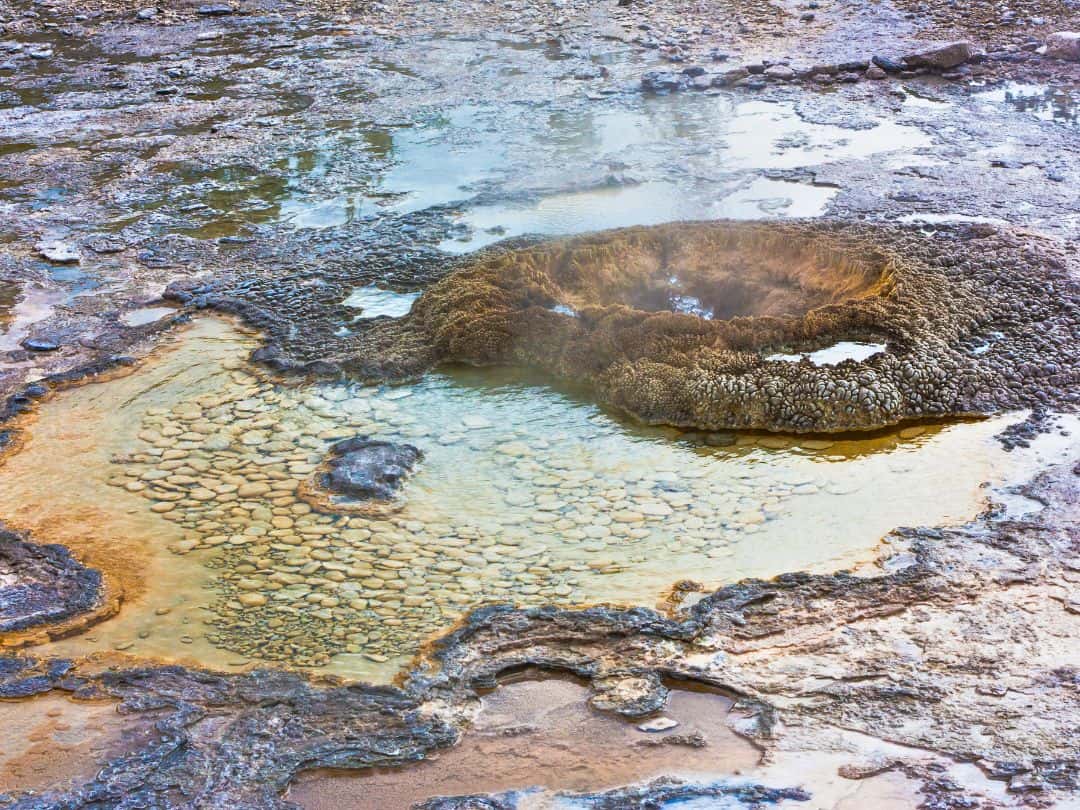 Aurum Geyser / Guide to the Upper Geyser Basin in Yellowstone
Doublet Pool: Doublet Pool is a unique feature comprising two vivid blue pools joined in the middle, allowing water to flow between them. In the center of these pools, there are deep vents, while the pool edges have shallow shelves. While Doublet Pool rarely erupts, it is often bubbling and steaming, maintaining an average temperature of 188°F (86.5°C).
Sponge Geyser: Sponge Geyser features a raised cone that is often entirely filled with water. This cone is composed of a grey-brown sinter and has an uneven surface, giving it the appearance of a sponge. Sponge Geyser is typically quite active. It regularly propels water to heights of 1 to 2 feet for up to one minute, with a similar interval between eruptions.
Pump Geyser: Pump Geyser is known for its nearly constant activity, generating splashes that reach 2 to 3 feet in height. In 1990, Pump underwent a transformation into a true geyser, complete with distinct intervals and durations lasting a few seconds. During an eruption, Pump Geyser begins with a gentle boil that intensifies into a robust doming of water, triggering explosive eruptions that propel water as high as 15 feet.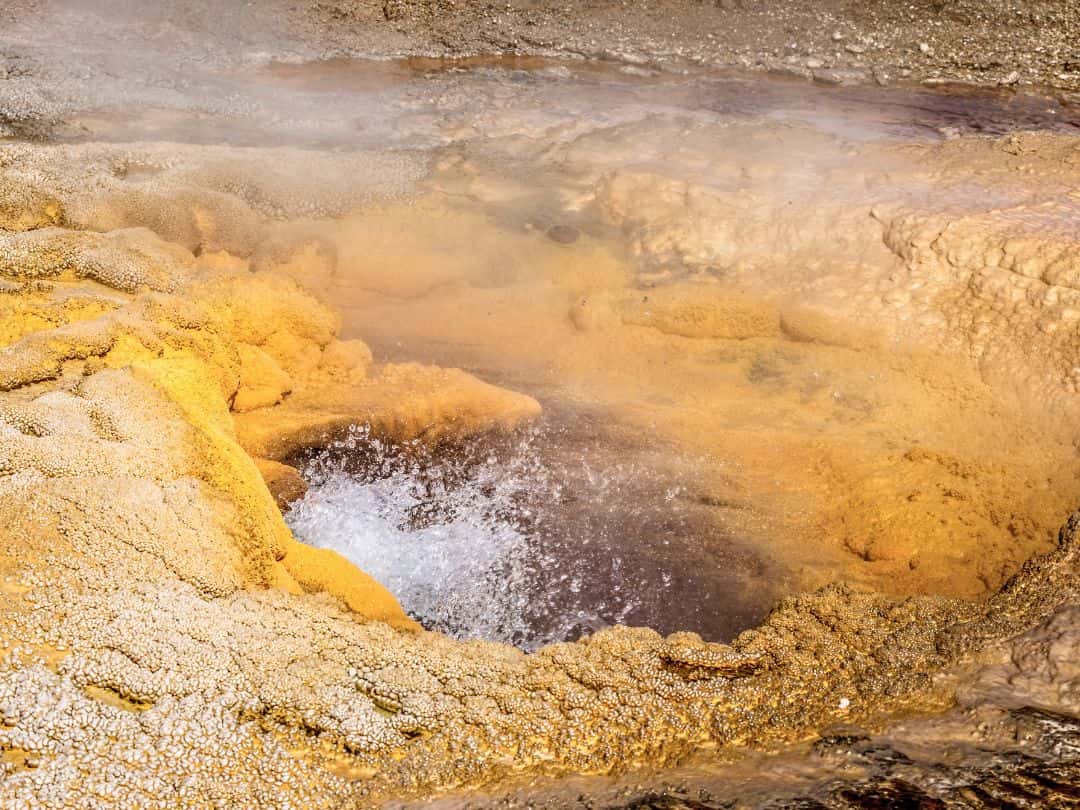 Pump Geyser / Guide to the Upper Geyser Basin
Giantess Geyser: Giantess Geyser is known for its infrequent, yet colossal eruptions, which can send water and steam shooting up to 200 feet into the air. Witnessing one of these rare displays is a memorable experience!
After your exploration of Geyser Hill, consider taking a short hike to the Observation Point.
The Observation Point Trail trail is about 0.8 miles long, making it a manageable walk, and it offers a fantastic chance to see the breathtaking eruptions of Old Faithful from an elevated vantage point.
From here, you can also enjoy panoramic views of the surrounding geothermal features.
Once you have soaked in the beauty of Old Faithful, you have a couple of options for your return journey. You can head back the way you came, or if you are up for a longer walk, continue westward to reach Solitary Geyser.
Solitary Geyser is a fascinating sight, erupting every 4 to 8 minutes and sending water shooting up to around 6 feet.
This extended route to Solitary Geyser covers a distance of 2.2 miles (3.7 km). It is a great opportunity to explore more of the area's natural wonders at a leisurely pace.
Castle Geyser to Morning Glory Pool Section
Next up is the Castle Geyser to Morning Glory Pool Section of the Upper Geyser Basin in Yellowstone National Park, and we will be following the Upper Geyser Hill Trail.
The trail for this section spans approximately 2.4 miles round trip. Take your time to pause and capture stunning photographs.
Following is the map of the trail: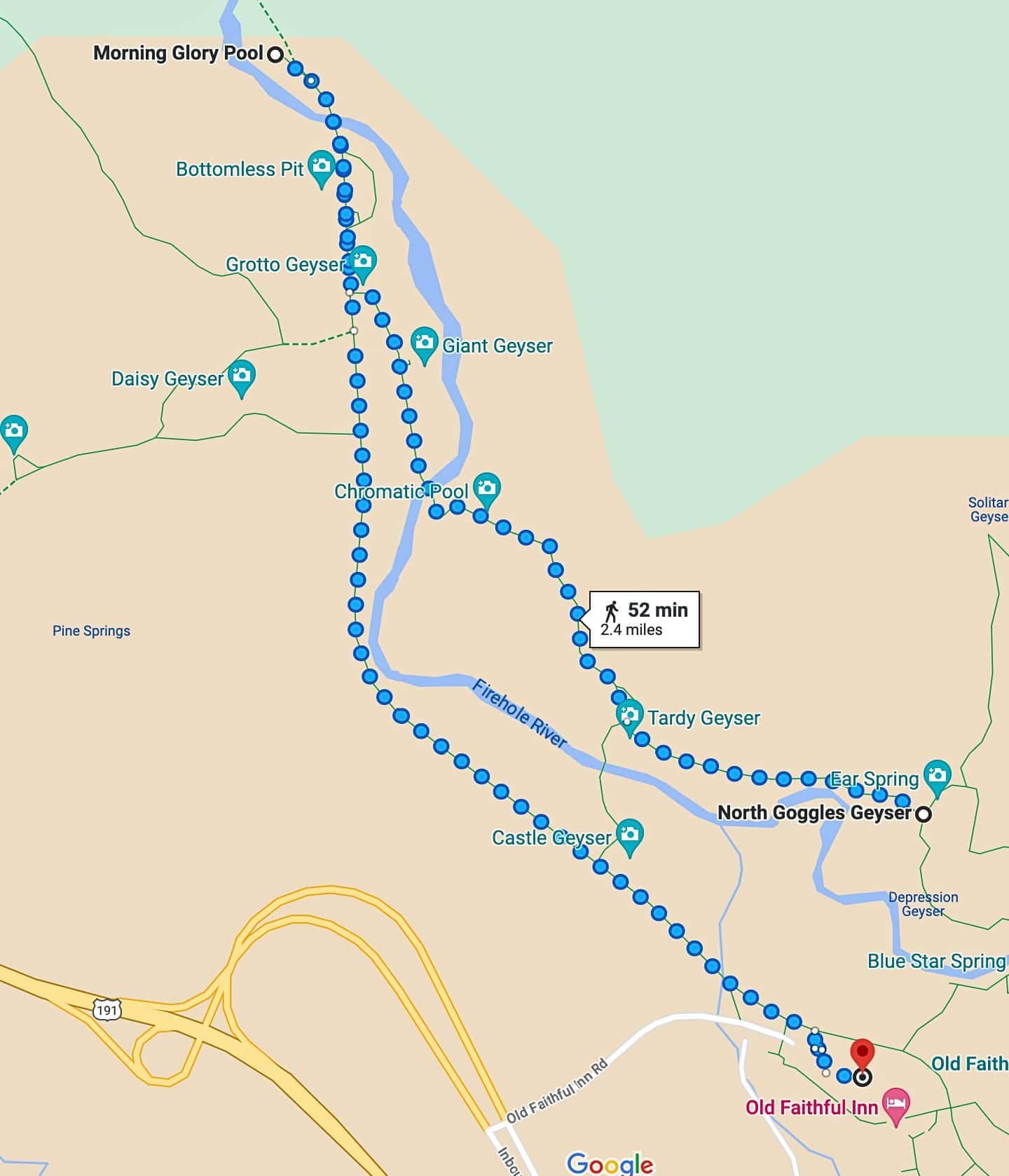 Map of the Upper Geyser Trail (Castle Geyser to Morning Glory Pool Section)
This section is a treasure trove of diverse geothermal features, plus it contains the Grand Geyser, the tallest geyser on Earth and undoubtedly the highlight of the Upper Geyser Basin.
Following is a map with all the highlights:
Castle Geyser: What truly sets Castle Geyser apart is its striking cone, which bears a resemblance to a castle. Castle Geyser's eruptions occur approximately every 14 hours, propelling water skyward to heights of up to 75 feet and sustaining this aquatic spectacle for about 20 minutes. Following this, a boisterous steam phase envelops the area, lasting around 30-40 minutes.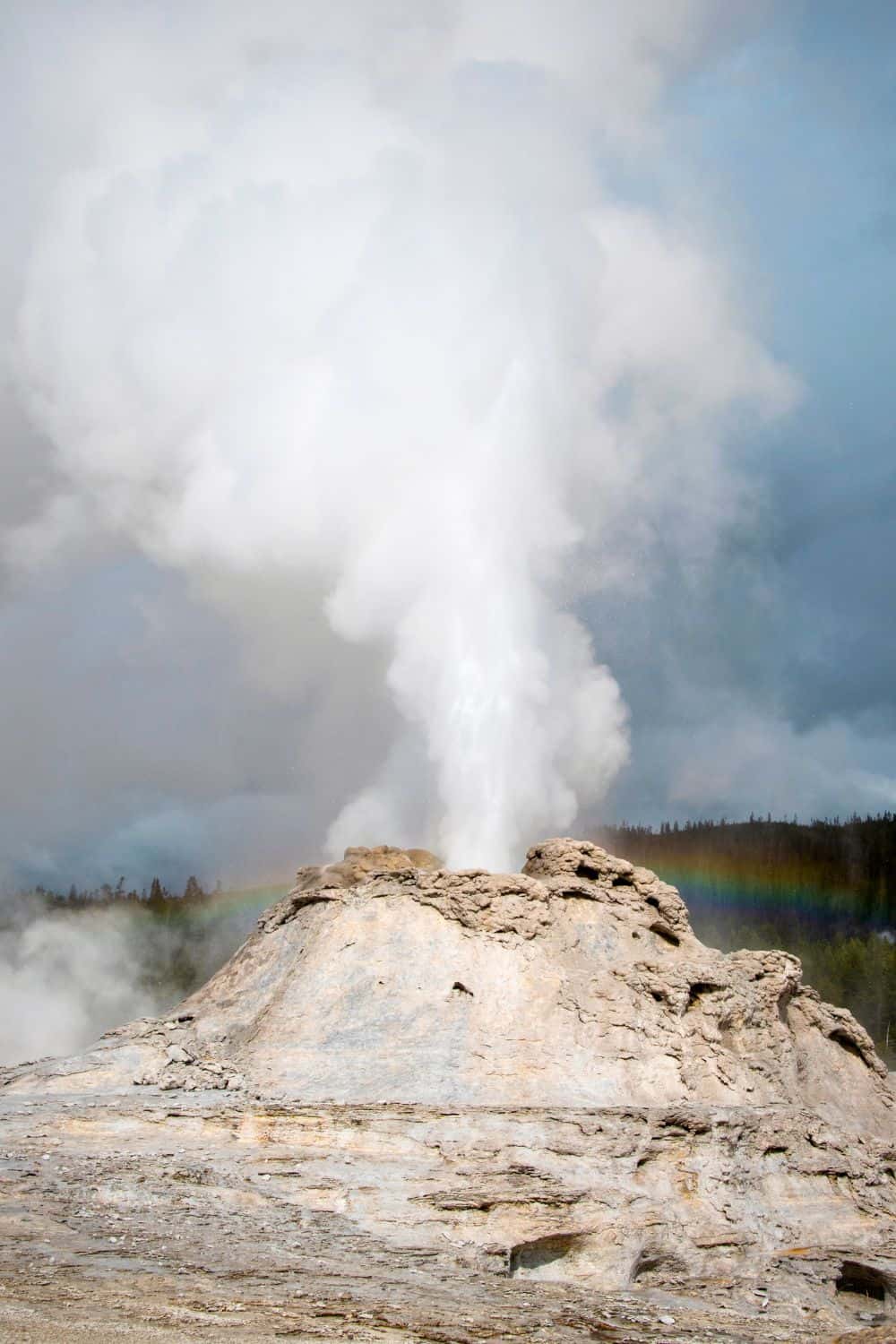 Castle Geyser / Guide to the Upper Geyser Basin in Yellowstone
Crested Pool: Crested Pool, known for its scorching temperatures averaging around 191.1°F (88.4°C), is almost perpetually in a state of boiling, occasionally reaching heights of 6 feet (2 m) or more. The intense heat creates an environment where bacterial growth is inhibited, contributing to the pool's remarkably clear blue water.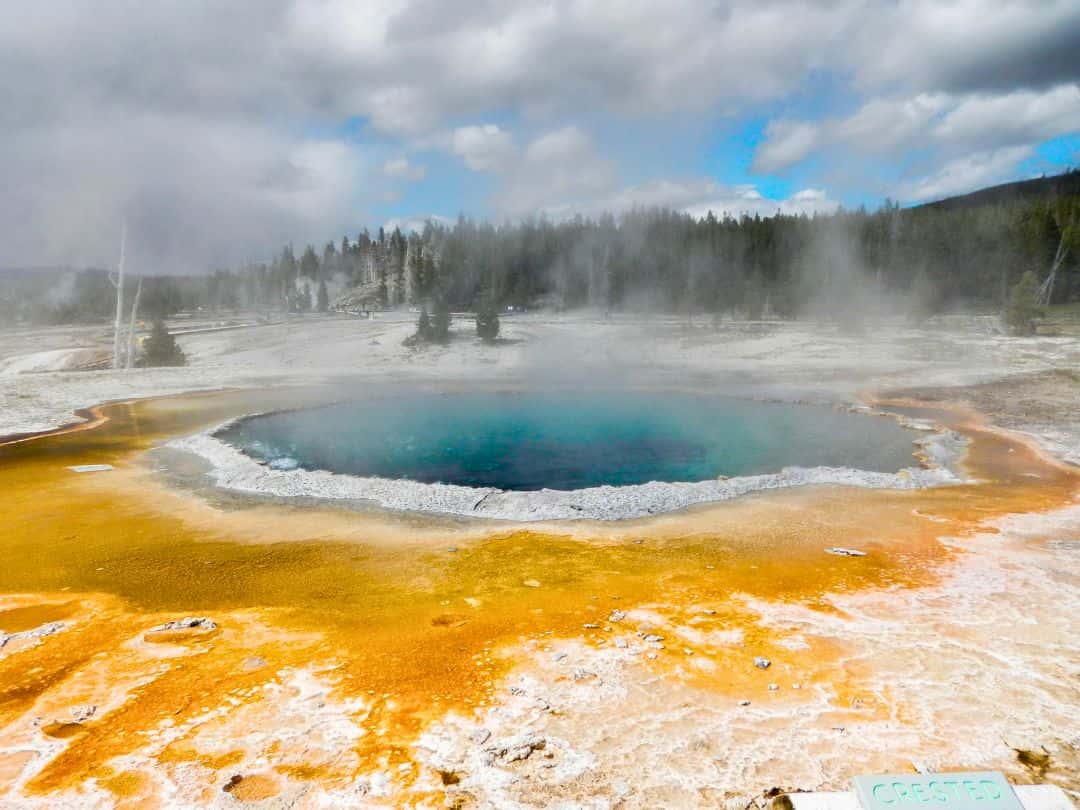 Crested Pool / Guide to the Upper Geyser Basin in Yellowstone
Spasmodic Geyser: Spasmodic Geyser does not erupt to great heights, typically less than 10 feet (3 m), however, it features over twenty vents that create a perpetual display of bursting, bubbling, and splashing. You can also spot orange thermophiles further along the outflow channel.
Spasmodic Geyser in the Upper Geyser Basin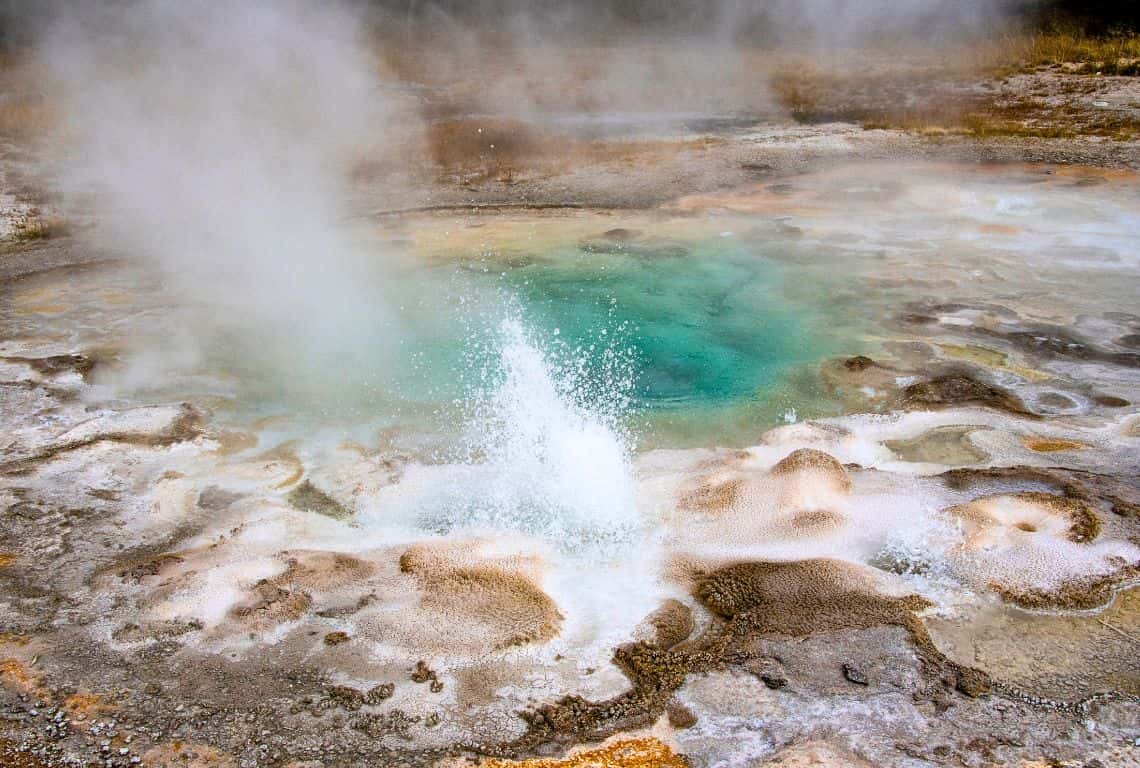 Spasmodic Geyser / Guide to the Upper Geyser Basin
Grand Geyser: Grand Geyser is the most remarkable member of the Grand Group. It is renowned for being the tallest predictable geyser in the world. It astoundingly reaches heights of up to 200 feet (61 m) during its eruptions, which typically last between 9 to 12 minutes. These eruptions occur in a captivating series, often featuring 1 to 4 bursts.
After Grand completes its spectacular display, nearby geysers such as Vent Geyser and Turban Geyser can continue to erupt for up to an additional hour.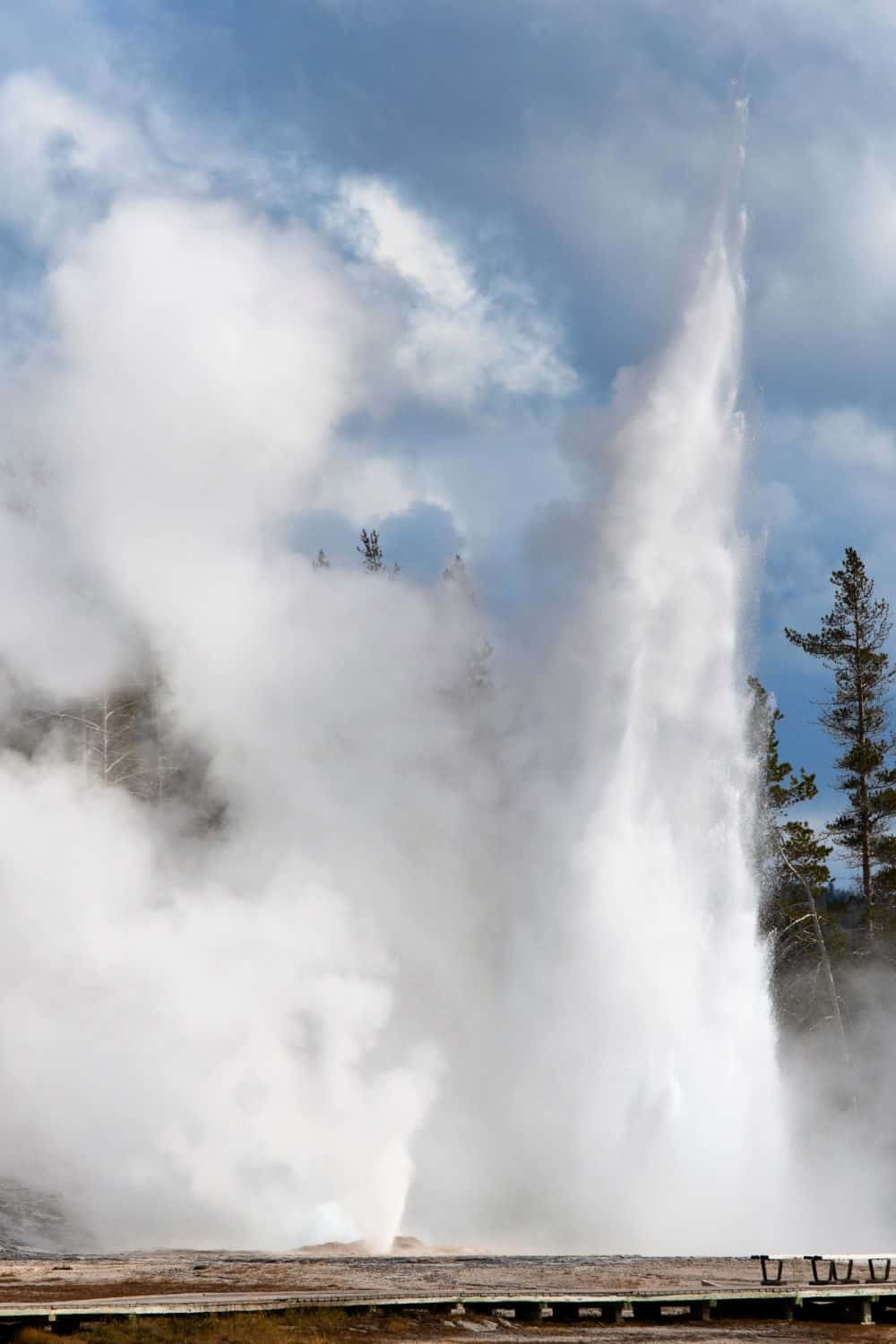 Grand Geyser / Guide to the Upper Geyser Basin
Beauty Pool and Chromatic Pool: Beauty Pool, closely linked to its neighbor Chromatic Pool, reveals its most vibrant colors when its water is at its hottest. These two springs share a fascinating connection; during periodic shifts in energy, one spring's water level rises as the other drops. Originally named for their clear, hot, and brilliantly colored waters, both pools have undergone significant changes over the years, particularly since 2002.
Today, Beauty Pool still emits a gentle wisp of steam, but the outer edges of the pool have transformed. They are now adorned with orange thermophiles that thrive in the cooler waters, giving the pool a unique and ever-changing appearance.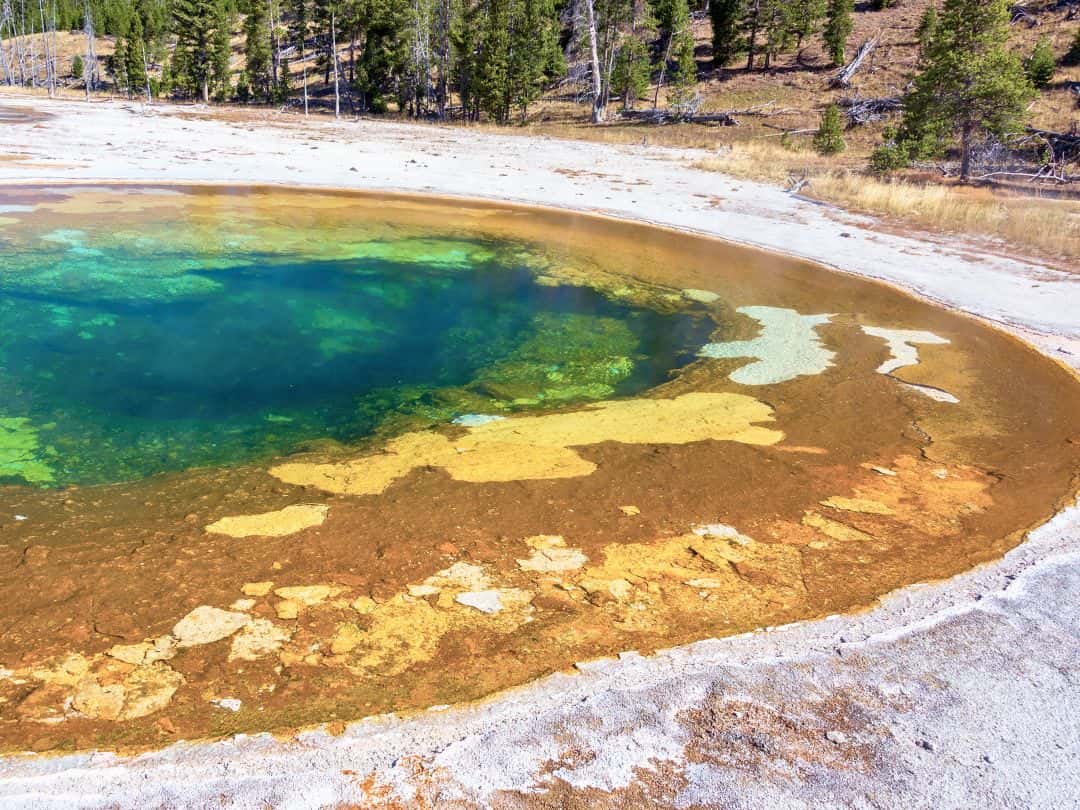 Beauty Pool / Guide to the Upper Geyser Basin
Oblong Geyser: What sets Oblong Geyser apart is its significant water volume contribution to the Firehole River, estimated to be at least 10,000 gallons during eruptions. While its eruptions may not be as visually dramatic as some other geothermal features, the sheer volume of water it channels into the river is remarkable.
Giant Geyser: Giant Geyser is a cone-type geyser and serves as the figurehead of the Giant Group of geysers. On its platform, you will find other geysers like Bijou, Catfish, Mastiff, and Turtle Geyser. What sets Giant Geyser apart is its awe-inspiring yet irregular eruptions and the presence of a remarkably large geyserite cone towering at approximately 12 feet in height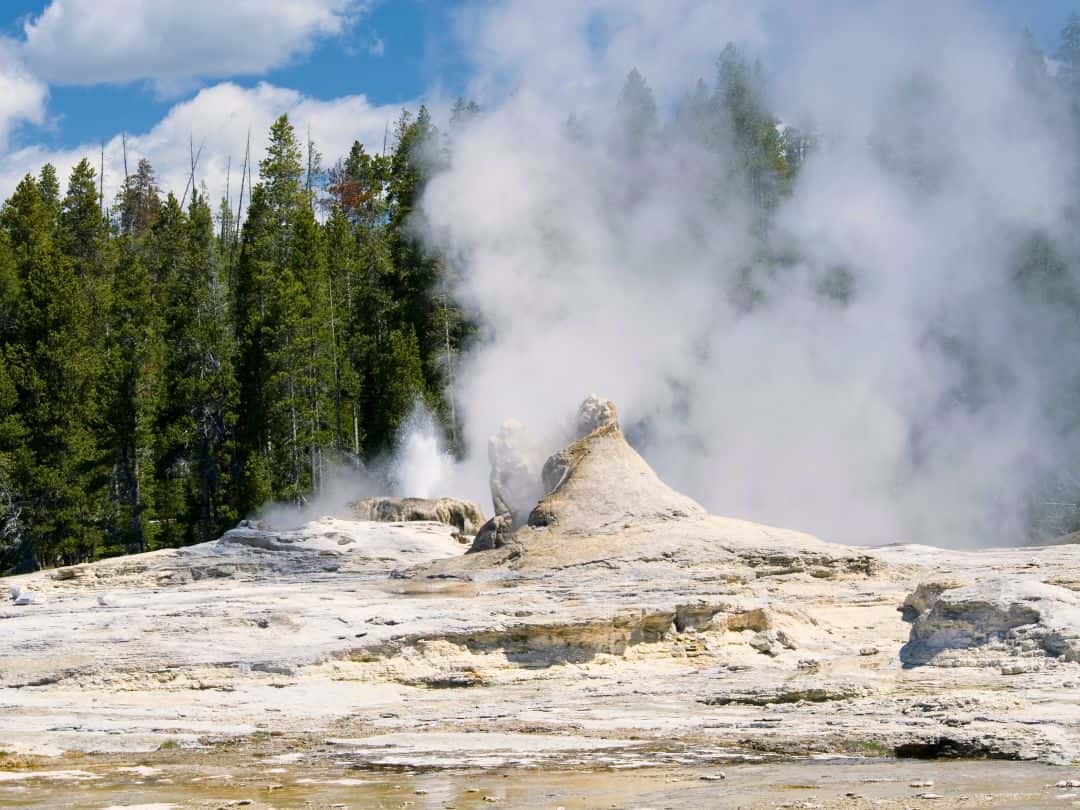 Giant Geyser / Guide to the Upper Geyser Basin in Yellowstone
Daisy Geyser: Daisy Geyser is a member of the Daisy Group. What makes Daisy Geyser remarkable is its impressive predictability. It erupts with intervals ranging from 110 to 240 minutes and a duration of 3 to 5 minutes.
During its eruptions, Daisy Geyser propels a splendid fountain of water into the air, reaching an impressive height of 75 feet (23 meters) at an angle to the ground. Interestingly, the interval between Daisy Geyser's eruptions can be temporarily altered by nearby Splendid Geyser. Splendid's eruptions, to a lesser extent, also influence the behavior of Brilliant Pool and Comet Geyser, creating a fascinating interconnected dance of geothermal activity in the area.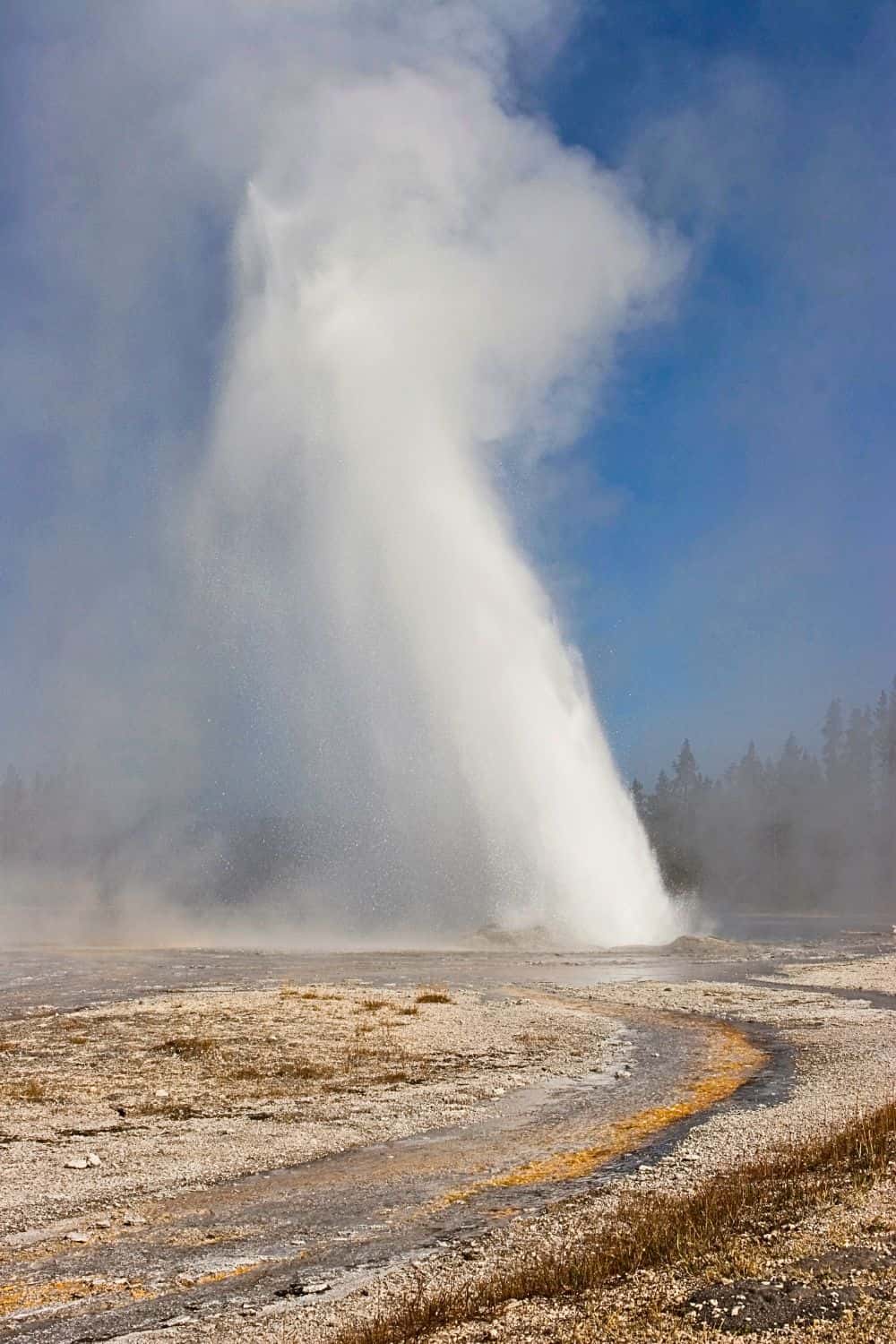 Daisy Geyser / Guide to the Upper Geyser Basin
Punch Bowl Spring: Punch Bowl Spring, surrounded by an 8-foot-diameter raised sinter rim resembling a punch bowl, features bubbling and simmering waters that occasionally splash over its shallow rim.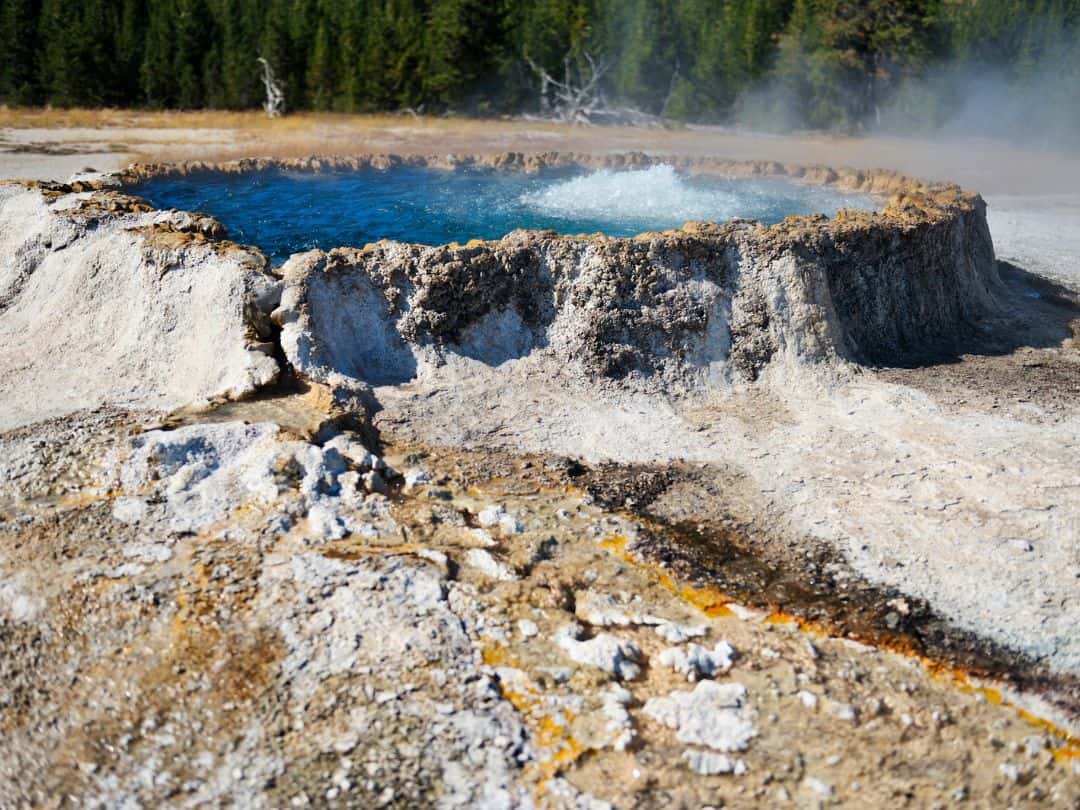 Punch Bowl Spring / Guide to the Upper Geyser Basin
Grotto Geyser: Grotto Geyser, a fountain-type geyser, is the central figure in the group that includes Grotto Fountain Geyser, South Grotto Fountain Geyser, Indicator Spring, Spa Geyser, Startling Geyser, and Rocket Geyser. Its eruptions occur approximately every eight hours, with longer intervals following longer eruptions. These eruptions reach heights of about 10 feet and can last anywhere from 1 to more than 10 hours, with some rare instances lasting over 26 hours.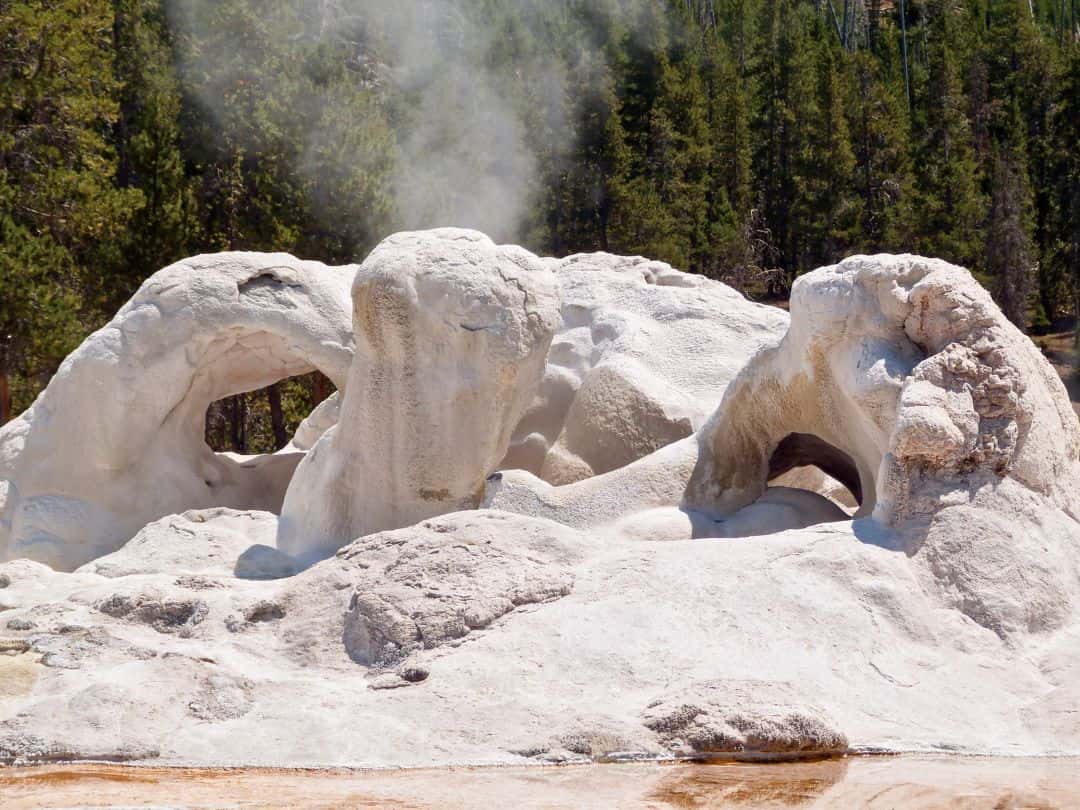 Grotto Geyser / Guide to the Upper Geyser Basin
Riverside Geyser: Riverside Geyser, situated alongside the Firehole River, is a remarkable sight as it propels steam and water in graceful arches over the river, often forming rainbows. These impressive eruptions take place at intervals of approximately 5.5 to 7 hours, making it a captivating natural spectacle.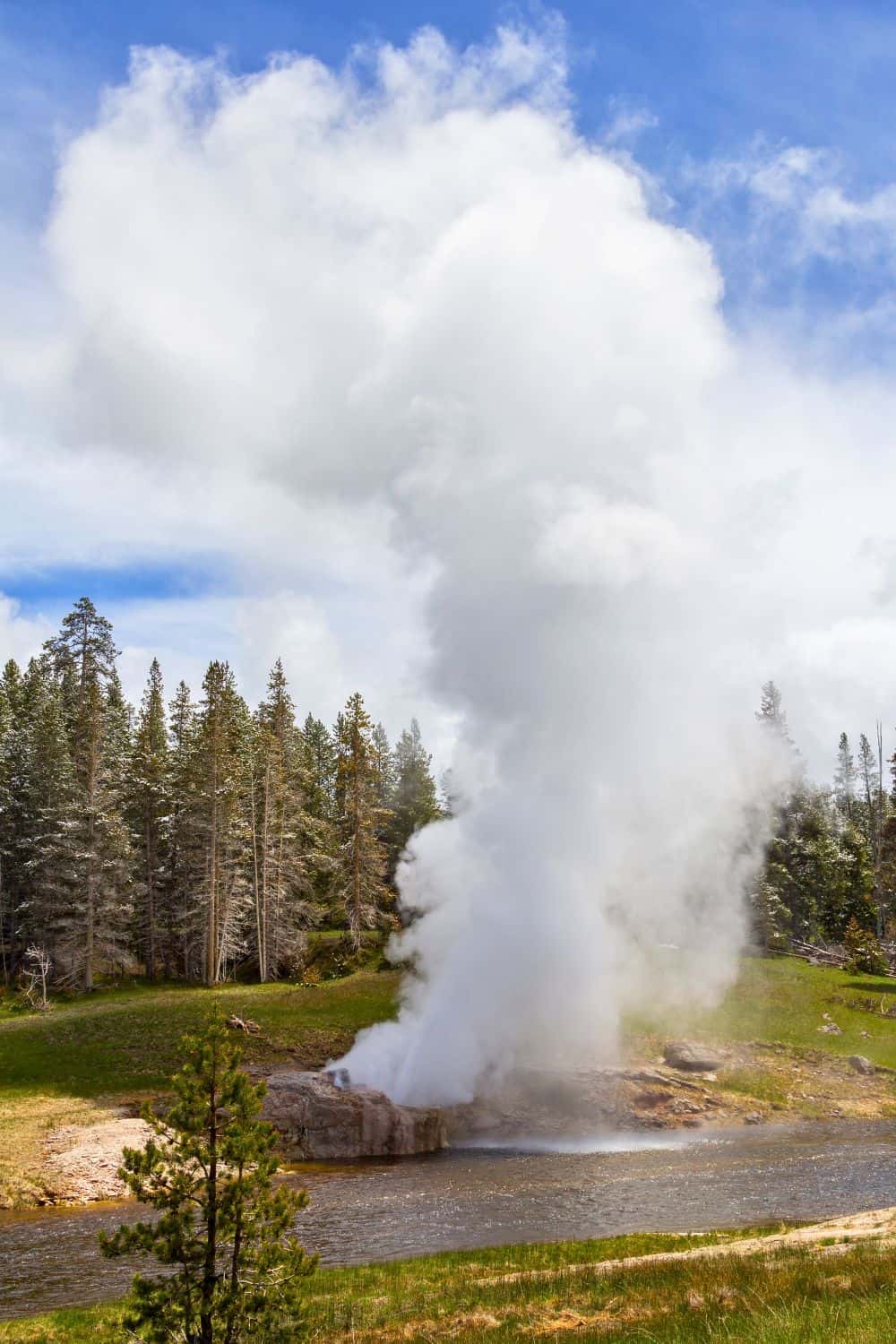 Riverside Geyser / Guide to the Upper Geyser Basin
Morning Glory Pool: The Morning Glory Pool is renowned for its breathtaking colors that resemble the Morning Glory flower, hence its name. This vibrant hot spring boasts striking shades of blue and green. The pool reaches a depth of about 25 feet and maintains a warm temperature of around 165°F due to the geothermal activity beneath the park.However, it's essential to note that Morning Glory Pool has changed over the years, primarily due to human interference. Coins and debris thrown into the pool have altered its colors and ecosystem. As a result, the pool's appearance today differs from historical photographs.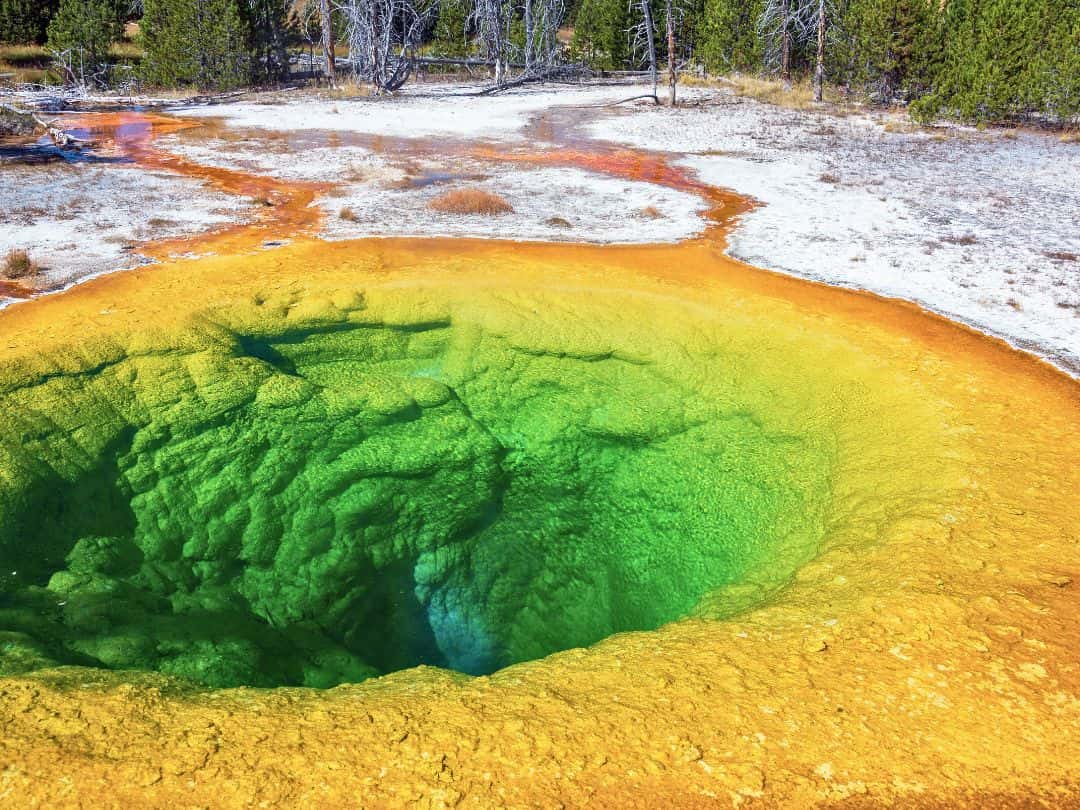 Morning Glory Pool / Guide to the Upper Geyser Basin
Exploring Biscuit Basin is a fun experience, and you can do so effortlessly on a brief loop trail made of wooden boardwalks.
This unique geothermal area is located to the west of the tranquil Firehole River and boasts some remarkable natural wonders.
PRO TIP: Biscuit Basin is easily accessible on foot from the Old Faithful area. The round trip is about 5.2 miles (8.3 km). You can opt for a convenient drive by car.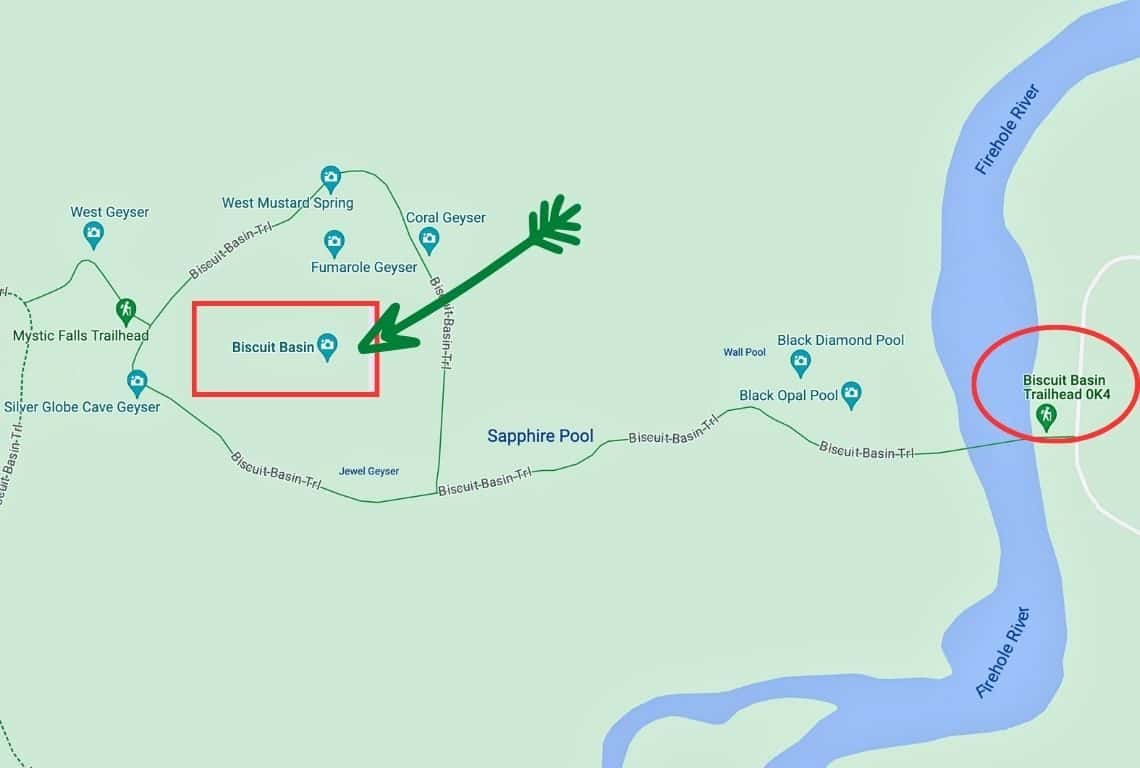 Map of Biscuit Basin / Guide to the Upper Geyser Basin in Yellowstone National Park
Following are some of the highlights you should not miss while exploring Biscuit Basin:
Sapphire Pool: Sapphire Pool is a stunning geothermal feature renowned for its azure-blue color. The pool measures approximately 18 meters (56 feet) in diameter and reaches depths of up to 15 meters (50 feet), making it one of the larger thermal features in the park.
The vivid blue hue of Sapphire Pool is a result of its high water clarity, allowing sunlight to penetrate deep into the spring and scatter blue wavelengths, much like the effect seen in clear ocean waters.
The pool's pristine appearance contrasts vividly with the surrounding geothermal landscape, creating a breathtaking sight.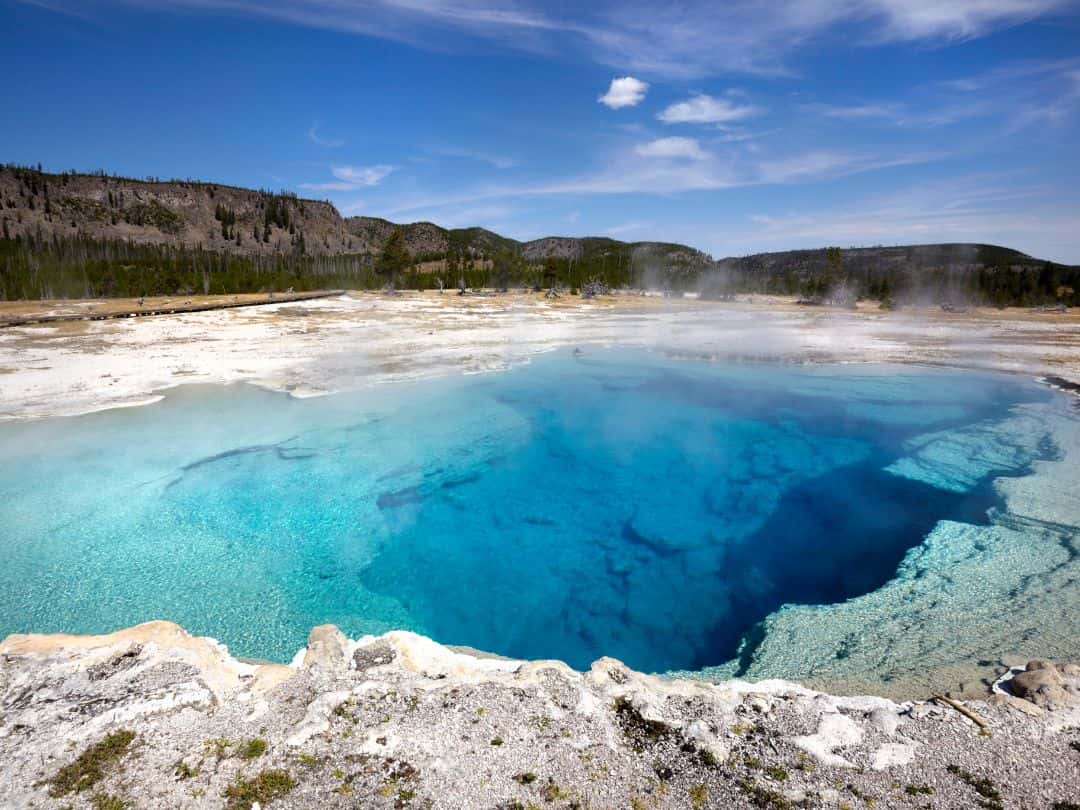 Sapphire Pool / Guide to the Upper Geyser Basin
Mustard Springs: Mustard Springs consist of East Mustard and West Mustard springs, which sit 50 feet apart from each other. Both springs share similar dimensions, measuring about eight to ten feet in diameter, and owe their name to the mustard-like coloration adorning their crater rims.
Over the years, these springs have experienced a remarkable transformation, fluctuating between geyser and spring status due to the seismic activity in the region.
Mustard Spring / Guide to the Upper Geyser Basin
Rusty Geyser: This petite geyser, known for its rusty-red basin encircling its funnel-shaped vent, derives its distinct coloration from iron oxides present in the sinter.What sets Rusty Geyser apart is its exceptionally high temperature, clocking in at a scorching 202°F. This intense heat might explain its reliable eruptions. When Rusty awakens, it does so spontaneously, with the water splashing vigorously for the initial ten seconds before gradually tapering off.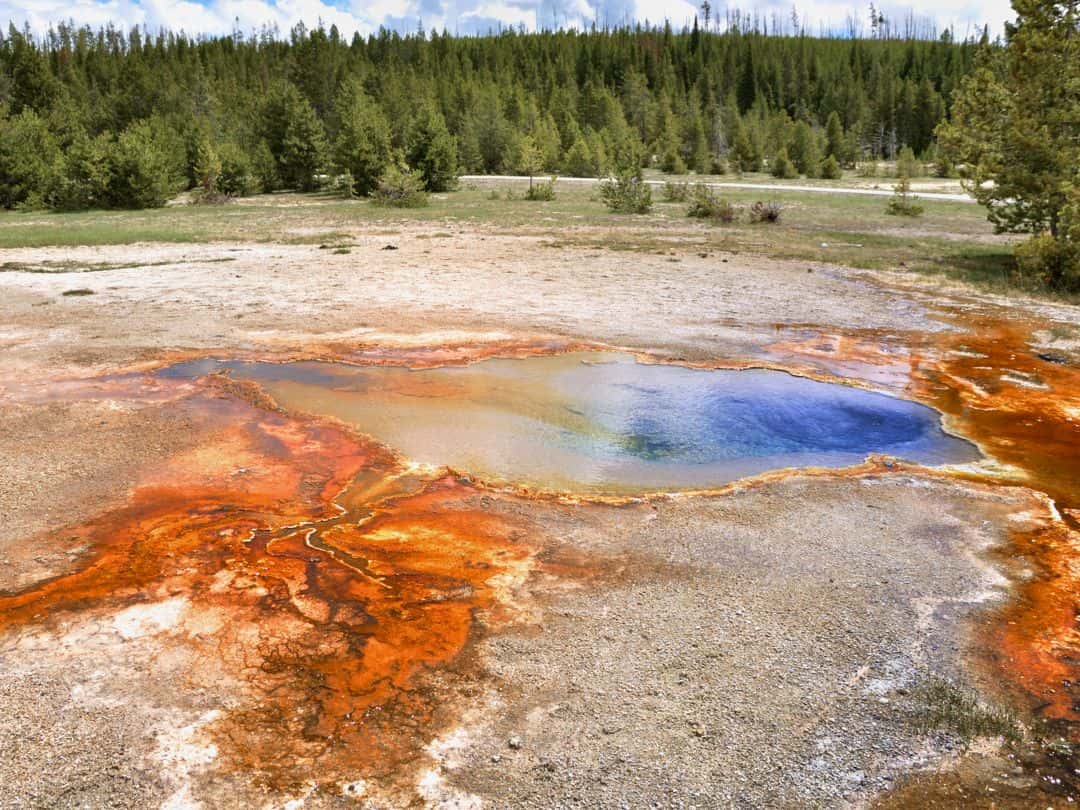 Rusty Geyser / Guide to the Upper Geyser Basin
Shell Geyser: Shell Geyser's name derives from the striking golden sinter lining of its crater, resembling the intricate shell of a bivalve. Shell Geyser operates on its own schedule, which can change from year to year, making its eruptions a bit of a surprise.
Jewel Geyser: Jewel Geyser, is aptly named for the pearl-like sinter beads adorning its vent. When it's time for Jewel to put on a show, the vent begins to fill with water, churning until it overflows, signaling the imminent eruption. What follows is a captivating display—a burst or jet of water shooting skyward, reaching heights between 15 to 30 feet, only to gracefully fall back down.
Black Sand Basin is a small yet stunning geothermal area. Named for its black sand created by obsidian erosion, this basin is a hidden gem worth exploring.
At its core is the mesmerizing Opalescent Pool, a deep blue oasis surrounded by colorful algae and white silicified trees. Sunset Lake Pool, although veiled in steam, is the largest. Two charming springs, Emerald Pool and Rainbow Pool, live up to their names with vibrant hues. Lastly, Cliff Geyser adds drama with its regular eruptions.
GOOD TO KNOW: Black Sand Basin is accessible by a 4-mile walk from Old Faithful. Alternatively, you can drive there, park your car, and start exploring the area.
Following is the map of the Black Sand Basin: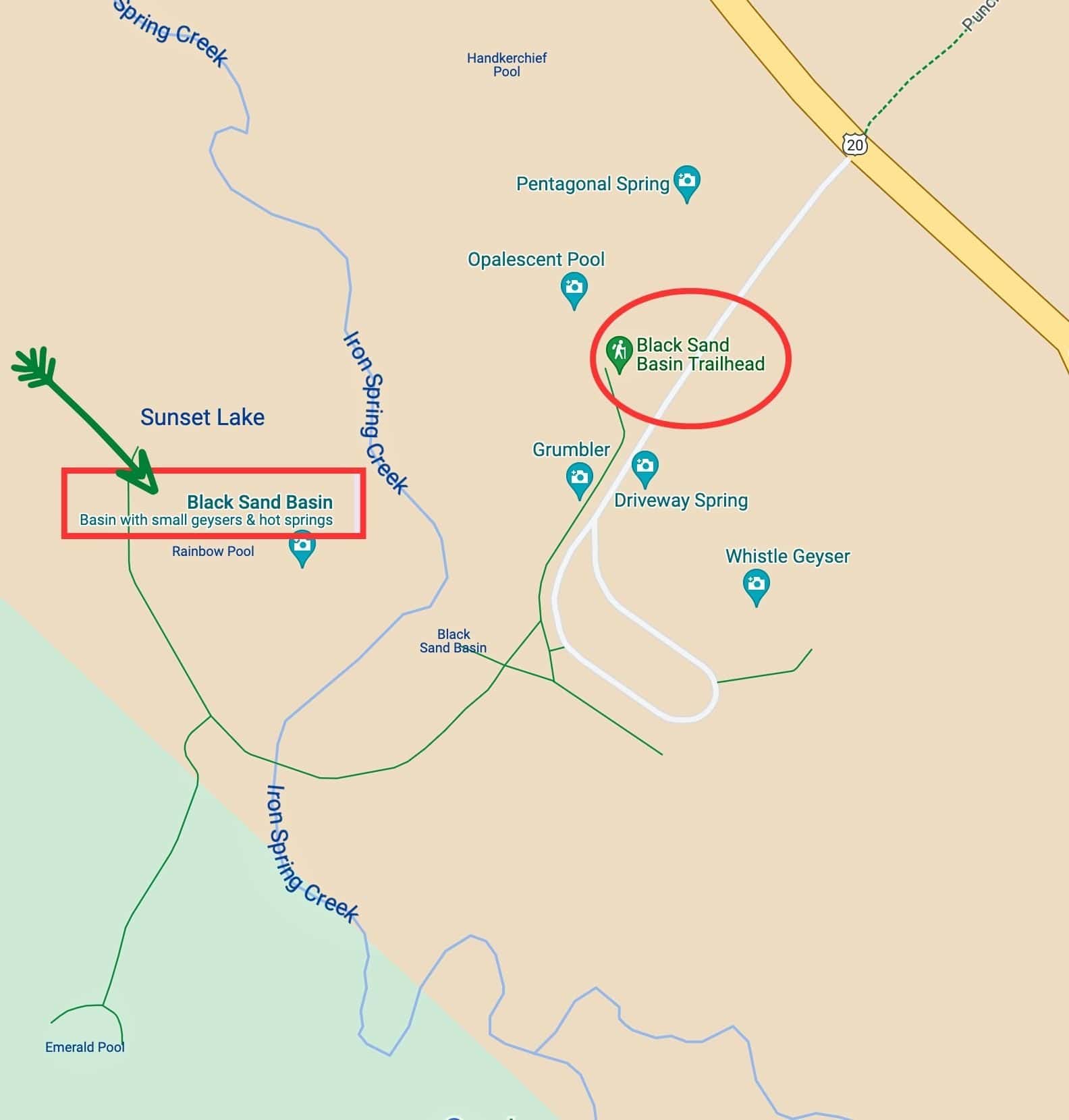 Map of the Black Sand Basin / Guide to the Upper Geyser Basin
The following are the top attractions not to be missed:
Opalescent Pool: Opalescent Pool no longer springs from its own hydrothermal source but serves as a catch pool for Spouter Geyser. Its name derives from the opalescent coloring, a result of suspended silica particles in the water. The pool maintains cooler waters, fostering the growth of vibrant orange thermophiles in its shallows.
Spouter Geyser: Spouter Geyser keeps up a near-constant display with brief intervals of only 1 to 2 hours. Its jets soar through the water, reaching heights of 5 to 7 feet.
Cliff Geyser: Cliff Geyser situated on the edge of Iron Creek exhibits sporadic eruptions with durations ranging from 30 minutes to 3 hours. During these displays, powerful jets of water burst through the pool, reaching impressive heights of 15 to 40 feet, enveloped by billowing clouds of steam.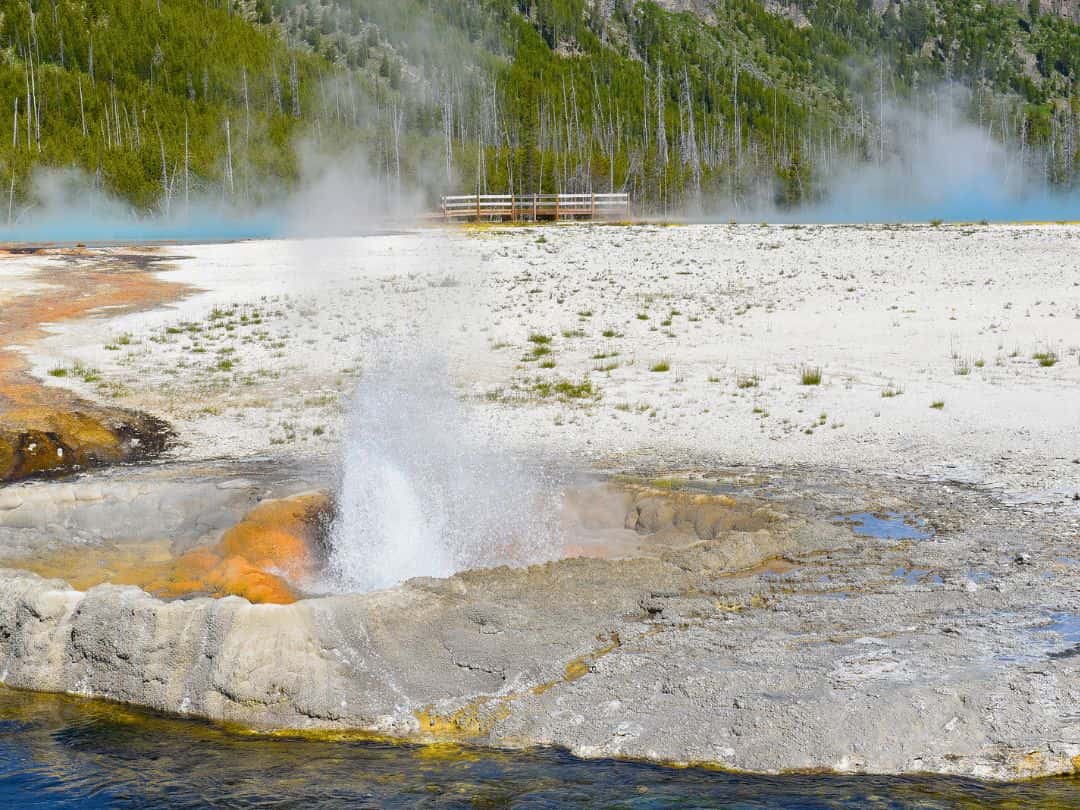 Cliff Geyser / Guide to the Upper Geyser Basin
Emerald Pool: Emerald Pool, a prized gem of Black Sand Basin. It derives its name from the emerald green hues of its waters. This striking coloration is a result of the pool's lower temperatures, providing the perfect conditions for the growth of yellow bacteria and algae on its surface. The crystal-clear pool reflects the blues while absorbing other colors in the spectrum, creating a mesmerizing green spectacle.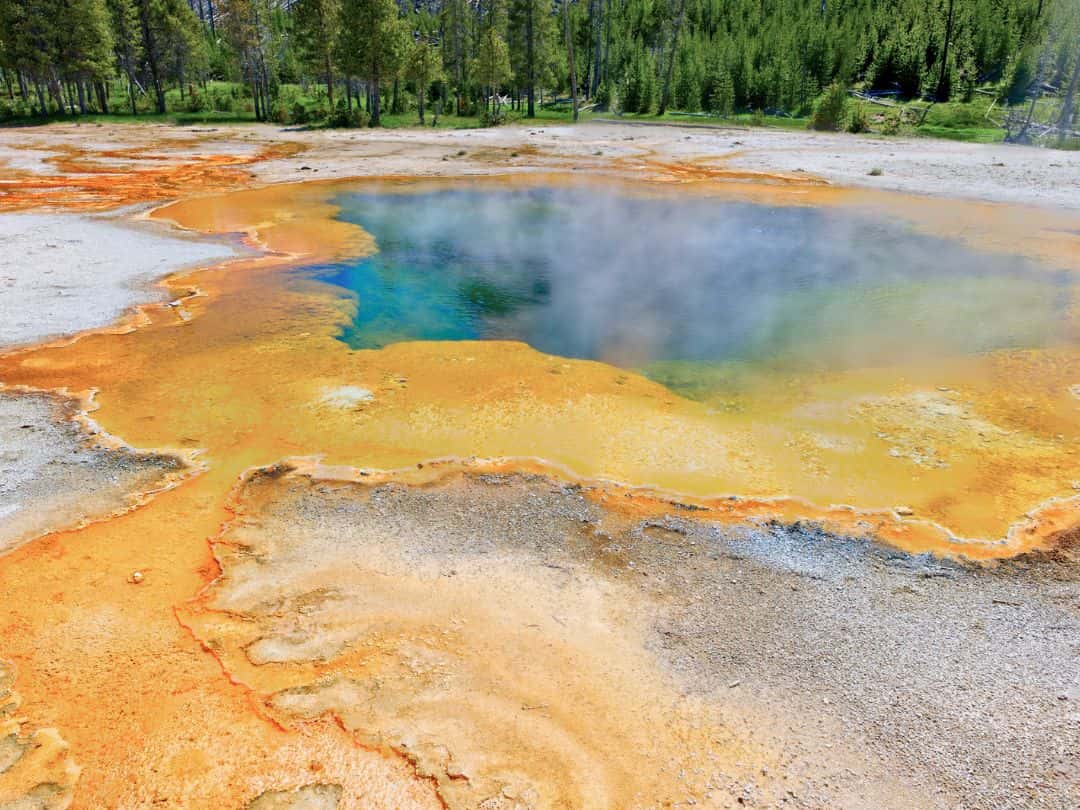 Emerald Pool / Guide to the Upper Geyser Basin
Rainbow Pool: The Rainbow Pool in Black Sand Basin is a stunning display of nature's colors, created by algae and cyanobacteria. While it rarely erupts, it reached a height of 25 feet during an event in 1948.
Sunset Lake: Sunset Lake is a shallow thermal pool with vibrant edges teeming with yellow and orange bacteria and algae. Its overflow feeds into the Rainbow Pool, creating a substantial microbial mat between the two.
Intrepid Scout's Tips for Visiting the Upper Geyser Basin
To make the most of your day, arrive at the park's entrance as early as possible.
This not only helps you beat the crowds but also increases your chances of wildlife sightings.
Yellowstone offers picturesque picnic spots throughout the park. Bring a packed lunch and enjoy a meal amidst the natural beauty.
If you encounter wildlife, maintain a safe distance and use binoculars or a zoom lens for close-up views.
Yellowstone's weather can be unpredictable. Dress in layers, bring a rain jacket and be prepared for sudden temperature changes, even in summer.
The park's high altitude and clear skies mean intense sun exposure. Wear sunscreen, sunglasses, and a wide-brimmed hat to protect yourself from UV rays.
If you're staying overnight, do not miss the opportunity to stargaze. Yellowstone's minimal light pollution provides excellent conditions for stargazing, so bring binoculars or a telescope if you are an astronomy enthusiast.
Did You Find This Useful?
Why Not Save Guide to the Upper Geyser Basin in Yellowstone to Your Pinterest Board!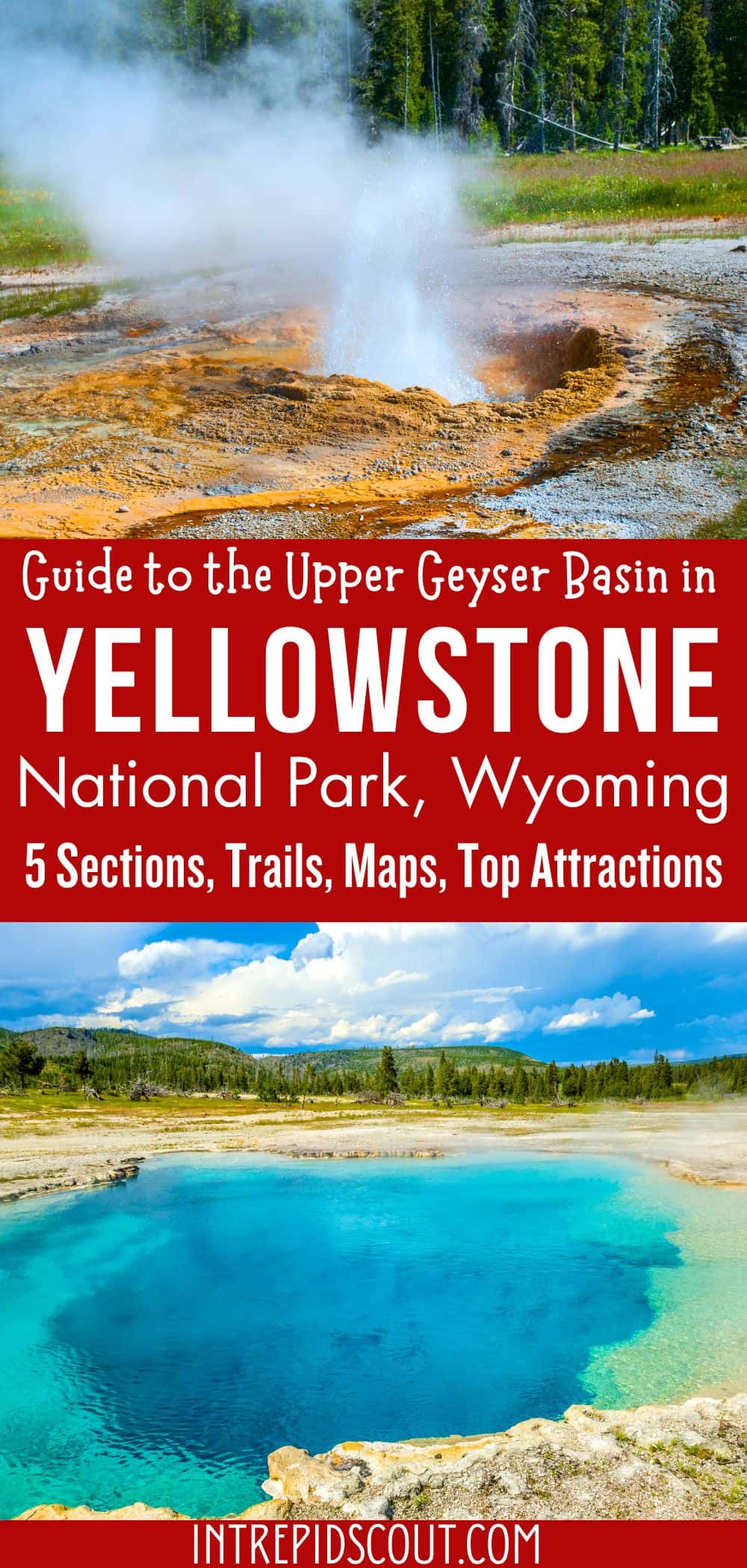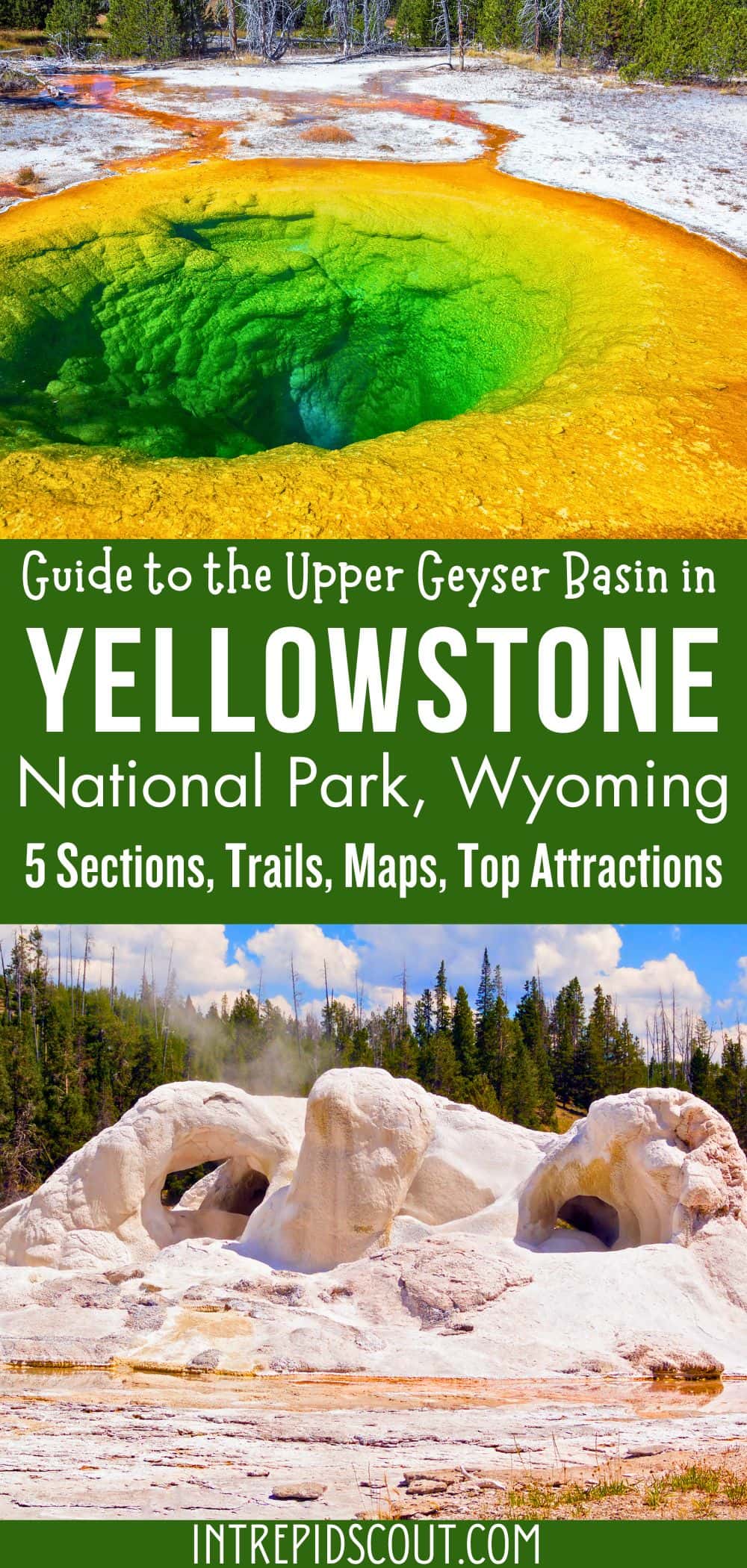 Now, It Is Your Turn, I Would Like to Hear Back from You!
Are you planning your trip to Yellowstone National Park?
Please let me know! Drop me a quick comment right below!
Click on any of the images below to get inspired and to help you with the planning process for your trip to Yellowstone National Park!