This site uses affiliate links, meaning that if you make a purchase through our links, we may earn an affiliate commission.
Welcome, fellow adventurers, to the geothermal wonderland that is Yellowstone National Park!
If you are planning a visit to this iconic natural treasure, you are in for a treat. One of the best ways to experience the park's diverse landscapes, from bubbling hot springs to stunning waterfalls, is by exploring the Lower Loop.
In this post, we have got your back with maps and handy tips to ensure your Yellowstone journey is as epic as it can be. So buckle up, grab your camera, and let's embark on an unforgettable tour of the best stops on Yellowstone Lower Loop Drive!
Yellowstone National Park At-A-Glance
Before diving in, here are a few Yellowstone National Park highlights to help you plan your trip:
When Is the Best Time to Visit Yellowstone National Park
The best time to visit Yellowstone National Park is during the shoulder seasons of spring (April and May) and fall (September and October). The weather is relatively mild and the crowds are thinner. Wildlife is also active during these times, making it an ideal opportunity for viewing animals. However, if you're looking to experience the park's full range of activities and amenities, the summer months offer the most options despite larger crowds. On the other hand, winter provides a unique chance for a serene and snowy adventure.
How to Get to Yellowstone National Park
If flying, the nearest major airports include Bozeman Yellowstone International Airport (BZN) in Montana and Jackson Hole Airport (JAC) in Wyoming. If driving, access routes include US-191 from the north and south, and US-14/16/20 from the east. Bus services like the Yellowstone Transportation System provide travel from nearby towns during the summer months.
Where to Stay When Visiting Yellowstone National Park
Accommodation options include lodges and cabins inside the park like the Old Faithful Inn, camping at various campgrounds, and lodging in gateway towns such as West Yellowstone, Gardiner, Cooke, and Cody. Advance reservations are essential for in-park lodges and popular campgrounds due to high demand.
Here is your comprehensive guide to Where to Stay When Visiting Yellowstone (20 Best Lodging Options Inside and Near Yellowstone).
How to Get Around in Yellowstone National Park
Unlike many other national parks, Yellowstone does not offer a public shuttle system. There is an automated shuttle pilot program in Canyon Village that launched in 2021, and there could be more to come in the future. But for now, having your own personal vehicle is the only way to get around the park.
How Much Does It Cost to Vist Yellowstone National Park
In order to visit Yellowstone National Park, you need to purchase a recreational day-use pass, which costs $35 per vehicle and is good for 7 consecutive days. You can purchase the pass right at the entrance to the park. If you are visiting several national parks then make sure to get America the Beautiful National Park Pass. This $80 pass is valid for 12 months and gets you into all 400+ national park sites!
Check Yellowstone National Park Website for Trail Closures and Road Construction
It is important that you check Yellowstone National Park's Website for any trail or road closures prior to going to the park. You can check for updates HERE.
5 Yellowstone Entrances: Which One Should be Your Gatway to the Park?
The Lower Loop of Yellowstone's Grand Loop stands out as the more sought-after route, boasting an array of the park's captivating thermal wonders. Among its noteworthy attractions are the iconic Old Faithful geyser, the vast Yellowstone Lake, and the awe-inspiring Grand Canyon of Yellowstone.
Now, depending on your point of entry into Yellowstone, your Lower Loop adventure can commence from 5 different points:
South Entrance (Jackson, Wyoming): The South Entrance is close to the picturesque Jackson Hole area and offers access to the geothermal wonders of the Lower Loop, including Old Faithful and the Grand Canyon of Yellowstone.
West Entrance (West Yellowstone, Montana): West Yellowstone is a popular entry point and provides convenient access to the geothermal features of the Upper Loop. The town itself is a hub for visitor services.
North Entrance (Gardiner, Montana): The North Entrance is one of the most frequently used entrances to Yellowstone. It offers easy access to Mammoth Hot Springs, a unique and ever-changing thermal area. Gardiner, a charming gateway town, is nearby and provides essential services for visitors.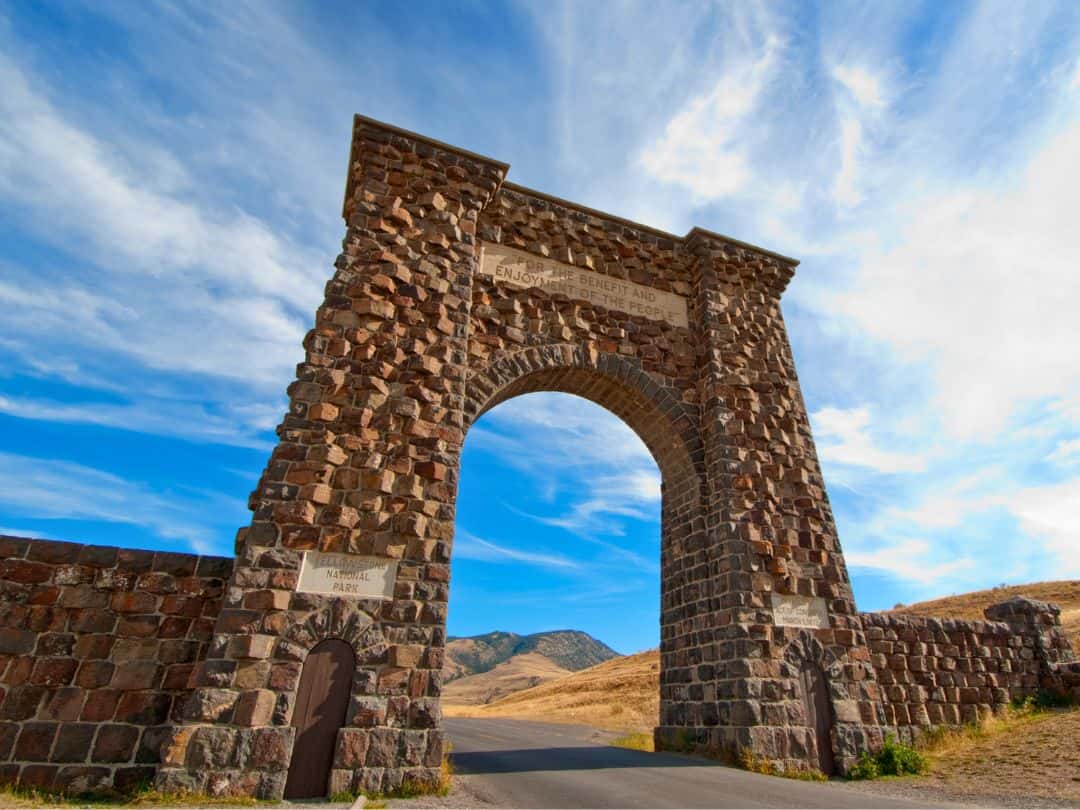 North Entrance (Roosevelt Arch) / Best Stops on Yellowstone Lower Loop Drive
Northeast Entrance (Cooke City, Montana): This entrance is the gateway to the rugged and scenic Lamar Valley, known for its abundant wildlife and stunning landscapes. Cooke City is a small, historic mountain town nestled in the wilderness.
East Entrance (Cody, Wyoming): Located near the town of Cody, this entrance provides access to the eastern portion of the park, including the spectacular Sylvan Pass and Yellowstone Lake. Cody is famous for its Western heritage and museums.
GOOD TO KNOW: In this blog post, we will take you on a journey through the captivating Lower Loop of Yellowstone's Grand Loop, beginning our adventure at the South Entrance and following a clockwise route for the most immersive experience. South Entrance is a perfect gateway to Yellowstone when combined with a visit to the neighboring Grand Teton National Park.
Yellowstone Lower Loop Facts and Tips
Length: The Yellowstone Lower Loop Drive spans approximately 99 miles, making it a comprehensive route to explore the park's wonders.
Time Needed: It is recommended to dedicate a full day to complete the Yellowstone Lower Loop, but keep in mind that the duration can vary depending on factors such as traffic, road conditions, and the number of stops. Kick off your journey early in the morning to beat heavy traffic and secure prime parking spots at popular attractions.
Attractions: Along this scenic route, you'll encounter an array of iconic attractions. Highlights include the world-famous Old Faithful geyser, the awe-inspiring Grand Canyon of Yellowstone, the dynamic Norris Geyser Basin, and much more.
PRO TIP: To maximize your chances of witnessing the mesmerizing eruptions of geysers like Old Faithful, check the predicted eruption times at visitor centers throughout the park.
Geothermal Features: Yellowstone is renowned for its mesmerizing geothermal wonders. From geysers shooting plumes of steam to bubbling hot springs, mud pots, and hissing fumaroles, many of these natural marvels are easily accessible along the Lower Loop.
GOOD TO KNOW: Yellowstone contains over 10,000 geothermal features, and it's home to approximately half of the world's geysers, making it a global hot spot for geothermal activity.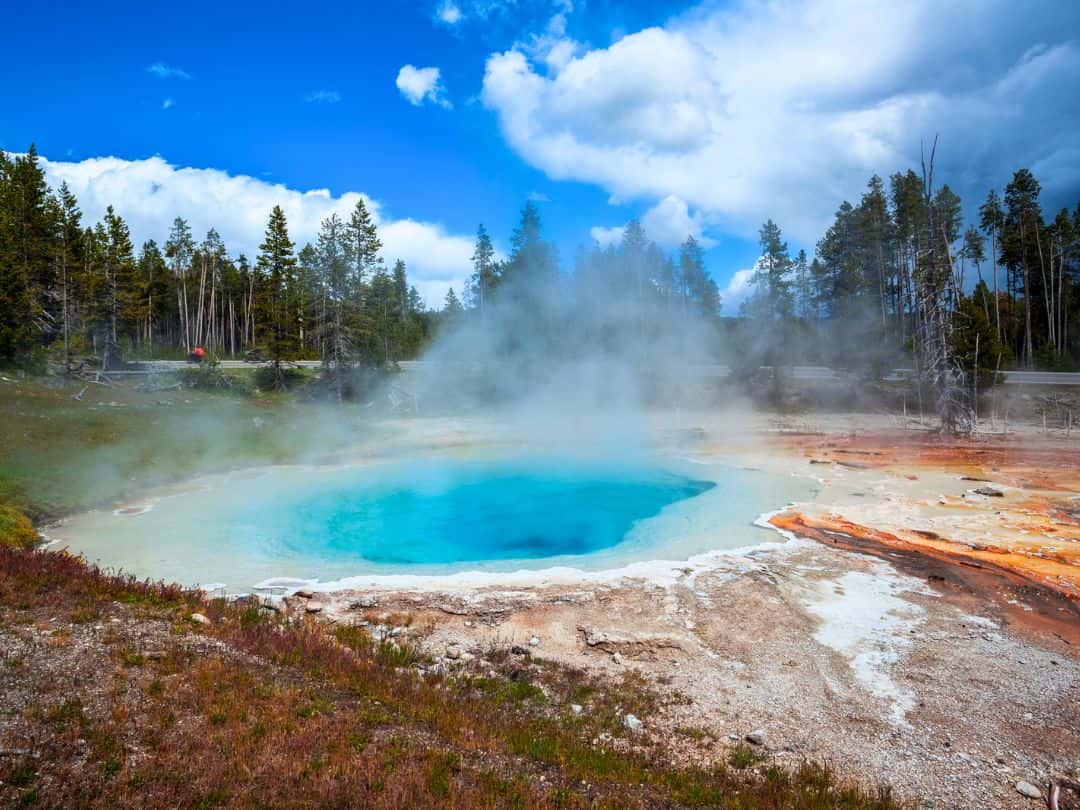 Silex Spring in Lower Geyser Basin / Best Stops on Yellowstone Lower Loop Drive
Wildlife Viewing: Yellowstone is a sanctuary for a diverse range of wildlife, including bison, elk, wolves, grizzly bears, and countless other species.
When observing wildlife, it's crucial to maintain a safe distance and act responsibly. To safely observe animals from afar, consider bringing binoculars or a telephoto lens. Keep at least 25 yards away from large animals and a minimum of 100 yards from wolves and bears.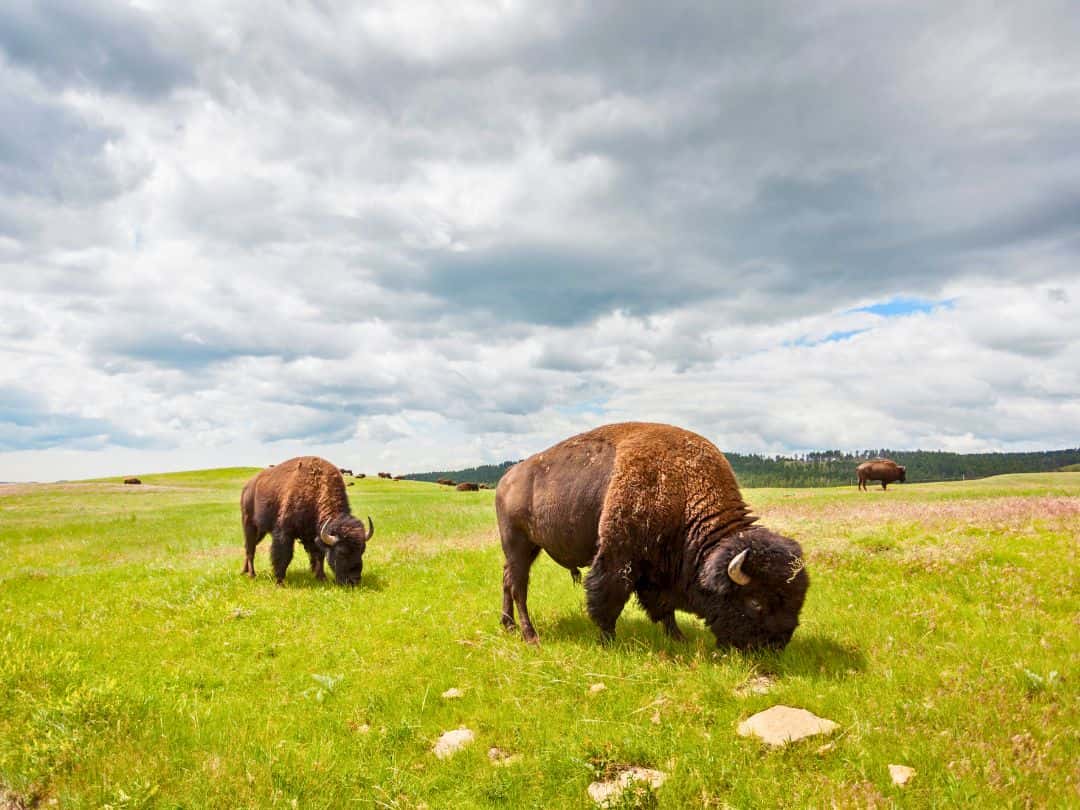 Bison in Yellowstone / Best Stops on Yellowstone Lower Loop Drive
Scenic Views: As you traverse the loop, you will be treated to breathtaking vistas of majestic mountain ranges, lush valleys, meandering rivers, and cascading waterfalls. These picturesque landscapes provide ample opportunities for capturing stunning photographs.
GOOD TO KNOW: Yellowstone is the first national park in the US, established in 1872, and its diverse landscapes showcase the park's unique geological history.
Road Conditions: The Yellowstone Lower Loop Drive is paved and easily accessible by standard vehicles. Stay informed about road conditions and park alerts by using the official Yellowstone National Park app or visiting the park's website for up-to-date information. Check it HERE.
Seasons: Typically, the loop is open from late spring to early fall, allowing visitors to explore its wonders during the more temperate months.
Hiking Trails: For those seeking a closer connection with nature, numerous hiking trails of varying lengths can be accessed from the loop. These trails offer the chance to immerse yourself in the park's beauty.
PRO TIP: Ensure you're well-prepared for hikes by carrying bear spray, dressing in layers, and bringing an ample supply of water and snacks. Select trails that match your fitness level and the time available for your adventure.
Cell Service: Keep in mind that cell service can be limited in certain areas of the park, so it's advisable not to rely solely on your phone's navigation.
Leave No Trace: Practice responsible and ethical tourism by adhering to park rules, staying on designated paths, and carrying out all trash to preserve the natural beauty of Yellowstone for future generations.
Maps of Best Stops on Yellowstone Lower Loop Drive (Printable, Downloadable, and Interactive Maps)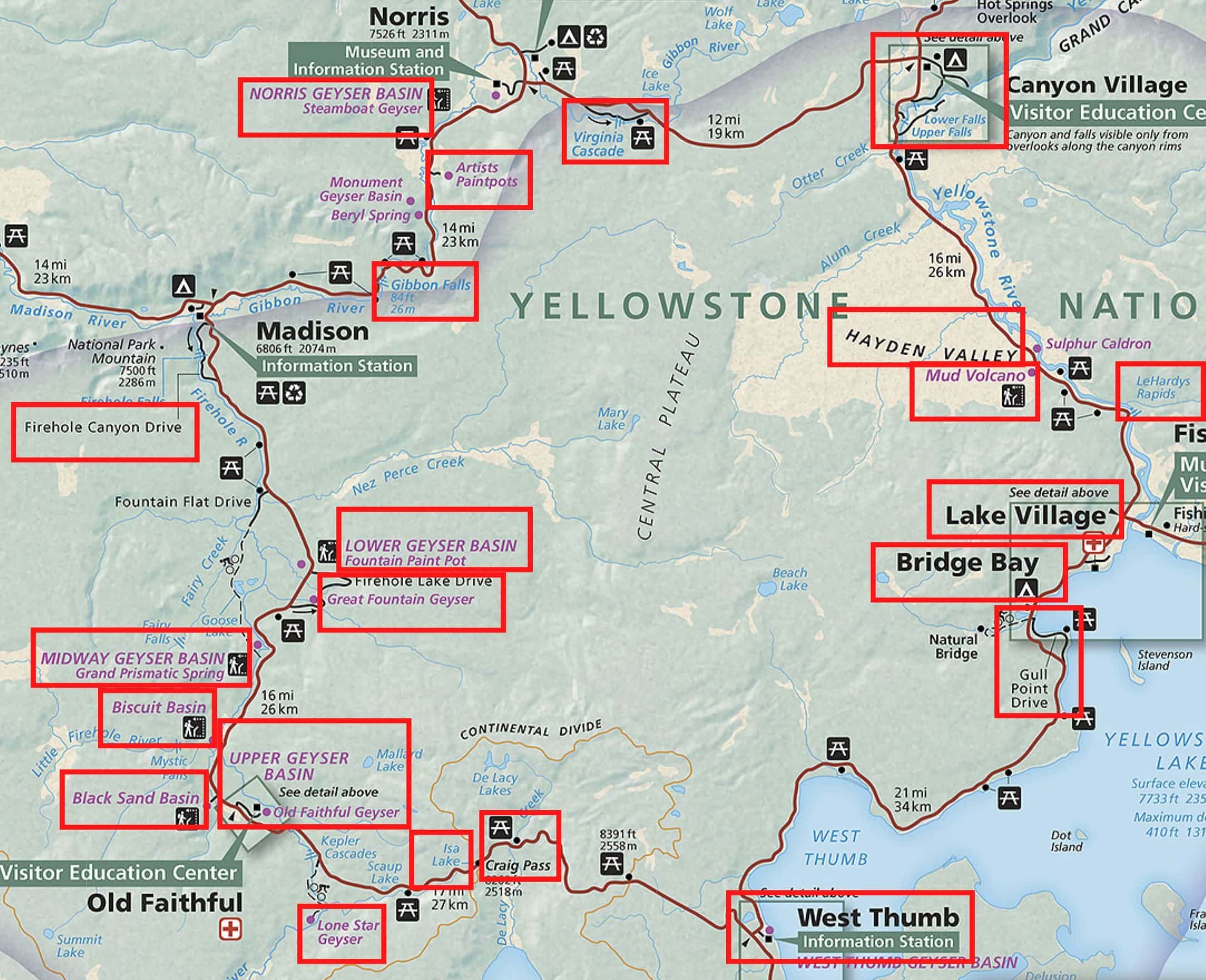 Map of Best Stops on Yellowstone Lower Loop Drive
Interactive Map of Best Stops on Yellowstone Lower Loop Drive
23 Best Stops on Yellowstone Lower Loop Drive
The first stop on Yellowstone Lower Loop Drive is Shoshone Point, nestled midway between West Thumb and Old Faithful, was christened in 1891 for its captivating view of Shoshone Lake.
The credit for its name likely goes to Hiram M. Chittenden, who was overseeing the construction of the first road connecting Old Faithful and West Thumb during that period.
Shoshone Point, renowned for its partial view of Shoshone Lake, surprises visitors with an even more breathtaking panorama to the south!
Approximately 60 miles distant, the Tetons make a commanding appearance as they soar dramatically above the otherwise flat Wyoming plains. This vista portrays the Tetons as a solitary mountain range, starkly contrasting the vast horizon.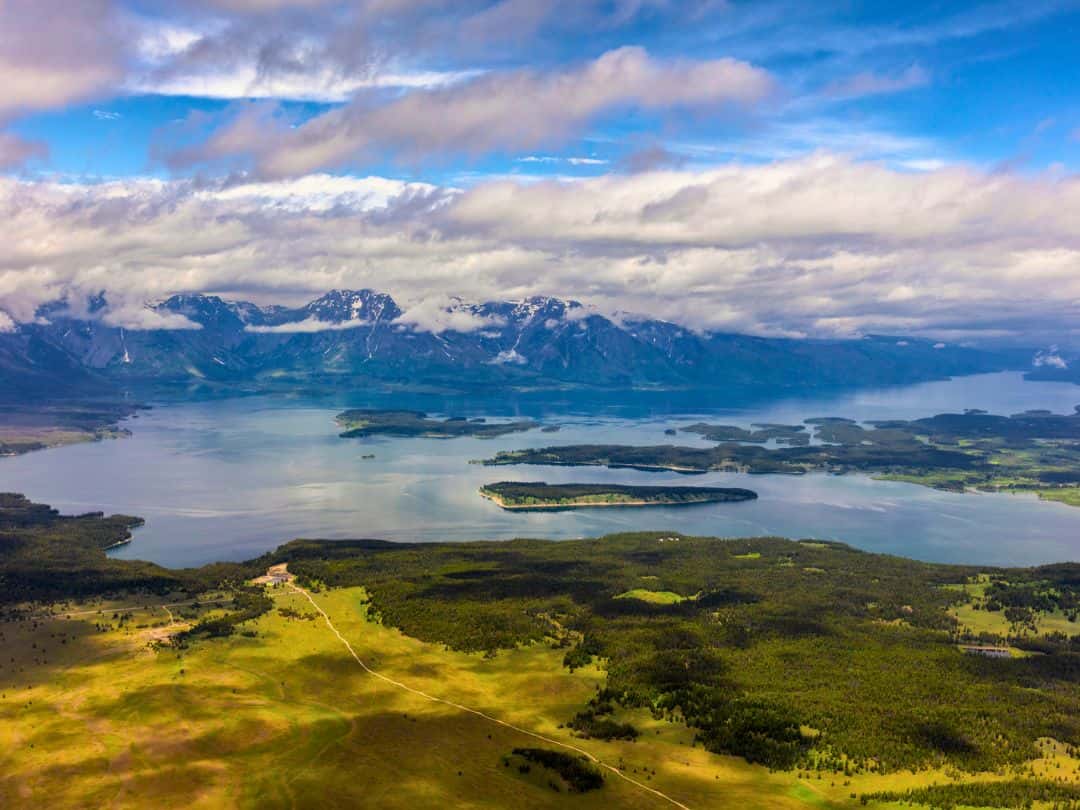 Tetons / Best Stops on Yellowstone Lower Loop Drive
Isa Lake and the Continental Divide
As you continue your journey along the Yellowstone Lower Loop Drive, the next stop is Isa Lake, where nature unveils a unique phenomenon tied to the Continental Divide.
This alpine lake stands out because it naturally drains in two different directions.
One side of Isa Lake's waters flows toward the Pacific Ocean, while the other side makes its way to the Atlantic Ocean. This dual-drainage phenomenon is most pronounced during peak snowmelt, especially after snowy winters.
GOOD TO KNOW: The Continental Divide, running through Yellowstone, is the crest of the continent. Precipitation falling on its western side eventually reaches the Pacific Ocean, while on the eastern side, it flows toward the Atlantic Ocean.
Yellowstone's Continental Divide is not perfectly straight, and you will cross it three times between the South Entrance and Old Faithful. The highest crossing point is Craig Pass, which reaches an elevation of 8,262 feet.
Next, our journey on the Yellowstone Lower Loop Drive brings us to the Lone Star Geyser.
There is a short trail, partly paved, that meanders alongside the picturesque Firehole River and eventually will lead you to Lone Star Geyser.
Lone Star Geyser erupts impressively, reaching heights of up to 45 feet, and it does so approximately every three hours.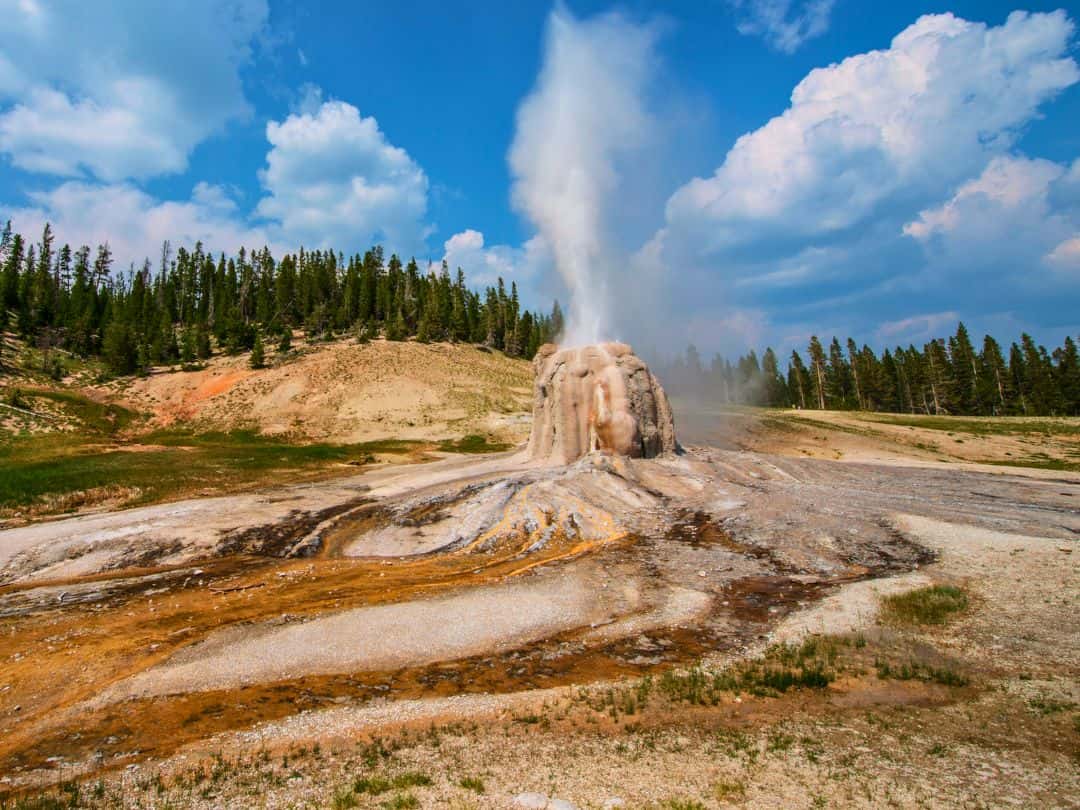 Lone Star Geyser / Best Stops on Yellowstone Lower Loop Drive
Next, we arrive at the Old Faithful Inn, whose story began in 1902 when visionary architect Robert Reamer was entrusted with the task of creating a premier hotel to attract park visitors.
Construction commenced in June 1903, and by 1904, the inn opened its doors. It was equipped with modern amenities such as electricity and telephones, offering a comfortable retreat in the wilderness.
This iconic inn stands as the world's largest log structure, often likened to a grand log cabin.
As you step into the 85-foot tall lobby, you will be immediately captivated by a massive rough stone fireplace, surrounded by balconies and railings crafted from remarkable twisted logs.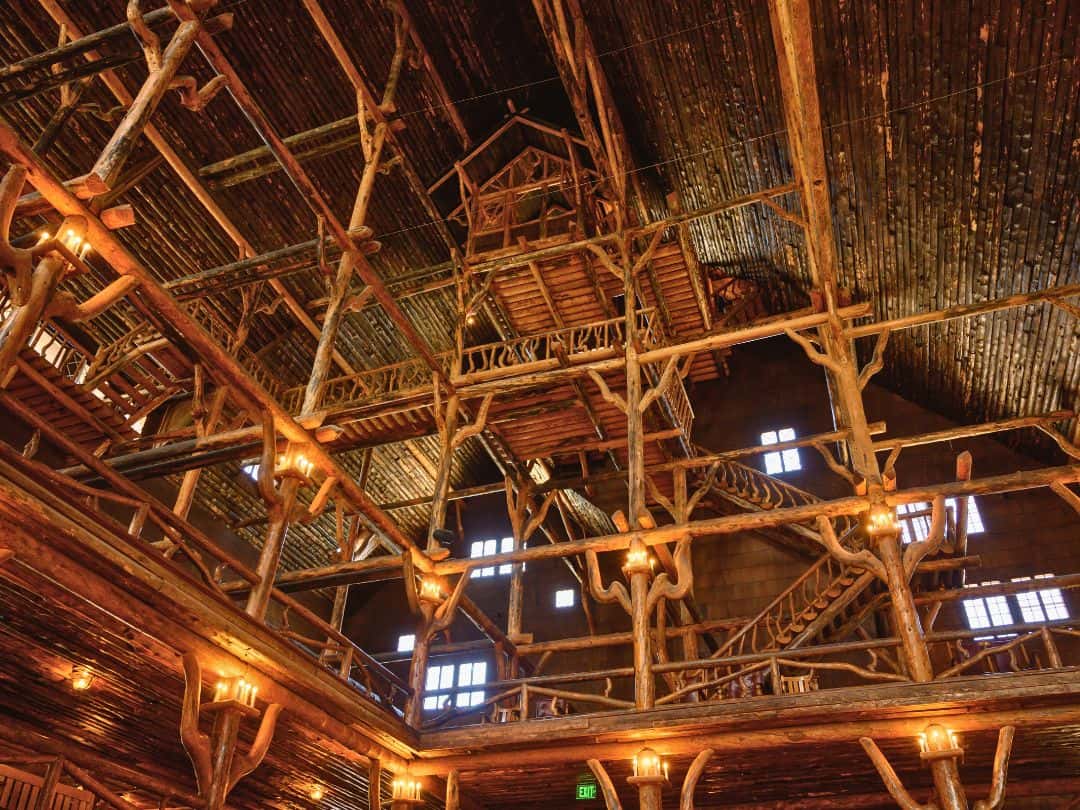 Old Faithful Inn / Best Stops on Yellowstone Lower Loop Drive
Upper Geyser Basin: Old Faithful Area
Our next stop on the Lower Loop is the Upper Geyser Basin in Yellowstone National Park, where the renowned Old Faithful takes center stage.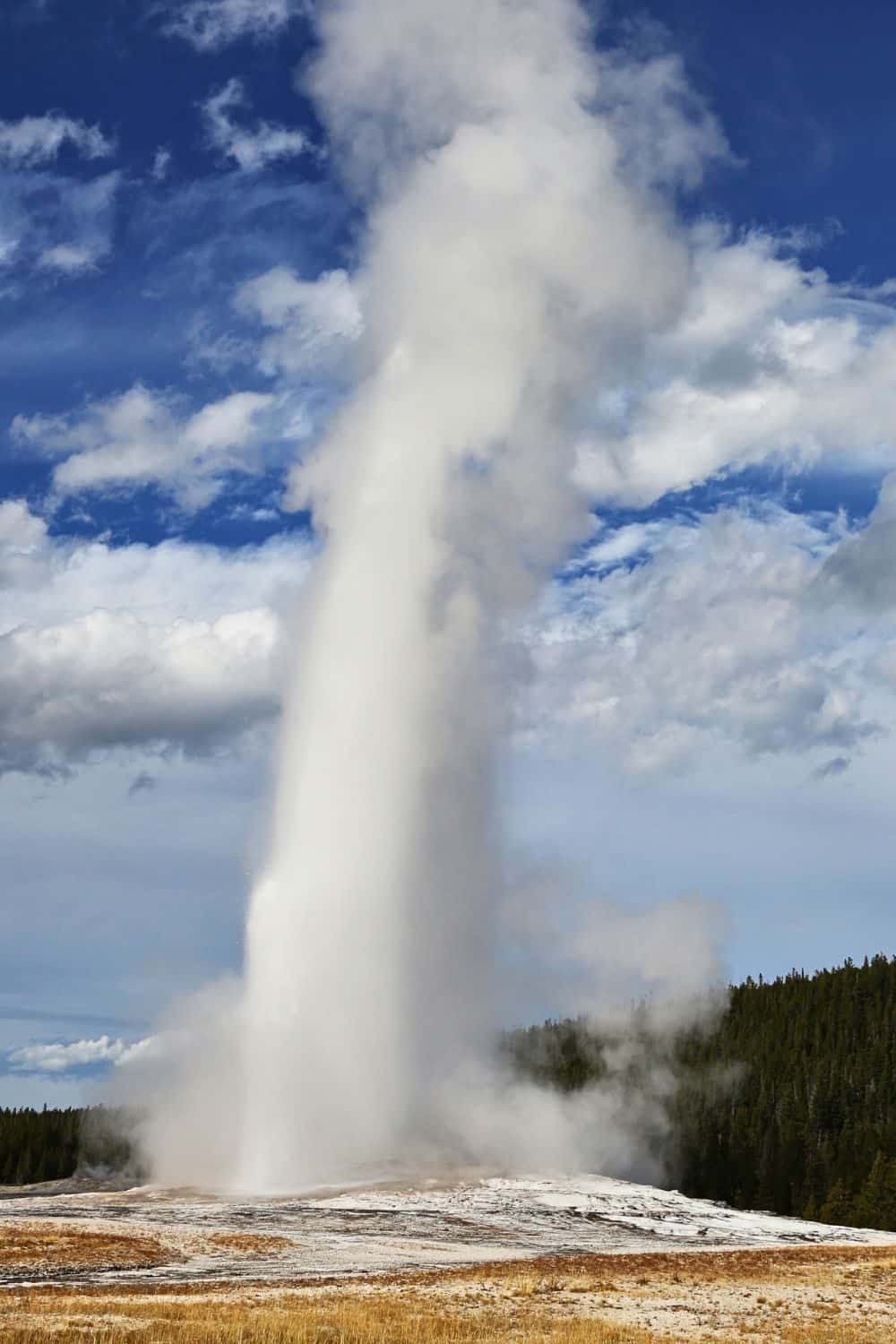 Old Faithful Geyser / Best Stops on Yellowstone Lower Loop Drive
While Old Faithful's eruptions are a must-see spectacle, be sure not to miss other wonders.
A short loop walk around Geyser Hill will take you past six geysers, a pool, and a spring, covering a total distance of about half a mile. Here are some highlights you will not want to miss:
Anemone Geyser: Watch as this geyser follows a fascinating eruption cycle, filling its pool every seven to 15 minutes before erupting with bursts that reach up to ten feet high.
Beehive Geyser: Although it can remain dormant for extended periods, Beehive Geyser's eruptions are awe-inspiring, shooting water up to a towering 180 feet, rivaling Old Faithful.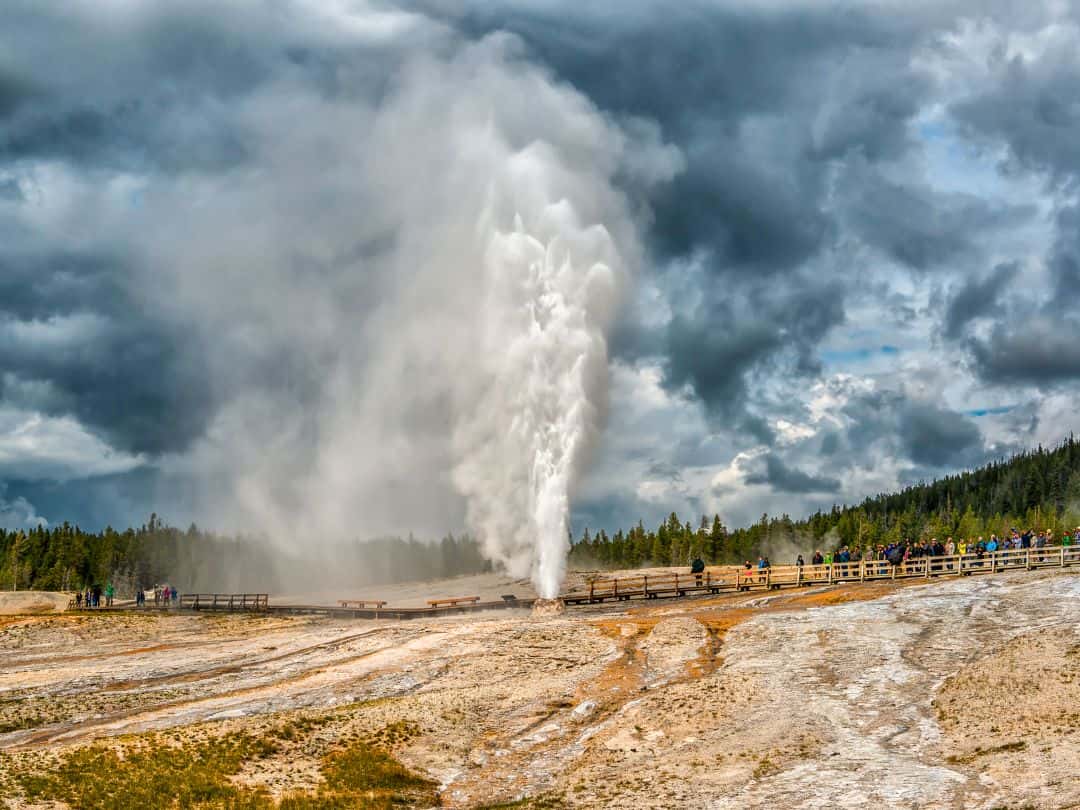 Beehive Geyser / Best Stops on Yellowstone Lower Loop Drive
The trail leading from Geyser Hill to Biscuit Basin is adorned with more geothermal wonders. Here are some highlights that you should not miss:
Grand Geyser: Stay a while at Grand Geyser to witness the world's tallest predictable geyser erupt, sending bursts of water up to 200 feet (60 meters) into the air.
Castle Geyser: Admire the immense cone of Castle Geyser, one of the world's largest sinter formations, resting on older platforms.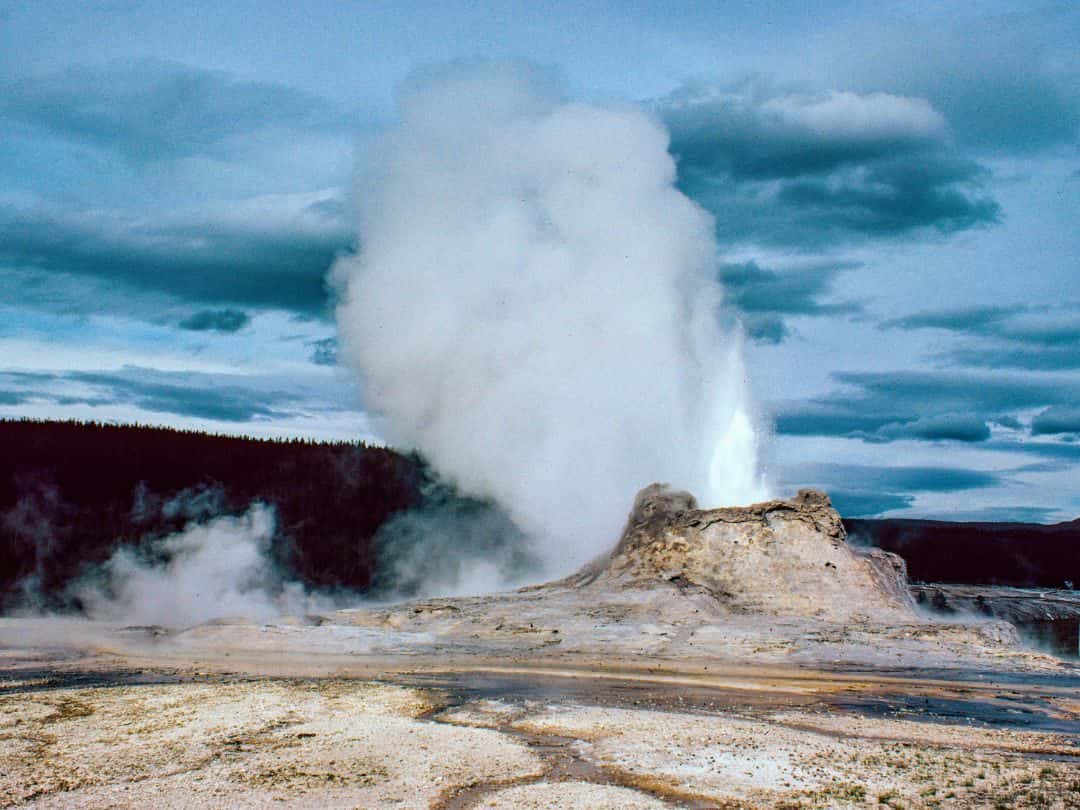 Castle Geyser / Best Stops on Yellowstone Lower Loop Drive
Giant Geyser: Marvel at the colossal cone of Giant Geyser, one of the tallest geyser cones in the world. It's a testament to the gradual growth of these cones in the Old Faithful area, with each inch taking about a century to form.
Riverside Geyser: Don't miss the picturesque and reliable Riverside Geyser, which gracefully arches a water column over the river every six hours.
Morning Glory Pool: Known for its vibrant colors and captivating beauty, this unique hot spring features a brilliant spectrum of blue and orange hues. Morning Glory Pool is an enchanting natural wonder that has garnered attention for its stunning appearance and resemblance to a morning glory flower, hence its name.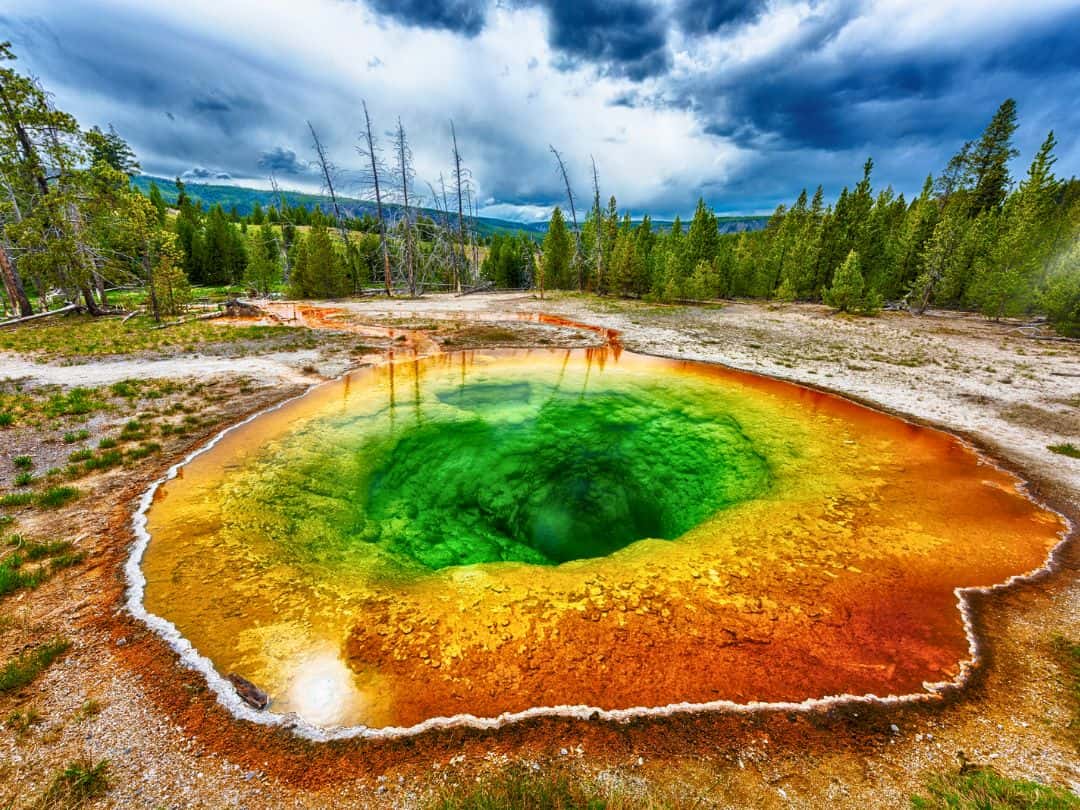 Morning Glory Pool / Best Stops on Yellowstone Lower Loop Drive
Upper Geyser Basin is not just the best place in Yellowstone to witness geyser eruptions; it also boasts the highest concentration of geysers in the world, with over 150 hydrothermal features packed into a single square mile.
Prepare to be amazed as you explore the Upper Geyser Basin!
Just north of the Old Faithful exit off the loop, we arrive at the Black Sand Geyser Basin which is a part of the vast Upper Geyser Basin. This remarkable basin gets its name from the black volcanic glass, or obsidian, formed by ancient eruptions.
Here's what you can expect to encounter in Black Sand Geyser Basin:
Sunset Lake: This enormous hot spring has been known to unleash eruptions that soar up to 35 feet high. However, the sheer magnitude of the steam cloud it generates often obscures the view, making the eruptions difficult to observe.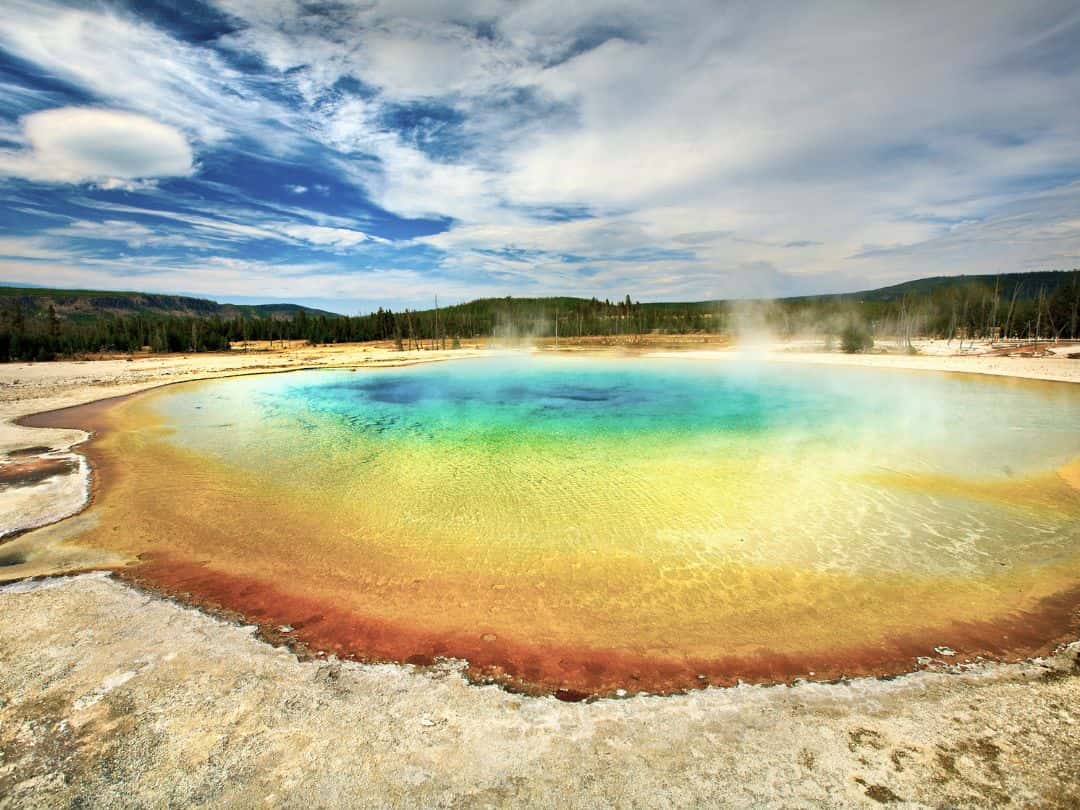 Sunset Lake / Best Stops on Yellowstone Lower Loop Drive
Spouter Geyser: A small but captivating light blue pool that continuously erupts, sending plumes of water one to three feet high into the air.
Rainbow Pool: A striking large pool, approximately 100 feet across, displaying a captivating palette of colors. While it usually remains calm, it surprised everyone in May 1996 with eruptions reaching as high as 100 feet. Such spectacular activity has not been witnessed since.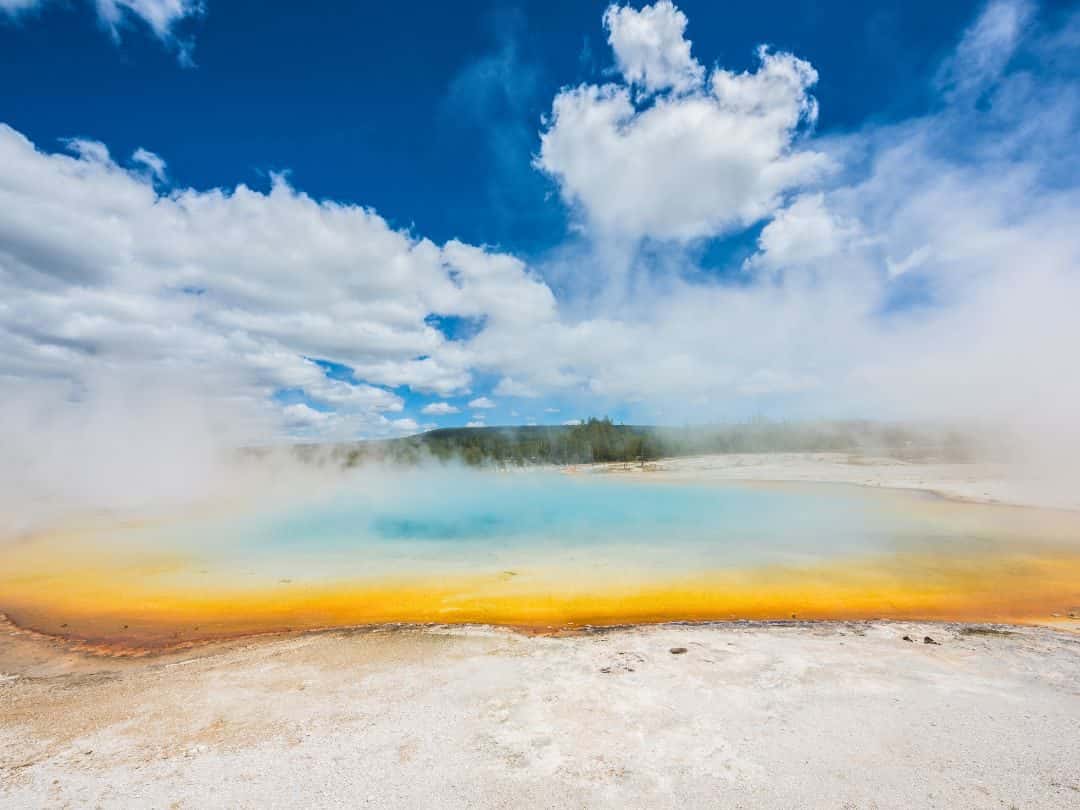 Rainbow Pool / Best Stops on Yellowstone Lower Loop Drive
Cliff Geyser: Perched on the edge of Iron Spring Creek, this geyser occasionally treats visitors to substantial eruptions, although they are not a common sight.
Green Spring: This large, shallow, and incredibly hot spring has experienced minor eruptions over the years but is typically tranquil.
Emerald Pool: A large hot spring with captivating concentric rings of color, adding to its allure.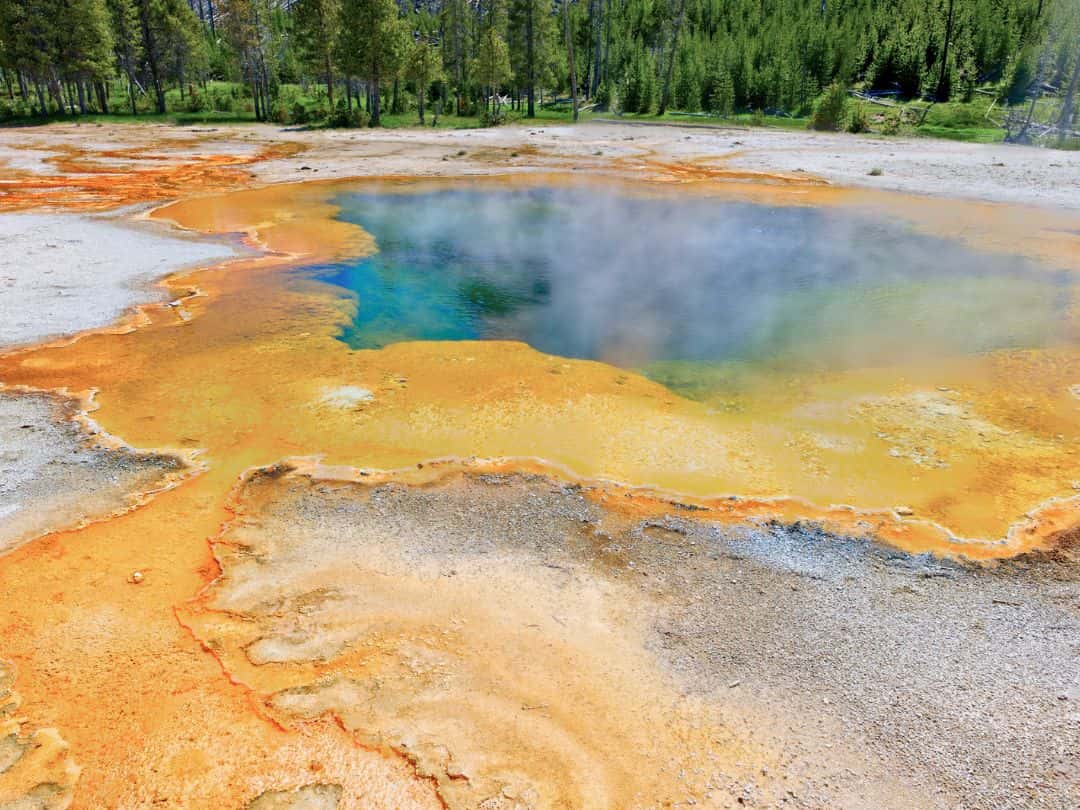 Emerald Pool / Best Stops on Yellowstone Lower Loop Drive
Our journey now leads us to the Biscuit Basin, an isolated thermal wonder tucked within the expansive Upper Geyser Basin of Yellowstone National Park.
Biscuit Basin earns its unique name from the unusual biscuit-like formations that once surrounded the breathtaking Sapphire Pool. This basin is a treasure trove of thermal features, though many are smaller in scale, resembling exquisite gem-like pools and geysers.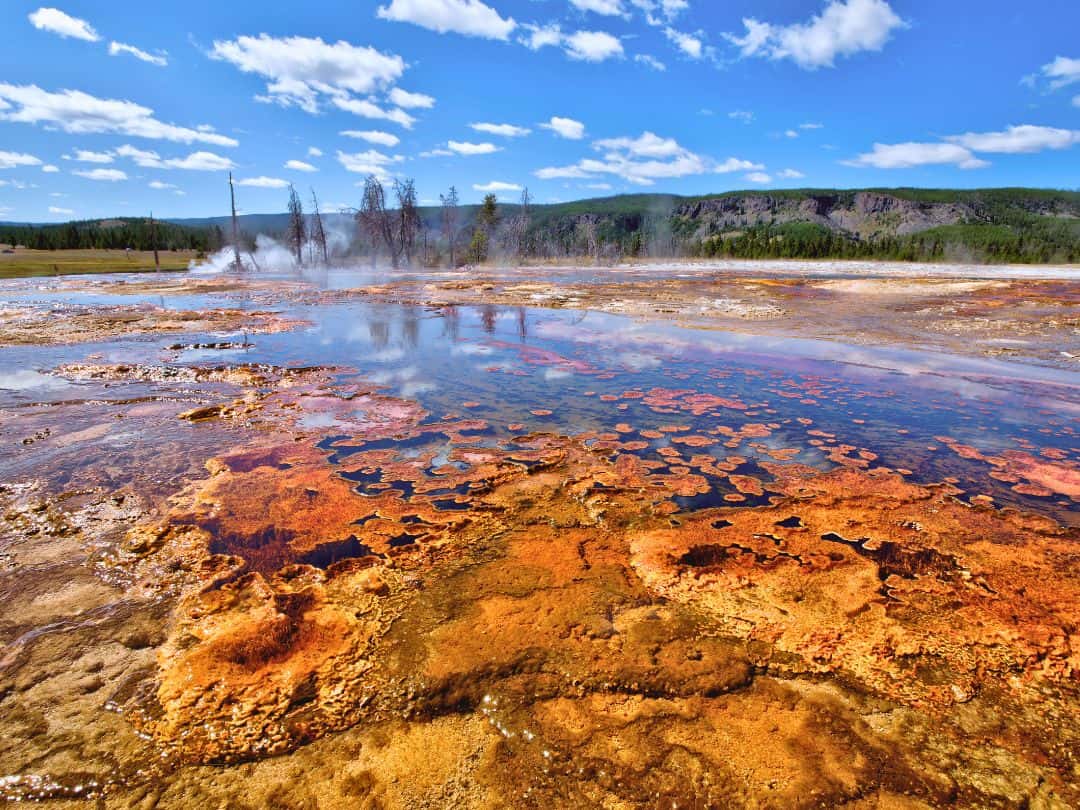 Biscuit Basin / Best Stops on Yellowstone Lower Loop Drive
Let's explore this natural jewel box:
Mustard Spring: Offering a vibrant contrast with its bright colors, this spring adds a touch of warmth to the basin's palette.
Jewel Geyser: A star of Biscuit Basin, this geyser treats visitors to eruptions occurring every 7-10 minutes, casting a sparkling spray into the air.
Cauliflower Geyser: Found east of the river, this geyser stands out with its cauliflower or biscuit-like sinter masses surrounding its crater. It's a remarkable feature of this group of thermal wonders.
Sapphire Pool: A pool of mesmerizing blue hues, once surrounded by the biscuit-like deposits that lent the basin its name. Following the 1959 Hebgen Lake earthquake, Sapphire Pool erupted, blowing away the "biscuits." It last graced us with its beauty in 1991 and remains one of the park's most captivating blue pools.
GOOD TO KNOW: The basin is traversed by an easy 0.6-mile lollipop loop boardwalk trail, allowing you to get up close and personal with the thermal wonders, including Sapphire Pool, Avoca Spring, and the captivating Jewel Geyser.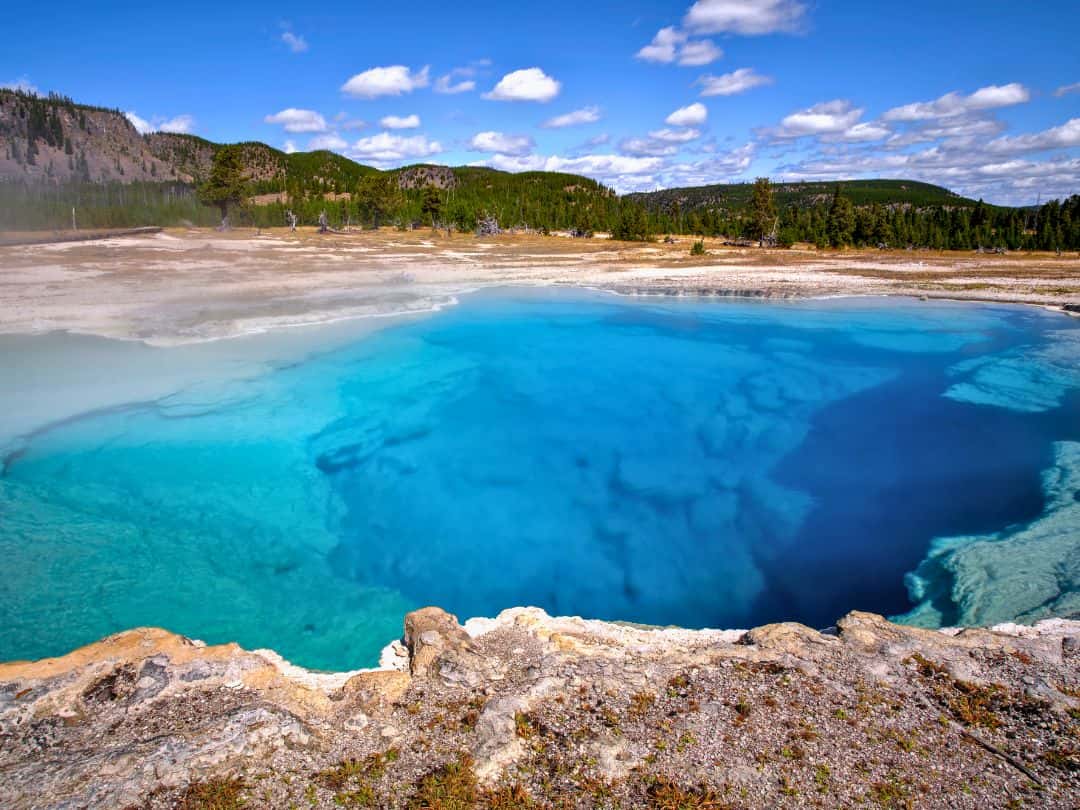 Sapphire Pool / Best Stops on Yellowstone Lower Loop Drive
But the adventure does not stop here! Biscuit Basin also serves as a trailhead for other enticing hikes:
Mystic Falls Trail: Embark on a 2.4-mile round-trip adventure through a picturesque forest, following a lovely creek to the stunning 70-foot Mystic Falls, where the Little Firehole River gracefully descends from the Madison Plateau.
Summit Lake Trail: For those seeking a more challenging trek, this moderately strenuous 14.5-mile one-way trail awaits. It starts near the Mystic Falls Trail and takes you on a scenic journey through the hillsides overlooking the Upper Geyser Basin and the Firehole River. Along the way, you will encounter Summit Lake and the Smoke Jumper Hot Springs Thermal Area.
As we journey onward, we arrive at the Midway Geyser Basin. This remarkable basin is home to some of Yellowstone's most iconic thermal features.
Excelsior Geyser: Our exploration begins with a wooden footbridge that gracefully spans the Firehole River, offering an incredible vantage point overlooking the stunning Excelsior Geyser.
This majestic geyser pool releases a staggering 4,000 to 4,500 gallons of scalding 199°F water per minute, directly into the Firehole River.
Excelsior Geyser was an active geyser that would erupt in magnificent plumes reaching up to 300 feet high. However, it is believed that the powerful eruptions damaged its internal plumbing system, transforming it into a boiling hot spring.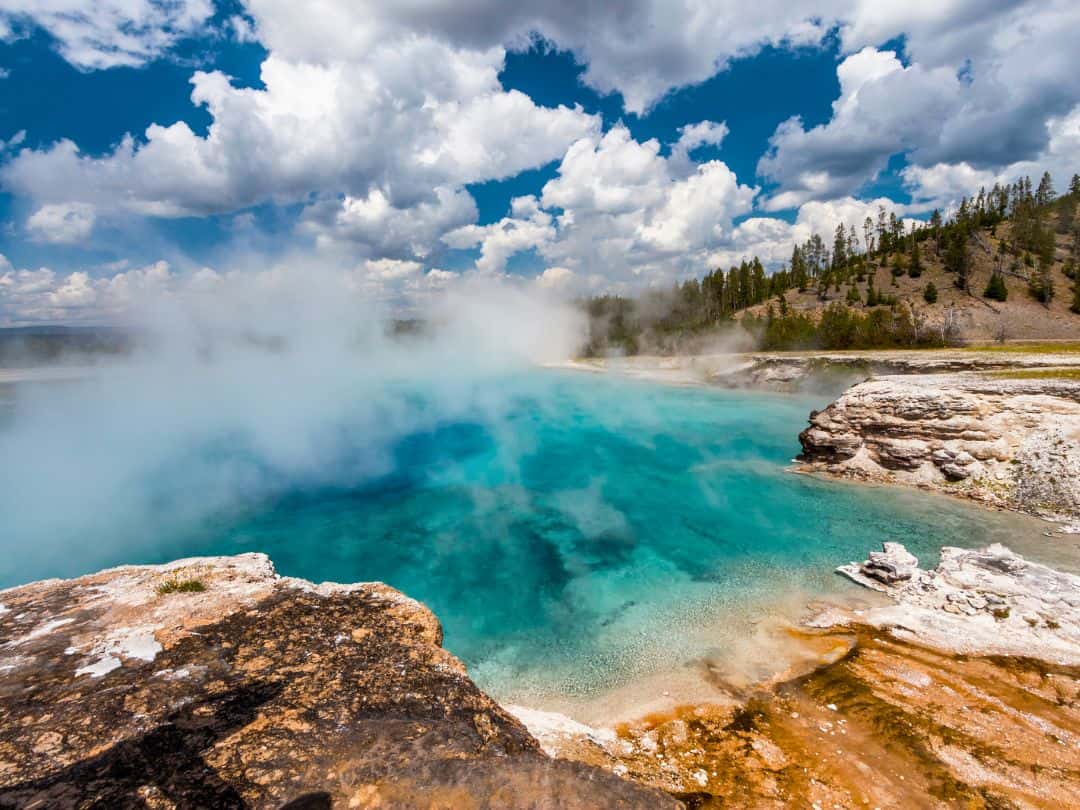 Excelsior Geyser / Best Stops on Yellowstone Lower Loop Drive
Grand Prismatic Spring: Continuing along the boardwalk, you will soon come face to face with the dazzling Grand Prismatic Spring.
This colossal marvel stretches an impressive 370 feet in width, making it Yellowstone's largest hot water pool and the third largest in the world!
What sets Grand Prismatic Spring apart are its vibrant bands of color, pulsating with shades of yellow, green, red, and orange, a mesmerizing display created by thriving algae.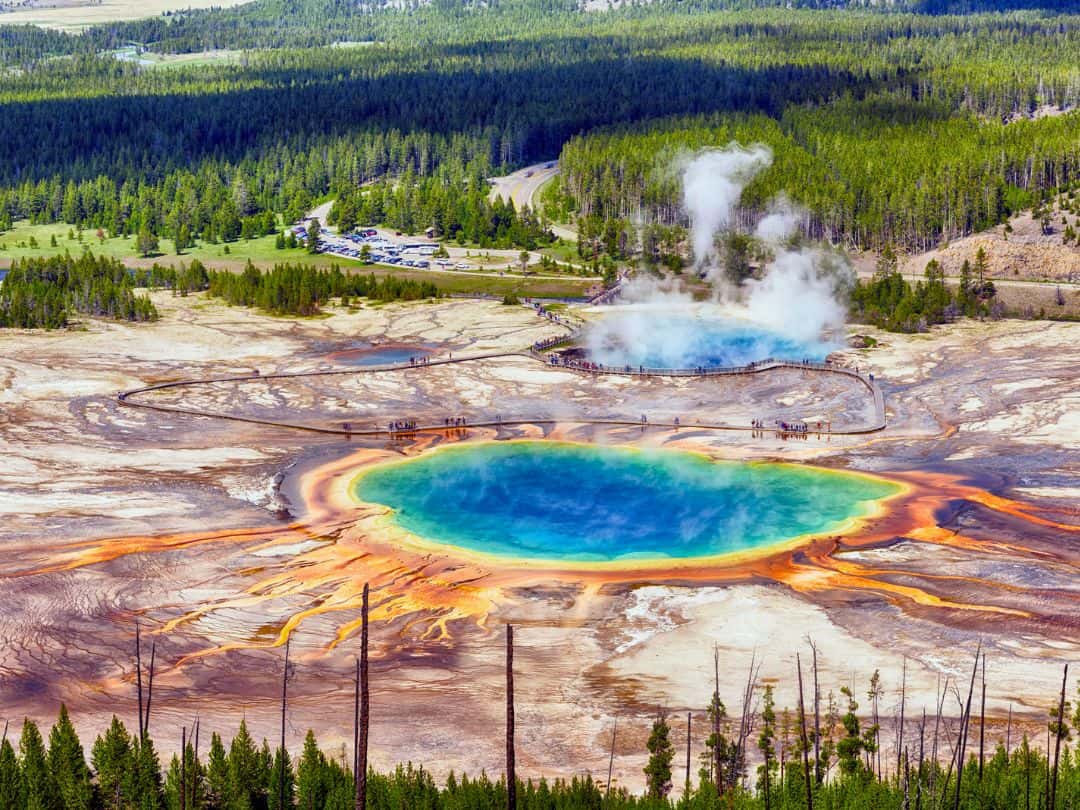 Grand Prismatic Spring / Best Stops on Yellowstone Lower Loop Drive
GOOD TO KNOW: Here's a fascinating tidbit – on a sunny day, as you observe Grand Prismatic Spring from the road, you will witness an optical wonder. The steam rising above the spring mirrors the colors of the water below, appearing blue in the center and transitioning to brown or orange around the periphery.
Prepare to be dazzled as we continue our journey through the wonders of America's first national park!
Next is Firehole Lake Drive, a one-way northbound loop off the main road that stretches for three miles. As we embark on this adventure, let's discover the hidden wonders along the way:
Great Fountain Geyser: Do not forget to check the ranger postings to catch the awe-inspiring eruptions of Great Fountain Geyser, one of the world's grandest geysers. These eruptions can soar to heights averaging 100 feet and can last for 45 to 60 minutes in a spectacular series of bursts. While predicting the next eruption can be a challenge, it is well worth the wait.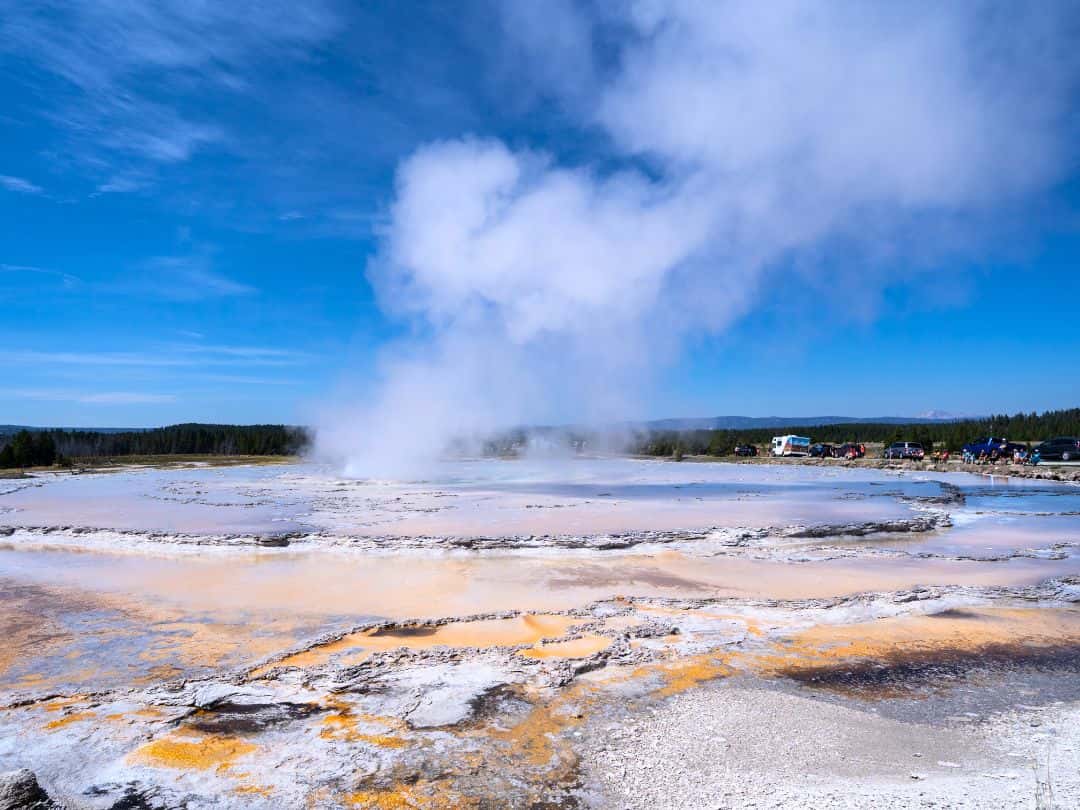 Great Fountain Geyser / Best Stops on Yellowstone Lower Loop Drive
White Dome Geyser: Our journey continues with White Dome Geyser, boasting a massive cone that suggests it has been erupting for centuries. Although the sinter deposits have constrained the eruptions through a narrow vent, they still reach impressive heights of about 30 feet, matching the height of the massive cone. White Dome Geyser typically erupts every 30-35 minutes but can sometimes keep you waiting for up to 3 hours.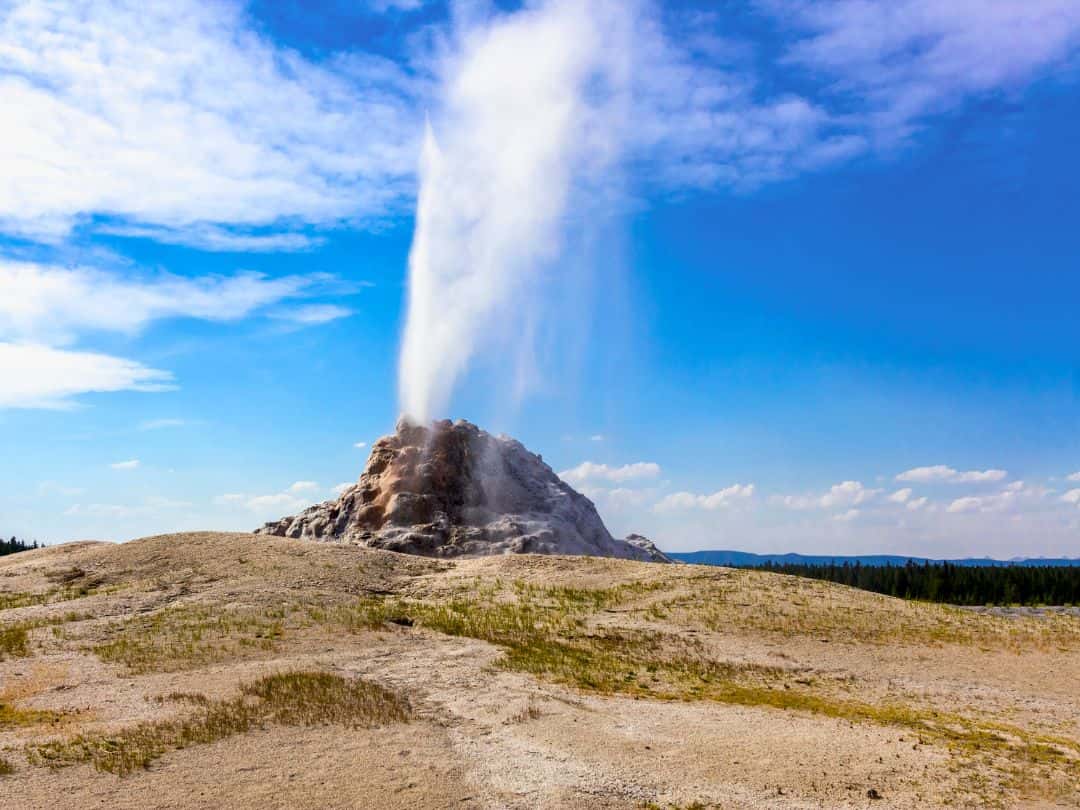 White Dome Geyser / Best Stops on Yellowstone Lower Loop Drive
Pink Cone Geyser: Moving forward, we encounter Pink Cone Geyser, which only began erupting in 1887. Over the years, it has displayed varying eruption patterns, with intervals ranging from two days to as short as 50 minutes following the Hebgen Lake Earthquake in 1959. Today, you can expect Pink Cone Geyser to erupt approximately every 29 hours, spouting water up to 30 feet high. Its distinctive pink hue is attributed to small amounts of manganese oxide.
Firehole Lake: The grand finale of Firehole Lake Drive is the namesake Firehole Lake, the largest hot spring in the area. Here, the water averages a scorching 158 degrees Fahrenheit, enriched with high levels of carbon dioxide. This unique composition allows the water to transport more calcium, resulting in stunning travertine deposits around the lake's edges.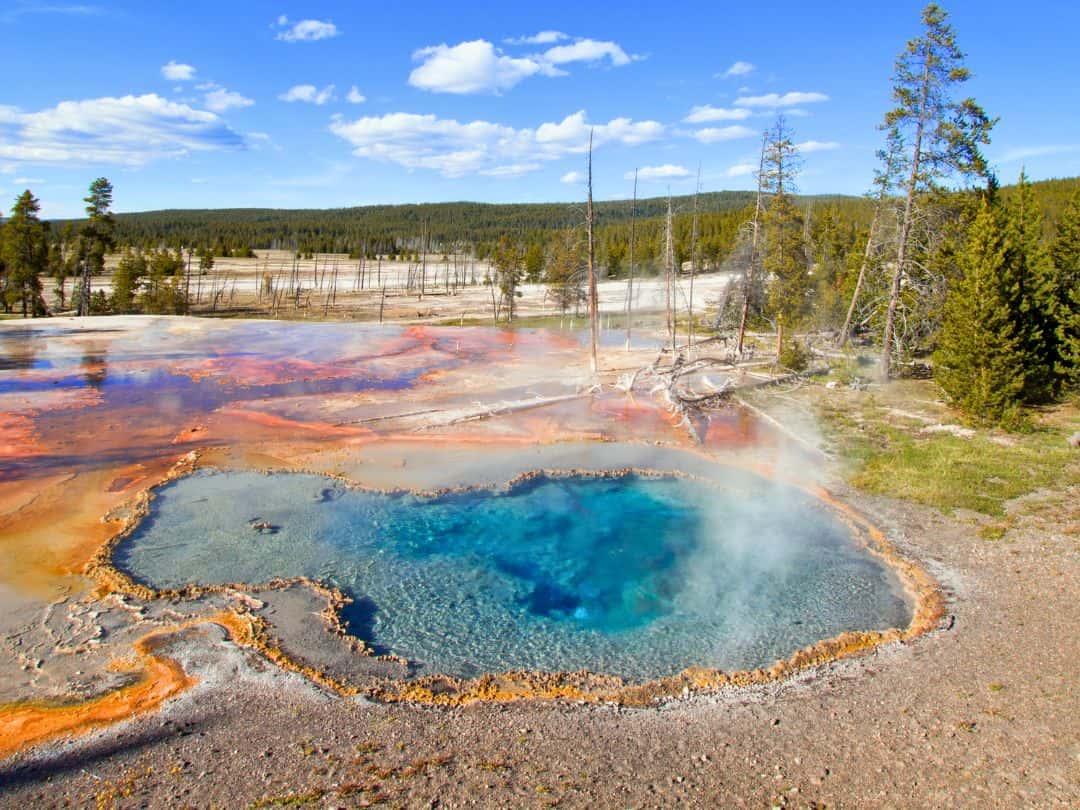 Firehole Lake / Best Stops on Yellowstone Lower Loop Drive
Keep an eye out for Young Hopeful Geyser, which continuously splashes up to 2 feet high, and various small geysers that can spray water up to 10 feet high.
GOOD TO KNOW: The boardwalk around a portion of Firehole Lake offers the perfect opportunity to stretch your legs and witness these mesmerizing thermal features up close.
Our journey continues to the sprawling Lower Geyser Basin, the largest geyser basin in all of Yellowstone, covering approximately 18 square miles!
Fountain Paint Pot Nature Trail: Begin your exploration with the easy half-mile loop boardwalk of the Fountain Paint Pot Nature Trail. This trail meanders along fumaroles (steam vents), vibrant blue pools, rosy-hued mud pots, and charming mini-geysers. Make sure not to miss:
Silex Spring: This is a serene, azure hot spring with intermittent steam wisps gently rising from its vent at the pool's bottom, dissipating upon meeting the cooler waters.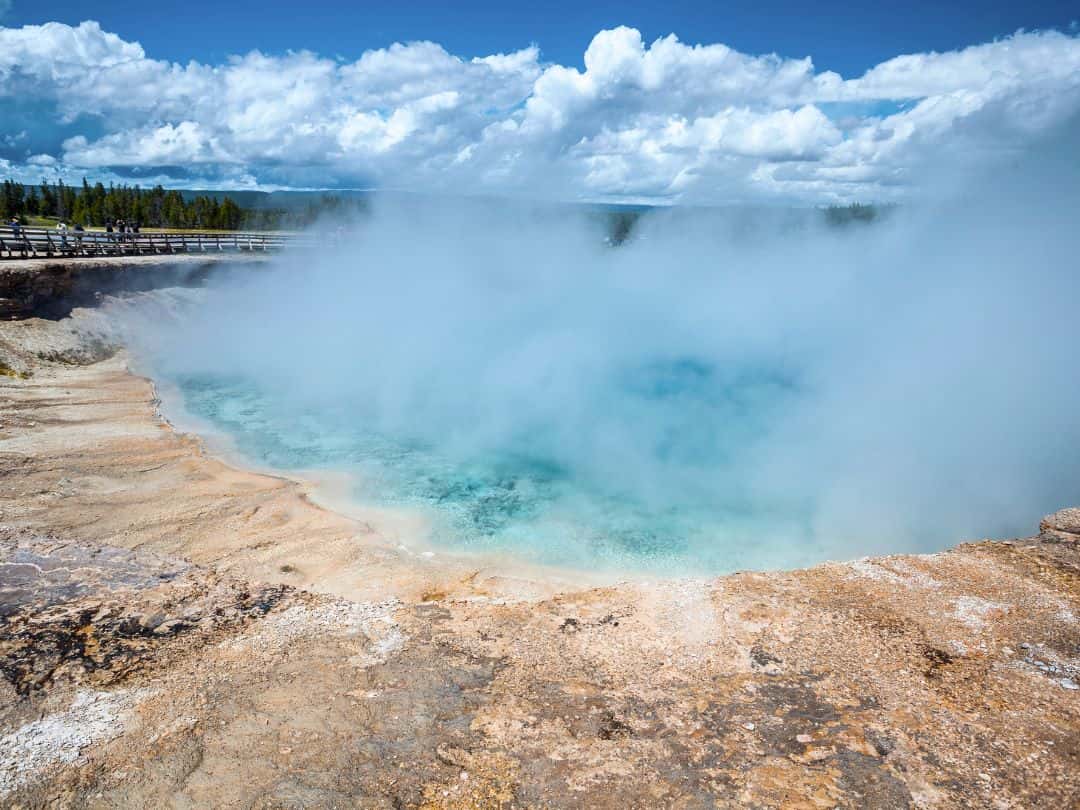 Silex Spring / Best Stops on Yellowstone Lower Loop Drive
Clepsydra Geyser: This picturesque geyser, named after a mythical water clock, typically exhibits eruptions reaching heights of 45 feet. In its early history, the geyser erupted with remarkable regularity. However, following the 1959 Hebgen Lake Earthquake, it entered a more unpredictable phase, erupting almost continuously, with occasional interruptions following nearby Fountain Geyser's eruptions.
These thermal wonders are aptly named the Fountain Paint Pots due to the rich reds, yellows, and browns adorning the mud pots in this area. These striking colors result from the varying oxidation states of the iron present in the mud.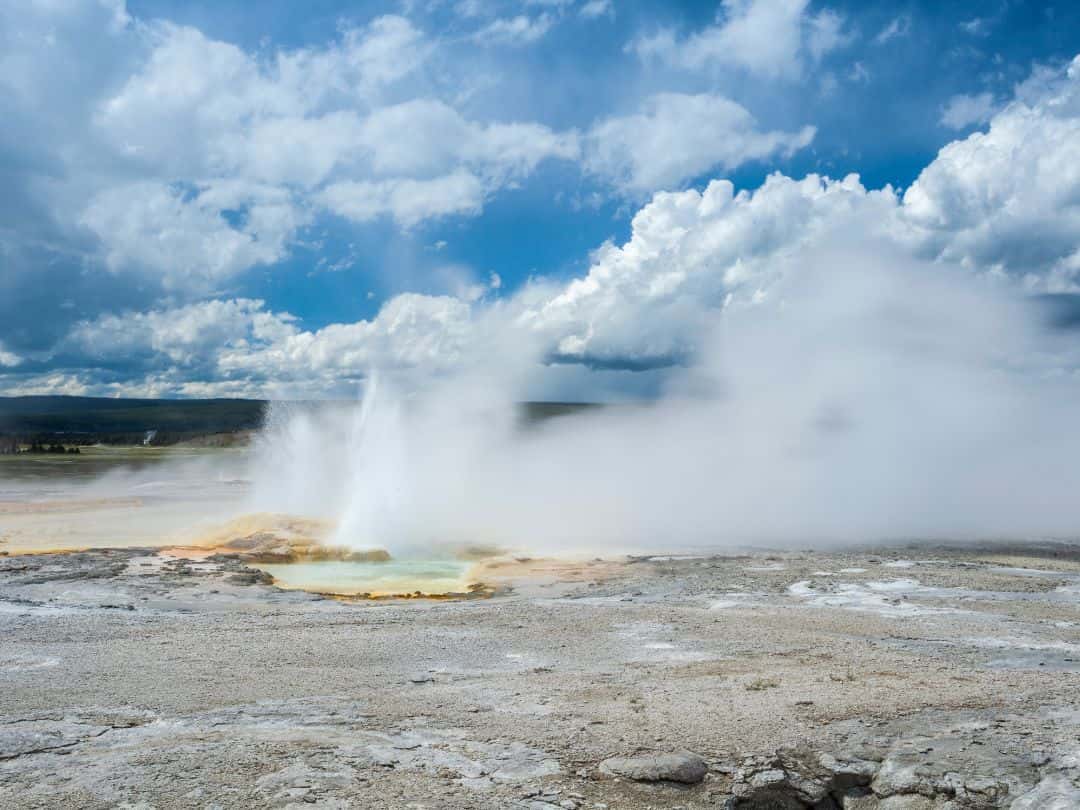 Clepsydra Geyser / Best Stops on Yellowstone Lower Loop Drive
Mudpot Marvels: Similar to hot springs, the incredible heat beneath the caldera forces pressurized water to surge up through the earth's surface, causing the mud to boil.
The bubbling action in the mudpots changes with the seasons. During early summer, the mud is more fluid, owing to a high water table from rain and snowmelt. As summer progresses, the mud thickens as the water table gradually recedes.
GOOD TO KNOW: The composition of the mud in this area comprises clay minerals and fine particles of silica, with the underlying rock being rhyolite, primarily composed of quartz and feldspar. The interaction between acids in the steam and water breaks down the feldspar, yielding a clay mineral known as kaolinite. This geological dance between the hot waters and the rock formations gives rise to the captivating palette of colors and the bubbling vitality of the Fountain Paint Pot.
The Lower Geyser Basin is renowned for its abundant hot water discharge. In 1930, measurements revealed a staggering volume of about 15,300 gallons per minute, a testament to the basin's hydrothermal richness.
We now embark on a breathtaking journey to Firehole Canyon, where the convergence of the Firehole and Gibbon rivers gives rise to a captivating spectacle.
Firehole Falls and Fiery Cascades: At Firehole Falls, the mighty river takes a dramatic plunge of 40 feet, creating a thunderous display of cascading water.
Below the falls, the river surges downstream, traversing the striking black lava steps that form the Firehole Cascade.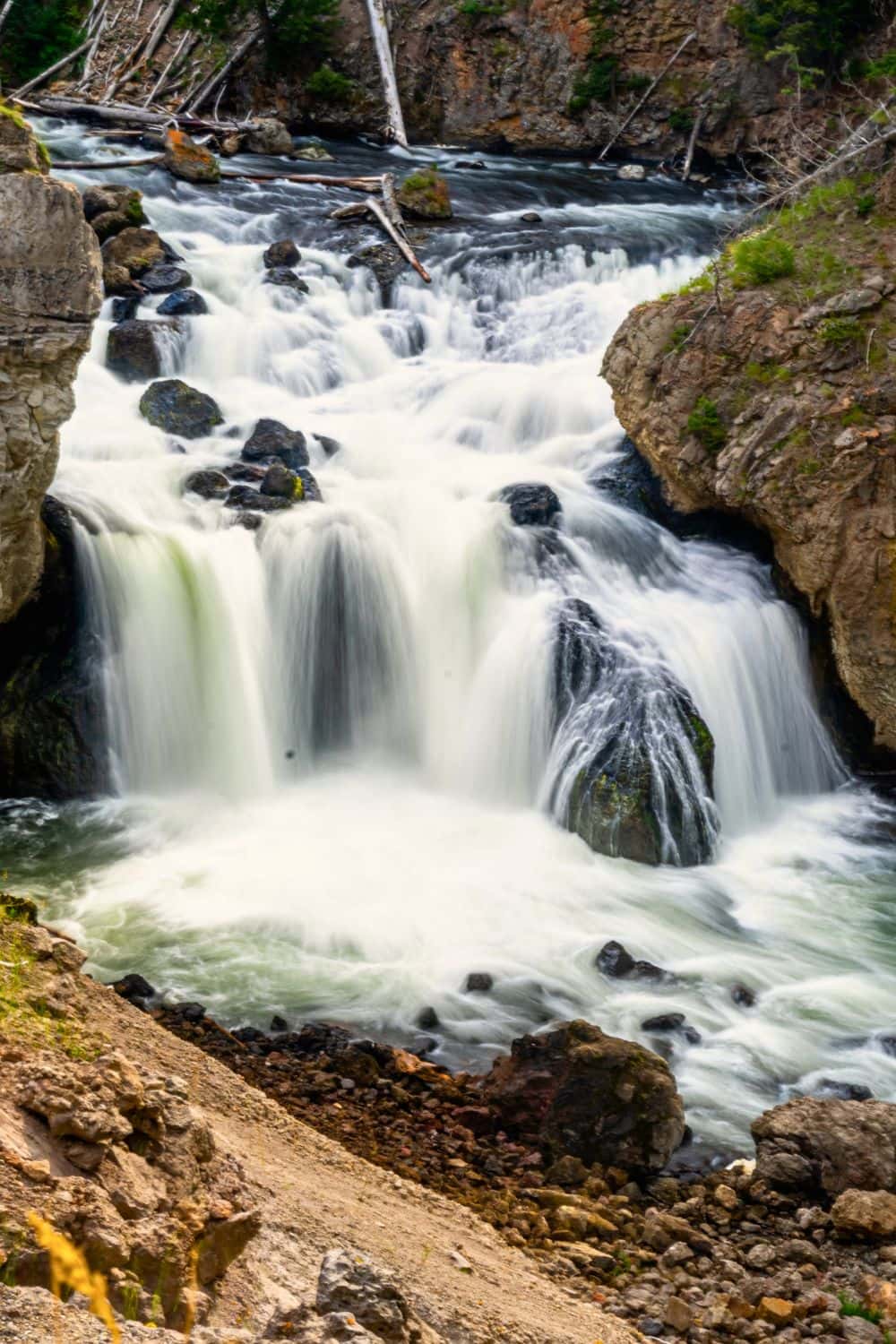 Firehole Falls / Best Stops on Yellowstone Lower Loop Drive
Scenic Firehole Canyon Drive: Our adventure continues as we trace the course of the Firehole River along the two-mile-long Firehole Canyon Drive, which begins just south of Madison.
The sheer canyon walls soar to staggering heights, rising up to 800 feet above the meandering river.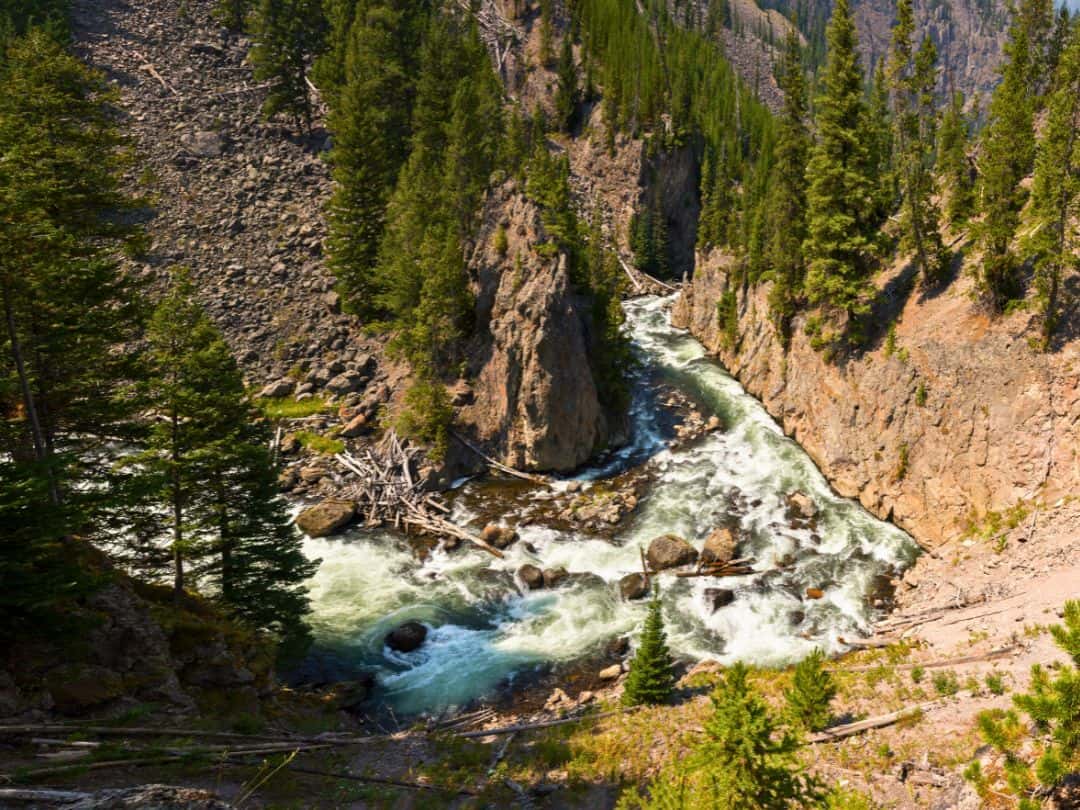 Firehole Canyon / Best Stops on Yellowstone Lower Loop Drive
Firehole Canyon Swimming Area: As you are exploring Firehole Canyon you will come across a swimming area. It is a natural swimming hole with crystal-clear waters and scenic surroundings.
PRO TIP: Check if swimming is allowed during your visit. It is usually deemed safe when the water levels and currents subside in mid-summer.
Fountain Flats Drive: For those seeking to explore even further, Fountain Flats Drive offers a delightful detour.
This historic two-way freight road meanders behind the Lower and Midway Geyser Basins, treating you to stunning vistas of meadows adorned with purple gentian, where elk and bison graze gracefully.
While this scenic drive is another fascinating side trip off the main road, do note that it concludes for auto traffic after three miles, transforming into a bicycle and foot-trail that rejoins the Grand Loop.
Along this route, you can discover the wonders of Imperial Geyser and Fairy Falls via connecting trails, making it a rewarding journey into the heart of Yellowstone's natural splendor.
The next stop is Gibbon Falls, located precisely between Norris Geyser Basin and Madison Junction. Standing at an impressive height of around 84 feet, it presents a remarkable display of nature's grandeur.
The falls also offer a glimpse into the geological history of the region. The waters gently cascade over a remnant of the Yellowstone caldera rim, a testament to a volcanic eruption that occurred roughly 631,000 years ago.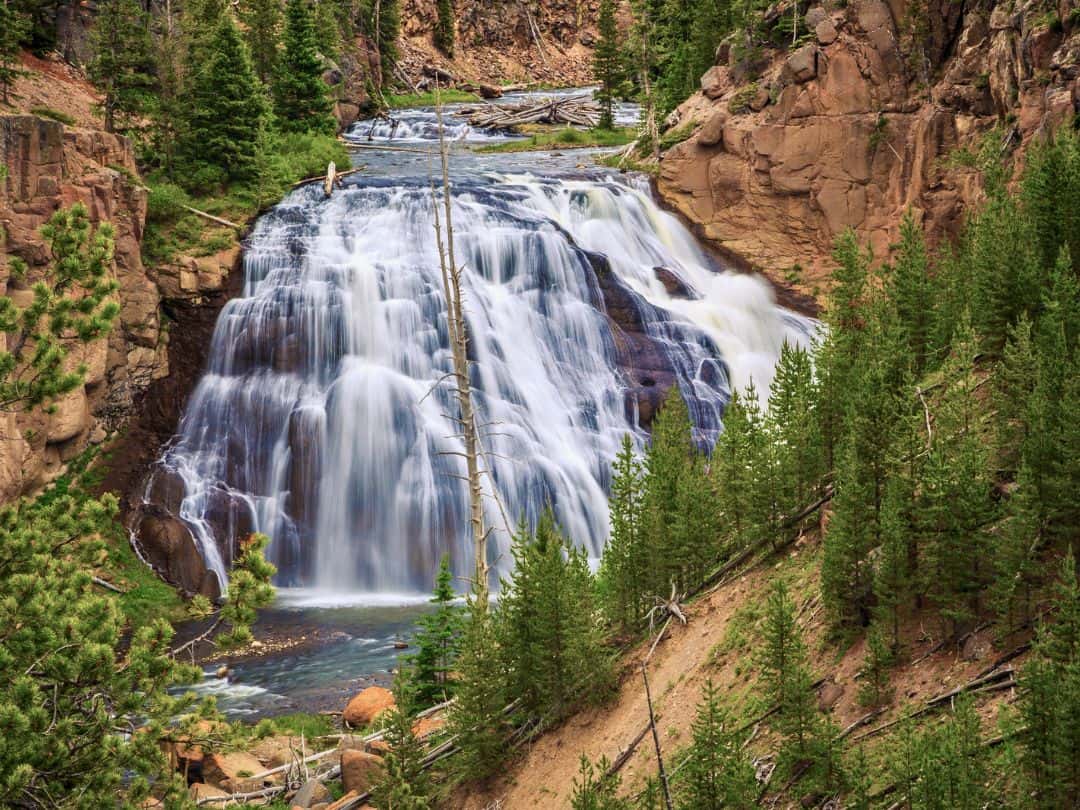 Gibbon Falls / Best Stops on Yellowstone Lower Loop Drive
Gibbon Geyser Basin (Artists Paint Pots)
Gibbon Geyser Basin boasts a collection of thermal features, with Artists Paint Pots being the most prominent.
Artists Paint Pots encompasses over 50 springs, geysers, vents, and notably, mud pots, each displaying a fascinating palette of colors ranging from blue and grey to brown.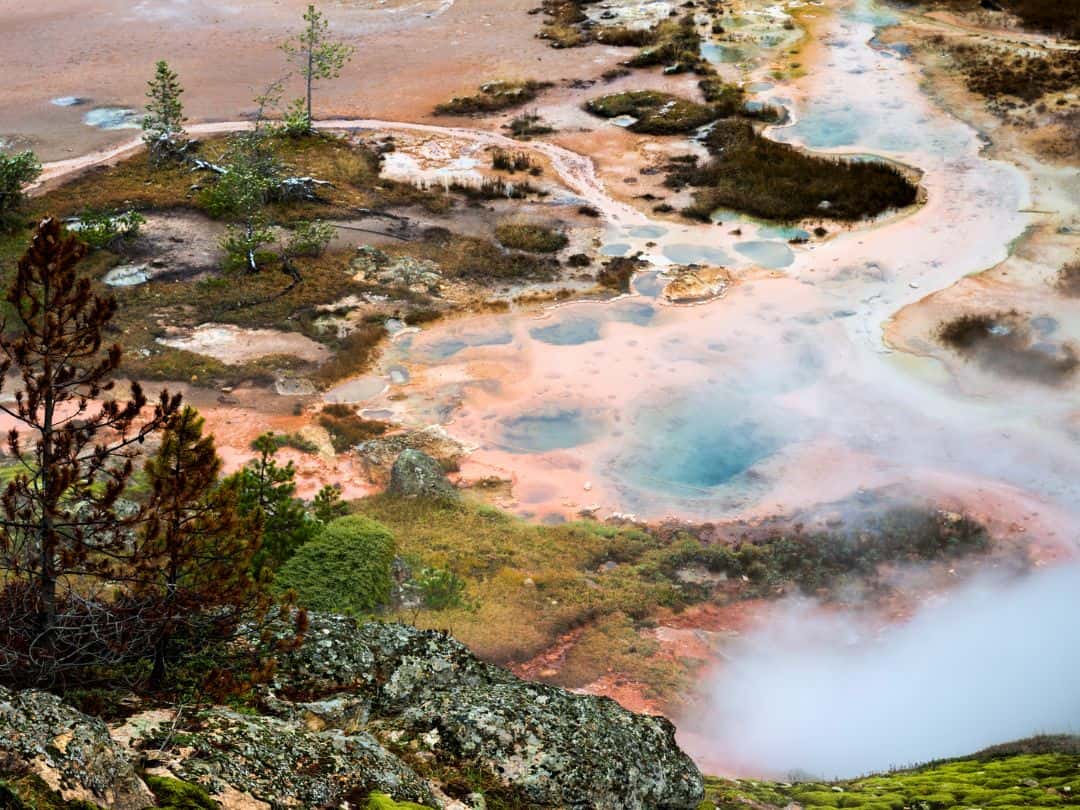 Artists Paint Pots / Best Stops on Yellowstone Lower Loop Drive
PRO TIP: Keep in mind that mudpot consistency and behavior can fluctuate with the changing seasons and precipitation levels, making each visit a unique experience.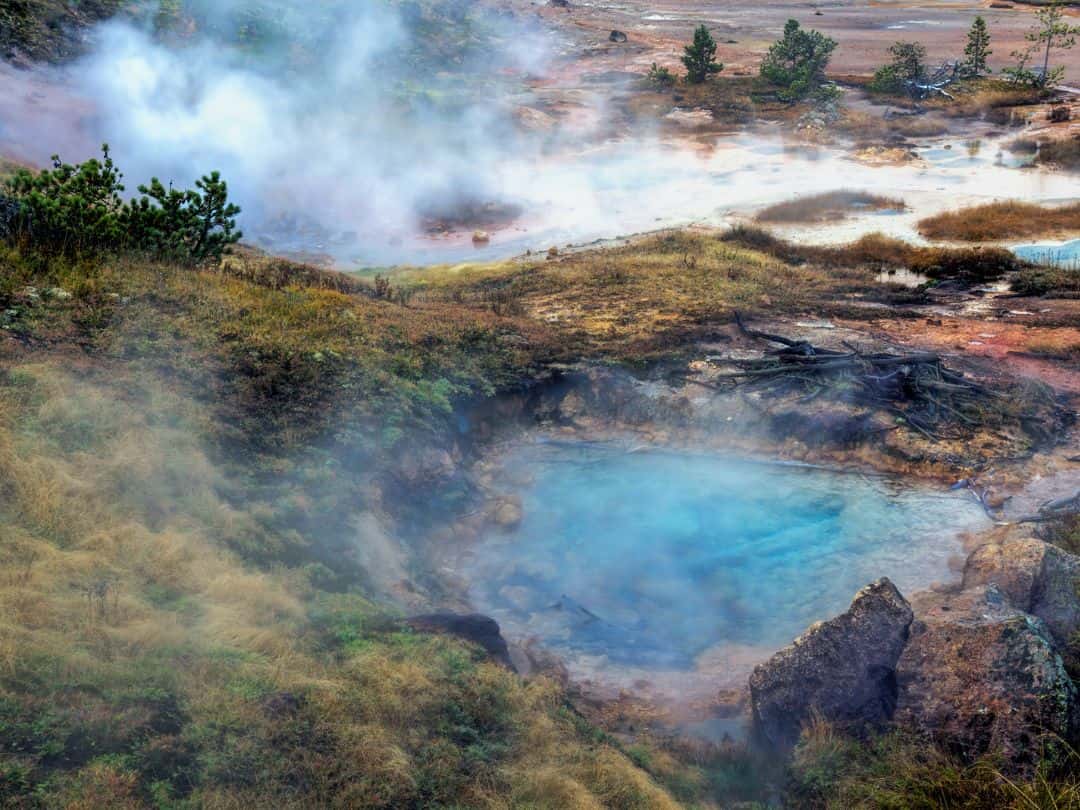 Artists Paint Pots / Best Stops on Yellowstone Lower Loop Drive
GOOD TO KNOW: Take a short 1.6-mile hike on a boardwalk, leading through a forest partially touched by past fires. As you venture further, the trail gradually ascends through the thermal area. At the trail's end, a short loop awaits, featuring a captivating display of vibrant hot springs and small geysers.
The next stop is the Norris Geyser Basin, a geothermal marvel that boasts the distinction of being one of the hottest and most dynamically active thermal areas on Earth! Geologists consider it a true hot spot!
The basin is a treasure trove of active geysers, including the frequently erupting Dark Cavern, the silica-spraying Whirligig with its fan-like display, and Steamboat, which stands as the world's tallest geyser, reaching astonishing heights of up to 380 feet—three times taller than Old Faithful's eruptions.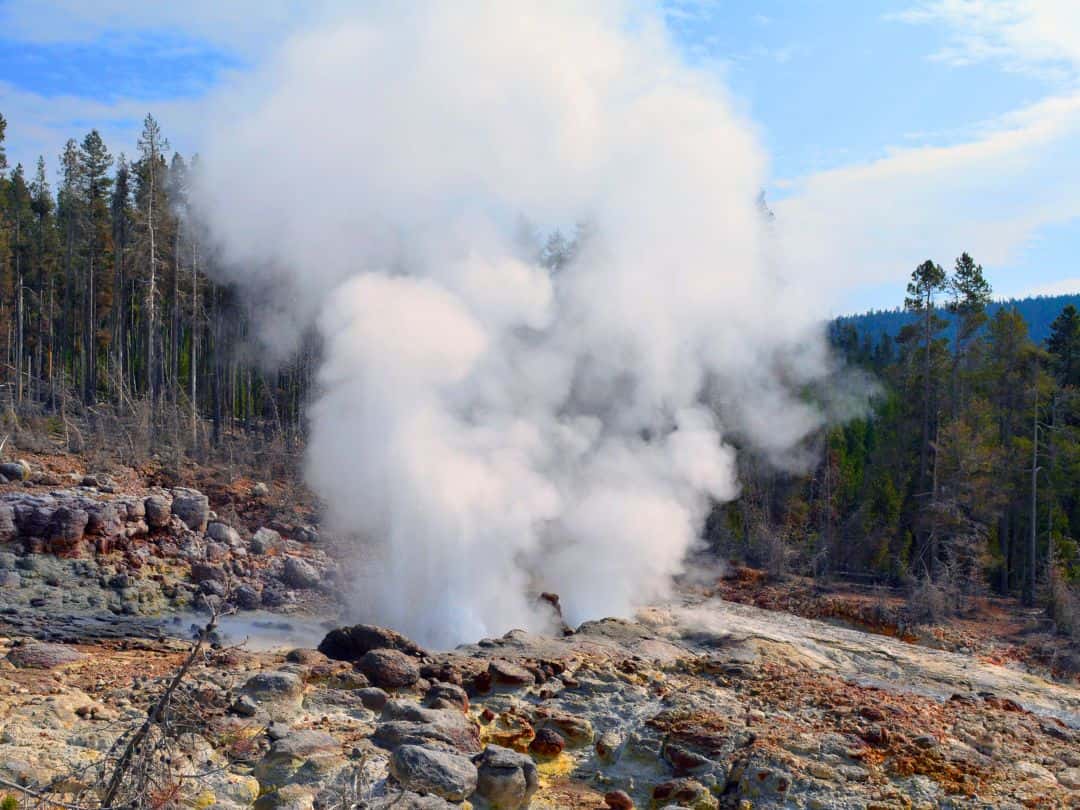 Steamboat Geyser / Best Stops on Yellowstone Lower Loop Drive
Norris Geyser Basin is divided into two distinct areas: Porcelain Basin and Back Basin.
Porcelain Basin: A visit to Porcelain Basin will treat you to a sensory symphony of sound, color, and scent. This barren landscape, devoid of trees, showcases an otherworldly terrain featuring colorful hot springs, mudpots, and petite geysers. The 0.75-mile bare ground and boardwalk trail allow you to explore this area up close.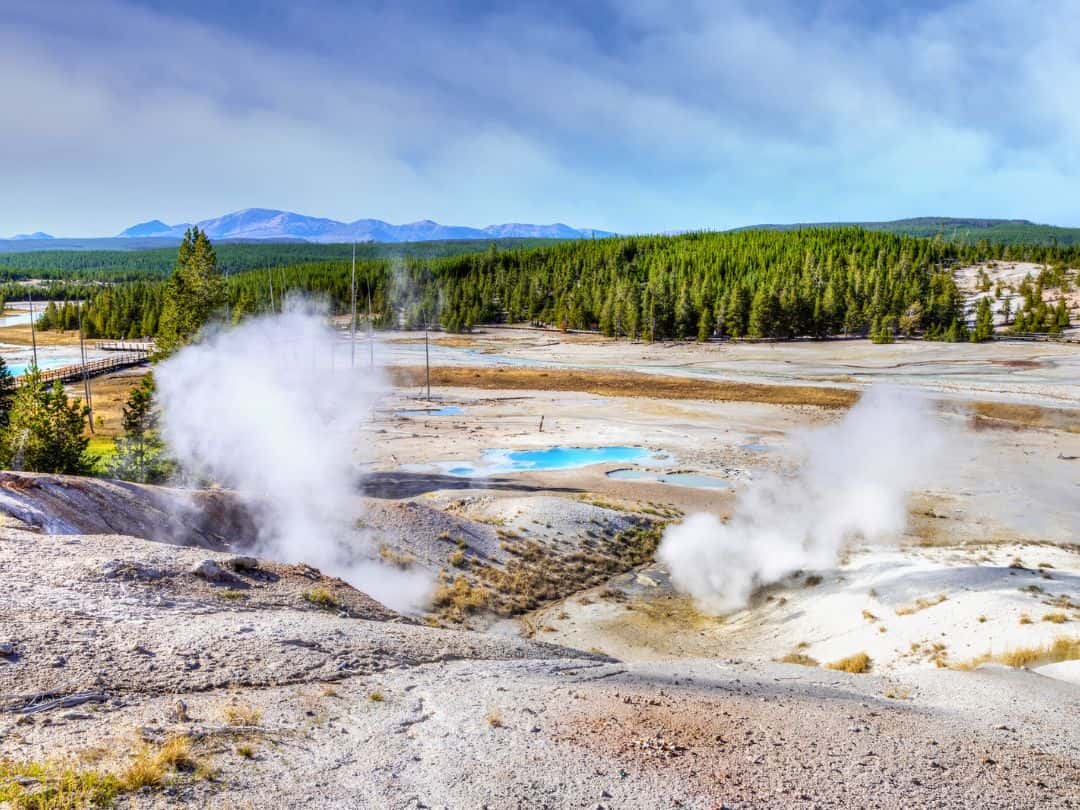 Porcelain Basin / Best Stops on Yellowstone Lower Loop Drive
Back Basin: Nestled within a more densely wooded setting, Back Basin presents thermal features scattered amidst the lush greenery. Here, a 1.5-mile trail comprised of boardwalks and bare ground encircles the basin, providing opportunities for further exploration.
The geothermal wonders of Norris Geyser Basin have been in existence for over 115,000 years, and they continue to evolve daily, influenced by seismic activity and shifting water levels.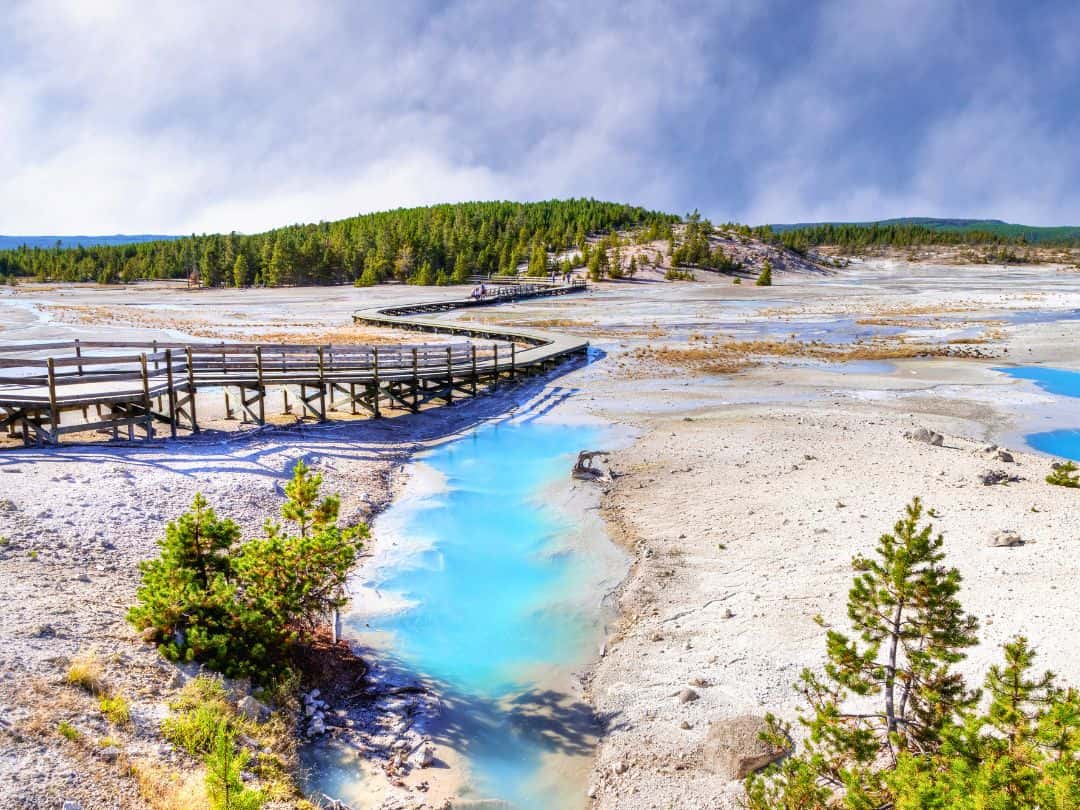 Norris Geyser Basin / Best Stops on Yellowstone Lower Loop Drive
It is noteworthy that most of the waters in Norris are acidic, a rarity even in Yellowstone.
GOOD TO KNOW: Beyond the geothermal wonders, Norris Geyser Basin is situated at the intersection of major faults, notably the Norris–Mammoth Corridor and the Hebgen Lake fault, which experienced a significant earthquake in 1959.
Virginia Cascade Drive is a one-way route that stretches for approximately 2.5 miles.The highlight of Virginia Cascade Drive is, of course, the mesmerizing Virginia Cascade!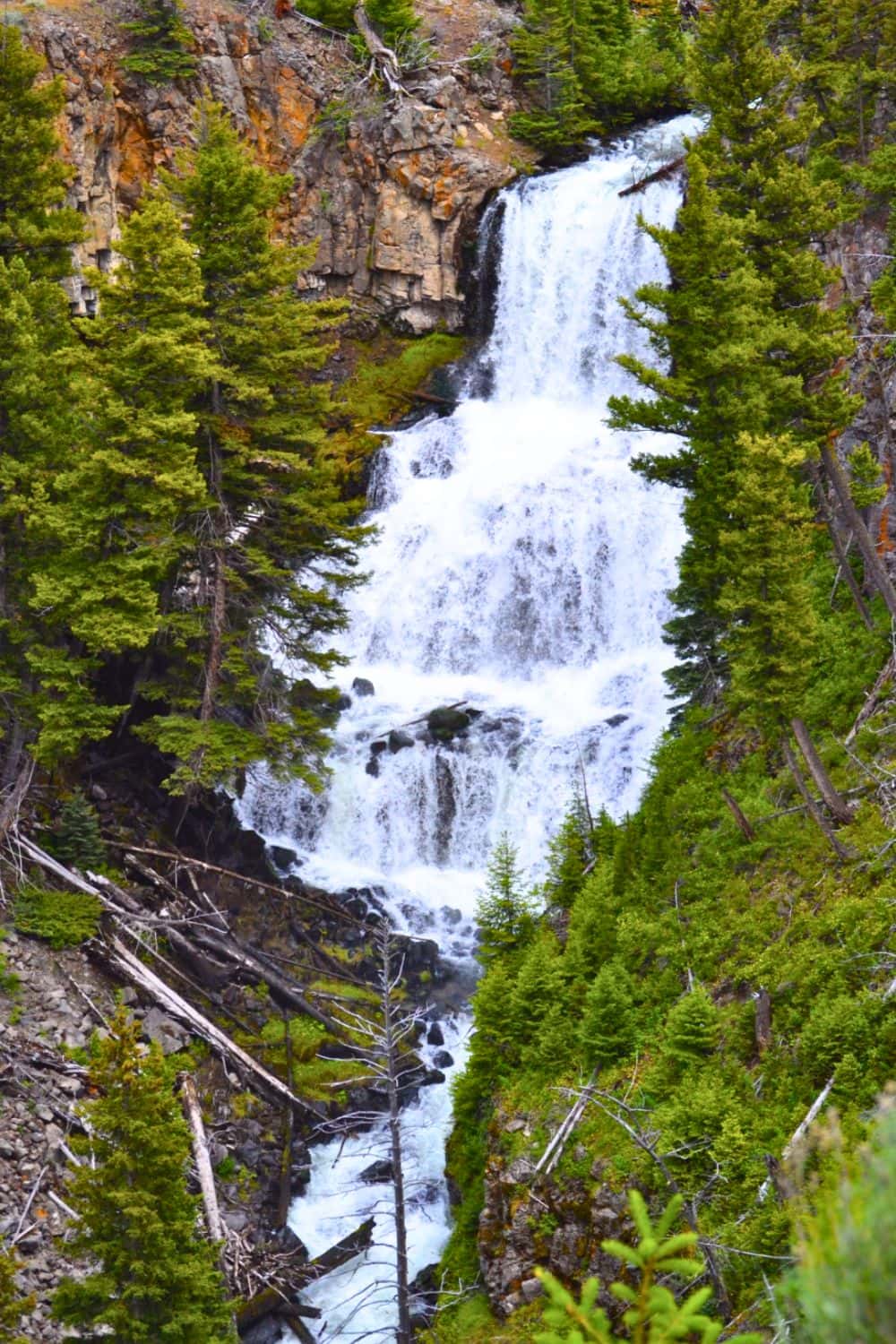 Virginia Cascade / Best Stops on Yellowstone Lower Loop Drive
Grand Canyon of Yellowstone
The Grand Canyon of Yellowstone is one of Yellowstone National Park's most iconic natural wonders!
It is a magnificent canyon formed by the Yellowstone River as it cuts through volcanic rocks, creating stunning waterfalls, colorful rock formations, and breathtaking vistas.
Here's a detailed look at some of the key features and viewpoints along North Rim Drive, South Rim Drive (including Artists Point), and the locations of Upper and Lower Falls within the Grand Canyon of the Yellowstone:
North Rim Drive:
Grand View: This viewpoint offers a spectacular panoramic view of the Grand Canyon of Yellowstone. You can see the entire expanse of the canyon, the winding river, and the distant Lower Falls. It's a great spot to take in the grandeur of the landscape.
Brink of Upper Falls: Located at the brink of the Upper Falls, this viewpoint provides an exhilarating close-up view of the waterfall. You can feel the spray and hear the thunderous roar of the water as it plunges over the edge. The viewpoint is accessible via a short trail with a series of switchbacks and stairs.
Inspiration Point: As you continue along North Rim Drive, you will come across Inspiration Point. It offers a unique perspective of the canyon, with views of the winding river and the towering cliffs. It's a popular spot for photographers capturing the canyon's beauty.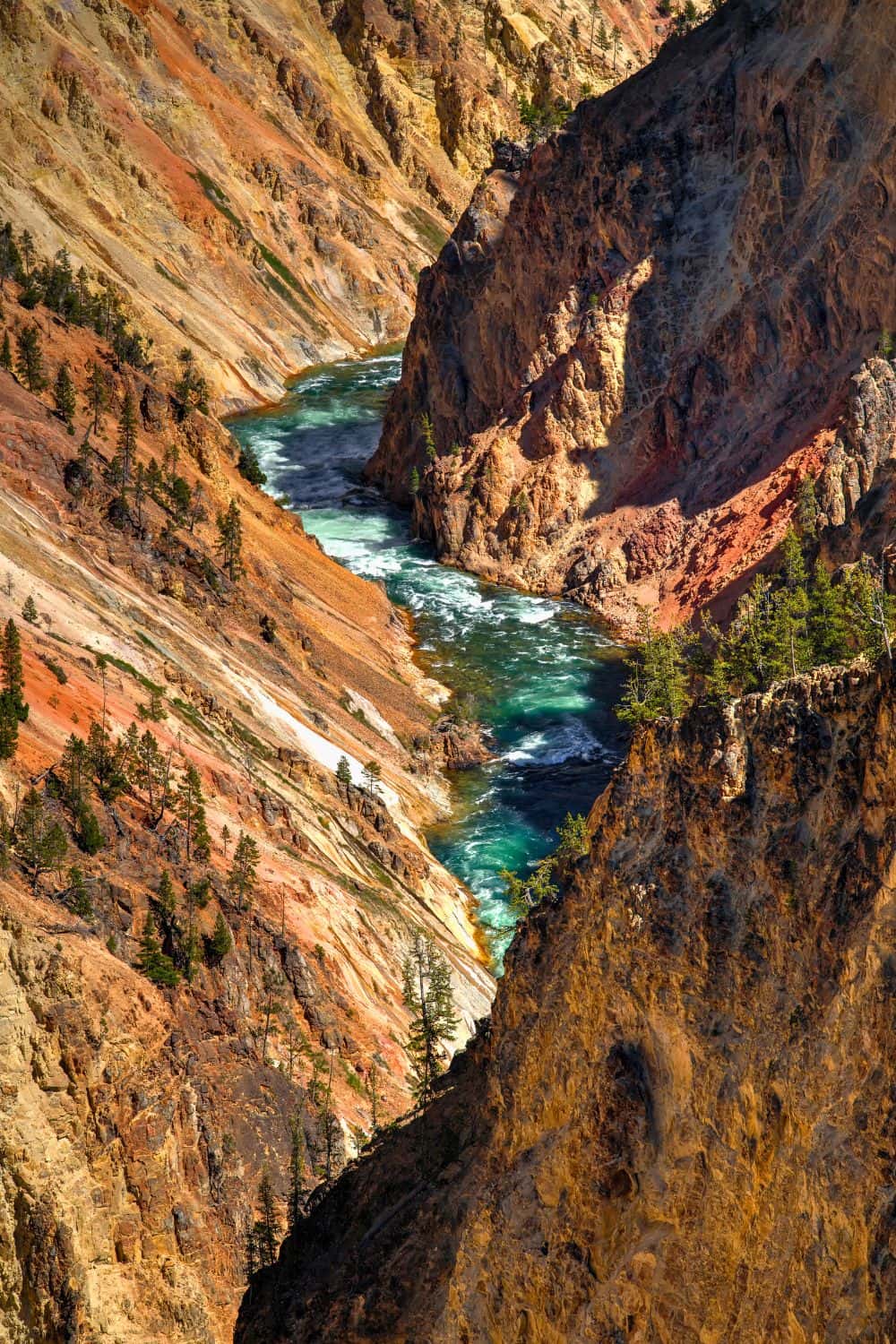 Inspiration Point / Best Stops on Yellowstone Lower Loop Drive
South Rim Drive/Artists Point:
Artist Point: Located on South Rim Drive, Artist Point is arguably one of the most famous viewpoints in Yellowstone. It provides a breathtaking view of the canyon and the Lower Falls framed by the natural rock formations. The viewpoint is named after Thomas Moran, an artist whose paintings of the area helped persuade the U.S. Congress to establish Yellowstone as the first national park.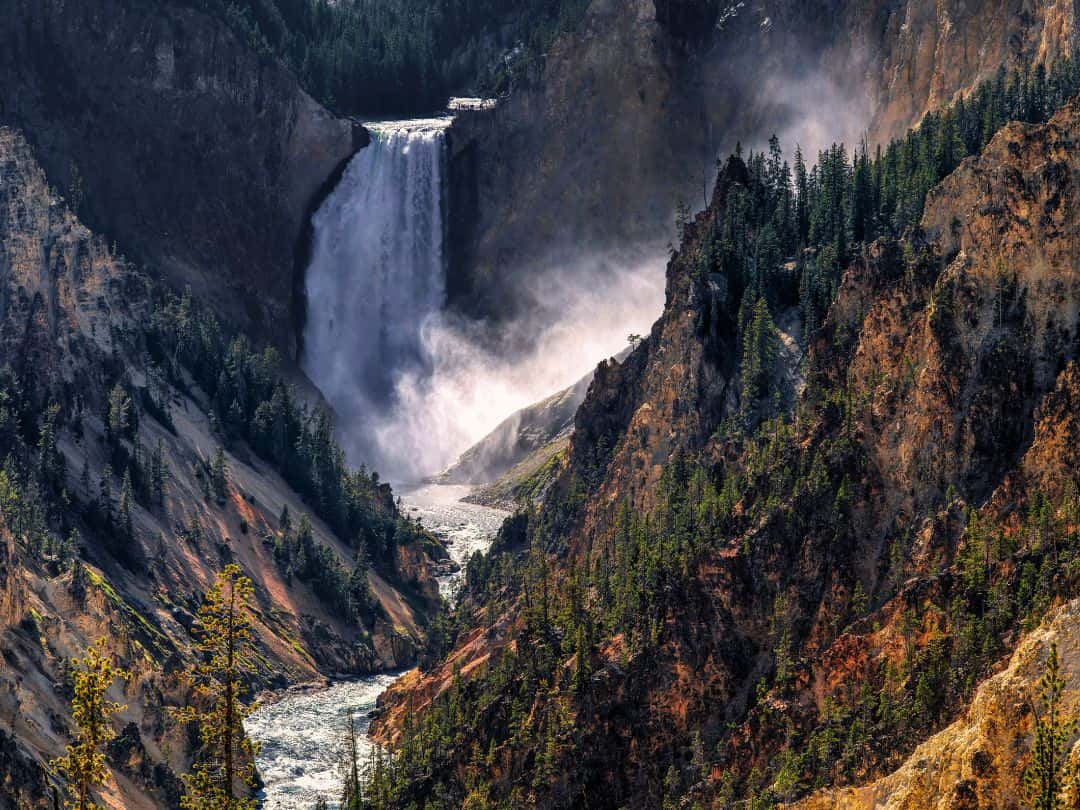 Lower Falls in Grand Canyon of Yellowstone / Best Stops on Yellowstone Lower Loop Drive
Upper Falls:
Upper Falls Viewpoint: The Upper Falls of the Yellowstone River is a magnificent waterfall that plunges approximately 109 feet (33 meters). You can view the Upper Falls from several vantage points along the North Rim, including the Brink of Upper Falls and Grand View.
Lower Falls:
Lower Falls Viewpoint: The Lower Falls is the most famous waterfall in the Grand Canyon of Yellowstone and one of the park's iconic features. It plunges approximately 308 feet (94 meters) into the canyon, making it more than twice the height of Niagara Falls. The most popular viewpoint for the Lower Falls is Artist Point on South Rim Drive.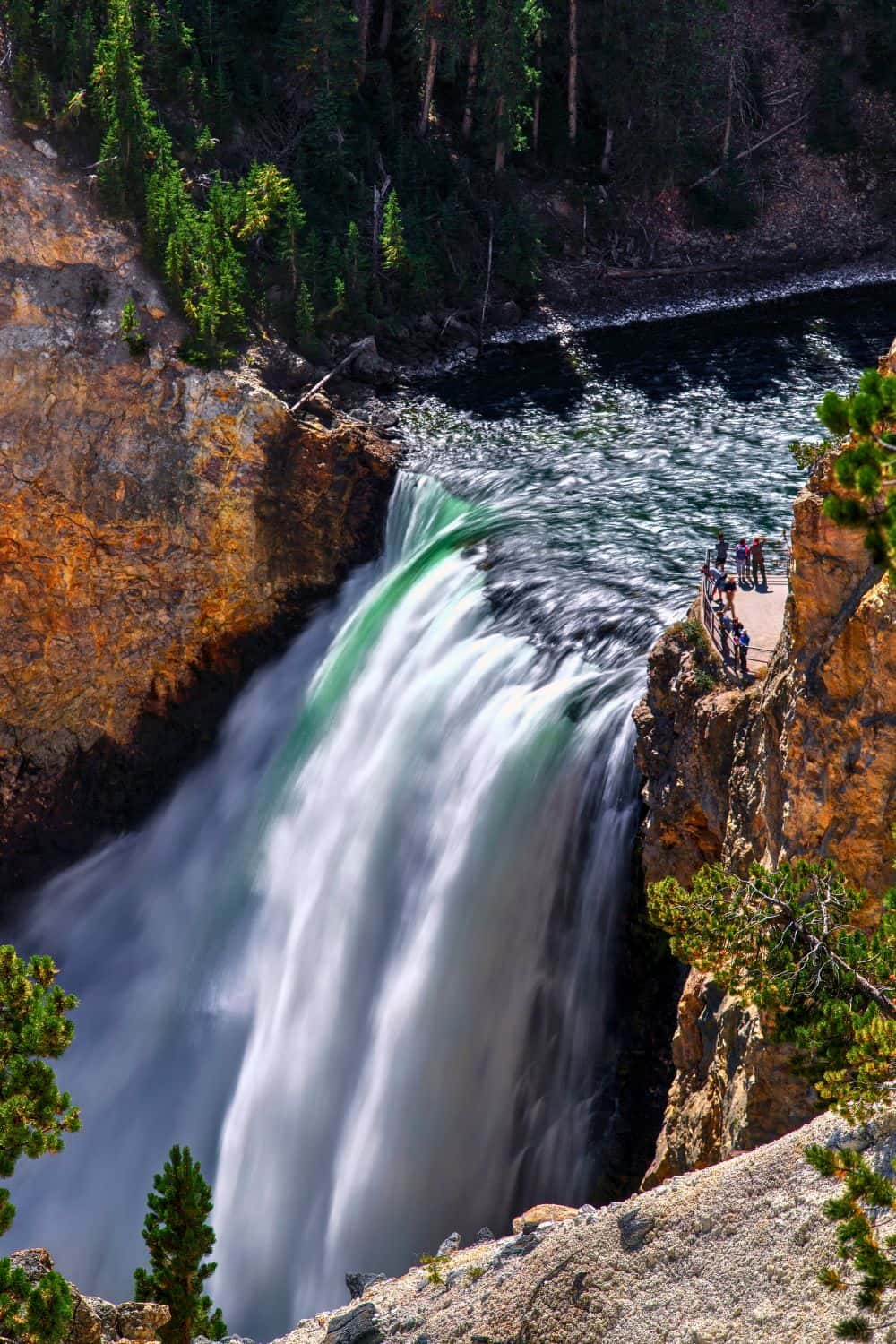 Lower Falls in Grand Canyon of Yellowstone / Best Stops on Yellowstone Lower Loop Drive
Overall, the Grand Canyon of Yellowstone offers a range of viewpoints and experiences, from dramatic close-ups of waterfalls to expansive vistas of the entire canyon. It is a must-visit destination within Yellowstone National Park, providing visitors with awe-inspiring natural beauty and a profound connection to the park's geological history.
Hayden Valley is a sprawling sub-alpine valley that straddles the winding Yellowstone River.
What makes Hayden Valley truly remarkable is its well-deserved reputation as one of Yellowstone's premier wildlife-viewing destinations.
Among the valley's notable inhabitants, massive herds of bison roam the landscape during certain seasons, creating iconic scenes of wildlife in their natural habitat.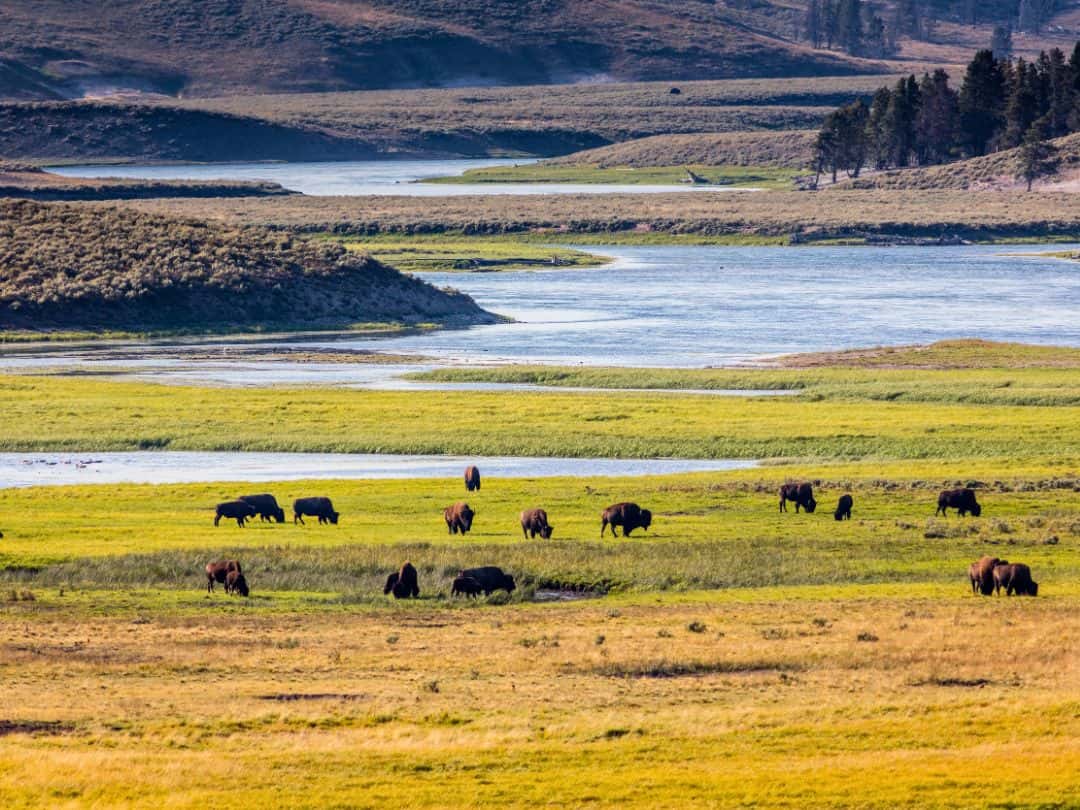 Hayden Valley / Best Stops on Yellowstone Lower Loop Drive
Hayden Valley also holds the promise of grizzly bear sightings, particularly in the spring and early summer when these formidable predators may be hunting for newborn bison and elk calves.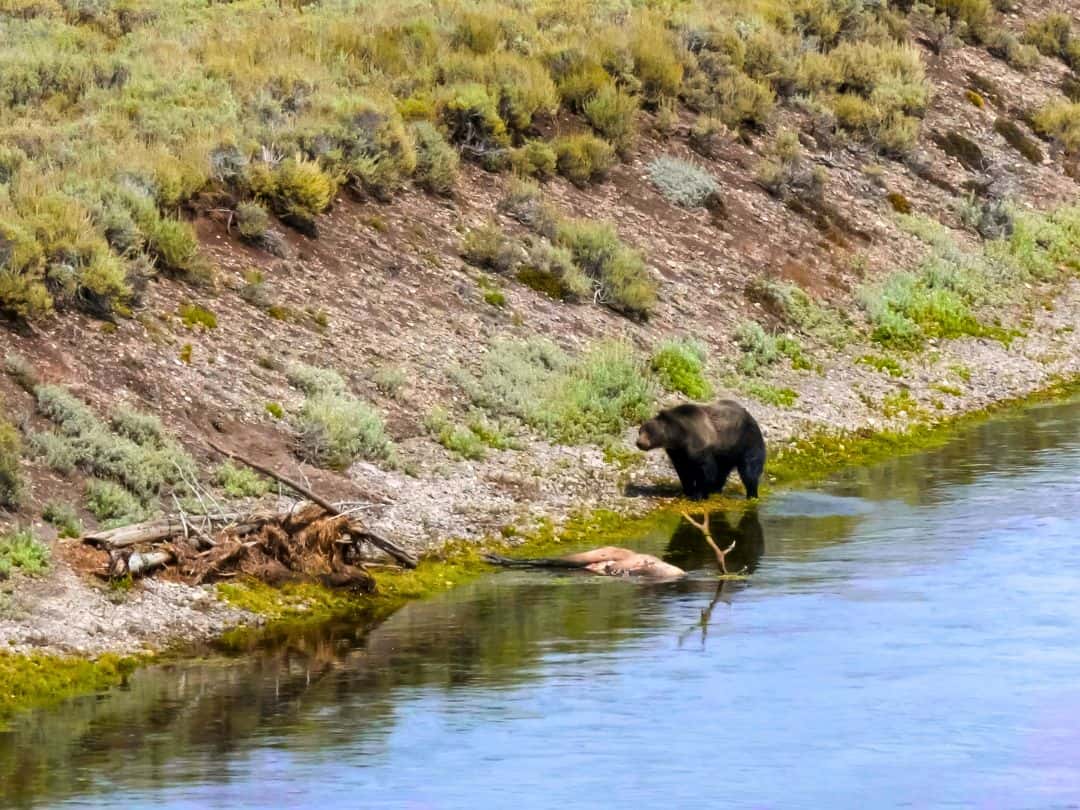 Hayden Valley / Best Stops on Yellowstone Lower Loop Drive
GOOD TO KNOW: To safeguard the delicate balance of this exceptional wildlife habitat and minimize human disturbance to the animals, the valley is off-limits to off-trail foot travel. However, there are two designated trails that allow hikers to explore the valley's natural wonders: the Hayden Valley Trail and the Mary Mountain Trail.
As we continue our journey on Yellowstone Lower Loop Drive, our next destination is the intriguing Mud Volcano, nestled within the remarkable Mud Volcano Area of Yellowstone National Park.
Early park explorers had mixed feelings about this natural wonder, describing it as both "most repulsive and terrifying."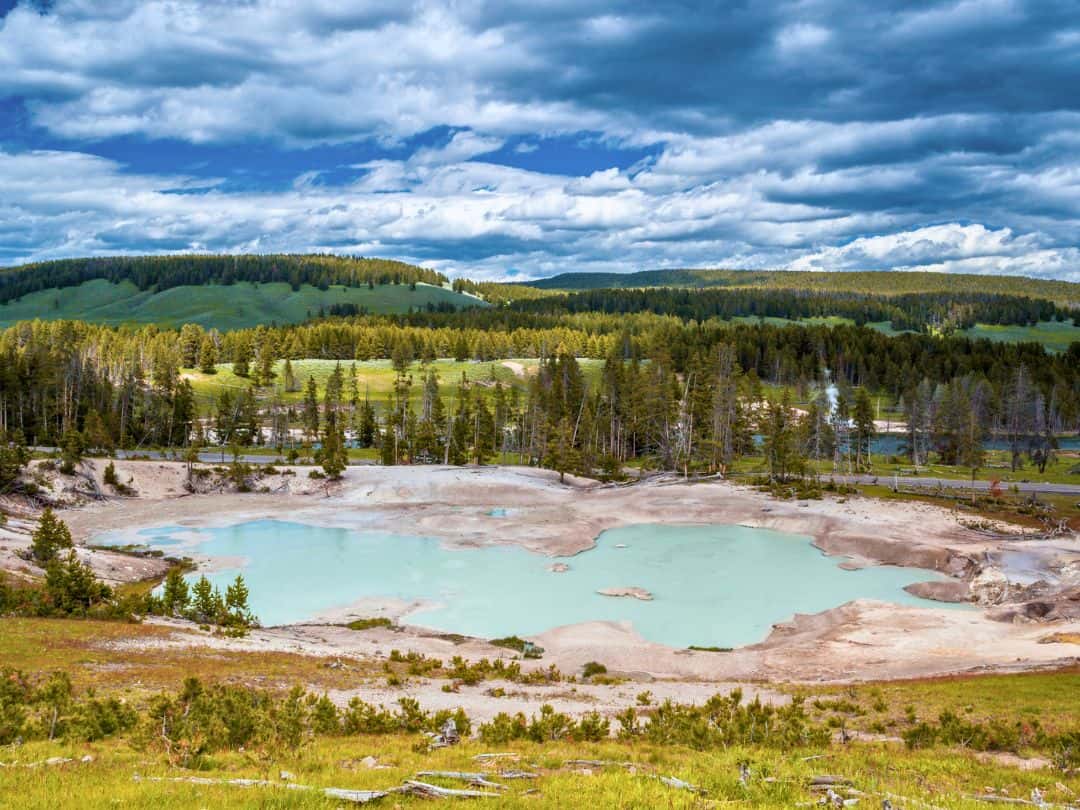 Mud Volcano Area / Best Stops on Yellowstone Lower Loop Drive
Mud Volcano takes on an unusual cone-shaped form, measuring approximately 30 by 30 feet in both height and width. Its current appearance suggests that a violent eruption in the past blew out one side of the cone, leaving the distinctive crater we see today.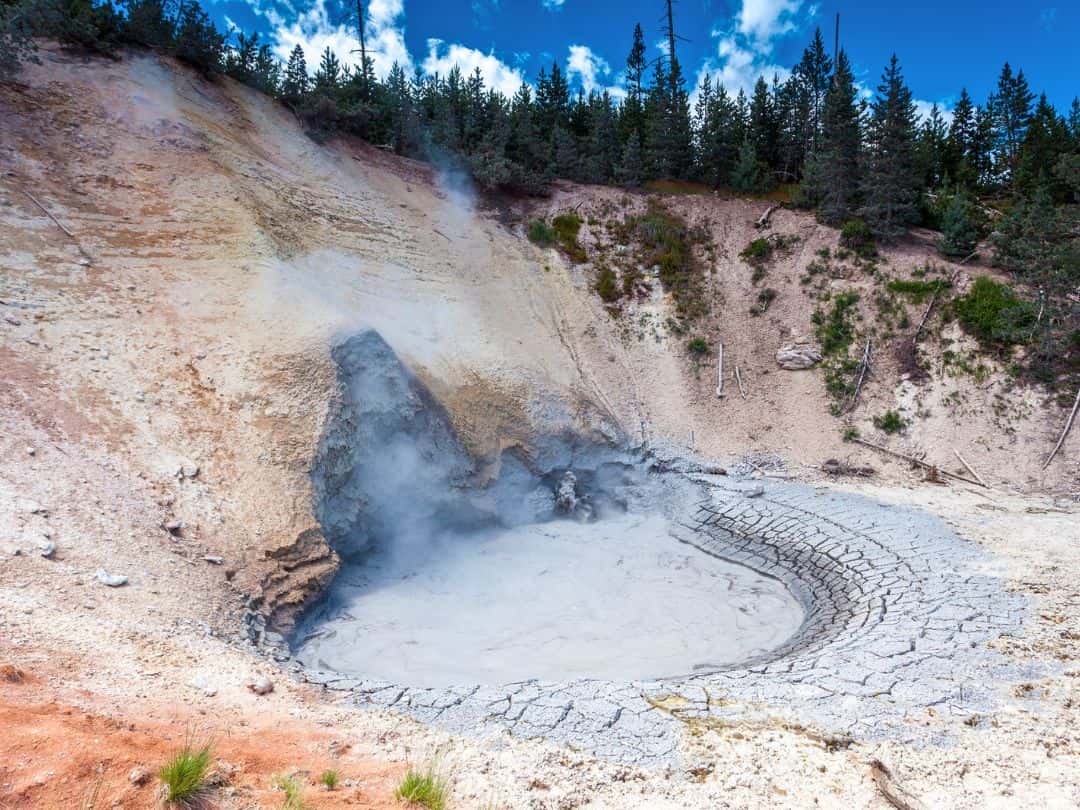 Mud Volcano / Best Stops on Yellowstone Lower Loop Drive
Within the Mud Volcano Area, you will also encounter Drangon's Mouth Springs and mudpots.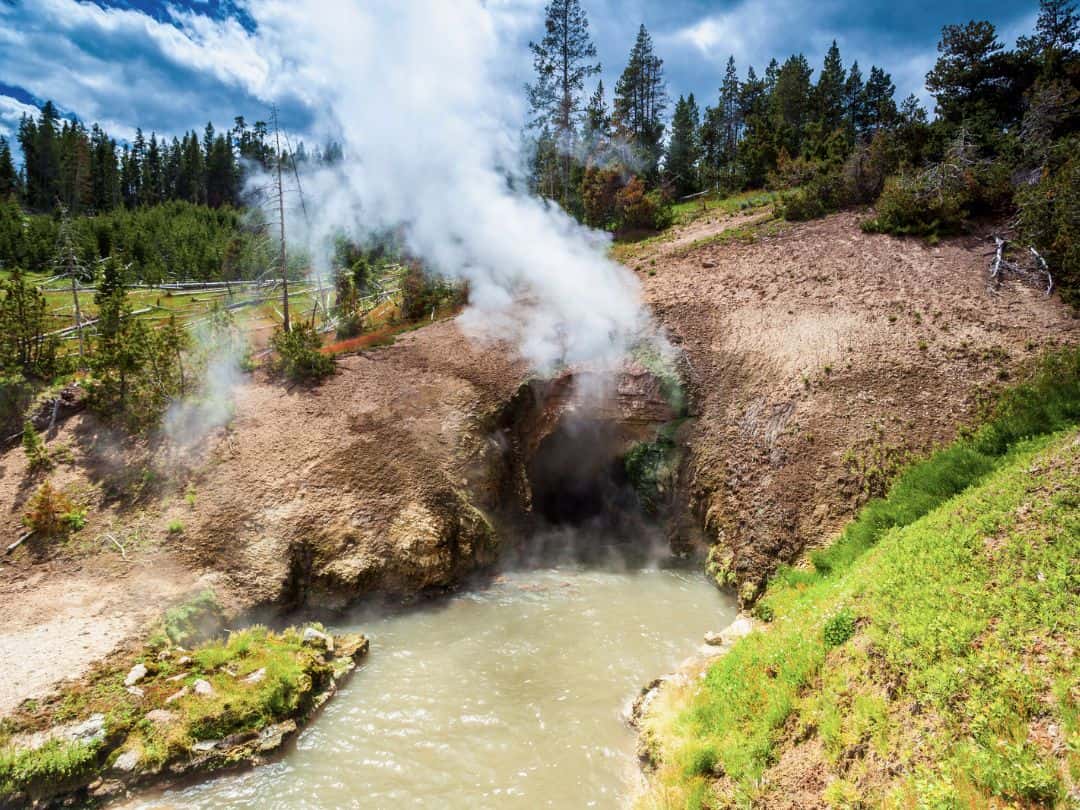 Dragon's Mouth Spring / Best Stops on Yellowstone Lower Loop Drive
Mudpots are remarkable acidic features characterized by limited water supplies. In this challenging environment, microorganisms thrive, harnessing the energy from hydrogen sulfide—an upwelling gas originating from deep within the Earth.
These microorganisms play a vital role in converting the gas into sulfuric acid, which, in turn, breaks down rocks into the wet clay mud that defines this region. The unmistakable aroma of rotten eggs permeates the air due to the presence of hydrogen sulfide gas in these mudpots.
LeHardy Rapids, named after Paul LeHardy, a topographer who was part of the 1873 Jones Expedition, has both a scenic charm and a rich history.
What makes LeHardy Rapids truly extraordinary is its role in the annual migration of cutthroat trout.
Every spring, these resilient fish embark on an incredible journey to reach their spawning grounds at Fishing Bridge. This quiet river transforms into a battleground of determination and survival, as the trout navigate the rushing waters, rocky obstacles, and roaring rapids.
As you stand on the river's edge, you will witness a mesmerizing natural drama. The cutthroat trout demonstrate astonishing agility, leaping out of the water with grace and determination to conquer the challenging terrain.
Bears are known to frequent the area, lured by the promise of a hearty trout feast.
Lake Village: Lake Yellowstone Hotel
As soon as you make a turn into the charming Lake Village, you will find a wide range of amenities that make every visit a delight. There's a convenience store, a hospital, a ranger station, the cozy Lake Lodge, and, of course, the magnificent Lake Yellowstone Hotel.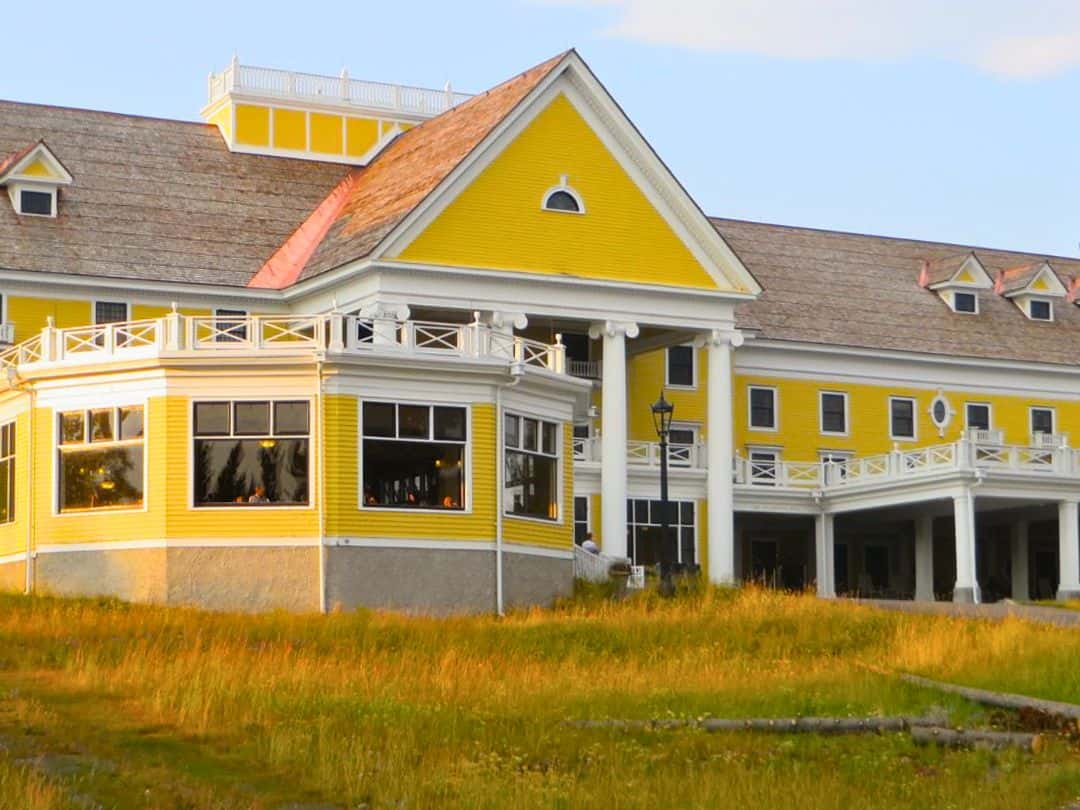 Lake Yellowstone Hotel / Best Stops on Yellowstone Lower Loop Drive
The Lake Yellowstone Hotel, with its stately classic yellow façade, impressive Ionic columns, dormer windows, and expansive porticos tells the story of its construction way back in 1891. What sets this hotel apart is its architectural elegance, a departure from the rustic Western style prevalent in other lodges throughout the park.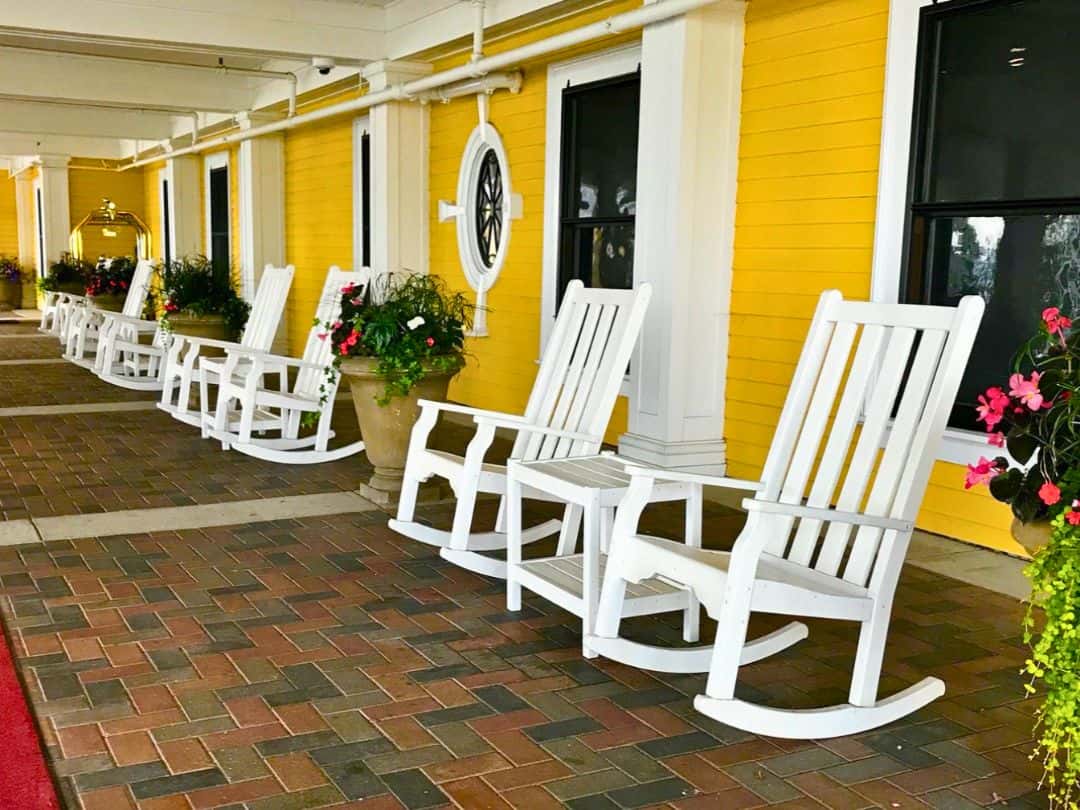 Lake Yellowstone Hotel / Best Stops on Yellowstone Lower Loop Drive
After a considerate restoration effort in the early 1990s, the Lake Hotel has become a place I truly cherish.
It boasts some of the most comfortable and spacious rooms in all of Yellowstone. Every time I stay here, I cannot help but revel in the breathtaking views of the expansive lake.
It is the perfect haven for those of us who seek a touch of elegance right in the heart of the wild Yellowstone wilderness!
Next on Yellowstone Lower Loop Drive is Bridge Bay Marina. This tranquil harbor will beckon you to embark on a series of captivating adventures amidst the awe-inspiring Yellowstone Lake!
PRO TIP: Discover the serenity of Yellowstone Lake with a delightful 4-hour morning kayak tour, complete with a delicious lunch. My personal experience here was truly enjoyable as we explored the lake's picturesque shores, relaxing beaches, and intriguing thermal pools. Plus, you will relish the personalized small-group setting with a maximum of just nine people.
If the tour is all booked up, do not despair! There is one more tour that is just as much fun: Lake Yellowstone Half Day Kayak Tours Past Geothermal Features.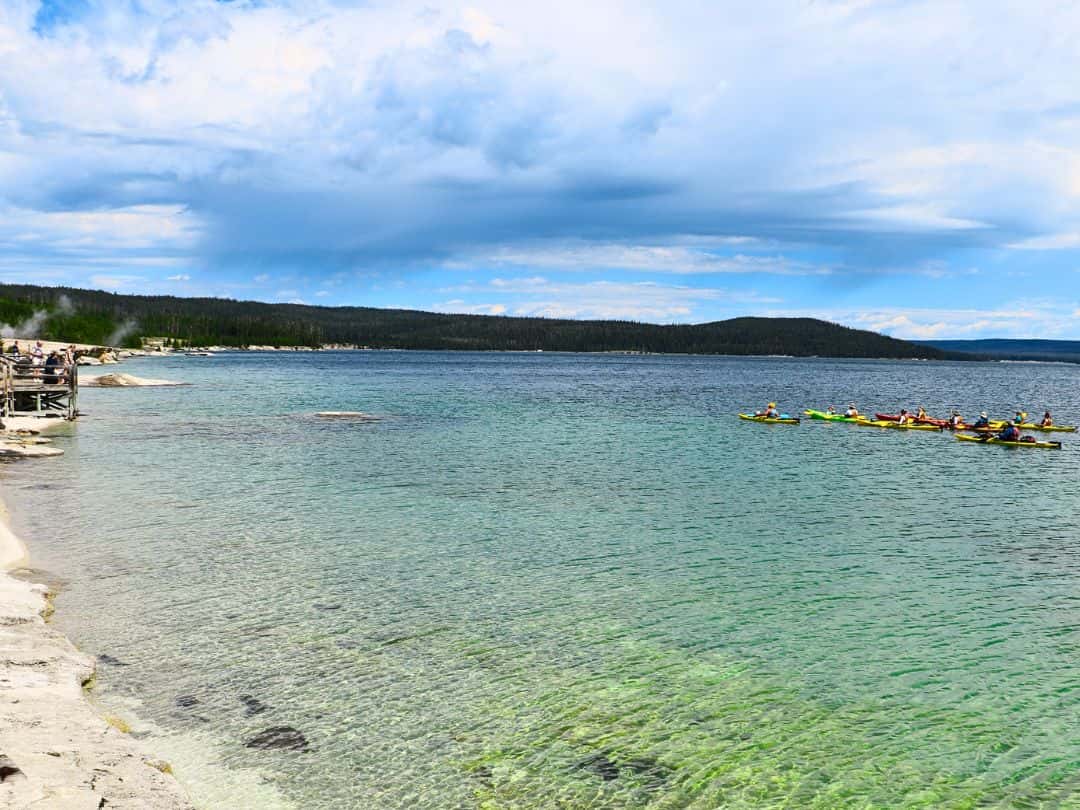 Kayaking on Yellowstone Lake / Best Stops on Yellowstone Lower Loop Drive
Gull Point Drive: Lakeside Serenity
Next, embark on Gull Point Drive, a scenic 15-mile lakeside journey where the road winds through majestic spruce and Douglas-fir trees.
Along the way, you will discover inviting spots for picnics and leisurely strolls, inviting you to immerse yourself in the tranquil beauty of Yellowstone Lake.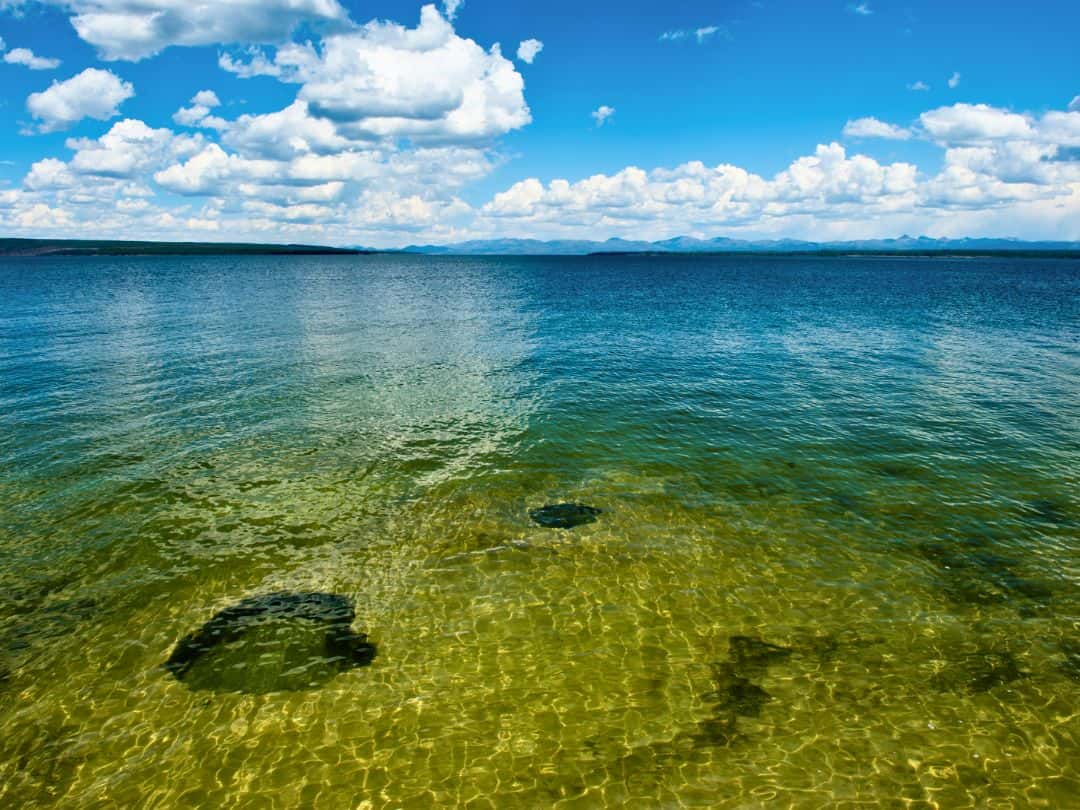 Abyss Pool / Best Stops on Yellowstone Lower Loop Drive
Yellowstone Lake is the largest high-elevation lake in the U.S. It spans 14 miles wide and 20 miles long.
At 7,732 feet above sea level, it covers 136 square miles with 110 miles of shoreline. While averaging 139 feet deep, its deepest parts reach 390 feet.
West Thumb Geyser Basin, next to Yellowstone Lake, boasts remarkable thermal features, fueled by a heat source just 10,000 feet below the Earth's surface.
This geological wonder formed around 162,000 years ago when a magma chamber caused the land to collapse, extending Yellowstone Lake.
Explore the basin on two short boardwalk trails covering 0.75 miles in total.
You will encounter vibrant hot pools, bubbling springs, steam vents, and mud pots, including the captivating Abyss Pool plunging to 53 feet with striking blue-green hues.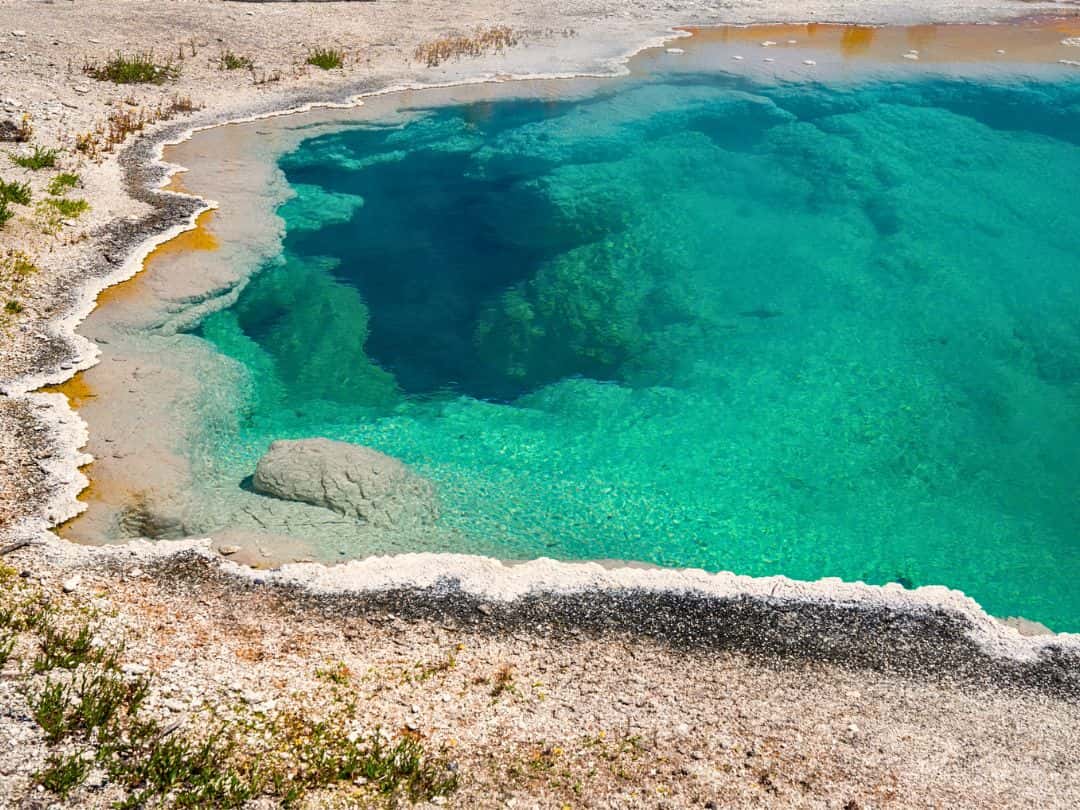 Abyss Pool / Best Stops on Yellowstone Lower Loop Drive
Also, do not miss Fishing Cone, a unique hot spring with occasional geyser activity, sitting on the lake's edge. Here early visitors cooked fish caught from the lake by lowering them into the spring.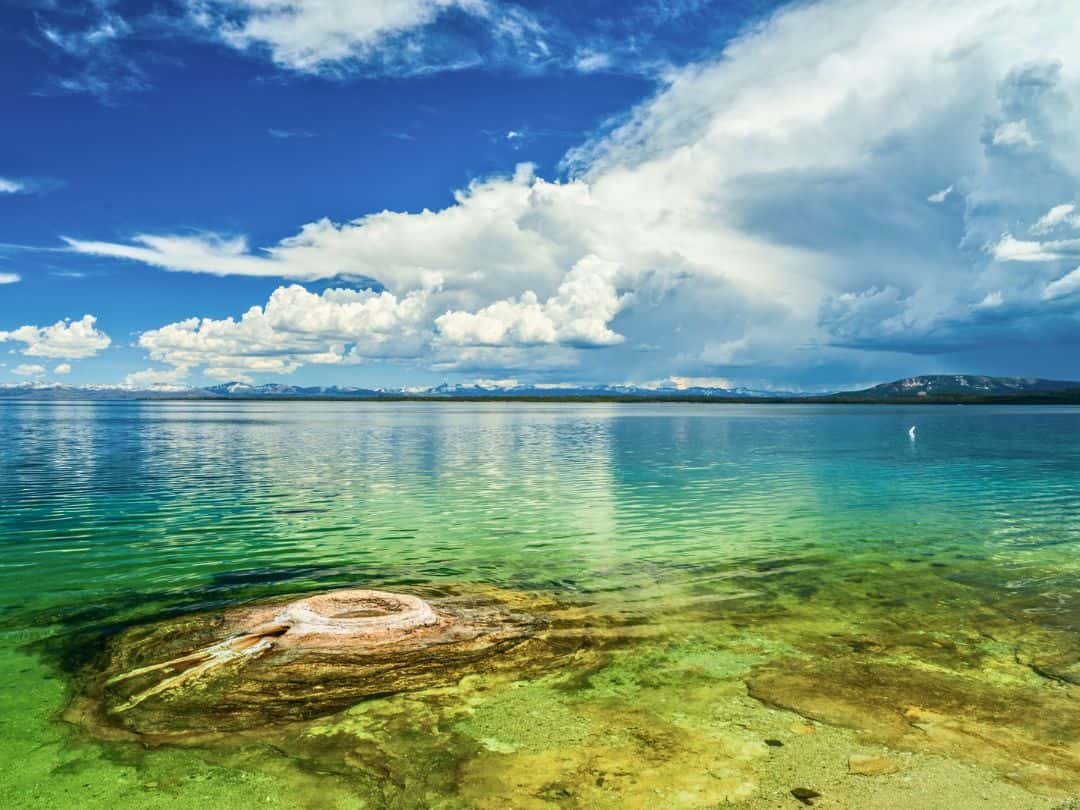 Fishing Cone / Best Stops on Yellowstone Lower Loop Drive
As our journey through Yellowstone Lower Loop draws to a close, I hope I have inspired you to explore and appreciate the incredible natural wonders of this national treasure!
Whether you seek the thrill of geyser eruptions, the serenity of pristine lakeshores, or the awe of dramatic canyons, this park has something to stir the adventurer in us all.
Intrepid Scout's Tips for Best Stops on Yellowstone Lower Loop Drive
That is quite a list. So, to narrow it down, here are some of my recommendations:
Must-See Stops:
Old Faithful: Witness the iconic Old Faithful Geyser erupt on a predictable schedule, surrounded by a variety of thermal features.
Grand Prismatic Spring: Visit the Midway Geyser Basin to see the stunning and vibrant Grand Prismatic Spring, the largest hot spring in the park.
Yellowstone Lake: Take a moment to appreciate the serene beauty of Yellowstone Lake, one of the largest high-altitude lakes in North America.
Grand Canyon of Yellowstone: Explore the captivating Grand Canyon area, where you can see the Upper and Lower Falls, as well as the stunning canyon walls.
Fountain Paint Pot Trail: Experience a diverse range of geothermal features on this short-loop trail in the Lower Geyser Basin.
Remember that Yellowstone's beauty is vast, so even with limited time, you will have a chance to experience some of its remarkable natural wonders. It is a good idea to be flexible and open to unexpected discoveries along the way.
Did You Find This Useful?
Why Not Save Best Stops on Yellowstone Lower Loop Drive to Your Pinterest Board!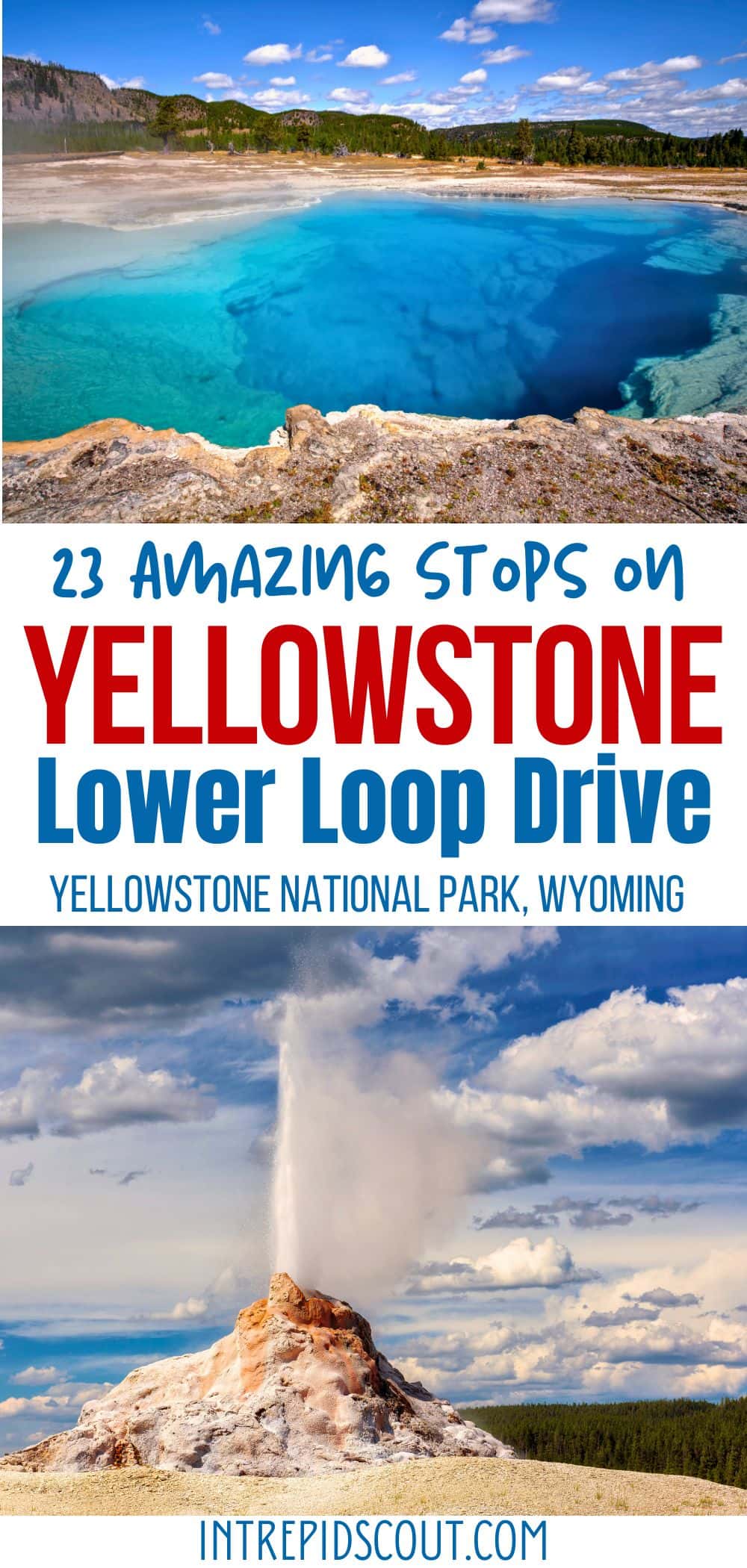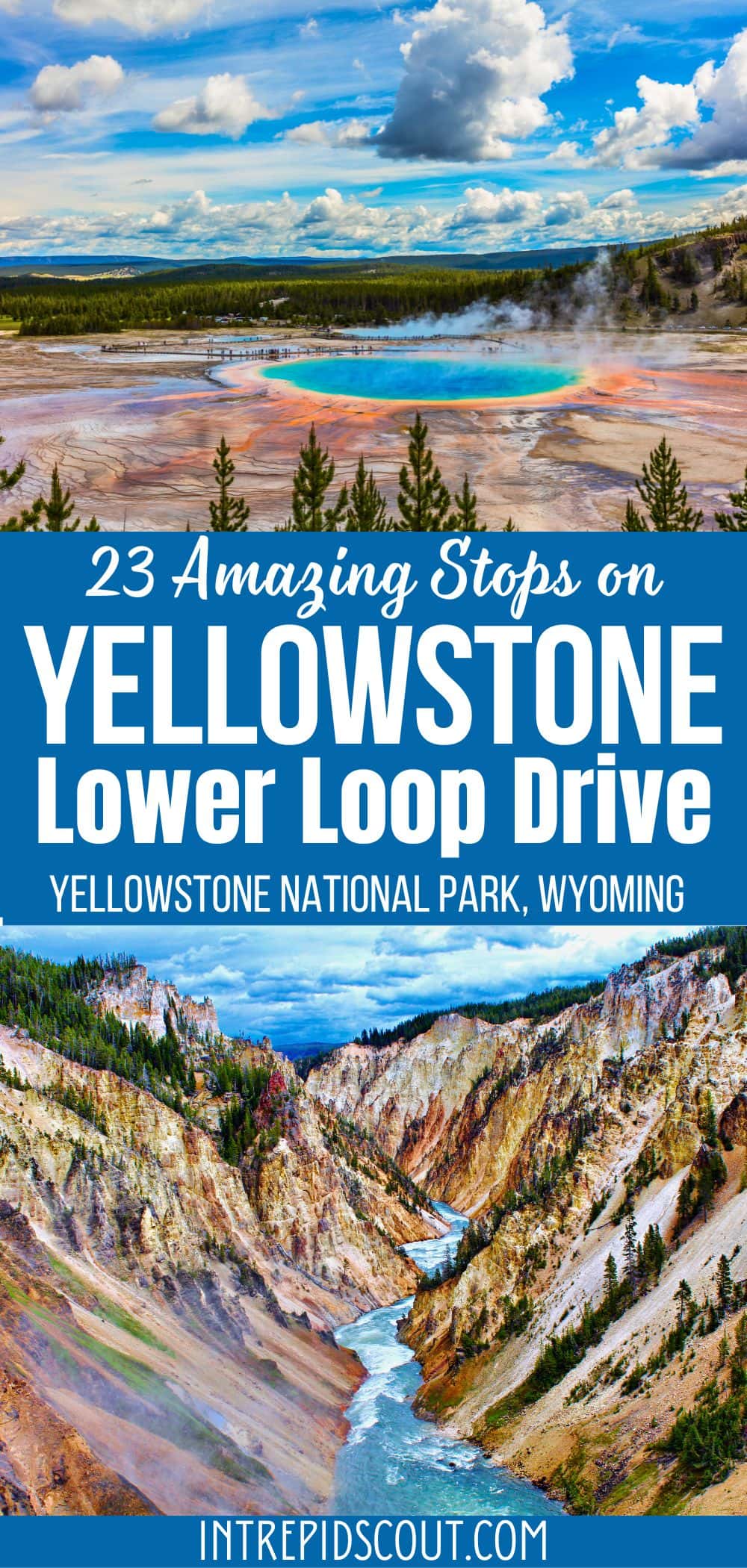 Now, It Is Your Turn, I Would Like to Hear Back from You!
Are you planning your trip to Yellowstone National Park?
Please let me know! Drop me a quick comment right below!
Click on any of the images below to get inspired and to help you with the planning process for your trip to Yellowstone National Park!