This site uses affiliate links, meaning that if you make a purchase through our links, we may earn an affiliate commission.
Welcome to Arches National Park, a breathtaking expanse of red rock formations and natural arches that has captivated visitors for generations.
If you are planning a trip to this mesmerizing desert wonderland, we have got you covered with a comprehensive guide filled with invaluable Arches National Park tips for first-time visitors. From must-visit attractions to practical insights on navigating the park, we will help you make the most of your first visit to Arches National Park.
So, grab your hiking gear, prepare your camera, and get ready for an unforgettable adventure as we delve into the essential tips tailored specifically for first-time visitors to Arches National Park.
16 Arches National Park Tips for First-Time Visitors
Navigate the Timed Entry System for a Smooth Visit
Arches National Park implemented a Time Entry System to manage visitor access and reduce overcrowding.
Here is what you need to know:
A Time Entry System is usually in place from April to October to help manage traffic and improve visitor experiences.
To enter the park, you are required to make a reservation for a specific date and time slot. These reservations can be made in advance online through Recreation.gov.
The park releases tickets three (3) months in advance in monthly blocks. A limited number of tickets is available for one day prior to entry at 6 pm MDT also through Recreation.gov.
Once you get your ticket print it, download it, or take a screenshot of it (cell phone service is limited inside the park).
The Timed Entry System allows for flexibility within the chosen time slot. You will have a two-hour window to enter the park, allowing for some leeway in case of unexpected delays.
When you arrive at the park, you will need to check in at the entrance station during your designated time slot. Be prepared to show your reservation confirmation, either in printed form or on a mobile device, along with any applicable park passes, and photo ID.
GOOD TO KNOW: It is crucial to plan your visit well in advance and secure your desired time slot. Availability may vary depending on the season and demand, so it is advisable to make reservations as early as possible.
PRO TIP: Take into account the time slot you have reserved when planning your activities within the park. Consider the duration of hikes, sunset viewing opportunities, and any other experiences you wish to enjoy during your visit.
This system helps manage visitor numbers and reduce congestion on popular trails, viewpoints, and parking areas. By staggering entry times, it improves the overall visitor experience and preserves the park's natural resources.
Time Your Visit Right: Discover the Best Time to Visit Arches
Arches National Park offers different experiences throughout the year, so choosing the best time to visit can greatly enhance your trip.
Here is what you need to know:
Spring (March to May): Spring brings mild temperatures and blooming wildflowers, creating a picturesque setting. The park is less crowded compared to summer, making it an ideal time for tranquil hikes and enjoying the iconic arches.
Summer (June to August): Summer brings scorching temperatures, often exceeding 100°F (38°C) during the day. However, early mornings and evenings offer pleasant conditions for exploration. Expect larger crowds during this peak season, especially in popular areas like Delicate Arch.
Fall (September to November): Fall is a popular time to visit due to cooler temperatures and vibrant autumn colors. Crowds start to thin out, making it easier to enjoy the park's attractions and trails without the hustle and bustle of summer.
Winter (December to February): Winter brings colder temperatures and occasional snowfall, creating a serene and unique experience in the park. While some trails may be icy and inaccessible, iconic sights like Delicate Arch take on a whole new level of beauty. However, be prepared for limited services and check for weather-related closures.
GOOD TO KNOW: In general, the shoulder seasons of spring and fall offer a good balance of pleasant weather and manageable crowds. If do not mind the extreme heat, summer can still be enjoyable with proper planning. Winter is a quieter time with a chance to see the park in a different light but be prepared for colder conditions and limited amenities.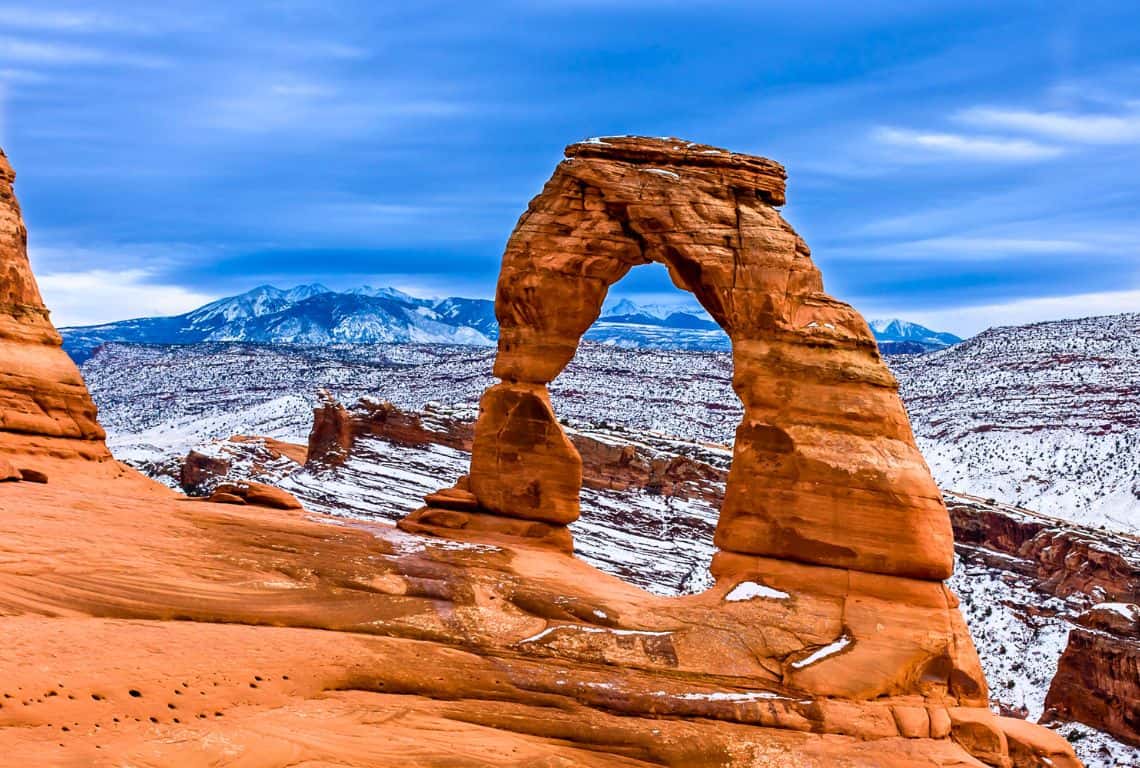 Delicate Arch in Winter / Arches National Park Tips for First-Time Visitors
Streamline You Arrival: Get to Arches Efficiently and Hassle-Free
If you're flying to Arches National Park, follow these steps to ensure a smooth and efficient journey from the airport to the park:
Fly to the Nearest Airport:
The closest major airports to Arches National Park are Salt Lake City International Airport (SLC) in Utah. It is located approximately 236 miles northwest of Arches National Park. The drive from Salt Lake City to the park takes around 3.5 to 4 hours, depending on traffic and road conditions.
Grand Junction Regional Airport (GJT) in Colorado. It is situated approximately 114 miles east of Arches National Park. The drive from Grand Junction to the park typically takes around 1.5 to 2 hours, depending on traffic and road conditions.
Canyonlands Field Airport (CNY) in Utah. It is situated about 16 miles northwest of Moab, and the distance from the airport to Arches National Park is around 34 miles. The drive typically takes about 40 to 45 minutes.
Upon arriving at the airport, you will need to rent a car.
PRO TIP: There is no shuttle service inside the park. The only way to get around is by driving your vehicle. Renting a car will provide you with the freedom to explore the park and its surroundings at your own pace. Compare rates from different car rental agencies in advance and make a reservation to secure your preferred vehicle.
Opting for a guided tour is an excellent way to reach Arches National Park hassle-free. Many tour companies provide transportation as part of their package, relieving you of the burden of driving and navigating. Choose a reputable tour operator that suits your interests and preferences, and let experienced guides take care of the logistics.
Find the Perfect Accommodations for Your Visit to Arches
Exploring Arches National Park is even more enjoyable when you have comfortable accommodations and delightful dining experiences.
Here are some recommendations for where to stay and savor delicious meals near the park:
Located just a short drive from Arches National Park, Moab offers a wide range of lodging options, including hotels, motels, bed and breakfasts, and vacation rentals. Staying in Moab provides convenient access to restaurants, shops, and other amenities.
Here are some places I stay at whenever I am in Moab, UT, and visiting Arches or Canyonlands National Parks. They are not anything fancy, but they all have clean rooms and comfortable beds.
My first choice is La Quinta by Wyndham Moab. I stayed at this place a few times and I have no complaints. It is clean and well-managed, and it is conveniently located. If La Quinta is all booked, then my recommendation is to try Mainstay Suites Moab.
The last time I visited Arches and Canyonlands National Parks, I stayed at Element Moab, which I liked a lot. It is modern, yet simple, and it has a full kitchen, which is very convenient.
Moab has a vibrant dining scene. You will find a variety of cuisines to satisfy your taste buds. From casual cafes to gourmet restaurants, there is something for everyone. Be sure to try local specialties like southwestern cuisine or indulge in a hearty steak after a day of hiking.
If you like pasta or pizza then head to Pasta Jay's. It is a busy place, however, service is fast. Their pasta and all the sauces are very good. However, my vote is for the thin crust pizza.
Moab Diner is nothing fancy or gourmet, however, it is just good comfort food at a very reasonable price. Don't miss their milkshakes. They know what they are doing!
I like good pizza, so Antica Forma is my place to go to. Their pizza menu is extensive! Plus, if you like Italian food, then there are lots of choices. What you simply cannot miss is their homemade mozzarella. It is delicious. For dessert try their tiramisu.
Uncover Fascinating Facts About Arches National Park to Enhance Your Visit
Arches National Park is filled with fascinating facts that can enhance your visit and deepen your appreciation for this unique natural wonder.
Here are some intriguing facts about Arches National Park:
Iconic Sandstone Arches: Arches National Park is renowned for its extraordinary sandstone arches, which are natural geological formations.
The park boasts over 2,000 documented arches, making it home to the largest concentration of natural arches in the world.
Delicate Arch, Landscape Arch, and Double Arch are among the most famous and recognizable arches in the park.
Geological Marvels: The arches in the park are the result of millions of years of geological processes. The sandstone formations were shaped by erosion caused by water, ice, and wind.
The layers of rock reveal a fascinating timeline of ancient environments and geological events that have occurred in the region.
Fiery Beginnings: Arches National Park is situated on the Colorado Plateau, which was once covered by a massive inland sea during the Jurassic Period, around 160 to 180 million years ago.
Over time, the deposited sediments transformed into different types of rock layers, including the distinctive red sandstone prevalent in the park.
Constant Change: The landscape of Arches National Park is ever-evolving. Natural forces continue to shape and modify the sandstone formations, causing arches to collapse and new ones to form.
While visiting the park, you may witness ongoing erosion and observe how the park's iconic features gradually transform over time.
Ancient Puebloan Influence: Before European settlement, indigenous peoples inhabited the region surrounding Arches National Park.
The ancestral Puebloans, also known as the Ancestral Pueblo people or Anasazi, left behind evidence of their presence, including rock art, dwellings, and artifacts.
Film Location: Arches National Park's stunning landscapes have served as a backdrop for numerous films and commercials.
Hollywood productions such as "Indiana Jones and the Last Crusade," "Thelma & Louise," and "Mission: Impossible II" have featured scenes filmed in the park.
Diverse Flora and Fauna: Despite the harsh desert environment, Arches National Park supports a surprising variety of plant and animal species.
Desert plants such as the prickly pear cactus, yucca, and blackbrush adapt to the arid conditions, while desert bighorn sheep, kangaroo rats, and various bird species thrive in this unique ecosystem.
Experience the Scenic Drive in Arches National Park
One of the best ways to immerse yourself in the captivating beauty of Arches
Here is what you need to know to make the most of this memorable journey:
Length and Route: The scenic drive in Arches National Park is approximately 18 miles long and follows the park's main road, known as Arches Scenic Drive. The drive begins at the park entrance and winds its way through stunning red rock formations, showcasing the park's iconic arches, towering spires, and breathtaking vistas.
Highlights and Viewpoints: Along the scenic drive, you will encounter several notable viewpoints and landmarks that offer spectacular photo opportunities. Some of the must-see stops include the Park Avenue Viewpoint, Courthouse Towers, Balanced Rock, and the Windows Section. These viewpoints provide different perspectives of the park's unique geological formations, allowing you to marvel at the intricate beauty of the natural wonders.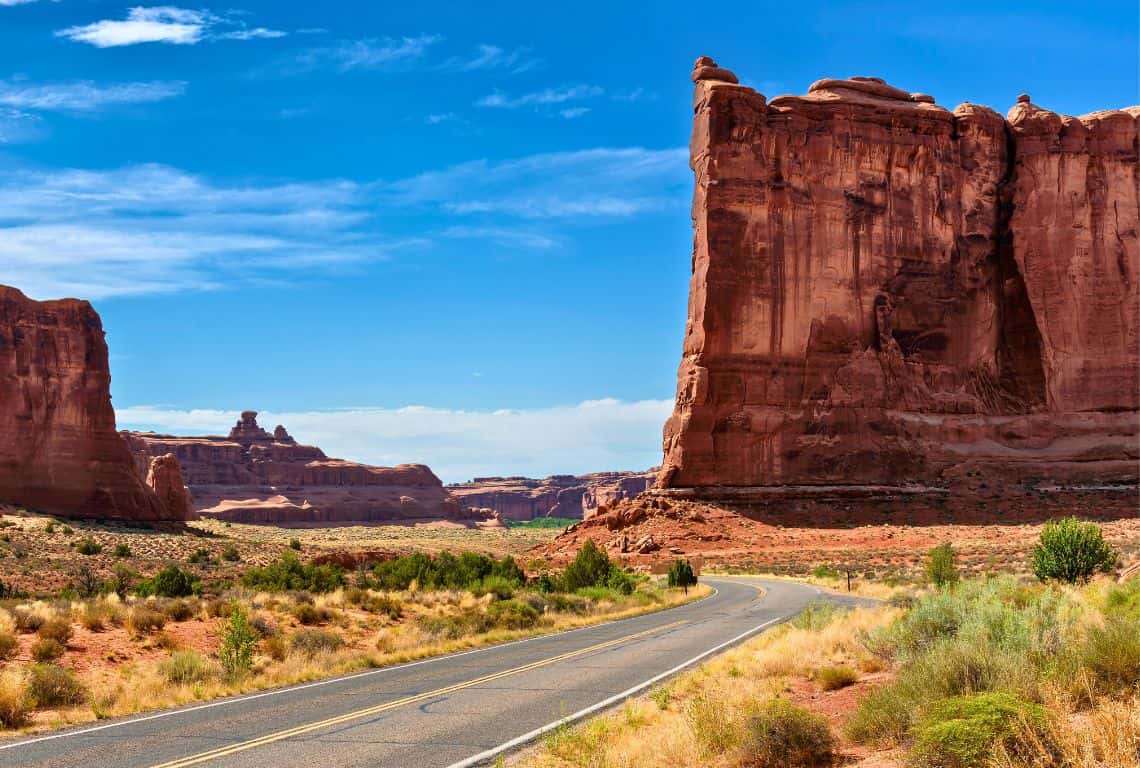 Arches Scenic Drive / Arches National Park Tips for First-Time Visitors
Trailheads and Hiking Options: The scenic drive also provides access to various trailheads, allowing you to explore the park on foot. If you're up for a hike, consider stopping at the Devils Garden Trailhead, which offers a range of trails catering to different skill levels. Delicate Arch, one of the park's most famous landmarks, can be reached via a moderately strenuous hike from the Wolfe Ranch trailhead near the scenic drive.
Timing and Traffic: The scenic drive can get crowded, especially during peak tourist seasons. To enjoy a more tranquil experience, consider visiting early in the morning or late in the afternoon. This way, you can avoid the heaviest traffic and have a better chance of finding parking spaces at popular viewpoints and trailheads.
Discover Towering Monoliths at Park Avenue Viewpoint
Immerse yourself in the towering splendor of Arches National Park by visiting the Park Avenue Viewpoint, where nature's skyscrapers stand proudly.
As you step out of your vehicle, the sheer magnitude of the sandstone monoliths will leave you in awe. The vertical cliffs, reminiscent of towering city buildings, stretch toward the sky, creating a dramatic and unforgettable sight.
From the viewpoint, you will be treated to a breathtaking panorama of the majestic formations that line the Park Avenue corridor.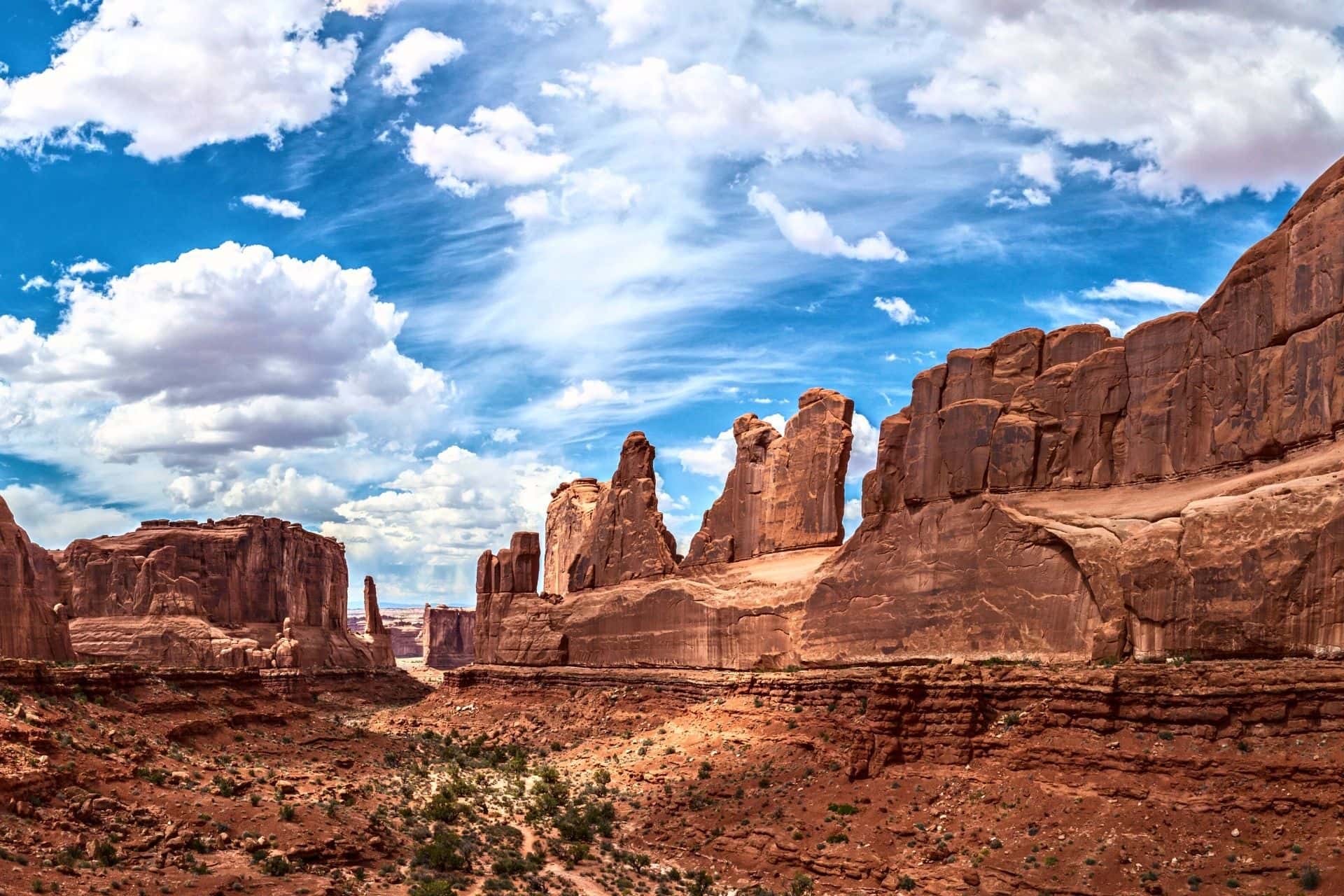 Park Avenue Viewpoint and Trail in Arches National Park Arches National Park Tips for First-Time Visitors
If you are up for a memorable adventure, consider embarking on the optional Park Avenue Trail. This moderate-level hike allows you to delve deeper into the enchanting sandstone wonderland.
As you traverse the trail, you will be surrounded by the majestic giants, immersing yourself in the raw beauty of the park. These walls reminded the travelers of the New York skyline and so it was named Park Avenue. You will pass by massive rock formations such as Three Gossips and the spectacular Courthouse Towers.
Three Gossips in Arches National Park / Arches National Park Tips for First-Time Visitors
GOOD TO KNOW: The Park Avenue Trail reveals intricate rock formations, fascinating textures, and captivating colors, offering a unique perspective of this geological masterpiece. Whether you choose to appreciate the view from the Park Avenue Viewpoint or embark on the trail, this experience will leave an indelible impression and remind you of the astonishing power and artistry of nature.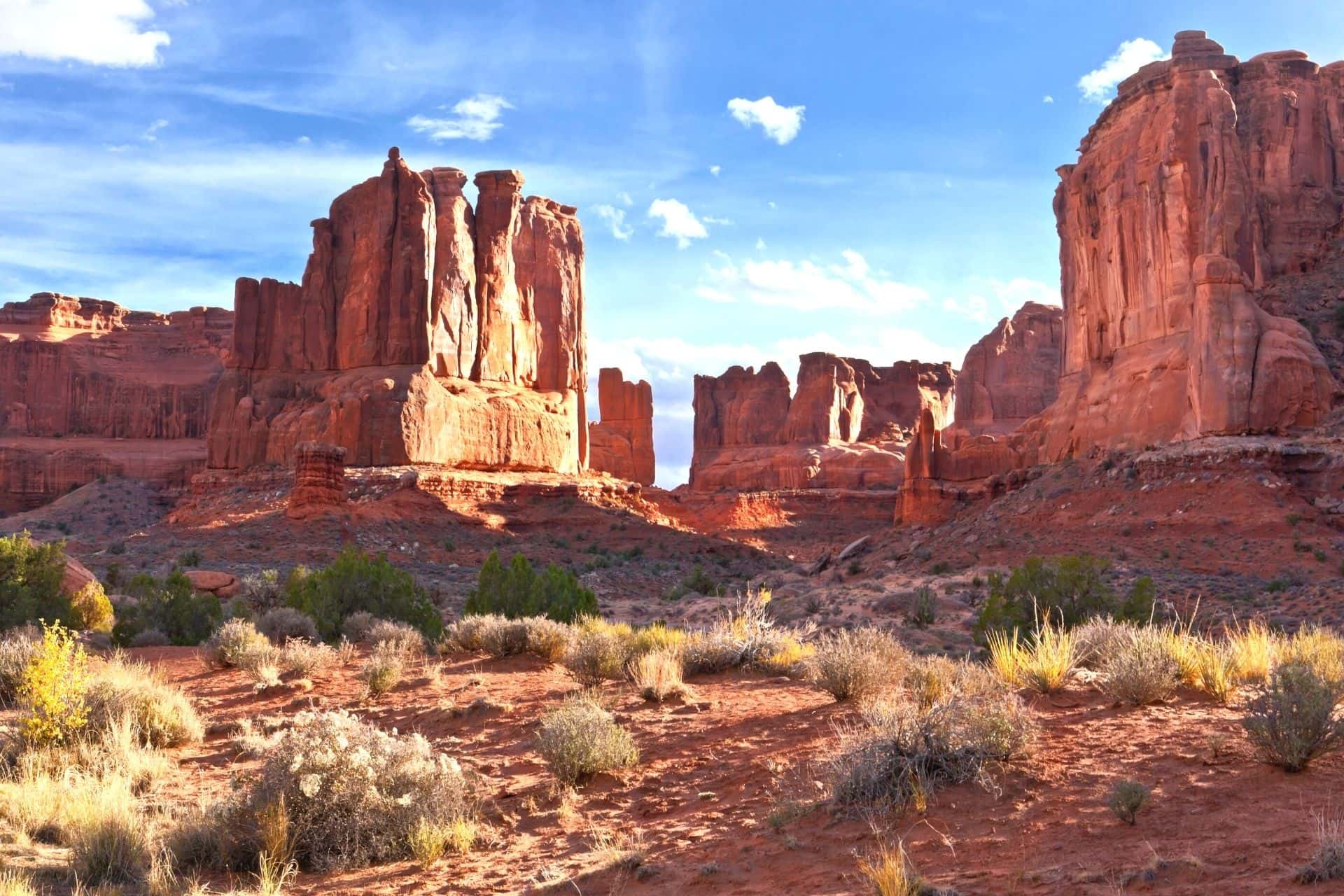 Courthouse Towers in Arches National Park / Arches National Park Tips for First-Time Visitors
See the Magnificent Balanced Rock
Prepare to be mesmerized by the captivating sight of the Balanced Rock in Arches National Park. Standing as a testament to nature's delicate balance, this iconic formation is a must-see for visitors.
As you approach the viewpoint, the colossal sandstone boulder perched precariously atop a slender pedestal comes into view. The sheer size and improbable balance of the rock will leave you in awe of the forces that shaped this masterpiece over millions of years.
At approximately 128 feet tall, with the massive balanced rock delicately resting on a narrow base, it seems as though a gentle breeze could topple the entire structure.
Take a moment to contemplate the astounding resilience of nature, which has withstood the test of time to create this mesmerizing spectacle. The Balanced Rock is a symbol of the park's grandeur and a reminder of the intricate balance that exists in the natural world.
Be sure to capture this incredible sight through your camera lens and create lasting memories of this remarkable geological wonder.
GOOD TO KNOW: While this formation may appear to be an epic balancing act, it's actually not balanced at all. This slick rock boulder of Entrada Sandstone sits attached to its eroding pedestal of Dewey Bridge mudstone.
PRO TIP: There is a short loop trail that circles the base of this picturesque rock and gets you closer to Balanced Rock formation.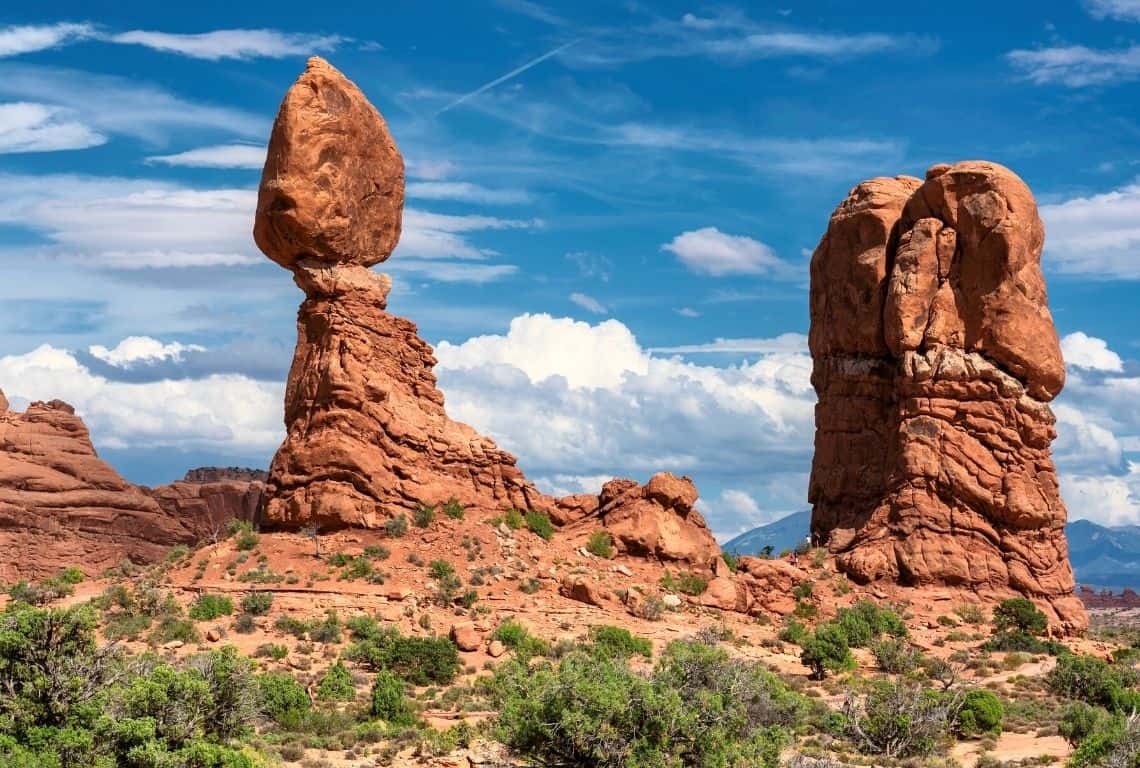 Balanced Rock / Arches National Park Tips for First-Time Visitors
Stop by Enchanted Garden of Eden Viewpoint
Prepare to be enchanted as you stop by the Garden of Eden Viewpoint. This gem offers a glimpse into a mystical landscape where nature's artistry is on full display.
From the viewpoint, you will be treated to a breathtaking panorama of the park's remarkable sandstone formations, which resemble a lush and vibrant garden. The rock formations, shaped by millions of years of erosion, showcase a stunning array of colors, textures, and intricate patterns, evoking a sense of otherworldly beauty.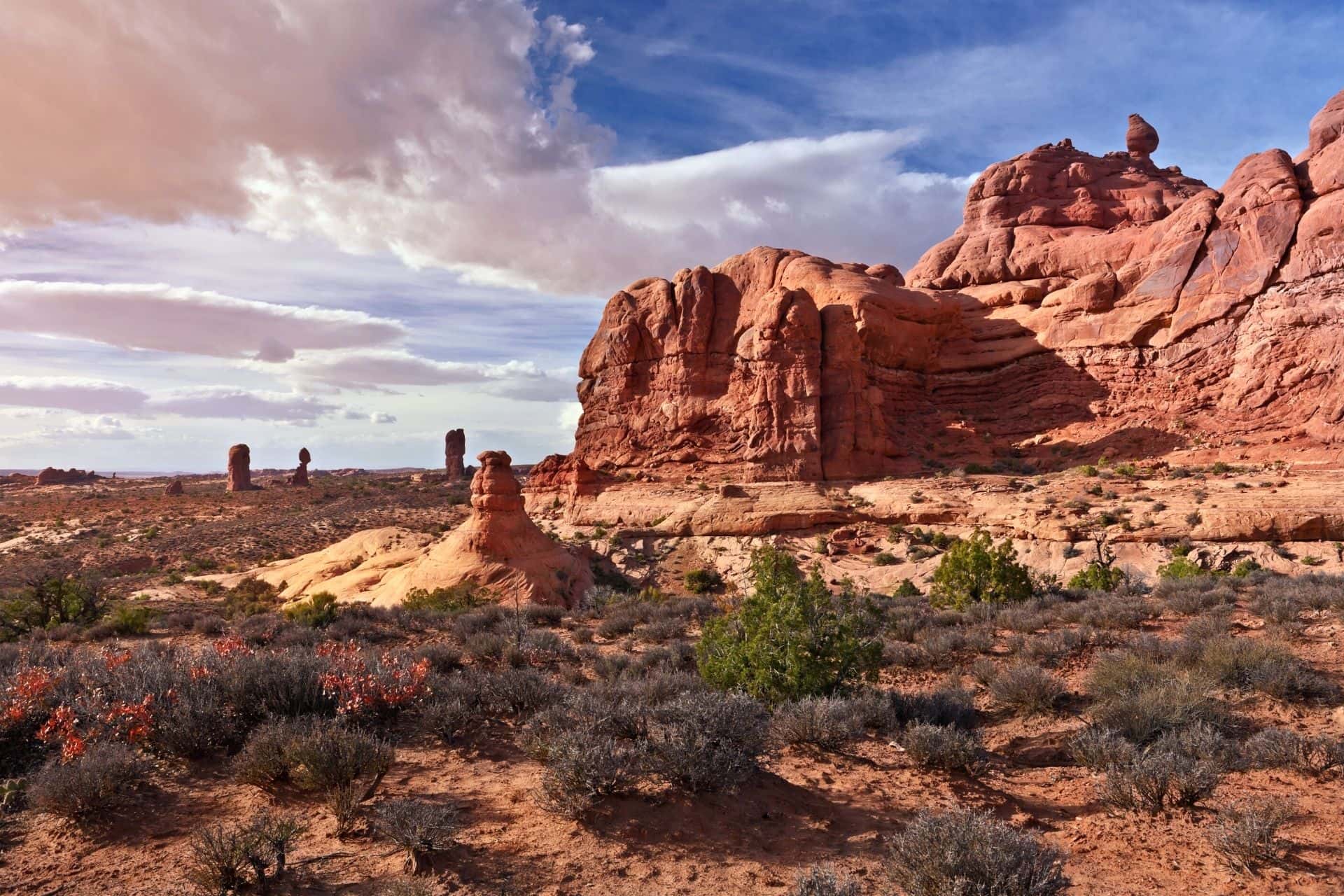 View from Garden of Eden Viewpoint / Arches National Park Tips for First-Time Visitors
As you gaze upon this mesmerizing scene, it is easy to understand why the viewpoint earned its name, as if nature herself created a paradise of sculpted stone.
Take your time to soak in the tranquil atmosphere and marvel at the remarkable craftsmanship of the geological forces at work. The Garden of Eden Viewpoint is a perfect spot to reflect, contemplate, and appreciate the profound wonders that Arches National Park has to offer.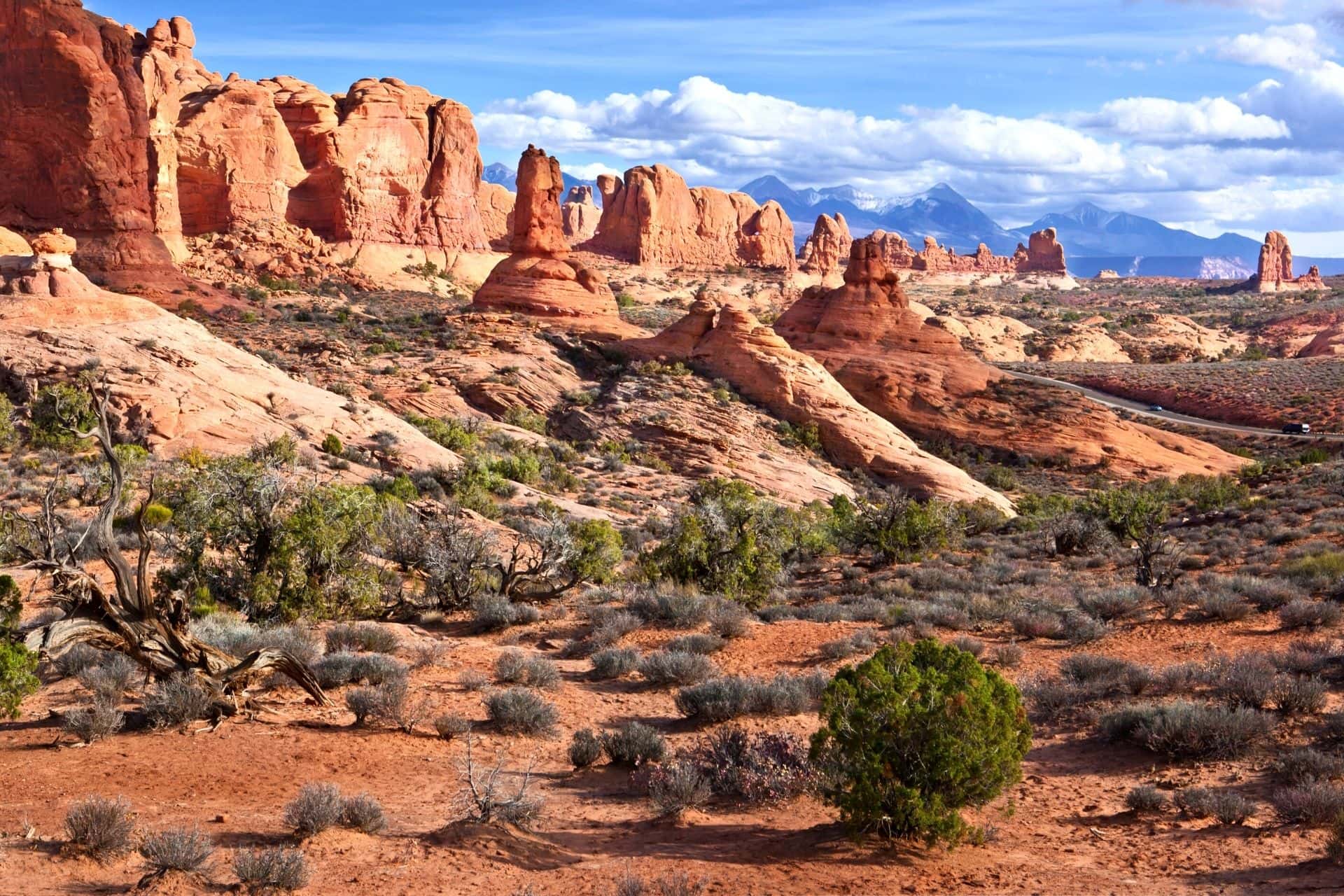 View from Garden of Eden Viewpoint / Arches National Park Tips for First-Time Visitors
Marvel at the Majestic Double Arch
Prepare to be awe-struck as you venture to witness the majestic beauty of Double Arch. This captivating formation showcases nature's artistic prowess in the most extraordinary way.
As you approach Double Arch, you will be greeted by the sight of two massive arches gracefully intertwining, creating a mesmerizing display of symmetry and grandeur.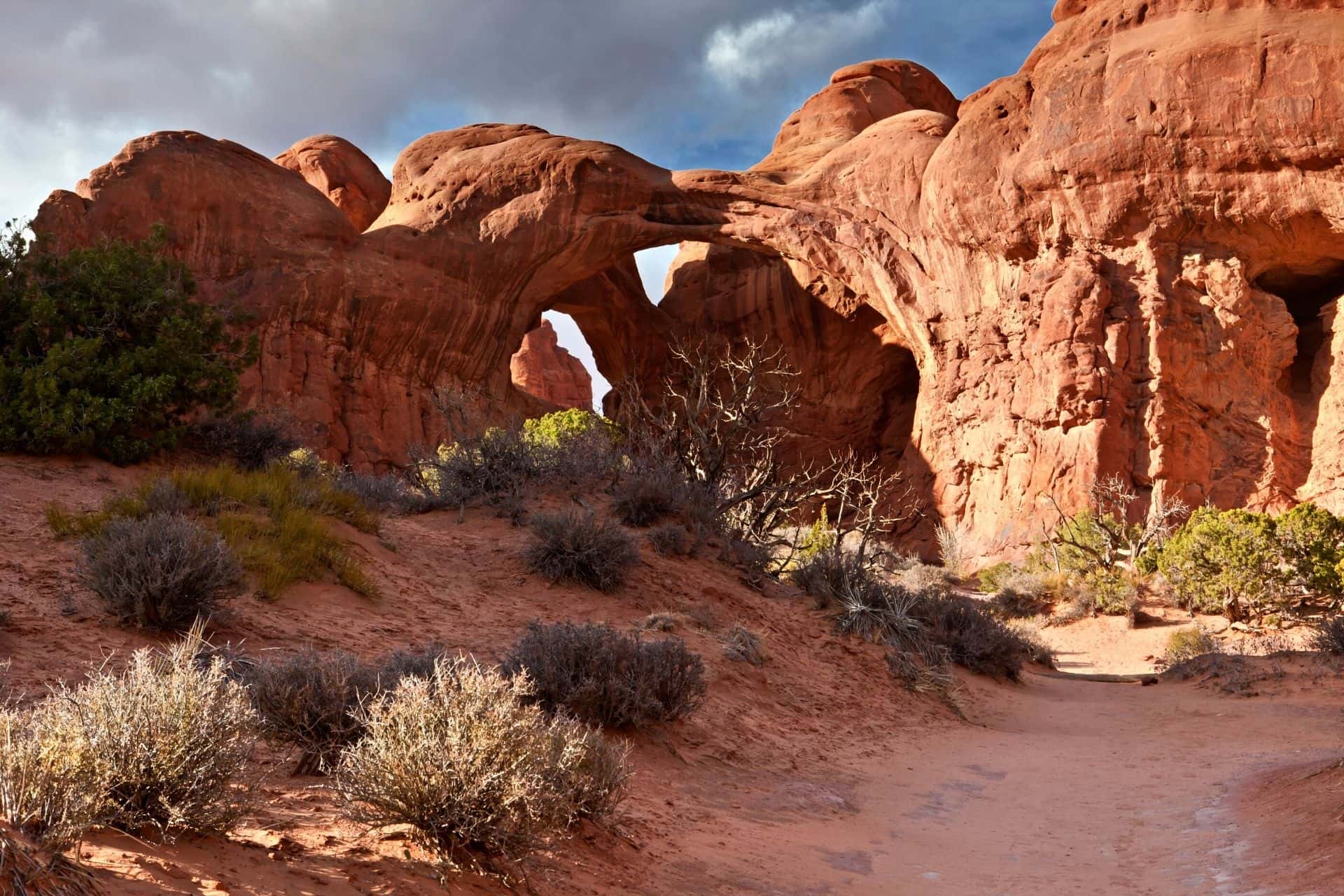 Double Arch / Arches National Park Tips for First-Time Visitors
Standing beneath the soaring sandstone arches, you will feel a sense of wonder and reverence for the forces that shaped this remarkable masterpiece over countless millennia.
The sheer scale and elegant design of Double Arch evoke a feeling of awe-inspiring magnificence, leaving you humbled by the raw power of nature.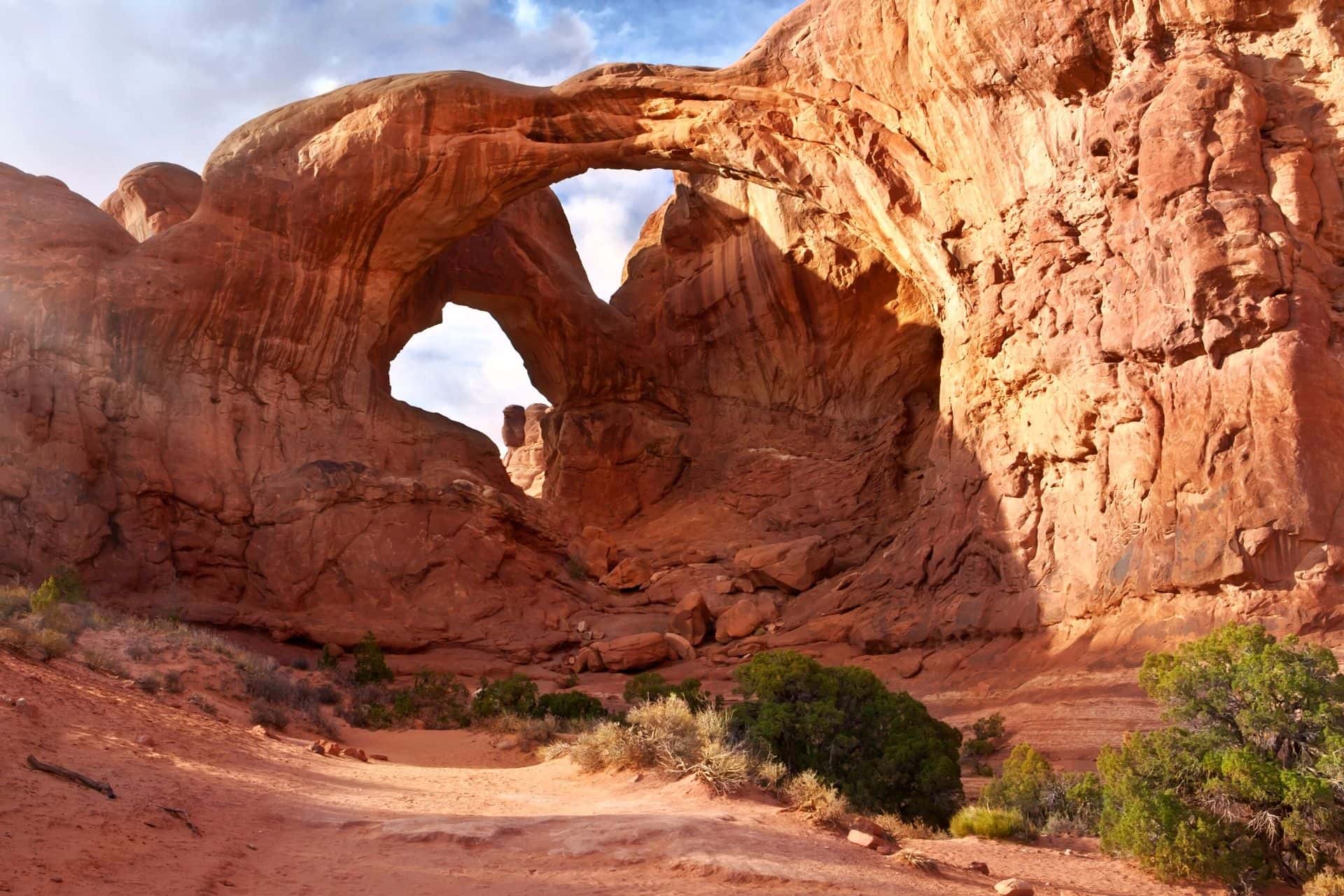 Double Arch / Arches National Park Tips for First-Time Visitors
Visit the Windows and Turret Arches
The Windows Trail will take you to massive North and South Windows. When you get to the North Window, make sure to capture awesome views of the Turret Arch looking through the North Window.
You can return to the parking lot by simply retracing your steps, or you can take a bit longer trail that goes around the Windows. It will give you more opportunities to take some stunning photos.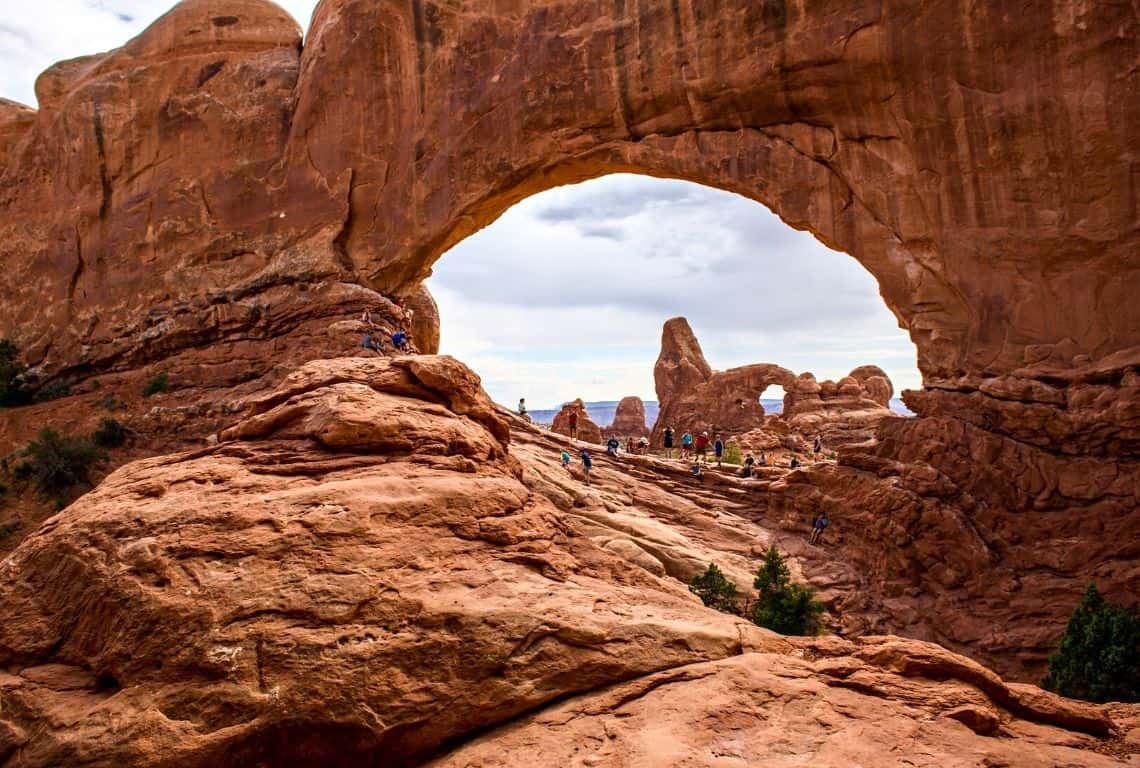 Turret Arch Seen Through the North Window / Arches National Park Tips for First-Time Visitors
Next, take a short trail to the Turret Arch. It is one of the most intricate, castle-like rock formations in Arches National Park.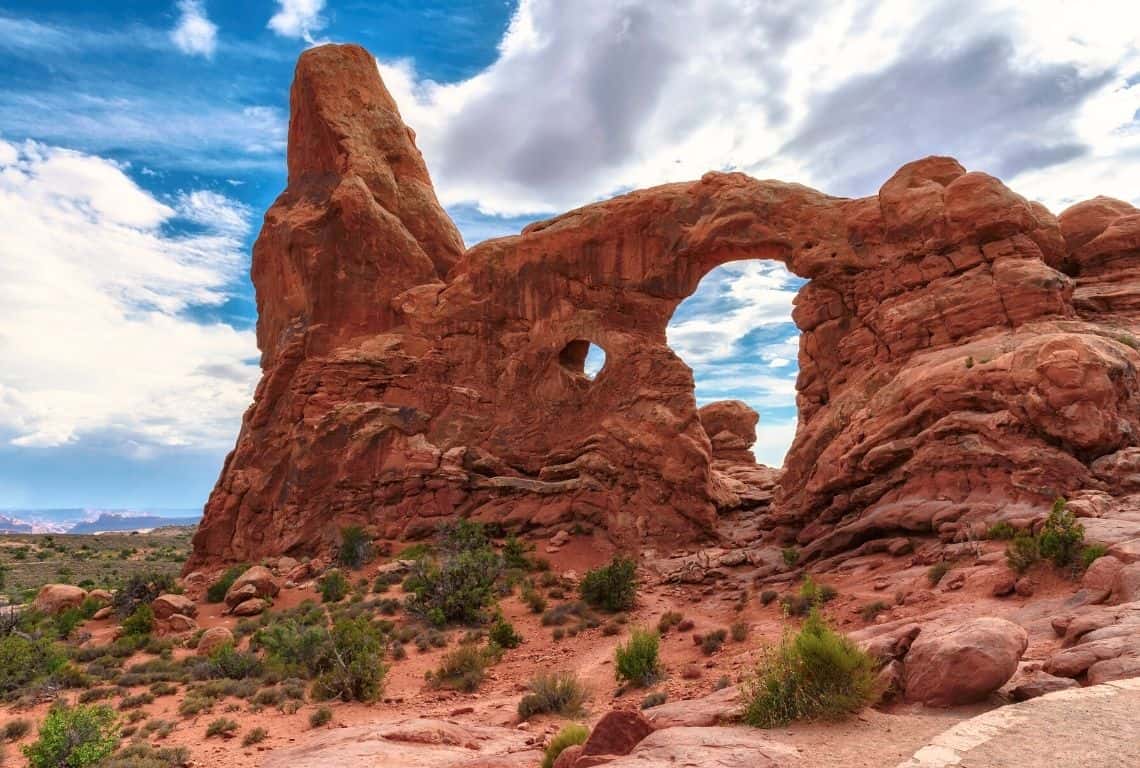 Turret Arch in Arches National Park/ Arches National Park Tips for First-Time Visitors
There are two options to see the Delicate Arch. You can either take a Delicate Arch Trail (3 miles roundtrip) or you can go to Upper or Lower Delicate Arch Viewpoint (at the end of the road) and admire it from a distance.
If you decide to take Delicate Arch Trail then what you need to know is that for the first half mile, it is a well-defined trail. Then, it starts climbing at a sharp incline before it levels off toward the top. Just before you get to Delicate Arch, the trail traverses a narrow rock ledge, however, it is no more than 200 yards in length.
The Delicate Arch is stunning! The light opening beneath the arch is 46 feet high and 32 feet wide. It is the largest free-standing arch in Arches National Park.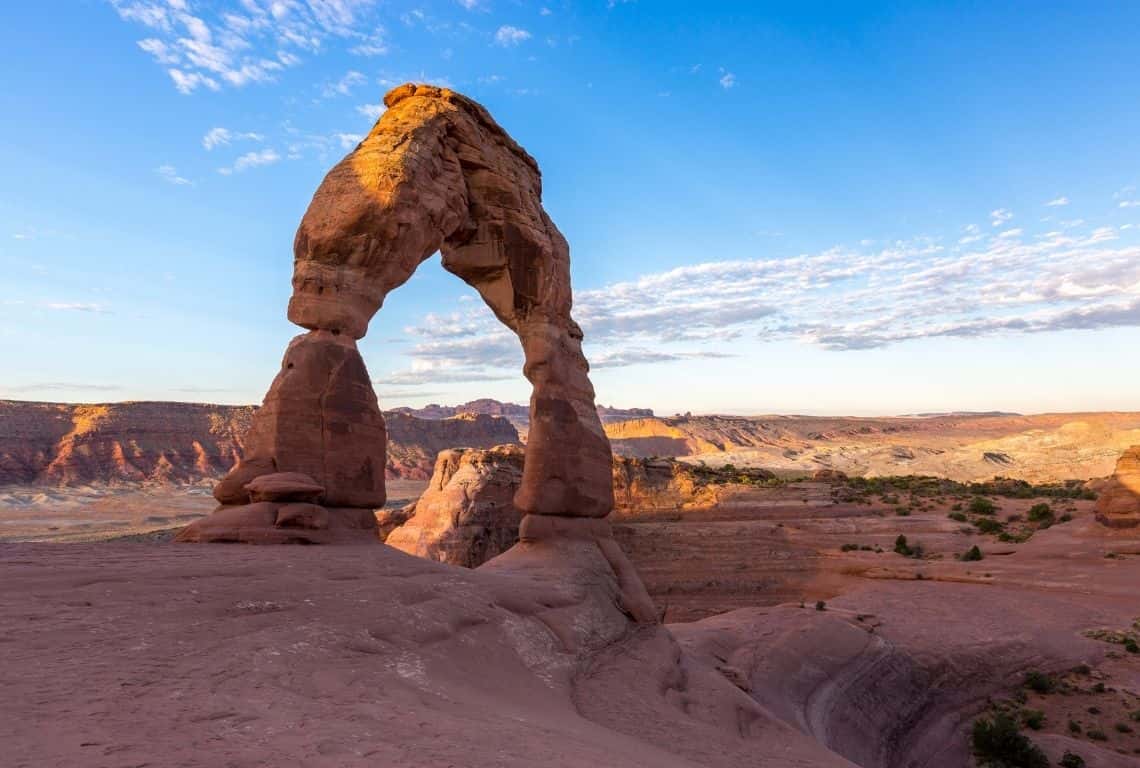 Delicate Arch / Arches National Park Tips for First-Time Visitors
Hike to Sand Dune Arch and Broken Arch
Sand Dune Arch and Broken Arch Trail can be accessed from either Sand Dune Arch Trailhead or the Devils Garden Campground.
PRO TIP: The trail is easy with almost no elevation change and it is fun to hike since it goes through sections of deep sand. So, take your shoes off, give your feet a little break, and enjoy the sand between your toes.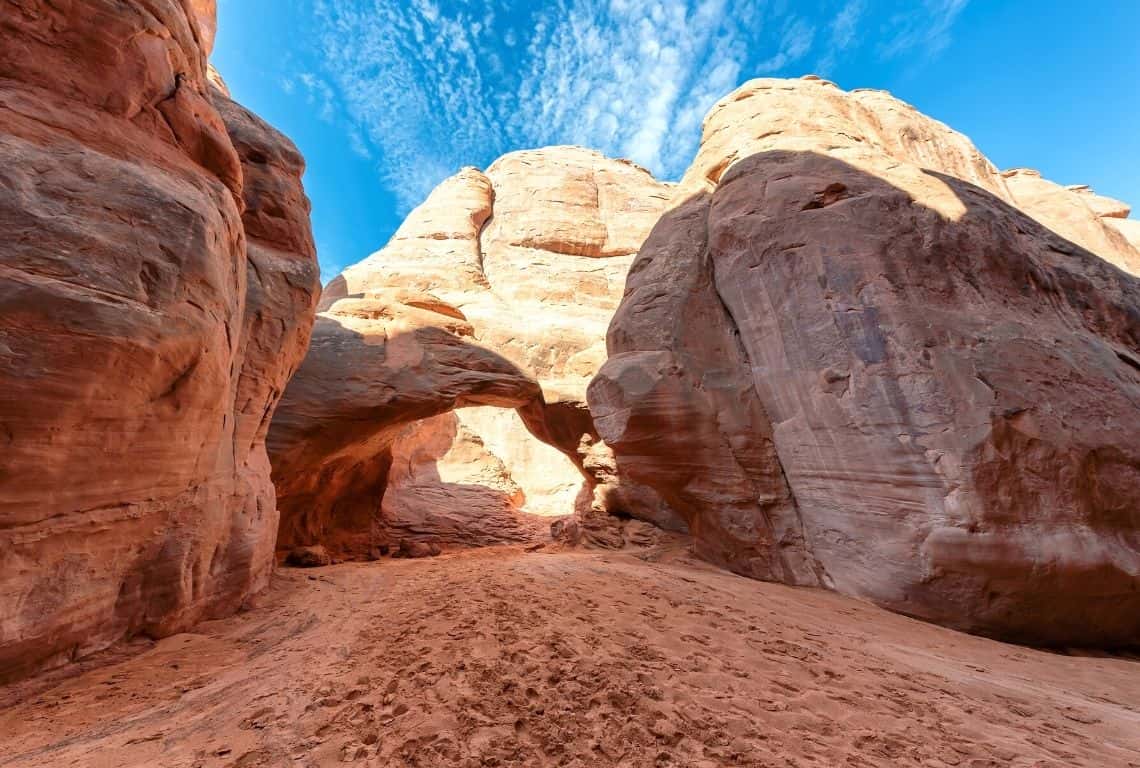 Sand Dune Arch / Arches National Park Tips for First-Time Visitors
GOOD TO KNOW: Broken Arch is not really broken. It just has a thin section along the lintel.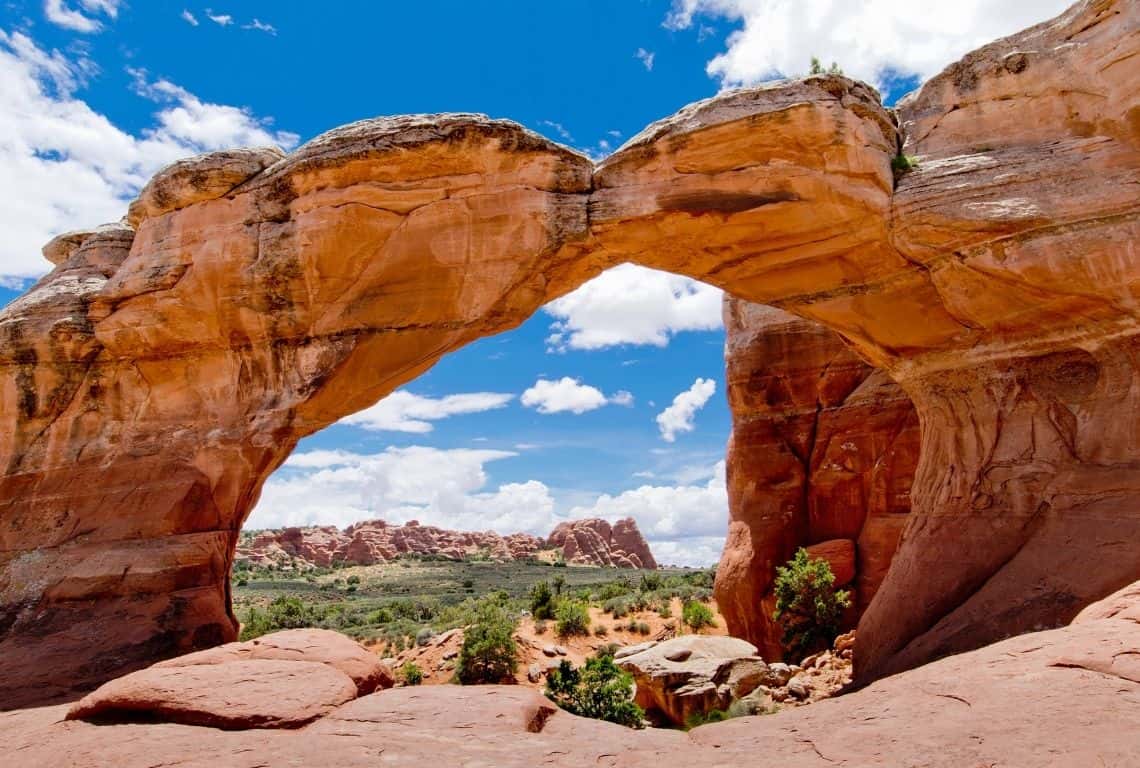 Broken Arch / Arches National Park Tips for First-Time Visitors
Hike the Devils Garden Trail
At the end of Scenic Drive in Arches National Park is the Devils Garden parking lot and the trailhead that leads to Devils Garden, the most spectacular hike in Arches National Park.
The entire Devils Garden Trail is 7.2 miles long. However, if you are not up to hiking the entire trail, it can be broken down into more manageable sections. If you can only do one section, then hands down, hike to Landscape Arch.
The trail to Landscape Arch is about 1.9 miles from the trailhead and it should take you about 50 minutes to reach Landscape Arch. Hands down, it is the most spectacular 290-foot arch, which is believed to be the longest natural rock span in the world.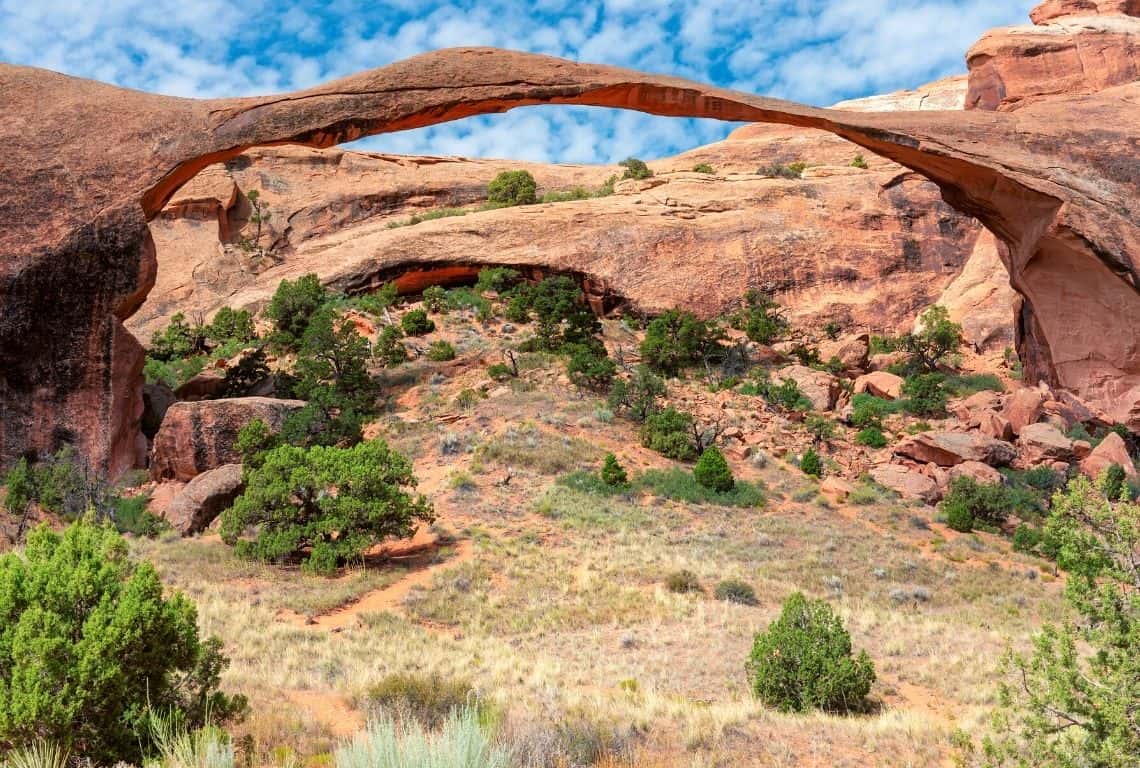 Landscape Arch in Arches National Park / Arches National Park Tips for First-Time Visitors
If you decided to continue hiking on Devils Garden Trail, then in 4.1 miles, you will reach another stunning arch, Double O Arch.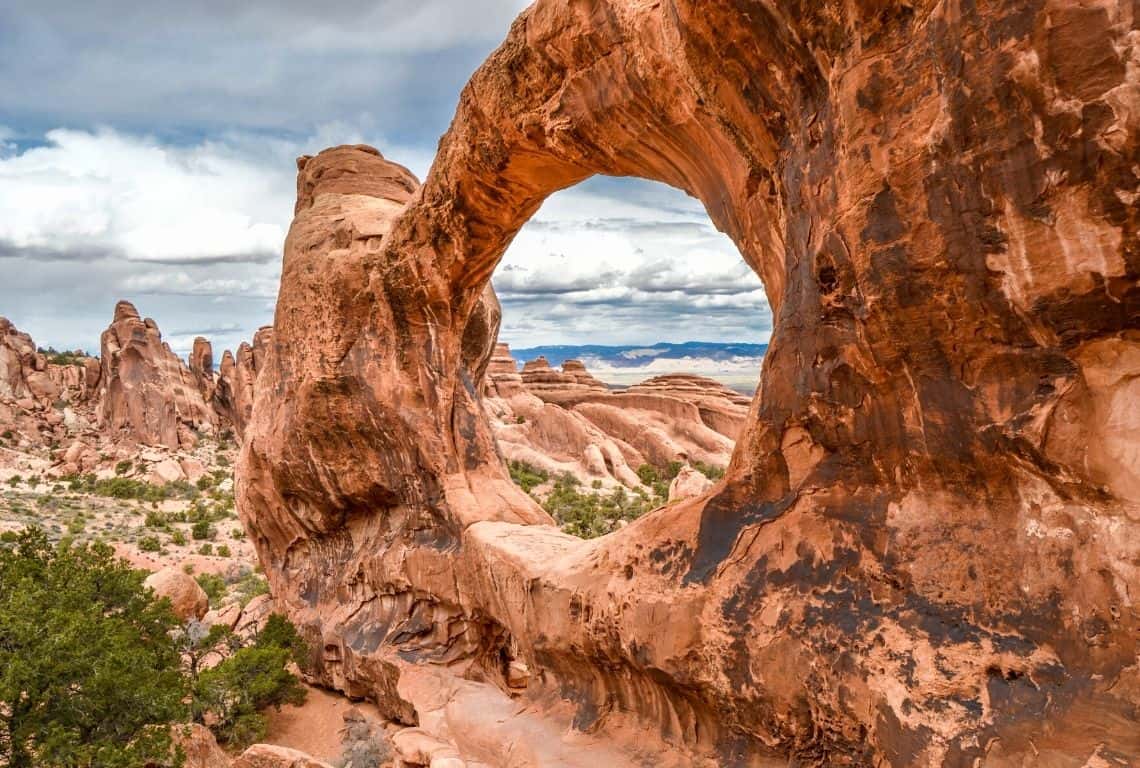 Double O Arch in Arches National Park / Arches National Park Tips for First-Time Visitors
If you are up to it then take a short side trip to Tunnel and Pine Tree Arches.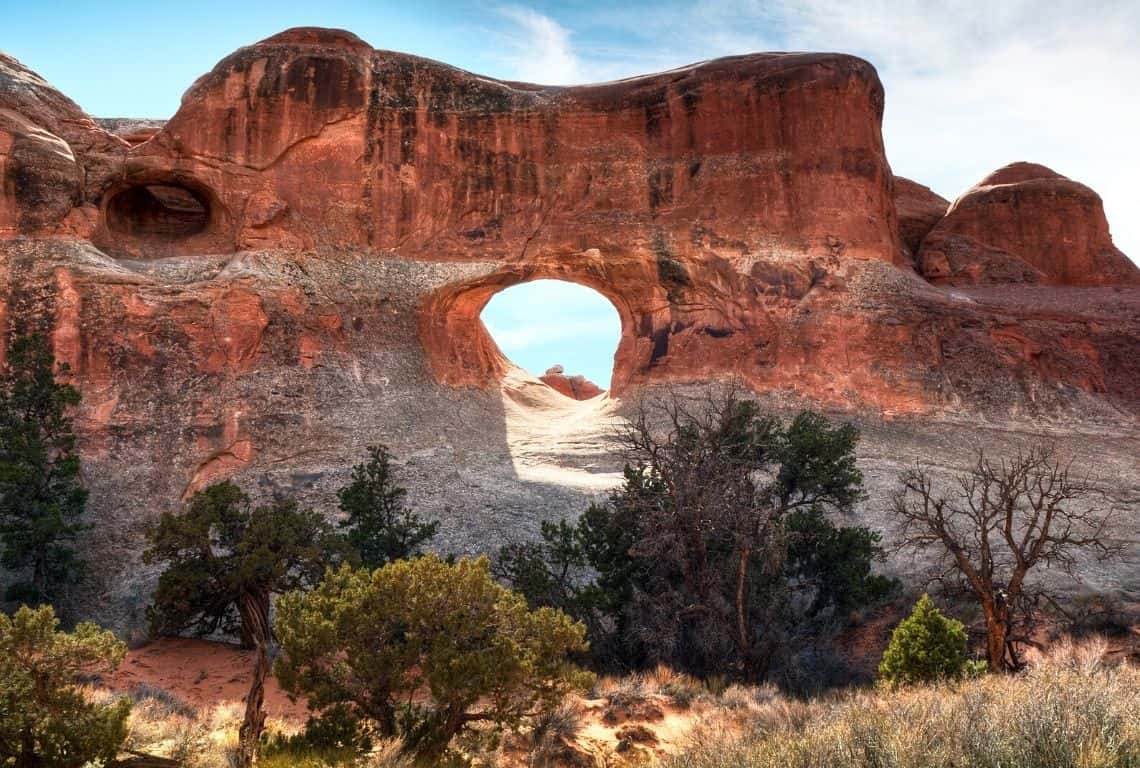 Tunnel Arch in Arches National Park / Arches National Park Tips for First-Time Visitors
When you reach Dark Angel Rock, it will mark the end of the trail.
Now, you have a couple of choices here.
You can retrace your steps and get back to where you started. Or, you can take the Primitive Trail. It is an alternate route, however, it involves hiking by some narrow ledges and over uneven surfaces, and scrambling on slickrock.
If you decide to take it, then do not miss a short spur to Private Arch.
Embrace the Wonder of Night Sky Viewing in Arches National Park
Arches National Park is not only a daytime spectacle but also a prime destination for stargazing and experiencing the mesmerizing beauty of the night sky.
Here's why you should consider adding this to your itinerary:
Dark Sky Preserve: Arches National Park has been designated as an International Dark Sky Park, meaning it offers exceptional opportunities for observing the stars and celestial wonders. The absence of light pollution allows for clearer views of the night sky, making it an ideal location for stargazers, astronomy enthusiasts, and photographers.
Stargazing Programs: The park occasionally hosts stargazing programs led by knowledgeable rangers or local astronomy groups. These programs often include informative presentations about the night sky, telescope observations, and discussions on various astronomical topics. Check the park's website or visitor center for scheduled events during your visit.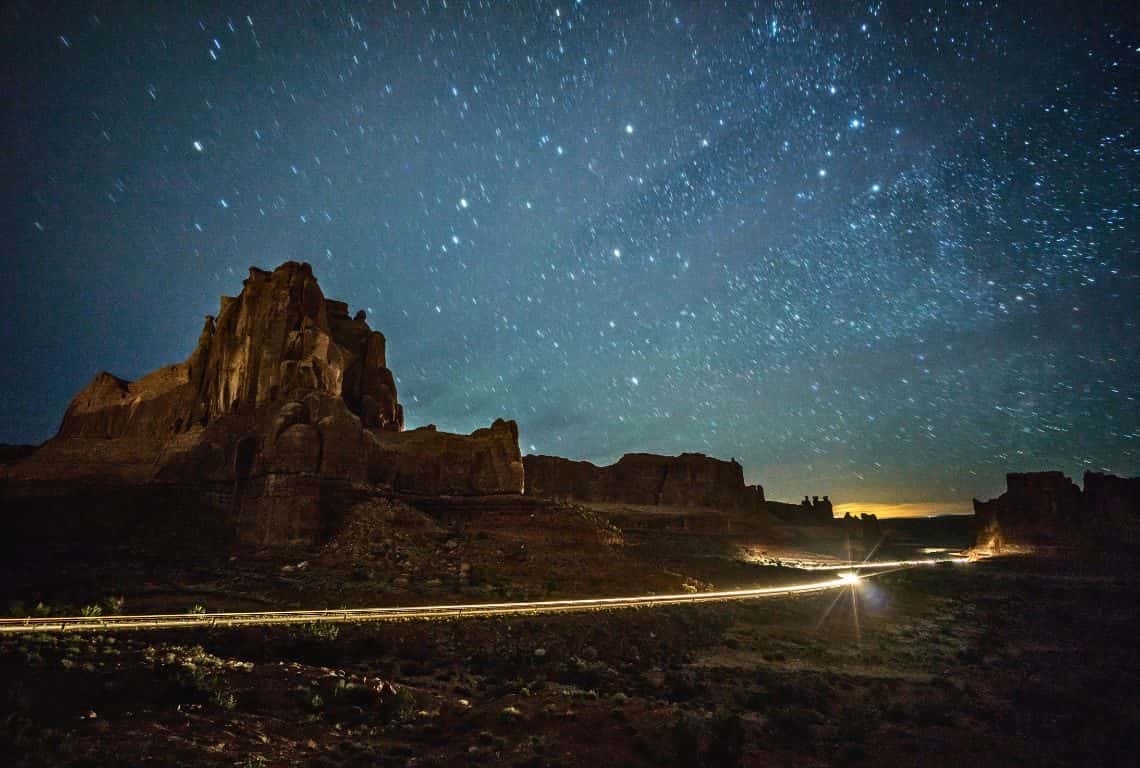 View of Arches Scenic Drive at Night / Arches National Park Tips for First-Time Visitors
Moonlit Walks: Experience the unique ambiance of the park during a moonlit walk. On nights with a full moon or near-full moon, the landscape takes on an ethereal glow, casting dramatic shadows and creating a surreal atmosphere. Take a leisurely stroll along the park's trails and witness the captivating transformation of the natural formations under the moon's luminance.
Night Photography: For photography enthusiasts, the dark skies of Arches National Park provide an excellent opportunity to capture stunning nightscapes, star trails, and the Milky Way. Bring your camera, tripod, and wide-angle lens to capture the breathtaking beauty of the starry skies above the park's iconic landmarks.
Nighttime Safety: Remember to prioritize safety during your nighttime adventures. Bring a reliable flashlight or headlamp with red light mode to preserve your night vision and navigate the trails. Dress in layers and prepare for cooler temperatures that often accompany the nighttime hours.
Practice Leave No Trace Principles
When exploring the natural wonders of Arches National Park, it is essential to minimize your impact and preserve the pristine environment for future generations. By practicing Leave No Trace principles, you can help protect the park's fragile ecosystems and ensure its beauty endures.
Here is how you can follow these principles:
Pack It In, Pack It Out: Take responsibility for your trash and dispose of it properly. Bring a garbage bag and pack out all your waste, including food wrappers, bottles, and other items. Leave the park as pristine as you found it.
Stay on Designated Trails: Stick to established trails and avoid venturing off into fragile desert ecosystems. Straying from designated paths can cause irreversible damage to delicate plants and soil structures.
Respect Wildlife: Observe wildlife from a safe distance and never feed or approach them. Respect their natural behaviors and habitats. Remember, you are a visitor in their home.
Leave Natural and Cultural Features Undisturbed: Avoid touching, climbing, or removing any natural or cultural features. Leave rocks, plants, and archaeological sites untouched to preserve their integrity.
Minimize Noise: Keep noise levels to a minimum to respect the park's serene atmosphere and wildlife. Be mindful of other visitors who are seeking tranquility and the sounds of nature.
Camp Responsibly: If you plan on camping in the park, choose designated campsites and follow all camping regulations. Leave your campsite clean and undisturbed, and ensure your campfire is fully extinguished before leaving.
By practicing Leave No Trace principles, you contribute to the conservation and preservation of Arches National Park's delicate ecosystems, ensuring that its natural beauty remains unspoiled for generations to come. Let's all be responsible stewards of this remarkable landscape.
Intrepid Scout's Final Arches National Park Tips for First-Time Visitors
Start Early: Arrive at the park early in the morning to beat the crowds and enjoy the attractions with fewer people. This will also give you a better chance to secure parking at popular trailheads and viewpoints.
Dress Appropriately: Wear comfortable, sturdy shoes for hiking and exploring the park's trails. Dress in layers to accommodate temperature changes throughout the day, and don't forget to wear a hat, sunglasses, and sunscreen to protect yourself from the sun.
Carry Essential Supplies: Besides water, carry essential supplies such as snacks, a map or guidebook, a first aid kit, insect repellent, and a camera to capture the stunning vistas. Consider bringing binoculars to enhance your wildlife viewing experience.
Check Weather Conditions: Before heading out, check the weather forecast and be prepared for changing conditions. Sudden rainstorms or high temperatures can impact your experience, so plan accordingly and stay informed.
Take Breaks and Stay Hydrated: Pace yourself during hikes and take breaks as needed. Listen to your body and stay hydrated by drinking water regularly. Remember, it's important to prioritize your well-being and enjoy the park at your own pace.
Did You Find This Useful?
Why Not Save 16 Arches National Park Tips for First-Time Visitors to Your Pinterest Board!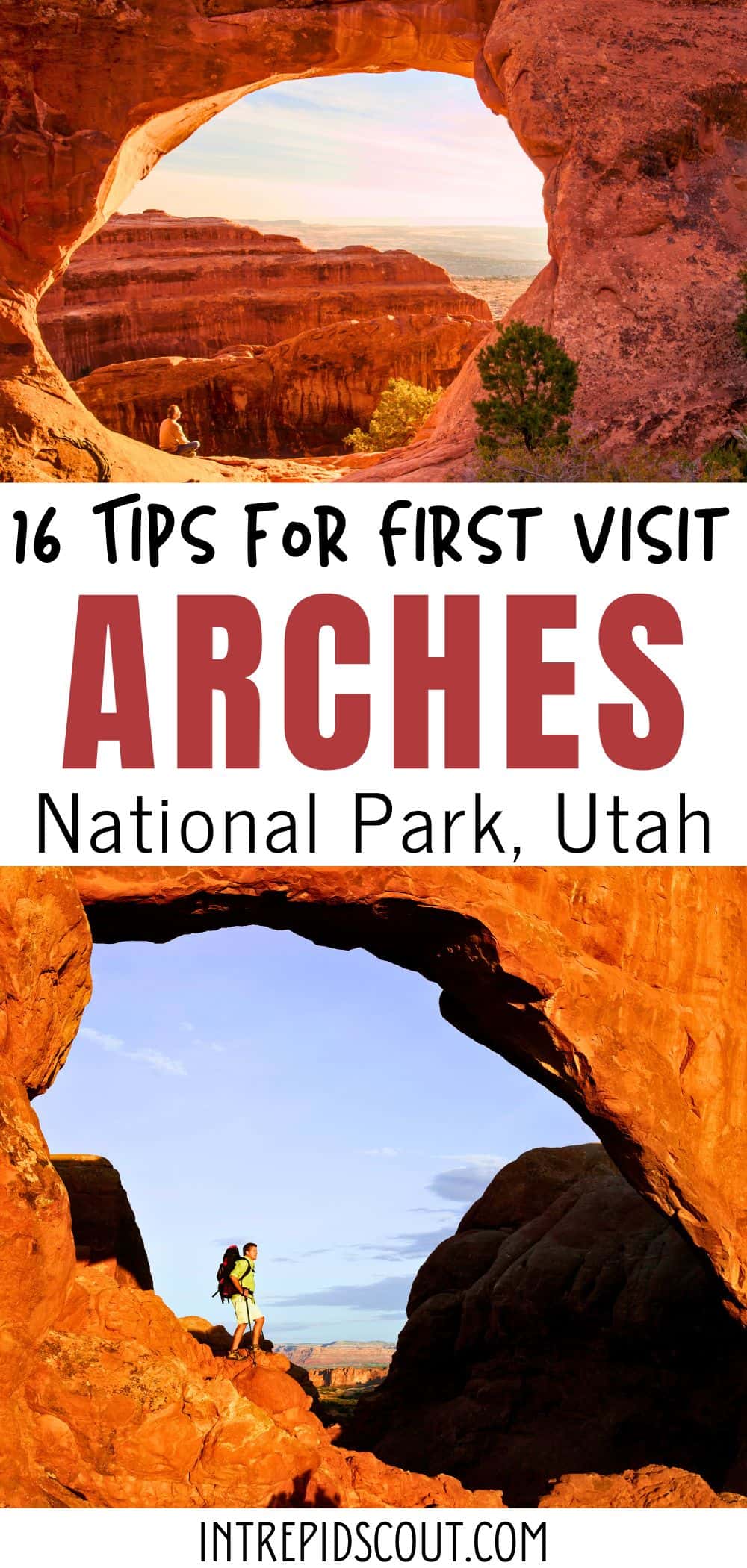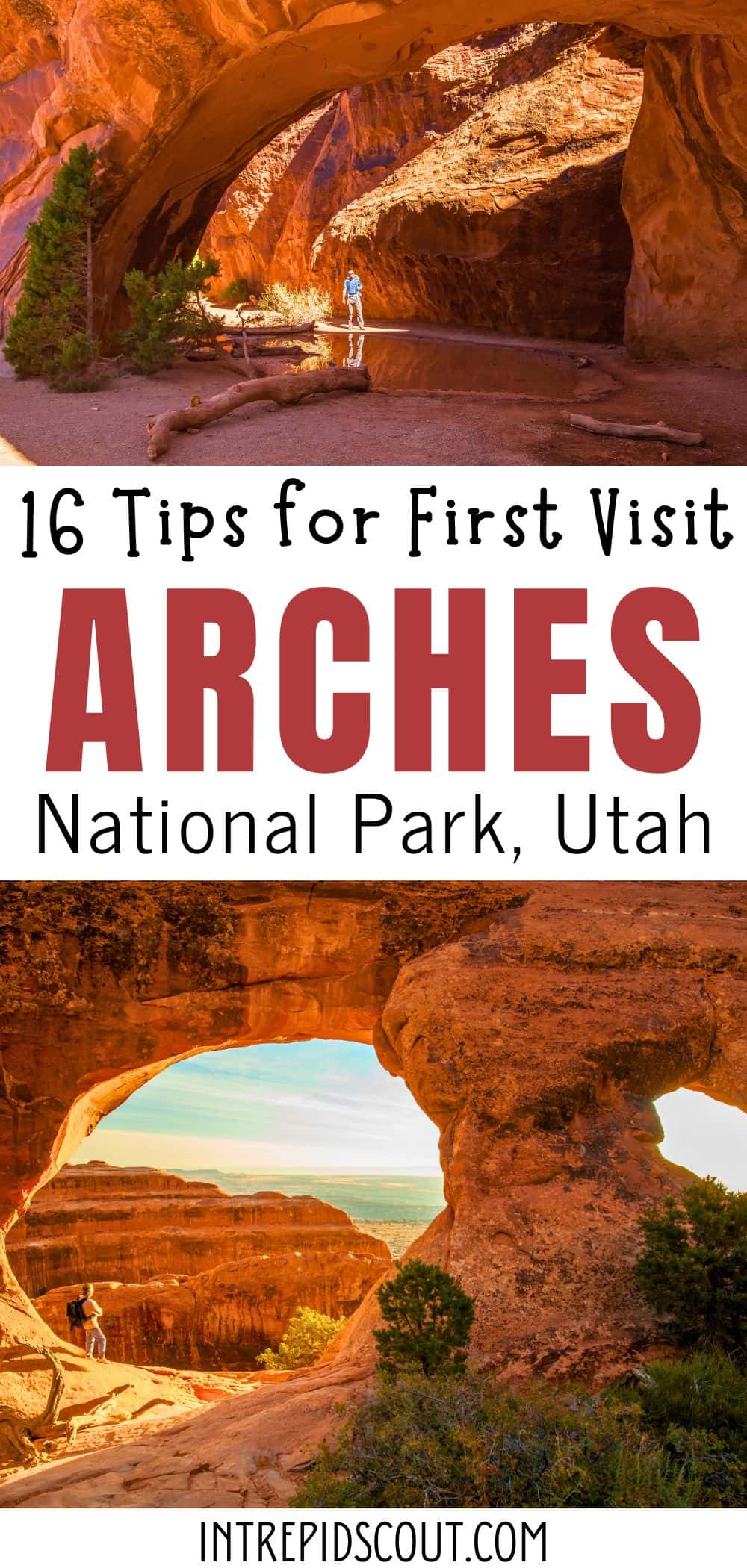 Now, It Is Your Turn, I Would Like to Hear Back from You!
Are you planning your trip to Arches National Park?
Please let me know! Drop me a quick comment right below!
Click on any of the images below to get inspired and to help you with the planning process for your trip to Arches!