This site uses affiliate links, meaning that if you make a purchase through our links, we may earn an affiliate commission.
Welcome to the vibrant and sun-soaked city of Miami!
As a first-time visitor, you are about to embark on an exciting adventure filled with beautiful beaches, vibrant culture, and unforgettable experiences.
To ensure you make the most of your trip, we have compiled a valuable list of Miami tips for first-time visitors. Whether you are seeking white sandy shores, pulsating nightlife, or mouthwatering cuisine, these insider tips will help you navigate the city like a pro.
From must-visit neighborhoods to hidden gems and everything in between, get ready to uncover the secrets that will make your Miami experience truly extraordinary.
So, pack your sunscreen, grab your sunglasses, and let's dive into these invaluable Miami tips for first-time visitors!
12 Insider Miami Tips for First-Time Visitors
Soak Up the Sun in South Beach
South Beach is renowned for its wide expanse of white sand, stretching for miles along the coastline.
South Beach's beach can be accessed from numerous points along Ocean Drive and Collins Avenue. You will find public beach entrances marked with colorful lifeguard stands, providing easy access to the sandy shores.
There is plenty of space to relax, sunbathe, play beach games, or take leisurely walks along the water's edge. The turquoise waters of South Beach are warm and inviting, making it a perfect spot for swimming and water activities.
The beach is relatively calm, thanks to the protection provided by the offshore sandbar, creating a peaceful paradise for beachgoers.
Along the beach, you will find numerous restaurants and bars offering beachfront dining. Whether you're in the mood for a casual snack, a refreshing cocktail, or a full meal with ocean views, you will have plenty of options to choose from.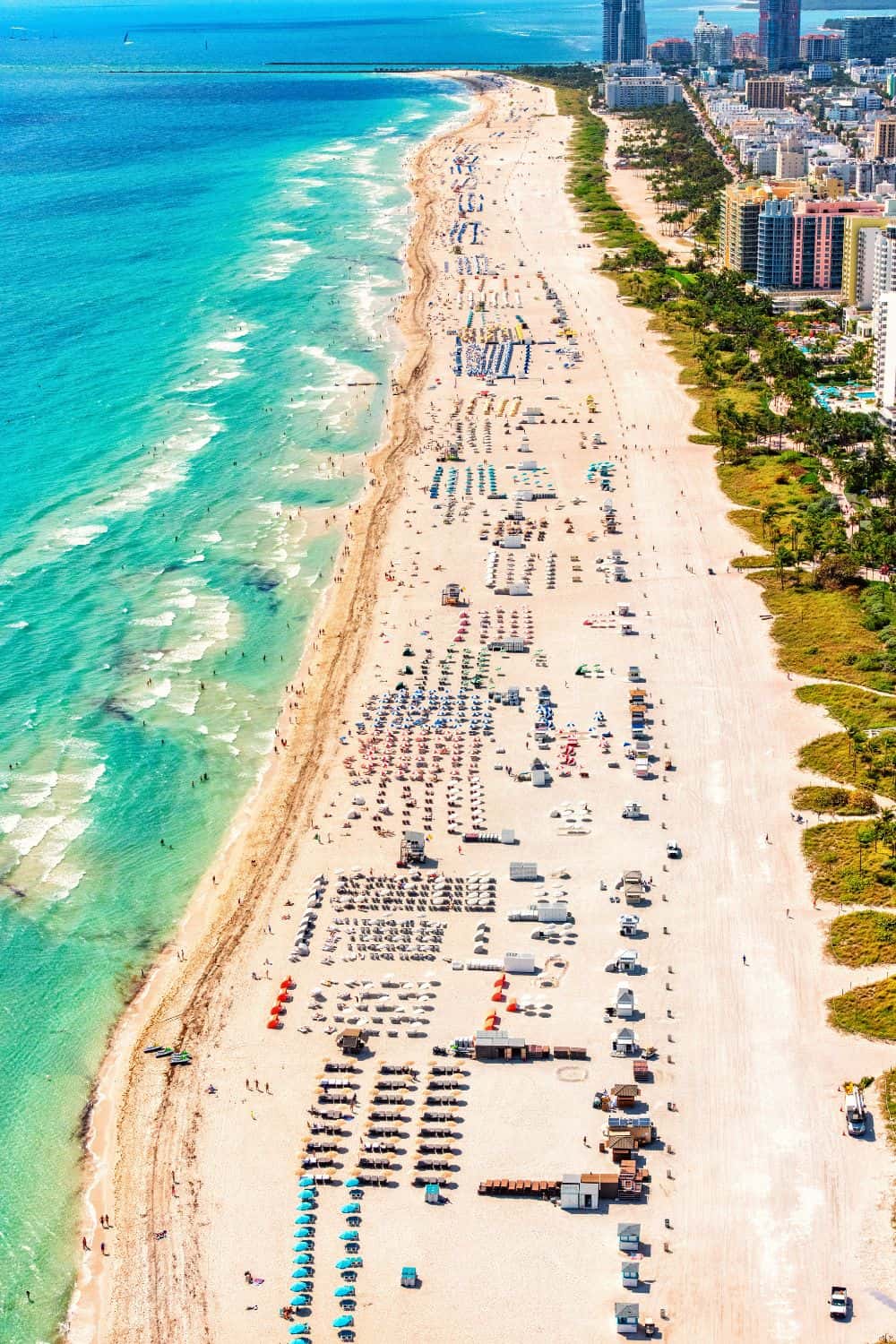 South Beach in Maimi / Miami Tips for First-Time Visitors
The lifeguard towers in South Beach are not only functional structures but also iconic symbols of the beach and its vibrant culture. They are known for their unique and colorful architectural design.
Each tower features a distinct color scheme, often incorporating vibrant hues such as bright turquoise, pink, yellow, and orange. Their unique design and vibrant colors make them an ideal spot for capturing memorable vacation moments. Many people enjoy taking photos with the lifeguard towers as a way to commemorate their visit to South Beach.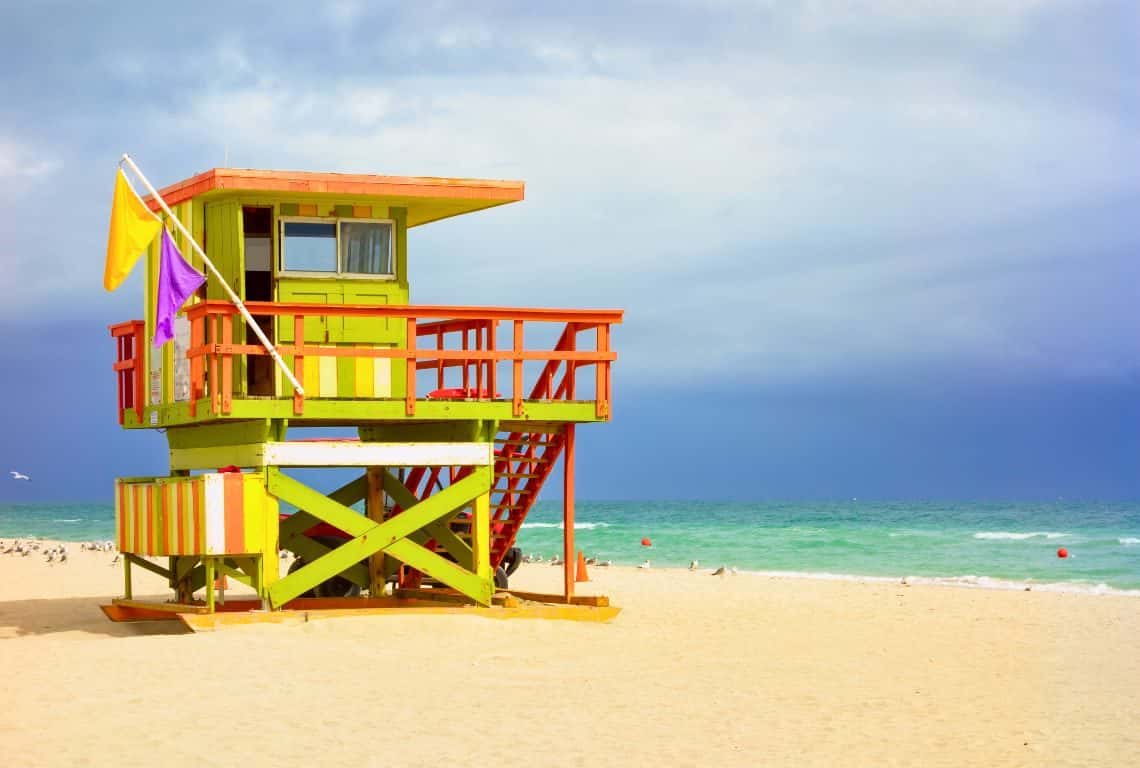 Iconic Lifeguard Tower in South Beach, Maimi / Miami Tips for First-Time Visitors
So now, with no further delay, find a spot on the shore, spread out your towel, and relax under the warm Florida sun. Take a refreshing dip in the turquoise waters of the Atlantic Ocean to cool off.
Ocean Drive is the main strip of South Beach and a hub of activity. It is lined with numerous Art Deco buildings, restaurants, bars, and hotels.
The vibrant energy, sidewalk cafes, and outdoor seating create a lively atmosphere that is synonymous with Miami's South Beach.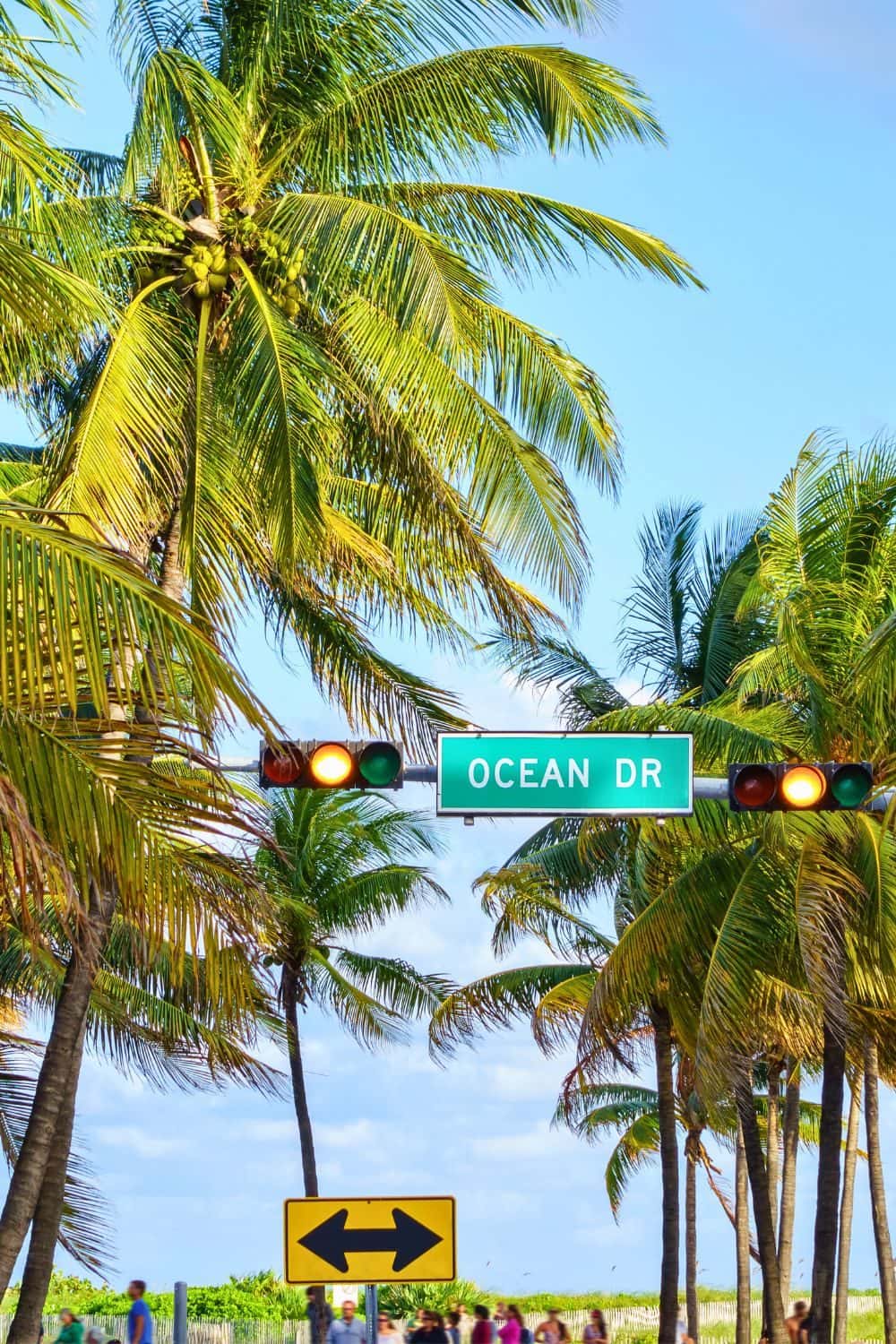 Ocean Drive in Miami / Miami Tips for First-Time Visitors
Take a leisurely walk or a drive along this palm-lined boulevard, lined with pastel-colored art deco buildings that date back to the 1930s and 1940s. Admire the architectural beauty and snap some photos of the iconic landmarks.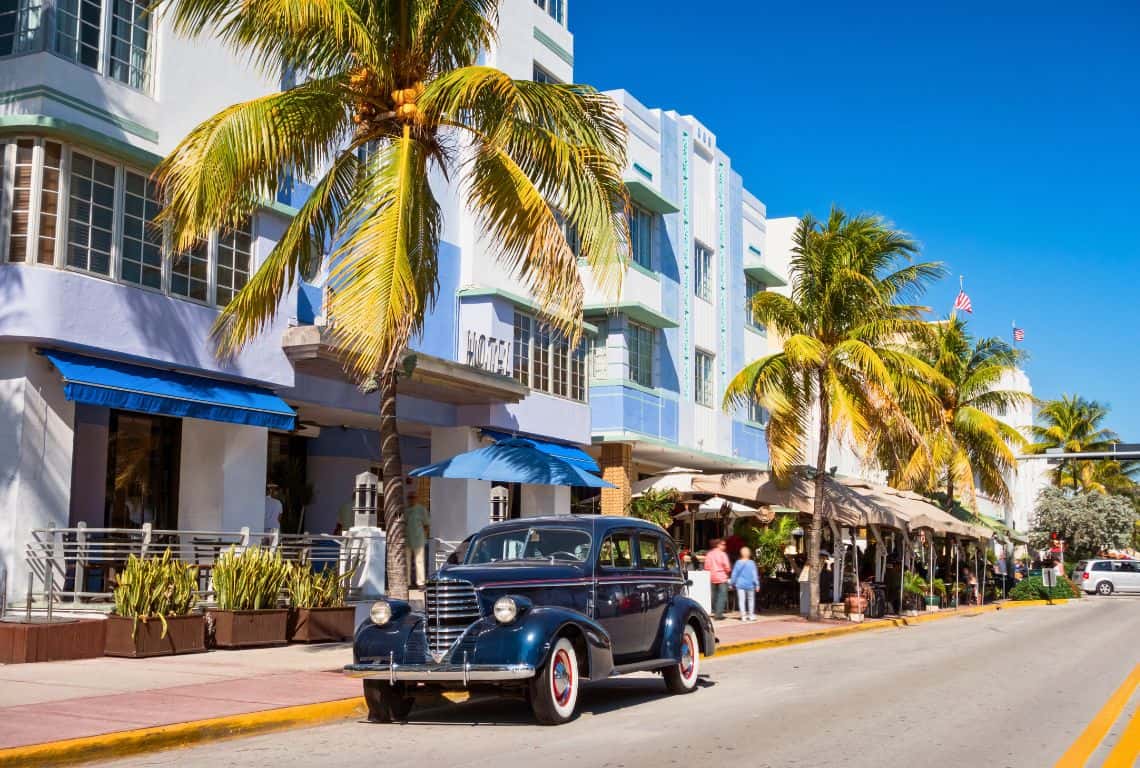 Ocean Drive in Miami / Miami Tips for First-Time Visitors
Explore the Art Deco Historic District
The Art Deco Historic District, located in the iconic South Beach neighborhood of Miami, encompasses approximately one square mile, bordered by the Atlantic Ocean, 6th Street, Collins Canal, and Lenox Avenue.
The Art Deco Historic District is renowned for its stunning collection of Art Deco architecture.
Here are some key details and highlights:
The Art Deco style emerged in the 1920s and 1930s, characterized by its sleek lines, geometric shapes, and vibrant colors. The buildings in the Art Deco Historic District reflect this style, with their symmetrical facades, bold colors, and intricate decorative elements.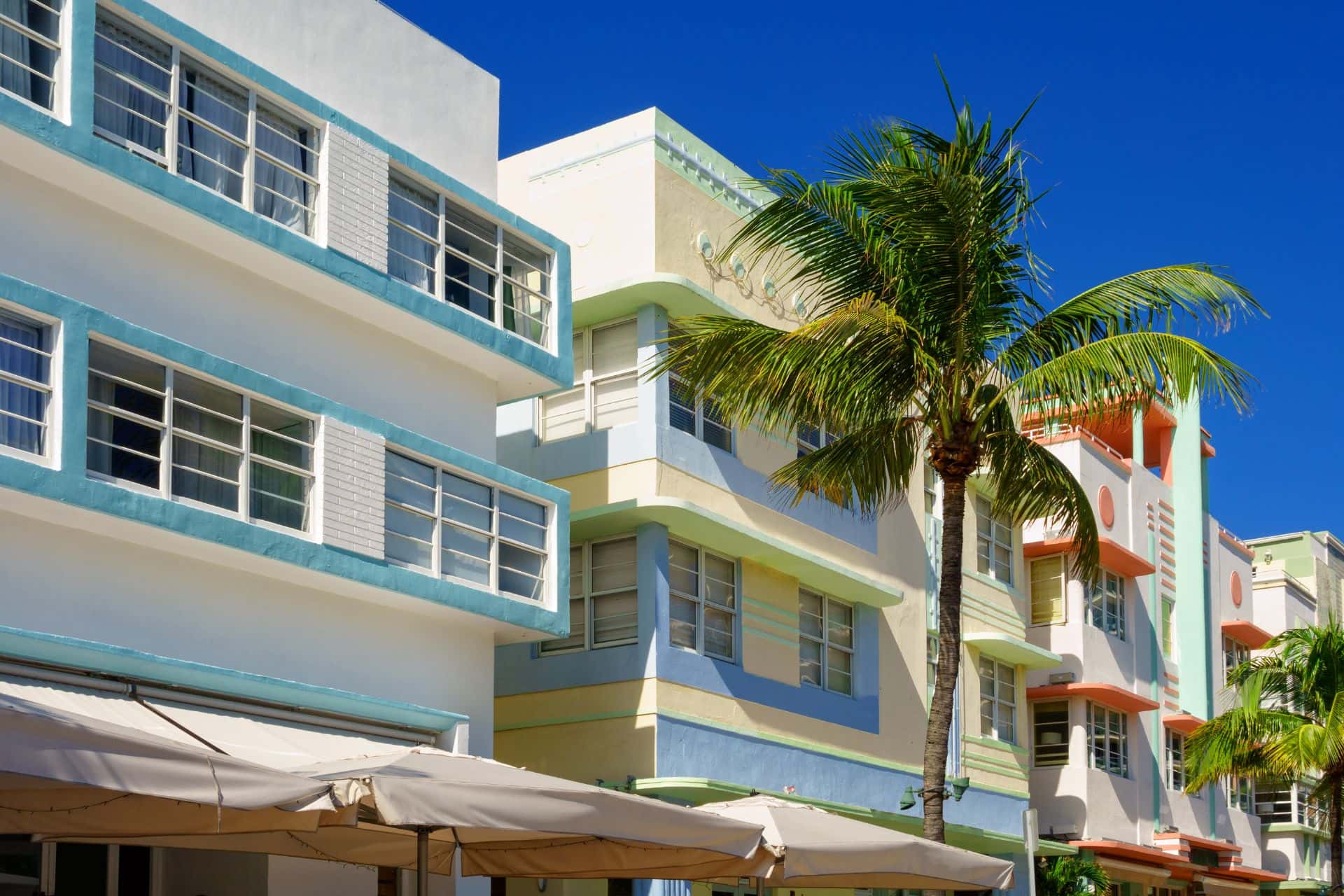 The Art Deco Historic District in South Beach / Miami Tips for First-Time Visitors
The Art Deco Historic District was designated a National Historic Landmark in 1979, recognizing its significance in American architectural history.
Some notable architectural highlights in the Art Deco District include the Colony Hotel, the Carlyle Hotel, the Park Central Hotel, and the Cardozo Hotel. These buildings showcase distinct Art Deco design elements, such as porthole windows, neon signage, terrazzo floors, and sweeping curves.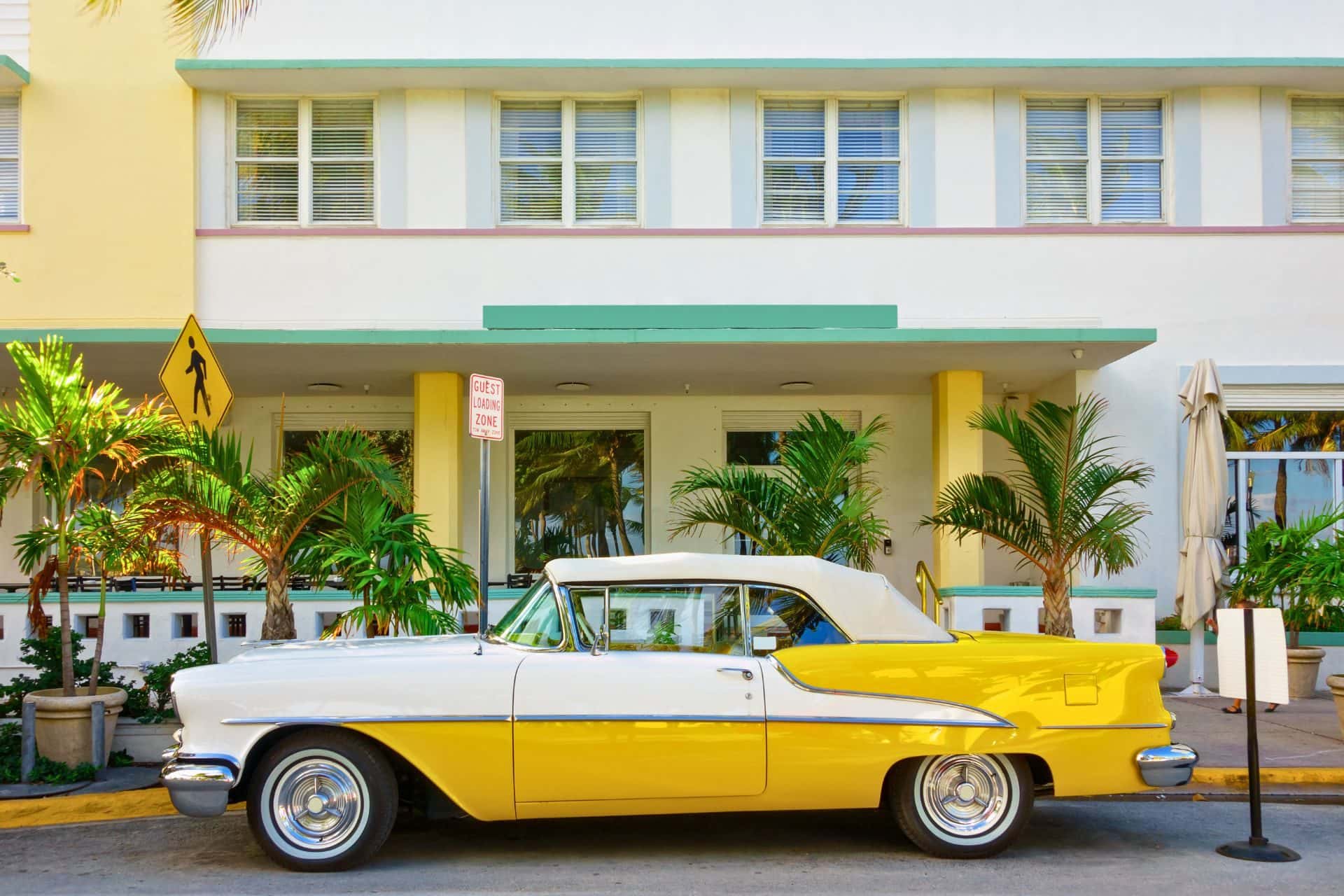 Classic Car Parked in Front of the Hotel / Miami Tips for First-Time Visitors
My recommendation is that you join a guided tour Miami South Beach Art Deco Walking Tour and find out about the history and significance of the art deco style. Discover stunning buildings like the Colony Hotel, the Cardozo Hotel, and the Carlyle Hotel.
You will learn about the history of South Beach as you walk through the ocean-side neighborhood, with fascinating stories about mob life, Hollywood glamour, and modern design, and you will hear about the area's outrageous characters and scandals.
I really enjoyed it and it was a great introduction to Miami.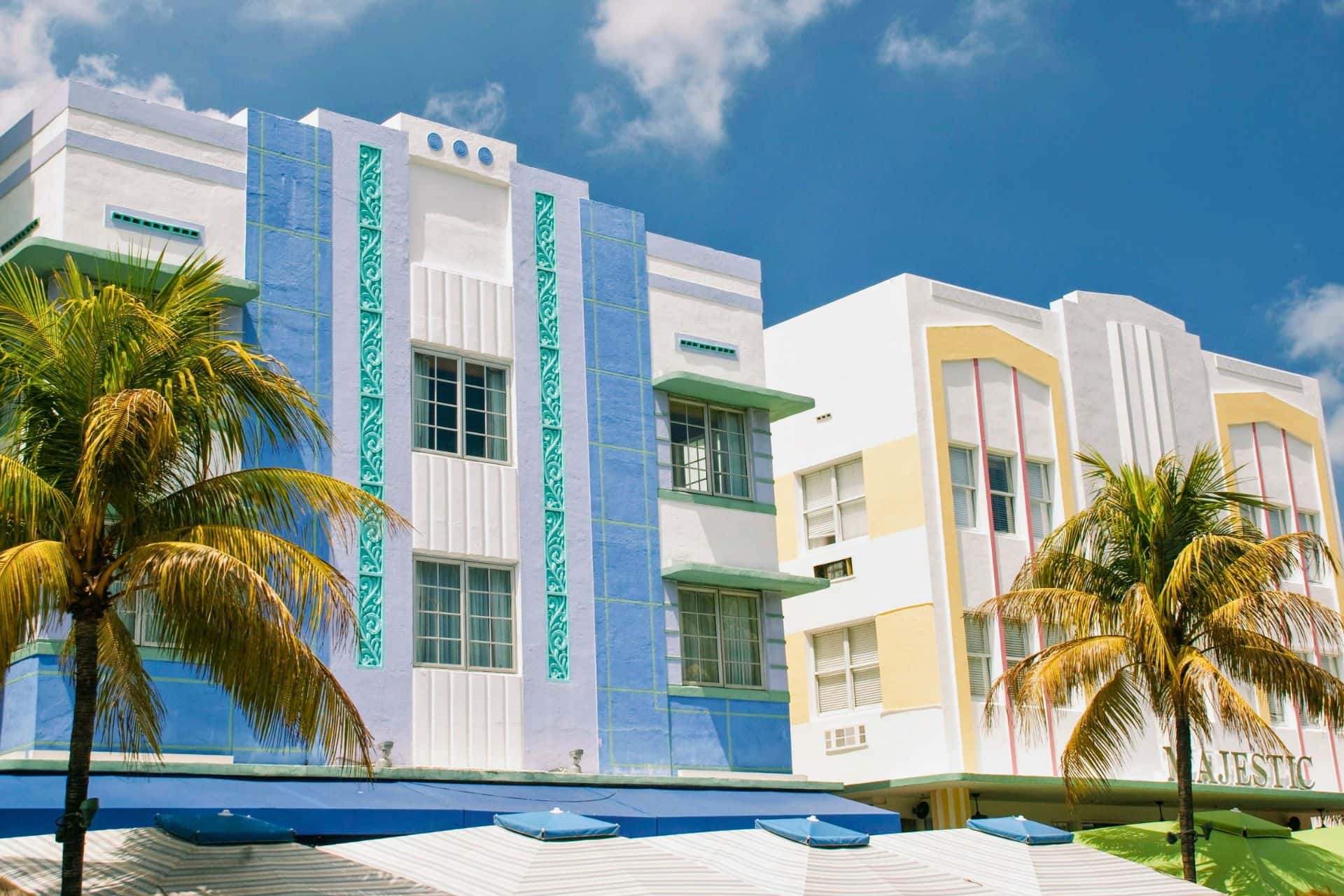 The Art Deco Historic District in South Beach / Miami Tips for First-Time Visitors
Indulge in South Beach's Culinary Delights
South Beach is a food lover's paradise. Sample delicious Cuban cuisine, fresh seafood, and international flavors at the numerous restaurants and cafes along Ocean Drive and Collins Avenue. Don't miss trying a classic Cuban sandwich or a refreshing mojito.
Here are some of my favorite places:
Yardbird Southern Table & Bar is a must-visit for Southern comfort food with a modern twist, including fried chicken and delicious biscuits.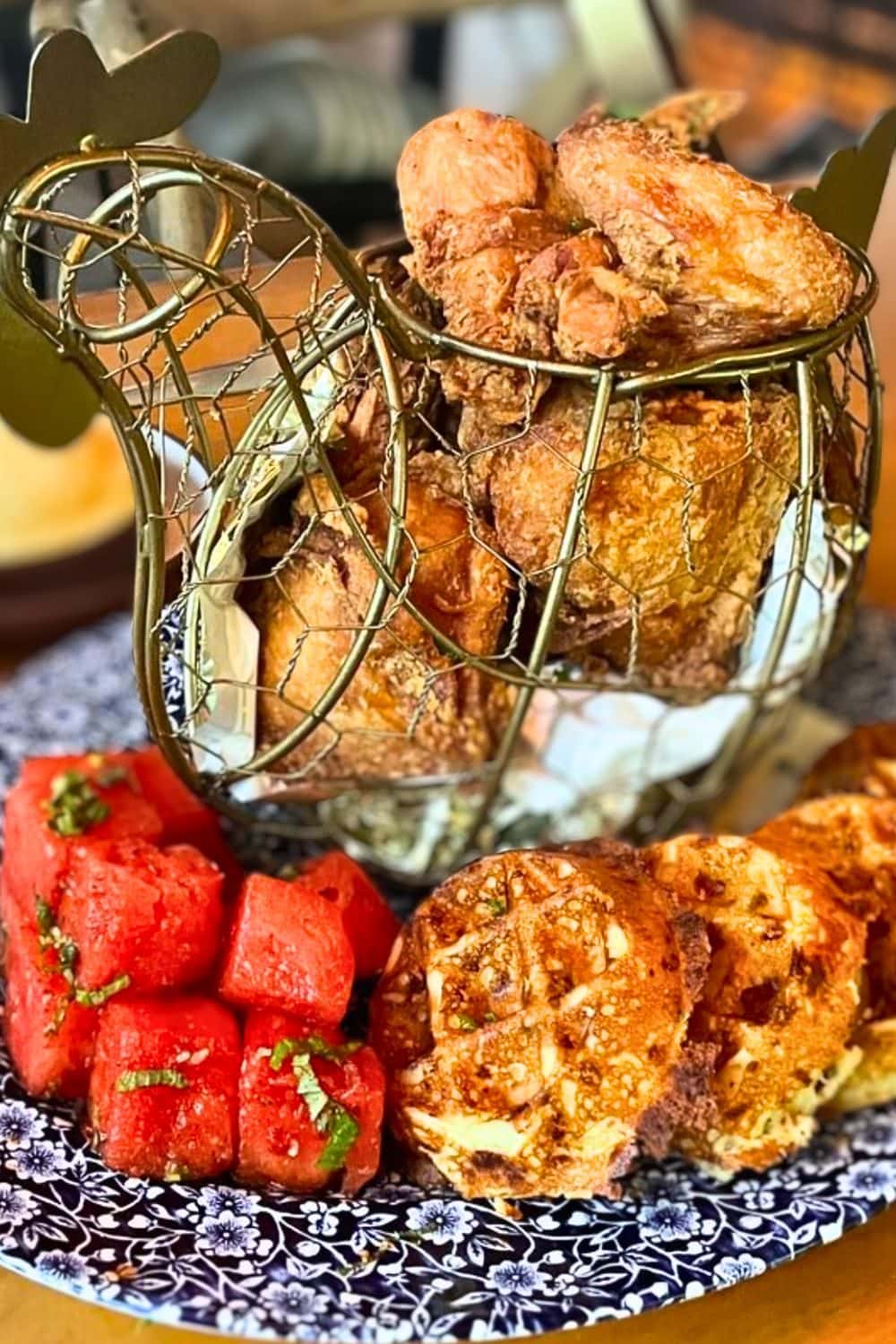 Yardbird Southern Table & Bar / Miami Tips for First-Time Visitors
Visit Puerto Sagua for traditional Cuban comfort food, including mouthwatering ropa vieja and Cuban sandwiches.
For a taste of Peruvian cuisine, check out Cvi.che 105, a popular spot that is known for its ceviche and other Peruvian specialties.
At the Bazaar by José Andrés, where you can savor a mix of Spanish, Latin, and American cuisine in a chic and eclectic setting.
Here is a guided tour that you can't miss: A Taste of South Beach Food Tour. You will love it!
It is a small small-group food tour led by a local foodie guide. You will get to sample American, Cuban, French, Haitian, Italian, Mediterranean, and Peruvian dishes at some of the most popular restaurants in South Beach.
in addition, you will learn about the history, culture, and architecture of the trendy, quirky Art Deco District and find out why it is one of the most popular hot spots in the world. To top it off all food tastings and beverages are included.
Experience the Nightlife in South Beach
When the sun sets, South Beach truly comes alive. Explore the vibrant nightlife scene, with its renowned clubs, bars, and lounges. Dance to the beats of world-class DJs, sip on craft cocktails and revel in the electrifying atmosphere that South Beach is famous for.
Here are some recommendations for nightlife experiences in South Beach:
Nightclubs: South Beach is home to some of the world's most famous nightclubs, known for their high-energy atmosphere and world-class DJs. Some popular options include LIV at the Fontainebleau, STORY, and E11EVEN Miami. These venues offer top-notch sound systems, impressive light shows, and a mix of music genres to keep you dancing all night long.
Rooftop Bars: Enjoy stunning views of the Miami skyline and the ocean while sipping on delicious cocktails at one of South Beach's rooftop bars. The Juvia Miami rooftop lounge offers a stylish setting with a fusion of Asian, French, and Peruvian cuisines. The rooftop bar at the 1 Hotel South Beach provides a chic and relaxed ambiance with panoramic views.
Ocean Drive: The iconic Ocean Drive comes alive at night with its lively atmosphere. Mango's Tropical Café and Clevelander South Beach Hotel are popular spots known for their lively entertainment and vibrant crowds.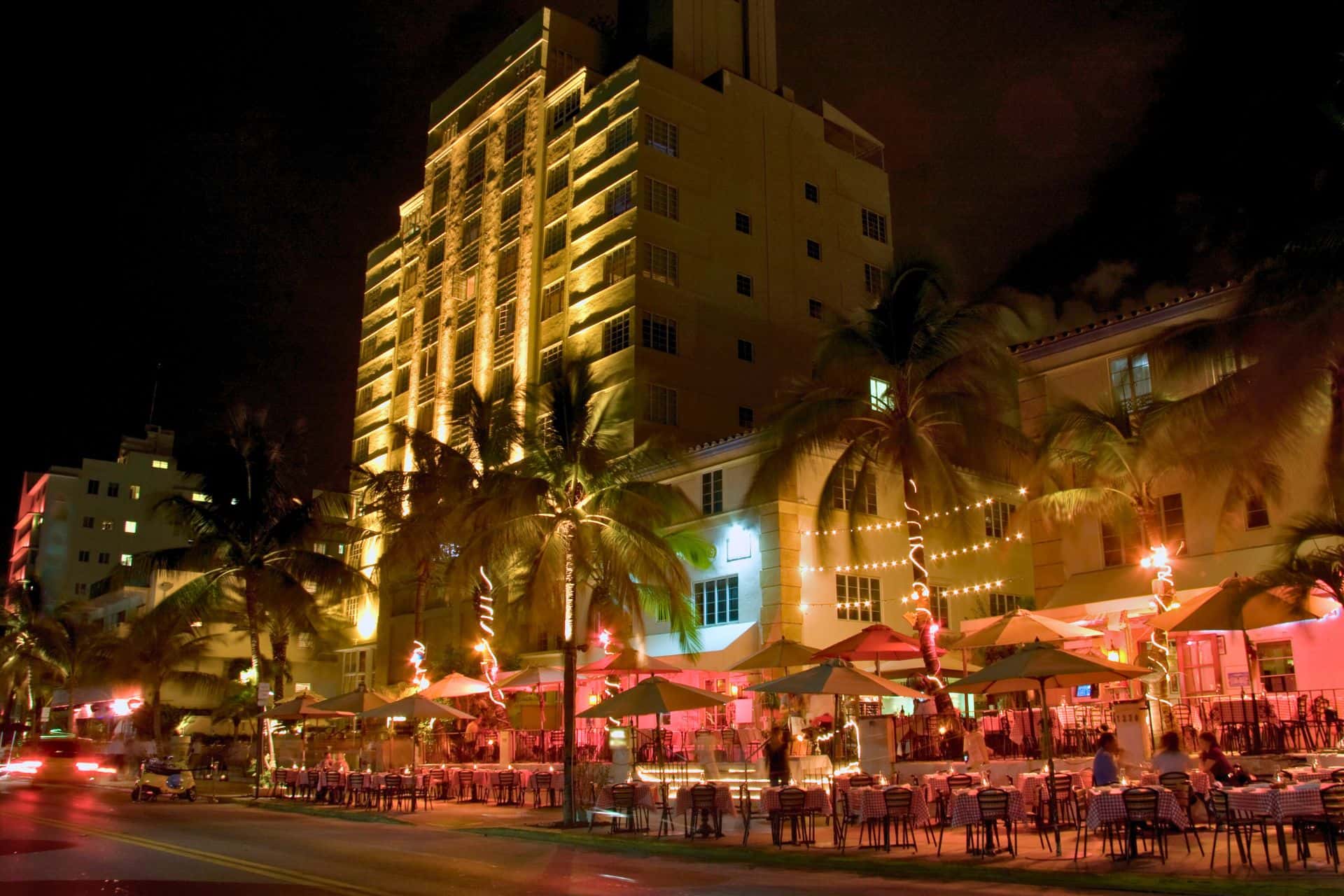 South Beach Nightlife / Miami Tips for First-Time Visitors
Beachfront Bars and Restaurants: South Beach offers a plethora of beachfront bars and restaurants where you can enjoy drinks and delicious cuisine with a stunning view of the ocean. The Nikki Beach Club, for example, offers a beachfront dining experience with live music, DJ sets, and a relaxed beachside atmosphere.
Here is a guided tour that has it all: Salsa Lessons & Mojitos Miami Beach plus Mango's Nightclub Pass.
You will learn how to dance salsa and bachata upstairs in the Mojito Room complete with bronze palm trees and an expert local host and dance instructor. Then, you can dance to the rhythm of a live band. Tasty snacks and a mojito are included, plus Mango's Nightclub Pass.
Discover the Vibrant Neighborhood of Little Havana
When exploring Miami for the first time, make sure to immerse yourself in the lively atmosphere of Little Havana. This culturally rich neighborhood is a vibrant hub of Cuban heritage and offers a unique glimpse into Miami's diverse tapestry.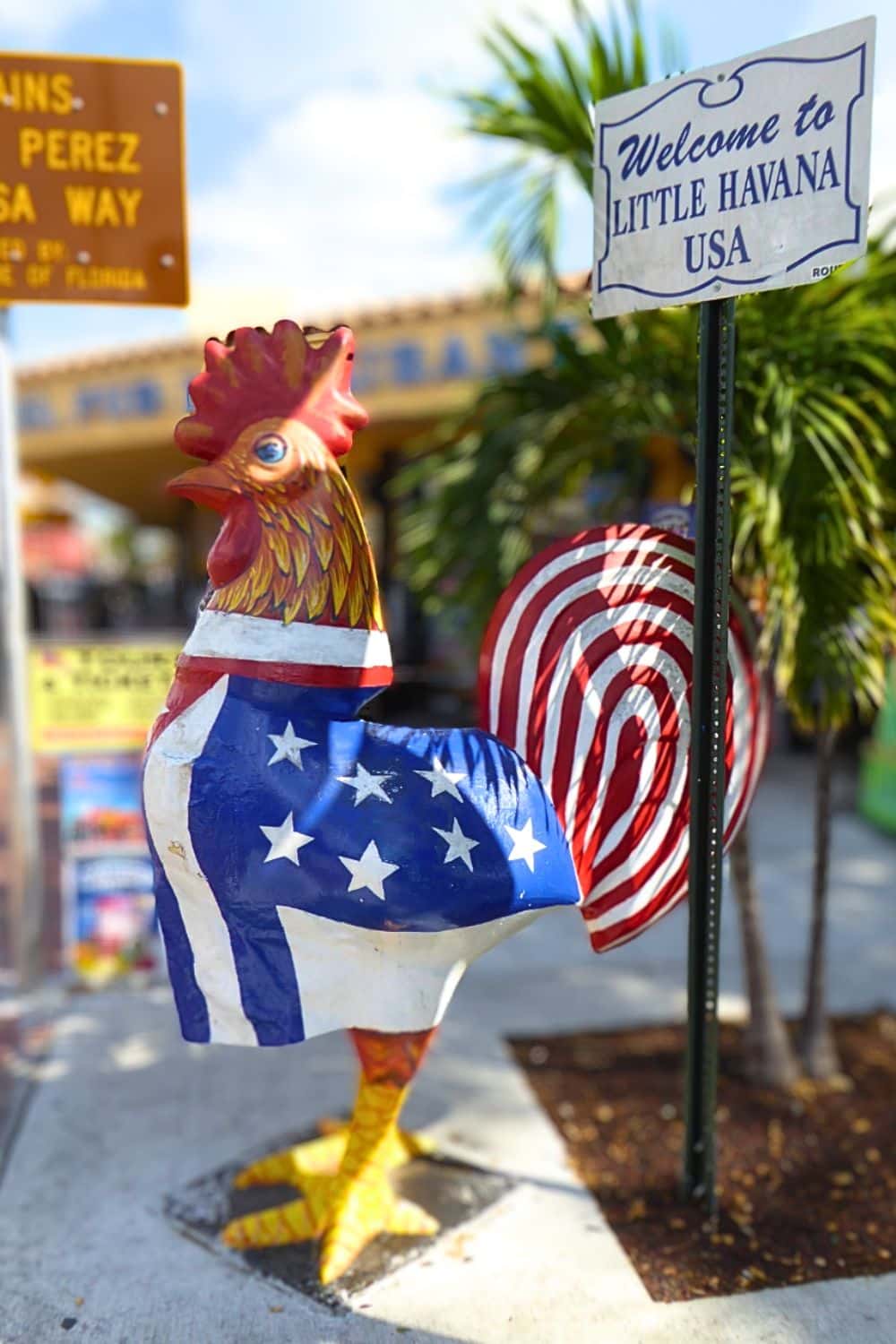 Welcome to Little Havana / Miami Tips for First-Time Visitors
Here's what you should not miss in Little Havana:
Calle Ocho (Eighth Street): Calle Ocho is the heart of Little Havana and the perfect place to start your exploration. Take a leisurely stroll along this bustling street lined with colorful murals, local shops, cafes, and restaurants. Immerse yourself in the vibrant Cuban culture that permeates the air.
Visit Domino Park: Maximo Gomez Park, also known as Domino Park, is a gathering place for locals and a symbol of Cuban heritage. Sit under the shade of the trees and watch as passionate players engage in lively domino games, an integral part of the neighborhood's culture.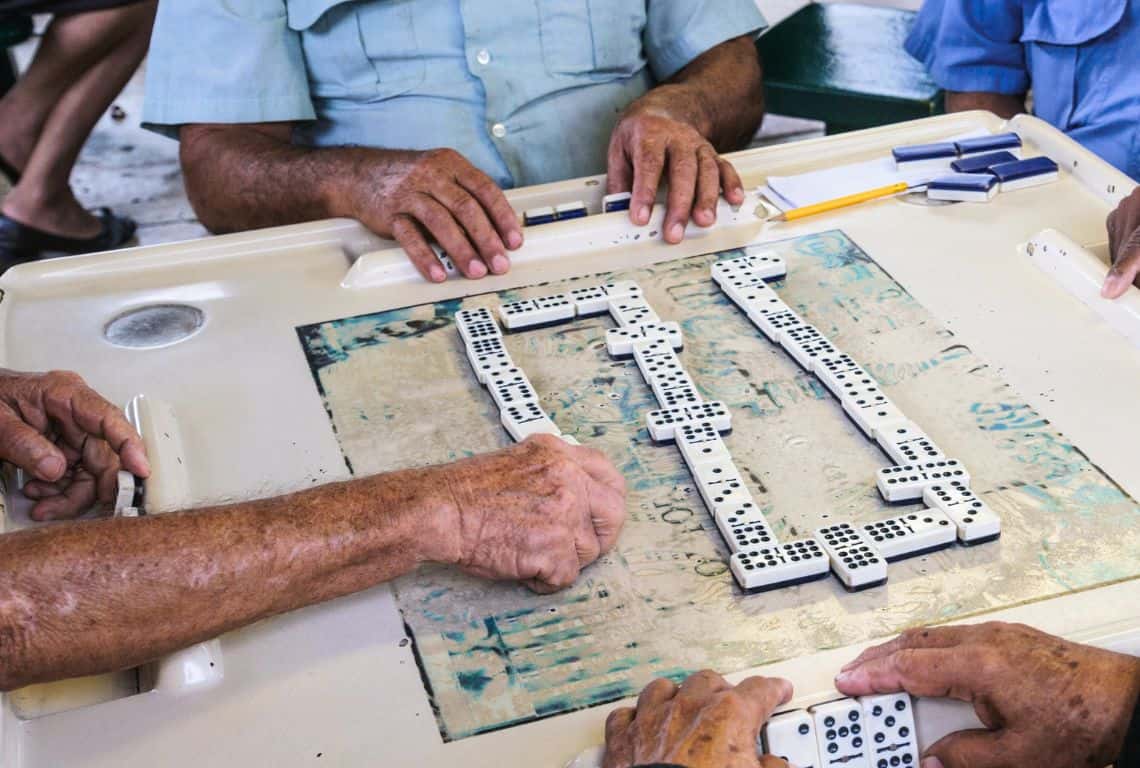 Domino Park in Little Havana / Miami Tips for First-Time Visitors
Explore Cuban Cuisine: Little Havana is a food lover's paradise, offering a range of authentic Cuban culinary delights. Don't miss the chance to savor classic dishes such as ropa vieja (shredded beef), lechon asado (roast pork), and deliciously sweet pastelitos (pastries). Grab a Cuban coffee or a refreshing mojito to complete your culinary journey.
There are a lot of great places to try some delicious Cuban delicacies. Here are some of my favorites:
Versailles Restaurant: Versailles is an iconic establishment in Little Havana and often referred to as the "World's Most Famous Cuban Restaurant." It offers a wide range of Cuban dishes, including classic favorites like Cuban sandwiches, lechón asado (roast pork), ropa vieja, and delicious pastries such as pastelitos and flan. Versailles also has a bustling bakery and a walk-up window for quick bites.
La Carreta: La Carreta is another popular Cuban restaurant in Little Havana, known for its authentic Cuban flavors and casual atmosphere. The menu features traditional Cuban dishes such as picadillo, vaca frita, and arroz con pollo. Don't miss their Cuban coffee and refreshing tropical fruit juices.
El Exquisito Restaurant: El Exquisito is a family-owned Cuban restaurant that has been serving the community since 1974. It offers a cozy atmosphere and a menu filled with Cuban classics. Try their tender and flavorful ropa vieja, crispy chicharrones de pollo (fried chicken chunks), and their famous Cuban sandwiches.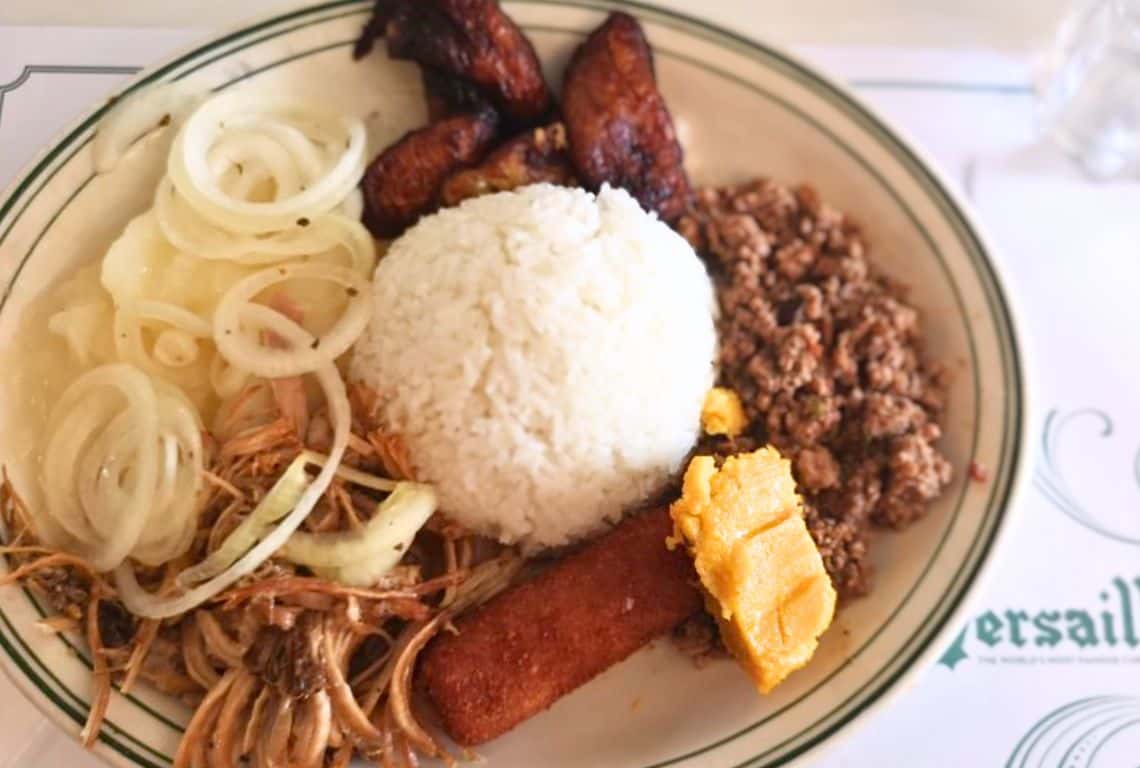 Versailles Restaurant in Little Havana / Miami Tips for First-Time Visitors
Visit the Bay of Pigs Museum: Gain insight into the history and heritage of the Cuban diaspora by visiting the Bay of Pigs Museum and Library. Learn about the significant role of Cuban exiles in shaping Miami's culture and the impact of the Bay of Pigs invasion.
Enjoy Live Music and Salsa Dancing: Little Havana is a hub for lively music and salsa rhythms. Step into one of the neighborhood's iconic music venues or outdoor spaces, where you can groove to the beats of live bands and witness the passion of local dancers.
My recommendation is to check out Ball & Chain, located in the heart of Little Havana. It is a legendary venue that showcases live music and Latin rhythms.
Right from the start you will step into its vibrant courtyard and enjoy energetic performances by local bands, playing genres like salsa, merengue, and Afro-Cuban jazz. The lively atmosphere will have you dancing the night away!
Experience the Colorful Wynwood Walls
When visiting Miami for the first time, make sure to venture into the vibrant neighborhood of Wynwood and explore the world-famous Wynwood Walls.
This open-air street art museum is a haven for art enthusiasts and offers a captivating display of creativity.
Here's what you need to know:
Wynwood Walls is a treasure trove of colorful and mesmerizing murals created by local and international artists. Take a leisurely stroll through the streets and alleys to admire the larger-than-life artworks that adorn building walls. Each mural tells its own story, representing diverse themes, styles, and techniques.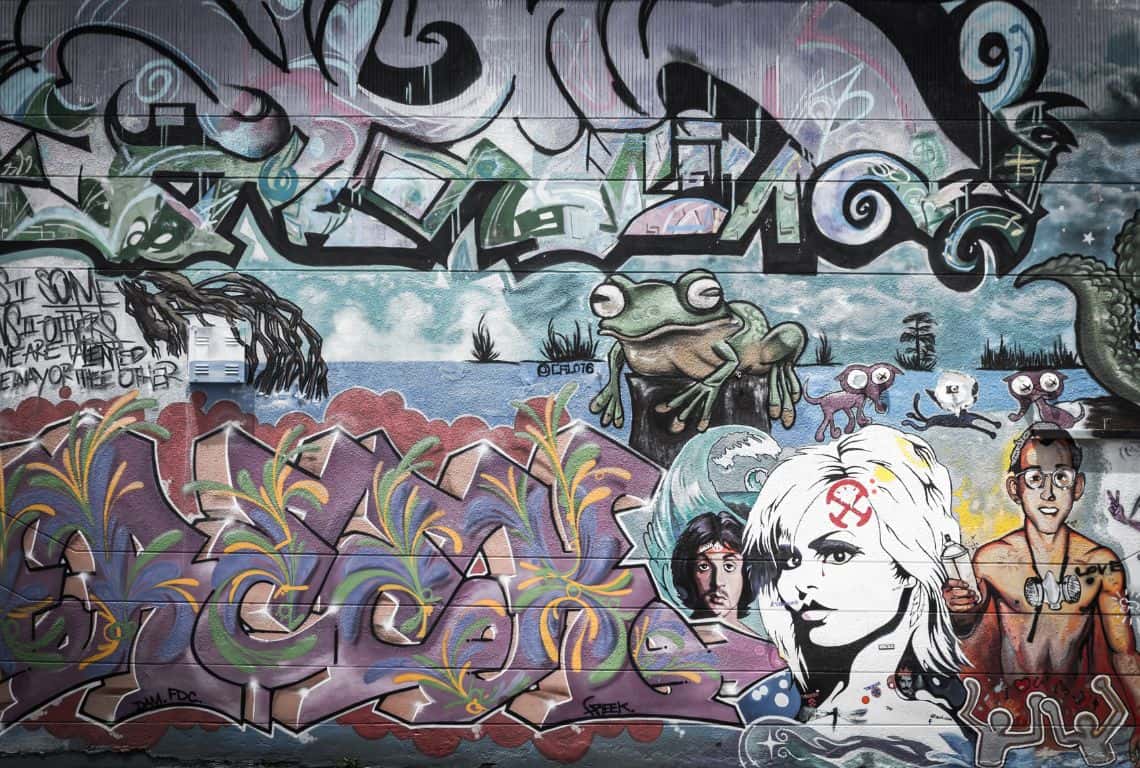 Wynwood Walls / Miami Tips for First-Time Visitors
In addition to the outdoor murals, Wynwood is home to numerous art galleries and studios. Step inside these creative spaces to discover even more artwork, including paintings, sculptures, and mixed-media pieces. Engage with artists, learn about their inspirations, and perhaps even bring home a unique piece of art as a memento.
To experience the true magic of Wynwood Walls, consider visiting during the evening when the neighborhood comes alive with vibrant energy. The murals are beautifully illuminated, casting a captivating glow on the surroundings. The area buzzes with activity as visitors, artists, and locals gather to appreciate the art and enjoy the lively atmosphere.
Many renowned artists contributed to Wynwood Walls. Here are a few that you should know about:
Shepard Fairey is a street artist and graphic designer known for his iconic "Hope" poster featuring Barack Obama during the 2008 U.S. presidential campaign. Fairey has contributed to the Wynwood Walls with his distinct style and thought-provoking artworks that often incorporate social and political themes.
Retna, whose real name is Marquis Lewis, is an artist recognized for his unique blend of calligraphy and street art. His intricate letterforms and symbols can be seen throughout Wynwood, adding a touch of elegance and mystique to the neighborhood's artistic landscape.
Aiko Nakagawa, known simply as Aiko, is a Japanese artist celebrated for her captivating and visually striking artworks. She often incorporates elements of feminine beauty and Japanese culture in her vibrant murals, creating a sense of enchantment and empowerment.
Although not directly associated with Wynwood Walls, it's worth mentioning The Bushwick Collective, an outdoor street art gallery located in Brooklyn, New York. The founder, Joseph Ficalora, has collaborated with the team behind Wynwood Walls to bring some of their talented artists to Miami, fostering an exchange of creativity and expanding the artistic dialogue between the two vibrant neighborhoods.
Wynwood Walls / Miami Tips for First-Time Visitors
One of the interesting stories related to Wynwood Walls is the transformation of the neighborhood itself. Once a neglected industrial area, Wynwood underwent a remarkable revitalization driven by the vision of Tony Goldman, a renowned developer and art enthusiast.
In 2009, Goldman launched the Wynwood Walls project, inviting artists from around the world to transform the neighborhood's blank walls into an outdoor museum. This initiative not only beautified the area but also catalyzed the growth of galleries, cafes, and businesses, turning Wynwood into a thriving artistic and cultural destination.
Explore the Natural Beauty of Everglades National Park
No visit to Miami would be complete without experiencing the breathtaking natural wonderland of Everglades National Park.
Known as the "River of Grass," this unique ecosystem is home to diverse wildlife, stunning landscapes, and fascinating cultural heritage.
Here's what you need to know:
Discover Wildlife: Everglades National Park is teeming with wildlife, offering opportunities for birdwatching, wildlife spotting, and nature photography. Keep an eye out for iconic residents like the great blue heron, the American crocodile, the Florida panther, and the West Indian manatee. Explore the park's trails, boardwalks, and observation points to maximize your chances of encountering these remarkable creatures.
Everglades National Park / Miami Tips for First-Time Visitors
Take an Airboat Ride: Embark on an exhilarating airboat ride, one of the most popular ways to explore the Everglades. Glide through the marshes, guided by experienced captains who will share their knowledge of the park's ecosystem and point out wildlife like alligators, birds, and turtles. The thrilling speed and close encounters with nature make this an unforgettable experience.
Go on a Nature Walk: Lace up your hiking shoes and embark on a nature walk or hike through the park's trails. From short boardwalk trails to longer trekking routes, there are options for all levels of fitness and interests. Immerse yourself in the tranquility of the surroundings, witness the unique plant life, and listen to the sounds of nature as you explore this magnificent wilderness.
Soak up the Sun and Serenity at Key Biscayne
Just a short drive from downtown Miami, the beautiful island of Key Biscayne awaits with its pristine beaches, natural beauty, and tranquil atmosphere.
Escape the hustle and bustle of the city and indulge in the sun-soaked serenity of this hidden gem.
Here's what you should do in Key Biscayne:
Visit Crandon Park Beach: Crandon Park Beach is a picturesque stretch of shoreline that offers crystal-clear waters, soft sand, and lush greenery. Take a leisurely swim, soak up the sun, or simply relax under the shade of palm trees. The beach also features amenities like picnic areas, playgrounds, and rental facilities for water sports equipment.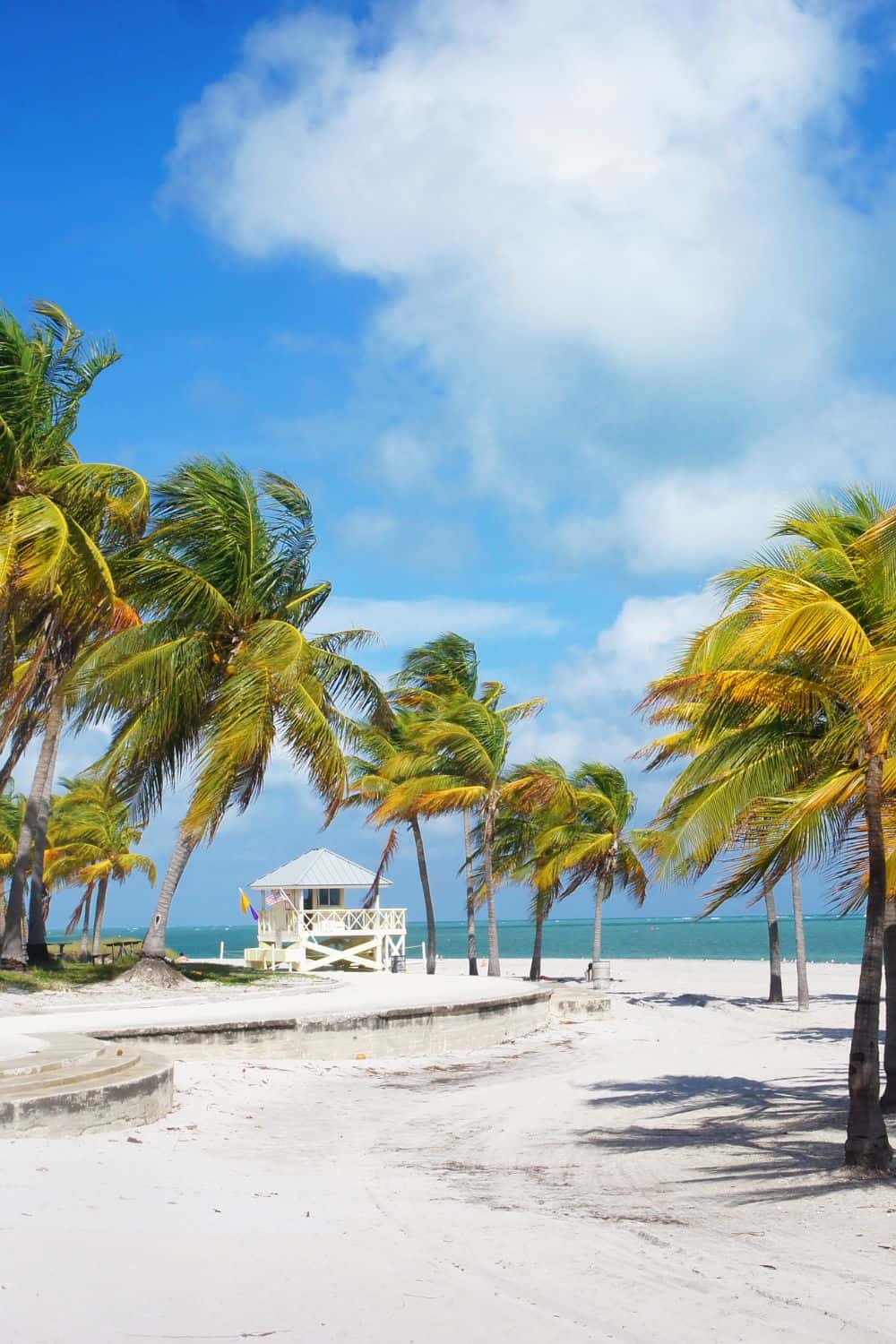 Crandon Park / Miami Tips for First-Time Visitors
Go Kayaking or Paddleboarding: Key Biscayne's calm and clear waters provide the perfect opportunity for kayaking or paddleboarding. Rent a kayak or paddleboard and explore the scenic coastline, keeping an eye out for marine life like dolphins, manatees, and colorful fish.
Explore Bill Baggs Cape Florida State Park: Located on the southern tip of Key Biscayne, Bill Baggs Cape Florida State Park is a nature lover's paradise. Discover scenic walking trails, bike paths, and mangrove forests. Don't miss climbing the historic Cape Florida Lighthouse, which offers panoramic views of the island and the Atlantic Ocean.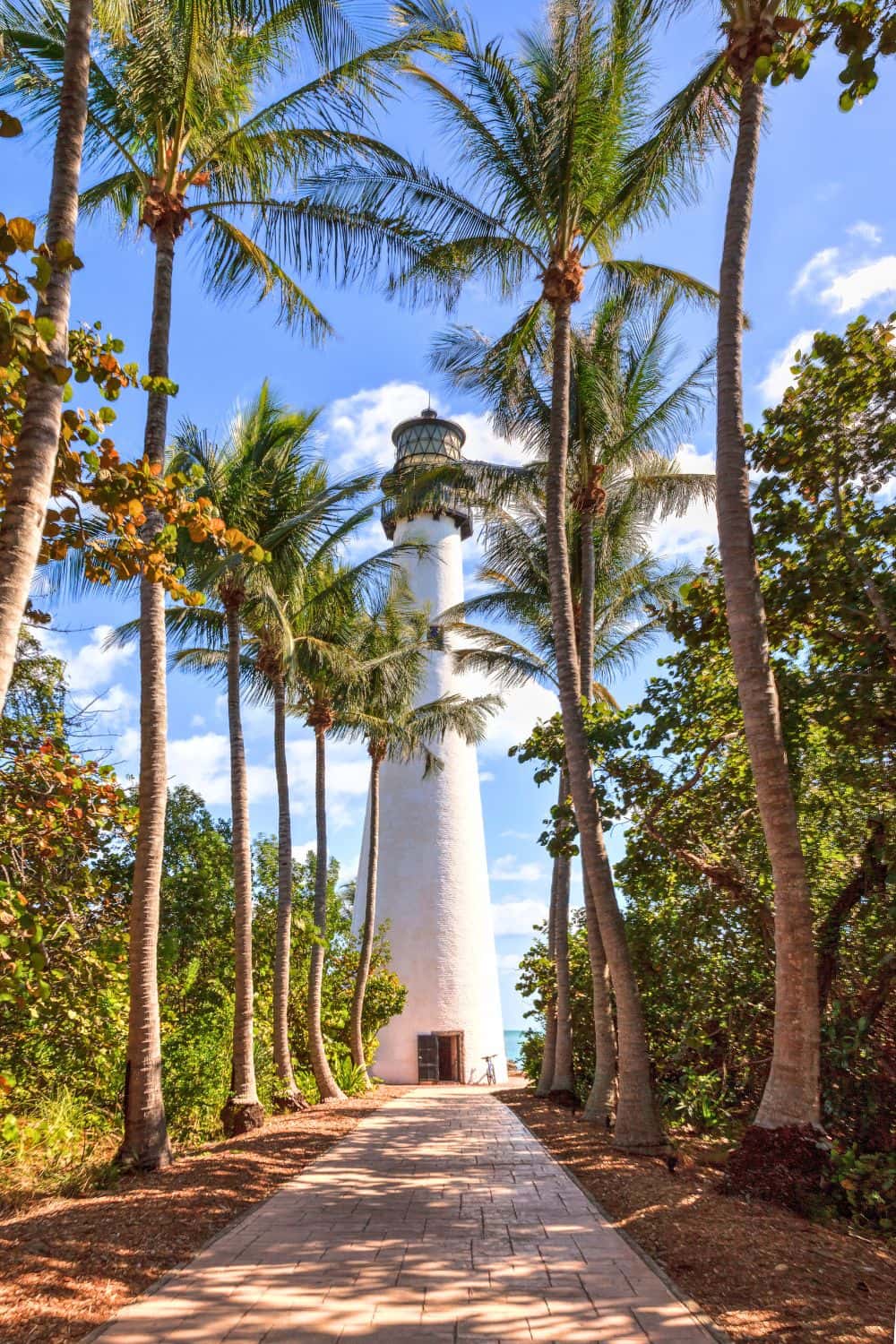 Cape Florida Lighthouse / Miami Tips for First-Time Visitors
Enjoy Outdoor Activities: Key Biscayne offers a range of outdoor activities for adventure enthusiasts. Go cycling on the island's bike paths, play a round of golf at the Crandon Golf Course, or try your hand at kiteboarding in the windy conditions.
Visit the Miami Seaquarium: Located on Key Biscayne, the Miami Seaquarium is a popular attraction for families and animal lovers. Witness captivating marine shows featuring dolphins, sea lions, and killer whales. Explore exhibits showcasing a variety of aquatic species and learn about marine conservation efforts.
Navigate Miami with Ease (Transportation Options for Exploring the City)
Getting around Miami is relatively easy, thanks to its diverse transportation options. Consider the following methods to navigate the city efficiently:
Rent a Car: Renting a car provides the most flexibility and convenience, especially if you plan to explore beyond the city center. Miami has well-developed road infrastructure, and having a car allows you to easily reach attractions, beaches, and neighborhoods at your own pace. Keep in mind that traffic can be heavy during peak hours, so plan your routes accordingly.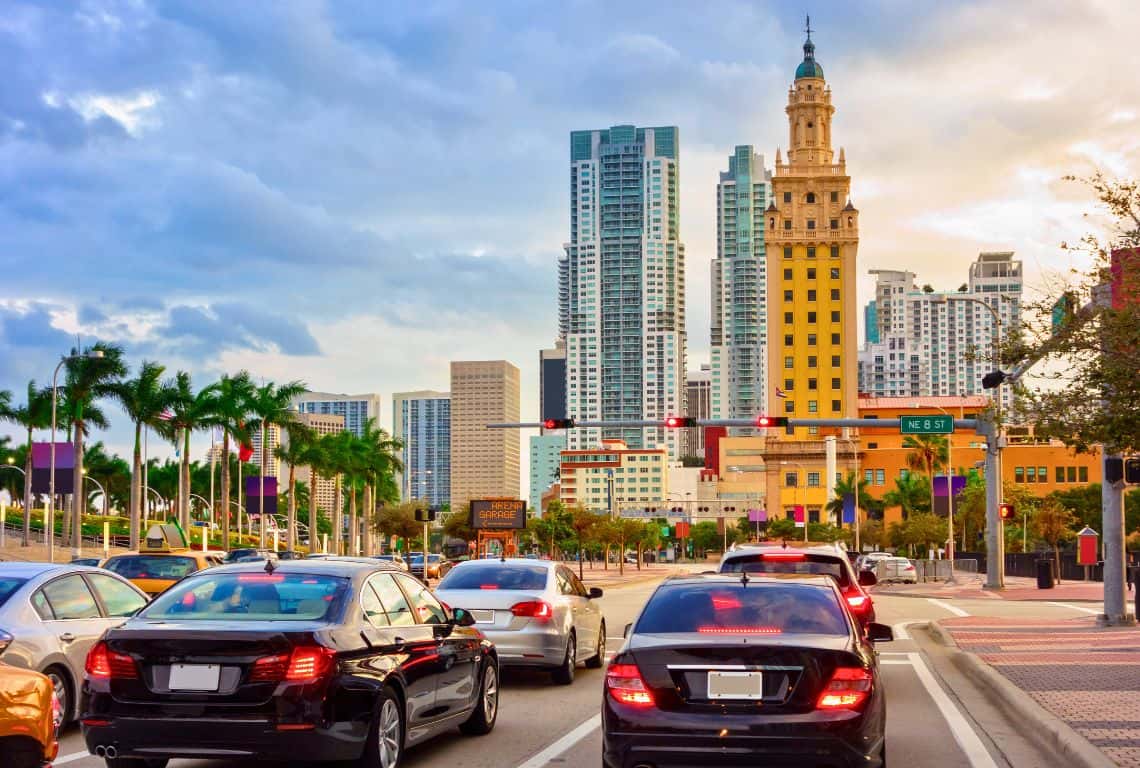 Biscayne Blvd in Downtown Miami / Miami Tips for First-Time Visitors
Metrobus: Miami-Dade Transit operates an extensive network of Metrobus routes that cover a wide area, including Miami Beach and other nearby cities. Metrobus is an affordable option for getting around Miami, and it's particularly useful for reaching destinations not served by Metrorail or Metromover.
Metrorail and Metromover: Miami's Metrorail and Metromover systems offer a convenient way to travel within the city. Metrorail is a rapid transit system that connects downtown Miami with surrounding neighborhoods and suburbs. Metromover, on the other hand, is a free automated people mover that operates within downtown Miami, making it easy to explore the city center and its attractions.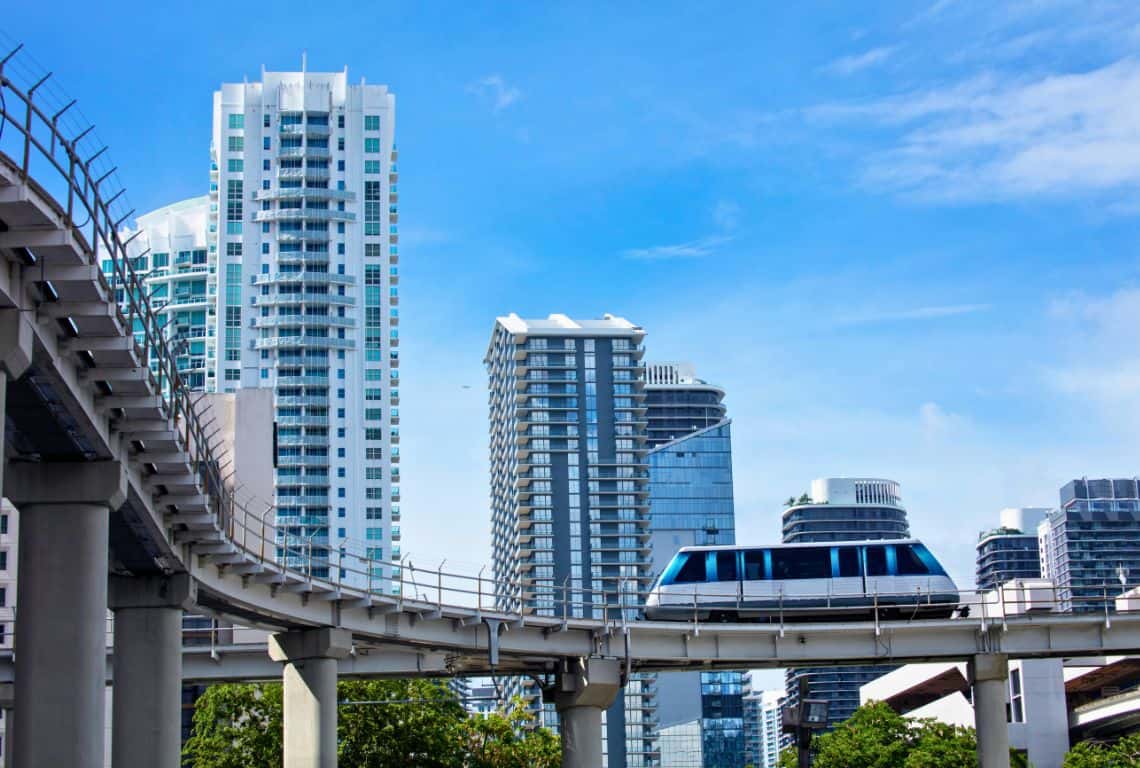 Metromover in Miami / Miami Tips for First-Time Visitors
Taxis and Ride-Sharing Services: Taxis and ride-sharing services like Uber and Lyft are readily available in Miami. They provide convenient door-to-door transportation and are particularly useful when traveling with a group or carrying luggage. Just keep in mind that during peak times or special events, prices may surge, so plan accordingly.
Biking: Miami offers a growing network of bike lanes and trails, making it a bike-friendly city. You can rent bikes from various bike-sharing programs available, such as Citi Bike Miami, and explore the city on two wheels. Biking is a fantastic way to enjoy the pleasant weather, particularly along the scenic paths of Miami Beach or the Venetian Causeway.
Walking: Exploring Miami on foot is a great option, especially in neighborhoods like South Beach and the Art Deco District. Many attractions, restaurants, and shops are within walking distance, allowing you to soak in the city's vibrant atmosphere and discover hidden gems along the way.
Time Your Visit Right (Best Time to Experience Miami's Vibrant Energy)
Miami is a city that offers pleasant weather year-round, but certain times of the year provide unique opportunities and experiences. Consider the following factors when deciding the best time to visit Miami:
Winter Bliss: Miami's winter season, from December to February, is considered the peak tourist season. The weather is mild and enjoyable, with temperatures ranging from the 60s to the 70s Fahrenheit (15-25 degrees Celsius). It's an ideal time to escape cold winters elsewhere and soak up the sun on the beaches. However, keep in mind that popular tourist areas can get crowded, and hotel rates tend to be higher during this time.
Spring Break Bustle: March and April bring a surge of visitors to Miami, primarily due to spring break. If you're looking for a lively and energetic atmosphere, this can be an exciting time to visit. Beaches and nightlife are buzzing with activity, and you can enjoy various events and festivals happening around the city. Be prepared for larger crowds and higher prices during this period.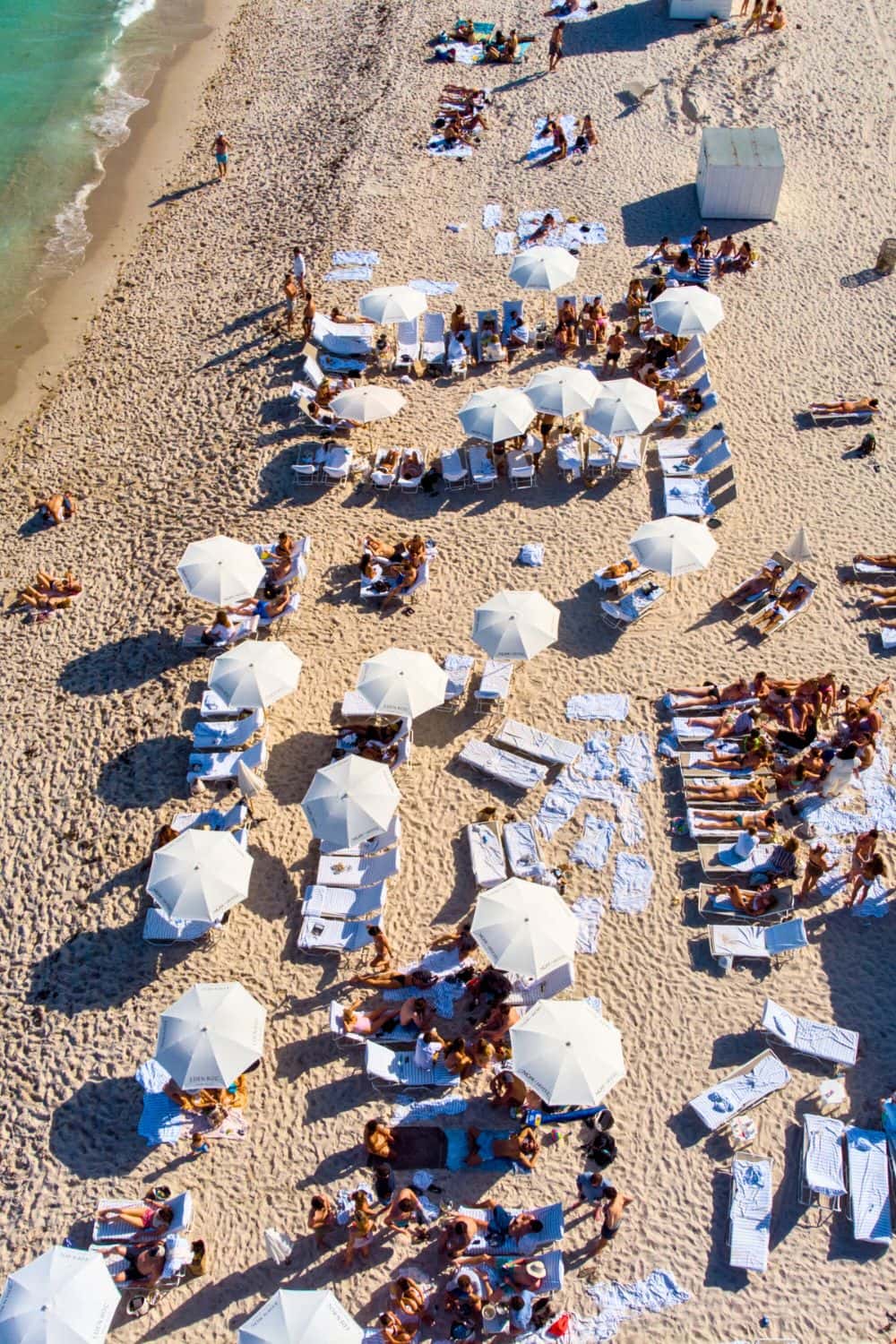 Aerial View of Miami Beach During Springbreak / Miami Tips for First-Time Visitors
Shoulder Season Sweet Spot: The months of May and November are considered the shoulder seasons in Miami. The weather is still warm and pleasant, with fewer crowds compared to the peak season. Hotel rates and flight prices may be more affordable during these months. It's a great time to explore the city's attractions, relax on the beaches, and indulge in outdoor activities while enjoying a more relaxed ambiance.
Rainy Season Considerations: Miami's rainy season typically runs from June to October, coinciding with the Atlantic hurricane season. While it's true that showers and thunderstorms are more frequent during this period, they usually occur in short bursts and don't necessarily disrupt your plans. Plus, you might find better deals on accommodations during this time. Just stay informed about weather updates and plan indoor activities or explore the city's cultural attractions during rainy spells.
Off-Peak Perks: If you prefer fewer crowds and lower prices, consider visiting Miami during the off-peak months of May, June, September, and October. The weather is still warm, and you can enjoy more relaxed beach days and shorter lines at popular attractions.
Find Right Accommodations for Your Budget and Style
When it comes to accommodations in Miami, there are options to suit every type of traveler.
Whether you're traveling with family, on a budget, seeking luxury, or looking for a romantic getaway, Miami has you covered.
For families, there are numerous family-friendly hotels and resorts scattered across the city. Areas like Miami Beach, Sunny Isles Beach, and Coconut Grove offer a range of accommodations that cater to families. These areas provide easy access to the beach, family-friendly attractions, and amenities such as pools, kids' clubs, and spacious suites or connecting rooms.
The Newport Beachside Hotel and Resort in Sunny Isles Beach is a popular choice for families. It offers spacious suites with kitchenettes, a private beach, multiple swimming pools, a kids' club, and activities for children.
If you're on a budget, there are affordable hotel options available in Miami. Areas like Downtown Miami, Brickell, and the airport vicinity offer a variety of budget-friendly hotels, motels, and hostels. While they may be more modest in terms of amenities and services, they provide a comfortable base for exploring the city without breaking the bank.
Miami International Airport Hotel is a convenient and budget-friendly option located right inside the airport. It provides comfortable rooms, complimentary airport shuttle service, and easy access to transportation to explore the city.
For those seeking luxury and indulgence, Miami offers a plethora of upscale hotels and resorts that provide world-class amenities and services. South Beach is known for its luxury accommodations, offering beachfront resorts with lavish spas, rooftop pools, gourmet dining, and exclusive services. Other areas like Bal Harbour, Key Biscayne, and Brickell also boast renowned luxury hotels that cater to discerning travelers.
Fontainebleau Miami Beach is an iconic luxury resort located in the heart of Miami Beach. It features elegant rooms with stunning ocean views, multiple pools, an expansive spa, world-class dining options, and a vibrant nightlife scene.
Miami is also a great destination for a romantic getaway. From intimate boutique hotels to beachfront resorts, there are plenty of options for couples seeking a romantic retreat. Areas like South Beach, Coconut Grove, and the Art Deco District offer a romantic ambiance with their picturesque settings, candlelit restaurants, and serene atmospheres.
The Betsy South Beach is a boutique hotel nestled in the Art Deco District of South Beach. It offers intimate and stylish rooms, a rooftop pool with ocean views, a serene courtyard, a spa, and a rooftop terrace where you can enjoy romantic sunset cocktails.
Intrepid's Tips for Miami for First-Time Visitors
Miami has plenty of other interesting attractions and activities that you can explore during your visit.
Here are a few additional highlights:
Vizcaya Museum and Gardens: Immerse yourself in the beauty of Vizcaya, a stunning Italian Renaissance-style villa surrounded by lush gardens. Explore the opulent interior, stroll through the intricately designed gardens, and enjoy breathtaking views of Biscayne Bay.
Pérez Art Museum Miami (PAMM): PAMM is a contemporary art museum located in downtown Miami, showcasing a diverse collection of modern and contemporary artworks. Explore the galleries and immerse yourself in the vibrant art scene of Miami.
Miami Design District: Indulge in luxury shopping and design in the Miami Design District. Discover high-end fashion boutiques, art galleries, furniture showrooms, and chic eateries in this trendy neighborhood known for its cutting-edge design and fashion.
Miami Beach Botanical Garden: Escape to the serene oasis of Miami Beach Botanical Garden, featuring a variety of lush gardens, water features, and tranquil spaces. Enjoy a peaceful stroll, participate in educational programs, or attend special events held within the garden.
These are just a few of the many interesting attractions and experiences Miami has to offer. Whether you're interested in art, culture, nature, or simply soaking up the sun on the beautiful beaches, Miami has something for everyone to enjoy.
Did You Find Miami Tips for First-Time Visitors Useful?
Why Not Save It to Your Pinterest Board!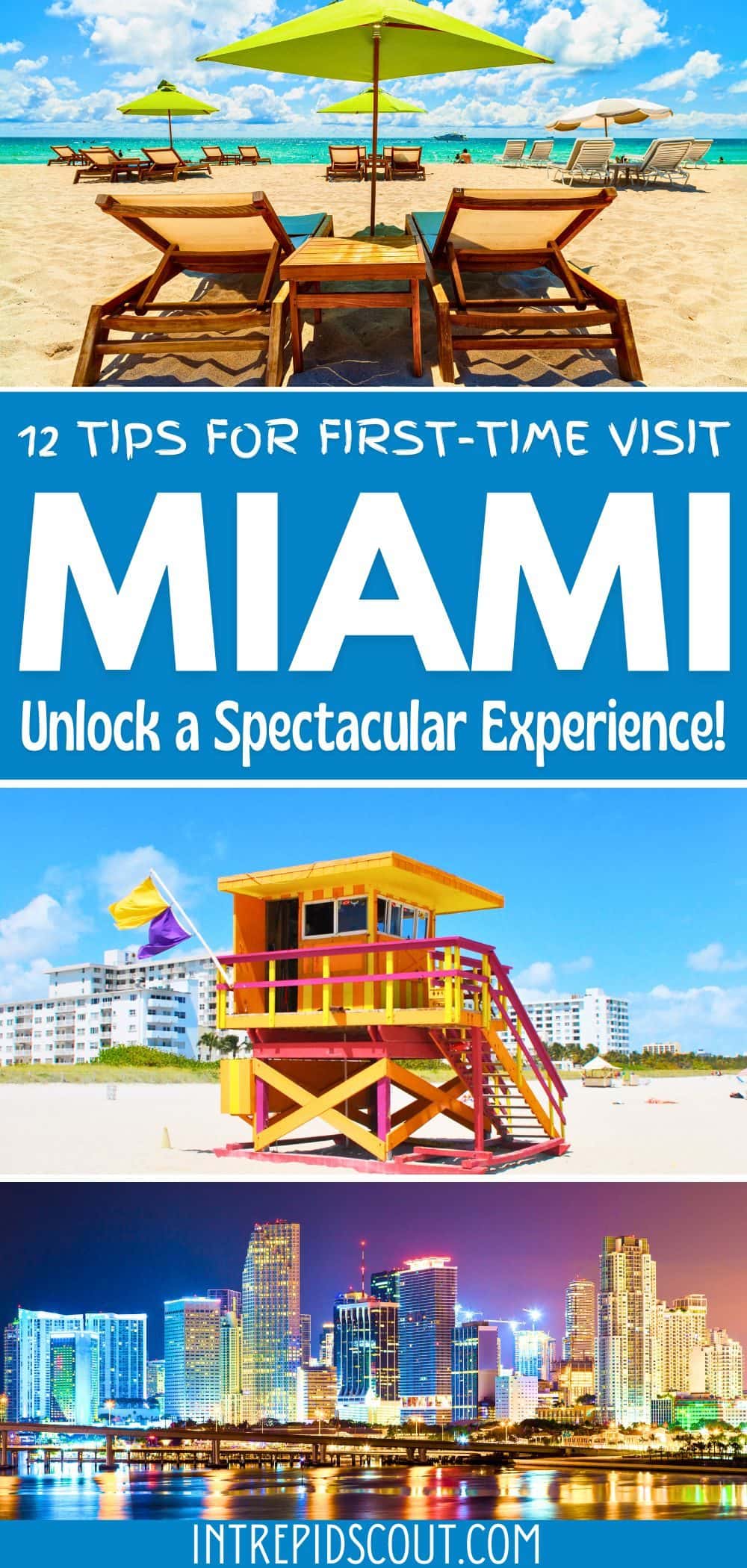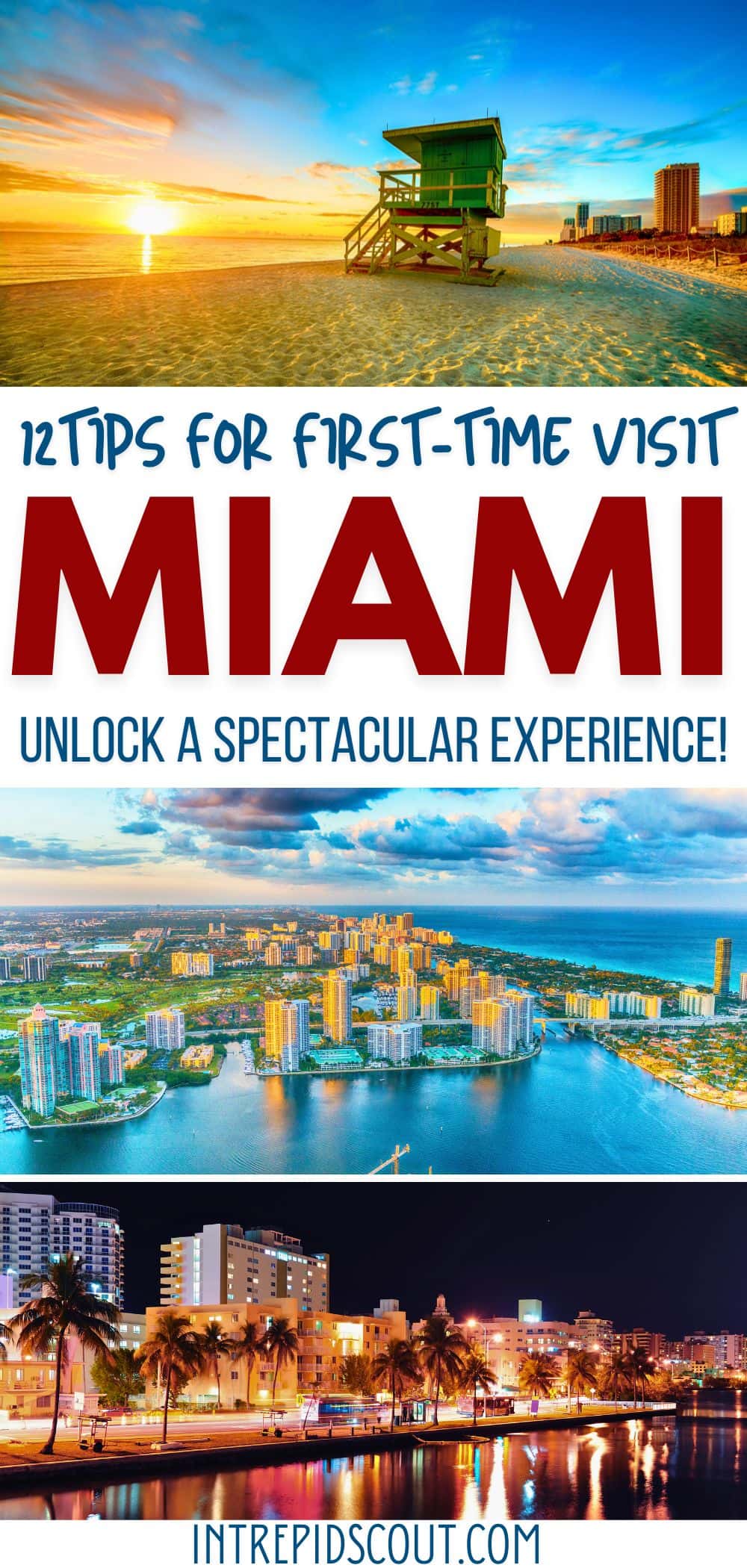 Now, It Is Your Turn, I Would Like to Hear Back from You!
Are you planning your trip to Miami? Please let me know! Drop me a quick comment right below!
Click on any of the images below to get inspired and to help you with the planning process for your first visit to Florida!