This site uses affiliate links, meaning that if you make a purchase through our links, we may earn an affiliate commission.

10 Unmissable Things to in Nara

I have compiled a list of my top 10 unmissable things to do in Nara, Japan.
But it's not just any old list. This is the list to end all lists.
So, stop searching, here are my tips for 10 top unique activities to do in Nara!
Tour Yoshikien Garden
Whenever I go to Nara, I always visit Yoshikien Garden. It has always been the highlight of my trip to Nara and something that I look forward to no matter what season of the year it is. I know you will love Yoshikien Garden and it will be one the top things to do in Nara for you as well.
Yoshikien Garden is a little piece of heaven where you can enjoy beauty in a quiet space. It has officially become a nationally designated Famous Scenic Spot of Japan.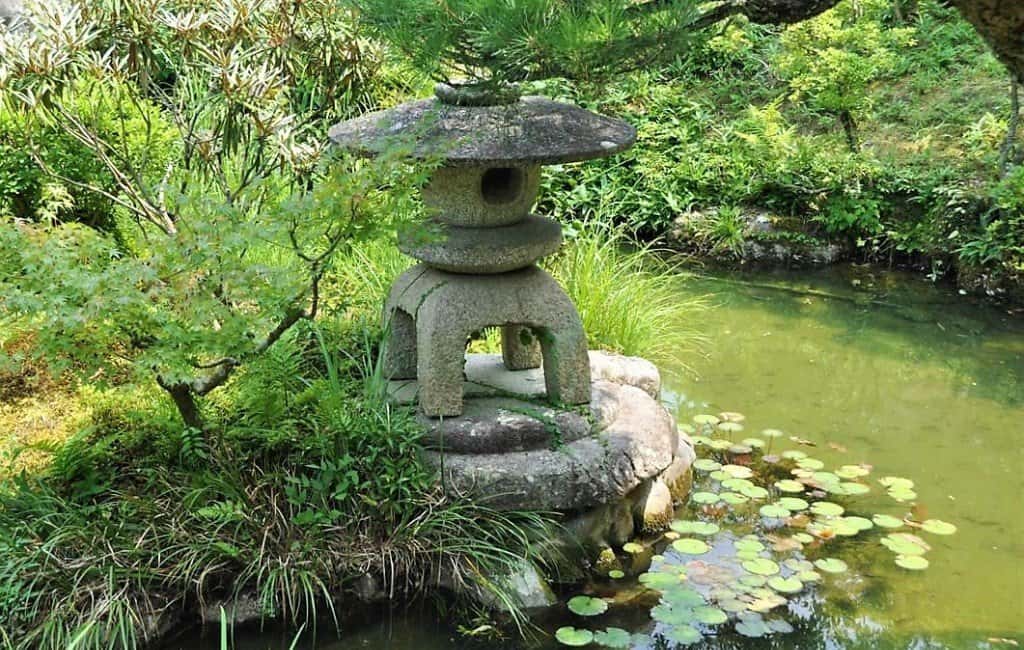 Yoshikien Garden is named after the Yoshikigawa River. It is a small river that runs beside the garden and it adds a lot of charm to the garden.
A visit to Yoshikien Garden will give you a chance to view three unique variations of Japanese gardens in one spot:
Take your time and gently stroll along the paths. Everywhere there is beauty from the tiniest stone to the fragment of moss.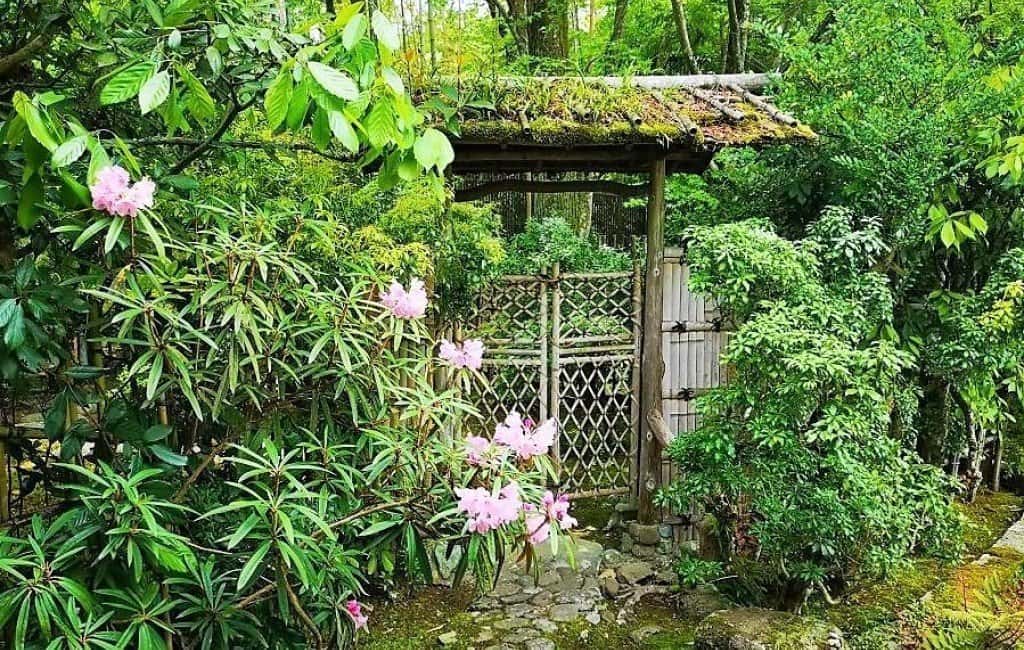 When I visited Yoshikien Garden last time in November, the garden's fall beauty was on full display.
Visit Todai-ji Temple
Todai-ji is Temple is the most popular site in Nara. It is an awe inspiring temple which houses the Great Buddha Statue. For majority of the tourists, Todai-ji Temple is one of the ultimate things to do in Nara.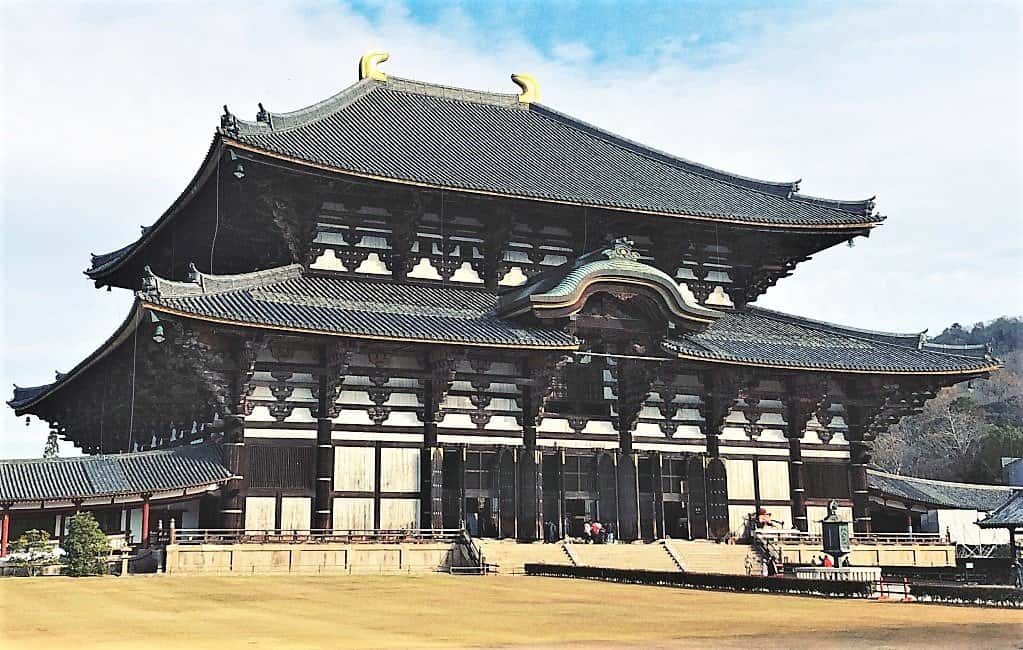 Leading to the temple is a splendid Nandaimon Gate.
As you approach the gate, notice a unique plaque on top of it. Notably, it states that Todaiji is the main temple of the Kegonshu sect of Buddhism.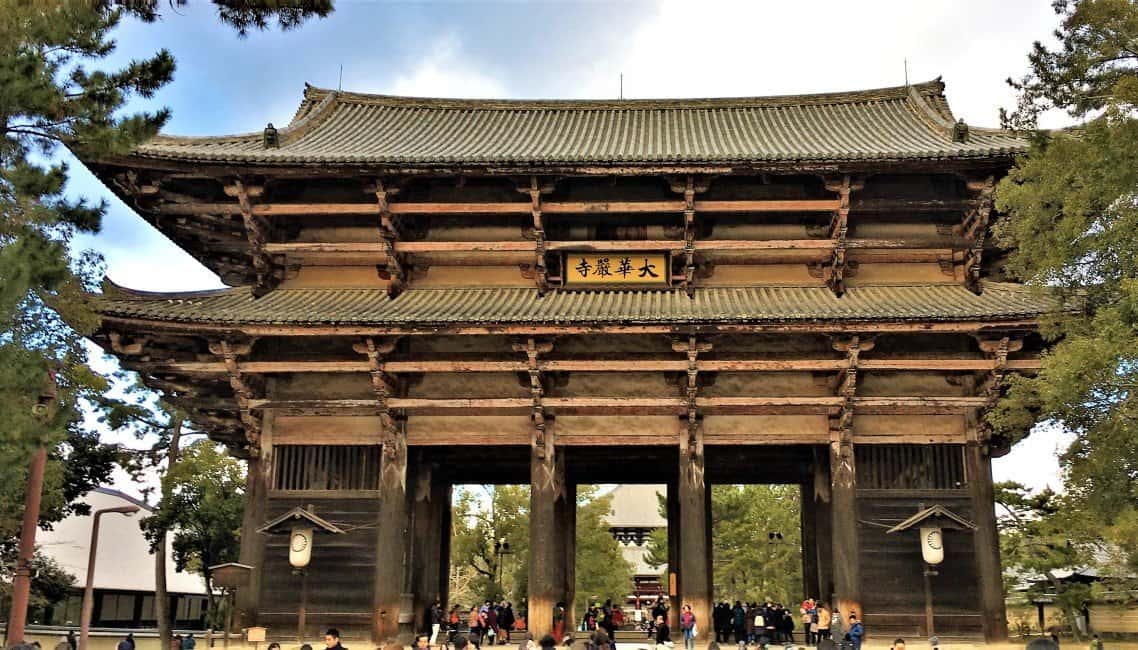 As you across the gate, notice the wooden statues on each side.
They are regarded as two of the finest wooden sculptures in Japan.
The statues were carved in the 13th century by sculptors Unkei and Kaikei. They are about 30 feet high and particularly impressive at night when they are beautifully illuminated.
Todai-ji Daibutsuden – Great Buddha Hall
Next, you will be greeted by an immense Todaiji Daibutsuden – Great Buddha Hall. Its origins go back to the 8th century.
It is hard to believe that the present structure is about one third smaller than the original temple which was built by the Emperor Shomu in 741.
Todai-ji Daibutsuden is the world's largest wooden structure.
Notwithstanding, it is a masterpiece! Notably, many of the crisscrossing beams are positioned without any nails.
Todai-ji Daibutsusan – The Great Buddha
Todai-ji Daibutsuden houses the world's largest bronze Buddha (Daibutsusan).
The great Buddha of Nara was originally constructed between 735 and 749. It is 49.1 feet high and weighs over 550 tons. Apparently, the construction of the giant Buddha used up all the country's reserves of bronze and precious metals.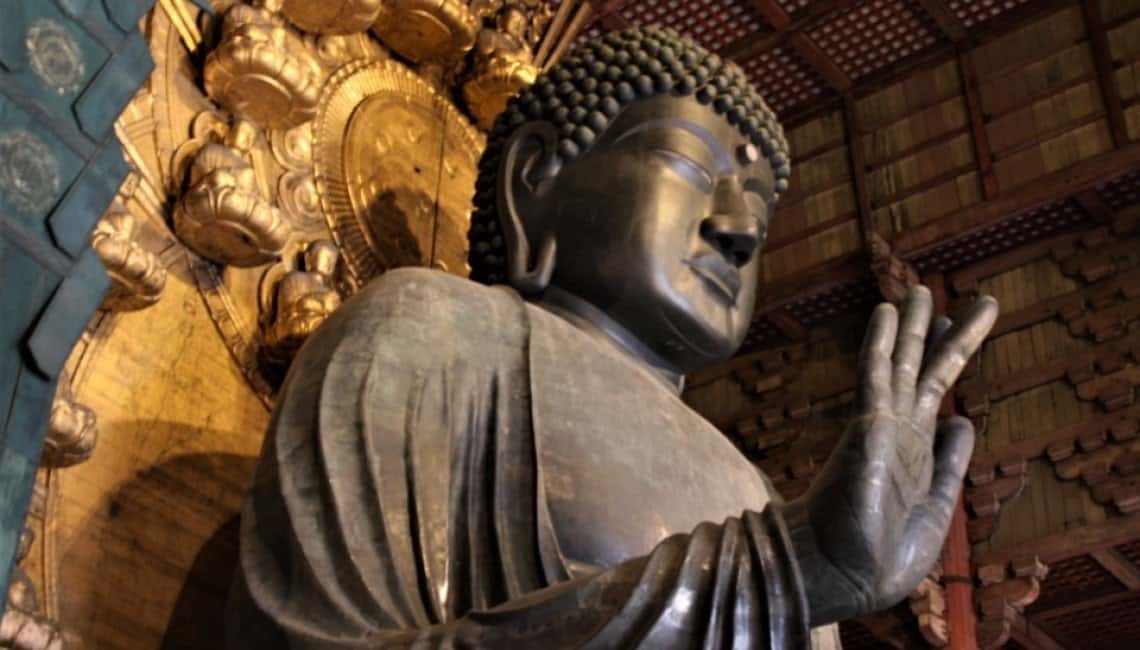 In addition to the Great Buddha of Nara, there are towering 30-foot-high wooden statues of warriors and gods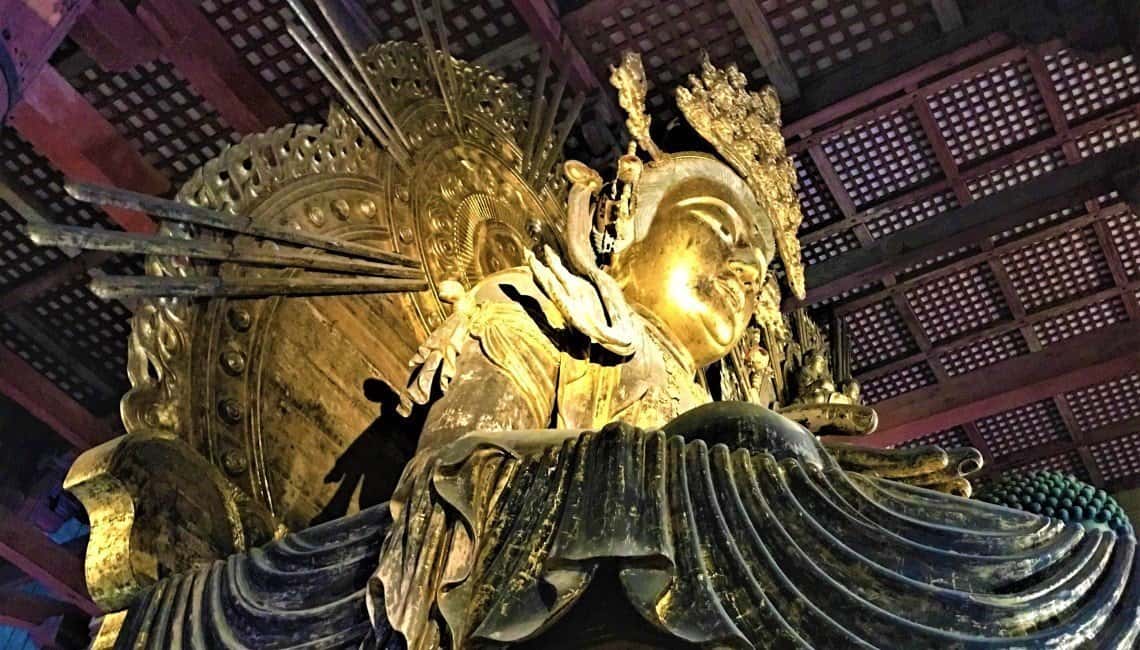 Another popular attraction Inside Todai-ji is a pillar with a hole in its base.
Notably, the hole in the pillar is about the same size as Daibutsusan's nostril.
It is said that those who can squeeze through this opening will receive enlightenment in their next life and also have all their prayers answered. I have not tried it yet, since I have seen so many people get suck. However, maybe you want to give it a try?
It might be one of your top things to do in Nara!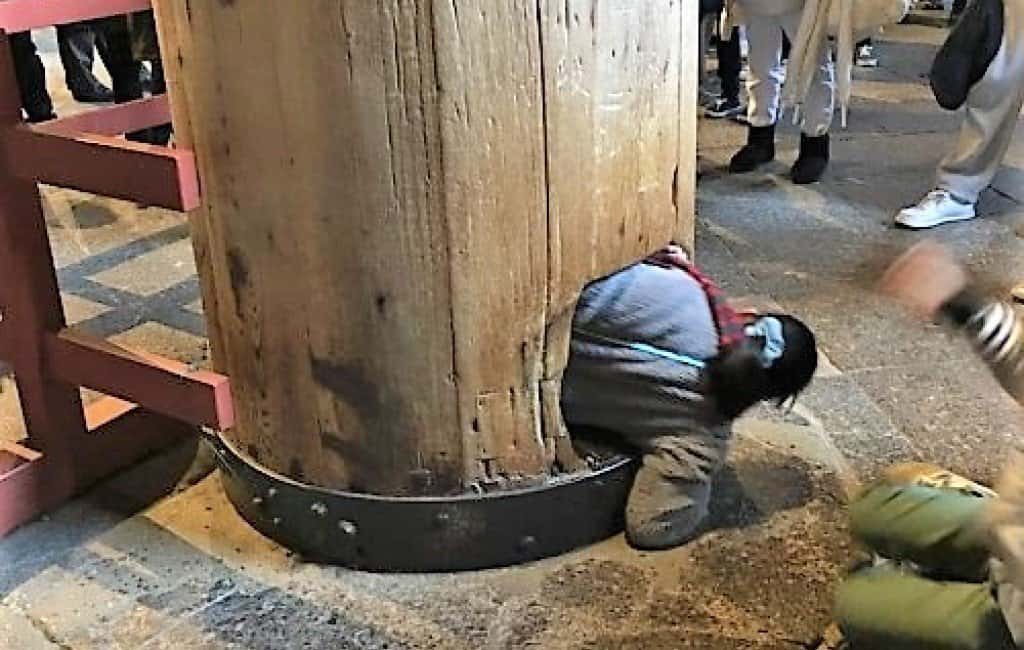 Destruction and Restoration
Over the centuries, natural disaster and human conflicts brought destruction to the Todai-ji Temple as well as the Great Buddha statue. However, time after time they were lovingly restored.
A powerful earthquake toppled the head of the Great Buddha statue in 855 A.D. In the following years, the Lecture Hall, West Pagoda, and Monk's Quarters suffered from fires.
In 1180 A.D., the temples throughout Nara were attacked by a warlord who burned half the complex, including the Great Buddha Hall.
Finally, the complex burned again in 1567 A.D., caught in the middle of a battle between two warring clans.
What we see today are restoration efforts that were finally completed between 1692 and 1709.
Daibutsuden is open daily from 7:30 am till 5:30 pm (April to October) and 8 am to 5 pm (November to March). Admission is 600 yen.
Spend Time in Isuien Garden – 'Garden Founded on Water'

Isuien Garden – "Garden Founded on Water' is a beautiful Japanese style garden with a number of unique tea houses scattered throughout. Isuien's many ponds are fed by the small Yoshikigawa River, which runs through the area.
In addition, Yoshikigawa River divides Isuien into two distinctive gardens: the front and the back garden.
The front garden was constructed during the Edo Period. Specifically, it was built in 1670's by a wealthy merchant of Nara-zarashi, Kiyosumi Dosei.
As you walk past the entrance gate of Isuien Garden, you would soon be greeted by the most gorgeous view of the front garden. Needless to say, it is a masterpiece! I recommend you take the time and soak it all in.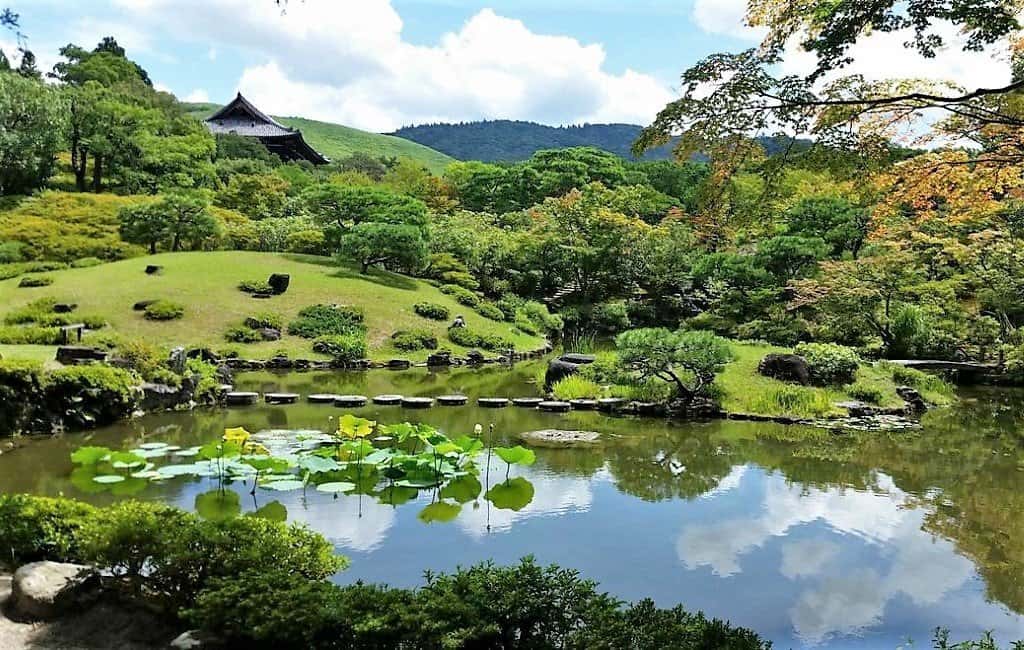 Next, follow the path and proceed to the back garden. Notably, when I first saw it, I was in awe how cleverly it was composed.
I found out that it was designed by Seki Tojiro, a businessman in the early 20th century, to cater for tea ceremonies, poem readings and gatherings.
Interestingly, the garden incorporates the scenery of Todaiji Temple's Nandaimon Gate and mountains, including Mt. Wakakusa, Mt. Kasuga and Mt. Mikasa.
In addition, next to the garden, there is the Neiraku Museum. It was founded in 1969 by the Nakamura family, and displays a personal collection of pottery, seals, mirrors and other artifacts from ancient China and Korea.
By the way, the entrance to the museum is already included with the admission fee to the Isuien Garden. The Isuien Garden opening hours are 9:30 till 4:30 pm and admission is 900 yen.
Don't have time to read it now?
Pin it on your Pinterest board for later!
Feed and Take Selfies with the Famous Nara Deer



Nara is famous for its temples and shrines, however, you simply cannot skip feeding and taking selfies with famous free roaming Nara deer. For many visitors, it is one of the top things to do in Nara.
Apparently, there are over 1,300 deer in the Nara Park. These deer are called sika, which is derived from the Japanese word for deer: shika.
I found them to be friendly, curious and show great interest in rice bran crackers called shika sembei – deer cracker. The crackers are made with wheat flour and rice bran.
Deer crackers are a registered trademark of the Foundation for the Protection of Deer in Nara, and a portion of their profits goes to efforts to protect the deer.
Legend has it that in 768, when the Fujiwara family established the great Kasuga Shrine in the foothills of the Wakakusa Mountain, a Shinto deity descended from the mountain to the new sanctuary riding a sacred white deer. Since then, the Nara Deer became a revered animal, protected by the authorities, and a symbol of the city.
Interestingly enough, until 1637, killing a deer in Nara was considered a serious crime, even punishable by the death penalty. After WWII the divinity of deer was officially suspended, but they were declared a national treasure. Nowadays, they are protected and maintained in a semi-wild state which humans and deer use to mutual advantage.
Shikayose – Deer Calling
Another interesting event happening at Nara is Shikayose or deer calling.
It is a winter event that goes back to 1892.
The event is held every morning (except on Mondays) during February to mid-March at about 10 am. It happens at Tobihino, located to the south of the road leading to Kasuga Taisha Shrine.
With a sounding of the natural horn, the deer of Nara emerge from within the forest to cluster around the blower.
It is quite a sight!
Kojika Koukai – Presentation of the Fawns
Every April, the pregnant does of the herd are placed within the enclosure to safely give birth to their young.
The enclosue – Roku-en is located next to the south of the stone lantern-lined path leading to Kasuga Taisha Shrine. Every day in June from 11am – 2pm, you can visit and see the fawns at the center.
In mid-July, once the fawns are able to keep up with their mothers, the yougsters are released into the park in a special event called Kojika Koukai – Presentation of the Fawns.
Visit Kasuga Taisha S
hrine – The Most Celebrated Shrine in Nara

I have to honestly say that visiting Kasuga Taisha Shrine is on the top of my things to do in Nara.
The path leading to Kasuga Taisha Shrine is absolutely stunning. It is lined with thousands of aged, moss-covered stone lanterns.
The stone lanterns are known as "toro" and have been donated by worshipers as an expression of their faith. The lanterns symbolize enlightening guidance and illumination. They, also, serve as pathways for spirits to travel from the living world to the other side. In addition, it is a Shinto symbolism for being saved from darkness, pain, and suffering.
The path will eventually lead you to vermilion colored Kasuga Taisha Shrine.
The eves of the shrine are decorated with thousands of hanging brass and bronze lanterns; some new and brightly polished, some old and tarnished by time.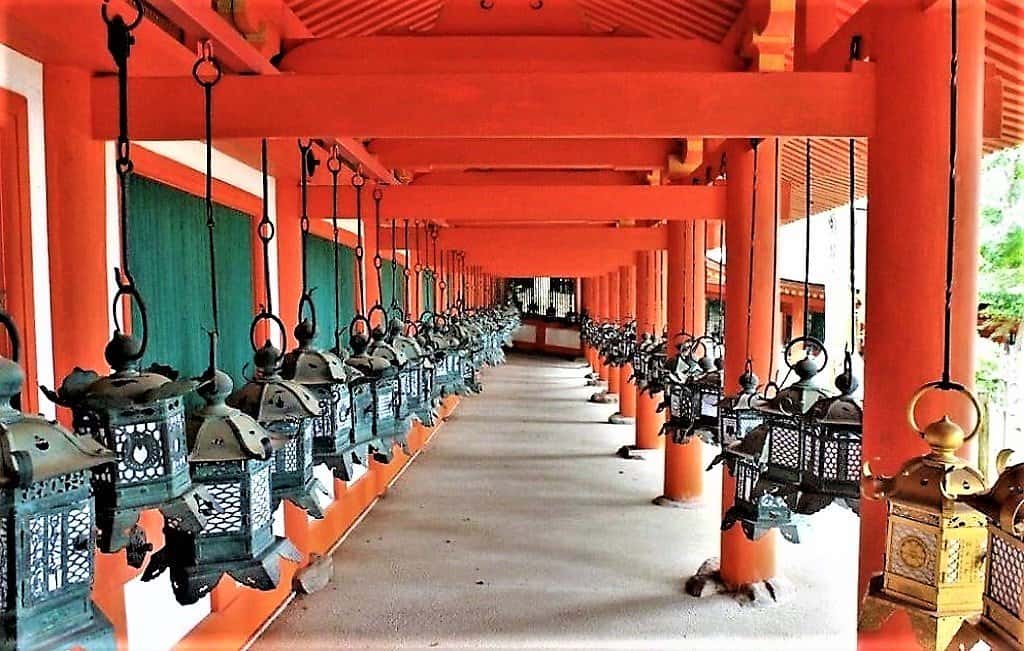 The origins of Kasuga Taisha Shrine date back to the year 768, when four deities: Takemikazuchi-no-mikoto, Futsunushi-no-mikoto, Amenokoyane-no-mikoto and his consort Himegami were enshrined here for the prosperity and protection of the nation and the happiness of the citizens. These four deities are also known as Kasuga-sume-ookami or Kasuga-Daimyojin (the Great Deities of Kasuga).
It is believed that the original designation of the site as a place of Shinto worship dates back to 710.
Moreover, Kasuga Taisha Shrine was designated as a UNESCO World Heritage Site in 1998.
The complex is open every day. The entrance to the grounds is free of charge. However, if you wish to tour the inner area which allows a closer look at several buildings with the bronze lanterns and the Main Worship Hall, then, there is an entrance fee of 500 yen.
Inspect Kofuku-ji Temple – Temple of Happiness
and the Five Story Pagoda

Kofuku-ji Temple, which means 'Temple of Happines', was founded in 669 by Emperor Tenji when Kagami-no-Okimi, the wife of Fujiwara-no-Kamatari, prayed for her husband's recovery from illness.
This tradition of building temples for the consort's recovery from illness was not uncommon during that time.
Eventually, Kofuku-ji Temple became a family temple of the powerful Fujiwara family. Yet, it not only served the religious purposes, but it also had a great political power over the government. At its height, it boasted over 150 buildings. It was dedicated to the Hosso sect of Buddhism, which had been introduced to Japan from China in about 650 AD by the Japanese monk Dosho.

The Kofuku-ji monks continued their dominant position for years. They were able to amass quite a wealth and maintain a private army of armed retainers recruited from trained monks and mercenaries.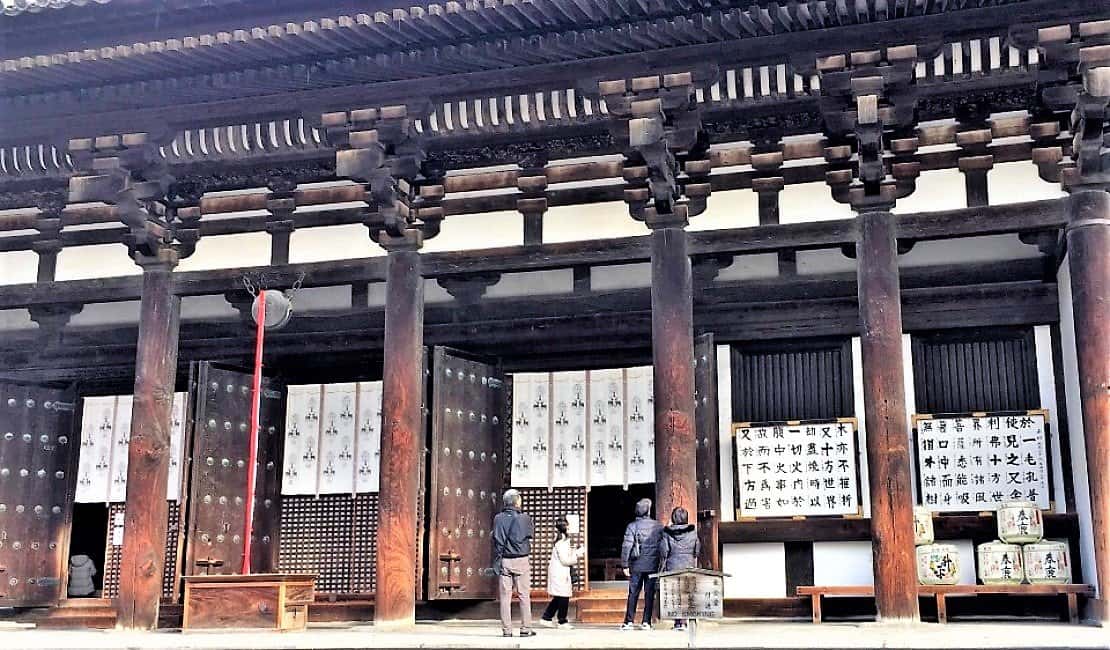 The temple was burnt down several times through the years but it was reconstructed for the most part.
Five Story Pagoda
The next building that will definitely capture your attention is the five story pagoda.
The pagoda is said to have been built in 730 on the orders of Empress Komyo.
Today Kofuku-ji Temple's five story pagoda is Japan's second tallest pagoda and a symbol of Nara City,
The pagoda burnt down several times through the years. What you see today is the reconstruction from 1426.
Kofuku-ji is regarded as the birthplace of Noh drama. It hosted Noh performances as far back as A.D. 869. Today the temple hosts two major Noh events—Takigi O-noh in May and Toei-Noh in October. Both are held outdoors at night.
In 1998, Kofuku-ji Temple was designated as a UNESCO World Heritage Site.
Visit Gangoji Temple – The Most Ancient Temple in Japan

Gangoji Temple is one of the most ancient temples in Japan. It was founded in 588.
When the capital of Japan was moved to Heijōkyō (Nara) in 710, the temple was rebuilt at a new location and its name was changed from Hokoji to Gangoji.
The design of the temple was influenced by architectural styles from mainland Asia. Many of the priests who first served at Hokoji were from Korea and China. In addition, the King of Paekche in Korea is believed to have sent artists, carpenters, metal workers and potters to help produce the temple's paintings and distinctive round tiles.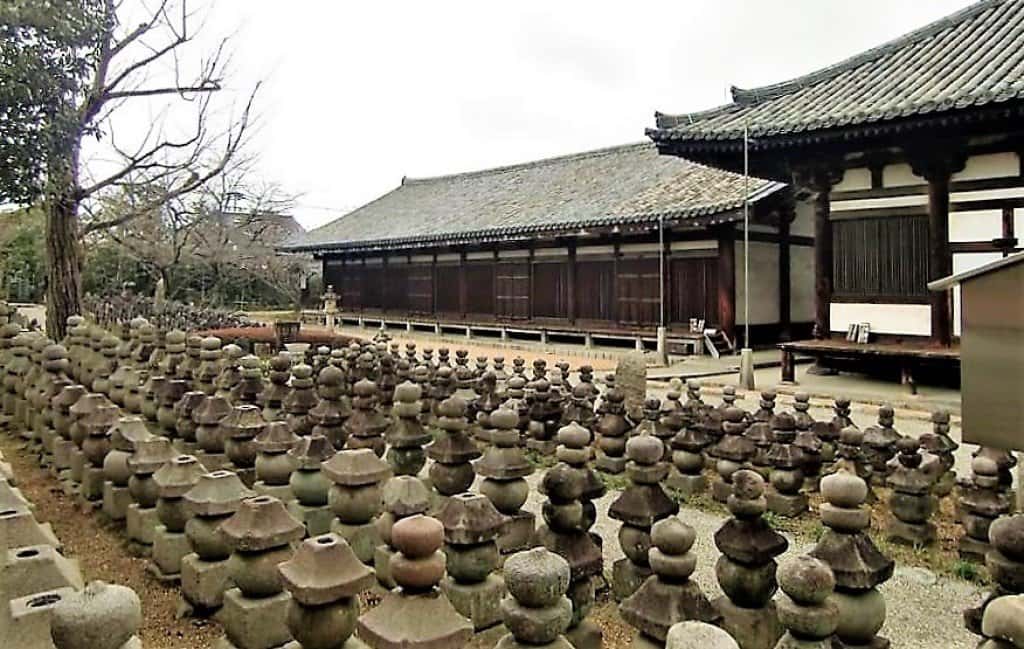 Another interesting element is the Frog Stone. It is located on the northern part of the Gangoji Temple grounds. Notably, the stone looks like a giant toad. It is believed that it listens to people's prayers.
Gangoji Temple is open from 9 am till 5 pm. Admission is 500 yen for adults which includes entrance to the Treasure House.
Drop By Nigatsu-do Hall for the Most Spectacular Sunset

To the east of the Great Buddha Hall and up on the side of Mount Wakakusa overlooking the city of Nara, sits Nigatsu-do or the Hall of the Second Month.
The footpath and many stairs leading to Nigatsudo Hall are not easy to climb. However, when you finally make your way up to the large front platform of the hall, you will get rewarded with the most spectacular view of Nara. It is particularly breathtaking at sunset.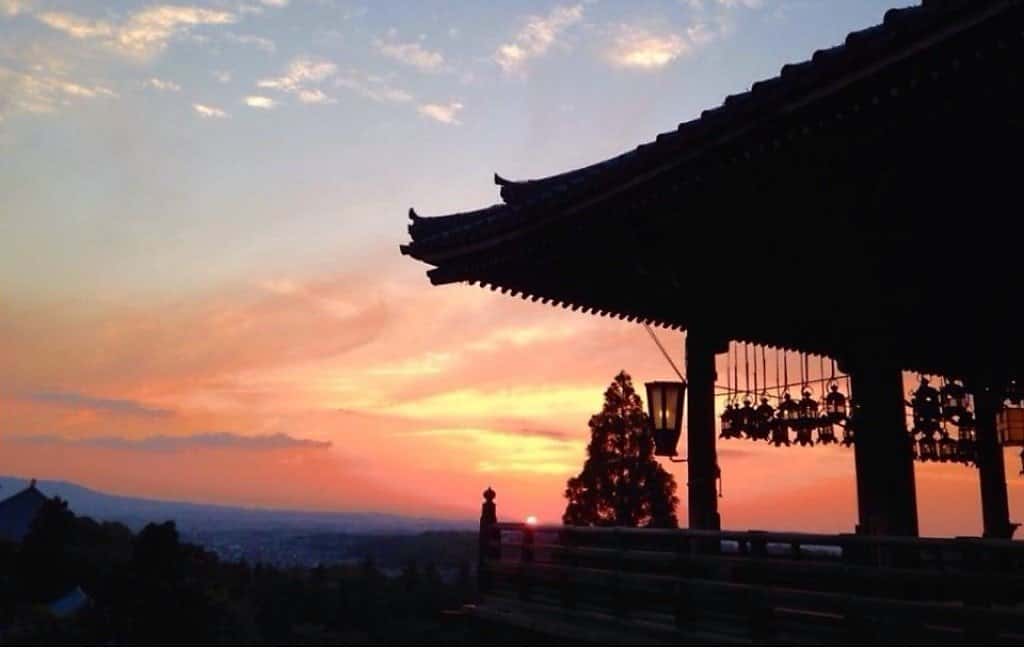 I think you will immediately notice that the atmosphere here differs from other temples in Nara. It may lack the grandeur of the Great Buddha Hall, but it has many intriguing elements and beautiful masterpieces.
In the evening, Nigatsu-do Hall is beautifully illuminated with hundreds of lanterns.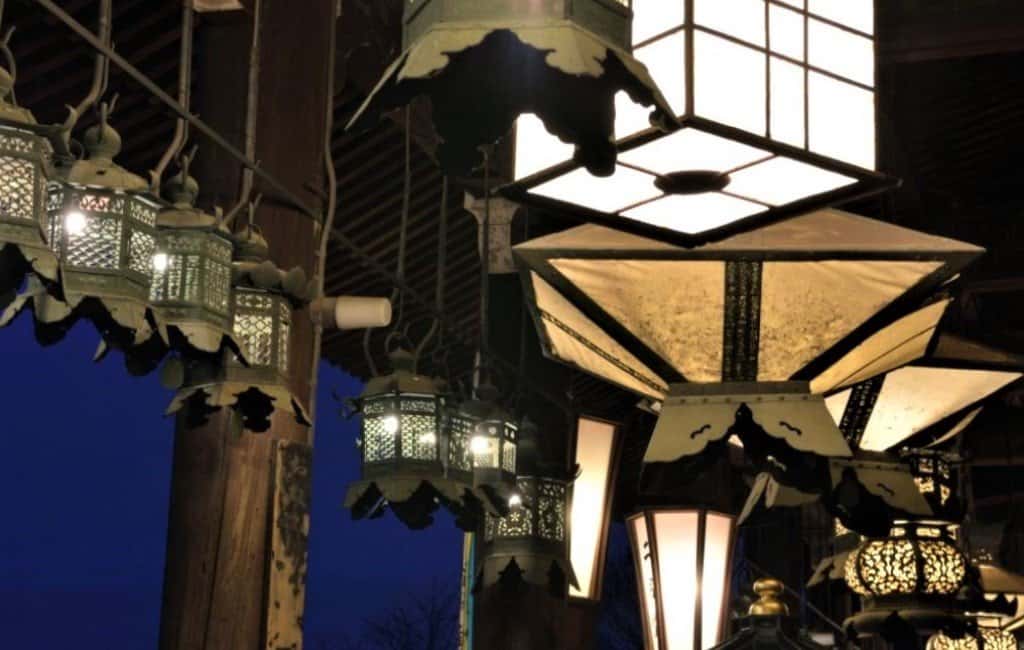 By the way, the name Nigatsudo means the Hall of the Second Month, or February Hall. It is derived from the fact that the Shuni-e Ceremony is held here during the second month of the lunar calendar. The Shuni-e Ceremony is also known as the Omizutori Festival.
The Omizutori Festival is marked with an eye-catching display of massive torches (6-8 meters in size). The torches are carried up to Nigatsudo Hall's balcony, and then held above the Nigatsudo courtyard. Notably, these blazing torches shower down embers over the audience. This showering of sparks is believed to bestow a safe and fruitful year upon the gathered crowd.
Try Kakinoha-zushi – Number One of Nara's Delicacies

Kakinoha-zushi is sushi wrapped in persimmon leaves. However, it is not the fresh fish that is being used, but rather one that has been cured. The typical types of fish that is used are salmon, mackerel and trout.
Once the fish is cured, it is pressed into molded sushi rice (which has usually been mixed with vinegar.) and then, wrapped securely in a persimmon leaf.
Finally, the little sushi bundles are usually packaged in wooden boxes and left for a few days to ferment.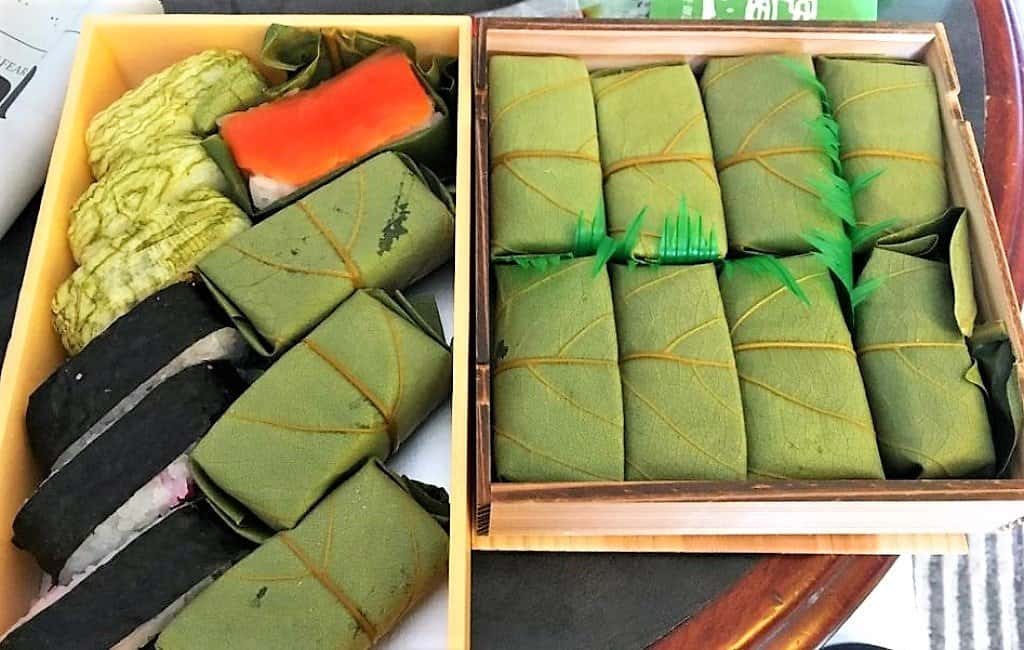 All in all, my recommendation is to get a box 'to go' at Hiraso and have a picnic in the park if the weather is nice. Otherwise, you can dine-in. Hiraso is a restaurant and a shop specializing in kakinoha-zushi. It has three locations in Nara. The one that is the easiest to find is located just outside the JR Nara Station.
Watch Mochitsuki – Mochi Pounding and Enjoy the Best Mochi Ever

I need to admit that mochi in Nara was the best one I have ever had. First of all, you need to head to Nakatanidou. It is located on Hashimoto-cho Street, no more than a 5-minute walk from Kintetsu Nara Station. You will not miss it, because the mochi-pounding process takes place outside the shop and draws quite a crowd.
The high-speed mochi pounding, known as mochitsuki produces mochi that is soft and chewy.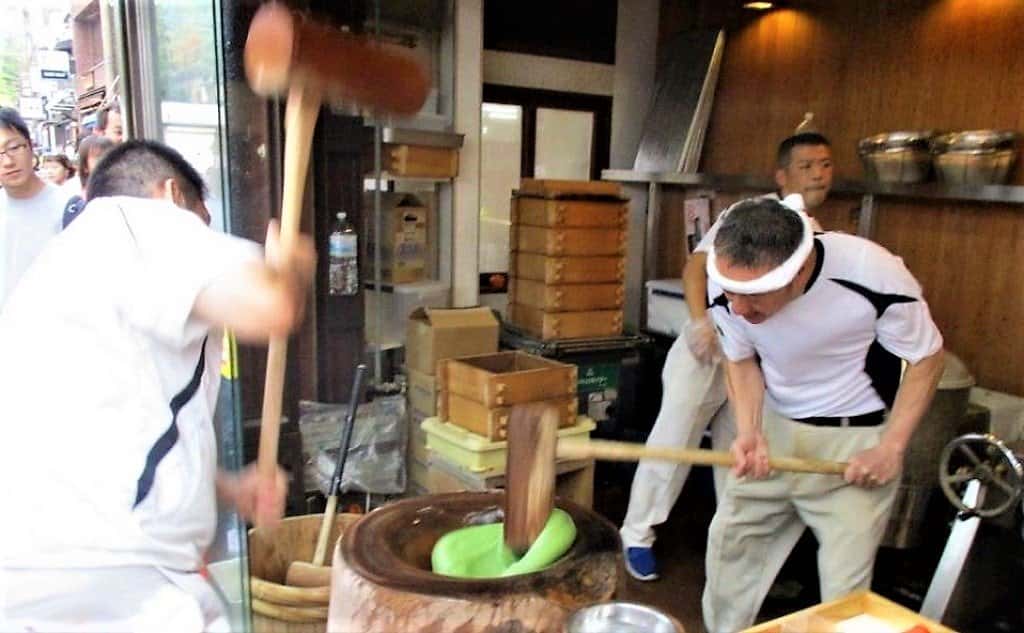 Nakatanidou's specialty is yomogi mochi. By the way, yomogi is a Japanese wild plant also known as mugwort. It gives mochi its natural green color and adds a refreshing taste.
So, first of all, once the gooey mochi mixture is produced, it is formed into oval cakes. Next, they are filled with red bean paste. And finally, they are lightly dusted with with kinako (roasted soybean flour) before being served to customers.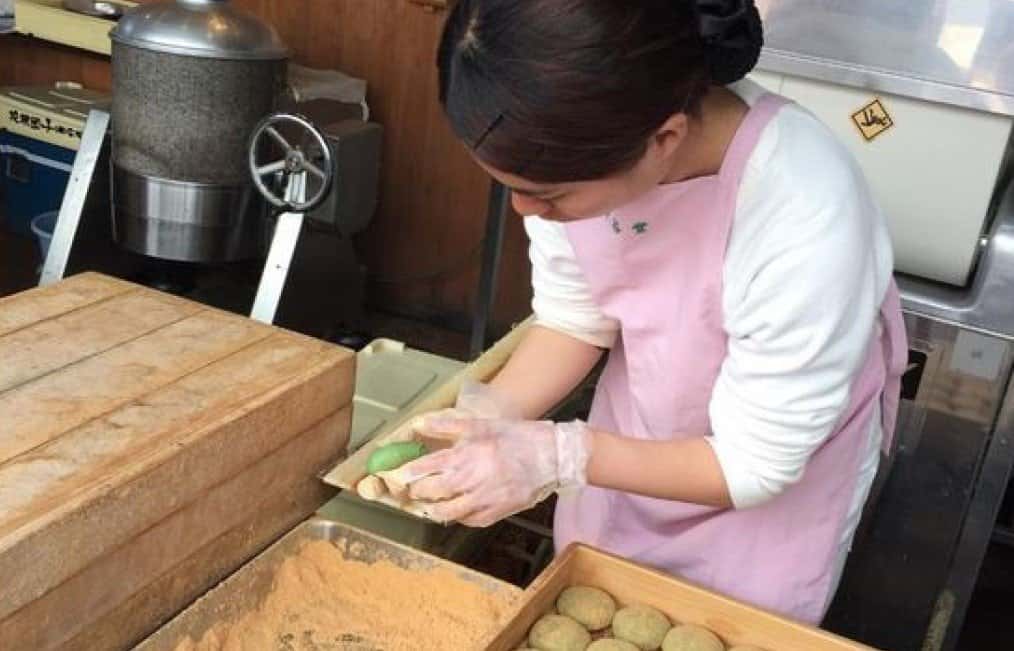 Each piece sells for 130 yen.
Pin it on your Pinterest board!
If you are limited on time, or need help navigating through Nara Park, or need help deciding what to do in Nara, then my recommendation is to join a half day walking tour in Nara organized by Magical Tour. You will have a local guide who will tell you about Nara's history and make sure that you hit all the major attractions in Nara. If you feel like venturing by yourself, then I would recommend that you check out this concise one day Nara itinerary.
Now, it is your turn!
Tell me, have you been to Nara? If yes, then what are your favorite things to do in Nara?
Are you planning a trip to Nara? When are your going?
Let me know! Leave me a quick comment in the comment section right below.
Also, click on any of the images right below to get inspired and to help you with a planning process.