This site uses affiliate links, meaning that if you make a purchase through our links, we may earn an affiliate commission.
Head on to Umeda Sky Building for an usual profile, spectacular 360-degree view of Osaka City and epic sunsets. Ride the thrilling all-glass enclosed elevator to the 35th floor and then hop on a see-through tube escalator all the way to the Sky Walk. Moreover, Umeda Sky Building is located only a 15-minute walk from Umeda or Osaka Stations. Hence, do not miss Osaka's coolest tower (or, should I say towers?).
There is nothing that I love more than a bird's eye view of a new place. It gives me a perspective of where everything is positioned. When I start researching a new place that I am going to visit, I always look for the tallest buildings with wide panoramas. Usually, I start off any itinerary climbing steep steps to the top of a church tower or riding an elevator to the top of a skyscraper and hearing my ears pop. Needless to say, after some research, Umeda Sky Building came highly recommended for its unusual delineation and spectacular views.
How to get to Umeda Sky Building
As I stated previously, Umeda Sky Building is not more than a 15-minute walk from JR Osaka Station. However, I found it to be confusing to get Umeda Sky Building. Considering this, I put together step-by-step instructions on how to get to the building from Osaka Station.
There are two ways of getting to Umeda Sky Building: underground pedestrian passage or roundabout path above the ground. The roundabout path above the ground is the easiest way to reach the building but takes much longer. As a result, I want to show you how to navigate to the underground pedestrian passage which will take you to Umeda Sky Building from Osaka Station in no more than 15 minutes.
Here we go: once you get out of turnstile, you will find yourself in the Central Concourse of JR Osaka Station. Next, take a look at all the signs and locate a sign for North Central Exit. Consequently, follow the signs for North Central Exit.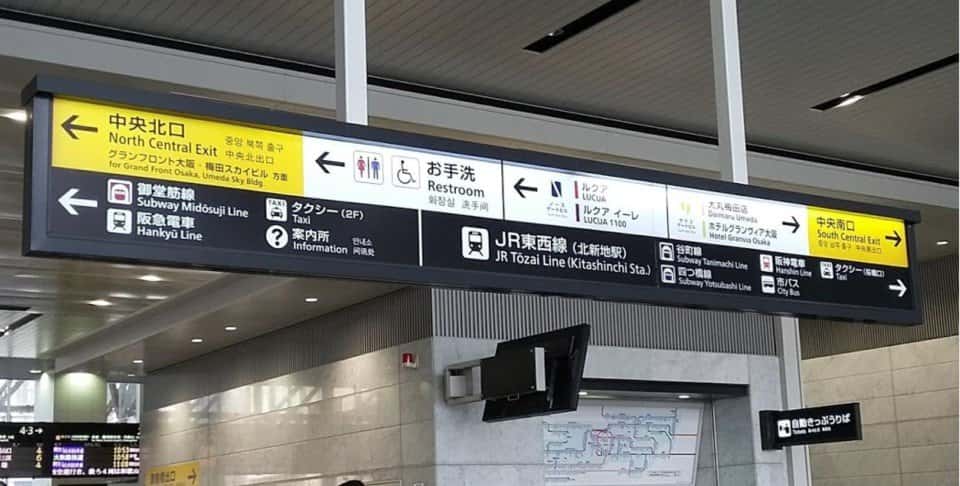 Once you exit the station, take a moment to find your bearings and locate Yodobashi Camera Store. It will be on your right. You will not miss it. The sign and the building are huge.
Next, you are going to turn left. Do not cross the street! Just turn left and go straight until you get to an intersection. Once you reach the intersection, turn left again (do not cross the street, just turn left). We are almost there! Go straight until you reach another intersection. You will catch a view of Umeda Sky Building. It will be on your left hand side. Yup! That's it! Now, cross the intersection and you will see the entrance to the underground pedestrian passage.
Next, go through the underground passageway. Once you reach the end, go up the stairs and voila, Umeda Sky Building is right in front of you.
I am recommending that you download a couple of free offline map apps before going to Japan. I did and they worked great!. Here is my post on which apps worked for me and how to use them: Japan – Free Offline Map Apps with GPS Navigator for iPhone
Cool Angles of Umeda Sky Building
Ok, this is the moment of truth! I have to be honest and say that I was not extremely impressed by Umeda Sky Building when I saw it from a distance. I thought that it just looked like another boring high-rise made of glass and steel.
Yet, as I got closer, I started to see some very cool angles.
The interesting feature of Umeda Sky Building is that it consists of two separate towers which are joined at the top by a ring-like roof-top observation deck.
The entrance to the building is at the East Tower. Once you enter, you are on the way to the very top. I have to honestly say, that getting there is half the fun! And, it is not recommended for the faint of heart nor for the vertigo sufferers. To start with, you take the all-glass elevator all the way to the 35th floor. You can start enjoying the views as it rushes to the top and your ears start popping. Next, an escalator in a see-through tube will take you across to the 39th floor of the West Tower.
Once you arrive at the 39th floor, you need to purchase the entrance ticket. The entrance fee is 1000 yen.
It gives you an access to the 40th floor called the Floating Garden Observatory as well as an open roof top called the Sky Walk. Remember before you step outside take off any hats and do not to carry an umbrella. It can get really windy up there!
The views in the Sky Walk is simply breathtaking. The experience of walking in the open deck, with no noise except for the sound of the wind, is quite surreal.
Epic Sunsets
The best time to go out to the Sky Walk is just before sunset. Consequently, I suggest a little planning and timing your visit. It will go a long way to ensure you catch a sunset in it magnificence.
Of course the view is epic at any hour, but it's especially magical at dusk and after sunset, when the lights of the city twinkle around you.
The Floating Garden Observatory is open from 10 am until 10:30 pm. The last entry is at 10 pm.
By the way, Umeda Sky building was designed by Hiroshi Hara who also designed Kyoto Station. Interestingly enough, Umeda Sky Building is 173 meters high, which puts it at only number 19 on the list of tallest buildings in Osaka. However, it still has one of the best views in Osaka.
Another interesting fact is that The Floating Garden Observatory was constructed on the ground and then hoisted up. It must have been quite a sight when it was being installed!
Romantic Cafes and Bars at Umeda Sky Building
Immediately below the Sky Walk on the 40th floor is a café called Sky 40. It serves a variety of creamy lattes, fruit sodas, ice cream, just to name a few. It is open from 10 am till 10:30 pm. This is a perfect spot to take a break while continuing to enjoy the view.
On the 39th floor there is a bar called Sky Lounge Stardust as well as a Cantonese-style restaurant called Sangu. Both have window views and are particularly romantic spots in the evening.
Takimi-Koji Gourmet Street
The basement of Umeda Sky Building contains the Takimi-Koji Gourmet Street, which features alleyways that replicate the retro streets of the early Showa Period in Osaka.
The Showa Period
Speaking of the Showa Period, it refers to the period of Japanese history corresponding to the reign of the Shōwa Emperor, Hirohito, from December 25, 1926 until his death on January 7, 1989.
"During the pre-1945 period, Japan moved into political totalitarianism, ultranationalism and fascism culminating in Japan's invasion of China in 1937.
Defeat in the Second World War brought about radical change to Japan. For the first and only time in its history, Japan was occupied by foreign powers; this occupation lasted seven years. Allied occupation brought forth sweeping democratic reforms. It led to the end of the emperor's status as a living god and the transformation of Japan into a democracy with a constitutional monarch. In 1952, with the Treaty of San Francisco, Japan became a sovereign nation once more. The post-war Shōwa period also led to the Japanese economic miracle."
To get back to the point, there are 20 different restaurants at Takimi-Koji Gourmet Street serving everything from local dishes like okonomiyaki – savory pancakes and takoyaki – octopus dumplings, to international fare like Indian curry and French cheese and wine. Even if you aren't hungry, this area is worth a visit just to enjoy the sense of taking a trip back in time.
In summary, I hope that I inspired you to include Umeda Sky Building in your list of top best things to do in Osaka. If you need further inspiration, check out my other posts about Osaka.
MORE IDEAS FOR PLACES TO VISIT IN JAPAN
Hakone
Hiroshima
Kanazawa
Kyoto
Miyajima
Nara
Osaka
Tokyo
Yamanouchi
Traveler Resources