This site uses affiliate links, meaning that if you make a purchase through our links, we may earn an affiliate commission.
Osaka Hep Five is teenagers paradise with fashion, restaurants, and amusement. If you are interested in seeing the local fashions and browsing through trendy shops then, you should definitely head to Hep Five. However, if fashions are not your thing, then ride the giant red Ferris Wheel and soak up Osaka's sweeping views. Furthermore, check out some cool restaurants and sample different foods. Finally, try your skills at the games machines of every possible description. Welcome to Hep Five!
Huge Red Whales
As a matter of fact, as soon as you enter Hep Five, you are greeted by the huge red whales suspended form the ceiling.To be honest, they are pretty amazing. By the way, they were designed by the artist Tatsuya Ishii.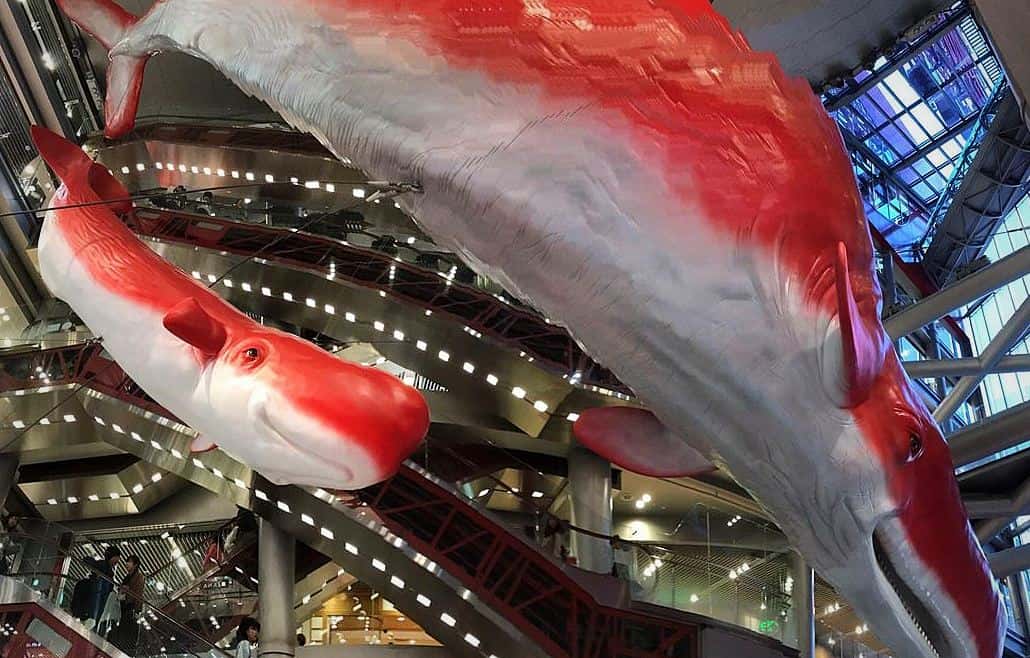 Osaka Hep Five Shops
More importantly, Hep Five is filled with over 170 clothing stores and fashion boutiques which are mostly aimed at the younger generation. They stretch from the 1st floor all the way to the 6th floor. In all honesty, if you are looking for a bag, shoes, jewelry, or accessories, you will have an abundance of choices.
By the same token, there are a couple of places that caught my attention. First of all, Boston Club store. It has quite a few fashionable shoes and wristwatches. Secondly, Craftholic store, it has the most adorable hug pillows. As always, Disney Store is fun to browse through. Finally, if you love cute clothes, make sure to visit Eliza.
What to Eat at Osaka Hep Five
There is a good selection of restaurants on the 7th floor with both Japanese and Western cuisine, as well as cafes, and casual fast food eateries. However, check out Gudetama. Are you familiar with Gudetama? It won my heart and it will win your heart as well. Gudetama is a cartoon egg yolk that feels existence is almost unbearable. Don't we all feel like that sometimes?
Unsurprisingly, everything on the menu is Gudetama related. Even the main components of each dish is egg based. Flipping through the menu, it was pretty interesting to see Gudetama's various incarnations on the plate!
Hep Five Ferris Wheel
I love the crazy concept of putting a Ferris Wheel on top of a building! Needless to say, this is the main attraction at Hep Five. You can board the Ferris wheel from the 7th floor. Operating time is from 11:00 am till 10:45 pm  (last boarding time). The entrance ticket is 500 yen.
By the way, the 75 meter diameter wheel has 52 four-seater gondolas. It takes 15 minutes to make one complete circuit. Moreover, the gondolas are enclosed and heated in the wintertime and air conditioned during summer months. Furthermore, they come with an audio jack so you can plug in your iphone (or the like) and play your favorite tunes as you go.
The Ferris Wheel, at its highest point, is 106 meters above ground and offers spectacular scenic views over the city all the way to Osaka Harbor.
Osaka Hep Five Location and How to Get to Hep Five
To tell you the truth, Hep Five is super easy to find. It is located about 5 minutes walking distance from JR Osaka Station. Furthermore, if you are a holder of JR Pass then you should use JR Osaka Loop Line and the cost of your trip will be included in your pass. In addition, you can use Subway Midosuji Line and get off at Hankyu Umeda Station. It is no more than 3-minute walk to Hep Five. Once you exit the station, just look up into the sky and locate the giant red Ferris Wheel. The address is: 5-15, Kakuda-chou , Kita-ku, Osaka-city, Osaka, Japan 530-0017
Hep Five Opening Hours
All the stores at Hep Five are open from 11.00 am till 9 pm. Restaurants start serving at 11 am till 10:30 pm. The Ferris Wheel opens at 11 am and closes at 10:45 pm.
MORE IDEAS FOR PLACES TO VISIT IN JAPAN
HAKONE
HIROSHIMA
KANAZAWA
KYOTO
MIYAJIMA
NARA
OSAKA
TOKYO
YAMANOUCHI