This site uses affiliate links, meaning that if you make a purchase through our links, we may earn an affiliate commission.
Nayo Smart Defensor -
Best Anti-Theft Backpack to Protect Your Belongings
As a busy traveler and full-time blogger, I need to be able to swiftly transition between going on trips and getting to work.
The Nayo Smart Defensor allows me to do just that, all the while keeping my belongings organized and secure.
This compact backpack has a sleek design that's large enough to accommodate all of your necessary items, while maintaining a sharp and clean appearance, perfect for a work environment.
Find out why you will love it!
TSA Lock to Keep Your Belongings Safe on Trips and at the Office
One of my favorite features about Nayo Smart Defensor Anti-Theft backpack is its ability to keep my valuables safe and secure!
It has a TSA-approved lock conveniently placed at the top of the backpack. Simply set your code and slip the zippers into the lock, and voila!—your belongings are safe!
Furthermore, the innovative design keeps all of the zippers close to your back. That means that even if you choose not to use the lock, it will be difficult for someone to access the backpack without your knowledge. 
Don't have time to read it now?
Save it on your Pinterest board for later!
Nayo Smart Defensor Anti-Theft Backpack Has a Sleek Design with a Pocket for Everything
Now, let's check out some of the features inside the backpack!
One of the first things I noticed were pockets, Pockets, POCKETS! This pack is loaded with useful compartments perfect for organizing anything you need for work—pens, charging cables, electronics, and notepads!
Nayo Smart Defensor Anti-Theft backpack will not only protect your belongings but it is guaranteed to help you stay organized while you get the job done.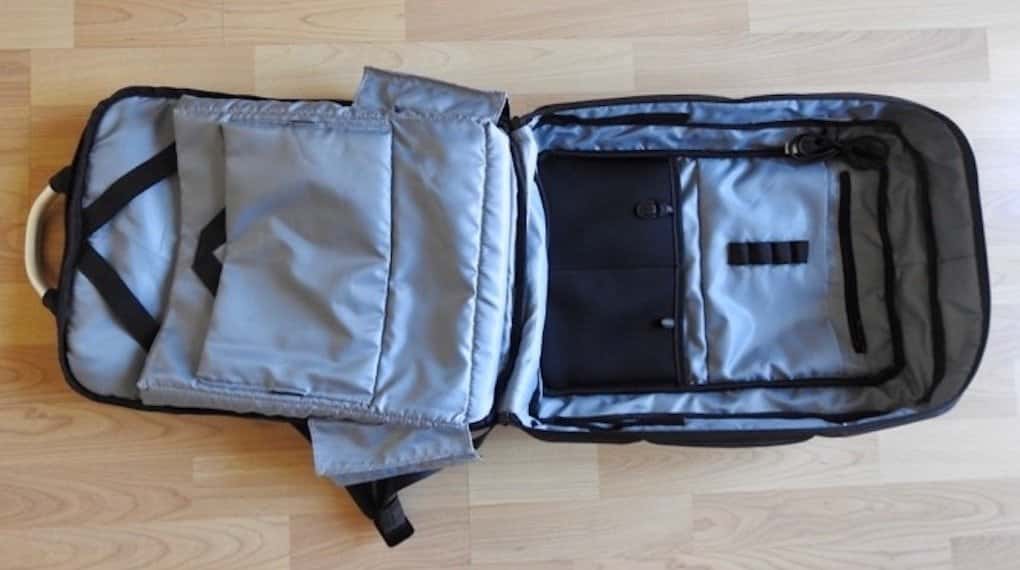 On the left side of Nayo Smart Defensor Anti-Theft backpack are two large pockets. They are perfect for electronics like a laptop or tablet.
I can snuggly secure my laptop into the elastic bands of the larger pocket. The soft cushioning of the pockets ensures that nothing will be damaged as I move the bag around. The smaller pocket can be used for documents or a small notebook.
The versatility of the Nayo Smart Defensor is nearly endless!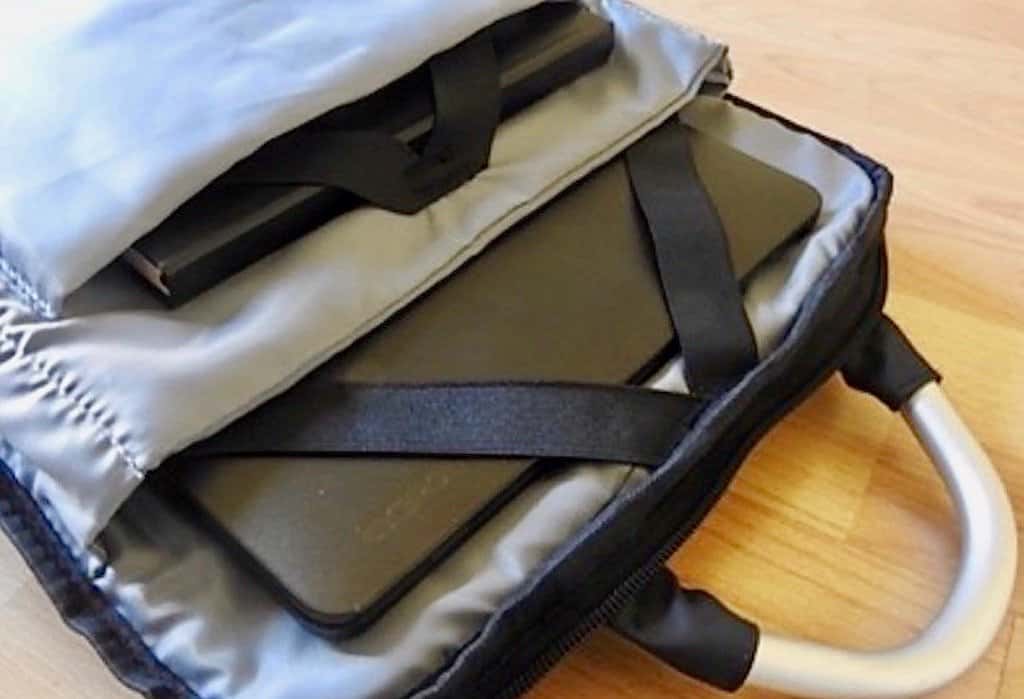 I have a lot of different things that I need when I head to the coffee shop to start working on my blog.
The right side of the backpack holds a plethora of compartments suitable for any need. Within the zippered pocket, I keep my sunglasses and wallet safe.
The pack also comes with four elastic rings perfect for holding pens and pencils—never lose a writing utensil again! Beneath these loops is a looser pocket that I keep important items necessary for easy access, like a flash drive, eraser, notepad, and flash drive converter.
Towards the bottom of the pack are two pockets kept snuggly closed by elastic bands. These are perfect for charging cables for your electronics, or a portable charger for your phone. Lastly, a ring clip allows for secure storage of your keys.
Gone are the days of digging through your bag to find your keys!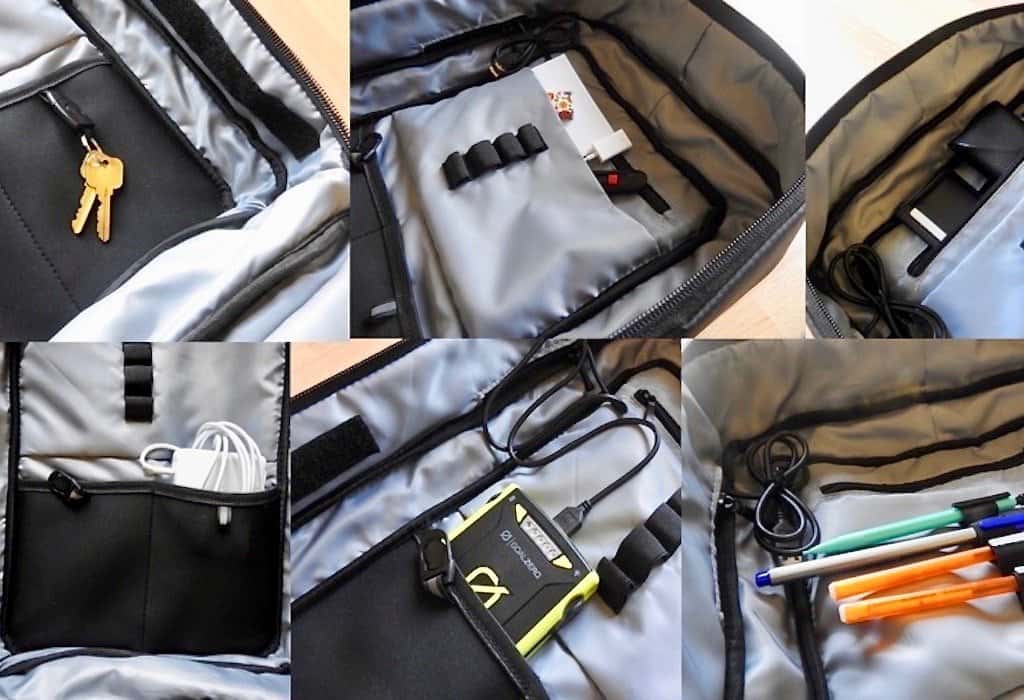 Nayo Smart Defensor Opens Like a Suitcase
One of the things I love about Nayo Smart Defensor Anti-Theft backpack is that it easily opens a full 180 degrees to lie flat on the floor. This makes it easy to organize and access all of the helpful pockets.
However, if a backpack-type opening is more your style, simply secure the two Velcro flaps on either side of the pack. This will prevent the backpack from opening in full in case you are worried that somethings might slip out.
However, if you'd prefer a wider opening, simply cover the Velcro pieces with the included pieces of fabric, and presto!—easy luggage-like access.
Ergonomic Design and Expendable Pockets Make Nayo Smart Defensor Super Easy to Use 
If you're thinking that this sleek backpack can't possible hold anything more, you're wrong!
It's wide enough to hold things like additional notebooks, a laptop mouse, or headphones. My favorite thing about this bag is that everything fits in one place and is neatly organized in a manner that is easily accessible.
Gone are the days of searching through multiple pockets to find something!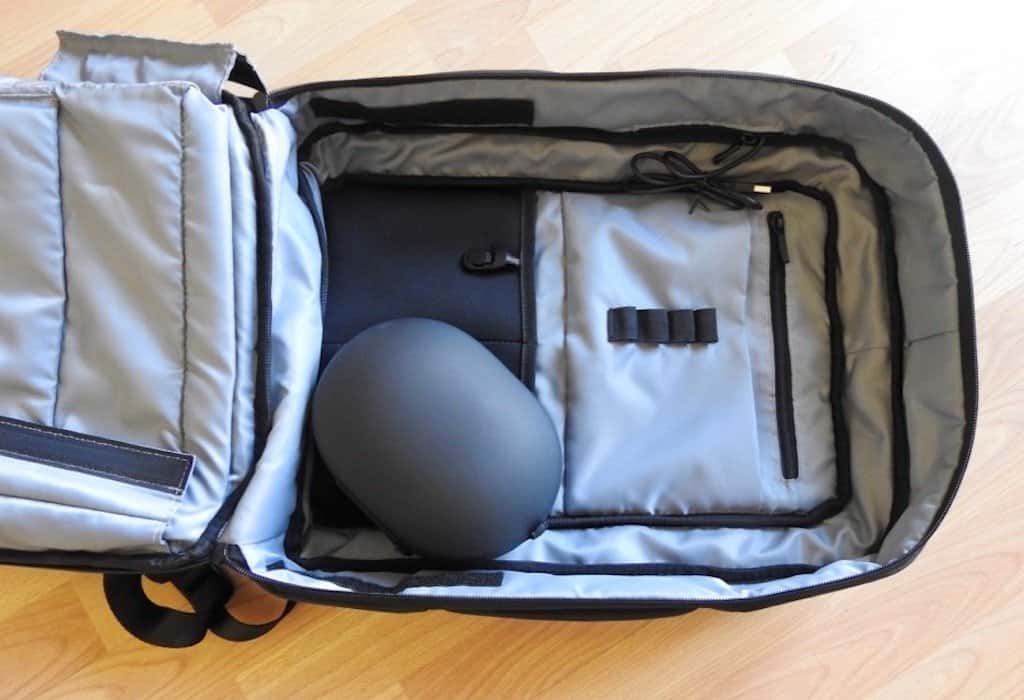 Nayo Smart Defensor Anti-Theft Backpack Has a Ton of Additional Features
Here Are My Two Favorites!
Now let's check out some additional features on the outside of Nayo Smart Defensor Anti-Theft backpack.
Hidden away in a discrete pocket is a handy water bottle holder. Regardless of the size of your bottle, a customizable tie allows you to secure even the smaller of bottles within the pocket. This allows you to move about freely while wearing the backpack without your water bottle falling out and rolling away!
Another smart feature is the output for a charging cable. This allows you to securely store your portable charger within the backpack, while keeping your phone out of the backpack for easy access, while you charge on the go.
Perfect for busy people with things to do and places to be!
The Most Unique Feature of Nayo Smart Defensor Backpack
Lastly, let me tell you about what is probably the most unique feature of the Defensor—it transforms into a sleek and clean briefcase!
Simply tuck the backpack straps into the cover on the back of the bag. This cover clips in place with two buttons. Then pick up the bag using the handle, and you are set to quickly move on to the next task.
This is perfect for when you're on the go or when you desire a more formal look what than the backpack already offers.
Bottom Line 
If you're looking for a sleek and compact backpack that can hold all of your working necessities, this is the backpack for you!
Nayo Smart Defensor Anti-Theft Backpack has an elegant design that is perfect for any formal occasion. At the same time, its smart security features keep valuables safe and secure. Its nearly endless features allow you to stay organized no matter how busy you are!
This backpack is absolute perfection for the busy worker bee.
Did you find this useful?
Why not save it to your Pinterest Board!
Now, I want to hear back from you!
Are you looking for a backpack? What do you think about Nayo Smart Defensor Anti-Theft backpack?
Need something different? Make sure to check out Nayo Smart Almighty! It is my favorite travel companion!
Ready to buy it? Great!
Click on the box right below!
Check out my latest adventures in Zion National Park, Utah!