This site uses affiliate links, meaning that if you make a purchase through our links, we may earn an affiliate commission.
While many travelers to Hiroshima focus their trip on visiting Hiroshima Peace Memorial Park and Museum, there are plenty of amazing gardens here. The most popular is Shukkeien Garden.
Shukkeien Garden, designated as one of Japan's Top 100 Historical Parks and National Scenic Spot, is an unmissable destination while in Hiroshima. Just a walking distance from Hiroshima Station, Shukkeien Garden provides a much needed escape from the chaos of the big city.
Whether you just stop by for a few minutes or stick around for an afternoon, you will be rewarded with some breathtaking scenery.
If you are interested in adding Shukkeien Garden to your Hiroshima Itinerary, read on for a comprehensive guide to Hiroshima's best Japanese garden.
Ueda Soko
Japanese General, Grand Tea Master and Grand Master of Garden Design

Shukkeien was designed by Ueda Soko, Japanese General, Grand Tea Master and Grand Master of Garden Design.
Ueda Soko was born in 1563 and as warfare was the principle of life at that time, Ueda Soko pursued a life of bushido – "way of the samurai". His bravery led to his early rise as adjoint of the warlord Toyotami Hideyoshi. His dedication to bushido and his ability to focus became almost mythological.
Yet, he chose to relinquish the samurai's way of life and dedicate himself to the teaching of Sado – the Way of Tea. He apprenticed under tea masters Sen no Rikyu and Furuta Oribe, and soon Ueda Soko became the Grand Tea Master himself.
However, before his fame as a tea master, Sōko gained fame in the arts through his skill as a landscape gardener for palaces and temples throughout Honshū and Shikoku. Shukkeien Garden is one of his masterpieces.
Want to read it later?
Why not Pin it?
Circular Tour Style Garden
Ueda Soko created what is known as a "circular tour style garden".
These types of gardens appeared first in the Muromachi era (1336-1568) and became de rigueur for daimyo (vassals of the shogun) by the early Edo era (1600-1867).
The garden was opened to the public in 1940, and just five years later, on August 6th 1945, Shukkeien was burned to ashes by the atomic bombing.
It was lovingly restored to its original version and now is one of Hiroshima's main attractions.
Shukkeien Means "Shrink-Scenery" Garden
Shukkeien translated into English means "shrink-scenery" garden.
The idea is to represent through miniaturization the beauty of nature such as mountains, forests, valleys, lakes and so forth.
I recommend that you take the winding path which will lead you through the miniaturized scenic views of valleys and mountains with rivers intertwined in between them and flowing into the pond.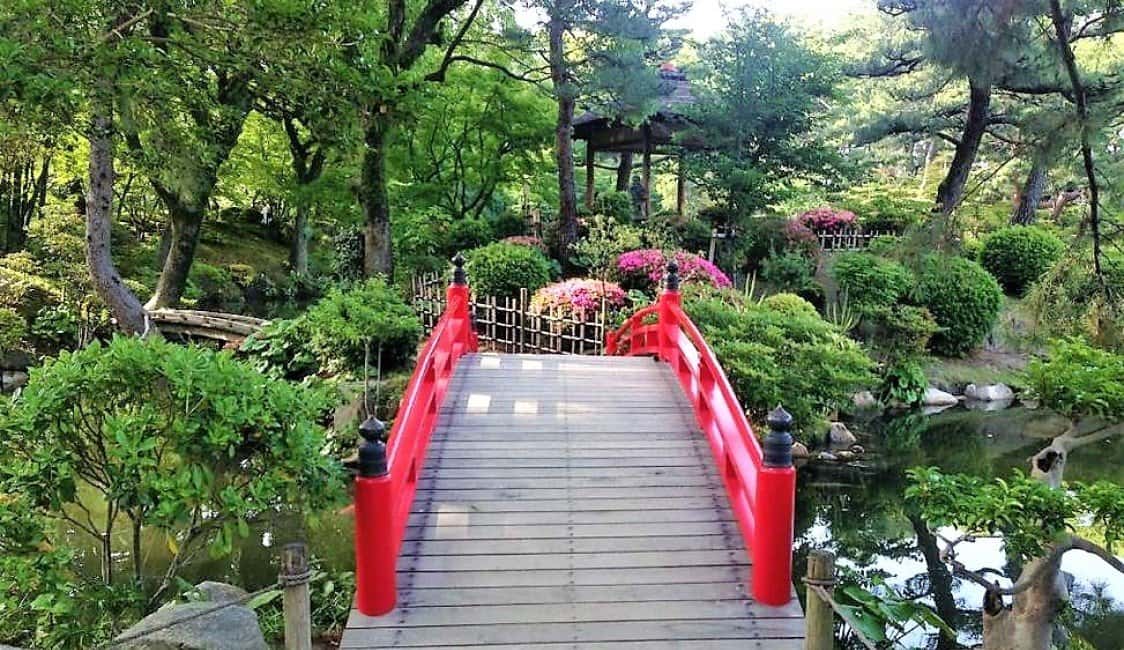 The path will cut through tiny rice fields, bamboo groves and tea plantations.
As you are strolling through the garden, notice the tea cottages and arbors skillfully arranged on the slopes.
A large pond, the Takuei Pond, contains more than ten islets, both large and small, bonded by bridges. The colorful koi carp fill the pond and it is almost irresistible not to buy some carp feed and trigger the carp race for food.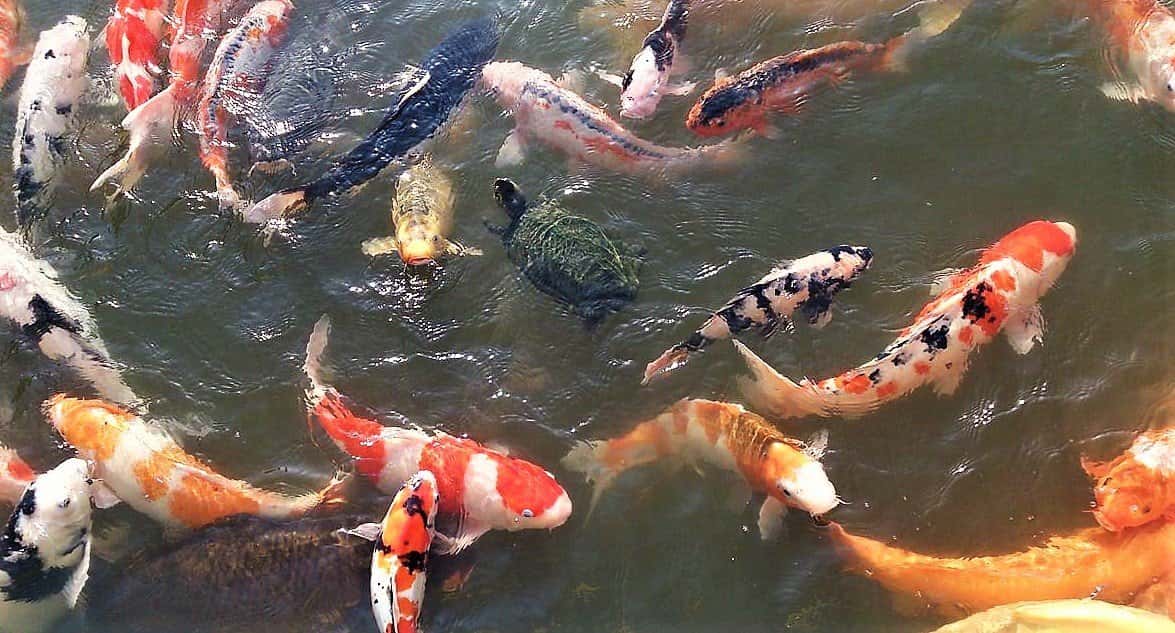 Shukkeien Garden Tea Ceremony
The Shukkeien Garden holds tea ceremonies all year round.
However, each month there is one special tea ceremony.
January – Daifuku (大福茶会) – Bean jam stuffed rice cake tea ceremony
February – Umemi (梅見茶会) – Plum blossom viewing tea ceremony
March – Momomi (桃見茶会) – Peach blossom viewing tea ceremony
April – Kanou (観桜茶会) – Cherry blossom viewing tea ceremony
May – Chyatsumi (茶摘茶会) – Tea harvesting tea ceremony
June – Jyoubu (じょうぶ茶会) – Good health tea ceremony
June – Taue-Matsuri (田植まつり) – Rice Planting Festival
August – Nouryou (納涼茶会) – Evening tea ceremony
September – Keirou (敬老茶会) – Respect for elders tea ceremony
September – Kangetsu (観月茶会) – Moon viewing tea ceremony
November – Kikumi (菊見茶会) – Chrysanthemum viewing tea ceremony
December – Momiji (もみじ茶会) – Japanese maple tea ceremony
For exact dates click here.
The website is in Japanese, however, if you scroll down a bit, you will see an option to change the language.
I recommend contacting Shukkeien Garden to inquire about reservations for the special events.
Shukkeien Garden in Winter
If you are visiting in winter, Shukkeien Garden will present to you a completely different scenery.
Take your time and enjoy the moment. It is a peaceful and relaxing place in winter. And, every photo you take will be a winner!
Shukkeien Garden in Autumn
When the maple leaves start changing color in the fall, Shukkeien Garden becomes a photographer's dream.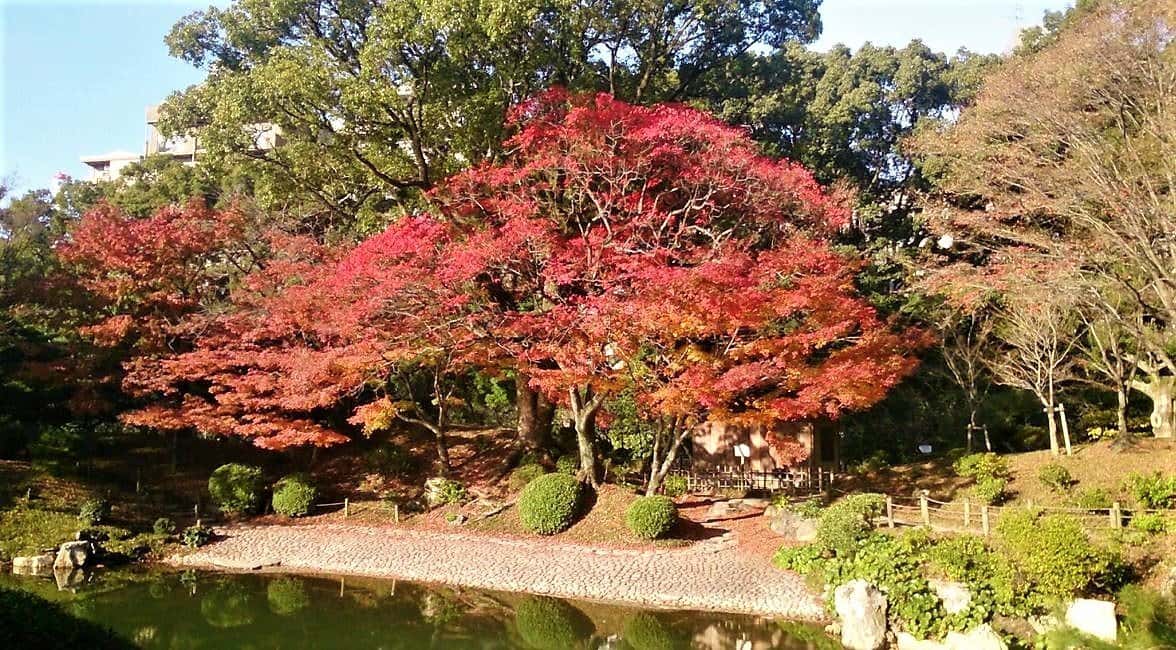 Every year in late November, Shukkei-en Garden stays open late and lights up its cherry and maple trees as their leaves turn red.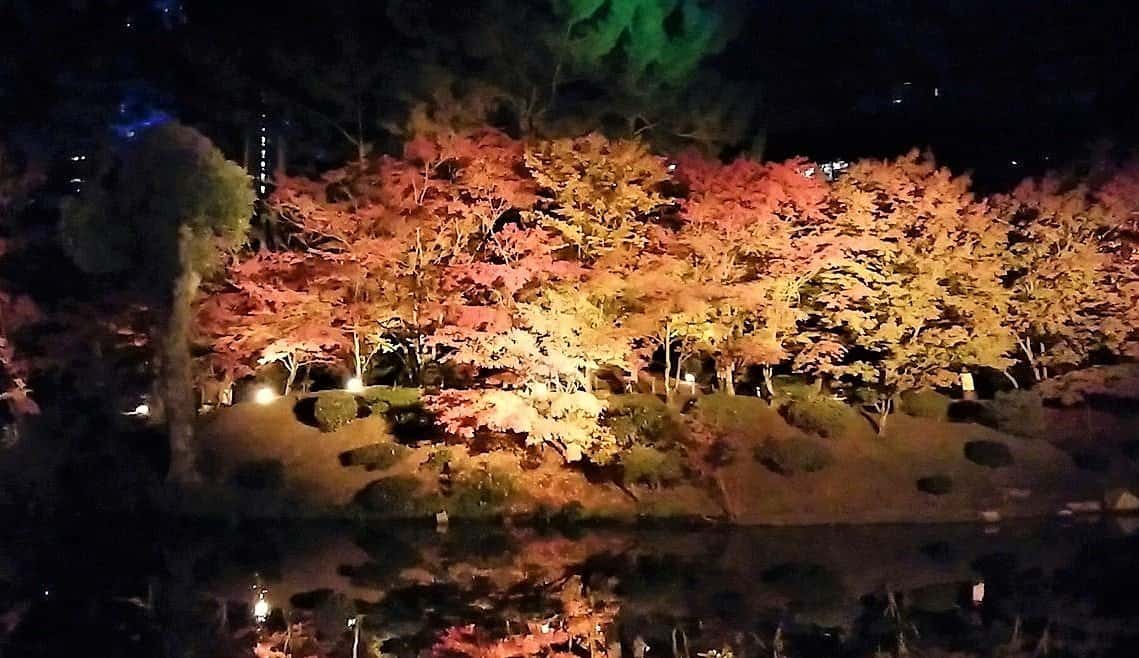 Sakura Shukkeien Garden
If you happen to be visiting in April, you will see cherry blossoms everywhere.
Every photo you take will be a winner. I consider this place a hidden gem.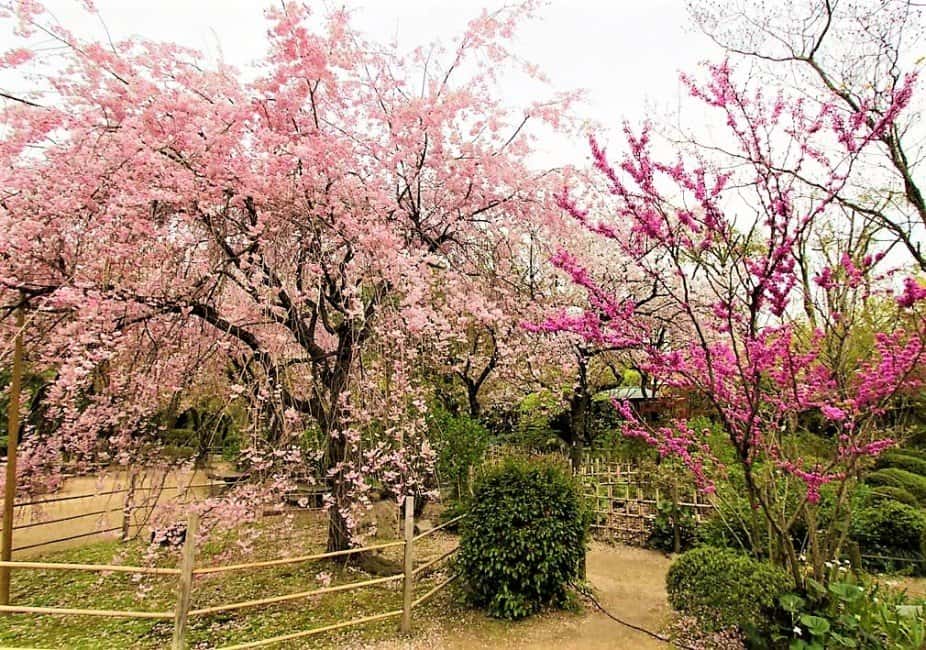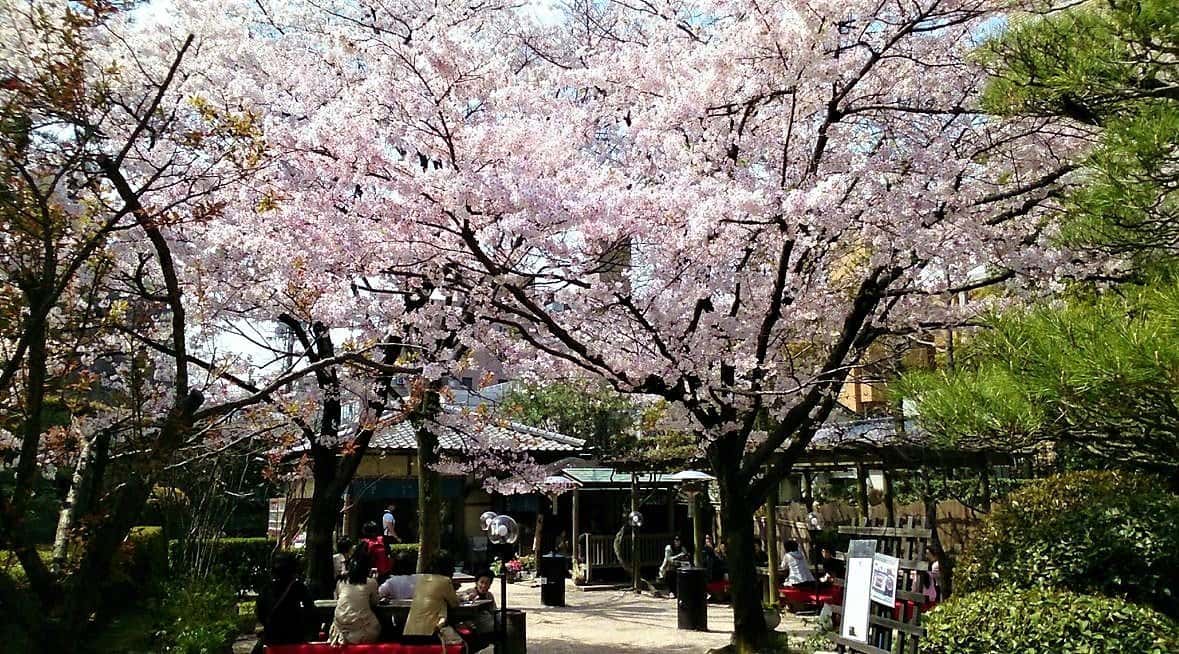 Shukkeien Garden Map
How to Get to Shukkeien Garden
Hiroshima Station to Shukkeien Garden
By foot: Shukkeien is a 10 minute walk from JR Hiroshima Station.
By streetcar: Take the Hiroshima Electric Railway streetcar (located in front of the JR Hiroshima Station).
Catch Hiroshima Electric Railway Number 2 headed for Hiroden Miyajima-guchi.
Next, get off at the Hatchobori stop and then transfer to the Hiroshima Electric Railway Number 9, headed for Hakushima.
Get off at the Shukkei-en mae stop. Shukkei is a 2 minute walk from that stop.
If you are planning on additional sightseeing in Hiroshima, consider City Sightseeing Loop Bus. It is free if you are a holder of Japan Rail Pass!
Otherwise the cost is: One ride – adults 200 yen, children 100 yen. One-day pass – adults 400 yen, children 200 yen.
Shukkeien Garden Entrance Fee
Adults: 260 yen
College and high school students: 150 yen
Junior high and elementary school students: 100 yen
Group discounts are available (more than 20 people)
Pin it on your Pinterest board!
Now, I would like to hear back from you! Have you visited Shukkeien Garden?
Are you planning a trip to Hiroshima or Miyajima? Let me know! Leave me a quick comment right below!

Also, click on any of the images below to get inspired and find out about more places to visit in Japan!