This site uses affiliate links, meaning that if you make a purchase through our links, we may earn an affiliate commission.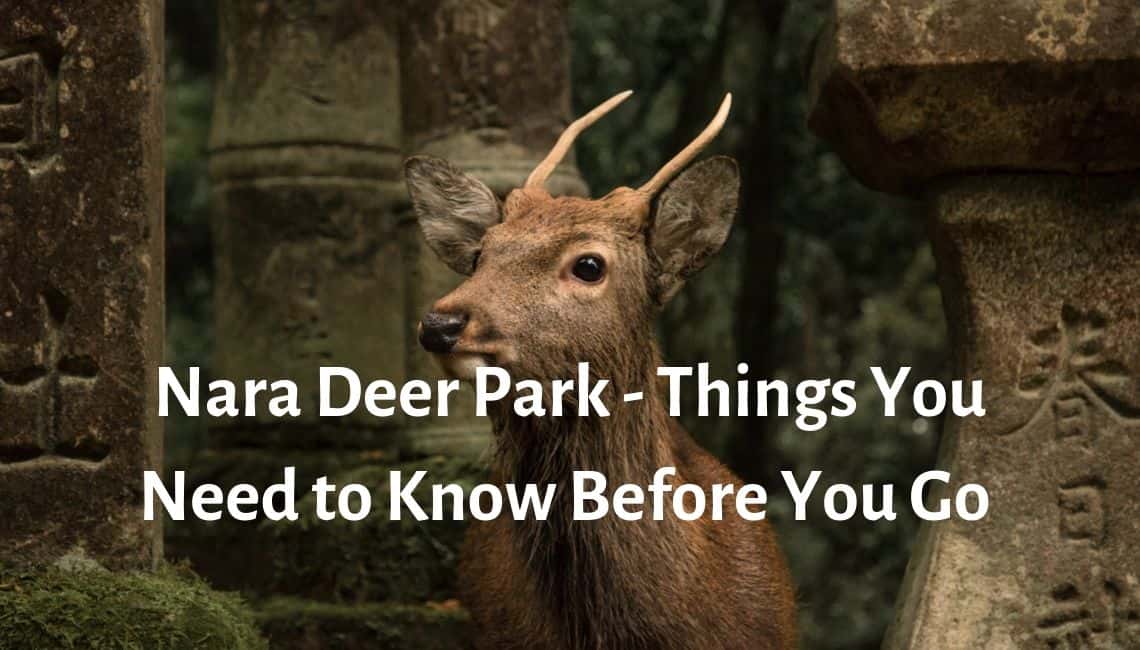 Nara is famous for its temples and shrines. But, what made my heart skip were the free roaming Nara deer. There are hundreds of them wandering through the vast lawns of the Nara Park.
Here, you will find what to need to know before you head to Nara Deer Park to make sure that you have a safe and memorable experience.
What You Need to Know about Nara Deer 
The deer in Nara are called sika, which is derived from the Japanese word for deer: shika. Notwithstanding, there are over 1,300 deer in the Nara Park.
So, why does Nara have deer? And, where do they all come from?
Well, the legend has it that in 768, when the Fujiwara family established the great Kasuga Shrine in the foothills of the Wakakusa Mountain, Takemikazuchi, a Shinto deity descended from the mountain to the new sanctuary riding a sacred white deer.
Since then, the deer became a revered animal, protected by the authorities, and a symbol of the city.
Interestingly enough, until 1637, killing a deer in Nara was considered a serious crime, even punishable by the death penalty.
After WWII the divinity of deer was officially suspended, but they were declared a national treasure. Nowadays, they are protected and maintained in a semi-wild state which humans and deer use to mutual advantage.
Personally, I found them to be friendly, curious and show great interest in rice bran crackers called 'shika senbei' – deer cracker. 
Want to read this post later?
Pin it on your Pinterest board!
What are Deer Crackers – 'Shika Senbei'?
So what are deer crackers?
The answer is: deer cracker is a cracker made out of wheat flour and rice bran. These treats are made without any sugar and are safe to give to the deer. You can buy them throughout the park. They cost 100 yen per a good size package.
Notably, deer crackers are a registered trademark of the Foundation for the Protection of Deer in Nara, and a portion of their profits goes to efforts to protect the deer.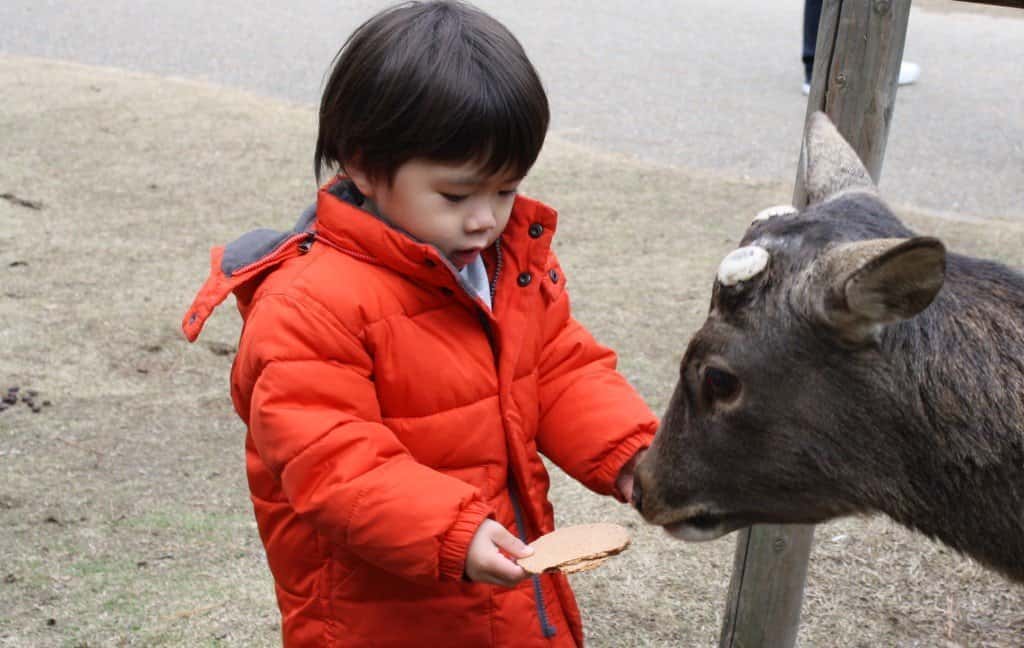 Can You Pet Nara Deer?
First of all, remember that deer in Nara are semi-wild animals.

Even though they are used to the presence of humans, they have not been domesticated and they are not pets. If you want to touch them, then extend your hand towards them, if the deer turns away or runs away, it simply means that it does not want to be touched.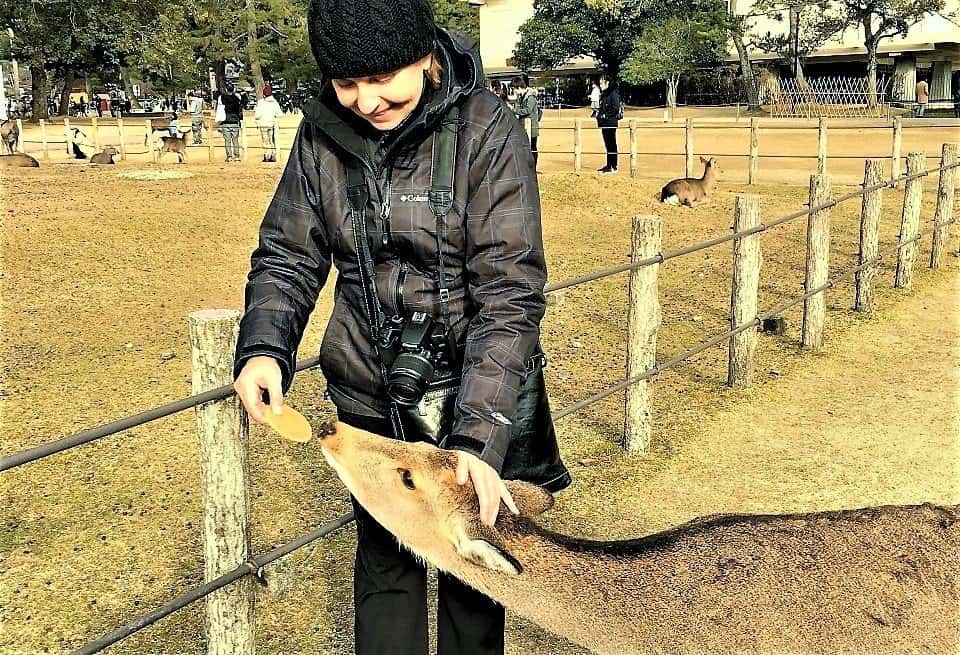 What Do Nara Deer Eat?
As stated above, Nara deer are semi-wild animals, and they are perfectly capable of finding their own food.
Throughout the year, they will typically eat several varieties of grass, including silver pampass grass.
Keep an Eye on Your Belongings and Do Not Bring Any Food into the Park

First of all, make sure that you have all your belongings safely stowed away in your backpack or purse. Specifically, Nara deer will be interested in anything that you are carrying, that includes guide maps or flyers. Do not be surprised, if they start munching on any papers that you might have in your hands. 
Next, make sure to tuck away any cell phone cables or headphone cables, you might have on you. They are curious creates and they might decide to start feasting on them.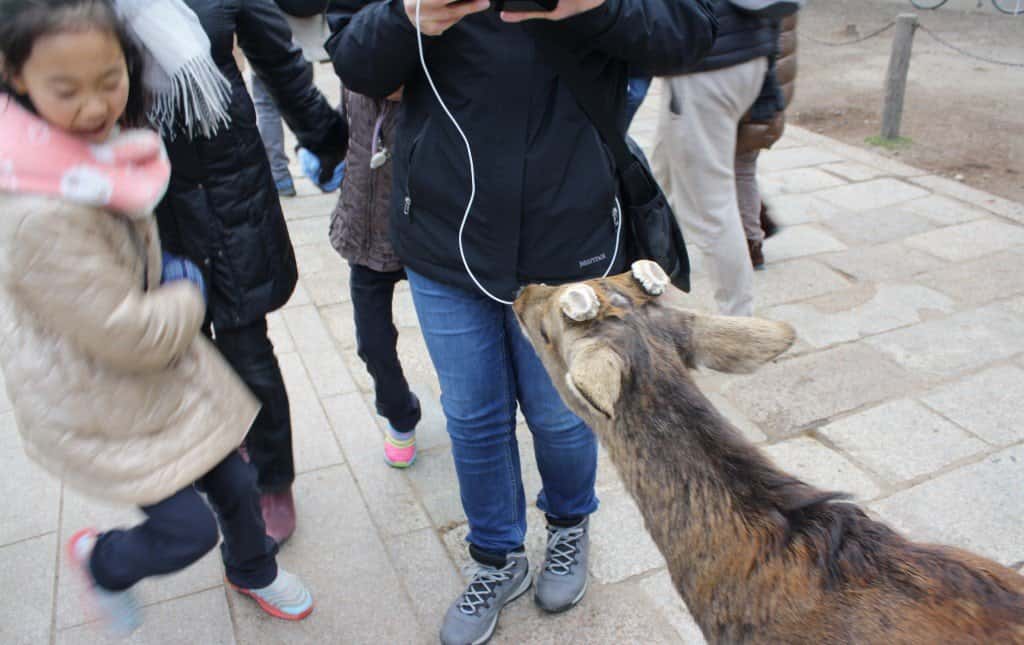 Test Your Skills at Bowing with Nara Deer

Nara Ddeer is famous for their bowing skills. If you bow to them, they will probably bow back to you and expect a cracker for it.
First of all, my recommendation is to find a mature Nara deer in hopes that it might be more used to bowing. Second, bow to it. You might have to do a couple of times, so that it gets the idea. Next, wait a bit and let the deer bow back to you. Finally, give it a cracker as a reward and a thank you.
Attend Shikayose – Deer Calling
An interesting event happening at Nara is Shikayose or deer calling. 
It is a winter event that goes back to 1892.
The event is held every morning (except on Mondays) during February to mid-March at about 10 am. It happens at Tobihino, located to the south of the road leading to Kasuga Taisha Shrine.
With a sounding of the natural horn, the deer of Nara emerge from within the forest to cluster around the blower.
It is quite a sight!
Kojika Koukai – Presentation of the Fawns
Every April, the pregnant does of the herd are placed within the enclosure to safely give birth to their young.
The enclosue  – Roku-en is located next to the south of the stone lantern-lined path leading to Kasuga Taisha Shrine. Every day in June from 11am – 2pm, you can visit and see the fawns at the center.
In mid-July, once the fawns are able to keep up with their mothers, the yougsters are released into the park in a special event called Kojika Koukai  – Presentation of the Fawns.
How to get to Nara Deer Park from Kyoto or Osaka

How to Get to Nara Deer Park from Kyoto
First of all, there are two train lines that connect Kyoto with Nara: the JR Nara Line and the Kintetsu Kyoto Line.
1. JR Nara Line – if you have JR Pass, then you would want to take JR Nara Line. The cost of the trip will be covered by the pass. To start off, head to Kyoto Station and take the Miyakoji Rapid Train on the JR Nara Line. Miyakoji Rapid Train is the fastest connection between Kyoto and Nara. It only takes 45 minutes to reach JR Nara Station from Kyoto, if you take the rapid train.
I need to mention that there is Futsu local train which is covered by JR Pass as well, however it stops by several stations on the way to Nara and the journey takes about 70 minutes.
2. Kintetsu Kyoto Line – Kintetsu LIne is no covered by JR Pass, however it is the fastest and most comfortable way to get to Nara. First of all, go to Kintetsu Kyoto Station and take the direst express (tokkyu) train on Kintetsu Kyoto Line. You will get to Kintetsu Nara Station in only 35 minutes.
By the way, JR Nara Station and Kintetsu Nara Station are within walking distance to each other. Both stations are about the same distance from all the attractions.
How to Get to Nara Deer Park from Osaka
To start off, there are two train lines connect Osaka with Nara: the JR Yamatoji Line, and the Kintetsu Nara Line.
1. JR Yamatoji Line – JR Yamatoji Line is covered by Japan Rail Pass. If you have the pass, then your trip to Nara is covered. First, head to Osaka Station and take the JR Yamatoji Rapid Service. It will get you to JR Nara Station in 50 minutes.

In addition, if you are traveling from Osaka JR Namba Station, then take the local train of the Yamatoji Line to Kyuhoji Station and then transfer to the Yamatoji Rapid Service. This will get you to JR Nara Station in about 50 minutes as well.

2. Kintetsu Nara Line – Kintetsu Nara Line is not covered by JR Pass. If you decide to take Kintetsu Nara Line, then head to Osaka Kintetsu Namba Station and take a Rapid Express train on the Kintetsu Nara Line. It will get you to Kintetsu Nara Station in 39 minutes.
How to Get to Nara Deer Park from Nara Station

By the way, there are two stations in Nara: JR Nara Station and Kintetsu Nara Station. Both stations are within walking distance from each other.  And, both of the stations are within walking distance from Nara Park where major attractions are located.
Kintetsu Nara Station is located right next to Kohfukuji Temple and the 5-Story Pagoda. It is no more than a 10-minute walk. When you exit the station, turn right and then, start walking east.
It takes about 15 minutes to reach Kohfukuji Temple and the 5-Story Pagoda from JR Nara Station on foot. First, take East Exit from the station. Next, go north until you reach Sanjo Dori Street. It is a wide shopping street. Finally, turn right on Sanjo Dori Street (you will be walking east) and continue walking until you reach the park.
Another option is to take Loop Line Bus. Specifically, take JR Nara Station's East Exit. Once you exit, locate Loop Line Bus Terminal. It is super easy! The buses are colored bright yellow! Next, take number 2 service bus from bus stop number 2. This bus will take you to Nara Park in about 10 minutes for a fixed fare of 210 yen for adults and 110 yen for children.
Find this useful?
Why not Pin it for later?
Have you been to Nara Deer Park? What additional tips can you share?
Let me know in the comments section below!
Make sure to click on the images right below to get inspired and to help you with the planning process.