This site uses affiliate links, meaning that if you make a purchase through our links, we may earn an affiliate commission.
Want to see Japanese Snow Monkeys soaking in Jigokudani Hot Springs? Is it worth it?
Absolutley! It is a 10 out of 10 kind of attraction!
Follow this DIY step-by-step guide and find out how to get to Jigokudani Monkey Park, where to get your money saving 1-Day Snow Monkey Park Pass, when is the best time to visit, why you'll love it and what you'll see.
How to Get to Jigokudani Monkey Park from
Tokyo or Nagano in 3 Easy Steps

Jigokudani Snow Monkey Park is located in the Nagano prefecture. It is approximately 260 km north west from Tokyo and can be done as a day trip from Tokyo.
Here is detailed guide of how to get to Jigokudani Monkey Park in 3 easy steps:
Tokyo to Nagano
From Tokyo Station take JR East Hokuriku Shinkansen Asama, Hakutaka or Kagayaki to Nagano Station. If you are a JR Pass holder, your trip will be covered by the pass. Otherwise, the adult ticket is 8,200 yen and a child ticket is 4,100 yen one way. Moreover, check out JR East Hokuriku Shinkansen Timetable for trains leaving from Tokyo Station in the morning.
JR East Hokuriku Shinkansen reserved tickets can be picked up at the following locations.
The travel time from Tokyo Station to Nagano Station is about 1 hour and 20 minutes.
Similarly, I reserved my seats prior to my departure and took JR East Hokuriku Shinkansen Kagayaki 503 at 7:20 am. I arrived at Nagano at 8:43 am.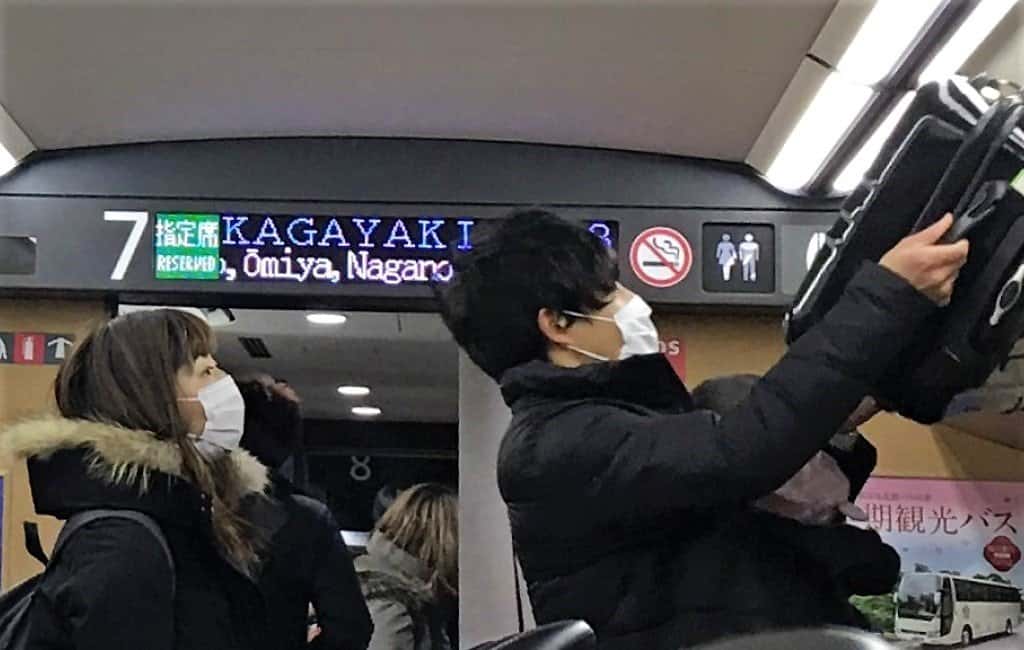 Nagano to Jigokudani Monkey Park
Once you arrive at Nagano Station, head towards the East Exit.
All the buses leave from the platforms located at the East Exit.
Next, locate Platform 23. It is the platform for Nagaden Express Bus Shiga Kogen Line.
The buses run all year round. However, there is a summer and winter timetable.
Specifically, during the summer months buses run three times a day in each direction and in winter the service operates 11 times a day in each direction.
It takes about 40 minutes to reach Jigokudani Monkey Park. Just sit back, relax and admire the beautiful scenery!
Finally, once you arrive at Kanbayashi Onsen Guchi get off the bus.
Most of the passengers will be getting off at this stop. It is like an exodus, everyone on the bus will be getting off here. And, if you are worried that you might miss the stop, let the driver know that you are going to Snow Monkey Park and he will alert you when to get off.
Once you get off the bus, locate the sign for Jigokudani Monkey Park.
Notably, right behind the sign, there is a road going up the hill at a slight incline.
Continue on for 1.8 kilometers. It should take you about 20-30 minutes to reach Jigokudani Snow Monkey Park entrance.
Want to save it for later?
Pin it on your Pinterest board!
Jigokudani Monkey Park
The entrance to Jigokudani Snow Monkey Park is clearly marked. It is also a good stop to rest a bit and catch your breath.
Additionally, there a small gift shop where you can rent snow boots, coats and crampons. I strongly recommend the crampons. They will give your feet a good grip and you will be able to walk so much faster.
Also, there are lockers here and you can store your bags and any food that you might have to avoid upsetting the monkeys.
Next, continue for 1.6 kilometers until you reach the hot springs.
It snowed the day before my visit to the park which made my experience even more magical. The mountains and the forest were blanketed in a white carpet. It was wonderful to hike among the snow-clad red pine and Japanese larch trees, breathe the crisp mountain air and look at the clear blue skies.
As you are making your way to the hot springs, you can read about monkeys and their habits.
Make sure not to miss an active geyser spewing steam and a picturesque bridge. It is a perfect photo spot.
Jigokudani Snow Monkeys
When I finally made it to the hot springs, the caretakers were throwing barley seeds on the ground and it was wild to see all the monkeys run down the cliffs from the woods. It was like a scene from the movie Planet of the Apes.
I felt like being on a National Geographic special assignment in the middle of a photo shoot.
The monkeys were everywhere and it was absolutely fascinating to watch them
Foremost, I have to say, that the similarities to human behavior were amazing to watch! The monkeys were incredibly engaging, more than I had ever anticipated.
They looked endearing when they let out their emotions of joy and bliss while they took their dips in the hot spring. Or, hilarious when they swam across in a mixture of dog paddle and frog kick.
It was entertaining to watch their expressive faces when they groomed each other or carried their babies on their backs or foraging in the snow.
Endless eye candy!
On average, snow monkeys weigh between 25 and 40 pounds and reach 20 to 23 inches in length.
Notably, the red color of the face is a positive sign that animal has reached adulthood.
Snow monkeys live in large groups called troops. Actually, troops can be huge, composed of several hundreds of animals.
Furthermore, each troop has a male and female leader.
Males establish their dominance by proving their physical strength and ability to find food for all members of the group. A leader can hold his position for couple of decades.
Females establish dominance by inheriting the ruling position from their mothers or other relatives.
Additionally, bonds between members are very tight.
During the leisure time, snow monkeys groom each other to remove fleas and insects from the fur. Notably, grooming nourishes the social bonds between them.
Jigokudani Monkey Park History
The Jigokudani Monkey Park was established by Sogo Hara in 1964.
Several years before the park was established, Sogo Hara was hiking through the Jigokudani area. Namely, Jigokudani means Valley of Hell. It is due to the steep mountain sides and hot spring steam coming out of the ground.
While hiking, Sogo Hara, came across a troop of the Japanese macaques monkeys.
He became interested in them and soon discovered that the monkey's original habitat in Shiga Kogen was drastically reduced due to the many ski lifts being built in the area. As a result, monkeys were gradually pushed into the Jigokudani and the Yamanouchi areas.
The new habitat was closer to the farmlands. Needless to say, monkeys started to regularly visit the farmlands and help themselves the crops. This did not settle well with the local farmers.
Sogo Hara wanted to give the monkeys a place where they would be secure, but also where they would to be free to roam. And so, Jigokudani Monkey Park was established.
There is no fencing at the park and the monkeys move freely.
Their movement is simply controlled by regular feeding which happens three times a day. During those times they are being served their favorite foods: barley and soybeans.
That being the case, monkeys stay around the Jigokudani area and come down from the hills at feeding times.
Needless to say, they also enjoy the hot springs in winter!
Where to Purchase 1-Day Jigokudani Snow Monkey Park Pass
1-Day Snow Monkey Park Pass is an excellent money savings tool. It can be purchased at Nagano Station.
Here are step-by-step instructions:
Once you arrive at Nagano Station, follow the signs pointing towards Zenkoji Exit.
Next, once you reach Zenkoji Exit, exit the station and turn right.
Next, walk along the front of the station towards a flight of stairs going down. Finally, take the stairs all the way down.
The ticket office will be on the right hand side. It is clearly marked with big posters advertising 1-Day Snow Monkey Park Pass.
Important: the ticket office does not accept credit cards. You will need cash to purchase the pass.
Cost to purchase the pass is 3,200 yen for an adult and 1,600 for a child (6-12 years old).
The pass will cover the transportation from Nagano to the base of Snow Monkey Park as well as the entrance to the park.
However, I would not get stressed about the absolute need of getting the pass! If you do not buy it in Nagano, it is no big deal!
You will be able to purchase the bus ticket separately on the bus and then purchase the ticket to the entrance to the park once you are in the park. It will just cost you just a bit more.
I did not buy the pass at Nagano! I did not have enough time to do it. After I disembarked JR East Hokuriku Shinkansen, I immediately proceeded to the East Exit and the bus terminal. I bought the bus ticket from the driver and then I purchased the entrance ticket to Jigokudani Monkey Park once I reached the park. I paid 1,400 for the bus – each way and 800 yen for the entrance ticket to the park. Total amount – 3,600 yen. If I had the pass, I would have saved 400 yen. Also, make sure to check the price of the pass! For most updated prices, click here.
Pin it on your Pinterest board!
Have you been to Jigokudani Snow Monkey Park? Are you planning a trip?
Let me know in the comment section below!
More posts about places to visit in Japan.
Click on the image to read.