This site uses affiliate links, meaning that if you make a purchase through our links, we may earn an affiliate commission.
If You Think Finland,
Think Sauna
There is absolutely nothing more Finnish than a sauna. In Finland, saunas are everywhere – in homes, offices, factories, sports centers, hotels and on and on.
In a country with about five million people, it is estimated that there are about two to three million saunas. Finns say that a house without a sauna is not a home.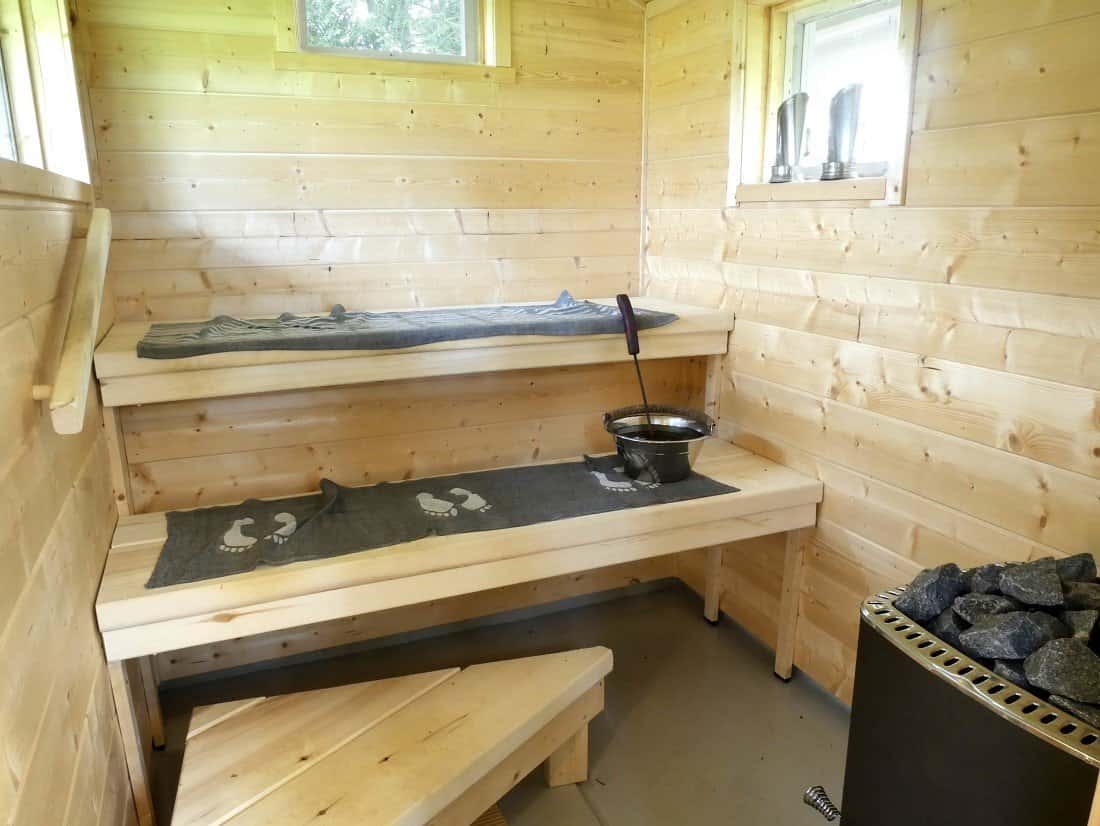 You Need to Sauna
If you want to understand Finland and what it is like to be a Finn than you need to sauna. If you are invited to sauna, be brave and say 'yes'. It is the only way to experience the mentality and culture of a Finn.
Following are some pointers to get you started:
1. Clothes off
Finns go to sauna in the nude even with strangers. It is only natural for them. But don't fret, Finns are understanding people and know that foreigners may have certain inhibitions. If you must, wrap a towel around or wear a bathing suit.
2. Sit on the lowest possible bench
As you know, heat rises and for
a novice it is advisable to take it easy. You don't want to get fried. Finns are hardcore sauna-goers and can tolerate high temperatures. The temperature in the sauna is a matter of preference. The Finnish Sauna Society recommends temperatures from between 80-100 degrees Celsius, but usually heat reaches up to 160 Celsius. So, don't complain about the heat – make it your friend. Sit and breathe slowly.
3. Give yourself time
Allow yourself some reasonable amount of time in the sauna. It is a place for not only physical cleansing but mental as well. It takes time to relief stress and tension.
4. You will sweat
Yes, you will perspire heavily. You will be tempted to get up and move around, don't – stay calm.
You will get an urge to grab a ladle and throw more water on the heated stones in the basket placed on top of the stove. Take it easy with the water, 'loyly' – the moist heat will creep up around your ankles and legs and envelope your whole body. Your pores will open even more, and you will sweat from head to toe.
5. Keep the talk to a minimum
It is so dark and so hot that you probably would not want to discuss anything anyway. Finns say that in the sauna one must conduct himself as one would in church.
6. Do a birch whisk
Finns say that a sauna without a birch whisk is like food without a salt. It sounds strange, but Finns gently whip themselves with a 'vasta' or 'vihta' (the name depends on the region), which is a bundle of fresh birch twigs. It is good for your skin – you will feel all smooth afterwards. It also stimulates circulation. So, dip the 'vasta' in the water and give it a go.
7. Cool off
Go outside and jump into the small hole in the ice on a lake or swim in freezing sea. Or, if there are no bodies of water – roll in the snow instead. Yes! This is sauna! If you roll in the snow, make sure it is fresh and powdery; old snow is like sandpaper.
8. Return
You should return and complete the process at least one more time.
9. Think about the health benefits
Sauna is good for everybody. Only newborn babies and people with serious health conditions should avoid sauna. Finns say that sauna is a poor man's pharmacy. Researchers at the University of Easter Finland followed 2,300 middle-aged Finnish men for more than 20 years. Their study showed that men who went to the sauna 4-7 times a week were found to be 66% less likely to be diagnosed with dementia and 65% less likely to be diagnosed with Alzheimer's disease than those going to the sauna once a week.
10. Enjoy the blissful post-sauna feeling
'Saunanjalkeinen' is the feeling of being physically and mentally clean. It is something so blissful that you will want to enjoy it in peace as long as you can. Finns will understand it and respect it.
99% of Finns Take at Least One Sauna a Week
In the summer, when they visit their cottages in the countryside, life tends to evolve around the sauna and the nearby lake used for cooling off. Getting invited to a sauna is an honor. Bathing in a sauna with other people is a bonding process. Also, it destroys the myth of body beauty – nobody's perfect!
It is interesting to know that the only Finnish word to make it into everyday English is 'sauna'. There are different saunas in Finland and each has its own character and distinctive 'loyly'. The better the 'loyly', the more enjoyable the sauna.
Smoke Sauna
It is believed that the best sauna is the original smoke sauna and the best 'loyly' is believed to be achieved with a stove without a chimney – the wood is burned down and the smoke is trapped inside; after most of the smoke escapes, the embers heat the sauna to the proper temperature giving it a soft heat. The smoke saunas are lined with naturally bacteria-resistant soot, making them the cleanest rooms in the house.
Women gave birth in them; the sick got welcomed relief to sooth their aching muscles; saunas were used for purification rituals before marriage; bodies of the dead were washed and prepared on the wooden benches. For many Finns, the sauna was the holiest room in the house and the one associated with their wellbeing.
If you do not experience a Finnish sauna, then you will not experience Finland.